From mountain landscapes and tropical beaches to vibrant cities and charming small towns, the United States has a destination, landscape, and getaway that everyone will enjoy.
However, with so many incredible destinations to visit, there is just one challenge—narrowing down which to visit! Well, if you're looking for somewhere to visit in the USA in 2023 and you're just not sure where to start, you've come to the right place!
I've teamed up with a team of knowledgeable travel experts to share the best places to visit in the USA in 2023 during every month and season to make planning your trip a breeze.
USA Tourism Trends (2023)
Before jumping into the best places to visit in the USA in 2023, let's look at these statistics about tourism in the United States in 2023:
Americans will take 2.38 billion domestic trips in 2023 (up from 1.58 billion in 2020). *
Domestic travel spending in the United States will surpass one trillion dollars in 2023 (up from $680 billion in 2020). *
Americans will embark on 2.2 billion road trips & 189 million air trips in 2023 (up 1.5 billion road trips & 79 million air trips in 2020). *
Travelers are looking for customized trips, experiential travel, and less-crowded destinations in 2023. **
In 2023, travelers are predicted to travel in a small group with friends and family more often than vacationing as a couple or traveling on their own. **
73% of people are more optimistic about traveling than they were in 2022. ***
With uncertainty about the economy, 68% of travelers are paying close attention to how much they are spending on travel, but 50% still say traveling is a top priority. ***
Millennials are the most budget-savvy travelers at 69%, followed by Generation X at 66% and Generation Z at 62%. ***
* U.S. Travel Association || ** AAA || *** Booking.com
Best Places to Visit in the USA in 2023
With those statistics in mind, we've rounded up some of the top destinations to visit in the USA in 2023. These destinations were hand-selected for each month because of the beautiful weather, fun events, activities, and things to do and to provide the perfect blend of big cities, winter adventures, beach getaways, and gorgeous landscapes. Without further ado, here is your USA travel bucket list for 2023, curated by travel experts from across the country!
Best Places to Visit in the USA in 2023: January
Oahu, Hawaii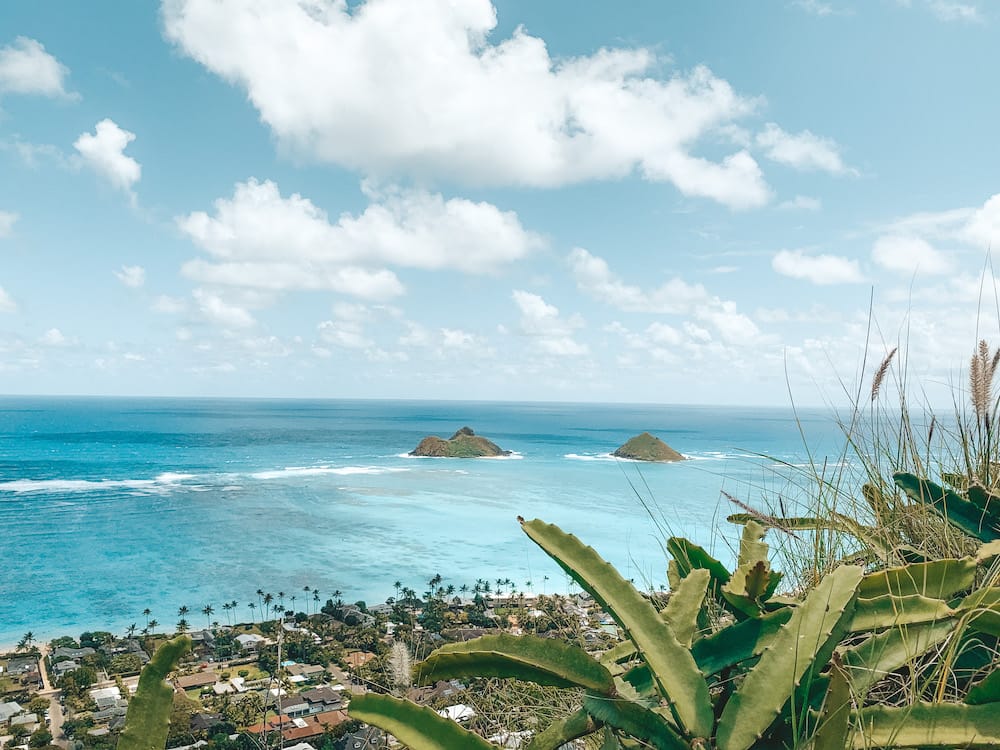 Oahu, Hawaii, is one of the best places to visit in the USA in January if you'd like to trade in the cold, snowy weather for a warm, sunny destination with sandy beaches and tropical rainforests!
With so many awesome things to do in Oahu, like surfing, shopping, and sunbathing at Waikiki Beach, or exploring the snorkeling spots, waterfalls, and other adventures on the North Shore, you'll never be bored during a trip to Oahu. There are plenty of free things to do on Oahu, like the Lanikai Pillbox Hike and Pearl Harbor National Memorial, so even if you're traveling on a budget, you'll find plenty of fun adventures that are easy on the wallet. You also can't miss the chance to enjoy some of the best places to eat on Oahu, like Haleiwa Joe's and Duke's Waikiki.
Oahu, Hawaii, also has plenty of luxury resorts across the island if you'd like to enjoy a beachfront vacation. Consider booking a room at the Royal Hawaiian in Waikiki, Turtle Bay Resort on the North Shore, or Four Seasons Resort Oahu in Ko Olina.
Contributed by Brittany from Travel by Brit
Denver, Colorado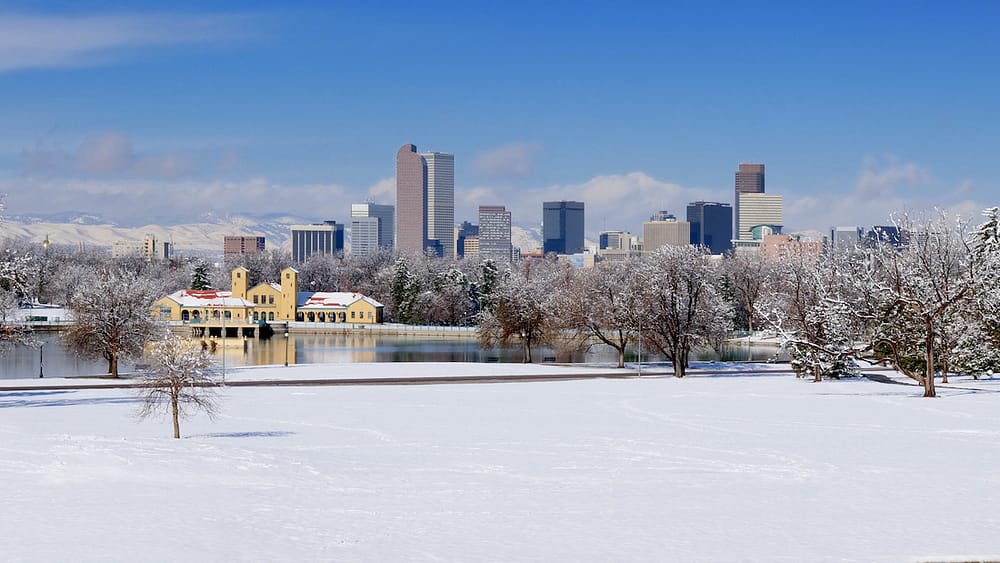 If you've always wanted to visit Denver, January is an opportune time to see the Mile High City. Denver's climate is dry, and most days of the year have at least a few hours of sunshine, so it's common to see surprisingly nice weather in January. Even if the weather is relatively warm during the day, nighttime temperatures are likely to be very cold, so always dress in layers.
For visitors interested in Colorado's western heritage and history, you can visit the National Western Stock Show, a massive event that takes place over the course of 16 days each January. The Stock Show is attended by over 500,000 people each year and includes events like rodeos, horse shows, working dog demonstrations, and much more. In Downtown Denver, you can also go on a food-tasting tour or cocktail tour after a fun day at the stock show.
After you've explored Downtown Denver, you can spend a day or more skiing, snowboarding, or snow tubing in one of Colorado's famous ski resorts. Many of the resorts are easily accessible for a day trip from Denver, and you can save money by renting your gear in the city before you drive into the mountains. Other wonderful day trip destinations include Boulder, Fort Collins, and the Garden of the Gods near Colorado Springs. You can even consider booking this Jeep Tour in Garden of the Gods to see the beautiful landscapes up close and personal—without being cold from the snow!
Contributed by Amber from Amber Everywhere
Lake Tahoe, California
If you are looking for an epic snowy mountain getaway in 2023, then a trip to Lake Tahoe's beautiful blue shores should be on the top of your list. The Tahoe Basin offers the perfect balance of a relaxing stay at lakeside accommodations in the woods and the exhilarating highs of carving up the slopes.
Lake Tahoe and the surrounding mountains are home to 15 ski resorts, including world-class facilities like Heavenly and Palisades, which hosted the Winter Olympics. You can spend your trip charging down black diamond runs, or you can take a little more kicked-back approach and try out some sledding or tubing at one of the area's snow parks. For the adults, there is plenty of nightlife at the casinos, or you can check out some of Lake Tahoe's craft breweries, like South of North Brewing Company. You can even go on a helicopter ride over Lake Tahoe!
Tahoe also offers up a lot of fun for the whole family, including ice skating at Northstar Village or taking a site seeing cruise aboard the M.S. Dixie paddle ship around the lake. With an average of 400 inches of snow and 300 sunshine-filled days per year, Tahoe is the perfect wintertime ski and play destination, making it one of the best places to visit in the USA in 2023.
Contributed by Kristel from Chef Travel Guide
Best Places to Travel in the USA in 2023: February
From snowy mountain getaways and tropical beach vacations to President's Day Weekend trips and Valentine's Day vacations, check out this list of the best places to visit in February in the USA.
New Orleans, Louisiana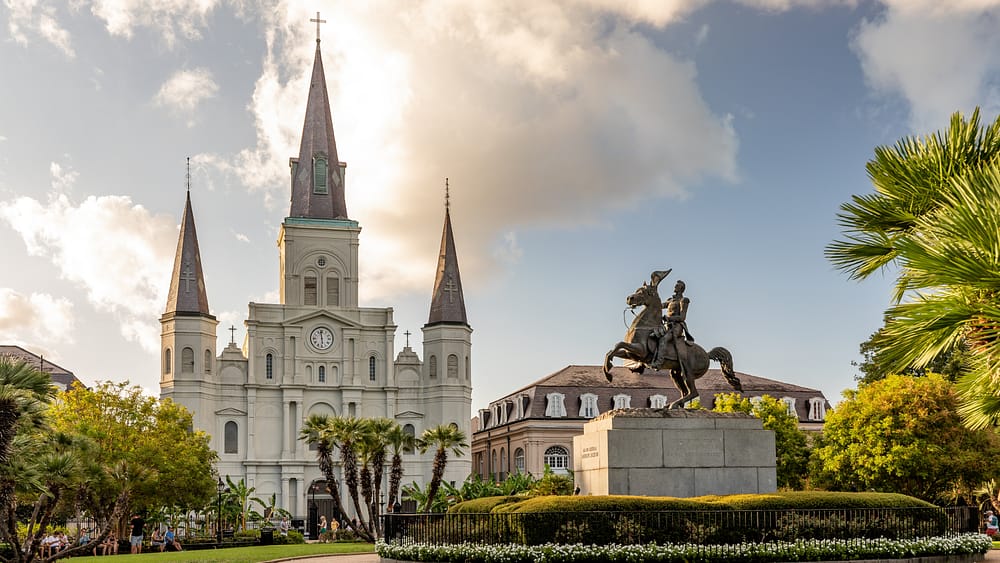 If you'd like to escape the winter blues, plan a trip to New Orleans in February. New Orleans is one of the best places to visit in the USA in 2023, and this city knows how to party. In fact, it always throws the biggest "free" party of the year—Mardi Gras! Mardi Gras is an age-old tradition that begins on January 6th and runs until Fat Tuesday, the day before Lent (usually in late February or early March). During the carnival season, people celebrate with "king cakes", parades, and parties up and down Bourbon Street.
If you want to visit New Orleans in February without participating in Mardi Gras, that's not a problem! Indoor activities, like the National World War II Museum, are a must-do to avoid the (sometimes!) stormy weather, and a stroll around Jackson Square or a hop-on-hop-off bus tour in New Orleans when the weather is nice can't be missed. You can also stop at Café Du Monde for delicious beignets and the iconic Carousel Bar & Lounge for a drink, or visit the historic Oak Alley Plantation and enjoy a thrilling airboat tour in the Barataria Basin on an all-inclusive tour!
Contributed by Mallory from Plaid Shirt Yoga Pants
Maui, Hawaii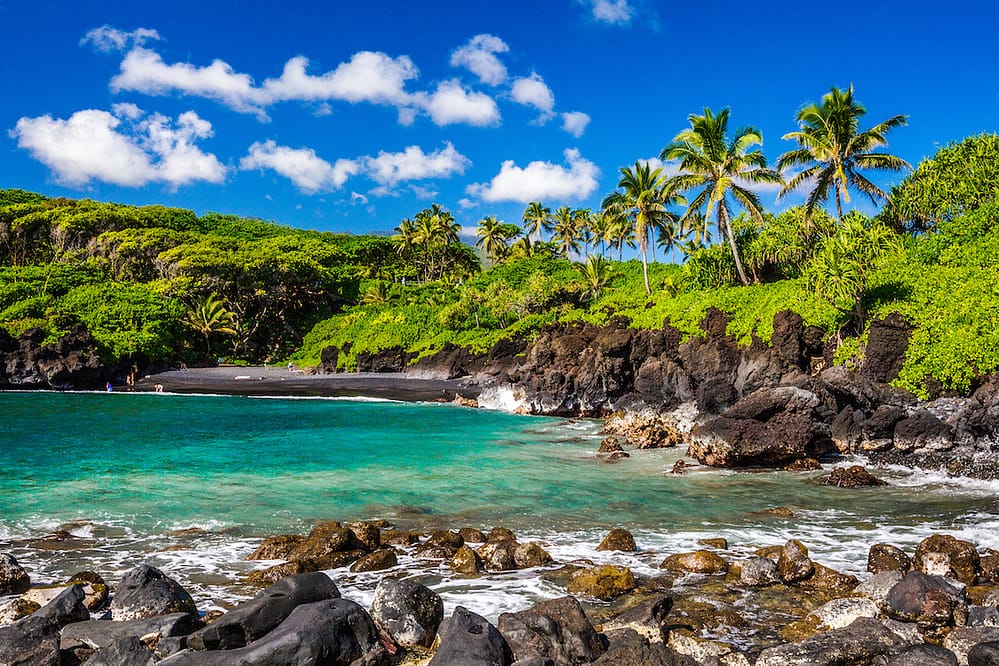 Maui is the perfect escape from the winter chill of the mainland and is easily one of the best places to visit in the USA in 2023. February is one of the best times to visit the island of Maui, given it's one of the best times to go on a whale-watching tour to see humpback whales. Thousands of these majestic creatures migrate from the chilly waters of the Arctic to the warm, shallow lagoons of Maui to breed and raise their calves. You'll have an excellent chance of seeing mamas teaching their calves how to breach and other fascinating behaviors, like tail slapping and spouting, during your trip to Maui in February.
No trip to Maui would be complete without cruising along the Road to Hana, a 65-mile road that winds past incredible waterfalls and through some of the world's most lust rainforests. Along the way, you'll pass bamboo forests, more tropical fruit stands than you can count, and Honokalani, the most stunning black sand beach on Maui. While you're in Maui, you also can't miss the chance to go snorkeling at Molokini Crater—one of the top ten snorkeling destinations in the world!
Contributed by Jessica from Uprooted Traveler
Twin Cities, Minnesota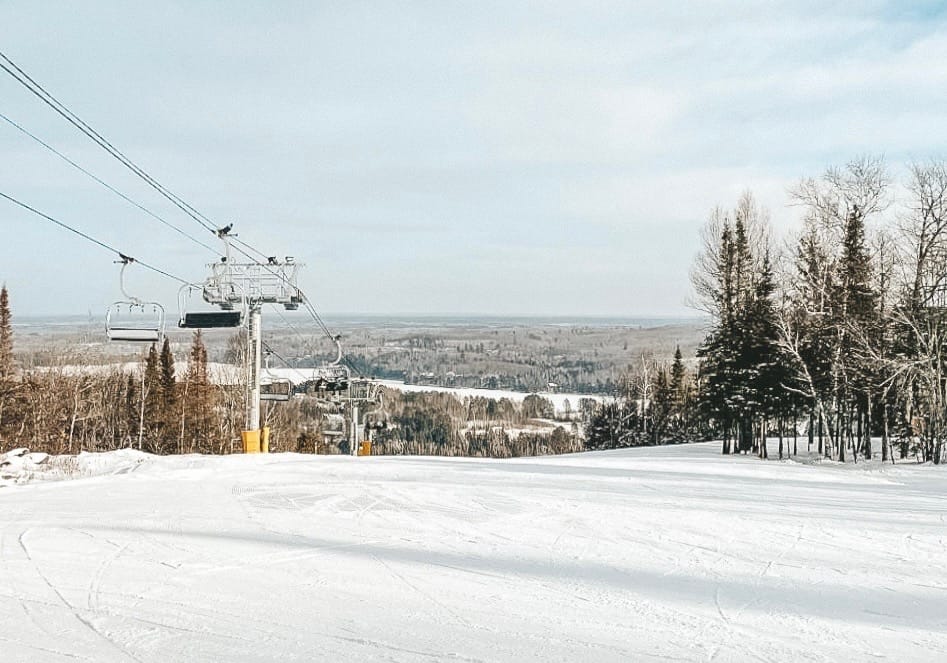 Minnesota is a winter wonderland when snow begins to fall each year—and February is one of the best times to visit if you're a lover of winter sports. Around the Twin Cities, there are plenty of ski resorts nearby to fulfill your desire to hit the slopes. Just 40 minutes from the Twin Cities, you'll find one of the most popular resorts, Afton Alps, which is an Epic Pass resort. If you're a night owl, consider checking out Trollhaugen, a ski resort that offers some of the best night skiing and is open until 3 AM on Friday nights. Wild Mountain is another very popular resort near the Twin Cities that is right on the St. Croix River Valley.
Other things to do while in town include checking out Minneapolis's great food scene, visiting the Mall of America, visiting the Sea Life Minnesota Aquarium, and going snowshoeing or cross-country skiing.
Contributed by Kassidy from Kassidy's Journey
Best Places to Visit in the USA in 2023: March
March is the season for spring break vacations and adventures on St. Patrick's Day. Check out this list of the best places to visit in the USA in March to see where you should head during the first month of spring!
Sedona, Arizona
March is the ideal time to visit the breathtaking red rocks in Sedona, Arizona. Not only will you miss the summer tourists, but you'll also miss the sweltering heat (which is a huge plus!).
There are plenty of fun things to do in Sedona, AZ, from shopping at the Tlaquepaque Arts & Crafts Center and in Uptown Sedona to embarking on a Pink Jeep Tour through the red rocks. However, hitting the hiking trails is by far the best thing to do in Sedona. Soldier's Pass, Cathedral Rock, Devil's Bridge, and West Fork Trail are some of the best hiking trails in Sedona, and each offers something completely unique—from bridges and caves to creeks and canyons.
When you're finished hiking, drive a few miles to Cornville and Cottonwood to visit the wineries on the Verde Valley Wine Trail. Don't miss D.A. Ranch and Page Springs Cellars! If you don't want to worry about driving, you can go on this Verde Valley Wine Tour that includes transportation to four boutique wineries from Sedona! You can even add on a day trip to Jerome, known as North America's largest ghost town, during your trip to Sedona. While you're there, sit down for lunch or dinner at the Haunted Hamburger, and pay a visit to Nellie Bly's Kaleidoscope Shop, the world's largest kaleidoscope shop.
Contributed by Brittany from Travel by Brit
Key West, Florida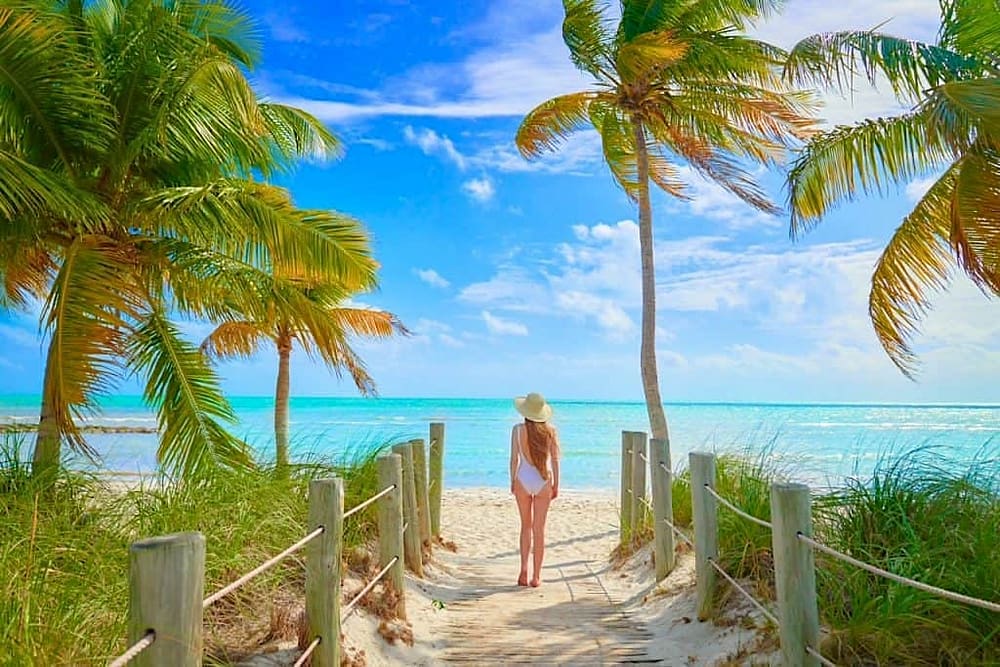 March is the best time to visit Key West, Florida. Not only does this month fall out of hurricane season, but the weather isn't too hot, and prices are slightly cheaper than during peak season. Plus, March is the spiny lobster season and a great time to sample this local delicacy before the harvest season ends in April.
If you love parties, then March is the perfect time to visit Key West. The spring breakers tend to flock to the area to soak up the incredible weather, so be prepared for a younger crowd when visiting during this month. If you're looking for a good time, you can enjoy this Sunset Party Cruise by Catamaran. You can also go on a tour for St. Patrick's Day that includes green beer and special St. Patrick's Day-inspired fare.
March is also a great time to explore the many homes in the historic Old Town during the annual Key West House and Garden Tour and, of course, to enjoy the beautiful tropical weather on a snorkeling tour, parasailing adventure, or food-tasting tour down Duval Street.
Contributed by Victoria from Florida Trippers
Washington, District of Columbia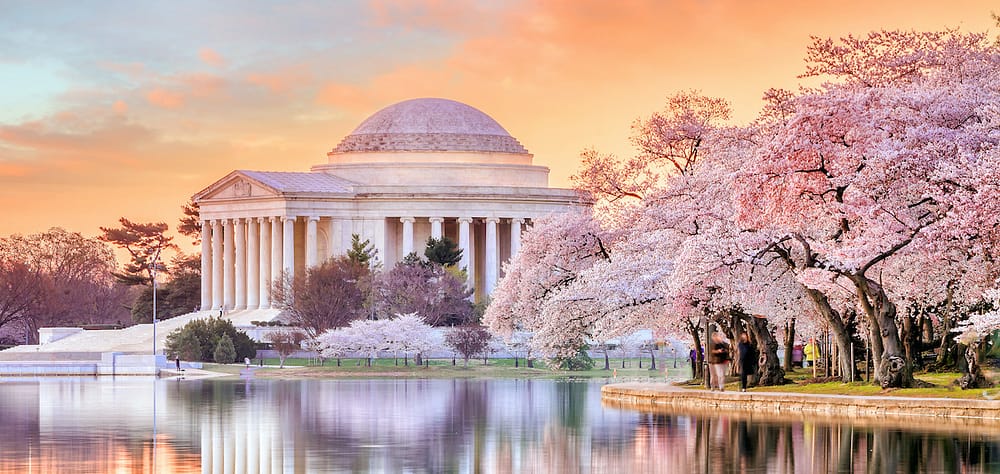 Washington, D.C., is one of the best places to visit in the USA in 2023—especially during March! The crowds have not yet started, and you won't have to suffer through the intense humidity the city experiences during the summer months. Plus, you can catch the start of the cherry blossom season!
There are so many great things to do in Washington, D.C., and the best part is—they are all free! You will want to check out the Natural History Museum, WWII Memorial, Vietnam Veterans Memorial, American History Museum, Lincoln Memorial, and, of course, make a stop at the White House. You also can't miss the chance to pay your respects at Arlington Cemetary and the Tomb of the Unknown Soldier. These places all offer unique insight into the background and history of the United States of America.
If you want to catch the beautiful cherry blossoms blooming, be sure to visit the last week of March. You can usually see the most gorgeous blooms at the National Mall framing the Washington Monument and Jefferson Memorial. And don't miss the chance to see all the monuments gorgeously illuminated in the evening on the Monuments by Moonlight Trolley Tour.
Contributed by Candice from CS Ginger
Top Places to Travel in the USA in 2023: April
Savannah, Georgia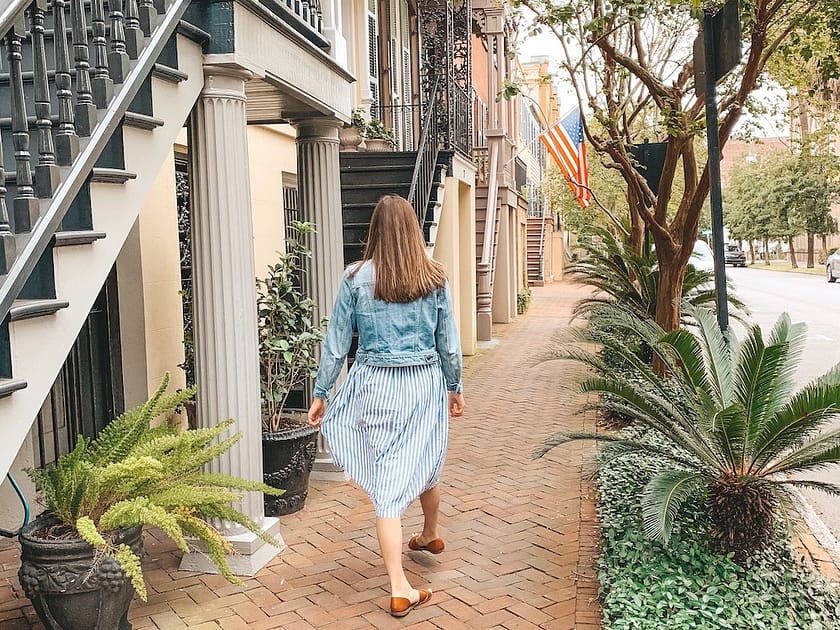 April is arguably the best month of the year to visit Savannah, Georgia. You can enjoy sunny weather, seasonal events, and the peak of the blooming pink azaleas across the city. Most years, it's even warm enough to enjoy a sunny beach day on Tybee Island!
There are always plenty of fun things to do in Savannah, like strolling around Forsyth Park, taking a riverboat sightseeing cruise from River Street, exploring City Market, and going on a spooky ghost tour to some of the most haunted places in Savannah. However, there are also popular spring events, like the Sidewalk Arts Festival, Savannah Music Festival, and Forsyth Farmers Market, you can enjoy in April.
You also can't miss the chance to grab a bite at some of the best places to eat in Savannah. Get breakfast at Collins Quarter or Mirabelle Savannah, lunch at Treylor Park, and dinner at The Olde Pink House. You'll absolutely love the creative twists on classic southern food at these unique local restaurants!
Contributed by Brittany from Travel by Brit
Charleston, South Carolina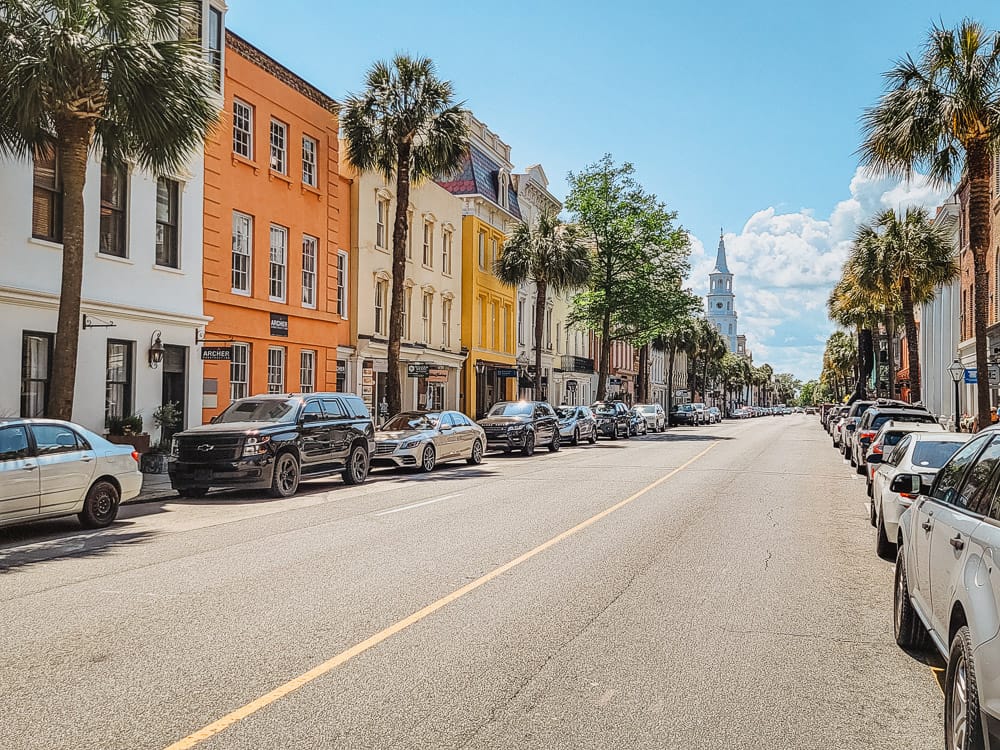 April is the perfect month to visit Charleston. The weather is beautiful, and the hot, sticky summer weather hasn't set in. Charleston is a really fantastic destination thanks to the beautiful streets and buildings, the historical landmarks, boutique shopping, and so much delicious food.
Be sure to wander around the French Quarter and admire all the candy-colored buildings and quaint cobblestoned streets. A few great spots here are the Pineapple Fountain at Waterfront Park, Rainbow Row, and the French Huguenot Church. Visit the Old Slave Mart Museum and the Old Exchange and Provost Dungeons for some historical perspective, then walk down Broad Street and Queen Street. You can even go on a horse-drawn carriage ride through the city to see these iconic sites.
Outside the city, you can also take one of the best day trips from Charleston to visit one of several historic plantations, marvel at the Angel Tree, take the ferry out to historic Fort Sumter, where the Civil War started, or visit the Patriot Point Museum (it's on a WWII aircraft carrier and is a super cool museum). Since Charleston, SC, and Savannah, GA, are only a few hours apart, you could even combine these two cities together into an epic road trip during April 2023.
Contributed by Stephanie from The Unknown Enthusiast
Zion National Park, Utah
Zion National Park is home to a lot of great scenery and some of the best hikes in Utah. April is an especially good month to visit because it's not as hot and busy as the summer months, which can be extremely crowded and toasty warm, but it's not cold, snowy, and slippery either.
There are a lot of great things to do in Zion, like driving on the Zion-Mount Carmel Highway. This is a scenic drive where you can enjoy some amazing views of the national park without doing any hiking! The most coveted bucket list item in Zion National Park is probably hiking Angel's Landing, but there are also other great ones, like The Narrows and Observation Point, if the former trek is too challenging. If you really want to escape the crowds, go to the Kolob Canyons. This is the quiet side of the park, and most tourists skip it, but it has some very nice hiking trails without many people!
Contributed by David & Intan of The World Travel Guy
Best Places to Visit in the USA in 2023: May
Louisville, Kentucky
There aren't many places to visit in the USA in 2023 that are better than Louisville, Kentucky, in May. When it comes to popular travel destinations, Louisville, KY, may fly under the radar, but it is an excellent spot to visit if you love bourbon, horses, museums, and historical architecture!
Louisville is home to the Kentucky Derby, which takes place during the first week of May, so if you can, plan to visit during this event for a once-in-a-lifetime experience! Even if you can't make it to the Kentucky Derby, you can still visit the Kentucky Debry Museum at Churchill Downs, one of the best museums in Louisville, to learn more about this iconic event.
In addition to the Kentucky Derby, check out some of the coolest things to do in Louisville at any time of year, like touring the Louisville Slugger Museum & Factory and eating at the most unique restaurants in Louisville, like Repeal-Oak Fired Steakhouse in the lobby of Hotel Distil. You can also take a full-day guided tour of the distilleries on the Kentucky Bourbon Trail, like Maker's Mark and Old Forester, to learn how bourbon is made (with tastings included, of course!).
Contributed by Brittany from Travel by Brit
Virginia Beach, Virginia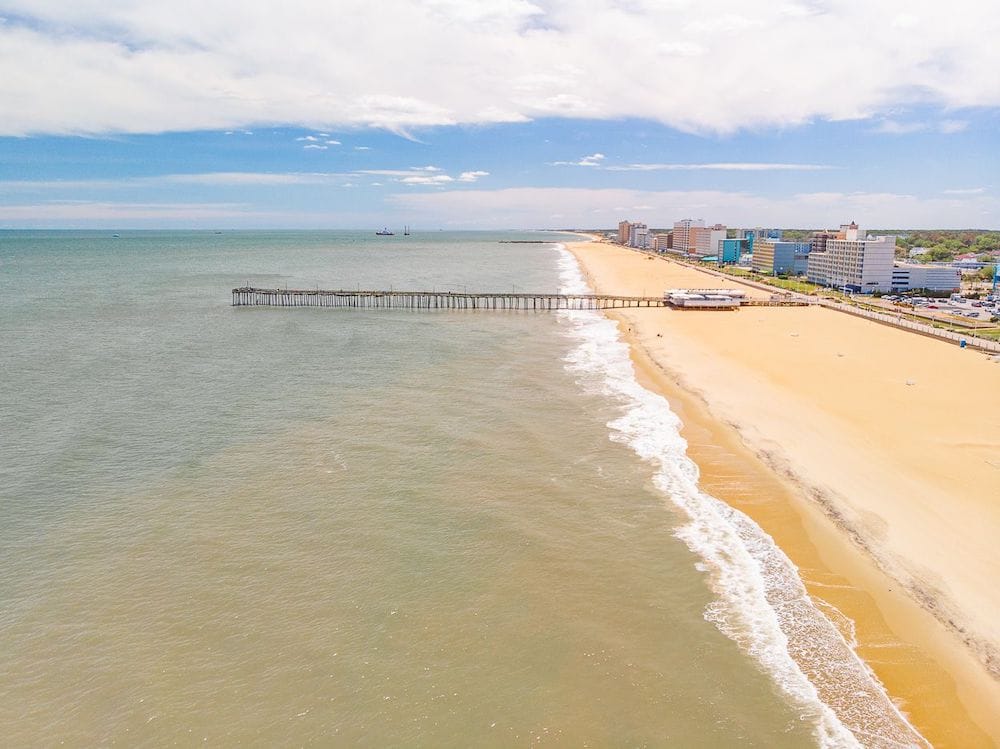 Virginia Beach is one of the best places to visit in the USA in 2023. If you are thinking about visiting Virginia Beach in 2023—you should try to come in May! May is the beginning of the busy season, and there are plenty of advantages to coming to Virginia Beach in late Spring. The weather is amazing, the beaches are not very crowded, and there is plenty to do!
If you're visiting in the middle of May, you can't miss the Neptune Wine & Food Festival. This annual event happens right on the oceanfront, and if you stay at the Marriott Virginia Beach Oceanfront, it would be right next to your hotel! If you are traveling with children or car lovers, Monster on the Beach is another fun event where giant monster trucks drive around on the sandy shores of Virginia Beach.
The Strawberry Festival is one of the most popular things to do in Virginia Beach in May. Locals and tourists alike wait for this amazing festival all year long! Virginia Beach celebrates the local strawberry farmers with a huge event. There are carnival rides, food stands, and a big parade. Of course, you can pick your own strawberries to enjoy during your trip too!
Contributed by Abbey from Trips on Abbey Road
Yosemite National Park, California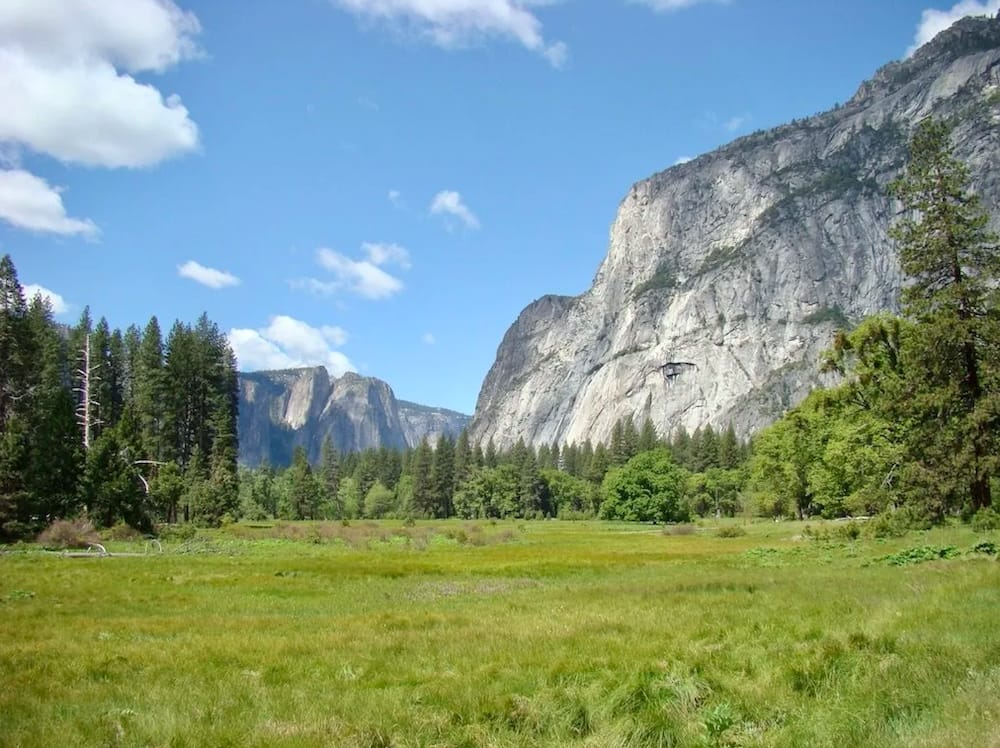 Visiting Yosemite National Park in May is the perfect time of year to see this glorious outdoor playground at its very best. The snow that has covered the landscape all winter has now thawed, creating a steady stream of meltwater cascading over the mountain edges. These breathtaking waterfalls attract thousands of visitors to Yosemite National Park every year!
Walking trails lead around the park and are graded for all abilities. One circular walk that is easy for all the family leads through the forest to the mighty Yosemite Falls, one of the tallest waterfalls in North America. To stand beside the falls and hear its thunderous roar is quite an experience. For the more adventurous, rock climbing and kayaking are two great activities to try.
Contributed by Angela from Where Angie Wanders
Top Places to Visit in the USA in 2023: June
Juneau, Alaska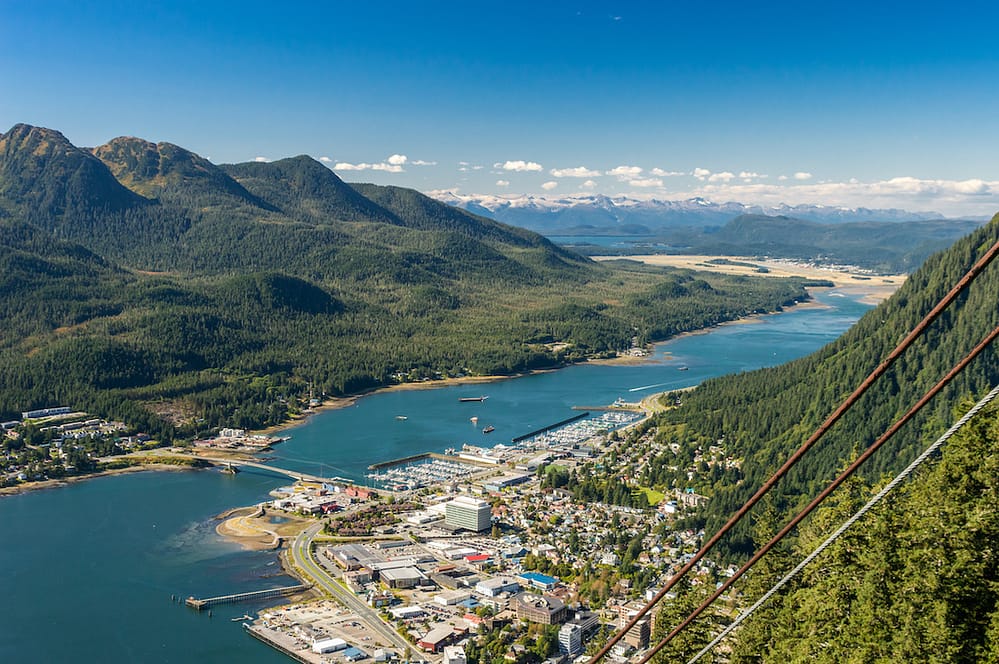 June is an ideal month to visit Juneau, as it's one of the driest times, and temperatures begin to rise. When visiting Juneau in June, you can't go wrong with a humpback whale-watching tour, as most operators guarantee humpback whale sightings. However, for many, one of the highlights of an Alaska trip is dog sledding in Juneau. While expensive at around $600 per person, the tour combines some flightseeing by helicopter with a dog sled ride on one of Juneau's glaciers.
Alternatively, taking a 30-minute shuttle to Mendenhall Glacier allows you to see one of Alaska's retreating glaciers. If you're feeling adventurous, you can even book a canoe tour of Mendenhall Glacier! While the Mendenhall Glacier Park has numerous hikes, the one to Nugget Falls provides an easy route with almost no elevation gain. If you take the Mount Roberts Tramway 1,800 feet up the mountain, you'll savor views over Juneau and the Gastineau Channel. The mountaintop still has snow in June, so dress appropriately if you want to hike. If you love seafood, check out Tracy's Crab Shack, where you can try Snow, Dungeness, Red King, and Alaskan Brown King Crab.
Contributed by Karen from Forever Karen
Mackinac Island, Michigan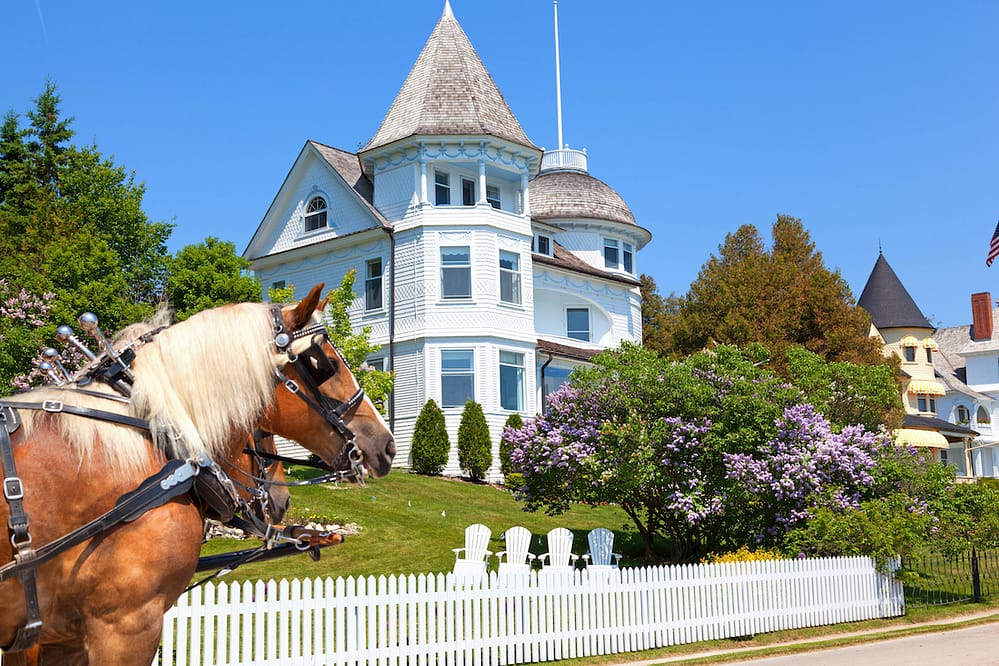 Surrounded by the beautiful waters of Lake Huron, a vacation to Mackinac Island, Michigan, is so serene and one of the best places to visit in the USA in 2023. And there isn't a better time to visit than in June when the weather is getting warmer, and the lilac trees are in full bloom.
When you arrive, you'll take a step back in time, as no cars are allowed on the island. The most popular ways to see all that Mackinac Island has to offer is by foot, bike, or horse-drawn carriage. While exploring the island, make sure to check out the Grand Hotel, Arch Rock, and Fort Mackinac. Don't forget to treat yourself to some fudge at one of the many shops located in the main downtown area.
Mackinac Island will be hosting its 75th Annual Lilac Festival from June 9-18, 2023. Book your stay early if you want to attend the festival. For a more budget-friendly visit, book your stay prior to the start of the festival, and attend a few days in the beginning.
Contributed by Jenn from Those Johnson Boys
Asheville, North Carolina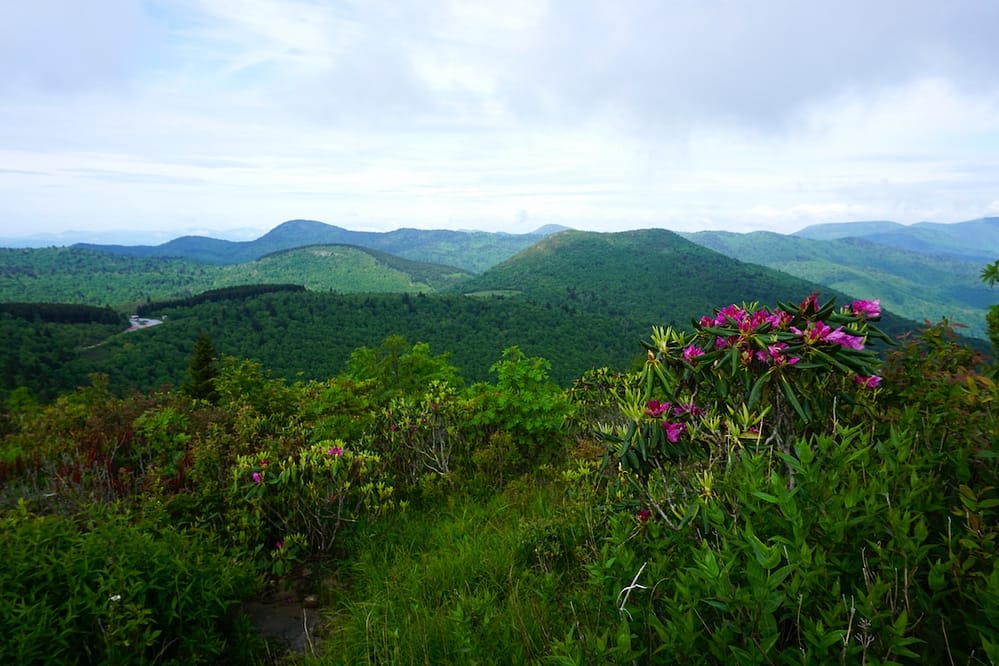 Winding, green mountains sweep across the blue North Carolina sky for miles on end to form the breathtaking Blue Ridge Parkway. June brings vibrant greenery across the mountaintops with a sprinkle of pink wildflowers. It's practically out of a fairytale! The Blue Ridge Parkway begins in North Carolina and runs through Shenandoah National Park in Virginia. It begins approximately 40 minutes outside of Downtown Asheville making it ideal for a combined road trip. Visitors of all interests will enjoy the sheer beauty simply from the comfort of your car, accessible pull-out stops, or taking a hike.
After exploring Blue Ridge Parkway, catch a summer concert at the Orange Peel venue or wander through an outdoor concert in Asheville's vast downtown scene. Hop in and out of eclectic, unique shops or get your competitive side on at the Pinball Museum. Explore the vibrant, urban scene of Asheville's River Arts District while shopping or sipping a summer coffee, taking in all the fresh energy this town has to offer.
You should also plan to spend an entire day at the Biltmore Estate & Winery—the largest privately-owned home in America! You can spend an entire day touring the home, exploring the gardens, wine tasting at the winery, and eating at the restaurants nearby. With so much to do, there is no double Asheville is one of the best places to visit in the USA in 2023!
Contributed by Alyssa from An Apple a Plane
Best Places to Travel in the USA in 2023: July
Portland, Maine
Portland, Maine, may experience cold, wet, snowy weather most of the year—but in the summer, the glorious sunshine and cool breezes easily make this coastal town one of the best places to visit in the USA in 2023! There are tons of amazing things to do in Portland, Maine, during the summer. You can explore Fort Williams Park, where you can see the famous Portland Head Light, shop at Old Port, or embark on a boat ride or sailing adventure from Casco Bay. You also should try a potato donut from The Holy Donut and a lobster roll from Eventide Oyster Co.—or go on a food tour to sample the best of Portland!
If you enjoy beer, you should also go on a self-guided brewery tour to sample beer from some of the best craft breweries in Portland, Maine. Known throughout New England, Allagash Brewing Company is a must-visit, but Foundation Brewing Company, Bissell Brothers Brewing Company, and Lone Pine Brewing Company are some other local spots you should check out! If you don't want to worry about driving or don't have a car, you can take a guided brewery tour instead.
Contributed by Brittany from Travel by Brit
Temecula, California
While wine regions like Napa Valley and Sonoma Valley may be better known, Temecula, California, is one of the best wine regions in California, boasting 50+ incredible local wineries and other fun things to do in Temecula, like horseback riding and hot air balloon rides over wine country.
During a summer trip to Temecula, first and foremost, you must check out some of the best wineries in Temecula. In July, all the vineyards are lush, green, and beautiful, so they provide the perfect opportunity for photos. Wilson Creek Winery, Somerset Vineyard & Winery, Leoness Cellars, and Robert Renzoni Vineyards are all spectacular spots to visit. You can even go on an all-inclusive winery tour with lunch for an effortless experience exploring Temecula's wine country.
After wine tasting, head into Old Town Temecula, where you can shop at local boutiques, sample olive oil, learn how to line dance at the Temecula Stampede, or eat at some of the best restaurants in Old Town Temecula, like 1909 Temecula, The Goat & Vine, and Blackbird Tavern.
Contributed by Brittany from Travel by Brit
Burlington, Vermont
Burlington, Vermont, is known for its farm-to-table dining scene, beautiful lakeside scenery, and outdoor adventures—especially its incredible nearby hiking trails! Come July, the city is overflowing with excited tourists ready to window shop along the famed Church Street or enjoy the gorgeous views as they paddle around Lake Champlain.
Stop into Maudite Poutine for the best batch of poutine south of Quebec City and pick up a big scoop of freshly made gelato from Lake Champlain Chocolates! Before heading back to your hotel, take a stroll along the lovely Waterfront Park or brush up on your history at the Ethan Allen Homestead Museum and Historic Site. If you plan on making your trip to Burlington a stopping point on your way to Montreal or Quebec, be sure to read up on some popular French phrases before you go!
Contributed by Emily from Emily Embarks
Top Places to Visit in the USA in 2023: August
Kansas City, Missouri
Kansas City is easily one of the most underrated (and best!) places to visit in the USA in 2023—especially during the month of August when you can enjoy warm weather and minimal rain.
There are tons of fun things to do in Kansas City that appeal to all types of travelers. If you love history, you can visit the city's two world-class museums, the World War I Museum & Memorial and the Nelson-Atkins Museum of Art. If you love murals, you can go on a photo scavenger hunt for murals around the city. If you love trying new cocktail bars or breweries, you can visit Mean Mule Distilling Company or Boulevard Brewing Company. If you love shopping, you can walk around the beautiful Country Club Plaza.
Of course, you can't miss stopping at some of the best places to eat in Kansas City, like Joe's Kansas City Bar-B-Que, where you can enjoy the meal that the town is famous for! You can also grab a room at a hotel in Downtown Kansas City, like Loews Kansas City or the 21c Museum Hotel Kansas City, to be within walking distance of all the action.
Contributed by Brittany from Travel by Brit
Nantucket, Massachusetts
Average Weather: 79°F / 63°F
Where to Stay: Hotel Pippa
Nantucket is one of the best places to visit in the USA in 2023 for a relaxing island break in August. The island has a vibrant end-of-summer vibe, and the weather is usually nice and perfect for cycling around the island. Nantucket has an excellent network of cycling trails across the island which means you can discover the whole island without a car.
Whether you go on a day trip to Nantucket or spend a week, there are enough things to do to keep you busy! Head to Siasconset to see some of the oldest cottages on the island, walk the Sconset Bluff Walk to Sankaty Head Lighthouse, or relax at the beach. August is also a great month for humpback whale watching in Nantucket. Every year, Nantucket organizes different events, so it is worth checking out what happens before booking your ticket so that you don't miss out on anything. You can easily reach the island by plane or by ferry from Harwich Port in Cape Cod or Hyannis.
Contributed by Linn of Brainy Backpackers
North Cascades National Park, Washington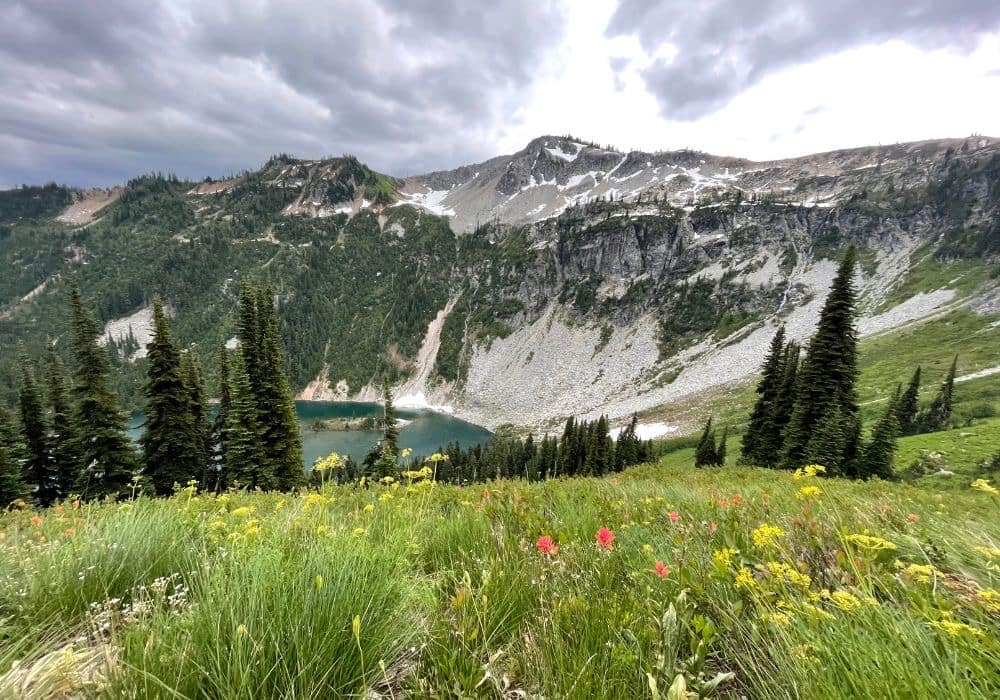 If you're looking for some of the most beautiful mountain views with fewer crowds than some of the other national parks, look no further than North Cascades National Park in Washington. August is the ideal month for visitors to experience the magic of the Cascade Mountain Range since temperatures are warm and the snow is melted off of most trails.
During August, you'll get to see this park mostly snow-free, which is a rare occurrence. Visitors can confidently take a drive on the North Cascades Highway without having to worry about road conditions. While driving through the park, stop at Diablo Lake Overlook and Washington Pass Overlook, which are two of the park's most beautiful viewpoints. For hikers, check out Heather-Maple Pass Loop, Thunder Knob, and Blue Lake for some of the best hiking in Washington, but keep an eye out for wildlife. Marmots and mountain goats roam the mountains and may easily be spotted in the summer months.
You can also plan to extend your trip to North Cascades National Park to include a few days in Seattle or explore Olympic National Park or Mount Rainier National Park, the other national parks in Washington!
Contributed by Kassidy from The Hiking Helper
Best Places to Travel in the USA in 2023: September
Newport, Rhode Island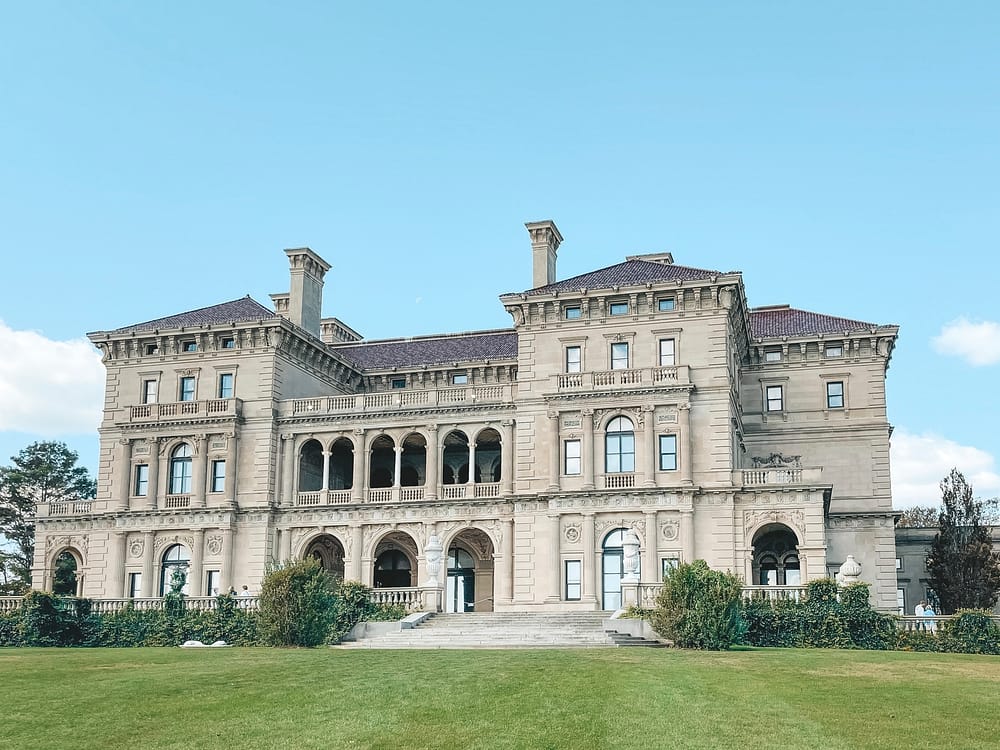 There isn't a better time to visit Newport, Rhode Island, than September. While the summer crowds have left the beaches, the temperatures are still warm enough to enjoy them, and the attractions haven't quite closed for the winter. There are tons of fun things to do in Newport, Rhode Island, in September, including touring the Newport Mansions, like The Breakers or The Elms, shopping on Thames Street or Bellevue Avenue, strolling along the scenic Cliff Walk, or going on sailing tours from Narragansett Bay. You can also enjoy spectacular meals at some of the best restaurants in Newport, including the Mooring Seafood Kitchen & Bar, CRU Café, and Pasta Beach.
There are tons of luxury hotels in Newport, Rhode Island, that are perfect for a family vacation, romantic honeymoon, or bachelorette party. Consider booking a room at Hammets Hotel, The Chanler at Cliff Walk, or Newport Harbor Island Resort.
Contributed by Brittany from Travel by Brit
San Diego, California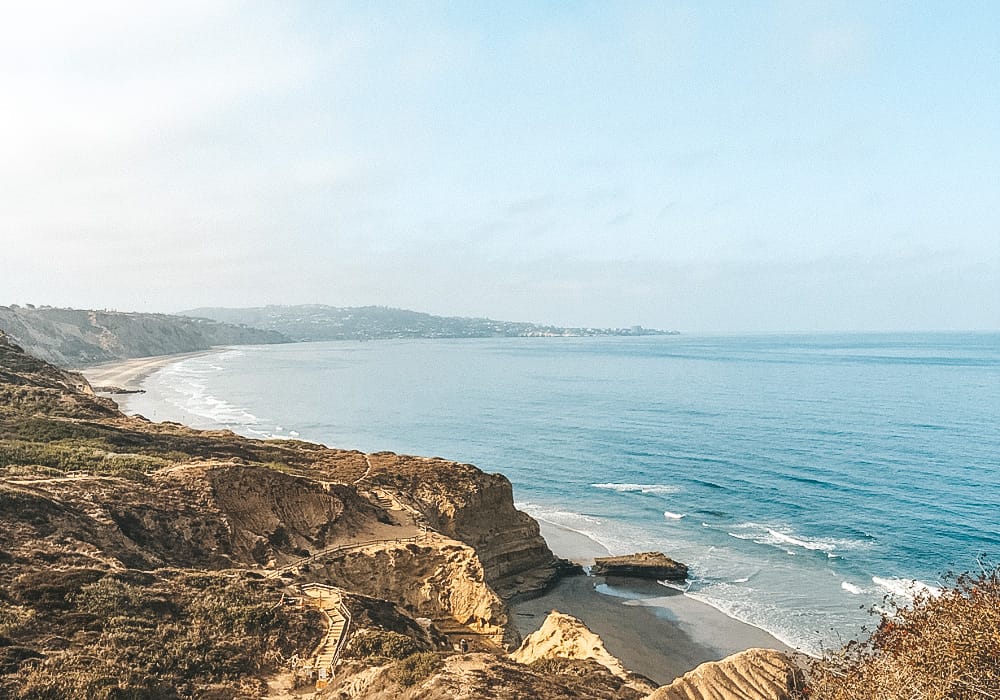 San Diego is one of the best places to visit in the USA in 2023 during the month of September. During this time of the year, the weather is perfect, and there are tons of fun things to do in San Diego to make your trip unforgettable. For example, you can soak up the sun or jump into the refreshing Pacific Ocean at one of the many gorgeous beaches in San Diego, like Coronado Beach on Coronado Island. Or, if you want to get your heart rate up and opt for something more exhilarating, take a surfing lesson to try your hand at surfing. San Diego is home to some of the best surf in the world!
There are plenty of other fun things to do in San Diego, like the San Diego Zoo, Balboa Park, and the USS Midway Museum. If you want to do some boutique shopping or are looking for good places to eat, head to La Jolla. You'll find some of the best food that San Diego has to offer here, such as Duke's La Jolla, and you can even go sea kayaking if you're looking for something adventurous to try. And, of course, make sure to stop by and say hello to the adorable sea lions at La Jolla Cove while you're in town!
Contributed by Kristin Lee from Global Travel Escapades
Breckenridge, Colorado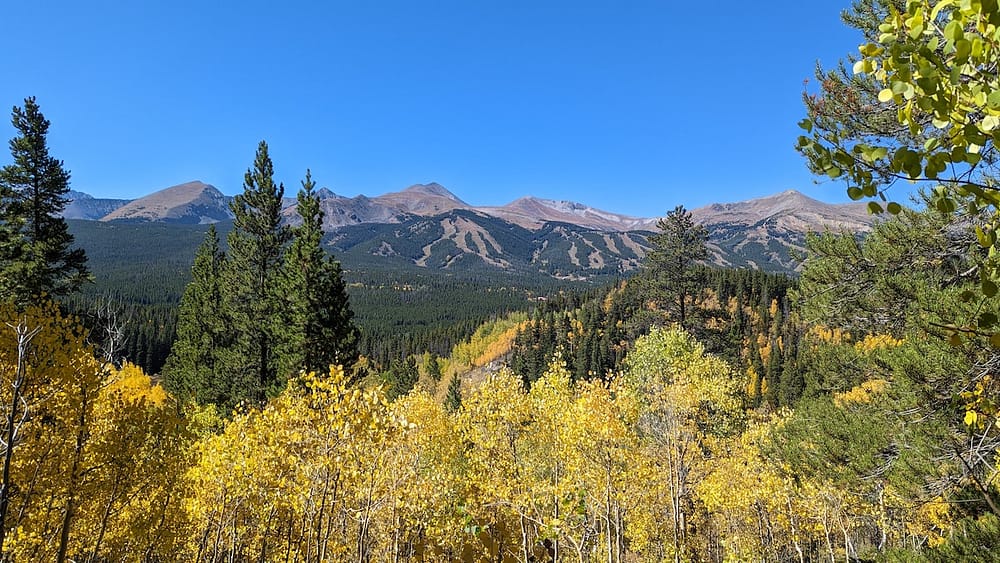 Breckenridge, Colorado, has something to offer virtually any month of the year, but September is the secret season. Summer crowds have disappeared, and it'll be months before the snow and skiers arrive. Thanks to Breckenridge's high altitude, leaf peeping here pops much earlier than in other U.S. destinations. If you want to hit it perfectly, plan to visit the third or fourth week of September. The aspens light up the hillside, and it looks like someone took a yellow highlighter and swept it across the landscape in every direction. It's one of the best places to visit in the USA in 2023 for leaf peeping!
There are dozens of incredible hikes that you can take in the fall foliage, whether you're just looking for an easy walk or a more strenuous climb. Aspen Alley is a fall favorite because it can be easy or a workout, depending on whether you hike it from the top or the bottom. If you come in late September, you can also catch Breckenridge's annual Oktoberfest. The town shuts down Main Street for a Munich-style street party. Grab their annual collectible stein and spend an entire weekend enjoying the beer, food, and music.
Plan to wear layers for warm sunny days and chilly fall nights, and don't forget to pack your camera so you can capture all the spectacular views.
Contributed by Kristi from Travel By Vacation Rental
Top Places to Travel in the USA in 2023: October
Boston, Massachusetts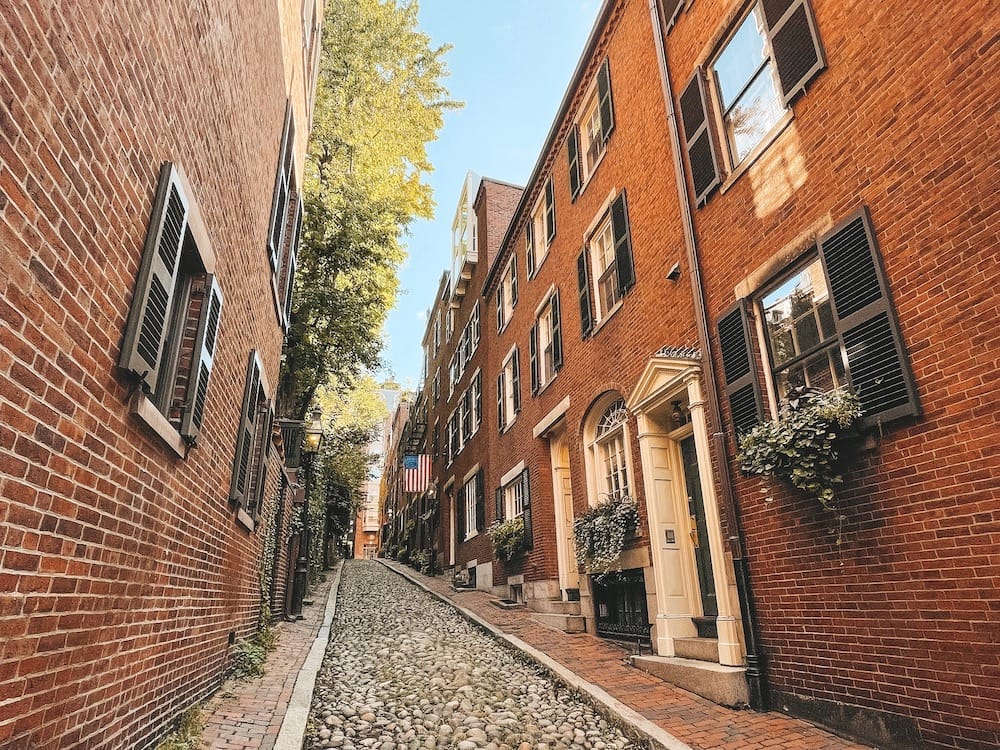 If you're searching for a charming fall wonderland and one of the best places to travel in the USA in 2023—look no further than Boston, Massachusetts, in October. While you're here, you'll enjoy warm days and cool nights, historic architecture, and gorgeously breathtaking fall colors!
In the city, you can't miss the chance to take a walking tour of the Freedom Trail to see popular sites like the Boston Common and the Old South Meeting House. You also must head over to the North End to take an Italian food tour with North End Boston Food Tours. Other fun things to do in Boston include touring the Boston Tea Party Ships & Museum, strolling around the Boston Public Garden, visiting Fenway Park, and snapping a photo of Acorn Street in Beacon Hill.
There are also tons of amazing day trips from Boston you can take to soak in the gorgeous fall foliage or string a few destinations together for an epic road trip. Consider driving to Plymouth, MA, and visiting the Plimoth Patuxet Museums, driving through Portsmouth, NH, and the Kancamagus Highway for some leaf peeping, or venturing into Lexington and Concord to learn more about Paul Revere's Midnight Ride!
Contributed by Brittany from Travel by Brit
Acadia National Park, Maine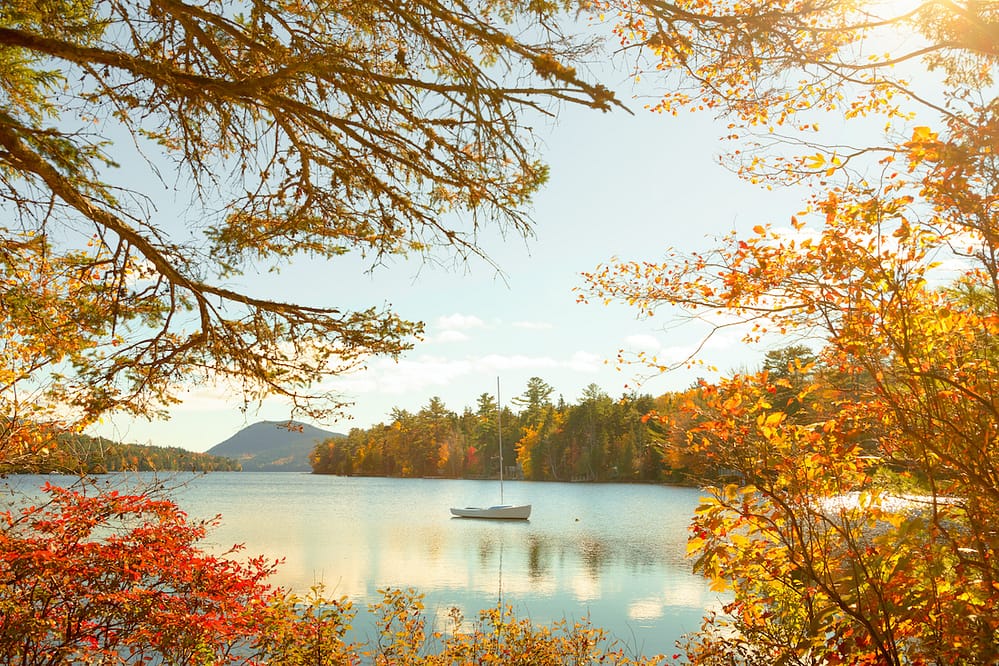 One of the most magical places in the United States to visit in October is Acadia National Park. As one of the main stops on a New England fall road trip, you'll sip on hot cider, enjoy prime hiking weather, and awe at the ruby red, vibrant orange, and golden falling leaves.
The most ideal way to get out and experience the most dramatic falls in the world is on any of Acadia's hiking trails. With all the day hiking essentials, check out the Precipe Trail, Beehive Trail, and Jordan Pond Trail for panoramic vistas over the mountains, lakes, and eastern coastline. The Ocean Path is especially spectacular for a nice oceanside stroll. And, of course, you must experience the iconic sunrise at Cadillac Mountain. This mountain is the first spot in the country where the sun hits, so you can witness the very first sunrise in the United States.
No trip to Acadia is complete without a visit to Bar Harbor. This quaint town has that quintessential New England charm that you'll fall in love with. The whale-watching tours, butter-filled lobster rolls, and endless lines of shops draw hikers in after a long day exploring the park, and the warmth of the town keeps them in for the night before a new day of exploring.
Contributed by Aaren from What Do You Sea
Santa Fe, New Mexico
With cooler temperatures, fewer visitors, and lower hotel prices, October is an ideal month to visit Santa Fe. It's also when New Mexico's capital offers some special events to make it particularly inviting.
Since 1999, the Santa Fe International Film Festival has been screening some of the most exciting international and independent films. The Santa Fe Studio Tour invites art aficionados to visit the workplaces of local artists to see and purchase art in the settings where it is created. And just an hour away, Albuquerque's International Balloon Fiesta has been attracting hot-air balloon enthusiasts for more than 50 years during October. You can also see the gorgeous fall colors, including the yellow aspen trees, in Santa Fe at the beginning of October!
No matter when you visit, Santa Fe serves up an incredible foodie experience, offering a delectable cuisine that showcases a unique blend of Mexican, Native American, and Anglo influences. Many of the best restaurants in Santa Fe are near the Santa Fe Plaza, the city's historic heart and soul. No matter how you work up your hunger in Santa Fe, satisfying it will make for a lasting memory of this gem of the Southwest.
Contributed by Denise from Chef Denise
Best Places to Visit in the USA in 2023: November
Nashville, Tennessee
Nashville, Tennessee, is a fun destination at all times of the year, but it's an especially great place to visit in the USA in 2023. By late fall, the humidity in Nashville has lifted, and you can enjoy many attractions, like Broadway Street and Centennial Park, without the crowds.
There are so many amazing things to do in Nashville during your trip! During the day, check out popular tourist attractions to learn more about Nashville's country music history and culture, like the Country Music Hall of Fame & Museum and the Grand Ole Opry. When you're done sightseeing, you can head to popular neighborhoods, like 12 South and The Gulch, to take photos in front of the most popular murals in Nashville, like the "I Believe in Nashville" mural.
There are plenty of fun places to eat in Nashville, including brunch at Biscuit Love, Frothy Monkey, or Poindexter Coffee and dinner at Hattie B's Hot Chicken, Pharmacy Burger, or the Grilled Cheeserie. If you'd like, you can even take a day trip from Nashville to a nearby city, like Franklin, Tennessee, or Knoxville, Tennessee, to get a taste of the south!
Contributed by Brittany from Travel by Brit
Walt Disney World, Florida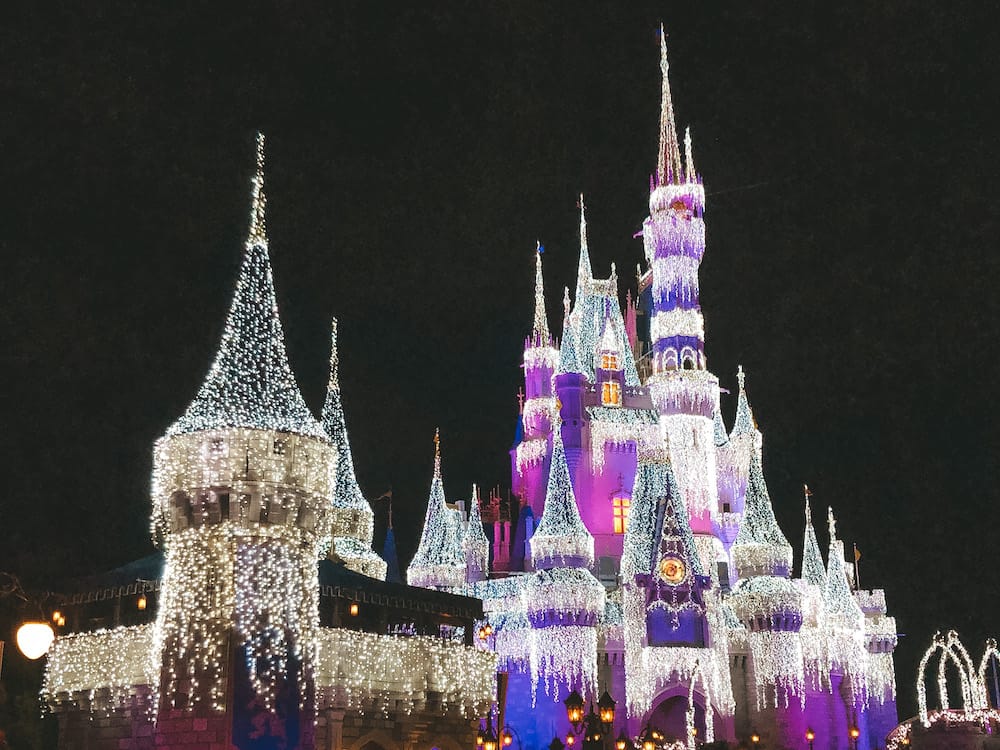 There is no doubt that one of the best places to visit the USA in 2023 is Walt Disney World in Orlando, Florida! Whether you're taking your toddlers to Disney, your teenagers, or going on an adults-only trip, there is something to do for everyone.
November is a particularly fantastic time to visit Walt Disney World for a few reasons. First and foremost, the weather is finally turning! Disney World in the scorching heat can be tough, but November in Disney offers more temperate weather and smaller crowds, so you can grab a park hopper ticket to see Epcot, Magic Kingdom, Animal Kingdom, and Hollywood Studios. On top of that, visitors to Disney World are bound to catch some incredible events. During the beginning of the month, festivities for Epcot's Food and Wine Festival are still going strong. Plus, Mickey's Very Merry Christmas Party begins at Magic Kingdom, and the holiday decorations start popping up around the parks on November 1st.
While you're in Orlando, check out some other popular attractions, like Disney Springs, Universal Studios, Kennedy Space Center, SeaWorld Orlando, and more!
Contributed by Taylor from Traverse with Taylor
Red Rock Canyon, Nevada
One place that you won't want to miss out on visiting in November is Red Rock Canyon. During November, the desert region experiences goldilocks weather. This means you can avoid the 100°F summer days as well as the freezing cold winter season!
The National Conversation Area is a short drive from the Las Vegas Strip, so it offers the perfect getaway after spending some time in Downtown Vegas. Plus, Red Rock Canyon is filled with lots of activities suitable for anyone. For instance, there are tons of hiking trails that range from easy to difficult and offer beautiful views of the desert landscape. And if you're keen on doing something more adventurous, such as experiencing the famous red rocks up close, consider rock climbing! There are routes available even for complete beginners!
Contributed by Kristin Lee from Global Travel Escapades
Top Places to See in the USA in 2023: December
New York City, New York
Average Weather: 44°F / 31°F
Where to Stay: The Plaza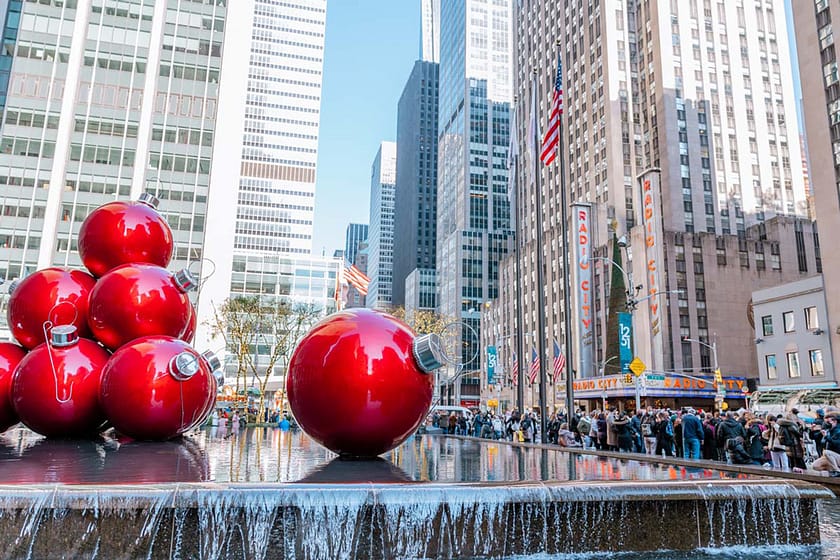 Regardless of when you visit, it's safe to say that New York City, or the "Big Apple," is one of the best places to visit in the USA in 2023. However, December in New York City is the most magical time to visit because you get to enjoy everything that makes NYC special, with the holiday spirit as the cherry on top!
Some of the most iconic things to do during a visit to NYC during this time include visiting the Rockefeller Christmas Tree, seeing the Rockettes perform at Radio City, viewing the big store holiday windows, and ice skating in Central Park. If that wasn't enough, you can also visit the Bryant Park Winter Village for more ice skating, holiday markets, toasty igloos, and many food vendors. If you really love Christmas decorations, then you should also head to Dyker Heights, Brooklyn. They are known for having extravagant Christmas decorations for people to enjoy. Also, consider staying at The Plaza, one of the filming locations for Home Alone 2: Lost in New York, for more holiday cheer!
Contributed by Sam from Find Love & Travel
Branson, Missouri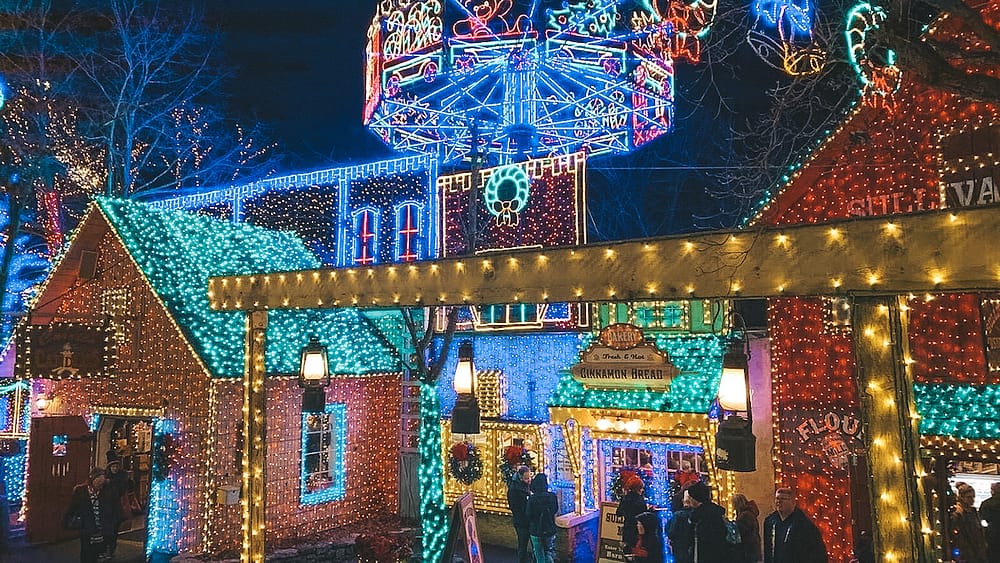 If you are looking for a family-friendly Christmas destination, you do not want to miss Branson, Missouri. While other top Christmas destinations in the USA are often very cold and snowy, Branson isn't quite as cold and rarely snows. It makes doing all the holiday activities much more enjoyable.
Speaking of holiday activities, there are so many things to do in Branson in December. Branson is known as a great city for world-class shows. At the end of the year, the majority of the shows transform into magical holiday-themed shows. Silver Dollar City, a big amusement park in Branson, MO, also has a fun holiday festival. The festival includes millions of lights, a holiday parade, a sing-along train ride, holiday shows, and amazing Christmas decorations.
Head to Dick's 5 & 10 old-fashioned variety store in the historic downtown, to find some Christmas presents. When you're downtown, you'll also want to hop on the Polar Express! This seasonal train ride is a great way to get into the holiday spirit. Along with all the holiday activities in Branson, the city is also full of great places to eat, like Farmhouse Restaurant and Gettin' Basted.
Contributed by Elizabeth from The Fearless Foreigner
Door County, Wisconsin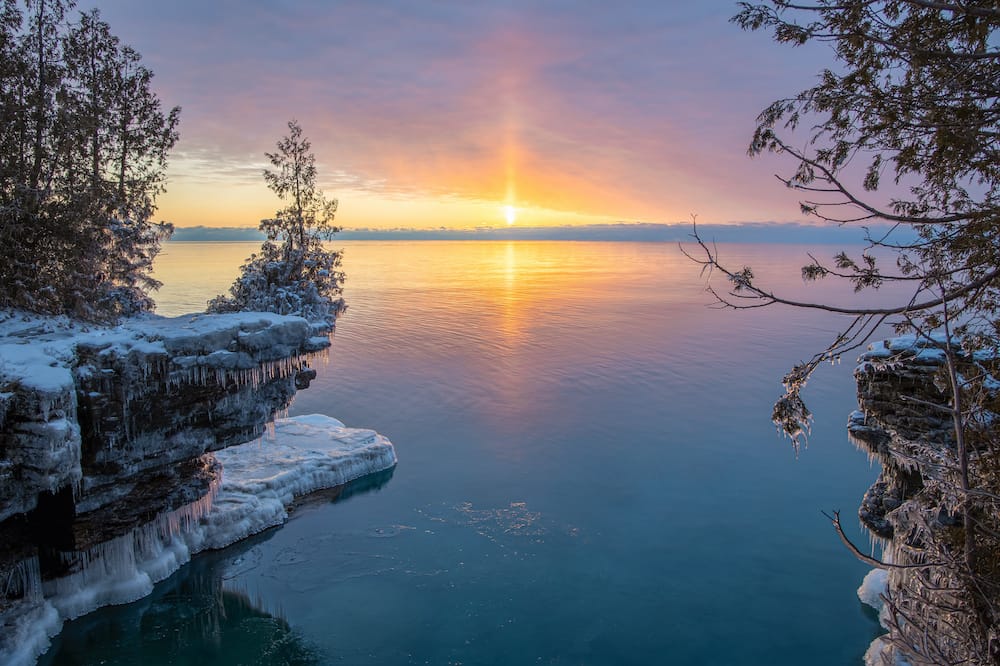 December is a fabulous time to visit Door County, WI if you'd like to enjoy the holidays in a winter wonderland! There are tons of fun winter activities to enjoy, like snowshoeing, sledding, cross-country skiing, or even walking along a beautiful frozen beach to catch a stunning sunrise or sunset.
If you're looking to stay warm inside, you can stop at a local brewery, like One Barrel Brewing Company or Door County Brewing Co. Taproom, or try an art class or cooking class. You also can't miss out on dining in at the Wisconsin Supper Club, one of the best things to do in Door County in winter. If you want to get into the Christmas spirit, don't miss Christmas by the Bay, Holly Days, and the Door County Christmas Market!
Contributed by Paulina from Paulina on the Road
Plan Your 2023 Vacation with These Best Places to Visit in the USA in 2023
Whether you're looking for a cozy winter getaway, spring sunshine vacation, a summer city adventure, or a leaf-peeping fall road trip, you'll find all that (and more!) on this list of the best places to visit in the USA in 2023. Which of these destinations are on your bucket list for 2023? Let me know in the comments!

Disclosure: Some of the links in this post about the "Best Places to Visit in the USA in 2023" are affiliate links, meaning, at no additional cost to you, I earn a commission if you click through and make a purchase. This helps me keep the content on my website, like this post about the Best Places to Visit in the USA in 2023, free!
Save the Best Places to Visit in the USA in 2023 for Your Next Vacation!