Boston, Massachusetts, was on my list of dream destinations to visit for such a long time—the history and energy of the city and the beauty of the surrounding area were so appealing to me!
Well, I'm happy to report that Boston did not disappoint, so if you're planning a trip to this fascinating, history-soaked city, you're going to have a fantastic time! I honestly think the only downside to my trip to Boston is that I was only there for three days—and I didn't want to leave! I genuinely believe you could spend weeks in this city and not even scratch the surface of all there is to see, do, and learn.
However, during my three days in Boston, I did manage to squeeze in tons of sightseeing. If you're planning a trip to Boston, follow this list of the best things to do in Boston, Massachusetts, to check out the best museums, iconic restaurants, and unique sites the city has to offer!
26 Best Things to Do in Boston, MA
1. Freedom Trail
If there's one thing you must do in Boston, it's walking the Freedom Trail. The Freedom Trail is a 2.5-mile pathway throughout the city that leads you to historical destinations from the American Revolutionary War, like the Boston Massacre Site, Granary Burying Ground, Paul Revere's House, and more.
You can read my super in-depth guide about walking the Freedom Trail to learn everything you need to know about this iconic Boston attraction, from how long it takes to walk, how much the Freedom Trail costs, how long to allocate for each stop, and more! It's by far one of the best things to do in Boston, if not the best thing to do!
Read More:
The Complete Guide to the Freedom Trail in Boston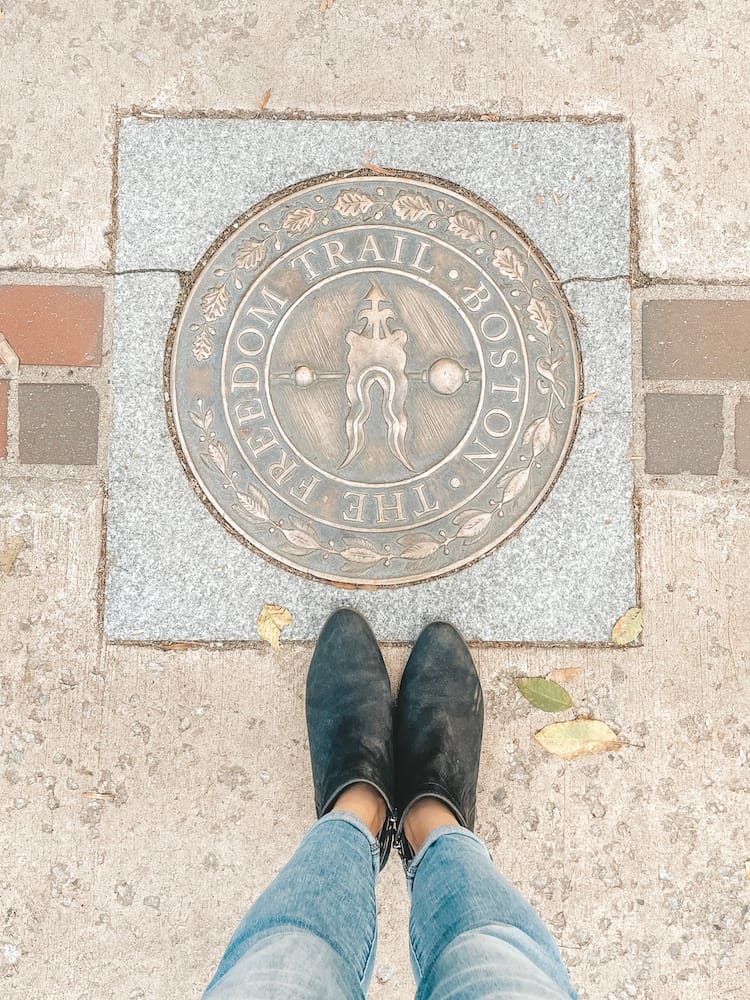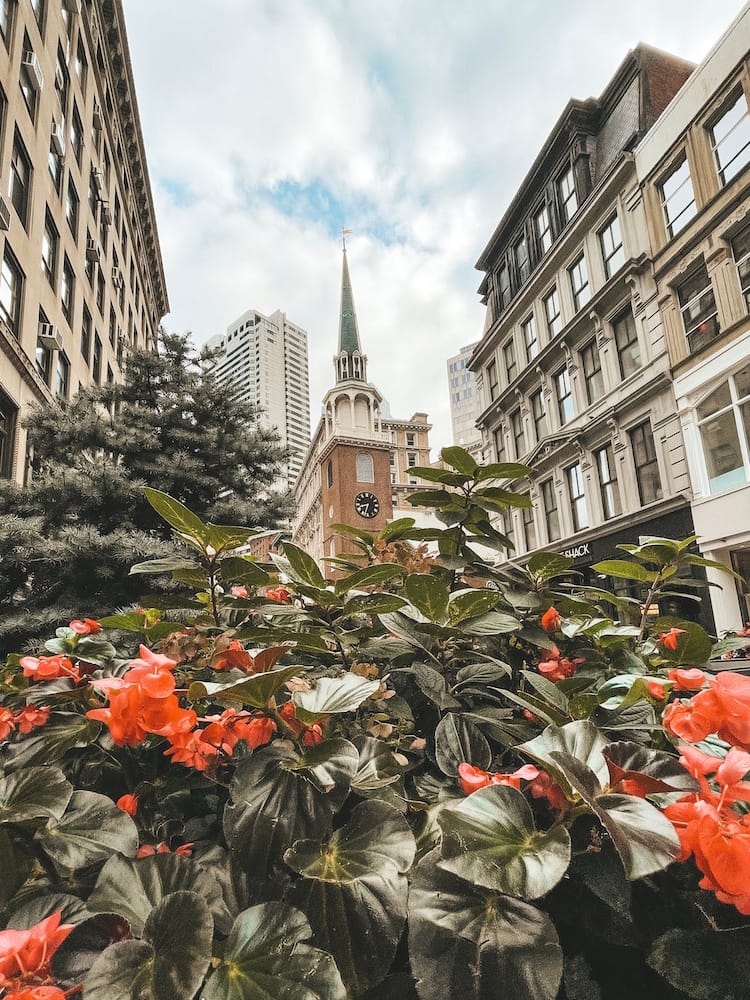 2. Boston Common
Since the Boston Common is the starting point of the Freedom Trail, you'll likely see it at some point on your trip. However, it's worth paying a visit to regardless!
Although there isn't a ton to see here (as opposed to the neighboring Boston Public Garden!), the Boston Common is the oldest park in the United States, making it notable for this reason alone. You can read more about the rich history of the Boston Common in my post about the Freedom Trail.
3. Boston Tea Party Ships and Museum
Boston is home to tons of museums. However, if you only have time to visit one museum during your trip to Boston, make sure it's the Boston Tea Party Ships & Museum! This is one of the best family-friendly things to do in Boston that all ages will love.
I think the Boston Tea Party Ships and Museums is one of the best museums I've ever been to because it's so unique. You get to "participate" in the Boston Tea Party with actors playing Samuel Adams, Abigail Adams, and other famous Patriots. You also can climb on a replica of the ship the teas were stored on and "throw" the tea overboard, and the experience ends in a short exhibit that shows videos that explain what happened after the Boston Tea Party—and how the event shaped America.
After your tour, you can sample the five varieties of tea that were thrown overboard during the Boston Tea Party at Abigail's Tea Room (you buy one cup and can continue filling your cup until you try them all).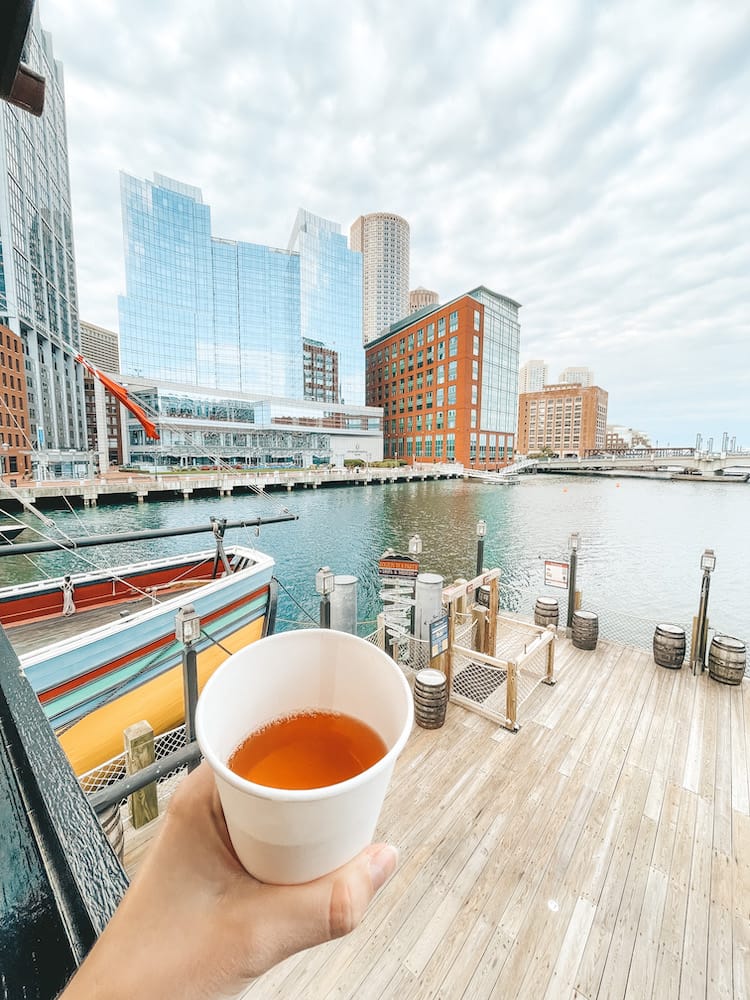 If you can't spend enough time at museums (or if you find yourself caught outside during a rainy day), here are some other popular museums in Boston. I didn't have time to make it to these spots, but they are all highly rated and regarded as some of the best things to do in Boston!
Boston Museums
John F. Kennedy Presidential Library and Museum
Isabella Stewart Gardner Museum
Museum of Fine Arts
Boston Children's Museum
Museum of Science
4. North End Food Tour
The North End is Boston's Little Italy, but it also has a rich, interesting history. We went on a food tour with North End Boston Food Tour, and it was by far one of our favorite things we did during our trip to Boston!
Our guide, Bobby, was so knowledgeable about the North End and made our tour memorable. Bobby grew up in the neighborhood, so he could share so much history with us—both from the area and his personal life. It was so insightful to learn how the neighborhood has grown and changed over the years, and I feel like I could appreciate the culture much more than if I had been exploring the area on my own—or on any other tour, for that matter!
Also, don't make dinner plans after this tour—you will leave FULL. During the tour, we were able to enjoy an entire slice of pizza, deli sandwich, cannoli, and tons of other tasty samples. Plus, I highly recommend picking up some coffee to bring home with you when you stop at Polcari's Coffee—they have some of the best-flavored coffees I've ever tasted!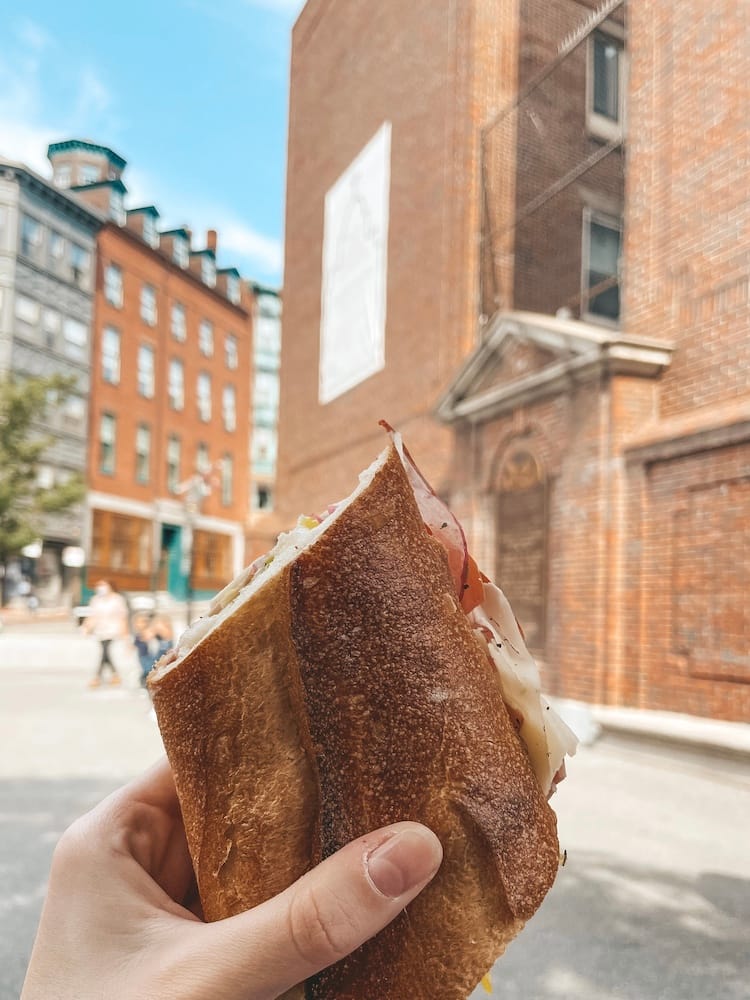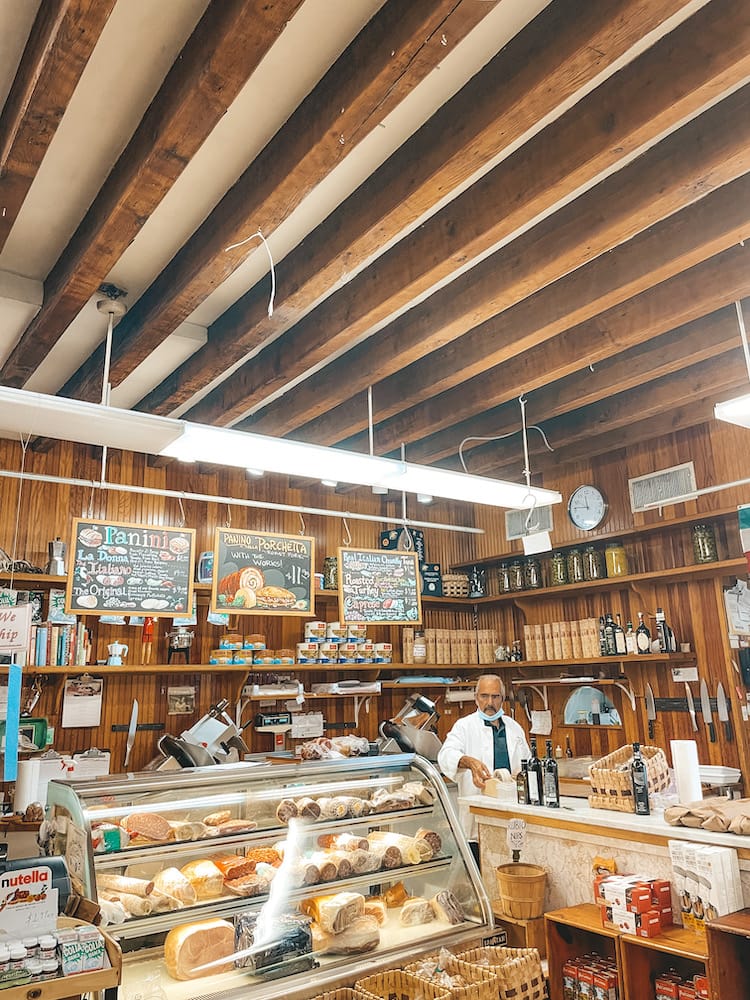 5. Boston Public Market
While it may not be a great idea to stop here after the food tour, the Boston Public Market is one of the best things to do in Boston, especially if you're looking for a quick bite to eat.
This year-round indoor market is filled with local vendors selling fresh ingredients, fruits, vegetables, quick-serve meals, seasonal items, crafts, and more. I love farmer's markets (and am usually used to outdoor variations on the West Coast), so it was fun to explore this indoor market to see all the local New England goods available.
6. Tradesman Coffee Shop and Lounge
I discovered the Tradesman Coffee Shop and Lounge on social media just days before our trip to Boston, and I'm so glad I did. This spot is a coffee shop by day and a cocktail lounge by night, and it has a vintage vibe filled with antique furniture and trinkets. I guarantee I'd absolutely be here working all the time if I lived in Boston!
Although the coffee is excellent, you really must visit the Tradesman for their boujee croissants. They have rotating flavors, and when I was there, I was able to try a red velvet croissant filled with a creamy filling and topped with red velvet cake crumbs. It was amazing!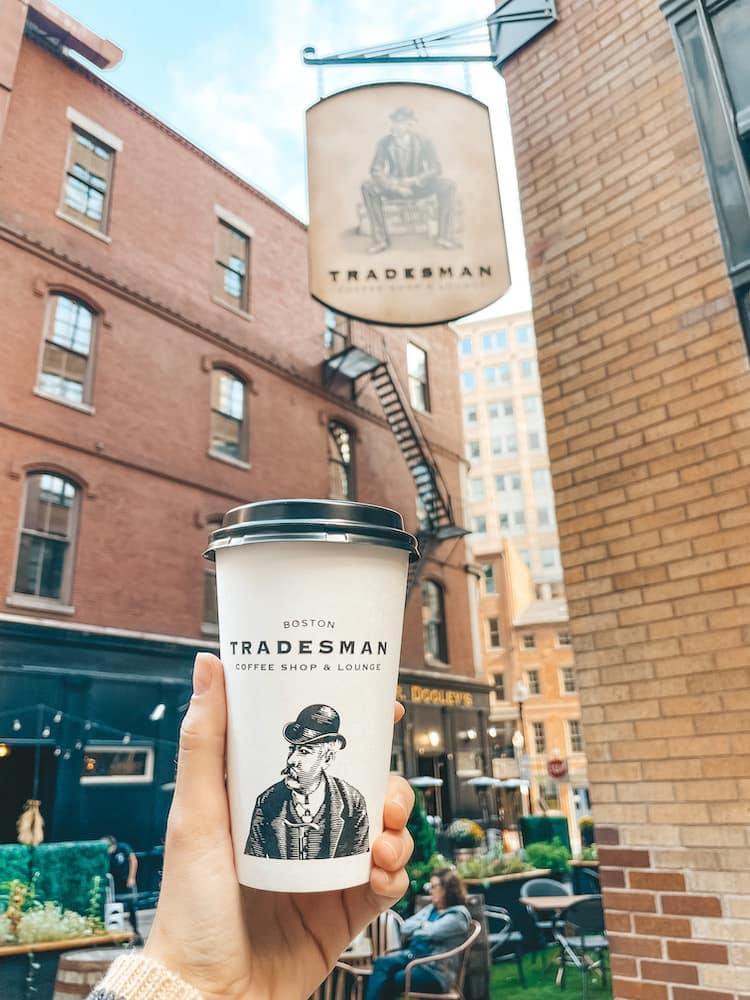 7. Day Trip
There's plenty to see in Boston to fill an entire vacation, but you'd be missing out if you didn't venture out of the city to explore New England during your trip to Boston!
Whether you're looking for a coastal vacation, mountain escape, or a historical city to explore, you'll find a little bit of everything in New England. You can read more about the best day trips from Boston to find the perfect excursion for you.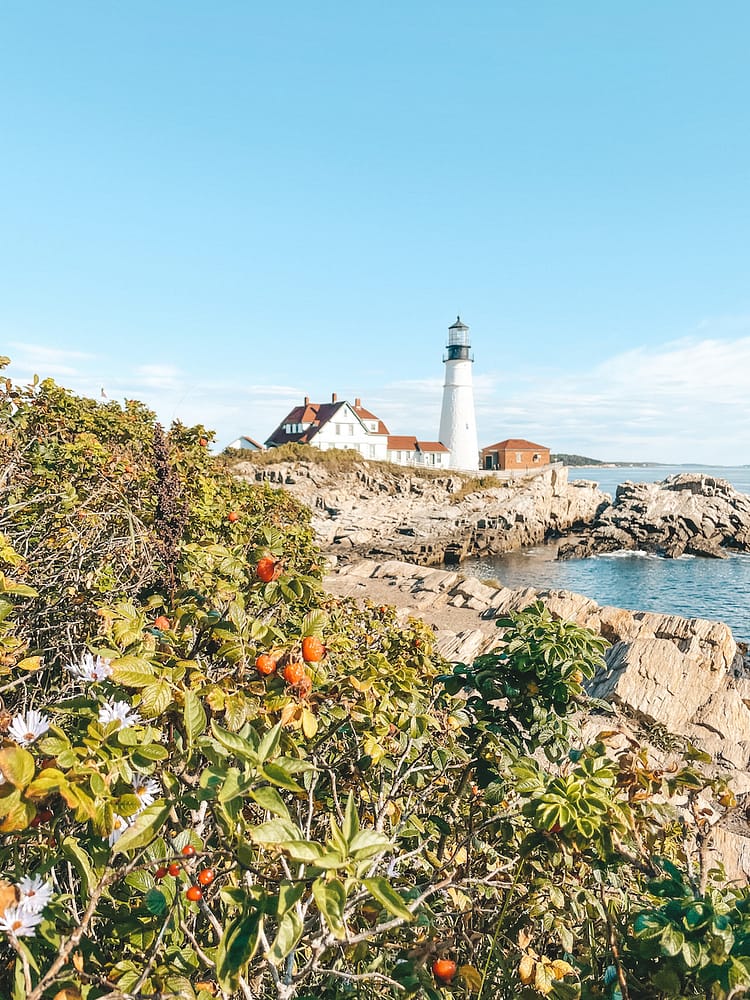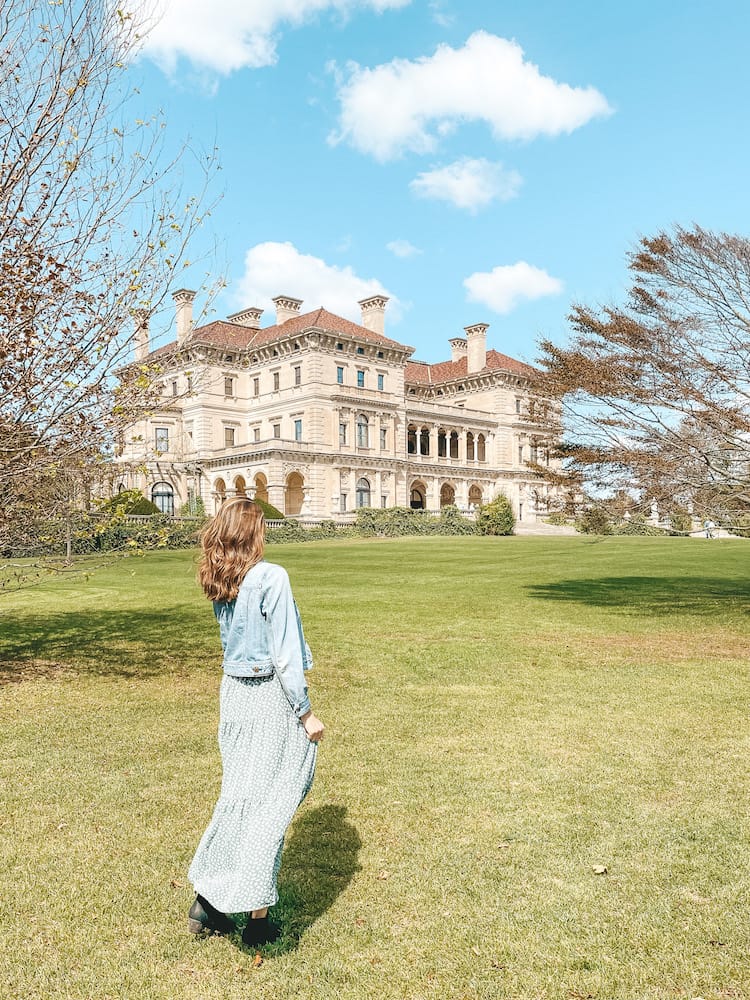 Read More:
8. Boston Cream Pie at the Omni Parker Hotel
I hope that trying a Boston Cream Pie is already on your list of the best things to do in Boston. However, if you want to upgrade your experience, order this iconic dessert at the place it was created—the Omni Parker Hotel!
The Omni Parker Hotel is located on the Freedom Trail (across the street from King's Chapel) and is credited with creating the Boston Cream Pie. It was served during the hotel's grand opening in 1856! You can visit the bar in the hotel's lobby, The Last Hurrah, to enjoy a Boston Cream Pie.
I'd also recommend ordering a Boston Cream Pie Martini (it's like an espresso martini, but sweeter and with cocoa powder on the rim) because, well, why not?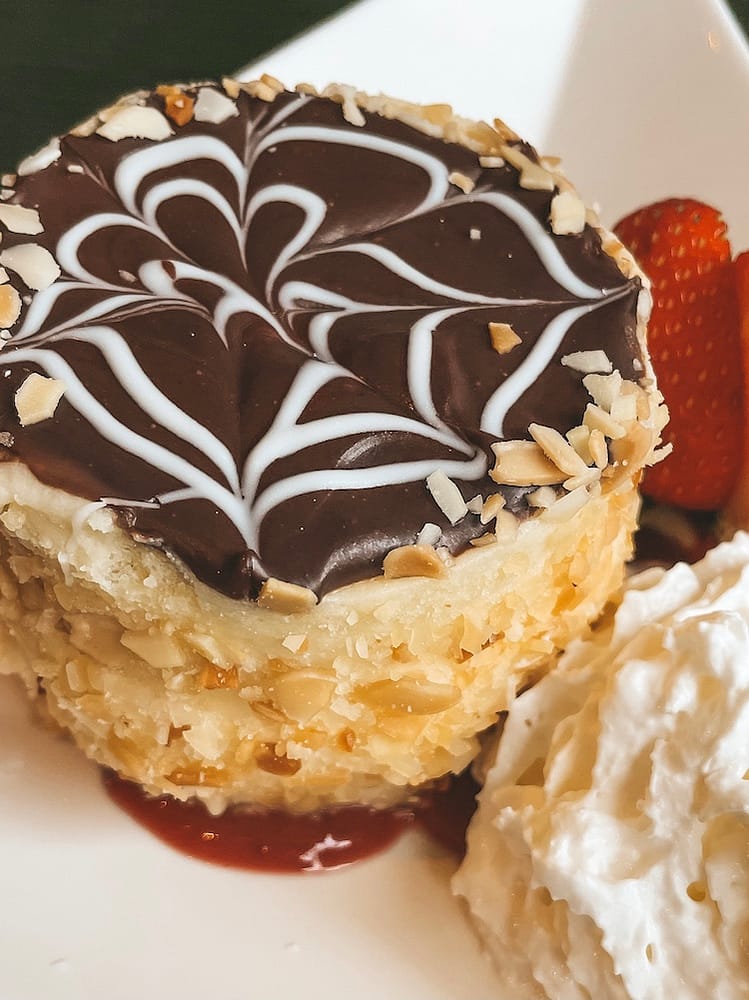 9. Boston Public Garden
The Boston Garden is located across the street from the Boston Common, and if you can only visit one of the two, I'd recommend the Boston Public Garden!
Unlike the Boston Common, the Boston Public Garden is newer (it was established in 1837) and has tons to see—from bridges, trees, and ponds to monuments, memorials, and statues, like the impressive statue of George Washington riding a horse. The trees, flowers, shrubs, and other plants are all well-manicured and beautiful to observe! You can ride across the four-acre pond in a Swan Boat, or you can sit on a bench and rest your feet during a busy day of sightseeing.
Plus, the Boston Public Garden is the home of the iconic "Make Way for Ducklings" statue—a mother duck and her eight ducklings. If you're looking for the ducks, they're located at the corner of Charles Street and Beacon Street!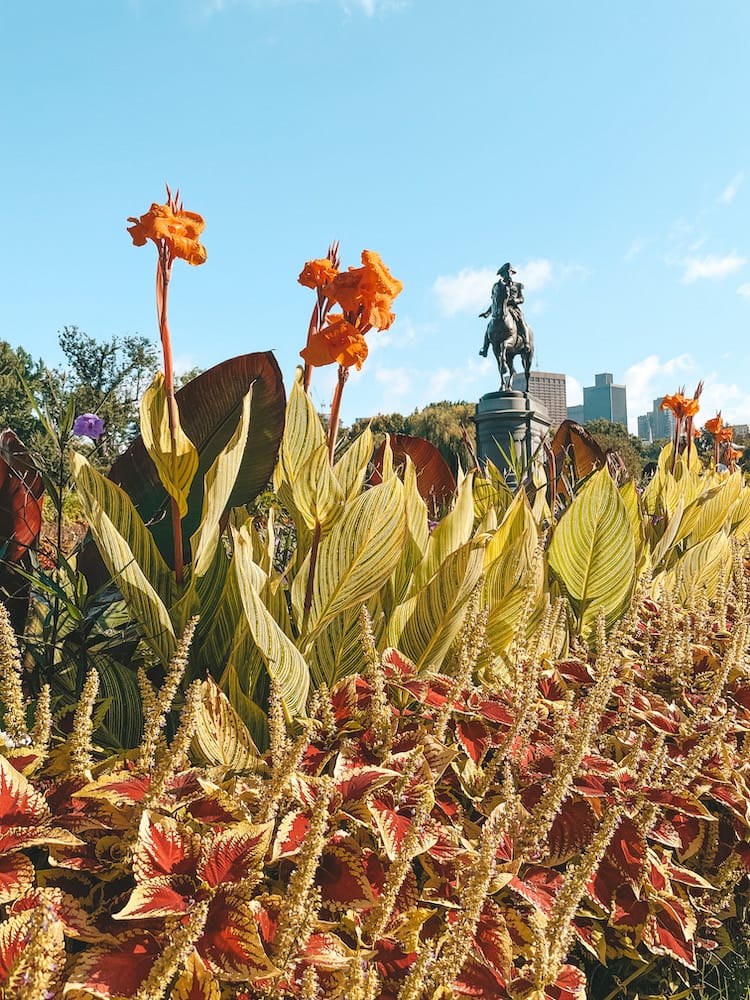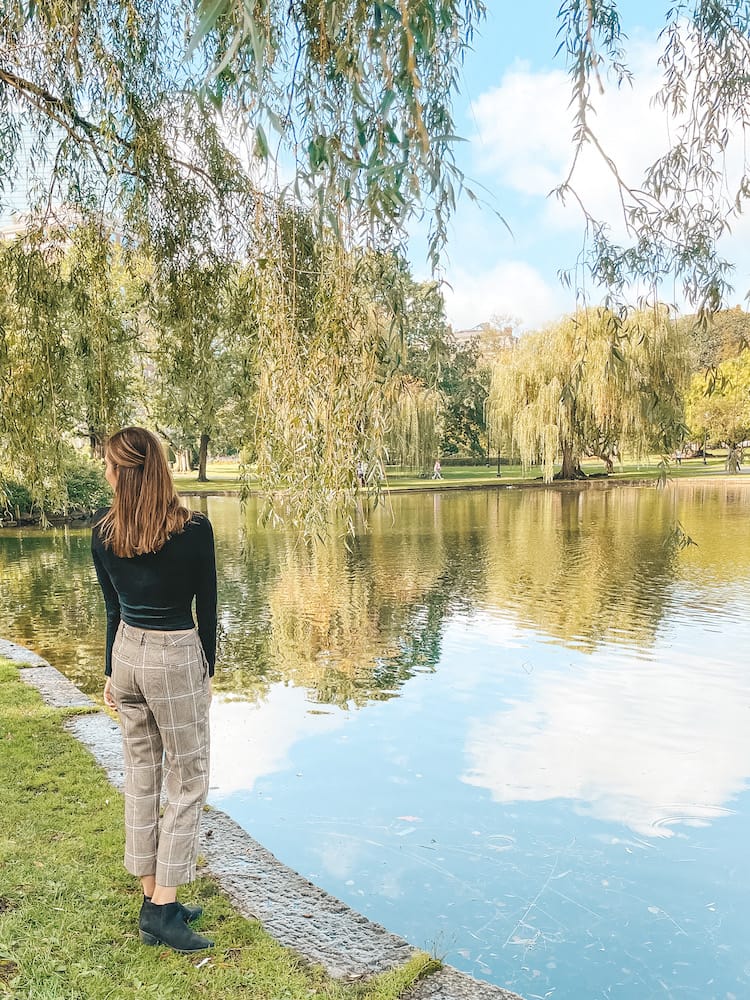 10. Acorn Street
Acorn Street is supposedly the most photographed street in the United States—and it's easy to see why! From mismatched cobblestones to brick buildings, this charming alleyway in Beacon Hill creates a photo-worthy destination!
Acorn Street is located horizontally between Chestnut Street and Mt. Vernon Street and connects W. Cedar Street and Willow Street. Also, it's important to note that no cars are allowed on Acorn Street! It would be a tight squeeze, anyway.
Tip: Visit this iconic street early in the morning to avoid crowds so that you can get a photo without people in the background.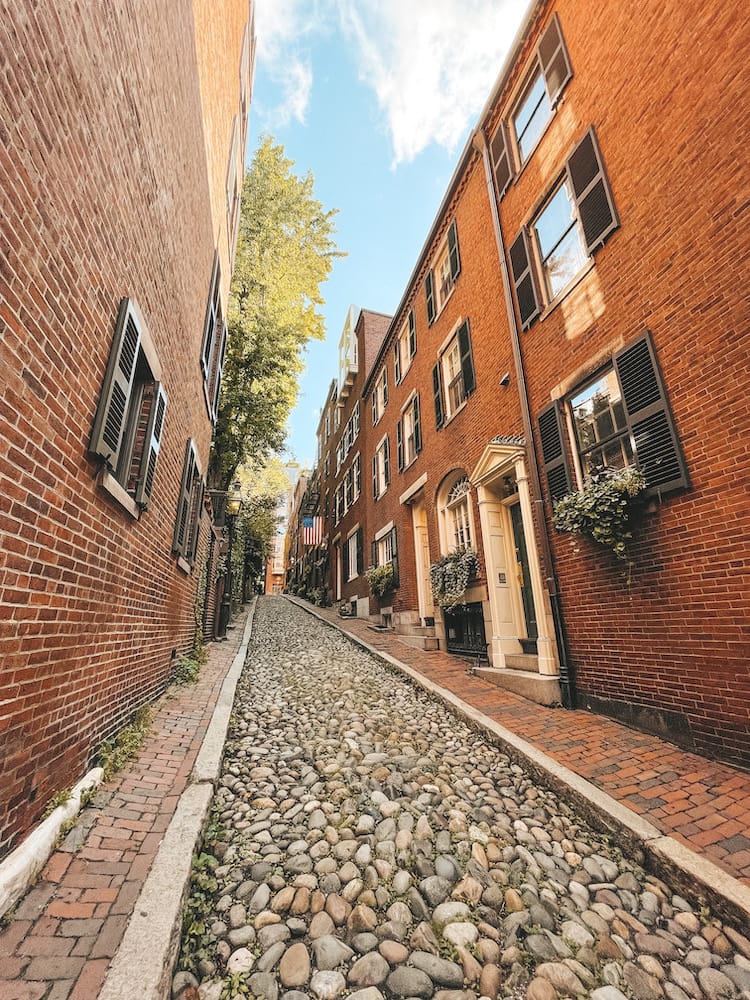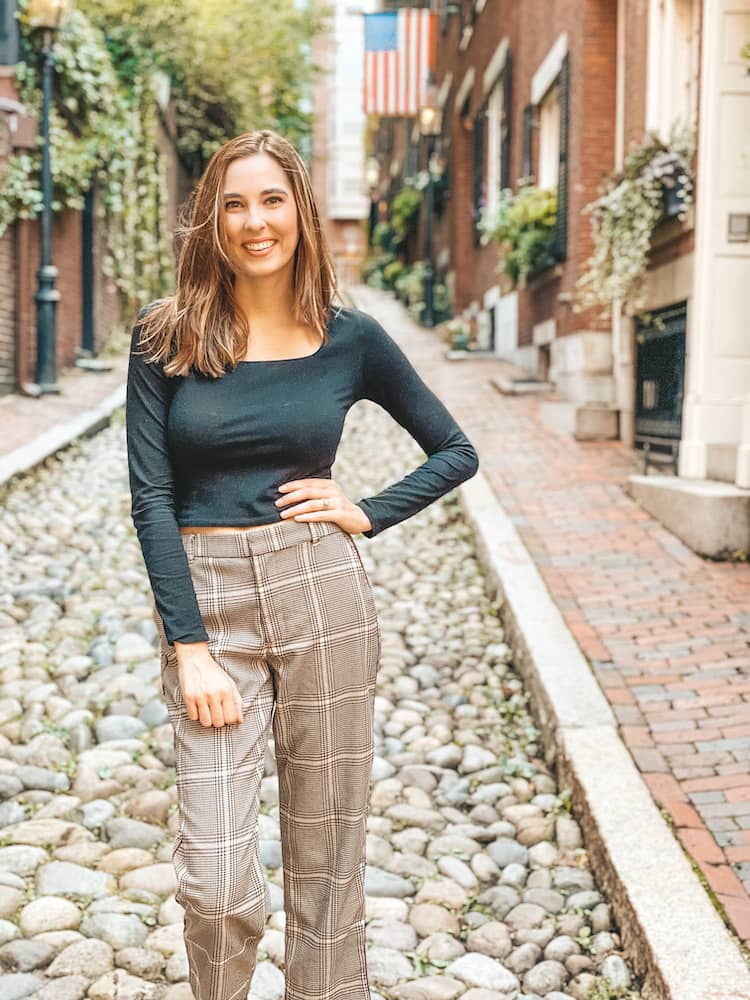 11. Faneuil Hall Marketplace
Faneuil Hall is another stop on the Freedom Trail (you can read my Freedom Trail guide here), but it's worth spending some time exploring on your own!
Faneuil Hall Marketplace consists of four buildings: Faneuil Hall, Quincey Market, North Market, and South Market. While Faneuil Hall is the historical building with significance to Massachusetts politics and commerce (it's where the famous phrase "no taxation without representation" was coined), Quincey Market is where all the action is at in the 21st century!
Faneuil Hall is a great spot to take a lunch break if you're walking the Freedom Trail. You can shop from the dozens of vendors inside for a bite to eat, like a lobster roll or clam chowder, or you can peruse the stalls filled with unique handmade goods and crafts.
12. Tatte Bakery & Café
Tatte Bakery and Café is a local restaurant chain that's super popular in Boston—making it a must-visit during your trip to the city! Tatte serves coffee, pastries, sandwiches, salads, and other treats on weekdays, and they also serve a weekend brunch.
I ordered an iced latte, almond croissant, and tartine (a slice of toasted sourdough with toppings—mine had ricotta cheese, roasted peaches, cashews, fresh herbs, and honey on top), and everything was delicious. Plus, the minimalistic décor was charming, and the entire restaurant was very "Instagrammable," as they say!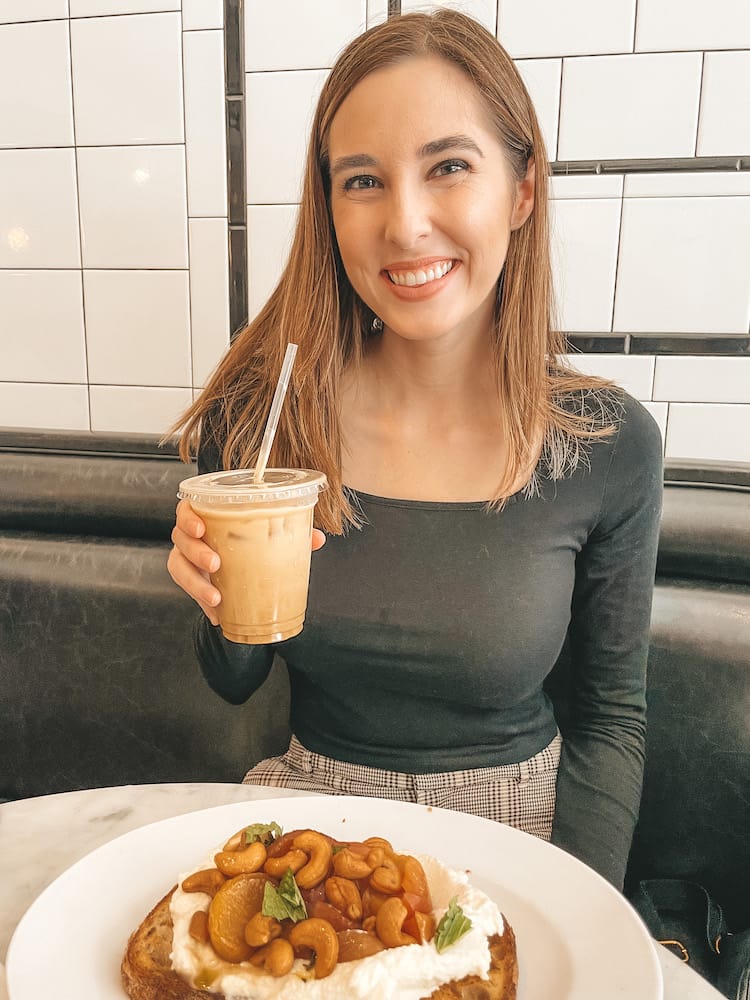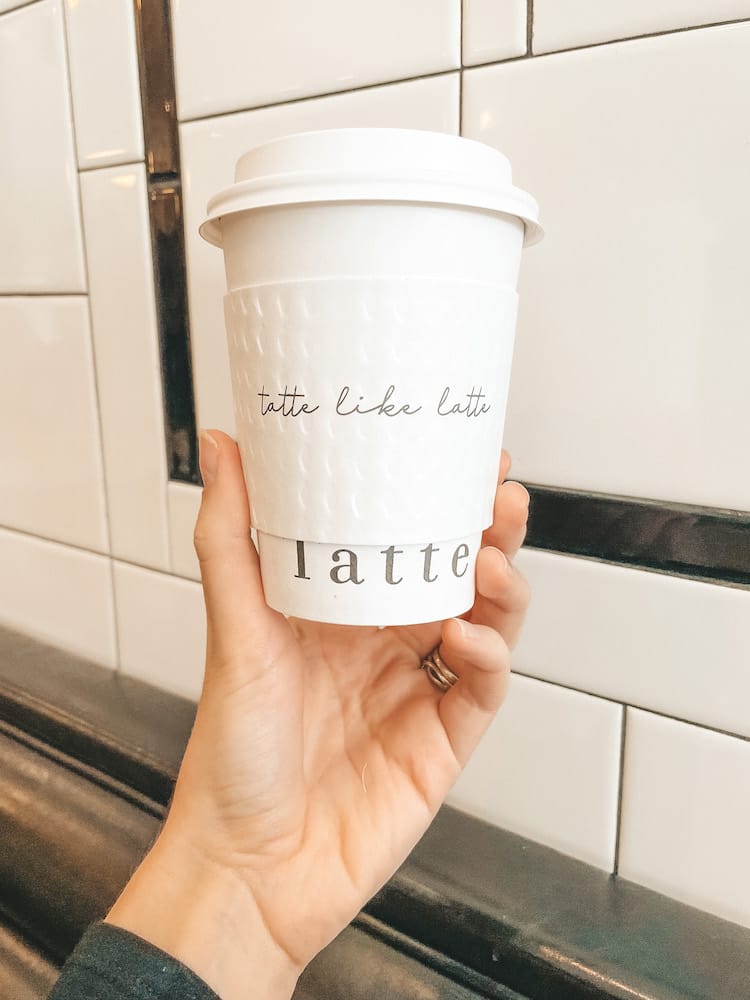 13. Cheers Bar
Have you seen the 1980s TV series Cheers? If so, you have to stop at the Cheers Bar, located on Beacon Hill, right across the street from the Boston Public Garden.
I just stopped to snap a picture, but you can go inside to eat or grab a drink if you'd like!
Note: There are two Cheers locations—one of Beacon Hill and Quincey Market. If you want to go to the real location, make sure to visit the one on Beacon Hill!
14. Eataly Boston
Eataly was one of my favorite surprises in Boston! While we initially didn't plan to stop here, I am glad we did.
Eataly is a large Italian marketplace that features several restaurants, retail items, and more. They have a few locations across the United States. We spent at least an hour wandering around and exploring the goods for sale, and we also got a glass of wine at one of the restaurants!
Eataly is a great place to stop for a quick lunch in Boston, or you can simply pop in and look around like we did!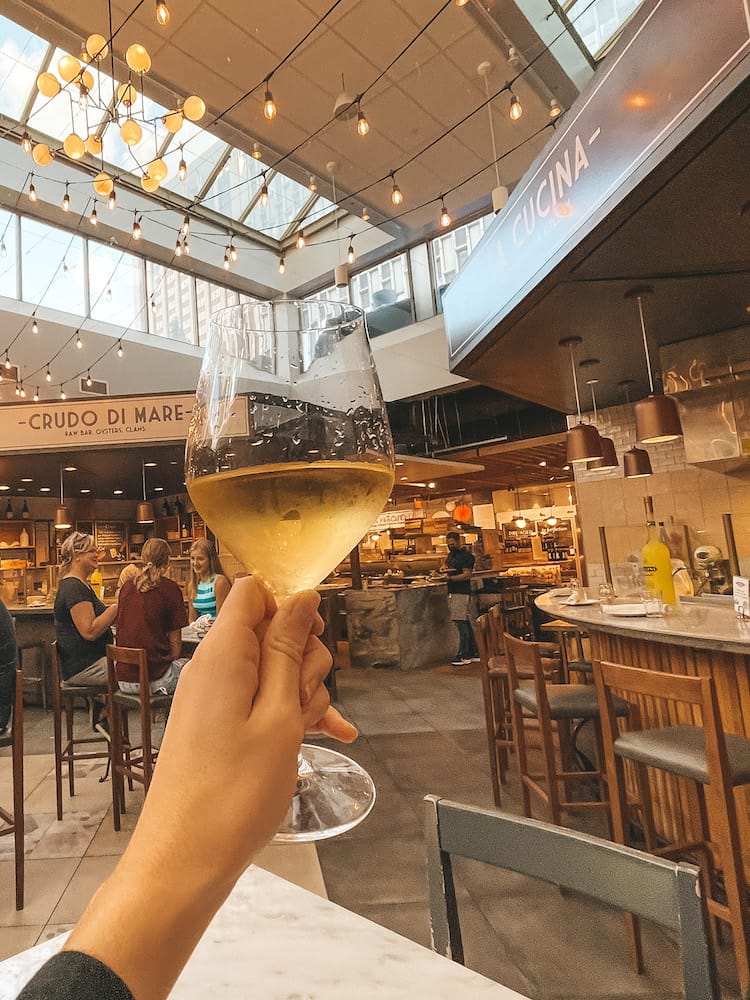 15. New England Aquarium
The New England Aquarium is one of the best things to do in Boston, and it's a great way to spend a rainy day or a fun way to keep kids entertained!
The aquarium is home to thousands of sea animals, like loggerhead green sea turtles, rockhopper penguins, and northern fur seals. You will also see lionfish, balloonfish, and more. One of the aquarium highlights is the four-story Great Ocean Tank with over 1,000 underwater creatures, and you can also visit the Shark and Ray Touch Tank!
16. Kane's Donuts
One thing is for sure—New Englanders LOVE their donuts! Seriously, it must be an East Coast thing because donuts are a diet staple over here.
So, naturally, one of the best things to do in Boston is to get a donut, and there's not a better place to stop than Kane's Donuts! This local establishment serves up tons of great, homemade flavors. We tried the Pumpkin Spice Glazed Donut, and of course, a Boston Cream Pie Donut, and they were both delicious!
Tip: If you want to try ALL the donuts in Boston, check out this highly-rated Underground Donut Tour!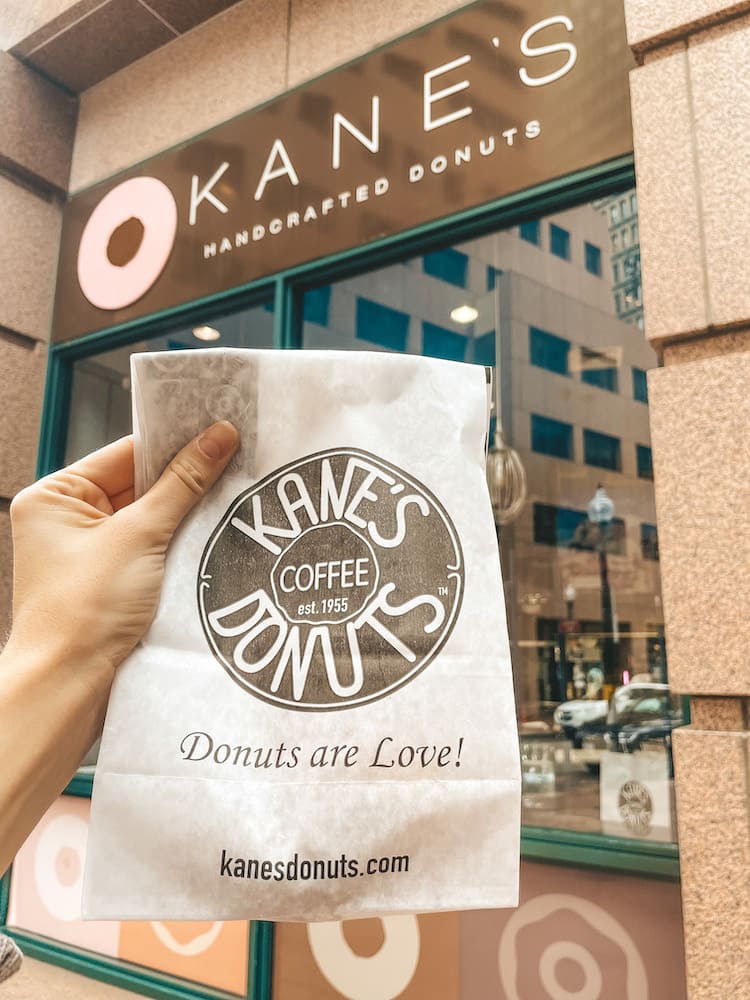 17. Boston Public Library
We had planned to visit the Boston Public Library while exploring the Back Bay neighborhood but were so disappointed to discover they were closed on Sunday! We'll be back so we can explore the library—however, if you're here, you have to visit on my behalf!
The library's history, ornate architecture, and gorgeous murals make it one of the best things to do in Boston. There's also a beautiful outdoor courtyard you can't miss either. Plus, it's completely free to visit!
18. MIDA
Here's something you probably won't find on any other "best things to do in Boston" lists!
Although the North End is highly regarded as "the place" to find Italian food in Boston, I wanted to give another local spot a try since we spent an entire afternoon doing a food tour in the North End. That's how I stumbled across MIDA.
I immediately made a reservation for the carbonara alone because it looked so good. We enjoyed our time here—the drinks were great, the food was excellent, and the ambiance was nice, too! As much as we loved MIDA, I wouldn't recommend visiting unless you plan to Uber or have a rental car since the restaurant is in the South End, which is a far walk from the heart of Boston.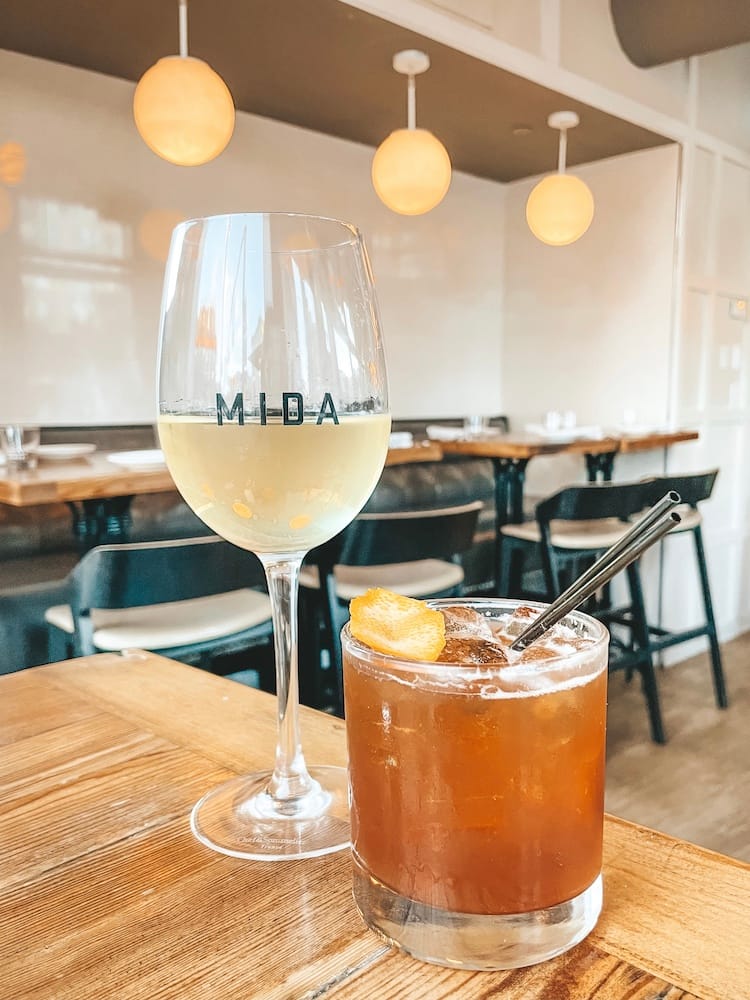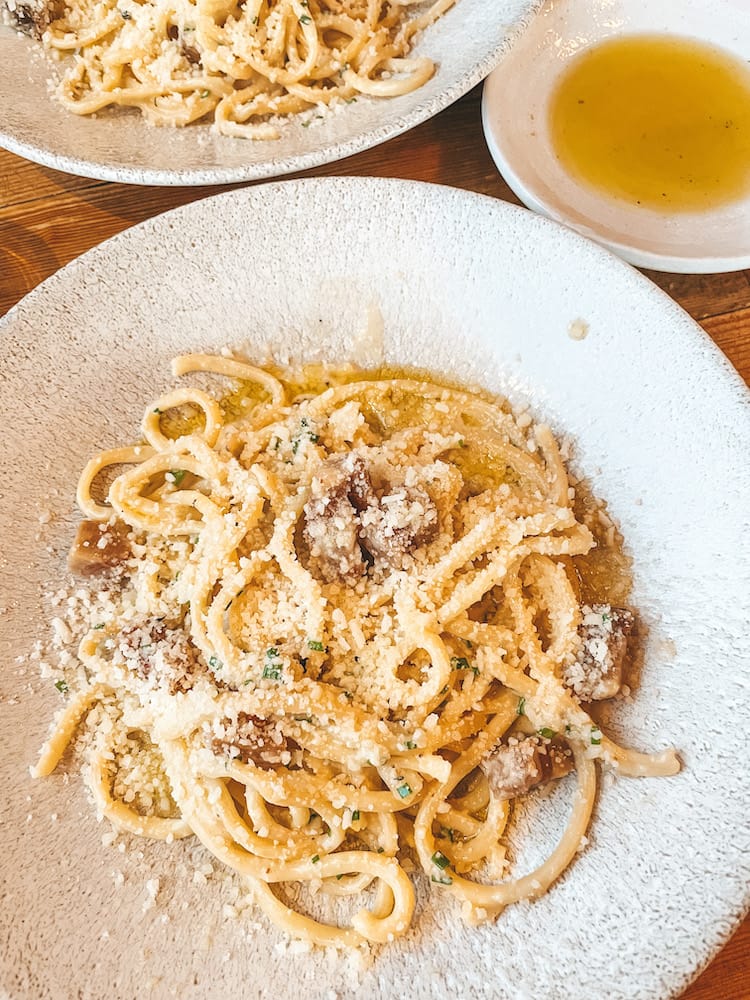 19. Fenway Park
If you're a baseball fan or sports fan in general, you absolutely must watch a ball game at Fenway Park!
Watching baseball in Fenway Park is one of the best things to do in Boston because of the rich history behind the ballpark. The Red Sox have been playing here since 1912, and while you're watching the game, you can admire the stadium's unique, timeless architecture.
If you're not traveling to Boston during baseball season, no worries! You can still take a one-hour tour of Fenway Park that will enamor avid baseball fans and curious tourists alike. This is one of the best walking tours in Boston for baseball fans and tourists alike.
Note: I usually pass on baseball, but I'm a huge football fan! If you are too, Gilette Stadium, the home of the New England Patriots, is located just a 30-minute drive outside of Boston if you want to catch a game.
20. Mike's Pastry
Have you ever heard about the rivalry between Mike's Pastry and Modern Pastry? These two pastry shops are located across the street from each other in the North End, and they've been competing for the title of "best cannoli" for decades!
You can try one cannoli at each shop to settle the debate for yourself, but if you just want to skip to the best one, head over to Mike's Pastry!
Mike's Pastry has been making pastries in the North End since 1946. What makes their cannoli recipe so tasty is the ricotta cheese filling that isn't overly sweet, so you can savor the flavor. Aside from the traditional cannoli, you can try all sorts of other fun flavors, like Mint Chip Cannoli, Espresso Cannoli, and dozens more!
Tip: If you go on the North End Food Tour that I mentioned earlier, one whole cannoli from Mike's Pastry is included in the price!
21. Beacon Hill
Beacon Hill is (in my opinion) Boston's most beautiful neighborhood. It's where Acorn Street is located, and it offers some spectacular views of the Boston Common and Boston Public Garden along Charles Street, where the Cheers Bar is located. You'll also be able to see the quaint, detailed touches that make exploring Beacon Hill one of the best things to do in Boston. The cobblestone streets, historic architecture, gas street lamps, and more are certainly a sight to behold!
Redfin asked us for our favorite free things to do In Boston. Check out the article we were featured in: Enjoy Beantown on a Budget: 5 Free Things to Do in Boston.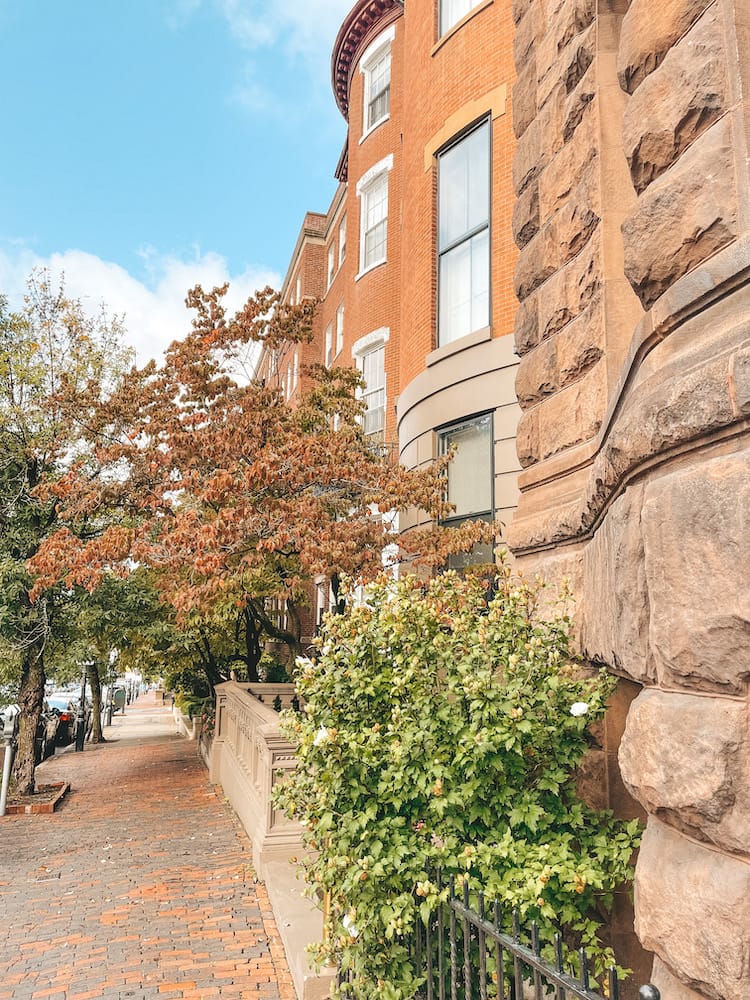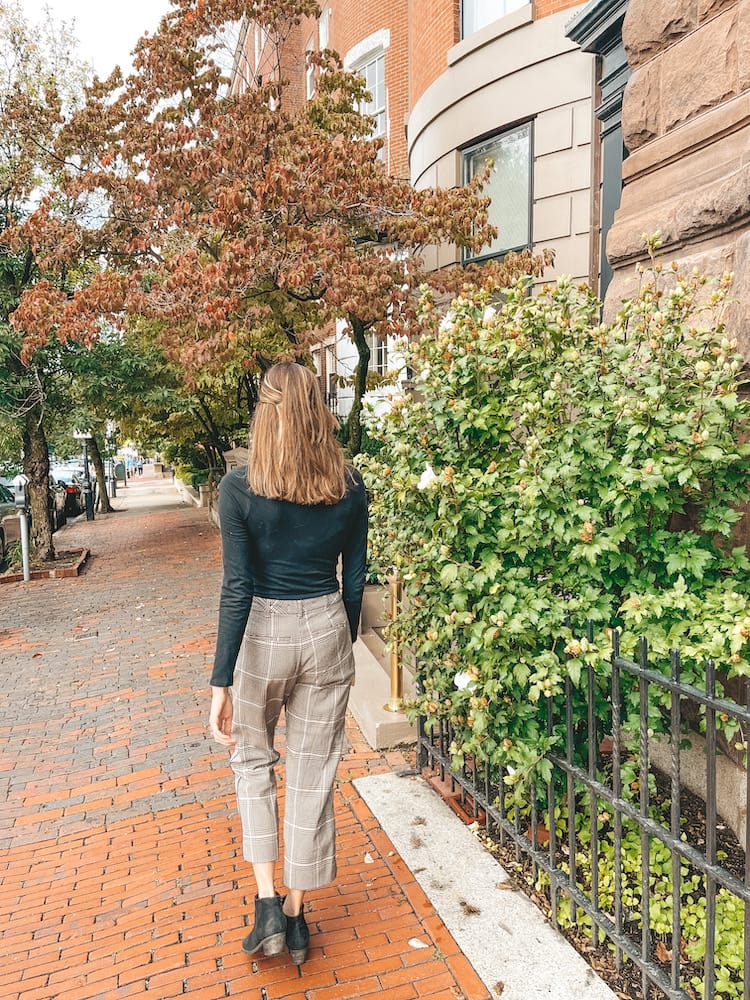 22. Brattle Book Shop
Brattle Book Shop is one of the largest and oldest used book shops in the country, easily making it one of the best things to do in Boston!
At Brattle Book Shop, you can explore two floors of gently used books, one floor of rare and antique books, and an open-air bookstore that's amazing!
Like the Boston Public Library, Brattle Book Shop is closed on Sunday. So just remember, the golden rule of books in Boston is to stay away on Sundays!
23. Lookout Rooftop & Bar
If you're on the lookout for one of the best views of the Boston skyline, head to Lookout Rooftop & Bar (pun absolutely intended).
Lookout Rooftop & Bar is located just across Seaport Boulevard in the Seaport District—an up-and-coming area in Boston. This bar is located on the roof of The Envoy Hotel, Autograph Collection, and it's ideal for visiting during sunset, so you can watch the sparkling city come to life!
Although the drinks here certainly aren't cheap, it's worth the experience! Soaking in these views is definitely one of the best things to do in Boston.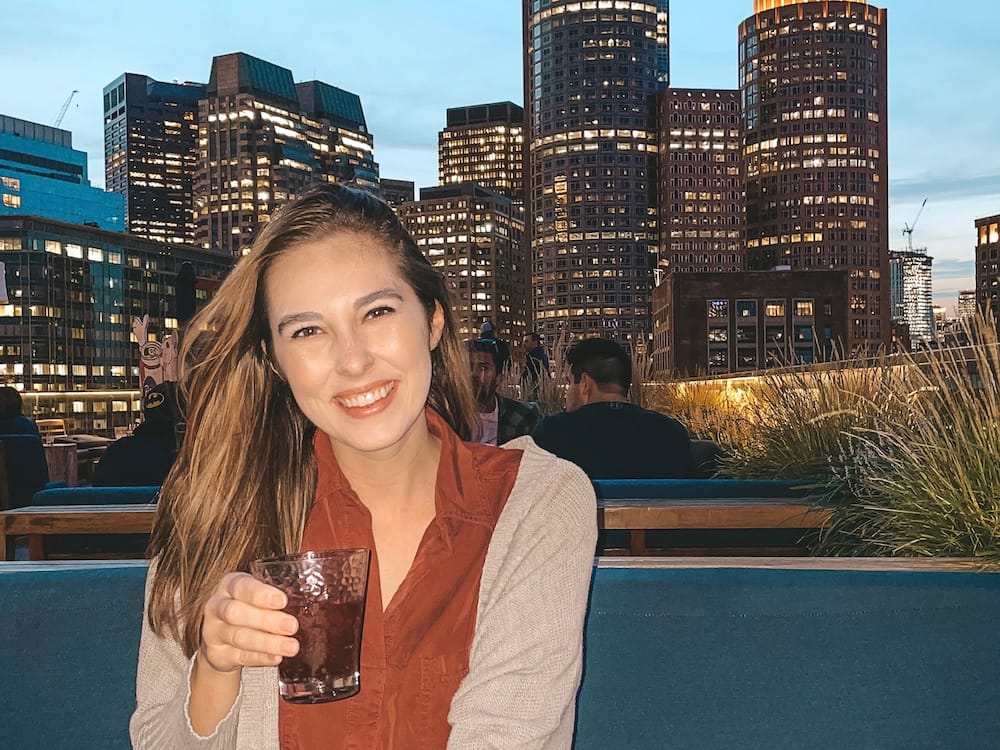 24. Union Oyster House
If you're looking for a historic place to dine during your trip to Boston or simply want to find somewhere to enjoy some New England seafood, I'd suggest visiting the Union Oyster House.
The Union Oyster House was established in 1826 and is the oldest restaurant in Boston. It's located on the Freedom Trail near Faneuil Hall, and getting a reservation here is surely one of the best things to do in Boston. On the menu, you'll find clams, oysters, lobster rolls, fish and chips, baked beans, and more! This historic establishment is highly regarded as one of the best things to do in Boston, MA.
25. Paul Revere House
Another stop along the Freedom Trail (you can read about every stop on the Freedom Trail here), touring the Paul Revere House is one of the best things to do in Boston. You'll be a glimpse into what life was like in the 1700s, see original furnishings owned by Paul Revere's family, and learn more about this significant figure in the American Revolution.
Paul Revere's House is in the North End. After your tour, you can witness his statue just a few steps away in front of the Old North Church.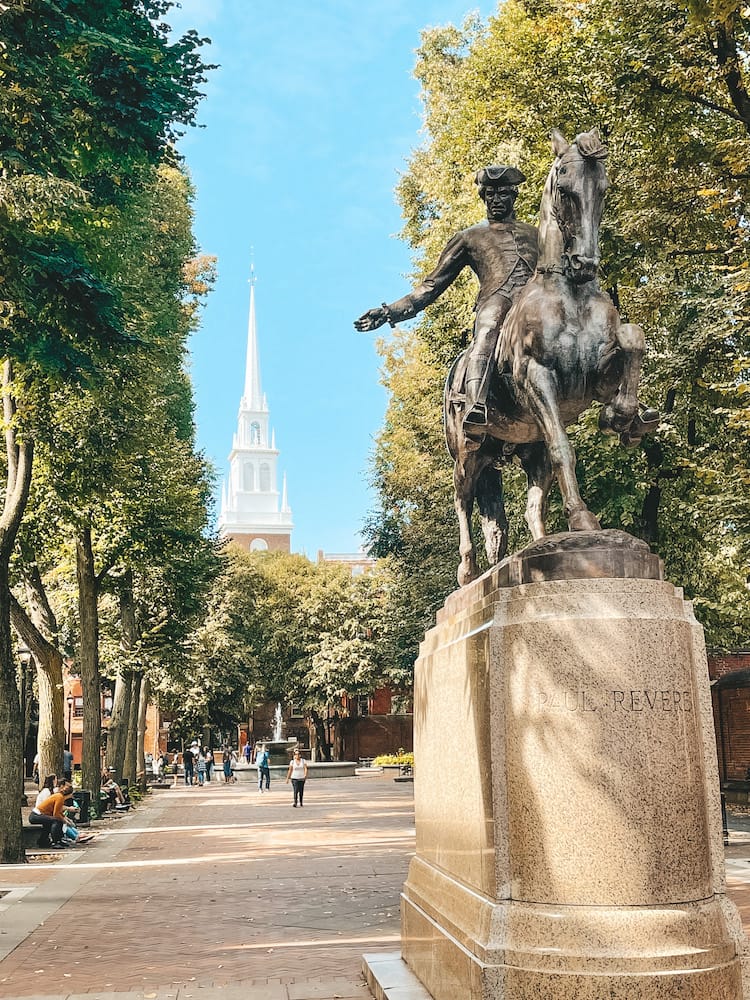 26. Newbury Street
Newbury Street is located in the Back Bay area of Boston, MA. It's a popular shopping, dining, and entertainment district in Boston. Here, you'll find tons of local boutiques and eateries and some great chain stores while you're here.
We personally didn't have the time to stop at all of these, but these places are recommended to me: Pavement Coffeehouse, Saltie Girl, and The Friendly Toast. However, regardless of if you stop to dine or just want to browse the shops, it's definitely one of the best things to do in Boston.
While you're walking along Newbury Street, check out Trinity Church—a historic church in Boston with some unique architecture.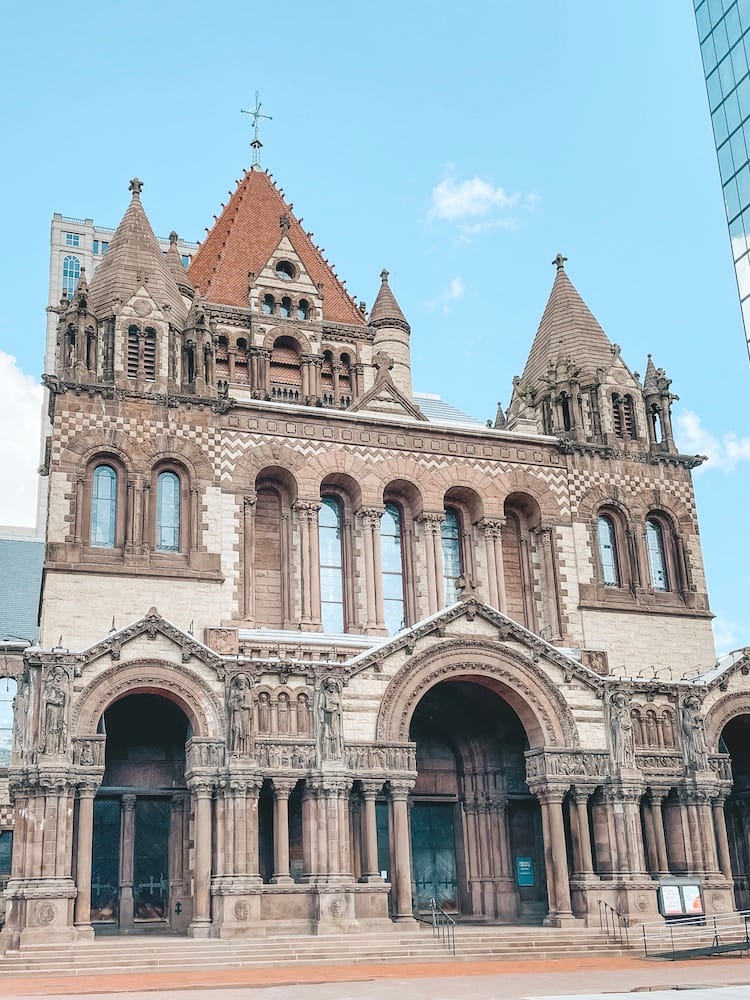 Boston FAQ
How Many Days Do You Need to Visit Boston?
Personally, I spent three days in Boston and didn't feel like we had quite enough time to see and do all the things to do in Boston we would have liked!
If you want to dive deep into the history at the museums, see all the tourist sites, and go on a day trip, I'd recommend at least five days in Boston, if not a week, to experience all the best things to do in Boston.
Where Should I Stay in Boston?
Boston has some beautiful hotels in the heart of the city. Here are some of the best places to stay that will keep you close to all the best things to do in Boston.
The Godfrey Hotel Boston: This beautiful hotel with spacious rooms is just a short walk away from the Boston Common and other popular things to do in Boston, like Brattle Book Shop.
Hyatt Centric Faneuil Hall Boston: This mid-price hotel is in the heart of Downton Boston and is close to the best things to do in Boston, like the Boston Tea Party Ships & Museum and Quincey Market.
The Newbury Boston: If you're looking for a luxury stay in the city, The Newbury Boston offers a bar, restaurant, room service, and quick access to the Boston Public Garden.
What Should I Know Before Visiting Boston?
Boston is a big city. Here are some tips I'm glad I followed (or wish I had known!) on my trip.
Boston is expensive. Boston isn't a cheap place to visit, so if you want to go "all-out" during your trip to the city, make sure you budget plenty of money to spend in advance.
Don't rent a car. Unless you're planning to take a day trip or are on a New England road trip, you don't need a car in Boston. Typically, if you're staying in the city, hotel parking is expensive and everything is within walking distance, anyway. It's also virtually impossible to drive or park in the city, so if you can, just skip the car!
Go on the tours. I'm usually all for self-guided tours and exploring the city at your own pace, but there is so much to see in Boston that I'd definitely recommend paying for tours so you can see as much of the city as possible on the days you are there! You can also purchase a Go City Boston All-Inclusive Pass for admission to tons of things to do in Boston. If you're planning to do a lot of the things on this list, it will save you a ton of money!
Have Fun Experiencing the Best Things to Do in Boston
Boston, MA, is the perfect place for a jam-packed vacation full of sightseeing, great dining experiences, plenty of history, and lots of fun things to do! Which of the best things to do in Boston would be at the top of your list? Let me know in the comments below!
Disclosure: Some of the links in this post about The Best Things to Do in Boston are affiliate links, meaning, at no additional cost to you, I earn a commission if you click through and make a purchase. This helps me keep the content on my website free, like this post about The Best Things to Do in Boston.
Pin the Best Things in Boston, MA, for Your Trip to the City!
Planning your New England road trip? Check out these other posts about the best things to do in Boston and the surrounding area!