Famous for its beautiful red rocks, steep canyons, and pine forests, Sedona and the surrounding Oak Creek Canyon area is an excellent spot for hiking, biking, fishing, and swimming. As an Arizona native, I can assure you that a day trip to Sedona does not disappoint!
Before diving into the best way to spend a day trip to Sedona from Phoenix, here are some commonly asked questions about visiting Sedona!
When Is The Best Time to Visit Sedona?
Typically, the best time to visit Sedona is March – June, and September – November. If you want to go hiking in Sedona, the trails can be snowy & slippery from December – February. During the summer months, July & August, the weather in Sedona can get pretty warm, unless you're planning to spend the day at a swimming hole.
Personally, my favorite time to visit Sedona is autumn. If you travel slightly north to Oak Creek Canyon, you can see the leaves changing colors. It's truly beautiful!
How Far Is Sedona from Phoenix, Arizona?
Sedona is a short 118-mile drive from Phoenix. It takes roughly one and a half to two hours to get there!
To make the most out of your day trip to Sedona, I recommend leaving Phoenix between 7-8 AM to arrive in Sedona by 9 AM.
Where Should I Stay in Sedona?
Even though it's totally feasible to enjoy the best of Sedona in one day, if you're visiting from out of town, you may want to extend your stay to experience more of the amazing wineries, shopping, and hiking in Sedona.
Here are some highly-rated places to stay in Sedona:
There are also tons of great AirBnBs in Sedona, which can be great if you're planning a family vacation in Arizona. Check out these Sedona AirBnBs with gorgeous views of the red rocks!
In a Rush? Save This Post for Later!
12 Things to Do During Your Day Trip to Sedona
Once you arrive, here are some ideas on how to spend your day trip to Sedona, from start to finish!
Start Your Day with Coffee
1. Creekside Coffee
As I drive into Sedona, I usually stop at Creekside Coffee for a coffee and a small bite to eat. This warm and inviting coffee shop is one of the best in Sedona and offers an incredible view of the red rocks.
Update: Creekside Coffee is currently closed until further notice. If you're still looking to get your coffee fix during your day trip to Sedona, I recommend Firecreek Coffee as an alternative for local coffee & delicious pastries when you're driving into town!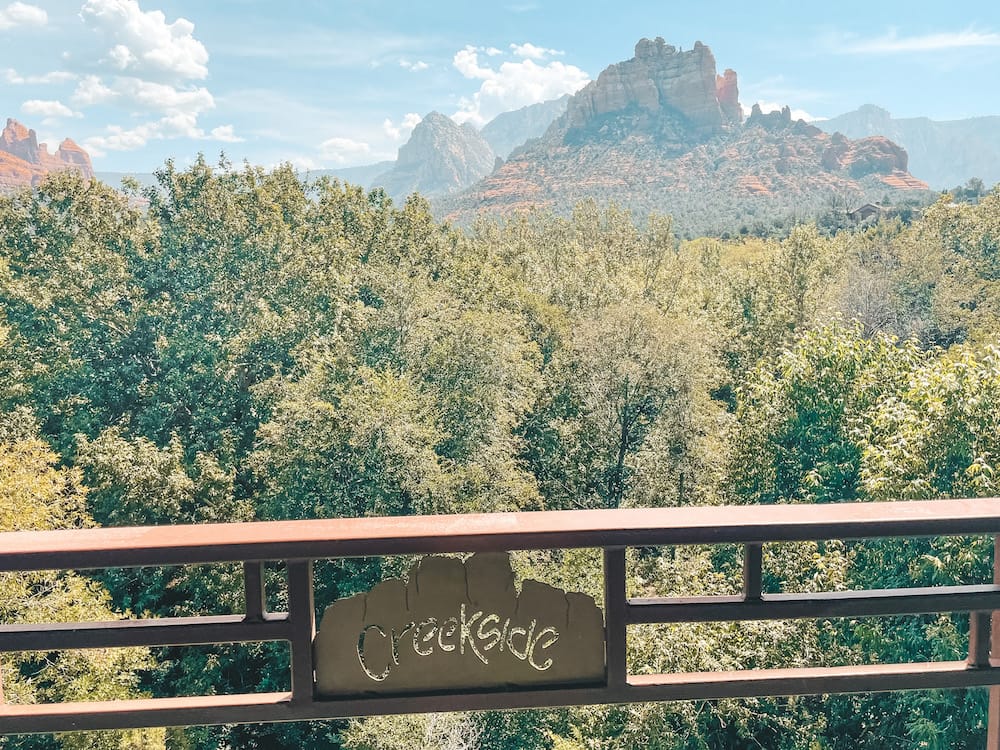 Hike in Sedona
A day trip to Sedona is not complete without going on a hike. No matter what type of hike you are looking for, Sedona has something to offer. Here are my favorite easy, moderate, and difficult hikes in the area. You can learn about even more hikes in Sedona by reading my post about the ten best hikes in Sedona!
2. West Fork Trail
West Fork Trail is a 7.2-mile easy hike along a river surrounded by trees and beautiful scenery. During the hike, you cross the river a dozen times, so be sure to wear shoes you can get wet. The hike ends at the same spot as the river, at the bottom of a breathtaking canyon.
Parking at West Fork Trail is $11. Also, this is a great hike to bring your dog along on because there isn't a ton of climbing! We loved taking our puppy (her name is Sedona!) on this hike.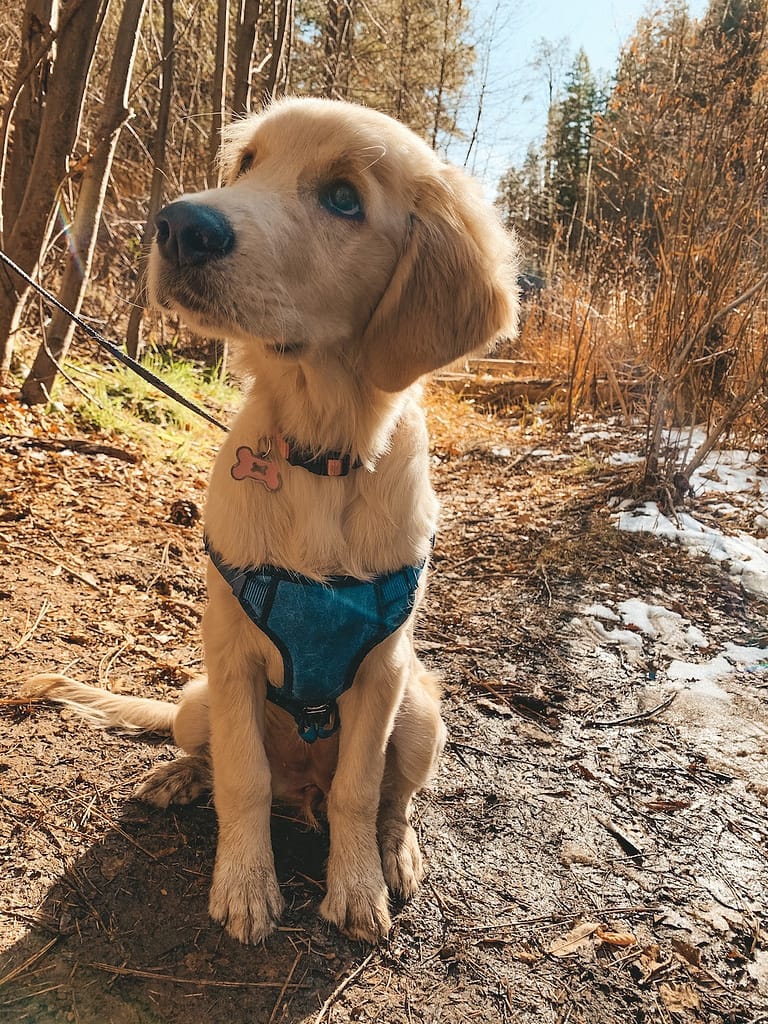 3. Devil's Bridge
Devil's Bridge is an iconic Sedona hike that ends on a red rock bridge (hence the name) with a stunning view of the Sedona skyline! This 4.2-mile moderate hike is popular and heavily trafficked (for a good reason!), so prepare yourself to brave the crowds.
4. Cathedral Rock
Cathedral Rock is a short and strenuous 1.2-mile difficult hike with an elevation gain of 744 feet. It's a climb, but the views at the top of the peak are worth it! Expect to use your hands to climb up, and be prepared to use your hands and legs to slide down the mountain!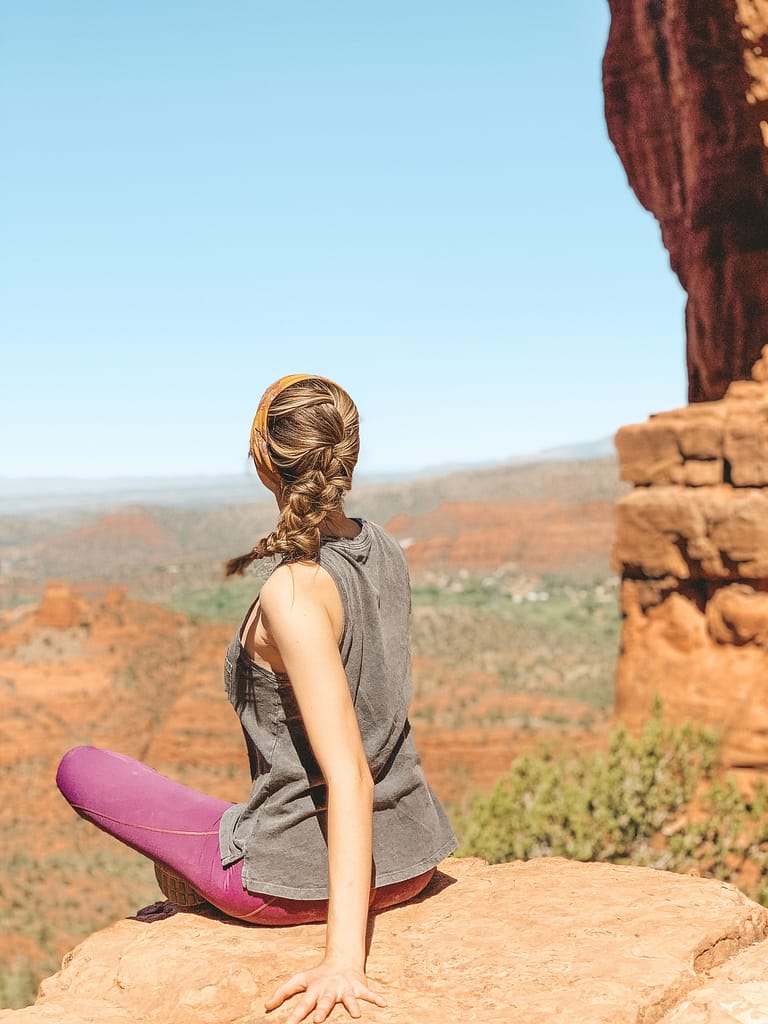 5. Slide Rock State Park
If you visit Sedona during the summer months and it's too hot for a hike, take a swim at Slide Rock State Park instead. This is one of Arizona's most popular attractions to experience during a day trip to Sedona!
Located in Oak Creek Canyon, Slide Rock is a natural water slide surrounded by a swimming area that spans half a mile. After taking a swim and trying the water slide, there is plenty of room on the shore to lay on a beach towel and enjoy the sunshine!
Depending on the year, entrance into Slide Rock State Park can cost anywhere between $10 – $30 per vehicle. Come prepared to pay with Visa or MasterCard, but if you pay with cash, you must use exact change (to avoid making the same mistake I did!).
Eat Lunch in Sedona
After your hike, it should be early afternoon—the perfect time to grab lunch!
I'll be honest with you … Sedona is not my favorite spot when it comes to restaurants. Since Sedona is extremely touristy, most restaurants are expensive, and the more affordably priced ones aren't always the greatest.
That being said, there are still some great spots to stop for lunch during your day trip to Sedona. Here are a few of my favorite options!
6. 89Agave Cantina
This Sonoran-style restaurant has a casual, fun vibe and is located in Uptown Sedona. If you're looking to try some authentic Mexican food, this 89Agave Cantina great spot. In my opinion, their food is much tastier than the other Mexican food restaurants in Sedona. I usually order enchiladas!
7. Pump House Station Urban Eatery and Market
Pump House Station is a modern restaurant in Tlaquepaque Village that serves breakfast, lunch, and dinner. The locals rated it one of the best places for lunch in Sedona in 2020, so you know it has to be good!
Pump House Station serves cold sandwiches, hot sandwiches, and salads on their lunch menu. They also have a dog-friendly patio, full bar, and cozy atmosphere.
8. Whole Foods
If you're looking for a more affordable lunch option to grab on the go, Whole Foods has tons of ready-to-eat options: soups, salads, sandwiches, teriyaki bowls, sushi, and more!
The best part is that you can eat your lunch on the patio and enjoy the incredible Sedona views. A real win-win, if you ask me!
Go Shopping in Sedona
After lunch, spend the rest of your afternoon exploring the shops in Sedona. Even if you don't plan to buy anything, wandering around the shops is an experience in itself. Here are my favorite shopping areas to explore during a day trip to Sedona!
9. Tlaquepaque Arts & Shopping Village
If you are looking for a shopping experience that encompasses Sedona's taste of Native American art and culture, Tlaquepaque Arts & Shopping Village is an excellent location to visit. The shops are filled with one-of-a-kind art, jewelry, and handmade clothing.
Though it is a pricey place to shop, Tlaquepaque is fashioned after a beautiful Spanish-colonial-style village, which makes it a unique spot to see. Enjoy walking down the picture-perfect cobblestone walkways and exploring the quaint plazas when you visit.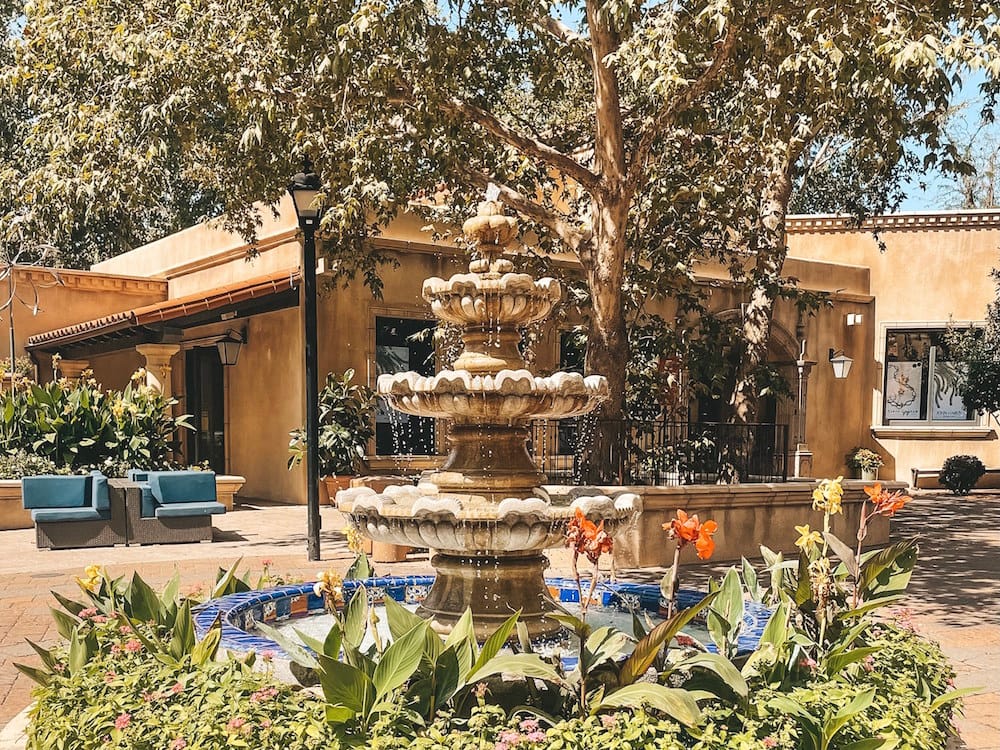 10. Uptown Sedona
Uptown Sedona offers a selection of affordable shopping options and souvenir shops. Some of my favorite shops to visit are: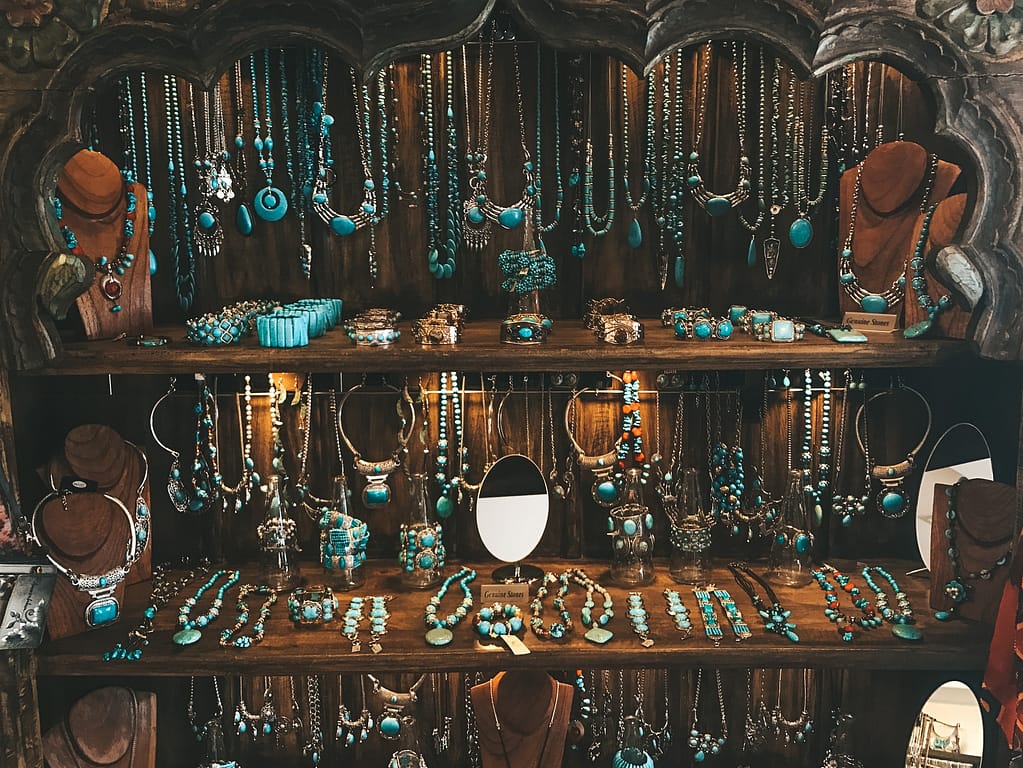 Go Wine Tasting in Sedona
Sedona is considered a part of the Verde Valley Wine Trail, which also includes the nearby cities of Cornville, Cottonwood, and Jerome (You check out my travel guides for Cottonwood and Jerome to extend your trip from Sedona, and enjoy more wine. It's a win-win!)
Although Sedona has popular tasting rooms, like Decanter Tasting Room and Winery at 1912, if you want the real wine tasting experience, you should travel 15 miles west of Uptown Sedona to Cornville, where the spacious wineries and vineyards are!
Some of the most popular wineries in Cornville are Page Springs Cellars, Oak Creek Vineyards & Winery, and Javelina Leap Vineyard, Winery & Bistro. However, my favorite is D.A. Ranch!
11. D.A. Ranch
D.A. Ranch is a boutique, family-owned estate vineyard that was opened in Cornville, Arizona, in 2002. They are only open on select days from 11 AM to 6 PM, but you have to visit if they are open during your day trip to Sedona. It's a little slice of paradise in the Arizona desert, and it's one of my favorite wineries I have ever visited!
D.A. Ranch is very laid-back and dog-friendly. The property is stunning, and there is tons of seating, both inside the adorable farmhouse and outside the property. We brought our golden retriever puppy, Sedona, and she loved running around and playing with the other dogs while my husband and I enjoyed a glass of wine. The staff was so friendly and helpful, too!
D.A. Ranch serves $20 wine tastings, and glasses of wine are $15 each. They were also serving glasses of homemade sangria for $15 when we were there! They don't serve food, so plan to bring your own, but definitely don't miss this spot on your day trip to Sedona!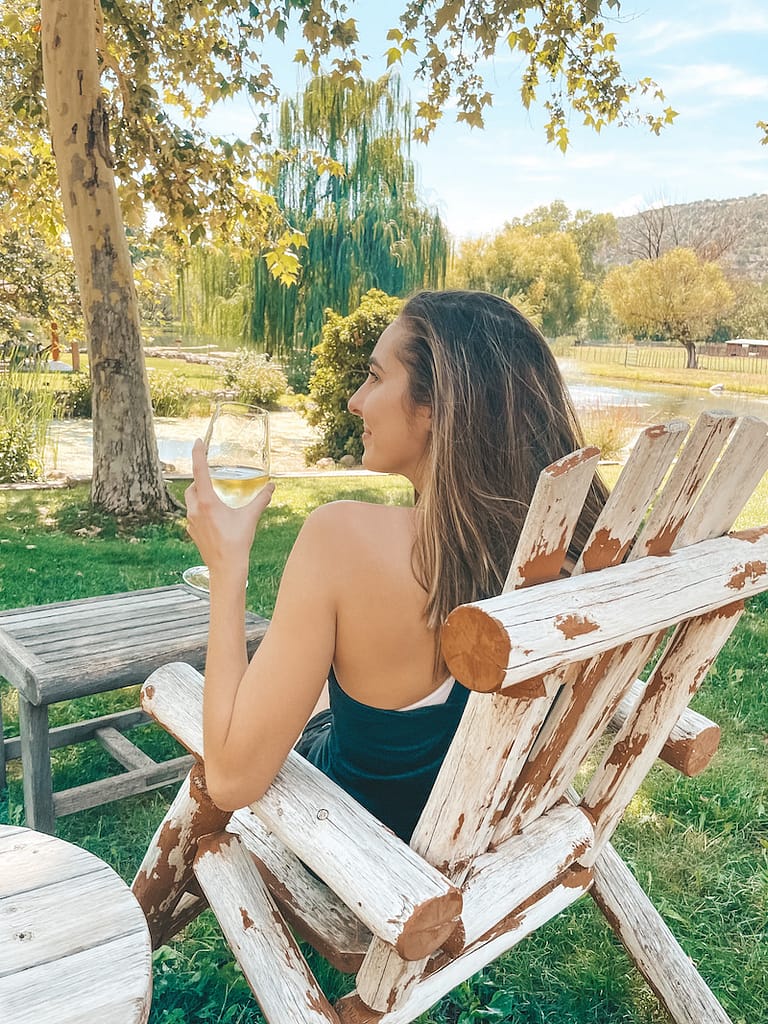 End Your Day with Ice Cream
12. Black Cow Cafe
Before your day trip to Sedona is over, stop by Black Cow Cafe for homemade ice cream or a slice of pie. This cute cafe is the best spot for ice cream in Sedona, and the staff is always so friendly!
I especially enjoy the affogatos at Black Cow Cafe. If you are not familiar, an affogato is a shot of espresso over ice cream. It's the perfect pick me up after a full day of hiking, shopping, and exploring to make it back to Phoenix in time for dinner!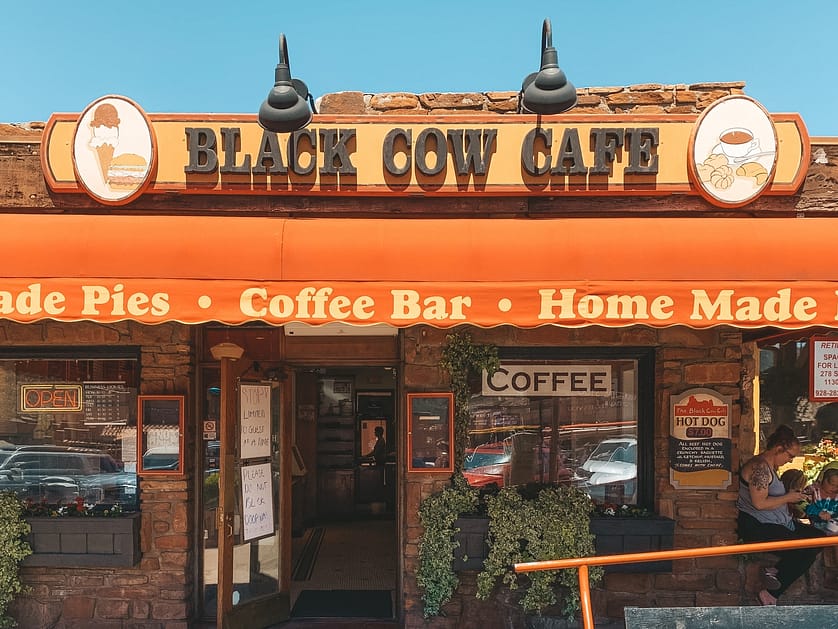 More Things to Do in Sedona
If you're staying in Sedona for longer than one day, here are some more ideas for more things you can do, from adventurous off-roading tours to sightseeing railroad adventures.
The Perfect Day Trip to Sedona
Which of these things to do during the perfect day trip to Sedona sound the most fun to you? Let me know in the comments below!
Disclosure: Some of the links below are affiliate links, meaning, at no additional cost to you, I will earn a commission if you click through and make a purchase, so I can keep providing free content, like this post about "12 Things to Do During the Perfect Day Trip to Sedona!"
Pin Me for Your Day Trip to Sedona!
Did you love this post about how to spend the perfect day trip to Sedona? If so, you'll love these blog posts about Northern Arizona, too!