Searching for the best places to visit in the USA in March? If so — we have the perfect list for you. Whether you're looking for a balmy spring break destination or the last touch of winter snow, this list has the perfect combination of big cities, tropical beaches, and epic outdoor adventures, so you can find the perfect U.S. vacation in March for you!
Best Places to Visit in the USA in March
1. Charleston, South Carolina
Charleston is a city known for its southern charm, abundant history, enchanting architecture, and delicious comfort food making it one of the most popular USA destinations. The only issue with Charleston is the heat and humidity. By visiting Charleston (one of the best places to visit in the USA in March), you can immerse yourself in the charming city when the weather is much milder, making your trip much more enjoyable.
Make sure you enjoy some time walking the historic areas and visiting the iconic Rainbow Row, the riverfront, and White Point Garden. Visit a few of the historic homes, and you can miss the Old Exchange & Provost Dungeon. The city is so rich in history that a guided tour is highly recommended. You can take a pirate tour during the day, a ghost tour in the evening, or a day trip from Charleston to popular attractions like Patriot's Point or Boone Hall Plantation.
You can also enjoy some of the best southern cooking in the United States at places like The Darling Oyster Bar, where classic dishes like shrimp and grits and fried chicken sandwiches satisfy your appetite and soul.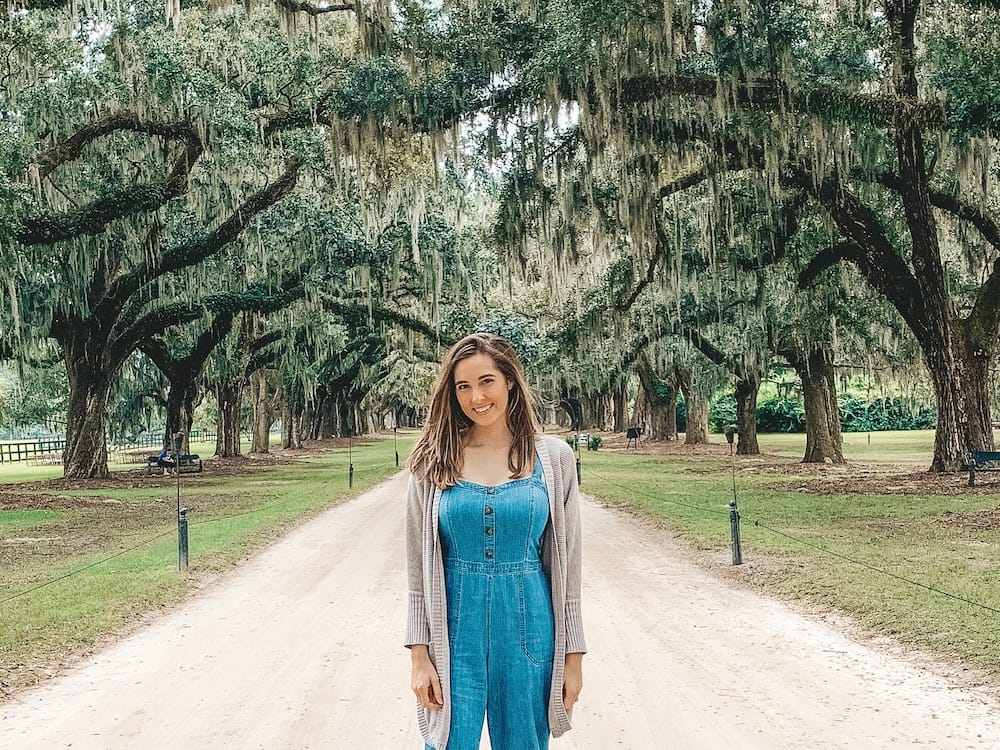 Contributed by Dan of Honeymoon Always
2. Chicago, Illinois
Chicago is easily one of the best places to visit in the USA in March. In fact, this midwestern metropolis comes alive with activity as the city dyes the river green and gears up for St. Patrick's Day every March 17th. This practice takes place every year on the Saturday before St. Patrick's Day, and it has been an immortal city tradition ever since. If you want to see the river at its most vibrant, be sure to stop by right after the city has dyed it.
Then, enjoy the city's major St. Patrick's Day parade downtown on Saturday, March 11th. Other fun Chicago activities throughout March include the Brewsology Beer Fest on March 4th, the Shamrock Shuffle on March 26th, and the Chicago Cubs home opener game on March 30th. Just be prepared for unpredictable weather and crowds due to both spring break and St. Patrick's Day in Chicago.
If you can handle the crowds and weather, then be sure to visit in March. Also, don't forget to stop by Girl & The Goat restaurant to try their amazing halibut, green beans, and pork shank. After all, it's easily one of the best restaurants in Chicago.
Contributed by Linda of Midwest Explored
3. Moab, Utah
Easily one of the best places to visit in the USA in March, Moab, Utah, is a veritable oasis of outdoor wonder for any traveler. After all, it is a great home base from which to explore both Canyonlands and Arches National Park.
March is probably the best time to visit Moab, making it one of the best places to visit in the USA in March. Not only will all the trails be open in the surrounding area, but the region won't be totally inundated with tourists since it's shoulder season. That also means that prices for both hotels and flights will be a lot more reasonable. Plus, you won't contend with the extreme temperature fluctuations and weather changes associated with visiting Moab in either the winter or summer. After all, temperatures in the summer can regularly exceed 100°F, making it impossible to hike after 9:00 am.
Additionally, Moab starts to come back to life at this time of year. So, some of the town's top restaurants will likely be open, like The Broken Car. Be sure to stop by and order some sweet potato fries.
Contributed by Meg of Fox in the Forest
4. Savannah, Georgia
There's no doubt about it — spring is one of the most gorgeous times to visit the charming historic town of Savannah, Georgia. Whether you add Savannah onto a road trip in the Southeast USA with Charleston or visit this city completely on its own, you'll be "wowed" by the stunning pink azaleas, mossy oaks, and warm weather that greet you!
There are plenty of things to do in Savannah, GA, during any time of the year — you can stroll through Forsyth Park, go on a ghost tour to see the most haunted places in Savannah, or explore River Street and City Market. Plus, you can't miss Savannah's food scene. Grab a table at some of the best places to eat in Savannah, including The Olde Pink House, Treylor Park, Mirabelle Savannah, and Leopold's Ice Cream!
However, Savannah is one of the best places to visit in the USA in March because of all the awesome events. You can attend the parade for St. Patrick's Day, enjoy the Savannah Music Festival at the end of the month, or attend the Savannah Boat Show!
Contributed by Brittany of Travel by Brit
5. Palm Springs, California
Palm Springs, California, is a quirky city tucked away in the mountains and desert of Southern California, combining retro glamor and desert boho chicness. It's one of the best places to visit in the USA in March for a warm, relaxing spring break getaway.
Palm Springs was once known as the getaway of choice for Hollywood royalty, like Marilyn Monroe or Elizabeth Taylor, and the city has retained much of this vintage charm. If you're interested in soaking it in, book a mid-century modern architecture tour, where you can see where Elvis and Priscilla Presley spent their honeymoon and where Frank Sinatra relaxed in his downtime. If you want to continue with the retro theme, have dinner at King's Highway at the Ace Hotel and Swim Club, converted from an old Denny's and Howard Johnson, respectively. Here, you can have hand-crafted cocktails and elevated comfort food (plus, there's bingo every Monday!).
If you instead want to enjoy Palm Springs' stunning landscape, go on a hike in the Indian Canyons Park, where you'll find trails with desert views and even an oasis. Alternatively, Joshua Tree National Park is just a short ride away, known for its massive boulders and unique trees.
Contributed by Jessica of Uprooted Traveler
6. Boston, Massachusetts
If you're looking for one of the best places to visit in March in the U.S. for some festive fun, you must head to Boston for the nation's oldest St Patrick's Day celebration! Every March 17th, the city celebrates its strong Irish heritage, with locals and visitors alike coming together for various events. The heart of the event is South Boston, locally known as Southie, where the St Patrick's Day parade began back in 1901. Just note that the parade happens on the Sunday closest to St Paddy's Day, which might not be the 17th.
Boston is a very walkable city, which is beneficial since driving and parking during St Paddy's Day can be challenging. Stay in Downtown Boston for the easiest access to all that Boston has to offer beyond the parade and celebrations. When you visit Boston in March, you will enjoy much smaller tourist crowds (other than during the festivities), so you can enjoy the city as the locals do by enjoying some of the best things to do in Boston!
If you're looking to save some cash, take advantage of all the great free things to do in Boston, from the iconic Freedom Trail to the many public parks and gardens across the city, like the Boston Public Garden. You can even visit the Coit Observatory at Boston University for free on Wednesdays. To stay on the St Patrick's Day theme, check out the Irish Heritage Trail for another free history activity.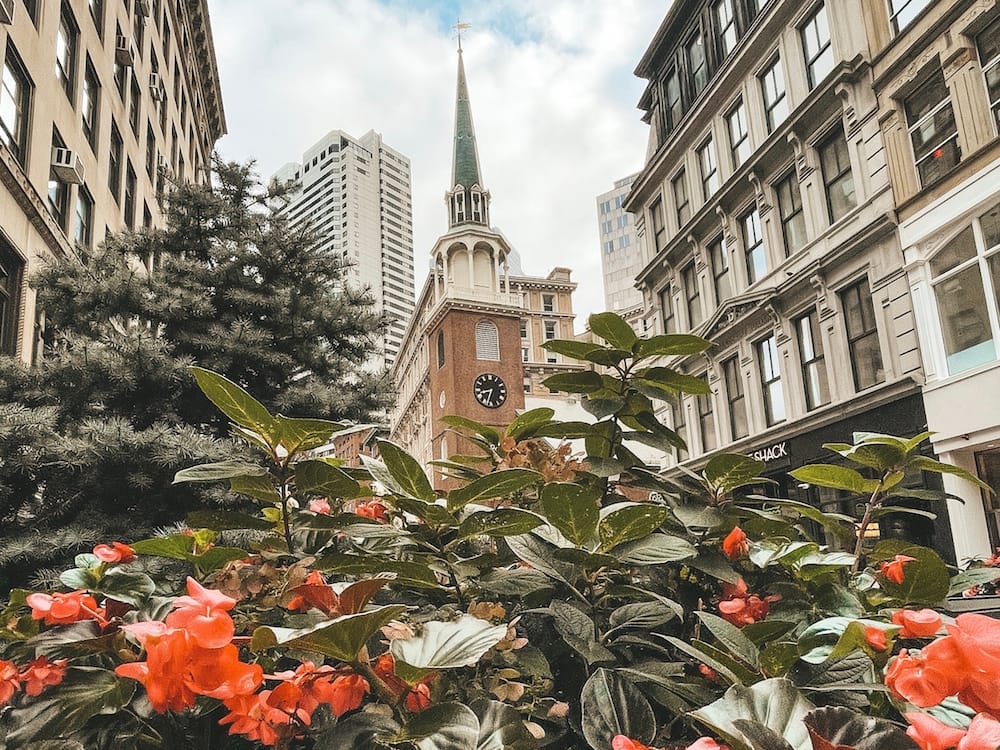 Contributed by Amanda of Hey! East Coast USA
7. Panama City Beach, Florida
Situated on the northwest coast of the Sunshine State, Panama City Beach is one of the best places to visit in the USA in March. Whether you visit as a family, couple, or with friends, there are plenty of fun things to do in PCB in March before all the summer tourists arrive.
Explore Shell Island, an uninhabited island in the Gulf of Mexico, home to bottlenose dolphins and protected birdlife. The island is completely underdeveloped, but you can swim and snorkel to your heart's content here. Other fun activities include hiking, kayaking, or paddle boarding at Camp Helen or St. Andrews State Park.
Panama City Beach is also great for foodies. If you like brunch, then Andy's Flour Power is a must-visit. Everything on the menu is delicious, but the pistachio muffins, French toast, and breakfast martinis can't be missed.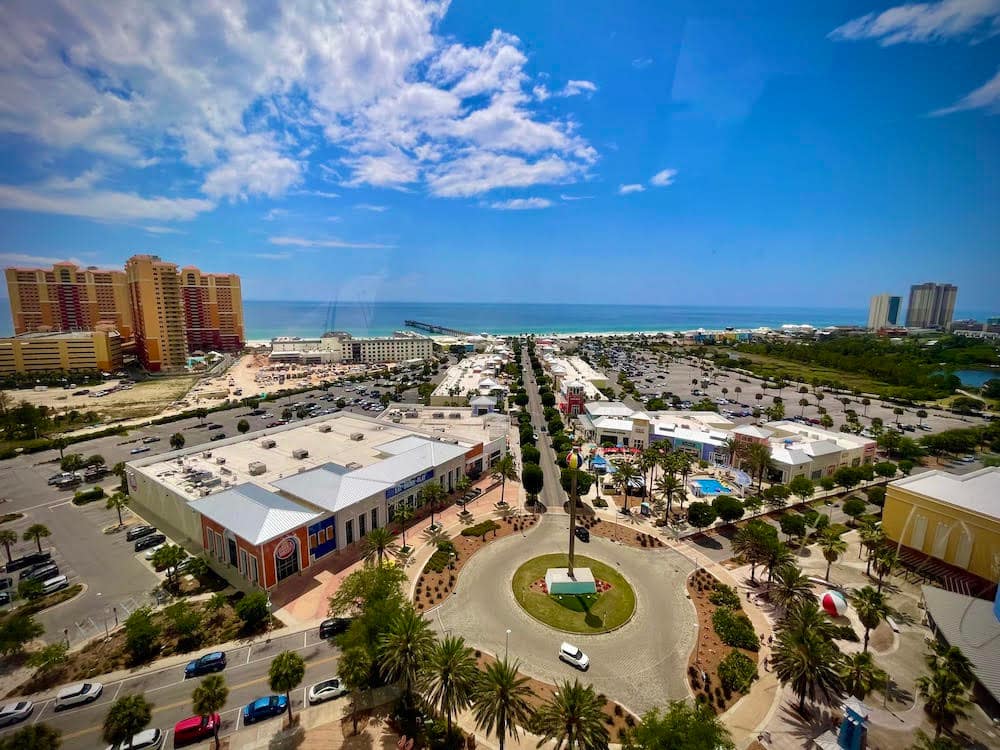 Contributed by Roshni of The Wanderlust Within
8. Texas Hill Country
If you're searching for one of the best places to visit in the USA in March, the perfect place to explore is the Texas Hill Country. March delivers fantastic weather perfect to enjoy outdoor activities, adorable small towns, and hills covered in wildflowers. Austin, Texas, is the gateway to the beautiful Texas Hill Country and has an easy airport to access. All that is needed beyond that is a rental car and a sense of adventure!
While you're in Texas Hill County, you can hike Enchanted Rock just outside of Llano, explore the sweet town of Wimberley for some shopping and a stroll around the Blue Hole, do a wine-tasting tour in Fredericksburg, and pick up some BBQ at Saltlick in Driftwood. Don't miss the chance to stop in Luckenbach (population three). You won't be sorry!
March is the perfect time to visit the Texas Hill Country, as this is when the bluebonnets cover the fields in beautiful colors. Weather will always dictate the timing, but later in the month is the best estimate. A drive around Willow City Loop in Fredericksburg and a visit to Wildseed Farms are a couple of the many great places for seeing bluebonnet fields in the area.
Contributed by Sierra of Very Truly Texas
9. New Orleans, Louisiana
If you're looking for somewhere fun to go on a March vacation in the USA, then you absolutely can't beat a trip to New Orleans. After all, March is probably the best time to visit New Orleans since the weather isn't overly warm and oppressive — making it the perfect time to try light yet refreshing and innovative dishes from GW Fins restaurant.
Plus, Mardi Gras typically starts at either the end of February or early March. So, you can enjoy all the celebrations associated with this incredible event while traveling to the Big Easy since it continues for a few weeks after Mardi Gras itself. Other fun March events include the New Orleans Bourbon Festival and BUKU EDM festival.
Just be aware that this is high season in New Orleans. So, you won't be able to enjoy any discounts on hotels or airfare. You'll also want to book your hotel at least a couple of months in advance since accommodations will fill up quickly. Since this is such a popular time to visit, many of the city's biggest attractions close during Mardi Gras. So, keep that in mind before visiting in March. However, if you want to enjoy one of the most fun, lively events in the country, New Orleans is easily one of the best places to visit in the USA in March!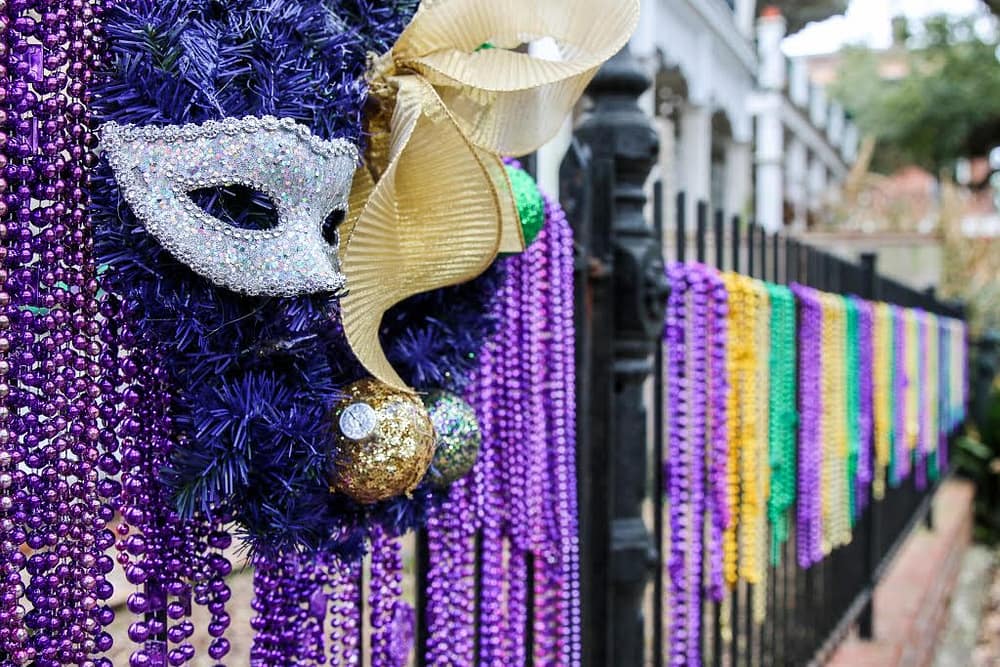 Contributed by Victoria of Southern Trippers
10. Big Island, Hawaii
The Big Island of Hawaii is one of the best places to visit in the USA in March if you're searching for warm, tropical weather ideal for hiking and water activities. During your trip to the Big Island, it's smart to stay in the Kona or Hilo region for the quickest access to most activities and options for luxury resorts, like the Outrigger Kona Resort and Spa.
The warm tropical weather of March is very favorable for water activities like snorkeling, swimming, and surfing — snorkeling with the manta rays is a very popular thing to do here. There are also some excellent hikes in Volcanoes National Park, and Hilo has some amazing waterfalls to see, like the Akaka Falls. In addition to these activities, March is a great month to go on a whale-watching tour in Hawaii. During this month, the whales are migrating to the warmer waters of Hawaii to breed.
The Big Island in Hawaii is also home to some unique beaches, like the black-sand beaches, and the western region of Waikoloa has some stunning beaches, like Hapuna Beach. If you're looking for a great place to eat, head to the Coffee Shack in Kona for great food and amazing views!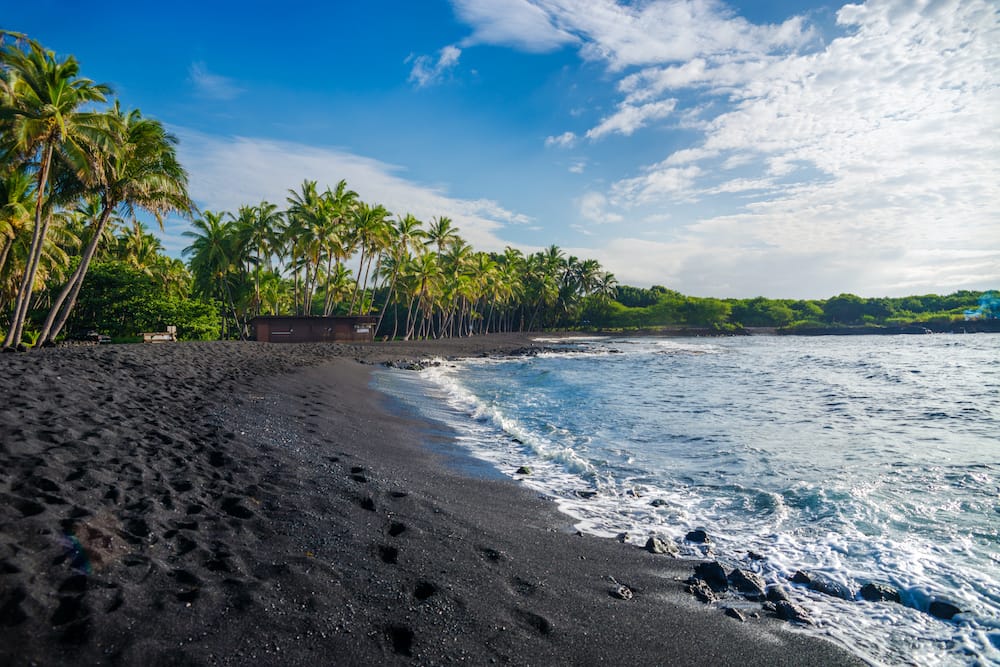 Contributed by Anu of Destination Checkoff
11. Asheville, North Carolina
Asheville, NC, is one of the best places to visit in March in the U.S. because the wildflowers are starting to bloom, and the waterfalls are booming. March brings lighter crowds since parts of the Blue Ridge Parkway are still closed, so it's a fantastic time to hit the trails, explore downtown, and enjoy a brewery or two without the summer crowds.
The Asheville Art Museum and River Arts District pair together easily for a full day of fine arts and local culture, and you can follow it up with a bite at Sunny Point Cafe or Chai Pani. Of course, you can't miss the chance to visit the famous Biltmore Estate — just make sure to book a ticket in advance since this attraction is so popular.
Central Asheville is the perfect jumping point to explore some of the best hikes near Asheville in the Pisgah National Forest, like Catawba Falls, or you can take a day trip to the Great Smoky Mountains National Park in nearby Cherokee — just keep an eye out for baby black bear cubs!
Contributed by Stephanie of Explore More Clean Less
12. Phoenix, Arizona
Phoenix, Arizona, is easily one of the best places to visit in the USA in March. In March, the entire desert is in bloom with gorgeous wildflowers, and Cactus League (Major League Baseball Spring Training) draws tens of thousands of fans to watch preseason baseball games and enjoy outdoor activities in the invigorating warm desert climate.
Visiting Phoenix in March is a smart choice for spring break — particularly for families. There are many fun things to do in Phoenix in March, including hiking, golfing, outdoor dining, and cultural activities. You can enjoy some of the best hikes in Phoenix, including Piestewa Peak, Camelback Mountain, or Tom's Thumb Trail, go on a hot air balloon ride over the stunning desert, tour Frank Lloyd Wright's Taliesin West, explore the Desert Botanical Garden, and visit fantastic museums, such as the Musical Instrument Museum (MIM) and Heard Museum.
While you're in Phoenix, indulge with a stay at a luxury hotel, like the Omni Montelucia, Hilton Phoenix Resort at the Peak, or The Phoenician. Plus, Phoenix has no shortage of fabulous places to eat, including Flower Child and Pizzeria Bianco for lunch and dinner and Prep & Pastry and Hash Kitchen for the best brunch in Phoenix.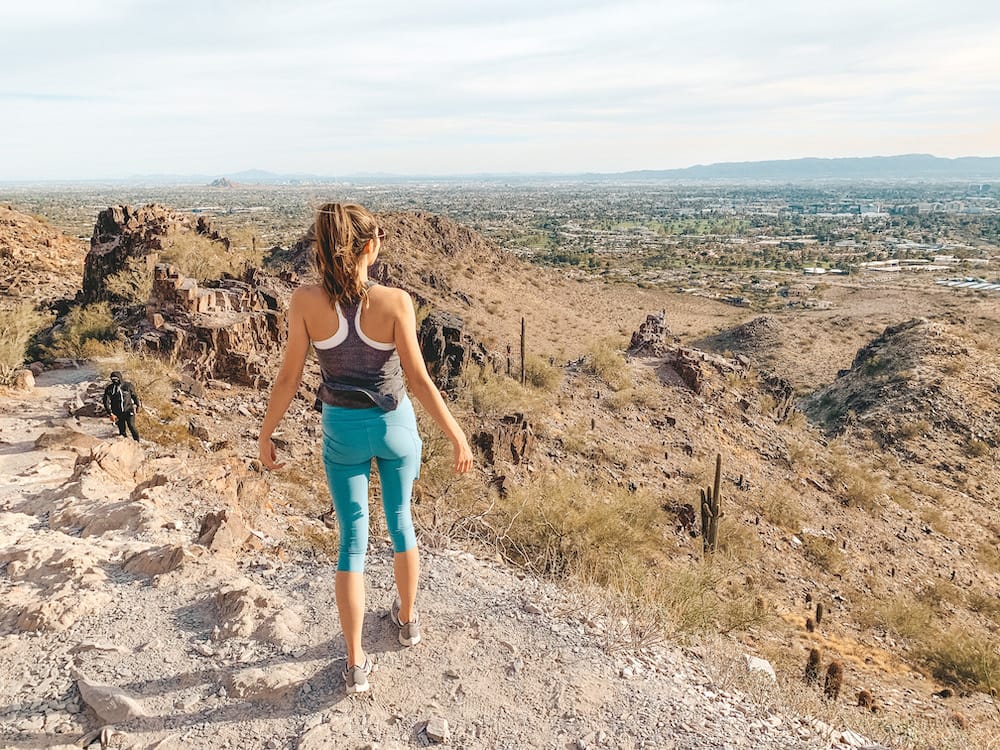 Contributed by Charles of McCool Travel
13. Pacific Coast Highway
Planning a road trip on the Pacific Coast Highway is one of the best ways to see many beautiful places in one single trip! In general, the west coast is one of the best destinations to visit in March for its mild weather, lots of outdoor adventure, and access to a variety of natural wonders. Planning a road trip on the Pacific Coast Highway offers many perks in March — the biggest one is the off-season discounts you'll receive on hotels, rental cars, and tours.
There will also be significantly fewer crowds at popular sites. Some of the most iconic stops on the PCH include Redwood National Park, The Golden Gate Bridge, Oregon Coast, and Olympic National Park. It's also possible to do just one section at a time (or do the whole thing — 1,700 miles!), making this a truly customizable adventure for March.
Since you'll be on the road, go ahead and try different coffee shops along the way for a warm drink in the car. Visit Sessions in Huntington Beach, Blue Bottle Coffee in San Francisco, and the Sleepy Monk in Cannon Beach, Oregon.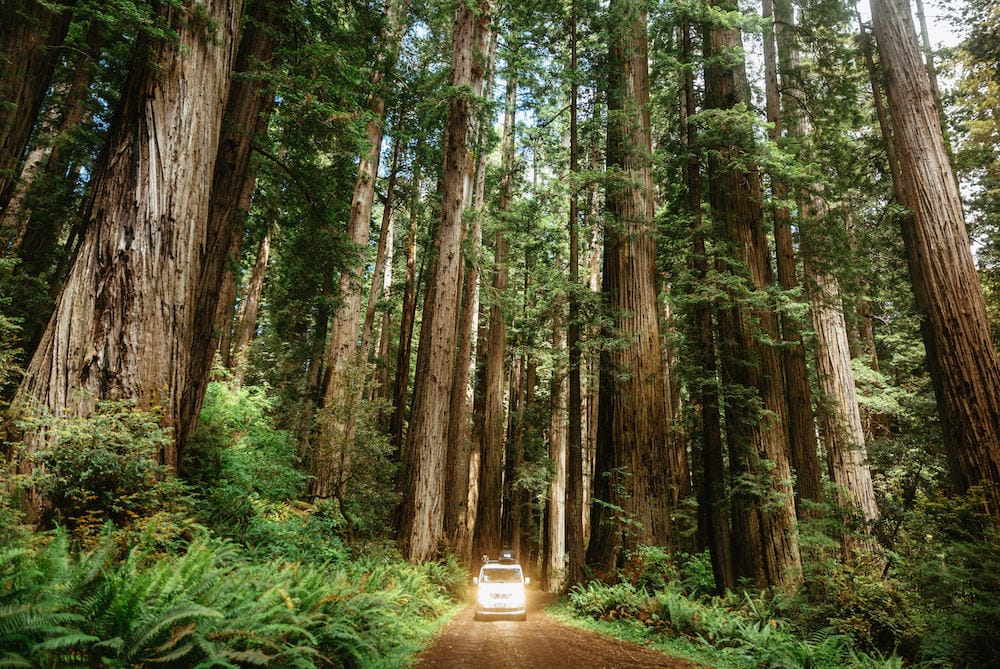 Contributed by Emily of The Mandagies
14. Washington D.C.
March is the best time to see the famous cherry blossoms in Washington D.C., a bucket list event in the USA. Delicate white and pink blossoms surround the Tidal Basin, offering fantastic photo opportunities from a paved path that loops around the water. The Jefferson, FDR, and Martin Luther King Jr. memorials are spaced around the basin and are free to visit. For a fun and less crowded look at the blossoms, rent a pedal boat and explore the views from the water.
The Cherry Blossom Festival, which kicks off in mid-March, features a month of performances, a parade, fireworks, a Kite Festival, and other special events. More cherry trees, plus beautiful magnolias and gardens, are sprinkled around the National Mall and city parks. Allow time to visit the Washington Monument and pop into some of the free Smithsonian Museums.
You don't want to drive during cherry blossom season in D.C., so stay at the Canopy by Hilton at The Wharf, and you'll be just a half-mile walk from those beautiful blossoms.
Contributed by Julie of Fun in Fairfax VA
15. Zion National Park
Zion National Park is one of the most well-known national parks in the USA, and it's one of the best places to visit in the USA in March! March is considered the end of the winter season at the national park, bringing mild temperatures and fewer crowds. There is sometimes a light dusting of snow at higher elevations, only enhancing the park's unique beauty.
Consider exploring some of the most iconic hikes in the United States, like The Narrows or Angels Landing in Zion National Park. However, water levels at The Narrows can be knee-deep at this time of year. Make sure to rent a neoprene wetsuit from one of the many shops in Springdale, and plan to wear base layers underneath to stay safe. Check the National Park Service website or speak with a park ranger at the visitor's center prior to beginning your hike to confirm safety conditions.
For breakfast, lunch, or a midday snack, head over to the highly-rated Cafe Soleil in Springdale. The menu contains a variety of vegetarian and plant-based items.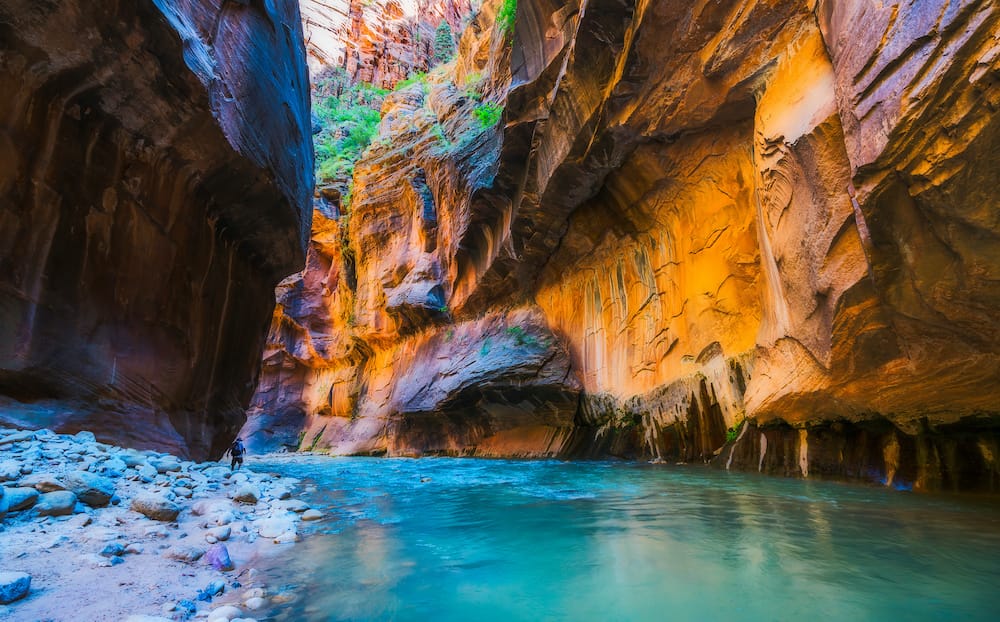 Contributed by Alyssa of An Apple a Plane
16. Key West, Florida
If you're unsure where to go this March in the USA, try visiting Key West, Florida. March is the best time to visit the Florida Keys since the weather isn't stiflingly hot, and there are many fun events to enjoy.
Highlights include the Key West House and Garden Tour, where you can marvel at the stunning interior of some of the historic homes in Old Town on March 12th and 13th. If you want, you can also enjoy a St. Patrick's Day-themed day trip that includes traditional Irish fare and green beer.
However, because spiny lobster season only lasts until the end of March, you cannot leave the area without ordering this delectable seafood delight from The Lobster Shack Key West. Just be prepared for crowds and high prices since the excellent weather and exciting events mean that March is the high season in the area.
Contributed by Victoria of Florida Trippers
17. Philidelphia, Pennsylvania
While sometimes overlooked as a travel destination, Philadelphia, Pennsylvania, is brimming with rich history, delicious food, and amazing art. March can be a great time to visit as you can be a part of the Philadelphia St. Patrick's Day Parade, which is a fun experience, and the weather is usually mild.
Additionally, because March is shoulder season, you can expect fewer crowds and lower prices while Philly jumps into Spring. Other top attractions to enjoy during a weekend in Philadelphia include Independence Hall, the famous Liberty Bell, and Philadelphia's Magic Gardens. The gardens are one of my favorite locations as it is unlike anything you have likely seen before, as it is made up of mosaics!
For somewhere to eat, I highly recommend Reading Terminal Market, which has a vast number of food vendors to indulge in. My preferred place to grab a snack is Bassetts Ice Cream — but be prepared to have to wait in line! Then, head back to your room at Kimpton Hotel Monaco Philadelphia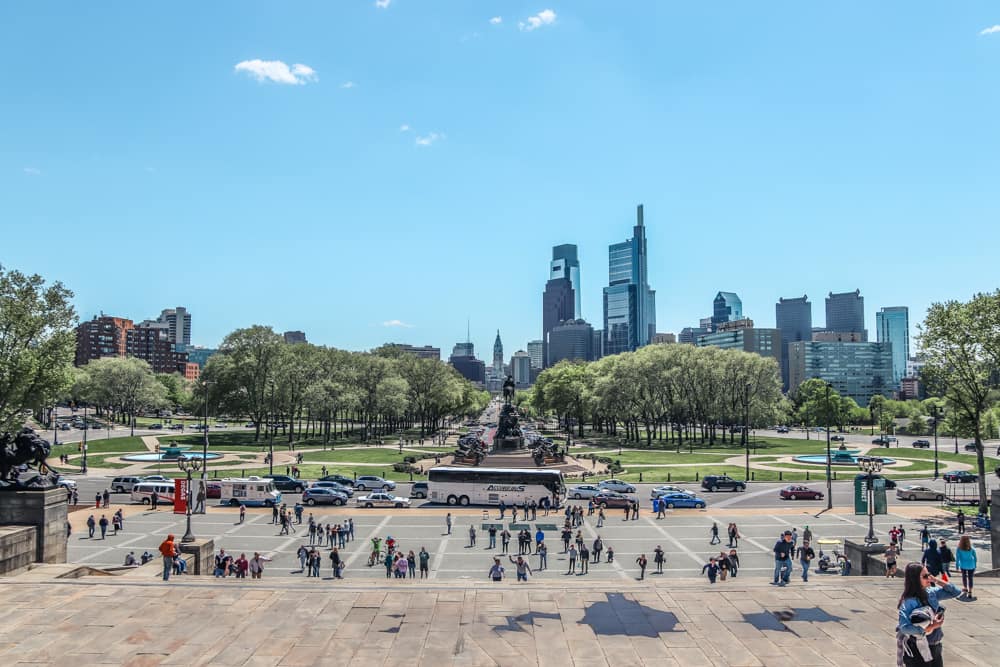 Contributed by Sam from Find Love and Travel
18. Boulder, Colorado
Searching for your last fix of winter snow? If so, March is a wonderful time to visit Boulder, Colorado, because it is just on the edge of the ski season, when the weather is starting to warm up. Although it can be muddy, most of the trails in and around Chautauqua and Sanitas should be passable, so long as there hasn't been a recent snowstorm. Bring waterproof shoes with decent tread (or pull-on ice grips, if you have them) to keep from slipping.
Walk up and down Pearl Street, the lifeblood and center of Boulder, Colorado. You'll find boutiques for shopping, local breweries and restaurants, and bustling coffee shops. Be sure to pay a visit to the local puzzle store, Liberty Puzzles, and Boulder's loveliest chocolatier, Piece, Love, and Chocolate. For brunch, try a biscuit with strawberry rhubarb jam from Lucile's Creole Cafe.
In Boulder, most people love to enjoy the outdoors, so be sure to squeeze in a hike while you're visiting. The weather is typically sunny during the early spring, warm enough for just a light sweater most days. Bring a warm coat for the evenings when the temperatures drop.
Contributed by Amber from Amber Everywhere
19. San Antonio, Texas
San Antonio, Texas, is the perfect place to visit in March in the USA, as it is when the weather is just perfect, the hotel rates are lower, and there are fewer crowds!
San Antonio is a fun city, and even if you only have a weekend or a day in San Antonio, you can still see a lot! From strolling along the famous San Antonio Riverwalk to visiting the largest Mexican market outside of Mexico, there are many things to do here. The San Antonio Riverwalk is the most visited tourist attraction in Texas, and you can walk the downtown loop of The Riverwalk in 45 minutes. It is a very picturesque area with a nice atmosphere, and there are many Mexican and Tex-Mex restaurants full of character and excellent food!
There are lots of other cuisines to choose from, though. Schilo's Delicatessen, located just behind the riverwalk, is the oldest restaurant in San Antonio and is an iconic place to go for German food and great breakfasts! Along with the riverwalk, when you are in San Antonio, you must visit The Alamo: known worldwide as the site of The Battle of the Alamo between Mexico and Texas in the Texas Revolution.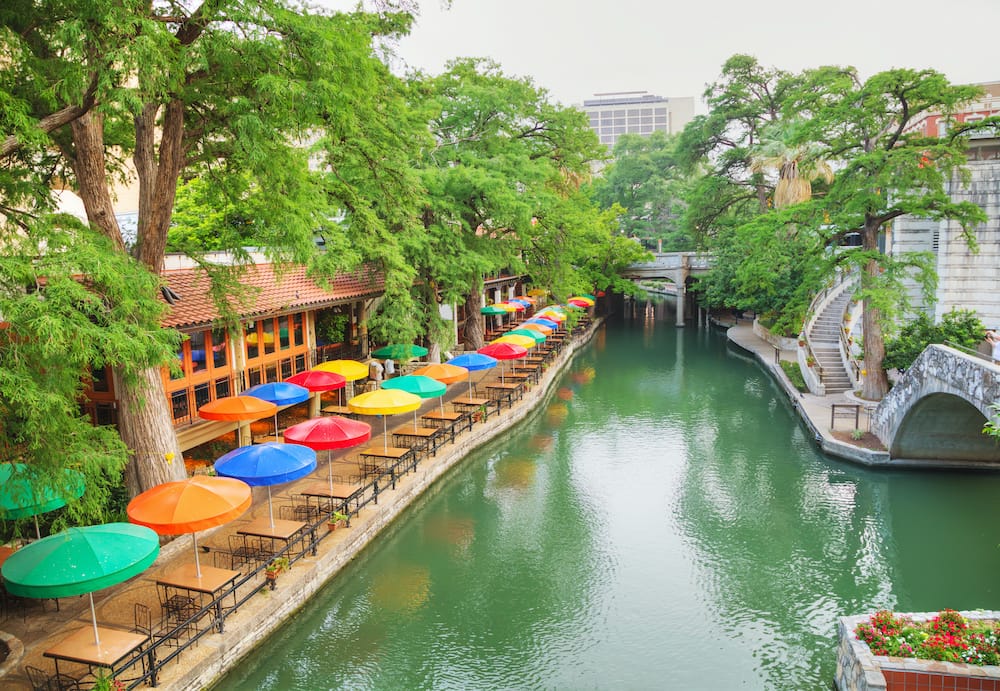 Contributed by Cartina from 24 Hours Layover
20. Gulf Shores, Alabama
The Gulf Shores in Alabama are one of the best places to visit in the USA in March. This stretch of white, sandy coastline on the Gulf of Mexico is a popular summer destination. In the spring, you'll beat the crowds and get the best deals on lodging.
One of the greatest draws of the Gulf Shores in March is Gulf State Park. This 6,150-acre park offers ample wildlife viewing, beach activities, and miles of trails. Hikers and bikers will especially appreciate being able to enjoy their activities without extreme heat. For art lovers, during the first weekend in March, the park hosts the Ballyhoo Art Festival.
Royal Red Shrimp is the other reason to come to the Gulf Shores. If you've never had these huge, delicious shrimps, put them on your food bucket list! Bahama Bob's is a great place to enjoy them, along with a frozen adult beverage.
Contributed by Denise from Chef Denise
21. Sedona, Arizona
If you're looking for one of the most stunning destinations to visit in the USA in March, you can't miss the gorgeous red rocks in Sedona, Arizona. In March, the winter snow melts away, and gorgeous wildflowers begin to bloom, so exploring Sedona is truly a treat this time of year.
Don't miss the chance to hike some of the best hikes in Sedona during your trip to the red rocks in March. Cathedral Rock, West Fork Trail, Devil's Bridge, and Soldier Pass Trail are some of the most popular and scenic trails to check out. After you've spent a day hiking, head into Uptown Sedona for lunch or dinner at 89 Agave Cantina or Pump House Station Urban Eatery and Market, and then go shopping at Tlaquepaque Arts & Crafts Market.
Contributed by Brittany from Travel by Brit
22. Smoky Mountain National Park
If you're looking for one of the best places to visit in the USA in March, look no further than the Smokies. This mountain range, located in North Carolina and Tennessee, is home to some of the most beautiful natural scenery in the country, and the Great Smoky Mountains National Park is one of America's most popular national parks.
In March, you will be able to explore many of the Smoky Mountain hiking trails without getting too hot. There are numerous beautiful waterfalls and scenery everyone will love to explore this area. Make sure you take a drive through Cades Cove. It is one of the best places to see wildlife like bears, deer, and turkeys. For waterfalls, you will want to check out Grotto Falls and Laurel Falls, but there are many more options than just those. Another great hike is the Clingmans Done. This hike will take you above the trees, and the hike is paved but steep.
A popular and great place to eat in the Smokies is Chesapeake's Seafood and Raw Bar. If you are not into seafood, you will want to check out Cherokee Grill and Steakhouse. They offer great steaks and desserts.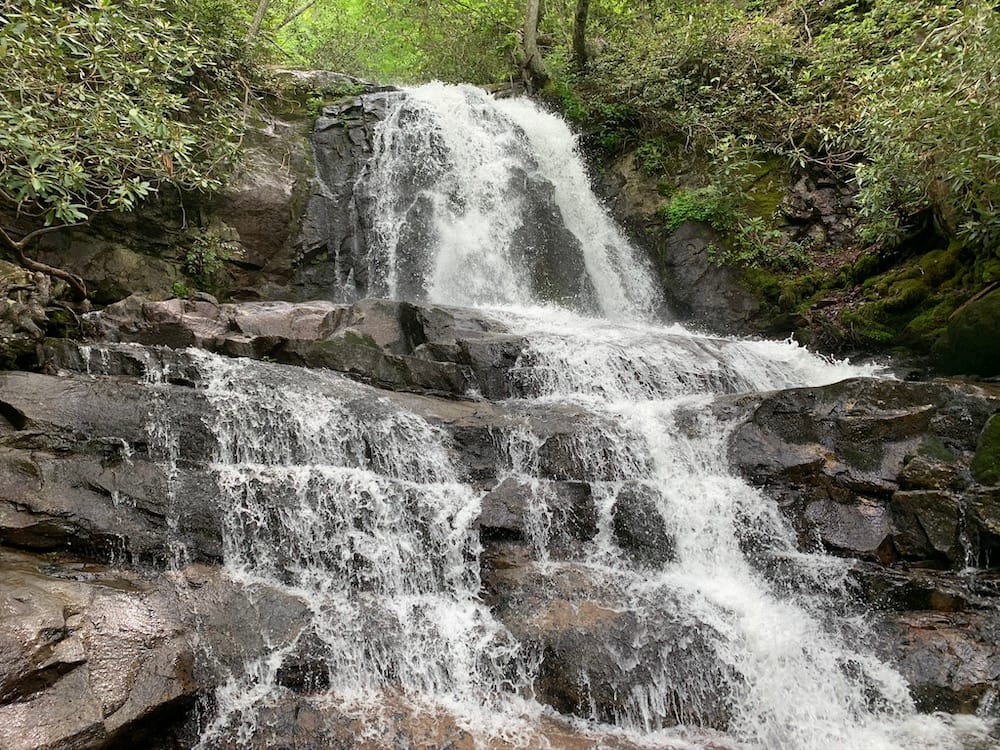 Contributed by Candice from CS Ginger
23. New York City, New York
March is a special month to visit New York City as there are many fun celebrations, such as the St. Patrick's Day Parade, Macy's Flower Show, and the International Flamenco Festival.
However, the fun events and festivals aren't the only things to do in New York City in March. From tasting New York City's best dishes at MUD Spot and visiting rooftops and rooftop bars to walking down Fifth Avenue and strolling around Central Park, you will never get bored with the hundreds of things to do in this vibrant city. While the magic of NYC is in the air year-round, it's still pretty chilly in March, as temperatures average around 42°F.
It also means mass tourism isn't here yet, and, as everyone knows — New York City is an expensive destination! It's smart to take advantage of the great airfare prices and stay in the best area of New York for the first time without breaking the bank!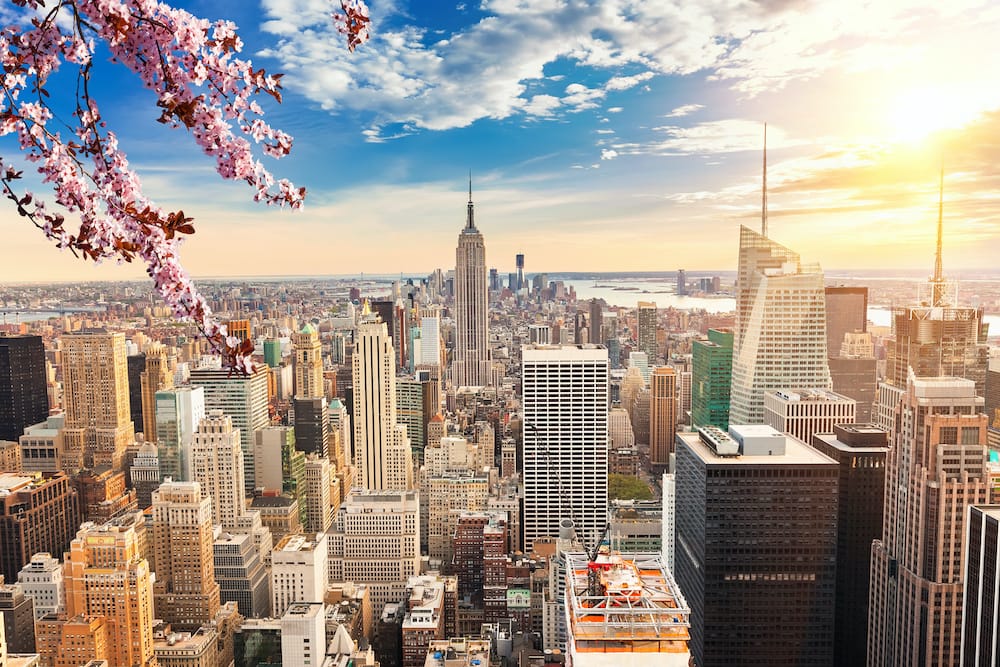 Contributed by Soline from On the Road Diary
24. U.S. Virgin Islands
The U.S. Virgin Islands is the perfect place for anyone looking for a tropical getaway in the United States in March, given its excellent weather and many activities to choose from. Plus, being a United States territory, you don't need a passport to visit these Caribbean islands!
Sea lovers can go kayaking and snorkeling in Cas Cay in St. Thomas or charter a boat around St. John and stop at Lime Out, a renowned floating taco bar in the middle of the ocean! Land lovers and history buffs can hike all around the islands for amazing panoramic views while exploring the historic petroglyphs of Reef Bay or Fort Christian.
St. John and St. Thomas are only 20 minutes from each other by ferry, giving you an opportunity to explore two beautiful Caribbean islands in one short visit. You can also find many direct flights from the U.S. to St. Thomas, making your travel days simpler.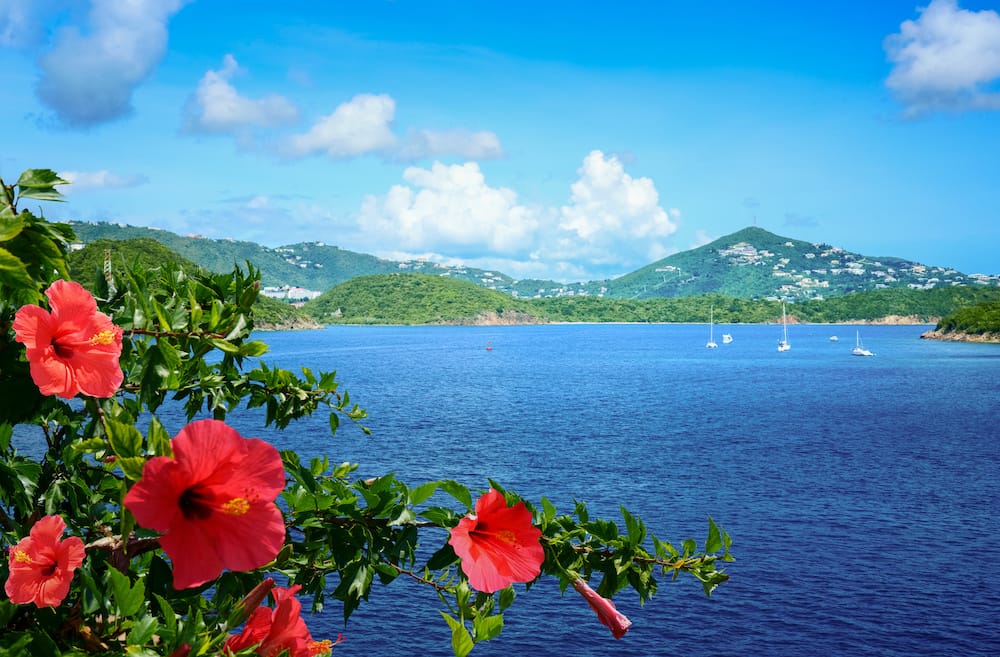 Contributed by Rachel from Caribbean Undiscovered
25. Charlottesville, Virginia
March is a great time to visit Charlottesville. While temperatures are still a little cool, it's warm enough to enjoy all the activities the area has to offer. Plus, it's the off-season, so you'll avoid the crowds and get great deals on accommodations.
Charlottesville is in the heart of Virginia's wine country. One of the best things to do is go wine tasting at the many excellent nearby wineries like Barboursville Vineyards or King Family Vineyards. And if you're a wine enthusiast, take a day trip to some other top wineries in Northern Virginia. For history buffs, Thomas Jefferson's Monticello is a must-see. Take a tour of his former home to learn about the author of the Declaration of Independence and the third U.S. president. Then head out to the Saunders-Monticello trail, a stroller-friendly boardwalk that runs from Monticello along Carter Mountain.
If you're an avid hiker, check out nearby Shenandoah National Park. The Calvary and Chimney Rock trail leads to a scenic overlook for stunning views of the Blue Ridge Mountains. Visitors in late March can catch the cherry blossoms in bloom. The best place to see them is the Lewis Ginter Botanical Gardens in Richmond. Fleurie is an excellent French restaurant in Charlottesville, serving up a daily three-course prix-fixe menu. The wine list is extensive and includes several local Virginia wines to enjoy with your meal.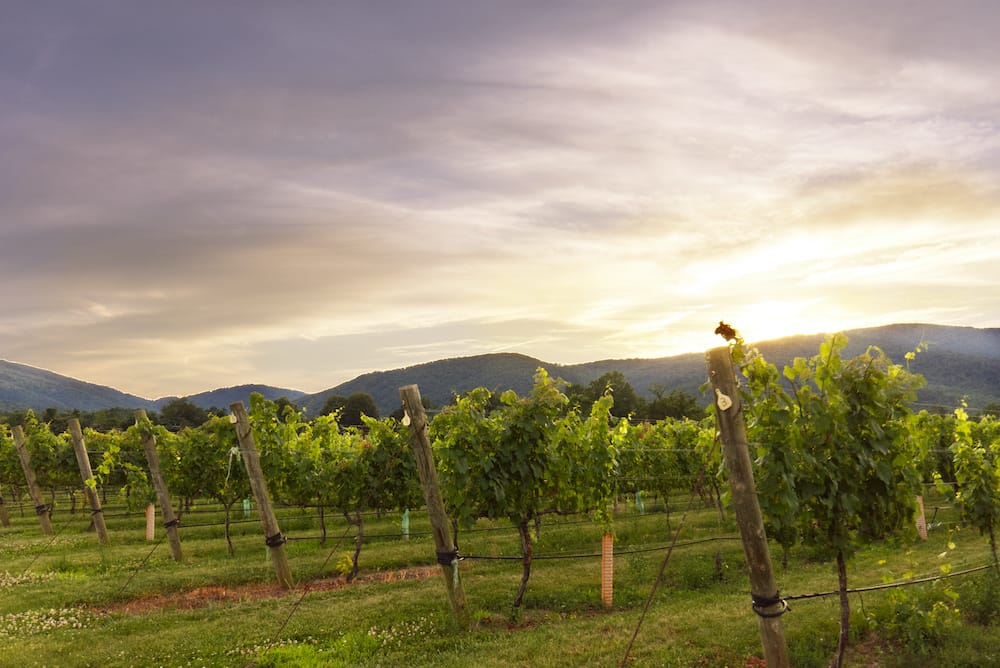 Contributed by Laura from Wine Travelista
26. Las Vegas, Nevada
While there are plenty of things to do in Las Vegas year-round, spring and fall offer the best weather. March is a particularly nice time to visit for lower crowds and the ability to hike and spend time outdoors in natural areas just outside the city. Plus, you'll score great prices on accommodations in Vegas in March!
March offers perfect daytime sunshine and moderate temperatures to stroll the famous Las Vegas Strip. Visit the Conservatory at the Bellagio Resort to see the beautiful display for spring, with giant colorful flowers. In the evening, slip on a light wrap and enjoy the lights and music of the Bellagio fountain show, or head up to the top of the Eiffel Tower at the Paris Resort for views over the lights of Vegas. While you are here, be sure to pay a visit to the new family-friendly Cosmopolitan Las Vegas.
Just outside Las Vegas, Valley of Fire State Park, and the Red Rock National Conservation Area make for great day trips if you love hiking. Or go kayaking on the Colorado River and admire the historic Hoover Dam. In March, you can still visit Death Valley National Park, the hottest place in North America, especially if you visit earlier in the month.
When you're looking for something to eat, the buffets of Vegas are legendary. Try the Wicked Spoon at the Cosmopolitan or the Bacchanal Buffet at Caesars Palace. For fine dining, try Giada at The Cromwell for Italian! And, if you're visiting for a March birthday, check out these Las Vegas birthday ideas!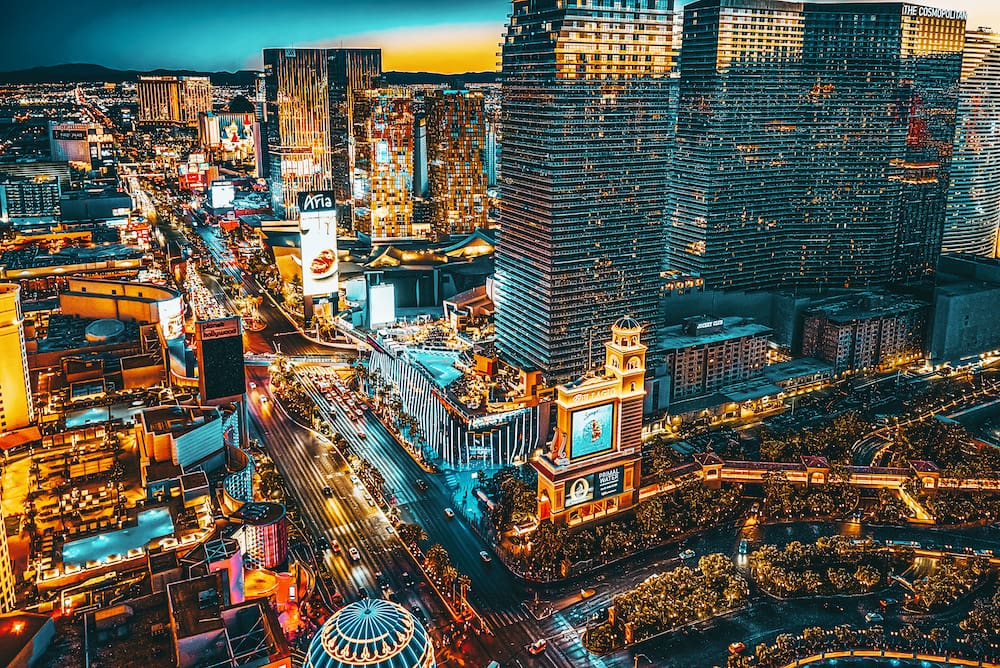 Contributed by Dhara from It's Not About the Miles
27. Grand Canyon National Park
One of the best places to visit in the United States in March is the Grand Canyon. The Grand Canyon is one of the most famous natural landmarks in the entire world due to its massive size and vast lookouts. The Grand Canyon was carved over thousands of years by the Colorado River and now is one of the largest canyons in the world. Every year, millions of people come to visit the Arizona desert just to see this beautiful landmark.
Because the Grand Canyon is in the desert, it can get extremely hot. Because of this, traveling in the shoulder seasons of spring and fall is the best time to visit the canyon and avoid the harsh summers and cold winters. There are many things to do at the Grand Canyon, including hiking, wildlife watching, helicopter flights, and horseback riding. It is recommended to give yourself at least two days at the Grand Canyon to make the most of your time.
Note that the North Rim is closed in March but that the South Rim is home to most of the famous viewpoints and hiking trails. The South Rim is also home to the Grand Canyon Village, where most people go to enjoy learning about the geology of the canyon and grab a bite to eat.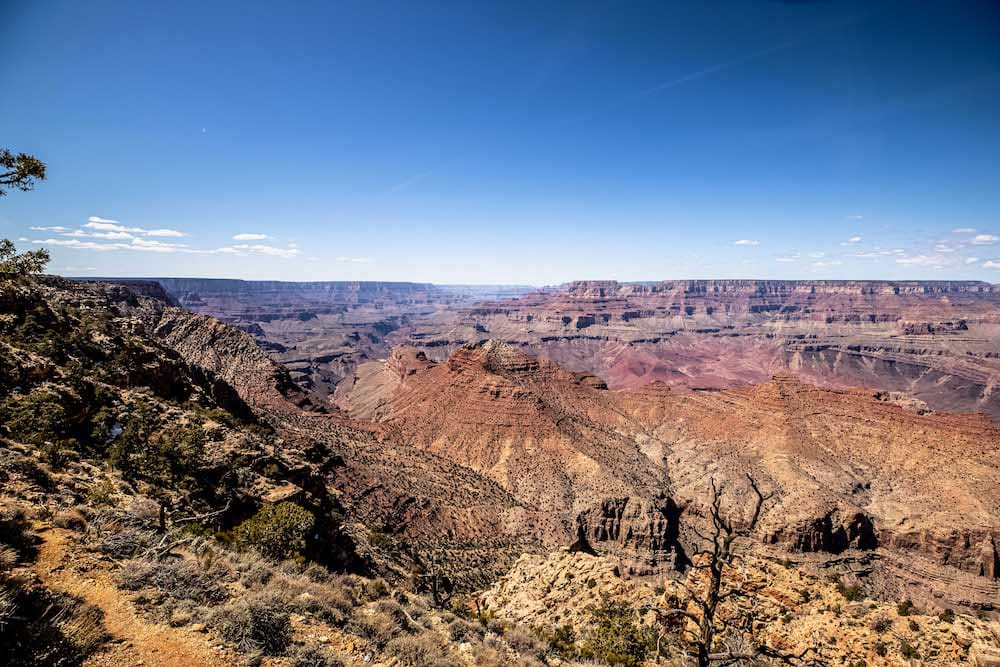 Contributed by Shannon from Adventuring With Shannon
FAQs: Best Places to Visit in the USA in March (2023)
What is the warmest place in the U.S. in March?
Some of the warmest places in the United States in March include the southern states, like Arizona, Texas, Florida, and Georgia, and the islands in and around the United States, like Hawaii, Puerto Rico, and the U.S. Virgin Islands. 
What are the cheapest places to travel in March in the USA?
Some of the cheapest places to visit in March in the USA include places in the off-season, like Glacier National Park, Cannon Beach, Olympic National Park, and Colorado Springs. If you're looking for some affordable places to visit in March that are still warm, check out San Antonio, Destin, and Santa Fe before the summer crowds swarm these cities and beaches. 
Are any U.S. beaches warm in March?
Yes, there are plenty of warm beaches in the United States in March! You can visit the beaches in Hawaii, Miami, Key West, and the U.S. Virgin Islands for some balmy temperatures averaging around 75°F, sandy beaches, and constant sunshine!
Plan Your Spring Break Vacation with the Best Places to Visit in the USA in March
Ready to plan your spring break vacation? Whether you prefer to celebrate St. Patrick's Day in a big city, escape to a quaint, small town for wine tasting, hiking, and exploring, or relax on a sandy beach with a cocktail in hand, you'll find a place to travel to from this list of best places to visit in the USA in March!
Which destination will you be visiting this March? Let me know in the comments below!

Disclosure: This post about the best places to visit in the USA in March contains affiliate links, referral links, and referral codes. I earn a commission if you click through and make a purchase at no additional cost to you. This helps me keep the content on my website free, like this post about the best places to visit in the USA in March.
Remember the Best Places to Visit in the USA in March (2023) by Saving This Post
Read More
Looking for more of the best places to visit in the United States during different times of the year? Check out these guides below: