Chances are, you've heard about the California wine regions in Napa Valley and Sonoma Valley. But have you ever considered visiting Southern California's Wine Country in Temecula, California?
After visiting Temecula for the first time with my mom, I can confidently say this charming town is the perfect spot for a weekend getaway with the girls. The combination of rustic, western vibes with a chic atmosphere makes for a sophisticated yet laid-back environment. It's filled with relaxing activities and fun adventures for a perfectly balanced weekend.
To help you plan the perfect summer weekend in this fabulous city, here are the ten best things to do in Temecula, California, as well as the best places to stay and directions for getting there! 
Where Should I Stay in Temecula?
Temecula offers a wide range of accommodations—from upscale resorts situated on vineyards to cozy bed 'n' breakfasts nestled on family farms.
Here are some excellent properties to consider with close access to all the best things to do in Temecula:
When Is the Best Time to Visit Temecula?
This guide is curated for the best things to do in Temecula, California, during the summer since certain activities on this list are only available during the summer months. Additionally, all the vineyards are green and blooming during the summer!
However, Southern California's temperate climate makes Temecula a wonderful destination to visit all year—even during the winter off-season.
10 Best Things to Do in Temecula
1. Go on a Wine Tour
Temecula is famous for its wineries and vineyards—over 45, to be exact. That said, a trip to Temecula would be incomplete without a visit to a few of the best wineries in Temecula!
Some of my favorite local wineries in Temecula include Wilson Creek Winery, Cougar Winery and Vineyards, and Somerset Winery. Depending on your preference, you can visit a few wineries on your own or book a wine tour. Wine tours are one of the most popular things to do in Temecula!
Here are a few highly-rated wine tours that include transportation and multiple wine tastings at some of the best wineries in Temecula:
2. Peruse the Old Town Temecula Farmers' Market
The Old Town Temecula Farmer's Market is one of the best things to do in Temecula, California, on Saturday mornings from 8:30 AM to 12:30 PM.
This farmers' market attracts dozens of local vendors. You can find fresh fruit, vegetables, baked goods, local honey, eggs, meats, fresh-cut flowers, plants, specialty foods, crafts, and more. The flowers were gorgeous, and I purchased some sugary-sweet strawberries that were delicious!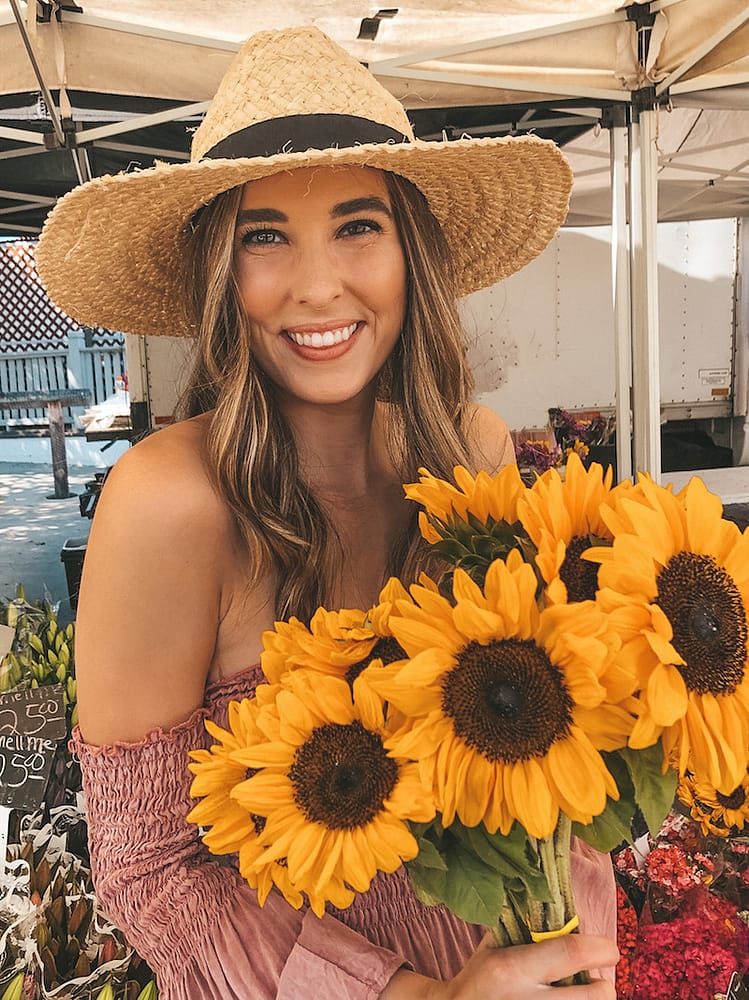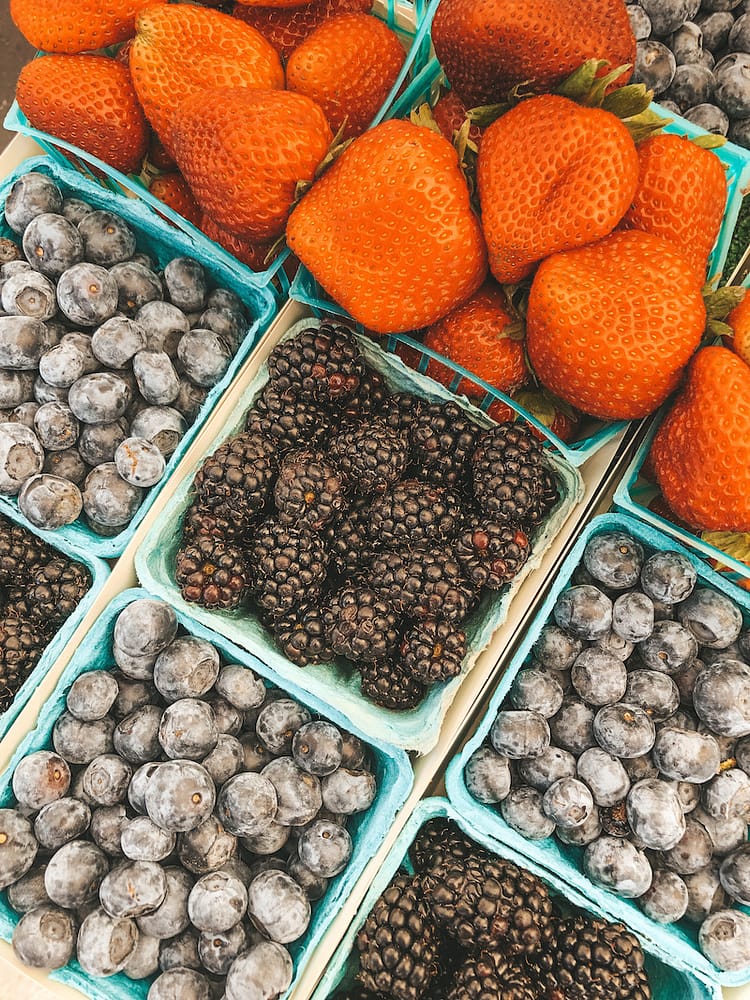 3. Enjoy Brunch in Old Town Temecula
One of the best things to do in Temecula is to enjoy brunch at one of the fabulous places to eat in Old Town Temecula. Some local favorites (and some of my favorites!) are Public House and 1909 Temecula.
These two restaurants, located right next to each other, have lots in common. They both are modern gastropubs in renovated historic buildings, they have great patio seating, and the menus feature plenty of breakfast drinks. However, the Public House's patio is shaded, with lots of greenery and misters, while 1909 Temecula has a more industrial indoor-outdoor look. Additionally, Public House is only open for breakfast on the weekend, and 1909 is open every day at 9 AM.
I tried the French Toast at each location, and they were both great! I'd suggest taking a look at their brunch menus and choosing the spot that looks best to you.
4. Line Dance at Temecula Stampede
Like I already mentioned, Temecula has a country-western vibe that reminds me of Prescott, Arizona, but it's more upscale and sophisticated.
Needless to say, if you love line dancing and two-stepping like me, you have to visit Temecula Stampede. This nightclub isn't just one of the best things to do in Temecula, but it's actually the West Coast's largest country-western music venue.
Temecula Stampede has a 4,000 square-foot dance floor and an upbeat atmosphere that's perfect for grabbing a drink, dancing the night away, or both!
5. Walk Around Old Town Temecula
Many of the restaurants and attractions are located in Old Town Temecula, so it's inevitable you'll visit at least once during your visit. However, one of the best things to do in Temecula, California, is simply perusing the local shops & boutiques in the area.
Here are some stores and stops you can't miss:
Temecula Olive Oil Company—This olive oil shop sells tons of products made from olive oil, including dipping oils and beauty productsI However, the best part of visiting is the complimentary olive oil and vinegar samples in the back room!
The Barn Yard—This charming store is filled with tons of handmade items, décor, vintage trinkets, and other gems situated in small red barns in an outdoor area. It's absolutely adorable and definitely worth a visit for a girl's trip.
Old Town Temecula Mural—The mural, pictured below, is located in front of the Fourth Street Antiques Store on Fourth Street in Old Town Temecula.
King Barrel—All the furniture and décor in this store is made from wine barrels, and while you're in Temecula's wine country, it's definitely worth a visit!
Under the Willow—This adorable boutique has reasonably-priced dresses, blouses, skirts, and other femanine, bohemian-style clothing. It's a great stop for shopping on a girl's trip!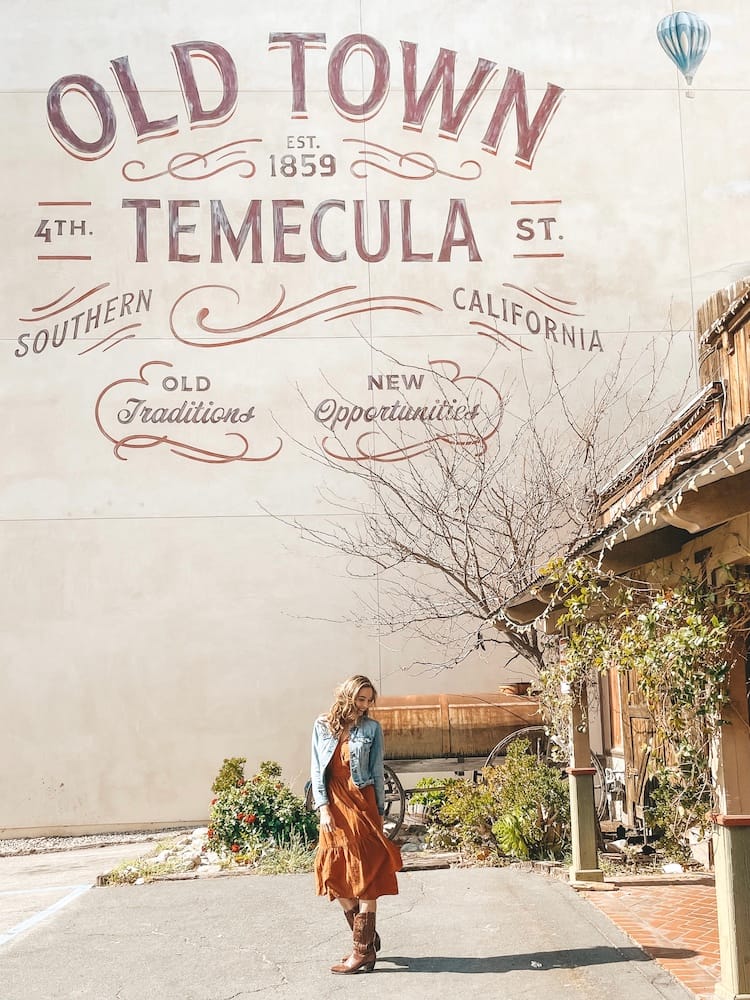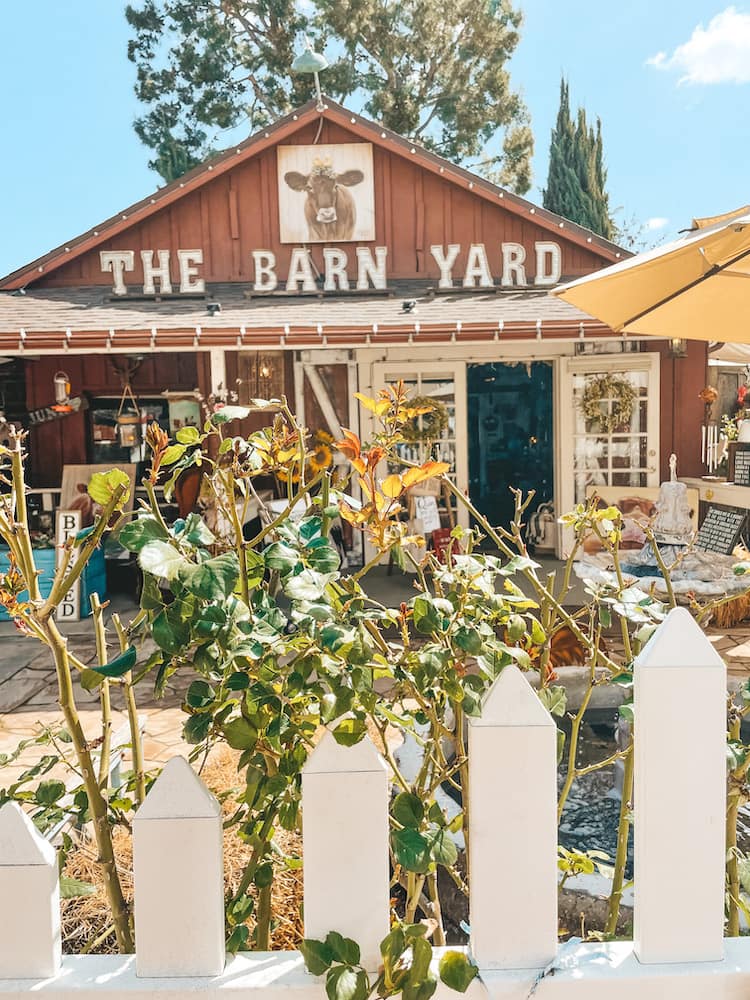 6. Book a Hot Air Balloon Ride
Riding a hot air balloon over Southern California's breathtaking wine country is one of the best things to do in Temecula. It will surely be one of the most memorable moments of your entire trip!
Although we didn't have time for this activity during our weekend in Temecula this time, I would definitely add it to my to-do list for next time.
Here are some top-rated hot air balloon rides in Temecula to consider booking for your trip:
7. Pick Blueberries at Temecula Berry Company
One of the best things to do in Temecula, California, was a total surprise to me during my trip. Since we stayed just a few minutes away from a blueberry farm called Temecula Berry Company, we decided we would stop by one morning. It was so fun!
Temecula Berry Company is a u-pick berry farm located just a few minutes outside Old Town Temecula. From the beginning of May to the end of June, you can visit the farm and pick your own blueberries right off the bush. They sell small containers for $5, medium containers for $10, and large containers for $20. I purchased a medium container, and it fit a ton of berries!
I would recommend stopping by Temecula Berry Company one morning to pick some berries here. It was such a fun experience.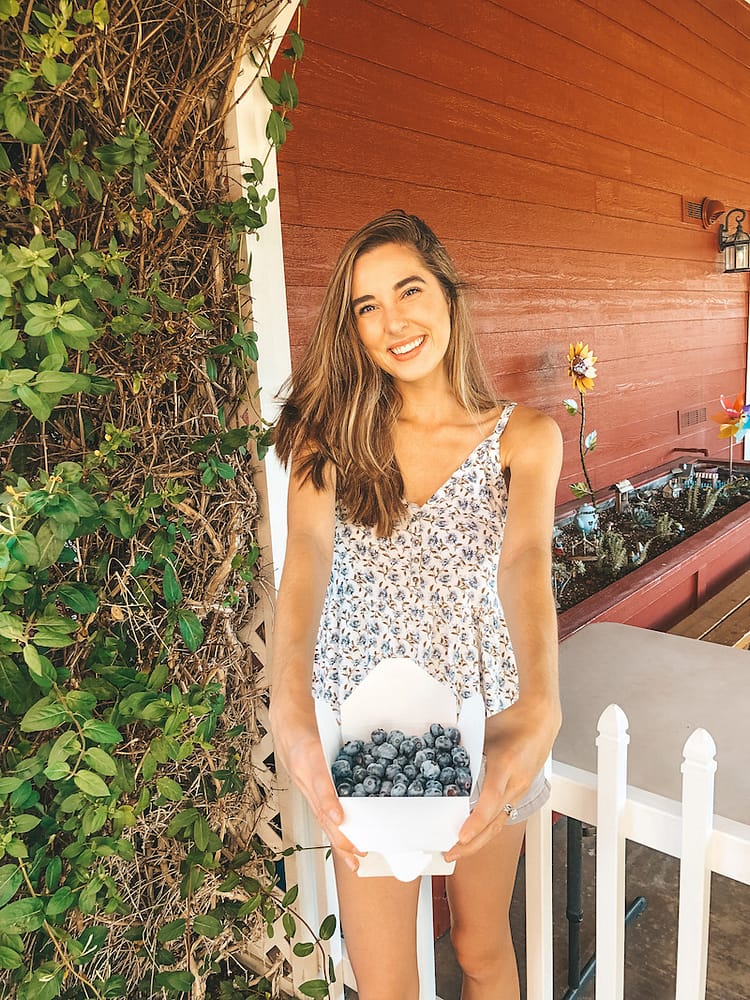 8. Visit a Local Coffee Shop
I always love to try local coffee shops when I'm traveling. If you do too, I'd highly recommend visiting The Press Espresso and Le Coffee Shop!
Both these coffee shops are located in Old Town Temecula, and both had delicious coffee! I'd recommend trying the Iced Tiramisu Latte and almond croissant at Le Coffee Shop, and the butterscotch cold brew at The Press Espresso. The almond croissant was one of the best things I've ever eaten!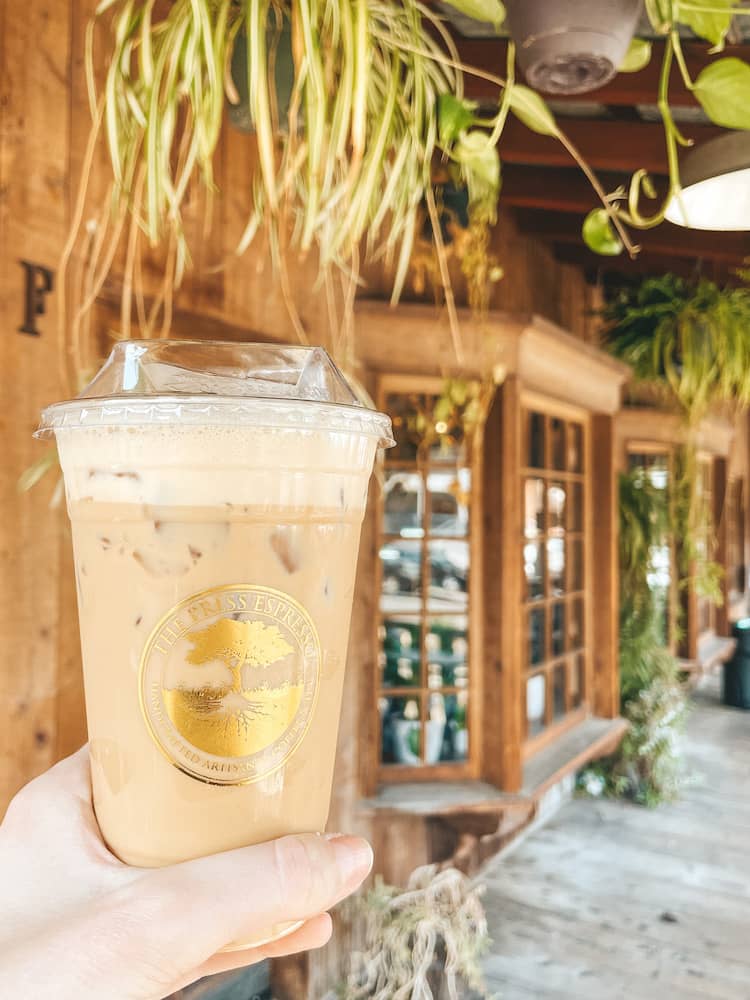 9. Go Horseback Riding in Wine Country
Is there anything that can top drinking wine in wine country? Well, maybe not, but horseback riding in wine country sure comes close!
One of the best things to do in Temecula is to tour Southern California's Wine Country on horseback. Wine Country Trails by Horseback offers 90-minute guided horseback rides through Carter Estates Winery and Resorts for a relaxing, fun way to see the vineyards from a new perspective.
10. Make Dinner Reservations in Old Town Temecula
You could easily spend all day at the wineries in Temecula, however, Old Town Temecula has tons of incredible restaurants you can't miss during your trip!
I'd highly recommend visiting one (or more!) of the following restaurants for lunch or dinner during your visit to Temecula:
The Goat & Vine
E.A.T Marketplace
Blackbird Tavern
Small Barn Old Town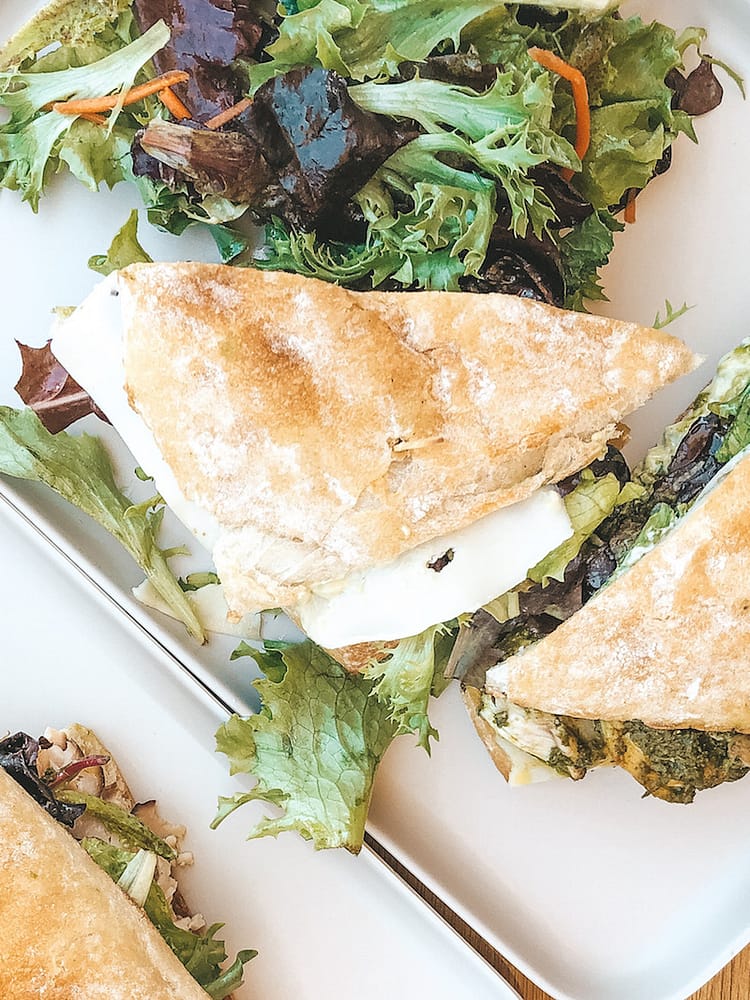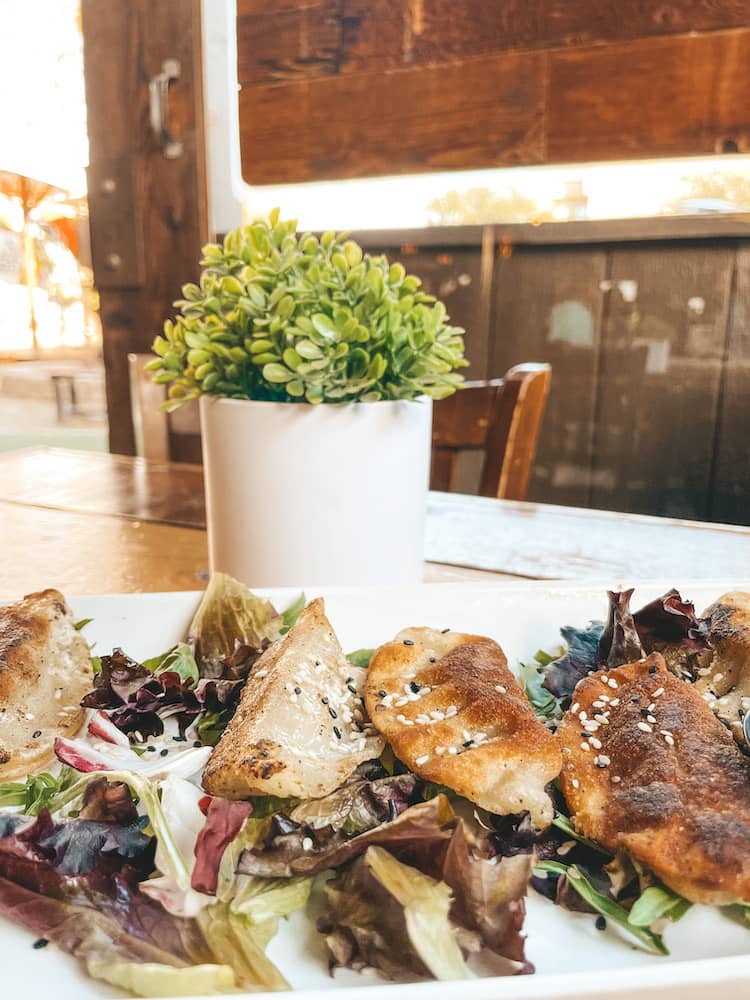 The Best Things to Do in Temecula for The Perfect Summer Weekend
Which of these things to do in Temecula would be at the top of your list? Regardless of which activities you choose, you're bound to have a wonderful weekend exploring Southern California's Wine Country!
Disclosure: Some of the links in about the 10 Best Things to Do in Temecula, California, are affiliate links, meaning, at no additional cost to you, I earn a commission if you click through and make a purchase. This helps me keep the content on my website free, like this post about the 10 Best Things to Do in Temecula, California!
Save the "10 Best Things to Do in Temecula" to Plan Your Trip!
Did you love this post about the best things to do in Temecula, California? Check out these other Travel by Brit blog posts to help plan your trip to Southern California!