The coast of New England is the perfect destination for a summer or fall road trip, with plenty to see, do, eat, and explore!
New England is part of the northeastern United States and includes six states—Maine, Vermont, New Hampshire, Massachusetts, Connecticut, and Rhode Island. Most of the major cities in these states fall along the Atlantic Coast, including Boston, Newport, and Portland, making the New England coast the perfect destination for a road trip!
This ten-day coastal New England road trip itinerary includes stops in Massachusetts, Rhode Island, New Hampshire, and Maine. Here's a look at the best things to do, where to stay, and what to eat during your New England road trip.
When Is the Best Time to Go on a New England Road Trip?
When planning your New England road trip itinerary, it's important to consider that the weather in New England can get chilly, icy, and snowy—especially during the winter and early spring months.
Traveling between June and August is your best bet if you want to enjoy the water activities along New England's coast. If you prefer to avoid summer tourists, traveling to New England between September and November offers an excellent opportunity to see the beautiful fall leaves!
We took our trip at the end of September and the start of October. While the weather was still relatively warm in most places, we could watch the beginning of fall peek out in some of the northern states, like New Hampshire and Maine!
Where Should I Fly Into to Start & End My New England Road Trip?
This New England road trip itinerary starts and ends at the Boston Logan International Airport.
I highly recommend flying to and from the Boston Logan International Airport for your New England road trip itinerary. This airport is by far the largest in New England, so you'll likely be able to find the cheapest roundtrip flights. Plus, there isn't anywhere on this itinerary that is more than a three-hour drive from Boston, so it's a great "home base" for your trip.
Recommended Coastal New England Road Trip Itinerary
Boston, Massachusetts
Three Days
Fly into the Boston Logan International Airport to check off the first stop on your New England road trip itinerary!
Boston is filled with tons of history, great food, and plenty of places to explore! Although this New England road trip itinerary calls for three days in Boston, if you have time to extend your trip, I'd recommend spending a few extra days here to see all the city has to offer!
Boston, Massachusetts, is the perfect place to begin your New England road trip itinerary because there is so much to see, do, and discover. Plus, you won't need a car for your time in the city, so you can forgo the car rental and begin exploring as soon as your plane touches down! Fortunately, Downtown Boston is only a ten-minute drive from the airport, so your Uber or Lyft ride to your hotel won't be too expensive.
Top Things to See and Do in Boston
Walk the Freedom Trail to see the sights that shaped the American Revolution (you can take a self-guided tour or go on guided tour).
Play a part in the Boston Tea Party at the Boston Tea Party Ships and Museums.
Try the most authentic Italian food in Boston on a North End Boston Food Tour.
Stroll around and see the flowers, lakes, statues, and monuments in the Boston Public Garden.
Snap a picture of the most photographed street in America—Acorn Street!
Marvel at the incredible architecture of the Boston Public Library.
Explore Eataly Boston to shop for local Italian goods, dine at unique restaurants, and more!
Cheer on the Red Sox at the historic and iconic Fenway Park (or take a one-hour tour!).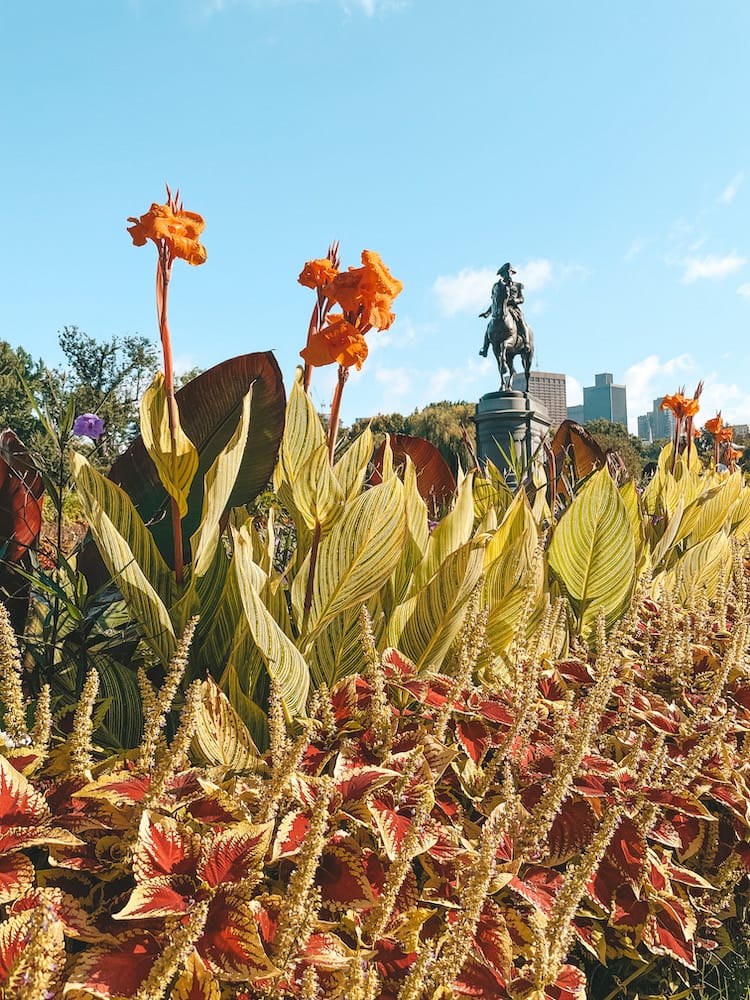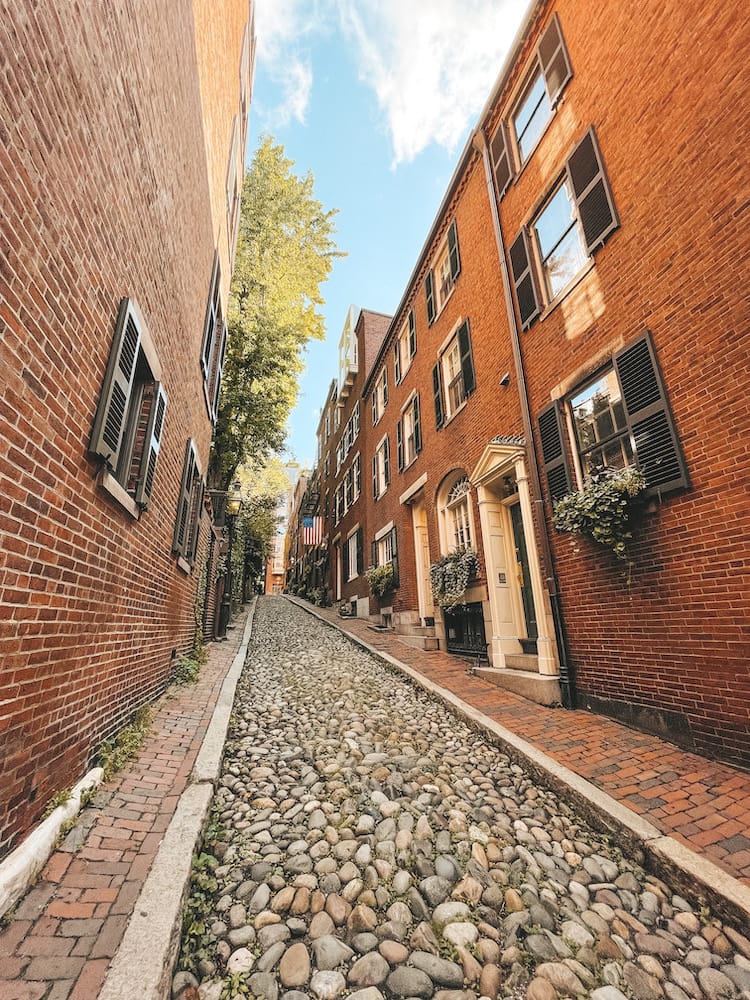 Top Places to Eat in Boston
Try a lobster roll or bowl of clam chowder at the oldest restaurant in Boston established in 1826—the Union Oyster House.
Enjoy a Boston Cream Pie (and Boston Cream Pie Martini!) at the Omni Parker House.
Sit down for a delicious brunch at Tatte Bakery and Café, a popular local chain.
Marvel at the spectacular views with a drink in hand at the Lookout Rooftop & Bar.
Sample an authentic cannoli in Boston's North End at Mike's Pastry.
Eat some carbonara at MIDA, a local Italian restaurant with a modern twist.
Channel your inner New Englander and eat a donut from Kane's Donuts!
Order a coffee and HUGE croissant from the Tradesman Coffee Shop & Lounge.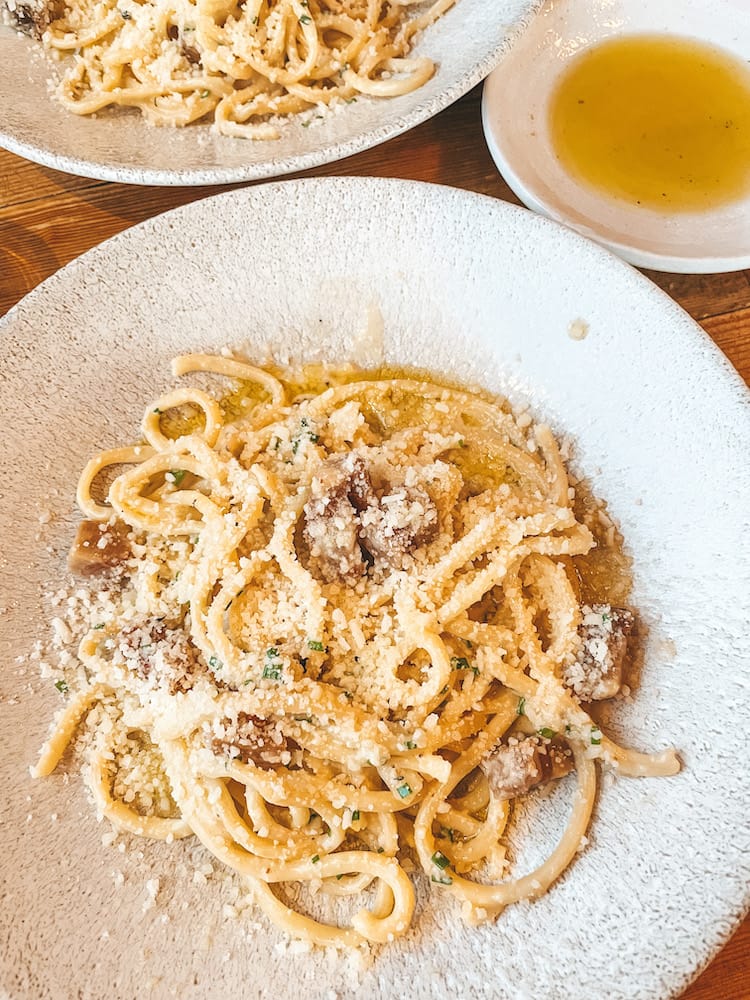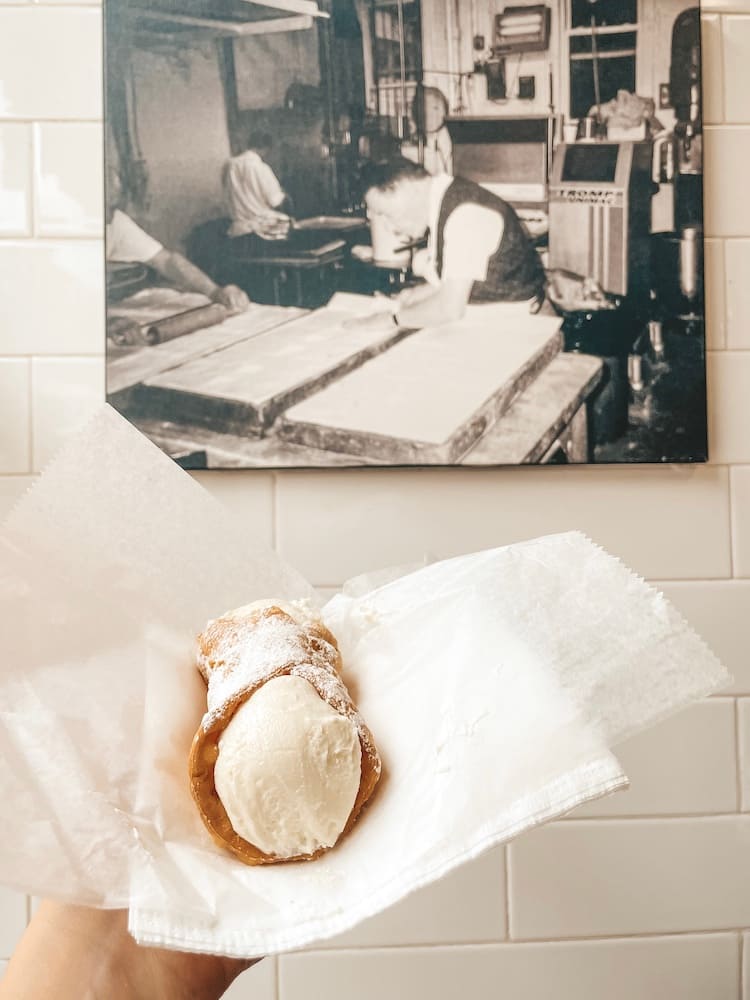 Where to Stay in Boston
The Godfrey Hotel Boston: Enjoy extremely spacious rooms at this beautiful hotel, located just a short walk away from the Boston Common, Boston Public Garden, and Brattle Book Shop.
Hyatt Centric Faneuil Hall Boston: Located in the heart of Boston, this affordable hotel is located near the Boston Tea Party Ships & Museum, Quincey Market, Faneuil Hall, and other sites along the Freedom Trail.
The Newbury Boston: Relax at this hotel's luxury bar and restaurant or order room service after a busy day of exploring the city.
Read More on Boston
Plymouth, Massachusetts
One Day
On the fourth day of your trip, head to the Boston Logan International airport to pick up your car rental, and then head to Plymouth, just over a one-hour drive from the city. I'd recommend enjoying an entire day here but making your way to Newport, the next stop on the itinerary, to spend the night!
Plymouth is endearingly known as "America's Hometown" because this city is where the Pilgrims arrived on the Mayflower in 1620. Here, you will be able to immerse yourself in fascinating history at museums, monuments, and more. Plymouth definitely deserves a spot on your New England road trip itinerary!
Top Things to See and Do in Plymouth
Tour the Plimoth Patuxet Museums to travel back in time with their four main attractions: the Historic Patuxet, English Village, Mayflower II, and the Plimoth Grist Mill.
See Plymouth Rock—marking the location where the Pilgrims landed in 1620!
Tour the Howland House—the oldest (and only!) standing structure in Plymouth where the Pilgrims actually lived.
Visit the Pilgrim Hall Museum to see artifacts and exhibits about the history and life of the Pilgrims.
Take a stroll through the beautiful Brewster Garden.
If you're visiting in October, travel south for the Cranberry Harvest Festival!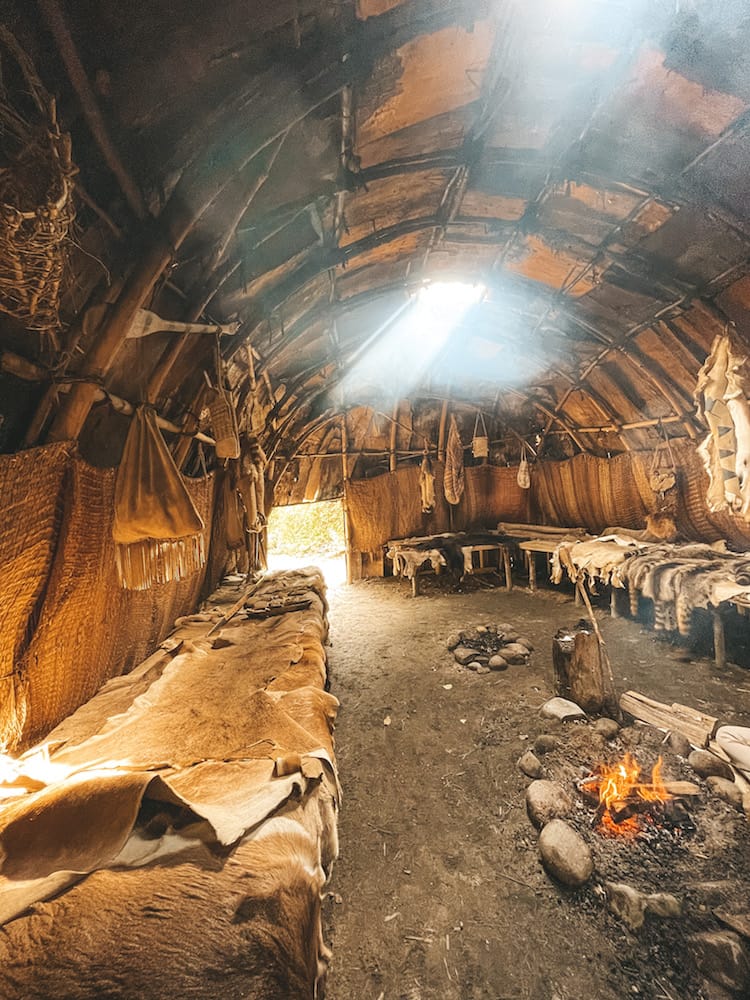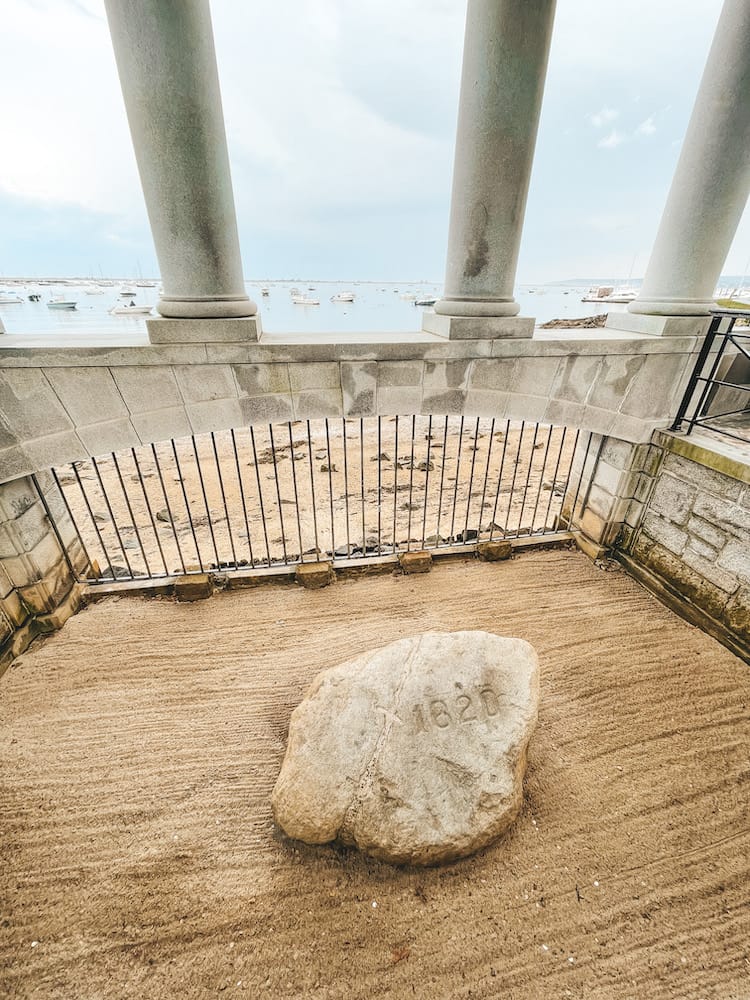 Top Places to Eat in Plymouth
Sample some local wines at the Plymouth Bay Winery.
Enjoy some authentic pizzas, pasta, and other Italian fare on the scenic waterfront at Mamma Mia's of Plymouth Waterfront.
Try oysters and other meals from the raw bar at Salt.
Read More on Plymouth
Newport, Rhode Island
Two Days
After your day in Plymouth, head to Newport, Rhode Island. Newport is a coastal town that visitors love for its beautiful beaches, stunning mansions, and great seafood. While Newport is gorgeous at all times of the year, it shines in the summer!
Top Things to See and Do in Newport
Take a stroll along the Cliff Walk, a 3.5-mile pathway along the coast that offers beautiful views of the Atlantic Ocean and the city's luxurious mansions.
Shop and dine along Bellevue Avenue or Thames Street, two of the most popular streets in Newport.
Go wine tasting at Greenvale Vineyards for scenic views, jazz music, and great wine!
Tour the Newport Mansions, like The Breakers, The Elms, or Marble House. You can also book this Newport Gided Age Mansions Trolley Tour that includes admisson to The Breakers!
Explore Bowen's Wharf or take a boat ride or cruise from Long Wharf.
Relax on Easton Beach, also known as "First Beach".
Top Places to Eat in Newport
Enjoy locally-roasted coffee and a light breakfast from The Nitro Bar.
Savor generous breakfast portions and a charming atmosphere at CRU Café.
Hang out at the Brick Alley Pub & Restaurant while enjoying seafood, steaks, and a local beer.
Make reservations at The Mooring Seafood Kitchen & Bar for an upscale seafood dinner and spectacular harbor views.
Try authentic handmade pizza, pasta, calzones, and more at Pasta Beach.
End the night with an ice cream cone from Kilwin's Chocolates and Ice Cream.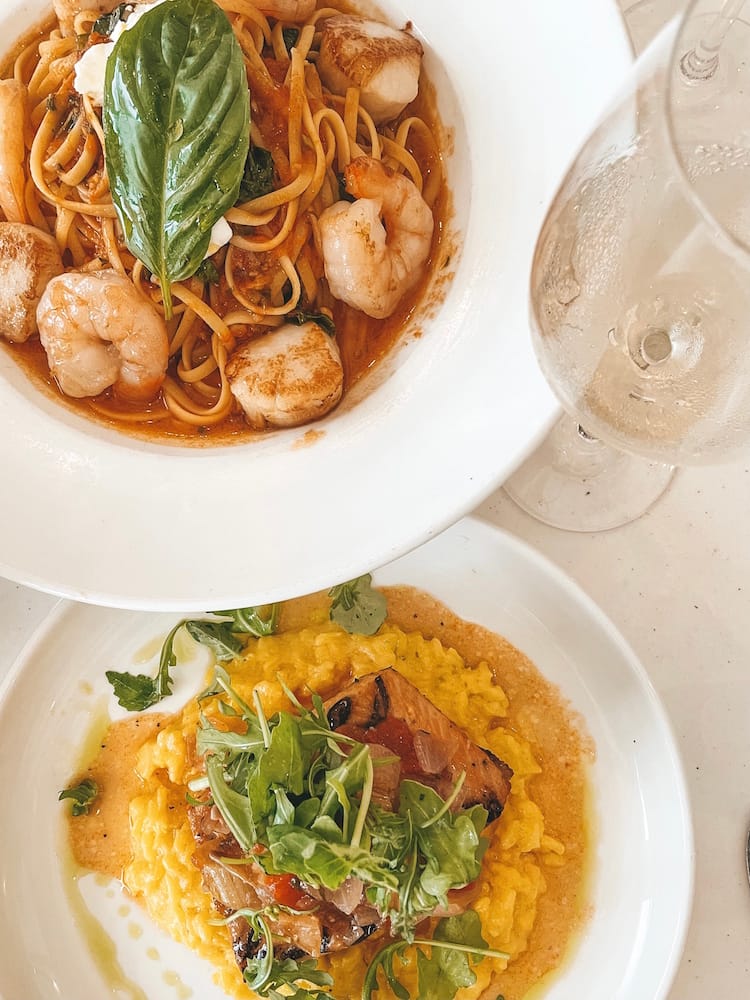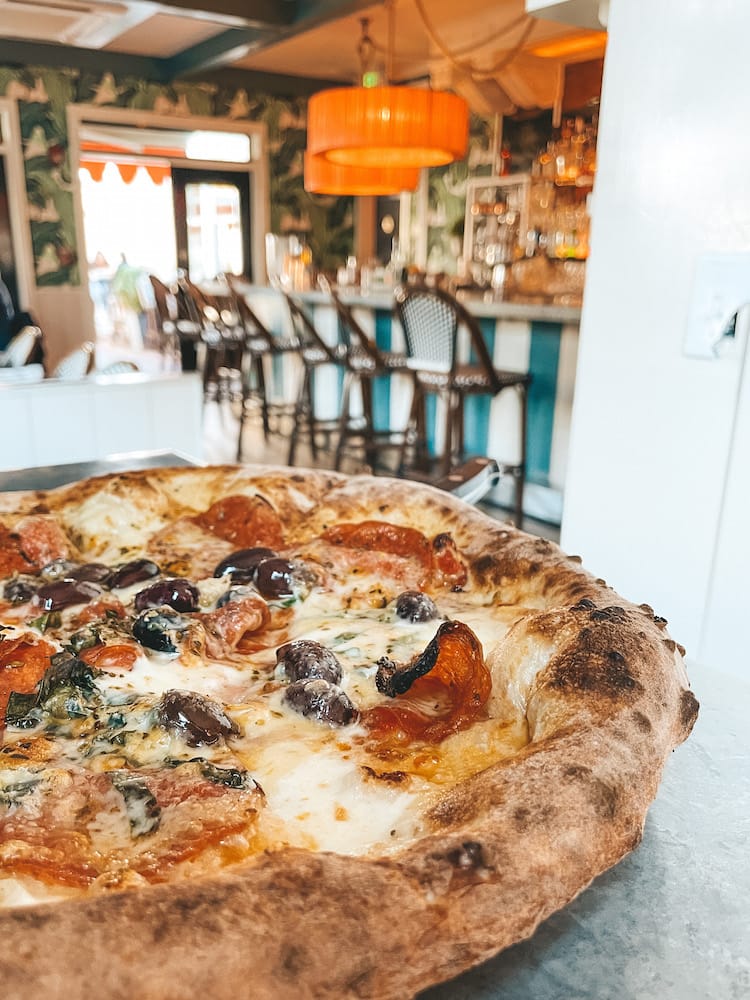 Where to Stay in Newport
Hammetts Hotel: Stay in a charming boutique hotel with nautical-themed décor, modern architecture, and clean rooms with close access to Bowen's Wharf and Thames Street.
The Newport Harbor Hotel & Marina: Have fun at this popular waterfront hotel in Newport with a seafood restaurant, indoor pool, beautiful marina, and other fabulous amenities.
Newport Marriott: Enjoy a luxury stay with exceptional views of Long Wharf at this hotel with a stunning lobby, indoor pool, and relaxing spa.
Read More on Newport
Portsmouth, New Hampshire
One Day
After a few days in Newport, it's time to head north again, to New Hampshire! I'd recommend leaving Newport as early as possible on the seventh day of your trip to spend as much of the day in Portsmouth as possible.
Portsmouth is a picturesque town along New Hampshire's narrow coastline with a rich naval history and beautifully preserved buildings. It's also cozy, especially in the fall, so it's the perfect place to spend one quaint, relaxing day!
After spending the day in Portsmouth, you can either stay the night or drive up to Portland, Maine, to spend the night. Either option works with this New England road trip itinerary!
Top Things to See and Do in Portsmouth
Immerse yourself in over 300 years of history at the Strawberry Banke Museum.
Spend time shopping, dining, and exploring Market Square.
Snap a picture of the picturesque North Church of Portsmouth
Stroll down the Black Heritage Trail to discover historically significant locations meant to share information about Black life in early America.
Frolic in the beautiful flowers in Prescott Park overlooking the Piscataqua River and the Portsmouth Naval Shipyard.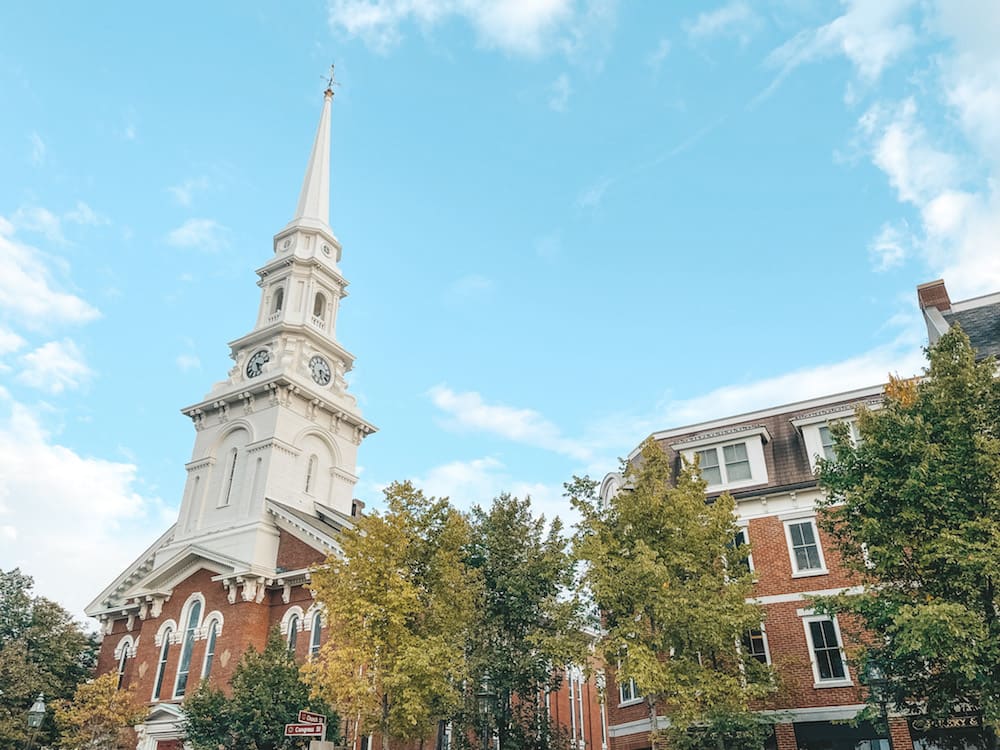 Top Places to Eat in Portsmouth
Enjoy a woodfired flatbread pizza at Flatbread Company, complete with a cozy environment!
Grab a local beer and a burger (or French Onion Soup!) at the Thirsty Moose Taproom.
Make reservations for an upscale dinner at Cava Tapas & Wine Bar.
Visit Book & Board—a bookstore converted into a quaint eatery and pub.
Enjoy some tea and popovers at Popovers on the Square.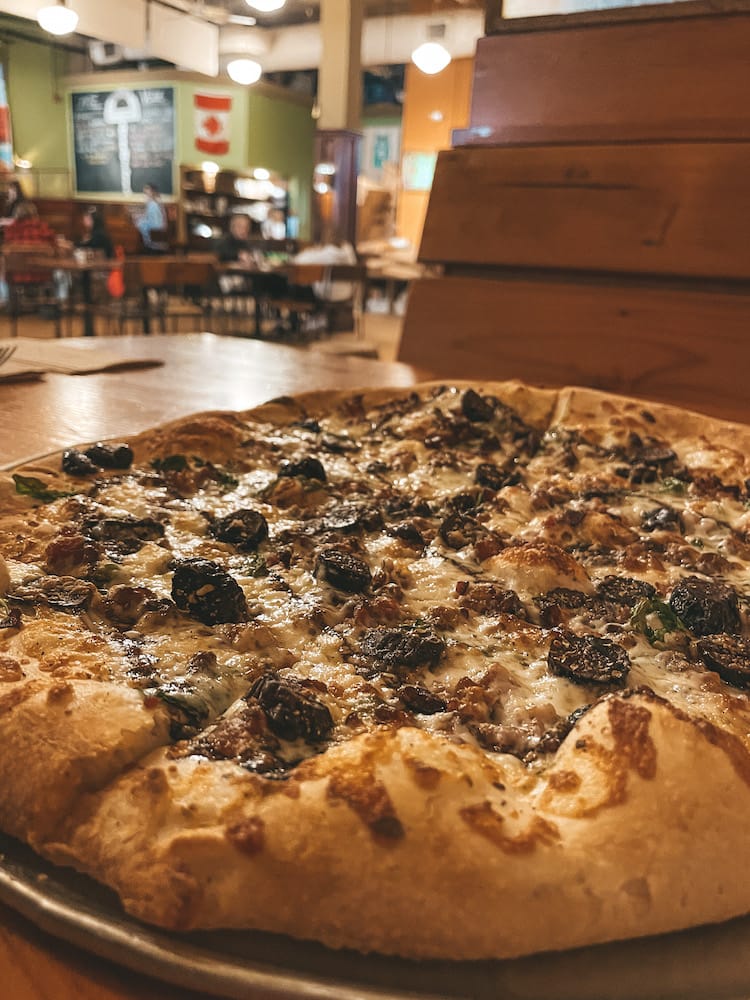 Where to Stay in Portsmouth
Read More on Portsmouth
Portland, Maine
Three Days
The last stop on our New England road trip itinerary is Portland, Maine. Portland is home to beautiful coastal views, craft beer, great seafood, and lighthouses galore. If any of those things are up your alley, you'll love Portland!
Although this New England road trip itinerary says you'll spend three days in Portland, it will actually be closer to two and a half. You'll need at least half a day to drive back to Boston to board your flight home!
Top Things to See and Do in Portland
Visit Fort Williams Park for scenic sites and attractions, including the most photographed lighthouse in America—the Portland Head Light.
Go on a brewery tour to local craft breweries, like Allagash Brewing Company, Foundation Brewing Company, and more.
Walk around Old Port and shop at the local boutiques and specialty stores.
While you're in Old Port, embark on an Old Port Culinary Walking Tour from Portland to sample Maine-inspired cuisine.
Marvel at the views at sunset along the Eastern Promenade.
Grab a drink at Lincoln's—a hidden speakeasy in Old Port (hint: look for the double red doors on Market Street).
Go on a cruise, whale watching tour, or sea kayaking tour from in Casco Bay.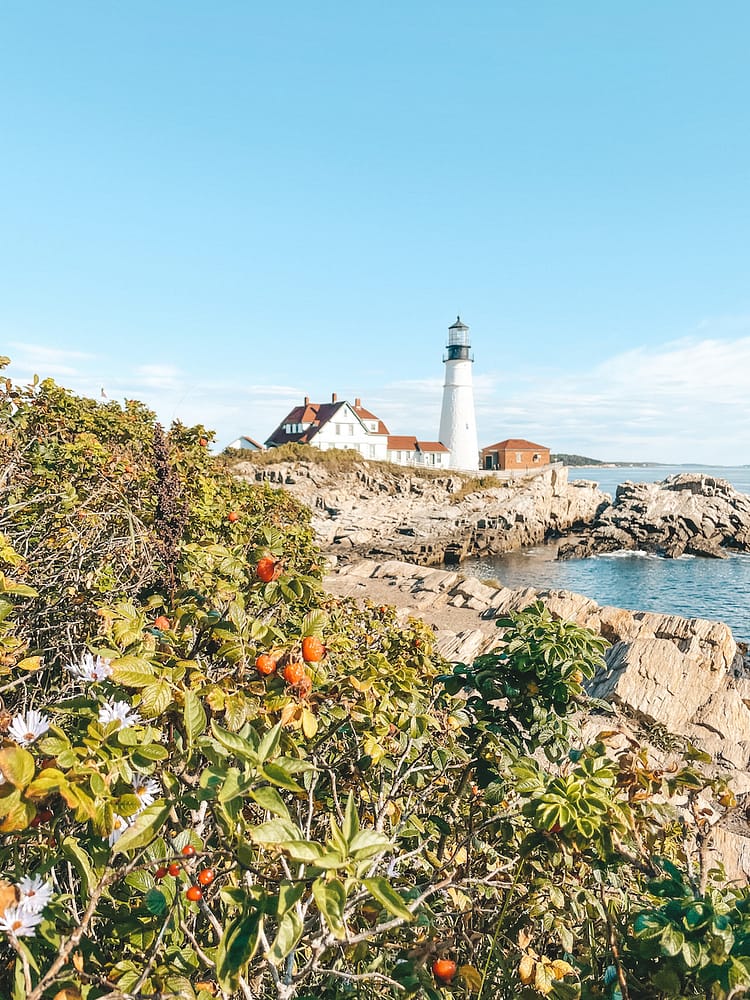 Top Places to Eat in Portland
Try a potato donut (or two…. or three….) at the Holy Donut.
Head to Duckfat for some hand-cut Belgian fries and homemade dipping sauces.
Dine at Luke's Lobster on the Portland Pier, and watch the fresh "catches of the day" be unloaded onto the dock while you eat.
Make reservations for an upscale dinner at Eventide Oyster Company.
Grab a slice of pizza and other Italian-style street food at Slab Sicilian Street Food.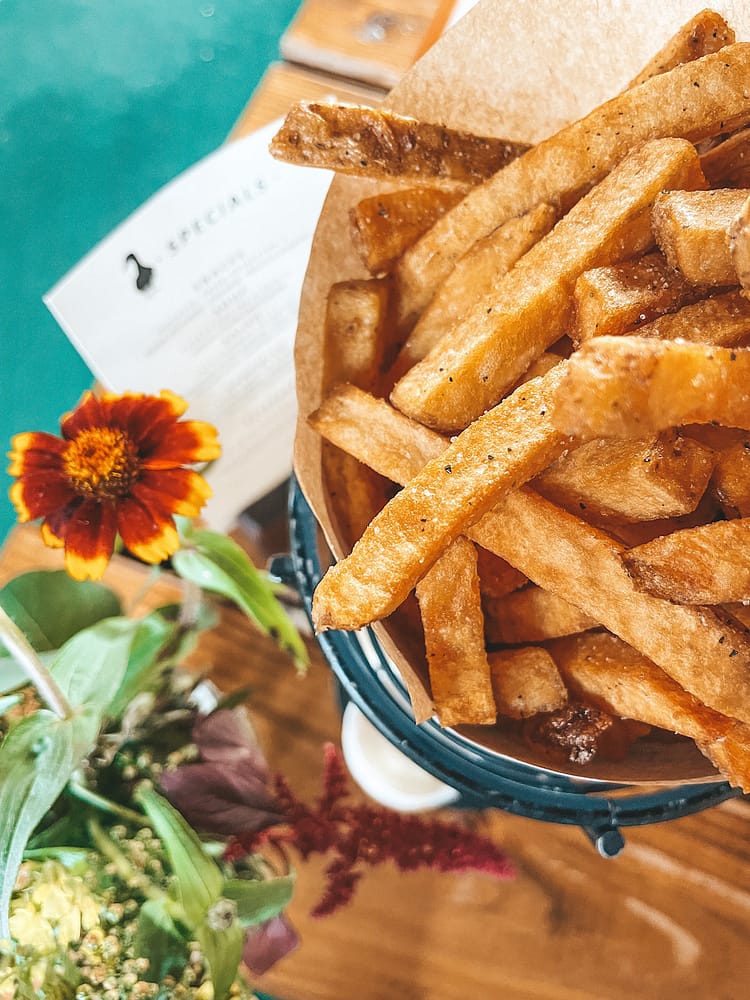 Where to Stay in Portland
Portland Regency Hotel & Spa—Enjoy a luxurious, romantic stay in the heart of Old Port to be near all the city's most popular locations.
The Press Hotel, Autograph Collection—Also located in Downtown Portland, this hotel has beautiful interiors and awesome amenities and is close to many of the best things to do in the city.
Tru By Hilton Portland Airport—This hotel is just outside the city and offers close access to the airport, comfortable rooms, and a complimentary breakfast.
Read More on Portland
Let's Hit the Road!
And unfortunately, that marks the end of your New England road trip itinerary. However, if you follow this New England road trip itinerary, you're bound to have a fantastic time!
Which of these stops would be your favorite? Let me know in the comments below!
Disclosure: Some of the links in this post about our 10-Day New England Road Trip Itinerary are affiliate links, meaning, at no additional cost to you, I will earn a commission if you click through and make a purchase. This helps me keep free content on my website, like this post about the "The Perfect 10-Day Coastal New England Road Trip Itinerary."
Pin This 10-Day Coastal New England Road Trip Itinerary for Later!