When you think about wine regions across the United States, the Oregon Coast, Napa Valley, and Upstate New York likely come to mind, right?
It may surprise you to discover that beneath the dusty mountains, cacti, and desert plants, Arizona is home to three wine regions and dozens of local wineries, vineyards, and tasting rooms across the state!
The Verde Valley, located just outside Sedona in Northern Arizona, is one of the most popular winemaking regions in the state. Here's an overview of the "Verde Valley Wine Trail" and some of the vineyards and tasting rooms you can visit during your trip to Arizona!
What Is the Verde Valley Wine Trail?
The Verde Valley Wine Trail is a collection of wineries, vineyards, and tasting rooms in Northern Arizona. The Verde Valley wineries span multiple cities, including Sedona, Jerome, Cottonwood, and Cornville.
You may be surprised to discover that Northern Arizona has the ideal environment for grape growing with hot days and cool nights. Similar climates are found in California, Spain, Italy, and France—all incredibly famous worldwide wine destinations!
The Verde Valley is one of Arizona's three wine-growing regions. The two other regions are in Southeastern Arizona, near the cities of Sonita and Wilcox. You'll notice that many tasting rooms along the Verde Valley Wine Trail have vineyards located in these regions.
You can see how the Verde Valley wineries and tasting rooms are separated by city on the map below, courtesy of the Verde Valley Wine Trail:
Wineries in Jerome
Jerome has several wine tasting rooms scattered throughout the small town nestled on Cleopatra Hill, making wine tasting one of the best things to do in Jerome.
Sample wines from these wineries while you're there:
Four Eight Wineworks—Four Eight Wineworks is a tasting room owned by Merkin Vineyards. This winery is unique because they have several tenants and provide emerging winemakers the space, equipment, and resources they need to create world-class wines.
Caduceus Cellars—Caduceus Cellars is another one of the Verde Valley wineries owned by Merkin Vineyards. You can taste their wines in the tasting room in Jerome. They also have an espresso bar that is open daily at 11 AM.
The Original Jerome Winery—This tasting room sources wines from Dragoon Mountain Vineyard in Wilcox, AZ. They specialize in deeply-aged red wines and carefully-crafted white wines you can sample in their tasting room.
Passion Cellars—Passion Cellars is the tasting room we visited in Jerome! They serve wines from three local vineyards, Passion Cellars, Cabal Cellars, and Salvatore Vineyards, all located in Wilcox, Arizona. If you'd like to enjoy a flight, you can choose your own wines from their menu.
Cabal Cellars—Cabal Cellars is part of the collaborative group of winemakers at Passion Cellars and Salvatore Vineyards. You can sample a flight of five pre-selected wines or sip on a glass during your time at this Verde Valley winery.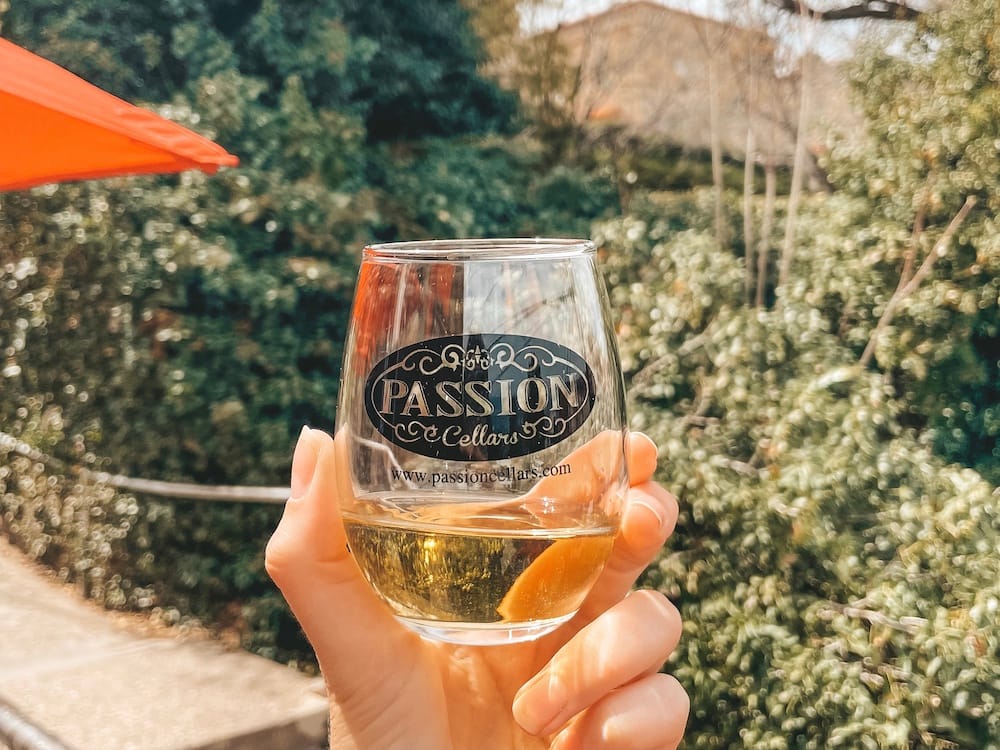 Wineries in Cottonwood
Cottonwood has more wineries than anywhere else on the Verde Valley Wine Trail, making wine tasting one of the best things to do in Cottonwood. These tasting rooms are located just footsteps apart:
Burning Tree Cellars—This Verde Valley winery produces boutique wines from vineyards across the state. You can enjoy your wine in the tasting room or their outdoor patio against the main street in Old Town Cottonwood.
Arizona Stronghold—This winemaker's wines grown in Wilcox, Arizona, are available exclusively in their tasting rooms in Old Town Cottonwood and Old Town Scottsdale.
Pillsbury Wine Company—This Verde Valley winery has a tasting room in Old Town Cottonwood, but their vineyards are in Wilcox, Arizona. They focus on producing high-quality, estate-grown, vegan wines. Tastings are by reservation only.
Winery 101—Winery 101 is located in Peoria and Old Town Cottonwood. They serve wines from Gallifant Cellars and SouthPaw Cellars. Poolside Pink by SouthPaw Cellars is a must-try—it's sweet, strong, and delicious! They also have a very talented musician who performs live music here while you enjoy a red, sweet, or white flight.
Carlson Creek Vineyard—Carlson Creek Vineyard is a family-owned winery in Southeastern Arizona with tasting rooms in Cottonwood, Scottsdale, and Wilcox. They make Chardonnay, Sauvignon Blanc, Riesling, Muscat, Syrah, Sangiovese, Cabernet Sauvignon, Grenache, Malbec, Mourvèdre, and Malvasia Bianca, and they sell grapes to other local wineries, too!
Merkin Vineyards—This popular winery has tasting rooms in Cottonwood and Scottsdale, and they source their wines from vineyards in both the Verde Valley and Wilcox.
Tantrum Wines

—Tantrum Wines is a female-owned tasting room with a unique story in Old Town Cottonwood. They serve flights, glasses of wine, and tapas in a lighthearted, retro environment.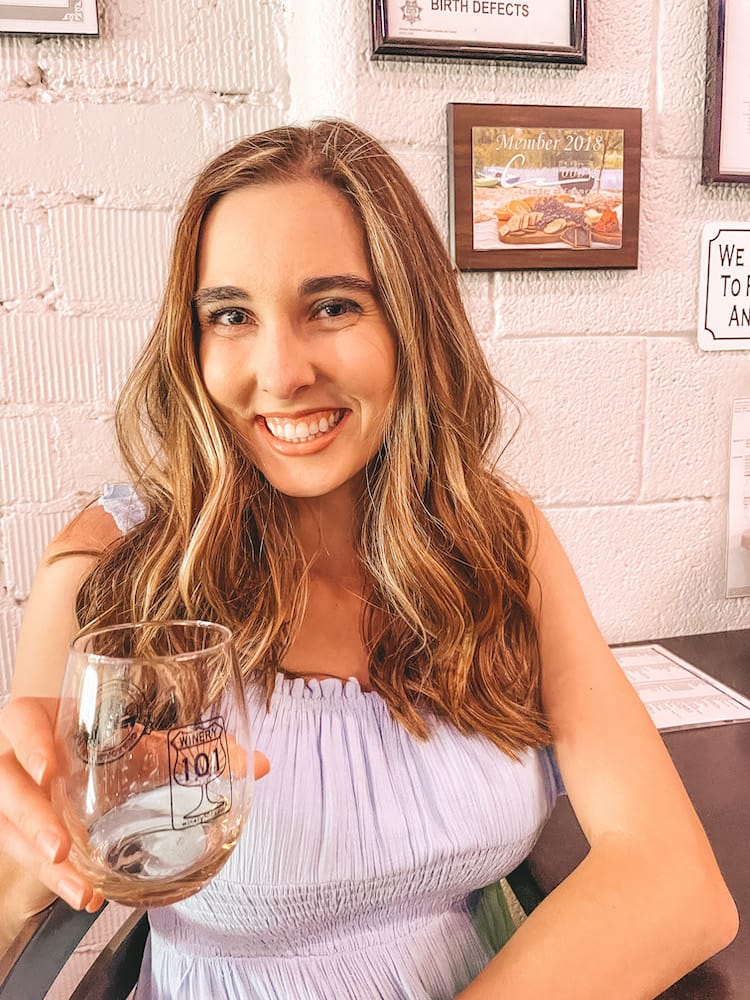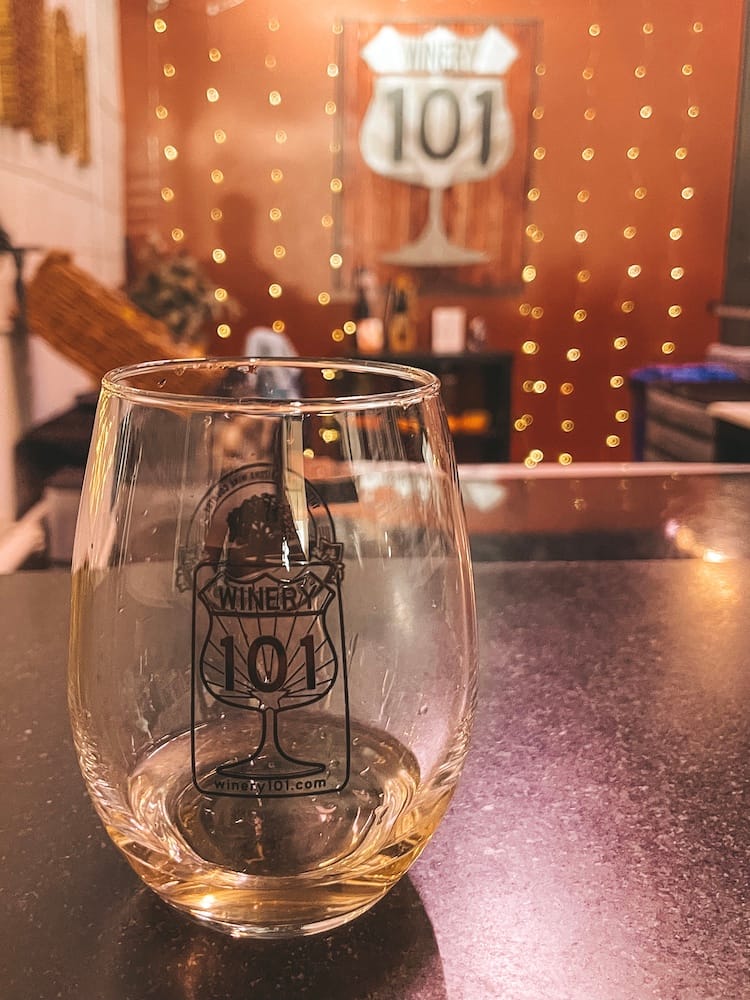 Wineries in Clarkdale
Clarkdale is the town situated at the bottom of Cleopatra Hill before you make the trek up to Jerome. Although it's not much of a tourist destination, the town is home to these four Verde Valley wineries:
Chateau Tumbleweed—This winery sources grapes from a dozen wineries across Arizona. They serve red, white, and rose wines.
Bodega Pierce—Bodega Pierce is a winery with vineyards located in Wilcox and a tasting room in Clarkdale. They make over a dozen varietals, including Merlot, Chardonnay, and Zinfandel.
Southwest Wine Center—The Southwest Wine Center is actually an education center at Yavapai College where students can participate in vineyard-to-bottle programs in enology, viticulture, and business through the estate vineyard. Tastings are by reservation only.
Cove Mesa Vineyard—This tasting room sources its grapes from local Verde Valley wineries and other wineries across the state. You can enjoy fine wines, charcuterie boards, cheese plates, and flatbread pizzas at their indoor tasting room or patio.
Wineries in Cornville
Cornville's wineries are my favorite on the Verde Valley Wine Trail!
The wineries listed above are all tasting rooms, and they source their grapes from vineyards in Southeastern Arizona or other local winemakers. However, the following wineries all include the vineyards on the property, so you can enjoy exploring the lush, expansive properties while you drink your wine.
D.A. Ranch
Shhh, don't tell the other wineries, but D.A. Ranch is my favorite winery in Arizona and arguably my favorite winery ever! D.A. Ranch is a boutique, family-owned estate vineyard in Cornville, Arizona, that serves Syrah, Cabernet Sauvignon, Petite Sirah, Tannat, and Seyval Blanc varietals.
D.A. Ranch is featured in my post about the best things to do in Sedona because even though it's a thirty-minute drive from Sedona, I think this spot is totally worth the drive!
First, D.A. Ranch is situated on a lush, green property that feels like a little slice of heaven in the desert. There's a huge lake, overgrown shade trees, tons of vineyards where the grapes are grown, and beautiful flowers throughout the property that make it feel like you've entered a different world. For that reason alone, it's worth visiting!
Next, they have tons of indoor and outdoor seating. The winery itself is located inside a barn so that you can sit inside on the cozy furniture or at the tables or rocking chairs on the patio. They also have tons of seating on the lawn, where there's usually live music and lawn games, and more seating over by the lake for a quiet, peaceful atmosphere. Plus, the entire winery is dog-friendly, which is a huge bonus. We love bringing Sedona, our Golden Retriever, to D.A. Ranch because she loves to lay in the grass and play with the other dogs!
Finally, the wines are delicious. They usually serve five wines, which you can sample with a flight, or you can order a glass to enjoy on the property. They sometimes serve homemade sangria on the weekends, too. If you're planning to stay awhile (and you should!), you can bring a picnic lunch—just no outside alcohol.
Tip: D.A. Ranch is only open on select days from 11 AM – 6 PM, and I can't stress enough how unfortunate it would be for you to miss visiting this winery during your trip to Northern Arizona, so you should plan around their schedule. You can check the winery's schedule on their website.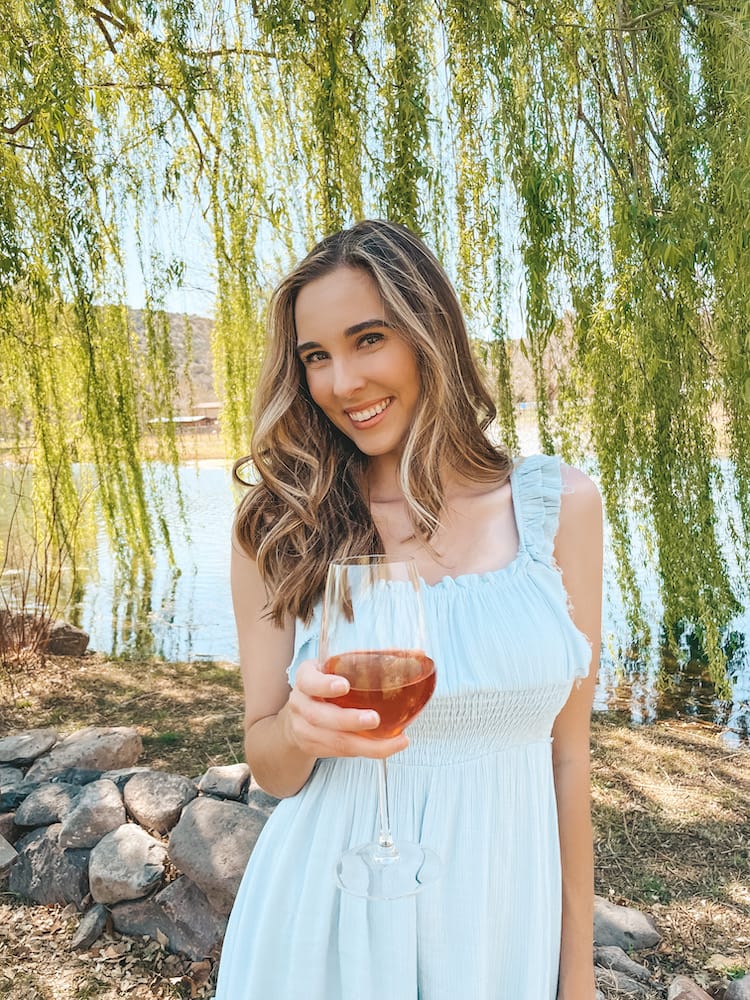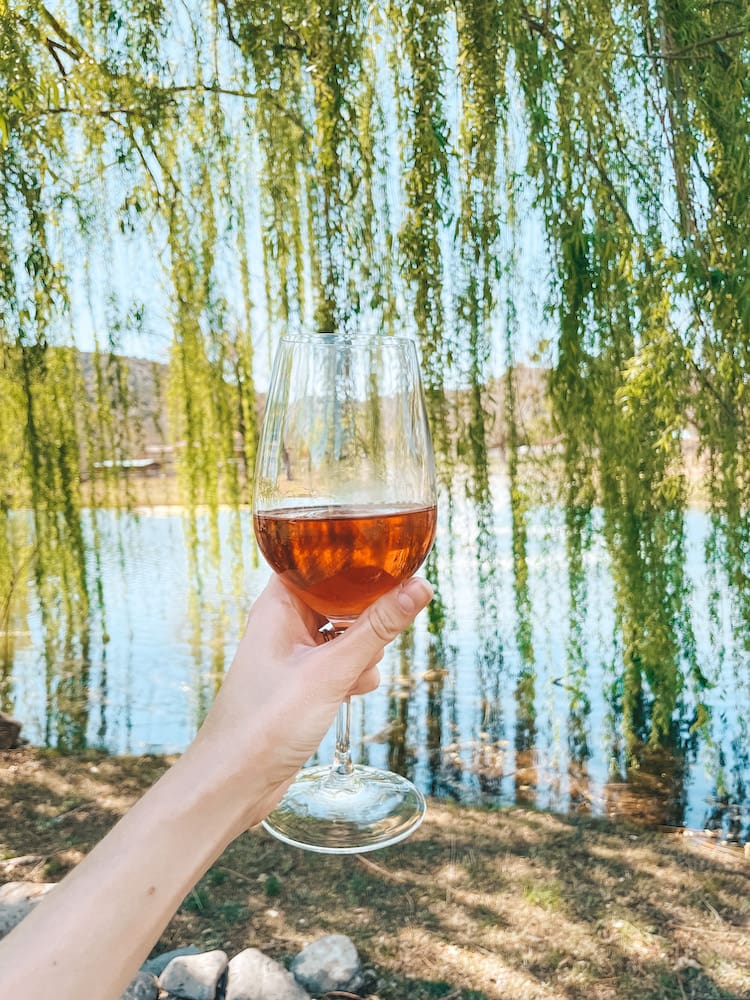 Javelina Leap Vineyard & Winery
Javelina Leap Vineyard & Winery is another family-owned boutique winery in Cornville, Arizona.
Their estate vineyard, winery, tasting room, and bistro are all located in the same place, so you can watch the grapes being harvested while you sample your wine. Their tasting flights are $20, and you can choose any five wines on their tasting sheet, from Riesling and Zinfandel to Syrah and Malbec. They're open every day, except Thanksgiving Day, Christmas Eve & Day, and New Year's Eve & Day.
You can also enjoy wine at their bistro, which serves charcuterie, soft pretzels, and flatbread pizzas. The bistro is open daily from 11 AM – 5 PM. Javelina Leap has plenty of outdoor seating and a lush garden you can sit in, and they welcome supervised dogs and children.
Page Springs Cellars
Page Springs Cellars is one of the most popular Verde Valley wineries and vineyards. They focus on producing small-batch, sustainable wines on a spacious property nestled against Oak Creek.
You can enjoy one of three wine flights, the Chilled Flight, Light Red Flight, or Dark Red Flight, for $15 in the tasting room and order a sit-down meal from their extensive "Bistro Menu," including tapas, salads, paninis, cheeseboards, pizzas, and more. You can also order from their "Picnic Menu" for grab-and-go food to enjoy anywhere on the property.
They also have a "walk-up window" where you can order a glass of wine without waiting for a table inside. That's what we did, and it was nice to be able to take our glasses outside to sit somewhere scenic! In addition to wine tastings, Page Springs Cellars also offers tours, yoga, massages, and private events.
Tip: Page Springs Cellars has limited parking, especially on the weekends, and they only allow a certain capacity of guests to enter at one time. Consider visiting this winery when they first open or swing by late afternoon after the earlier crowds have left.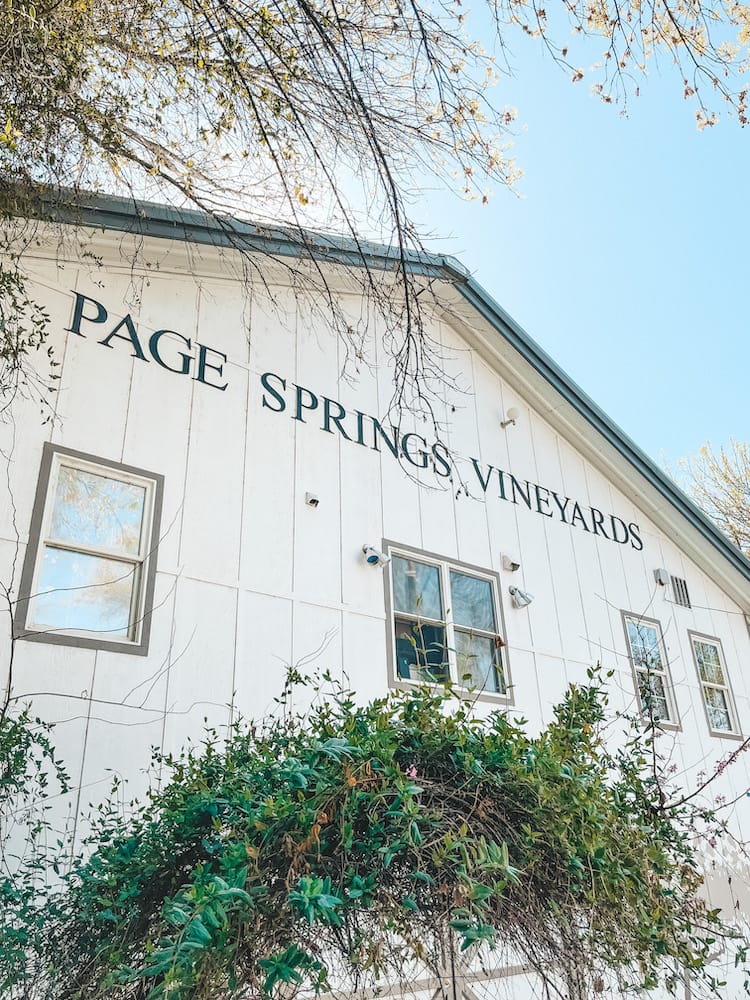 Oak Creek Vineyards
Oak Creek Vineyards is a family-friendly (and dog-friendly!) winery and vineyard in Cornville, Arizona.
Oak Creek Vineyards has a tasty array of wines, from white wines like Chardonnay and Moscato to red wines like Merlot and Zinfandel, sold by bottle and glass. They also have white, mixed, and red tasting flights for $12 and tasty plates, like cheese plates, charcuterie plates, and chocolate plates you can snack on with your wine. They also serve wine cocktails on the weekends that rotate monthly!
Oak Creek Vineyards is open daily from 10 AM – 6 PM, and they stay open until 7 PM on Friday and Saturday. I haven't visited this winery yet, but it's next on my list!
Wait—What About Sedona?
Contrary to popular belief, Sedona is actually not a wine-tasting mecca like many tourists make it out to be. There's only one winery along the Verde Valley Wine Trail in Sedona, Winery 1912, and it's only a tasting room, not a vineyard.
The real Verde Valley wineries and most of the tasting rooms are outside Sedona, in Cornville, Cottonwood, Jerome, and Clarkdale! But while you're in Sedona, don't miss the chance to check out some of the best things to do in Sedona, including the best hikes in Sedona!
Verde Valley Wine Trail Tours
If you're staying in Sedona and would love to embark on a tour of the Verde Valley wineries, vineyards, and tasting rooms, check out one of these awesome tours with round-trip transportation:
Wine Tour from Sedona to the Verde Valley Vineyards—This highly-rated tour includes a charcuterie board, barrel room tour, round-trip transportation from Sedona, and discounts on tastings from the following Verde Valley wineries: Alcantara Vineyards & Winery, Page Springs Cellars, Javelina Leap Vineyard, Winery & Bistro, and Oak Creek Vineyards & Winery.
Sedona Wine Crawl—This hop-on-hop-off wine tour from Sedona is the perfect way to explore the Verde Valley wineries with a flexible schedule. You'll stop in Cornville for three hours, where you can explore D.A. Ranch, Oak Creek Vineyards, Page Springs Cellars, and Javelina Leap. Then, you'll stop in Old Town Cottonwood for three hours, where you can enjoy the tasting rooms!
Grape Train Escape: Wine Tasting and Verde Canyon Railroad Adventure—Sample wines from Verde Valley wineries and enjoy appetizers, cheeses, and other snacks on this train ride through the beautiful Verde Valley.
Explore the Verde Valley Wineries During Your Visit to Northern Arizona
Which of these Verde Valley wineries, tasting rooms, or vineyards sounds like it would be your favorite? Let me know in the comments below!
Disclosure: Some of the links in this blog post about the Best Verde Valley Wineries are affiliate links, meaning, at no additional cost to you, I earn a commission if you click through and make a purchase. This helps me keep the content on my website free, like this post about the Best Verde Valley Wineries.
Save the Best Verde Valley Wineries for Later!
Looking for more things to do during your trip to Northern Arizona after visiting these Verde Valley wineries? Check out these blogs: