With spring break behind and summer vacation on the horizon — April is undoubtedly one of the best months to travel in the USA for smaller crowds, lower prices, and warmer temperatures. On this list of best places to visit in April in the USA, you will find plenty of inspiration for your April trip, including beachy getaways, mountain towns, big cities, and national parks.
Best Places to Visit in the U.S. in April
1. Nashville, Tennessee
Want to beat the high temperatures (and the tourists) that swarm Nashville in the summer? If so, plan a trip to Nashville in April. It's one of the best places to visit in April in the USA, and there are plenty of fun things to do in "Music City" to keep you busy for days (or weeks!).
While you're in Nashville, don't miss the chance to explore some of the most popular bars and honky-tonks on Broadway Street. You can grab a drink, enjoy dinner, or even learn how to line dance at popular venues, like the Wildhorse Saloon. Additionally, go on a Nashville mural tour in famous neighborhoods, like 12 South Nashville or The Gulch, to see some of the city's street art, and head to Centennial Park to see a full-sized replica of the Parthenon, home to the largest indoor sculpture in the Western Hemisphere.
Nashville is known for its great southern food, so don't miss the chance to try a Hot Chicken Sandwich at Hattie B's or Puckett's Grocery & Restaurant, two of the most fun places to eat in Nashville. If you're still looking for more to do, head to Franklin, Tennessee — one of the best day trips from Nashville — for a heavy dose of Civil War history, boutique shopping, and southern charm.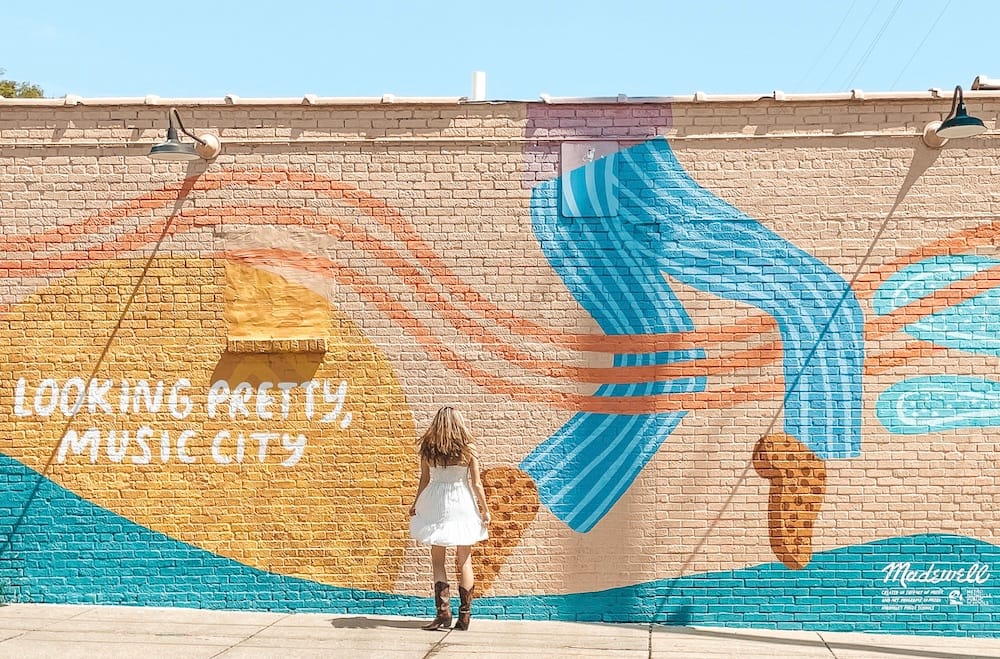 Contributed by Brittany of Travel by Brit
2. Palm Springs, California
One of the best places to visit in April in the USA before the weather becomes unbearably hot is Palm Springs, California. The desert region is most well-known for hosting the annual BNP Paribas Tennis Tournament and providing guests with sweeping views of the desert region! Plus, there are plenty of things to do in the city.
For example, the Living Desert Zoo & Gardens is a great spot for families with children. You can wander around the zoo and admire the beautiful wildlife — including giraffes, bighorn sheep, and desert tortoises! Alternatively, if you're an aviation enthusiast, be sure to check out the Palm Springs Air Museum. The venue has an extensive collection of vintage aircraft from World War II and other periods.
And when you're ready to grab a bite to eat, head to The Tropicale Palm Springs. The restaurant is a favorite among locals and tourists alike, thanks to its delicious food and fun atmosphere! So, if you're craving a warm weathered escape, consider visiting Palm Springs — one of the best places to visit in the U.S. in April.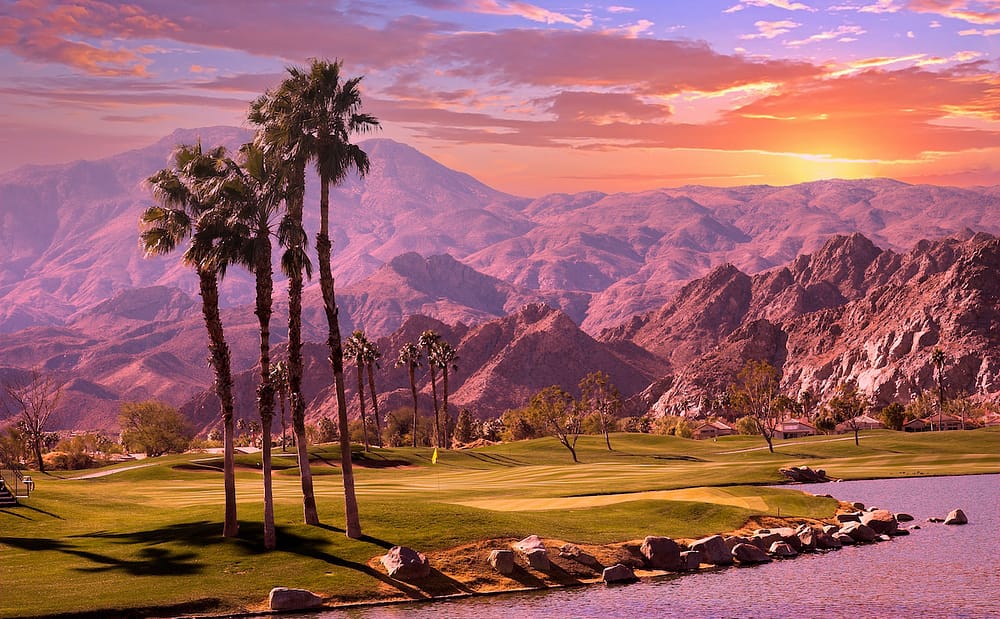 Contributed by Kristin of Global Travel Escapades
3. Olympic National Park
Although Olympic National Park is great to visit any time of year, it is one of the best places to visit in April in the USA — or during any of the spring months, for that matter! During the spring, the snow starts to melt, the rainforests come to life, and the flowers begin to bloom.
Just one step into the Hoh Rainforest of Olympic National Park will have you wondering why you didn't visit sooner. Moisture from the past winter turns the mossy trees bright green, and the waterfalls have their strongest flow. Hiking on the trails through the forest is the best way to experience the pure magic of Olympic National Park. Top trails include Mount Storm King, Sol Duc Falls, and the Hall of Mosses.
Aside from hiking, you can also visit the Pacific Coast, which offers the chance to spot whales in the distance. Spring is the best time to see these gentle giants. For dinner, make a stop at the popular Next Door Gastropub in Port Angeles for some delicious pub food, and book a stay at the Crescent Lodge to rest your head at night.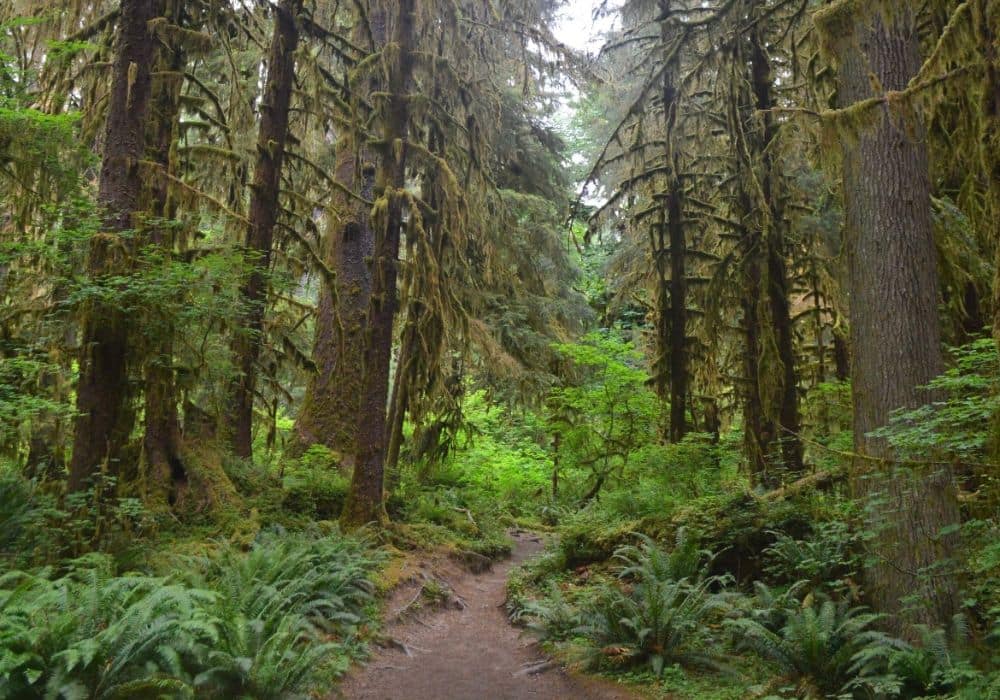 Contributed by Kassidy of The Hiking Helper
4. Oahu, Hawaii
Ready for a tropical escape to kick off spring? If so, look no further than Oahu, Hawaii — one of the best places to visit in April in the USA. The weather is always gorgeous in Hawaii, but it is especially nice during the spring. Plus, if you visit in April, you come between spring break and summer — two popular travel times — and can enjoy smaller crowds at popular destinations.
Hawaii can be expensive, so it's great that there are so many free things to do on Oahu, like hiking the Lanikai Pillbox Hike and snorkeling at Shark's Cove. You can also enjoy some of the best things to do in Waikiki, like Waikiki Beach and hiking Diamond Head, and take a day trip to the North Shore for some of the best surfing, snorkeling, and outdoor adventures on Oahu.
There are also tons of spectacular places to eat on Oahu, but you absolutely must book a table at Haleiwa Joe's in Kaneohe for one of the most scenic (and delicious) dining experiences on the entire island. SKY Waikiki is another fabulous place for drinks and dinner if you want to overlook the city of Honolulu and Waikiki Beach.
Finally, book a room at one of the best resorts on Oahu to make your experience incredible. The Outrigger Waikiki Beach Resort and Moana Surfrider Hotel are both excellent options with direct access to Waikiki Beach, and the Aulani Disney Resort is a fabulous choice for families.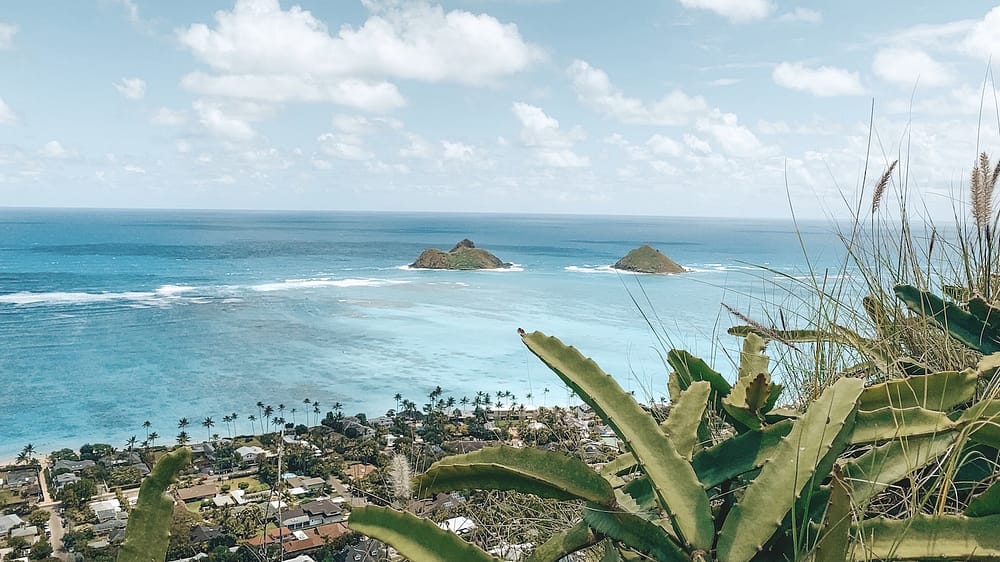 Contributed by Brittany of Travel by Brit
5. Atlanta, Georgia
Atlanta is one of America's world-class cities, and it comes alive in April with festivals and neighborhood parties. Combine some of these special events with great weather and the city's year-round sites, and you have a recipe for a perfect springtime getaway.
Atlanta in April is busy! Whether you're enjoying a weekend trip to Atlanta, or you are coming to experience the city's special spring events, there is no doubt that Atlanta, Georgia, is one of the best places to visit in the USA in April. You can check out the fifty-year-old Atlanta Film Festival, the Atlanta Dogwood Festival in Piedmont Park, or the Inman Park Festival & Tour of Homes.
Because the weather in April is moderate, with highs in the low seventies, sightseeing in Atlanta in April is much more enjoyable than during the high heat of the summer. This makes it much easier to walk around the city, which is necessary for seeing the city's most important sites, like the High Museum of Art, Centennial Olympic Park, and the Georgia Aquarium.
One walking tour that should not be missed is a stroll around the Martin Luther King Jr. National Historical Park, which is one of the National Park Service sites in Georgia. Everyone who comes to Atlanta should tour the house where MLK was born, along with Historic Ebenezer Baptist Church, where he and his father served as pastors and the surrounding Sweet Auburn neighborhood that was a thriving center of Black business and culture for decades.
This entire neighborhood is best explored on foot, so you will certainly appreciate the moderate weather while you are learning about this important chapter of American History!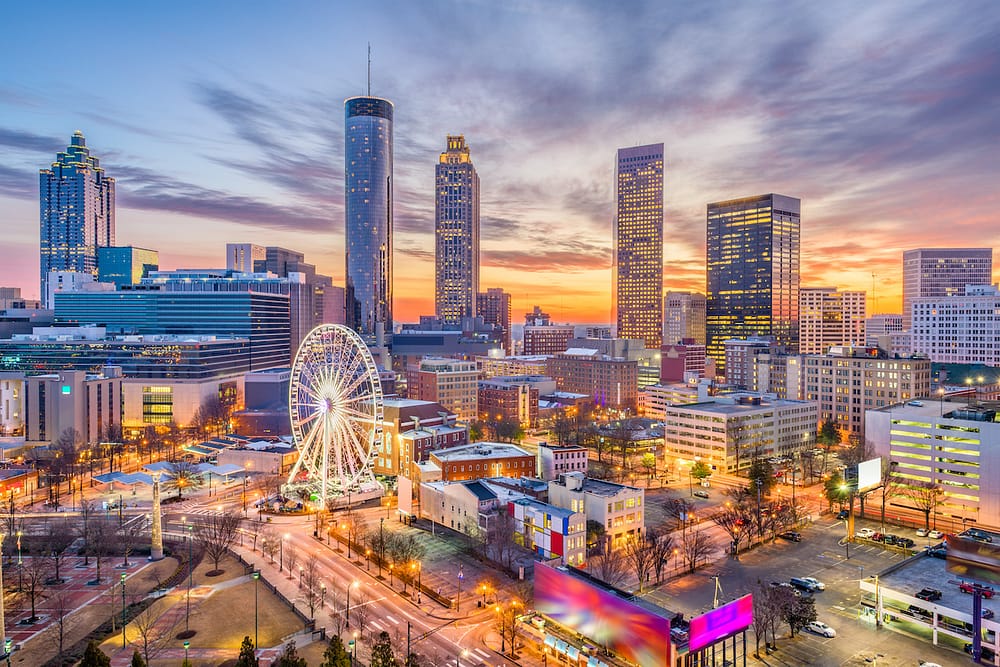 Contributed by Stephanie of History Fangirl
6. Bryce Canyon National Park
Visiting Bryce Canyon in April is a terrific time to enjoy the outdoor activities at Utah National Park! Due to the high elevation near 9000 feet, the temperatures in April aren't too cold or too hot. The mornings and evenings will be cool, so you'll want a jacket. Layers are best for all-day activities like hiking, biking, and exploring the scenic drive.
The horseback riding tours along the trails are a popular thing to do at Bryce Canyon. It's a terrific way to see the hoodoos and other geological features in the area without the strenuous hiking required to go down from the rim to the canyon floor, and then back up!
Be ready to capture stunning landscape photos from the many viewpoints along the scenic drive and the amphitheater! It's worth getting up early to watch the sunrise at Bryce Canyon. And be sure to spend time at night stargazing at this Dark Sky Park. Sign up for one of the Astronomy & Night Sky Ranger Programs!
After a day in Bryce Canyon, enjoy dinner at Ruby's Inn Cowboy's Buffet and Steak Room just outside the park entrance, and get ready for another day in one of the best places to visit in April in the USA.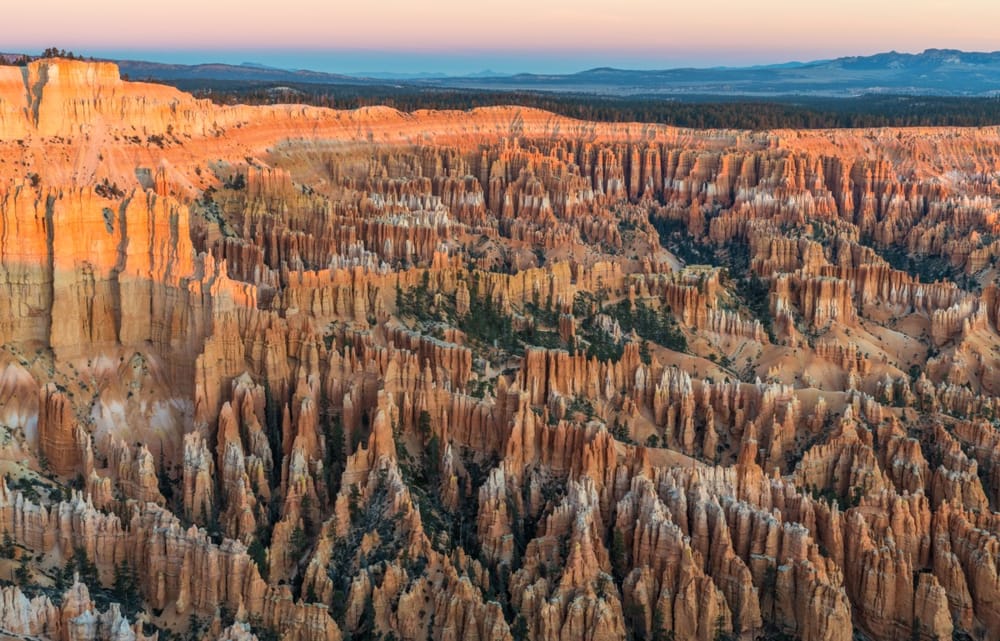 Contributed by Jamie of Photo Jeepers
7. Boston, Massachusetts
Boston may be the biggest sports town in the United States, but the biggest event of all happens on the third Monday in April. No, it's not opening day at Fenway Park — it's the Boston Marathon!
People from around the world come to run the Boston Marathon, a famously tough race that is often a bucket list item for serious runners. While it's tough to qualify, anyone can run if they raise enough money for charity, but even if you're not running, coming to watch is just as fun — making Boston one of the best places to visit in April in the USA.
And it's just as much fun to stand on the sidewalk and cheer on the runners as they run 26.2 miles from Hopkinton to Copley Square. Marathon Monday takes place on Patriots' Day, an official holiday in Massachusetts, and it feels like the whole state is swept up in supporting these outstanding athletes! For a spot close to the action, stay at the Copley Square Hotel, and be sure to walk down to the South End for some of the best restaurants in the city. Toro is a legendary Spanish restaurant with tapas that will blow your socks off.
As for the rest of your April trip to Boston, be sure to walk the Freedom Trail, hit up the Italian cafes of the North End, walk around the Boston Public Garden, take a trip to Cambridge to see Harvard Yard, and stroll Charles Street in Beacon Hill. Bring a warm jacket and an umbrella while exploring the best things to do in Boston — April weather can be unpredictable!
Keep in mind the Boston Marathon is one of the most popular Boston travel days of the year and hotel rates will be high. Even so, this time of year is when you can see Boston at its best.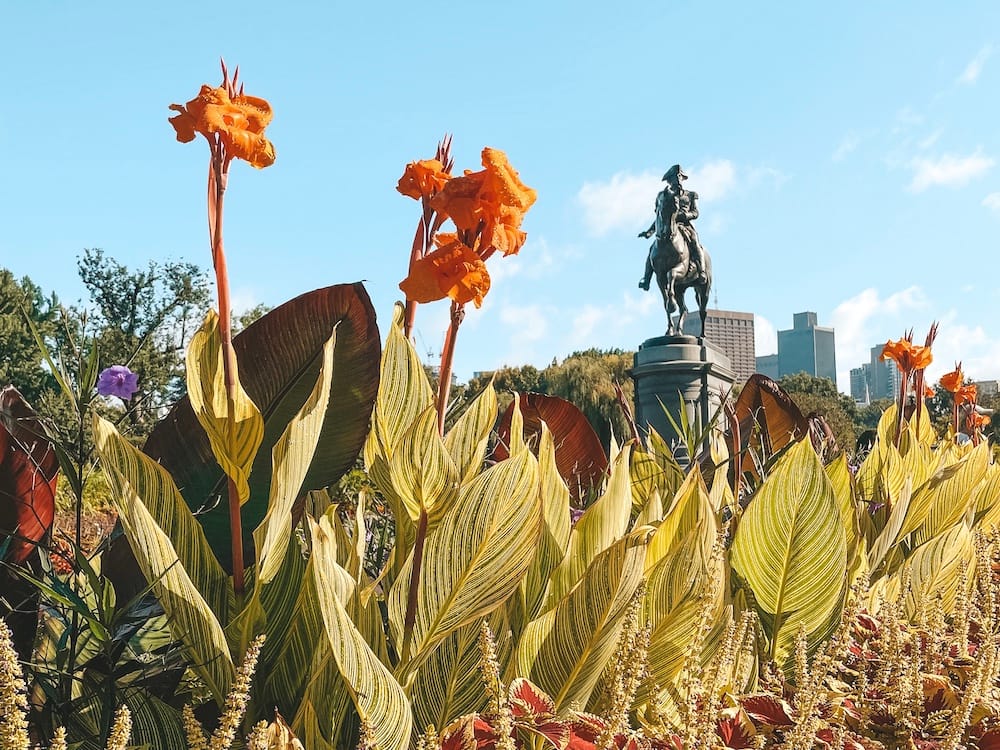 Contributed by Kate of Yes, Massachusetts
8. San Diego, California
San Diego is one of the best places to visit in the USA in April because of its great weather, fewer crowds, and fun seasonal activities like the beautiful blooms at Flower Fields, San Diego Restaurant Week, SoCal Taco Fest, and the start of baseball season for the San Diego Padres!
Whether you're planning to spend a week, weekend, or one day in San Diego, be sure to check events that you may want to attend, or alternatively, if you're looking for cheaper travel dates, avoid the big events as hotel prices will be cheaper. Or, you can add it as a stop on a Southern California Road Trip and stay in cheaper locations along the way.
Don't miss Balboa Park, a free public park with over 20 museums. It's gorgeous in the spring and a must-see. Depending on the tide, also check out the Point Loma Tidepools where you can climb down the coastal cliffside to see marine life in small tidepools. You can also plan to visit La Jolla or Coronado Island — La Jolla is a great place to visit to see the sea lions and enjoy watersports, like kayaking or snorkeling, while Coronado Island can't be missed for the gorgeous beaches and historic Hotel del Coronado.
San Diego is a great foodie city as well, known for their tacos. Tacos El Gordo is arguably the most well-known as they've since expanded to Las Vegas — but you can also try local favorites, such as Roberto's and Lucha Libre!
Contributed by Alanna from Periodic Adventures
9. Savannah, Georgia
Looking for one of the best places to visit in the USA in April? If so then you can't beat Savannah, Georgia. After all, this enchanting, historic city is an extremely pleasant place to visit in April since daily highs are 77°F, and the stunning pink azaleas are still in bloom.
The city receives just five days of rain per month so you're sure to have great weather during your visit. Plus, fantastic weather means lots of events take over the city, like the SCAD Sidewalk Arts Festival, the NOGS Tour of Hidden Gardens, and the Savannah Women's Half Marathon. It's also a great time to enjoy many of the best things to do in Savannah, like strolling through Forsyth Park, going on a river cruise from River Street, and exploring City Market.
And while the airport is just 12 miles from the historic city center, rent a car so that you can do day trips to the best places to visit in Savannah, like Tybee Island and the Wormsloe State Historic Site. You can also book a room inside the Hamilton-Turner Inn. It dates to 1873 and has a "Second Empire" design that features large windows and elaborate iron balconies. It's also one of the most haunted places in Savannah!
While you're in town, book a table at The Olde Pink House, one of the most popular places to eat in Savannah, Georgia. This restaurant serves southern-inspired meals, and it's a great place to make reservations for a nice dinner in this romantic city.
Contributed by Victoria of Southern Trippers
10. Denver, Colorado
April is a fabulous time to visit Colorado. This time of year brings warmer weather, and the locals can once again enjoy the rooftop bars and restaurant patios that define Denver nightlife. Don't miss a chance to wander through Denver's River Arts North neighborhood, full of fun restaurants, great bars, and, as the name suggests, plenty of street art.
In addition to RiNo, check out the Washington Park, Capitol Hill, and Highlands neighborhoods. These areas are popular among locals and visitors alike. Vegetarians will love City O' City, a veggie restaurant that has been operating in Denver since 1998. For something a little more unique, try Linger in the Highlands, a restaurant that serves international street foods in a converted mortuary.
If you're trying to decide between visiting Denver and Boulder an outdoor concert at Red Rocks Amphitheater near Denver might be the thing to sway you. This outdoor venue is set in natural red sandstone, offering views over Denver and big names like STS9 and Jackson Browne. Take time before your concert to explore the adjacent Red Rocks Park while you're in the area.
Contributed by Amber of Amber Everywhere
11. Washington D.C.
Washington DC is one of the best places to visit in the US in April. You will be visiting late enough to miss most of the school field trips, but the cold weather that still lingers in April is enough to deter most of the summer crowds.
If you visit at the beginning of April, you can see the Tidal Basin cherry blossoms in bloom. Predicting peak bloom is difficult ahead of time, but if you happen to time your visit right, this is one of the spring activities you don't want to miss.
Thanks to the beautiful weather in April, take advantage of visiting the monuments such as the Jefferson Memorial, the Lincoln Memorial, and the Washington Monument. You can even go up to the Washington Monument for an epic view of Washington DC and the surrounding area.
If you have a rainy day, there are plenty of free museums to visit as well. The Smithsonian Museums in the National Mall, like the Natural History Museum and American History Museum, are free to enter. There's no doubt about it — Washington DC is one of the best places to visit in April in the USA!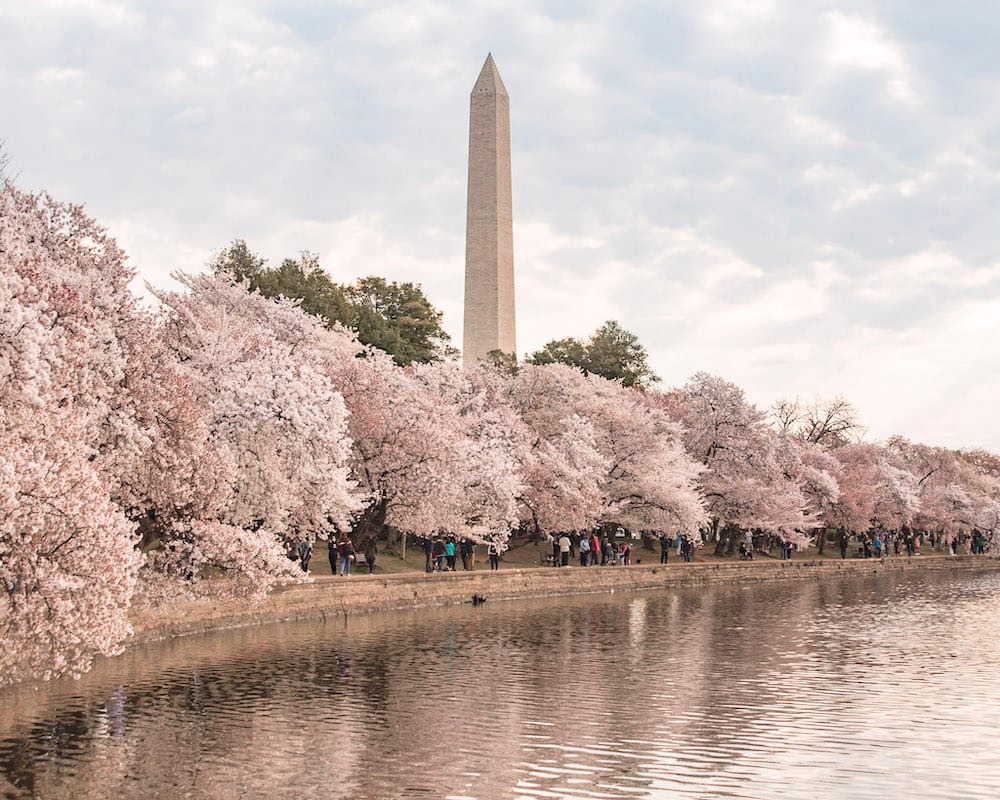 Contributed by Christine of Live Love Run Travel
12. Kauai, Hawaii
Kauai is a beautiful place to visit year-round, but the lower crowds, perfect climate, and gorgeous scenery make it especially magical in the month of April.
As Kauai turns from spring into summer, April brings some rain, but visitors should not be deterred, as the rain keeps Kauai green and makes the waterfalls flow! For sunnier skies, visitors can consider staying on the South Shore in Poipu and taking day trips to the North Shore when the weather is clear.
Anini Beach is a beautiful place to spend at least an afternoon snorkeling and swimming. Sea turtles are common here — so keep your eyes open! The first couple miles of the Hanakapi'ai Trail are highly recommended for beautiful views of the Na' Pali Coastline, or you can go on a full-day boat tour to soak up the beautiful views. The iconic Hanalei Bay is a perfect place to watch the sunset. A helicopter tour of the island is also a very worthwhile splurge. The waterfalls should be showing off their best colors in April!
On the warmer south shore, check out Mahaulepu Heritage Trail for a gorgeous sunrise hike on the bluffs. Consider having breakfast afterward at Seaview Terrace at the Grand Hyatt for a tasty meal and gorgeous views. Snorkeling is excellent on Poipu Beach and Lawai Beach, and kayakers will love exploring the Wailua River. The Kauai Coffee Plantation in Kalaheo is also a great addition to your Kauai itinerary!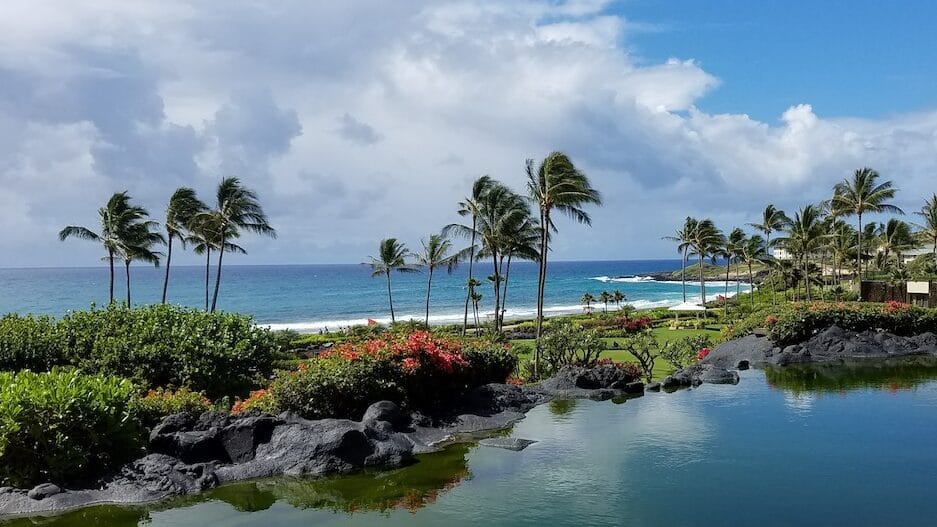 Contributed by Sierra of ISLAND + ALPINE
13. New York City, New York
One of the best places to visit in April in the USA is New York City. Not only is the weather starting to warm up, but April means cherry blossom season in the city.
Therefore, visitors can time their visit any time between the end of March and mid-April to see these beautiful blossoms and enjoy the annual festival at the Brooklyn Botanical Garden. It's a wonderful event that is easily one of the most unique things to do in NYC.
However, travelers can also explore Central Park and see this oasis of greenery come alive as they explore the Mall, Sheep's Meadow, Bethesda Fountain, and more.
To get here, fly into JFK International Airport and take the AirTrain to Jamaica Station. Once there, hop on the LIRR (Long Island Railroad) and take that to Penn Station. Then, check into the Freehand Hotel in lower Manhattan. Enjoy the fun, vintage-style rooms here before grabbing some lemon ricotta pancakes for brunch at nearby Sarabeth's.
Just be sure to pack plenty of waterproof clothes since the city receives an average of eight days of rain throughout the month. Also, pack plenty of layers since daily highs are 65°F and daily lows are 45°F.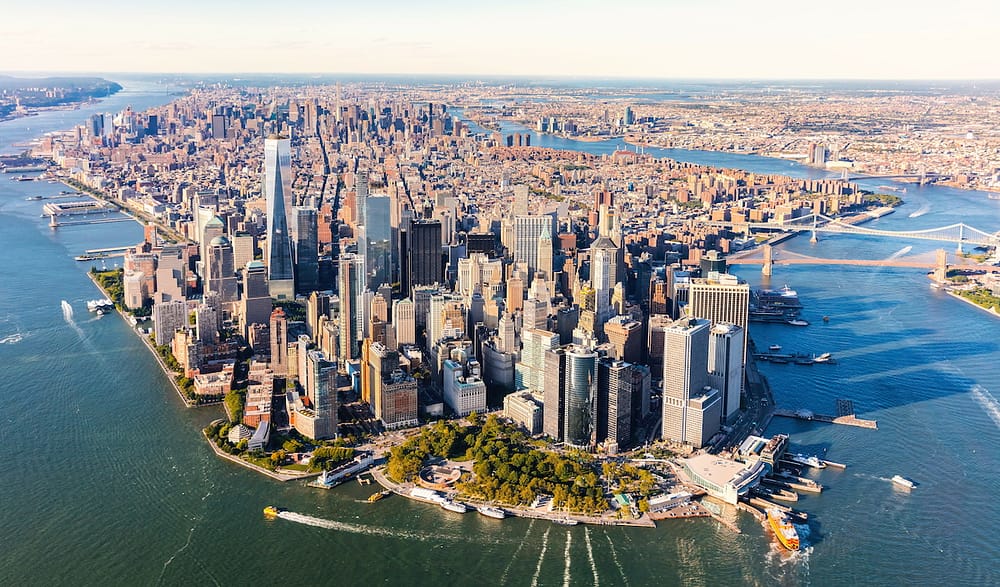 Contributed by Kelly of Travel New York Now
14. Badlands National Park
If you're looking for one of the best places to visit in April in the USA, Badlands National Park is perfect. Due to the recent rise in visitors, the best time to visit Badlands National Park during the months of April, May, and June.
The temperatures are mild, which is ideal for hiking and exploring the exposed landscape. There are tons of gorgeous overlooks in Badlands National Park, including the Pinnacles Overlook and Big Badlands Overlook. In April, bison shed their winter coats and can be spotted throughout the park along with bighorn sheep. If you're lucky, you may even spot a prairie dog! While you're here, you can also take a trip to Rapid City to see Mount Rushmore and the Black Hills.
Due to its remote location, the closest restaurant to the park is Badlands Saloon and Grille, about 13 miles away. However, this is a great spot to grab a meal after spending a day exploring all the scenic national park has to offer.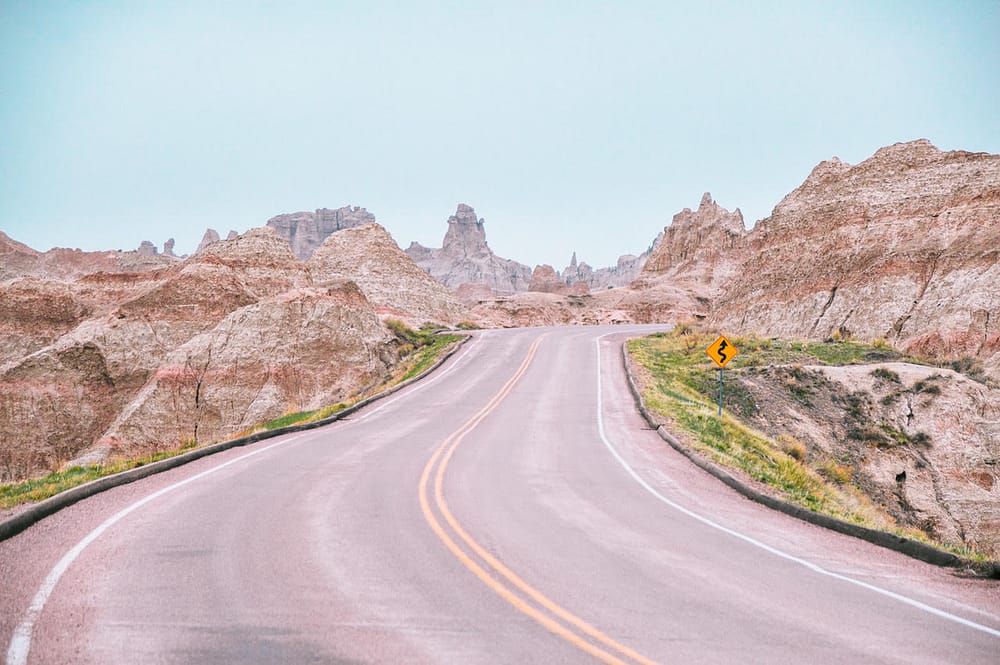 Contributed by Chelsea of Her Life Adventures
15. Asheville, North Carolina
Asheville, North Carolina, offers Art Deco and Gothic Revival architecture, a thriving artist community, trendy restaurants and shops, breweries, and a mountain vibe, making it one of the best places to visit in April in the USA!
Nestled in the shadow of the Blue Ridge Mountains, Asheville honors its history. Thomas Wolfe, the author of Look Homeward Angel, grew up in his mother's Asheville boarding house. You can tour the house as well as the museum. Consider a local's two-hour walking tour to experience Asheville like an insider. You'll learn about the Basilica of St. Lawrence, Grove Arcade, and the city's original skyscraper (Jackson Building).
Do not miss visiting Asheville's River Arts District. The aging warehouses in the city's industrial zone were turned into artists' studios. You can shop for art and talk to the local artists. If you prefer to stay outdoors, discover the city's street murals on buildings and back alleys. Book the Omni Grove Park Inn if you want to experience a historic hotel. Book lovers can shop and imbibe at the Battery Park Book Exchange & Champagne Bar.
In April, you'll also want to see the forsythia and daffodils in bloom at nearby Biltmore Estate. The Biltmore Estate is the largest privately-owned home in the United States, and spending a day touring the house and the grounds is well worth your time during a visit to Asheville!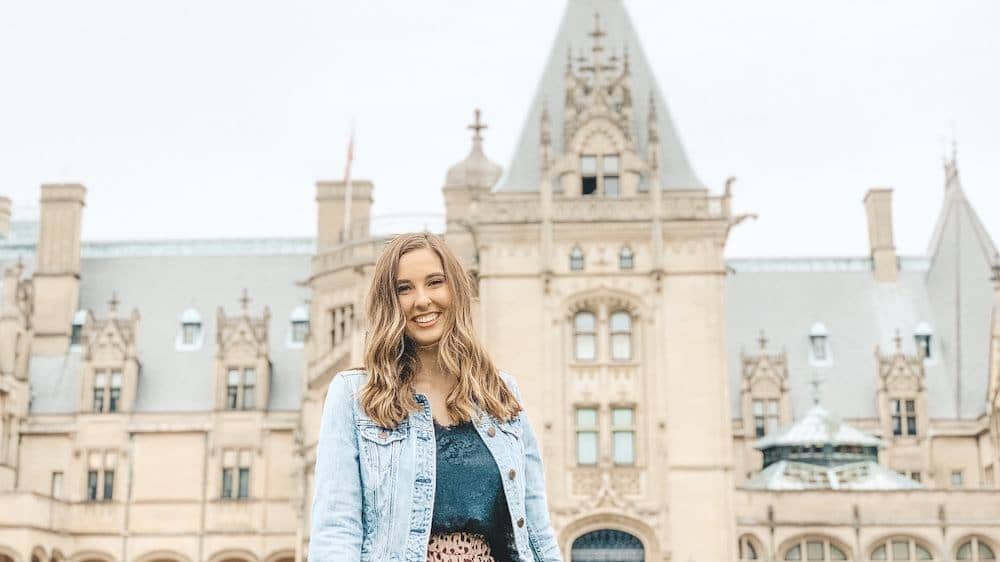 Contributed by Terri of Female Solo Trek
16. Channel Islands National Park
Channel Islands National Park is one of the least visited national parks in the country. That's because getting there is part of the adventure!
In order to reach the park, you'll need to take the boat taxi with Island Packers from either Oxnard or Ventura. The journey by boat is about an hour each way. However, you are nearly guaranteed to see dolphins, sea lions, or other marine life on the way, making the trip quite fun. If leaving Oxnard, you can grab breakfast at the dock from Honey Cup Coffeehouse. For a casual dinner in Ventura, try Fluid State. You can also spend a few extra days in Ventura to enjoy the best things to do in Ventura, like Ventura State Beach and Main Street.
Visiting the Channel Islands National Park in April is advantageous because windchill on the boat and island will not be as bad as in winter. That said, it is still recommended to dress in layers. Spring is when many seabirds are migrating or nesting, making bird watching popular at this time of year. The island will also be at its greenest in the spring.
The island you choose to visit will determine what there is to do. You also will need to decide if you are interested in a day trip or a multi-day camping trip. Things to do in Channel Islands National Park include hiking and wildlife viewing. Santa Cruz Island is popular for snorkeling, diving, and kayaking. Anacapa, one of the smallest islands, hosts the iconic lighthouse.
If you visit the Channel Islands National Park as a day trip as opposed to camping, choosing a hotel in Ventura or Oxnard near the harbor would be best. Alternatively, you can plan to extend your trip for a few days in Santa Barabara, so you can enjoy all the beautiful beaches and fabulous restaurants in Santa Barabara during your vacation.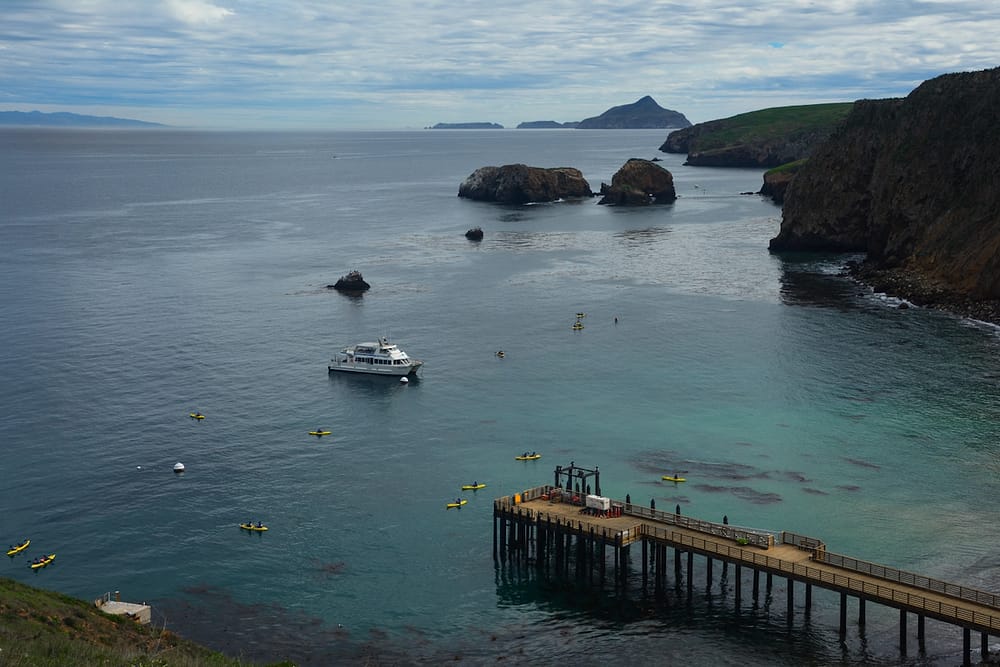 Contributed by Taylor of Taytrum Travels
17. Seattle, Washington
If you're looking for a springtime getaway, Seattle, Washington, is one of the best places to visit in April in the USA. The skies are starting to clear up from the winter rains, and the temperatures are warming up!
All this springtime weather leads to stunning blooms around the city. For example, you'll get to catch the last of the city's famed cherry blossoms, such as at the University of Washington quad or at Seward Park (which, on a clear day, has awesome views of Mount Rainier in the distance).
One of Seattle's best events in April is the Skagit Valley Tulip Festival, where you'll get to see millions of tulips in Washington. The festival, held a little over an hour north of Seattle, is hosted at several tulip farms that let participants stroll through acres and acres of fields, enjoy live music and demonstrations, and indulge in food and drink.
While you're in Seattle, be sure to stop at Pike Place Market, with hundreds of restaurants, food stalls, and vendors. For example, grab a bread bowl stuffed with creamy clam chowder from the aptly named Pike Place Chowder, and afterward, grab a beer at Old Stove Brewing, with views overlooking Elliott Bay. You can also stop at popular attractions, like the Space Needle and Chihuly Glass Garden.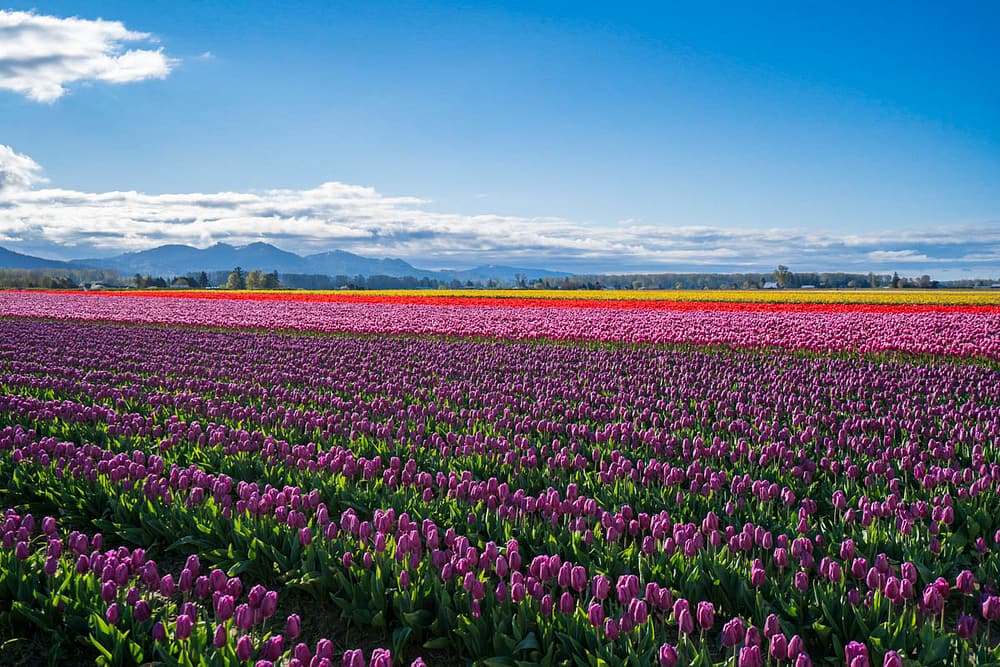 Contributed by Jessica of Uprooted Traveler
18. Anna Maria Island, Florida
If you're looking for one of the best places to visit in the USA in April, Anna Maria Island in Florida should be a top pick on your list. This seven-mile barrier island off the coast of Bradenton offers mild temperatures and humidity during the spring months as well as fewer crowds than are seen during the busy summer season.
The island also has miles of pristine white sand and crystal-clear beaches and a long list of outdoor activities including kayaking, boat tours, hiking and even fishing on the famous Rod and Reel Pier. Springtime is also the perfect season to check out several exciting events like the Farmers Market at City Pier Park or live music on Friday evenings at the Anna Maria Island Beach Cafe. Make sure to wander historic Bridge Street, a tourist favorite, with plenty of food and shopping options that will satisfy your cravings or complete your souvenir collection.
Anna Maria Island also has some of the best seafood you can find. One of the most popular restaurants on the island is The Waterfront Restaurant, which serves up fresh seafood or American classics. Try the calamari, it's a must for foodies!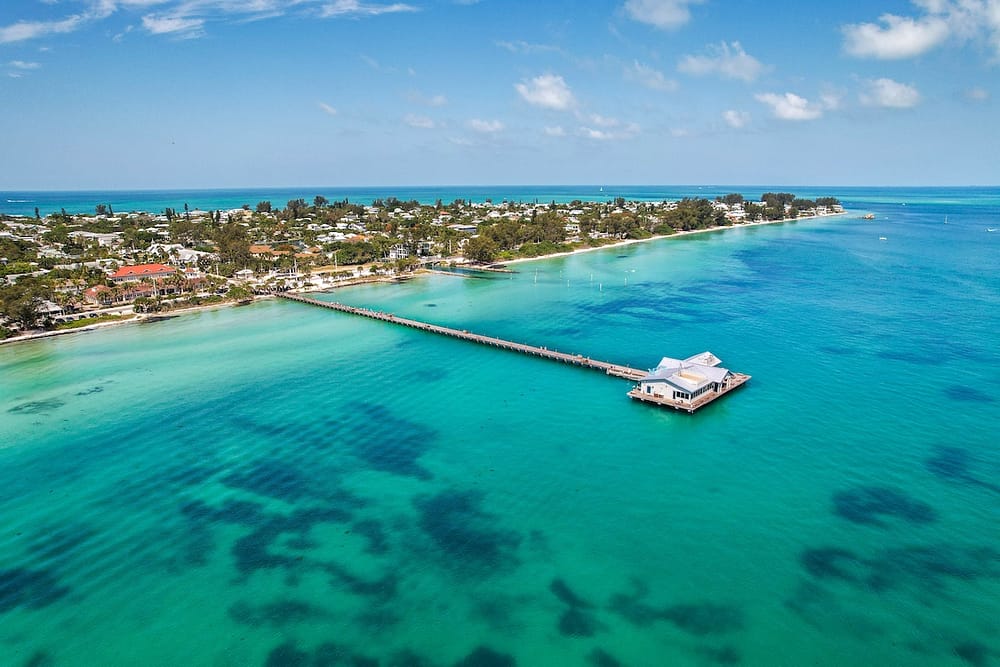 Contributed by Marissa of Sunset Chasing Blonde
19. Prescott, Arizona
Sedona may get the most attention when it comes to the best weekend trips or day trips from Phoenix, but the quaint western town of Prescott, Arizona, shouldn't be overlooked. This adorable town gets snow in the winter, but by April, it's warm enough to enjoy the hiking trails, watersports, and other best things to do in Prescott.
While you're here, take a walk down Whiskey Row and enjoy some of the incredible restaurants and coffee shops in Prescott, like FARM Provisions, The County Seat, and The Porch Prescott. You can also shop in the fun clothing stores and boutiques that line the street or hop in for a meal or drink at the historic The Palace Restaurant & Saloon, where famous gunfighters, like Doc Holliday and Wyatt Earp, spent their days and nights.
If the weather is warm enough, don't miss the chance to go kayaking or paddle boarding at Watson Lake or Goldwater Lake, and you can also venture into the Prescott National Forest to trek through miles and miles of scenic hiking trails.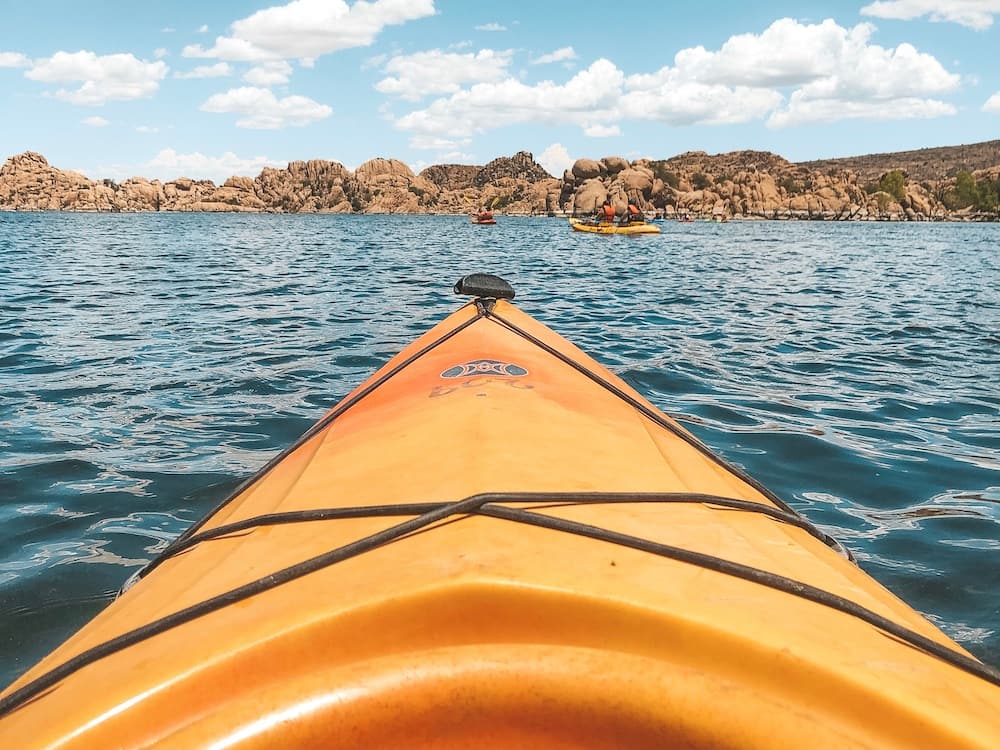 Contributed by Brittany of Travel by Brit
20. Yosemite National Park
Yosemite National Park is one of the most spectacular destinations in the United States for its incredible natural beauty. Located in northern California's Sierra Nevada Mountains, Yosemite National Park is one of the best US destinations to visit in April.
The climate of Yosemite National Park in April is pleasantly mild and mostly sunny, with average temperatures in the upper 60s to low 40s Fahrenheit. April is much less crowded than the summer months so visitors can take advantage of solitude while still enjoying magnificent springtime views.
April is a great time of year for wildflowers, with Yosemite's meadows and valleys bursting with color from a variety of different species. Be sure to check out Cook Meadows for wildflower viewing! Hiking is popular in the park at this time of year too, as some trails are open for exploration.
Visitors can take advantage of Yosemite's long-distance trails for day hikes or enjoy the beautiful views with a picnic lunch along the way. One of the best hikes is the Yosemite Valley Loop– a friendly and easy hike that brings stunning views of El Capitan.
To get to Yosemite National Park, fly into Fresno Airport which is just a short 1-hour drive from the park. If you choose to stay in Yosemite National Park, you'll need to reserve your camping site ahead of time for tent camping, RV parking, and cabin rentals.
There are also great hotel options in Oakhurst, a town about 30 minutes from Yosemite National Park. Sierra Sky Ranch is a great option with cabin feels and cozy vibes.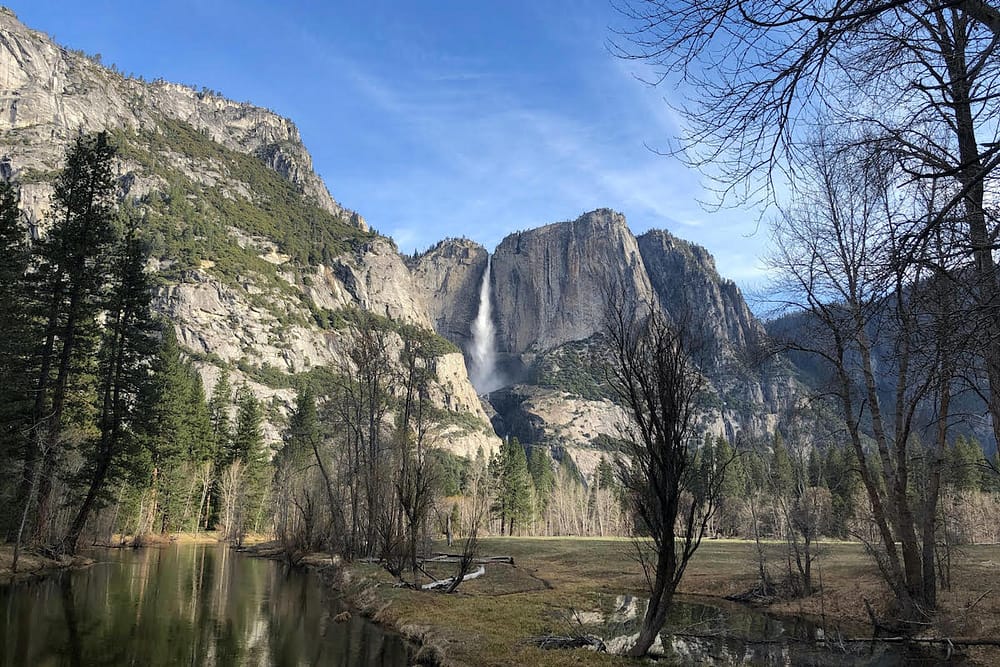 Contributed by Pafoua of Her Wanderful World
21. Kanab, Utah
April is a great time to explore the gorgeous desert oasis of Kanab, Utah. From Zion National Park to Grand Staircase-Escalante National Monument and The Wave, you'll have an opportunity to appreciate some of America's most stunning geological wonders in pleasant weather conditions.
In April, the weather in Kanab is mild, with temperatures hovering around 63°F throughout the day and rarely falling below 50°F or rising above 82°F. Plus, you can take advantage of snow-free hikes and fully opened facilities at Zion National Park (which normally get quite busy over the summer months).
For those seeking an adventurous experience, venture on some of Kanab's best hikes, exploring its varied landscapes, from slot canyons and caves to pink sand and dinosaur prints. Attempt to snag one of the highly sought-after permits to The Wave or settle for hiking only the deepest canyon in the world, Buckskin Gulch. After a long day of outdoor activities, enjoy delicious food and drinks at Rocking V Cafe while taking in the red rock views surrounding this desert paradise.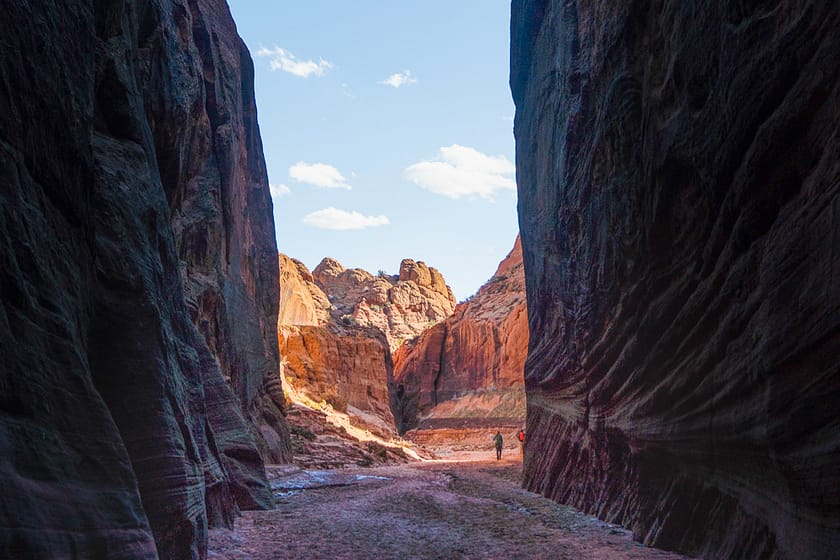 Contributed by Catherine of Nomadicated
22. Wilmington, Delaware
Wilmington, Delaware is one of the best places to visit in April in the USA. The Wilmington Riverfront offers an array of shopping, dining, and entertainment opportunities. If you enjoy Thai food, you will want to check out Ubon. Sports fans can enjoy minor league basketball at the Chase Center or visit the Delaware Sports Hall of Fame.
Patrons of the arts can enjoy a concert in Tubman-Garrett Riverfront Park or discover a new artist at The Delaware Contemporary, a unique space featuring local, regional, and international artists. Followers of performing arts can take in a play at the Delaware Theatre Company or spend an evening at the opera.
Additionally, Wilmington offers outdoor activities on and away from the river. Bike the 5.5-mile (each way) Jack A Markell trail from Wilmington to Old New Castle. Explore the Christina River's marshy areas at the Russell W. Peterson Urban Wildlife Refuge. While there, visit the DuPont Environmental Education Center.
Finally, the world-class gardens and stunning mansions of the Brandywine Valley are not to be missed. This is the perfect month to visit Longwood Gardens, Winterthur, and Mt. Cuba. This time of year, you'll find the estates awash with cheerful daffodils, vibrant azaleas, and tulips in a kaleidoscope of colors.
Contributed by Susan of Beans Bikes and Blooms
23. San Francisco, California
If you're looking for fabulous places to visit in the USA during April, you can't beat San Francisco. Not only is the entire city in bloom after the rainy winter period, but you'll typically see fewer tourists hanging around major hotspots. And really, what could be better than exploring the city without jostling elbows with half the country?
Although you'll still be dealing with San Francisco's signature fogginess, the weather is going to rapidly start warming up during April. This means hitting areas like Pier 39 and the Golden Gate Bridge will be way more pleasant! So, whether you want to see the adorable sea lions on the pier or would rather take a walking tour — the wind shouldn't be too bitter!
If you're a complete film buff, you may want to stop by the San Francisco International Film Festival that's held in April each year. Prefer natural wonders? Catch the gorgeous Cherry Blossom Festival in Japantown which boasts everything from martial arts to a wonderful parade. Oh, and don't forget to stop by the glorious Sotto Mare for the best cioppino in San Francisco. Whatever you choose to do, you're unlikely to be disappointed by San Francisco in April!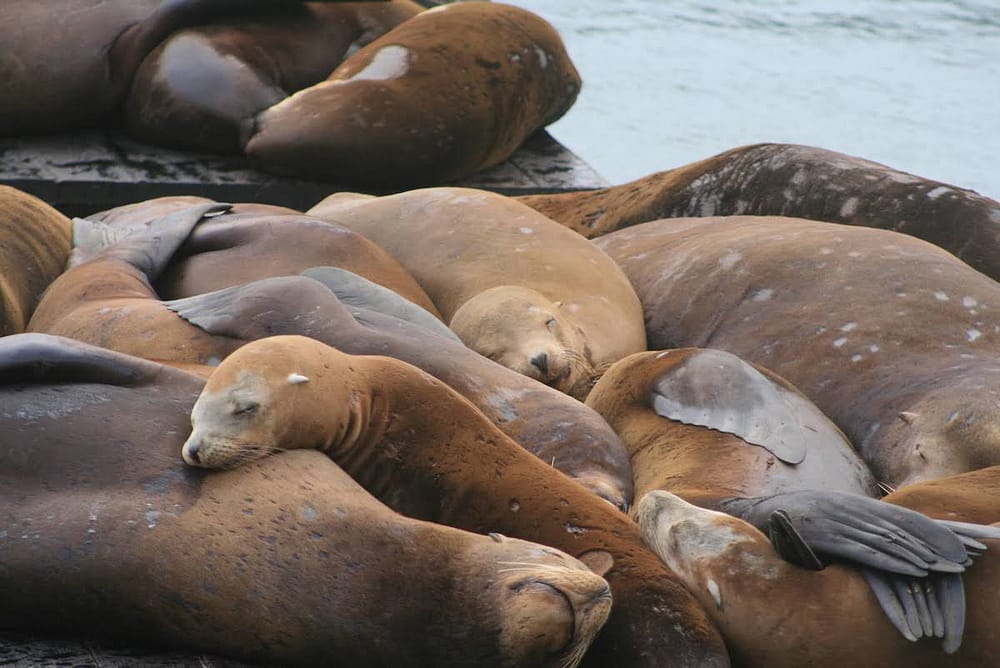 Contributed by Grace of Pixie Dust and Passports
FAQs: Best Places to Visit in April in the USA
What are the best places to visit in April in the USA with family?
Some of the most kid-friendly destinations in the USA in April from this list of the best places to visit in April in the USA include San Diego, Yosemite National Park, San Francisco, Denver, Oahu & Washinton DC. These destinations either have plenty of outdoor attractions to keep your kids busy, or fun museums, sights, and other attractions that kids will enjoy.
What are cheap places to travel to in April in the USA?
Finding somewhere that is still in the offseason during spring is the best way to find a cheap destination t travel to in April. Budget-friendly destinations on this list of the best places to visit in April in the USA include Seattle to visit Olympic National Park and the Skagit Valley Tulip Festival, or somewhere like Atlanta or Denver, where you can catch plenty of affordable flights from around the country.
Where is warm in April in the USA?
Typically, the southern region of the country is pretty warm in April. States like California, Arizona, Texas, Georgia & Florida are great to visit for a warm-weather vacation in April. You can also always head to Hawaii or the US Virgin Islands for gorgeous tropical weather in April.
Plan Your Vacation to These Best Places to Visit in April in the USA
Regardless of whether you choose a tropical destination, like Hawaii, or an adventurous trip, like a national park, you're sure to have a wonderful time exploring these best places to visit in April in the USA. Which of these best places to visit in April in the USA sounds the most appealing to you? Let me know in the comments below!

Disclosure: This post about the best places to visit in April in the USA contains affiliate links, referral links, and referral codes. I earn a commission if you click through and make a purchase at no additional cost to you. This helps me keep the content on my website free, like this post about the best places to visit in April in the USA.
Save the Best Places to Visit in April in the USA for Later
Read More
Curious about the best places to visit in the USA during other months of the year? Check out these other travel guides: