You probably think about lighthouses, lobsters, and beautiful coastal views when you think of Portland, Maine. However, does craft beer come to mind?
If not, it should! Portland is filled with dozens of independent, local craft breweries that churn out an impressive array of beers—from lagers and ales to stouts and IPAs. No matter what type of beer you prefer, you'll find breweries in Portland, ME, that will have smooth, refreshing beers you'll love. In fact, brewery hopping is one of the best things to do in Portland, ME!
During my recent trip to Portland, my husband and I tried to visit as many breweries as possible. We loved these four breweries in Portland, ME, so I wanted to share them with you, too! Here's a look at some of the stand-out brewpubs and breweries in Portland, ME.
4 Best Breweries in Portland, ME
1. Allagash Brewing Company
Location: 50 Industrial Way, Portland, ME 04103
Best Beer: Allagash White
Allagash Brewing Company is an independent craft brewery in Portland, Maine. Allagash is the most famous brewery in Portland, ME, and they are best known for their signature Belgian-style wheat beer, Allagash White.
Allagash Brewing Company has tons of great beer. My husband loved their seasonal, cask-poured Nocturna beer—a silky stout aged in bourbon barrels with vanilla beans. I tried the seasonal Haunted House—a malty, dark beer with a coffee-flavored aftertaste. I also tried their award-winning Allagash White, a light, refreshing wheat beer, and I have to say I preferred it over the Haunted House!
However, Allagash Brewing Company is so much more than beer. We also loved the rustic ambience of the outdoor seating area. Since we visited during the fall, we were surrounded by trees and colorful fall leaves. If Allagash were located close to home, I think it's somewhere we'd frequently visit on the weekends. We both loved the environment so much! They also had lawn games, fun music, and local food trucks on the property.
Out of all the breweries in Portland, ME, Allagash Brewing Company is definitely the one you must visit if you're on a tight schedule!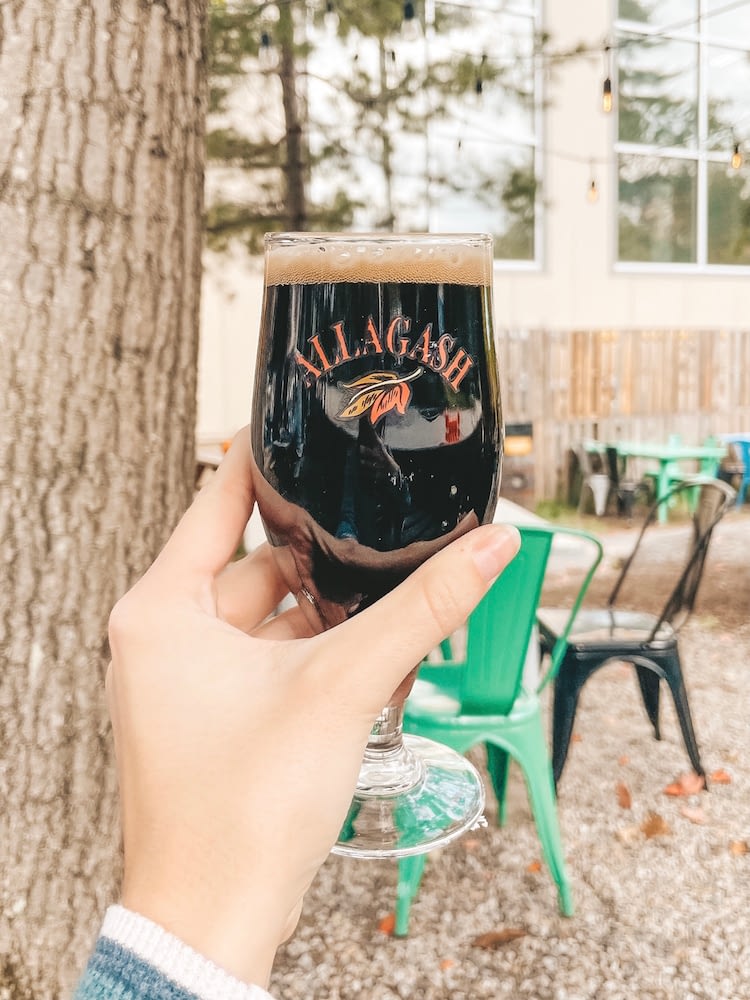 2. Foundation Brewing Company
Location: 1 Industrial Way #5, Portland, ME 04103
Best Beer: Burnside
Once you finish up at Allagash, walk across the street to Foundation Brewing Company. Foundation has a modern feel but offers a great selection of beers, from lagers and ales to IPAs and milk stouts.
Although their most popular beer is Epiphany, a hoppy IPA with citrus and pine notes, I'm not a fan of IPAs, so I decided to order a brown ale instead! Burnside is a smooth beer with roasted coffee, burnt sugar, and chocolate notes that finishes with a malty sweetness. Overall, Burnside was my favorite beer we had in Maine. It was so good!
We loved sitting on the full-sized patio right outside the tasting room, equipped with heaters, tents, fire pits, lawn games, a local food truck, and more. I would recommend stopping at Foundation Brewing Company during your time in Maine!
3. Oxbow Blending & Bottling
Location: 49 Washington Avenue, Portland, ME 04101
Best Beer: Midnight Blue
Unlike the previous two breweries, Oxbow Blending & Bottling is located in Downtown Portland. Oxbow Brewing Company has three locations—their brewery in Newcastle, a beer garden in Oxford, and their blending and packaging location in Portland!
Oxbow is one of the best breweries in Portland, ME, and best known for its farmhouse-style ales. They have dozens of brews that they are constantly rotating. I tried the Midnight Blue, a blended farmhouse ale with Maine-grown blueberries, and I loved it. The beer was really light and smooth, but you could definitely taste the blueberries!
Oxbow Blending & Bottling is located in a giant warehouse with floral designs painted on the walls. We visited on a Thursday night, so it was quiet, but I could imagine the place packed with people on a Saturday. If you get hungry, Oxbow also shares an outdoor space with Duckfat, an award-winning local restaurant specializing in Belgian-style fries.
4. Sea Dog Brewing Co.
Location: 725 Broadway, South Portland ME 04106
Best Beer: Hazelnut Porter
We kind of discovered Sea Dog Brewing Company on accident—but I am so glad we did! After a long day of exploring Portsmouth, we looked for somewhere to grab a brew and a bite to eat and found Sea Dow Brewing just minutes away from our hotel in South Portland.
Sea Dog Brewing started in Maine (they have five locations across the state), but also two locations in New Hampshire and three locations in Florida. They have a straightforward list of beers—their flagship beer, Sunfish Ale, Apricot Wheat Ale, Old East India Pale Ale, Riverdriver Hazelnut Porter, Raspberry Wheat Ale, Blueberry Wheat Ale, and a seasonal Pumpkin Ale.
I ordered the Pumpkin Ale, and it was good, but I have to say, my husband's Hazelnut Porter stole the show! It was warm, rich, and nutty without being overwhelming.
Unlike the other breweries on this list, Sea Dog Brewing Company is a brewpub, so you can order appetizers, soups, burgers, sandwiches, and other pub bites. Plus, who can resist their adorable mascot!
Tips for Visiting Breweries in Portland, ME
Watch the closing times. We were surprised to discover that many breweries in Portland, ME, close early in the evenings—like 5 PM. Visit the breweries that close earlier during the daytime, and save the breweries that stay open later for the night.
Book a beer tour. If you want to remove the stress of brewery hopping, consider booking a beer tour. Maine Brews Cruise and Bike & Brews are popular, highly-rated beer tours in Portland.
Stay on Industrial Way. This street has at least five breweries within walking distance, including Allagash Brewing Company. If you're wanting quick access to several great breweries in Portland, ME, in one day, I'd suggest concentration your energy here!
If You Have More Time…
There are tons of amazing breweries in Portland, ME—so many, in fact, it would take weeks to visit them all!
Although we didn't get the chance to visit any of these spots, these breweries in Portland, ME, are popular, well-known, and worth visiting if you have some extra time in the city.
Austin Street Brewery
Battery Steele Brewing
Bunker Brewing Co.
Bissel Brothers Brewing Company
Definitive Brewing Company
Goodfire Brewing Company
Liquid Riot Bottling Company
Maine Beer Company
Shipyard Brewing Company
The Best Places to Stay in Portland, Maine
Looking for a place to stay in Portland? Here are some of my best recommendations!
Portland Regency Hotel & Spa—This hotel is situated in the heart of Old Port. It's a great luxury stay to be located close to everything in the city!
The Press Hotel, Autograph Collection—Located in Downtown Portland, this hotel has a chic design and awesome amenities. It also offers close access to all the action in Downtown Portland.
Tru By Hilton Portland Airport—This is the hotel we stayed at that's just minutes away from Sea Dog Brewing Co. We loved the comfortable rooms and the great complimentary breakfast.
Kick Back & Relax at the Best Breweries in Portland, ME
Which of these four breweries would you visit first? And what's your favorite type of beer? Let me know in the comments below!

Disclosure: Some of the links in this post are affiliate links, meaning, at no additional cost to you, I will earn a commission if you click through and make a purchase. This helps me keep free content on my website, like this post about the "4 Best Breweries in Portland, ME!"
Pin "The Best Breweries in Portland, ME" for Later!
Planning a road trip in New England? Check out some of my other posts!