Jerome, Arizona, is an iconic ghost town built into Cleopatra Hill overlooking the scenic Verde Valley—and you can't miss the chance to visit during your trip to Arizona!
While Jerome may be a popular tourist location filled with musicians and artists today, it wasn't always this way. Jerome was once a booming copper mining town nicknamed the "Wickedest Town in the West" with a rough history of fires, landslides, and more.
Discover the best things to do in Jerome, AZ, so you can become acquainted with everything the "Wild West" truly has to offer!
What's the History of Jerome, AZ?
Did you know that Jerome, Arizona, is North America's largest ghost town?
Yep, that's right—in the 1920s, Jerome had a population of 15,000 people, and by the 1950s, there were only fifty people living in Jerome. In 1900, Jerome was the fourth largest city in the Arizona Territory, and now it's the 90th largest city in the state of Arizona. So, you might ask—what happened to Jerome?
Jerome was a prosperous copper mining town (called the "boomtown of its time") that produced billions of dollars of copper—up to three million tons of copper per month! The town was filled with miners, smelters, gamblers, saloonkeepers, bootleggers, and prostitutes. Basically, envision your favorite western movie, and you'll have a pretty good idea of what Jerome looked like at its peak.
In 1953, the uncertainty from wars, depressions, and labor unrest caused UVCC (the company operating the mines) to close operations in Jerome. With the close of the copper mines, nearly everyone left, and Jerome's population dropped to just 50 people.
Today, Jerome has a population of just shy of 500 people, and on any given day, it's likely the tourists outnumber the city's residents. However, it's understandable why—this town's fascinating history draws visitors from around the globe to walk in the footsteps of the miners, bootleggers, and families who make Jerome the "Wickedest Town in the West!"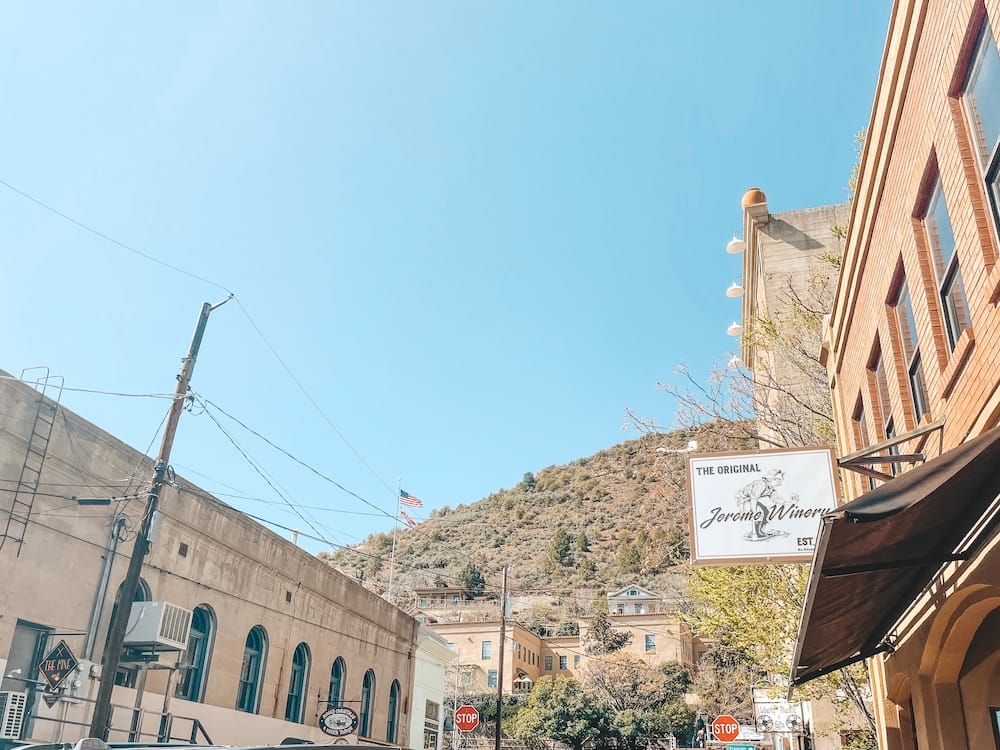 How Do I Get to Jerome, AZ?
Jerome, Arizona, is built into Cleopatra Hill and overlooks the scenic Verde Valley, located between the Coconino National Forest and Prescott National Forest.
Jerome is a 111-mile drive (roughly two hours) from Downtown Phoenix and a short 27-mile (45-minute) drive from the popular city of Sedona, Arizona. It's likely you'll fly into the Phoenix Sky Harbor International Airport during your trip to Jerome since it's the largest airport in Arizona.
How Long Should I Stay in Jerome, AZ?
Jerome is one of the best day trips from Phoenix, but it's not really a "destination," like other cities in Northern Arizona, such as Sedona and Flagstaff.
You can easily see all the sites in Jerome in one day, but if you'd like to spend the night to truly get the "haunted" experience, I'd recommend booking a night at one of the following hotels! Otherwise, I'd recommend staying in another city nearby, like Sedona, Prescott, Flagstaff, Cottonwood, or even Phoenix, and planning to spend one jam-packed day in Jerome.
Where Should I Stay in Jerome, AZ?
Jerome is a small town, so there aren't many places to stay—however, these accommodations offer the perfect blend of history and style for your stay in Jerome, Arizona.
The Clinkscale—Constructed in 1899 and restored in 2020, this modern hotel has hardwood floors, high-end fixtures, and a fantastic restaurant and cocktail lounge in the lobby.
The Connor Hotel—If you'd like to truly immerse yourself in history during your trip to Jerome, this hotel is in the heart of the town and has operated on and off since 1898.
Since accommodations are limited in Jerome, many people choose to stay in another nearby city and spend one day exploring Jerome's popular sites. Personally, I've always visited Jerome as a day trip from Phoenix!
Best Things to Do in Jerome, AZ
1. Canary Coffee Roasters
Canary Coffee Roasters is a quaint local coffee shop located in The Newstate Shops in Jerome, Arizona.
Canary Coffee Roasters has beautiful views of the Verde Valley and surrounding scenery from the shop's windows. They also make all their own syrups, which I loved—they were just the right amount of sweet. My Maple Sage Latte with oat milk was tasty, and the latte art was beautiful!
Since there isn't much seating in the shop, I'd recommend getting your coffee and enjoying it while you walk around and explore Jerome.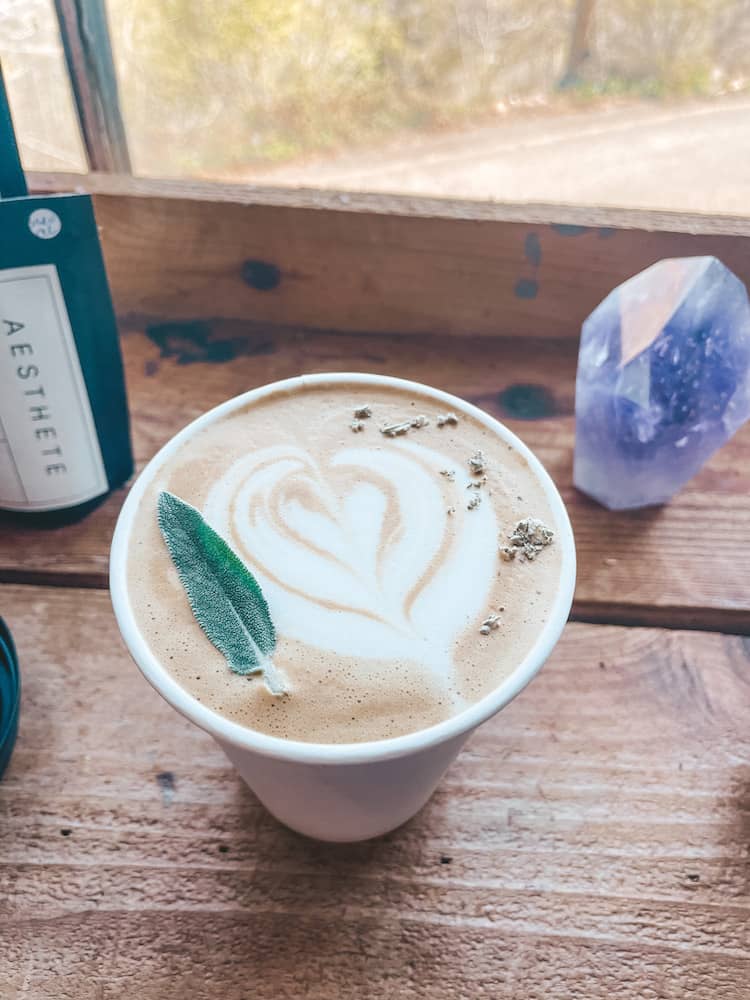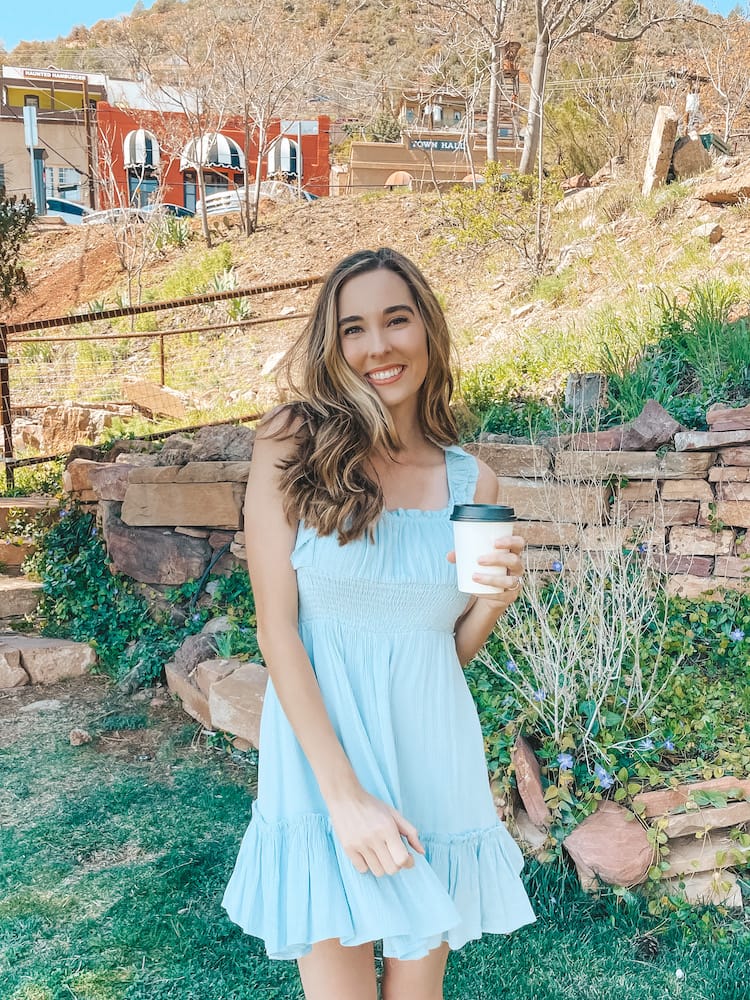 2. Jerome's Sliding Jail
Seeing Jerome's Sliding Jail is one of the best things to do in Jerome, AZ—and it's free!
During a slide in the 1930s, this jail slid down the hill from its original location to the middle of Hull Avenue, and the road was changed to go around it. Eventually, the jail was moved to its current location (footsteps away from Hull Avenue), where you can see it and learn its history.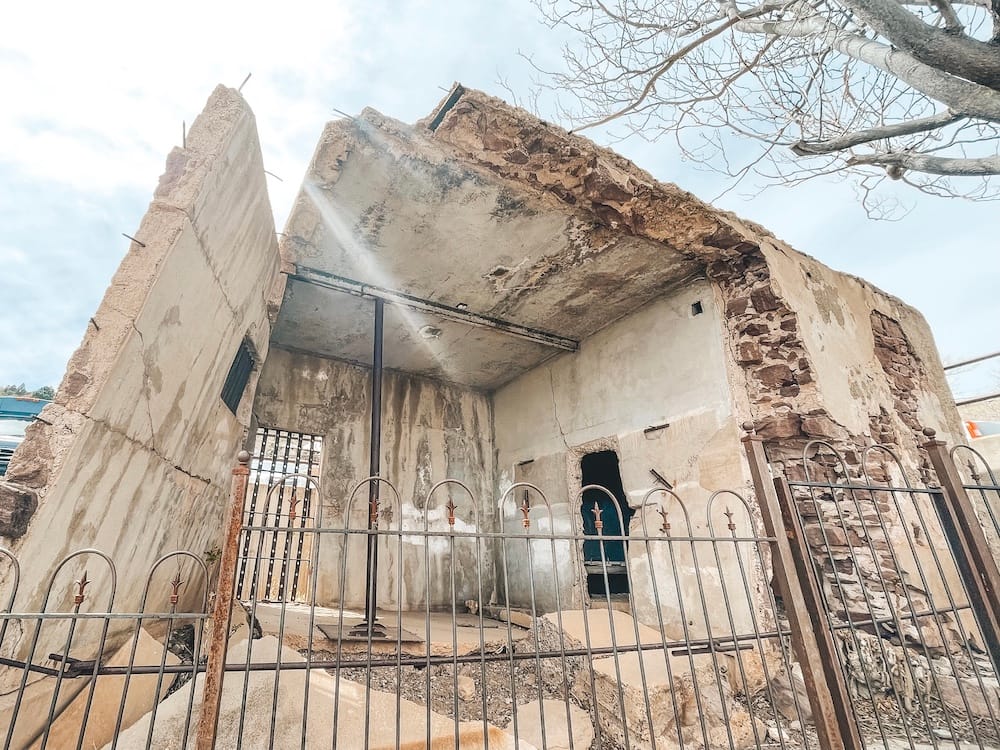 3. Jerome State Historic Park
Jerome State Historic Park is home of the Douglas Mansion—built by a family of mining entrepreneurs in 1916. The home was intended as a hotel for mining investors and other notable visitors to the town.
Today, you can tour the Douglas Mansion to learn about the history of Jerome and the notable Douglas family. You'll be able to see mining artifacts, examine models of the town's old mines, watch informative videos, and more.
4. The Haunted Hamburger
The Haunted Hamburger is Jerome's most popular restaurant. It's been featured in magazines, cooking shows, and travel guides for its great food, but the history is equally as interesting!
The Haunted Hamburger was originally built as a boarding house for copper miners in 1910, and after the first mines closed during the Great Depression, a family bought the home and turned it into a private residence. The building switched owners several times over the years until it was bought by its current owners and turned into The Haunted Hamburger in 1994.
During construction, strange things started to happen, like tools going missing and doors mysteriously opening and closing. The only explanation? The building is haunted!
The Haunted Hamburger is situated at the top of Cleopatra Hill and offers spectacular views of the Verde Valley. Their Haunted Burger is their most popular item, but you can also order other burgers, sandwiches, salads, and appetizers. They also serve local beers, house cocktails, and even boozy shakes, and their patio is dog friendly.
Tip: You should plan to wait 1-2 hours for a table at The Haunted Hamburger during lunch or dinnertime. Put your name on the waitlist before you're hungry, and then walk around the town until you get the call that your table is ready!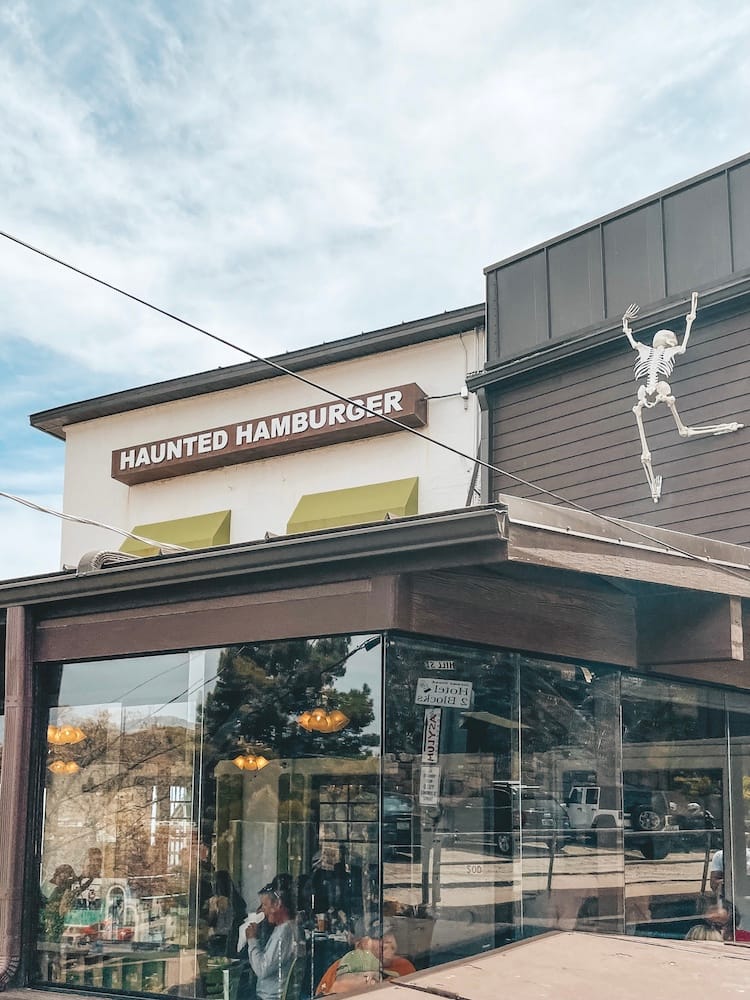 5. Jerome Ghost Tour or Walking Tour
Jerome is filled with history and haunted stories, so a historical walking tour or ghost tour is a great way to get acquainted with the city. These tours come highly recommended and are one of the best things to do in Jerome:
Jerome Ghost Walk—See Jerome's most haunted locations from a tour company that's recognized by the Jerome Historical Society for sharing historically accurate information.
Jerome History Walk—Learn about the history of this iconic mining town on this small-group walking tour through the city.
Classic Haunted Tour of Jerome from Sedona—If you're staying in Sedona, enjoy this guided walking tour of the town's haunted locations with transportation to and from Sedona.
6. Nellie Bly Kaleidoscopes
In addition to being America's largest ghost town, Jerome has another claim to fame—the world's largest kaleidoscope shop!
Nellie By Kaleidoscopes has been in Jerome, Arizona, since 1988. They feature artwork from over 90 kaleidoscope artists and allow you to look through each kaleidoscope on display. Stopping at this shop to take a peek through the kaleidoscopes is definitely one of the best things to do in Jerome, AZ.
You can even ask one of the employees to help you take a picture through a handheld kaleidoscope to see what you'd look like as a piece of the artwork!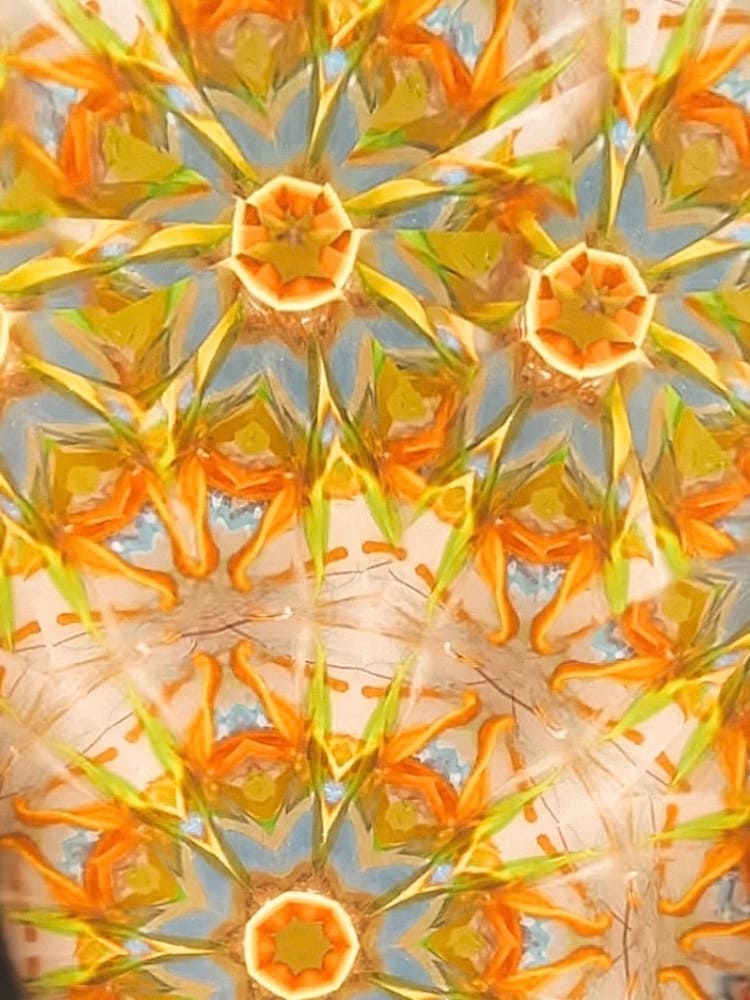 7. The Clinkscale
The Clinkscale was built in 1899 and has been beautifully restored into a hotel, bar, and grill.
Although I mentioned The Clinkscale is one of the best places to stay in Jerome, even if you're not staying here, you should stop in for a meal or a drink at the stylish cocktail bar! The restaurant is adorable and oozes 1920s charm, and the food is just as good, too! Enjoying a meal here is definitely one of the best things to do in Jerome, AZ.
We visited during brunch when the restaurant was serving a combination of breakfast and lunch items. We ordered a Roasted Turkey French Dip and Basil Grilled Chicken Sandwich, and they were both delicious. However, the highlight of our meal was the beignets for dessert—they even came with chocolate, strawberry, and vanilla bean dipping sauces!
The Clinkscale's dinner menu has more hearty options, like Marsala Chops, Ginger-Miso Glazed Salmon, and Filet Mignon. Although your meal here will likely be pricier than other options, it's by far the best restaurant and "trendiest" spot you'll find in Jerome.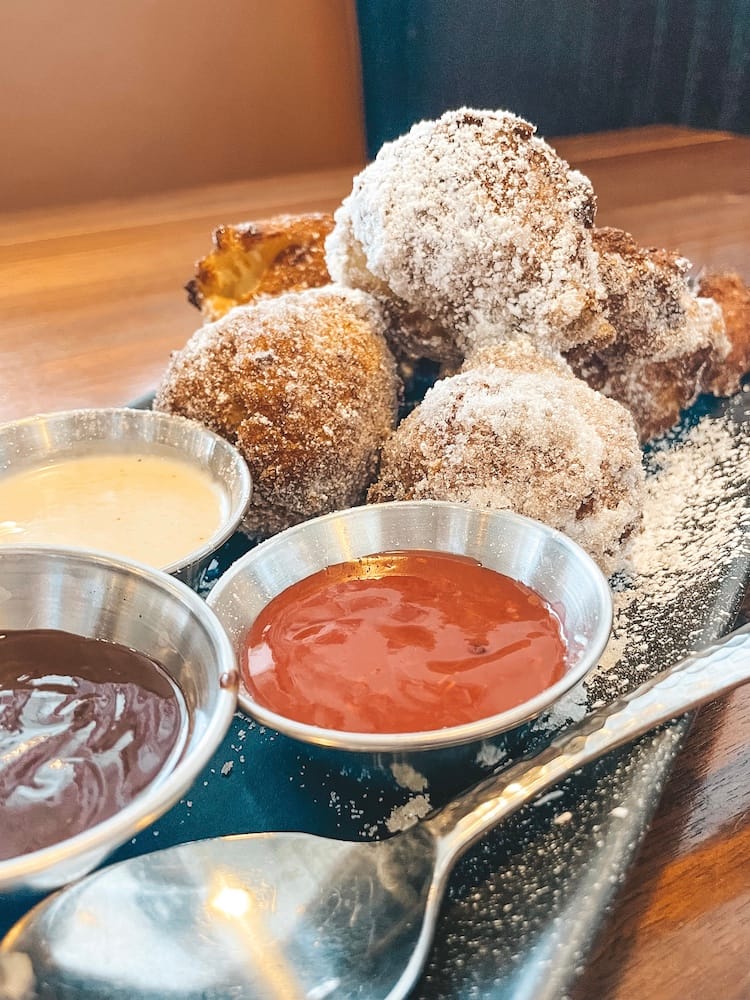 8. Gold King Mine & Ghost Town
If you have time, the Gold King Mine & Ghost Town is a cool stop that's located outside the proximity of the city's main attractions. Here, you'll be able to see old cars, dilapidated buildings, an old mine, and even some farm animals, like chickens, goats, and donkeys.
9. Jerome Historical Society Mine Museum
One of the best things to do in Jerome, AZ, is walking through the Jerome Historical Society Mine Museum—and it only costs two dollars per person!
In the museum, you'll be able to see a timeline of Jerome's history, along with unique artifacts, like letters soldiers sent home to their families during World War II, old mining equipment, a barber's chair, a dartboard, a washing machine, and more.
Personally, I found it interesting to learn about Jerome's contribution to the war efforts during World War I and World War II, as well as the routines of everyday life for those living in Jerome during the copper mining days.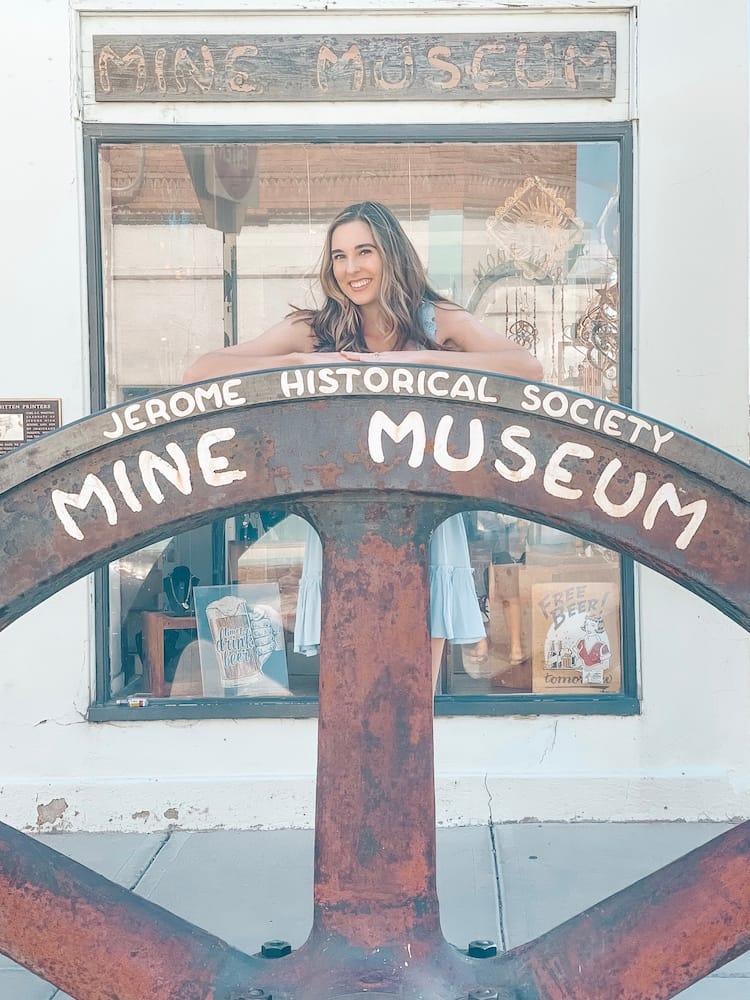 10. Passion Cellars
Jerome overlooks the Verde Valley, which is one of Arizona's three wine regions and the only wine region in Northern Arizona (the other two regions are Sonoita and Wilcox, which are outside of Tuscon in Southern Arizona).
Jerome has several tasting rooms where you can sample wines from the Verde Valley, making wine tasting one of the best things to do in Jerome, AZ. We visited Passion Cellars, located just below The Haunted Hamburger, and we loved our experience! We each enjoyed a flight of four wines for $10, and we were able to choose whichever wines on the menu we wanted to sample.
Passion Cellars is the perfect place to pass the time if you're waiting for a table at The Haunted Hamburger! They have a lovely outdoor patio that overlooks the city and Verde Valley.
Tip: If you can't get enough wine at the tasting rooms, consider going on a wine tour to visit the wineries and vineyards in the Verde Valley!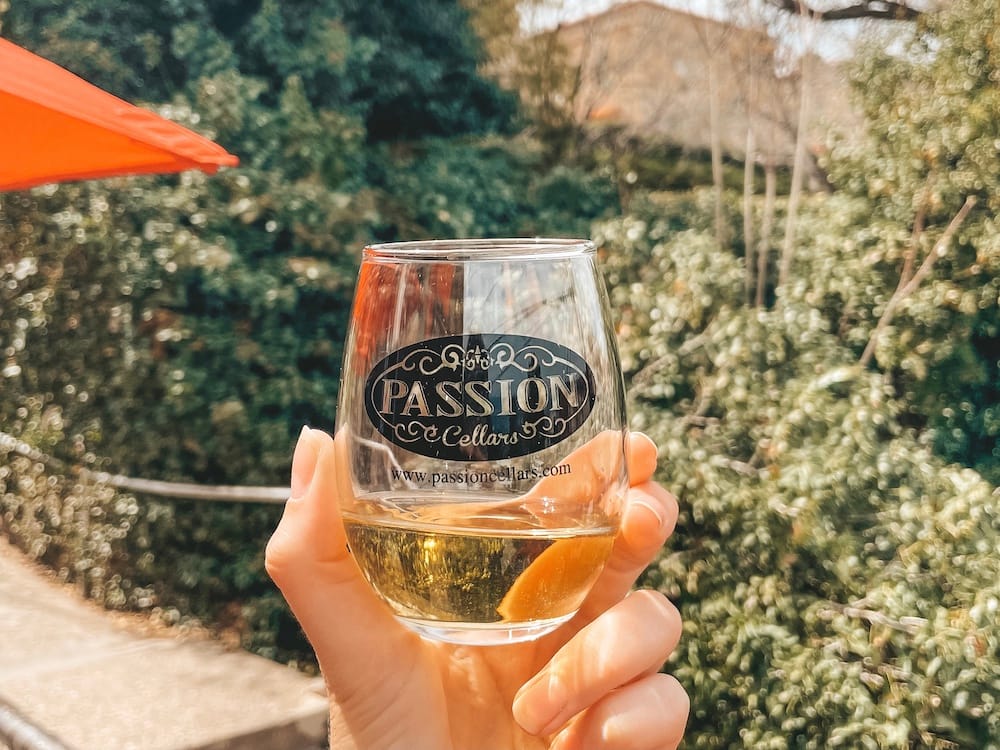 11. OJ's Copper Country Fudge
If you're looking for a sweet treat during your visit to Jerome, look no further than OJ's Copper Country Fudge. They sell ice cream, milkshakes, and dozens of fudge flavors to satisfy every sweet tooth! They also sell dog biscuits too, which is fun if you're traveling with your pup!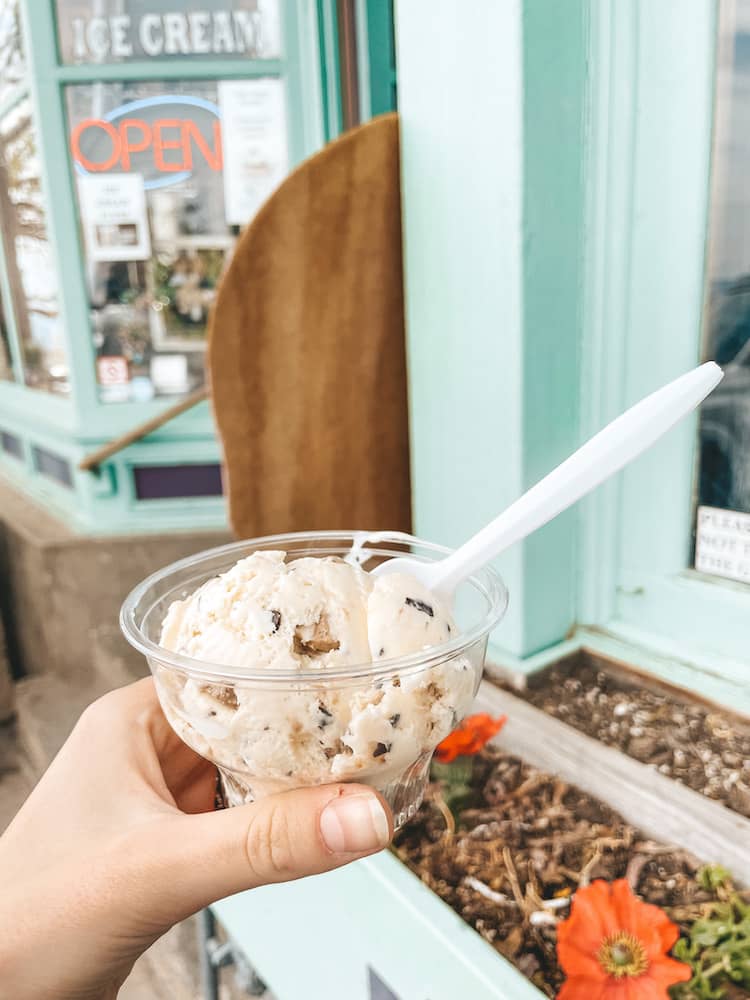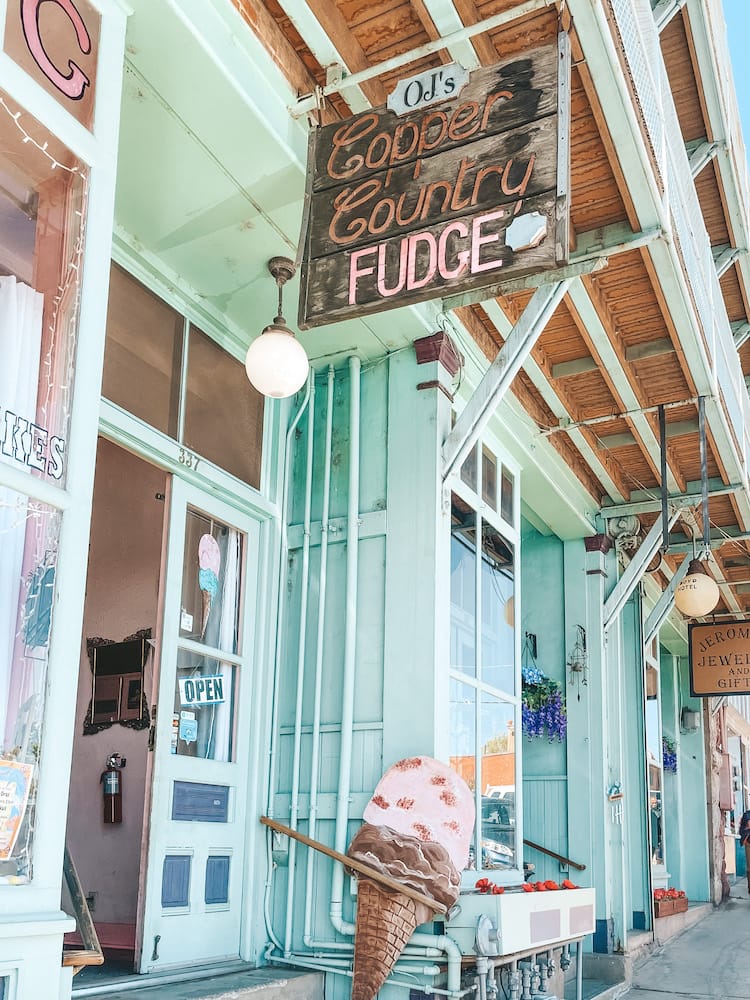 12. Tuzigoot National Monument
Tuzigoot National Monument is located just outside Jerome, in Clarkdale, Arizona. However, since Clarkdale isn't much of a tourist destination, this popular landmark is considered one of the best things to do in Jerome, AZ!
Tuzigoot National Monument is a two- to three-story pueblo that was built between 1,125 and 1,400 AD by the Sinagua people. It was designated as a U.S. National Monument in July 1939 by President Franklin D. Roosevelt, and it was listed on the National Register of Historic Places in October 1966.
Enjoy the Best Things to Do in Jerome During Your Arizona Road Trip
Now that you've learned all the best things to do in Jerome, AZ, you can enjoy a trip filled with interesting history, great food, and maybe even a few ghosts!
Which of these best things to do in Jerome, AZ, sounds the most interesting to you?
Disclosure: Some of the links in this blog post about The Best Things to Do in Jerome, AZ are affiliate links, meaning, at no additional cost to you, I earn a commission if you click through and make a purchase. This helps me keep the content on my website free, like this post about The Best Things to Do in Jerome, AZ.
Save the Best Things to Do in Jerome, AZ, for Later!
Did you love this post about the best things to do in Jerome, AZ? If so, you'll love these travel guides about other destinations to visit during your Arizona road trip!