Nashville, TN, is a vibrant city filled with quirky coffee shops, southern restaurants, and charming brunch spots. You will find no shortage of fun places to eat in Nashville that everyone will love for a romantic getaway, bachelorette party, or family vacation!
Keep reading to discover the best places for breakfast, lunch, dinner, and dessert—you won't be disappointed with any of the spots on this list!
Coffee & Breakfast
1. Poindexter Coffee
Poindexter Coffee is a coffee shop located in the lobby of the Graduate Nashville—a trendy hotel that's super popular for bachelorette parties or girls' getaways because of the girly decor and rooftop pool and bar, White Limozeen.
Poindexter Coffee is one of the most fun places to eat in Nashville, TN because they serve coffee, lunch, and all-day breakfast. Some of their menu items, like Buttermilk Biscuits and Smashbrowns, are made to order, but other options are grab-and-go. Poindexter Coffee also serves pastries, like croissants and muffins.
I didn't get breakfast here, but I did get an iced oat milk latte with their house-made spiced maple syrup, and it was delicious! I highly recommend stopping here for a coffee or breakfast before a day of adventuring around Nashville.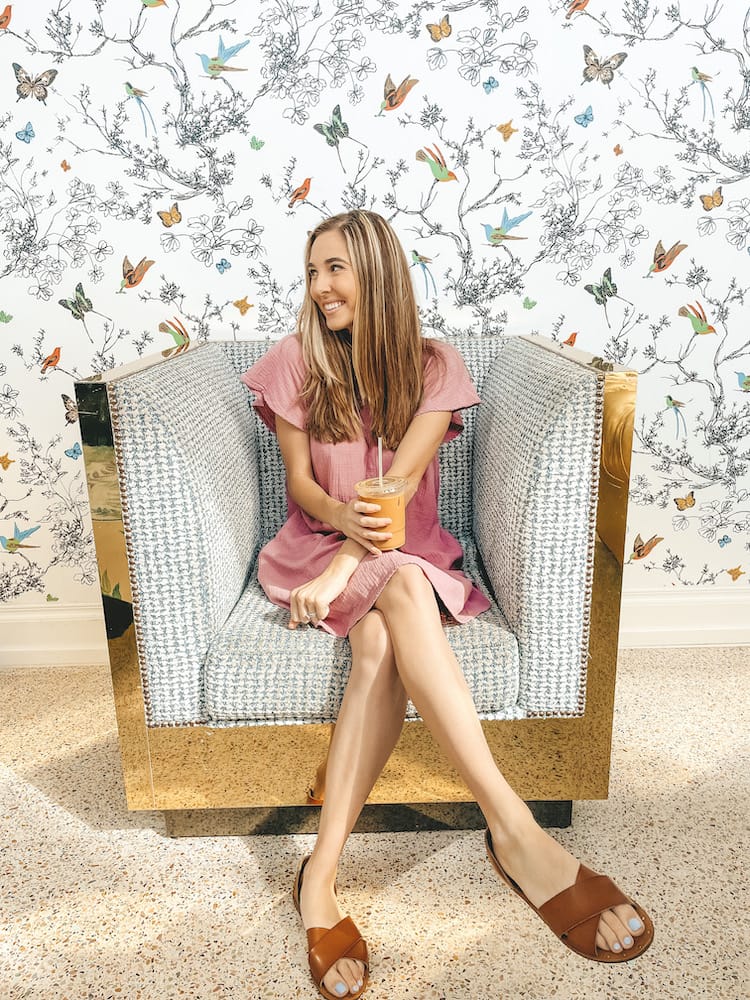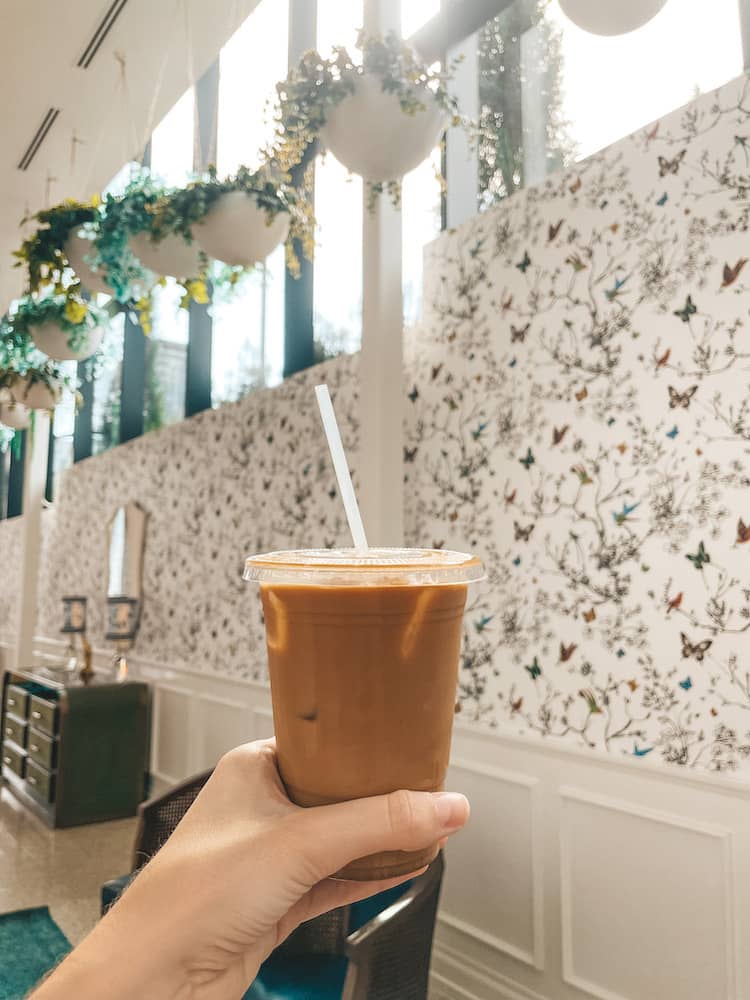 2. Biscuit Love
Biscuit Love is one of the most fun places to eat in Nashville, and it's absolutely a staple for breakfast or brunch you can't miss while you're in the city!
Biscuit Love has three locations in The Gulch, Hillsboro Village, and Franklin, so no matter where you're staying during your trip to Nashville, you should be able to get to Biscuit Love easily. We visited the Franklin location during a day trip to Franklin, and we loved our breakfast!
You must try the "Bonuts"—donut holes made from biscuit dough served with lemon mascarpone and blueberry compote. They are so good! If you're craving something savory, you should try the East Nasty or Princess. We tried the East Nasty, and it was tasty (but not as good as the Bonuts, of course).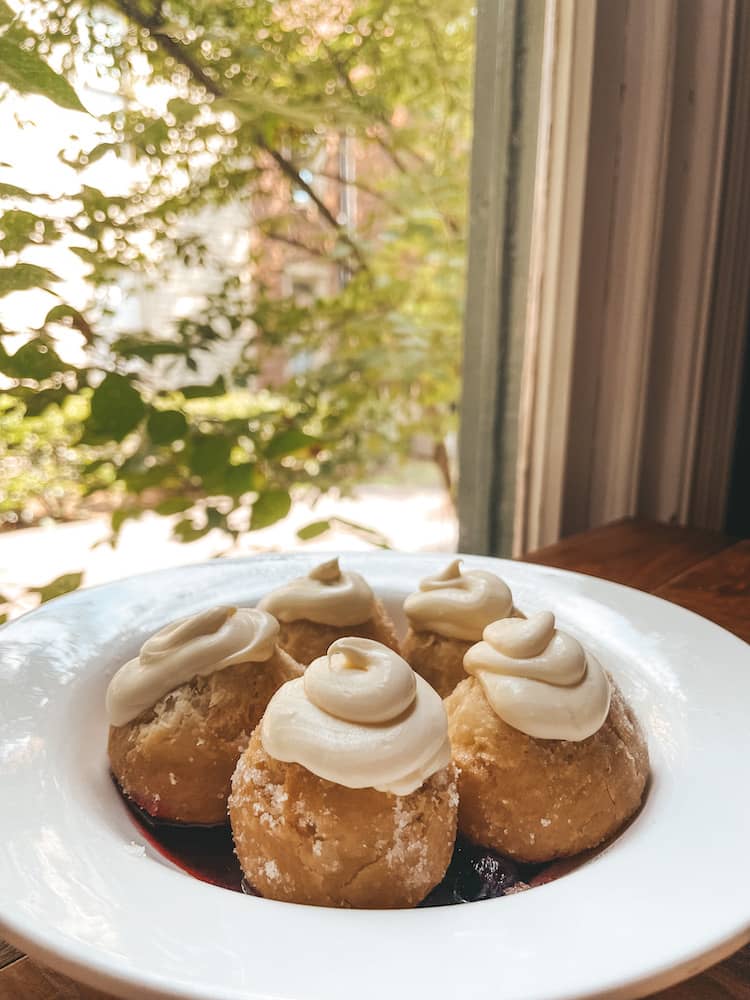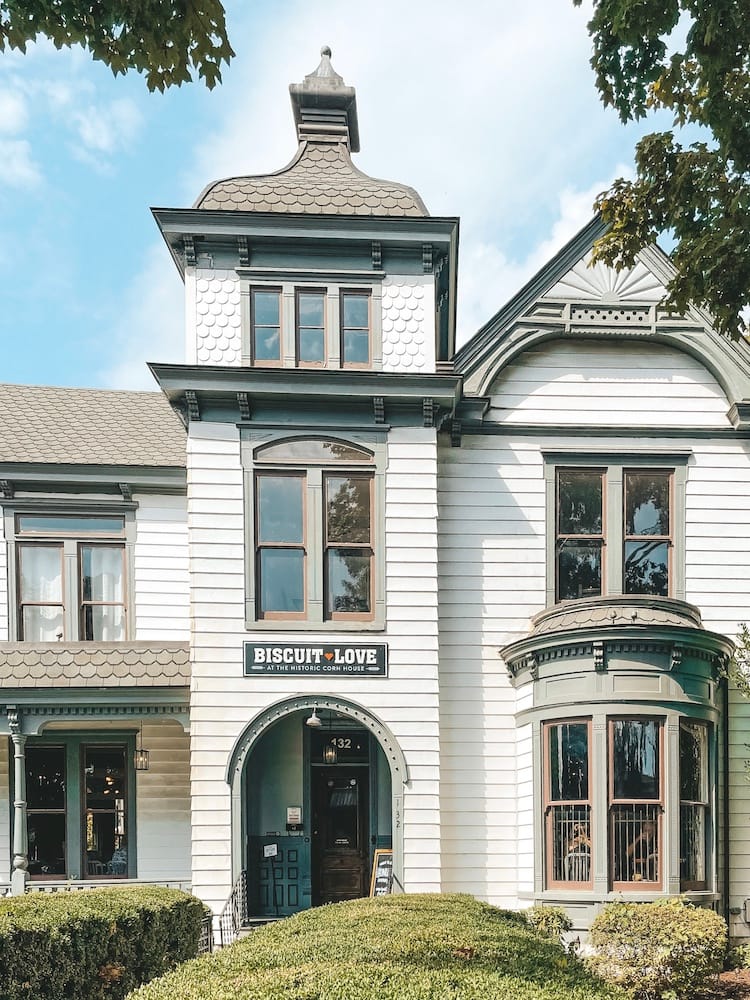 3. Frothy Monkey
Frothy Monkey is a popular coffee, breakfast, and lunch café chain with several locations in Nashville, including 12 South, Downtown Nashville, Downtown Franklin, and East Nashville. They also have locations in Birmingham and Knoxville.
Frothy Monkey makes all its food and drinks from scratch and sources its ingredients from local farmers and producers. For breakfast or lunch, you can enjoy breakfast sandwiches, omelets, toast, and more. They also have tons of coffee drinks to try, including traditional lattes and mochas, in addition to seasonal drinks.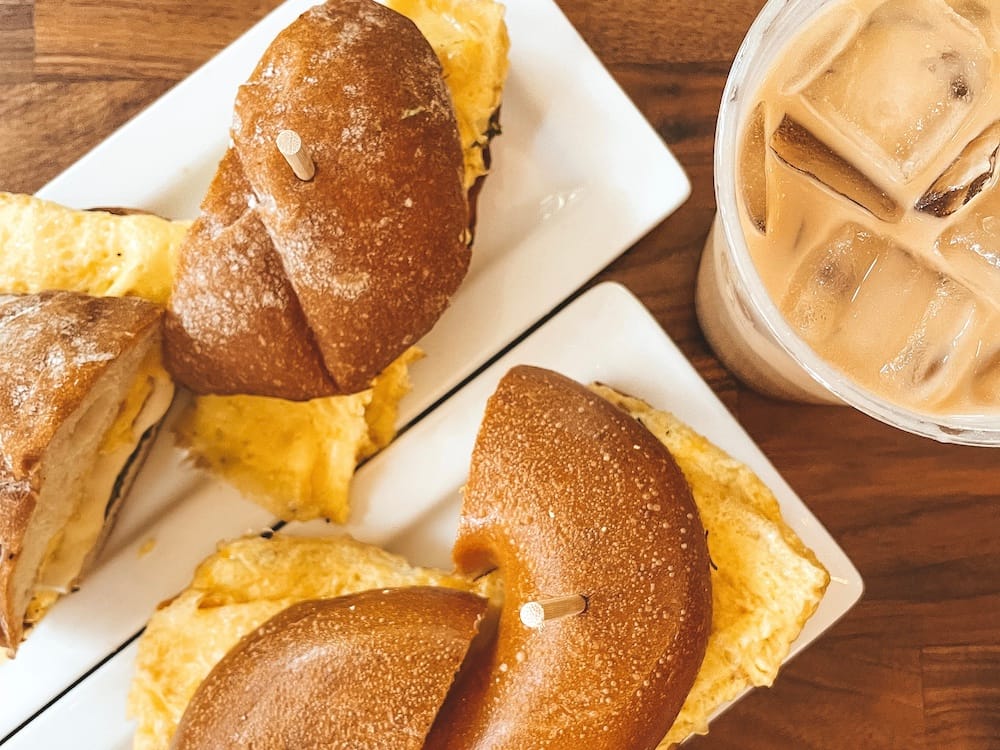 4. Crema Coffee Roasters
Crema Coffee Roasters is a tasty spot for craft coffee and a delicious breakfast in Nashville, TN. You can visit three locations across the city, but we visited the location in Downtown Nashville.
Crema Coffee Roasters is a premium coffee roaster, but they offer tons of fun drinks with their espresso. You can try a Vanilla Latte, Cuban, or Mocha if you're looking for something fun to drink. I also loved my breakfast, the Seasonal Granola with Greek Yogurt. It was really filling!
Lunch & Dinner
5. Hattie B's Hot Chicken
Hattie B's Hot Chicken is the place to get Nashville Hot Chicken, making it one of the most iconic and fun places to eat in Nashville, TN! However, this is not a secret—everyone knows (and loves) Hattie B's, so if you plan to go, you'll wait in line!
Hattie B's has locations across Nashville (Midtown, East, Broadway, and Melrose) but also in other cities across the Southern USA, such as Atlanta, Memphis, Dallas, and even Las Vegas! At Hattie B's, you can choose your heat level—from Southern and Mild to Damn Hot!! and Shut the Cluck Up!!! You can order a sandwich, tenders, or bone-in wings with sides like baked beans, southern greens, crinkle-cut fries, and more.
I have literally tried to go to Hattie B's at least three times and still haven't been because the line is always so long. However, I know that it's good because it's been recommended to be several times. If you go, let me know what you think!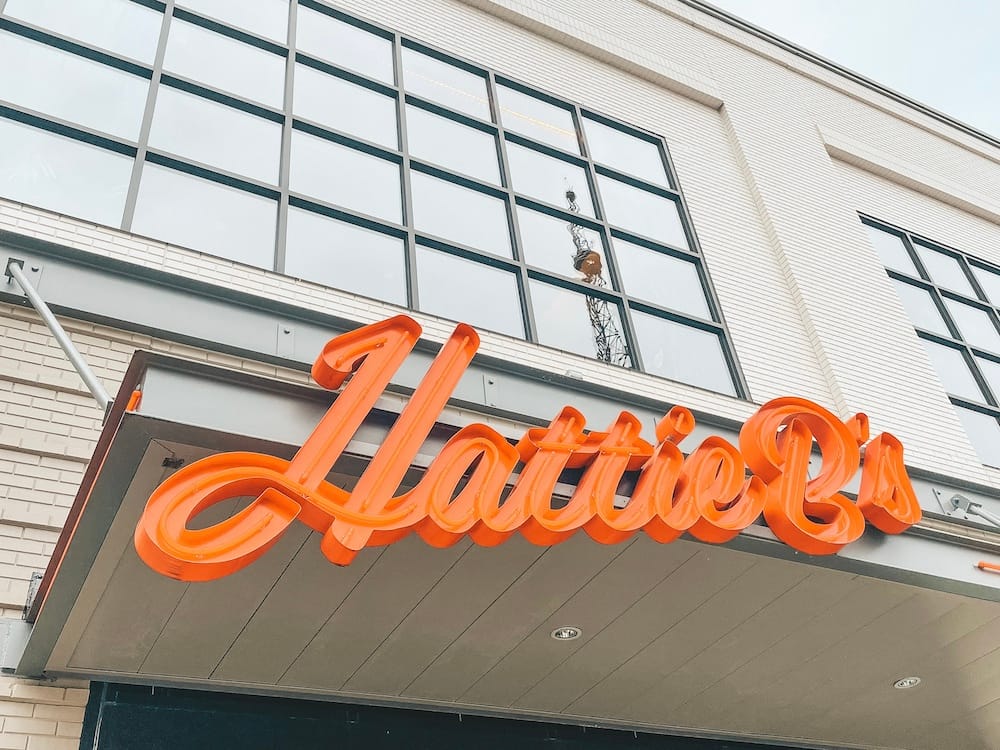 6. The Pharmacy Burger
The Pharmacy Burger is a burger joint, beer garden, and one of the most fun places to eat in Nashville, TN. This spacious venue has tons of indoor seating and a huge outdoor patio, so it's a great restaurant to visit despite the weather.
Choose from a wide range of burgers, including the Pharmacy Burger, Farm Burger, Stroganoff Burger, and at least a dozen other options. The Pharmacy Burger also serves brats, including Bratwurst, Currywurst, Kielbasa, and more. They also have a vegan-friendly menu for vegan travelers!
However, the best part of visiting The Pharmacy Burger is the drinks! You can order a soda, shake, or malt, or choose from the impressive beer menu. You'll find tons of German-style "bier" on tap, and you can also choose from lagers, ales, wheat beers, hoppy beers, fruit beers, ciders, and more served in the bottle.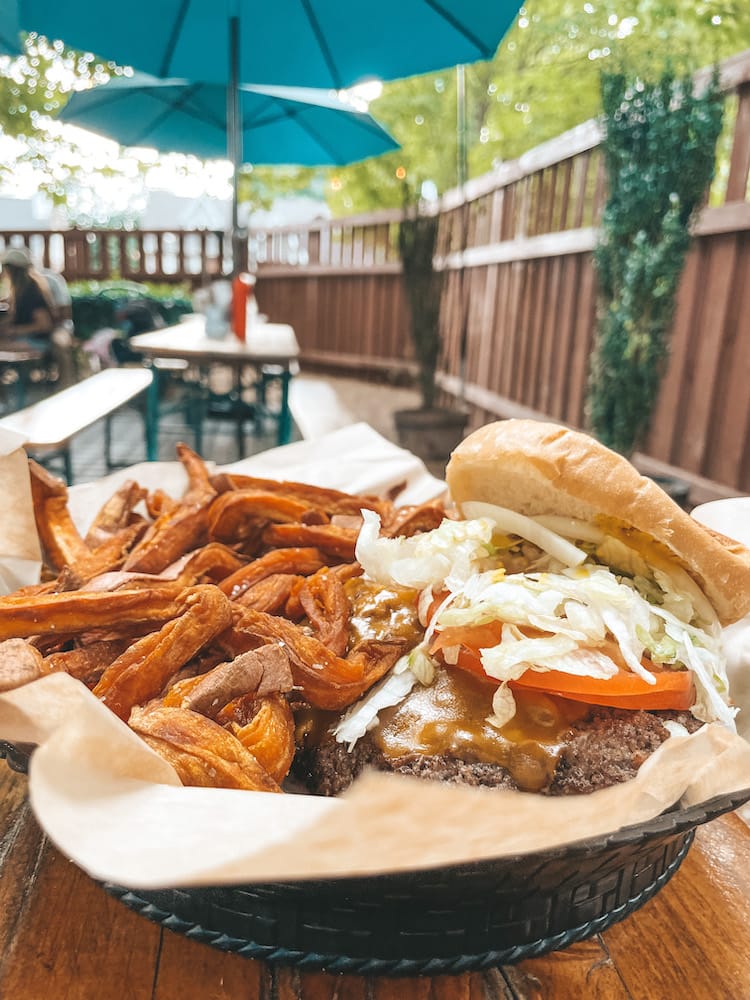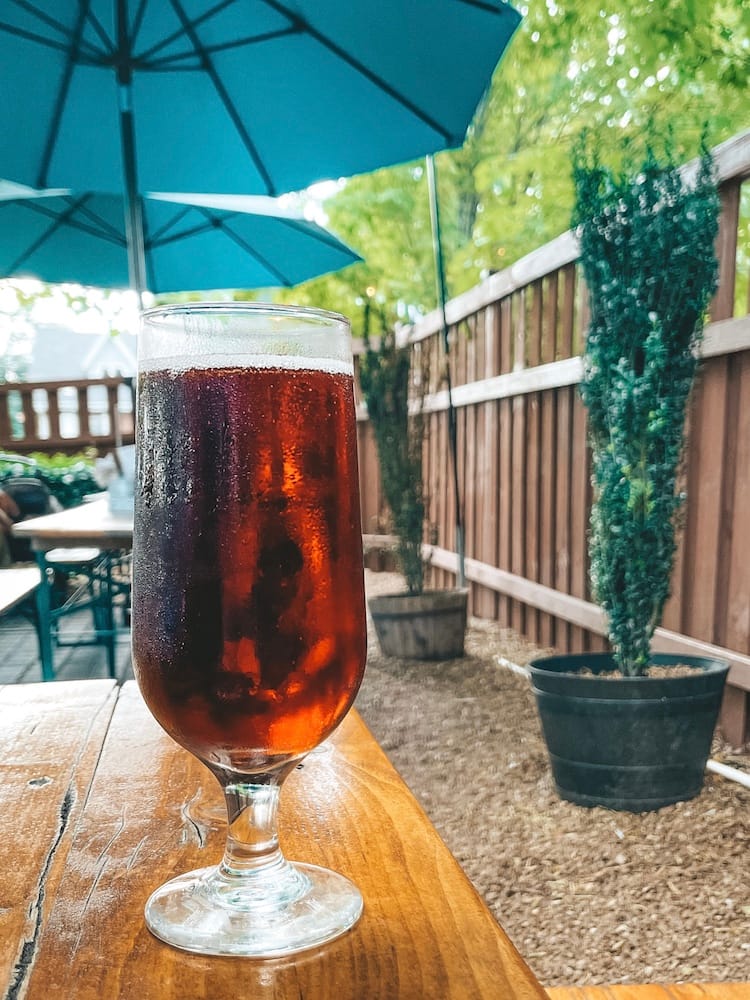 7. Wildhorse Saloon
Wildhorse Saloon is one of my all-time favorite bars—and it's also one of the most fun places to eat in Nashville, TN.
Wildhorse Saloon is a line-dancing and music venue on Broadway Street. It is a three-story establishment that's best known for having the biggest dance floor in Nashville! However, while you're dancing or catching a live show at Wildhorse Saloon, you shouldn't miss the chance to grab a bite to eat.
Wildhorse Saloon serves starters, salads, handhelds, and entrees. You can also find a portion of their menu inspired by Jack Daniel's, like Single-Barrel Whiskey Glazed Shrimp & Grits, Pan Roasted "Jack Daniels" Single Barrel Whiskey Glazed Chicken Breast, and "Jack Daniels" Single Barrel Whiskey Glazed Bananas Foster. Yum!
8. The Grilled Cheeserie
How does gourmet grilled cheese sound? If that sounds right up your alley (like mine!), you'll think The Grilled Cheeserie is one of the most fun places to eat in Nashville, TN.
You can choose from specialty melts, like Pimento Mac & Cheese, Pizza Melt, Buffalo South, B&B of Tennessee, or make your own melt with your choice of bread, cheese, protein, and extras. Pair your sandwich with a salad or soup and wash it down with a sweet tea or gourmet milkshake from the Milkshake Bar.
The Grilled Cheeserie has two locations in Nashville (Hillsboro Village & East Nashville). It's the perfect place for a quick and filling lunch in Nashville!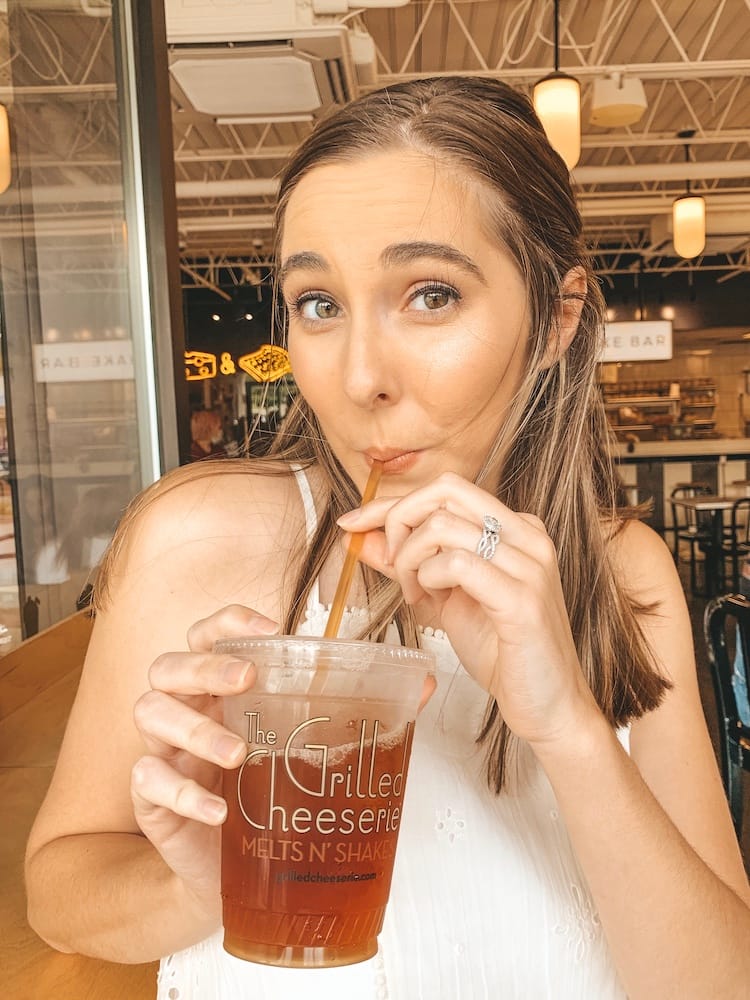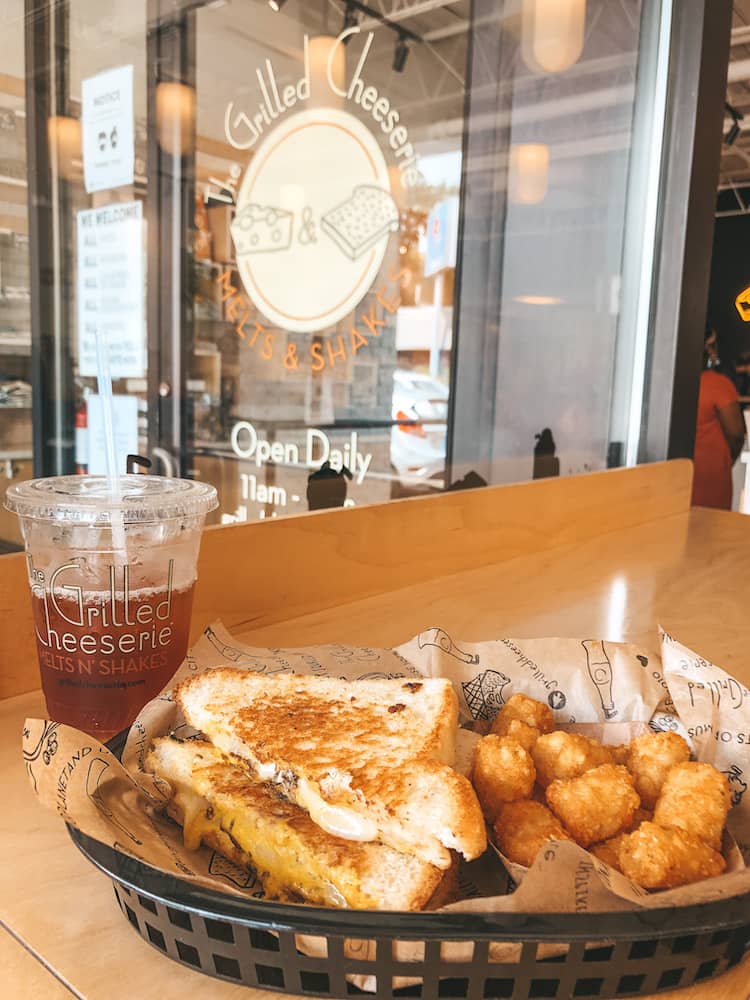 9. Merchants
Merchants is a lively three-story restaurant in the heart of Downtown Nashville. The building itself dates to 1892. The first floor is a bistro that serves quality cocktails and comfortable food, such as the Tennessee Mojito and Roughin' It Old Fashioned and Fish Tacos and BBQ Pulled Pork. They are open from 11 AM to 11 PM.
However, on the second floor of Merchants, you'll find a fancier, upscale vibe for dinner that's open daily from 5 PM to 10 PM. Here, you'll find steaks and pork chops, fish, appetizers, as well as beer, wine, and cocktails. The second floor of Merchants is a great spot for a fancy date night or celebratory dinner!
10. Bluebird Café
Bluebird Café is a popular restaurant in Nashville, TN. Iconic artists like Garth Brooks and LeAnn Rimes rub shoulders with famous songwriters at this famous venue, so you never know who will be performing with their guitar here, making it one of the most fun places to eat in Nashville. In fact, Bluebird Café is where Taylor Swift was discovered by Big Machine Records in November 2004. If you're a huge "Swiftie" like me (and knew that fact already), you have to stop by Bluebird Café when you're in Nashville!
Bluebird Café has a small seasonal menu with appetizers like Brie & Jam and Corn Chowder but also features menu items like the Turkey Club and Chicken Salad Croissant. They also have a simple beer and wine menu.
You can check the show calendar at Bluebird Café to see who will be performing during your trip to Nashville, TN. If you want to visit this venue, it's smart to buy tickets in advance. They only have 90 seats, so if it's a hot act, tickets will sell out fast!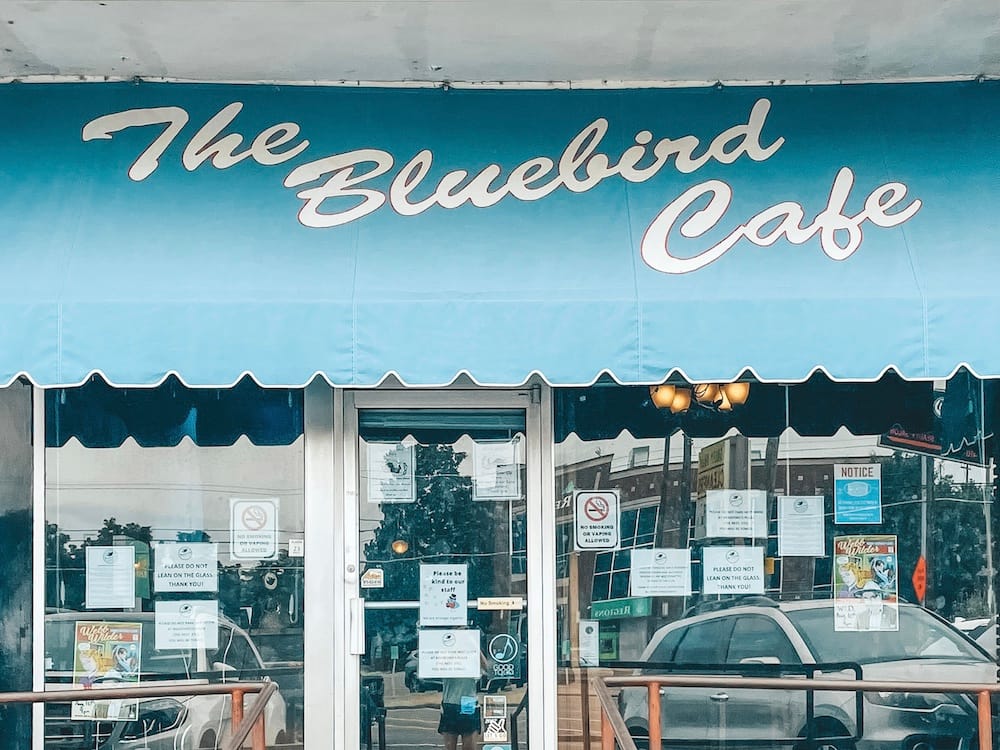 11. Husk
Husk is a popular southern-style restaurant that has locations in Nashville, Savannah, and Charleston. It's an upscale restaurant, so it's perfect for a bachelorette party, date night, or celebratory dinner.
Husk has a southern-inspired menu that changes regularly depending on what the region's producers provide daily. However, you can always expect to find a first course, "supper," and dessert, and shareable on the menu.
Husk is open daily for dinner at 5 PM and opens from 10 AM to 2 PM for brunch on Saturdays and Sundays. This restaurant is popular, so it's smart to make reservations before your trip, especially if you have a larger group.
12. Puckett's Grocery & Restaurant
Puckett's Grocery & Restaurant has been around since the 1950s, and they have locations across Tennessee (Nashville, Franklin, Chattanooga & Pigeon Forge, just to name a few). It's a must-visit during your trip to Nashville!
Puckett's does serve breakfast, but I recommend coming for a southern-style lunch or dinner. You can find starters, like Pimento Cheese Bites and Fried Pickles, or entrees, like Southern Fried Chicken and Smoked Meatloaf. For dessert, try the "Cobbler of the Day"—whatever it is, it's sure to be great!
I've only been to the location in Franklin, TN, but I've heard the one in Nashville, TN, is just as good and one of the most fun places to eat in Nashville!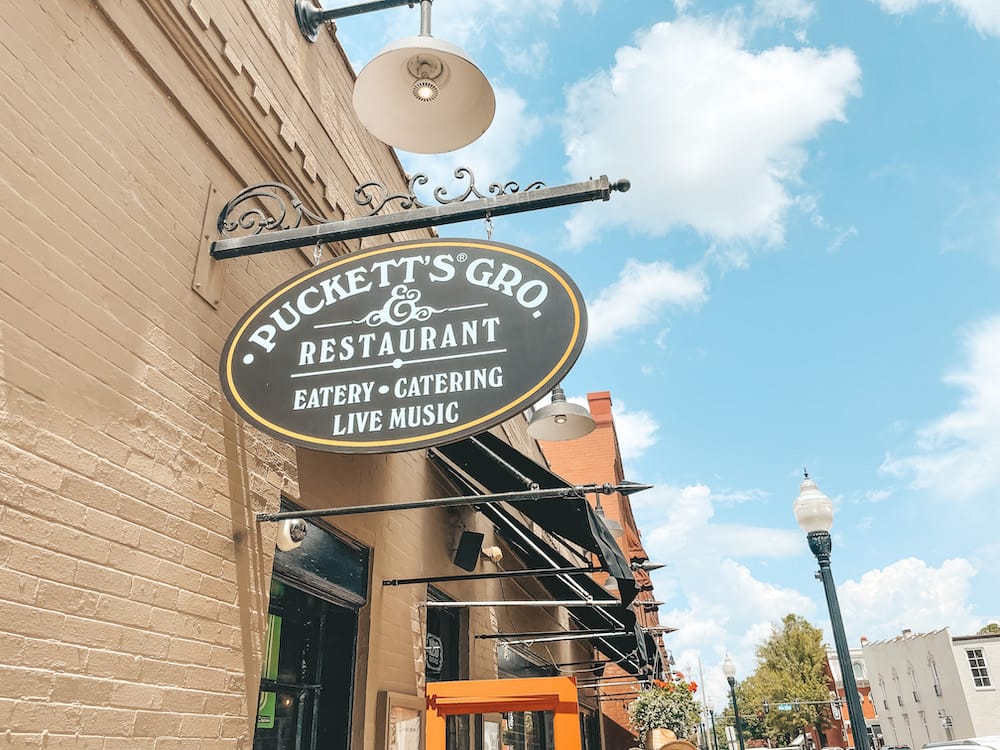 13. Etch
If you're looking to depart from southern food and comfort food (although that is what Nashville is known for!), I recommend checking out Etch. This globally inspired restaurant offers a wide range of flavors on a self-proclaimed "eclectic" menu. You'll find unique items, like Venison, Grilled Fish, and Curried Monkfish Tart, on the menu. Etch also serves cocktails, mocktails, beer, and wine.
Etch is open for lunch from 11 AM to 2 PM on Monday to Friday and dinner from 4:30 PM to close on Monday to Saturday. If you're looking for happy hour deals, visit from 4 PM to 6:30 PM Monday to Friday and from 4 PM to 5:30 PM on Saturday.
14. Jason Aldean's Kitchen + Rooftop Bar
Jason Aldean's Kitchen + Rooftop Bar is one of the many celebrity-owned bars on Broadway Street in Nashville (you can read about all the most popular spots to check out in my post about where to go on Broadway Street)
Even if you're not looking to "go out," Jason Aldean's Kitchen is a great place to grab lunch, dinner, drinks, or appetizers while watching live music. The venue welcomes guests with four levels of "good times, southern food, and live entertainment."
I recommend getting lunch or dinner downstairs (my husband loved the Southern Nachos, and I enjoyed the Hot Chicken Sandwich!) and then heading upstairs to enjoy a drink from the rooftop bar. It's one of the larger rooftop bars in Nashville, and it offers great views of the city, making it one of the most fun places to eat in Nashville!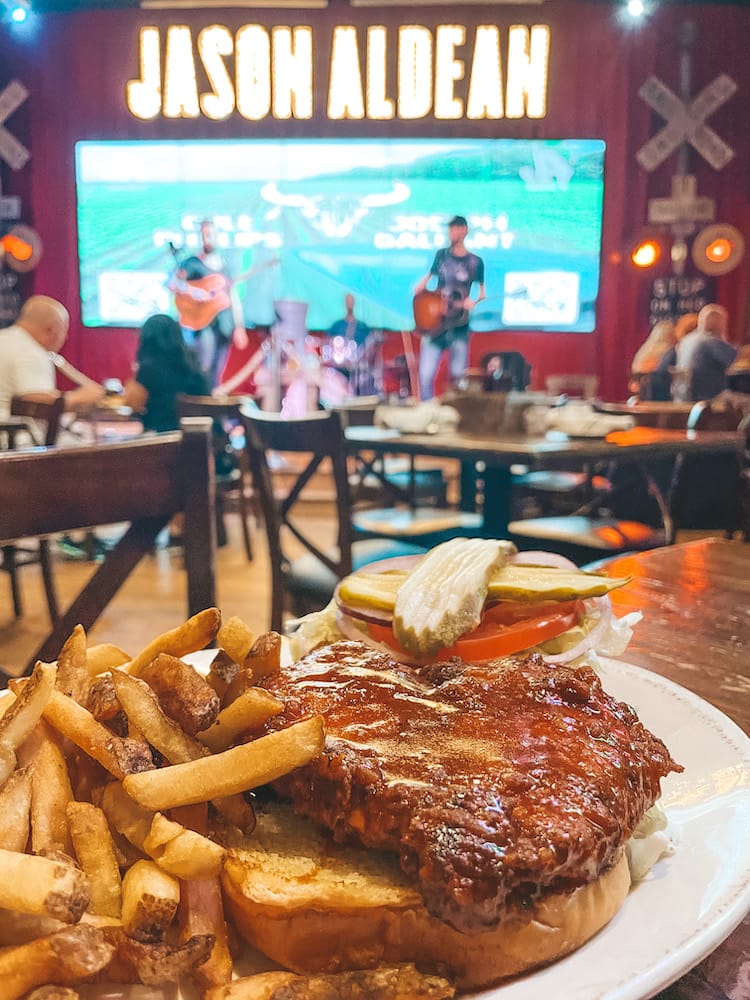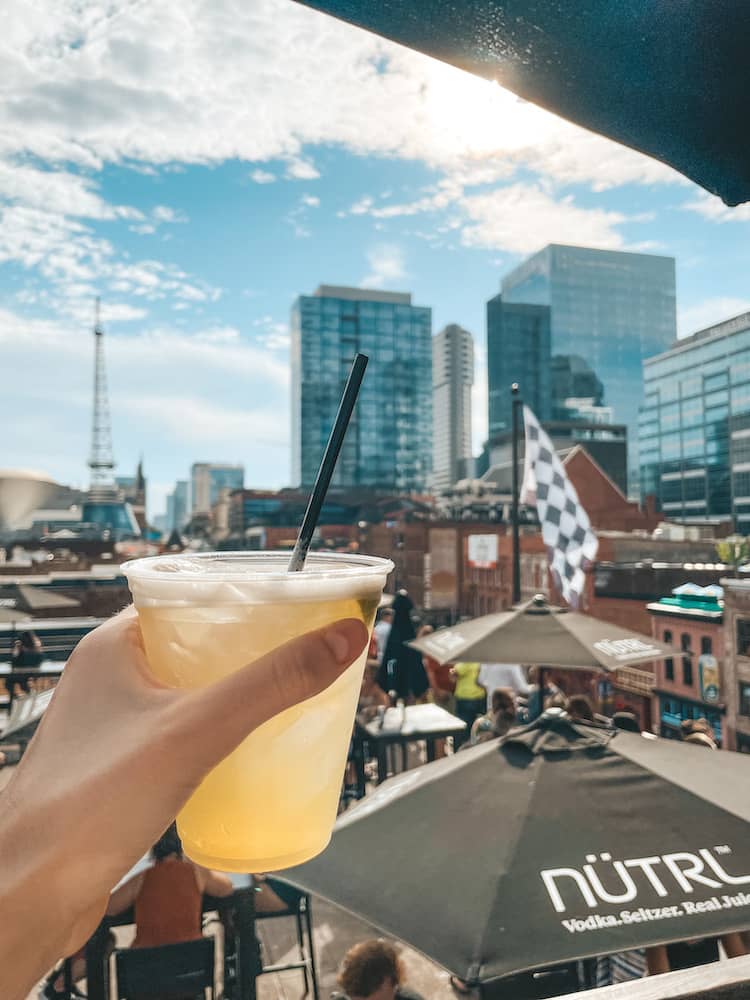 15. Loveless Cafe
Loveless Cafe is another staple restaurant in Nashville, Tennessee. It is a little out of the way (an 18-mile drive from Downtown Nashville), but if you can swing it, it's worth visiting this southern restaurant!
Loveless Cafe serves breakfast and supper. However, they are best known for their "world-famous" biscuits that are served with every meal. If you visit for breakfast, you can enjoy Platters, Biscuits, Omelets, and Plates with eggs, bacon, and pancakes. For supper, you can enjoy Salads, Sandwiches, Platters, and Fried Chicken.
After your meal, explore the property to check out the Outfitters Gift Store or Hams & Jams Country Market. You can also see The Barn and The Smokehouse!
Dessert
16. Jeni's Splendid Ice Creams
If you only have time for one dessert while you're in Nashville, you have to go to Jeni's Splendid Ice Creams. It's one of the best ice cream stores ever (in my humble opinion).
Jeni's Splendid Ice Creams started in Ohio, but they opened their second location in Nashville. Since then, they've opened several locations in Nashville (East Nashville, 12 South, Hillsboro Village, Brentwood, and more). They have several locations in the South and Midwest and have even expanded to California!
Jeni's makes tons of creative flavors (and tons of seasonal flavors!), but if you've never been before, I highly recommend trying the Gooey Butter Cake. It's so tasty!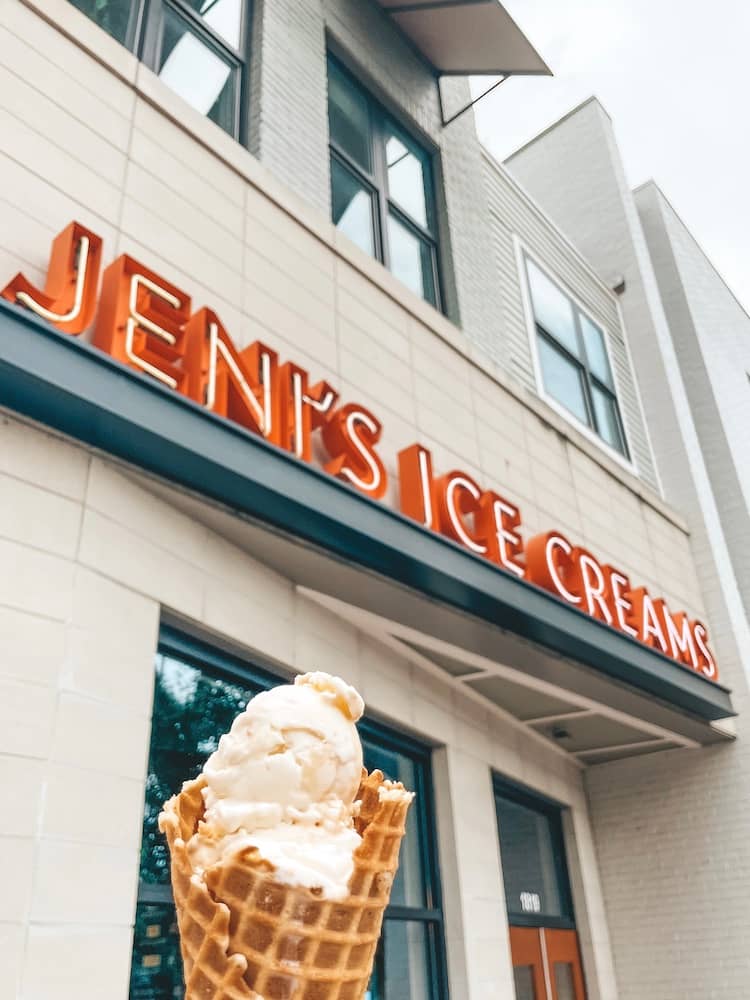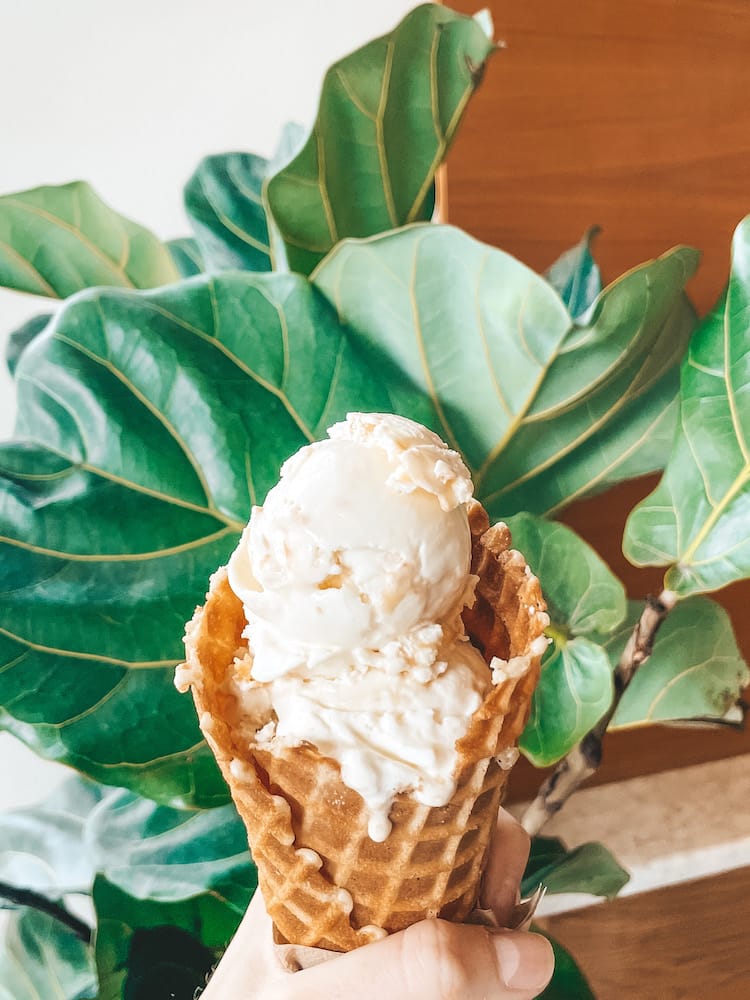 17. Five Daughters Bakery
Five Daughters Bakery is an adorable bakery that started in Nashville but has expanded to Atlanta, GA.
They are known for their "100 Layer Donuts" with fun flavors like Chocolate Sea Salt, Maple Glaze, and Vanilla Cream, but they also serve cookies and other pastries. They also have seasonal treats that are delicious. Even though they are open early for breakfast, they stay open until 10 PM if you are craving a late-night sweet treat during your trip to Nashville.
Tip: Go to the location in 12 South to snap a photo in front of the "I Heart Donuts" mural on the side of the building. It's one of the best murals in Nashville!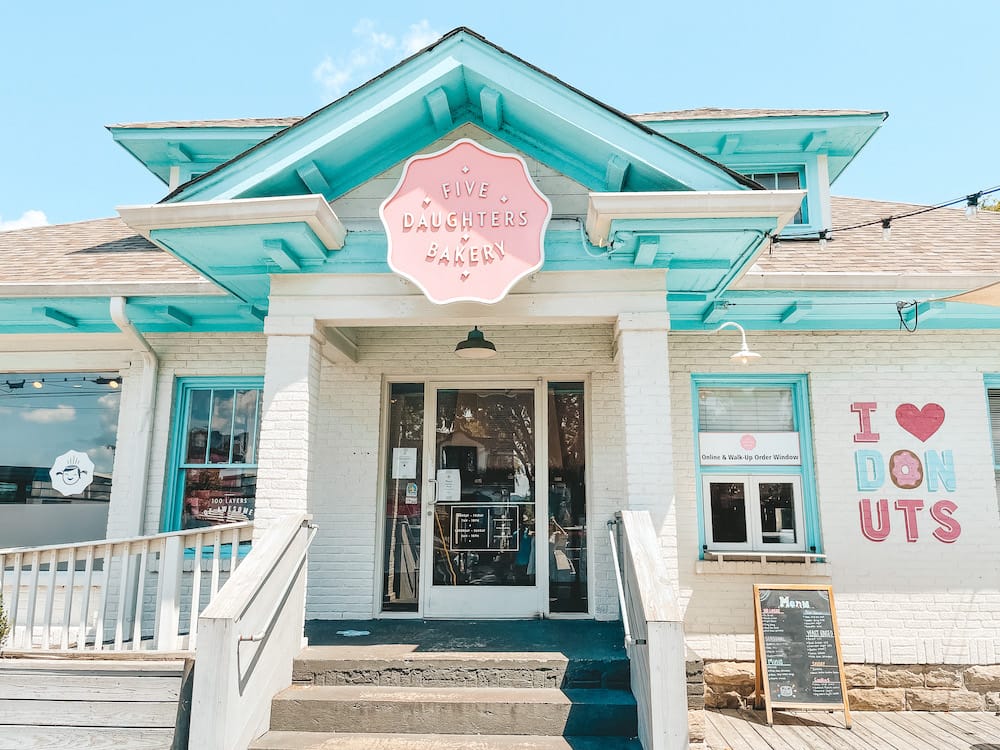 FAQs: Fun Places to Eat in Nashville, TN
What food is famous in Nashville? 
Nashville is well-known for Nashville Hot Chicken, fried chicken with a spicy kick. You can order Nashville Hot Chicken as tenders, wings, or a sandwich. Hattie B's Hot Chicken is one of the best places to get hot chicken in Nashville! 
Is Nashville a foodie town?
Nashville, TN, is a great town for foodies. You will find hundreds of chef-driven restaurants & local spots serving up southern favorites, like barbecue, hot chicken, and biscuits. You won't find a shortage of places to eat in Nashville—if anything, you will be overwhelmed by all the options. 
What is the famous street in Nashville with all the bars?
Broadway Street (nicknamed "Honkytonk Highway) is the famous street in Nashville with all the bars. You will find plenty of fun places to eat in Nashville, as well as live music venues and bars, up and down this street.
Enjoy These Fun Places to Eat in Nashville, TN
Which of these fun places to eat in Nashville, TN, would be on your "must visit" list? Let me know in the comments below. If your experience is anything like mine, I doubt you'll have a bad meal your entire time in Nashville!
Disclosure: Some of the links in this post about "Fun Places to Eat in Nashville" are affiliate links, meaning, at no additional cost to you, I earn a commission if you click through and make a purchase. This helps me keep the content on my website, like this post about Fun Places to Eat in Nashville, free!
Save These Fun Places to Eat in Nashville, TN, for Your Trip
Read More
Did you love this post about fun places to eat in Nashville, TN? If so, check out these other posts about Nashville to help you plan your trip to Music City!