Newport, Rhode Island, is a fantastic coastal destination in New England, filled with beautiful sights, fun things to do, and plenty of spectacular places to eat.
Fortunately, Newport also offers its fair share of extravagant places to stay in addition to its beautiful coastal setting. Whether you're looking for a place to stay on a romantic honeymoon or an upscale bachelorette weekend, you'll find the perfect accommodation for a memorable vacation from this list of luxury hotels in Newport, Rhode Island!
1. The Chanler at Cliff Walk
The Chanler at Cliff Walk is one of the ultimate luxury hotels in Newport, RI. This gorgeous historic building is the only hotel along the Cliff Walk, so it's great for a peaceful, secluded getaway away from the noise in Downtown Newport. Plus, you're guaranteed a scenic view since each room overlooks either the property's beautifully manicured garden or the sparkling blue Atlantic Ocean.
Each room at The Chanler is decorated to reflect a unique period from the past, making this perfect for a romantic vacation full of old-world charm. At The Chanler, you can enjoy fabulous amenities, like room service, an outdoor fireplace, and dining at a five-star restaurant, Cara, where you can enjoy an unforgettable five-course or eight-course blind tasting experience.
2. Attwater Hotel
Are you looking for a stylish, clean, and bright hotel in a great location? If so, you'll likely love the Attwater Hotel, located just off Bellevue Avenue, where you can find plenty of places to shop and dine, and it is just a five-minute drive from the popular Easton Beach and a short distance from the Cliff Walk. The Attwater Hotel is part of Lark Hotels, and they have two other luxury hotels in Newport, RI—Gilded and The Cliffside Inn, each with their unique attributes and charm!
Guests at the Attwater Hotel loved the friendly staff, great location, tasty complimentary breakfast options, comfy beds, the fitness center, and modern décor. This hotel also offers free parking, which is difficult to come by in Newport. If you're looking for stylish, boutique-style luxury hotels in Newport, RI, consider booking the Attwater Hotel for your vacation!
3. Gurney's Newport Resort and Marina
Want to live the private island life while you're in Newport? If so, Gurney's Newport Resort and Marina likely offers just what you're looking for! Located on Goat Island in Narragansett Bay, you can still enjoy all the fun activities in Newport (the resort is just a two-mile drive from the city) while enjoying the relaxing setting and coastal views from every angle.
While you're at Gurney's, you won't have to leave the resort to have a good time. Guests love dining at the resort's two five-star restaurants, Scarpetta and Showfish, enjoying cabana service at The Pineapple Club or happy hour at The Regent Lounge, relaxing with a massage at Seawater Spa, or lounging at the resort's two pools. Instead of driving, ditch the car and the resort's complimentary water ferry between the island and the mainland to explore the mansions, wineries, restaurants, beaches, museums, and more in Downtown Newport.
4. Hotel Viking
Hotel Viking is sure to please you if you're looking to stay in a historic hotel with rich history! This hotel dates back to 1926 and has welcomed legends like Bob Dylan and Ella Fitzgerald through its doors. The rooms are clean and modern but offer thoughtful vintage touches for a romantic stay!
Although many luxury hotels in Newport, RI, have spas, Hotel Viking's Spa Fjör is extremely popular for its top-rated spa services, like massages, facials, body scrubs, and exotic spa rituals from around the world. Guests also love relaxing in the heated indoor pool, working out in the on-site fitness center, taking a stroll in the lantern-lit gardens, and dining at the resort's on-site restaurant, One Bellevue. From Hotel Viking, you can enjoy a short walk to Bellevue Avenue, Thames Street, and the Cliff Walk.
5. Hammetts Hotel
Hammetts Hotel is a brand-new boutique-style hotel with clean rooms, great in-room amenities, and minimalist, nautical-themed décor. Plus, this hotel is within walking distance of Thames Street, Bellevue Avenue, and Bowen's Wharf, so you'll be close to the best shopping and dining in Newport!
One unique feature of this modern hotel is Hammetts Wharf, which leads to a spacious deck right outside the hotel. This deck is the perfect spot to relax with your morning cup of coffee or to watch the sunset. The deck also offers access to the hotel's on-site restaurant, Giusto.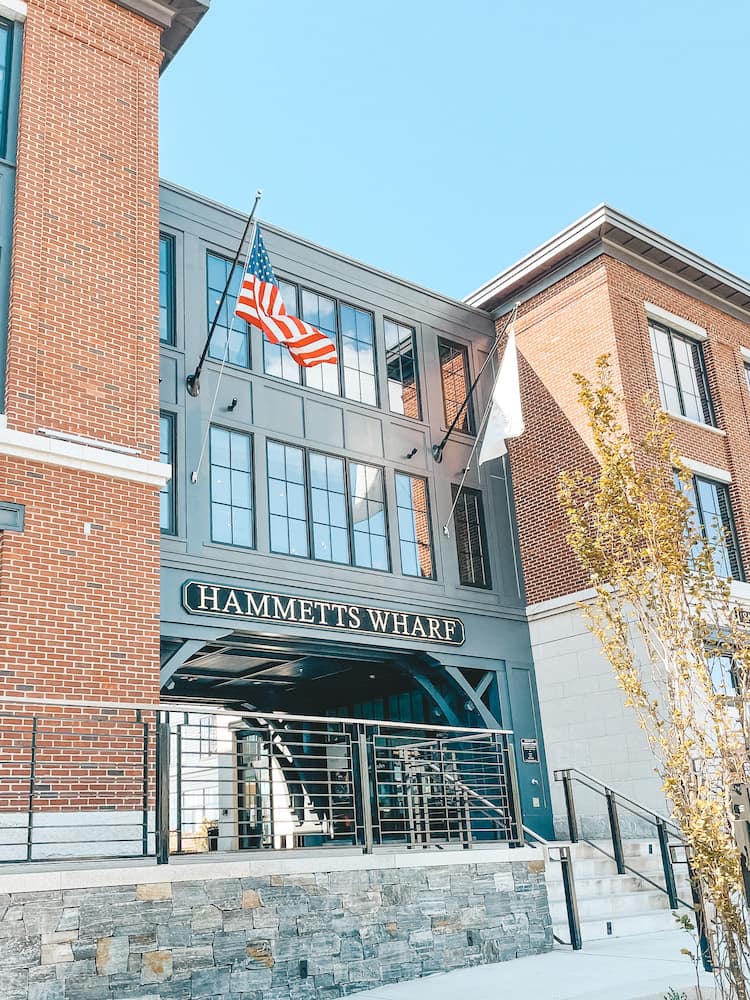 6. The Wayfinder Hotel
The Wayfinder Hotel is one of the most affordable luxury hotels in Newport, RI, that offers an ultramodern vibe, plenty of amenities, and brand-new interiors.
Guests loved this hotel's seasonal outdoor swimming pool and bar, free parking, and the on-site restaurant, Nomi. The lobby is packed with tons of cozy furniture and a colorful fireplace, and if you're looking to spend a little extra, the hotel's suites are equipped with kitchenettes featuring a microwave and fridge. If you're visiting in the summer, The Wayfinder Hotel offers live music, wine tastings, art pop-ups, and more fun events.
7. Forty 1 North
If you're looking for a hotel that has it all, look no further than Forty 1 North—one of the best (and eco-friendly!) luxury hotels in Newport, RI. It's within walking distance of the shopping and dining on Thames Street and Bowen's Wharf and close to King Park Beach and Easton's Beach.
Each modern hotel room features a gas fireplace and includes complimentary plush bathrobes and slippers. The property offers an outdoor terrace, a pool table in the lobby, and two restaurants serving seafood and New England cuisine, Christie's and The Grill.
8. Gilded
You'll likely tour a few of the Newport Mansions from the Gilded Age during your visit to Newport. If you'd like to get a head start, consider booking a room at Gilded—one of the most unique luxury hotels in Newport, Rhode Island.
This antique-inspired bed and breakfast hotel has just over a dozen rooms, each reminiscent of the posh era they're named after. Here, you'll find bright colors and charming interior design, as well as free parking, a tasty breakfast buffet, and a billiards table in the lobby. The International Tennis Hall of Fame, Bowen's Wharf, Rosecliff Mansion, and Easton's Beach are all within walking distance of the hotel.
9. Newport Marriott
If staying at familiar chain resorts rather than small, boutique-style hotels is more your style, you'll likely opt for the Newport Marriott during your stay in Newport. This luxury stay overlooks Long Wharf and is within walking distance of Thames Street, Bowen's Wharf, and King Park Beach.
You can enjoy fabulous amenities at the resort itself, like a luxury spa, an indoor pool, an outdoor terrace overlooking the harbor, a well-equipped fitness center, and a nautical interior design. Guests loved the in-room amenities, like the spacious shower and comfortable beds, too!
10. The Cliffside Inn
If The Chanler at Cliff Walk is a bit outside of your price range, but you're still looking for a luxurious, romantic stay at a historic home in Newport, look no further than The Cliffside Inn!
Just minutes away from Easton's Beach, the Cliff Walk, and several Newport Mansions, The Cliffside Inn is undoubtedly one of the best luxury hotels in Newport, RI. This renovated Victorian-style mansion has sixteen rooms, each uniquely decorated, for a once-in-a-lifetime stay. Guests especially loved the exceptional continental breakfast and cozy outdoor terrace, perfect for cocktail hour.
11. America's Cup Inn Newport
Travel back in time at America's Cup Inn, a historic inn that features gaslights and cobblestones outside and colonial-style furnishings inside, like four-poster beds and antique wallpapers. Guests love the shared room library and rooftop deck at this luxury hotel and the short walk to fabulous shopping and dining on Bowen's Wharf and Main Street.
Book You Vacation at One of These Luxury Hotels in Newport, Rhode Island
No matter which of these luxury hotels in Newport, RI, you choose to stay in during your vacation, you're bound to have a fantastic time enjoying all the city has to offer! To continue planning your trip to this quaint coastal city, discover the best things to do and the best places to eat in Newport, Rhode Island.
Disclosure: Some of the links in this post about the Best Luxury Hotels in Newport, RI, are affiliate links, meaning, at no additional cost to you, I earn a commission if you click through and make a purchase. This helps me keep the content on my website free, like this post about the Best Luxury Hotels in Newport, RI.
Save These Luxury Hotels in Newport, RI, for Later!
Did you love this post about the best luxury hotels in Newport, RI? If so, check out these other posts about Newport, Rhode Island!