Have you ever visited a destination that really (pleasantly!) surprised you? That's how I felt about Portsmouth, New Hampshire—a hidden gem on our New England road trip!
Honestly, I think the entire state of New Hampshire is incredibly underrated. New Hampshire has a bit of everything—the coast, the countryside, the mountains, and quaint historic cities. And all of it is stunning! We drove through Portsmouth on our way to Portland, Maine, from Newport, Rhode Island. We stopped for dinner, and during our time there, we fell in love with the city so much that we decided to rework some of our travel plans to come back to explore a few days later!
We found some great spots during our day in Portsmouth. Here are my favorite things to do during a day trip to Portsmouth, NH, from Boston, Portland, or other surrounding cities!
When Is the Best Time to Take a Day Trip to Portsmouth, NH?
Portsmouth, NH, is a lovely city to visit at any time of the year. However, the city has its advantages and disadvantages to visiting during every season:
Winter: Winter is the cold, snowy season, but it is also a great time to visit if you don't mind cooler weather and want to dodge the tourists. However, keep in mind many museums, cultural activities, tours, and other attractions shut down in the winter.
Spring: In the early spring, you'll likely experience some colder and rainier days, but by April and May, the weather will warm up, and flowers will start blooming. However, the prices usually stay low until June, making spring a great time to visit Portsmouth, NH.
Summer: Summer is one of the most popular seasons to visit Portsmouth, NH because you can enjoy the beaches, waterfront dining, and museums. However, travel prices will be highest during this time, so plan accordingly.
Fall: Fall is a gorgeous time to visit Portsmouth, thanks to the colorful fall leaves and temperate weather, but it doesn't get as much traffic as other destinations in northern New England, like the White Mountain National Forest and the Kancamagus Highway.
Overall, late spring, summer, and early fall are the most popular times to visit Portsmouth, New Hampshire, depending on the types of activities, crowds, and prices you're looking for.
How to Get to Portsmouth, NH: Day Trip Options
There are several cities you can use as a starting point for your day trip to Portsmouth, NH. Here are a few of the most popular options:
Boston, Massachusetts: Portsmouth is just a 62-mile drive from Boston, so a day trip to Portsmouth, NH, is the perfect getaway if you're staying in Boston!
Portland, Maine: Portsmouth is just a 53-mile drive from Portland and a scenic one too! You can stop at Ogunquit, Kennebunkport, Kittery, and other small coastal towns on the way to Portsmouth from Portland.
Newport, Rhode Island: Though it's a bit longer, the 148-mile drive to Portsmouth from Newport, it's well worth the trip. You'll still have plenty of time to enjoy many of the best things to do during a day trip to Portsmouth, NH, listed below.
White Mountain National Forest: If you're visiting New England in the fall or winter, the gorgeous fall leaves or ski slopes in the White Mountains are likely on your to-do list. The White Mountain National Forest is a 107-mile drive from Portsmouth, which allows plenty of time to explore on a day trip to Portsmouth.
Best Things to Do in Portsmouth, NH, for the Perfect Day Trip
Portsmouth, New Hampshire, is an adorable city with gorgeous homes, quaint restaurants and shops, and stunning waterfront views. You can spend the entire day walking around Downtown Portsmouth, or you can get out to explore more of the surrounding city.
Follow this list of the best things to do in Portsmouth, NH, if you only have one day:
Strawberry Banke Museum
The Strawberry Banke Museum is a must-visit for history lovers (like me!), and it's one of the best things to do in Portsmouth, NH. The Strawberry Banke Museum sits on a ten-acre campus and brings over 300 years of history to life.
The Strawberry Banke Museum is situated in what used to be the Puddle Dock neighborhood—a collection of homes, gardens, neighborhood stores, and taverns that have been converted into an interactive museum. You can travel from home to home to learn about the people who lived in each place over a span of three centuries. Aside from homes, you can also tour a tavern that was visited by the Founding Fathers, a general store and victory garden from World War II, and the Goodwin Mansion, the home of the Governor of New Hampshire during the Civil War.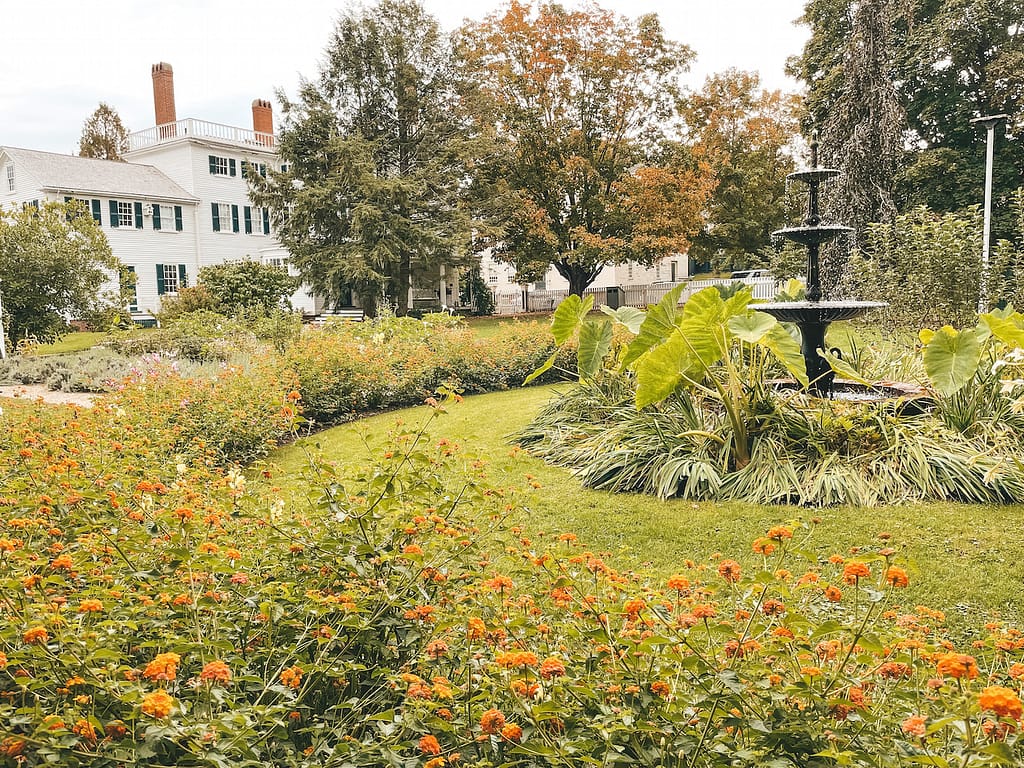 You can also learn about horticulture, construction, woodworking, and sailing. Overall, I thought the Strawberry Banke Museum was fascinating and fun to visit. We spent almost three hours touring the homes and property! It's definitely one of the most interesting things to do in Portsmouth, NH.
Tip: Use the map to discover which homes you're able to tour. Many homes in the neighborhood are still private residences, which will save you from awkwardly walking through someone's front door! Also, the historic homes are only open from mid-June to mid-October, so be mindful of these dates before planning a trip.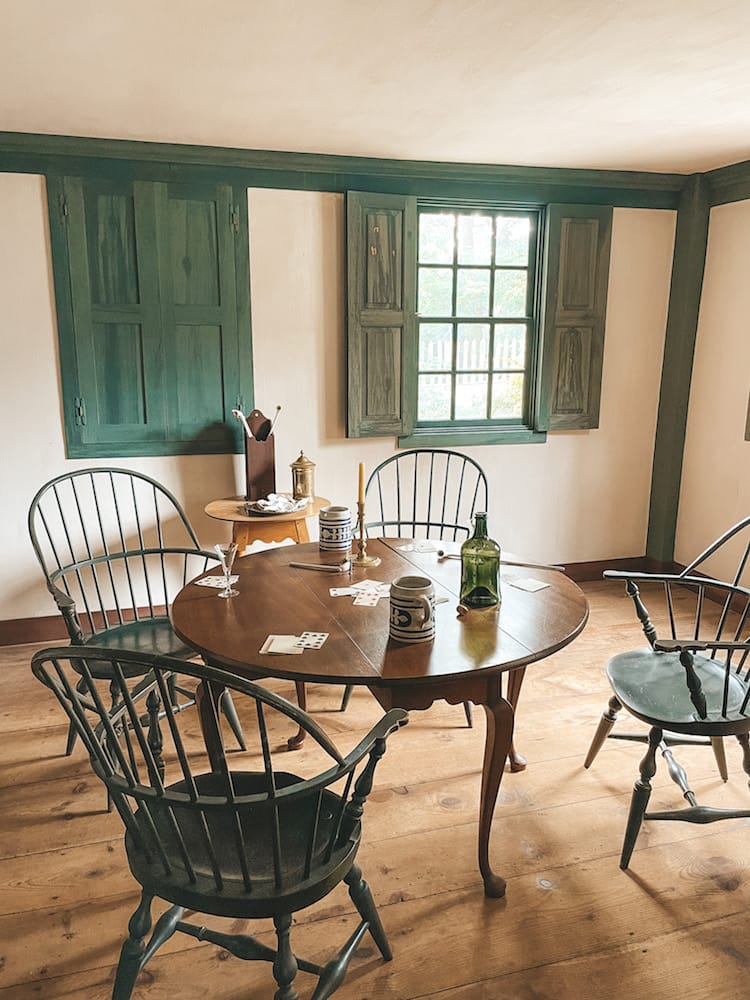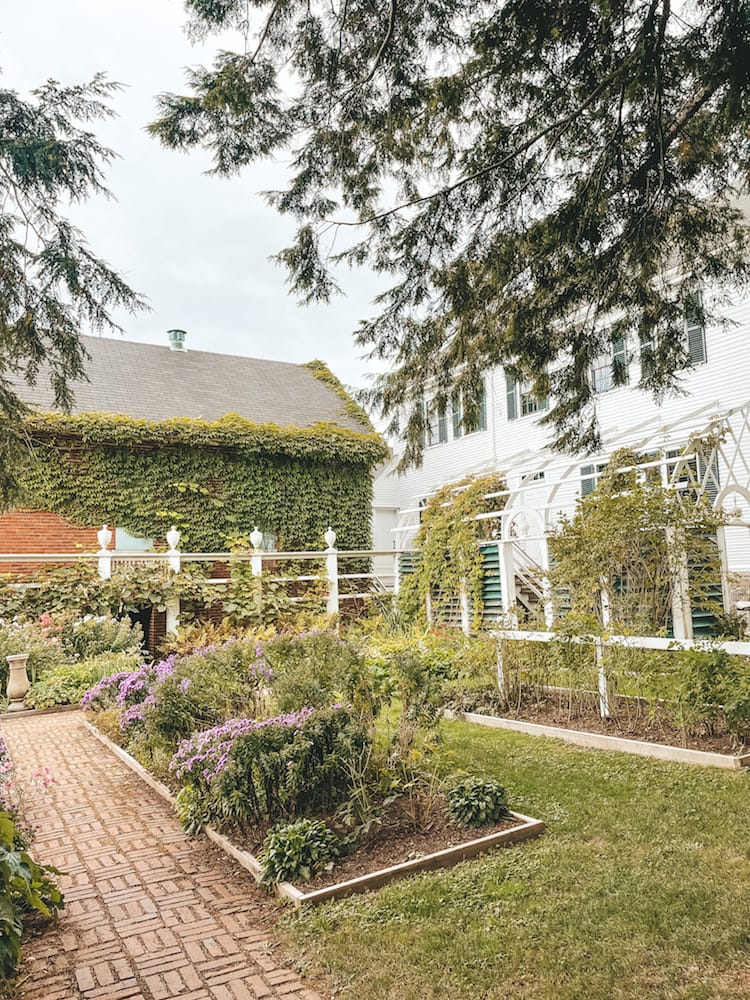 Flatbread Company
After spending the morning at the Strawberry Banke Museum, you'll probably be ready for lunch. I'd highly recommend visiting the Flatbread Company in Downtown Portsmouth! Like most places we discovered in Portsmouth, we wandered into Flatbread by chance. We were craving pizza, and I'm so glad we ended up here!
From the outside, Flatbread looks like a small, local dive. However, on the inside, you'll discover a spacious restaurant with high ceilings, cozy décor, and a wood-fired pizza oven in the center of the restaurant. I loved the ambiance here just as much as the food.
We ordered their weekly special, a flatbread pizza with mozzarella cheese, figs, arugula, locally-sourced bacon, and a balsamic glaze. It was tasty! Flatbread also has tons of other types of pizzas, salads, and a great list of local beers on-tap. I'd definitely say getting a pizza here is one of the best things to do during a day trip to Portsmouth, NH!
Tip: Flatbread Company is closed on Mondays and Tuesdays, so plan your dining experience accordingly.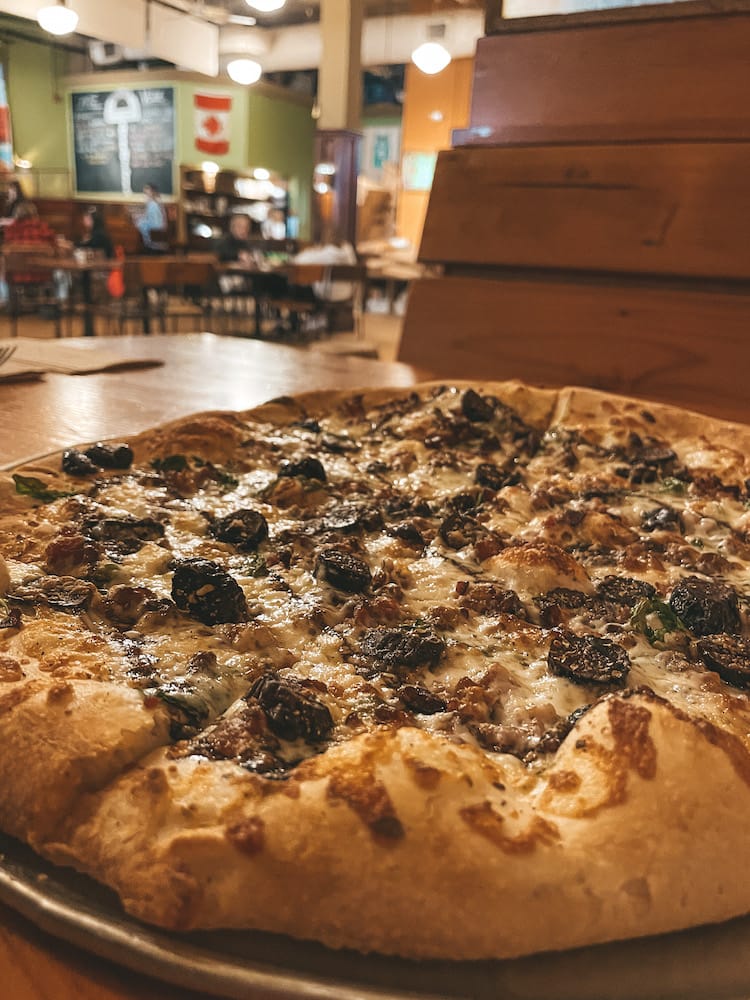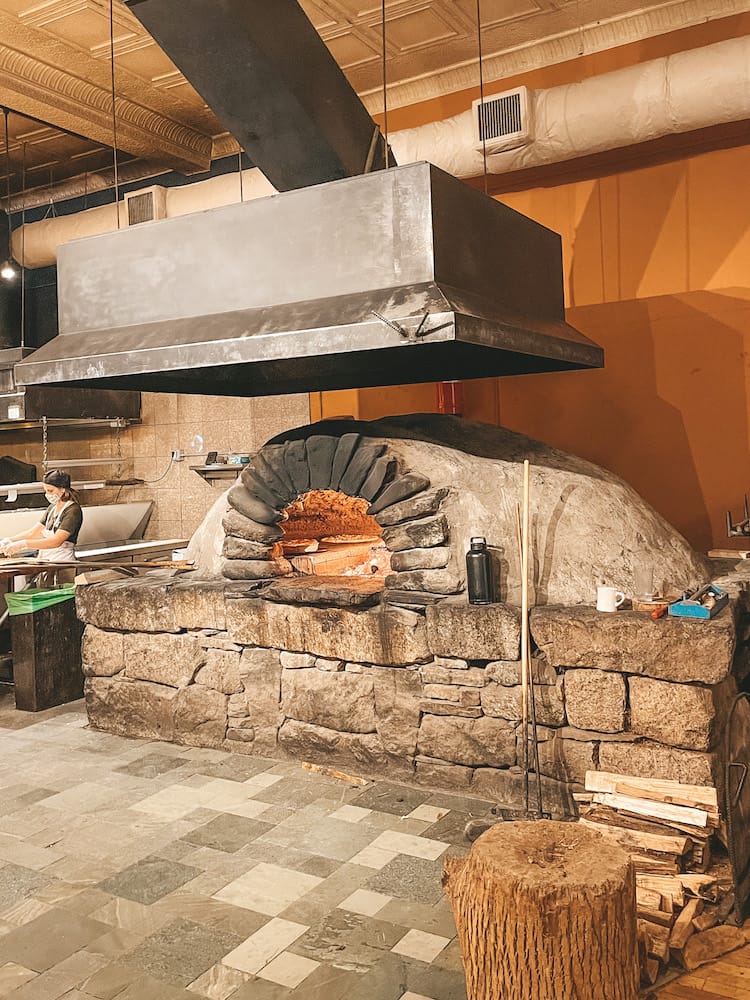 Market Square
After lunch, spend some time exploring Market Square—the heartbeat of Portsmouth. You'll be able to identify Market Square by the beautiful, historic North Church of Portsmouth, filled with hundreds of shops, local restaurants, and more.
Although Portsmouth was settled in the early 1600s, most of the brick buildings in Market Square were built in the mid-1800s, so they offer plenty of character and charm.
You'll want to spend some time browsing Market Square. It's a quaint spot to walk around! We loved visiting a wine and cheese shop and picked up some cheese and crackers to snack on during our day. You can also visit boutiques, souvenir shops, galleries, bookstores, and more.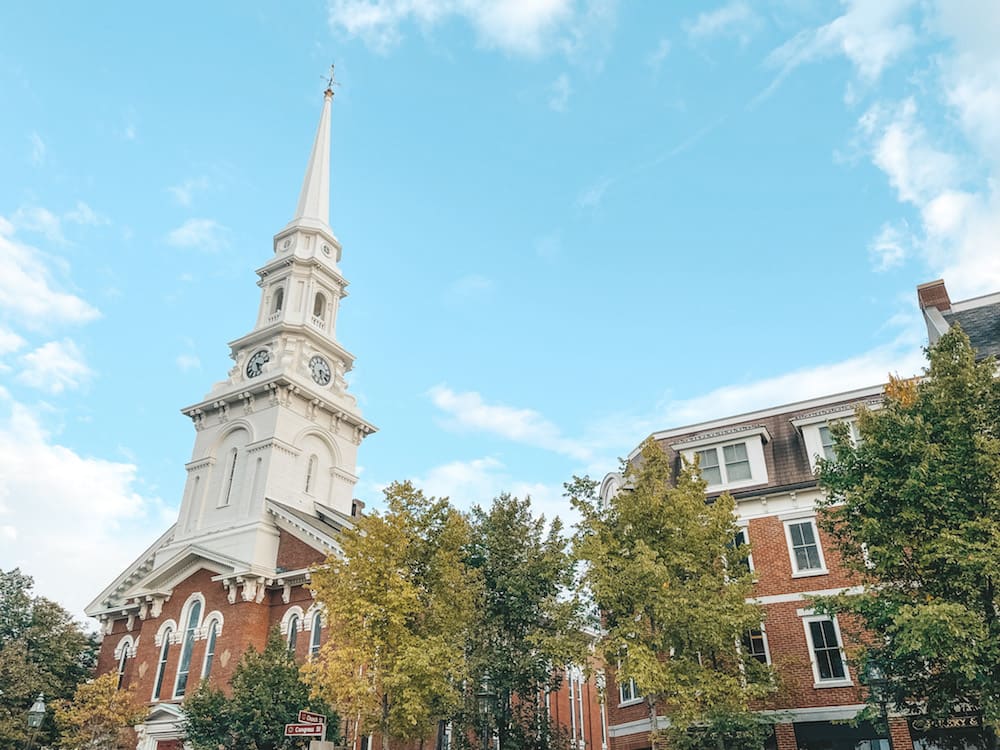 Black Heritage Trail
One of the most impactful things to do in Portsmouth, NH, is to walk the Black Heritage Trail, a series of monuments and historically significant locations meant to share information about Black life in early America.
Downtown Portsmouth was one of the earliest settlements in the United States, which unfortunately means it was also one of the first sites of slavery in the country. In 1775, the census showed that there were more than 650 enslaved Africans in New Hampshire. The Black Heritage Trail promotes awareness and appreciation of African American history and culture in New Hampshire.
You can take a trolley, bus, or self-guided walking tour along the Black Heritage Trail to see sites like the Governor John Langdon House, Sherburne House, North Church, African Burying Grounds, South Church, Long Wharf, and more. Most locations include a descriptive plaque for self-guided tours, and the trail follows history through the Civil Rights Movement in the 1960s.
Fun Fact: Many of the locations along the Black Heritage Trail also intersect with the Strawberry Banke Museum, so it's easy to do both during a day trip to Portsmouth, NH.
Prescott Park
Prescott Park is a quaint park that overlooks the Piscataqua River, Portsmouth Naval Shipyard, and the border of New Hampshire and Maine! It is a great place to walk around. I especially loved walking around the Trail Gardens, a beautiful array of flowers, greenery, and shrubs. We saw so many butterflies and bees buzzing around while we strolled through the garden!
I'd also recommend walking out to the Southern Pier for a great view of the Portsmouth Naval Shipyard. While we were at the Strawberry Banke Museum, we learned that the Naval Shipyard was a huge employer in New Hampshire during the 1900s, and it was the location the first American Naval submarine was built.
Today, the Portsmouth Naval Shipyard is responsible for the overhaul, repair, and modernization process of Navy submarines. I thought learning about the Portsmouth Naval Shipyard was one of my favorite things to do during our day trip to Portsmouth, NH.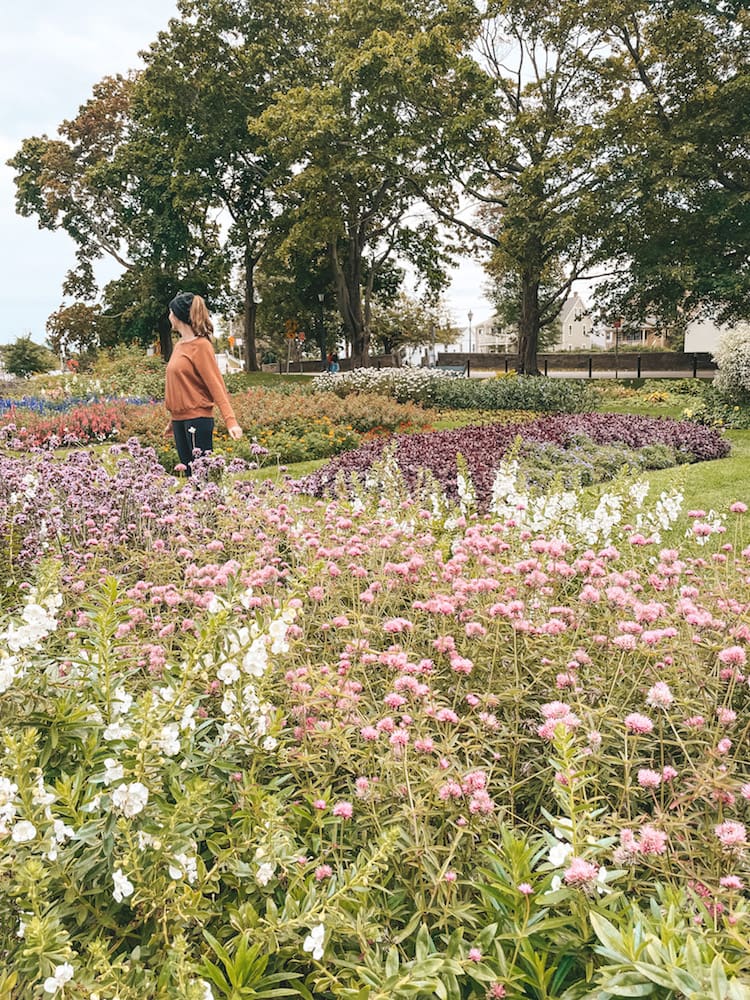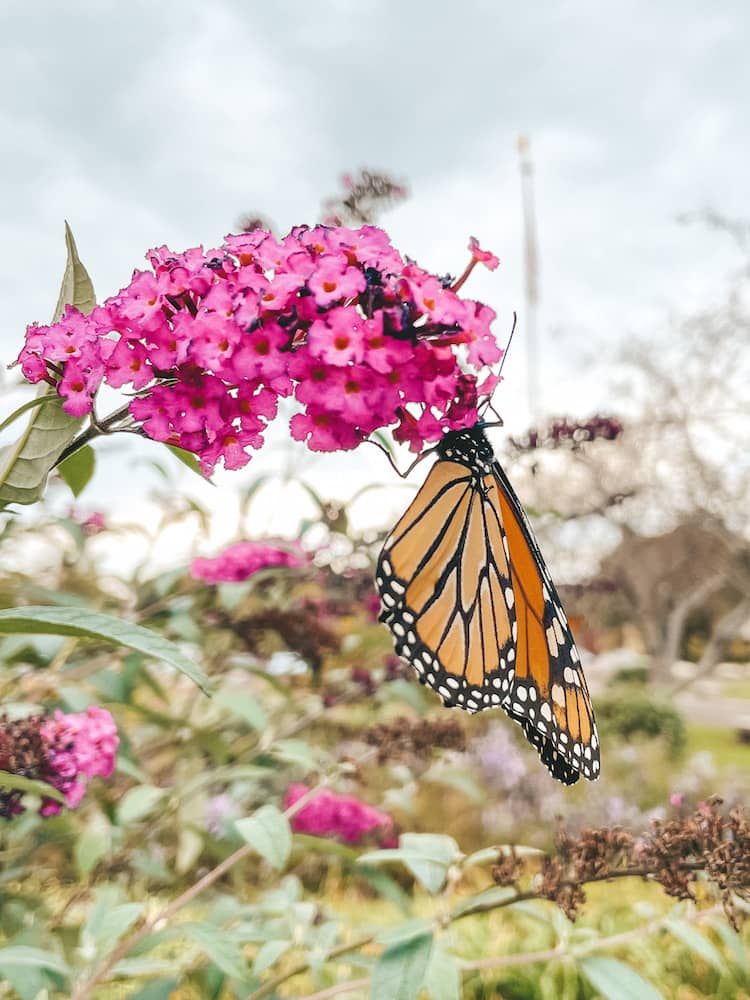 Thirsty Moose Taproom
The Thirsty Moose Taproom is a small chain of restaurants located in New Hampshire with great beer and great food! It's a cozy spot in Downtown Portsmouth that is a great spot to enjoy dinner and a drink. Although they are known for their wide selection of brick oven pizzas, I really loved the "Guinness French Onion Soup." It was delicious on a cold, rainy night! My husband ordered the "Burganzola" burger with caramelized onions and gorgonzola cheese and loved it.
We both ordered seasonal beers, mine was a pumpkin ale, and my husband's beer was a pumpkin coffee porter, and we both really enjoyed them! Overall, I would recommend stopping here for dinner or a drink during a day trip to Portsmouth, New Hampshire.
More Things to Do in Portsmouth, NH
If you're staying in Portsmouth for longer than a day (or want to swap out some of the activities listed above), here are some more suggestions for more of the best things to do in Portsmouth, NH!
Portsmouth Harbor Lighthouse
During your day trip to Portsmouth, NH, you can't miss the opportunity to see the only lighthouse on the mainland of New Hampshire—the Portsmouth Harbor Lighthouse! It's also called the Fort Point Light and New Castle Light. It was built in 1877 on the grounds of Fort Constitution—a fortification from the Revolutionary War.
The lighthouse is open in the summer during select days, so if you drive over to New Castle from Downtown Portsmouth during your day trip to Portsmouth, NH, you will be able to park and see it up close. However, you can also opt to go on a Portsmouth Harbor Cruise for awesome views of the Portsmouth Harbor Lighthouse and Fort Constitution!
While you're at New Castle, you can also check out the island's other attractions, including the Fort Start State Historical Site and the luxurious Wentworth by the Sea Hotel. You can even take this Islands & Harbor Bike Tour to see as much as possible on a two-hour bike ride!
Four Tree Island
Four Tree Island is a tiny island you can walk to during your day trip to Portsmouth, NH, after crossing the Pierce Island Bridge from Downtown Portsmouth. It's a lovely place for a walk, and if the weather is nice, you can even bring a snack or lunch to enjoy while you're here. Like Prescott Park, it also offers lovely views of the Piscataqua River and Memorial Bridge.
The main attraction on Four Tree Island is the "My Mother the Wind" Sculpture, which pays homage to those who sailed to the United States to find better opportunities and a new life.
Langdon House
Governor John Langdon House is a National Historic Landmark, so if you didn't see enough historic architecture during your visit to the Strawberry Banke Museum, you should stop here.
John Langon was a merchant, shipbuilder, and governor of New Hampshire. He was also a war leader in the Revolutionary War and a signer of the Constitution (no big deal, right?). Touring this Georgian mansion is a great way to learn more about his life and to see the grand architecture in this stately home!
Langdon House is open for hourly tours from 11 AM – 4 PM on Fridays, Saturdays, and Sundays during the summer and early fall (June – October 16). Tickets are $15 per adult, and discounted tickets are available for seniors, students, and children.
USS Albacore Museum
If you're spending more than a day trip to Portsmouth, NH, consider paying a visit to the USS Albacore Museum—and if you're wondering, this museum doesn't have anything to do with tuna.
The USS Albacore was a research submarine that was designed by the U.S. Navy to experiment with top-secret features used on modern submarines. Now, it has been preserved and is open to the public, so you can look through the periscope, explore the control room, and hear crew members share their experiences while you embark on a self-guided tour.
Admission to the USS Albacore Museum is only $9 per adult. They are closed during the winter, but they are open in the summer from 9:30 AM – 5:30 PM and in the spring and fall from 9:30 AM to 4:30 PM. You can view the exact hours on their website.
Warner House
The Warner House was built in the early 1700s and is one of the oldest urban brick residences in New England. It was saved from demolition in 1932 by the Warner House Association, and that summer, the museum opened to the public. While at the Warner House, you can learn more about the family and, of course, marvel at the rich architectural details of the home during your day trip to Portsmouth, NH.
The Warner House is open from 11 AM – 4 PM on Fridays, Saturdays, and Sundays from the end of May to mid-October. Admission is $10 per adult, with discounts for seniors and children.
Moffatt-Ladd House & Garden
The Moffatt-Ladd House & Garden is another National Historic Landmark in Portsmouth, NH. According to the website, the museum's purpose is to interpret United States, New Hampshire, and Portsmouth history through the lives and possessions of the inhabitants of the house. The house was finished for John Moffatt in 1760, and it has been open to the public as a house museum since 1911. During the Revolutionary War, the house was the home of William Whipple, one of the signers of the Declaration of Independence.
Moffatt-Ladd House is open from June to mid-October from 11 AM – 4 PM. Tickets are $10 for adults, with discounts for seniors and children. If you'd like to only tour the garden during your day trip to Portsmouth, NH, you can purchase a discounted ticket for $2.
Wallis Sands Beach
Did you know that of all the states on the East Coast, New Hampshire has the smallest coastline? Yep, it's true—New Hampshire's 18 miles of the seashore is the shortest ocean coastline of any state!
However, during a day trip to Portsmouth, NH, you're in the perfect location to explore the coastline of New Hampshire. Wallis Sands Beach is the closest to Portsmouth, just a ten-minute drive from downtown, and offers plenty to do. In the summer, you can go swimming or pack a lunch to enjoy at the picnic tables. Wallis Sands Beach does have a parking fee of $15 during the summer months, but parking is free if you visit during the winter.
Book & Bar
Book & Bar was a spot we passed about a million times during our day trip to Portsmouth, NH, but unfortunately, it was closed.
This bookstore bar is in the former Customs House in Downtown Portsmouth. They serve cocktails, beer, wine, small bites, and espresso drinks you can enjoy while you shop around and look at books. They also have a patio you can enjoy when the weather is nice. Basically, this spot sounds like my dream, so if you go, you'll have to let me know what you think!
Best Places to Eat During Your Day Trip to Portsmouth, NH
In addition to the Flatbread Company and Thirsty Moose Taproom, give these other restaurants a try during your day trip to Portsmouth, NH:
Cava Tapas & Wine Bar—This rustic-chic bistro and wine bar offers small plates and a tasting menu. It's perfect for a fancy date night!
Cure—This restaurant serves classic American comfort food with French inspiration. They pride themselves on large portions and affordable prices!
Elephantine Bakery—Enjoy a sweet pastry or savory breakfast, lunch, or brunch at this adorable bakery in Market Square.
Toscana Chop House & Wine Bar—This upscale restaurant offers pasta, wood-fired steaks, and other Italian-style dishes you can enjoy with cocktails, wines, or local beer.
Popovers on the Square—Grab a coffee and a popover on the go or a sit-down breakfast at this local fast-casual bakery and café in Market Square.
Best Places to Stay in Portsmouth, NH
Want to extend your day trip to Portsmouth, NH, to a weekend trip so you can see as much as possible? Good choice! Here are some well-located hotels in Portsmouth:
Enjoy a Memorable Day Trip to Portsmouth, NH
Which of these things to do in Portsmouth, NH, would be first on your list? Have you ever been to a location that surprised you? Let me know in the comments below!
Disclosure: Some of the links in this post about the Best Things to Do in Portsmouth, NH are affiliate links, meaning, at no additional cost to you, I earn a commission if you click through and make a purchase. This helps me keep the content on my website free, like this post about how to spend a day trip to Portsmouth, NH.
Save the Best Things to Do in Portsmouth, NH, for Later!
Read More
Did you love this post about how to spend a day trip to Portsmouth, NH? If so, check out my other blog posts about New England: