New Orleans, Louisiana, is a charming city on the Mississippi River that's full of vibrant culture, fascinating history, beautiful architecture, and delicious food — all things I love to experience when traveling. It's not surprising that I fell in love with New Orleans during my recent trip!
New Orleans is truly the perfect city for a three-day weekend trip — a shorter trip might not feel like not enough time, but a longer trip might feel like too much.
That said, I've done all the hard work for you and crafted the perfect three-day weekend in New Orleans itinerary — simply follow it during your trip to see the best of the Big Easy!
Day 1: French Quarter & Bourbon Street
During the first day of your weekend in New Orleans, you'll want to head down to the French Quarter to see some of the city's most iconic sites and restaurants.
Though we recommend arriving the night before so you can spend a full three days in New Orleans, if you need to get into town later this afternoon — no worries.
Today is all about "meandering" to soak up the city's sites and culture, so you should be able to squeeze in most (if not all) of these fun activities listed below regardless of what time you arrive in New Orleans for your weekend trip!
Jackson Square
Jackson Square is the most iconic landmark in New Orleans — you've probably seen dozens of pictures of this beautiful park (whether you realize it or not!).
Jackson Square sits in front of St. Louis Cathedral — a picturesque white cathedral that offers a stunning backdrop for a photo. You'll also find a statue of President Andrew Jackson riding a horse in the center of the square that was built in 1856.
Jackson Square is a quick stop (it doesn't take very long to walk around the small park), but if you would like that "classic" photo here without dozens of people in the background, it's smart to arrive early in the morning to snap a photo at Jackson Square!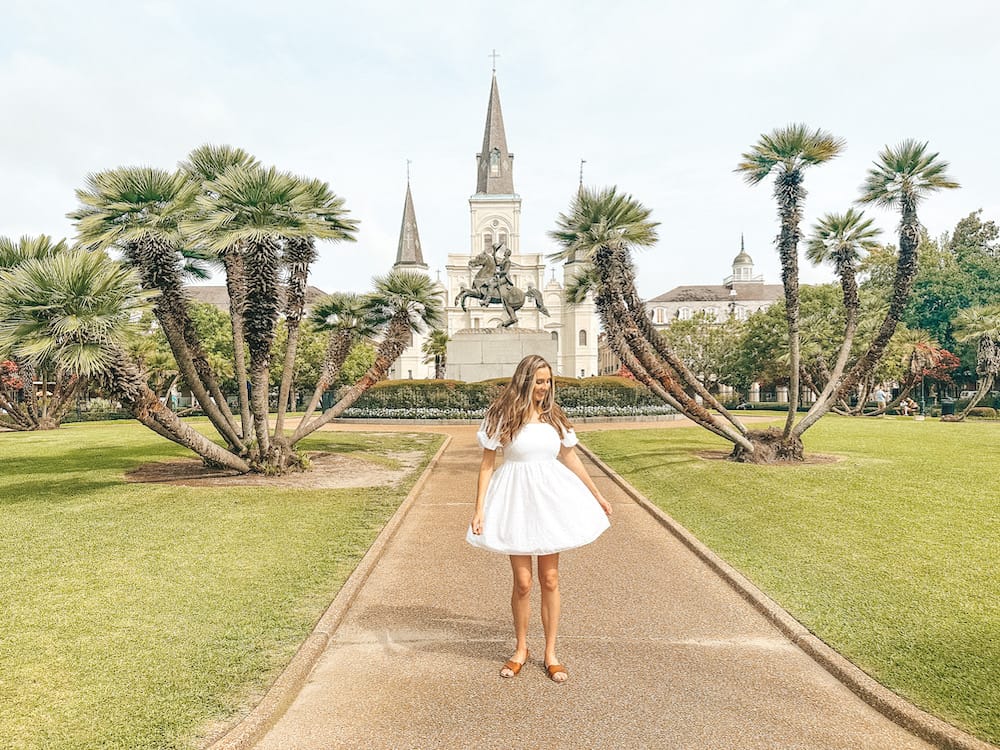 Cafe Du Monde
It doesn't get much more iconic than munching on beignets from Cafe Du Monde in New Orleans — which is why this iconic spot, located just across the street from Jackson Square, should be your next stop during your weekend in New Orleans.
Cafe Du Monde opened in 1862, and to be honest, we don't think much has changed since then! They still serve delicious beignets — fried doughnuts topped with a mountain of powdered sugar — and café au lait (coffee with milk). And that's about it!
At this time, an order of three beignets costs $3.85, and a coffee will run you anywhere from $3 to $7 — just keep in mind that Cafe Du Monde is cash only. If the weather is nice, sit outside on the covered patio and listen to the street performers (usually a jazz band!) that will totally make you feel like you're in New Orleans.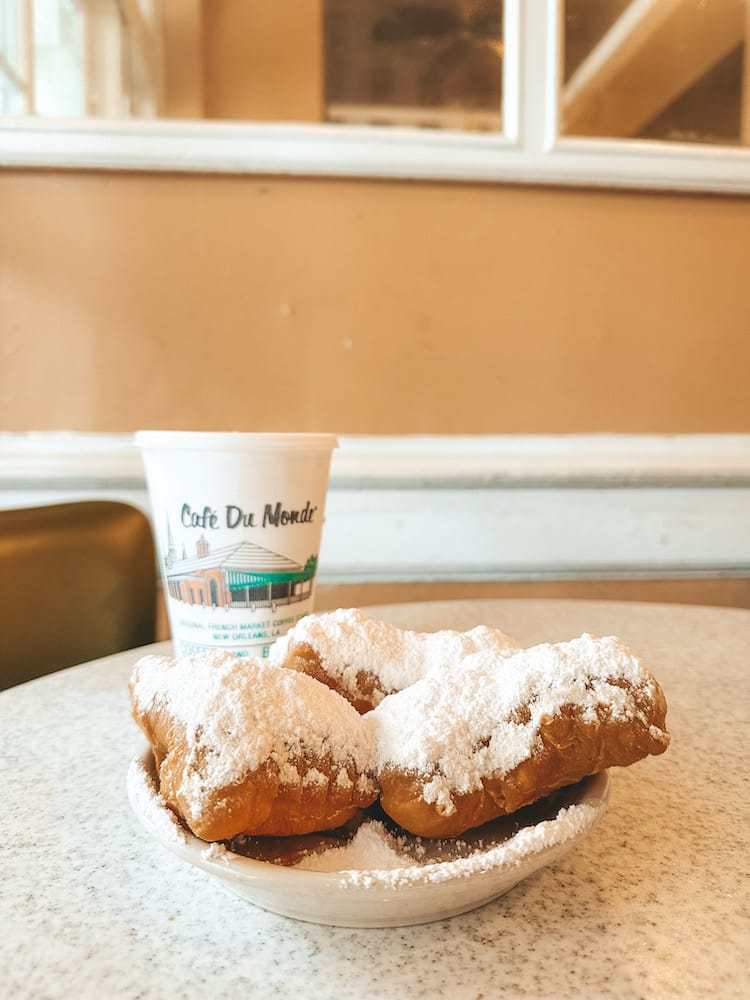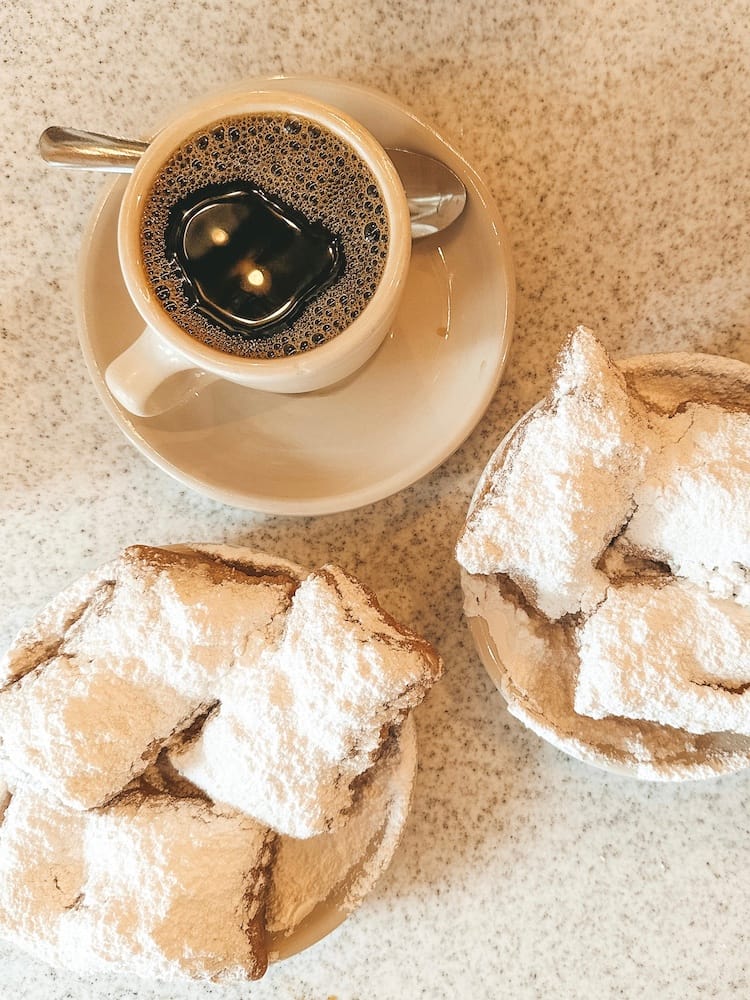 French Market District
After you're caffeinated and full of doughy goodness, it's time to do some shopping and sightseeing in New Orleans in the French Market District.
Stroll up and down Decatur Street from Cafe du Monde, where you'll find many local shops, iconic restaurants, and tour companies. It's pretty much the most touristy spot in New Orleans — so just go in with that expectation, and you'll be fine!
You can also stop at the French Market (known as Shops of the Colonnade), where you'll find tons of vendors selling candy, clothing, gifts, and souvenirs.
The Carousel Bar & Lounge
You're spending a weekend in New Orleans, so it's never too early to indulge in drink, right?
Well, hopefully you agree, because one of the hottest bars in New Orleans — the Carousel Bar & Lounge at Hotel Monteleone — fills up quickly. If you want a seat at the rotating carousel bar, you should arrive right when they open at 11 AM (or a few minutes early).
We got to the Carousel Bar & Lounge just minutes after it opened, and all the seats on the carousel were already taken. You can always wait for someone to leave to snag a spot, but there is also plenty of seating in the lounge if you don't want to wait. It's a great spot to spend a few hours drinking a few cocktails and to grab lunch, if you're getting hungry.
The Carousel Bar & Lounge serves craft cocktails and a wide range of liquors — from bourbon and scotch to gin and rum. They also have non-alcoholic drinks and some bar bites, including small plates, shareables, and entrées. We thought the Fried Chicken Biscuit Sliders were tasty!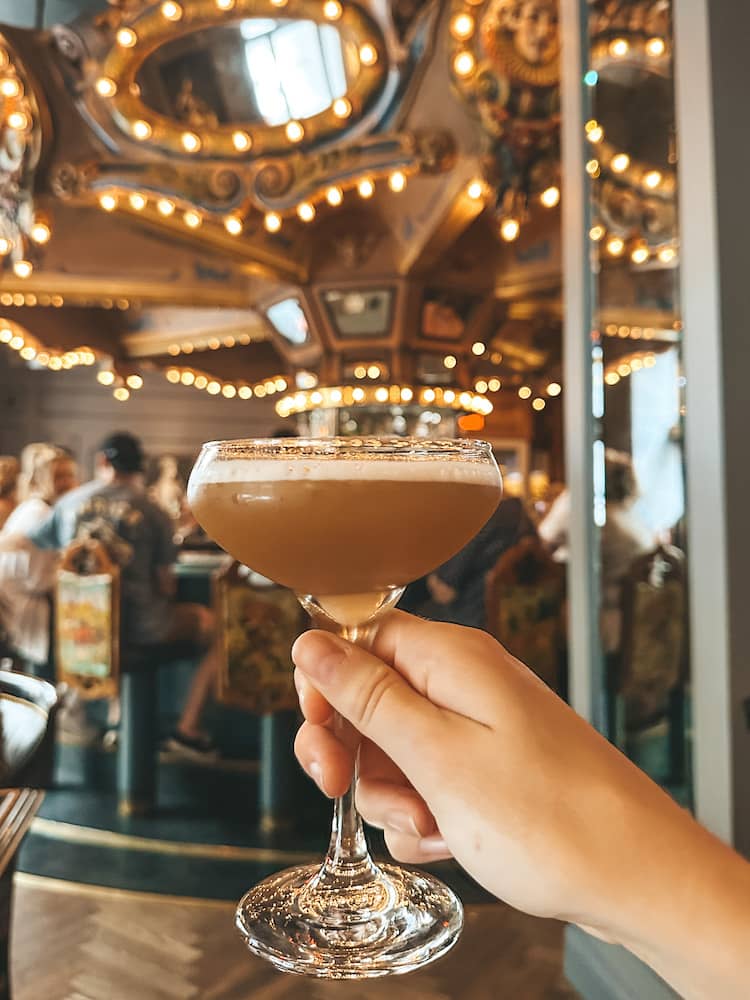 The French Quarter
After indulging in a drink or two, spend some time wandering around the French Quarter.
But first, here's a quick history lesson. The French Quarter is one of the most iconic neighborhoods in New Orleans and was founded in 1718 by — you guessed it — the French. However, the unique architecture and old-world charm you'll find in the picturesque French Quarter, including cast-iron balconies, walled courtyards, and colorful townhouses, is a blend of French, Spanish, Creole, and American influence.
The French Quarter is known for its history, architecture, and entertainment (of course!). You'll find hundreds of restaurants, antique shops, and cool bars by just wandering around. That said, here are some stops I recommend making while you're exploring the French Quarter:
LaBranche House — The LaBranche House is the most popular (and dare I say, most "Instagrammable"), spot in the French Quarter. You might have to stand in line to take a photo, but the backdrop is gorgeous and a great example of the quarter's architecture.
Miltenberger Houses — The Miltenberger Houses are a picturesque photo opportunity in New Orleans (see below!). It's a less busy alternative to the more popular LaBranche House, so you'll have a better chance of getting a photo without a busy background.
Royal Street — Royal Street is a fabulous street to walk down if you're interested in shopping at antique stores or cute boutiques, browsing art galleries, or grabbing a drink at one of the many cocktail bars that line this street.
Bourbon Street — You'll be back on Bourbon Street tonight, so don't worry about hitting it during the day unless you have extra time or would like to see and/or photograph this iconic street before the chaos ensues (sounds dramatic, but it's true!).
There are also several museums in the French Quarter you can check out if you have extra time, like the New Orleans Jazz Museum, The Historic New Orleans Collection, the New Orleans Historic Voodoo Museum, and The Predbytère (a unique museum that details this history of Mardi Gras). If you have time — check out the museum that interests you the most!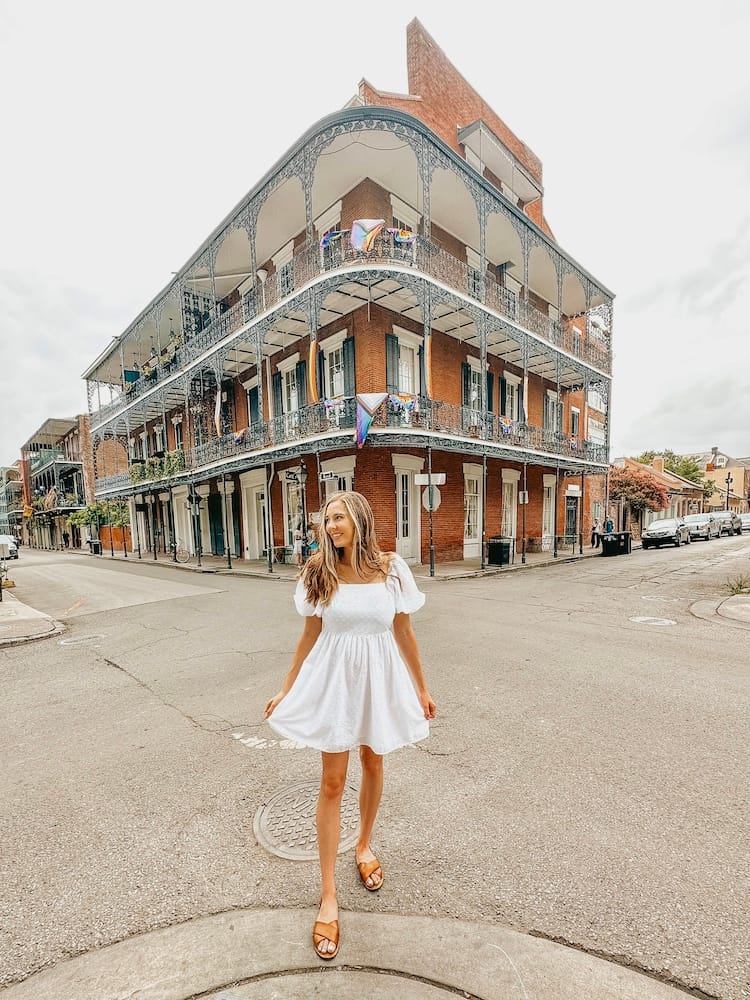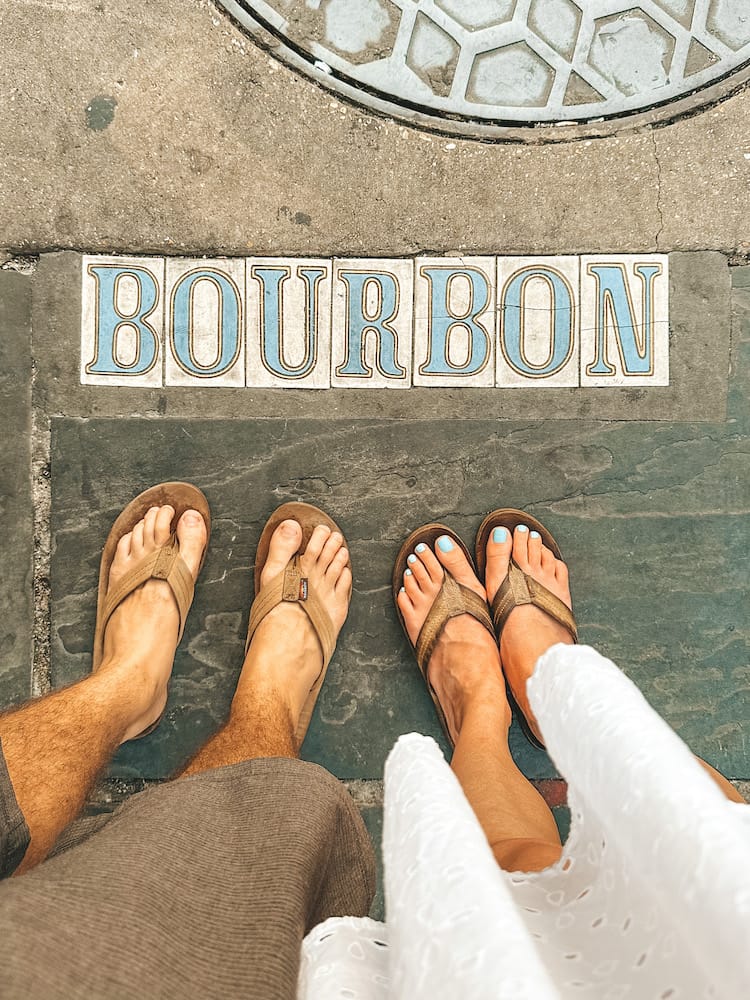 Bourbon Street – Evening Option #1
One the sun sets, it's time to head to Bourbon Street for a night on the town.
Bourbon Street is the most iconic street in New Orleans known for its party scene, especially during Mardi Gras. You'll find tons of rowdy music, restaurants, and drinks to-go on Bourbon Street. It's kind of like a small Las Vegas, but with more dive bars than swanky lounges, fewer casinos and upscale resorts than in Sin City, and its own brand of southern flair.
Partying on Bourbon Street is a classic experience in New Orleans. However, if it's not your scene (and it's really not mine — especially at five months pregnant, which is when I visited New Orleans!), I recommend stopping at popular spots on Bourbon Street, like Fritzel's European Jazz Club, Jean Lafitte's Blacksmith Shop, and Galatoire's Restaurant (a favorite for French Creole cuisine) earlier in the day, and opting for another evening activity.
Jazz Cruise on the Steamboat Natchez – Evening Option #2
You can still have plenty of fun during the first evening of your three-day weekend in New Orleans if you don't want to hit Bourbon Street. Instead, I recommend booking a Jazz and Dinner Cruise on the Steamboat Natchez to combine three great things that New Orleans is known for — fascinating history, soulful music, and mouthwatering cuisine!
The Natchez is actually the only true steam-powered steamboat on the Mississippi River today, which makes cruising on this boat a unique, historical experience.
This two-hour cruise includes live jazz music performed by Dukes of Dixieland, a Grammy-nominated band, and a Creole-inspired buffet dinner with salad, chicken and sausage gumbo, baked chicken with a mushroom ragout, and other rotating menu items. You can also purchase drinks at the bar and enjoy them on the deck while watching the sunset.
We unfortunately didn't have time to do this dinner cruise in New Orleans, but we have done a similar steamboat cruise in Le Claire, Iowa, before. I think this one might even be cooler since you can immerse yourself in the cuisine and culture of New Orleans — plus, it has thousands of five-star reviews raving about the food, music, and views!
Day 2: History & Sightseeing in Downtown New Orleans
Now that you have explored the French Quarter — which is really the "heart" of New Orleans — it's time to explore some of the other popular sites in and around Downtown New Orleans.
If you don't have a car, I highly recommend purchasing a New Orleans City Sightseeing Hop-On Hop-Off Bus Tour. This gives you the unlimited ability to hop on and off a bus for one day, and the bus will take you to several popular attractions on this list that would be a further walk, like the Garden District and National WWII Museum. It will also take you back into the French Quarter, so if there is anywhere you missed yesterday — stop today!
Jazz Brunch Buffet at The Court of Two Sisters
After a late night out, sleep in before heading to a hearty brunch at The Court of Two Sisters that will keep you full for the day.
However, this isn't just any brunch. This brunch experience includes live jazz music, an all-you-can-eat buffet, and a complimentary mimosa. The buffet includes breakfast classics, like glazed ham, scrambled eggs, hashbrowns, biscuits, and build-your-own omelets, but also New Orleans specialties, like chicken and sausage gumbo, shrimp etouffee, and red beans and rice.
Reservations are required, but you can book this Jazz Brunch Buffet at The Court of Two Sisters instead for guaranteed seating in the courtyard (and a complimentary mimosa!) without a reservation.
The Garden District
After brunch, hop on the bus (or drive, if you have a car!) and head to the Garden District.
New Orleans' Garden District is home to stunning historic architecture and celebrity homes, and many backdrops here have been used as filming locations in movies and television shows, like American Horror Story and The Originals. Either take a self-guided walking tour to explore this charming neighborhood at your own speed or go on a guided tour to have an expert point out all the most notable spots for you.
If you do opt into a self-guided walking tour, here are some notable places we recommend stopping to see:
Lafayette Cemetery No. 1 — Lafayette Cemetery No. 1 is one of the oldest cemeteries in New Orleans. There are more than 7,000 people buried here in over 1,000 family tombs. The above-ground tombs are a unique site here, but a necessity, since most of New Orleans is a swampland that is beneath sea level.
Commander's Palace — Commander's Palace is one of the most popular restaurants in New Orleans and is easily the most famous in the Garden District. This restaurant serves refined Creole fare and is a great spot for an upscale lunch or dinner.
George Washington Cable Residence — George Washington Cable (a novelist, not the president) resided in this home in the 1870s and 1880s. It's now a National Historic Landmark, and you can stop by and see it while you're in the Garden District!
The National WWII Museum
Don't stay in the Garden District for too long because you'll want to get to The National WWII Museum as soon as possible. This museum is open from 9 AM to 5 PM daily, and after visiting, it easily ranks in my top three favorite museums.
If you find war history fascinating — visiting The National WWII Museum is a must. After visiting the National World War I Museum in Kansas City, it was so cool to visit this museum too. The National WWII Museum is extremely well done and includes exhibits on the Road to Tokyo (Pacific Theatre), the Road to Berlin (European Theatre), The D-Day Invasion of Normandy, and more.
I also highly recommend purchasing tickets that include the Beyond All Boundaries 4D film that showcases the impact of the United States' participation in World War II on the world. It's extremely informative and honestly cool (it's not cheesy like the films in some museums), and it was a great way to begin our day at the museum!
We spent five hours at The National WWII Museum, and we felt like we were rushing through all the exhibits to see everything. I wish we had arrived earlier, so we had more time! You'll learn so much while you're here. It's a must-do attraction in New Orleans, in my book.
Also, if you get hungry, there are a few dining options on the museum's campus — The American Sector Restaurant & Bar and Jeri Nims Soda Shop. However, if brunch can tide you over, I recommend heading back to the French Quarter for dinner.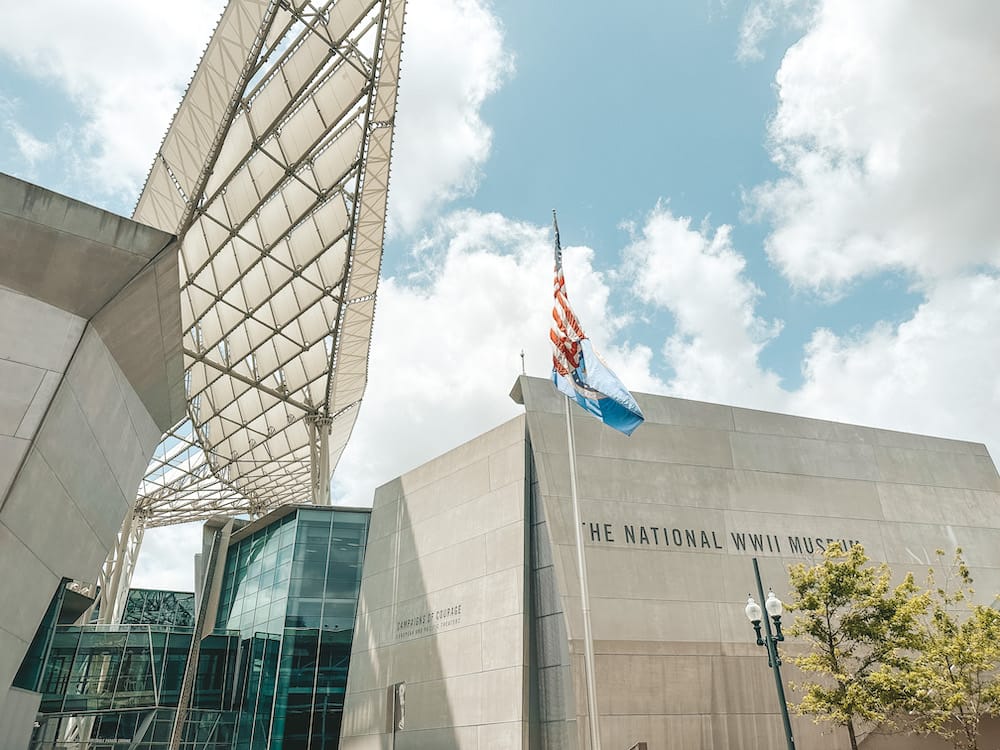 Napoleon House
Napolean House has almost been around for two centuries. Before it was a restaurant, it was the home of Nicholas Girod, the Mayor of New Orleans from 1812 to 1815.
So, why is the restaurant called Napolean House? Well, the mayor thought it would be a great idea to provide refuge in his home for the exiled Napoleon Bonaparte in 1821. Though Napolean never did make it to Napolean House, the name did stick. Now, it's one of the best restaurants and bars in New Orleans!
Napolean House is known for two things — Pimm's Cup and the Italian Muffuletta. A muffuletta is an Italian-style sandwich that is famous in New Orleans, stuffed with cured meats and cheeses and topped with a tangy olive salad dressing.
However, you can also order po-boys and other specialty sandwiches here, as well as cocktails, beers, and wines by the glass. The Spicy Chicken Salad Sandwich was delicious!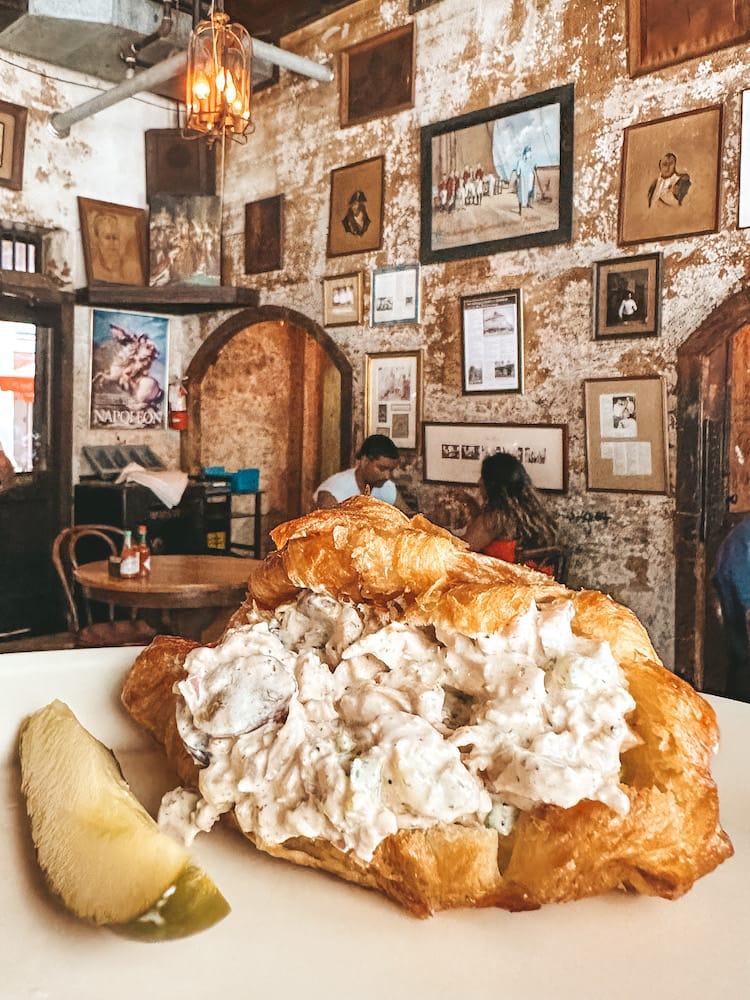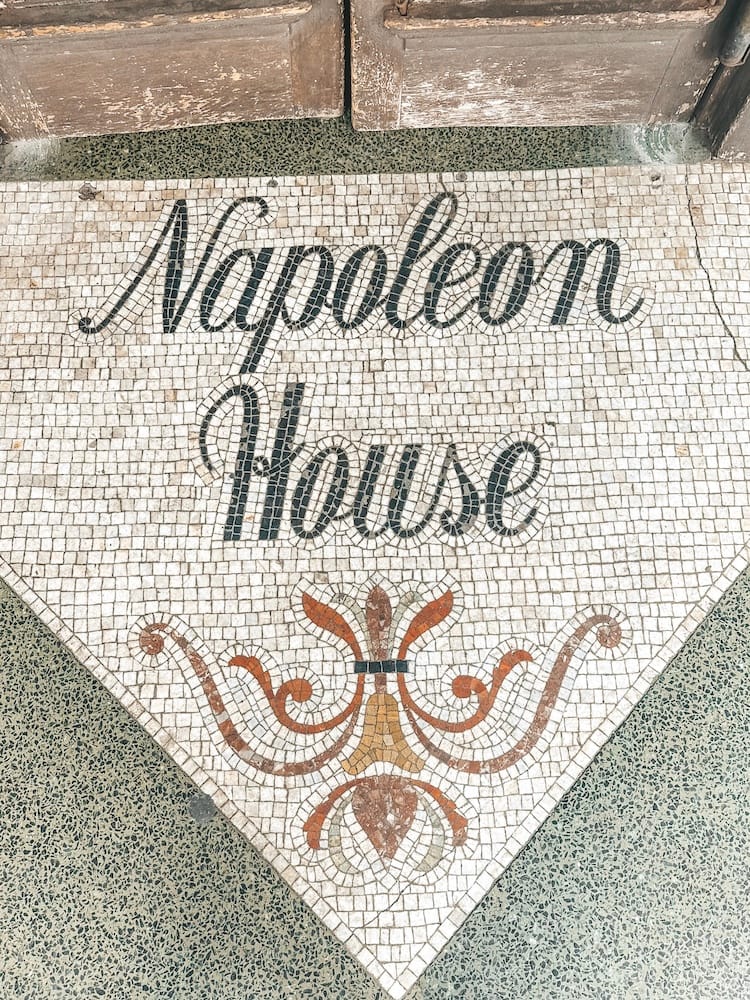 Spooky Ghost Tour
While you're back in the French Quarter, take the opportunity to go on a ghost tour to explore the "spooky side" of New Orleans. Like Savannah, Georgia — another one of our favorite southern cities — New Orleans has a haunted history and no open container laws, so you can carry a drink around to sip on during the tour.
There are dozens of walking ghost tours to choose from in New Orleans. Book one of these top-rated ghost tours for a guaranteed good time:
Ghost, Crime, Voodoo & Vampires Walking Tour — This adults-only paranormal walking tour stops at haunted sites in New Orleans like Congo Square, The Dragon's Den, Hex, Lafitte's Blacksmith Shop Bar, LaLaurie Mansion, and more.
New Orleans Ghost, Voodoo, Vampire, and Mystery Tour — On this tour, you'll hear paranormal stories from your guide while stopping at haunted locations, like the New Orleans Pharmacy Museum, Old Ursuline Convent Museum, and the LaLaurie Mansion.
Cemetery and Ghost Bus Tour (BYOB) — Grab a drink and hop on board an air-conditioned bus. You'll hear chilling tales of paranormal activity in New Orleans, and you'll have the chance to visit some of the city's haunted graveyards after dark.
Day 3: Day Trips from New Orleans
New Orleans has so much more to offer than just the French Quarter, the Garden District, and Bourbon Street. That said, you'll be spending some time outside the city today in the bayou!
If you don't have a car — don't fret. I'll include plenty of tour options to choose from below that include round-trip transportation from New Orleans. So, let's dive right into the plan for day three of your weekend itinerary for New Orleans!
Cafe Beignet
Before you head out of town, head back down to the French Quarter to start your day the right way — with beignets and coffee!
At this point, you should have already tried the beignets at Cafe Du Monde, which means it's time to try the beignets at Cafe Beignet — the other famous beignet spot in New Orleans — to see how they stack up. Cafe Beignet has four locations in the French Quarter (Canal Street, Royal Street, Bourbon Street, and Decatur Street). I recommend visiting the one on Royal Street. In my opinion, it's the cutest location and offers the best photo opportunities!
In addition to beignets, Cafe Beignet has more options for breakfast and coffee than Cafe Du Monde, including waffles, breakfast sandwiches, omelets, lattes, and mochas, and they accept card payments, which is great if you're not someone who carries cash. I recommend getting something heartier (in addition to beignets, of course!) to keep you fuller throughout the day.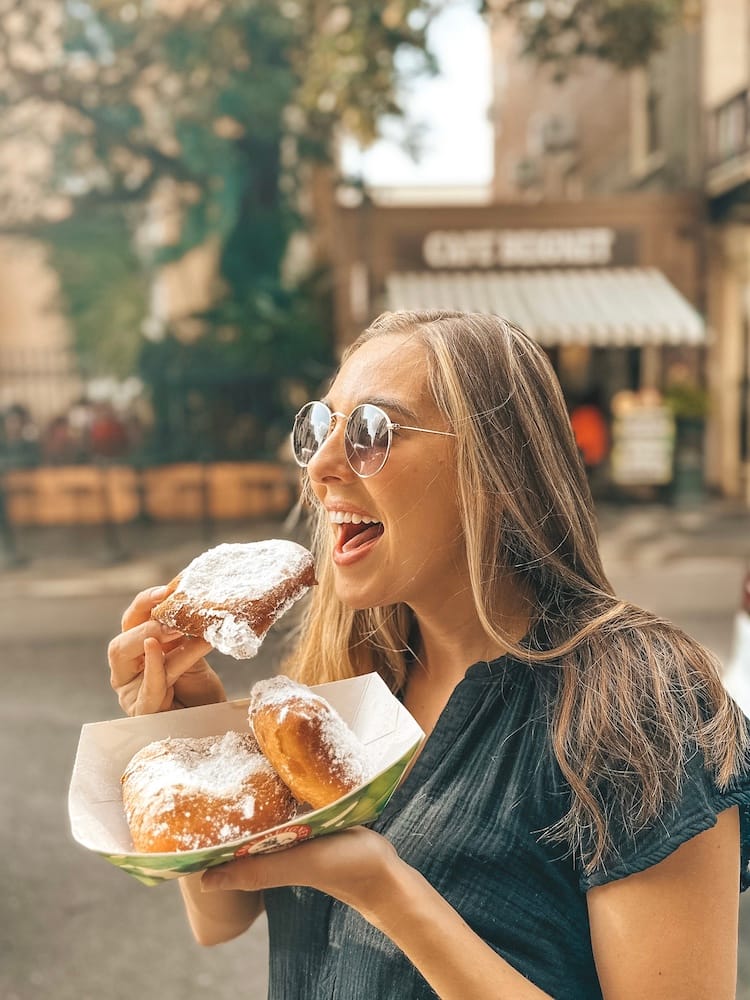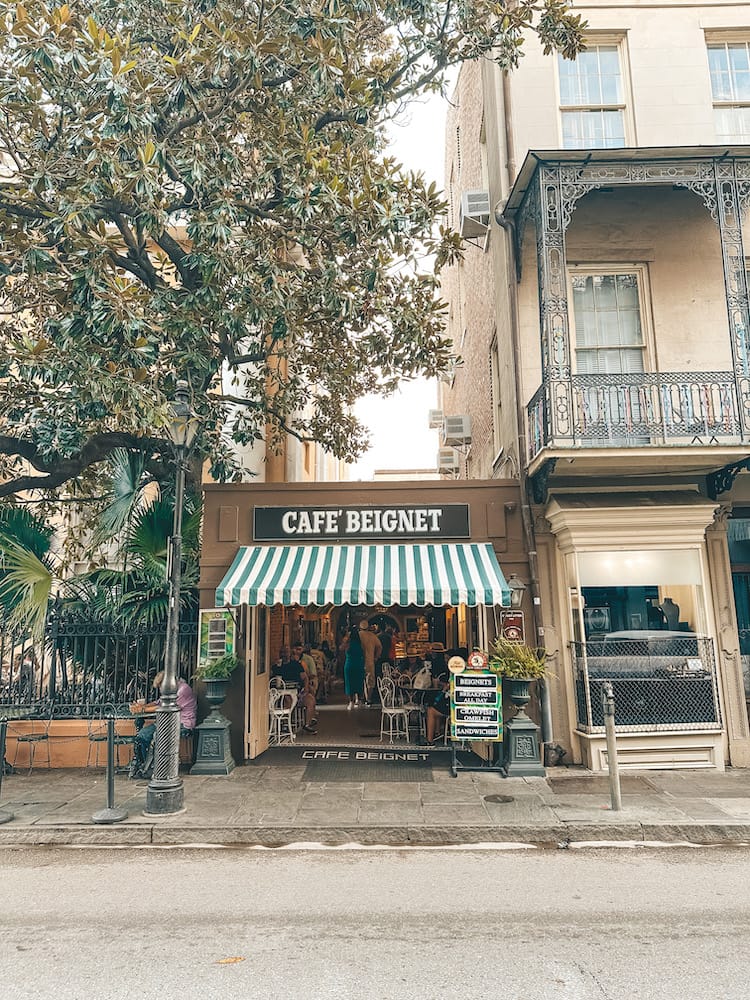 Oak Alley Plantation
Like any major city in the South, New Orleans is home to its fair share of plantations that you can visit to learn more about the history of the homes, the families who lived there, and the enslaved people who worked on the plantations. Most plantations are located along the Mississippi River, and sugarcane was the leading crop produced at these plantations.
Though there are several plantations you can visit in New Orleans, including Laura Plantation and Whitney Plantation, we had a great experience touring Oak Alley Plantation, and I would recommend this plantation tour during your weekend in New Orleans. You can go on an Oak Alley Plantation Half-Day Tour with round-trip transportation from New Orleans, or book a full-day Oak Alley Plantation Tour and Swamp Airboat Combo Tour.
Oak Alley Plantation has several exhibits that allow visitors to learn about different aspects of life on the plantation, including the families who lived inside the home, the enslaved people who worked and lived on the property, the main crop produced (sugarcane), and more. We spent several hours here and learned so much during the guided and self-guided portion of our tour.
Oak Alley Plantation also has a shop, restaurant, and a small bar where you can grab a bite to eat if you get hungry during your time at the plantation. There is also a small bar right outside the "Big House" where you can get a refreshing drink (alcoholic or non-alcoholic) to enjoy while you're walking around and touring the exhibits. This was nice, especially on a hot summer day! 
READ MORE: Oak Alley Plantation Guide: Exhibits, Tours & More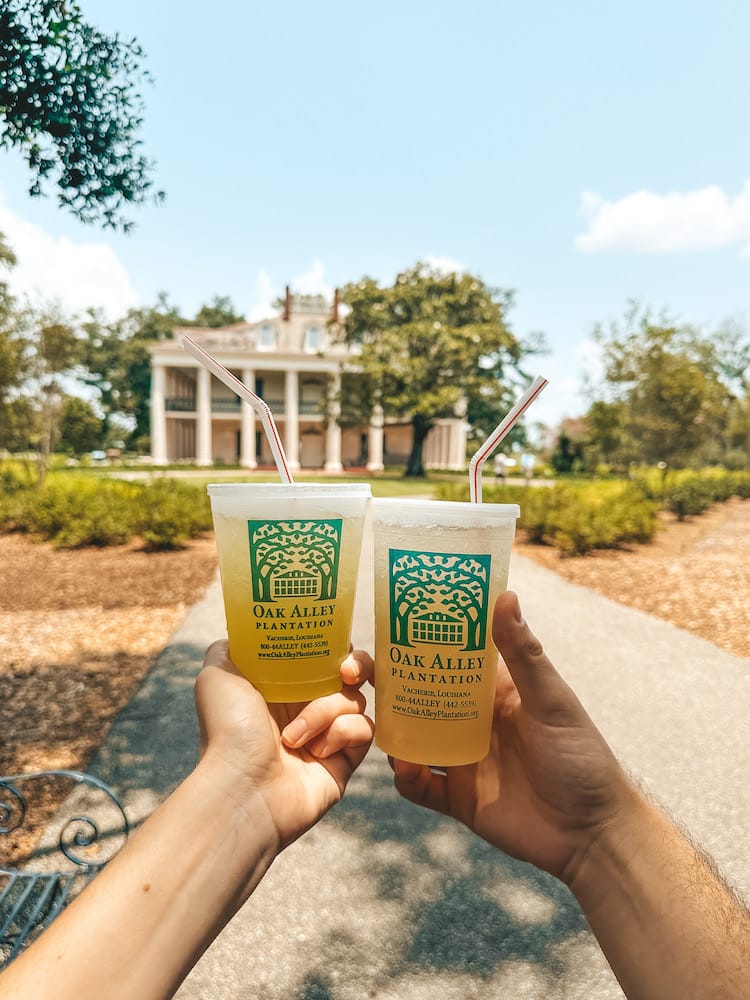 Airboat Swamp Tour
If you book the Oak Alley Plantation Tour and Swamp Airboat Combo Tour, spend the afternoon on an airboat tour of the bayou swamplands. We personally opted out of this option since it was really hot when we visited in June, but we would have loved to have done this had the weather been nicer!
On an airboat tour, you'll be able to see wildlife in the bayou, including alligators, if you're lucky! Your guide should be able to point out the local wildlife to you. Airboats are designed to navigate shallow water, so they can get you further into the swampland than other boats can. Definitely make this a priority during your weekend in New Orleans if you will be visiting from October to May — I am adding this to my list for next time!
Authentic New Orleans Dinner
Before heading home, head back into downtown New Orleans one last time for a nice dinner at one of the best restaurants in New Orleans. My husband and I enjoyed dining at Tableau — a French-Creole restaurant in the French Quarter with a balcony that overlooks Jackson Square. The food was delicious (especially the French onion soup), and we loved exploring the outdoor courtyard at the center of the restaurant.
However, New Orleans is known for its dining scene, so if you're looking for another restaurant to try, these are a few local favorites in New Orleans. Reservations and a smart casual dress code are recommended at all these restaurants.
Brennan's — Brennan's is known for its charming pink façade and has been open since 1946. The restaurant's Creole menu borrows influences from French and Spanish cuisine, and the charming old-world ambiance in the dining room is just as spectacular as the food. This is a great spot to go to try New Orleans' classic with an upscale twist.
Antoine's Restaurant — Antoine's Restaurant has been around since 1840, making it the oldest restaurant in New Orleans. The refined French-Creole menu focuses on Louisiana seafood, like Shrimp Creole and Pompano Pontchartrain, and you'll also find oysters, gumbo, and slow-cooked meats on the menu.
Commander's Palace — Commander's Palace is an award-winning restaurant that has been serving guests in the Garden District since 1893. The menu focuses on Louisiana and Creole cuisine, so you'll find Turtle Soup au Sherry, Commander's Creole Gumbo, Louisiana White Wild Shrimp, and other local favorites with a refined twist on the menu.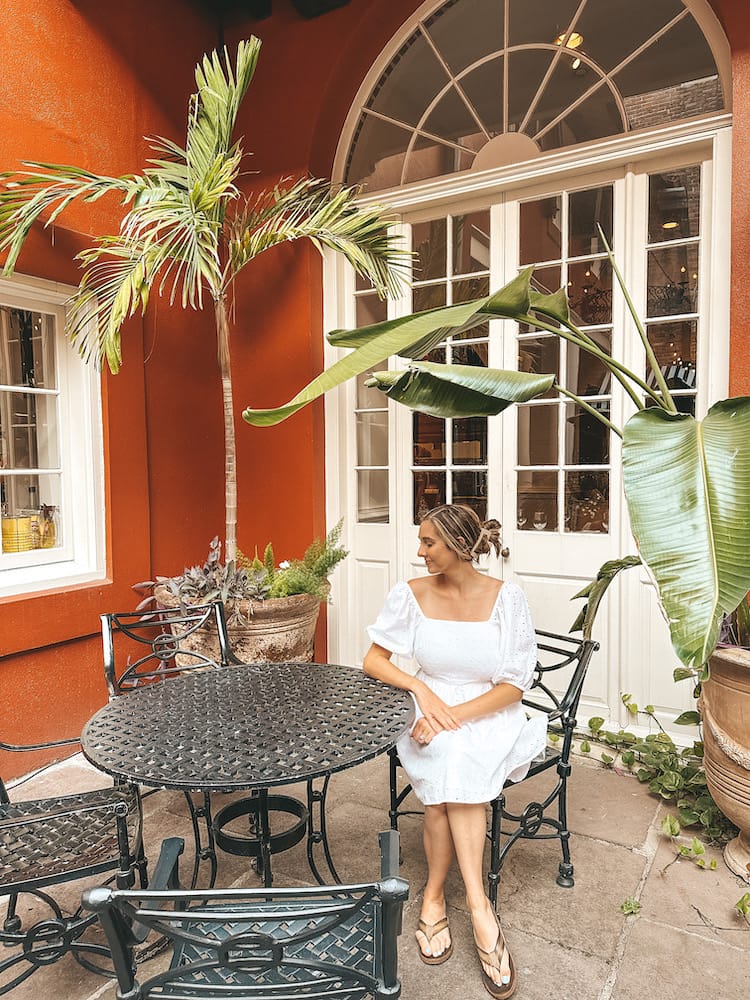 Where to Stay in New Orleans for This Weekend in New Orleans Itinerary
I highly recommend staying at least a little bit away from the French Quarter and Bourbon Street for this weekend in New Orleans itinerary (and truly, for any time you visit New Orleans!).
Staying somewhere between Canal Street and Poydras Street and south of Rampart Street will ensure you're still close enough to all the action without having to listen to the noise of people partying all night long. That said, here are some hotel recommendations in this vicinity:
The Eliza Jane – The Unbound Collection by Hyatt — This beautiful hotel is located in a restored historic building and offers a cocktail lounge in the lobby with daily coffee, cocktails, and small plates. We stopped inside the lobby when we were here, and this hotel looked lovely and was in a great location. We'd love to stay here the next time we are in New Orleans!
Lowes New Orleans Hotel —We snagged a great deal on a room at this hotel in June, and we really enjoyed our stay here. The rooms are spacious, and the hotel offers an indoor pool, hot tub, and dry sauna. There is also an on-site restaurant, Poydras & Peters, that we did not dine at, but it looked really nice.
Four Seasons Hotel New Orleans — If you want to stay somewhere a bit more luxurious on your trip to New Orleans, the Four Seasons is in a great location overlooking the Mississippi River and is a short walk from the French Quarter. The outdoor swimming pool overlooking the river looks spectacular, as does the restaurant and bar!
How Many Days to Spend During a Weekend in New Orleans
As this itinerary suggests, I think three days is the perfect amount of time to spend in New Orleans! You'll be able to see the city's main sites — like the French Quarter and Bourbon Street — while still having time to explore some interesting museums and go on some cool day trips. This makes New Orleans the perfect destination for a long weekend trip.
That said, if you only have two days in New Orleans, I suggest sticking to the first two days on this itinerary and skipping the plantation and bayou tour (though they're amazing, so you'll just have a great reason to come back soon!).
More than three days in New Orleans might be a bit too much in my book, but if you do have more time, I recommend visiting some more of the museums in the French Quarter, going on a food tour or cocktail-crafting experience, or spending some more time shopping and dining in the French Quarter.
Best Time of the Year to Visit New Orleans
There are pros and cons to visiting New Orleans during every season — here is what you should know to perfectly time your trip to New Orleans.
Spring
Spring is the best time to visit New Orleans if you're following the textbook. Not only is the weather beautiful, but there are tons of events that take place during this time — including the French Quarter Festival, New Orleans Jazz & Heritage Festival, and Mardi Gras (usually in late February or early March).
It's important to note that you should only visit New Orleans during Mardi Gras if the festival is the main reason you're traveling to the Big Easy. Many popular tourist attractions (and seemingly the city itself) essentially "shut down" to celebrate this iconic festival. If you want the traditional sightseeing experience — visit NOLA at a different time.
Since spring is the peak season in New Orleans, expect to pay a pretty penny for a hotel room, and be sure to book your trip several months in advance to secure the best deal.
Summer
We visited New Orleans during the summer, and I'll be honest — it was unbearably hot and humid. I personally would not recommend visiting New Orleans in June, July, or August.
That said, you can snag great deals on hotels during the summer months, so if you're on a tight budget, you might want to plan a trip in August. However, it's too hot in the summer to enjoy walking around the French Quarter — which is a huge part of the experience in New Orleans.
If you do visit New Orleans in the summer, be prepared for the heat and the sticky humidity, and plan to spend a lot of time inside museums, bars, and restaurants.
Fall
If you're looking for a combination of smaller crowds, enjoyable weather, and great deals — fall is a great time to visit New Orleans.
Lower hotel prices roll through from the summer into the fall, but the weather is less oppressive, making this a fabulous time to visit. Fall also brings fun events to the Big Easy, like the New Orleans Film Festival and the Voodoo Music + Arts Experience.
Just keep an eye on the weather forecast — September is the peak of hurricane season in New Orleans (and can still be pretty rainy and humid), so if you want to play it safe with the weather, plan a fall trip to the Big Easy in October or November.
Winter
If you want to dodge the crowds and high hotel rates but still enjoy the best weather in New Orleans, winter is the next-best season to visit New Orleans instead of spring.
By December, the temperatures have cooled down significantly and the humidity has lifted, making the city more enjoyable to explore on foot. Overall, the city is also quieter before gearing up for springtime festivals (especially Mardi Gras). You'll also find lower hotel rates in the early winter, but they'll start to climb at the end of January and early February.
Tips for Getting Around During a Weekend in New Orleans
If you're flying into New Orleans, do not, and I repeat — do not — rent a car (unless you like wasting money and being in stressful driving situations). Parking in New Orleans is an absolute nightmare (a very expensive nightmare, too), and most hotels in and around the French Quarter will charge at least $40–$50 per night for parking.
Take my word for it — you really don't need (or want!) a car to explore New Orleans. If you stay near the French Quarter, you can walk to most of the city's attractions, restaurants, and bars. And it's easy to use a bus, Uber, Lyft, or a guided tour with round-trip transportation to get to the few places that aren't reachable on foot.
FAQs: Weekend in New Orleans Itinerary
Is a weekend long enough in New Orleans?
Yes, a weekend is long enough in New Orleans to experience all the sights and sounds that the city has to offer. A long three-day weekend is ideal, but it is possible to explore New Orleans on a jam-packed two-day weekend trip.
Is New Orleans a walkable city?
New Orleans is an extremely walkable city — in fact, it's much easier to explore New Orleans on foot than in a car. Find a hotel to stay in near the French Quarter so you can easily walk to the museums, restaurants, and attractions in downtown New Orleans.
Is it safe to walk around downtown New Orleans?
You should always be aware of your surroundings while exploring New Orleans — just like in any other big city. While the French Quarter is generally a safe place to walk around during the day, be mindful of walking in poorly lit areas at night, always travel in a group (if possible), and keep your belongings close to avoid being a target for pickpockets. 
Follow This Three-Day Weekend in New Orleans Itinerary for the Perfect Vacation
This three-day weekend in New Orleans itinerary offers the perfect mix of all the best that NOLA has to offer — beautiful architecture, interesting history, lively nightlife, delicious cuisine, and much more. I hope you have as much fun exploring the "Big Easy" as I did during my weekend trip — I already can't wait to come back to see more!

Disclosure: Some of the links in this weekend in New Orleans itinerary are affiliate links, meaning, at no additional cost to you, I earn a commission if you click through and make a purchase. This helps me keep the content on my website free, like this weekend in New Orleans itinerary.
Save This 3-Day Weekend in New Orleans Itinerary for Later