Planning a USA vacation in February? When you plan to visit one of the best places to visit in February in the USA, you will not only enjoy cheaper prices and smaller crowds at some of the country's most popular destinations, but a wide range of landscapes and climates—from snowy skiing adventures to warm, tropical getaways.
So, if you're asking yourself: "Where is a good place to vacation in February in the USA?"—we've got you covered! Check out this roundup of places to visit in the U.S. in February to find somewhere that satisfies your interests—whether that be cozied up in a cabin in the mountains, exploring a new city, or lounging on a beach under the warm sunshine!
Best Places to Visit in February in the USA
1. South Padre Island, Texas
South Padre Island, Texas, is easily one of the best places to visit in February in the USA. Not only is this month shoulder season, so you'll enjoy great prices on hotels and airfare, but this gorgeous barrier island has wonderfully warm weather all year long, making it one of the best places to travel in February for warm weather in the USA.
If you'd like, you can enjoy some of the island's many exquisite beaches as you stroll along the Padre Island National Seashore and make the most of your time on the biggest undeveloped barrier island in the world. After the beach, visit local highlights like the Port Isabel Lighthouse. It was initially built in 1852 and is a local landmark since it is the only lighthouse on the Texas coast that is open to tourists.
Next, head to the Sea Turtle Conservation Center and learn all about these magical creatures and how staff rehabilitates over one hundred turtles annually. Finally, grab some delicious steak and seafood at Sea Ranch Restaurant before heading back to your room at Isla Grand Beach Resort. It's an all-around amazing place to stay since it has two outdoor pools and tennis courts that are delightful after experiencing some of the best things to do on South Padre Island.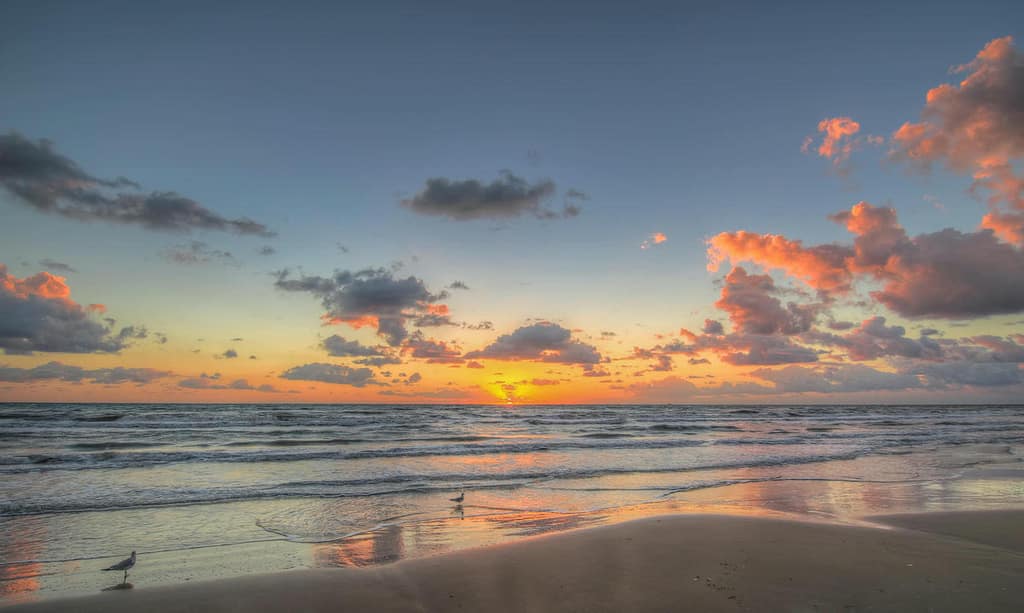 Contributed by Victoria of Texas Travel 365
2. Telluride, Colorado
If you're a snow bunny at heart, then Telluride, Colorado, is the perfect place for you to spend your USA vacation in February. This quaint mountain town is filled with tons of winter activities that you can enjoy, like skiing, snowboarding, and going on a fun (and unique!) snowmobiling tour through Alta Ghost Town.
You can also go hiking or snowshoeing on Bear Creek Trail since this is one of the only best hikes in Telluride that is manageable throughout the year, even in the winter. When you start to feel a little chilly, head over to Cosmopolitan Restaurant and order a delicious plate of Chilean sea bass before grabbing some craft beer at Smuggler's Brewpub.
Then, to warm yourself up even more, you can also go for a nice dip at Dunton Hot Springs before spending the night at The Hotel Telluride. It's a boutique hotel with an on-site restaurant and bar.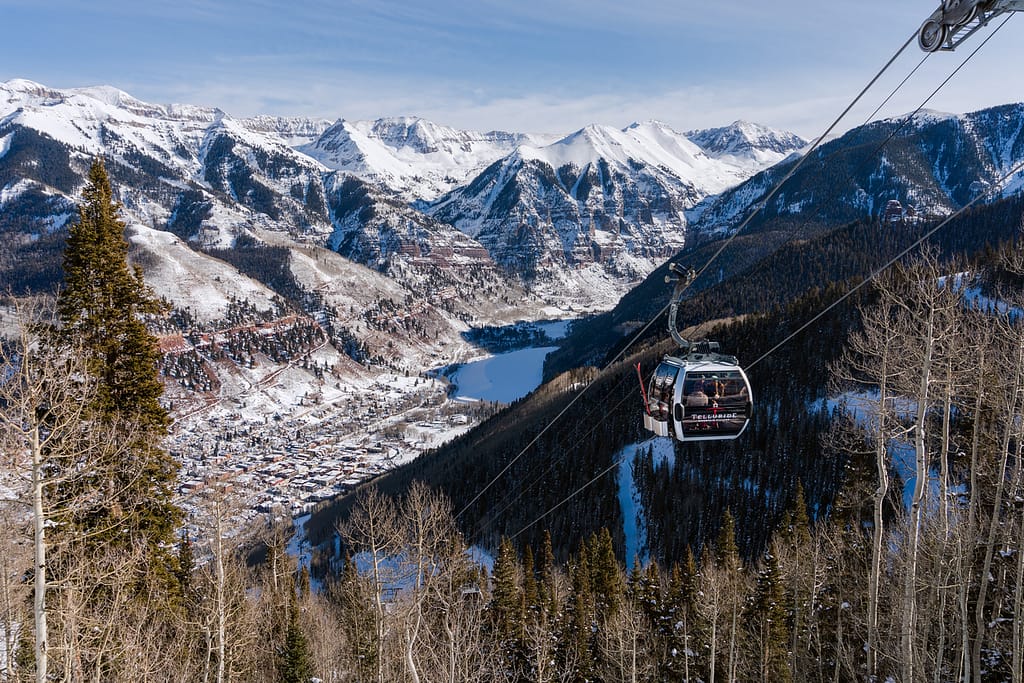 Contributed by Meg of Fox in the Forest
3. Key West, Florida
Looking for one of the best places to visit in February in the USA? If so, then try Key West, Florida! After all, Key West is one of the best places to travel in February for warm weather in the USA since daily highs are around 76°F throughout the month. There's also a nice breeze off the water, so it never feels too hot at this time of year.
It is important to note that February is high season in Key West, so hotels, tours, and flights will be pricey, and many places will be filled with people. However, with the promise of great weather (no hurricanes!) and plenty to do, it's worth paying extra to visit Key West in February. Plus, there are several special events you can enjoy when you visit Key West in February, like the Civil War Heritage Days at Fort Zachary Taylor Historic State Park, Mile 0 Fest Music Festival at Truman Waterfront Park Amphitheater, and the Old Island Days Art Festival.
After enjoying these great activities, grab some delicious island-inspired fare at Blue Heaven in Bahama Village. It's easily one of the best restaurants in Key West and is known for amazing Caribbean BBQ shrimp as well as pineapple-topped pancakes. Then, for dessert, stop by Old Town Bakery for some of the best key lime pie in the world.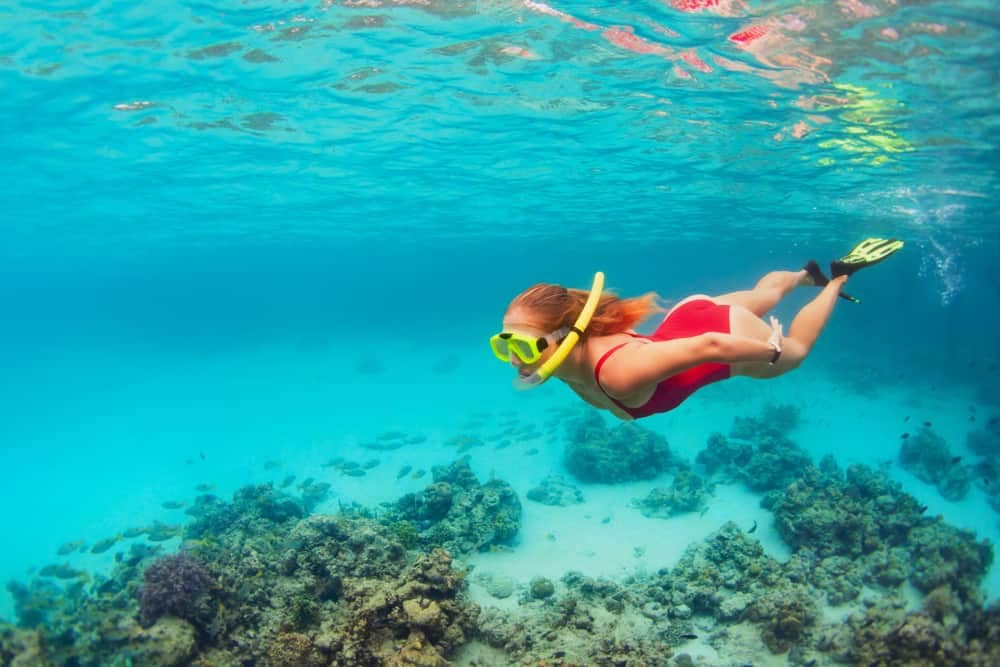 Contributed by Victoria of Florida Trippers
4. San Diego, California
San Diego is one of the best places to visit in February in the USA, thanks to the mild temperatures, rain-free weather, and smaller crowds. Plus, there are tons of fun things to do in San Diego to keep you busy for a short weekend trip or an entire week-long vacation!
People tend to flock to San Diego in the spring and summer, which drives up airfare and hotel prices, but February is just as lovely of a time to visit. You can enjoy the beautiful beaches in San Diego, like Coronado Central Beach, without the crowds, and can even take a day trip to La Jolla to see the sea lions basking in the sunshine in La Jolla Cove. If you're looking to learn some of San Diego's naval history, get a ticket aboard the USS Midway Museum, an aircraft carrier docked near Fisherman's Wharf, or stroll around the Hotel del Coronado, one of the most historic hotels on the West Coast of the United States.
While you're in San Diego, you can't miss the chance to visit the San Diego Zoo, one of the country's best zoos! After spending a day at the zoo, stroll around Balboa Park, and then head to Little Italy for dinner. If you're looking for a perfect spot for a nightcap, head to Wolfie's Carousel Bar to enjoy fun cocktails while spinning around a vintage carousel.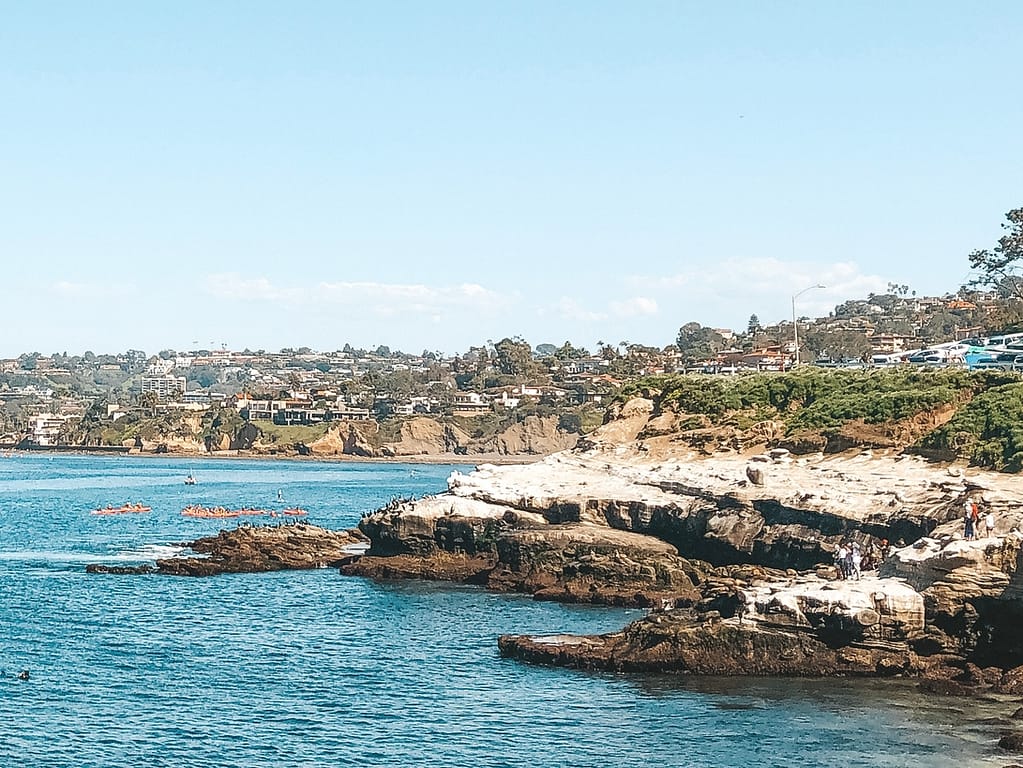 Contributed by Brittany of Travel by Brit
5. Alta & Snowbird, Utah
If you're looking for one of the best places to visit in February in the USA, look no further than Alta, Utah—where you can find the "greatest snow on Earth!"
February is the ideal time to visit Utah for a skiing trip for a few reasons. First, the resorts have already built up a nice base of snow, so the terrain is more likely to be open by then. Second, February is typically the snowiest month, so you're more likely to experience an epic powder day (or more!). Utah's mountainous towns have an arid climate, so they regularly get over 500 inches of fluffy, powdery snow every winter!
Utah boasts ten world-class ski resorts within a one-hour drive of Salt Lake City. While many tourists and out-of-towners flock to Park City, serious skiers and locals head up Little Cottonwood Canyon to Alta or Snowbird. The resorts are neighbors, and you can get a pass to ski both—but not snowboard. Alta is one of the few remaining resorts in the country that is skiers-only. Snowbird, on the other hand, allows both skiers and snowboarders to access their terrain. Snowbird has more amenities, larger hotels, bigger terrain, and a state-of-the-art tram to take you from 7,759 feet at the base all the way up to 11,000 feet at the peak. For some unique local fare, try a bison or elk burger at The Aerie at Snowbird.
For a more down-to-earth (yet luxurious!) place to stay, book a room at The Snowpine Lodge at Alta. At the resort, you'll be able to enjoy a private chairlift that provides ski-in-ski-out access, an outdoor heated pool overlooking the slopes, and a highly entertaining game room called "The Nest" for when the whole family needs a break from the cold.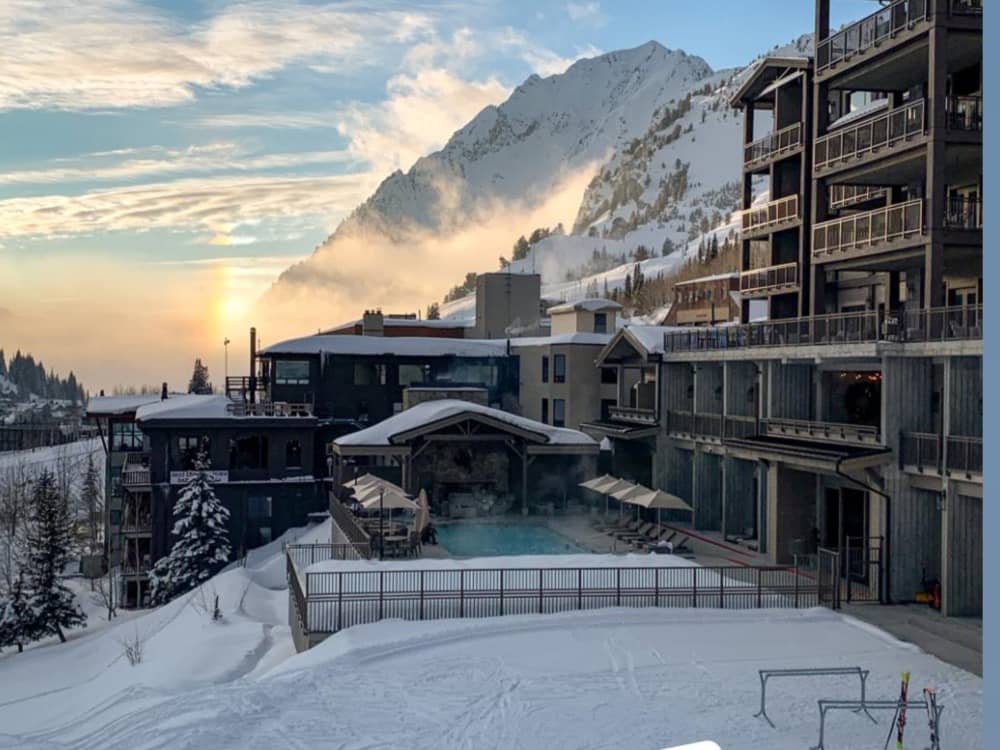 Contributed by JJ Haglund of The Minivan Bucket List
6. Death Valley National Park, California
Death Valley National Park in California is a great place to visit in February in the USA. Unlike the sweltering hot summer, the winter months provide the best chance to get to see a lot of the park when temperatures are more moderate.
Death Valley National Park is vast, with over 3,000 square miles to explore. When visiting the park in February, you will have the chance to explore some of the longer hiking trails, such as Panamint Dunes or Mosaic Canyon, that can be difficult to enjoy when temperatures reach over 100°F in the spring, summer, or fall. If you love mountain biking, you can also find rentals around the park. To round out a full day of adventures, don't miss the sunset at Zabriskie Point!
If you're looking for somewhere to stay in the park that will keep you close to all the action, The Ranch at Death Valley is a great option, but it does book up quickly (especially in the winter), so if you want to stay here, be sure to plan ahead. Restaurants in the area can be limited, but both hotels have great restaurants, as does Stovepipe Wells Village.
Contributed by Shelly of Almost There Adventures
7. Yellowstone National Park, Wyoming
If you're looking for one of the best places to visit in February in the USA, look no further than Yellowstone National Park. Yellowstone National Park is home to Old Faithful, a geyser famous for its 100+ foot eruptions every 75 minutes. February is the perfect time to visit Yellowstone because the trademark crowds that swarm the parks in the summer months are noticeably absent. To see the park's highlights, take a van or snowmobile tour, as most of the park's roads are closed to cars during the winter months.
While you're in Yellowstone National Park, you can snowshoe or cross-country ski on a limited number of trails—just ask the park rangers about the best trails and local conditions before you set off. As a bonus, it's easy to find the bison herds that wander through the park because they often prefer to walk along the paved roadways or heavily packed down trails.
If you have the appropriate gear, you can car camp in the national park. Otherwise, stay in the nearby city of Bozeman, Montana, at the RSVP Motel, a spot with consistently wonderful reviews and quirky, eclectic decor. As a bonus, the RSVP Motel is only a short drive from two great eateries in Bozeman: The Wild Crumb Bakery and Treeline Coffee Roasters.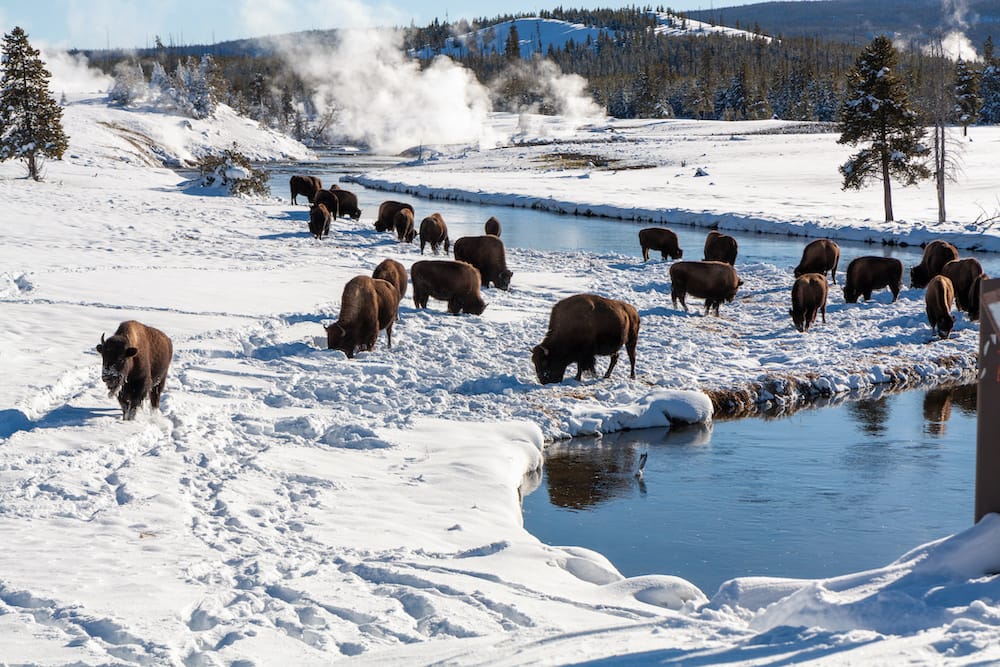 Contributed by Amber of Amber Everywhere
8. San Juan, Puerto Rico
Looking for one of the best places to travel in February for warm weather in the USA? If so, look no further than San Juan, Puerto Rico—a U.S. territory in the Caribbean that enjoys balmy weather year-round.
Some of the best things to do in Old San Juan involve exploring the historic fortresses of Castillo San Felipe del Morro (El Morro) and Castillo de San Cristóbal, which is the largest Spanish fort in the New World. Walk along the El Paseo del Morro National Recreational Trail, with the towering city walls to one side and the waters of the harbor to the other. Then, soak up San Juan's vibe by relaxing in one of its many plazas and enjoying the beautiful fountains.
During your stay in San Juan, be sure to sample local delicacies such as mofongo, a dish featuring plantains. Barrachina serves traditional Puerto Rican dishes and claims to have invented Puerto Rico's famous cocktail, the piña colada. You should also plan to stay at the Hotel El Convento, an upscale hotel located in the heart of Old San Juan. This former Carmelite convent is just across the road from Catedral Basilica Menor de San Juan Bautista, the second-oldest cathedral in the Americas.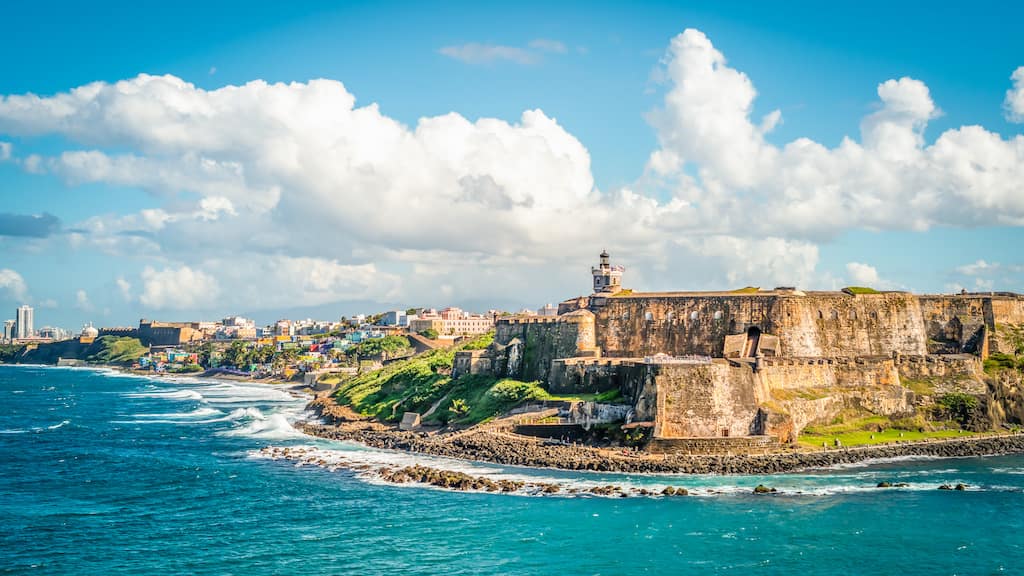 Contributed by Lisa of Waves and Cobblestones
9. Green Mountain National Forest, Vermont
If you want to take a winter vacation on the East Coast, the Green Mountain National Forest in Vermont should be at the top of your list. This expansive area stretches from the far north to the southern border of the state, and it's perfect for outdoor lovers! There are hundreds of miles of hiking trails, cross-country skiing trails, and snowmobiling routes that will keep you entertained.
For those who love skiing, Stratton Mountain in southern Vermont is a great destination and is close to Manchester, where there are several attractive lodging and dining choices. There are a variety of trails for all skill levels at Stratton Mountain, and the views are incredible! If you are not a skier, give winter hiking a try—just pack your crampons and trekking poles since ice is likely. A great trail close to the area is Spruce Peak in Winhall, Vermont. It's just under five miles round trip, but at the summit, there is a spur trail that leads to great views of Manchester and the Taconic Mountains. Winter camping is also an option at the nearby rustic Spruce Peak Shelter.
After your invigorating outdoor adventures, you can enjoy a peaceful stay at The Dorset Inn, where you can relax and dine on-site. If the outdoors are still calling you, you can rent snowshoes right down the road at The Mountain Goat in Manchester and enjoy exploring the beauty of this area. Don't leave Vermont without enjoying shopping in Manchester Center, visiting the incredible Northshire Bookstore, and dining at Nipper's Cafe.
Contributed by Heather of This Noshtalgic Life
10. Antelope Canyon, Arizona
Of the many amazing places to visit in the U.S. in February, Antelope Canyon in northern Arizona is a great choice. Antelope Canyon is one of the most beautiful slot canyons in the world, and when you visit in February, you'll be able to beat the crowds!
Antelope Canyon has become extremely popular over the years, making the experience of visiting this incredible slot canyon not quite as enchanting as it used to be. However, it's totally possible to have a nice experience at either Upper or Lower Antelope Canyon in February because of the fewer crowds in the off-season. In February, the high temperatures are around 51°F, so the weather can be a bit chilly, but it's not too bad. While you're in Page, don't forget to check out Horseshoe Bend; an incredible overlook of Glen Canyon that has formed into a horseshoe-like bend by the Colorado River flowing below. Horseshoe Bend is just a few miles down the street from Antelope Canyon, making it easy to visit both in one day!
When looking for a place to stay, check out the Comfort Inn & Suites Page at Lake Powell, a highly-rated hotel in Page that has free parking and an Indoor pool. Also, don't miss eating at BirdHouse, a tasty and modern restaurant that serves elevated comfort food and craft beer.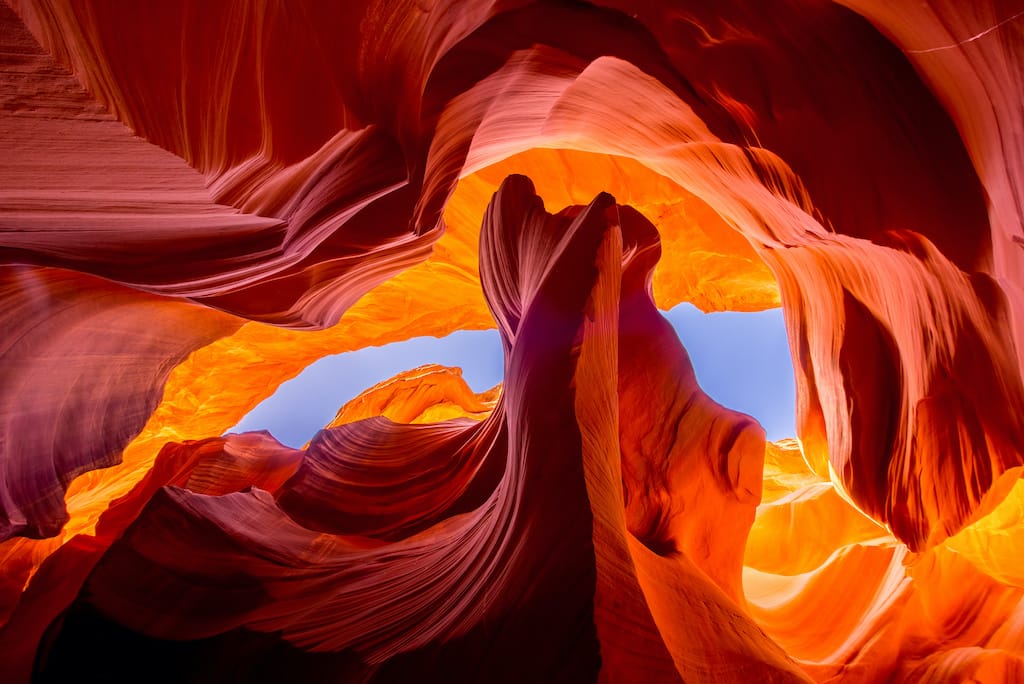 Contributed by Jessica of Unearth the Voyage
11. Maui, Hawaii
If you're searching for a tropical escape from the blustery winter weather, Maui, Hawaii, is one of the best places in the U.S. to visit in February.
Besides being an island paradise, February is one of the best times to visit Maui, thanks to its charming annual visitors—the humpback whale! Every year, from November through May (with the peak season being in February), over 10,000 humpback whales migrate from the frigid waters around Alaska to Maui's warm lagoons to breed and raise their young. Be sure to take a whale-watching cruise to see these acrobats of the ocean as they breach, slap their tails, and dive to depths up to 700 feet underwater!
Any trip to Maui also must include a drive along the Road to Hana, a 65-mile road that snakes past lush jungles, rushing waterfalls, and more tropical fruit stands than you can count. Be sure to carve out time to stop at some of the best hikes in Maui, like the Twin Falls or Pīpīwai Trails, where you can see everything from stunning waterfalls in the rainforest to a bamboo forest!
On your way back from your road trip, book a table at Mama's Fish House in the surfer town of Paia. This popular restaurant serves some of the freshest dishes on the island, with stunning views of the Pacific Ocean. After stuffing yourself with Hawaiian-inspired cuisine, book a night at Paia Inn, which features a restaurant where you can grab a nightcap and enjoy views of the beach just steps away.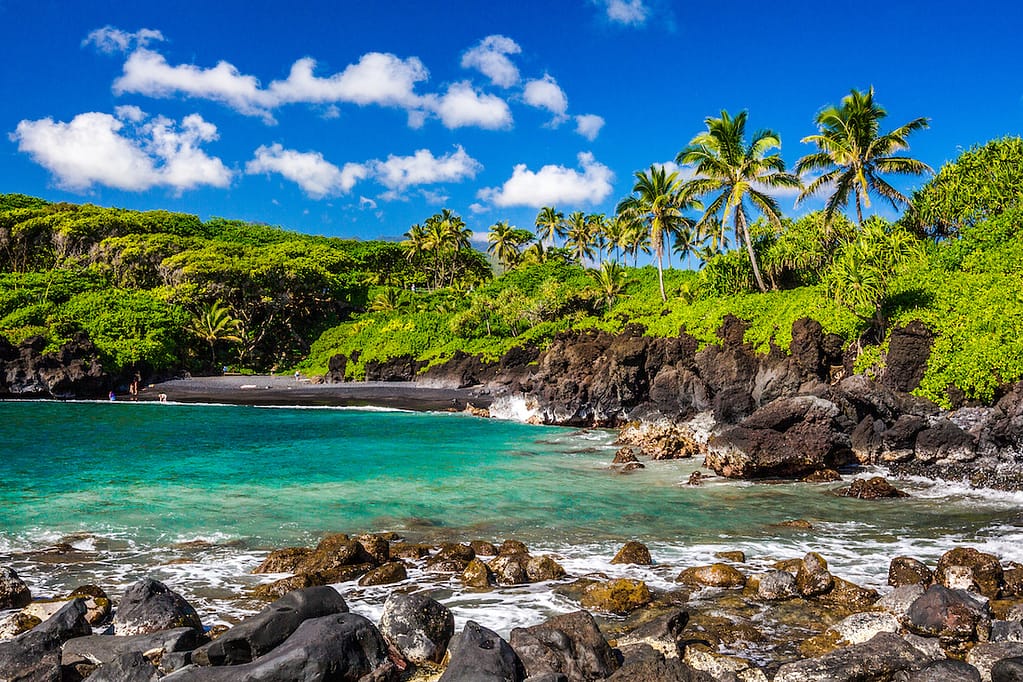 Contributed by Jessica of Uprooted Traveler
12. Lake Tahoe, California
Lake Tahoe is one of the best places to visit in February in the USA, with its epic ski conditions and surplus of sunny days. Lake Tahoe averages 400 inches of snow and over 300 days of sunshine annually, making the region a perfect winter wonderland for playing in the snow and a relaxing night in a snowy cabin.
This snowy mountain destination has 15 ski resorts that range from extreme snow sports facilities like Boreal to epic mountain skiing at the former home of the Olympics at Palisades Lake Tahoe. February in Lake Tahoe offers some of the best powder days of the year, with the second most snowfall by month of the year. The area's temperatures are cold enough in February to keep the fresh snow light and fluffy.
If you are looking for a night out, Lake Tahoe offers all the fun you can handle at its craft breweries and high-energy bars at its casinos. By day, there are plenty of snow parks for sledding or cross-country skiing trails for those that want to play in the snow but are not up for a day on the slopes. Put this snowy playground at the top of your list of where to travel in February in the U.S.—you won't regret it!
Contributed by Gabriel of Chef Travel Guide
13. St. Augustine, Florida
St. Augustine is the nation's oldest city, dating back to 1565 when it was discovered by explorers from Spain. It's also one of the best places to visit in February in the USA, thanks to the warm, sunny weather St. Augustine, Florida, experiences during all times of the year!
While you're in St. Augustine, explore the city's colonial architecture and other historical landmarks, like the Castillo de San Marcos National Monument, St. Augustine Lighthouse & Maritime Museum, and Ponce de Leon's Fountain of Youth Archeological Park. In addition to learning about the city's history, there are many other things to do in St. Augustine, like relaxing on the beautiful beaches, like St. Augustine Beach and Ponte Vedra Beach, making this beachy city the perfect warm-weather getaway in the USA in February.
You will find traditional cafés and historic casa-style hotels to explore in St. Augustine. The city also hosts festivals year-round celebrating food, history, art, and culture. In February, The Pier's unique arts and craft festival with live music, exotic Southern cuisines, and hand-crafted artworks is a can't-miss event!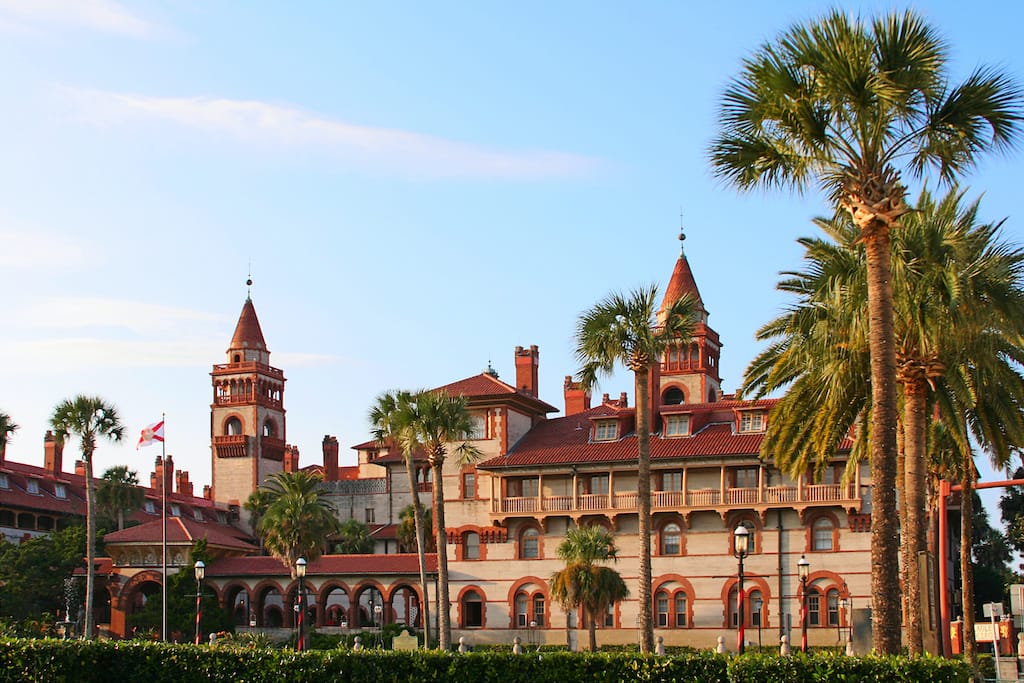 Contributed by Yukti of Travel With Me 24×7
14. Napa Valley, California
Napa Valley is one of the best places to visit in February in the USA for a long list of reasons. In February, Napa experiences mild temperatures, fewer crowds, and cheaper airfare and hotel prices. Plus, almost everything stays open year-round. So, you'll get the full experience at a fraction of the price you would pay during the summer!
Napa Valley is the perfect destination to plan a perfect girl's getaway in the wine valley or a romantic trip with your special someone for Valentine's Day! It's easy to spend a full week in Napa, but a day trip to Napa from San Francisco is well worth your time too.
Fly into San Francisco International Airport, and then make your way an hour and a half north to Napa Valley. You'll want to book a few nights at the Calistoga Spa, home to a beautiful resort and relaxing spa complete with restoring hot springs. While you're in wine central, you'll have to spend plenty of time checking out a few of the many vineyards here. Some favorites include Castello di Amorosa, Domaine Carneros, and Frog's Leap. You can go on a wine-tasting tour if you don't want to worry about driving!
For some non-wine activities, book tickets on the Napa Wine Train, take a hot air balloon ride over the valley or explore downtown Napa, where you can taste all the delicious cuisine at places like Avow or Hog Island Oysters Co.
Contributed by Tori of Tori Pines Travel
15. Winter Park, Colorado
Looking for one of the best places to visit in February in the USA that makes for a great winter getaway? If so, then look no further than Winter Park, Colorado!
This charming town is located in Grand County, Colorado, and is known for its great skiing, snowboarding, and winter sports. Even if you're not into skiing or snowboarding, there are plenty of other activities to enjoy in Winter Park, from snowmobiling and snowshoeing to exploring the quaint shops and restaurants. After a long day on the slopes, head to Fraser River Beer Co. for a beer flight and a snack at the food truck of the day.
The best thing about visiting Winter Park in February is that the Colorado sun can warm up even the snowiest and coldest of days. Winter Park is conveniently located near Denver, so you can rent a car and drive to Winter Park. Whether you're looking for a fun-filled family vacation or a romantic weekend getaway, make sure to add Winter Park, Colorado, to your list!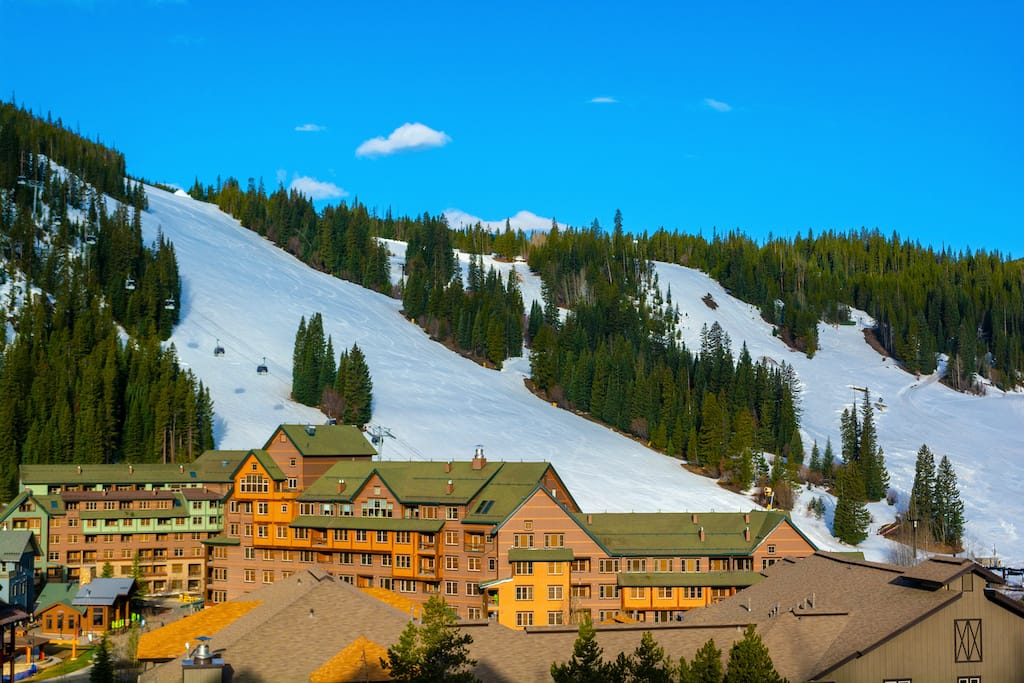 Contributed by Rachel of Caribbean Uncovered
16. Anna Maria Island, Florida
In Manatee County, Florida, along the Gulf of Mexico, Anna Maria Island is a perfect place to visit in February in the USA. Anna Maria Island is famous for its fun activities, like horseback riding and kayaking, and its stunning white-sand beaches. If you plan to visit Florida, Anna Maria Beach is a must-visit destination.
If you are a beach lover, you will love spending hours on the beaches on Anna Maria Island. You can spend hours walking along the island's beautiful beaches or lay out a towel and soak up the sunshine. After spending time at the beach, you can visit local piers to enjoy the beauty of the sea and its marine life without wetting your legs.
Once you are done with the beach, you can rent a bike to explore the city or hop into some of the best restaurants. Don't forget to stop at The Ugly Grouper to taste the delicious Shrimp Tacos. If you plan to stay here for a couple of days, you'll love the hospitality and luxurious ambiance of Anna Maria Beach Resort!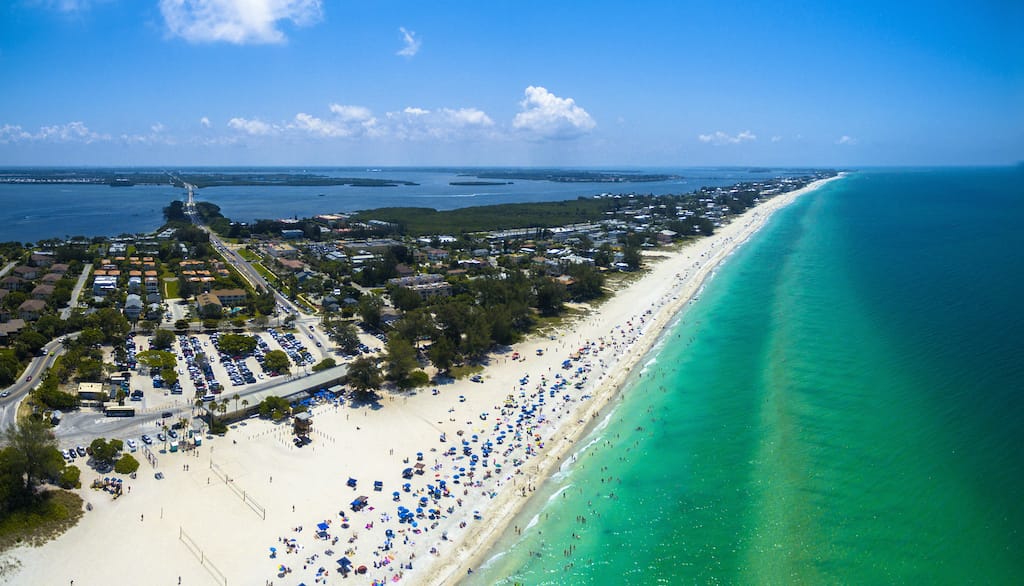 Contributed by Trijit from Budget Travel Buff
17. Austin, Texas
If you are looking for one of the best warm places to travel in February in the USA, look no further than Austin, Texas. The average daily temperatures are in the mid-60s, making it the perfect time to partake in all the outdoor activities that make Austin such a great place to visit.
Outdoor trails are prevalent around Austin, and Mount Bonnell is a great, short hike with a large payoff of beautiful views of Lake Austin. McKinney Falls State Park has several trails ranging from 1-3 miles along with the waterfalls, which are quite impressive after a good rainfall! If you're looking for something to do inside the city, a self-guided tour of the city's street art makes for the perfect urban stroll.
Stiles Switch BBQ is the perfect spot to enjoy lunch or dinner. They are known for their mouth-watering brisket, but you'll also find that their sausage does not disappoint. Moonshine Grill is also worth the stop with their Jalapeño Hangar Steak and Seared Rainbow Trout. Festivals make up just as much of the city's culture as food, so make sure to check one out during your stay. February offers an annual Chili Cook-Off, Austin Oyster Festival, and Carnaval Brasileiro. Stay at the Fairmont Austin, in the heart of the city, to enjoy modern, upscale rooms and a beautiful rooftop pool.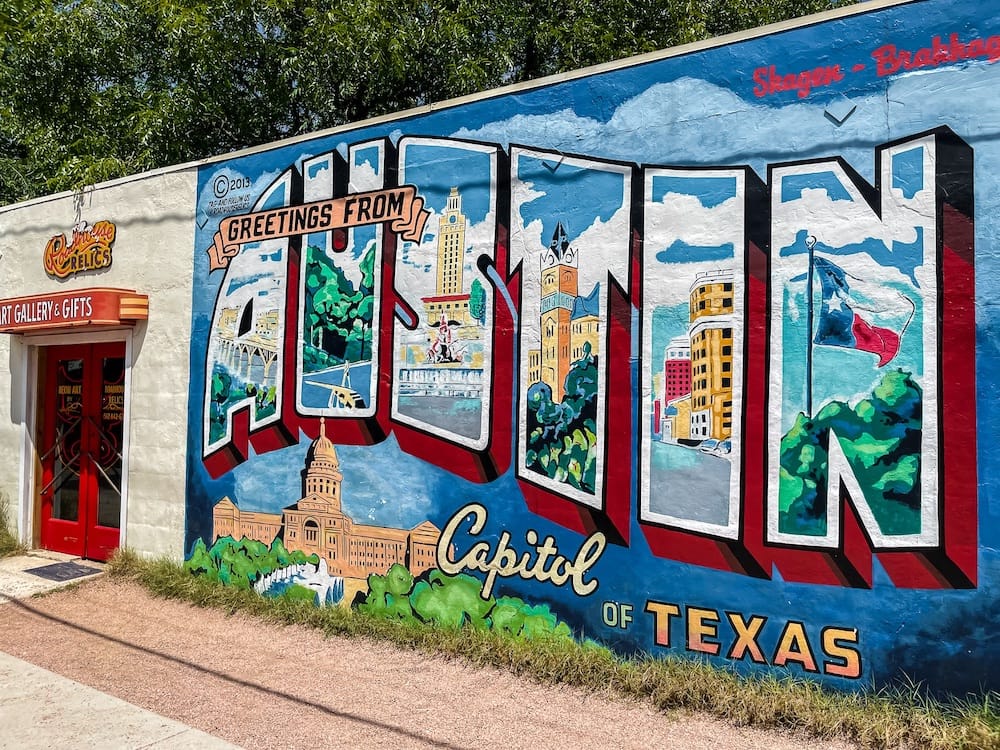 Contributed by Sierra from Very Truly Texas
18. San Luis Obispo, California
San Luis Obispo (a.k.a. SLO) is a trendy university town in Central California with a lively atmosphere and tons of outdoor activities available in February! Summer is the peak season for the city and surrounding beaches, but the weather in February is still pleasant, with very little rain and daytime temperatures between 65ºF – 70ºF. In the winter, restaurants and shops remain busy due to the students studying at Cal Poly University and retirees living in the area.
Travelers who love the outdoors will especially enjoy San Luis Obispo. There are endless hiking trails, with the most scenic views at Bishop Peak and Avila Ridge, plus unique coastal hikes a short drive north in Morro Bay. The beaches nearby are worth visiting too. Pismo Beach is the best for surfers, while Avila Beach is best for sunbathing and seafood lovers. Mountain biking and rock climbing are also very popular activities in San Luis Obispo.
There are tons of dining options while in SLO, but you must try the steak at Old SLO BBQ. If you happen to visit on a Thursday, there's a wonderful farmers market on Higuera Street with international food trucks and local pop-up shops. There are also tons of great dining options nearby in Santa Barbara. When searching for a hotel, we recommend the famous yet off-beat Madonna Inn Hotel.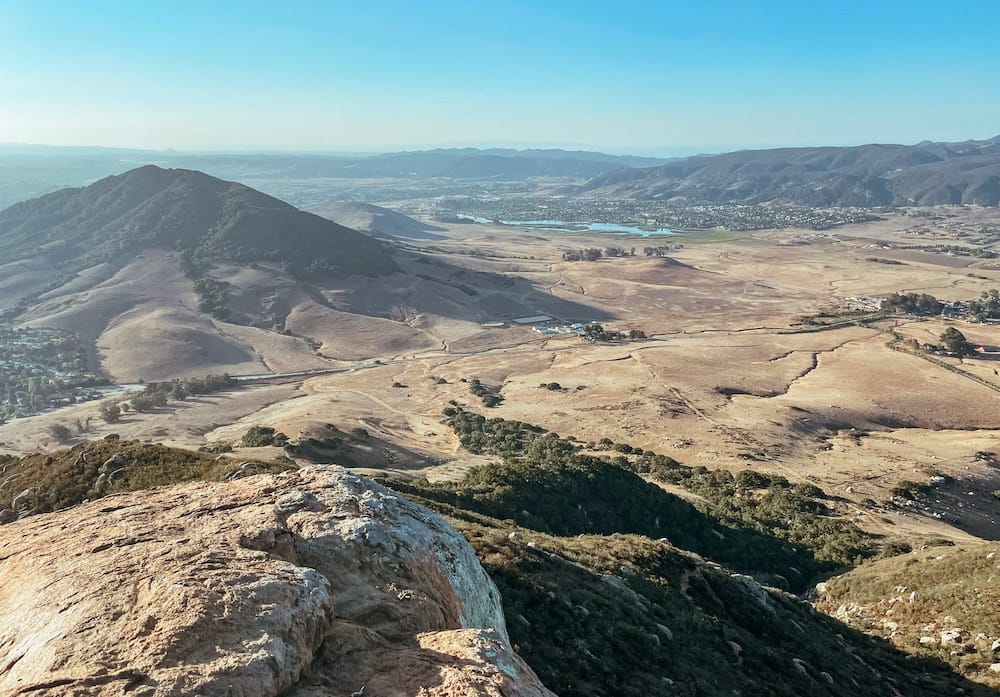 Contributed by Caleb from The Pazook Travel Journal
19. Arches National Park, Utah
Arches National Park, known as one of the Mighty Five, is one of the most famous national parks in Utah. Through its status, the park attracts thousands of visitors during the year, mostly in the spring and summer. That's why it is great to visit the park in February. At that time of the year, Arches National Park is less crowded, and as one of the few visitors, you won't have to share the stunning views with anybody.
One of the best things to do in February is going to Arches National Park for sunrise. In the winter, sunrise is a lot later than in the summer, so you don't have to wake up as early! Visiting in February also means that you won't have to share the best sunrise spots with anybody, which is great, especially if you are into photography. Another one of the best reasons to visit Arches in February is that the park sometimes gets snow. This provides a totally different experience than the hot and dry summer weather and makes for great pictures as well!
While in Arches National Park, hike to Delicate Arch and check out The Windows Section. Moab, which is located right by Arches National Park, offers a range of restaurants. A popular one is the Jailhouse Café. If you're planning to stay the night close to the park, Element Moab is a popular hotel in the area.
Contributed by Mary from BRbyMary
20. Scottsdale, Arizona
If you're looking for one of the best places to visit in February in the USA, add Scottsdale, Arizona, to your list. In addition to sunny skies and balmy temperatures, there are plenty of fun things to do in Scottsdale to keep you busy for days. Golfers will adore the fabulous golf courses in Scottsdale, architecture lovers will enjoy visiting Frank Lloyd Wright's Taliesin West, and sports fans will love attending the Waste Management Phoenix Open, the biggest event on the PGA Tour, and the beginning of MLB Cactus League Spring Training.
With warm, sunny weather, February is an ideal time to go hiking, biking, or rock climbing in the Sonoran Desert. Scottsdale's McDowell Sonoran Desert Preserve is a great place to explore and protects over 30,000 acres and more than 225 miles of trails. Pinnacle Peak is another fabulous place to hike in Scottsdale. If you work up a sweat, you can cool off at Western Spirit: Scottsdale's Museum of the West or the Scottsdale Museum of Contemporary Art.
Old Town Scottsdale has no shortage of incredible places to eat, including the Mission Old Town for some authentic Mexican food and table-side guacamole. If you're looking for a unique place to stay in Scottsdale, check out the Andaz Scottsdale Resort for bungalow-style rooms, individual patios, and spectacular views of Camelback Mountain in the distance.
Contributed by Theresa from The Local Tourist
21. Seattle, Washington
Seattle is a great destination for family, solo, or couples travel in February. Not only are prices in February a little lower, but early in the year, you'll enjoy light crowds, short lines, and access to all the incredible activities that Seattle offers tourists.
In Seattle, the temperature rarely drops below freezing, so you can enjoy open water, mountain views, lush greenery, and snowcapped mountains in the distance. Because of the famous drizzly skies, nearly all the city's tourist attractions are designed to keep visitors cozy, making Seattle one of the best places to visit in February in the USA. Check out the Seattle Art Museum, Museum of Pop Culture, and the Seattle Aquarium to stay warm and dry.
When you're ready to enjoy dinner, get reservations at The Pink Door, a famous restaurant serving Italian food, or walk around Pike Place Market to find somewhere to eat. Ellenos Yogurt, Beecher's Handmade Cheese, and Rachel's Ginger Beer are all popular stops. Stay at Hotel Theodore to be within walking distance of the city's main attractions and enjoy an evening cocktail hour with complimentary wine!
Contributed by LynLi from Wander Big
22. U.S. Virgin Islands
February is an ideal time to visit the U.S. Virgin Islands. The weather is cooler and drier than during the summer months, but still quite warm and enjoyable, making it more comfortable to enjoy all the islands have to offer.
In February, the St. Croix International Regatta takes place, which is a fun event to attend if you're visiting the U.S. Virgin Islands in February. This annual event attracts sailors from all over the world, making it one of the most prestigious regattas in the Caribbean. When you get hungry, one of the most popular restaurants in the U.S. Virgin Islands is Blue Eleven, which is located on St. Thomas. This locally owned eatery is known for its various tasting menus that use exclusively local ingredients.
The U.S. Virgin Islands also have some amazing hotels. Marriott's Frenchman's Cove is a great option if you're looking for quality accommodations. This resort offers stunning views of Charlotte Amalie Harbor, as well as two swimming pools, four restaurants, and a spa. With so much to do and see in the U.S. Virgin Islands, you'll never find yourself bored if you plan your U.S. vacation in February to this tropical destination!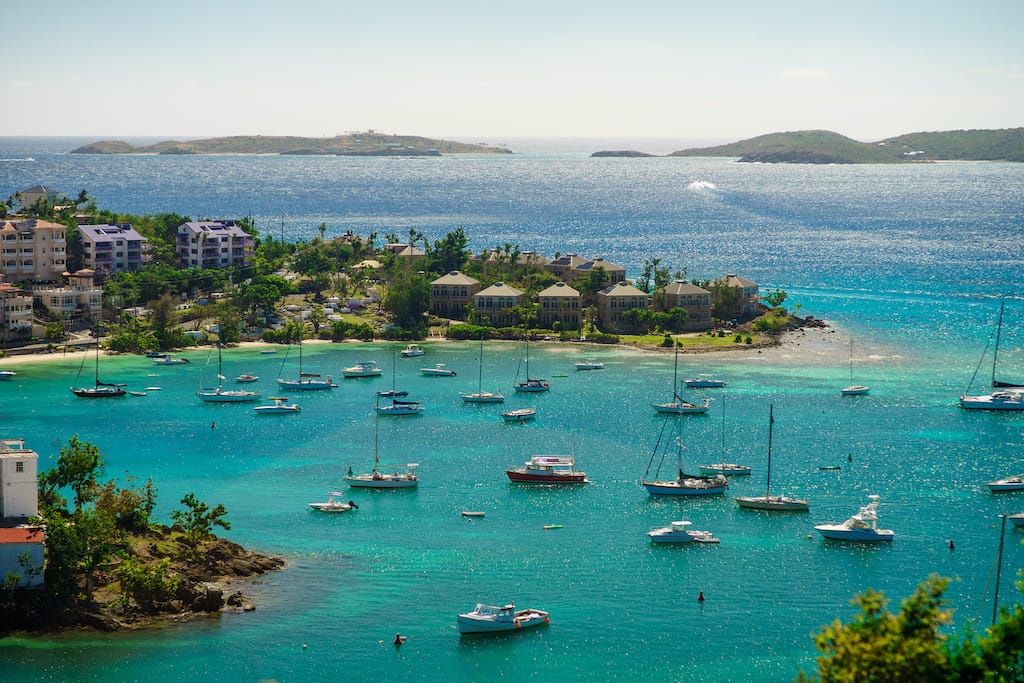 Contributed by Brodi from Our Offbeat Life
23. Big Sky, Montana
Big Sky Montana is the perfect stop to add to your road trip through Yellowstone National Park. It is located less than an hour from West Yellowstone. Plus, there is a daily winter shuttle service available to Yellowstone from Big Sky.
Big Sky is a popular winter destination for both skiers and snow enthusiasts. The snow season in Big Sky starts in September and runs until early June, with over 400+ inches of snow annually. It is common to get fresh snow multiple times per week in February. In addition to the traditional downhill resort skiing, Big Sky also offers dog sledding, fat tire snow biking, snowmobiling, Nordic skiing, horseback riding, ziplining, and snowshoeing.
For fine dining, check out the lodge-style Horn & Cantle, and for a more laid-back, budget-friendly meal, the Mi Pueblito Taco Bus is a local favorite. Finally, there is no better way to end a long day of winter adventures in Big Sky than with a local spirit at The Rocks Tasting Room or a local brew at Lone Peak or Beehive Brewery.
While visiting Big Sky, book a room at the highly-rated Lone Mountain Ranch. This resort has the beauty and cozy ambiance of a rustic Montana cabin with the conveniences of a ski resort, like ski-in-ski-out access and an onsite restaurant and bar.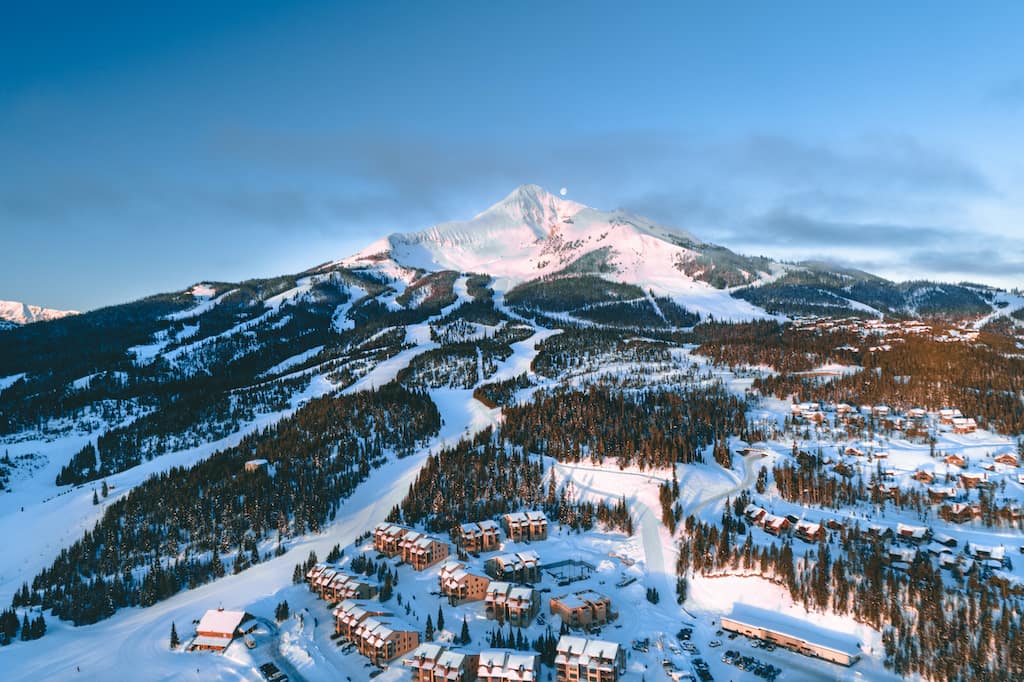 Contributed by Kara from Trying to Unwind
24. Myrtle Beach, South Carolina
Known for being a fun summer destination in South Carolina, Myrtle Beach is also an ideal spot for travelers looking for the best places to visit in the USA in February. Not only is the area relatively warm, but the humidity is super low, and there is hardly anyone on the beach. You'll basically have the place to yourself, and you can enjoy reduced rates on hotels and airfare!
Yes, some seasonal attractions will be closed, but Myrtle Beach still has a wide range of activities for you to enjoy. Highlights include special shows like Beach Boys tribute bands, arcades like Dave and Busters, the Go Wild at Ripley's Aquarium and Alligator Adventure attraction, and bowling at Surfside Bowling.
Then, enjoy a decadent seafood feast at Hook and Barrel. It's a great nautical-themed eatery that serves a delicious brunch and features a fabulous happy hour where you can sample their iconic fish bites. Finally, relax for the evening inside a room at Sea Crest Oceanfront Resort. It's easily one of the best oceanfront hotels in Myrtle Beach that offers guests karaoke in addition to ten different types of luxurious rooms to choose from.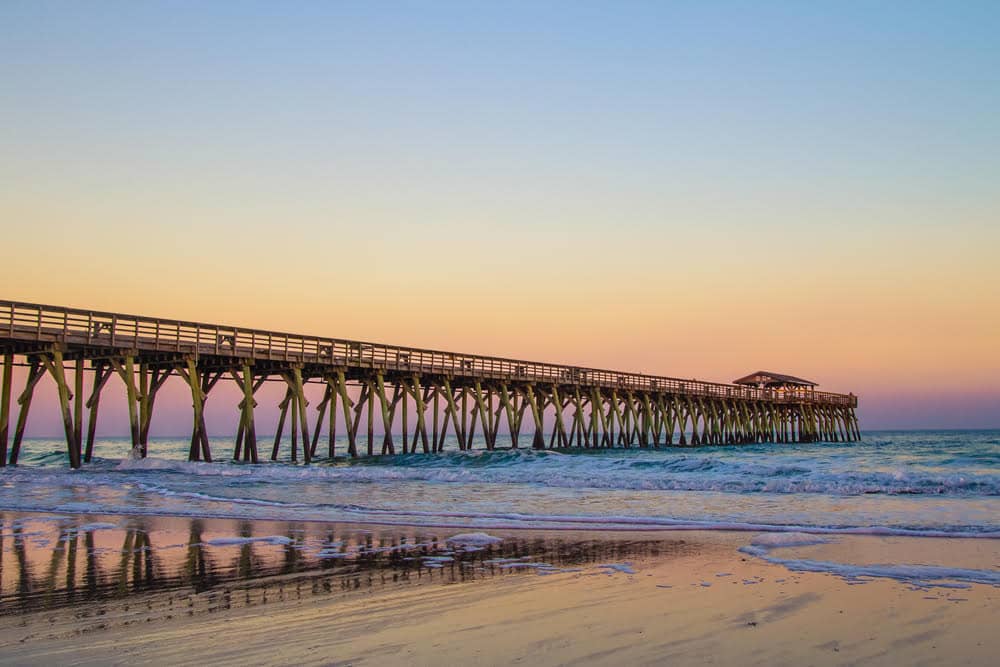 Contributed by Victoria from Southern Trippers
25. Big Sur, California
Big Sur is a slice of coastal highway in California that has beauty like no other. It refers to the road that runs along the Santa Lucia Mountain range and the Pacific Coast of California.
Big Sur's north end begins with two beloved towns, Monterey and Carmel. Many visitors base an entire vacation here. Just 10 minutes away is the beautiful Point Lobos Natural Reserve. Turquoise waters along the cliffside make way for beautiful views on hiking routes for all skill levels. Other scenic state parks to stop at along Big Sur include Garrapata State Park, Limekiln State Park, and Julia Pfeiffer Burns State Park.
Consider grabbing a meal at Nepenthe Restaurant to continue enjoying Big Sur's stellar views while dining. For a four-star waterfront hotel experience, consider staying at Hyatt Carmel Highlands for breathtaking views, fine dining, and a heated pool.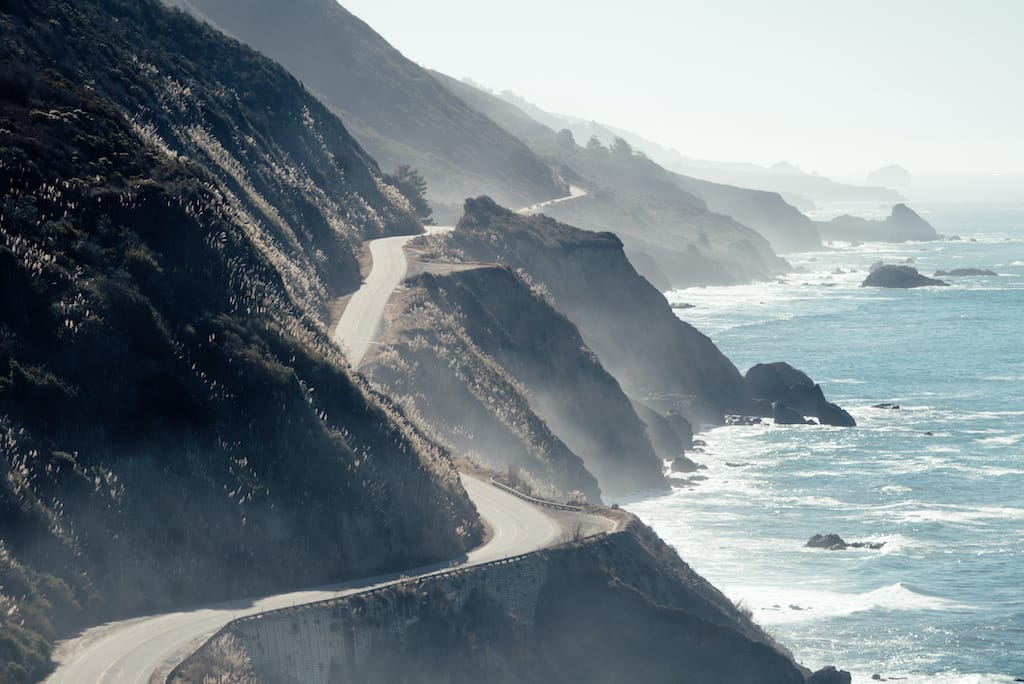 Contributed by Alyssa from An Apple a Plane
FAQs: Best Places to Visit in February in the USA (2023)
Where is the warmest place to visit in the U.S. in February? 
A few of the warmest places to visit in the USA in February include the U.S. Virgin Islands, Puerto Rico, Hawaii, Key West, Anna Maria Island, Scottsdale, and Death Valley! 
Which U.S. state is best to visit in February? 
Well, it depends on your winter vacation style! For those who love winter sports, Colorado, Utah, California, and Montana offer some of the best skiing and snowboarding in the country in February, and those who are looking for a warm, beachy getaway may opt for more tropical destinations, like Hawaii, Florida, or Puerto Rico.
If you like to visit big cities, Arizona, Texas, and Southern California offer lots of destinations with warm weather and tons of activities to enjoy, including Scottsdale, Austin, and San Diego. 
What U.S. beach is warm in February? 
You can find some of the warmest beaches in the United States in February in Hawaii (Maui, Oahu, Big Island & Kauai), Florida (Key West, Miami, Anna Maria Island, West Palm Beach & Fort Myers), Puerto Rico, and the U.S. Virgin Islands. 
Plan Your USA Vacation in February with This List of the Best Places to Visit in February in the USA
So, what about you? Do you tend to opt for snowy winter vacations, like Colorado and Utah, warm, tropical getaways, like Maui and Puerto Rico, or big city adventures, like Austin and Seattle, in February?
If you've been to any of these best places to visit in February in the USA, let me know in the comments below!

Disclosure: This post about the best places to visit in February in the USA contains affiliate links, referral links, and referral codes. I earn a commission if you click through and make a purchase at no additional cost to you. This helps me keep the content on my website free, like this post about the best places to visit in February in the USA.
Save These Best Places to Visit in February in the USA for Your Trip
Read More
Did you love this post about the best places to visit in February in the USA? If so, you'll also love these USA travel guides: