If you want to squeeze in one last summer getaway before the cooler temperatures set in and the leaves begin to change — August is the perfect month to plan a vacation!
Some of the best places to visit in the USA in August include sandy beaches, national parks, mountain towns, and cities in colder climates. August traditionally offers a reprieve from the rain and is known for warm, dry, sunny conditions. If you're unsure about where to head before summer ends, scroll through the best places to visit in the USA in August to find the perfect destination!
Best Places to Visit in the USA in August
1. Aspen, Colorado
Easily one of the best places to visit in the USA in August, Aspen is a posh mountain town in Colorado that is known for its incredible skiing. But dare to visit Aspen in August, and you'll be treated to an incredible array of wildflowers that come to life between June and August.
In particular, the Maroon Bells Scenic Loop in the Snowmass Wilderness is a great place to spot species like Wild Geranium, Indian Paintbrush, and Bush Sunflowers. After all, it's a 1.9-mile hike that will take you an hour to complete and that requires advanced reservations from May through October. Additionally, other great wildflower hikes in Aspen include Lost Man Loop, Midway Trail, Grizzly Lake Trail, and Willow Lake Trail.
However, when you're ready to get off the trails, enjoy impressive views from the Silver Queen Gondola before attending one of The Free Snowmass Thursday Night Concerts. You can also go paddleboarding on the Roaring Fork and jump off a rock cliff into the water at Devil's Punch Bowl. Just don't leave the area without mountain biking along The Rio Grande Trail. After all, this track is suitable for all skill levels and takes you past Woody Creek Tavern, which is a great place to stop for lunch.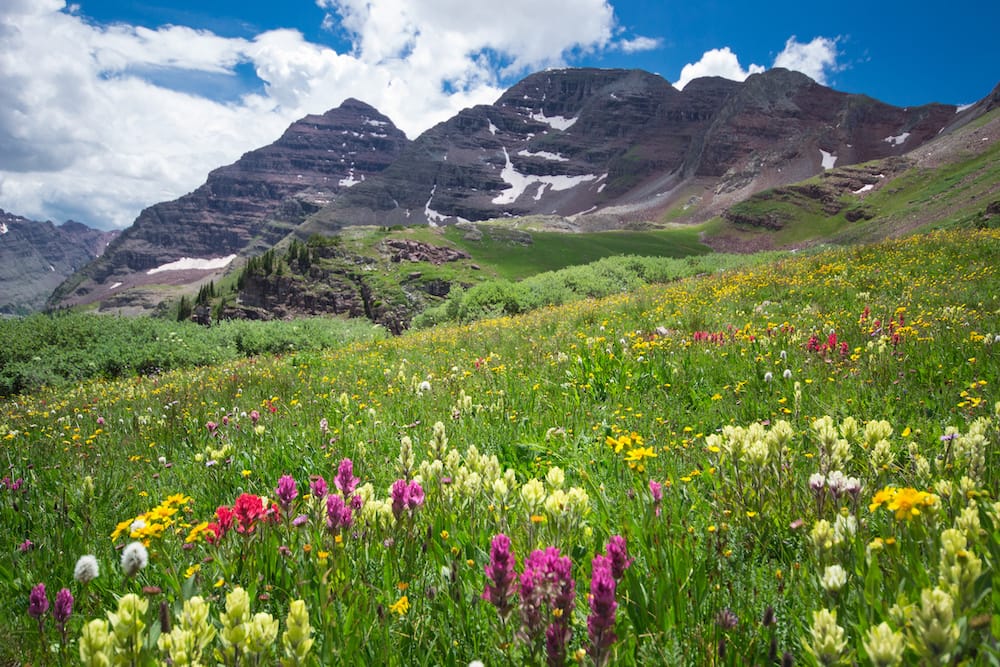 Recommended by Meg of Fox in the Forest
2. Charlottesville, Virginia
Situated in the foothills of the beautiful Blue Ridge Mountains, Charlottesville, VA, is a great destination in August. Though the city itself can be quite hot in summer, it's easy to step outside of town and enjoy cooler temperatures and stunning scenery.
Wine tours are a popular activity in the region. The Charlottesville area alone is home to over 40 wineries, many of which are in nearby Afton, VA. Some of the top wineries to check out include Veritas Vineyards, which also includes a charming bed and breakfast and a fabulous four-course dinner with wine pairings. The region is also home to Barboursville Vineyards, which has an expansive property and several fascinating ruins to explore.
For nature lovers, there's no shortage of activities to enjoy in the area. Crab Tree Falls is a popular hike near Charlottesville that's about an hour's drive outside of Charlottesville. It features a 2.5-mile loop hike that skirts the tallest waterfall east of the Mississippi River!
Within Charlottesville itself, the Rivanna River Trail is a lovely oasis in the middle of the city. The Saunders-Monticello Trail gives hikers and cyclists a chance to travel 4 miles all the way to Monticello.
After a day of hiking, Charlottesville has no shortage of excellent restaurants to choose from. Many of them are conveniently located at the Downtown Mall. The Alley Light is a popular spot for French small plates. C&O Restaurant is a great choice for special occasions.
Recommended by Merry of Virginia Vacation Guide
3. Glacier National Park, Montana
August is arguably the best month of the year to visit Glacier National Park in Montana. Hikes in the high country are accessible, temperatures are pleasant, and the wildflowers are blooming! Going to the Sun Road is also fully accessible in August (the road is closed most of the year due to snow). This 50-mile scenic drive through the mountains is often regarded as one of the most beautiful road trips in the world!
Glacier National Park has a variety of trails for hikers of all levels. For a family-friendly hike up to an alpine lake, check out Avalanche Lake. If you're looking for a longer trek with epic mountain views, check out the Highline Trail. Other great hikes include Hidden Lake, Grinnell Glacier, St. Mary, and Virginia Falls. Glacier is grizzly country, so hike with a group, carry bear spray, and remember to practice Leave No Trace on the trail.
Be aware Glacier National Park has a complex reservation system in place for the summer 2023 season. You'll need to obtain an advance reservation for Sun Road, as well as the North Fork, Two Medicine, and many other areas of the park. You can skip the reservation if you're staying at one of the campgrounds or lodges inside the park.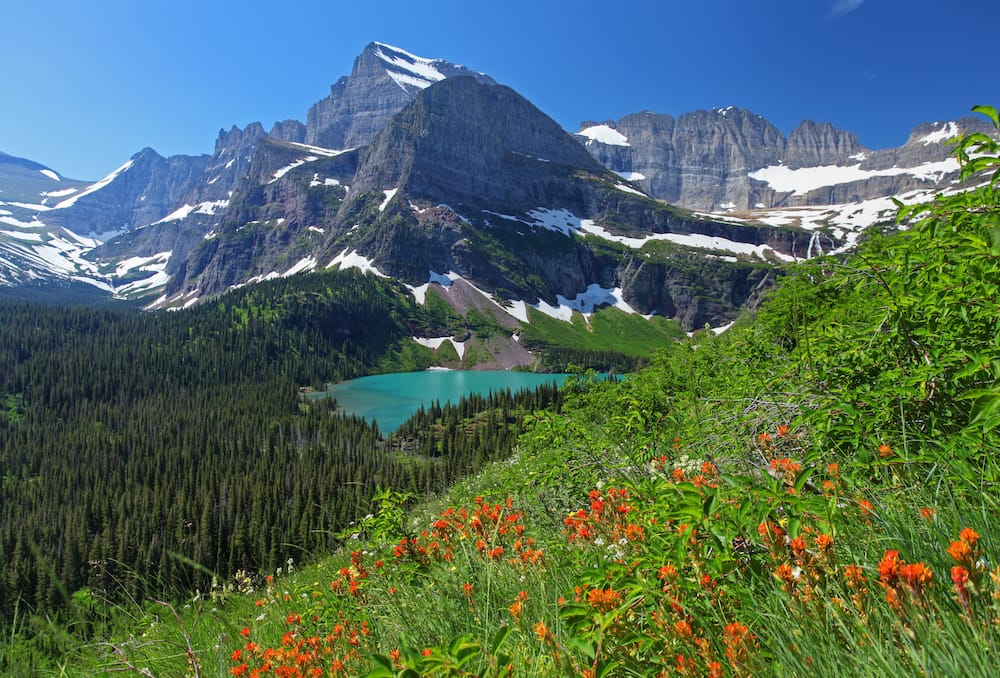 Recommended by Kate of Kate Outdoors
4. Seattle, Washington
Seattle, Washington, is undoubtedly one of the best places to visit in the USA in August. Visitors flock to Seattle in the late summer months, like August, because of the sunny, dry, predictable weather that's perfect for outdoor exploration at nearby national parks and adventurous day trips from Seattle, WA.
However, the city of Seattle has plenty of fun activities to enjoy all on its own! While you're in Seattle, spend some time exploring the food stalls, restaurants, and shops at Pike Place Market. You can even go on a food tour of Pike Place Market for a unique perspective of the market from a professional guide (and tons of free samples!).
Another one of the best things to do in Seattle, especially during the summer, is to take the ferry to Bainbridge Island. Ferry tickets cost less than $10 per person, and when you arrive, you'll be able to explore the restaurants, wineries, boutiques, museums, and other attractions on this charming island.
Of course, you can't miss the opportunity to visit the Space Needle. If you are visiting on a clear day (which is likely in August!), be sure to purchase tickets to the top of the Space Needle to see panoramic views of Elliot Bay, the Cascade Mountains, and Mount Rainier.
And be sure to make reservations at The Pink Door in Pike Place Market for a fabulous dinner. This Italian restaurant offers indoor and outdoor seating (on a patio overlooking Elliot Bay!) and offers unique entertainment, like cabaret, trapeze, and more.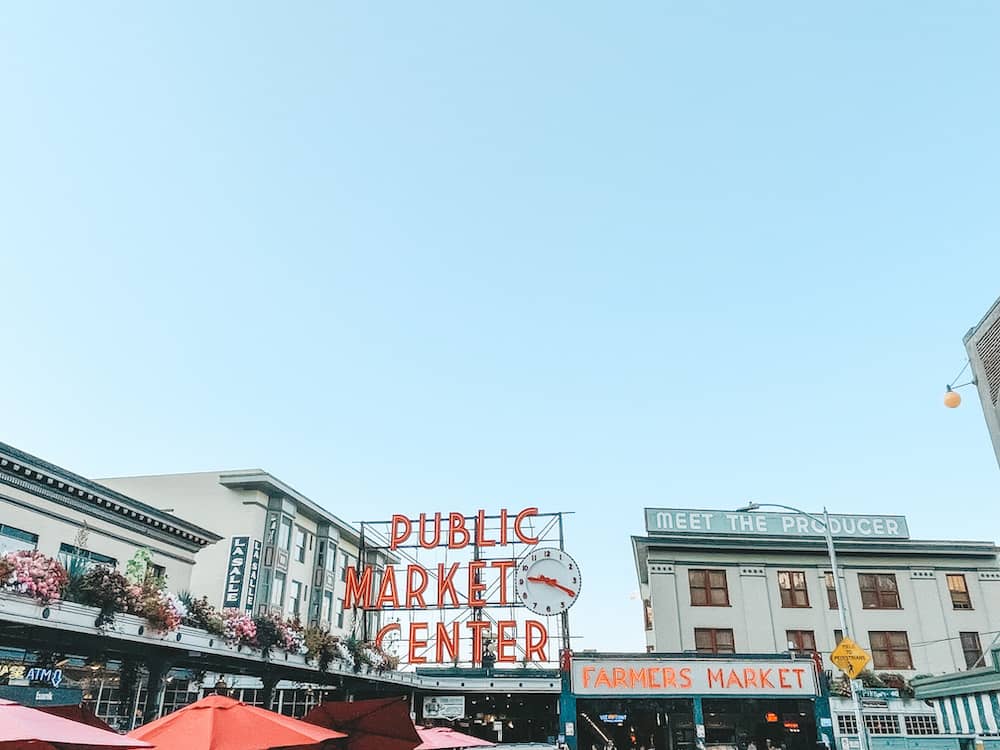 Recommended by Brittany of Travel by Brit
5. Westerly, Rhode Island
Westerly, RI, is one of the top beach destinations in all of New England and is one of the best places to visit in the USA in August. Located right on the Connecticut and Rhode Island border, Westerly is home to a stunning coastline, a charming downtown area, a great brewery, and amazing restaurants to plan the perfect August getaway.
One of the best public beaches to visit in Westerly is Misquamicut State Beach. In August, the water temperatures rise to about 71°F, which is the warmest it'll be all year. You'll find a soft, sandy shoreline, bathrooms, and a food concession here for an amazing day at the beach.
During your visit, be sure to also swing by Napatree Point in the village of Watch Hill for beautiful coastal views and the cutest little town with lovely boutiques to browse. From here, you can also walk out to Watch Hill Lighthouse.
When you're not at the beach, you'll want to head over to Westerly's charming downtown to visit the shops and restaurants and spend a few hours at Grey Sail Brewing to sip on local craft brews. For dinner one night, be sure to book a table at COAST inside the famous Ocean House resort in Watch Hill. COAST was rated as one of the best waterfront restaurants in the world by CNN Traveler, so this will definitely be a memorable experience!
During your time in Westerly, consider taking a day trip to explore some of the best things to do in Newport, Rhode Island, as well!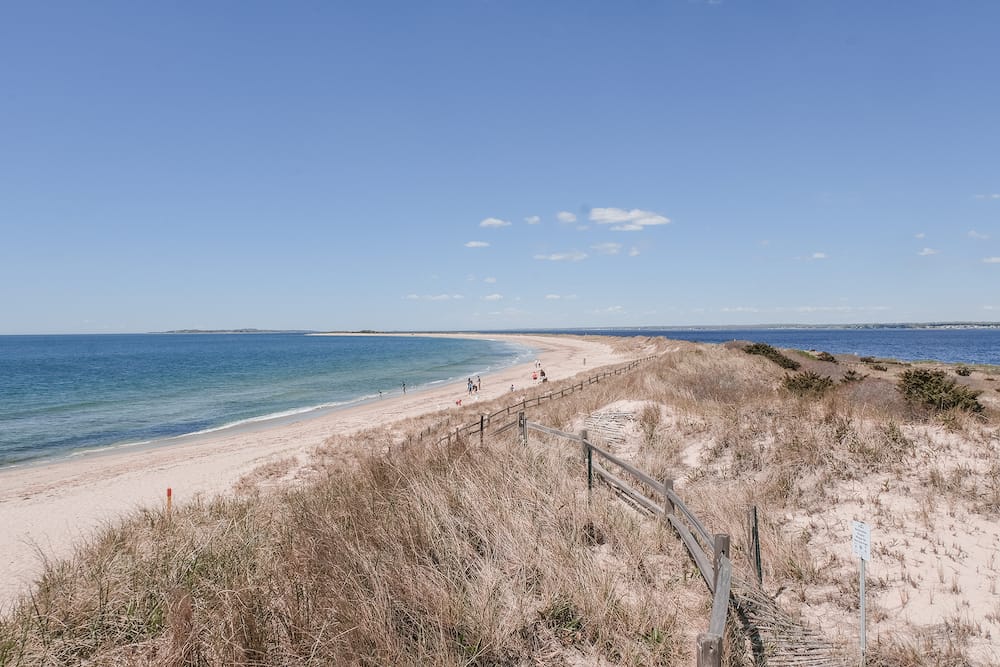 Recommended by Sam of New England Wanderlust
6. Haleakala National Park, Hawaii
August is a great time to visit Haleakala National Park in Maui, Hawaii. The park has two districts, the Summit District at the top of the Haleakala Crater and the Kipahulu District, along the Road to Hana.
Drive up to the summit of Haleakala, or take a guided tour, to catch sunrise or sunset. If you visit for sunset, stay back to do some stargazing! There are several hikes you can do at the summit, both short and long. The Sliding Sands Trail takes you into the crater. If you try this trail, start early in the day for pleasant temperatures because the bottom of the crater will be warm.
The Road to Hana is a beautiful drive, with lush rainforests and waterfalls to see along the way. The Kipahulu District of the park comes up just a few miles past the town of Hana. Here, you can embark on the famous Pipiwai Trail through a bamboo forest to Waimoku Falls — a waterfall that plunges 400 feet over a lava rock cliff.
August is the least rainy month on the island, and it's warm, so it's also a great time to enjoy the many spectacular beaches in Maui. Stay at the Sheraton Maui Resort & Spa in Lahaina to enjoy a vacation right on the water! Kahului Airport is about a 35-minute drive from Lahaina.
Recommended by Dhara of Travel Hawaii with Us
7. Coeur D'Alene, Idaho
Idaho is probably not the first place, nor even the twentieth place, that people think of when they are planning a trip. Coeur D'Alene, however, should make you reconsider. August is a great time to visit to make the most of water sports on the lake, rafting on one of the nearby rivers, or relaxing on the lakeside beach in the warm weather. For music fans, the city park hosts the "Live After Five" series of weekly concerts throughout the summer. For adventure seekers, you can even go skydiving and zip-lining in Coeur D'Alene. There are also several trails and forests nearby for hiking enthusiasts.
The shops and restaurants are primarily independently owned, and a few local wineries have tasting rooms in the city. Grab a coffee from The Vault or Evans Brothers Coffee and go for a stroll on the Floating Boardwalk. Head to Beverly's for dinner for some truly excellent seafood and steaks, and enjoy views of the lake with your food. It might be a surprising location to recommend, but it is one of the best places to visit in the USA in August, especially if you are on a road trip through the Northwest United States.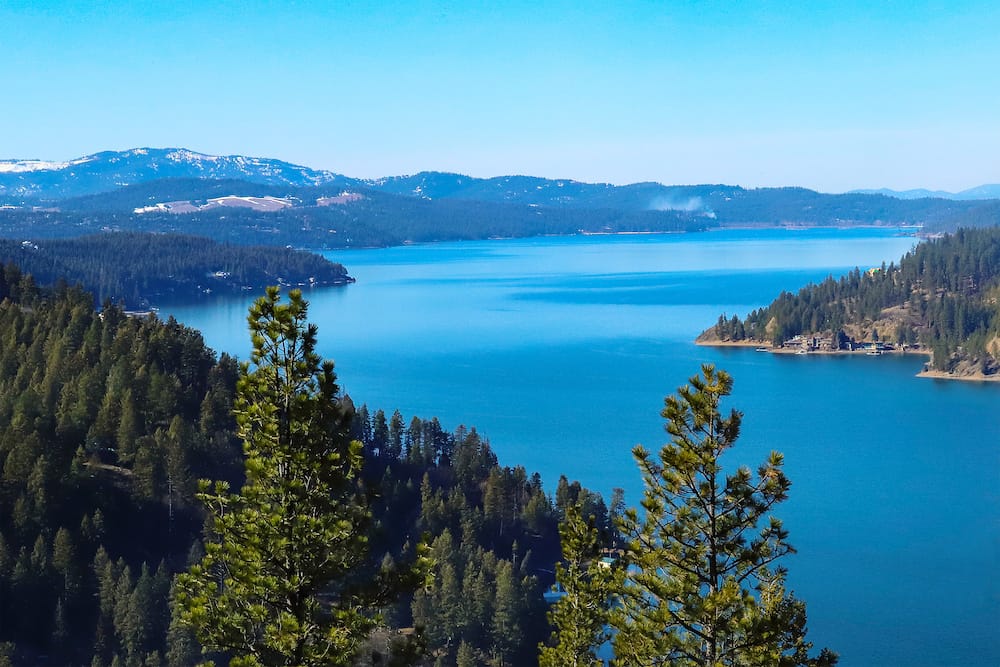 Recommended by Fiona of Following Fiona
8. New River Gorge National Park, West Virginia
If you are looking for one of the best places to visit in the USA in August, then the New River Gorge absolutely needs to be on your list. The weather is perfect, and while it does get warm, it's typically never sweltering hot because of the cool mountain breezes.
If it is a particularly warm day, then you can always cool off in the river! White water rafting is one of the most popular activities here, and the New River will give you a run for your money. Hiking in New River Gorge National Park is also a popular activity. This is one of the most beautiful National Parks on the East Coast, and the views of the Gorge are spectacular. Endless Wall, Long Point, and Sandstone Falls are all popular trails. If you want an off-the-beaten-path option, then try the Kaymoor Miners Trail.
Another epic thing to do is take the Bridge Walk Tour, where you can walk the catwalk under the New River Gorge Bridge. If you just want to view the bridge, then there is a short trail from the Canyon Rim Visitor Center.
After a day full of adventure, you can come into the cute town of Fayetteville to grab some dinner. Pies & Pints is a can't-miss pizza place with unique combinations (like Grape & Gorgonzola) and plenty of beer on tap.
Recommended by Anna of Stuck On The Go
9. Boston, Massachusetts
Boston is a great destination to visit in August. It is one of the warmest months of the year in New England, which makes city exploration more enjoyable. There are a lot of awesome things to do in Boston in August, from cool walking tours to whale-watching excursions.
August is the best month to go on a Boston whale-watching tour. You will have a few daily tours to choose from. You should budget for hours for the whale-watching tour. You may see humpback, minke, and fin whales, dolphins, and seals. The whale-watching tour departs from Long Wharf. It will give you an opportunity to enjoy the Boston waterfront from the boat. You will also get a front-row seat to the takeoffs and landings at Boston Airport, the main gateway to the city.
You will certainly get hungry after the whale-watching tour. Stop by Luke's Lobster Downtown Crossing. This small restaurant offers Maine-style lobster, crab, and shrimp rolls. If you fancy something different, sign up for the Summer Dine Out weeks. The restaurant is close to the main Freedom Trail sights. You can continue your Boston exploration right away with a visit to the Old South Meeting House or the Boston Common or take a walk around the Boston Public Garden.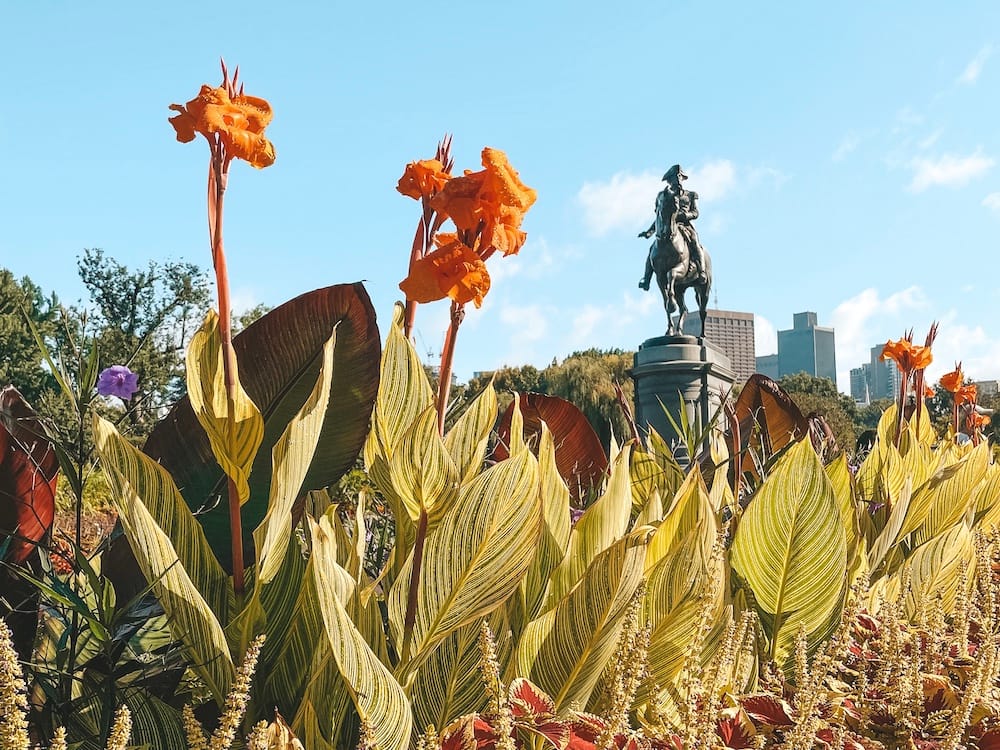 Recommended by Anastasia of Travel Realist
10. Crater Lake, Oregon
August is one of the best months to visit Crater Lake National Park in Southern Oregon. This is because the roadways are snow free, making all the trails and the Rim Drive accessible.
The Rim Drive is a 33-mile drive that circumferences the lake and offers over 20 vistas and lookout points to view the U.S.'s deepest lake. Crater Lake is fed entirely by snow and rainfall year-round. The brilliant blue color of the lake will leave you speechless.
You can hike to Mount Scott, the highest peak in the National Park, in August or take the Cleetwood Cove trail down to the lake's shores. From the Cleetwood Cove trail, you can swim in the lake on a hot summer's day, go cliff jumping, or take a boat tour around the lake or to Wizard Island. Stay at the lake until the evening to see the sun setting over the mountains and watch the sky change colors over the lake!
There are two places to eat in Crater Lake National Park — Rim Village Cafe, which serves casual dining with grab-and-go options, and Crater Lake Lodge Dining Room. This Lodge Dining Room is a bit pricey at $50 per person for a buffet dinner, but, of course, you can enjoy amazing lake views during your dining experience!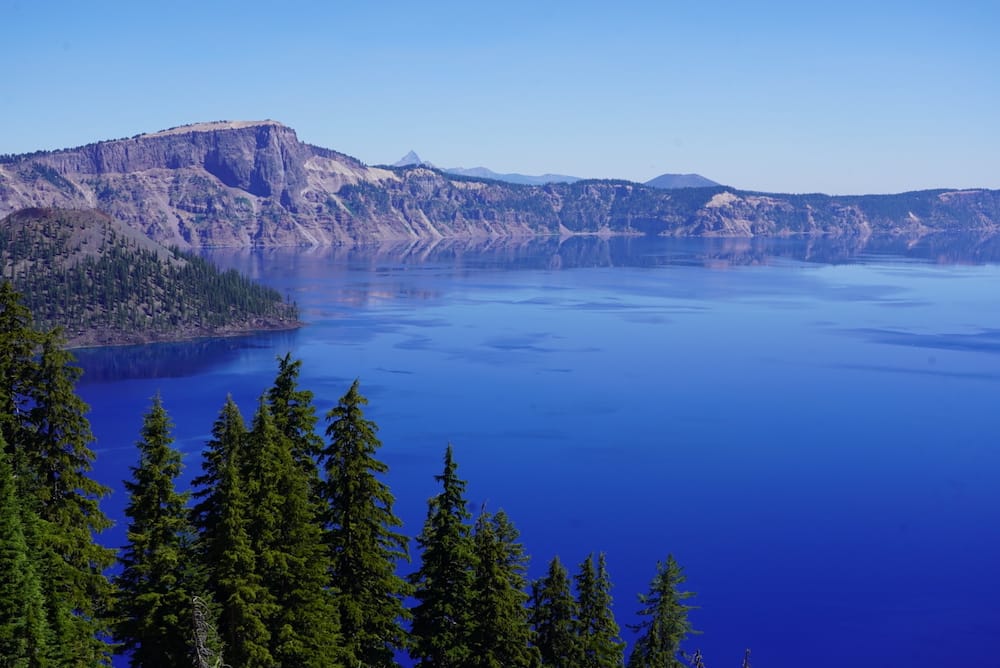 Recommended by Kate of Kate Roams the World
11. Cape Cod, Massachusetts
Cape Cod is one of the best places to visit in the USA in August if you love coastal towns, beautiful beaches, and New England charm. With its 15 towns spread across the elbow of Massachusetts jutting out into the Atlantic, the Cape is a beloved destination for locals that also easily enchants visitors from far and wide. It's one of the best day trips from Boston!
August is the high season for the Cape, so you'll want to book your accommodations well in advance. Vacation rentals are popular here, but there are also plenty of hotels and delightful boutique bed and breakfasts too.
There are so many wonderful things to do on Cape Cod, but a few top spots to seek out include Highland Lighthouse in North Truro, the Brewster Flats at sunset (Point of Rocks Landing Beach is lovely), the Sandwich Glass Museum, the Wellfleet Drive-In, and — of course — the Cape Cod National Seashore.
And don't skip all the classic coastal fun that exists down the Cape, too! Go play some mini golf, get a few scoops of ice cream, and eat fresh seafood just off the boat (a lobster roll is always a favorite). You'll need a car to properly explore the different beaches, towns, and lighthouses. Try to get an early start each day, and you'll be rewarded with quiet natural landscapes and less busy roads. Or, just walk to the nearest beach and enjoy the natural beauty!
Recommended by Amanda of Hey! East Coast USA
12. Yellowstone National Park, Wyoming
Yellowstone National Park is one of the most iconic national parks in the United States and one of the best places to visit in the USA in August. With the park fully accessible, you can easily drive the full 142 miles of the Grand Loop and stop to hike on any of the 1,100 miles of trails.
In August, the weather in Yellowstone is warm and dry, making it the best time to explore the park's trails without any snow. Jump into chilly alpine waters for water-based activities like kayaking, fishing, and swimming in the park's lakes and rivers. August is also the peak season for wildlife sightings, so expect to see elk, foraging bears, or even herds of bison blocking the roads.
Drive the entire Grand Loop, take a tour of the park's geysers and hot springs, hike to the top of Mount Washburn for panoramic views, or go on a wildlife safari. Some must-visit attractions include the Old Faithful Geyser, the Grand Canyon of Yellowstone, the Grand Prismatic Spring, and Lamar Valley. If you're touring from Jackson, combine your trip with Yellowstone's lesser-known neighbor Grand Teton National Park.
Being such a large park, you may want to bring snacks along the way with you. However, check out the Old Faithful Inn Dining Room for a sit-down restaurant at one of the park's most historic hotels.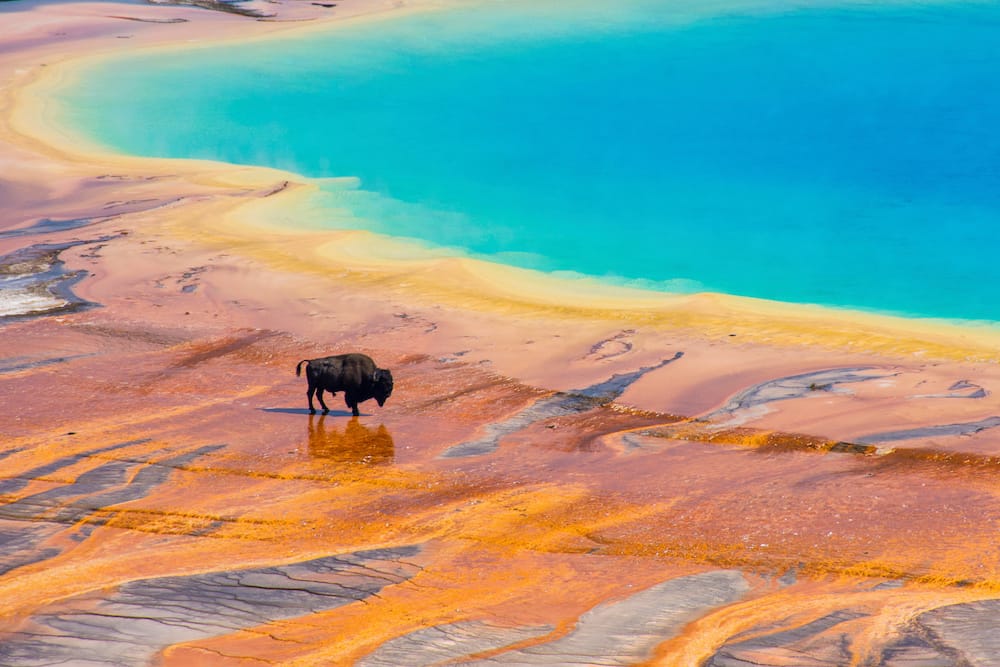 Recommended by Catherine of Nomadicated
13. Portland, Oregon
August is one of the best months to visit Portland, Oregon. Unlike other times during the year, the days are sunny, free of rain, and perfect for outdoor adventure and exploration!
Begin your August vacation to Portland, Oregon, by embarking on a day trip to the Columbia River Gorge. This scenic drive includes stops at waterfalls, hiking trails, wineries and breweries, and fruit stands. Some iconic stops along the Columbia River Gorge are Multnomah Falls and the Hood River Fruit Loop, where you can pick peaches and plums at local orchards.
Another popular attraction to enjoy in Portland during August is a trip to the Oregon Coast. Head to Cannon Beach to explore the tidepools around Haystack Rock and explore the breweries, shops, and art galleries in this seaside town, and pay a visit to Tillamook to take a tour of the Tillamook Cheese Factory — there are free samples included!
Spend at least one day in Downtown Portland, where you can visit Powell's City of Books — the world's largest independent bookstore — and sample donuts and coffee at local shops around the city. If you're a wine connoisseur, spend some time exploring the hundreds of wineries in the Willamette Valley — I recommend Brick House Vineyards!
There is no doubt about it. Portland, Oregon, is the perfect destination in August if you crave a little bit of everything — the mountains, the coast, the city, and everything in between!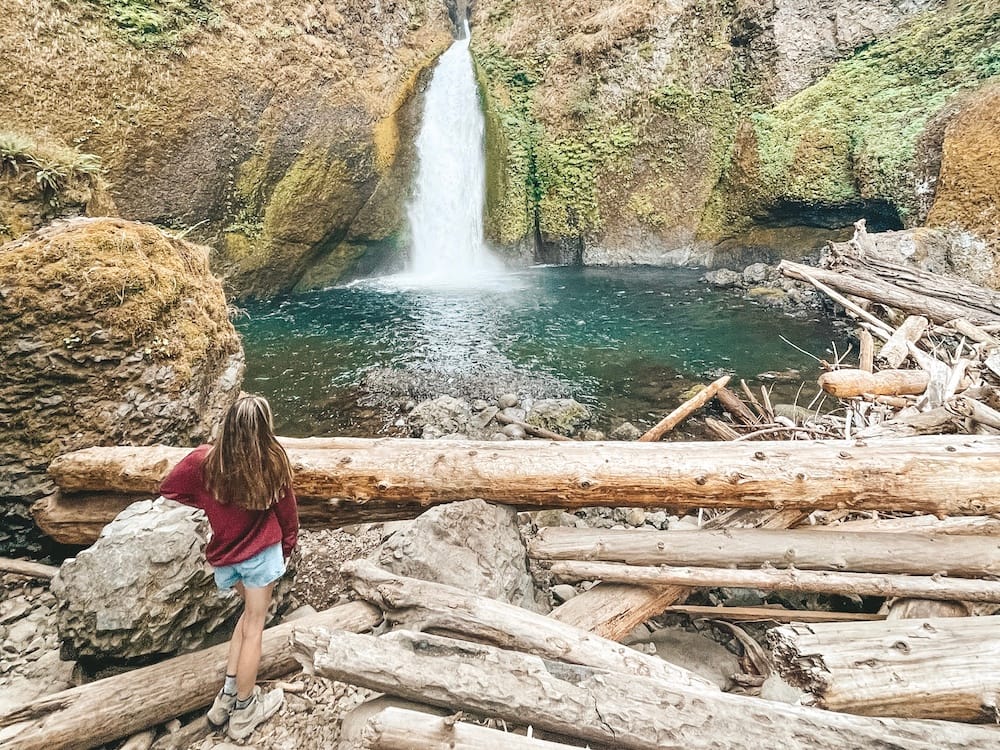 Recommended by Brittany of Travel by Brit
14. Carmel-by-the-Sea, California
With a name like Carmel-by-the-Sea — you already know you're in for a treat! Nestled in the heart of California, this storybook village comes to life in August, a time when the coastal charm is at its peak despite being in the high season.
Imagine strolling along a stunning coastline lined with majestic cypress trees and one of the best white-sand off-leash beaches for dogs and people in the U.S. Don't miss the nightly gathering on the dunes to watch the sunset.
The town is a haven for art lovers, dotted with unique boutiques and artsy stores, perfect for finding that one-of-a-kind souvenir. And for those seeking tranquility, the Refuge Day Spa awaits. It's a haven for unwinding and rejuvenating.
Indulge in a cozy Italian dinner at Little Napoli, surrounded by beautiful flowers and cobblestones that create an irresistibly inviting atmosphere. Or grab a sandwich from 5th Avenue Deli and savor it by the Carmel Cliffs, a perfect spot for a seaside picnic.
August in Carmel-by-the-Sea also brings with it the thrill of Car Week, one of the largest auto events in the U.S. — an absolute must-visit for car enthusiasts! If you are not a car enthusiast, maybe stick to the remaining days of the month. Regardless of your interests — Carmel-by-the-Sea in August is nothing short of magical!
Recommended by Emily of Pets Around the World
15. Austin, Texas
When it comes to the best places to visit in the USA in August, Austin has earned its spot on the list — despite the toasty temperatures at this time of year. Known as the "Live Music Capital of the World," Austin offers an unbeatable combination of lively atmosphere and delicious food during this time of the year. August is also part of Austin's off-season, so you can enjoy lower prices on flights to the city and accommodation in Austin.
One of the biggest reasons to visit Austin in August is the abundance of seasonal events. The city comes alive with festivals and celebrations, making it an ideal time to experience the "weird" spirit of Austin that the city prides itself on.
If you're a music lover, you can catch live performances at iconic venues like the Continental Club or the legendary Broken Spoke. For a true Texan culinary experience, head to one of Austin's many mouthwatering eateries like Franklin Barbecue or take a food tour of the city.
The most notable event in Austin in August is the annual Bat Fest, where you can witness the breathtaking sight of over 1.5 million free-tailed Mexican bats taking flight from under the Congress Avenue Bridge. During the Bat Fest, you can participate in a bat costume contest, enjoy live music from local artists, and watch the sunset as the bats fly past.
Recommended by Tiana of Where Tiana Travels
16. Olympic National Park, Washington
Olympic National Park is a beautiful destination with breathtaking scenery that ranges from moody coastal beaches to snow-capped mountains and magical rainforests. Parts of the park see some of the rainiest weather in the continental U.S., but during August, visitors can expect pleasant conditions — making the national park one of the best places to visit in the USA in August for its sunny days and colorful wildflower season.
There is no shortage of things to see and do in Olympic National Park, and one of the most popular spots is the Hoh Rain Forest. This serene temperate rainforest is abundant with lush greenery and moss-covered ancient trees. Explore this emerald wonderland with an easy hike through the Hall of Mosses. Afterward, fans of the popular Twilight Saga can visit the town of Forks in the park on a self-guided tour.
Hiking is a top-rated activity in Olympic National Park in August, with mild temperatures and countless trails to choose from. For a gentle stroll, explore the rugged coast of Ruby Beach, known for its remarkable sea stacks and endless tide pools. Or venture to Lake Crescent for a 1.7-mile hike to Marymere Falls. While in the park, dine at Creekside Restaurant, beloved for its delicious local Pacific Northwest cuisine and stunning ocean views — favorite menu items include the grilled king salmon and northwest elk burger.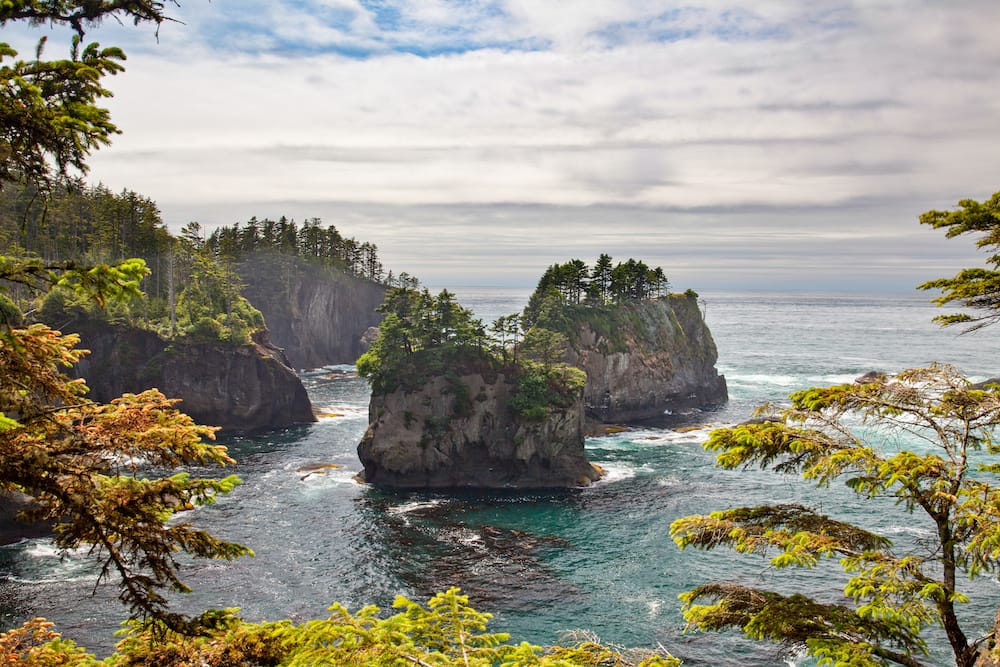 Contributed by Jillian of The Manic Wanderer
17. Acadia National Park, Maine
You will love visiting Acadia National Park in August. The weather is warm — for Maine — and drier, with one or two days of rainfall less than other summer months. And this good weather matters because you will want to spend your entire visit outdoors. Hiking trails that follow dramatic rocky coasts, biking a 45-mile network of motor-free carriage roads, or just soaking up the stunning scenery of this 108 square-mile island where nearly half is Acadia National Park.
The hikes in Acadia National Park range from accessible flat coastal strolls to challenging summit ascents. Though, whichever route you choose, they nearly all include incredible views. To bike — you can rent cycles in Bar Harbor. Then use the seasonal and complimentary Bike Express Shuttle to access the park's extensive carriage trail system. Or, if you feel inclined to get out on the water, book a guided kayak trip to explore the islands of Frenchman Bay. Or join a narrated Sea Princess boat tour to Little Cranberry Island.
The opportunities for activities are endless in Acadia. And you will be thrilled to be there in August to enjoy them all.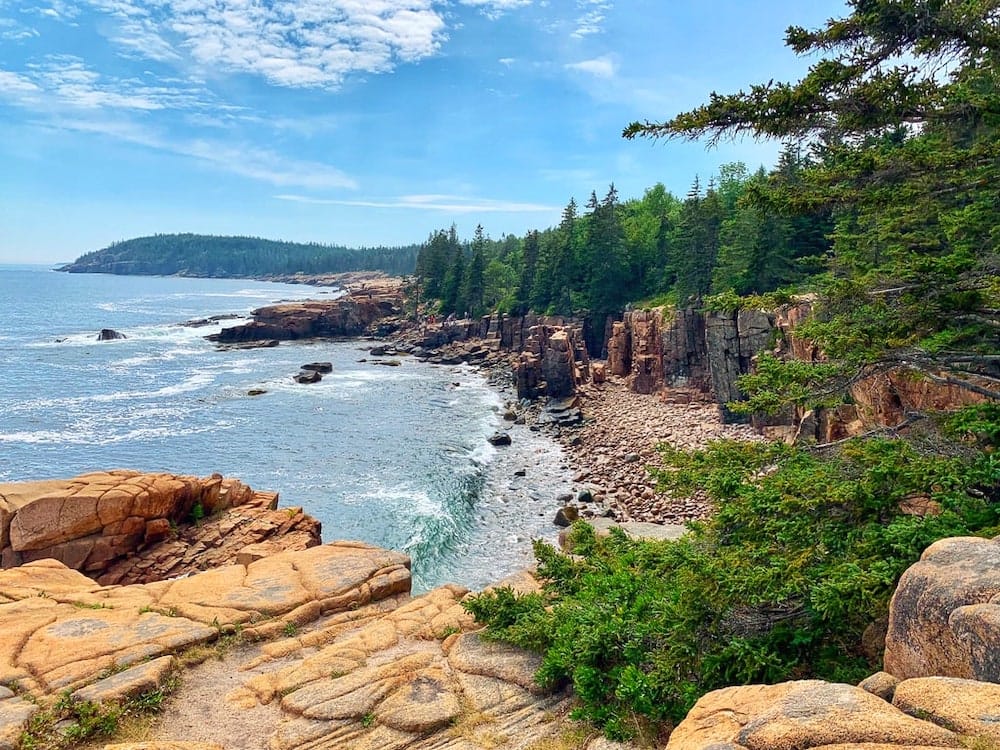 Recommended by Janice of Gather And Go Travel
18. Ketchikan, Alaska
Ketchikan might be known as one of the rainiest cities in the United States, but it's also famed as the "Salmon Capital of the World." In August, Ketchikan welcomes the salmon runs of Chum, Silver (Coho), Pink, and King (Chinook) species.
If you fancy your luck at catching one, local stores sell licenses and rent gear. Walking towards Creek Street, you can fish from Stedman Bridge. But beware, you'll have stiff competition with the otters and harbor seals. Alternatively, you can walk along Creek Street to browse the shops, stroll the "Married Man's Trail," and see the fish ladder. Since the salmon attract wildlife searching for an easy meal, you might spot a bald eagle or black bear.
If all that salmon makes you hungry, try some smoked salmon chowder at the Alaska Fish House Restaurant or king crab at the newest establishment, Crab & Go. While you can fly to Ketchikan, most travelers arrive in August on an Alaska cruise. It's a favorite coastal destination for nature enthusiasts and adventure seekers.
Although the town has a plethora of attractions, it's hard to beat the appeal of the Misty Fjords National Monument. Its steep granite cliffs offer cascading waterfalls as far as the eye can see. You could also see humpback whales, mountain goats, and bears. While the floatplane excursion might be pricey, the Misty Fjords Explorer tour by a boat provides a reasonable option to see the fjords.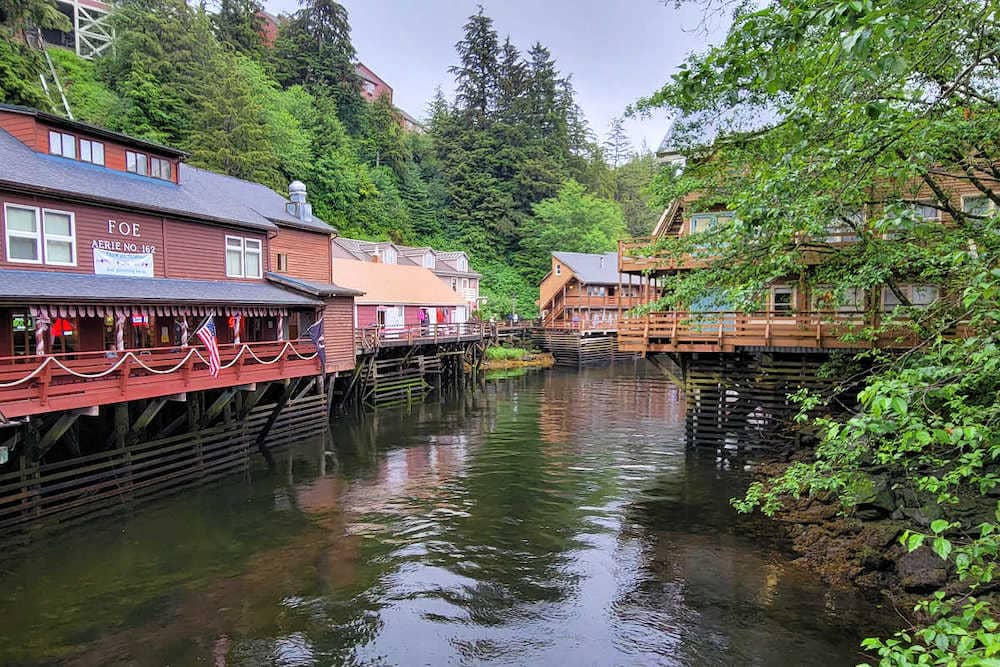 Recommended by Karen of Forever Karen
19. Lake Tahoe, California
Located at an easy drive of four hours from San Francisco on the I-80 east route, Lake Tahoe is a popular weekend destination. This beautiful lake straddles California and Nevada and is nestled in the Sierra Nevada mountains.
Although Lake Tahoe has tons of visitors during Winter for its skiing opportunities, the not-so-hot month of August is perfect for summer activities. The month of August has very little rain making it great for outdoor activities such as taking cruises, kayaking, and canoeing on the lake. Another popular outdoor activity is hiking in several parks, such as Emerald State Park, Hope Valley, and the nearby mountains. There is a boat ride in Emerald Lake to explore Fannette Island and an old castle on it.
Another favorite activity among tourists is to drive around the lake, stopping at various vantage points for photo ops. There is no shortage of good restaurants in the Lake Tahoe area. Café Fiore is a cozy, romantic Italian restaurant, and Boathouse on the Pier is a popular waterside bar and grill with traditional American cuisine along with lovely lake views.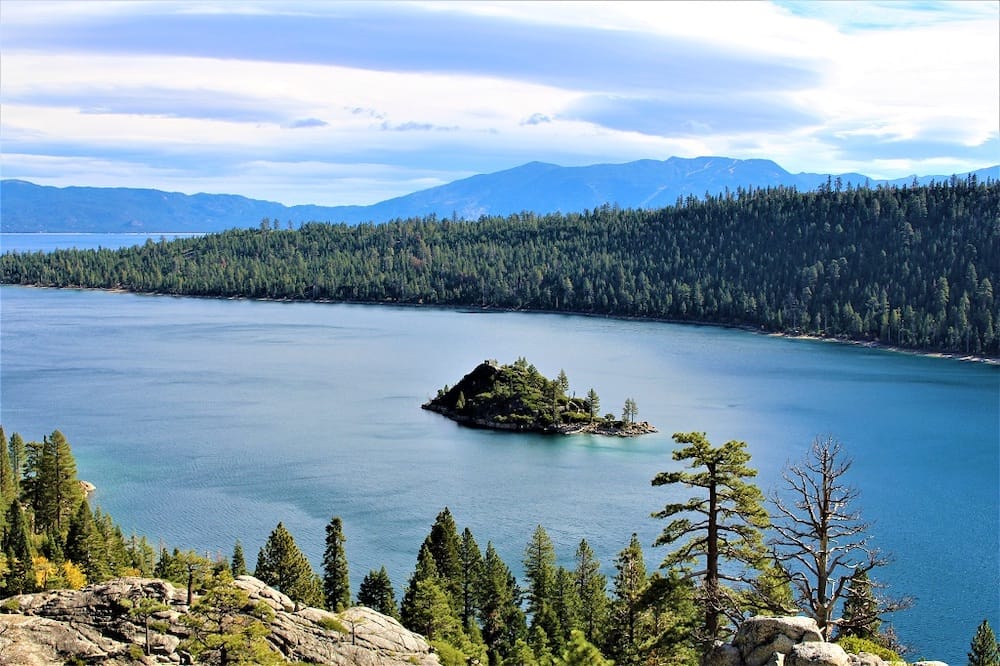 Recommended by Jan of Leisurely Drives
20. Petoskey, Michigan
August in Petoskey, Michigan, is lovely. The weather is consistently sunny and warm in the afternoons, with slightly cooler early morning and evening temperatures. The skies are bright blue with minimal rain, and everything is blooming. As Petoskey is surrounded by gorgeous lakes, wonderful hiking (even on ski slopes), and golf courses galore, there is no lack of things to do in the summer.
You'll want to spend some time exploring downtown Petoskey. Start your morning off with a decadent specialty coffee at Roast & Toast, and perhaps end your afternoon of shopping by enjoying a tasty meal at Tap 30 while sampling a variety of local drafts.
For a more active afternoon, visit Petoskey State Park for hiking, enjoy the beach, and search for the famous Petoskey Stones. Or head over to Deer Lake in nearby Boyne Falls to kayak or paddleboard on the crystal-clear waters. You can even pick up local ingredients or pre-made sandwiches at The Grain Train or Symons General Store for a picnic in the park.
If you love visiting wineries, grab a copy of the Petoskey Wine Trail Map at any of the local wineries and enjoy checking each one off the list. Several of the wineries along the trail also have a brewery and/or distillery attached, so there is something for everyone to try!
Recommended by Pam of Our Adventure is Everywhere
21. Portland, Maine
August may mark the tail end of the tourist season in Portland, Maine — but there is a good reason the summer months are such a popular time to visit. Portland enjoys significantly less rain in August, making this the perfect time to enjoy many of the city's best attractions.
While you're in Portland, be sure to stop by the Portland Head Light — the oldest lighthouse in Maine that opened in 1791. It's one of the best things to do in Portland! You can also go on a whale-watching tour in Casco Bay, since August falls during the whale-watching season, and spend some time walking around Old Port, where you'll find dozens of cool shops, boutiques, and restaurants.
Portland is filled with cool craft breweries, so be sure to check out a few of the most popular while you're here. Allagash Brewing Company is a local favorite that has gained national attention, and Foundation Brewing Company also serves some innovative beers.
If you're looking for something to eat, head to Duckfat to try the delicious hand-cut fries and dipping sauces, and, of course, you must visit The Holy Donut to try a potato donut — a local favorite in Portland! If you're looking for a lobster roll, head to Eventide Oyster Co.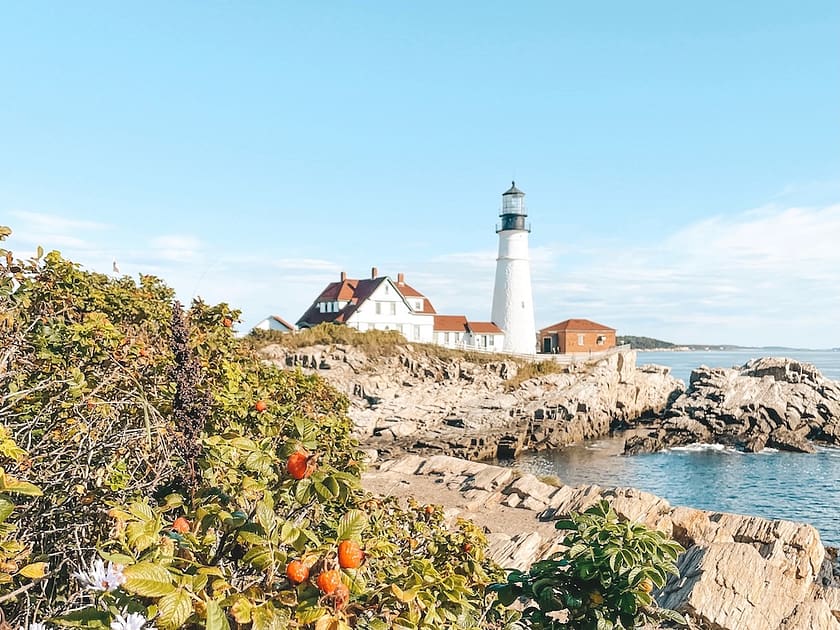 Recommended by Brittany of Travel by Brit
22. Denali National Park, Alaska
Denali National Park is one of America's great bucket list destinations and one of the best places to visit in the USA in August. Sitting four hours from Anchorage, Denali is home to incredible hiking, more animals than you can count, and an ability to disconnect from the modern world.
You'll fall in love with the rugged terrain, the endless mountains, and the cute moose babies just trying to learn how to walk, and when visiting in August, you'll enjoy the best weather of an Alaskan summer. The days will be long, trails free of snow, and warm weather will allow you to explore without feeling inhibited. One thing to know when visiting Denali, there are only a few marked trails, while the rest of the hikes are off the path, allowing you to explore the rugged wilderness on your own.
Remember, though, walking on the tundra is much slower and more tedious than you'd think. Due to this, your hikes will take longer than on a usual trail. Also, when going out, it's essential to not hike alone because of bear activity, to bring a compass or map to avoid getting lost, and to bring multiple layers to prepare for inclement weather.
As for lodging, there are multiple campgrounds in the park and hotels just outside the park's entrance. Lastly, if you're looking for a delicious bite to eat outside the entrance, try the Prospectors Pizzeria and Alehouse.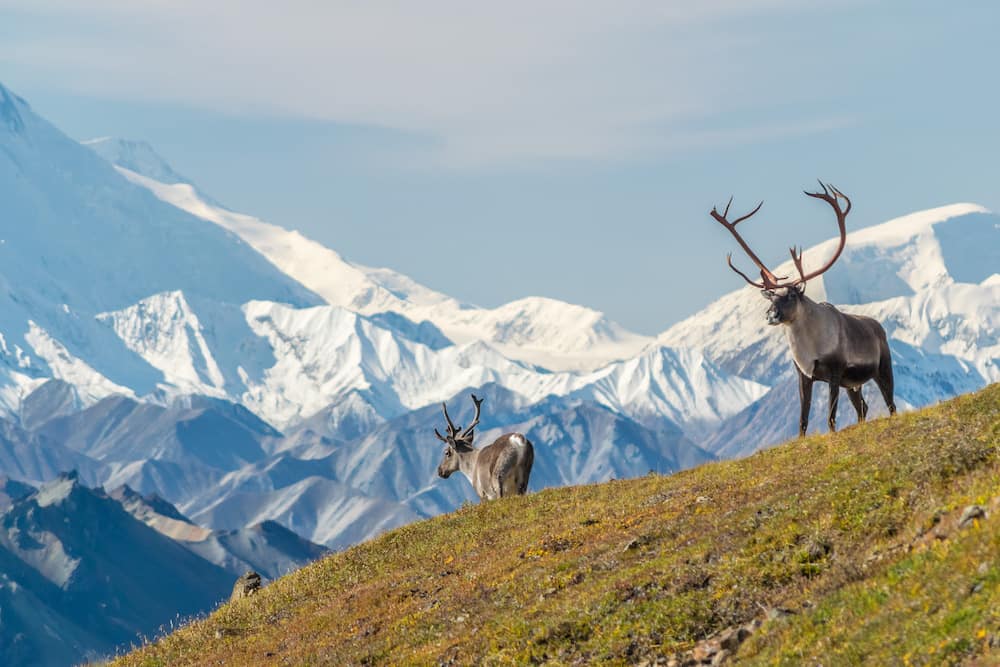 Recommended by Alec of Explore with Alec
FAQs: Best Places to Visit in the USA in August
Which state is best to visit in August?
Wow — that's a tough question! The Pacific Northwest (Washington and Oregon) is generally lovely to visit in August, as is the coast of New England (Maine, Massachusetts, and Rhode Island). Many national parks, like Glacier National Park and Yellowstone National Park, attract large crowds in August, as do popular cruising destinations like Alaska.
Is August a popular travel month?
August is one of the most popular travel months in the United States, along with June and July. However, once children return to school and families wrap up their vacations at the end of August, travel begins to slow down during the shoulder season in September and October.
Is August a good time to go to the USA?
August is generally an excellent time to visit the United States. However, if you're interested in exploring the southern states, like Arizona, Nevada, New Mexico, Texas, Florida, and popular national parks, like Grand Canyon National Park — spring and fall generally offer the best weather. August is one of the hottest months in the Southern USA! 
Is July or August hotter in the USA?
On average, July is the hottest month of the year in the United States. However, warm temperatures generally carry through August before cooling off in September. 
Squeeze in One Last Summer Getaway at One of These Best Places to Visit in the USA in August
Whether you love hiking through the mountains or relaxing on the beach, you're sure to find the perfect vacation destination from this list to sneak away to this August before the temperatures drop and the leaves change. Which of these destinations sounds the most appealing to you?

Save These Best Places to Visit in the USA in August on Pinterest
Read More
Are you looking for more USA travel guides, like this post about the best places to visit in the USA in August? If so, check out the following: