Savannah is a foodie's paradise—it's impossible to find a place to eat that isn't delicious. I don't think you can stay in the city long enough to dine at all the best places to eat in Savannah, GA—unless you eat a few extra meals each day!
I love that Savannah offers a diverse food scene. From good ole' southern cooking and local gems to upscale, fine dining, and funky, modern eateries, Savannah has something to satisfy everyone! 
Your Complete Guide to the Best Places to Eat in Savannah, GA
After visiting Savannah this year, I crafted a list of the best places to eat in Savannah. From restaurants, brunch spots, cocktail bars, and more, there are so many locations that are worth dining at during your visit to the city. Don't miss these 14 best places to eat in Savannah during your visit!
In a Rush? Save this "The Best Places to Eat in Savannah" for Later!
Breakfast, Brunch, and Coffee Shops
If you typically skip breakfast, you should make an exception during your trip to Savannah. Some of the best places to eat in Savannah, GA, only serve breakfast and brunch—so get ready to rise and shine!
The Coffee Fox
The Coffee Fox is an award-winning local Savannah coffee shop that serves locally-roasted, craft coffee. I ordered an iced oat milk mocha, and it was delicious!
The Coffee Fox has two locations: the original site is in Downtown Savannah on Broughton Street, and the newest location is on Savannah's west side on Louisville Road.
They also have other unique restaurant concepts throughout Savannah, including Fox & Fig Café, which is one of the best places to eat in Savannah for plant-based cuisine. The restaurant has a full espresso bar and a vegan-friendly menu!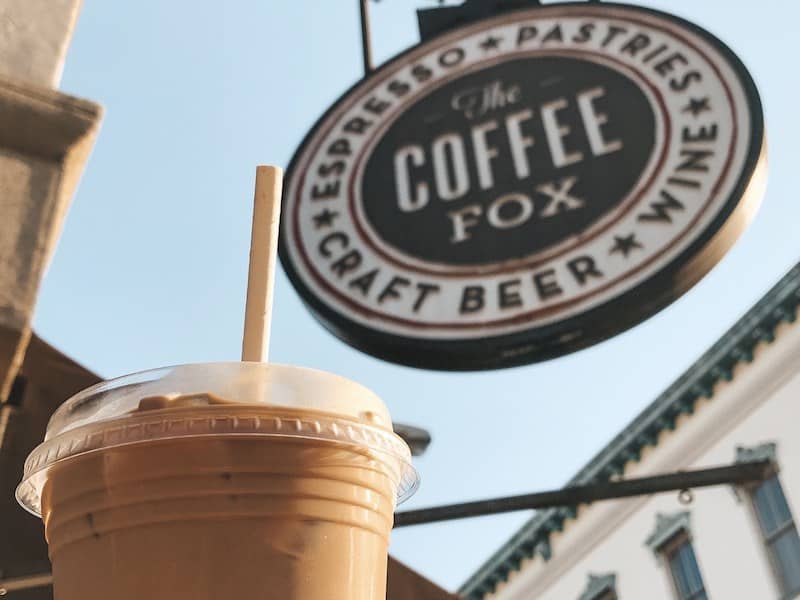 The Paris Market Cafe
My husband and I stumbled across The Paris Market one day and noticed that they had a coffee bar. We decided to come back the next morning, and we were so glad that we did! We spent hours sipping on cappuccinos and munching on French macarons in this cozy café. It's a taste of Europe in Savannah!
The Paris Market is not only one of the best places to eat in Savannah, but also an adorable boutique that sells high-end furniture, stylish gifts, and antique Parisian treasures. The Paris Market Café is tucked away in the boutique and serves espresso, tea, wine, champagne, and pastries. The café is chic and charming—in fact, the founder modeled the space after one of her favorite spots in Paris!
[RELATED: What I Wish I Had Known Before Traveling to Paris]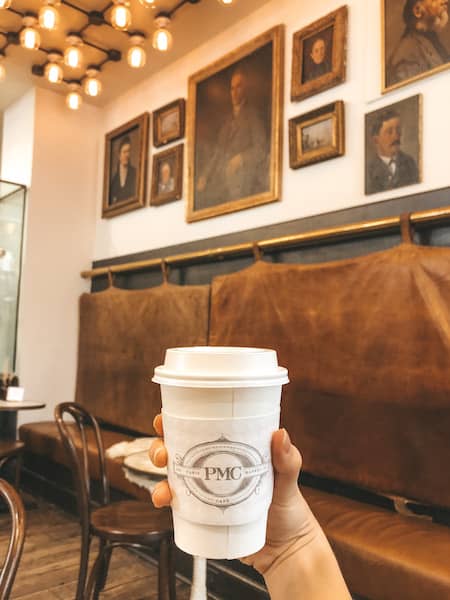 The Collins Quarter
The Collins Quarter is one of the best places to eat in Savannah, GA, for unique brunch offerings. This modern Aussie restaurant concept opened in 2014 to bring a taste of Melbourne to the American South.
The Collins Quarter is a relaxed eatery with beautiful décor. We visited the location at Forsyth Park—I would argue that it was the most aesthetically pleasing restaurant we visited during our trip to Savannah.
The food was just as enjoyable as the décor! My husband loved his Pork Belly Benedict, and I enjoyed my Bacon & Egg Roll. I've never had BBQ on a breakfast sandwich before, but I will say—I'm a fan!
The Collins Quarter also has a location north of Forsyth Park in Downtown Savannah. Each restaurant has a slightly different menu—but both have an excellent selection of brunches.
Mirabelle Savannah
Mirabelle Savannah was the restaurant that surprised me most on our trip to Savannah. I expected to like it, but I LOVED it!
Mirabelle Savannah is a café that serves authentic liege waffles— just like what you'd find on the streets of Belgium. They also serve coffee, tea, and sandwiches. Their menu is limited, but everything they serve is fantastic. I ordered the peach cobbler waffle, and I'm still dreaming about it!
Don't miss the chance to stop at Mirabelle for a waffle—I honestly wish I would have stopped in again for another waffle before we left Savannah. It was definitely the best place we ate in Savannah for breakfast!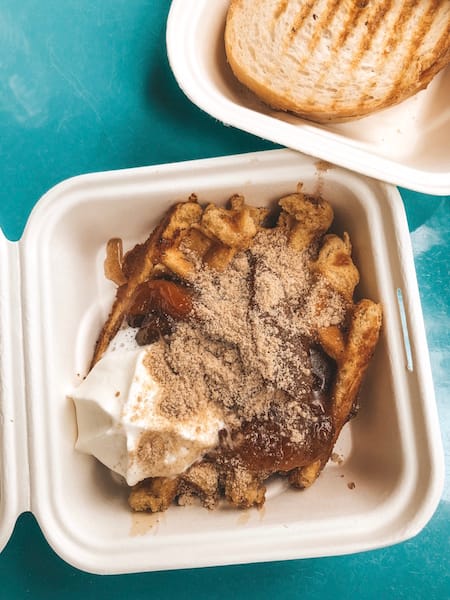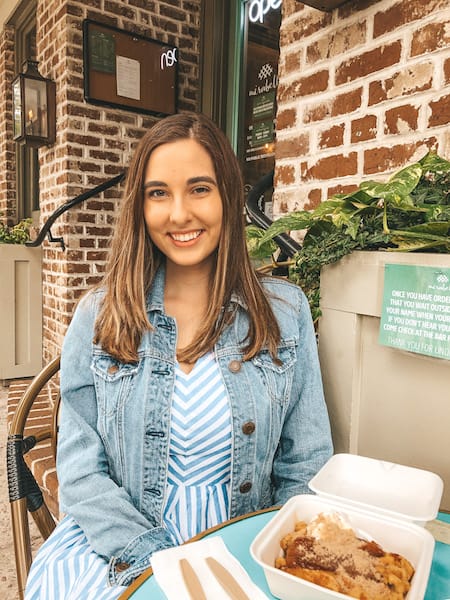 Lunch & Dinner
You'll probably be full from breakfast for a while, but when you are ready to eat again, choose from one of these best places to eat in Savannah, GA, for lunch and dinner!
The Olde Pink House
The Olde Pink House is an iconic and historic Savannah restaurant. The home was built in 1771 and held secret meetings that helped secure the thirteen colonies' independence from England. The house didn't become a restaurant until the 1920s after a woman transformed the home into a tea room. She painted the home pink—and the color stuck!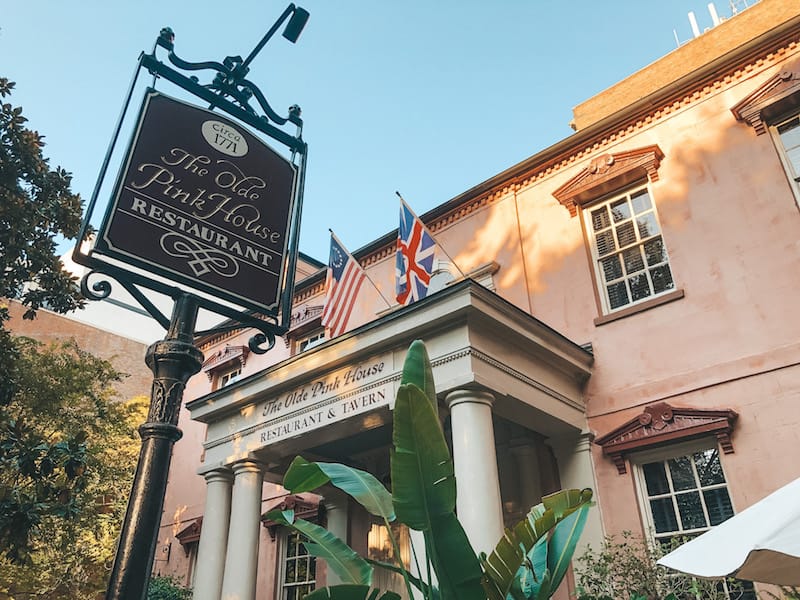 The Olde Pink House is the perfect location for an upscale dinner, a romantic date night, or a fancy celebration. My husband and I celebrated our first anniversary here, and we couldn't have chosen a better location for an unforgettable evening. The staff is fantastic and the food is excellent—it's certainly one of the best places to eat in Savannah, GA, for a good reason!
We ordered the Mac & Cheese Jalapeno Poppers as an appetizer, the Grilled Pork Tenderloin and Sautéed Shrimp and Scallops for our entrees, and a slice of pecan pie for dessert. Our drinks were also fantastic! You should try the Pink Lady Cocktail, one of the best drinks in Savannah, while you're here.
The Olde Pink House isn't just an iconic restaurant with excellent food—it also has a haunted history. If you want to go ghost hunting during dinner, check out my blog post, "6 Haunted Savannah Places You Need to Visit."
Tip: Make a reservation online before visiting The Olde Pink House. The restaurant fills up quickly for dinner, and it's unlikely you will score a reservation if you wait until the day you want to visit to book your table. It's one of the best places to eat in Savannah for dinner… and everyone knows it!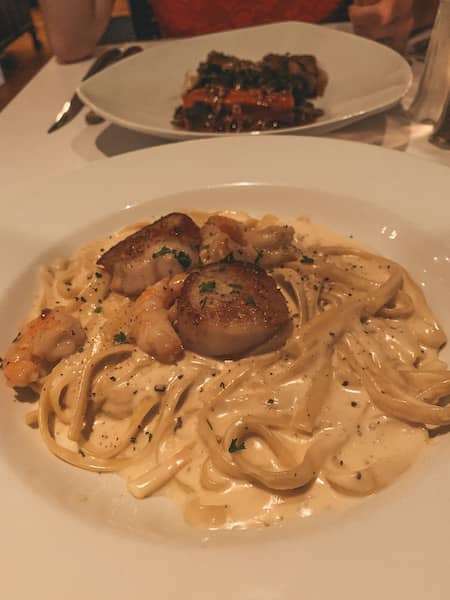 [RECOMMENDED: 6 Haunted Places You Can't Miss in Savannah]
Treylor Park
Treylor Park is an upscale eatery with a laid-back atmosphere. Their menu is quirky, fun, and so delicious!
I ordered the Chicken Pancake Tacos, and let me say—don't knock it until you try it! The toasted pepper pancakes are stuffed with fried chicken and topped with chipotle aioli and strawberry salsa—the perfect blend of sweet and savory. My husband ordered the Grilled Apple Pie Sandwich and enjoyed it, too!
Treylor Park is one of the best places to eat in Savannah for a relaxed environment and unique menu items. They also serve some unique signature cocktails that you won't find anywhere else, like a Cherry Cola, Georgia Mule, or Pina Coolatta.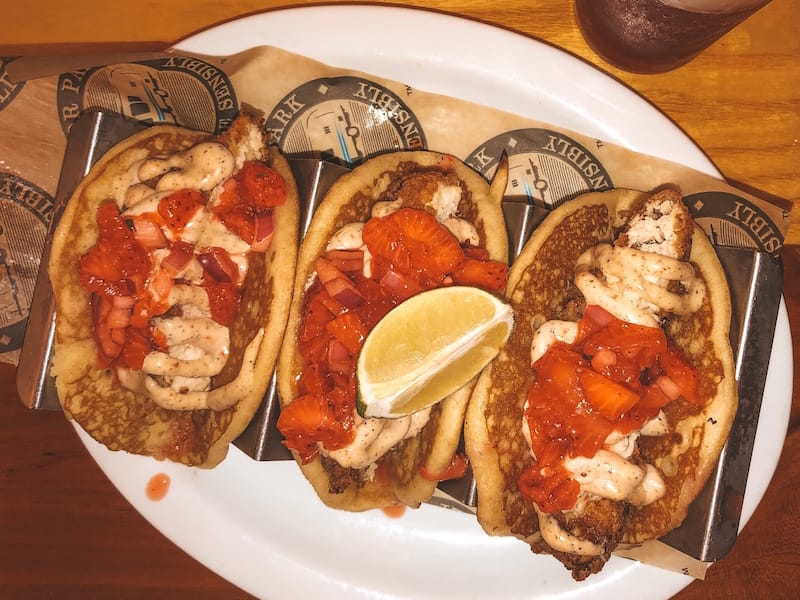 Husk Restaurant
Husk is another upscale Savannah restaurant that transforms the essence of southern comfort food. Husk's menu is continuously changing to blend local, seasonal ingredients to create deliciously, innovative dishes.
Husk offers visitors with a lovely ambiance and an excellent dining experience. If you can't make it to Husk while you are in Savannah, don't worry—Husk Restaurant also has locations in Charleston, SC, and Nashville, TN.
[RECOMMENDED: 5 Unforgettable Day Trips from Charleston]
Savannah Seafood Shack
Dining in Savannah can get pricey, so it's awesome to find a low-cost spot with delicious food. Enter Savannah Seafood Shack, an informal eatery that serves up southern-style seafood at a reasonable cost.
Savannah Seafood Shack is one of the best places to eat in Savannah for its low country boil—it's been featured on Food Network, Cooking Channel, and Travel Channel! A low country boil comes with shrimp, corn on the cob, sausage, and red potatoes coated in garlic butter and Cajun seasoning. Yum!
Savannah Seafood Shack also offers fried and steamed seafood, crab cakes, and po' boys.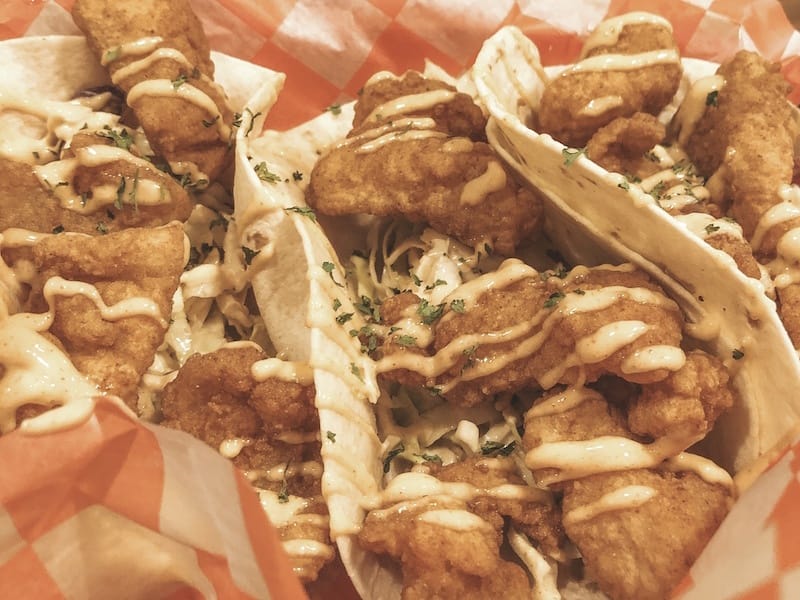 [RELATED: Savannah's Southern Comfort Food Tour]
The Grey
The Grey is one of the best places to eat in Savannah, GA, that we sadly didn't have the chance to visit. This restaurant's unique concept should undoubtedly place it at the top of your Savannah to-do list!
The Grey is a high-end retro restaurant that is located in a refurbished Greyhound Bus Terminal. Mashama Bailey, the executive chef, is committed to creating dishes with deep, soulful flavors. The dynamic, seasonal menu varies from day to day, and the chef offers meals in 4-courses, 6-courses, or 8-courses.  
I hear their cocktails are fantastic, too. I will be visiting here the next time I am in Savannah!
Drinks
From upscale cocktail bars with speakeasy vibes to local, casual bars where you can order your drink in a plastic cup "to-go," Savannah has no shortage of excellent locations to grab a drink. Here are a few:
Artillery
Artillery is a cocktail bar I was disappointed to find closed due to the Covid-19 pandemic when we visited Savannah.
The easily accessible speakeasy is an iconic, restored landmark with unique architecture and modern touches. Artillery has dozens of unique cocktails, beers, and wines to try during your visit. I'll definitely be visiting the next time I am in Savannah!
Georgia Tasting Room
The Georgia Tasting Room is a hidden gem that we stumbled upon when exploring Savannah. Located in the Savannah City Market, the Georgia Tasting Room serves local beer, wine, and wine smoothies sourced from Georgia and the Southeastern USA.
The best part about the Georgia Tasting Room is their wine tasting deal—you can sample six wines from a rotating list for only $3. Yes, you read that right… $3! And, if you buy a bottle of wine after, your tasting is free. My husband and I brought home a bottle of Georgia Peach Dessert Wine. It was delicious!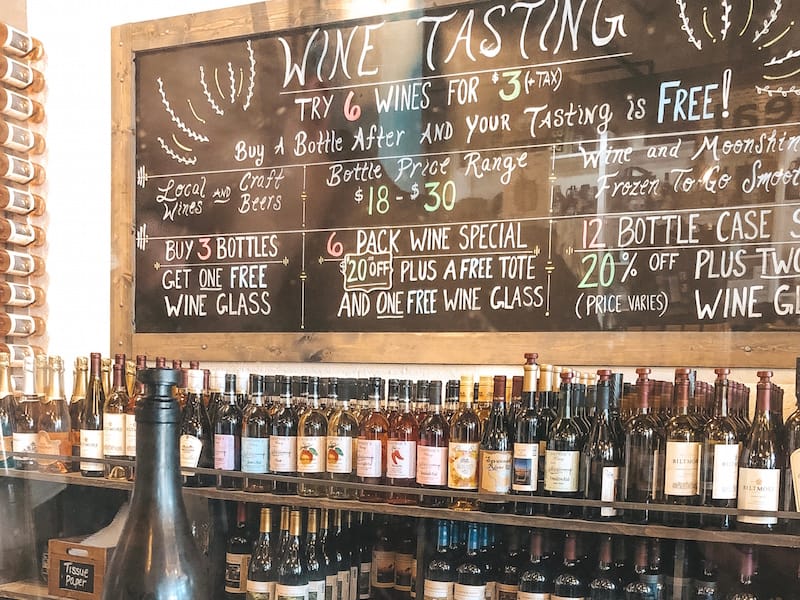 Wet Willie's
Wet Willie's is best known for its frozen drinks and daiquiris. Since you can bring your drinks "to-go" in Savannah, stop at Wet Willie's for a frozen daiquiri, margarita, pina colada, or original frozen drink to enjoy while walking down River Street or through the Historic District. 
[RELATED: Haunted Savannah Pub Crawl]
Dessert
I have a sweet tooth, so naturally, dessert is my favorite meal of the day. Trust me—these two spots are undoubtedly the best places to eat in Savannah for dessert!
Huey's
Before we visited Savannah, I had read somewhere to stop at Huey's for beignets, so I did. And let me tell you—these beignets are THE BEST I have ever had. Served piping hot with a generous amount of powdered sugar, these sweet, doughy pastries melt in your mouth.
If you have never tried beignets, do yourself a favor and go! My mouth is watering just thinking about them. Oh, and a word of advice—order a dozen. You'll want to eat every last one!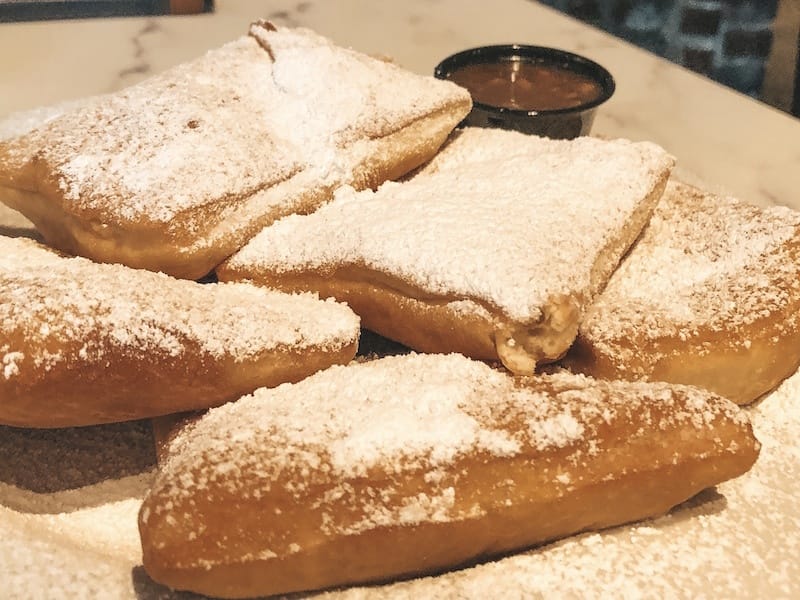 Leopold's
And finally, a list of the best places to eat in Savannah, GA, isn't complete without Savannah's most iconic dessert spot: Leopold's Ice Cream. Leopold's is one of the best ice cream shops in the USA and has served the city of Savannah award-winning, homemade ice cream for over 100 years.
The store has authentic, vintage touches—the black marble soda fountain, wooden back bar, and telephone booth were all transferred from the original location!
Some favorite flavors since 1919 include Lemon Custard, Rum Bisque, Tutti Frutti—rum ice cream with candied fruit, and Georgia pecans. I got the Savannah Socialite—chocolate ice cream with toasted Georgia pecans and swirled with bourbon caramel—and I thought it was delicious!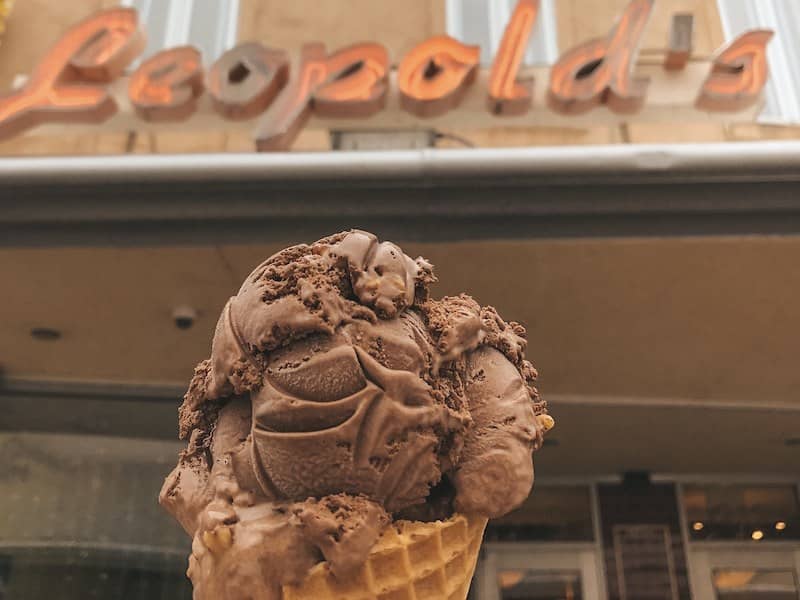 Enjoy the Best Places to Eat in Savannah, GA on Your Next Trip!
As you can see, Savannah has some AMAZING food & drinks to enjoy. Out of this list of best places to eat in Savannah, which restaurant sounds the most amazing to you?
Disclosure: Some of the links in this post are affiliate links, meaning, at no additional cost to you, I earn a commission if you click through and make a purchase. This helps me to continue to provide free, helpful resources for you on my blog! Thank you for your support 🙂
Save "The 14 Best Places to Eat in Savannah" on Pinterest!
Planning a Southeast Road Trip? You will likely enjoy reading the following blog posts!