Newport, Rhode Island, is the perfect city for a weekend trip. Whether you're planning a romantic getaway with your significant other, a relaxing getaway with your girlfriends, or a beach trip with the family—Newport has something to offer to every traveler during every season!
There are tons of awesome things to do in Newport, RI—from historic mansion tours and boutique shopping to scenic sightseeing and stuffing your face with seafood. However, there's not an overwhelming number of activities to conquer, making Newport the perfect spot for a laid-back weekend trip!
Read this guide to discover the best places to eat, where to stay, and things to do in Newport, RI, for a charming getaway in New England!
Best Things to Do in Newport, RI
1. The Cliff Walk 
The Cliff Walk is an incredibly scenic 3.5-mile walk along Newport's gorgeous coastline that is undoubtedly one of the best things to do in Newport, RI.
Aside from spectacular views of the Atlantic Ocean, you'll also be able to walk past dozens of the city's luxurious, historic mansions, like The Breakers, Marble House, Rosecliff, and more. There are plenty of scenic viewpoints for photos along The Cliff Walk, too! 
The Cliff Walk starts on the North End at Easton's Beach and ends on the South End at Bailey's Beach. The walk varies in difficulty from easy, paved paths to rugged, rocky terrain. Fortunately, there are eight points along the Cliff Walk with street access, so you can enter and exit the trail as you please. 
It will take about 2.5 hours to walk the entire Cliff Walk one way. I'd recommend starting at Forty Steps and walking to Marble House for the chance to experience easy, moderate, and challenging parts of the trail and also to see the highest number of landmarks in the shortest amount of time! 
Tip: If you'd like to see the mansions from your car instead of on foot, drive the famous Ocean Drive, a National Historic Landmark District, for spectacular views of the shoreline and these "summer cottages." You'll also see landmarks like Newport Harbor, Narragansett Bay, King Park, and Fort Adams State Park.
2. Thames Street 
Thames Street is one of the two streets in Newport where you'll find all the action. Many of the city's popular restaurants, like Brick Alley Pub & Restaurant, are situated along Thames Street, and it's also the place where you'll find local boutiques and stores. 
Spending some time wandering down Thames Street and peeking into the shops is one of the most fun things to do in Newport, RI. You'll be sure to find something fun to bring home with you!  
3. Bellevue Avenue 
Bellevue Avenue runs parallel to Thames Street, just a few blocks east. Bellevue Avenue runs from the historic hotel, Hotel Viking, to the historic mansion, Rough Point. It offers quick street access to several more of the city's estates, including The Elms, Chateau-sur-Mer, Rosecliff, and Marble House. 
Personally, my favorite part of Bellevue Avenue is between Mill Street and Bowery Street. The buildings are so charming, and they remind me of being in a quaint European village. I think wandering up and down this street is easily one of the best things to do in Newport, RI. 
Some of my favorite places to eat in Newport, Empire Tea & Coffee, Pasta Beach, and CRU Café, are located along this portion of Bellevue Avenue. The street is also home to the International Tennis Hall of Fame and the Audrain Auto Museum if you're interested in visiting either of these historic locations.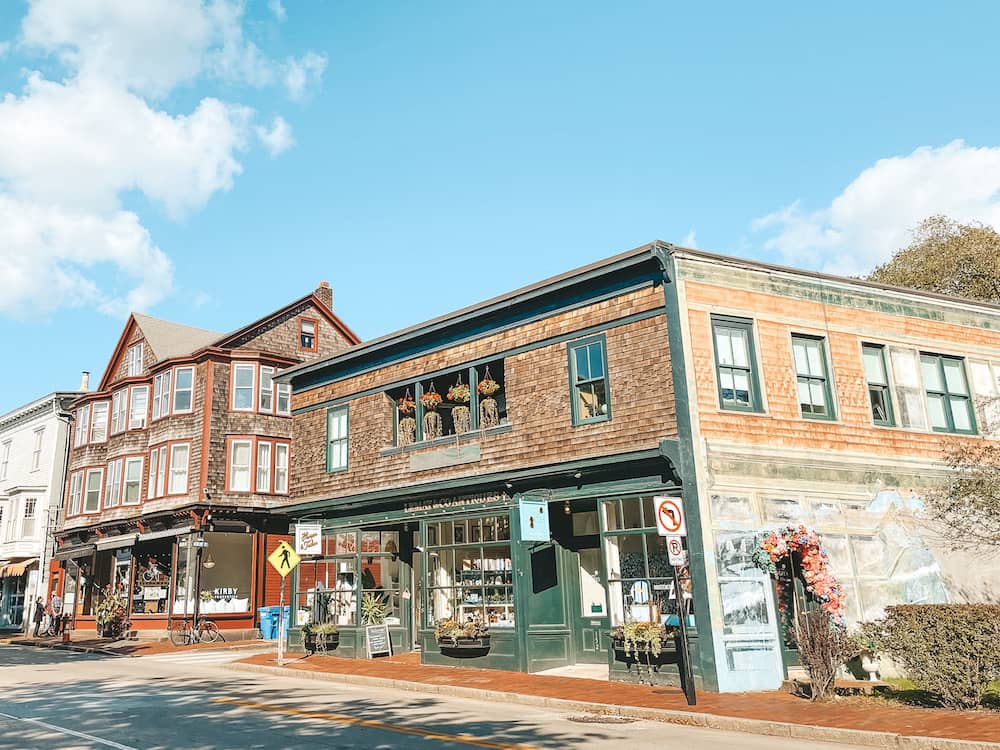 4. Greenvale Vineyards 
Greenvale Vineyards is a beautiful winery located just outside of Downtown Newport.
We ran out of time to visit this winery, but I would have undoubtedly visited if we had been in Newport any longer! The vineyards are just along the coast, so the winery is extremely lush and offers beautiful ocean views. The winery also has live jazz music on the weekends, and they offer tons of outdoor seating. 
Greenvale Vineyards is the only item on this list that's not within walking distance of Downtown Newport. However, if you don't have a car, the winery is only a seven-mile Uber or Lyft ride from Newport, so you won't have to travel far to get here! 
5. Newport Mansions
One of the best things to do in Newport, RI, is touring the Newport Mansions! Newport is home to dozens of historical mansions dating back to the Gilded Age in the 1800s. The Preservation Society of Newport County owns many of these mansions, and they are available to tour.
The most popular mansions in Newport, RI, are:
The Breakers—The Breakers was built between 1893 and 1895 as a summer residence for Cornelius Vanderbilt II, a member of the wealthy Vanderbilt family.
Marble House—Marble House was built between 1888 and 1892 as a summer cottage for Alva and William Kissam Vanderbilt.
The Elms—The Elms was completed in 1901 by Horace Trumbauer for Edward Julius Berwind, a coal baron. The home was inspired by a residence in France.
Rosecliff—Rosecliff was completed in 1902 for Theresa Fair Oelrichs. She hosted several fabulous parties here, and one even featured the famous magician Harry Houdini. 
Chateau-sur-Mer—This home was one of the first mansions constructed in Newport during the Gilded Age in 1852 and was the location of most parties before the Vanderbilt homes were finished in the 1890s.
Since we only had one full day in Newport, we decided to tour just one mansion—The Breakers! The Breakers is the largest and the most impressive of the Newport Mansions, so if you only have time to tour one mansion, I'd recommend this one. My favorite part of touring The Breakers was the stunning patio overlooking the Cliff Walk and the Atlantic Ocean (pictured below). The home also has lots of Italian architecture, decor, and influence, which I appreciated!
We were very interested in touring this home because we had just visited The Biltmore in Asheville, NC, another historic home built by the Vanderbilt family, so we wanted to compare the two.
Fun Fact: Wondering how "The Breakers" got its name? Since the ocean waves loudly "break" on the rocks along the cliffs in the home's backyard, the name stuck!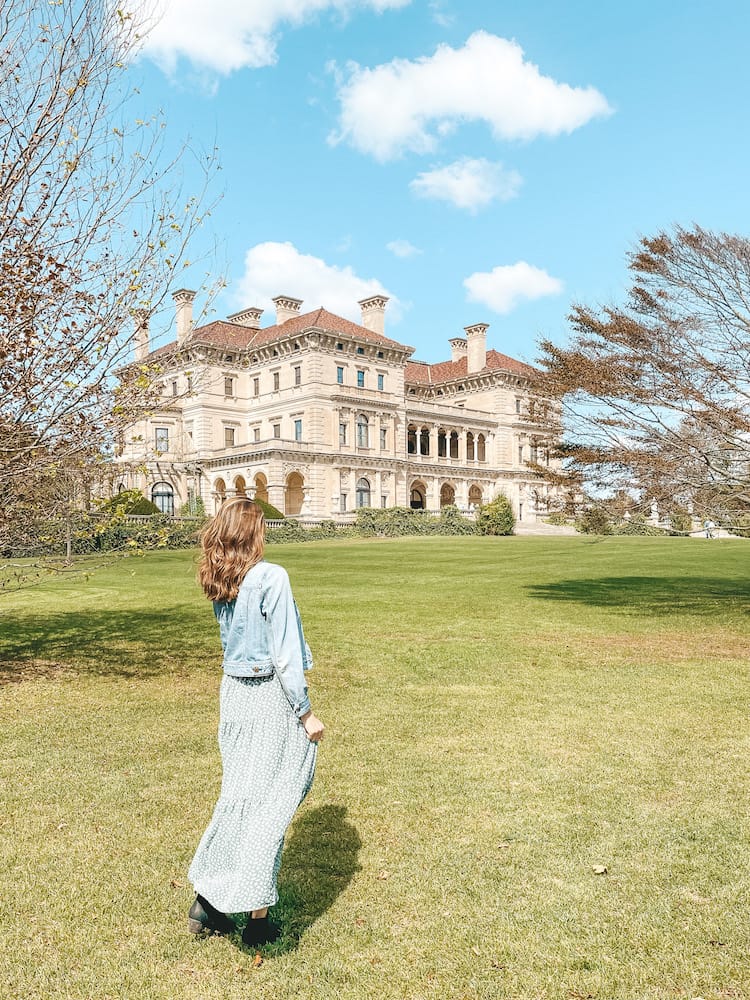 6. Trolley Tour
Instead of trying to tackle as many mansions as possible during your trip to Newport, you can also go on a highly-rated trolley tour to see multiple mansions and other points of interest in the city at the same time. Trolley tours are widely considered one of the best things to do In Newport, RI.
Most tours include admission to one mansion (or two!), so you can see as much as possible during your weekend in Newport.
If you're interested in a trolley tour, I'd recommend choosing from one of these top-rated tours:
7. Bowen's Wharf 
Bowen's Wharf is an adorable square on a scenic harbor with tons of quaint boutiques, cute cafes, and upscale restaurants in Downtown Newport. Although it's touristy, Bowen's Wharf is definitely one of the best things to do in Newport, RI. It's a great place to walk around, and it offers an especially great atmosphere at night. We were there on a Wednesday night, and it felt like a weekend!
Personally, I'd recommend grabbing some ice cream at Kilwin's across the street and strolling down Bowen's Wharf during sunset. It's a great place to explore!
8. Easton Beach 
If you're visiting Newport in the summer, you can't miss the chance to visit Easton Beach, also known by the locals at "First Beach" for an upbeat environment. 
Newport has three beaches—First Beach, Second Beach, and Third Beach (easy, right?). Since First Beach is closest to Downtown Newport, it's usually found on most lists of the best things to do in Newport, RI. Aside from its proximity to Newport's main attractions, it is also a popular spot for surfing and has a snack bar, carousel, and aquarium. 
However, if you're looking for a quieter place to relax on the beach, travel to Second Beach or Third Beach for laid-back vibes and a cleaner, well-maintained environment. 
9. Long Wharf 
Long Wharf isn't a super notable location in Newport, but I loved walking down here at sunset to admire all the boats docked in Newport Harbor. Long Wharf is right across the street from Thames Street, so it's easy to spend a few minutes walking by and enjoying the beautiful views! 
You can also go on a cruise in Newport Harbor, like this Fall Bay Cruise from Bowen's Wharf, to see the gorgeous fall colors, or the Lighthouses and Mimosa Cruise, to see the city's scenic lighthouse from the water!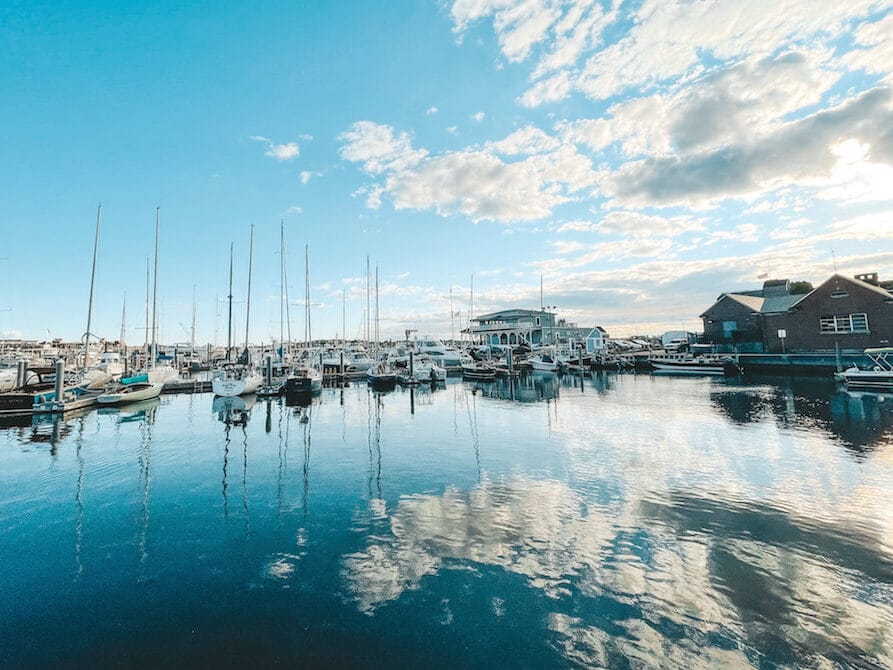 10. Tour a Museum
Aside from the mansions, Newport, Rhode Island, has many museums to explore. Here are a few of the most popular museums that allow you to explore Newport's history, culture, and art.
U.S. Naval War College Museum—This museum features the history of the naval war college, the naval activities in Narragansett Bay since colonial times, and the history of maritime warfare.
Newport Art Museum—This museum was founded in 1912 by one of the oldest art associations in the country. You can see over 2,300 works of art from the late 1800s to now.
National Museum of American Illustration—This museum celebrates the "Golden Age" of illustration, spanning from the 1870s to the 1950s.
Museum of Newport History—This museum shares interesting information about the city's past, including the people who settled there, the Gilded Age, and more. It houses over 10,000 artifacts, including instruments, furniture, and clothing.
When Is the Best Time to Visit Newport, RI?
Newport, Rhode Island, is a popular destination for summer getaways on the East Coast, and for good reason—Newport shines in the summer! The sandy beaches, charming boutiques, and beautiful harbors make Newport a great place for swimming, boating, and lounging on the beach.
However, if you want to enjoy the best things to do in Newport, RI, without swarms of tourists and high hotel rates, you'll want to visit during the spring (March-May) or the fall (September-November). These months still have mild temperatures and minimal rain, so they are perfect for exploring and doing outdoorsy activities.
What Are the Best Places to Stay in Newport, RI?
Newport has some extraordinary hotels! Here are some highly-rated hotel recommendations located within walking distance of the locations on this list, so you won't need to rent a car unless you'd like to. 
You can also check out this post about the best luxury hotels in Newport to find the perfect place to stay for a romantic honeymoon, fun-filled bachelorette weekend, or relaxing solo getaway!
What Are the Best Places to Eat in Newport, RI?
Some of the best places to eat in Newport, RI, include:
The Mooring Seafood Kitchen & Bar
Clarke Cooke House
CRU Café
Pasta Beach
If you're searching for more popular restaurants to eat at during your trip to Newport, check out my post about the best places to eat in Newport, RI.
You can also check out this highly-rated Newport Neighborhood Food Tour to eat your way through Newport with a seasoned guide!
Make Memories During Your Trip with These Awesome Things to Do in Newport, RI
Is Newport calling your name? If so, which of these things to do in Newport, RI, would you put at the top of your list? Let me know in the comments below!
Disclosure: Some of the links in this post about the Best Things to Do in Newport, RI, are affiliate links, meaning, at no additional cost to you, I earn a commission if you click through and make a purchase. This helps me keep the content on my website free, like this post about the Best Things to Do in Newport, RI!
Pin the "Best Things to Do in Newport, RI" for Later!
Did you love this post about the best things to do in Newport, RI? If so, check out these other detailed posts about New England to plan the ultimate road trip!