If you're looking for the perfect destination for a beach and city vacation—look no further than Oahu, Hawaii. Oahu is the perfect blend of upbeat city atmosphere and laid-back surfer vibes—all on one island! It's fun, beautiful, and not to mention, there are tons of unique places to eat.
I visited Oahu with my family in April 2021, and we had an amazing time! Our entire experience was fantastic, so I knew I couldn't miss the chance to create a complete itinerary for Oahu for you to use for your own trip.
The truth is, there are too many things to do on Oahu to possibly fit into one week. You could be here on vacation for months and never get bored! However, for your convenience, I've narrowed down the best things to do in Oahu to a handy five-day itinerary for Oahu you can easily replicate.
In addition to this itinerary for Oahu, you can also check out these other Travel by Brit blog posts for more things to do in Oahu!
But, before we get started outlining the itinerary for Oahu, here are some common questions you might have about traveling to Oahu:
In a Rush? Pin this 5-Day Itinerary for Oahu to Read Later!
Where is Oahu, Hawaii?
Oahu is one of eight small islands that make up the state of Hawaii, located in the Pacific Ocean. It's the only U.S. state comprised of islands, and it's about 2,000 miles away from the mainland.
Oahu is the home to Hawaii's capital city, Honolulu. It's the most densely populated Hawaiian island, with nearly one million people living there. For reference, only 1.5 million people live in the entire state of Hawaii! You can read my post about the differences between Oahu, Honolulu, and Waikiki to learn more about this popular island.
How Do I Get to Oahu?
Honolulu International Airport (HNL) is the main airport for Oahu and the entire state of Hawaii. Once you arrive at the Honolulu Internation Airport, you'll only be a 30-minute drive away from Waikiki Beach and a 15-minute drive away from Downtown Honolulu.
Where Should I Stay in Oahu?
There are plenty of options of places to stay during your trip to Oahu. Personally, I recommend staying in Waikiki for close access to many of the area's most popular attractions and tons of hotel and resort options. We stayed in the Outrigger Waikiki Beach Resort and absolutely loved our experience there! It offers beachfront access to Waikiki Beach and has popular restaurants, Duke's Waikiki, and the Sunrise Shack, located in the lobby.
Here are some other popular hotels and resorts located in the heart of Waikiki:
If you're looking for a more peaceful, laid-back atmosphere, I recommend staying on the North Shore or Leeward Coast. Here are some hotel options that would work well for this itinerary for Oahu:
You can read my guide about the best resorts on Oahu for a deeper dive into the amenities of the hotels listed above. Or, if you're traveling to Oahu on a budget, check out these cheap hotels to stay in. I wrote this guide assuming that you'll be staying in Waikiki during your trip. However, you'll be able to modify it to fit the destination you're staying in!
Do I Need to Rent a Car During my Trip to Oahu?
The short answer? Yes. You need to rent a car in Oahu to explore all the island has to offer. In fact, not renting a car is one of the biggest mistakes to avoid when traveling to Hawaii! However, you don't need to have a vehicle for every day during your trip.
We rented a car for three days out of our five days spent on the island. We felt three days with the car gave us the perfect opportunity to see the best of what the island had to offer!
What are the Best Things to Do on Oahu?
Well, I'm glad you asked! Here's a helpful five-day itinerary for Oahu jam-packed with all the best things to do around the island.
5-Day Itinerary for Oahu
Day 1: Explore Waikiki
Since you just arrived in Honolulu yesterday, spend today exploring your home base for the week—Waikiki!
Here's a brief overview of how to spend your first day in Waikiki on this itinerary for Oahu, but you can also discover the ten best things to do in Waikiki, Hawaii, here!
Basalt Waikiki
The first stop on your five-day itinerary for Oahu is a hearty breakfast at Basalt. This restaurant is located in Duke's Lane Marketplace, a small collection of coffee shops, bakeries, restaurants, and a grocery store wrapped up in one!
I ordered the French Toast crusted with coconut and macadamia nuts, and it was so amazing!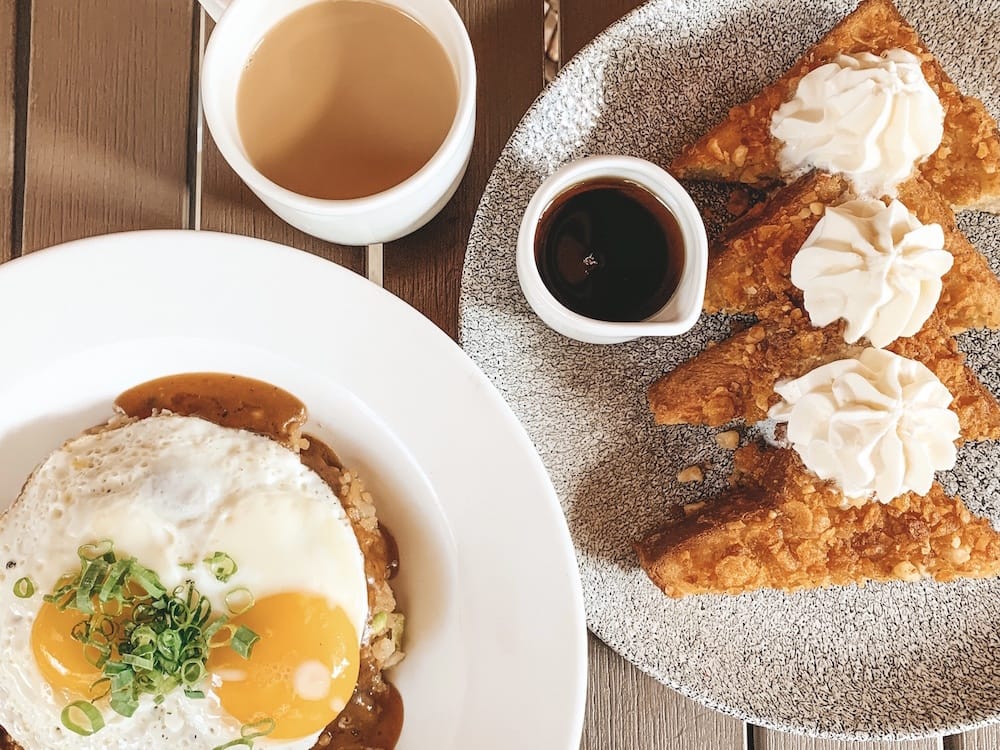 Waikiki Beach
Next, spend the late morning and early afternoon at Waikiki Beach, one of the most popular beaches in the United States!
You can take surfing lessons, take an outrigger canoe ride, go on a sunset cocktail cruise, rent a paddleboard or boogie board, or simply relax on the beach with a cocktail admiring the crystal blue waters. If you look in the distance, you can see Diamond Head Crater—one of the best hikes on Oahu!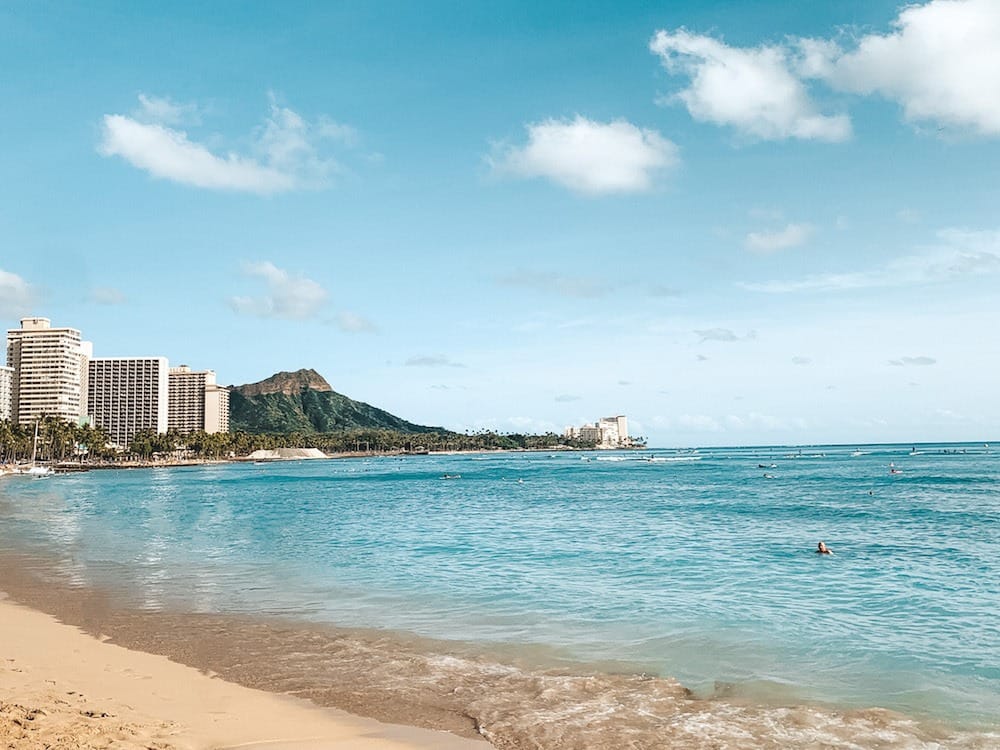 Banan
Once you've spent enough time in the sun, it's time for a refreshing treat at Banan—located just off Waikiki Beach between the Outrigger Waikiki Beach Resort and Cheesecake Factory.
Banan serves delicious soft-serve ice cream made from bananas (hence the name). I ordered the Chunkadelic—banana ice cream topped with dark chocolate, granola, shaved coconut, honey, and Banan's house-made macadamia nut honey butter. You can also order your ice cream in a "papaya boat" or "pineapple yacht."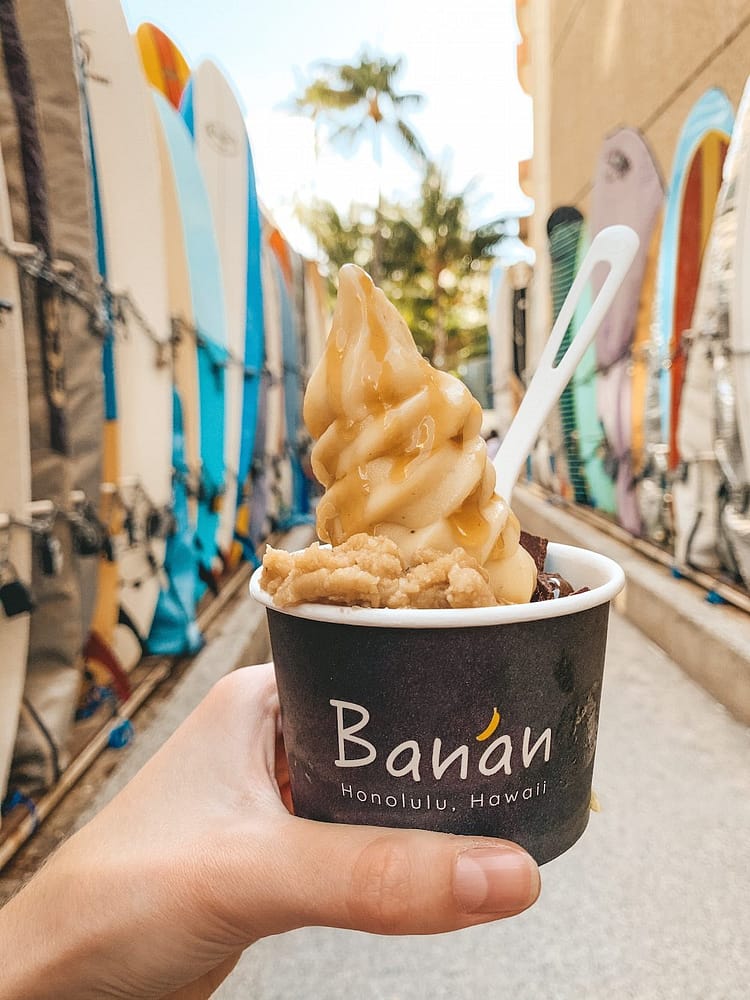 Kalakaua Avenue
Next, venture out to Kalakaua Avenue—the hub of shopping and resorts in Waikiki. You'll find everything here—from worldwide brands and luxury chains to souvenir shops and local stores.
Even if you aren't into shopping, I would recommend taking a walk through some of the outdoor shopping centers along Kalakaua Avenue—including the International Marketplace and Royal Hawaiian Center.
While you're on Kalakaua Avenue, I recommend resort hopping to see some of the most beautiful and iconic hotels in Waikiki. Don't miss stopping at the Royal Hawaiian, Moana Surfrider, and Hilton Hawaiian Village!
Ainahau Triangle
After venturing down Kalakaua Avenue, make your way over to Ainahau Triangle. It's a lush, green park that features tons of Hawaiian plants and flowers, like banyan trees and plumeria flowers.
Plus, Ainahau Triangle is a beautiful place to watch the sunset that's lesser-known than the beaches in Waikiki.
Duke's Waikiki
The final stop on this itinerary for Oahu to complete your first day in Hawaii is dinner at Duke's Waikiki! Duke's is an iconic restaurant located in the Outrigger Waikiki Beach Resort lobby that offers spectacular views of Waikiki Beach, tiki vibes, and a surf 'n' turf menu!
I'd highly recommend making a reservation to avoid a 2-3 hour wait. I ordered the Coconut Shrimp and Lava Flow cocktail. Both were fantastic!
Day 2 – Kailua & Kaneohe
Today on the itinerary for Oahu, you'll explore Oahu's "Windward Coast," located about 15-20 miles from Waikiki.
You'll want to rent a car for the next three days. We rented our car from National Car Rental located in the Hilton Hawaiian Village and had a great experience with them!
Lanikai Pillbox Hike
After fueling up with a filling breakfast at Over Easy, drive to Lanikai Beach—one of the best things to do on Oahu for free! You won't be lounging at the beach yet, though. First, you have to conquer the Lanikai Pillbox Hike!
Since the entrance to the hike is located in a neighborhood, I recommend using public parking at Lanikai Beach. It's a short walk to the hike entrance, and it's a hassle to find parking, otherwise.
The Lanikai Pillbox Hike is a rocky and steep 1.8-mile trail that offers spectacular views of Lanikai Beach, the Ko'olau Mountain Range, and Oahu's Windward Coast.
This hike gets its name from the two military pillboxes located at the end of the trail. They were used as observation stations during World War II in the 1940s, but now, they're the perfect spot for a photo opportunity!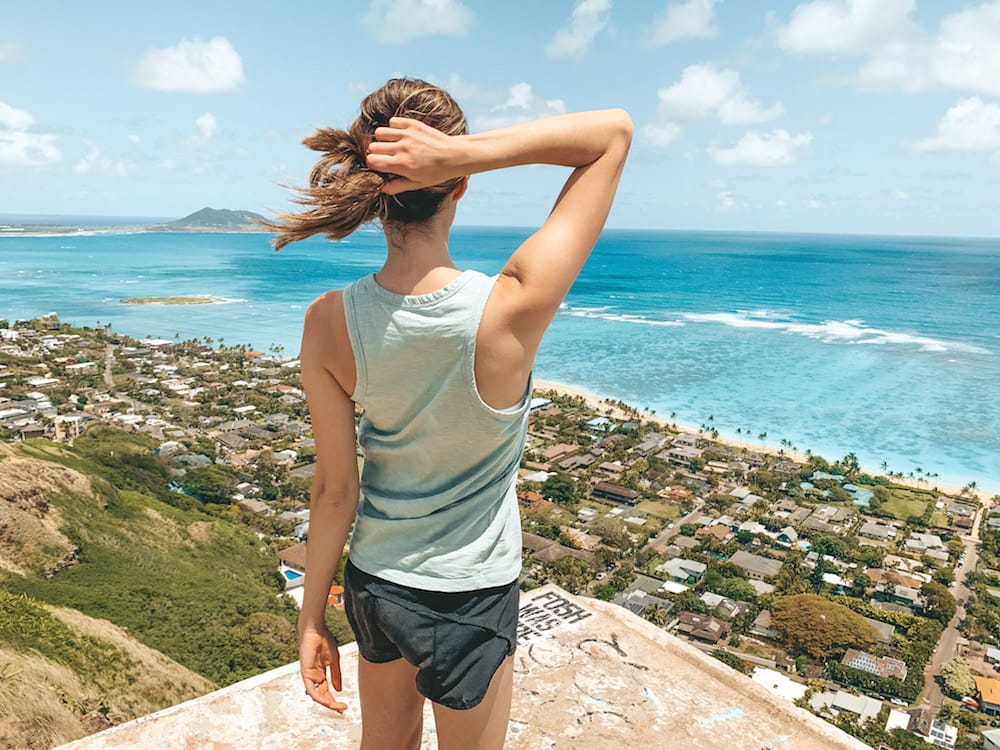 Lanikai Beach
Now, it's time to take a dip in the refreshing ocean you just saw from the top of the mountain—Lanikai Beach!
Lanikai Beach has been called the "most beautiful" of Oahu's beaches, and it's easy to see why! The turquoise blue waters and soft white sand will give you plenty of tropical island vibes.
Note: Even though I'm wearing my snorkel gear in this photo, I wouldn't recommend snorkeling at Lanikai Beach. It's a beautiful place to swim, but after an hour or so of snorkeling, we only managed to see one sea turtle and a few fish.
The best snorkeling spots on the island are Hanauma Bay and Shark's Cove—and you'll visit one later in this itinerary for Oahu!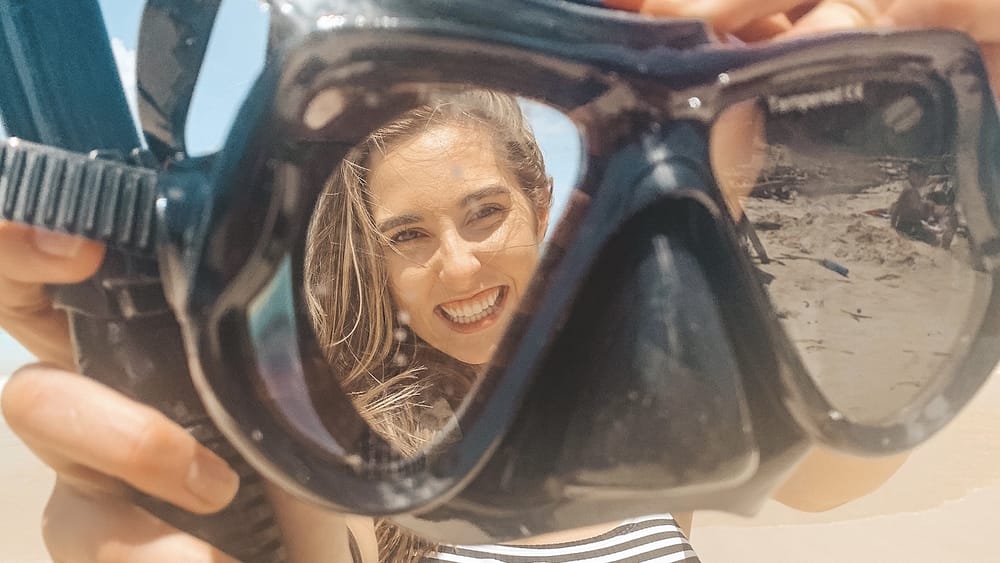 Island Snow
After the beach, head to Island Snow for the best shave ice you'll eat on Oahu! They have all-natural, locally made flavors that are amazing. Plus, every shave ice comes with a scoop of macadamia nut ice cream at the bottom.
Enough said, right? Stop here for "lunch" today since you'll want to save plenty of room for tonight's dinner plans!
Ho'omaluhia Botanical Gardens
Ready to soak in Hawaii's natural beauty—that's not on a beach? If so, visit Ho'omaluhia Botanical Gardens in Kaneohe for 400 acres of dramatic mountain views, breathtaking scenery, and tropical plants from around the world, including the Philippines, Malaysia, America, India, Sri Lanka, Hawaii, Polynesia, and Africa!
And the best part? Ho'omaluhia Gardens is completely free to visit! However, the gardens close at 4 PM every day, so be sure to leave Kailua with plenty of time to explore this gorgeous area.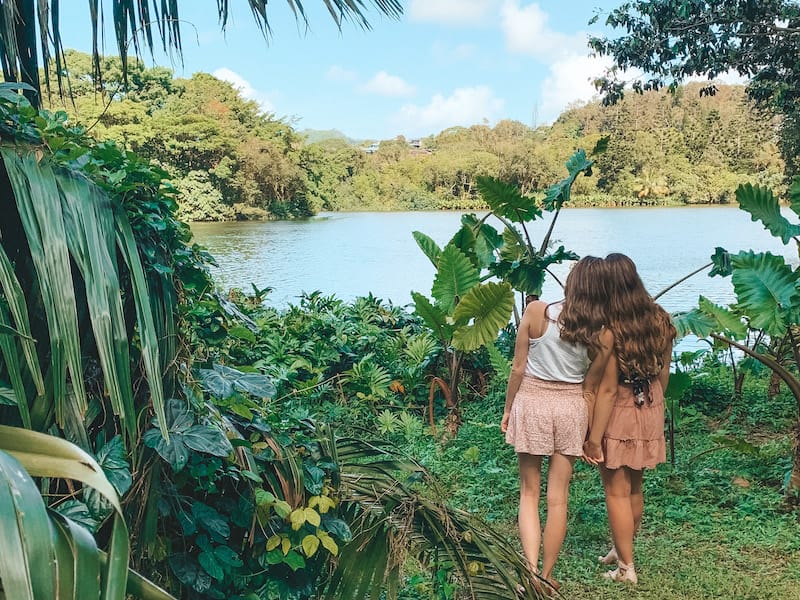 Haleiwa Joe's
Haleiwa Joe's in Kaneohe is an open-air restaurant that overlooks a tropical garden, lush greenery, and the Ko'olau Mountains. Eating dinner here is one of the best things to do on Oahu, and actually, it was one of my favorite experiences of our entire trip!
The restaurant is just a short 3-mile drive from the Ho'omaluhia Botanical Gardens, which is perfect because you'll want to arrive at least 15 minutes before the restaurant opens to avoid a three-hour wait. Yes, it's that popular—even on the weeknights! We arrived at about 4:15 PM and were seated immediately. We asked the waitress for a table near the balcony to overlook the gardens, and she was happy to accommodate our request.
I'd recommend ordering a Mai Tai and anything from the surf 'n' turf menu—but really, the best meal at Haleiwa Joe's is the feast for your eyes. And that's saying something because the food is fantastic! After your meal, walk down to the gardens to explore until the sunset, when the gardens close. If there's already a wait time when you arrive, use the time to explore the gardens before your meal!
If you think you'll love Haleiwa Joe's, check out more of the best places to eat in Oahu!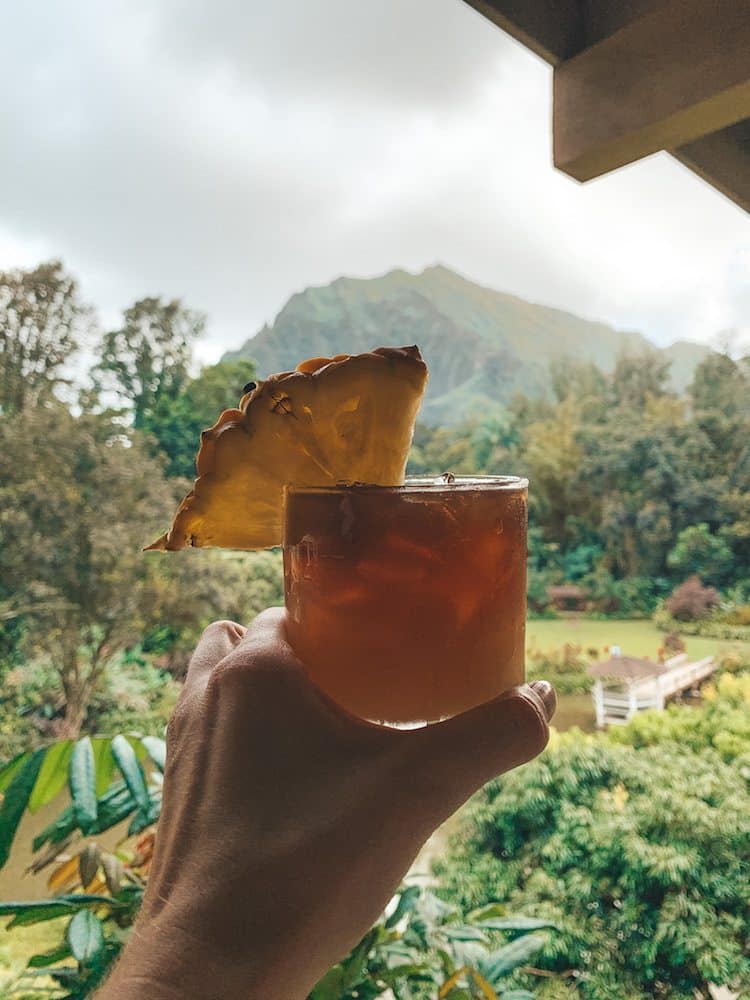 Day 3 – Honolulu & Leeward Coast
On the third day of your itinerary for Oahu, you'll be taking full advantage of the car and driving all around the island!
Breakfast at Leonard's Bakery
Good morning! After stopping for coffee at Kai Coffee Roaster or Olive & Oliver (my two favorite coffee shops in Waikiki), drive to Leonard's Bakery for breakfast (namely, malasadas).
Malasadas are Portuguese doughnuts that are crispy on the outside, fluffy on the inside, dusted with granulated sugar (& sometimes cinnamon), and served piping hot! At Leonard's Bakery, you can order malasada puffs—malasadas stuffed with delicious tropical flavored custards, like coconut, macadamia, guava, pineapple, or mango.
Leonard's Bakery has been serving the island of Oahu fresh, hot malasadas since 1953, and it's one of the most popular bakeries on the island. If you're like me, you'll love the retro flair of the shop and the bright pink boxes the malasadas are served in!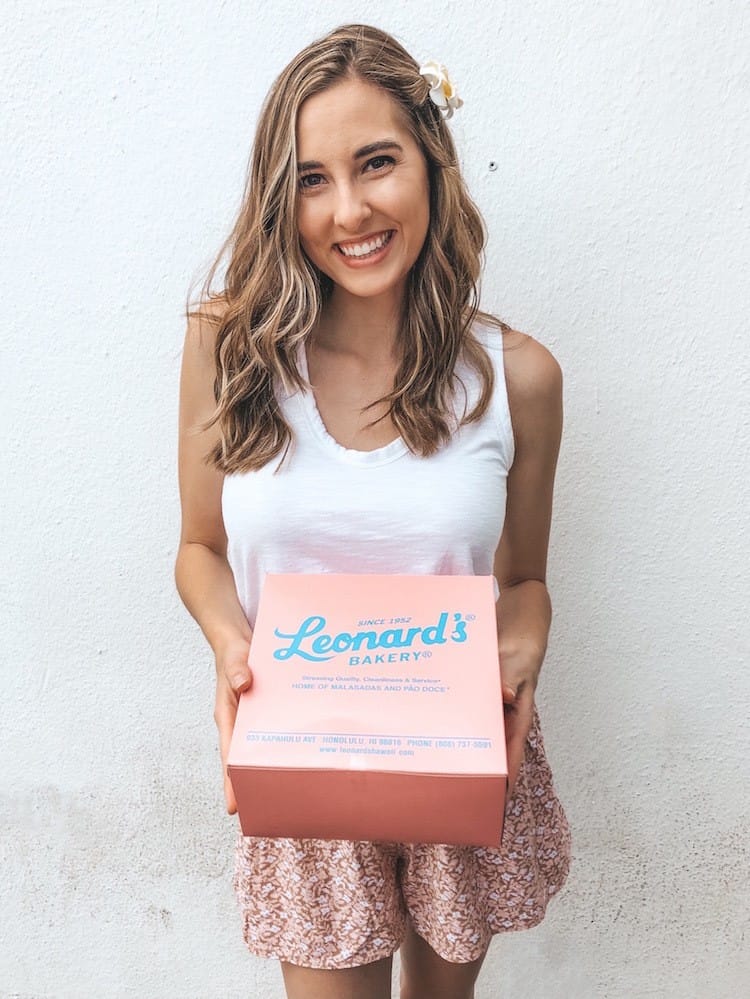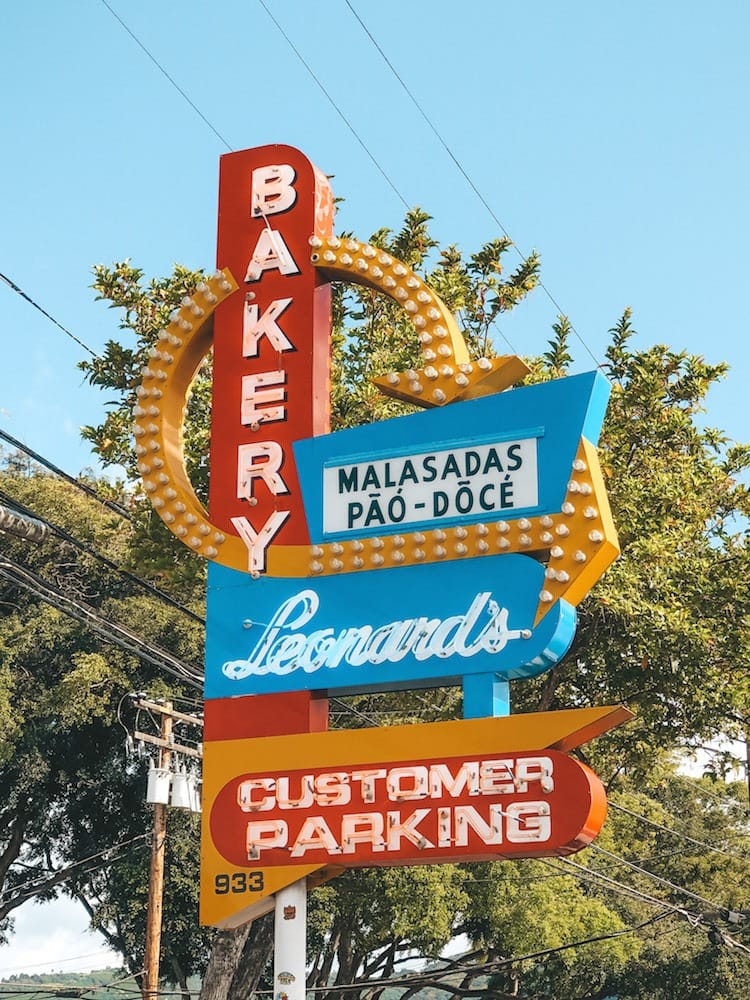 Pearl Harbor National Memorial
If you're a history-lover like me, you can't miss the chance to pay your respects at the Pearl Harbor National Memorial in Honolulu, Hawaii.
The Pearl Harbor National Memorial commemorates the Japanese attack on the U.S. Pacific Fleet on December 7th, 1941. This catastrophic event ended the life of 2,403 American citizens and military personnel, sunk or damaged 18 U.S. warships, and launched the United States into World War II.
Pearl Harbor is one of the best things to do on Oahu for free—you can visit the USS Arizona Memorial, Remembrance Circle, Road to War Museum, and Attack Gallery Museum free of charge. You can also tour the USS Missouri Battleship and USS Bowfin Submarine and Museum for an additional fee.
You can also purchase a tour of Pearl Harbor that includes other activities and transportation, like this popular Pearl Harbor and Honolulu City Tour.
Tour Disney's Aulani Resort
After stopping for lunch at Monkeypod Kitchen, we visited Disney's Aulani Resort to explore, shop, and eat a Dole Whip (of course). If you're a Disney fan, it's worth stopping at the resort if you're not staying there—it's beautiful, and it's a small slice of Disney magic on the island!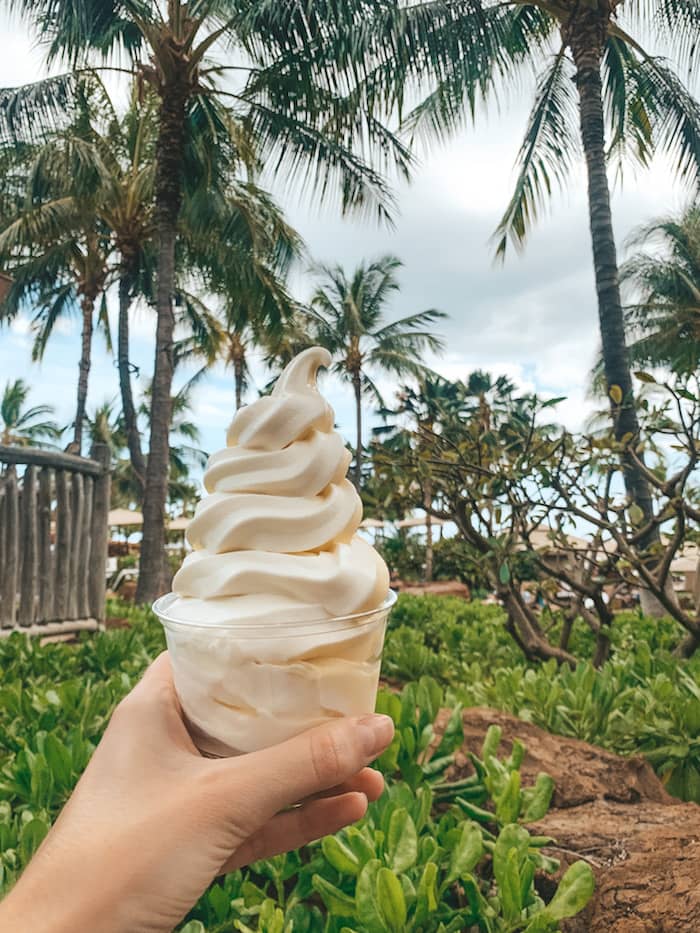 However, if you're not interested in visiting the Aulani Resort, here are some other ways to spend your afternoon that fit well into this itinerary for Oahu:
Dole Plantation—The location where Dole Pineapples are grown and Dole Whip is made! 😉
Waimea Botanical Garden—Beautiful tropical garden with a waterfall
Hanauma Bay—One of the best places to snorkel on Oahu
Downtown Honolulu—The city's capital, featuring Chinatown and the Ala Moana Center
Koko Head Crater—One of Oahu's most challenging hikes with remarkable views!
Polynesian Cultural Center—Location highlighting Polynesian culture with luaus, live shows, tours, and more
Kualoa Ranch—The filming location of "Jurassic Park" with outdoor adventures like ziplining, horseback rides, ATV rides, and film tours
Attend a Luau
To end the third night of your itinerary for Oahu, enjoy an oceanfront luau for fantastic food and entertainment wrapped up in one evening!
We attended the Ka Moana Luau at Sea Life Park Hawaii, and we had an amazing time! I loved learning the dances, customs, and cultural differences of the Polynesian cultures in Hawaii, Tahiti, Papua New Guinea, and others countries across the Pacific Ocean during the evening.
Although I would recommend the Ka Moana Luau, if you're looking for other luaus across the island, here are a few popular ones:
Toa Luau on the North Shore
Germaine's Luau on the Leeward Coast
Paradise Cove Luau on the Leeward Coast
Chief's Luau at Wet 'N' Wild Hawaii
Diamond Head Luau in Waikiki
Day 4 – North Shore
During the fourth day of your itinerary for Oahu, you'll travel across the island to the North Shore—famous for its killer waves, laid-back lifestyle, and the traditional "island" vibes you'd expect when visiting Hawaii!
You can read my blog about how to spend a day on the North Shore for a more in-depth look at the following items on today's itinerary!
Breakfast at Haleiwa Bowls
First, start your day at Hale'iwa Bowls—a small kiosk on the North Shore that serves delicious acai bowls!
They use local fruits, coconut, honey, and other local products to build to serve fresh and delicious bowls. I ordered the Blue Majik Bowl, and my sister ordered the Hapa Acai Bowl—both are pictured below.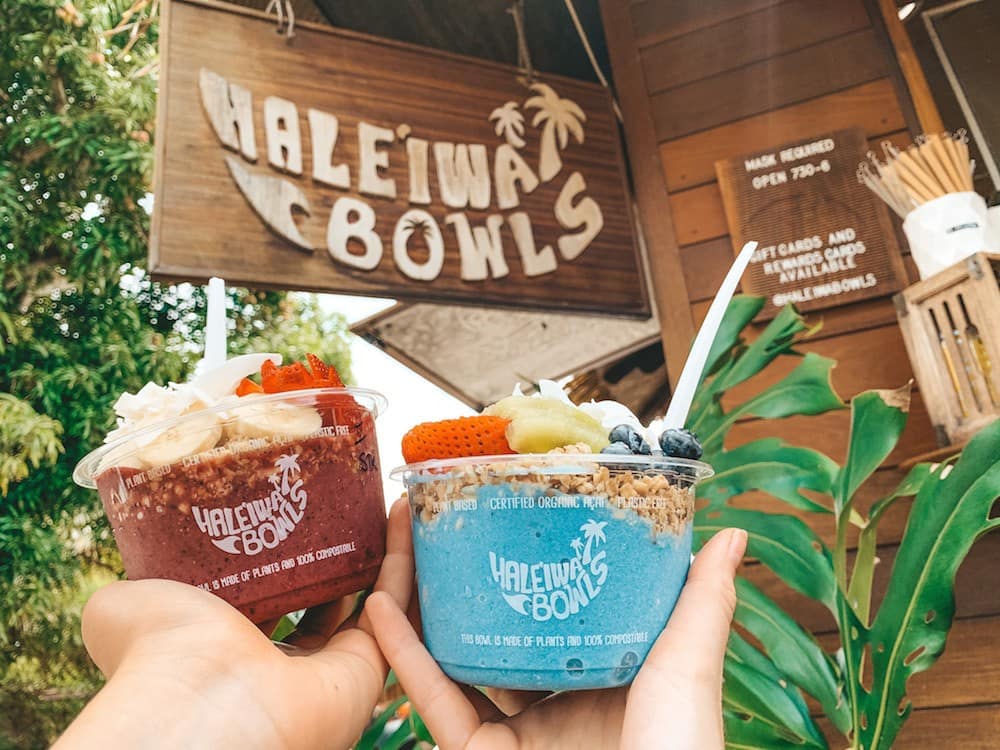 Snorkel at Shark's Cove
After breakfast, head to Shark's Cove for an incredible snorkeling experience. Shark's Cove is a small, rocky bay where you can spot tons of aquatic life, including triggerfish, butterflyfish, parrotfish, needlefish, trumpetfish, and sea turtles (but no sharks, don't worry!).
Don't forget to check the current before your snorkel, watch out for the jagged rocks, and always wear reef-safe sunscreen.
Tip: Shark's Cove doesn't charge an admission fee, so if you bring your own snorkel gear, it's free to visit!
Explore Haleiwa
After your snorkeling adventure, head to Haleiwa—the hub of art and culture for the North Shore.
Here, you can go shopping for local goods and souvenirs, grab a Breakfast Bomber from Kono's Northshore (they are so tasty!), or snap a photo at the Colette Miller Wings mural, located on the Anahulu Shave Ice building.
Spot Sea Turtles at Laniakea Beach
Looking for the best place to spot a sea turtle during your trip to Oahu? Look no further than Laniakea Beach—located just north along the coast of Haleiwa.
Typically, the sea turtles emerge in the afternoon, which is why it's best to save this stop for later in the day. Plus, it's a beautiful place to watch the sun sink below the horizon!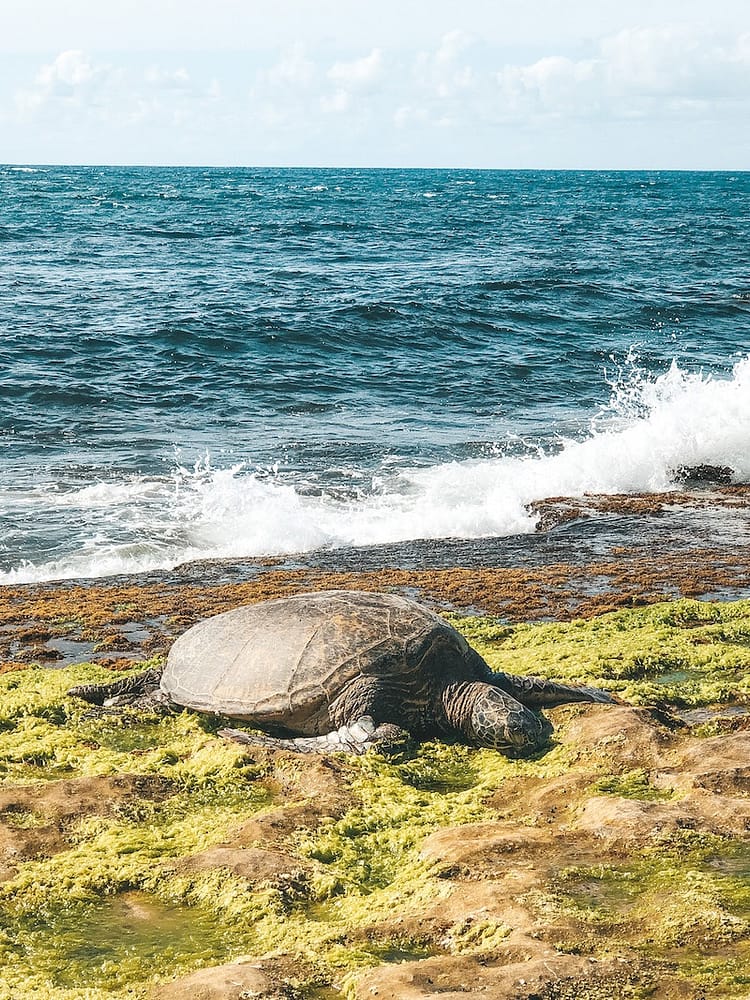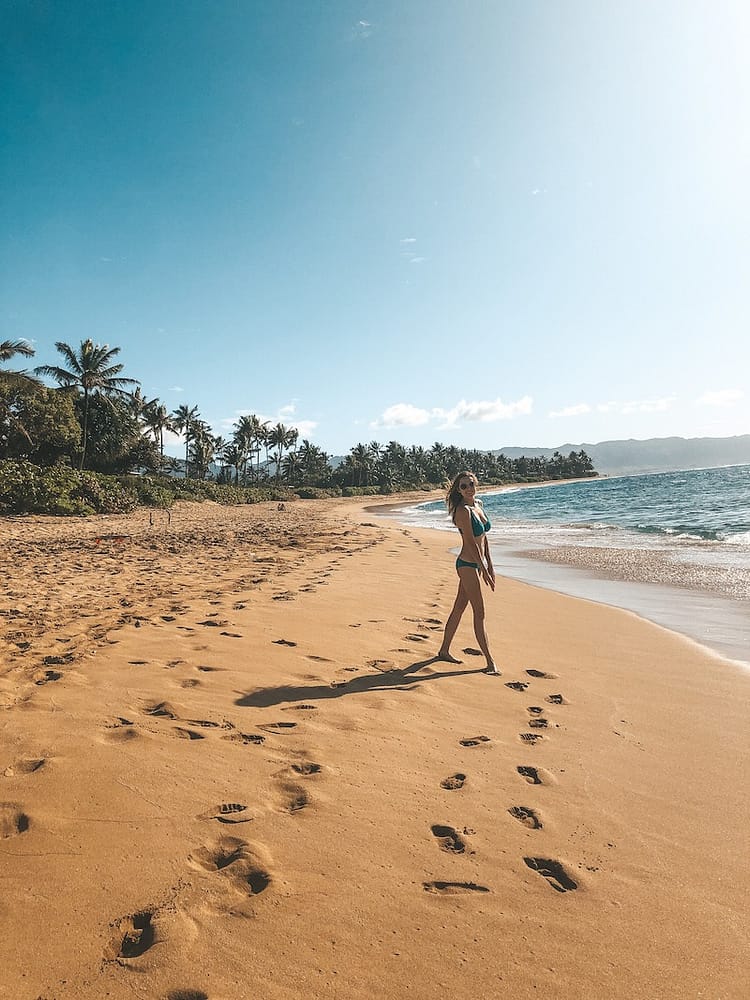 Matsumoto's Shave Ice
Before you drive home, stop at Matsumoto's Shave Ice for an iconic treat—they've been serving shave ice to the island of Oahu since 1951!
With over 30 flavors, you'll be able to mix and match to create a delicious, refreshing treat. And, the prices are great! It only costs $3 for a small shave ice and $3.50 for a large shave ice.
I ordered a coconut, pina colada, and guava shaved ice with sweetened condensed milk. It was a fun way to end a memorable day on the North Shore!
Drive Back to Waikiki
Since many places on the North Shore close early, we decided to drive back to Waikiki for dinner. We went to Maui Brewing Company, just across the street from The Outrigger Waikiki Beach Resort. It offers a fun, upbeat atmosphere, and it's a great place to try a Hawaiian brew!
You'll also want to return your car tonight. You'll be spending your last day in Waikiki!
Day 5 – Waikiki
It's your last day in Hawaii—cue the tears. But don't be sad for too long because you still have one final day planned for your itinerary for Oahu, and it's filled with plenty of fun things to do!
Hike Diamond Head Summit Trail
After stopping for breakfast at Knot's Coffee Roasters, head to Diamond Head to hike the Diamond Head Summit Trail! The Diamond Head Summit Trail is just a short 2.2-mile (eight-minute) drive from Waikiki Beach. I'd recommend biking or driving to the mountain (basically anything but walking) to spare your feet for the rest of the day.
The views from the top of the Diamond Head are absolutely breathtaking! You'll be able to see Waikiki Beach, Honolulu, and even the Windward Coast from the top of the volcanic cone. The hike is pretty short, only 1.8 miles, and the trail is well-paved. Diamond Head costs $10 per car or $5 per walk-in, but the cost is worth it!
Note: Diamond Head State Monument is closed on Wednesdays. However, the park is open the other six days of the week from 6 AM – 4 PM!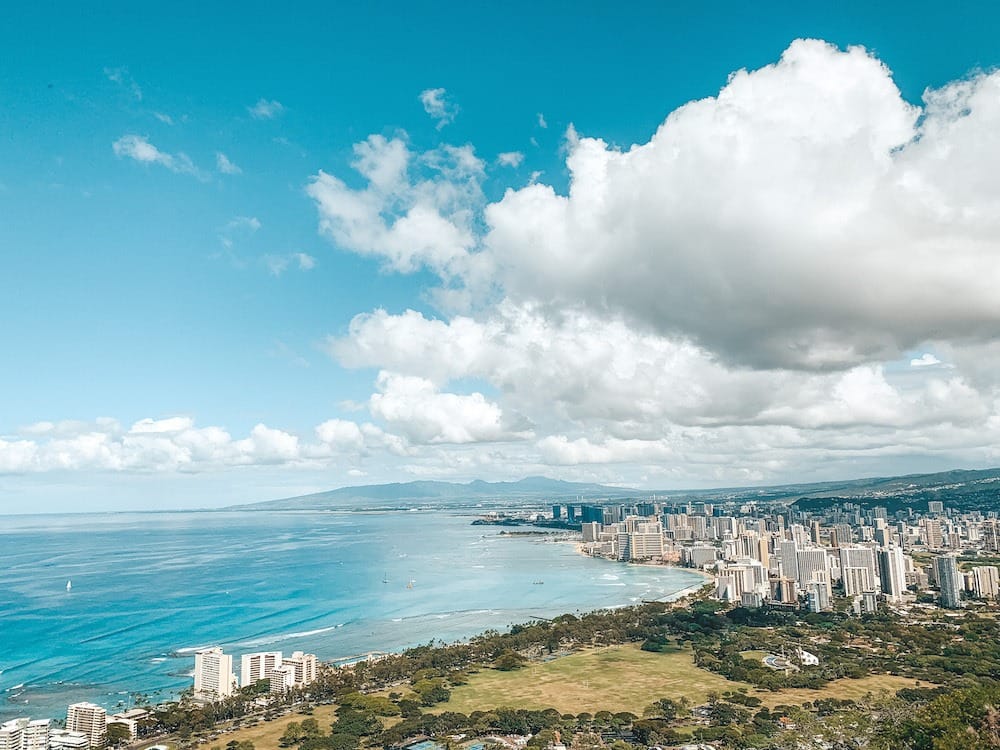 Snorkel at Queen's Beach
After your morning hike, head down to Queen's Beach for the afternoon. Queen's Beach is the best place in Waikiki to snorkel, and while the marine life isn't as abundant as it is at Shark's Cove, it's still a fun way to spend the afternoon!
Here are some other ideas of things to do in Waikiki and Honolulu you can add to this itinerary for Oahu:
See the animals at the Honolulu Zoo
Check out the Waikiki Aquarium
Shop at the International Marketplace
Get drinks at Duke's Waikiki and lounge on the beach
Dinner at SKY Waikiki
The final stop on your itinerary for Oahu is a sunset dinner at SKY Waikiki—a seafood and cocktail bar. This fabulous restaurant is located on the 19th floor of the Waikiki Business Plaza and offers phenomenal views of Waikiki Beach and the surrounding city once the sun goes down.
I recommend making reservations, so you can be seated in time to watch the sun sink below the ocean! I ordered a Mai Tai slushy and Garlic Lemon Shrimp, and they were both delicious. SKY Waikiki was definitely one of the most memorable dining experiences from our vacation! I would highly recommend stopping here while you're in Waikiki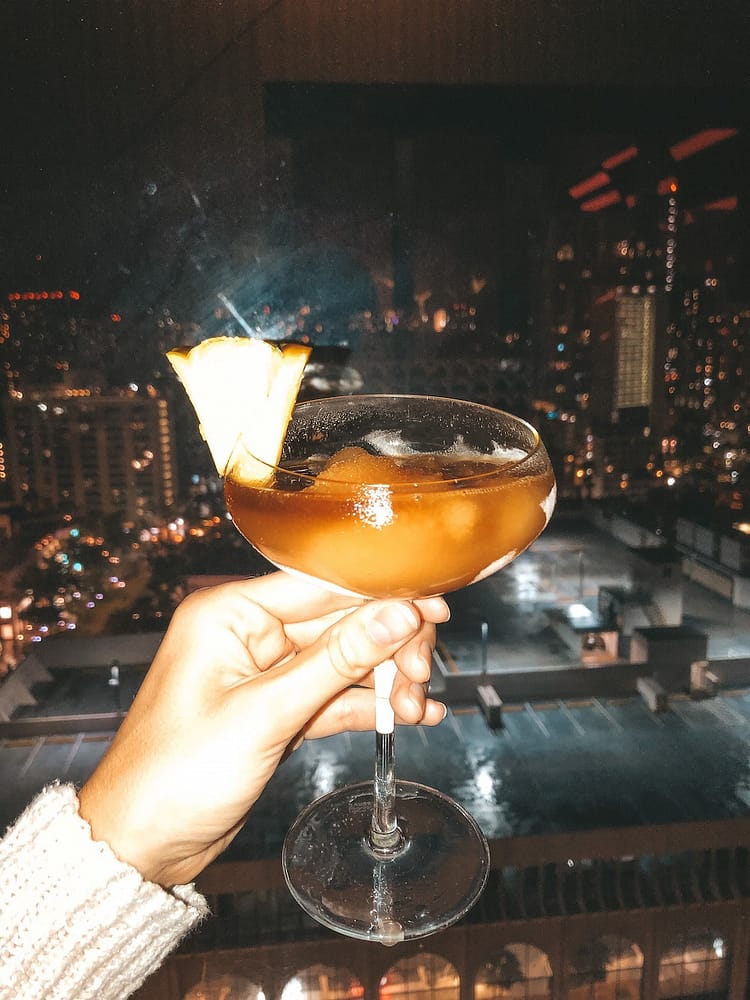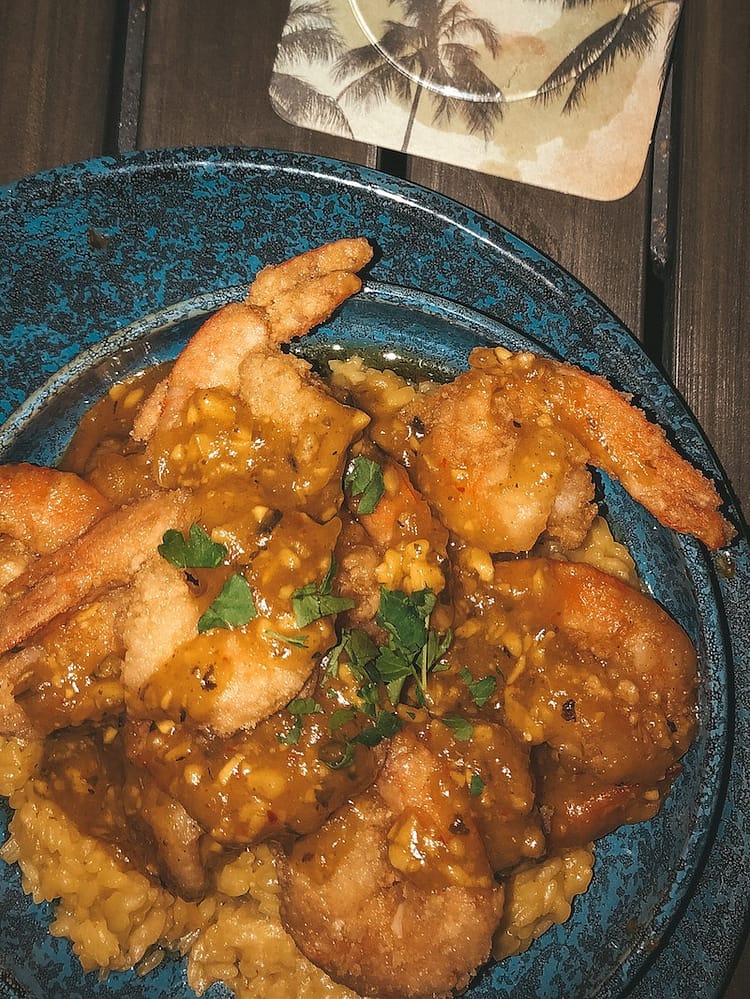 Leave Honolulu
Sadly, your time in Oahu has come to a close! If you're following this itinerary for Oahu and based in the USA like me, you should plan to fly out early the next morning to account for the time you'll lose coming home.
Use this Five-Day Itinerary for Oahu to Have a Memorable Time in Hawaii!
There's no doubt that you'll make tons of fun memories in Hawaii following this detailed, jam-packed five-day itinerary for Oahu! With so many fun things to do in Oahu, you're guaranteed to have a wonderful time?
Which of the days on this itinerary for Oahu sounds the most fun to you? And which activity would you not want to miss? Let me know in the comments!
Disclosure: Some of the links in this post are affiliate links, meaning, at no additional cost to you, I earn a commission if you click through and make a purchase. This helps me keep the content on my website free, like this post about The Best 5-Day Itinerary for Oahu!
Pin This 5-Day Itinerary for Oahu to Use Later!
Read More…
Did you love reading this 5-Day Itinerary for Oahu? Check out these other posts about Oahu to help you plan your trip to the Aloha State! 🙂