When you think of Hawaii, do you think of turquoise waters, hula dancers, remote beaches, and pineapples?
Well, if so, you're not wrong! I don't think a trip to Hawaii would be complete without all those components. However, if you think you might get bored after a few days of drinking pina coladas on the beach—think again!
Until I visited Oahu, I had absolutely no clue how much there was to do in Hawaii—particularly in Waikiki, where we stayed! Waikiki, Hawaii, isn't just a beach city—it's a bustling, dynamic city that honestly feels like New York City with a laid-back vibe.
Although I don't suggest staying exclusively in the Waikiki area for your whole trip to Oahu, there are plenty of things to do in Waikiki to keep you busy for several days. In fact, you'll probably recognize many of the best things to do in Waikiki as iconic Hawaii bucket list items!
In a Hurry? Save "The Best Things to Do in Waikiki" for Later!
What You Should Know About Waikiki, Hawaii
Waikiki is a large neighborhood located in Honolulu—the capital of Hawaii. Honolulu is located on the island of Oahu, known as the "Main Island," since it's the most populated and visited by tourists. Other popular islands to visit in Hawaii include Maui, Kauai, and Hawaii (more commonly referred to as the "Big Island").
Since Waikiki is only 3.4 square miles, the area is extremely walkable. However, a few of the best things to do in Waikiki on this list are actually located slightly outside Waikiki, in Honolulu. That said, you may need to Uber, Lyft, or rent a car to drive there. But without further ado, here are twelve of the best things to do in Waikiki during your trip to Oahu, Hawaii.
P.S. – If you're planning a trip to Oahu, check out this detailed 5-Day Oahu Itinerary packed with the best things to do, places to eat, and things to see!
Where to Stay for Close Access to the Best Things to Do in Waikiki
There are tons of amazing resorts in Waikiki. Depending on the type of accommodations you're looking for, here are some of the best places to stay to give you close access to explore all the best things to do in Waikiki!
You can also check out my post about the best resorts on Oahu, Hawaii, for a more in-depth look at the resorts listed above, and other popular luxury properties across the island.
The Best Things to Do in Waikiki, Hawaii
1. Waikiki Beach
A trip to Waikiki wouldn't be complete without visiting Waikiki Beach! There are tons of activities to enjoy on Waikiki Beach—from surfing the waves, going on a sunset cocktail cruise, or simply lounging on the beach, you'll never be bored!
While visiting Waikiki Beach, don't miss the chance to explore some of the best hotels in Oahu that offer beachfront access. We stayed at The Outrigger Waikiki Beach Resort—where the popular restaurant, Duke's, is located. Grab dinner and a drink while you're there, but try to eat a late lunch—you'll be met with a long wait if you wait until dinnertime.
You can also explore the elegant Moana Surfrider, the first hotel built in Waikiki in 1901, or the Royal Hawaiian Hotel, known as the "Pink Palace in the Pacific" for its lovely, iconic pink hue.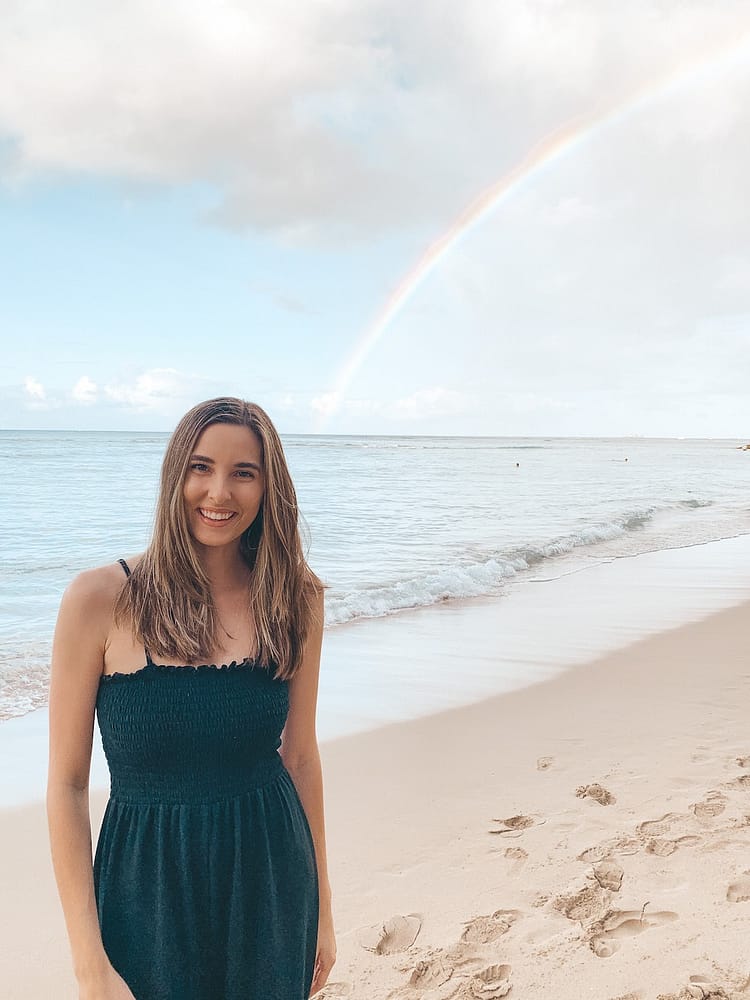 2. Diamond Head Summit Trail
While you're relaxing on Waikiki Beach, you'll probably notice a lush, green mountain in the distance. That's Diamond Head—an extremely popular hiking trail on Oahu. And spoiler alert, it's not a mountain—it's actually a volcanic cone.
Diamond Head State Monument is located in Honolulu, and it's just a short 2.2-mile (eight-minute) drive from Waikiki Beach. I would highly recommend biking or driving to Diamond Head. Even though it's on this list of the best things to do in Waikiki, it's a long walk. We walked to and from the hiking trail and clocked more steps than we usually do during a day at Disneyland (sigh). However, the hike was worth it, and it's undoubtedly one of the best things to do in Waikiki!
Admission to Diamond Head is $10 per car or $5 per person. The hike itself is short—only 1.8 miles out and back, but offers panoramic views of Honolulu from the top! If you're staying in Waikiki, it's fun to look for your hotel at the end of the hike.
Tip: Diamond Head State Monument is closed on Wednesdays. However, it's opened every other day of the week from 6 AM – 4 PM!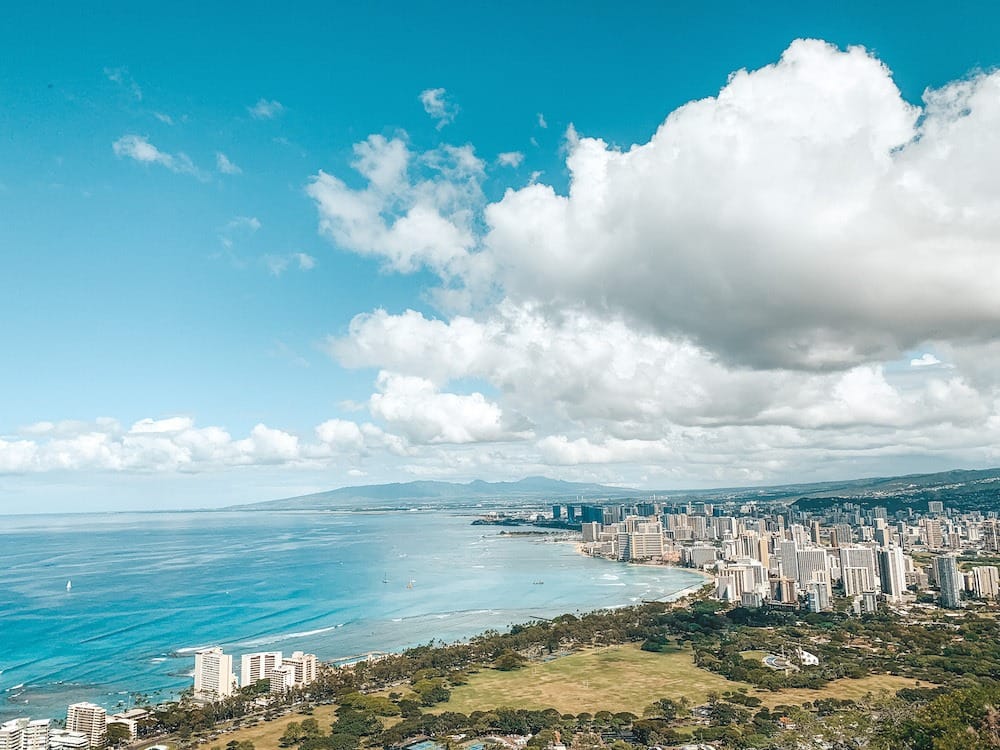 3. Kalakaua Avenue
Looking for all the action in Waikiki? You don't have to look far—just find Kalakaua Avenue, the shopping hub (and hub of everything, honestly) in Waikiki.
There are tons of shops along Kalakaua Avenue—from luxury retailers like Prada, Gucci, and Tiffany and Co. to smaller shops where you can search for local goods like coffee, macadamia nuts, and other souvenirs. Two shops you'll see over and over again down Kalakaua Avenue are the ABC Store—a convenience store where you can find lots of local Hawaiian goodies, and the Honolulu Cookie Company—a shop that sells delicious shortbread cookies in the shape of pineapples in a variety of fun flavors (they make great gifts!).
There are also several outdoor shopping centers along Kalakaua Avenue—including the International Marketplace and Royal Hawaiian Center. Even if you aren't a big shopper, walking through these gorgeous malls is one of the best things to do in Waikiki.
4. Basalt
Brunch is my favorite meal of the day—and always one of my favorite parts of a vacation. And the best spot for brunch in Waikiki is Basalt—hands down!
Basalt is located in Duke's Lane Marketplace (another fun place to stop in Waikiki!) and offers a limited breakfast menu with some delicious options.
One of their most popular dishes is Charcoal Buttermilk Pancakes with guava-strawberry sauce, but I opted for the Coco-MacNut French Toast because coconut and macadamia nuts are two of my favorites. If you're looking for something savory, Basalt's Avocado Garden Toast and Prime Rib Moco are both popular options!
Tip: If you order (and love!) the charcoal pancakes, you can buy the pancake mix in Duke's Lane Marketplace to bring home with you!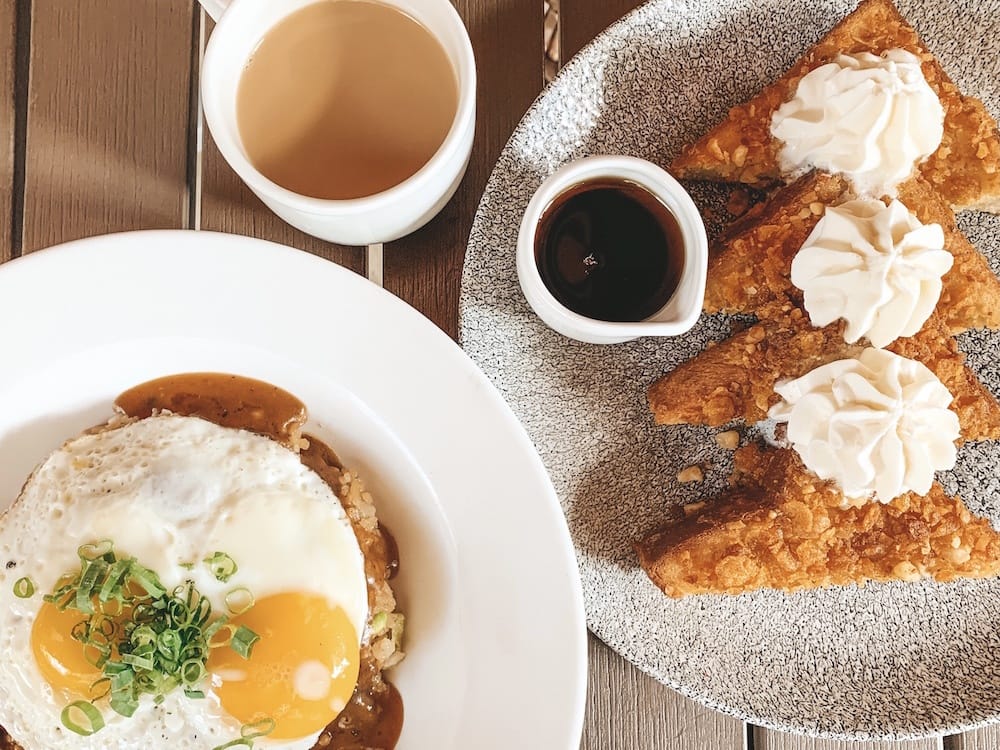 5. Ainahau Triangle
Looking for a scenic location to stroll around? Ainahau Triangle is a great place to escape the hustle and bustle of Waikiki to relax!
Ainahau Triangle is a park that's incredibly lush and green, and it's a great spot to discover some of the tropical plants that grow in Hawaii, like the banyan tree and plumeria flowers. My sister and I found some flowers here to wear in our hair!
You can also spot some animals here, like the roosters and chickens that roam the island. Personally, I think this beautiful, scenic spot is one of the best things to do in Waikiki and a must-visit while you're in the city!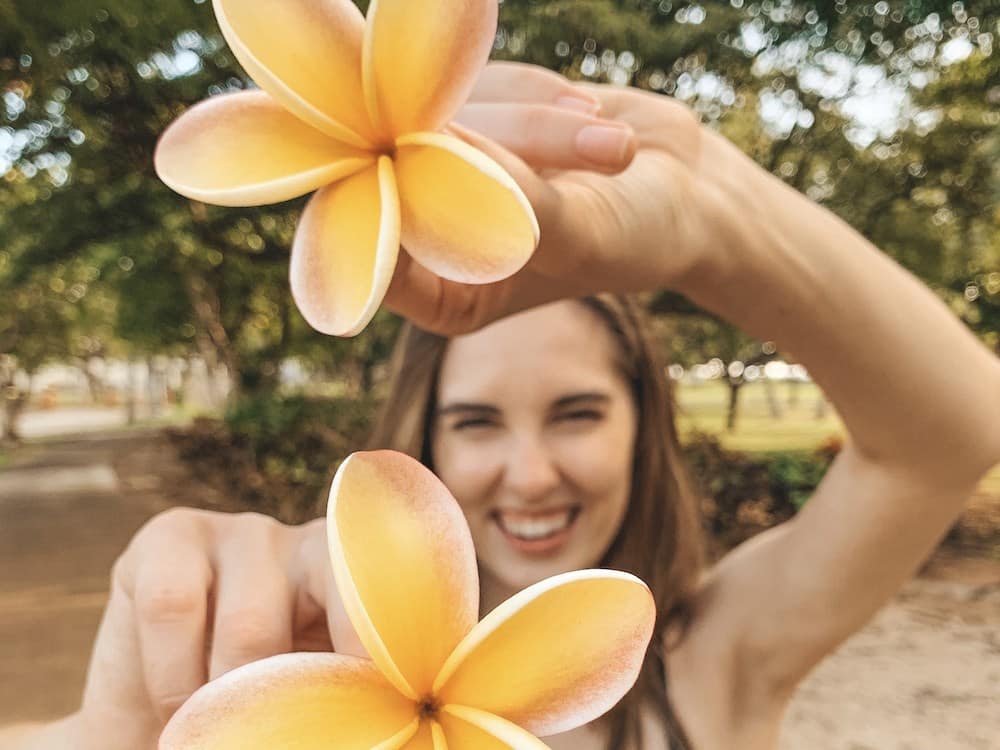 6. Pearl Harbor National Memorial
You can't visit Waikiki without taking a short 13-mile drive to Pearl Harbor National Memorial. It's truly a "can't miss" experience on Oahu, especially if you're a history lover, like me.
Visiting Pearl Harbor is one of the best things to do in Honolulu. It's a sobering experience that remembers the attack on the U.S. Pacific Fleet by the Japanese Navy on December 7th, 1941. The attack on Pearl Harbor sunk or damaged 18 U.S. warships, killed 2,403 American citizens, and launched the United States into World War II.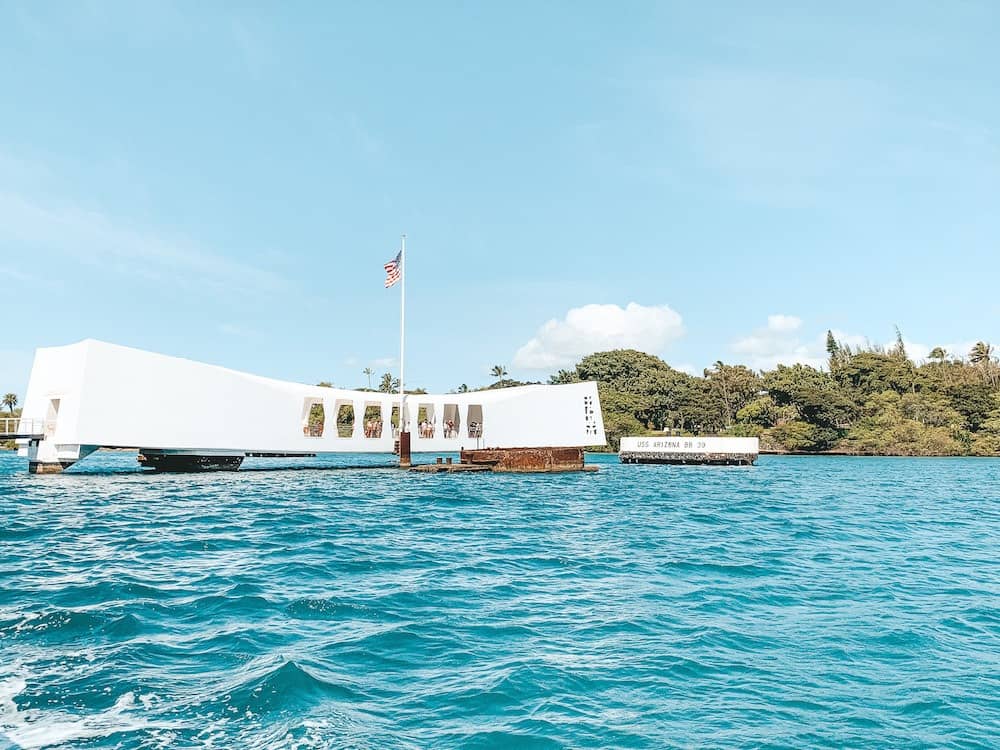 When you visit Pearl Harbor, you have to visit the USS Arizona Memorial. I highly recommend reserving your ticket in advance for $1 to ensure you'll have a seat on the boat to visit the memorial. Tickets become available at 3 PM the day before the tour. You can also buy tickets to tour the USS Missouri and Bowfin Submarine separately or book an all-inclusive tour with transportation from Waikiki.
You can spend at least a day exploring all Pearl Harbor has to offer, but I'd allow at least two hours to explore the grounds and visit the USS Arizona Memorial. It's definitely one of the most memorable things to do in Waikiki.
7. Banan
Getting shave ice is a must in Hawaii. But if you leave Hawaii without trying banana ice cream, you're missing out! Banan is a local eatery that creates dairy-free soft serve from frozen bananas—and it's SO good!
When we visited, I ordered the Chunkadelic—banana ice cream topped with dark chocolate, granola, shaved coconut, honey, and Banan's house-made macadamia nut honey butter (it's so yummy!).
You can order your soft serve in a fun papaya boat or pineapple yacht, and they also sell smoothies, acai bowls, and coffee. Banan is located on the lower level of the Royal Hawaiian Center across from The Outrigger Beach Resort right next to Waikiki Beach. One of the best things to do in Waikiki is enjoying a sweet treat on the beach, and Banan is a refreshing option that allows you to do just that!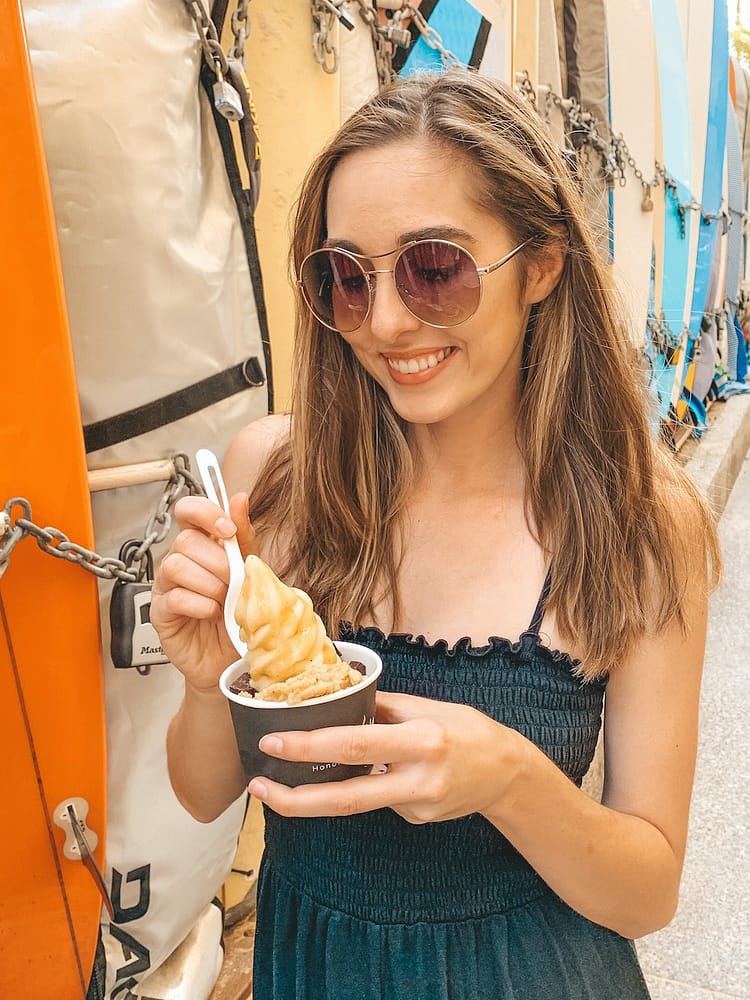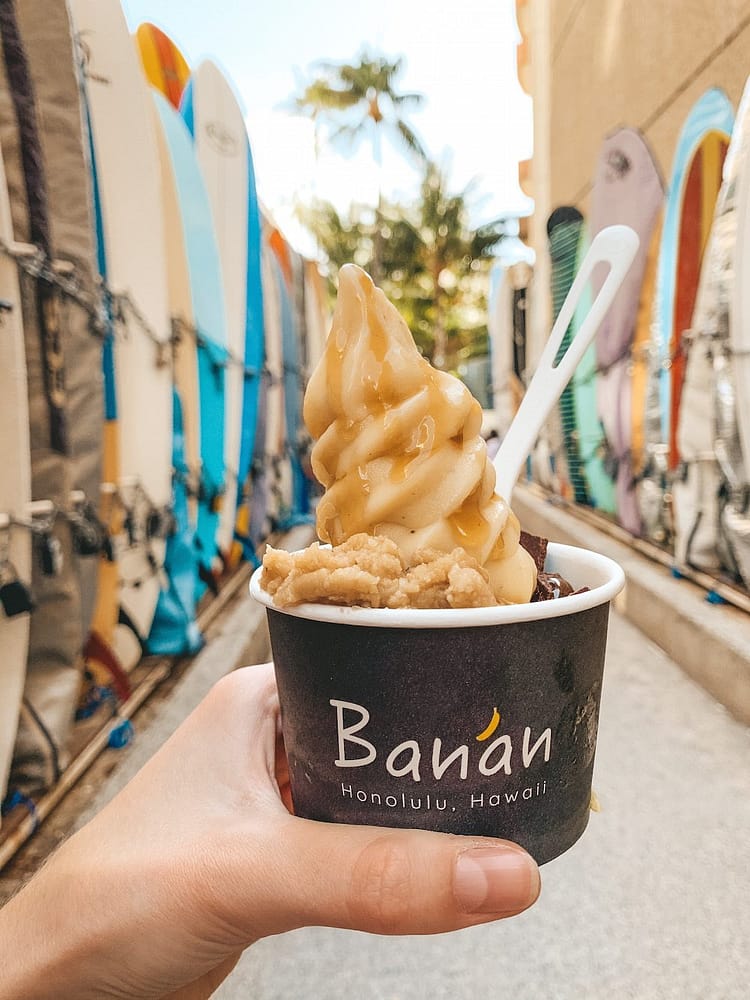 8. Kaimana Beach
Waikiki Beach is one of the busiest beaches in Oahu. If you're looking to escape the crowded, touristy area without renting a car, Kaimana Beach is perfect for you—it's just a one-mile walk from Waikiki Beach!
Kaimana Beach is protected by a vast reef, and it's shallow, sandy, and without strong currents, which makes it an excellent option for snorkeling—it's actually one of the best spots for snorkeling in Waikiki! We brought our snorkel gear to this beach and saw a decent number of fish (however, the real snorkeling is at Hanauma Bay and the North Shore).
9. Honolulu Zoo & Waikiki Aquarium
Although we personally didn't have time to hit either of these attractions, visiting the Honolulu Zoo and Waikiki Aquarium are both fun things to do in Waikiki—especially with kids!
Tickets are reasonably priced—the Waikiki Aquarium costs $12 per adult and $5 per child, and the Honolulu Zoo costs $14 per adult and $6 per child. Visiting these fun spots in Waikiki is a great way to get up close and personal with the animals and marine life that are local to Hawaii!
10. SKY Waikiki
If you're searching for a unique experience while you're in Oahu, book a dinner at SKY Waikiki. They serve up fresh seafood, tropical cocktails, and remarkable views of Waikiki from the 19th floor of the Waikiki Business Plaza. It's one of the best things to do in Waikiki that we discovered just in time for our last dinner on the island!
Order cocktails at sunset while watching the sun sink below the horizon, and then enjoy dinner while you watch the city comes alive with bright, twinkling lights. It's truly an experience you'll remember, and the food is excellent, too! We loved the poke nachos and garlic shrimp.
Get the Best Value on Your Trip to Waikiki with the Go Oahu Pass
One of the best ways to save money while exploring Waikiki is by purchasing the Go City Oahu all-inclusive digital pass. It includes over 45 attractions that you can experience with just one ticket that you keep on your smartphone. Plus, once you have the pass, you can mix and match activities to do as many as you'd like!
If you're interested in a narrated tour of Pearl Harbor, surf lessons, transportation to and from Diamond Head, or attending a luau while you're in Waikiki, all these attractions and more are included on Go City Oahu all-inclusive pass. And the best part? The pass starts at just $82 a day!
Enjoy the Best Things to Do in Waikiki
No matter if you love lounging on the beach, shopping, hiking, or sightseeing—you'll be sure to find something you love in Waikiki, Hawaii! Which of these awesome things to do in Waikiki and Honolulu sounds most fun to you?

Disclosure: Some of the links in this post are affiliate links, meaning, at no additional cost to you, I earn a commission if you click through and make a purchase. This helps me keep the content on my website free, like this post about the 10 Best Things to Do in Waikiki!
Save the Best Things to Do in Waikiki for Later!
Read More…
Did you love this post about the best things to do in Waikiki? Read more about Hawaii from Travel by Brit!