Temecula may be known for its incredible wineries, but this town offers no shortage of excellent places to eat, too!
Old Town Temecula is the city's hub, and it's filled with dozens of locally-owned restaurants, eateries, boutiques, and more! Old Town Temecula also has an old-time feel with a modern twist, and you'll experience that feeling at many of the town's most popular restaurants.
Here are the best local restaurants in Old Town Temecula you have to try!
Best Restaurants in Old Town Temecula
1. 1909 Temecula
1909 Temecula is a modern gastropub that is locally owned and has been serving unique food, handcrafted cocktails, and craft beer since 2014!
Though the restaurant hasn't been open since 1909, the name pays homage to the building's rich history. It was re-built in 1909 after a fire and served as a trading post, church, automobile shop, and the Long Branch Saloon before being converted into a restaurant.
1909 Temecula has a unique industrial feel with plenty of (dog-friendly!) patio seating, and they're open for brunch, lunch, and dinner every day. We visited for brunch, and I loved their Irish Cream French Toast!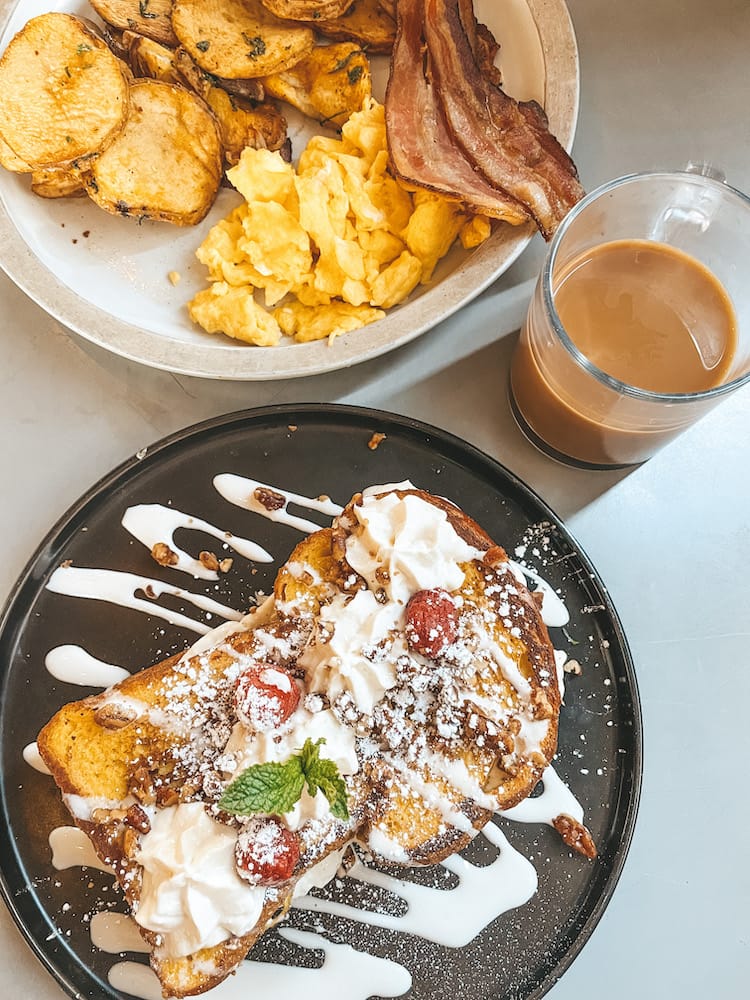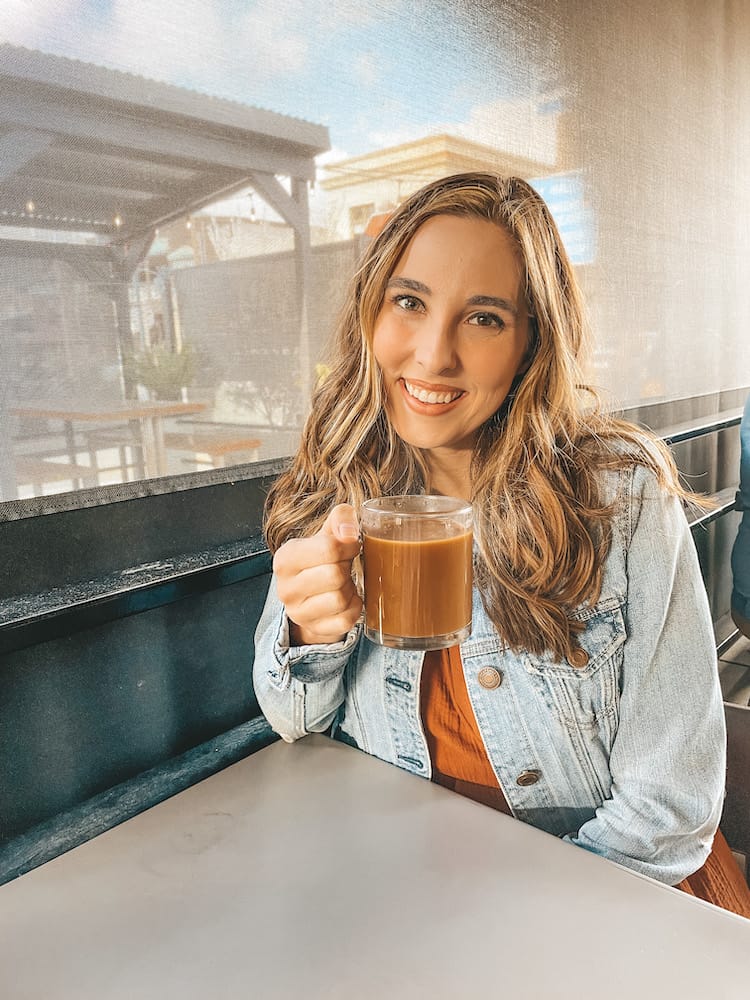 2. Le Coffee Shop
Le Coffee Shop is a charming French café with cozy outdoor seating and delicious coffee, pastries, and breakfast items in Old Town Temecula.
You can order classic French menu items, like Croque Monsieur and Crêpes, or more traditional breakfast items, like omelets, quiches, sandwiches, and more. They also have fabulous pastries, and their Almond Croissant is literally one of the best I've ever eaten (and I've eaten lots of those—trust me!).
Le Coffee Shop also serves traditional coffees, like lattes, americanos, cappuccinos, and more, as well as specialty drinks, like the Salted Tiramisu Latte and Lavender Mocha Latte!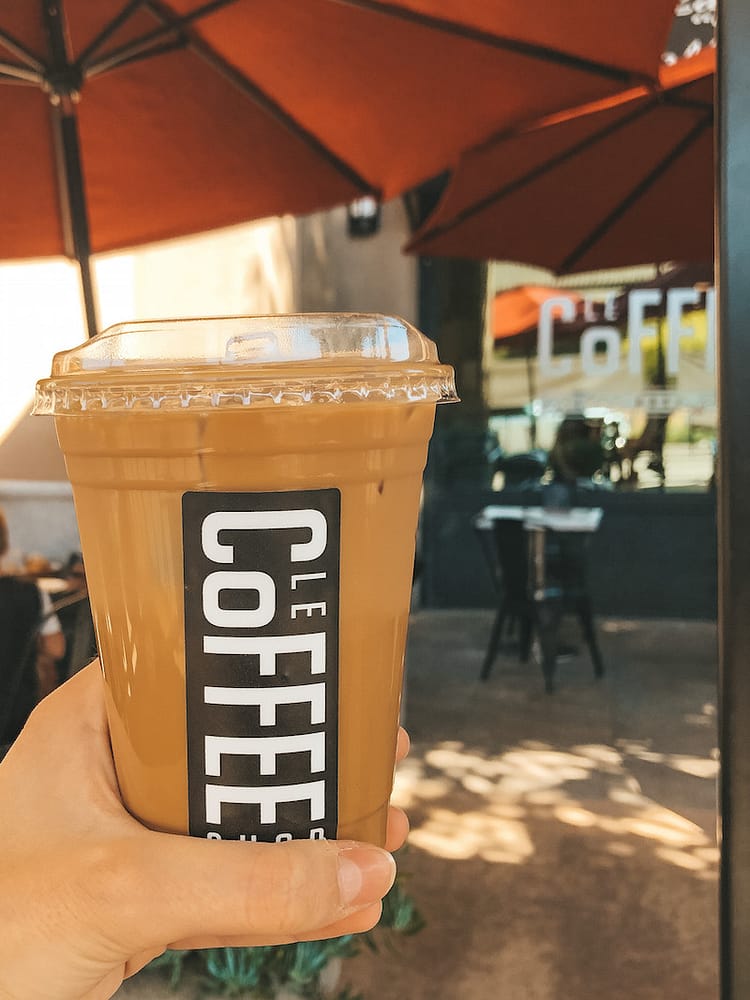 3. The Goat & Vine
The Goat & Vine is one of the most popular restaurants in Old Town Temecula. We arrived at 3:30 PM on a Sunday, and they already had nearly a two-hour wait!
Let me tell you, The Goat & Vine was worth the wait. This local restaurant serves handcrafted pizzas, salads, sandwiches, and other Italian-style specialties. They make the pizza dough, sauces, dressings, and many more of their menu items from scratch each day.
My mom and I split The Goat & Vine Salad, with fresh greens, goat cheese, and grape tomatoes. It was so tasty! We also shared the Hatch Chili Honey Chicken Pizza, which was the perfect blend of spicy, sweet, and even refreshing. I heard the Breadsticks & House Sauce and the Jacked Capuchino Ice Cream Cake were both amazing too, but we just couldn't eat anymore!
I'd highly recommend visiting The Goat & Vine during your visit to Temecula, and if possible, get there to put in your name as early as possible. Since it's one of the best restaurants in Old Town Temecula, you may not get a seat if you don't plan ahead.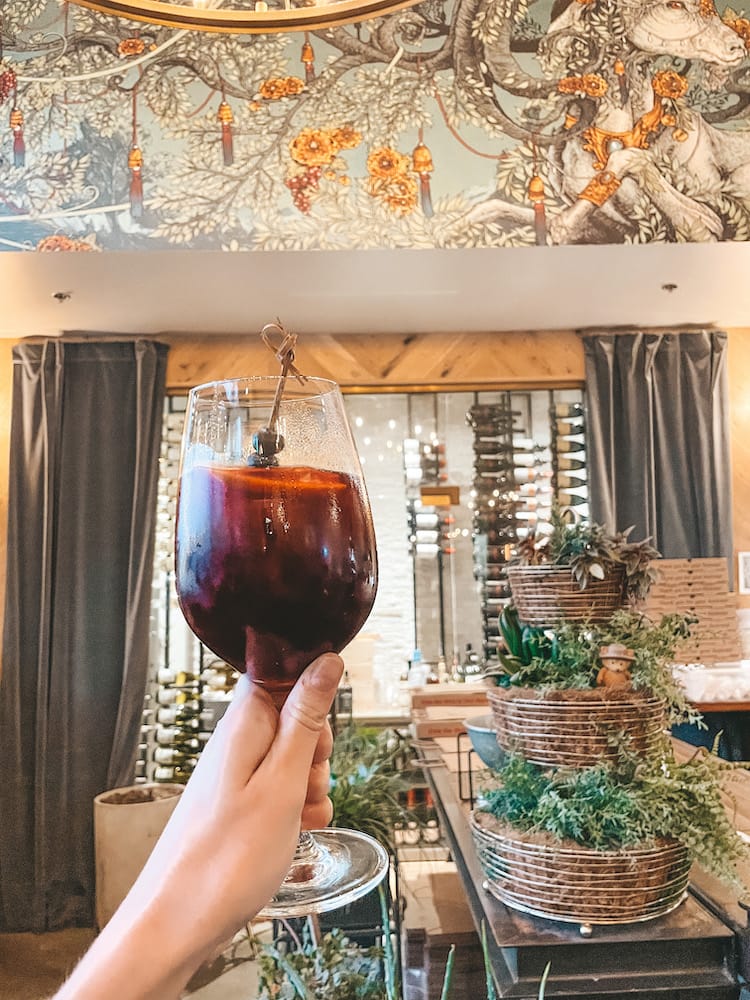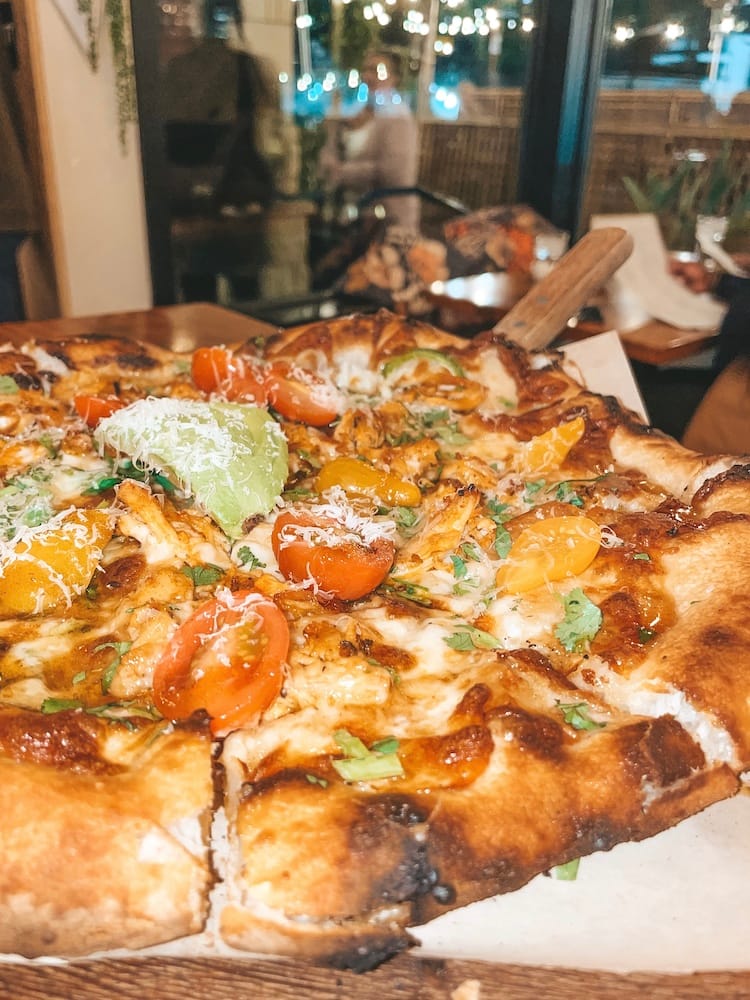 4. Public House
Public House is one of the best restaurants in Old Town Temecula for lunch, dinner, or weekend brunch. They have been open since 2009, and like 1909 Temecula, they are housed in a historic building that's been around since the 1950s.
Public House has an amazing garden-style patio and a versatile menu. They focus on serving local, seasonal, and sustainable ingredients, and they also have an impressive list of craft beers, wine, and specialty cocktails.
While I've heard great things about their main dishes, we visited for brunch, and we loved it! My mom enjoyed their Avocado Toast, and I loved their French Toast. They have rotating flavors, so keep an eye on their menu for one you'd like to try!
5. Small Barn Old Town
Although I didn't have the chance to visit Small Barn in Old Town Temecula this time, it's supposed to be one of the best (and newest!) restaurants in the town's foodie scene, so I had to include it. Plus, the exterior is absolutely adorable and looks like a chic furniture store.
Small Barn is a modern bistro that serves brunch and dinner. They also have an impressive list of local and imported wines, as well as a selection of cocktails and beer. Their dinner (and lunch) menu includes light bites, like salads and soups, and proteins, like chicken and fish, that are locally sourced.
Plus, you'll love the charming, laid-back ambiance at this adorable location. Definitely don't miss the chance to visit Small Barn—one of the best restaurants in Old Town Temecula!
6. Blackbird Tavern
Blackbird Tavern is a laid-back, modern gastropub in Old Town Temecula. It's a 12,000 square-foot indoor and outdoor venue, so it's popular for hosting parties, rehearsal dinners, and other big events. However, it's also a great place to grab a drink and hang out!
I've visited Blackbird Tavern a few times. They have great appetizers, like the Korean Style Potstickers pictured below, sandwiches and burgers, and a couple of main dishes. They also serve weekend brunch with bottomless mimosas!
My favorite part about Blackbird Tavern is hanging out in the outside area with the lawn games, string lights, and outdoor seating. It's such a great place to relax with friends, and it's undoubtedly one of the best restaurants in Old Town Temecula!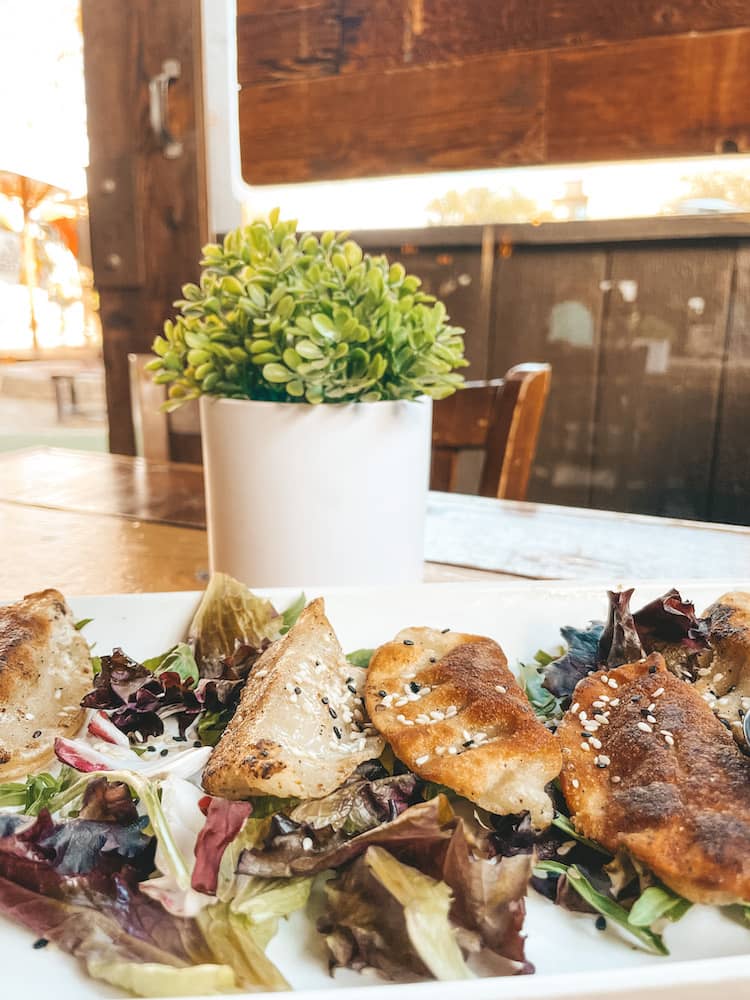 7. Havana Kitchen Cafe
Havana Kitchen Cafe is a casual, local Cuban restaurant in Old Town Temecula that serves breakfast, lunch, and dinner. They are well known for their Cuban espresso and Cortado coffees.
If you're looking for a quick bite, this spot is more casual than the other restaurants on this list. They serve their traditional dishes, like the Cubano Sandwich, Empanadas, and more, in to-go containers, so you can eat them in the restaurant or on the go.
We didn't have time to stop at this local restaurant, but every time we passed by, they looked busy! I'll definitely be stopping for a coffee the next time we're here.
8. The Press Espresso
We stumbled across The Press Espresso while we were shopping in Old Town Temecula, and I'm so glad we did! We were drawn to the hanging plants and greenery outside and then realized the interior is a modern, local coffee shop.
The Press Espresso is a local chain that has four locations across Temecula and Murrieta. The company was started by a husband and wife team in 2015 who developed a love and interest in roasting and brewing coffee. They have really unique (and tasty!) flavors. I loved my Salted Butterscotch Cold Brew!
Don't miss the chance to check out this awesome coffee shop while you're in Old Town Temecula!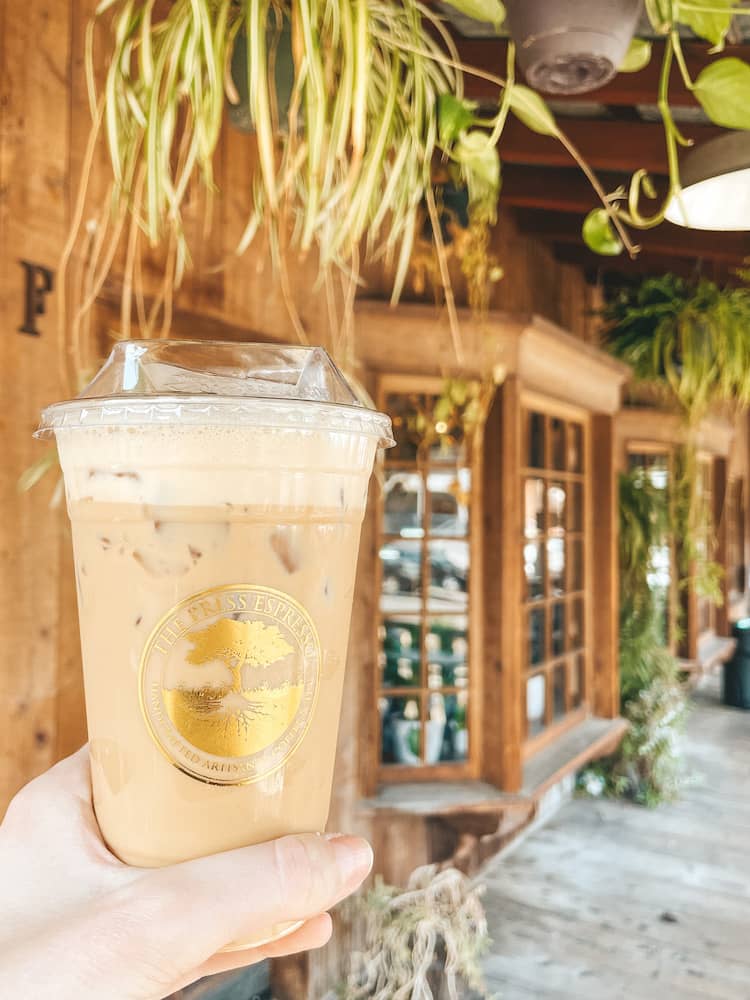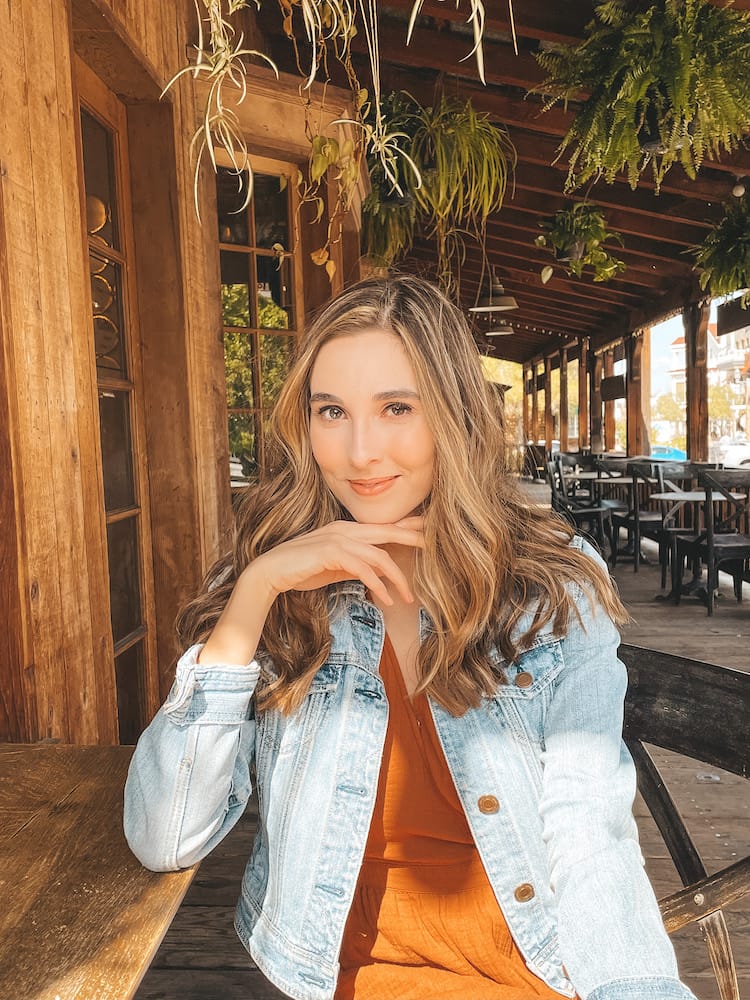 9. EAT Marketplace
E.A.T Marketplace is located a bit off the beaten path, just behind the Old Town Temecula Farmers Market. It's a great spot for a casual, healthy lunch in Old Town Temecula!
E.A.T Marketplace focuses on serving clean, sustainable, and local foods. They also have an all-day menu featuring breakfast, soups, salads, and sandwiches, so you can order whatever you're craving at any time of the day.
We ordered the Diestel Ranch Roasted Turkey Sandwich and Chicken Pesto Sandwich. They had house-made aiolis on them, and both were delicious! Plus, the marketplace inside has tons of fun trinkets and kitchen items, so while you're waiting for your food, you can browse the store.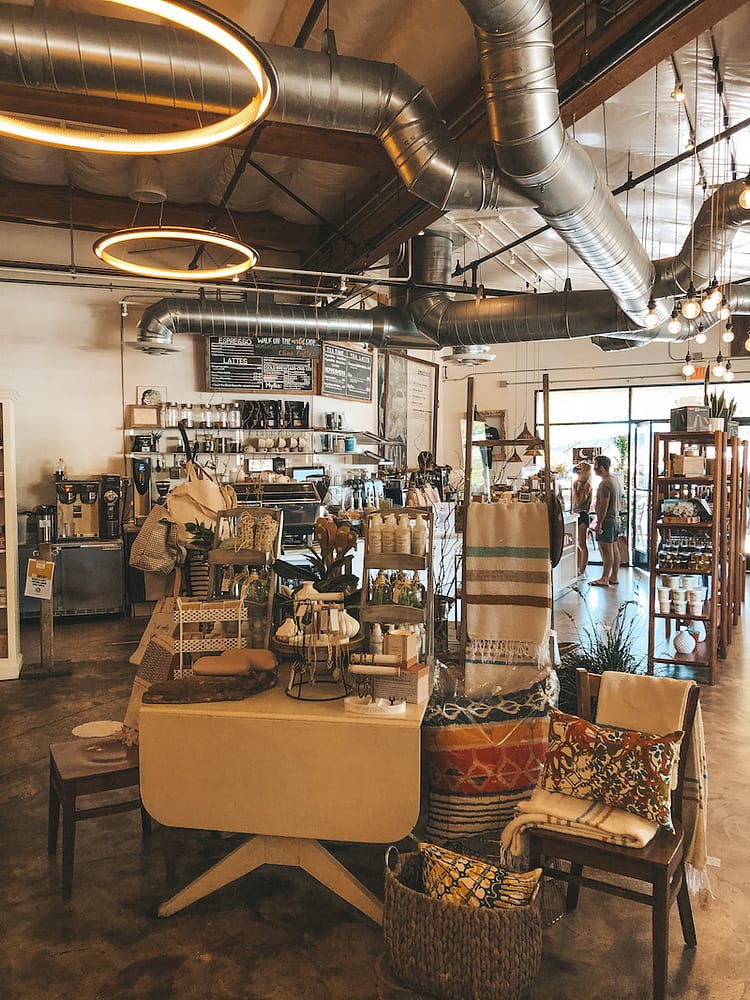 10. Swing Inn Cafe
We didn't have time to "swing" into the Swing Inn Cafe, but man, this place was packed when we walked by around 10 AM on Sunday!
This local restaurant has been in business since 1927, and it seems like it's still just as popular as it was nearly a century ago. The Swing Inn Cafe is unique because they serve all-day breakfast until they close at 3 PM on weekdays or 4 PM on weekdays. Their menu features classic, down-home cooking, like Buttermilk Hotcakes, Country Fried Steak & Eggs, and Ham & Eggs.
Swing Inn Cafe also has a lunch menu, featuring sandwiches, burgers, salads, and more! This historic spot is undoubtedly one of the best restaurants in Old Town Temecula.
Grab a Table at These Best Restaurants in Old Town Temecula
When it comes to restaurants, Old Town Temecula has something to offer everyone—whether you like to splurge on an upscale dinner or grab a quick bite on the go.
Which of the best restaurants in Old Town Temecula sounds the best to you? Let me know in the comments below!

Disclosure: Some of the links in this post about the Best Restaurants in Old Town Temecula are affiliate links, meaning, at no additional cost to you, I will earn a commission if you click through and make a purchase. This helps me keep free content on my website, like this post about the "Best Restaurants in Old Town Temecula."
Save the Best Restaurants in Old Town Temecula for Later!
Did you love this guide about the best places to eat in Old Town Temecula? Check out these other Travel by Brit guides for more things to do in Temecula: