It's the most wonderful time of the year — small towns across the country are decked out in sparkling lights, big cities are filled with festive holiday displays, and many gorgeous landscapes are preparing for their first dusting of snow.
That said, it doesn't get more magical than traveling in the U.S. in December. And, although it's hard not to find Christmas magic everywhere you go in December, the best places to visit in the USA in December listed below are extra special during the holidays. Add the following places to visit in the U.S. in December to your holiday travel bucket list this year — they'll be sure to get you in the festive spirit!
Best Places to Visit in the USA in December
Without further ado, here are the most fun, festive, and absolute best places to visit in the USA in December for a memorable holiday getaway!
1. Leavenworth, Washington
Leavenworth, Washington, is one of the most magical places to visit in the USA in December. This Bavarian-themed village is tucked in the Cascade Mountains in Washington and offers tons of festive things to do during the holiday season.
Though Leavenworth is fabulous to visit at all times of the year (Leavenworth in the fall is especially fun!) — there is nothing that beats visiting Leavenworth at Christmastime. During the holidays, Leavenworth turns into a "Village of Lights" with sparkling lights and snow and offers tons of fun and festive activities for all ages, including live entertainment, photos with Santa, and more. The Christkindlmarkt is especially popular — this Bavarian-style market features unique goods, German food, and handmade arts and crafts for sale.
While you're visiting Leavenworth for the holidays, be sure to cozy up at one of the best places to eat in Leavenworth, like Munchen Haus for a beer, brat, and pretzel and Argonaut Coffee and Biscuits for a delicious breakfast. And be sure you book your hotel plenty of time in advance — hotels in Downtown Leavenworth book out months in advance leading up to the holidays.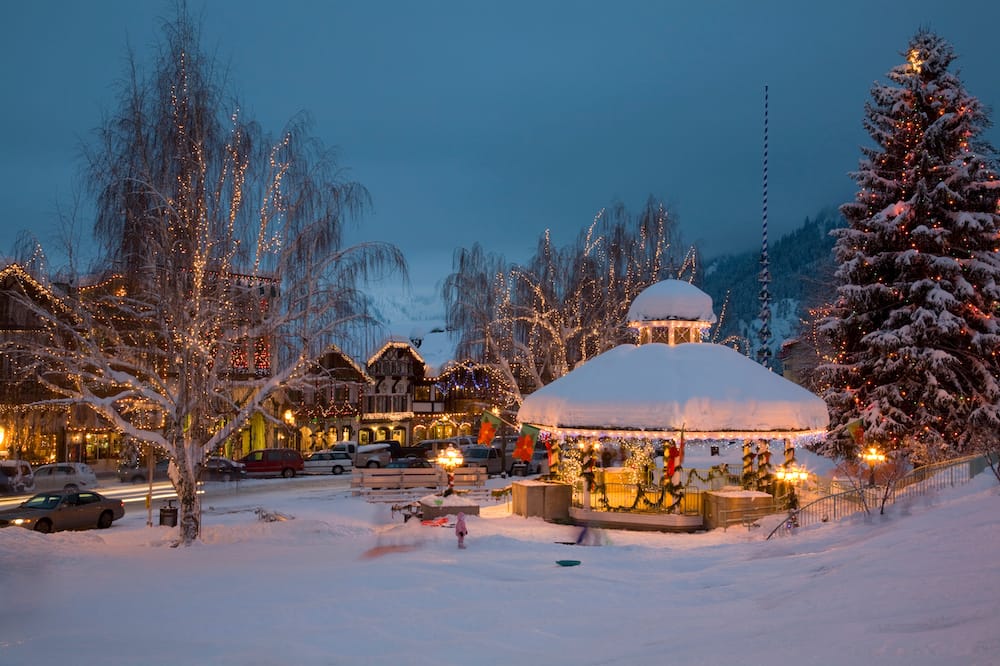 Recommended by Brittany of Travel by Brit
2. New York City, New York
If you're dreaming of a festive getaway, New York City is one of the very best places to visit in the USA in December! Although it's a brilliant year-round destination, New York City comes alive in December. There aren't many places that do Christmas as well as New York, so it's a bucket list experience to see the city at this time of year.
If you visit in December, you'll be treated to twinkling Christmas lights, holiday markets, and beautiful window displays on Fifth Avenue. You'll also be able to see the iconic tree at the Rockefeller Center, extravagant decorations in Brooklyn's Dyker Heights, and a festive atmosphere at Bryant Park Winter Village.
New York City is also perfect for ringing in the new year. The New Year's Eve parties in the city are unmissable — you'll find everything from the ball drop in Times Square to firework cruises and cocktail events.
Away from the holiday activities, there are a host of gems to discover in New York. If it's your first time, you'll want to see the main landmarks, as well as take a magical winter stroll in Central Park. And if you need a break from the cold, you could head to a Broadway matinee or spend an afternoon at a museum like the Met.
You'll also find amazing bars, restaurants, and pop-ups to enjoy in New York in December. From trendy brunch spots like Citizens Of Chelsea and Buvette to toasty outdoor igloo dining and cozy bars with roaring fires — there are plenty of places to warm up.
Recommended by Hannah of Mariee Travel
3. New Orleans, Louisiana
There are tons of warm weather destinations to consider when searching for the best places to visit in the USA in December, but none can top New Orleans in December.
The lively Gulf Coast city will be brimming with bright and jolly holiday decorations, and there will be plenty of celebrations for the whole family to enjoy. From bonfires on the levee to the Christmas Boat Parade on the lake, there are lots of fun festivities and things to do in New Orleans in December.
December is an excellent time to travel to "The Big Easy" because it falls outside of hurricane season. This means that the weather will be reasonably warm and not as stormy, so visitors don't have to be as mindful of natural disasters during this month.
Given the mild December weather in this part of the country, visitors can easily enjoy all the outdoor wonders of the city, too. From the French Quarter and the Garden District to cemetery, riverboat, and airboat tours — New Orleans is full of thrilling adventures year-round. And don't forget to savor one of the city's famous beignets at Cafe Beignet or Cafe Du Monde!
Whether you explore the city's history or its shadowy mystery — no matter how you decide to experience New Orleans — it's bound to be one of the best places to visit in the USA in December!
Recommended by Candice of Exploring the Gulf
4. Oahu, Hawaii
Oahu, Hawaii, is one of the best places to visit in the USA in December. With average temperatures in the 70s — it's the perfect destination to escape the winter cold!
Oahu has amazing adventure activities, relaxing beaches, and tasty food. Some of the best things to do on Oahu include snorkeling, ziplining, or horseback riding. Oahu is also the birthplace of big wave surfing, so it's a great place for surfing lessons.
Besides active excursions, there are plenty of opportunities for relaxation in Oahu. There are great beaches all around the island, including Waikiki Beach. The beach is large, with fine white sand and super calm waters. And there are tons of fun things to do in Waikiki, too, including shopping and dining, if you'd like to take a break from the beach.
Finally, an Oahu vacation wouldn't be complete without trying all the amazing Hawaiian food. Some of the best things to eat on the Oahu are North Shore garlic shrimp, shave ice, acai bowls, and Hawaiian BBQ. There are several great restaurants in Honolulu and the North Shore, including Duke's and Haleiwa Joe's. Alternatively, you can get a great taste of Hawaii through one of the many amazing food tours on Oahu.
Overall, you cannot go wrong with traveling to Oahu, Hawaii, in December. Oahu is a great escape from the winter cold of many mainland states. Your days can be spent relaxing on the beach, exploring the jungle, and experiencing the rich Hawaiian culture.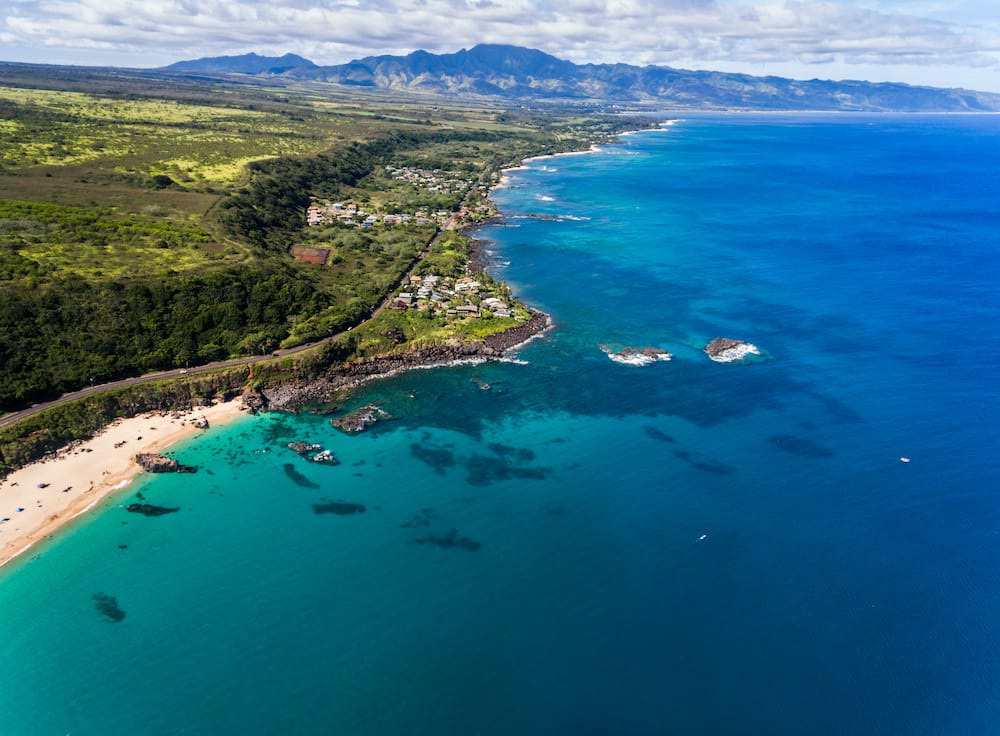 Recommended by The Traveling Moore
5. Kennebunkport, Maine
For a magical Christmas getaway in December, it's hard to beat the charming coastal town of Kennebunkport, Maine. In fact, it was even named the second-best Christmas town in the country by HGTV, so you know you're in for a real treat during a December visit!
During Christmas in Kennebunkport, the town puts on their very festive Prelude event, which takes place for the first two weeks in December. During Prelude, you can find all the small-town happenings you could possibly hope for, including tree lightings, hot cocoa stations, pop-up shopping, parades, Santa's arrival, and so much more.
One of the can't-miss things to see are the Christmas trees, of course. The biggest and most impressive tree stands tall right in Dock Square, the heart of Kennebunkport's downtown, and is perfectly topped with a shining lobster. But also, be sure to drive over to nearby Cape Porpoise, which is just a few minutes from town, and see the adorable lobster trap tree, which is a great spot to snap some festive photos.
During your visit, you'll want to try to snatch up a table at Allison's, which is a popular casual restaurant that serves a pretty great lobster roll, and delicious chowders and bisques. They don't take reservations, but the wait is always worth it, and it's located right in Dock Square.
For a festive drink, you'll want to head over to Batson River, which creates a special holiday drink list, and the entire place is completely decked out for the holidays.
The town always posts their calendar of events for Prelude on their website, so before arriving, be sure to download that to your phone. This will be a very handy guide while you walk around and will help you find all the special festivities you definitely want to attend.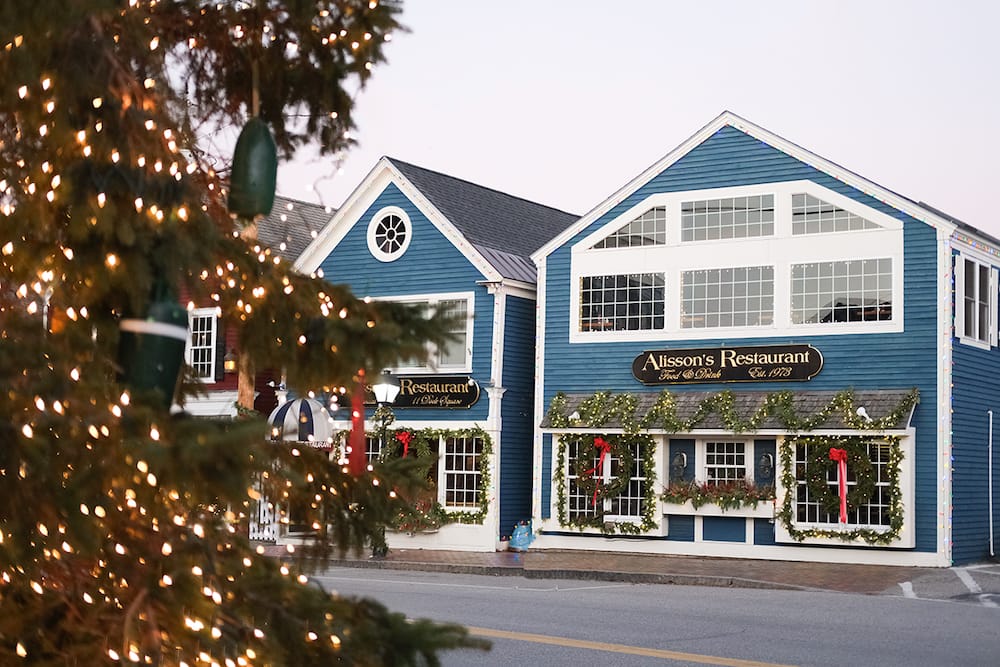 Recommended by Samantha of New England Wanderlust
6. Gatlinburg, Tennessee
Nestled within the majestic Smoky Mountains, Gatlinburg is truly a hidden gem, especially in December! Here's why: Imagine walking through the streets of the Smoky Mountains, where the air is crisp with breathtaking scenery as the entire town sparkles and snowflakes gently fall around you — sounds dreamy, right? It's because it is.
If you're obsessed with winter activities, you can take advantage of the countless opportunities to go skiing, snowboard, or snow tube before you spend the rest of the evening warming up with a hot chocolate by the fire. If you're looking for somewhere delicious to eat, The Pancake Pantry has a cozy atmosphere and an extensive menu with sweet and savory options with amazing pancakes — there's a reason it's a favorite among locals and tourists!
One of the highlights of visiting Gatlinburg during the holidays is the Christmas markets and the annual Fantasy of Lights Christmas Parade. Gatlinburg is also one of those small towns that transform and awaken in the Christmas magic in December. This means, the entire town sparkles with millions of twinkling lights, enchanting decorations, and numerous festive displays as part of the annual Winterfest Celebration.
Another great thing to do in Gatlinburg — one of the best places to visit in the USA in December — is to explore the alleys that lead to small towns within the town itself where you can get lost in small shops. Make sure to just get lost in those to do some holiday shopping!
Recommended by Anna of Tatted Nomad
7. Scottsdale, Arizona
If you're looking for a warm weather escape in December — sunny Scottsdale, Arizona is the perfect place to visit for the holiday season. Famous for its golf courses and high-end spa resorts, Scottsdale, AZ, part of the Greater Phoenix area, is a family-friendly destination that will appeal to everyone from toddlers to teens.
While you can't count on swimming weather in December, the weather in Scottsdale is likely to be perfect for outdoor activities like hitting the best hiking trails in Phoenix, like Camelback Mountain and Piestewa Peak, golfing at one of the hundreds of award-winning golf courses, doing some Christmas shopping at one of the outdoor shipping malls in Scottsdale, or patio dining in Old Town Scottsdale.
One of the best things to do during December in Scottsdale is to visit the Fairmont Scottsdale Princess for "Christmas at the Princess" — this fun holiday event promises beautiful light displays, delicious food and drink stands, a train ride, carnival rides, ice skating and other fun attractions throughout the resort. If you're looking for more ways to celebrate the holiday season in Scottsdale, the Phoenix Zoo hosts "ZooLights," and the Desert Botanical Garden features an elegant holiday light display at "Las Noches de las Luminarias."
Additionally, you can always take a day trip to Prescott while you're visiting Scottsdale in December, known as "Arizona's Christmas City," to enjoy the fun Christmas parade and courthouse lighting at the beginning of the month.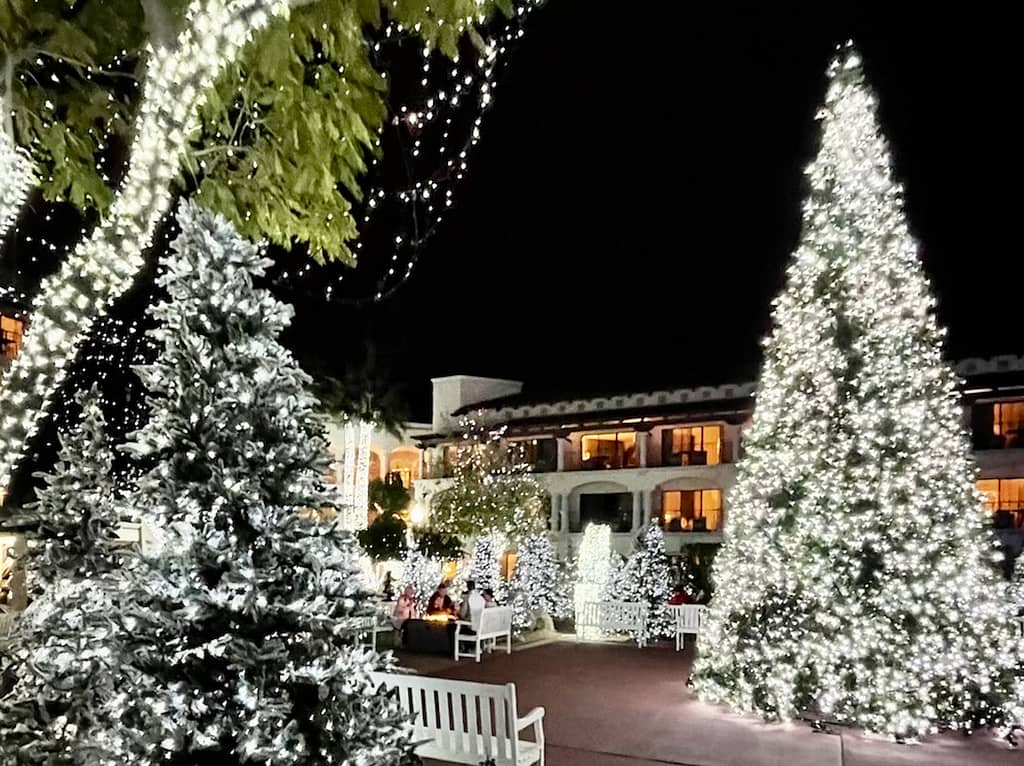 Recommended by Adrienne of Destinations & Desserts
8. Washington DC
Washington, DC, is so underrated when it comes to the best places to visit in the USA in December — it should definitely be considered for a winter trip!
Firstly, DC is often visited in the spring or autumn, as tourists like to avoid the summer heat and cold temperatures of the winter. This means in December, there are often fewer crowds at this time of year, and hotel prices tend to be lower.
December in Washington, DC, is also great for Christmas festivities. The city gets decked out in Christmas decorations and holiday markets that are sure to get you into the festive spirit!
Make sure to add a stop by the District Holiday Boat Parade on your Washington DC itinerary in December. This is where you can experience all the boats lit up with Christmas lights. While there, you can grab yourself a hot chocolate and some delicious smores. Washington, DC, is also well known for its holiday theatre shows. You can catch a production of How the Grinch Stole Christmas or The Nutcracker!
Washington DC sometimes enjoys snow in December, so even just taking a walk through the National Mall is very magical at this time of year. You can also see the famous National Christmas tree located at The Ellipse. If the weather gets too cold, you can always visit one of the many free museums in the Capitol or enjoy some cozy comfort food from Le Diplomate.
Recommended by Sam of Find Love & Travel
9. Florida Keys, Florida
The Florida Keys are one of the best places to visit in the USA in December for warm weather and beautiful beaches. In December, the water temperatures in the Florida Keys remain warm for visitors, which is perfect for snorkeling and engaging in marine scuba adventures. The primary islands that tourists frequently visit include Key Largo, Marathon, and Key West.
Key West is the southernmost point and most popular area of the Florida Keys. Key West offers the ideal setting where you can enjoy the sandy beaches that feel like a tropical paradise, savor delicious cuisine at exceptional Key West restaurants, and enjoy refreshing drinks at the bars and patios along Duval Street.
Another great area to explore nearby is Key Largo, which is the self-proclaimed "scuba diving capital" of the world. There are so many different underwater activities and things to do in Key Largo, including visiting the famous Everglades National Park.
There are also numerous activities to enjoy in Marathon, and you'll want to explore the Old Seven Mile Bridge. This historic site now serves as a popular destination for strolling, running, biking, and offers excellent fishing opportunities from its pier.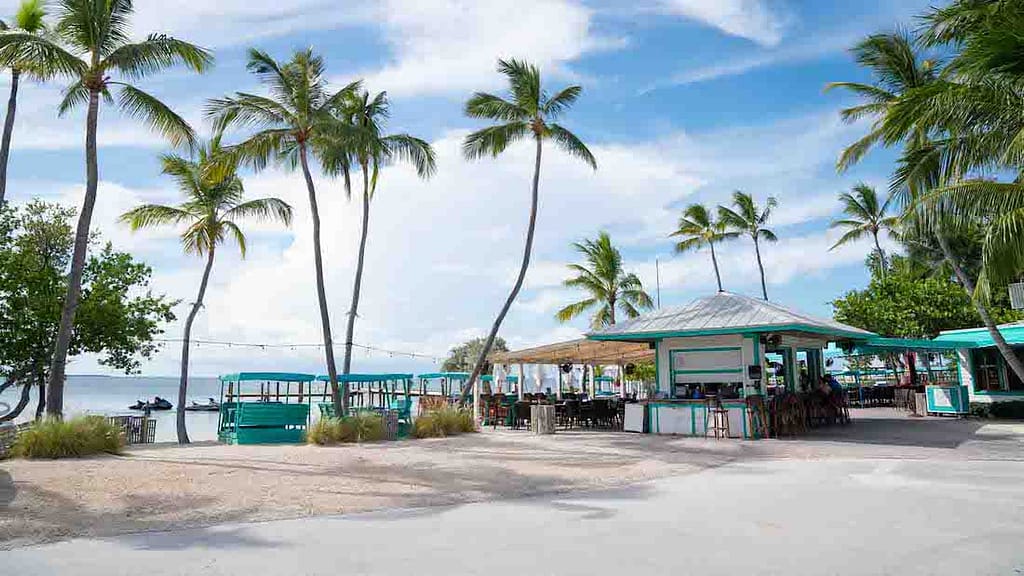 Recommended by Hannah & Adam of Getting Stamped
10. San Francisco, California
Get in the holiday spirit in festive San Francisco — one of the best places to visit in the USA in December. On the California Coast, this city is always worth a visit. And in December, the abundance of Christmas trees and décor dresses up the city with an extra measure of charm. Holiday lights make the nights magical, with everything from lights in the windows of residents to the giant colorful window décor of Macy's in Union Square.
Cable cars journey up and down the steep hills, dressed in their Christmas best, too. Ride them to Fisherman's Wharf or up to Union Square. Stop in the venerable St. Francis Hotel and enjoy the lobby. It's decked out with a delightful sugary village complete with a little train. Across the street in Union Square a giant tree decorates the plaza, and you can strap on ice skates and twirl around the seasonal rink.
Include a concert of holiday music to enrich your visit. Grace Cathedral hosts classical music that is simply heavenly. Another hotel with amazing seasonal décor is the Fairmont on Nob Hill. From play holiday houses to giant teddy bears, the transformed lobby is definitely a crowd pleaser during Christmastime!
While you're busy enjoying the twinkle and trees of Christmas, you can, of course, take in all the usual San Francisco sights. Walk on the Golden Gate Bridge and visit the Ferry Landing — an ideal place to shop for those one-of-a-kind gifts. Celebrate the season with a yummy hot fudge sundae at the original Ghirardelli Square shop.
Boost your holiday spirit in San Francisco at Christmastime. It truly is the most wonderful time of the year to visit! And, if you have a layover in San Francisco, check out how to spend a layover in San Francisco airport!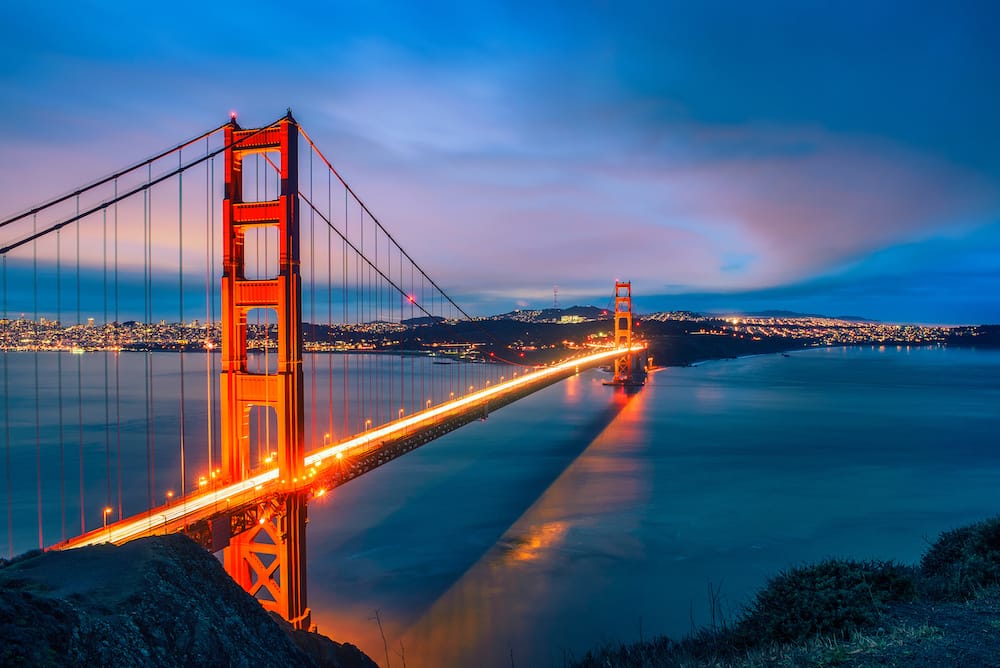 Recommended by Sharon of Exploring Our World
11. Savannah, Georgia
If you're looking for a bigger city with a small-town feel for Christmas, you'll love visiting Savannah, Georgia, in December! Not only does Savannah get in the holiday spirit, but the cooler temperatures and smaller crowds make December the ideal time to visit Savannah.
Savannah really gets into the Christmas spirit during the holidays — especially in the Historic District. You can see holiday lights and decorations on Broughton Street, River Street, and in City Market, as well as on the private residences around the city.
There are also tons of fun things to do in Savannah, GA, during the holidays, including the Savannah Christmas Market at Plant Riverside District, where you can attend a tree lighting ceremony and shop at the vendor market. The December Nights & Holiday Lights Celebration at the Coastal Georgia Botanical Gardens is another fun event — especially with kids!
Some of the best places to eat in Savannah in December include The Olde Pink House (perfect for an upscale, cozy southern dinner!) and The Paris Market. The Paris Market, in addition to being a quaint café, is also a great spot to do some Christmas shopping.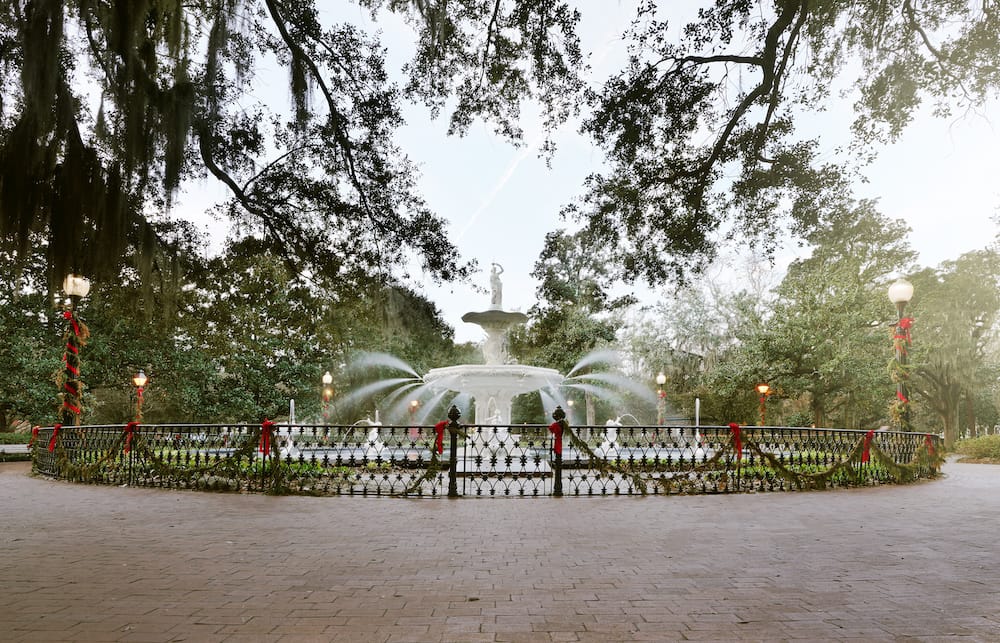 Recommended by Brittany of Travel by Brit
12. Natchitoches, Louisiana
One of the best places to visit in the U.S. in December is the Christmas town of Natchitoches, Louisiana. Situated along the Cane River and known as the oldest city in the Louisiana Purchase, Natchitoches holds the oldest community-based holiday celebrations in the country!
There are many wonderful things to do in Natchitoches, Louisiana, for all ages, but what also makes this city famous is the 1988 film Steel Magnolias, starring Julia Roberts and Dolly Parton. Throughout Natchitoches are numerous filming locations you can visit and tour, such as the Steel Magnolia House, the American Cemetery, and Susan Harling Robinson Park.
In December, all visitors to Natchitoches, LA must participate in the Christmas Tour of Homes hosted by the Natchitoches Historic Foundation. During this experience, Christmas lovers can do a self-guided tour of preserved and residential homes that are festively decorated.
During the annual Christmas Festival of Lights in Natchitoches, visitors can also admire all the dreamy lights and decorations along the city's Front Street, talk about their holiday wishes at Cookies with Santa (which takes place at the Louisiana Sports Hall of Fame), watch the Lighted Boat Parade along the Cane River, and enjoy the fireworks show on the river.
Another one of the top things to do during a trip to Natchitoches in December is to visit the beautiful Melrose Plantation. It was founded by Louis Metoyer in 1796. Metoyer was recognized for helping free slaves. During a visit to the plantation, you can tour the property, learn about Louis, admire the holiday décor, and view the original works of folk artist Clementine Hunter.
Finally, a December trip to Natchitoches, Louisiana is incomplete without visiting Cane River Commissary for a zydeco boozy brunch. Not only can you savor a delicious Southern breakfast with mimosas, but you can also listen to live music and make memories by participating in line dancing!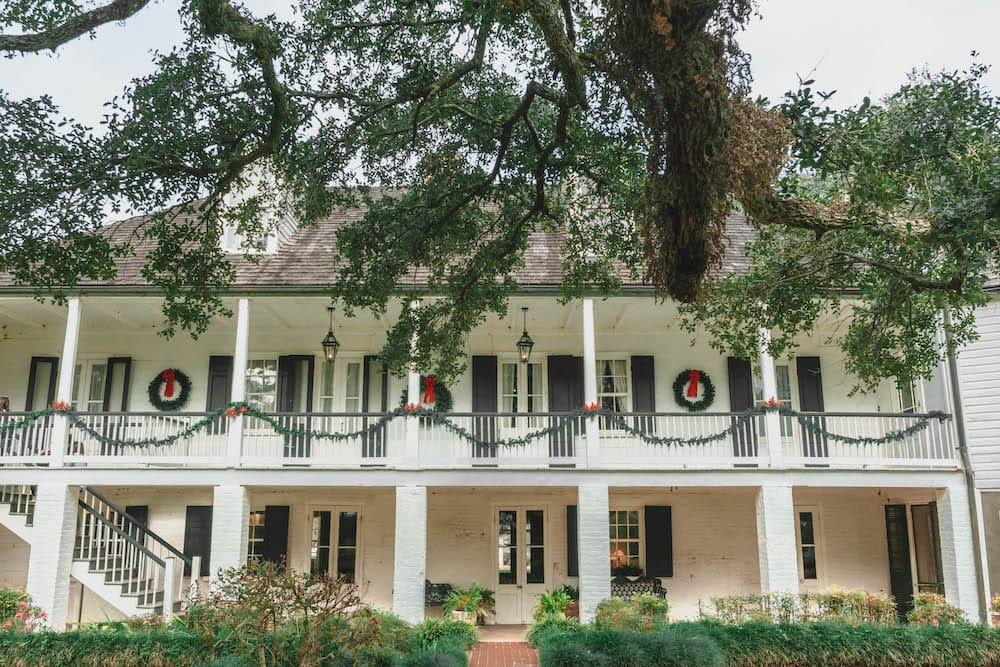 Recommended by Taylor of Brown Eyed Flower Child
13. Philadelphia, Pennsylvania
If you are looking for a beautiful winter wonderland to escape to in December — look no further than Philadelphia, PA! The entire city gets into the Christmas spirit starting in mid-November, when the Christmas markets and decorations begin to go up all around the city.
The Christmas Village in Philadelphia is a must-visit for anyone who enjoys German-style Christmas markets. At the market, you will find vendors selling hand-made holiday gifts, ornaments, delicious food, and hot drinks! The Christmas Village is in LOVE Park — one of the many incredible free things to do in Philadelphia.
Another must-see in Philadelphia in December is Winter in Franklin Square, which features over 200,000 lights that makes it impossible to not be in the holiday spirit! You can stroll around the park before stopping at the featured light show that plays every 30 minutes.
After working up an appetite, stop by the Four Seasons Hotel and take the elevator up to the 60th floor, where you will find JG's Sky High — a stunning lounge with even better views of the city. This lounge serves decadent small plates and cocktails, but if you are looking for a bite to eat, Jean-Georges Philadelphia — the restaurant on the 59th floor — serves a full dinner menu.
Philadelphia is a perfect destination to visit during the holidays for festive activities and delicious food — making it one of the best places to visit in the USA in December!
Recommended by Jess from Travel + Tannins
14. Maui, Hawaii
Maui, Hawaii, is a wonderful vacation destination in December. Its tropical climate makes it the perfect place to escape the cold and winter — trade in the snow and cold for the sun and sand!
There are so many amazing things to do on the island of Maui. December kicks off whale-watching season! A whale-watching tour will take you out to sea to get a close-up view of these magical giants. Keep an eye on the horizon during your trip and, chances are, you will see plenty of whales breaching in the distance, too.
If you are a surfer, December is peak surfing season in Maui as the winds pick up and waves get bigger. If you are an experienced surfer, this is an amazing opportunity to catch some incredible waves. The weather is a bit cooler in December, but considering Hawaii is typically very warm, this is a plus! Expect temperatures to be comfortable and in the 70's each day. Another huge bonus is that the ocean is warm and will be ideal for swimming.
Lastly, Maui is decorated for Christmas throughout the entire month of December. You don't have to sneak away over winter break to experience the holiday cheer. The palm trees will be decorated with sparkling Christmas lights, and Santa will be out and about. The small-town atmosphere makes Christmas a joyful time of year.
Recommended by Julie of Ruhls of the Road
15. Asheville, North Carolina
One of the best places to visit in the USA in December has to be Asheville, North Carolina. The city of Asheville is in the heart of the Blue Ridge Mountains, making it a lovely mountain escape during the holiday season. Asheville is a fantastic place to visit for those looking for beautiful views, holiday decor, craft beer, and countless activities to explore and experience.
December is a great time to visit Asheville because the cool weather is perfect for enjoying craft beer. Asheville is famous for having 50+ breweries, making it one of the best beer cities in the United States. There is nothing like sipping on a delicious craft beer as you take in the beautiful mountain scenery and holiday decor throughout the city.
Additionally, Asheville is known for its beautiful holiday decorations, lights and the annual Gingerbread House Competition at the Omni Grove Park Inn. You are sure to feel the holiday spirit as you explore the intricate gingerbread houses in this fabulous hotel. You should also pay a visit to the Biltmore Estate to see this beautiful mansion decked out for the holiday season!
While visiting Asheville, be sure to check out Highland Brewing Company, one of the largest breweries in North Carolina. Not only is this brewery a great place to grab a few beverages, but they are known for having countless food trucks that serve up a variety of cuisines.
Asheville is always a wonderful place to vacation, but winter in Asheville stands out as one of the best times to visit with the nice, cool weather, festive holiday decorations, and the fun Gingerbread House Competition.
Recommended by Abby of Trekking Prices
16. Newport, Rhode Island
If you are looking for an old-fashioned Christmas celebration, you'll easily agree that Newport, Rhode Island, is one of the best places to visit in the USA in December.
Christmas in Newport is a holiday tradition that started in 1971 and has been celebrated by the city for over 50 years. During the holiday season, you'll be able to enjoy fun and festive activities in Newport, like Holidays at the Newport Mansions — an opportunity to see the Gilded Age mansions, like The Breakers and Marble House, decked out in their festive seasonal décor.
If you love theatre, you can't miss the performance of the Nutcracker at Rosecliff — it's one of the best things to do in Newport, RI, during the holidays. And don't miss the Newport Illuminated Boat Parade — it might be too cold to be out on the water, but it's certainly not too cold to bundle up and see these beautiful boats decorated in holiday lights!
While you are in Newport, Rhode Island, you shouldn't miss the chance to dine at some of the best restaurants in Newport. The Mooring Seafood Kitchen and Bar is a fabulous spot for a seafood dinner, but if you're looking for something cozier and more low-key, head to Pasta Beach for a pizza and a glass of wine.
Recommended by Brittany of Travel by Brit
17. Lake Tahoe, California
Lake Tahoe is one of the best places to visit in the USA in December. This incredible alpine lake is nestled in the Sierra Nevada Mountains, on the border between Nevada and California.
Lake Tahoe is an ideal destination in December since ski season has already started. Therefore, you can hit the slopes and head to iconic resorts, like Heavenly. This is the biggest ski resort in the area with 97 trails and 28 ski lifts. The resort also offers amazing panoramic views of the lake that you can enjoy before doing a day trip to Sierra Hot Springs. It's about an hour away from Lake Tahoe and the water is around 102°F. You'll also love relaxing in the meditation pool before hiking through Emerald Bay State Park.
Some of the best hikes in South Lake Tahoe are open all year, including Eagle Falls/Eagle Lake Hike and the Emerald Bay/Vikingsholm Hike. Always check the weather and trail conditions before heading outside, since mountain weather is unpredictable.
Finally, go ice skating in Northstar Village, and visit the Winter Wonderland in Squaw Valley. You can go holiday shopping and attend ice skating performances before waking up for brunch at The Lake House Restaurant. In particular, the Lake House Eggs Benedict is exceptional.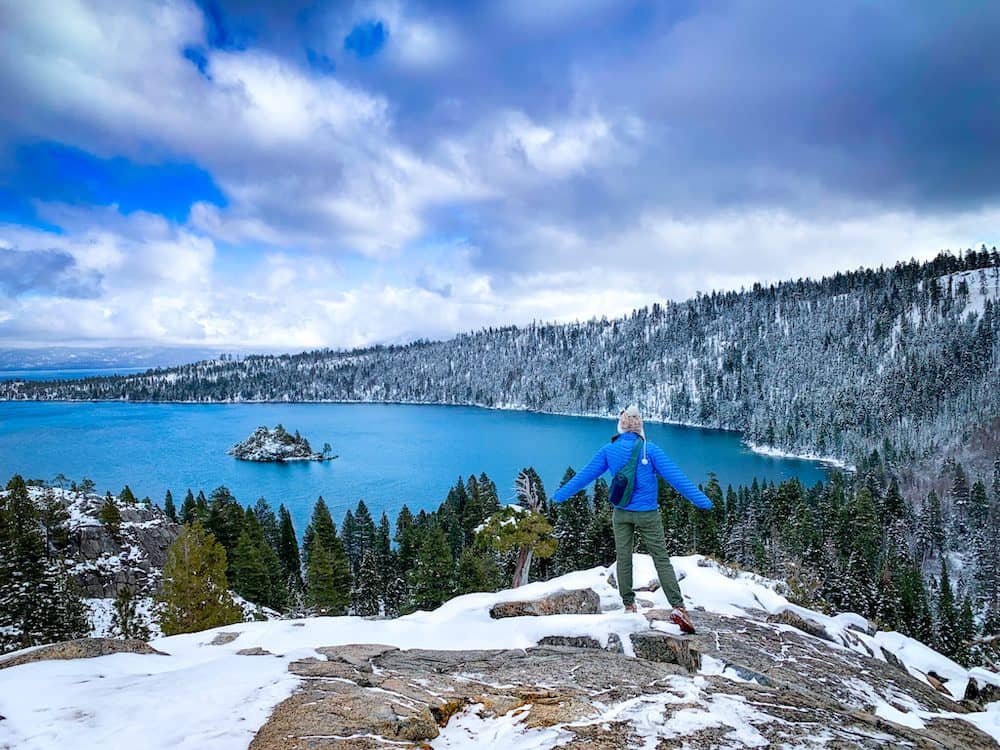 Recommended by Meg of Fox in the Forest
18. Williamsburg, Virginia
Williamsburg, VA, is a magical place to visit in the USA in December. The historic city has numerous special events to mark the holiday season.
One of the top attractions in town is Busch Gardens Christmas Town. The popular amusement park is decked out with ten million holiday lights, which makes it not only the largest holiday attraction in Virginia but also one of the biggest light displays in North America. You can also visit Santa's Workshop and the Christmas Town Express as part of the festivities.
Colonial Williamsburg celebrates the holiday season with a Grand Illumination firework display on select nights in December. The historic site is also decorated with holiday decorations that will transport you back to a colonial Christmas.
Nearby, Yorktown has multiple holiday events, including the Christmas Market on Main, which takes place every December and features over 100 vendors selling arts, crafts, soaps, clothing, food, Christmas wreaths and decorations, and more! You can also check out the Yorktown Lighted Boat Parade, which features brightly colored boats decked out in Christmas lights, plus a performance by the Fifes & Drums of Yorktown, hot cider, and carols around a beach bonfire.
After you've taken in all the holiday events, check out one of the fabulous restaurants in Merchants Square, which is just blocks from Colonial Williamsburg. You can enjoy great farm-to-table fare at the Amber Ox Public House and fine dining at the Fat Canary.
Recommended by Merry of Virginia Vacation Guide
19. St. Augustine, Florida
December is a magical time to visit many places throughout the country, but one spot that deserves to be on your bucket list for the season is St Augustine, FL — America's Oldest City! During the months of November, December, and January, St Augustine transforms into a holiday wonderland with their world-famous Nights of Lights Festival.
This festival has been listed in National Geographic's Top 10 Holiday Light Displays in the world, and it's an incredible experience from beginning to end. From the rooftops and the streets to Plaza de la Constitución and every corner — a mesmerizing and enchanting atmosphere is created by millions of white lights throughout the city!
Museums transform their spaces for the occasion, and you can even enjoy candlelight tours at the Villa Zorayda Museum surrounded by their incredible holiday decor and the lighting of their beautiful Christmas tree. Overall, one of the best things to do during Nights of Lights in St. Augustine is to take the trolley tour at night, which includes magical glasses to view the lights, a warm cookie, and apple cider at the end of the tour.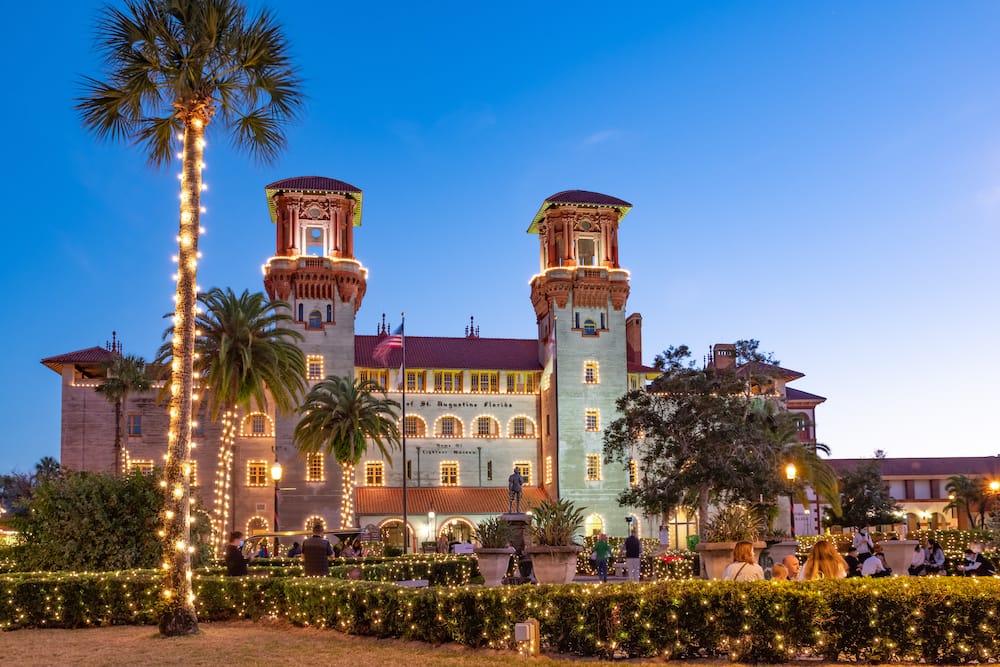 Recommended by Yanitza from Next Stop Adventures
20. Lancaster County, Pennsylvania
December is a magical time to visit historic Lancaster County, Pennsylvania. While it's best known as "Amish Country," Lancaster County is a modern place with lots to see and do beyond an Amish buggy ride. Though, those are fun, too!
Some of the best things to do in Lancaster County, PA, in December — not surprisingly — revolve around the beauty of the area. Take an old-fashioned buggy ride in the countryside, accompanied by the hush of a snowy landscape and the jingling of the horse's bells, or take a ride with Santa on the Strasburg Railroad, enjoying hot cocoa and cookies along the way. You can also tour President James Buchanan's family home for Yuletide at Wheatland, to see it as it would have looked at Christmastime at the dawn of the Industrial Revolution.
Of course, Lancaster County's Amish heritage means this is a great place to shop for hand-crafted, quality made gifts. However, it's not all Amish quilts and furniture. Stroll through the quaint towns of Lititz, Ephrata and Lancaster — all decorated for the season — to find unique gifts for friends and family made by local and regional artisans.
Lancaster County is known for great Pennsylvania Dutch restaurants, where you can enjoy homemade dishes, breads and desserts. And, at the holiday markets, you'll find hot cocoa, kettle corn, cookies and other treats.
But don't miss the region's other culinary delights, reflective of the diverse culture that calls this place home. Annie Bailey's Irish Pub and Restaurant in Downtown Lancaster is one not to miss — serving authentic Irish cuisine in a warm, inviting space close to hotels. There's even a Craft and Cork Trail to explore the handcrafted beer, cocktails and wine local to the region.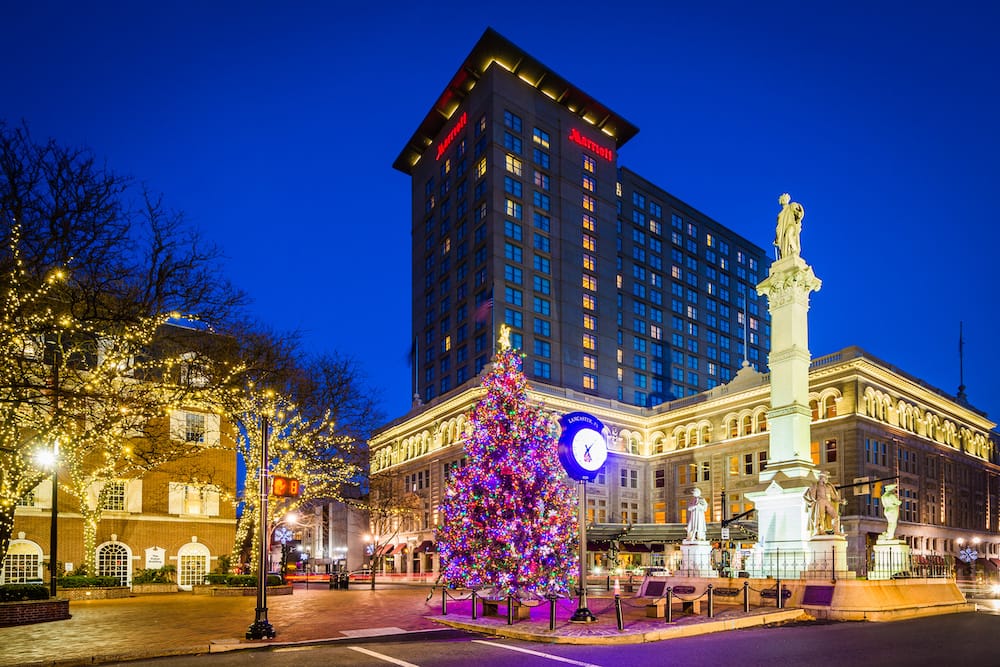 Recommended by Karen of Family Travels on a Budget
21. San Diego, California
Often regarded as "America's Finest City," San Diego, California, is the perfect place to visit during December if you aren't keen on dealing with freezing temperatures. This beach city is also known to host various events that make the city a delight during the holiday season!
Throughout the month, you can attend various Christmas parades across San Diego. The La Jolla Christmas Parade is great for anyone staying on the northern side of San Diego in La Jolla, and the annual San Diego Bay Parade of Lights or the Starlight Parade and Festival in Chula Vista are both fun options if you'll be staying a bit further south.
Another fun event that locals and tourists love to gather around for is December Nights at Balboa Park! During this event, the park is lit up with thousands of dazzling lights, and you can enjoy different performances. If you're visiting Coronado Island, you can also attend Holidays at the Del — a fun seasonal event at the historic Hotel del Coronado that features beachside ice skating, holiday lightshows, igloo dining, and more!
If you're looking for an adventurous activity, you can take advantage of the winter swells that produce fabulous waves — perfect for surfing in San Diego. Afterward, warm up by feasting on some delicious local cuisine. A popular spot to try is Morning Glory, which promises a mouthwatering breakfast to start your day off right.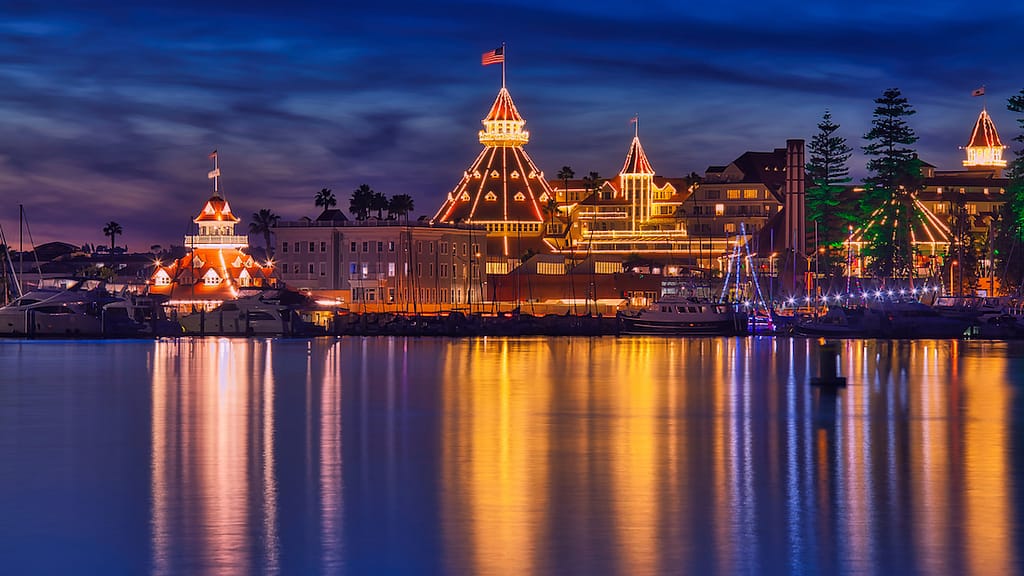 Recommended by Kristin of Global Travel Escapades
22. Walt Disney World, Florida
The holiday season is a magical time of year — regardless of where you visit in the USA. However, if you want to take that holiday magic up a notch, consider a visit to Walt Disney World during the month of December!
One of the things that makes Walt Disney World a great December destination is the sheer number of holiday activities you can take advantage of all in one place. For example, Mickey's Very Merry Christmas Party at the Magic Kingdom offers "snow" on Main Street USA, but the park is full of the sights, sounds, and smells of Christmas! You can grab free hot chocolate and Christmas cookies all around the park, see Mickey, Minnie, and Friends dressed in their holiday best, watch the special fireworks display featuring your favorite Christmas songs, and — yes — you will even see Santa Claus!
If you want a little more of an adult feel for the holidays, consider spending the day at EPCOT, where you can take part in the International Festival of the Holidays! Throughout the park you will find holiday markets that bring the flavors of the holidays from all around the world together in one place. You can drink and dine to your heart's content! At the end of the night, enjoy the Candlelight Processional for a classic telling of the Christmas story featuring a mass choir, 50-piece orchestra, and a celebrity narrator.
On top of the fantastic holiday events that Walt Disney World has to offer, the parks and resorts are beautifully decorated for the holidays with larger-than-life trees and wreaths that fit the theme of each park and resort! You have to pay a visit to the Grand Floridian Resort to see the massive tree in the lobby decked out for the holidays.
Once you visit the most Magical Place on Earth during the holiday season, you'll quickly decide there is no better place to spend December in the USA!
Recommended by Tina of Hey Mickey Travel
23. Grapevine, Texas
Grapevine, Texas, is the Christmas Capital of Texas and a magical place to visit in the USA in December! The entire town is decked out in holiday splendor with millions of lights, festive décor, and fun activities.
Walk down Main Street and check out the singing snowmen, hourly shows on the clock tower, competitively decorated storefronts, and numerous photo spots. During the day, the Visitor's Center is open with a gorgeously decorated lobby, photo spots, and a holiday train display.
Peace Plaza is host to the most gorgeous outdoor Christmas tree and outdoor lighted ice-skating rink. Head inside Harvest Hall afterward into the upscale food dining court that offers several delicious restaurant counters to choose from.
Children will love the Polar Express experience at the vintage Grapevine Railroad, as well as the Elf Scavenger Hunt providing several hands-on crafts and activities. Nash Farm gives visitors a peak into an old-fashioned Christmas with animals, traditionally decorated trees, and cookie making on select dates.
The Gaylord Texan Resort is a highlight during the Grapevine Christmas season. With so many activities at the resort to choose from, including sledding, gingerbread houses, and escape rooms, the most popular event every year is ICE! This exhibit is made up of thousands of pounds of intricately carved ice sculptures, and visitors can walk through the chilly space exploring the new theme for the year.
Make your way to Hotel Vin and reserve an outdoor Winter Wonderland Bubble for an extra special meal out. The igloos are filled with cozy blankets, ski decor, evergreen trees, and include a fixed menu of three cheese fondue with all the dipping items and a bottle of wine.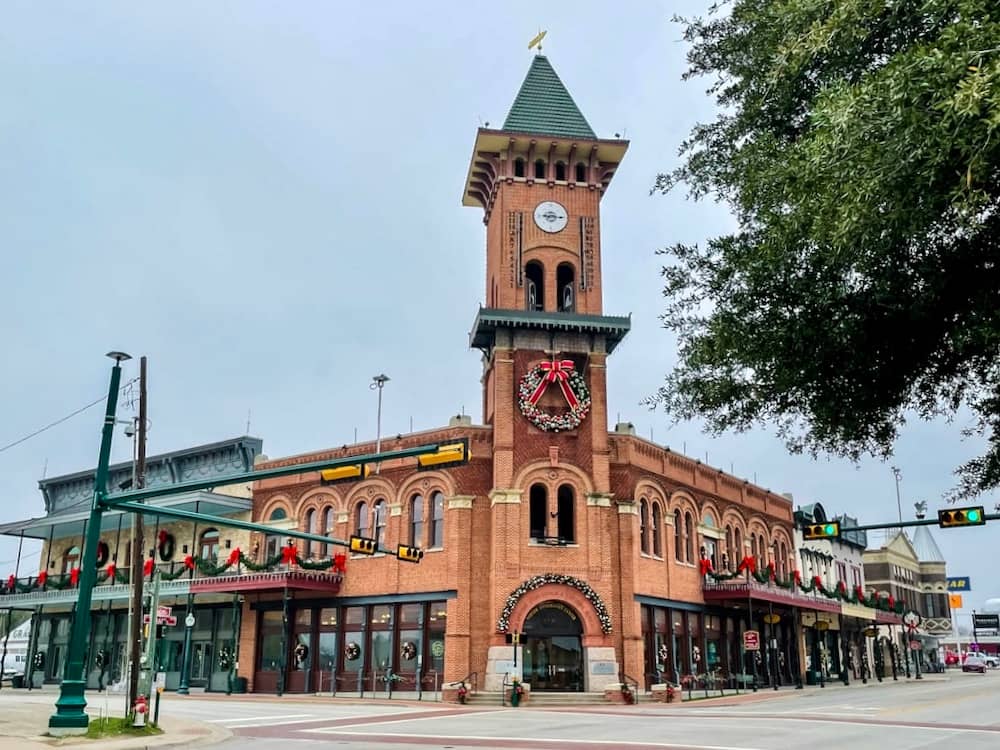 Recommended by Sierra of Very Truly Texas
24. Mammoth Lakes, California
If you're looking for an outdoorsy getaway in December, Mammoth Lakes, tucked into the eastern Sierra Nevada mountains of California, may just be the perfect getaway.
Mammoth Lakes is a world-class ski destination and one of the best places to visit in California in the winter, thanks to resorts like Mammoth Mountain and June Mountain Ski Area. Whether you're an expert or a beginner, skiers and snowboarders of any skill level can enjoy the incredible powder that the mountains receive in December and the stellar views of the surrounding Sierras from the slopes.
If you're not into downhill skiing, there's a variety of other snow sports that you can enjoy in the area, including 19 miles of cross-country ski trails at the Tamarack Cross-Country Ski Center or over 40 miles of snowshoeing trails in the nearby Inyo National Forest.
After all those outdoor adventures in the cold, enjoy one of Mammoth's best features — its plethora of natural hot springs. For example, the Rock Hot Tub or Crab Cooker Hot Springs offer tubs with geothermally heated water in a stunning natural setting — all for free!
If you get hungry, head to Mammoth Brewing Co. — a laidback microbrewery with traditional and funky beer offerings, as well as delicious pub food. If you get lucky with the weather, this brewpub has a huge patio with incredible views of the surrounding snowy mountains!
Recommended by Jess of Uprooted Traveler
25. San Juan, Puerto Rico
Puerto Rico is a gorgeous island that offers so much to see and do, including cultural highlights in Old San Juan, old forts, incredible beaches, and a luscious, tropical rainforest. It's easy to get around the island either with a rental car or via organized tours.
December is the perfect time to visit Puerto Rico, especially for those who are looking to escape the cold up north. December weather is sunny, and rates are more affordable than in spring high-season.
The city of San Juan is filled with rich Puerto Rican culture. Take a walking tour or wander around on your own. You will find lots of colorful buildings in pinks, yellows, greens, and blues, which highlight the fun nature of the city. In the evening, meander the street and sample foods, go shopping, and enjoy a few drinks. Marmalade is the top restaurant in Puerto Rico and offers a delicious five-course tasting menu.
Escape the city with a trip to El Yunque Rainforest, just 45 minutes from San Juan. Join tour operators for a day of hiking, cliff jumping, waterfall slides, and swimming, with trails catering to various expertise levels.
Puerto Rico is a territory of the United States and can be visited by American citizens without a passport. Many cruise lines like Virgin Voyages and Norwegian Cruise Line have a home port in San Juan.
Recommended by Eleanor of Elevate Your Escapes
FAQs: Best Places to Visit in the USA in December
Where is the warmest place to visit in the U.S. in December?
Some of the warmest places to visit in the U.S. in December include popular destinations in southern Florida, like the Florida Keys, the Hawaiian Islands, like Oahu and Maui, and other tropical islands, like Puerto Rico!
Where is the cheapest place to fly in December in the U.S.?
December is one of the most expensive months to travel in the United States, so prepare to pay a pretty penny for flights in December! Some of the most affordable places to fly in December in the U.S. include Seattle, San Francisco, Tampa, and Portland. 
Is December the most expensive month to travel?
Yes, December is the most expensive month to travel in the U.S. because of the holidays, including Christmas and New Year's Eve. July is the second-most expensive month to travel in the United States because of summer break. 
Experience the Holiday Magic in These Best Places to Visit in the USA in December
Whether you're looking for a cozy Hallmark town where you can celebrate Christmas, a big city filled with tons of events, shopping, and light displays, or an outdoorsy destination where you can get away from the holiday chaos — you'll find all that (and more!) on this list of the best places to visit in the USA in December. Safe travels — and happy holidays!

Save the Best Places to Visit in the USA in December to Plan Your Holiday Travels
Read More
Looking for more helpful month-by-month guides for traveling the United States? Check out these other related guides from Travel by Brit: