Looking for laid-back, beachy vibes during your trip to Oahu? You can't miss the chance to visit North Shore, Hawaii, on the island of Oahu!
During my trip to Hawaii in April 2021, my family and I took a day trip to North Shore, Hawaii, from Waikiki Beach, where we stayed during our vacation. Although Honolulu might be the most well-known spot in Hawaii, the North Shore offers a unique experience that you can't miss during your trip to Oahu.
Our day on the North Shore, Oahu, was one of the most memorable days of our trip! Before sharing how to spend the perfect day on North Shore, Hawaii, here are the answers to some common questions you might have about the area:
Save the Perfect Day Trip to North Shore, Hawaii to Read Later!
Where Is the North Shore?
The North Shore, Hawaii, is a 17-mile stretch of coastline on the north side of Oahu that begins west at Ka'ena Point and ends east at Kahuku Point.
The North Shore is known for professional surfing competitions, killer waves, and an easygoing lifestyle. With dozens of beautiful beaches to explore, the North Shore is the perfect place for adventurous visitors who want to try their hand at surfing, snorkeling, kayaking, or stand-up paddleboarding.
Visiting the North Shore, Hawaii, is a stark contrast from visiting Waikiki. Instead of high-rise hotels and luxury shopping, you'll see plenty of local vendors and surf shops.
RELATED: 10 Best Things to Do in Waikiki, Hawaii
How to Get to North Shore, Oahu?
The best way to get to the North Shore depends on where you're staying on the island. However, many visitors tend to stay on Waikiki Beach in Honolulu, Hawaii. Haleiwa on the North Shore is a 35-mile drive from Waikiki Beach, and it usually takes anywhere from 45-minutes to one hour to get there.
I would highly recommend renting a car and driving to the North Shore so that you can be in control of how you spend your day. Since attractions are spread out, it's best to have a car to fit in as much as you can. However, other options are available to experience the North Shore if you don't have a vehicle.
One option is to purchase a full-day tour that includes transportation to the North Shore, Oahu. This 120-Mile Full-Day Tour of Oahu and North Shore and Hanauma Bay Tour by GetYourGuide includes stops at the North Shore with transportation to and from Waikiki.
Where to Stay on the North Shore
Hotels on the North Shore are few and far between. Many people stay in Waikiki and drive to the North Shore to experience all the amazing attractions since there is more hotel availability in Waikiki! You can check out my list of the best resorts on Oahu, Hawaii, to find the perfect place to stay.
However, if you'd like to stay on the North Shore, here are some hotel options to check out:
Best Things to Do on North Shore, Oahu
Assuming that you're staying in Waikiki as I did during my trip to Oahu, here's the perfect day trip to experience the best of the North Shore, Hawaii!
1. Breakfast at Hale'iwa Bowls
The earlier you can leave Waikiki, the better! I would recommend leaving no later than 8 AM to guarantee you'll make it to the North Shore by 9 AM.
Once you arrive at the North Shore, drive into Haleiwa—the main town along the North Shore. There, you'll find Hale'iwa Bowls—a small kiosk serving acai bowls, smoothies, juices, and cold brew coffee!
I would highly recommend getting a bowl at Haleiwa Bowls to enjoy the sweet, local fruit. I ordered the Blue Majik Bowl, with a base of banana, pineapple, and blue Majik spirulina topped with granola, fresh blueberries, strawberries, kiwi, Hawaiian honey, and bee pollen. I subbed my bee pollen for coconut flakes because I'm allergic to pollen. My sister's bowl (pictured above) was the Hapa Acai Bowl—a blend of acai, bananas, strawberries, and blueberries topped with granola, fresh bananas, raw coconut flakes, and Hawaiian honey.
My husband ordered the chia pudding, and he enjoyed it, too. I would say this is one of the best places to stop for acai bowls in Oahu—not just the North Shore!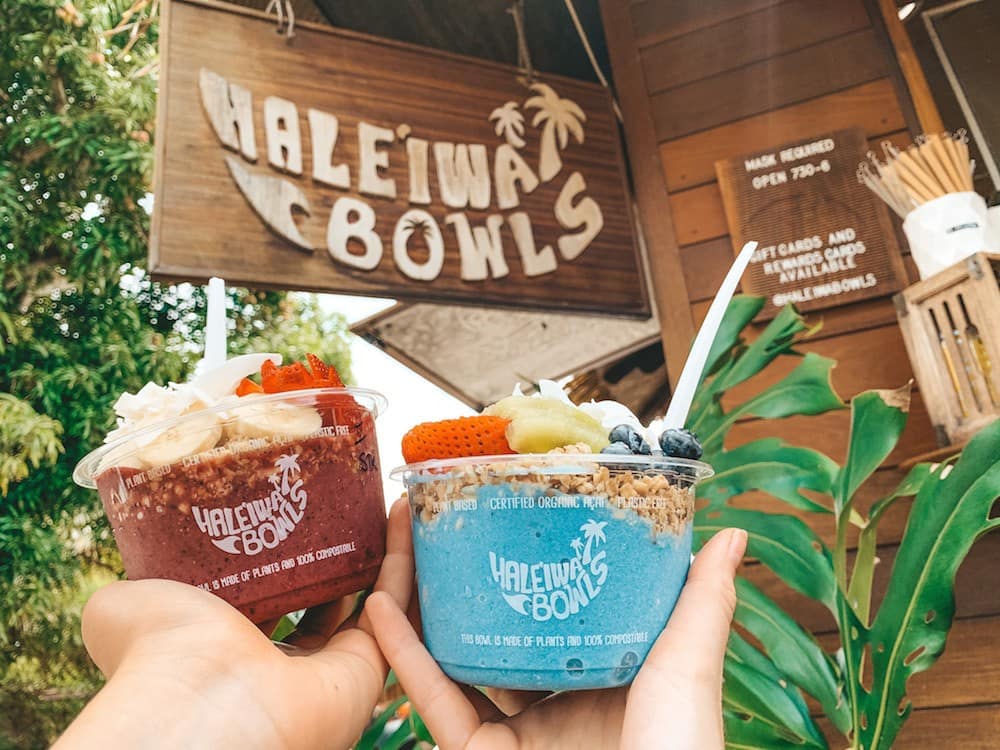 2. Snorkeling at Shark's Cove
Next, head east along the North Shore to Shark's Cove—a small, rocky bay that's part of Pupukea Beach Park.
Although Hanauma Bay is the most popular place for snorkeling in Oahu, the marine life in Shark's Cove is equally breathtaking. Plus, unlike Hanauma Bay, Shark's Cove is less crowded and doesn't require an entry fee—a real win-win!
Although there are no sharks (whew!), there are tons of fish in Shark's Cove! The water is relatively shallow and crystal clear, so it's very easy to see the marine life swimming around you. During our time snorkeling at Shark's Cove, we saw triggerfish, butterflyfish, parrotfish, needlefish, and trumpetfish, just to name a few—plus, three sea turtles!
You'll love snorkeling in Shark's Cove! Here are some tips for visiting:
Check the current before you snorkel—the water is usually calm from May to September, but we had no trouble when we went in April.
Wear reef-safe sunscreen to respect the beautiful coral reefs.
Bring your own snorkel gear from home to save money on rentals.
Watch out for the jagged rocks—they're sharp!
Plan to spend at least two hours snorkeling—you won't want to stop!
3. Lunch at Kono's Northshore
You'll be hungry after snorkeling all morning—and Kono's Northshore is the perfect place to satisfy your appetite!
Kono's Northshore is a staple stop you can't miss during your day trip to North Shore, Hawaii. Although Kono's has locations across the island of Oahu, they opened their original location in 2002 on North Shore, Oahu in Haleiwa.
Kono's is famous for its breakfast bombers—giant flour tortillas stuffed with fluffy eggs, crispy potatoes, shredded cheese, and your choice of meat. I chose the Haleiwa bomber, filled with 12-hour slow-roasted Kalua pork—and it was amazing!
Kono's also serves plates and bowls with traditional Hawaiian fare. However, keep in mind Kono's closes at 2 PM each day—so get your order in before it's too late!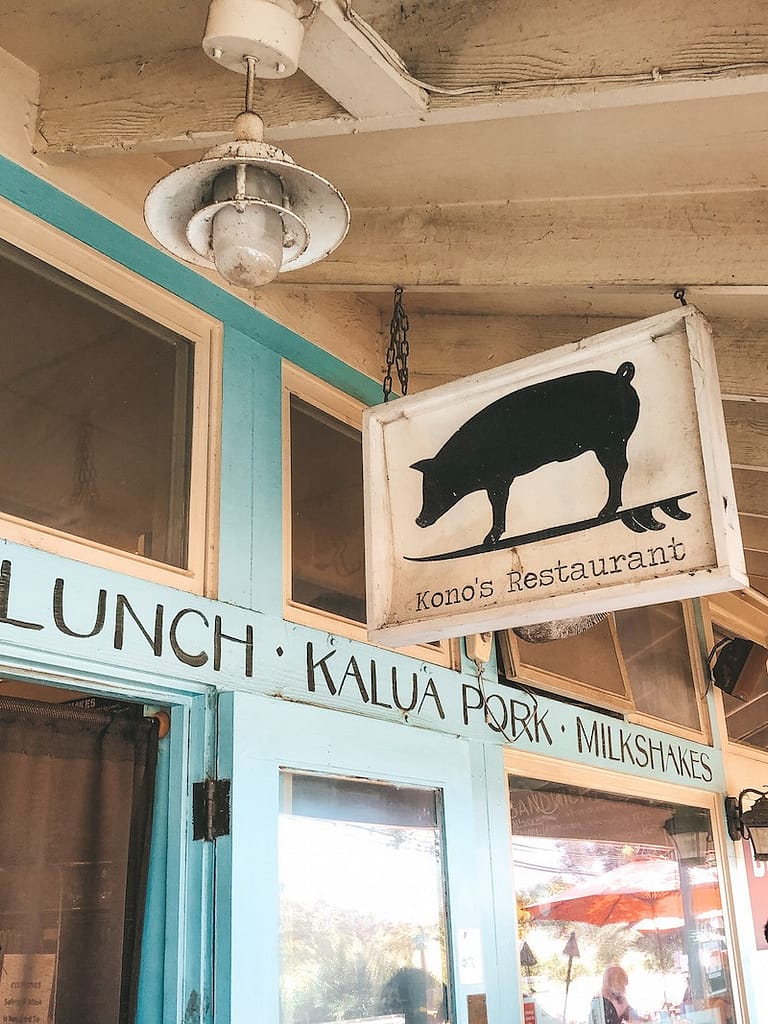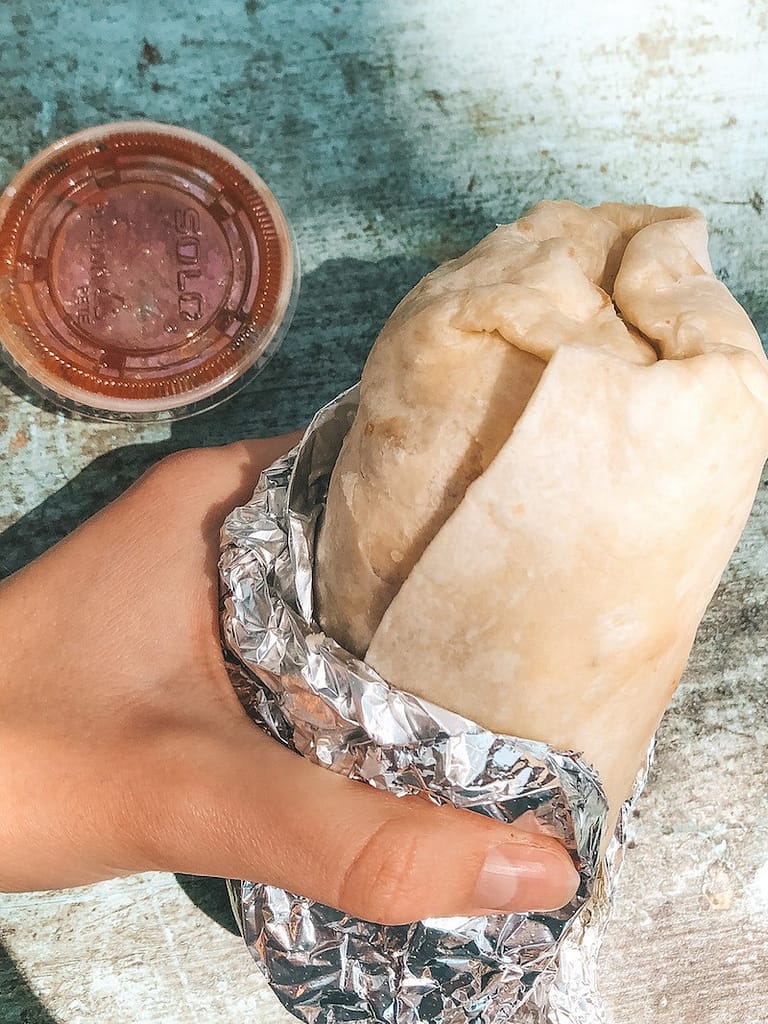 4. Shopping in Haleiwa
After eating at Kono's, you'll be in the heart of Historic Haleiwa—the perfect place to spend the afternoon.
Haleiwa is the hub of art and culture on the North Shore. It's the perfect place to go shopping for local Hawaiian goods & souvenirs, explore the surf shops, or check out the local art galleries. You'll also find tons of food trucks and places to grab a treat—like shave ice or coconut water (in a coconut, of course!).
Tip: One of the best photo spots in Haleiwa is the Colette Miller Wings painted on the side of Anahulu Shave Ice. Don't miss the chance to snap a photo when you pass by while exploring Haweiwa!
5. Sea Turtle Spotting at Laniakea Beach
Visiting Laniakea Beach is one of the best things to do on North Shore, Hawaii. This beach is famous for the sea turtles that emerge from the ocean to suntan on the rocks and sand.
The turtles usually don't hang out on the beach until the afternoon, which is why you should save this spot until the end of your day at the North Shore. We were lucky enough to see one while we were there!
Laniakea Beach is also known to be an excellent spot for surfing if the waves are large enough. Although we didn't surf, we did walk along the beach during the golden hour before watching the sunset. It was beautiful!
Tip: Although I loved visiting Laniakea Beach, Waimea Bay Beach Park is also popular for surfing, body boarding, or sea animal spotting. This beach is more sandy than Laniakea Beach, so it's also a better spot for laying out in the sun. If you want to see a sea turtle, go to Laniakea Beach, but if you're looking to get more water sports in, I'd recommend Waimea Bay during your afternoon on the North Shore!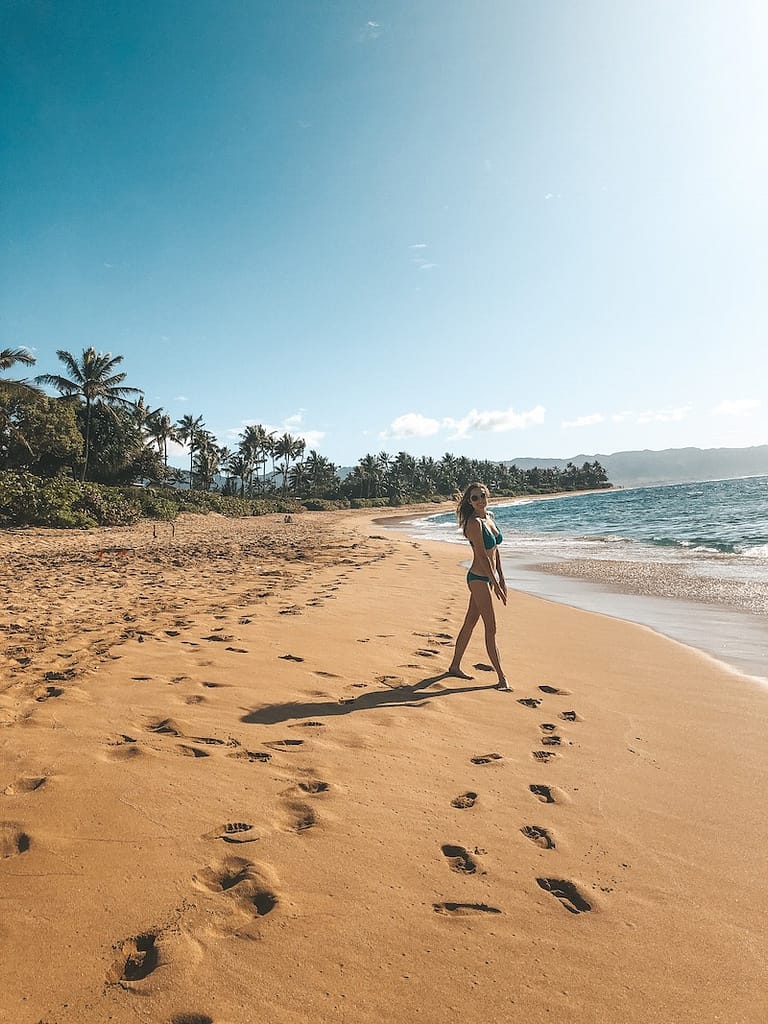 6. Dessert at Matsumoto Shave Ice
Finally, there's no better way to end your day in North Shore, Hawaii, than with shave ice! And there's no place more iconic than Matsumoto Shave Ice—a family-owned business that's been serving the North Shore since 1951!
Matsumoto Shave Ice has over 30 delicious flavors, and the prices are great! It only costs only $3 for a small and $3.50 for a large shave ice, with the option to add ice cream, sweetened condensed milk, mochi, or azuki beans (Japanese red beans cooked in sugar).
I ordered a large coconut, pina colada, and guava shaved ice with sweetened condensed milk. I will say it wasn't my favorite shaved ice I had in Hawaii, but it was definitely the best value and a refreshing way to end a fun day on the North Shore!
Tip: The line to Matsumoto is almost always long—after all, they serve almost 1,000 shave ice every day. However, don't let the line deter you. It moves quickly, and it's worth waiting for!
How to End Your Day Trip to North Shore, Oahu
After grabbing shave ice, you can choose if you want to grab dinner on the North Shore or drive back to Waikiki to grab dinner there. We opted for the latter option, but here are some popular places to eat on the North Shore if you decide to stay:
Surf N Salsa
Giovanni's Shrimp Truck
The Beet Box Café
Hale'iwa Beach House
Ted's Bakery
Before you decide where you want to eat, be sure to check the hours on Google Maps. Many restaurants on the North Shore close early!
If You Have More Time on the North Shore…
Although one day is enough time to explore the highlights on the North Shore, there's plenty to do in this area to justify spending more than one day there.
If you choose to spend two days on the North Shore (or more!), here are some ideas of other things to do in Haleiwa:
Banzai Pipeline—Ride the waves at this iconic surfing spot on the North Shore.
Dole Plantation—On your way to the North Shore, stop at the Dole Plantation to walk through the pineapple maze, take a pineapple train tour, and enjoy a Dole Whip.
Waimea Falls—Explore the Waimea Botanical Gardens that end with a picturesque waterfall surrounded by lush, tropical foliage.
Ehukai Pillbox Hike—Short, steep hike that ends with scenic views of North Shore, Hawaii.
Enjoy Your Perfect Day Trip to North Shore, Hawaii!
North Shore, Hawaii, is one of the most fun, adventurous places to visit on Oahu! It's a relaxing change of pace from the hustle and bustle in Waikiki and Honolulu.
Have you visited the North Shore? What did you love about it? If you haven't visited, which of the things to do in North Shore, Hawaii, sounds the most exciting to you?
Disclosure: Some of the links in this post are affiliate links, meaning, at no additional cost to you, I earn a commission if you click through and make a purchase. This helps me keep the content on my website free, like this post about The Perfect Day Trip to North Shore Hawaii!
Save the Perfect Day Trip to North Shore Hawaii for Later!
Did you love this post about the perfect day trip to North Shore Hawaii? If so, check out these other blog posts about Oahu, Hawaii!