Cozy sweaters, apple orchards, hot lattes, pumpkin patches, crunchy fall leaves, and brisk mornings — these are just a few of the things that come to mind when I think about the month of October (one of my favorite months for traveling in the United States!).
By October, kids have (officially) returned to school, summer travel has completely come to an end, and most fall destinations are enjoying their last month of refreshing fall weather before the cold weather kicks in — making it a spectacular time to travel throughout the country. It's hard to find somewhere in the United States that isn't perfect to visit during the month of October.
However, we've narrowed down this list to the absolute best places to visit in the USA in October. From sleepy mountain towns and hiking hotspots to spooky big cities and hidden gems — read through this thorough list for the perfect October getaway in the USA!
Best Places to Visit in the USA in October (Fall Foliage Destinations & Spooky Cities!)
1. Stowe, Vermont
For the quintessential New England fall experience, look no further than the quaint town of Stowe, Vermont. Bursting with foliage color through most of October, you'll see some of the most picturesque scenery in New England throughout the town and surrounding areas during this cozy time of the year.
Stowe is also home to some of the best things to do in New England in the fall, and one that should be on everyone's itinerary is the scenic foliage drive through Smugglers Notch. Considered one of the best fall drives in the Northeast, the road through the Notch is completely free to drive on and offers incredible views of the bright fall color.
Along the drive through Smugglers Notch, you'll also pass by the Stowe Gondola, which is the perfect activity in October. The gondola takes you to the summit of Mount Mansfield, the highest peak in Vermont, and the foliage views at the top are absolutely jaw-dropping.
You'll also want to enjoy all the small-town vibes along Main Street in Stowe's village. Lined with cute eateries, lovely boutiques, and wonderful country stores, this is the perfect place to stock up on Vermont maple syrup, penny candy, and locally made Vermont products.
When you're ready for dinner, Stowe Cider is a great place for a casual night out. Savor the flavors of the season with locally made hard cider, and elevated comfort food favorites. Outdoor seating is usually available in October if the weather allows.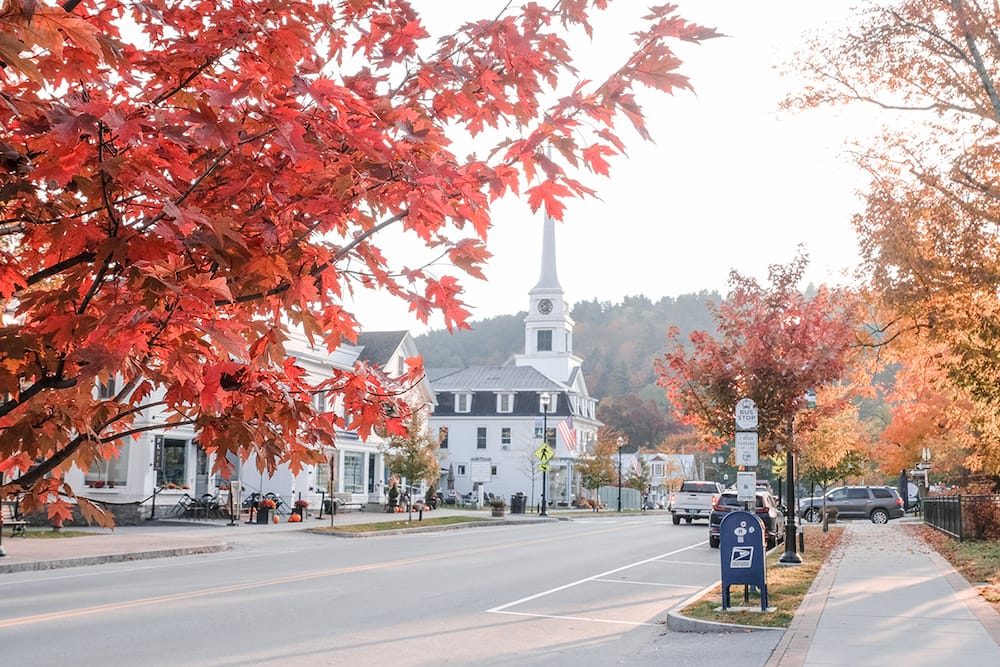 Recommended by Samantha of New England Wanderlust
2. Santa Fe, New Mexico
Santa Fe, New Mexico, is one of the best places to visit in the USA in October due to its incredible weather, awesome experiences and festivals, and fantastic areas to walk around and enjoy endless delicious foods and beverages.
Santa Fe in October is the perfect fall getaway due to its incredible autumn temperatures. The weather is not too hot and not too cold, making it the most ideal for hiking, walking around and exploring the art and food scene, and it is phenomenal for drinking your way through the Margarita Trail. You can also catch the vibrant aspen trees if you visit in early October.
Additionally, the city holds the Santa Fe International Film Festival each October, making it the perfect place for film lovers. For those interested in Santa Fe's art scene, make your way to Meow Wolf for a unique immersive art experience unlike anything you have experienced before! Once you are looking to grab a bite to eat head to one of Santa Fe's most renowned restaurants, The Shed, for unbelievable New Mexican cuisine and fantastic margaritas.
Santa Fe is the ultimate place for a memorable fall getaway in the United States due to its delightful weather, unique experiences and festivals, as well as its tasty restaurants!
Recommended by Abby of Trekking Prices
3. Ozark Mountains, Arkansas
The Ozark Mountains provide an ideal getaway, allowing you to unplug from the demands of daily life and enjoy the great outdoors. This secluded destination offers a wonderful experience no matter the season, but visiting in October is a special treat as the leaves burst with vibrant colors and temperatures are ideal.
The Ozark Mountain region includes notable towns like Eureka Springs, Bentonville, Fayetteville, and Branson, but for nature enthusiasts, it's recommended to venture away from the urban areas and immerse yourself in some of the finest scenery this region has to offer with spots like Jasper and Ponca.
To experience the fall foliage up close and personal, enjoy the thrill of ziplining, go horseback riding at Horseshoe Canyon Ranch, or explore one of the numerous picturesque hiking trails in the vicinity. For one of the most iconic lookout points in Arkansas, hike the 2.9-mile Whitaker Point Trail (Hawksbill Crag). Peak viewing is from October 12 – 28th.
October is also a great month for Rocky Mountain Elk sightings. During the early mornings after sunrise and again in the early evenings, you can spot elk grazing in the fields along the Buffalo National River between Ponca and Boxley.
Following a day filled with adventure, treat yourself to a meal at one of the local favorites, Low Gap Cafe or Ozark Cafe. Both spots are in the quaint town of Jasper, Arkansas.
Recommended by Devon of Say Yes to the Trip
4. Leavenworth, Washington
Leavenworth, Washington, is easily one of the best places to visit in the USA in October. This charming Bavarian-themed village in the Cascade Mountains is one of the best day trips from Seattle — and any local will tell you that Leavenworth in the fall is simply magical!
During the first two weekends of October, you can attend Oktoberfest in Leavenworth, complete with traditional German music, cuisine, and, of course, plenty of beer! However, even if you can't make it for Oktoberfest, you can still enjoy a brat and pretzel year-round at many of the best places to eat in Leavenworth, including Munchen Haus and Andreas Keller Restaurant.
October in Leavenworth is also a great time for hitting many of the city's best hiking trails in The Enchantments or Cascade Mountains. Colchuck Lake is a stunning (yet challenging) eight-mile hike to an alpine lake that is bursting with fall colors during the month of October.
After a day of hiking or exploring the shops in Downtown Leavenworth, cozy up with a craft beer or glass of wine at one of the local breweries or wineries. After visiting Leavenworth in October, you'll understand why visitors from around the country flock to this charming town in the fall!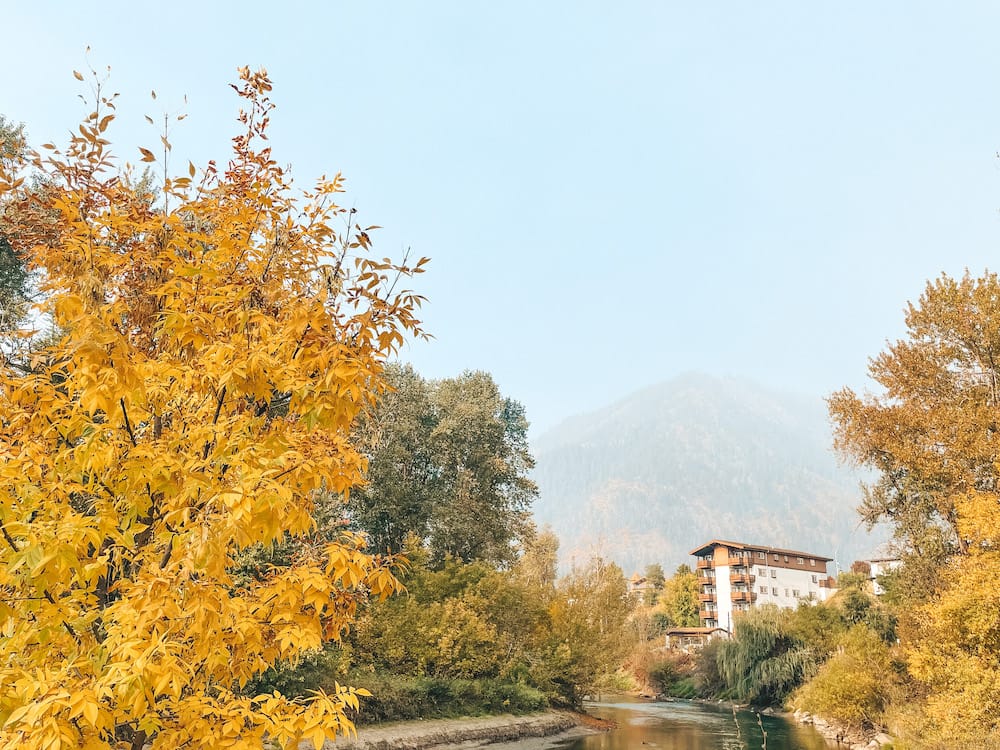 Recommended by Brittany of Travel by Brit
5. Paso Robles, California
October is the perfect time for a leisurely vacation or a weekend getaway in Paso Robles, California, as this is when harvest season in the wine region is in full swing. In order to celebrate the harvest and the hard work of the vineyard employees, wineries and businesses in the area put on special events throughout the month. This includes musical performances, guided vineyard hikes, specialty tours, dinners, and more.
Beyond the festivities, what makes October the ideal time to visit is the weather. While it's still warm, the intense heat of the summer dies down. You'll be able to comfortably explore the area without getting overheated.
Of course, you'll want to stop by at least a few wineries for wine tasting while you're in Paso Robles. There are great vineyard tours for visitors who want the guidance of a local professional. Alternatively, you can make your own itinerary and pick a few different wineries to visit on your own.
In addition to wine tasting, one of the top attractions is Light at Sensorio. At this immersive experience (which opens in the evening after sunset), you'll walk through the expansive property and admire creative and incredibly unique light installations. Before or after the show, be sure to also grab dinner in Downtown Paso Robles. Paso Market Walk is great for anyone looking for a more casual meal, while Il Cortile Ristorante is perfect for fine dining.
Recommended by Kyra of Sea to Sequoia
6. Nashville, Tennessee
Nashville, Tennessee, is a popular destination at all times of the year — but it is particularly gorgeous in the fall. By October, the summer humidity has lifted, leaving you with gorgeous, crisp weather that is perfect for exploring all that the city has to offer.
While you're in Nashville, spend some time exploring all the bars and honky-tonks on Broadway Street. You can grab a drink, learn how to country dance, or even grab dinner at one of the multi-level restaurants that overlook this famous street. There are plenty of fun places to eat in Nashville, on Broadway and beyond — from Biscuit Love and Frothy Monkey for breakfast to fun spots like Locust and Bartaco for dinner in 12 South Nashville.
Another one of the best things to do in Nashville is to go on a mural tour throughout the city. Nashville is filled with dozens of colorful murals, including popular Nashville photo spots, like the "What Lifts You — Wings" and "I Believe in Nashville." Snap a photo at these murals, and then head over to Centennial Park to soak up all the gorgeous fall foliage!
If you're looking for a break from the hustle and bustle of the city, take a day trip from Nashville to Franklin, Tennessee. There are tons of fun things to do in Franklin, including boutique shopping and touring important historical sites from the Civil War.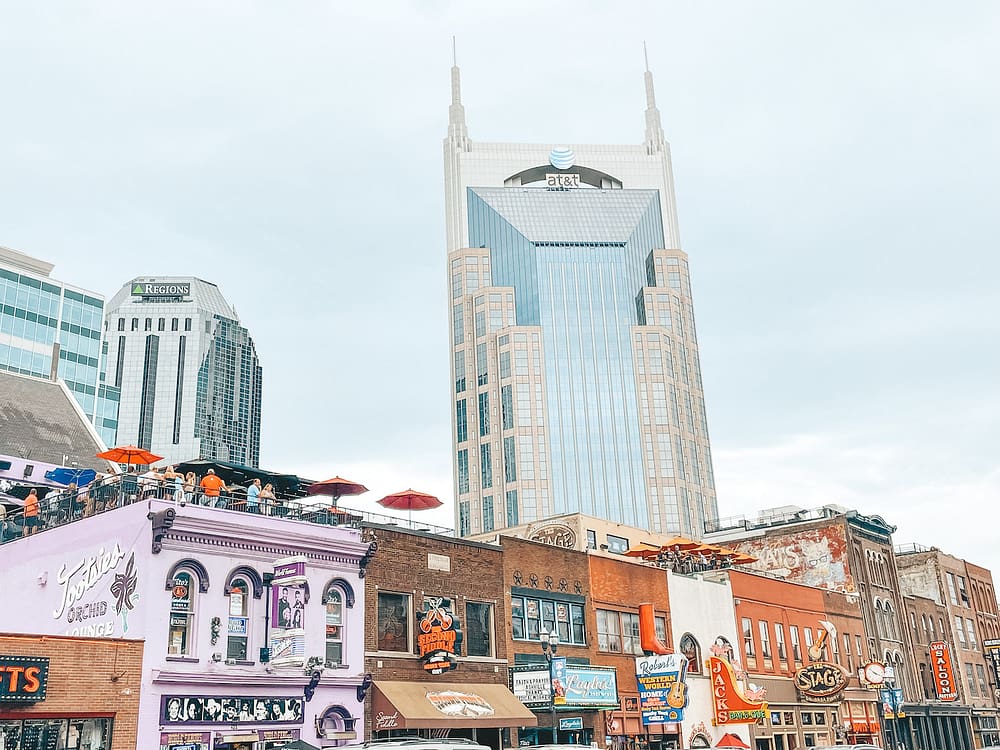 Recommended by Brittany of Travel by Brit
7. Philadelphia, Pennsylvania
Philadelphia is truly delightful in the month of October, as the weather is crisp and mild, and trees with colorful autumn leaves line the streets. Located in the Northeastern part of the United States, and a few minutes away from New Jersey, Philly is bustling with energy this time of year, as everyone is home from summer vacation and colleges are back in session.
Strolling around the historical section of town, known as "Old City," is best in the fall, as it's less crowded than the summer months, and you can easily walk along picturesque cobblestone streets wearing a light jacket or sweater. You'll find this quaint neighborhood is home to several noteworthy destinations that played major roles in United States history, including the Liberty Bell, Independence Hall, Carpenter's Hall, and Betsy Ross's House. Steps away is the Museum of the American Revolution and the Constitution Center that celebrate the Revolutionary War.
If you're into art, go across town to the Philadelphia Museum of Art (a stately building perched at the top of the famed "Rocky Steps). Nearby, the Barnes Foundation features one of the largest collections of impressionists in the world.
When you need a break, La Colombe Coffee offers snacks and lots of seating across from the Liberty Bell, or you can enjoy a full meal at Positano Coast. A few blocks away, Sampan is a fantastic restaurant that serves up Asian-inspired specialties.
Recommended by Marla of Travels with Marla
8. Portland, Oregon
Portland, Oregon, is one of the best places to visit in the USA in October. The leaves are turning vibrant colors, the weather is perfect, and there are countless things to see and do, including strolling through the quirky neighborhoods in Portland, scenic hikes, and pumpkin patches.
One of the most magical parts of October in Portland, Oregon is the fall foliage. The trees turn vibrant shades of orange, yellow, and red, creating a stunning backdrop for all your adventures — whether you're grabbing coffee at a craft coffee shop downtown or embarking on a day trip through the Columbia River Gorge from Portland.
One of the best places to take in the fall foliage is at the Portland Japanese Garden. This 5.5-acre garden is stunning year-round, but it's especially breathtaking in the fall. Walk along the paths and admire the maple and Ginkgo trees as they change colors. Another great spot to see the fall foliage is at the Hoyt Arboretum. Here, you can explore miles of hiking trails and appreciate the array of autumnal colors. The International Rose Test Garden is also a gorgeous spot to see thousands of roses in bloom in October!
Another must-visit attraction in Portland during October is one of the many pumpkin patches in the area. One of the most popular ones is the Sauvie Island Pumpkin Patch. Here, you can take a hayride through the farm, pick out your perfect pumpkin, and even visit a haunted corn maze. Another great pumpkin patch to check out is Lee Farms in Tualatin. You can take a hayride through a giant corn maze to a good old-fashioned pumpkin patch.
Recommended by Karen of Moving Memos
9. Acadia National Park, Maine
October is the ideal time to experience the captivating beauty of Acadia National Park. As the foliage transforms into a mesmerizing tapestry of red, gold, and orange hues, the park's landscape becomes a breathtaking sight to behold.
Acadia National Park is easy to get to via a fun road trip from Boston or Portland, Maine. The drive has many charming towns and great sites along the way. Once in Acadia, the cool, crisp air adds a refreshing touch to outdoor activities, making it an opportune season for exploration. Acadia's vast trails offer fantastic outdoor adventures. Hiking enthusiasts can conquer the Ocean Path, Bubble Trail, or the famous Precipice Trail.
All Acadia National Park adventurers should enjoy the enchanting Jordan Pond trail. After you tackle the trail, be sure to top at the Jordan Pond House for a delicious tea and indulge in their renowned popovers. And of course, going to Cadillac Mountain for sunrise or sunset is an absolute must! You can either hike or drive to the top (driving does require a permit). Either way, the 360 view is breathtaking, especially with the stunning fall foliage.
After a day of exploration, head south of Acadia to the town of Bernard to visit Thurston's Lobster Pound. They have freshly caught lobster, served in a laid-back atmosphere with stunning waterfront views. If you're a runner, be sure to check out Acadia National Park's largest event, the Mount Desert Island Marathon, which takes place every October. You can run either a full marathon, half-marathon, or run on a relay team.
There's no doubt about it — Acadia National Park in October is the perfect place for nature lovers and adventure seekers alike.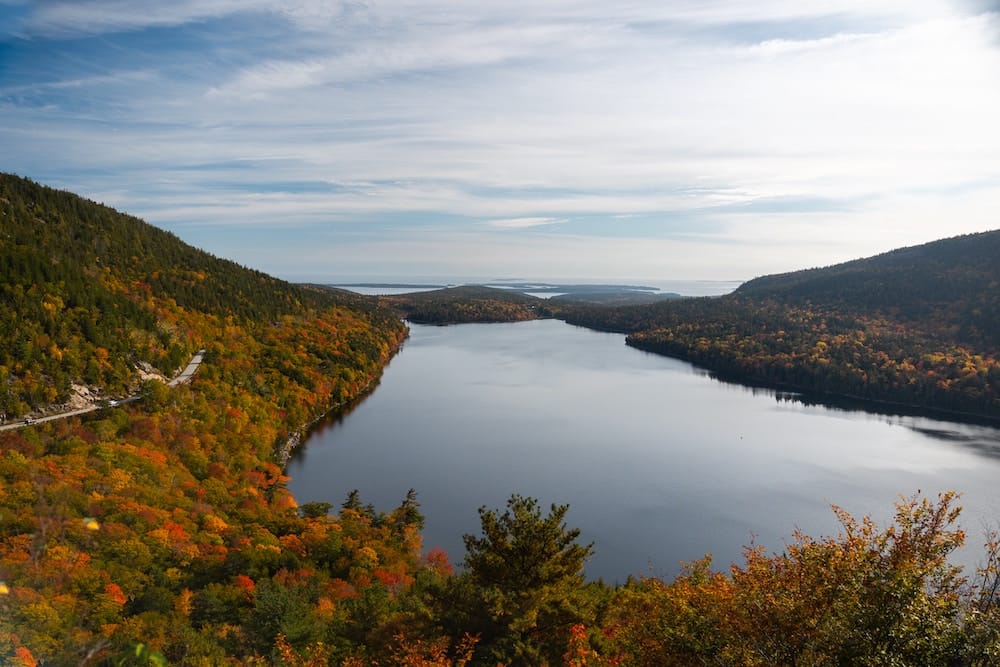 Recommended by Kelsea of Out of Office Mindset
10. Savannah, Georgia
Savannah, Georgia, is one of the best places to visit in the USA during October on a southeast road trip for southern charm and spooky vibes.
This historic city has been called one of the most haunted places in the United States — making it perfect for spooky season. It also has some of the best weather in October. While Savannah is notoriously hot and humid during the summer, the weather is typically mild and pleasant in October, especially toward the end of the month.
One of the best things to do in Savannah is to stroll around the city's many historic squares (22 to be exact), which are filled with fountains and live oak trees draped in Spanish moss. You also can't miss taking a ghost tour in Savannah at night to learn about the city's haunted history and to visit some of the most haunted spots in Savannah.
The riverfront is another must-visit destination on any Savannah itinerary. Part of the city's Historic District, the riverfront is known for its large City Market and the touristy, fun River Street. You can also walk through Forsyth Park, stroll down the beautiful Jones Street, and take a tour of Bonaventure Cemetery.
When it comes to food, Savannah is known for its Southern comfort food. One of the best places to eat in Savannah is Mrs. Wilkes' Dining Room, which serves hearty fare at communal tables. For dinner, The Olde Pink House is a more upscale spot for Southern cuisine – just be sure to make a reservation well in advance!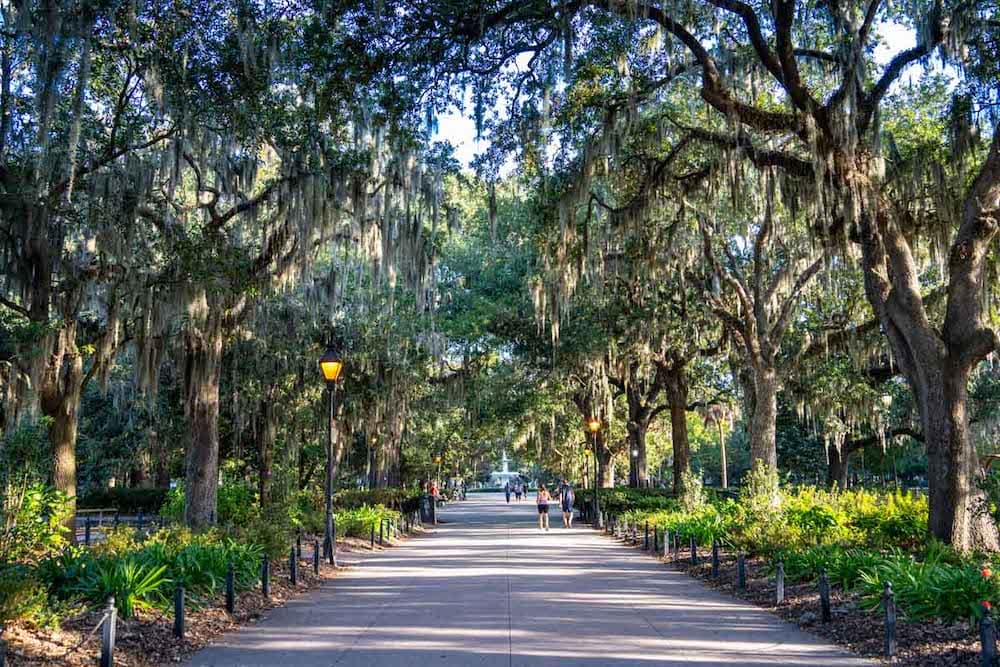 Recommended by Amanda of A Dangerous Business Travel Blog
11. San Diego, California
San Diego, California, stands out as one of the best places to travel in the USA in October. Known for its beautiful beaches and vibrant culture, San Diego offers a unique blend of relaxation and excitement that suits travelers of all ages and interests, whether you are visiting San Diego solo, as a couple, or with your family for a fun weekend trip to San Diego.
October is particularly delightful in San Diego because it marks the city's shoulder season. The summer crowds have dispersed, leaving behind more room to explore and enjoy the city's stunning landscapes. The weather, too, is ideal — warm days and cool nights are perfect for outdoor activities like surfing, hiking, or simply soaking up the sun on the beach in La Jolla or Coronado Island. You can take a leisurely stroll along the coastline in La Jolla, hike in Torrey Pines State Natural Reserve, go surfing at one of the many beaches, or enjoy the best things to do on Coronado Island, from shopping to exploring the historic Hotel del Coronado.
October is also a month of vibrant events in San Diego. The Pacific Beachfest is a must-see, lively celebration that showcases the city's beach culture through music, food, and sporting events. Film enthusiasts can attend the San Diego International Film Festival, which features a diverse range of films from around the globe. For wine connoisseurs, the La Jolla Art & Wine Festival provides an opportunity to taste wines from top wineries while perusing works from local artists.
When it comes to food, San Diego boasts a rich and varied culinary scene. One popular eatery among locals and tourists alike is George's at the Cove. Located in La Jolla, this restaurant offers modern American cuisine complemented by breathtaking views of the Pacific Ocean. From fresh seafood to innovative dishes, George's at the Cove is sure to provide a memorable dining experience.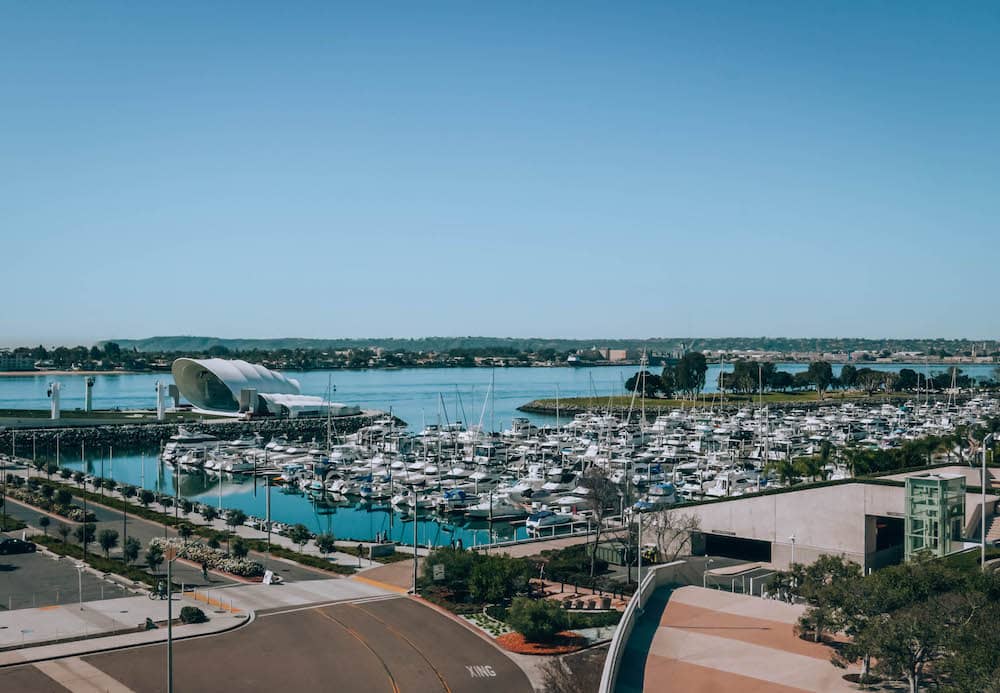 Recommended by Goya of Goya Galeotta
12. Asheville, North Carolina
If you're searching for one of the best places to visit in the USA in October, then you can't beat Asheville, North Carolina. After all, this vibrant mountain town sits at the bottom of the Blue Ridge Mountains and offers visitors sweeping views of this incredible natural landscape — particularly in October when the area comes alive with fall foliage.
If you time your visit for early or mid-October, you'll enjoy stunning foliage during an incredible drive along the Blue Ridge Parkway. Just don't forget to stop and do an epic hike to Linville Falls for spectacular panoramas. Other fun things to do in Asheville in October include Asheville Vegan Fest, Asheville Art in the Park, Ciderfest NC, and Black Mountain Home Fall Festival.
If you're a music lover, you should plan to attend the LEAF Festival from October 20th – October 23rd. This iconic music festival has been delighting audiences for well over 50 years, and you'll get to enjoy performances from globally renowned artists.
You should also plan time to tour the Biltmore and take in the grandeur of this iconic estate. The gardens are absolutely magical during the fall season, so taking some time to stroll through them is one of the best tips for visiting the Biltmore Estate! After a day at the Biltmore, stop for a pint at Burial Beer Co. Taproom since the town is known for its incredible craft beer too.
Recommended by Victoria of Southern Trippers
13. Hocking Hills, Ohio
October in Hocking Hills — located in Logan, Ohio — is a dreamy time to visit, with vibrant autumn landscapes that captivate nature enthusiasts. In the forests, the hiking trails come alive with a tapestry of red, orange, and yellow leaves. Ash Cave, Old Man's Cave, and Cedar Falls showcase the elegance of waterfalls gracefully flowing amidst the backdrop of fall colors. For adrenaline seekers, zip-lining tours provide a chance to soar above treetops and embrace the crisp fall air.
To completely immerse oneself in Hocking Hills' autumn beauty, the Hocking Hills Scenic Railway offers a leisurely journey through the beautiful countryside. This ride allows you to capture stunning photographs of the landscape. Additionally, guided horseback excursions through falling autumn leaves provide a serene and immersive encounter with nature, revealing even more hidden gems of Hocking Hills.
For a unique dining experience, The Kindred Spirits at the Inn at Cedar Falls is a culinary must-visit. This charming restaurant not only serves mouthwatering dishes but also offers a unique rustic setting surrounded by nature. Enjoy cuisine made with locally sourced ingredients that perfectly embody the region's flavors, including warm pumpkin bisque and roasted butternut squash.
Be part of the beauty of Hocking Hills in October, where couples and families alike are welcome. From scenic hikes and waterfalls to thrilling zip-lining adventures and relaxing railway rides, this destination promises an unforgettable experience. Whether you seek outdoor adventures or serene moments in nature, Hocking Hills offers cherished memories for years to come.
Recommended by Cindy of Visit Ohio Today
14. Denver, Colorado
One of the absolute best places to visit in the USA in October is Denver, Colorado. This city is beautiful all times of year, but Denver truly comes alive in the fall. Since Denver is nestled at the foot of the Rocky Mountains, it is surrounded by fall foliage (which can be enjoyed by quick day trips to places like Boulder or Idaho Springs), and the weather is usually between 37° to 68°F during this time, which is a lot cooler than the summer months.
October has many fun activities throughout the month, too, like Elitch Gardens' Fright Fest or Glow at the Denver Botanical Gardens. Other fun activities during this time of year include going on a scenic road trip (like the Lariat Loop Byway or Trail Ridge Road in Rocky Mountain National Park), trying local drinks from RiNo's best breweries (Stem Ciders is amazing — and who doesn't want a crisp cider in the fall?), or just taking in the fall foliage from the many gardens throughout the city (Confluence Park is a must-see).
While in Denver, don't forget to enjoy some of the local restaurants. There are many to choose from, and you'll most likely be staying downtown, so be sure to visit D'Corozan Mexican Restaurant on Blake Street. This hidden gem of a restaurant serves some of the most authentic Mexican food in the Mile High City for an affordable rate.
Fly into Denver International Airport and take the train right to Union Station in LoDo. Book a hotel somewhere central, like The Maven Hotel, right in the city's popular Dairy Block, filled with fun shops and restaurants, for proximity to all the best things to do in Denver.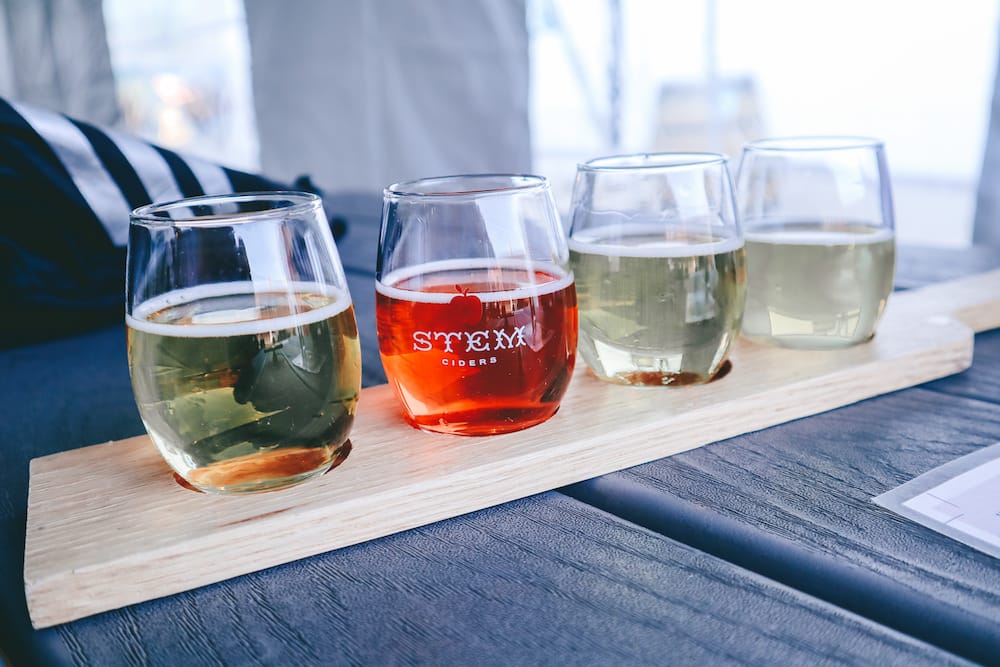 Recommended by KP of Delightfully Denver
15. New York City, New York
There is no better place to visit in the USA in October than New York City. You'll be able to enjoy vibrant orange and red foliage, a cool comfortable breeze, and a lively spirit as the city prepares for the winter season.
One of the best fall activities in NYC is simply visiting Central Park. The fall colors light up the park and make for the most incredible photo backdrop. The weather during fall is comfortable, and you can easily find yourself spending hours unwinding in the incredible nature and watching both locals and tourists going about their day. After visiting, head to the popular Gallaghers Steakhouse NYC for a delicious lunch.
Another event that is a must-visit is the Halloween Parade. The annual parade is hosted on Halloween night and has been happening since 1974 in Greenwich Village. People, floats, and a marching band all walk through the village dressed up in Halloween costumes. There is no fee to watch the parade, and it's a fun way to celebrate the spooky season. After, head to Serendipity 3 for a rich hot chocolate.
Also, you'll be glad to know that the city is also less busy during the fall as it sees most of its tourists during the summer and winter!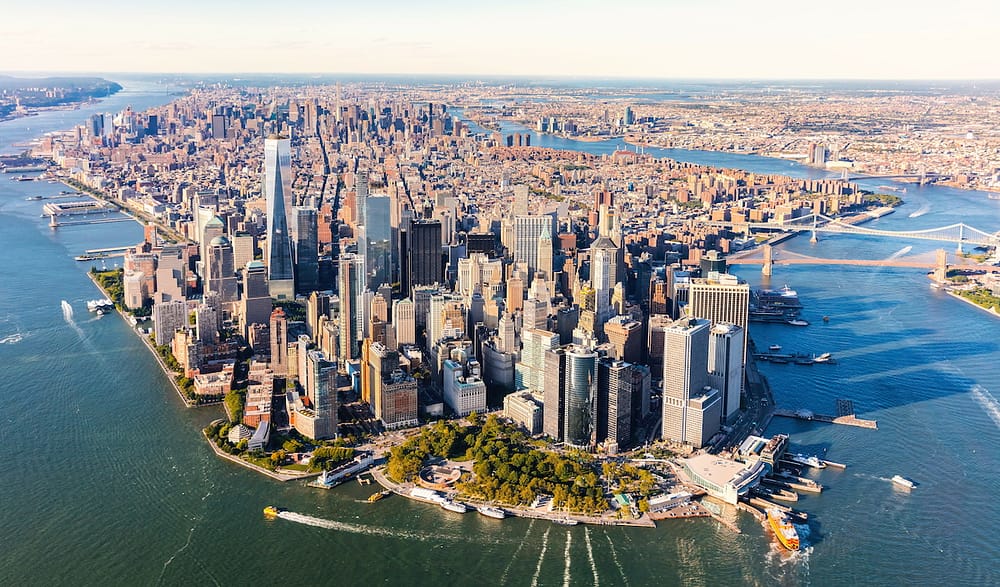 Recommended by Sam of Find Love and Travel
16. Kauai, Hawaii
Kauai, Hawaii is one of the best places to visit in the USA in October for multiple reasons. One of the main reasons is that the weather is ideal in October. With peak temperatures of about 75°F, October offers the perfect conditions to lounge by the pool or swim in the ocean!
But more importantly, the average rainfall in October is significantly less than the main winter months of November to March. Did you know Kauai is one of the wettest places on Earth? October will allow you to experience Kauai's amazing waterfalls in all their glory while also experiencing plenty of sunshine (and rainbows!).
One attraction that must be on your Kauai itinerary is the Napali Coast. The best conditions on the Napali Coast are the months of May through October, whether you plan to see it by land, air or sea. October is also a wonderful month to visit if you'd like to snorkel, as the ocean waves and currents can make snorkeling dangerous in their winter months. Snorkel all day and visit Sam's Ocean View Restaurant for dinner, one of Kauai's best rated restaurants!
Lastly, October is one of the cheaper months to visit Kauai, with nightly room rates about $150 less than during peak season.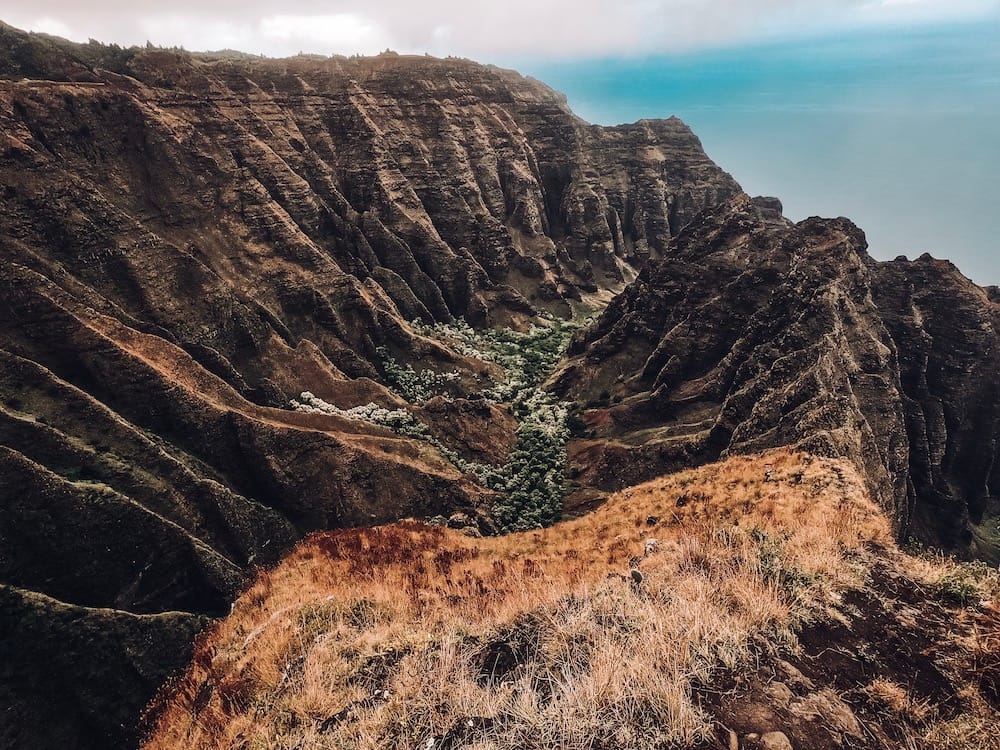 Recommended by Julie of Ruhls of the Road
17. Salem, Massachusetts
If you're headed up north from Boston, make sure to include a stop in Salem, Massachusetts, on your coastal New England road trip itinerary. This city offers a unique blend of historical and nautical charm which is especially captivating during the autumn months. October is a great time to visit Salem — one of the best day trips from Boston — to see the foliage and get in the spooky mood!
You can explore the chilling past of 1692 Witch Trials at the Salem Witch Trial Memorial and Old Burying Point Cemetery, which are somber reminders of the people unjustly accused. Take part in a guided walking tour and discover hidden secrets that lurk behind the witch and magic-themed shops along Salem's main street.
In addition to history, Salem provides plenty of pop culture fun during Halloween season with festivities inspired by the movie Hocus Pocus. Why not join a ghost tour and learn more about the city's haunted past? Along the same theme, there are plenty of horror themed attractions to enjoy like the Salem Witch Museum and The House of Seven Gables.
Aside from its witchy history, Salem is a historic seaport that has some of the best whale-watching opportunities in the country. During October, you can spot a variety of different species like humpback and fin whales. Salem, along with nearby Gloucester, are ideal locations for whale watching due to the vast waters and abundant marine life. These cities are rated one of the top ten whale-watching sites in the world! So, if you're looking for a unique destination to enjoy this October — the spooky city Salem is a perfect spot!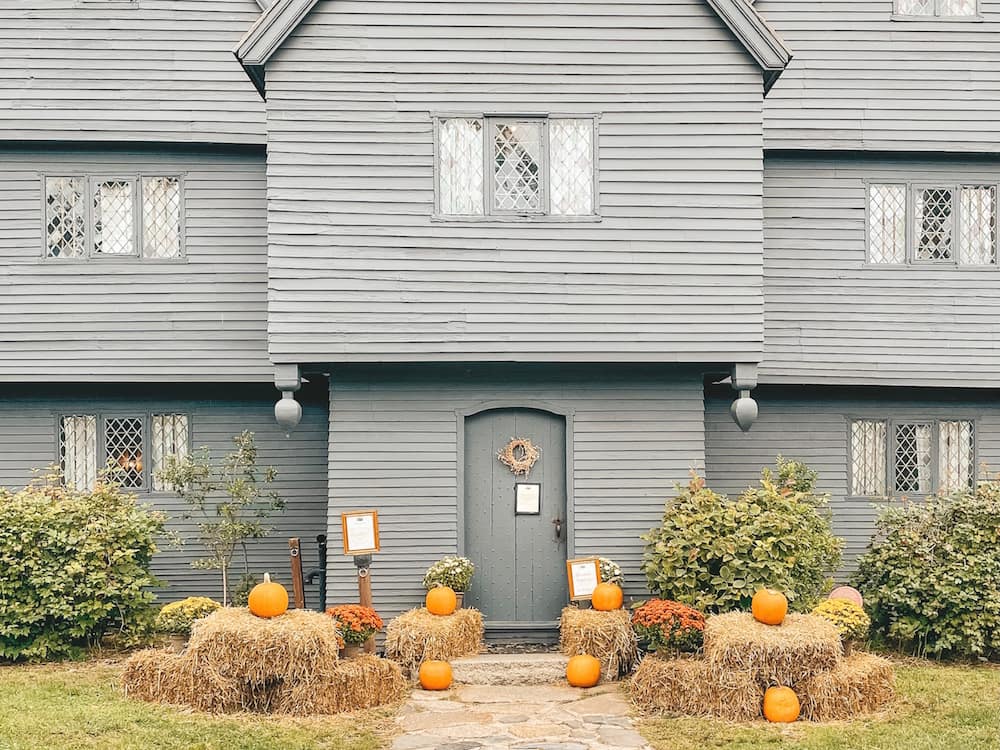 Recommended by Sierra of Your Guide to Wandering
18. Zion National Park, Utah
Located in southwest Utah, near the town of Springdale, Zion National Park is one of the best places to visit in the USA in October. In fact, October, and fall in general, is the best time to visit Zion, and you can do a lot during a three-day Zion adventure!
Zion is Utah's most popular and most visited national park. However, the crowds tend to dwindle down in October, which means that there are less people on the trails, shorter shuttle wait times, etc. – you might even get some of the trails all to yourself! October in Zion also promises cooler weather, ideal hiking conditions and lovely fall foliage throughout the park.
The park offers a ton of outdoor activities, like hiking, climbing, canyoneering and backpacking, and the Zion Canyon Overlook Trail is a must-do for any first-time visitor. Some other easy and moderate hikes include the Emerald Pools Trail, the Pa'rus Trail and the Watchman Trail, and for those looking for more of a challenge, The Narrows and Angels Landing are both fun, exciting, and rewarding hikes.
Zion also has some of the best sunrises and sunsets, as the sun illuminates the sandstone cliffs, and the sky is painted with orange and red hues. After a long day of hiking, stop at Zion Pizza & Noodle Co. for dinner and order the fire sticks — they're delicious!
With its unique landscapes, impressive rock formations and incredible canyon views, Zion National Park will surely not disappoint.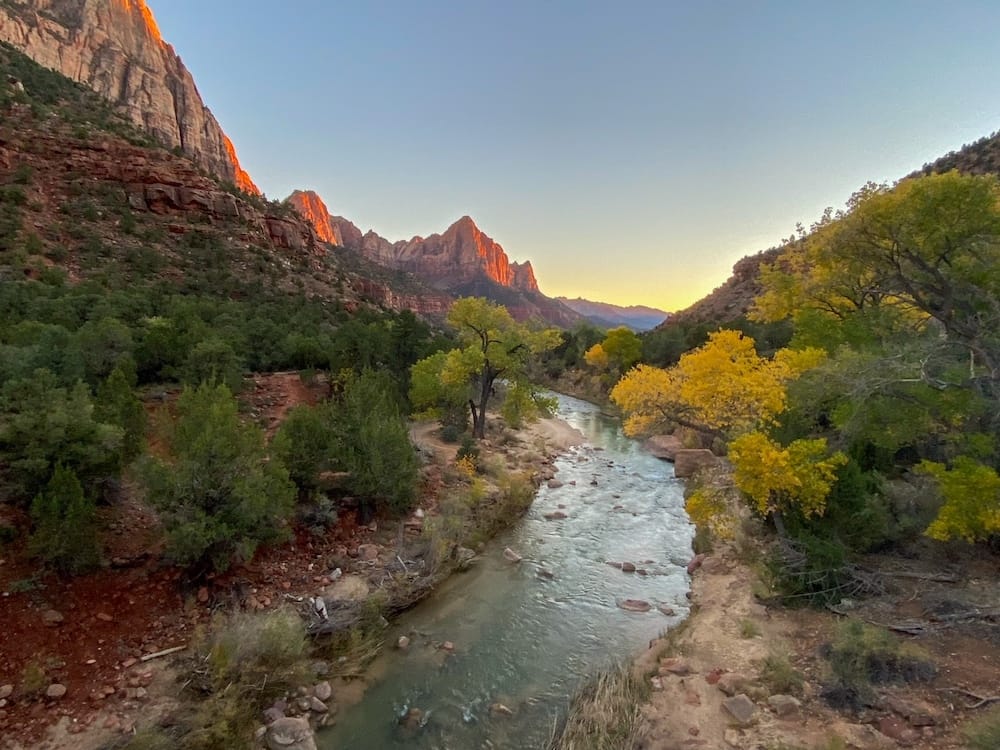 Recommended by Sara from Travel A-Broads
19. Gatlinburg, Tennessee
Gatlinburg, Tennessee, nestled in the Great Smoky Mountains, is a beautifully charming destination to explore, particularly in October. The fall season brings the region alive with decorations lining the streets, various special events and delicious food. At this time of year, the town is surrounded by a picture-perfect backdrop of vibrant red, orange and yellow foliage, making October the perfect time to visit for photography, hiking, and simply enjoying the view.
October in Gatlinburg also offers a comfortable climate, neither too hot nor too cold, which is perfect for outdoor activities like hiking, zip-lining, and exploring the nearby Great Smoky Mountains National Park. If you're organized enough (and lucky) try to get a booking at the famous LeConte Lodge, located at the top of Mount LeConte, for an amazing and unique experience. If you don't get a booking, don't fret, you can still enjoy the many hikes in the area or can take in the magical views from Clingman's Dome or the SkyBridge.
If you have a car, one of the best things to do is simply take a drive through the National Park. You will be in awe of the vibrant fall colors surrounding the winding roads. If you don't have access to a car, take a stroll along the Gatlinburg Trail (starting on the edge of town) to enjoy the October colors along the peaceful and easy trail.
Gatlinburg also caters to those looking for relaxation with cozy cabins and inviting restaurants offering delicious food. There are some great breakfast spots to try out, including Pancake Pantry which is set in a stunning old building. Also, don't forget to try some cookies from Byrd's Famous Cookies!
Recommended by Danni of The Solo Plan
20. Mammoth Lakes, California
Mammoth Lakes is tucked among the eastern Sierra Mountains in Northern California, the perfect place for a mountain retreat. October is an ideal month to visit as it has slightly cool temperatures that feel warm as the days are full of sunshine. In addition, you'll get the town to yourself without the crowds usually seen in the busy summer and winter ski seasons.
Nature lovers will find an endless number of hiking trails among lakes, rivers, and waterfalls ranging from easy to difficult. Before you head out for the day, make a point to pick up the tastiest sandwiches and pastries from Schat's Bakery & Café in town and take it to go for a picnic.
With so many lakes nearby, it's no wonder that fishing is a top activity at Lake Mary, Convict Lake, and the June Loop. If you enjoy finding vibrant fall foliage, there are several places in the Mammoth Lakes area to find bright yellow and orange leaves along trails that add to the already jaw-dropping beauty of the region. One of the more unique attractions in Mammoth Lakes is Devils Postpile National Monument, an incredible basalt rock column formation that is a must to see.
After a long day of exploring, soak your muscles in one of many natural hot springs nearby. There is nothing better than taking a moment to sit in a natural hot tub with the Eastern Sierra mountains as a backdrop.
Recommended by Vanessa of Traveling Ness
21. Boston, Massachusetts
New England is a bucket list destination for fall foliage, and starting or ending your dream trip in Boston in the fall is always a perfect idea! Boston is one of the best places to visit in the USA in October for fall foliage, fun Halloween decorations, and iconic events.
Plan your trip to see the Head of the Charles Regatta, where thousands of rowers come to Boston to race down the Charles River in a colorful show. Or — if you're lucky — you might catch a postseason game at Fenway Park if the Red Sox are playing well!
To enjoy the foliage, stroll around Boston Common or visit Arnold Arboretum, which is part of Harvard University. If you love all the fall decorations and pumpkins, stroll the streets of Beacon Hill to admire one of Boston's most beautiful neighborhoods. Acorn Street is always a popular photo opportunity and taking a photo here is one of the best things to do in Boston.
To get into the spooky stuff, you need to take a ghost tour. Boston is one of the oldest cities in the United States with layers of history and ghost stories to listen to from a local guide. With old cemeteries and winding cobblestone streets to explore while walking the Freedom Trail and beyond, you can easily soak in the Halloween spirit in Boston at this time of year!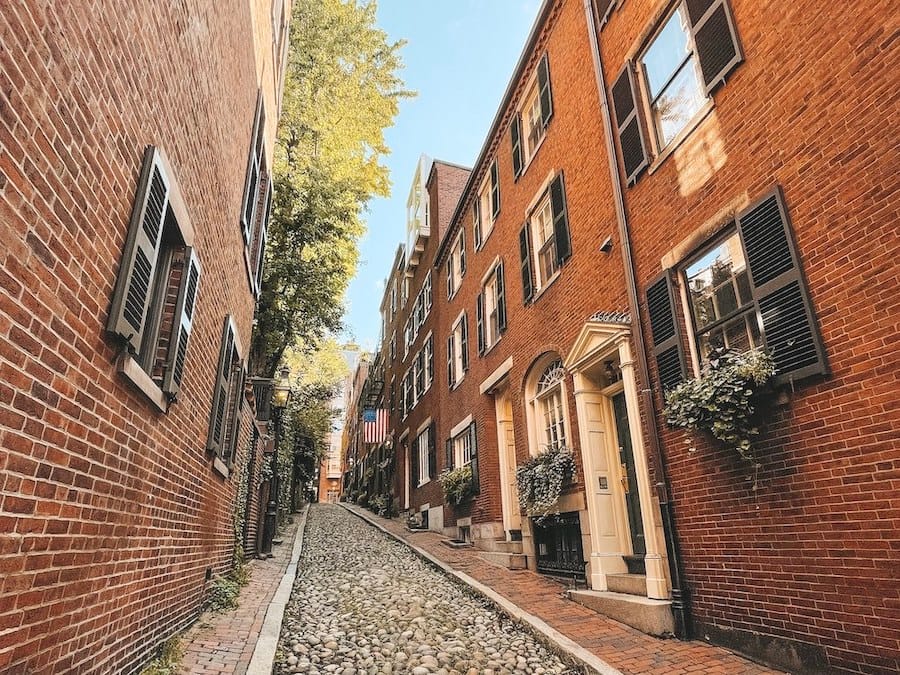 Recommended by Amanda of Hey! East Coast USA
22. Mount Rainer National Park, Washington
If you're looking for a unique place to take in fall foliage and one of the best places to visit in the USA in October, head to Mount Rainier National Park — one of the best day trips from Seattle.
While you'll find a few deciduous trees — like Bigleaf Maple — sprinkled throughout Rainier's pine tree forests, you'll primarily see spectacular fall foliage amongst the wildflowers and shrubs carpeting the mountain slopes. To immerse yourself in the autumnal colors, explore some of the best Mount Rainier hikes to get up close and personal with the plant life that turns dazzling shades of gold, burnt orange, and scarlet in October.
The Skyline Trail has magnificent displays of blueberries and Indian Paintbrush while leading you to jaw dropping views of the Nisqually Glacier. October is also an incredible time to see the wildlife in Mount Rainier National Park, like marmots or even black bears, frantically scurrying around to pack on the pounds before the park's snowy winters.
For something a bit lower intensity, consider cruising the Chinook Scenic Byway, a 107-mile drive through Mount Rainier and Mount Baker Snoqualmie National Forest, passing by colorful fall foliage, rushing waterfalls, and some of the best views the Pacific Northwest has to offer. And don't forget to spend a day in Seattle before or after your adventures in Mount Rainier National Park — October is one of the best months to visit this vibrant city.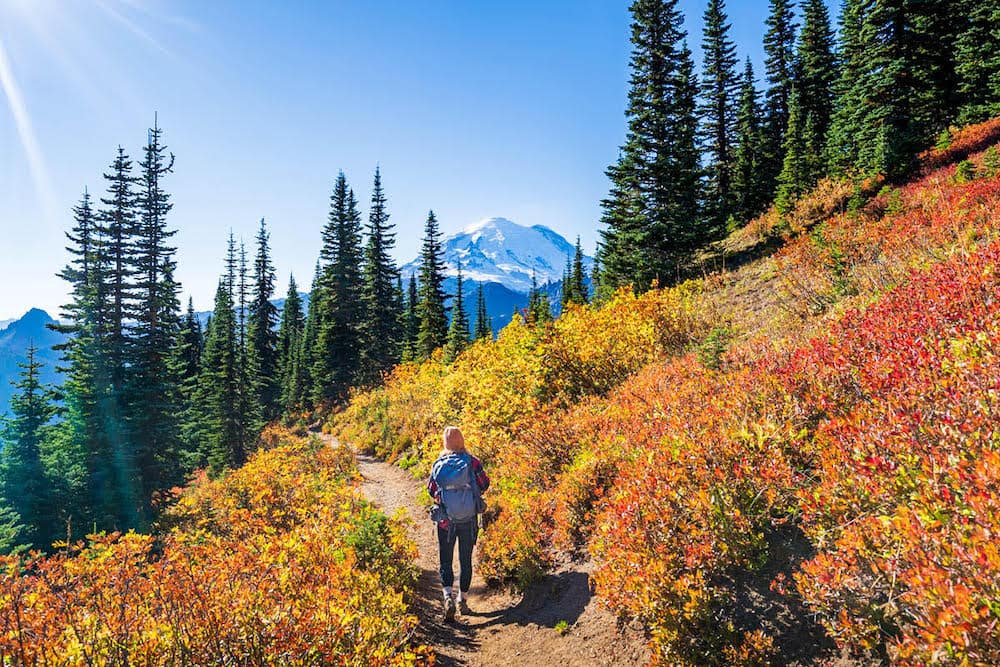 Recommended by Jessica of Uprooted Traveler
23. Albuquerque, New Mexico
Albuquerque, NM, is perfect place to visit in October when the city's most notable festival takes place — the Albuquerque International Balloon Fiesta. This week-long annual event is the most photographed event in the world and brings in visitors from all parts of the globe. If you visit Albuquerque to attend the Balloon Fiesta, be sure to book your accommodations and rental car early as things do tend to sell out.
Beyond the Balloon Fiesta, there are many incredible things to see and do in and around Albuquerque. Locals recommend visiting the Indian Pueblo Cultural Center, catching a ride on the Sandia Peak Tramway, and experiencing Albuquerque's Old Town. October is also the perfect time to take advantage of the beautiful weather and visit Petroglyph National Monument to enjoy a high desert hike.
New Mexico is known for its world-famous chile and there are many restaurants that serve this traditional New Mexican cuisine, including El Pinto and Casa de Benavidez in the North Valley. And be prepared to know what kind of chile you want with your food when you are asked the official New Mexico state question: red or green? If you answer "Christmas" — you will get both red and green chile! If hot chile isn't your thing, some other local favorites are breakfast burritos, sopapillas, and New Mexico's state cookie, biscochitos.
Recommended by Yvonne of MPA Project Travels
24. Camden, Maine
It's hard to beat a visit to Camden, Maine with its New England charm and rich maritime history — but visiting in October is next level. Located directly on Penobscot Bay, Camden is a historic nautical town. In early October, the russet tones of autumn are backdropped by blue of the Bay and the smell of campfires and apple cider fill the air.
The bustling activity of the warm summer is quieting down as the crisp weather settles in along the coast and the tourist shoulder season brings with it lower hotel rates, increased availability, and walk-in restaurant experiences with no reservations needed. And just when you think it can't get more Americana, fall brings more fun things to do in Camden, from apple-picking and leaf-peeping to sunny day sails on a historic wooden schooner.
Downtown, you can browse the many cafes, coffee shops, tourist shops, antique stores and galleries. Then walk down to the harborfront, where you can spend a few more hours exploring or relaxing on the lawn. Drive up to Camden Hills State Park and enjoy a network of easy to moderate hiking trails to witness the glowing fall foliage through the trees.
Camden has several excellent restaurants, but two favorites include The Waterfront for fresh local seafood and Marriner's Restaurant for the best Maine blueberry pancakes!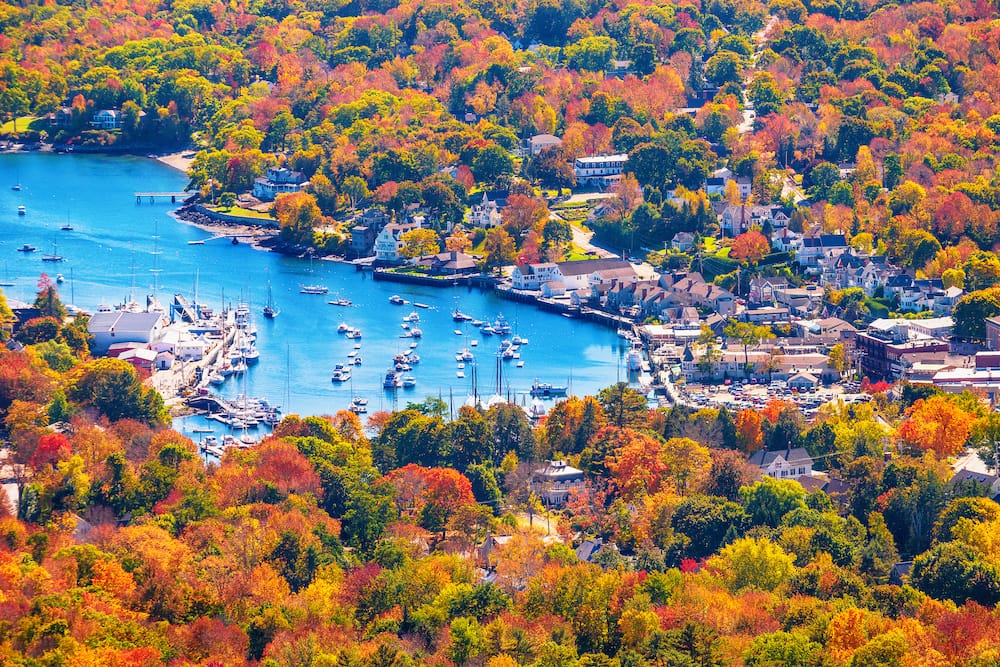 Recommended by Lori of Travlinmad
25. Yosemite National Park, California
Yosemite National Park is famous for being one of the most beautiful places in the United States, and October is an especially nice time to visit because it's cooler and less busy than the summer months.
Even though summer is normally the most popular time to visit Yosemite, months like July and August can be very hot and crowded. October, however, has daytime highs in the 70s, which is perfect for hiking and exploring!
There are lots of great things to do in Yosemite. Famous hiking trails include Yosemite Falls or the Half Dome hike, which is known for its thrilling and scary cable section. Permits are required for Half Dome because of its popularity, but you can hike to Upper Yosemite Falls without a permit and enjoy panoramic views of the whole valley!
Otherwise, there are also plenty of easy, family-friendly walking paths like the Valley Loop, which has picnic areas and scenic views of Yosemite's waterfalls, the Merced River, and other wonderful sights!
Yosemite Valley has some basic cafes and restaurants, but if you want more restaurant choices, there are lots of great options in the nearby towns of Mariposa, Oakhurst, and Groveland. Pete's Place is a popular Greek-American diner in Oakhurst.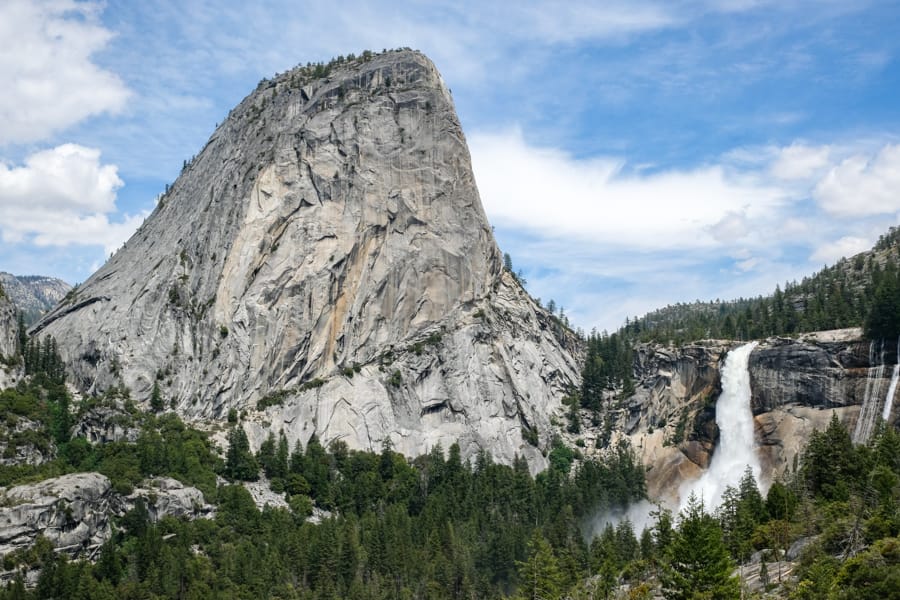 Recommended by David & Intan of The World Travel Guy
26. Chicago, Illinois
Chicago is a fantastic destination to visit in October, offering a plethora of fun seasonal fall and Halloween events that cater to all ages. The city comes alive with activities such as pumpkin patches, corn mazes, and haunted houses that take place in various parks throughout the city.
If you want to get in the spooky spirit, be sure to visit Chicago for the Logan Square Halloween Parade the Sunday before Halloween, as well as the Northalsted Parade on the night of Halloween. Both Halloween events are a ton of fun — making Chicago one of the best places to visit in the USA in October.
For those seeking more spooky thrills, Chicago ghost tours provide an opportunity to explore the haunted history of one of the most paranormal cities in the US. You can tour by bus, on foot, or even by segway. And don't forget to explore the city to see the gorgeous fall foliage at popular attractions, like Millenium Park and Navy Pier.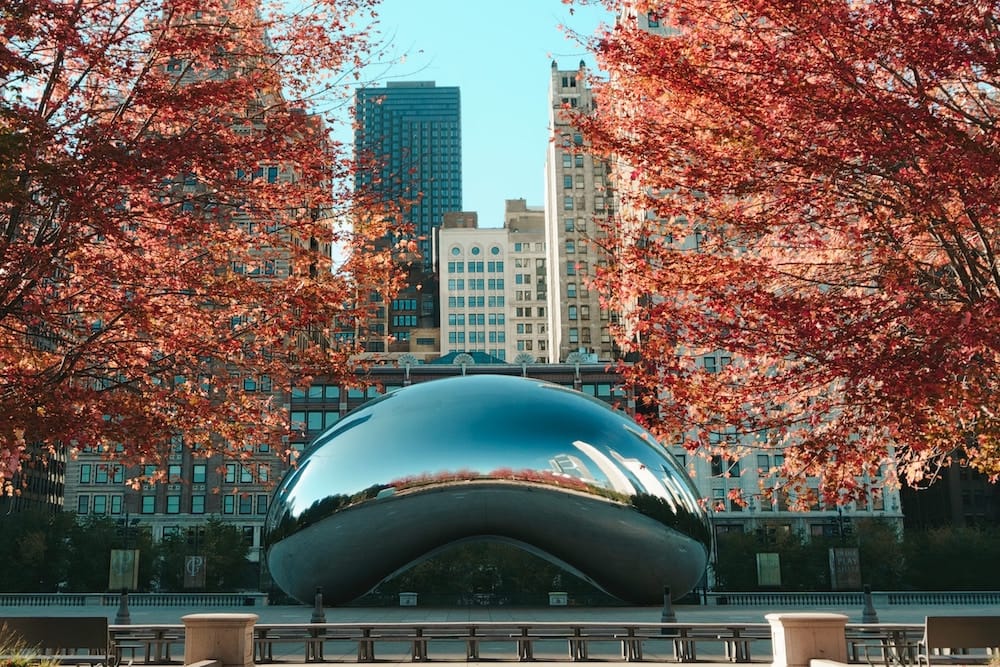 Recommended by Brodi Cole of Our Offbeat Life
27. Aspen, Colorado
Aspen, Colorado, is an easy pick for one of the best places to visit in the USA in October. As the name suggests, the town's Aspen trees come alive with vibrant golden hues that are stunning when viewed across the area's majestic mountains. In fact, the Maroon Bells Scenic Loop is particularly beautiful at this time of year, and arguably, one of the prettiest places in Colorado!
You'll need to plan your visit for early October since foliage in Aspen usually peaks around the end of September or early October. Although, if you miss the brightest foliage, then you can always pick up fresh apple cider, delicious apples, and vibrant pumpkins at the Aspen Farmer's Market, which runs through mid-October.
You can also drink some German beer at Oktoberfest at Elk Camp and wander through the expertly curated galleries of the Aspen Art Museum. Grab lunch at Rooftop Café before attending a fun, live musical performance in the evening. Other fun things to do in Aspen include hiking the Sunnyside Trail and hopping aboard the Silver Queen Gondola for epic views.
Recommended by Meg of Fox in the Forest
FAQs: Best Places to Visit in the USA in October
What state has perfect fall weather?
New England has some of the most perfect fall weather in the United States. Plan a trip to Vermont, New Hampshire, Maine, Massachusetts, and Upstate New York to enjoy crisp fall temperatures, vibrant fall foliage, and charming autumn activities like apple picking!
Where is warm in America in October?
If you're looking for warm temperatures with highs in the 80s — Hawaii, Florida, Arizona, Southern California, Nevada, Louisiana, and parts of Texas are ideal to visit in October.
Is it cheaper to fly in October or November?
Flying in October is generally cheaper than in November. Plane tickets become more expensive in November as people make travel plans for the holidays. However, October still offers the "sweet spot" of lower travel prices after summer between Labor Day and Thanksgiving.
Explore These Best Places to Visit in the USA in October for Fall Foliage & Autumn Adventures
Which of these best places to visit in the USA in October is on your bucket list? Personally, I would like to visit them all — I guess we just need more Octobers every year to check all these charming fall destinations off the list. Who's with me?

Disclosure: Some of the links in this guide to the best places to visit in the USA in October in the fall are affiliate links, meaning, at no additional cost to you, I earn a commission if you click through and make a purchase. This helps me keep the content on my website free, like this guide to the best places to visit in the USA in October.
Save These Best Places to Visit in the USA in October for Your Fall Vacation
Read More
Looking for more helpful month-by-month guides for traveling the United States? Check out these other related guides from Travel by Brit: