Situated in Southern California between Los Angeles and San Diego lies Temecula—the home of Southern California's wine country. Temecula boasts over 45 wineries, vineyards, and tasting rooms spanning over 33,000 miles. Most winegrowers are planted along two main streets stemming from Old Town Temecula—Rancho California Road and De Portola Road.
In June 2021, I visited Temecula with my mom. Although it would be impossible to squeeze in a visit to all of Temecula's fantastic wineries during a weekend visit, we did manage to visit a few!
From expansive resort-like wineries to cozy, locally-owned spots, you don't have to look far to find a great glass of wine in Temecula. Here are four of the best wineries in Temecula you must visit during your trip to Southern California's Wine Country!
Best Wineries in Temecula
1. Wilson Creek Winery
Address: 35960 Rancho California Rd, Temecula, CA 92591
It's understandable why Wilson Creek Winery is one of Temecula's best wineries—this beautiful family-owned winery offers a warm, hospitable environment with plenty of spaces to relax. You can visit the expansive tasting room, full-service restaurant, picnic area, or many other outdoor spaces to enjoy a glass of wine or a bite to eat. Plus, it's one of the most family friendly wineries in Temecula!
Wilson Creek Winery is known for its sparkling wines—particularly their award-winning Almond Sparkling Wine. I also loved the Golden Jubilee white wine with notes of mango, pineapple, and guava.
The tasting room at Wilson Creek Winery is open from 10 AM to 6 PM from Saturday to Thursday and 10 AM to 8 PM on Friday. It costs $20 for a tasting on the weekdays and $25 for a tasting on the weekends. The tasting includes six (generous!) pours, and you can bring your wine glass home with you.
And the best part? The Wilson family owns Golden Retrievers, and you can often see them on the property running around. Considering my love for Goldens, that's a big perk!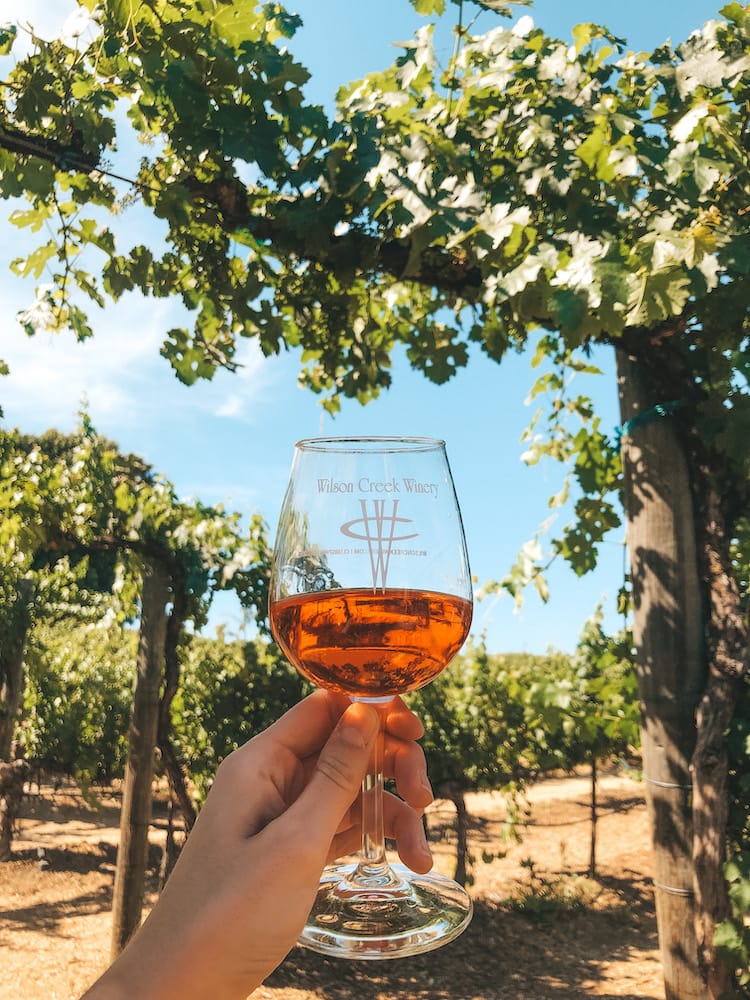 2. Cougar Winery and Vineyard
Address: 39870 De Portola Road, Temecula, 92592
Cougar Vineyards & Winery is a quaint, boutique winery with lush, scenic views, making it one of the best wineries in Temecula!
Cougar Vineyards grows wine varietals exclusive to Italy, and they own over 17 acres of land. For $21, you can enjoy wine tasting from a rotating menu that includes a logo glass to take home. I loved their Sangio's Sparkling Peach Sangria. It's sweet, but it's delicious!
Cougar Vineyards is also an excellent location to stop for lunch or dinner. They serve salads, sandwiches, flatbread pizzas, and other tasty menu items that pair well with the wines.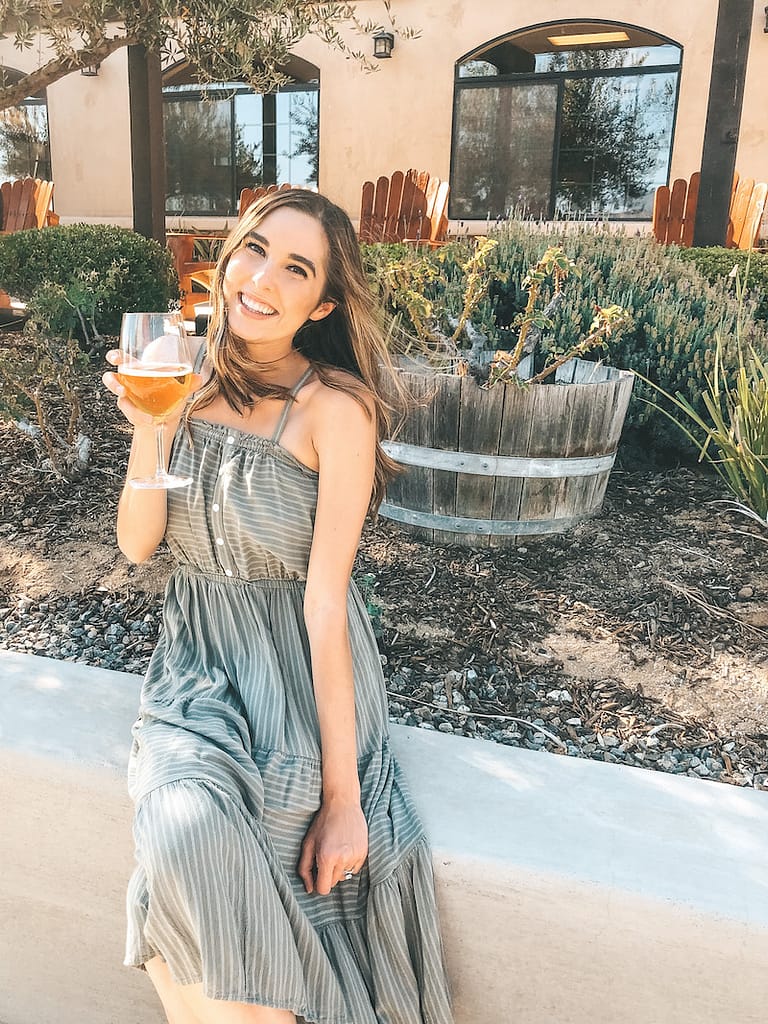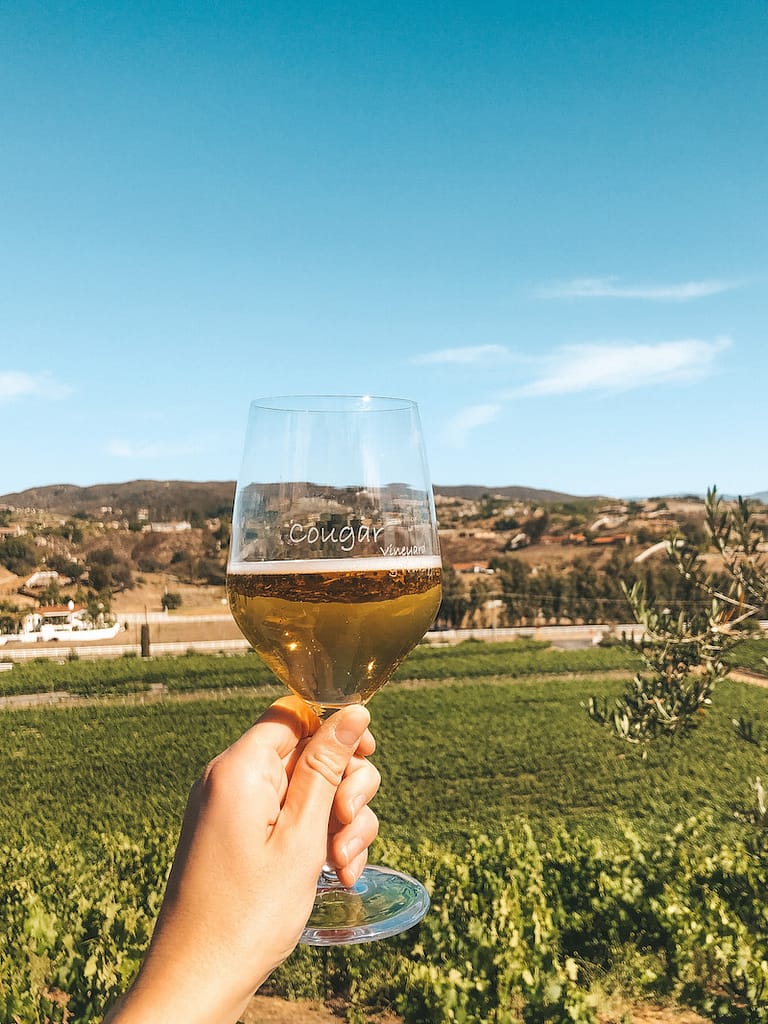 3. Fazeli Cellars Winery
Address: 37320 De Portola Rd, Temecula, CA 92592
Fazeli Wine Cellars is undoubtedly one of the best wineries in Temecula. As soon as you get there, you will be astounded by the gorgeous setting. It almost looks like a castle with a grand staircase in front that leads to a luxurious building. The winery has unparalleled views, with a large patio where you can take in the scenery and enjoy live music.
In addition to the view, Fazeli also has fantastic wines and food. The winery is Persian-owned, and they specialize in delicious white wines and Persian food. When you go, make sure to try the delightful kebabs and the Nooraz wine. You can make reservations for Fazeli Cellars in advance. There is nothing better than sipping quality wine while sitting on a sunny patio listening to great music. You'll love your visit to Fazeli Wine Cellars.
Contributed by: Lita from Lita of the Pack
4. Somerset Vineyard & Winery
Address: 37338 De Portola Rd, Temecula, CA 92592
Somerset Vineyard & Winery started as a business venture between a close group of friends who grew up on the street called Somerset in Orange County, California. The winery's name was chosen to reminisce of that tight-knit neighborhood feeling, with block parties, neighborhood potlucks, and lawn games as the core inspiration.
You'll definitely feel the friendly neighborhood atmosphere when you step foot in Somerset Vineyard & Winery. Since most wineries in Temecula close at 5 PM, Somerset is one of the only wineries that are open "after hours," so you can visit until 9 PM on Fridays and Saturdays and 7 PM on Sunday. They also have live music and winery tours on the weekends.
In their tasting room, you can sample Rhône varieties like Viognier, Grenache, and Syrah, as well as the Spanish Macabeo, Monastrell, and Tempranillo. When I was visiting on Saturday night, they were also serving fun flavors of sangria!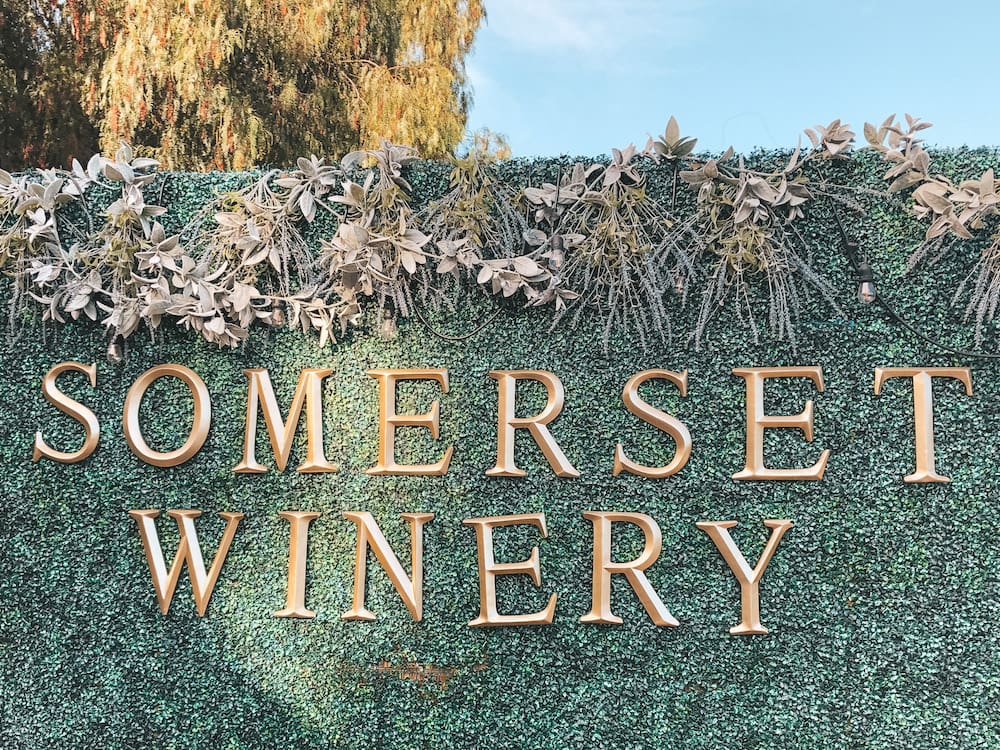 Other Best Temecula Wineries
Although I didn't get the chance to visit these wineries, here are a number of wineries in Temecula you should consider visiting: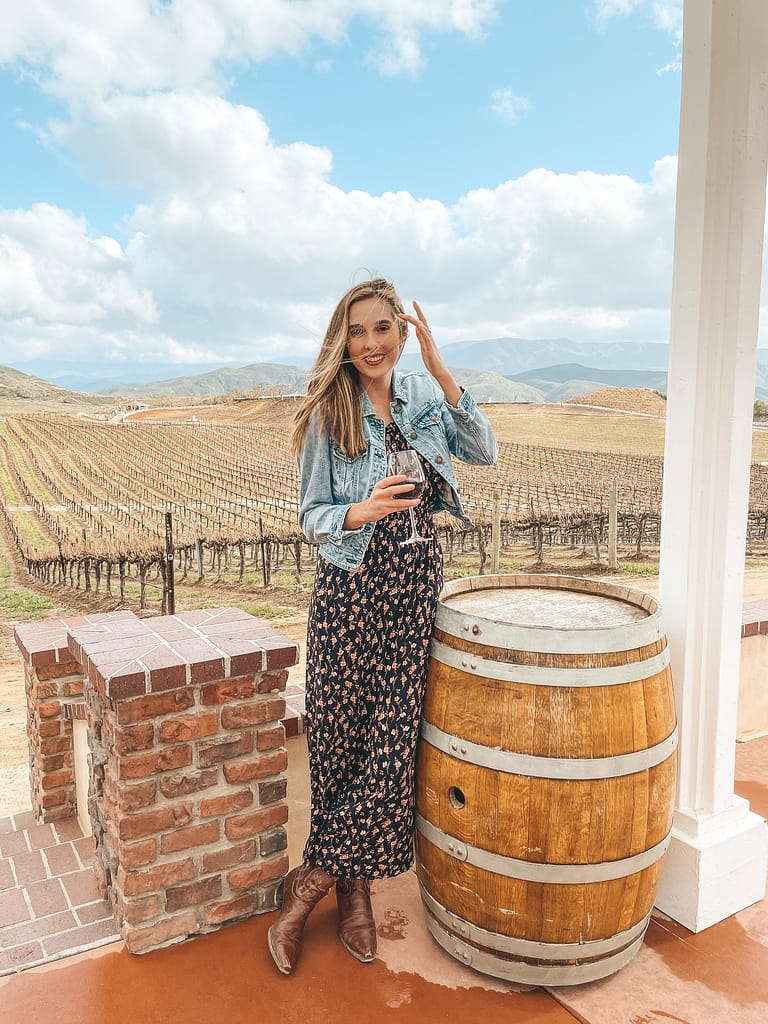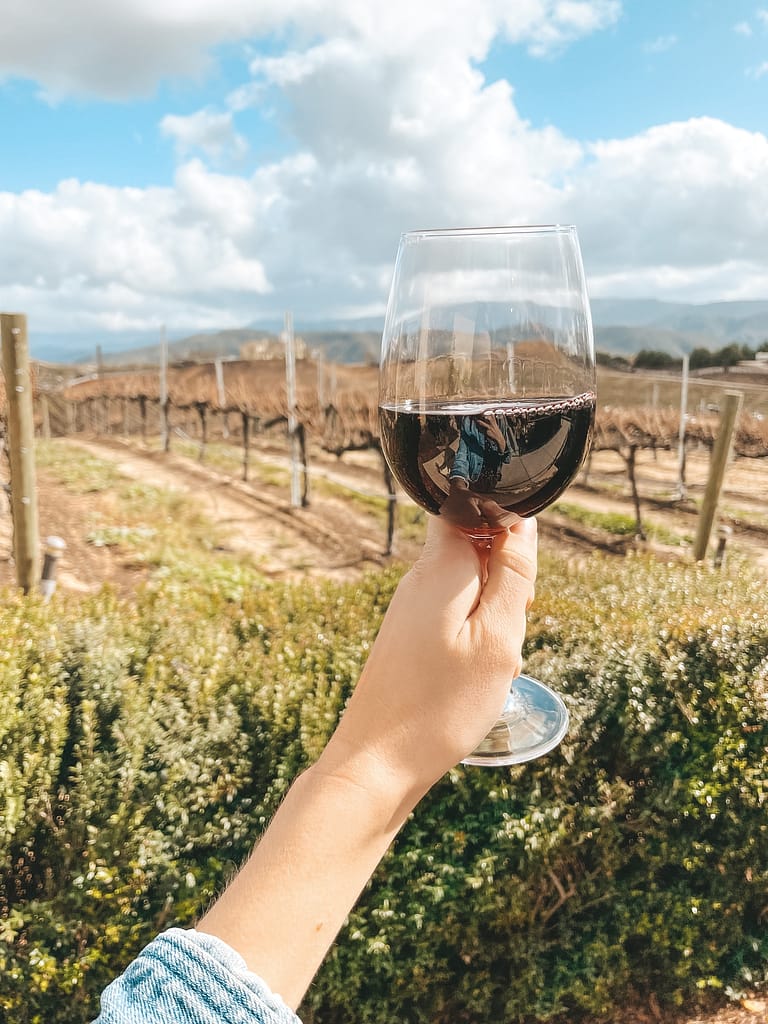 The Superior Way to Visit the Best Wineries in Temecula
If you want to check out some of the best wineries on this list during your visit but don't want to worry about the hassle of driving or using Uber, consider booking an all-inclusive wine tour in Temecula that includes transportation. Here are some top-rated tours to check out during your visit!
Where to Stay in Temecula
Looking for a place to stay during your trip to Temecula? Here are some hotels located within the heart of Southern California's Wine Country!
"Wine Down" at These Best Temecula Wineries
There you have it—the best wineries in Temecula! Whether you like white wines, red wines, sparkling wines, or even sangria, you're sure to find something that will please you at one of these fantastic wineries in Southern California's wine country.
Which of these wineries sounds like it would be your favorite? What's your favorite type of wine? Let me know in the comments below!
Disclosure: Some of the links in this post are affiliate links, meaning, at no additional cost to you, I earn a commission if you click through and make a purchase. This helps me keep the content on my website free, like this post.
Save These Best Wineries in Temecula for Later!
Did you love this post about the best Temecula wineries? Check out these other Travel by Brit posts about Southern California!