Ah, September — as an Arizona native, there is nothing (and I mean nothing) I look forward to more than the cooler weather in September. Not to mention the start to all the fall festivities, pumpkin-spiced everything, and the changing leaves that make this month truly something magical. Fall is one of my favorite seasons of the year — hands down!
As it turns out, September is also one of the best times to plan a vacation in the United States. With most kids back in school and an absence of summer tourists, September marks the beginning of the shoulder season in many parts of the country — a time when the weather is beautiful, but there aren't quite as big of crowds (or as high of prices!).
If you're looking for the best places to visit in the USA in September for either the perfect vacation to say goodbye to summer or a charming getaway to kick off the fall season, look no further than this list of incredible places to visit in September in the United States!
Best Places to Visit in the USA in September
From warm, sandy beaches to leaf-peeping destinations in the mountains, find your next vacation on this list of the best places to visit in the USA in September!
1. Kauai, Hawaii
Kauai — the picturesque island known for its breathtaking landscapes and idyllic beaches — is a must-visit destination in the United States, particularly in September. This off-season period offers a unique opportunity to explore the island's natural beauty while enjoying lower prices and fewer crowds.
Kauai offers plenty of incredible experiences for everyone to enjoy. A helicopter or boat tour of the spectacular Na Pali Coast is one of the top things to do on Kauai. Guests will witness the beauty of Na Pali's pristine valleys, cascading waterfalls, rugged cliffs, and lush greenery as they tour the island's most vibrant and dramatic landscapes.
The Waimea Canyon, often called the "Grand Canyon of the Pacific," with its vibrant red and green hues and panoramic views, is another must-see spot. Visitors can take in the incredible views from various lookout points or hike along the trails that wind through the canyon.
Kauai is also renowned for its stunning beaches, many of which are some of the best in Hawaii. Stop by Poipu Beach to explore the picturesque golden sand beach, perfect blue waters, and a chance to spot some Hawaiian monk seals and green sea turtles. Remember to stop by Hanalei Bay on the North Shore and enjoy the beautiful beach with picturesque views of nearby mountains.
Lastly, stop by Sam's Ocean View Restaurant and Bar in Kapa'a for a delicious meal. Located along the coastline, this charming restaurant offers a unique dining experience with stunning ocean and sunset views while serving up some of the freshest seafood in town.
Recommended by Trysta of This Travel Dream
2. Columbia River Gorge, Oregon
The Columbia River Gorge, just 30 minutes outside of Portland, is the perfect place to visit in September. During September, the leaves are beginning to change, the rainfall is still limited, and there is plenty of fall fun to enjoy along the Columbia River Gorge!
Some of the best things to do along the Columbia River Gorge in September include seeing some of the famous waterfalls along this iconic drive, including Multnomah Falls, Bridal Veil Falls, and Horseshoe Falls. If you're feeling like stretching your legs during the drive, Wahclella Falls is a mildly challenging 2.4-mile out-and-back trail that leads you straight to a waterfall!
Another fun activity to enjoy along the Columbia River Gorge is fruit picking along the Hood River Fruit Loop — a collection of farms and orchards with scenic Mount Hood as a backdrop. Usually, apples and pears are in season in September. Mt. View Orchards is a great orchard to visit for fruit picking, and you can also grab an artisan pizza and local wine, beer, or cider for lunch or dinner.
The Columbia River Gorge is the perfect day trip from Portland in September, and it's also a great fall trip all on its own. Don't miss the scenic waterfalls, beautiful fall foliage, and fun fall activities along the Columbia River Gorge this September.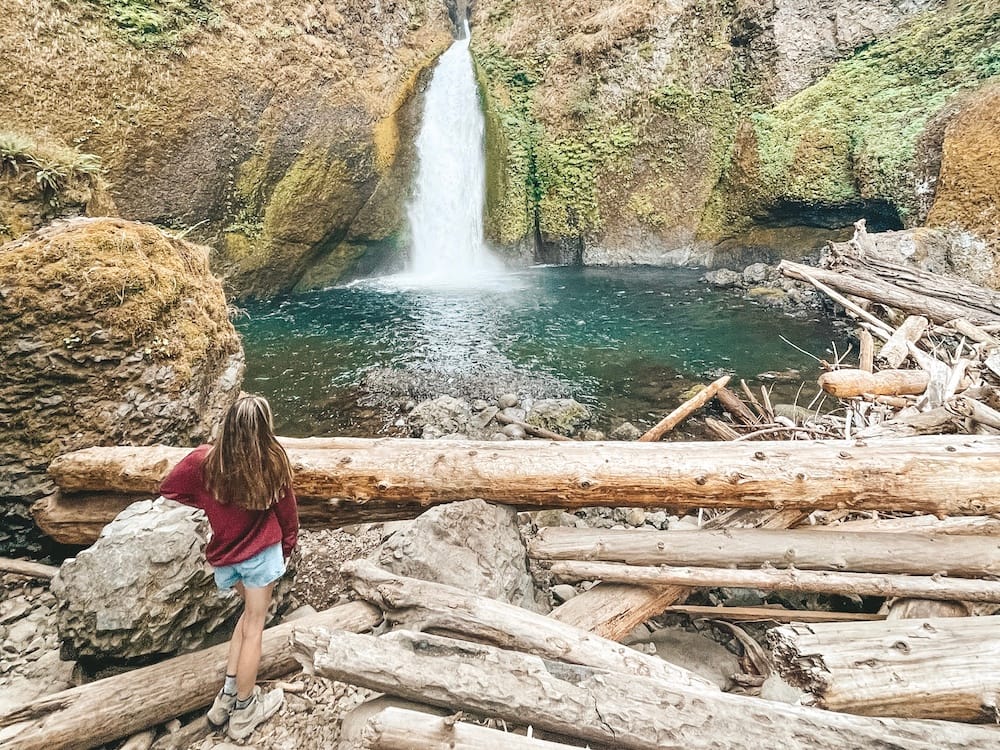 Where To Stay: Kimpton RiverPlace Hotel
Nearest Major Airport: Portland International Airport
Average Temperatures: 71°F // 52°F
Recommended by Brittany of Travel by Brit
3. Cape Cod, Massachusetts
While Cape Cod is known as an incredible beach getaway destination in the summer, one of the absolute best times to visit is in September. Referred to as "Second Summer" by the locals, the crowds are typically gone, the ocean water is still warm for swimming, and all the seasonal businesses are still open.
What's especially great about Cape Cod in September is that you can still do all the best summer activities, like spending a day at the beach, getting amazing homemade ice cream, and heading out onto the water for memorable boat tours. It's the perfect way to extend your summer season if you don't want it to end.
The top place to see when visiting the area is the Cape Cod National Seashore, which is home to six stunning beaches, nature trails, and lighthouses. Coast Guard Beach at the National Seashore often makes lists of the best beaches in the entire country, and it's even easier to visit in September after Labor Day because parking right at the beach opens back up to visitors.
If you're looking to head out onto the water, September is a great month for whale watching! And Cape Cod is world-renowned for its amazing whale watch tours. The best one to check out is Dolphin Fleet, which leaves from Provincetown. You can also take a day trip to Plymouth from Cape Cod — a wonderful fall activity!
On a warm September night, one of the best things to do in Dennis is visit the Ocean House Restaurant & Beach Bar, which sits directly overlooking a serene Nantucket Sound beach. The beach bar is great for pre-dinner cocktails or a casual dinner, and the dining room makes for a wonderful, upscale dining experience.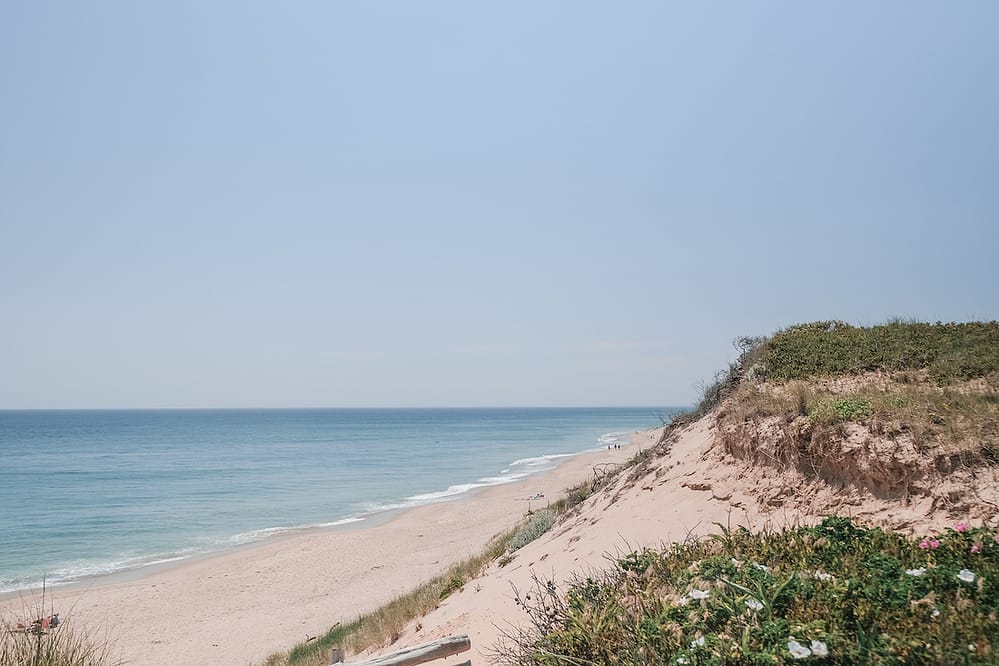 Where To Stay: Pelham House Resort
Nearest Major Airport: Boston Logan International
Average Temperatures: 72°F // 56°F
Recommended by Samantha of New England Wanderlust
4. Arches National Park, Utah
If you're looking for one of the best places to visit in the USA in September, then you cannot beat Arches National Park. This incredible place in Utah is located near Moab and is home to 2,000+ natural sandstone arches that visitors will love.
September in Arches National Park is one of the best times to visit since the crowds of summer are reduced and prices at hotels are cheaper. Plus, the weather is cooler, making it easier to hike to local landmarks like Delicate Arch. However, it's still part of the busy season, so do try to get up early to enjoy popular spots without the crowds.
Just be aware that you will need to reserve a timed-entry permit to get into the park. However, you can easily visit the park without a ticket if you arrive before 6:00 am, which is when you'll want to get up to see the sunrise at Delicate Arch.
However, other fun local highlights include the Arches Scenic Drive. This picturesque stretch of road is 43 miles long, takes between two to three hours to complete, and will bring you past some of the best spots in the park. Next, check out popular hikes to Devil's Garden, Sand Dune Arch, Skyline Arch, and Balanced Rock. Just be sure to pack plenty of water and sunscreen since many of the hikes in the area are totally exposed.
And don't leave Arches National Park in September without doing some stargazing, After all, much of the park is recognized internationally for its incredible stargazing, making this a great place to photograph the Milky Way.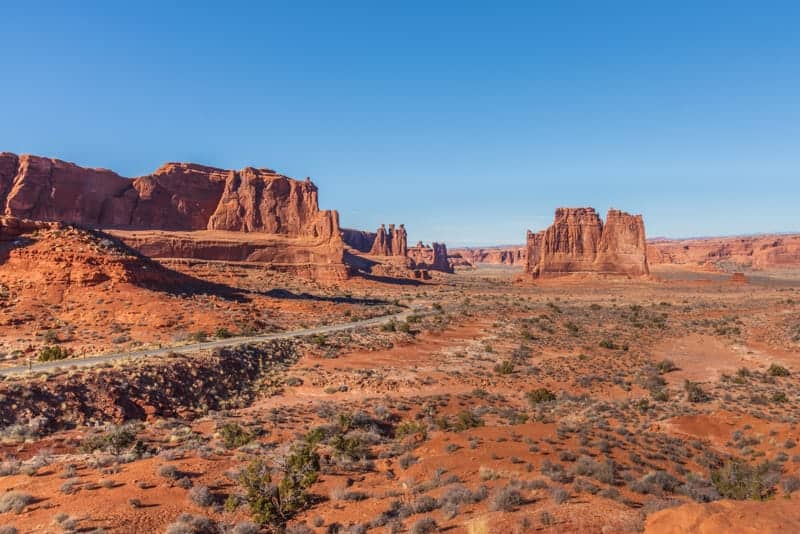 Where to Stay: Element Moab
Nearest Major Airport: Salt Lake City International Airport
Average Temperature: 85°F // 54°F
Recommended by Jamie of Photo Jeepers
5. Lake Tahoe, California
September is one of the best months to visit Lake Tahoe. The comfortable summer weather lingers during this time, but the busy tourist crowds do not. This means travelers will be able to enjoy beautiful bike rides, hikes, and paddling journeys on the water without swarming crowds.
One of the most iconic ways to explore this area of the country is onboard one of many Lake Tahoe boat tours. Whether you're interested in a romantic sunset cruise or a chartered boat to enjoy tubing and skiing — there's a Lake Tahoe boat tour that will fit your needs!
Sand Harbor is one of the best places in Lake Tahoe to enjoy the beach, swim or take a hike. Camping in Lake Tahoe is a great way to experience the landscape as well.
The Loft Restaurant and Lounge is one of Lake Tahoe's most raved-about restaurants, not just for the food but for the complete experience. The restaurant specializes in appetizer-style small plates, and the duck tacos are the talk of the town. It's also the most luxurious spot in Tahoe to enjoy s'mores over an open flame — but it's the on-site theater that showcases comedy and magic shows that really sets this spot apart. It's the perfect place in Tahoe for a night on the town in September.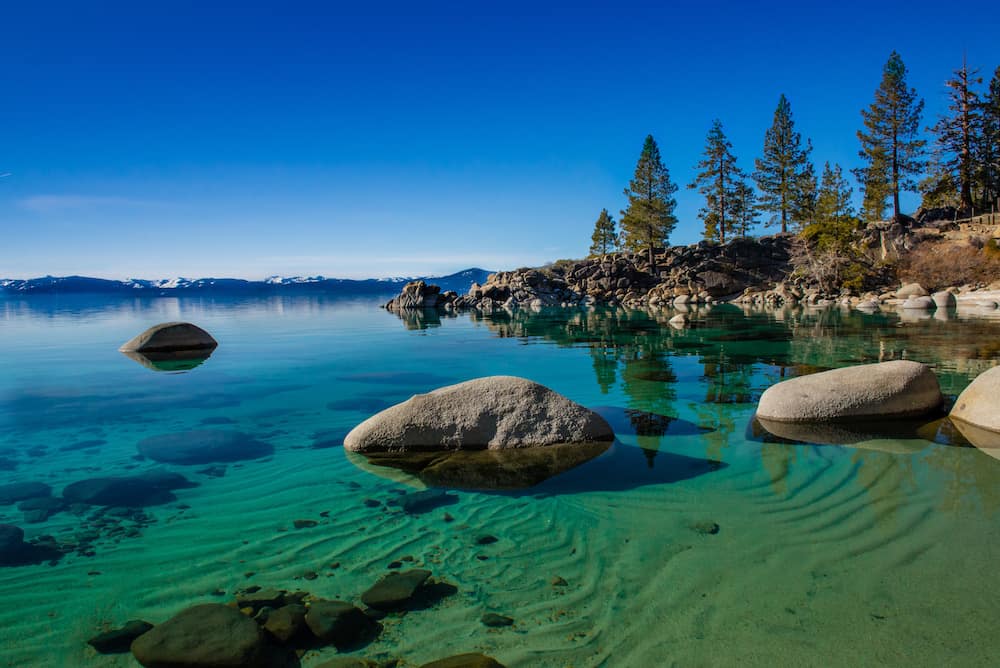 Recommended by Candice of CS Ginger
6. Shenandoah National Park, Virginia
September is a great time of year to visit one of the most popular national parks — Shenandoah National Park in Virginia. After Labor Day Weekend, the park is generally less crowded than it is during the peak summer months, and September weather in the region is ideal, with low rainfall, sunny skies, and mild temperatures.
Shenandoah National Park dominates the western part of Virginia and covers over 200,000 acres. The park is a great destination for hiking, camping, picnicking, and just taking in the beautiful views along Skyline Drive.
With over 500 miles of hiking trails, you'll have no problem finding a path to explore at any length and difficulty level. Some of the hikes are less than half a mile, while others are 7 or more miles long.
One of the most popular hikes is Old Rag. In fact, this hike is so popular that it requires a reservation in advance. It's a strenuous hike and involves an ascent along a rocky trail. However, it features stunning, sweeping views of the surrounding valley at the top, which makes it well worth the effort. Dark Hollow Falls is another popular hike that leads to a lovely waterfall. The hike is much shorter than Old Rag, but it is difficult and features steep, rocky terrain.
If you're looking for a place to stay nearby, the towns of Luray, VA, and Waynesboro, VA, are excellent choices, with plenty of other attractions beyond the park. In fact, Waynesboro is even called the Gateway to Shenandoah National Park because of its proximity to the park.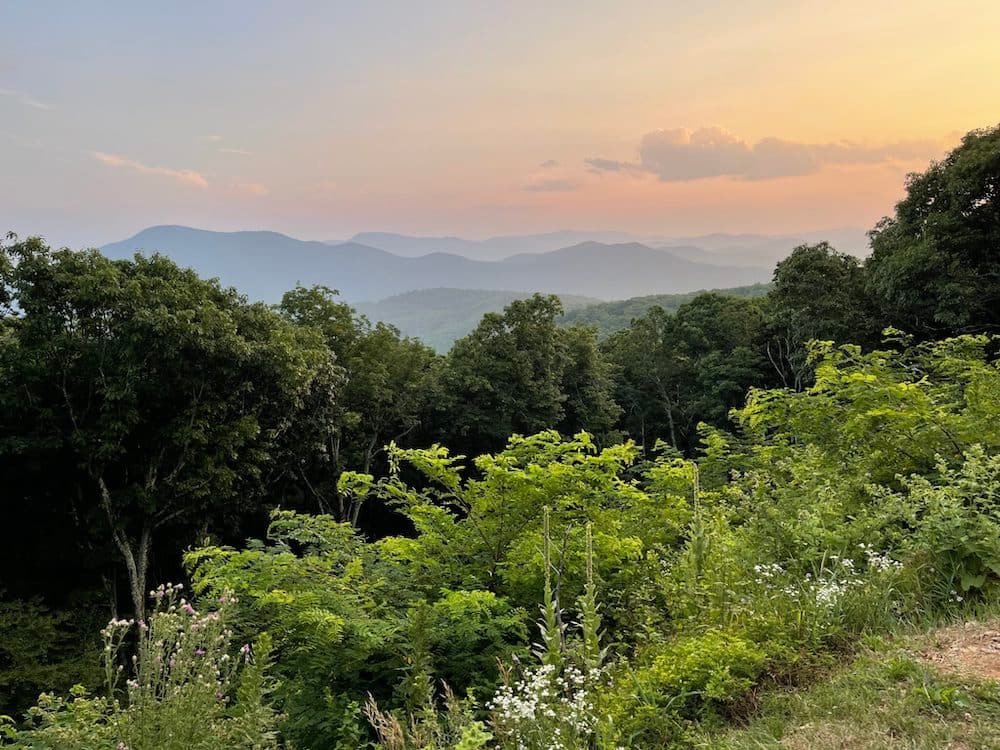 Where to Stay: The Mimslyn Inn
Nearest Major Airport: Washington Dulles International Airport
Average Temperature: 68°F // 40°F
Recommended by Merry of Virginia Vacation Guide
7. Estes Park, Colorado
Estes Park is easily one of the best places to visit in the USA in September. Not only does the town, and surrounding area, come alive with vibrant fall foliage during the middle of the month, but hikers won't have to contend with intense thunderstorms that roll through the area every afternoon during the summer.
September also means that all of Rocky Mountain National Park is open. Therefore, you can enjoy incredible fall foliage while driving along Trail Ridge Road and taking in sweeping views of the surrounding mountains.
However, if you enjoy getting creeped out, you can do a ghost tour or spend the night at the Stanley Hotel. It's a truly incredible place that is famous for its giant hedge maze and starring role in the movie The Shining.
You can also attend the Autumn Gold Festival, which is held here every September. It's a fun, local event that celebrates the season with music, fun, and free admission for all.
Additionally, another one of the best things to do in Estes Park is to go on an incredible hot air balloon ride. After all, the skies are clean and clear all month long, giving passengers exceptional views of the Rocky Mountains and the vibrant colors here.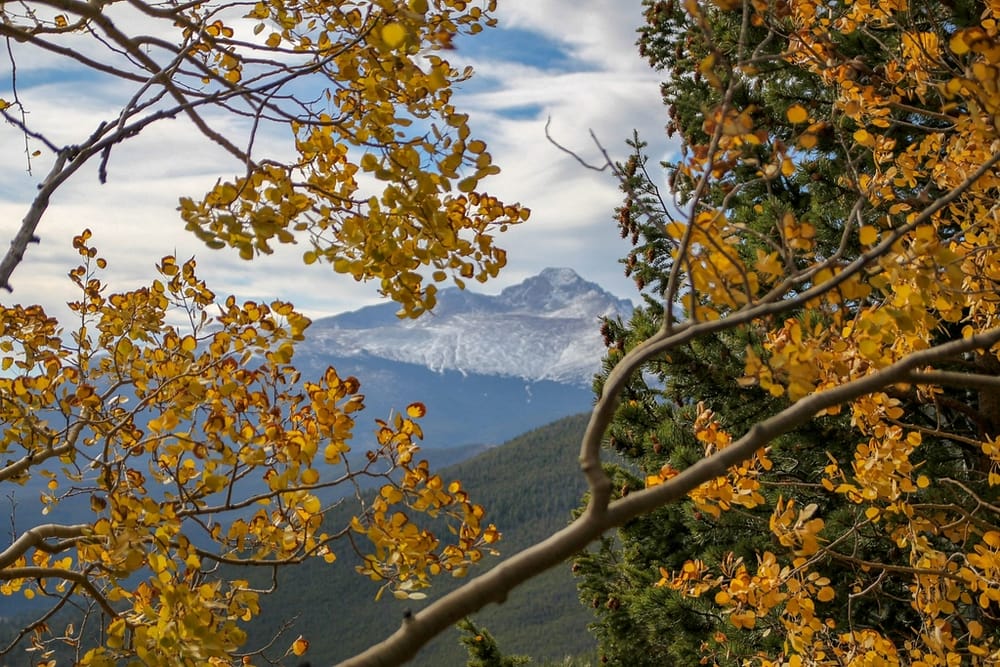 Where to Stay: Murphy's River Lodge
Nearest Major Airport: Denver International Airport
Average Temperature: 70°F // 41°F
Recommended by Meg of Fox in the Forest
8. Chicago, Illinois
Simply put, Chicago is at its best in September. From baseball games to street festivals, Chicago is abuzz as its residents soak in every last moment of the city's warm days. One of the best things to do on a warm September day is spend an afternoon watching the Cubs play at Wrigley Field. The anticipation of playoff potential is palpable as the season nears its end.
Don't leave Wrigley without trying a classic Chicago-style dog — a Vienna Beef frankfurter in a poppy seed bun, topped with mustard, relish, a pickle spear, chopped onions, tomato wedges, and a dash of celery salt. Chicago locals agree that Chicago-style dogs are the real city staple, but if you must try deep-dish pizza, head to Pequod's Pizza in Lincoln Park for the most authentic experience.
Beyond the pizza and hot dogs, Chicago has an incredible food scene and is home to 23 Michelin-starred restaurants. From September 8th – 10th, the Taste of Chicago takes over Grant Park, offering a sampling of the best foods in Chicago in one easy stop.
On the off chance you visit Chicago on a rainy September day, there is still plenty to do! If you're waiting out the rain downtown, get competitive at the Game Room, a bar, and — you guessed it — chic game room in the Chicago Athletic Club. If you have a night to spare, venture off the beaten path to the Chicago Magic Lounge, a speakeasy-style magic show camouflaged behind a laundromat facade in the Andersonville neighborhood.
Where to Stay: Chicago Athletic Association
Nearest Major Airport: Chicago O'Hare International Airport or Chicago Midway International Airport
Average Temperatures: 74°F // 62°F
Recommended by Anjelique of Quick Stays & Getaways
9. Seattle, Washington
Seattle, WA, is undoubtedly of the best places to visit in the USA in September. September is the sweet spot when the summer crowds have departed, but the weather is still nice enough to be able to explore the city's top attractions. September is also popular for embarking on an Alaskan cruise to see nature's wonders while exploring top attractions in Victoria, Ketchikan, and beyond or taking a day trip to Bainbridge Island!
Give yourself plenty of time to see Seattle's most famous sights. The iconic Pike Place Market is a must-see for visitors to the Emerald City. From fresh local produce to unique artisan crafts to the most gorgeous flower bouquets, everyone is sure to find something they'll love at the market. Satisfy your taste buds and take a food tour of the market!
No day in Seattle is complete without seeing the world-famous Space Needle, the most recognizable feature on Seattle's skyline. For amazing 360-degree views of Seattle, take the elevator to the top of the Space Needle and enjoy a cocktail in the Loupe Lounge while you watch the world go by. Near the base of the Space Needle is the Chihuly Garden and Glass, which displays gorgeous and unique works of glass art by renowned artist Dale Chihuly.
If you're in the mood for some amazing seafood, enjoy dinner and spectacular bay views at Elliott's Oyster House.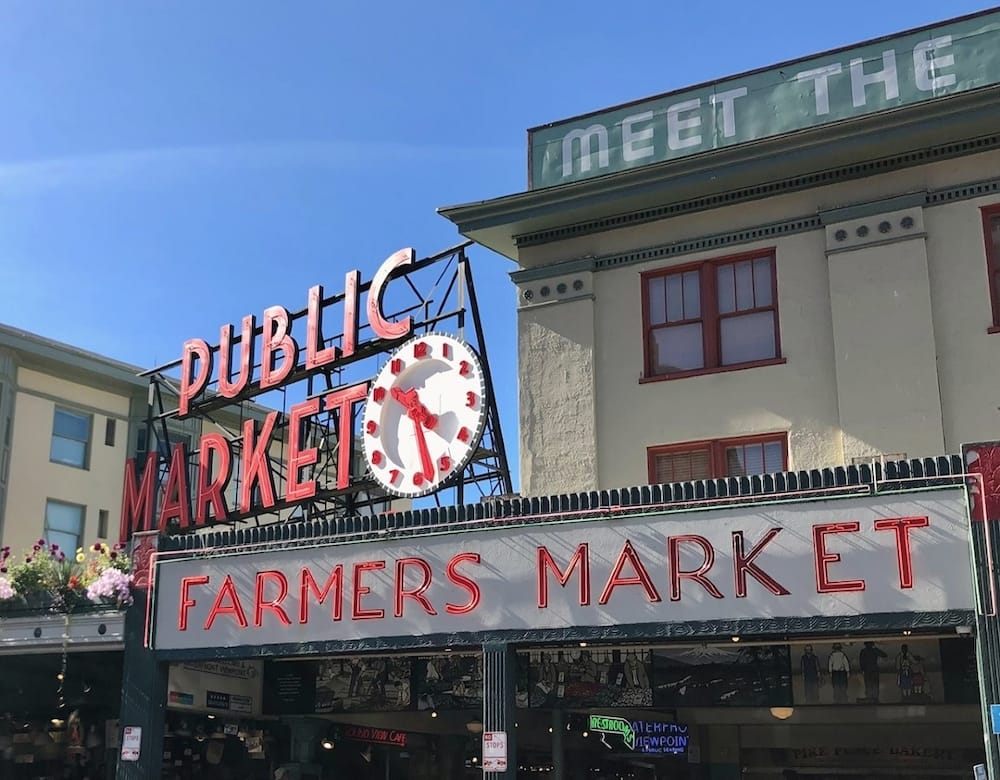 Where to Stay: Palihotel Seattle
Nearest Major Airport: Seattle-Tacoma International Airport
Average Temperatures: 69°F // 52°F
Recommended by Lisa of Waves and Cobblestones
10. Great Smoky Mountains National Park, Tennessee
Located in Tennessee and North Carolina, Great Smoky Mountains National Park is a must-visit destination in the United States in September because of the incredible fall foliage that begins to transform the mountains.
On your Great Smoky Mountains itinerary, be sure to add a hike up to Clingmans Dome, which is a manmade tower with 360-degree views of the mountains. Add in 2-3 hours to drive Cades Cove, a scenic loop in the western section of the park which showcases the stunning valleys, historic structures from pioneer history, and wildlife, including bears, turkeys, and horses.
Other ideas of things to do in the Smokies include walking through Elkmont Ghost Town, hiking to Laurel Falls on the accessible trail, and hiking to Alum Cave — one of the most popular stops in the park.
Finally, all the best restaurants servicing the Great Smoky Mountains are in Gatlinburg, Tennessee, the nearest town just outside the north end of the park. Try Bennett's Pit Bar-B-Que or The Peddler Steakhouse.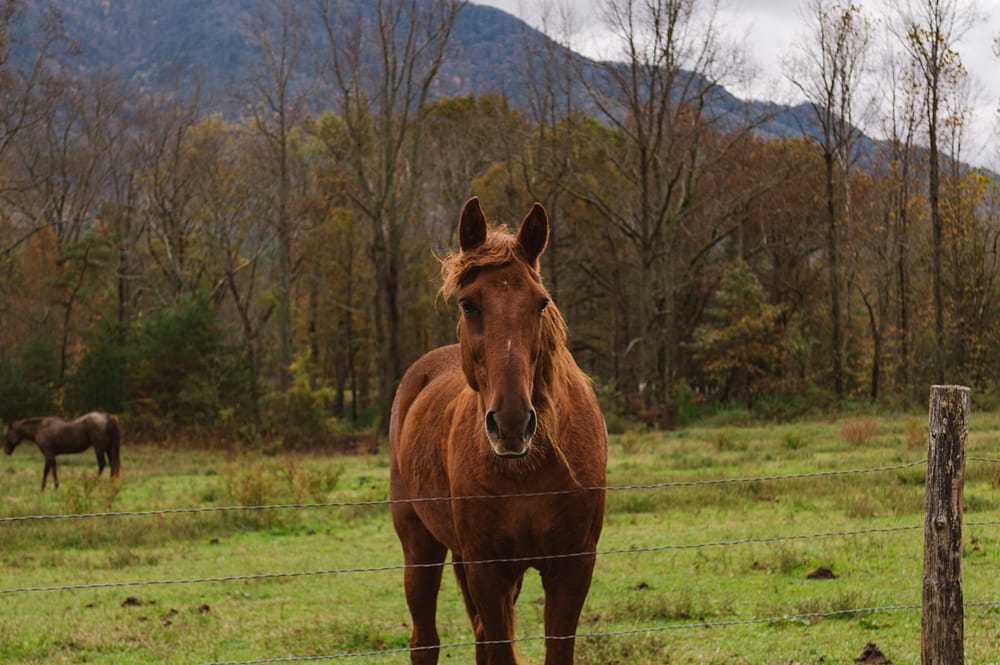 Where to Stay: The Park Vista
Nearest Major Airport: McGee Tyson Airport
Average Temperatures: 74°F // 50°F
Recommended by Alanna of Periodic Adventures
11. Malibu, California
Malibu — located 35 miles west of Los Angeles in California — is a fabulous place to visit in September.
September is considered one of the best months to visit Malibu due to its mild and comfortable weather! In fact, it is the perfect time for outdoor activities and exploring Malibu's beaches! In addition, September falls outside the peak tourist season in Malibu, so you can expect lower hotel rates and fewer crowds compared to the summer months.
There are plenty of activities and attractions to enjoy in Malibu in September. Check out the stunning Malibu beaches of Zuma Beach, Surfrider Beach, and El Matador State Beach. These beaches are popular choices for sunbathing, swimming, and surfing, and visiting in September means you can get to enjoy them peacefully without crowds.
The cooler September weather is also an ideal time to go hiking in the Malibu Creek State Park, which is full of hiking trails and some of the best photo spots in Malibu, including the famous Rock Pool and the M*A*S*H filming location! Malibu is also home to several excellent wineries, so make sure to go for a wine-tasting session when you're here!
And you can't visit Malibu without taking a scenic drive along the Pacific Coast Highway. This is one of the most iconic roadways in the United States and offers incredible coastal views.
When you're looking for something to eat, Nobu Malibu is a highly regarded restaurant known for its exquisite Japanese cuisine and stunning ocean views and should be on any Malibu bucket list!
Where to Stay: The Surfrider Hotel
Nearest Major Airport: Los Angeles International Airport
Average Temperatures: 87°F // 65°F
Recommended by Catrina of 24 Hours Layover
12. Asheville, North Carolina
Asheville, North Carolina, is a great pick for one of the best places to visit in the USA in September for gorgeous fall foliage and fun seasonal activities.
This vibrant mountain town sits at the foothills of the Blue Ridge Mountains and becomes inundated with vibrant fall foliage that is best viewed during a drive along the Blue Ridge Parkway. And during your drive, be sure to check out immortal places like The Linn Cove Viaduct at Milepost 304.4 and Craggy Gardens at Milepost 364.
Visitors can do other fun things in Asheville, like visit the incredible 19th-century Biltmore Estate. It's a great place to take a stroll, enjoy beautiful fall foliage in North Carolina, and see stunning art from icons like Renoir. After all, travelers will love the cooler weather and reduced crowds that September brings — the gardens at the Biltmore are great to visit this time of year!
Next, attend one of the many festivals that give this mountain town a vibrant atmosphere all month long. Highlights include the Mountain State Fair, the Goombay Festival, Autumn at Oz at Beech Mountain, and the Blue Ridge Pride Festival.
Finally, enjoy the pleasant weather and walk to one of the fifteen different street art murals that are scattered throughout the city. These incredible art pieces include images of everything from Dolly Parton to Sloth from The Goonies.
Where to Stay: The Omni Grove Park Inn
Nearest Major Airport: Charlotte Douglas International Airport
Average Temperatures: 80°F // 58°F
Recommended by Victoria of Southern Trippers
13. Jackson Hole, Wyoming
Jackson Hole, Wyoming, is the perfect destination for a September getaway. Not only will you be visiting during shoulder season, which means fewer crowds, but the weather is perfect.
During your visit to Jackson Hole in September, you can visit two National Parks — Grand Teton National Park and Yellowstone National Park. The Grand Tetons would be the nearest park, and there are various trails to enjoy. One of the most popular stops is Jenny Lake. Choose to hike or take a boat across Jenny Lake to see Hidden Falls and more.
If you're up for a full-day adventure, head north to visit the lower loop of Yellowstone National Park. Here you can see the famous Old Faithful, numerous other geysers, waterfalls, and you may even spot bison and other wildlife. If you don't have your own vehicle, you can opt to take a full-day tour with various tour groups.
Of course, there's so much more to enjoy about Jackson Hole. Check out Teton Village, where you can take an aerial tram to the top of Rendezvous Mountain to enjoy spectacular views and even some waffles. In Jackson Square, you can enjoy the many local shops and restaurants. And no visit is complete without a photo in front of the infamous Jackson Square antler arches.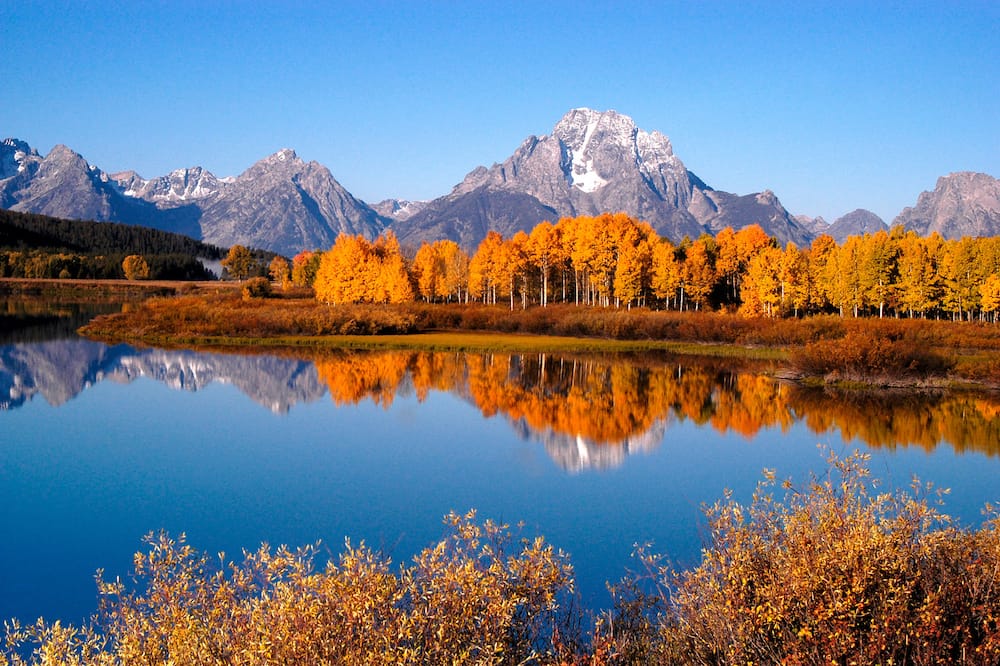 Where to Stay: Elk Country Inn
Nearest Major Airport: Jackson Hole Airport
Average Temperatures: 71°F // 32°F
Recommended by Brittney of A Mom Well Traveled
14. Boston, Massachusetts
Boston, Massachusetts, is filled with tons of things to do during all seasons — but this iconic city especially shines in the fall! September is a great time to visit Boston since all the summer tourists have returned home, but the weather is still beautiful enough to enjoy the best that the city has to offer.
While you're in Boston in September, take advantage of the gorgeous weather and spend time walking along the Freedom Trail, where you can see iconic sites from the American Revolution, including the Old South Meeting House — the starting point of the Boston Tea Party — and Paul Revere's house. When you're hungry, take a stroll around the North End and sample the delicious Italian cuisine on a food tour from North End Boston Food Tours.
Grab a photo on the picturesque Acorn Street in Beacon Hill, and sip on a coffee from Tatte Bakery and Café while walking around this historic neighborhood. And take a walk around the Boston Public Garden and Boston Common to catch the first glimpse of the fall leaves that will make their peak appearance in October!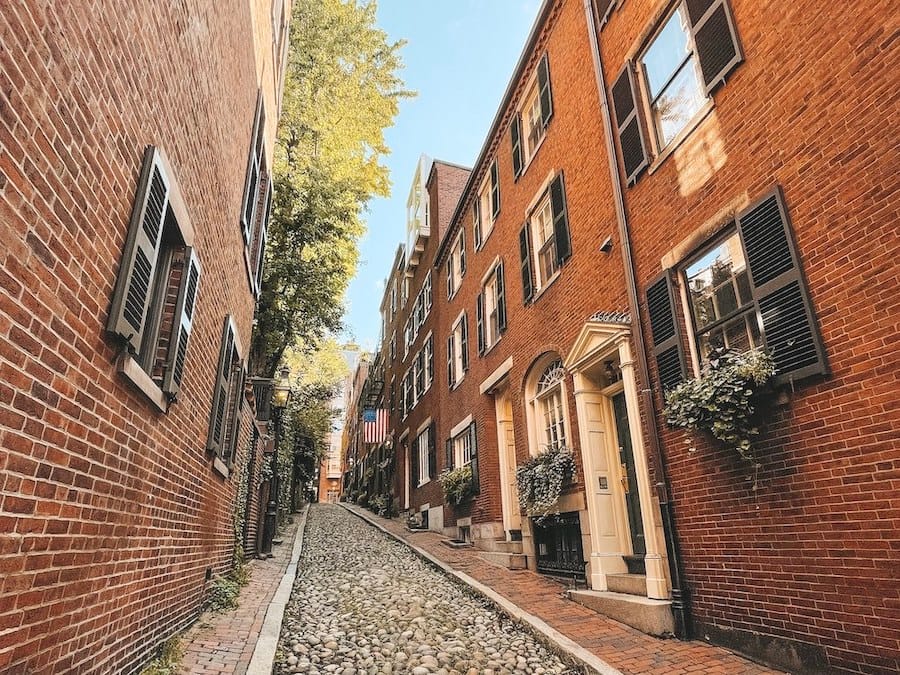 Where to Stay: The Godfrey Hotel Boston
Nearest Major Airport: Boston Logan International Airport
Average Temperatures: 73°F // 58°F
Recommended by Brittany of Travel by Brit
15. Washington D.C., Maryland
Washington, D.C., is the perfect September destination. It still feels like summer, but you don't have to compete with summer crowds!
In the morning, you'll want to make your way to the National Zoo. The weather will be perfect for enjoying the animals, and it'll be less crowded than in the afternoon.
During the day, you should stop by one of the many free museums in Washington, D.C. There are several popular Smithsonian Museums along the National Mall, like the National Museum of American History and the National Air and Space Museum. There are also fun museums off the mall, like Planet Word and the International Spy Museum.
Of course, if it's not too hot, visiting gardens like the United States Botanic Garden or the National Arboretum is a fun way to be outside. And in the evening, The Wharf is the perfect place to grab a bite to eat at one of the many restaurants (like The Grill) and enjoy the sunset.
Recommended by Lauren of Where the Wild Kids Wander
16. Bend, Oregon
September is a great time to visit Bend because the scorching heat of summer has passed, and you can take full advantage of all the best things to do in Bend, Oregon. First up, grab an inflatable tube or kayak and enjoy a leisurely float down the Deschutes River. Get a little thrill when you reach the mini class I rapids through Bend Whitewater Park.
Bend's vibrant music scene is still going strong in September. Catch some of the last performances of the summer concert series. Local venues and Hayden Homes Amphitheater host a variety of concerts, ranging from indie bands to nationally recognized artists.
The Bend Fall Festival celebrates the coming of autumn with a wide array of activities, including arts and crafts vendors, delicious food, live music, and fun entertainment for the whole family.
Take a Bend brewery tour where you can sample seasonal craft beers for which Bend is well known. Whiskey enthusiasts should mark their calendars for the Oregon Whiskey Festival, showcasing the finest whiskeys from both local and international distilleries. This festival offers tastings, seminars, and a chance to appreciate the craft of distilling.
After a day of exploring and enjoying outdoor activities, treat your taste buds to an incredible meal at Wild Rose Cafe. This restaurant is known for its authentic Northern Thai dishes, which will be the best Thai food you've ever had!
Overall, September is an excellent time to visit Bend, Oregon, as you can enjoy the beautiful weather and outdoor adventures and immerse yourself in the local culture.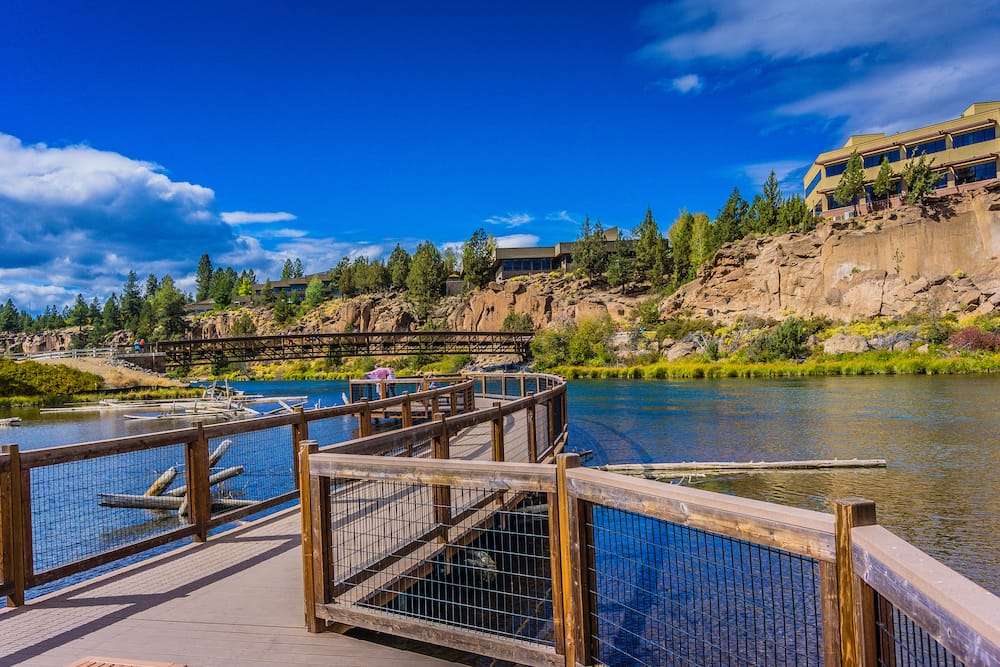 Where to Stay: Oxford Hotel Bend
Nearest Major Airport: Redmond Municipal Airport
Average Temperatures: 74°F // 39°F
Recommended by Jenifer of The Evolista
17. White Mountains, New Hampshire
The White Mountains of New Hampshire are one of the best places to visit in September in the USA for experiencing beautiful vistas and fresh mountain air. September is also the sweet spot for crowds, being just after the summer high season and right before popular sights are overrun by leaf peepers.
A visit to the White Mountains in September brings mild temperatures with average highs just below 70°F. This is warm enough to forgo a jacket but cool enough to stay comfortable while hiking the area's many trails. Although this is the calm before the crowds of October's peak foliage season, late September visitors will still be treated to early colors emerging through the treetops.
One of the top things to do in the White Mountains of New Hampshire is driving the Kancamagus Highway for scenic overlooks, historic sites, and hiking trails weaving through gorgeous nature. The drive extends east to west along NH Route 112 from Lincoln, NH, to Conway, NH, and covers 34.5 miles.
Another amazing White Mountains destination is Franconia Notch State Park. Here, you will find some of the state's most popular hikes, including the Flume Gorge Trail and the Artist Bluff Trail. Give your legs a rest by riding the Cannon Mountain Aerial Tramway to the 4,080-foot summit of Cannon Mountain. On a clear day, it's possible to see as far as Maine, Vermont, Canada, and New York.
After an active day of explorations, unwind at a nearby brewpub like Rek-Lis Brewing Company.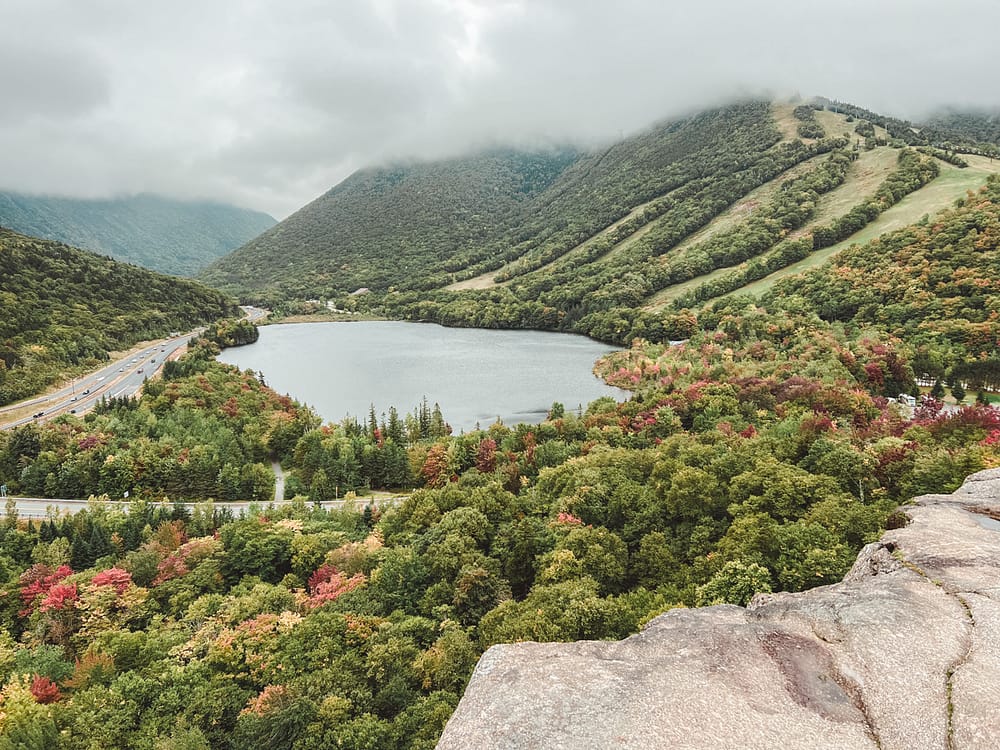 Recommended by Theresa of Fueled by Wanderlust
18. Farmington, New Mexico
Farmington, NM, is a great travel destination in September, as the city's off-peak season and pleasant weather make it a place for an affordable getaway. Moreover, the best things to do in Farmington in September include seasonal events famous throughout the entire state.
For those interested in Native American culture, the Totah Festival is a must. It's been organized since 1988. It showcases Navajo rug weaving, jewelry making, and quality Native American art. In September, you can also celebrate Harvest Wine Festival with music, art, food, and wines of the San Juan. At the end of September is also the Four Corners Balloon Rally. Hot air balloons fly over Farmington skies in the mornings for three days.
Outdoors lovers can experience the beauty of nature by visiting the Bisti/De-Na-Zin Wilderness, and Ah-Shi-Sle-Pah Wilderness, which offer hiking and photographic opportunities. The mild weather is perfect for wandering through the deserted badlands, decorated with peculiar rock formations that form a landscape straight out of a science fiction film, such as the Alien Throne formation. History buffs can explore the Aztec Ruins National Monument, where you'll find the 900-year-old ancestral Pueblo Great House.
Farmington's historic downtown is also worth a stroll, as it's a charming blend of the city's rich heritage and contemporary culture. Historic buildings, such as the early 20th-century Bunker-Read Building — now home to Three Rivers Brewery — and the nostalgic 50s-style Allen Theater, add character to the district. You can also explore unique shops offering local art.
Downtown features affordable dining options as well. Three Rivers Brewery and Eatery is a popular spot with fresh microbrews and a wide range of menu items, including pizza, burgers, and New Mexican dishes.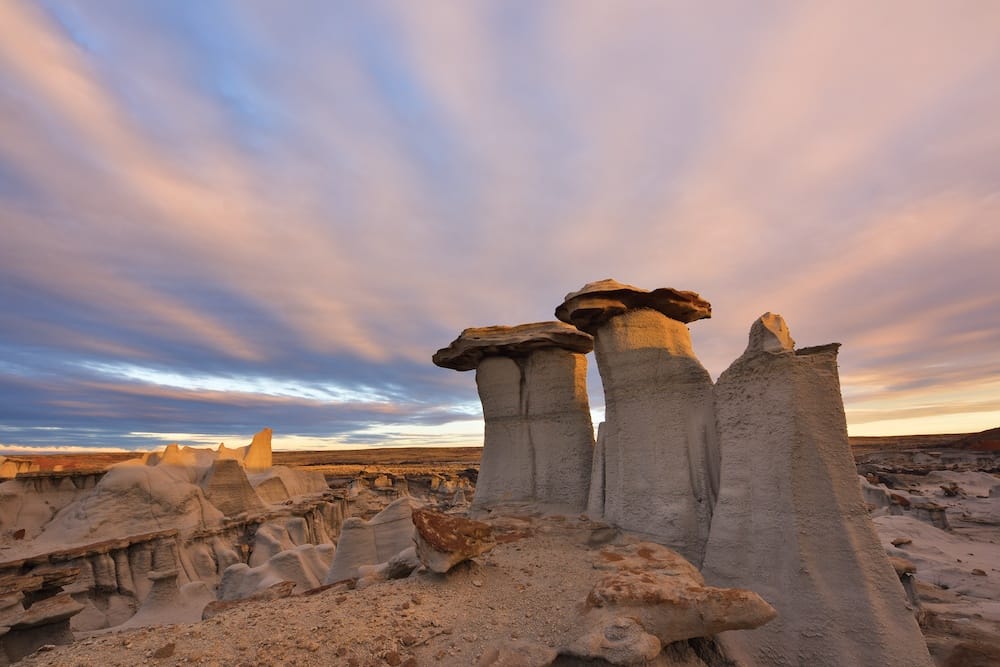 Where to Stay: Comfort Suites Farmington
Nearest Major Airport: Albuquerque International Sunport
Average Temperatures: 80°F // 57°F
Recommended by Agnes of The Van Escape
19. Emerald Isle, North Carolina
If you're looking for the perfect beach getaway in September — look no further than Emerald Isle, NC! With the summer crowds gone, the pristine beaches of Emerald Isle become less crowded, giving you ample space to spread out your beach towel and soak up the sun.
Stroll along the shoreline, collect seashells, or simply sit back and listen to the peaceful waves. With peak season being from Memorial Day to Labor Day, September means offseason rates, although the daytime temperatures are still plenty warm enough to lay on the beach, and the water temperatures are warm enough to go swimming as well.
The best part about September in Emerald Isle is that the humidity starts to drop, allowing you to enjoy outdoor activities like kayaking, hiking the nearby trails, or visiting the Cape Lookout Lighthouse. You can even visit the wild horses of nearby Carrot Island!
September brings breathtaking sunsets over the Atlantic Ocean and is also the beginning of beach driving season. Enjoy dinner and the sunset right on the water at one of the many great waterfront dining locations, like Surf's Up Grill & Bar. There is also the Emerald Isle Beach Music Festival held right on the beach every September!
So, if you're looking for a tranquil coastal escape with pleasant weather, uncrowded beaches, and a myriad of outdoor activities, plan your visit to Emerald Isle, NC, in September. This little slice of paradise promises an unforgettable experience that will leave you rejuvenated and longing to return year after year.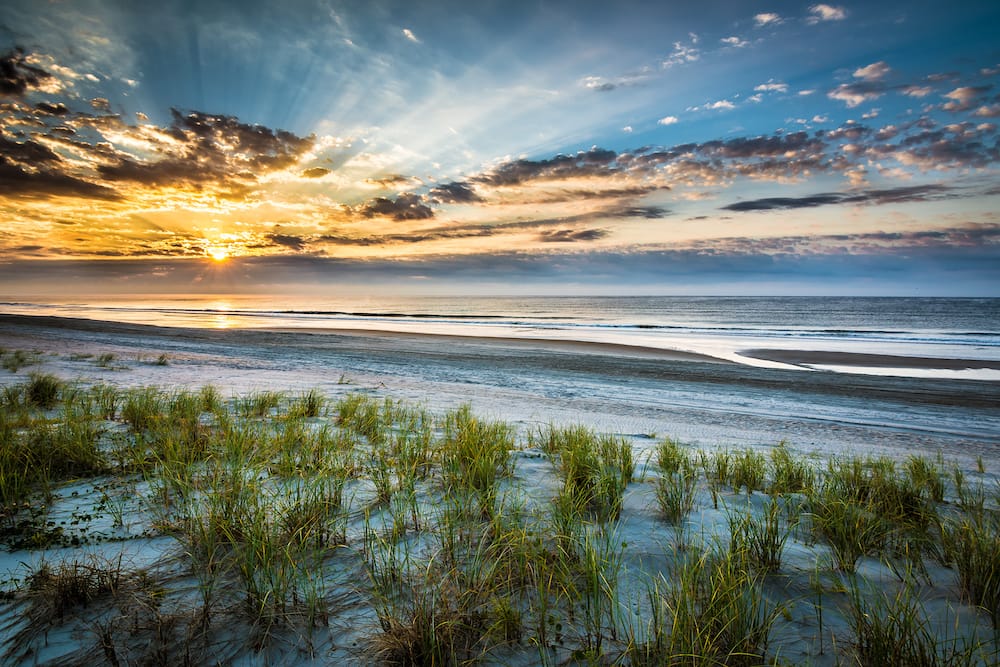 Where to Stay: The Islander Hotel
Nearest Major Airport: Raleigh Durham International Airport
Average Temperatures: 81°F // 68°F
Recommended by Ashton of It's AAAllgood
20. Glacier National Park, Montana
The window of time to visit Glacier National Park while Going-to-the-Sun Road is open is quite short, so the park is busiest in July and August. However, September is a lovely time to visit Glacier National Park, and if you wait to visit until mid-September, you can avoid the need to secure the challenging-to-get reservation to drive the iconic and scenic Going-to-the-Sun Road while still enjoying beautiful weather.
The high temperature in Glacier National Park in September will be around 60°F, although it can feel much warmer in the sun. Temperatures dip down to around 40°F at night, so you will want to be prepared by dressing in layers and wearing sunscreen, sunglasses, and a hat.
If you plan on visiting in early September, be sure to book your car reservation to drive Going-to-the-Sun Road. Sales typically open around four months before your visit date. Alternatively, you can book a boat or bus tour in the park or arrive before 6 AM or after 3 PM. In late September, the larch trees will turn a beautiful shade of yellow before the needles drop. A good spot to see these trees is along Highway 2, which runs along the southern border of the park.
By mid-September, services within the park and nearby hotels will begin to shut down, so you do need to plan ahead by packing a picnic lunch and getting gas before entering the park. It is also recommended to carry bear spray when going on hikes, especially in the fall, as bears start to fill up for their winter hibernation and elk enter their mating season.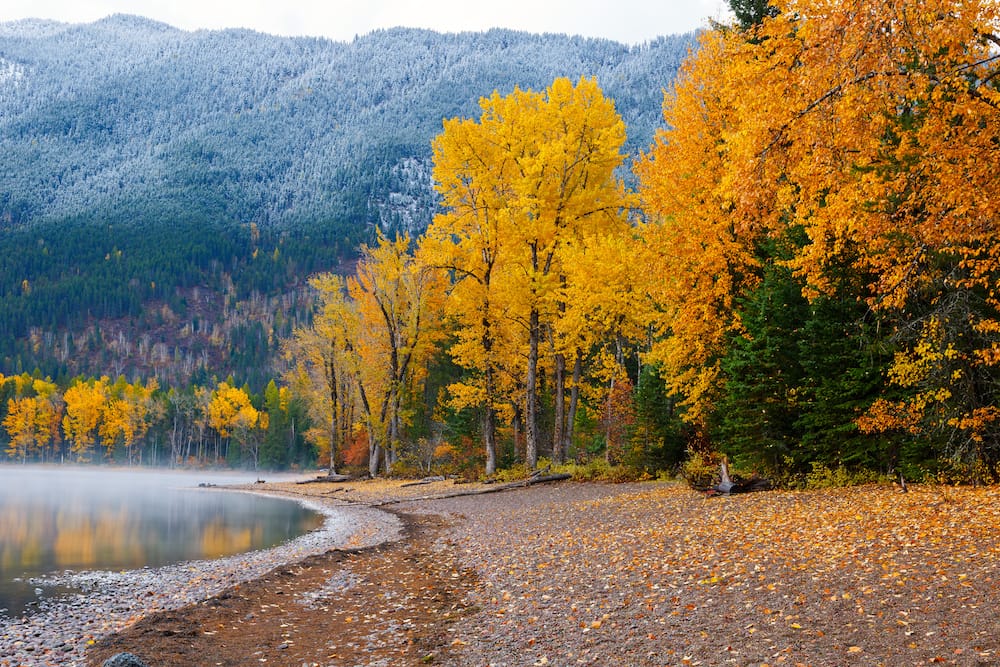 Where to Stay: Glacier Park Lodge
Nearest Major Airport: Glacier Park International Airport
Average Temperatures: 60°F // 38°F
Recommended by Tamara of We3Travel
21. Burlington, Vermont
Tucked up in the northwest corner of Vermont on Lake Champlain, the vibrant city of Burlington is a perfect destination in September. The summer crowds have thinned, the temperatures are mildly warm, and the lake water is still swimmable.
Burlington is known for its scenic beauty and foodie culture. In the fall, the hilly city comes alive with spectacular foliage. There are many hikes within the city limits, including climbing the tower in Ethan Allen Park, where you can see the autumn colors and a panoramic view of the lake.
Outdoor enthusiasts can also rent a bicycle on the Burlington Bike Path. You can pedal along the water and stop to swim at beautiful beaches along the way. There are expansive views of the Adirondack Mountains across Lake Champlain you can see on your bike ride.
Shoppers and people-watchers will enjoy the Church Street pedestrian mall. Cute boutique shops, street performers, and farm-to-table restaurants abound. Try Honey Road for Eastern Mediterranean small plates. Plus, the craft beer scene is renowned in Burlington. Sample a flight of beer specifically brewed for the fall weather in September. Foam Brewery, located on the waterfront, is a favorite hangout place to imbibe creative drinks with friends.
Finish your day at Waterfront Park to watch one of the best sunsets in New England over Lake Champlain.
Recommended by Karen of Outdoor Adventure Sampler
22. Stanley, Idaho
If you love the outdoors, Stanley, Idaho, at the base of the jagged Sawtooth Mountains, is an excellent place to visit in September.
The crowds of summer have died down, and the weather is pleasant, with just the crisp hint of fall in the air. It's the perfect temperature to try out some of the incredible hiking trails in the area, which will still be snow- and ice-free. Plus, you might see the first hints of autumnal colors in the wildflowers and shrubs along the mountain slopes.
One of the best hikes in the area is the Alice Lake Trail, which winds through dense pine tree forests, offers jaw-dropping views of the Sawtooths and passes multiple alpine lakes. Alternatively, for something a bit more relaxing, consider kayaking or stand-up paddleboarding on Redfish Lake, as pine trees and the mountains soar overhead.
After all that physical activity, enjoy one of the best parts of this area — any of the incredible hot springs in Stanley! There's a ton to choose from, like Sunbeam Hot Springs, in the middle of the Salmon River, surrounded by pine trees and craggy cliffs. For something on the quirkier side, check out Boat Box Hot Springs, where you'll enjoy the steamy waters while sitting in an old mining cauldron along the banks of the river. With just a slight nip in the air, September is the perfect time to relax in these springs.
Afterward, fuel up at Sawtooth Hotel, which provides upscale comfort food with breathtaking views of the surrounding mountains.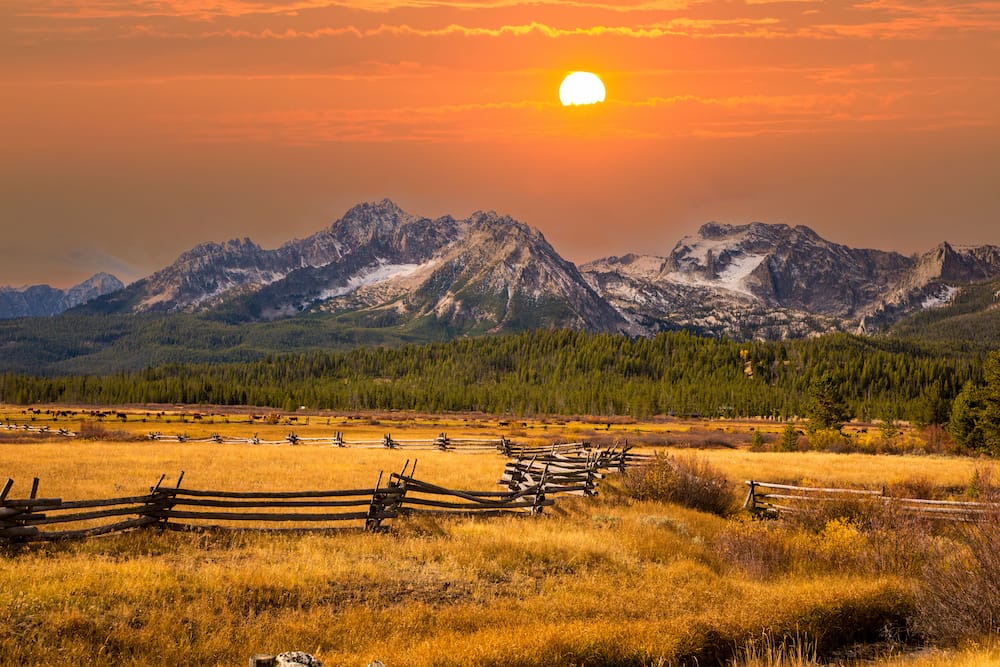 Where to Stay: Stanley High Country Inn
Nearest Major Airport: Boise International Airport
Average Temperatures: 69°F // 27°F
Recommended by Jessica of Uprooted Traveler
23. Milwaukee, Wisconsin
Easily one of the best places to visit in the USA in September, there are so many things to do in Milwaukee in September. The weather is typically mild in September, making it enjoyable for outdoor activities like strolling along the riverwalk or visiting parks and gardens.
Milwaukee is known as "Brew City" as it has a rich beer heritage. September is the perfect month to learn more about brewing in Milwaukee by taking a brewery tour, visiting a beer garden, or enjoying a tasting experience of local craft beers.
The fall brings cooler weather and the changing colors of autumn foliage in parks around Milwaukee. These colorful leaves are the perfect scenic background for photos and outdoor activities at Lake Park or Grant Park, and enjoy biking, hiking, or walking along the waterfront.
Milwaukee has a unique cultural scene and many museums to visit, including Milwaukee Art Museum, Harley-Davidson Museum, and Discovery World Science and Technology Center. So, no matter what your interests are, you will find somewhere to explore! September also means sports season in Milwaukee as football kicks off for the Green Bay Packers, who play nearby, and you could always catch a Milwaukee Brewers Baseball game.
These are just a few reasons why visiting Milwaukee in September can be a delightful experience. The pleasant weather, exciting events, fall foliage, beer culture, sports, and cultural attractions make it an appealing time to explore the city and enjoy what it has to offer.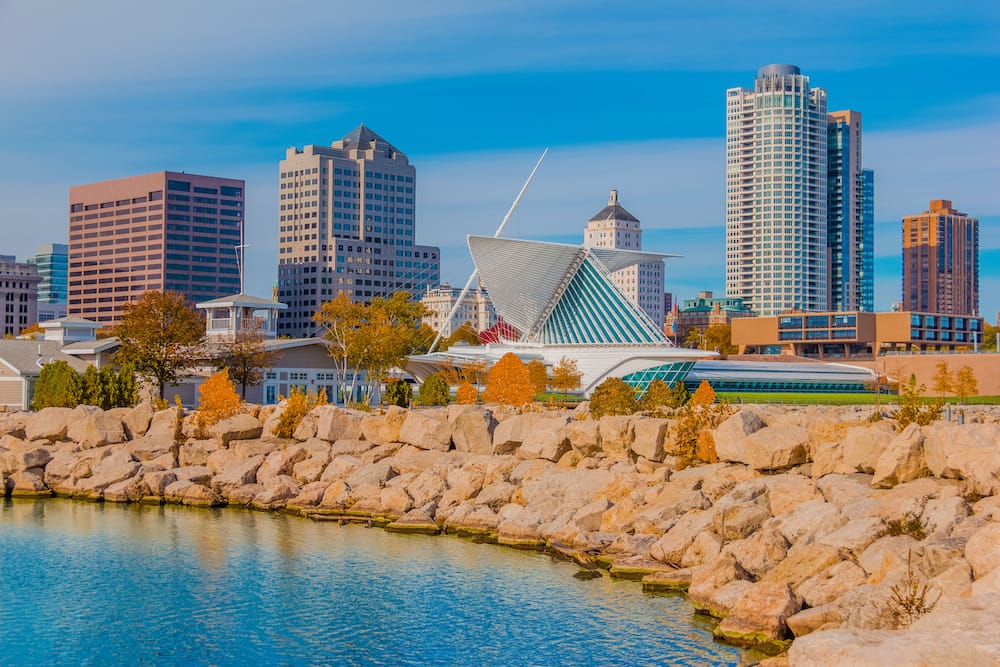 Where to Stay: Kimpton Journeyman Hotel
Nearest Major Airport: Milwaukee Mitchell International Airport
Average Temperatures: 75°F // 55°F
Recommended by Hannah of Getting Stamped
24. Newport, Rhode Island
Newport, Rhode Island, is an idyllic coastal town best visited in September. There is something enchanting about a seaside town on the brink of fall. The warm days are more precious when they are suddenly numbered, and crowds have dissipated as summer transplants retreat to the rhythm of their year-round lives. The shoulder season will offer the same weather, with better hotel pricing, ample parking, and unique off-season events.
Newport was once a summer playground for the Gilded Age elite. Remnants of a bygone era can still be felt in the historical cliff-side mansions. The best way to spend a day in Newport is to view the mansions from the Newport Cliff Walk, a 3.5-mile coastal trail dotted with dramatic cliff views and famous mansions and landmarks. While you can buy daily tickets to tour the famous mansions, the Wine & Food Festival held September 22nd– 24th is a unique way to experience Rosecliff Mansion — one of the best things to do in Newport, Rhode Island!
The heart of Newport is made up of Bannister's Wharf, Bowen's Wharf, and Thames Street, which include some of the best places to eat in Newport, Rhode Island. For the best clam chowder, head to the Black Pearl or grab a coffee from the Nitro Bar to refuel for an afternoon of shopping in the galleries and boutiques in town. From September 14th – 17th, the Newport Boat Show takes over the adjacent Commercial Wharf. Buy tickets in advance to add aspirational boat shopping to your Newport itinerary.
No trip to Newport is complete without a stop at the Castle Hill Inn, one of the best luxury hotels in Newport. Grab a drink and claim an Adirondack chair to watch sailboats passing into the harbor. From the Castle Hill Inn, drive down Ocean Avenue to Brenton Point State Park, the southernmost tip of Aquidneck Island, for an iconic sunset against the rugged cliffs of Newport.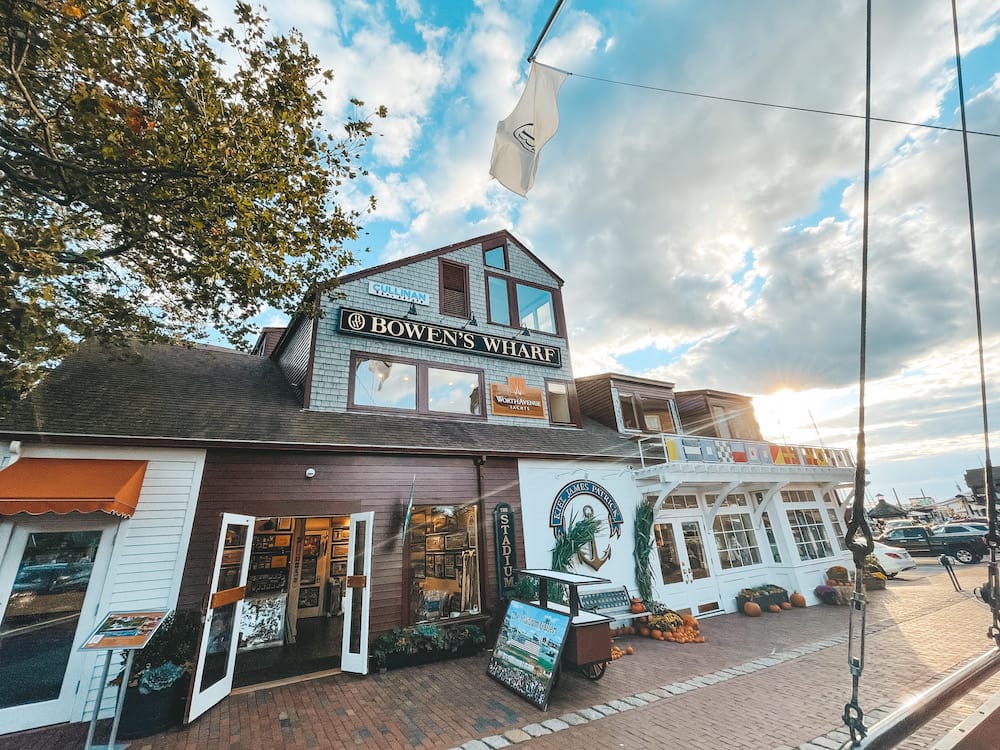 Where to Stay: Hotel Viking
Nearest Major Airport: Rhode Island T.F. Green International Airport
Average Temperatures: 71°F // 62°F
Recommended by Anjelique of Quick Stays & Getaways
FAQs: Best Places to Visit in the USA in September
Where is warm in America in September?
Many destinations in the American Southwest, like Arizona, New Mexico, California, and Texas, are warm in the summer, as well as beach destinations in the southeast. Hawaii is also always a safe bet for a warm-weather vacation in September (or any time of the year!). 
Is September a big vacation month?
Compared to the summer travel months of June, July, and August, the month of September is not as popular of a month to plan a vacation — however, that doesn't mean it's not a great time to travel. In September, travelers can enjoy lower prices on hotels and airfare, fewer crowds at popular destinations, and gorgeous weather across the country. 
Where are the best places to visit on the West Coast in September?
Yosemite National Park, Mount Rainier National Park, Big Sur, Lake Tahoe, Olympic National Park, Joshua Tree National Park, and San Francisco are all popular places to visit on the West Coast in September for beautiful weather and stunning scenery.
Where is the best place to see fall foliage in September in the USA?
You can see fall foliage in September in the Columbia River Gorge in Oregon, in Aspen, Colorado, in Michigan's Upper Peninsula, in Glacier National Park in Montana, and in Santa Fe, New Mexico — just to name a few popular spots for early leaf peeping!
Plan a Sweet End to Summer or a Memorable Start to Fall with the Best Places to Visit in the USA in September
Whether you're looking to squeeze in a few more weeks at the beach before the cooler temperatures set in, or you're looking to get an early start on leaf-peeping and all the fun fall activities — you'll be sure to find the perfect vacation from this list of the best places to visit in the USA in September!
Which of these bucket list destinations is on your itinerary for this September?

Disclosure: Some of the links in this guide to the best places to visit in the USA in September in the fall are affiliate links, meaning, at no additional cost to you, I earn a commission if you click through and make a purchase. This helps me keep the content on my website free, like this guide to the best places to visit in the USA in September.
Save the Best Places to Visit in the USA in September for Your Fall Vacation
Read More
Looking for more month-by-month guides for traveling the United States? Check out these other related guides from Travel by Brit: