It's no secret that Oahu, Hawaii, is an expensive destination to visit. Flights, accommodations, and car rentals on the island add up quickly—which is why it's helpful to find some budget-friendly things to do for free while you're visiting!
Fortunately, there are tons of fun things to do on Oahu for free—from hiking and snorkeling to window shopping and beach hopping. You won't have to worry about running out of exciting things to do on your vacation—and you won't even have to pay a dime!
Use this thorough list of the best things to do on Oahu for free to plan an action-packed, fun-filled vacation to "The Heart of Hawaii!"
Can't Read Now? Pin the "Best Things to Do on Oahu for Free" for Later!
1. Watch the Pipeline Pro Surf Competition
Every year, during the second and third weeks of December, the best pro surfers in the world come to the North Shore of Oahu to compete in the Pipeline Pro. This event is the final event of the World Surf League, where surfers battle it out to determine who will become the world champion. The event is held at Banzai Pipeline, and spectators can enjoy watching surfers ride waves and pull into some huge barrels, which, as the name suggests, is why Pipeline is famous!
The waves break just a couple hundred feet from shore, meaning you can set up along the palm tree-lined beach for a day full of entertainment. One of the best things about this event is the buzz and energy on the beach. The beaches are packed on the days the competition runs, with people cheering and going wild as they watch the world's best surfers compete. It is an electric atmosphere and is one of the best things to do on Oahu for free, even if you don't like surfing!
Recommended by Luke from Wild About BC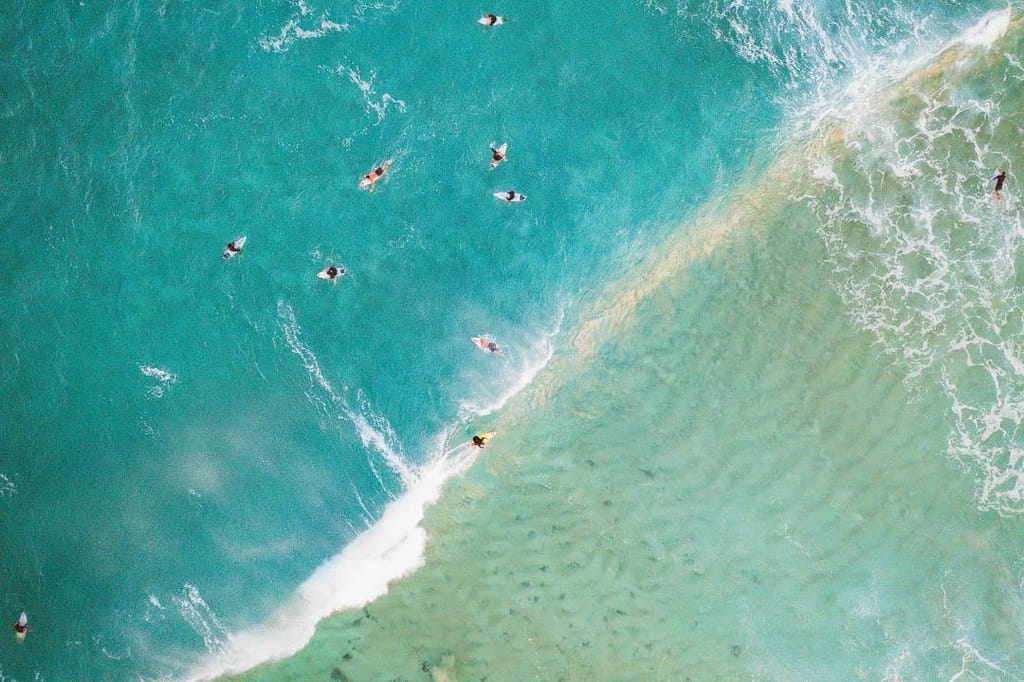 2. Hike to Upper Makau Cave
Hiking opportunities are abundant on Oahu, and hitting the trails is a perfect way to explore the island. Upper Makau Cave is one of the best easy hikes in Oahu and a place to experience priceless views for free!
You'll find Upper Makau Cave on the west coastline, near Kaena Point. Follow signs for Kaneana Caves, then park on the side of the road. Lower Makau Cave is located right near where you park, so check that out before taking the trail up the hill. While the trail is short, it is extremely steep and exposed, so watch your step. You'll definitely want to bring hiking boots or shoes with good traction because the hike can get slippery.
Once you reach the top, you'll be rewarded with gorgeous views of the coastline, framed by the curves of the cave. These spectacular views make the hike to Upper Makau Cave one of the best things to do on Oahu for free.
Recommended by Allison from She Dreams of Alpine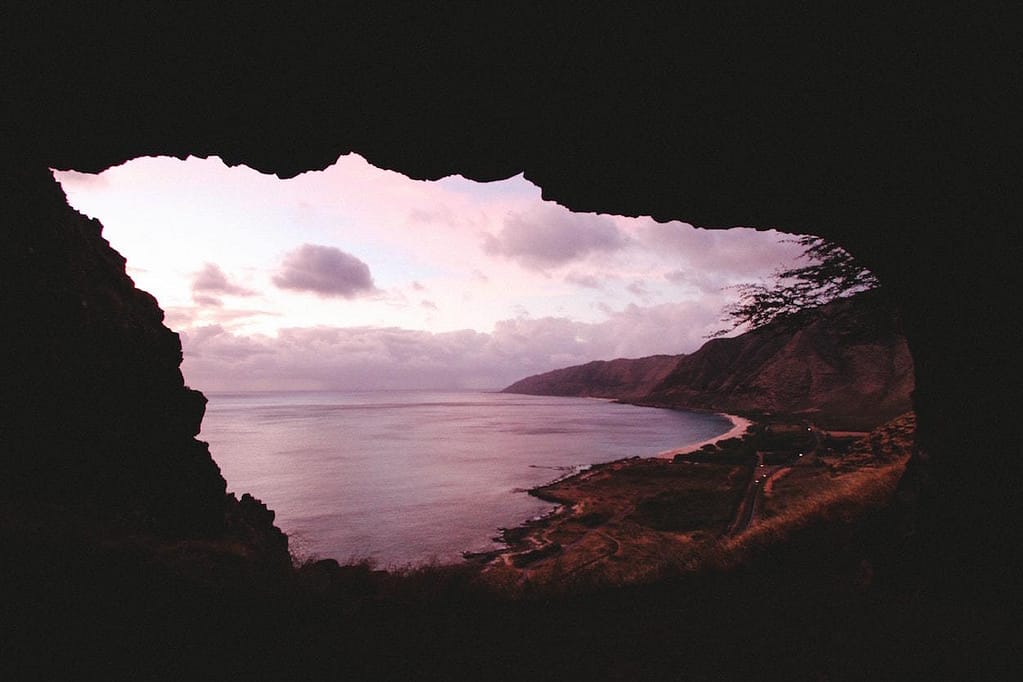 3. Snorkel at Shark's Cove
Shark's Cove is a small, rocky bay located on Oahu's breathtaking North Shore. Since there's no admission fee, snorkeling at Shark's Cove is one of the best things to do on Oahu for free!
The water is shallow and clear at Shark's Cove, so it's easy to see the beautiful coral reefs and diverse array of fish swimming around you. You can see triggerfish, butterflyfish, parrotfish, needlefish, trumpetfish, sea turtles, and other marine life while snorkeling in Shark's Cove (but no sharks—don't worry!).
To stay safe, make sure the current is calm before snorkeling and watch out for jagged rocks while you're in the water. Bring your own snorkel gear from home to save money or rentals, and please wear reef-safe sunscreen to protect your skin while taking care of the beautiful coral reefs!
Recommended by Brittany from Travel by Brit
Read this blog post for more things to do during a day trip to the North Shore!
4. Spot Sea Turtles on Laniakea Beach
If you are looking for a place to have some fun in Hawaii, I recommend visiting Turtle Beach (also known as Laniakea Beach). This beach is located on the north shore of Oahu, about 12 miles northwest of Haleiwa, and offers excellent snorkeling opportunities as well as plenty of activities for kids.
This beach is famous for green sea turtles basking right on the beach. It is important to know that while you are allowed to view, learn about, and snap great photos of the beautiful turtles, it is illegal to touch them!
The beach is great for swimming because the water clarity makes it easy to see underwater life such as coral reefs, turtles, and various fish species. Don't forget to bring your sunscreen, a towel, snorkel gear, camera, and beach toys for the kids!
Visiting Turtle Beach is one of the best things to do on Oahu for free because it combines all the things that make Hawaii great. You can snorkel, swim in clear water, play with your kids on a beautiful beach, all while immersing yourselves in a wonderful learning experience while viewing the majestic sea turtles!
Recommended by Cortney from Tin Can Living
5. Window Shop & Resort Hop in Waikiki
While you may not get the traditional, quiet, country vibe when visiting Honolulu, there is a lot to see and do. Waikiki is a popular, walkable neighborhood in Honolulu with tons to see, do, and experience, making a visit to this part of the island one of the best things to do on Oahu for free. Waikiki is an excellent location to go on a stroll, run, or simply people-watch while you walk off all the delicious Hawaiian food you've eaten!
All you need to explore Waikiki is comfortable pair of walking shoes, some sunscreen, and either a map or a good sense of direction.
Looking for a path to follow? Take a scenic 45-minute walk from the lush, green Kapiolani Park, where the Honolulu Zoo and Waikiki Aquarium are located, to Duke Kahanamoku Beach and Lagoon. You'll walk right past Waikiki Beach and Waikiki's shopping hub, Kalakaua Avenue, to get there! Or, you can make the whole journey along the beach if you'd like to feel the sand between your toes.
Recommended by Michelle from Intentional Travelers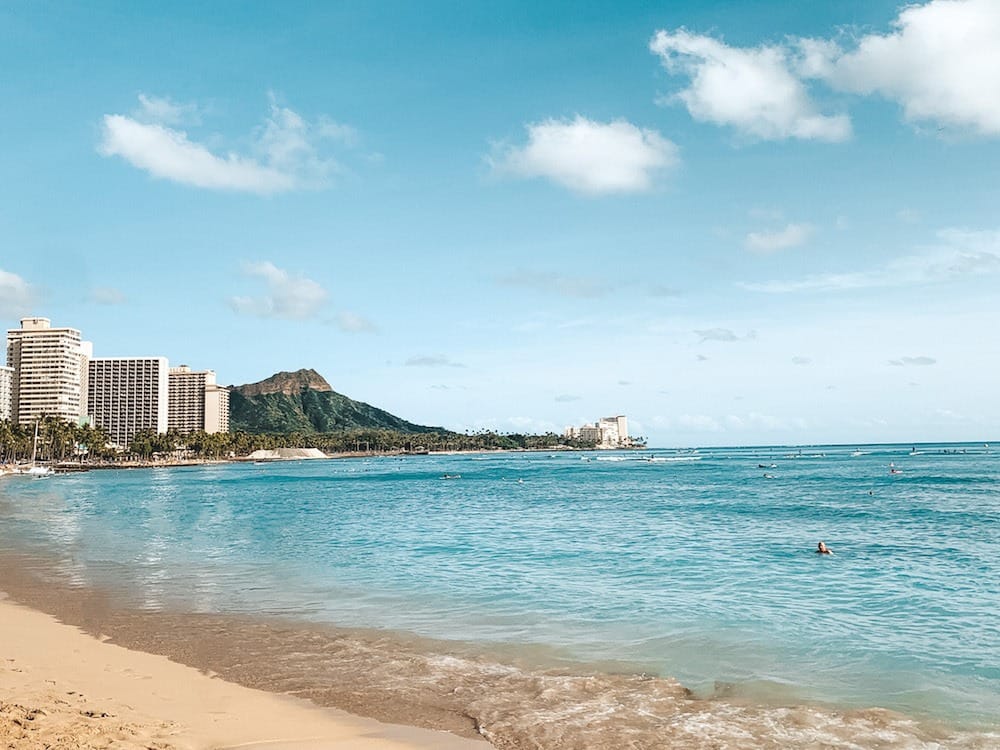 Read this blog post for more of the best things to do in Waikiki, Hawaii!
6. Hike Koko Head Crater
The Koko Head Stairs is quite a workout climbing over 1,000 steps to the top but is well worth the effort for the beautiful panoramic view from the top. The stairs are made from old railroad ties used to haul cargo and supplies to the top during World War II.
Parking for the trailhead is at the Koko Head District Park, and from there, you can easily navigate to the start of the trail. There is a flat dirt section before you begin the ascent up the stairs. At around 100 steps, you will see beautiful views of famous landmarks like Hanauma Bay and the Port Lock Peninsula.
Once you reach the top, you can climb above the military bunker for additional beautiful views of Diamond Head. From the backside, you can see the lava rock coastline and Sandy Beach. If you are up for more hiking, you can walk the small ridgeline trail that goes back down the other side of the mountain. It is a narrow and steep trail, but the challenge makes it one of the best things to do on Oahu for free!
Be sure to wear the proper footwear on the hike and bring lots of water and sun protection. It will take you about 30-minutes to one hour to reach the top.
Recommended by Candice from CS Ginger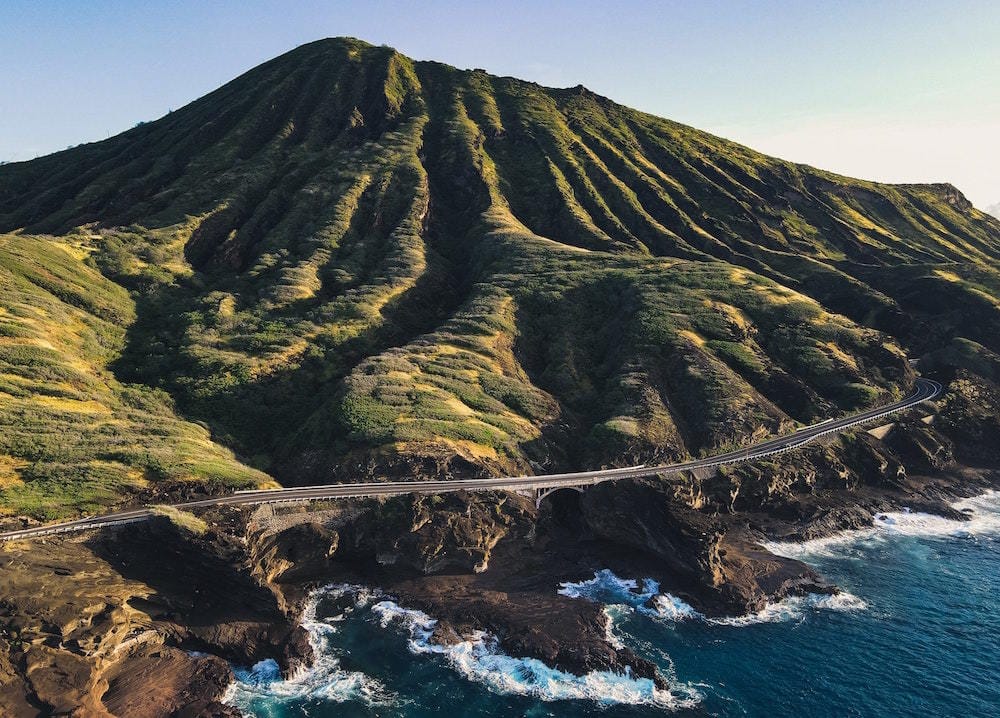 7. Explore the Ho'omaluhia Botanical Gardens
You will not want to miss exploring Ho'omaluhia Botanical Gardens for 400 acres of pure beauty in Kaneohe, also known as Oahu's Windward coast!
At the Ho'omaluhia Botanical Garden, you'll discover walking trails, lakes, and palm-tree-lined roads with the Ko'olau Mountain Range as the backdrop. Ho'omaluhia means "a peaceful refuge," and that's truly what this location is.
Many other things to do in Oahu for free are bustling with crowds, but the gardens offer a peaceful setting to enjoy a beautiful tropical setting. The land is lush and makes the perfect setting for a picnic!
Note: You cannot stop your car to take pictures while driving through the entrance, but there are plenty of other opportunities to take photos in the gardens!
Recommended by Destiny from Guided by Destiny
8. Hike the Lanikai Pillbox Trail
The Lanikai Pillbox Trail, also known as the Kaiwa Ridge Trail, is one of the best things to do on Oahu for free. It's a 1.8-mile out-and-back trail that extremely popular for the incredible views of Lanikai Beach and Oahu's Windward Coast once you reach the top of the mountain.
The hike is rocky and steep, and it's relatively challenging. However, at the end of the hike, you'll be rewarded with a remarkable vantage point to admire the island's beauty. You can climb on one of two pillboxes at the trail's end used as observation stations during World War II in the 1940s. The pillboxes are a great spot to rest or snap a photo before heading back down the mountain.
Since the entrance to the Pillbox Hike is located in a neighborhood, I recommend parking in the public parking near Lanikai Beach and walking to the trailhead. Then, after your hike, you can return to Lanikai Beach or a refreshing dip in the crystal clear water you just saw from the top of the mountain!
Tip: After your hike, stop at Island Snow for shaved ice. It's one of the best places to eat on Oahu!
Recommended by Brittany from Travel by Brit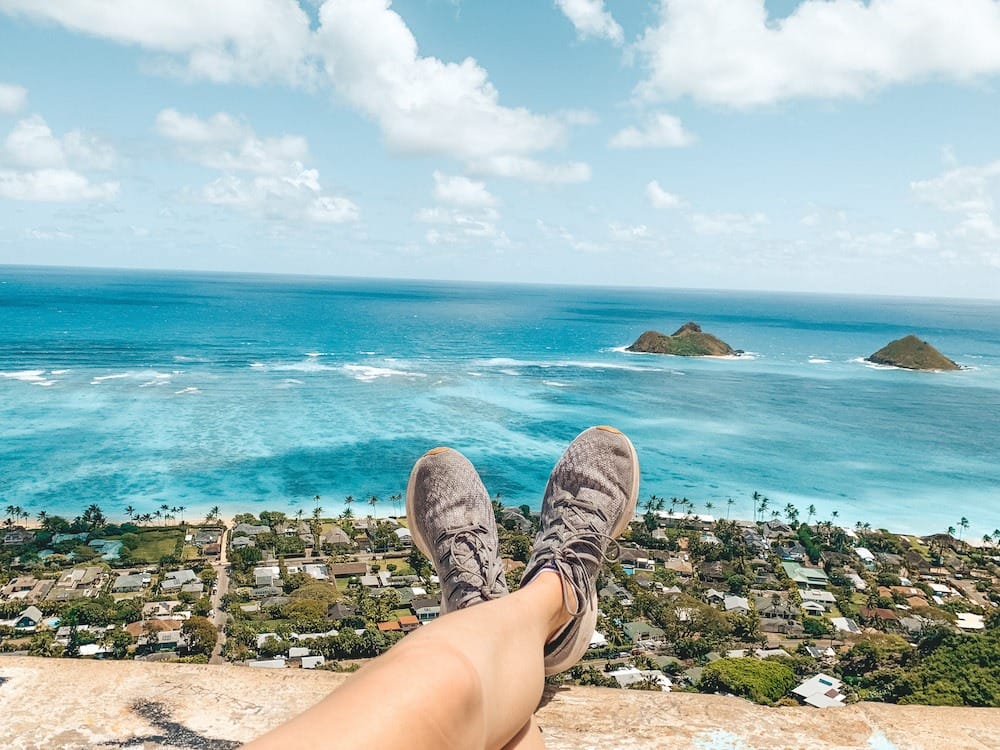 9. Marvel at the Friday Fireworks Show
Some say that the Hilton Hawaiian Village is one of the most famous hotels in the world. Whether you know it as Elvis's film set for "Blue Hawaii" or the iconic rainbow-tiled beachfront hotel tower, it's a beloved resort for visitors and a favorite spot for locals. It's also one of the best resorts in Oahu, Hawaii.
For over 30 years, the hotel puts on a free weekly fireworks show on Duke Kahanamoku Beach, often ranked #1 beach in America. Every Friday at 7:45 p.m., the hotel lights up the Waikiki sky with a 10-minute firework show so grand that you can see it from nearby neighborhoods. Head down to the beach, lagoon, or surrounding areas 15-30 minutes beforehand to grab a viewing spot, as it does get crowded. After all, it is one of the best things to do on Oahu for free and one of the best things to do in Honolulu at night!
Note: As of May 2021, the Hilton Hawaiian Village fireworks are on hold due to COVID. Before heading down, give the hotel a call to confirm that their free fireworks show is back up and running.
Recommended by Monica from A Planner at Heart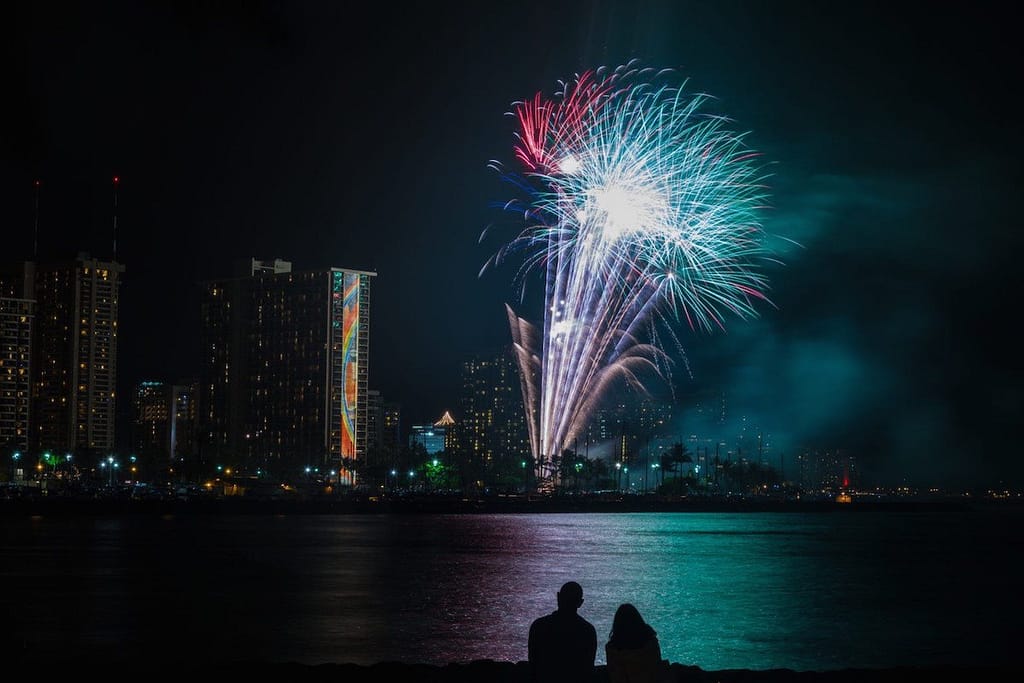 10. Adventure to the Spitting Cave
On the southwest side of Oahu, dramatic rock cliffs formed through a series of volcanic eruptions make for a uniquely picturesque setting that's one of the best things to do on Oahu for free! This spot is named for the hollow cave at the base of the cliff, which draws water in and then forcefully 'spits' it back out into the ocean.
Enter 'Spitting Cave' into Google Maps, and it will lead you straight to the alleyway entrance at the end of a neighborhood street. Look for the white and blue warning signs on a pole between two houses. The entrance to the Spitting Cave begins just past that.
Make your way down the short but steep and slippery natural staircase. You'll come out onto a broad, flat rock face with sheer drop-offs to the ocean below. There's plenty of space, though, so you can (and should) stay well away from the edge. Bring a blanket and picnic basket, and relax as the sun sets over the cliffs.
Recommended by Rachel from Type A Getaway
11. Visit the Pearl Harbor National Memorial
Visiting the Pearl Harbor Visitor Center and taking a boat ride out to the USS Arizona Memorial is one of the best things to do in Honolulu. Pearl Harbor is one of the most famous landmarks in Hawaii and inspires sober reflection with a beautiful park, the Remembrance Circle, and views out onto the harbor.
Visitors with an interest in history can easily spend many hours here. The site hosts exhibit galleries with artifacts, photos, and audio diaries from some who were present. Those wanting to continue learning about the destination from home can visit the bookstore with a comprehensive collection of books, movies, and other souvenirs.
There is also a 75-minute program that includes a short documentary and boat trip out to the USS Arizona. Tickets are free, but during the pandemic should be reserved in advance (which requires a one-dollar fee). Check their website for current guidelines.
Pearl Harbor is just 10 minutes north of the airport and 20 minutes from downtown by car. Be sure to bring your camera, sunscreen, and comfortable walking shoes. Larger bags are not allowed. Some visitors also bring flowers to drop into the sea to honor those who died. Although your visit to Pearl Harbor is free, the memories will be priceless and stay with you for your lifetime.
Recommended by Erica from Trip Scholars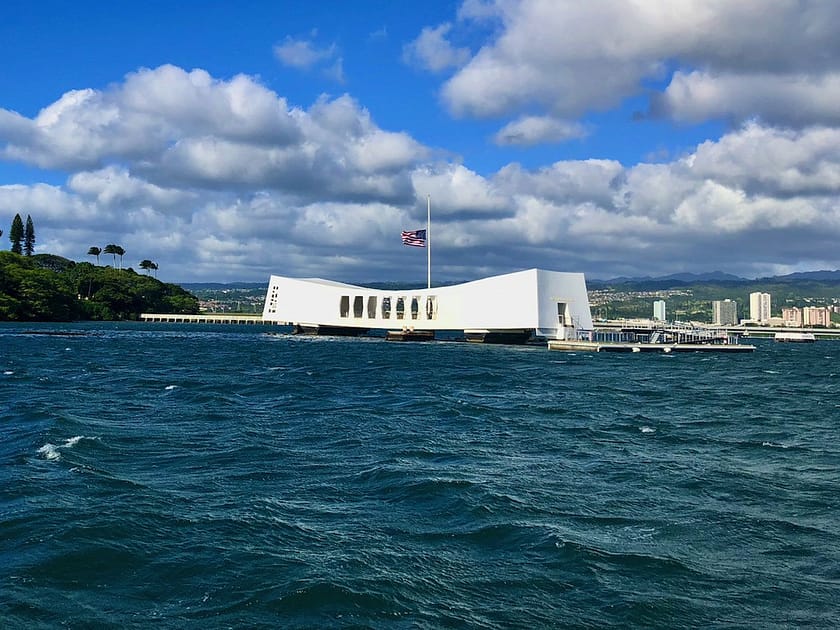 12. Hike the Hanauma Bay Rim Trail
When guests are looking for natural beauty but are sick of the beach, they go to Hanauma Bay Rim Trail. Hikers walk through a 3.9-mile loop where they encounter wonders like Hawaii Kai, Koko Crater, and the Hanauma Bay itself. The trail has an easy-to-moderate difficulty level, so it is accessible for children and elderly adults. You can complete this trail within 1.5 hours.
Guests should bring hiking shoes, water, and a quality, light hiking backpack like the Osprey Farpoint 40 to carry supplies without fatigue.
A Hawaiian vacation can be expensive, but it doesn't have to be. Luckily, Hanauma Bay Rim Trail is one of the best things to do on Oahu for free!
Recommended by Catalin from Travel Trained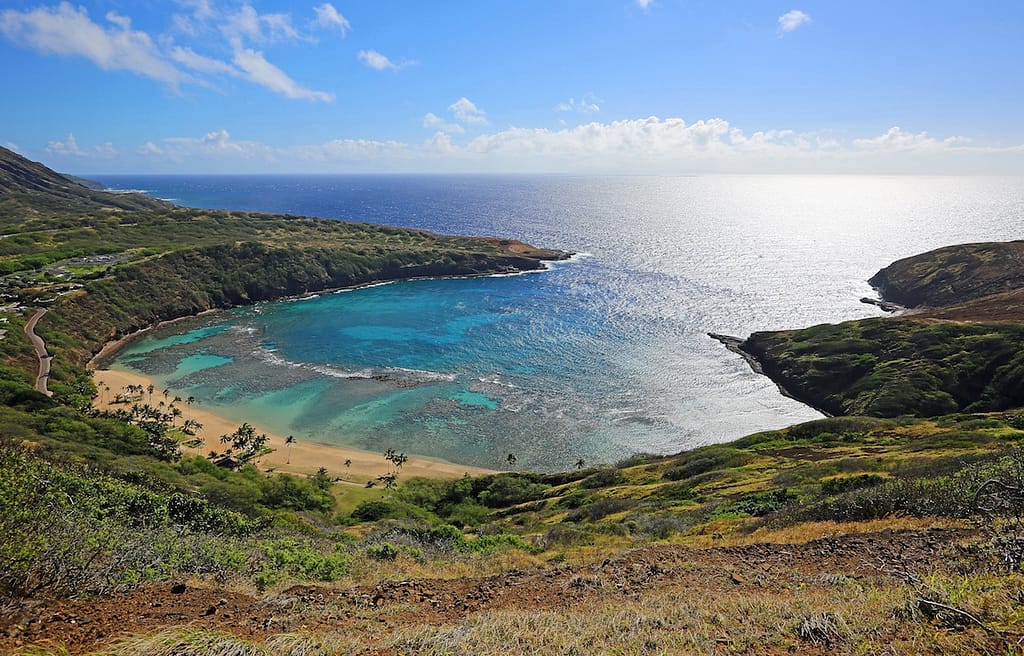 13. Explore Chinatown in Honolulu
One of the best things to do on Oahu for free is to visit Chinatown that borders Waikiki and Honolulu downtown. An easy bus ride or Uber to the Chinatown district which is comprised of a few blocks that you can easily walk around your own is the best way to explore the area.
Come hungry so you can start with a fabulous dim sum meal of little bites that are either carted or hand-carried direct from the kitchen to hungry visitors. There's a variety of dim sum shops all around Chinatown that you can easily walk around a variety of dim sum places centered around the Chinatown Cultural Plaza and check out the menus to most that area showing on their doors.
After a delicious dim sum feast, you can walk around the area and find a variety of cool lei shops, bakeries, souvenir stands, and even contemporary art galleries that are part of the hip art scene and a popular venue around the Hawaii theatre. First Fridays are one of the best things to do on Oahu for free. They offers a fun art and food scene in the area to explore and enjoy something unique in the Chinatown area.
If you are looking for more historical walking tours, you can do some fun tours with the Chinese Chamber of Commerce to get more history and culture from the area. You can contact the Chamber at (808) 533-3181 for more details. Also, check out these top things to do in Honolulu for more inspiration and fun places and attractions to explore around the city.
Recommended by Noel from This Hawaii Life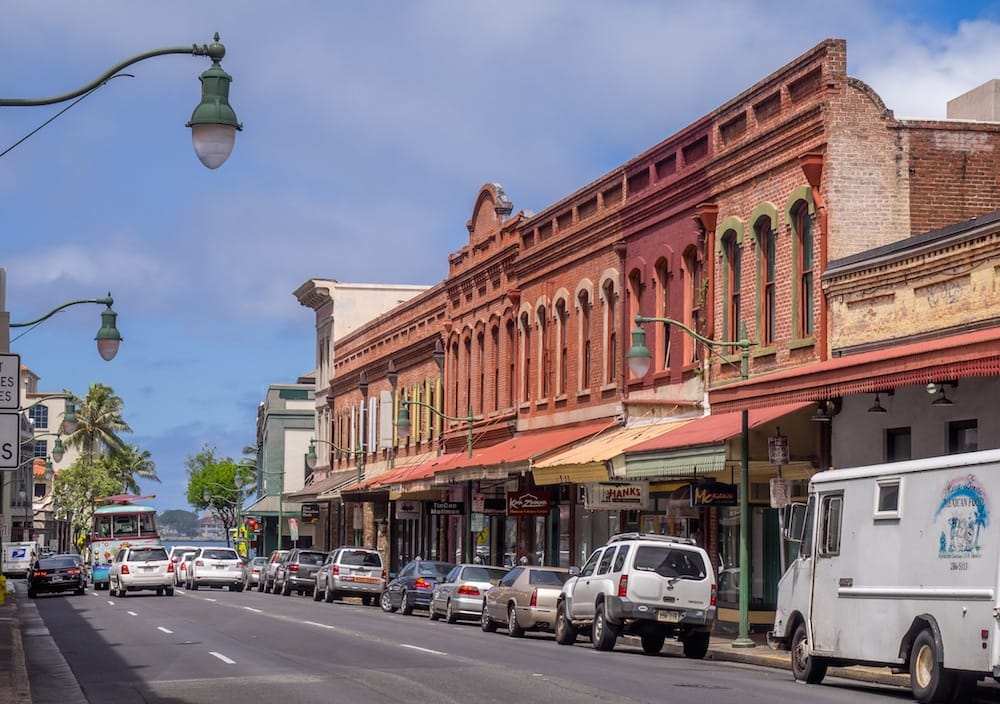 14. Snorkel at Queens Beach & Sans Souci Beach
One of the best things to do on Oahu for free is snorkeling near Waikiki Beach. There are a few good spots to go snorkeling in the area, including Queens Beach and Sans Souci Beach near Kapiolani Park.
These beaches are located south of the popular resorts in Waikiki. They are near the Marine Life Conservation District, so you'll see plenty of colorful fish, coral, and other marine animals like sea turtles while you are snorkeling.
Before jumping in, proceed with caution and know the conditions. Avoid snorkeling when there's a south swell, and be cautious of the currents and go when the waves are calm. Near Kapiolani Park, you can access restrooms, picnic tables, and showers.
After a day of snorkeling, stick around to soak up one of the most spectacular sunsets in Oahu from the Waikiki Wall Walkway (next to Queens Beach!).
Recommended by Danielle from Stuff It Go Travelling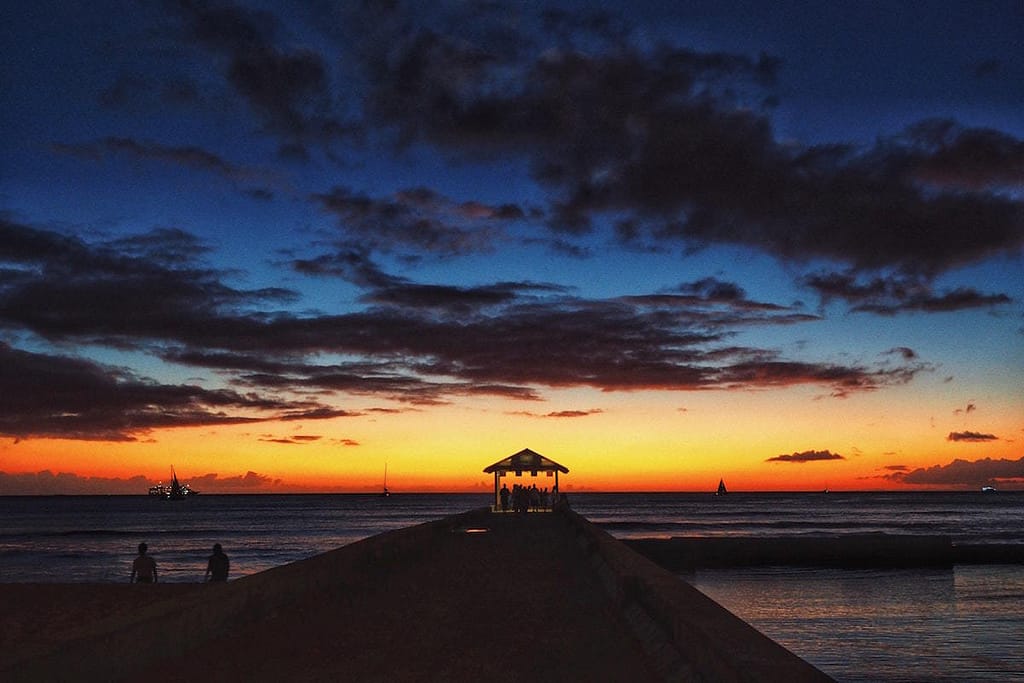 15. Hike the Makapu'u Lighthouse Trail
There are tons of great Oahu hikes, and one of the best easy trails in Oahu is the Makapu'u Point Lighthouse Trail. The trail is located at the southeastern point of Oahu, less than 30 minutes from Honolulu. And the best part about the trail? You don't have to pay an entry fee, making it one of the best things to do on Oahu for free!
The Makapu'u Point Lighthouse Trail is a pretty easy hike – it's 2.5 miles total with an elevation gain of about 500 feet. Free parking is available at the trailhead. The trail is entirely paved, and there are plenty of lookout spots along the way with amazing views. If you're lucky, you might even be able to spot whales! At the top, you'll be rewarded with gorgeous views of the Oahu shoreline, Koko Head, Koko Crater, and of course, the namesake red-roofed Makapu'u Lighthouse.
Though the trail is relatively easy, there is no shade. Don't forget your sunscreen, a hat, sunglasses, and plenty of water. To miss the crowds and avoid the midday heat, do the hike early in the morning.
Recommended by Sydney from A World in Reach
Where to Stay When Visiting Oahu
When you take advantage of lots of free activities and things to do, it might give you the chance to splurge on a beautiful hotel or fun resort during your Hawaiian vacation! Here are some hotel recommendations, or you can read my post about the best resorts on Oahu, Hawaii, for a more in-depth look at the best resorts, hotels, and beachfront properties on Oahu!
Save Money & Have Fun with These Fun Things to Do on Oahu for Free
Which of these fun things to do on Oahu for free sounds most exciting to you? Whatever activities you choose, it's impossible not to have a spectacular time surrounded by breathtaking beaches, scenic gardens, and vibrant city life in Oahu, Hawaii!
Disclosure: Some of the links in this post are affiliate links, meaning, at no additional cost to you, I earn a commission if you click through and make a purchase. This helps me keep the content on my website free, like this post about The Best Things to Do on Oahu for Free!
Pin "The Best Things to Do on Oahu for Free" to Read Later!
Did you enjoy reading this blog post about the best things to do on Oahu for free? If so, you'll love these other blogs about Oahu, Hawaii!