As the temperatures rise and flowers begin to bloom, the month of May marks the beginning of summer and is the ideal time to embark on an adventure to one of the best places to visit in May in the USA!
Not only does May offer a comfortable climate in most parts of the country, but it also allows you to avoid the peak tourist season and enjoy affordable prices. This makes May a fantastic time to explore some of the best places to visit in the USA without breaking the bank.
Whether you're looking for a beach getaway, a national park adventure, or a city break, there are plenty of destinations to choose from on this list of the best places to visit in the USA in May. So, if you're planning a trip this May and wondering where to go, keep reading to discover the top destinations you should explore!
Best Places to Visit in May in the USA
1. Louisville, Kentucky
Louisville, Kentucky, is a fabulous place to visit in May, especially if you are visiting for the Kentucky Derby — the longest-running sporting event in the USA.
The Kentucky Derby usually takes place at the beginning of May, so be sure you grab your tickets plenty of time in advance! However, the Kentucky Derby Museum — one of the best museums in Louisville — is still a fabulous spot to visit even if you can't make it to the derby.
However, there are still plenty of awesome things to do in Louisville in May besides the Kentucky Derby. Head down to Whiskey Row and explore the museums, distilleries, and fabulous restaurants on this historic street. If you're looking for great restaurants in Louisville, don't miss Repeal Oak-Fired Steakhouse or Doc Crow's Southern Smokehouse & Bar.
Kentucky is also where 95% of the world's bourbon is made, so you also can't miss embarking on the Kentucky Bourbon Trail to sample some bourbon for yourself. Maker's Mark Distillery is my personal favorite — the tour is super detailed, and the bourbon is delicious!
Contributed by Brittany of Travel by Brit
2. Rocky Mountain National Park, Colorado
If you're looking for one of the best places to visit in May in the USA, then you can't beat Rocky Mountain National Park. Fly into Denver International Airport and then drive 90 minutes to Estes Park. After all, May is the perfect time to visit since the crowds of summer haven't arrived yet.
The temperature is mild with daily highs of 51°F and daily lows of 33°F. While the month does see around eleven days of rain, that also means that the meadows are lush, with plenty of elk grazing the area with their babies. You'll also see plenty of wildflowers since Indian Paintbrush, Forget-Me-Nots, and Alpine Aven will all be in full bloom.
If you time your visit for Memorial Day weekend, then you'll be able to take a scenic drive along Trail Ridge Road. It's the highest continuously paved road in the country since it reaches an elevation of 12,183 feet and offers stunning views of the surrounding Rocky Mountains.
Other fun things to do in Rocky Mountain National Park include hiking the Upper Beaver Meadow Loop, Deer Mountain, and Little Horseshoe Park Trail. Just be sure to stick to lower elevations since many higher-elevation trails are still covered in snow.
Contributed by Meg of Fox in the Forest
3. Gulf Shores, Alabama
Gulf Shores, Alabama is popular for its pristine white sandy beaches and beautiful water. And there's no better time to visit Gulf Shores than in May. Summers get very hot and humid on the Gulf Coast of Alabama and can make being outside unbearable, but when visiting Gulf Shores in May, you'll have the perfect weather for playing, relaxing, and swimming.
Besides spending time on the beaches and swimming in Gulf Shores, this town also offers plenty of fun family activities such as mini-golf, go-cart riding, and shopping. You'll also have to visit the nearby theme park and indoor waterpark Tropic Falls at OWA.
Gulf Shores offers plenty of delicious restaurants including the fun, family-friendly Lulu's. Lulu's has an excellent menu, live music, and even a large outdoor sand area for kids to play. Toward the end of May is the area's biggest music event of the year, Hangout Fest, featuring some of the biggest names in music.
Contributed by Kim of Traveling Swansons
4. The Finger Lakes, New York
The Finger Lakes region of New York is easily one of the best places to visit in May in the USA. The area is best known for its wine, lakes, and waterfalls. May is a great time to enjoy all three! During the spring, the waterfalls are flowing furiously with all the winter snowmelt. The powerful water flow creates magical scenes throughout the region.
Explore popular state parks like Watkins Glen, Letchworth, and Taughannock Falls, among others. Use Watkins Glen as your home base. You'll have convenient access to many things to do in Watkins Glen, and the rest of the region is easily accessible, too. After venturing around the outdoor spaces in the morning, enjoy an afternoon tasting wine on an outdoor patio with a lake in view. There are many to choose from! Seneca Lake has the most options, but it's the most commercialized. Each lake has its own flair!
End the day by getting a bite to eat at Kindred Fare in Geneva, NY. It's at the opposite end of Seneca lake from Watkins Glen, but you won't be disappointed if you make the effort to visit and enjoy their farm-to-table, seasonal dishes. Making a reservation ahead of time is highly recommended!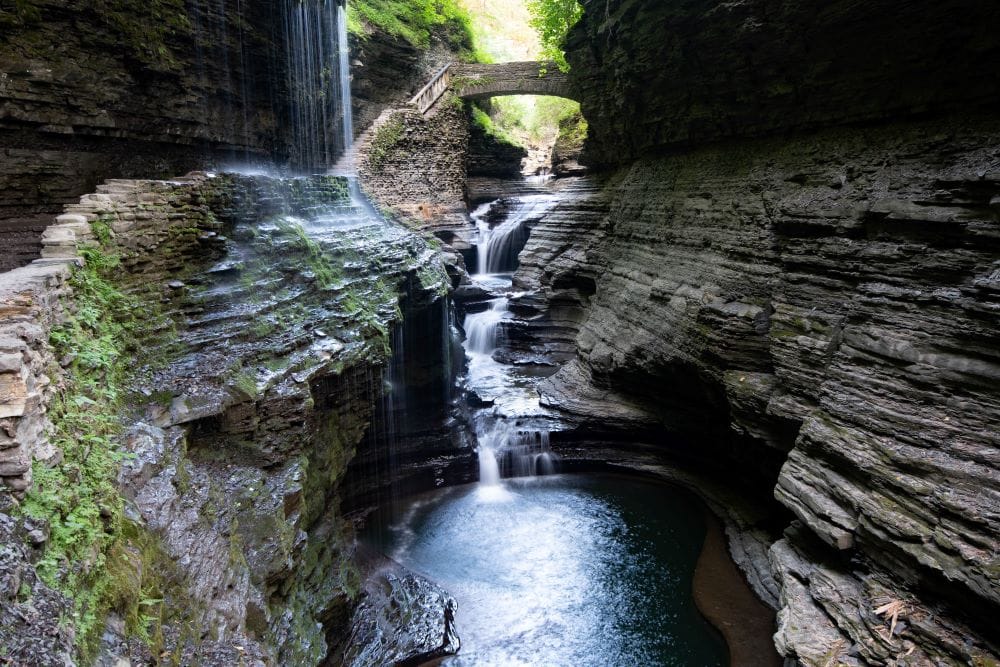 Contributed by Samantha of PA on Pause
5. San Diego, California
Another one of the best places to visit in May in the USA is San Diego! May is the perfect time to visit this Southern California beach town before the busy summer tourist season. Plus, there are lots of events happening around the city.
A great place to start is by attending the Fiesta Old Town Cinco De Mayo festival during the first week of May. This annual event is held in San Diego's historic Old Town and offers guests delicious Mexican food, lively music, and lots of games! Or, if you're looking for a day in nature, consider making your way up to the Carlsbad area to catch the gorgeous flowers in full bloom. It's the perfect activity for couples, families, and friends!
Finally, if you're looking for a trendy spot to eat during your time, check out Morning Glory! They serve tasty breakfast and brunch dishes, made even better with their signature boozy coffee.
Contributed by Kristin of Global Travel Escapades
6. Portland, Maine
It's no secret that the quaint coastal town of Portland, Maine is a beautiful destination year-round. From towering lighthouses and rocky beaches to stunning state parks and world-renowned seafood, it never disappoints. If you're looking for fewer crowds, enjoyable temperatures, and lower flight and hotel prices, visiting Portland in May might be for you.
Visiting Portland in the spring offers an opportunity to see the city without breaking the bank. There's much to see and experience during this shoulder season, too. The average daily temperatures begin to rise to make outdoor activities extremely enjoyable. Stroll the Old Port for some shopping, visit the famous Portland Head Light at sunset, or take a food tour with Maine Foodie Tours.
Stop for a bowl of piping hot clam chowder at Gilbert's Chowder House before grabbing a Maine potato donut at Holy Doughnut. And, if you're up for it, check out some of the best breweries in Portland, Maine, and grab a local brew to enjoy!
Contributed by Alexandra of East Coast Contessa
7. Savannah, Georgia
May is a fantastic time of year to visit Savannah, Georgia since it's when the jasmine is in full bloom throughout the Historic District. That means the city not only looks pretty, but it smells nice, too! In addition to jasmine, which is sometimes nicknamed Confederate jasmine or star jasmine, the beautiful Southern magnolias also bloom in late spring. You might also spot purple agapanthus, aka: "Lily of the Nile".
Savannah is hot, but not too hot, during the month of May, which makes it one of the best places to visit in May in the USA. The afternoon hours are best for indoor activities, such as exploring museums or going on trolley tours or river cruises, while the cooler morning and evening hours are ideal for outdoor activities. Try strolling down beautiful Jones Street or go on one of the city's popular late-night Savannah ghost tours (if you dare!). After all, Savannah is known for being haunted! Beach lovers can head out to Tybee Island, which is only 25 minutes away. The water is warm enough for swimming in May.
There are plenty of popular places to eat in Savannah, but if you want to go where the locals go, try Common Thread, Alligator Soul, The Collins Quarter, or Foxy Loxy Café.
Contributed by Erin from Savannah First-Timers Guide
8. Juneau, Alaska
May is the perfect time of year to visit Juneau, Alaska because it experiences less rain than the summer months. In the last few weeks, the humpback whales have arrived in Alaska, and Juneau provides one of the best places to see them.
Close to downtown, Mendenhall Glacier allows you to see a giant ice field. At Mendenhall Glacier Park, you can enjoy gorgeous views of house-sized icebergs floating down the lake and take a short hike to Nugget Falls. For the adventurous, consider booking a whale-watching and Mendenhall Glacier tour.
In downtown Juneau, the Mount Roberts Tramway transports you to the top of the mountain. Wear your hiking boots and take the trail to Father Brown Cross for magnificent views of the Gastineau Channel. Avid hikers can trek further but expect snow and muddy conditions in May.
After a busy day, check out Tracy's Crab Shack, known for its fantastic crab selection. During peak times, expect to wait to dine at Tracy's, but the food is worth the wait.
Contributed by Karen from Forever Karen
9. San Antonio, Texas
San Antonio is one of the best places to visit in May in the USA since the weather is beautiful and there are fewer crowds.
There are also several fun festivals held in San Antonio in May, such as the Tejano Conjunto Festival — full of Texan music and culture — as well as Springfest, North America's largest carnival! With San Antonio being known as "Military City USA," an Armed Forces Parade runs along the river in May, with decorated floats and patriotic music — a great way to pay tribute to the men & women who serve our country.
There are so many things to do in San Antonio, with the San Antonio Riverwalk being Texas' most visited tourist attraction and absolutely worth a visit! Walk the downtown loop of The Riverwalk — it's such a beautiful area and there are many Tex-Mex atmospheric restaurants serving authentic food! Casa Rio is the famous restaurant along The Riverwalk that has colorful umbrellas outside and is worth a visit!
In addition, make sure to visit the world-famous Alamo: the site of The Battle of the Alamo between Texas and Mexico in the Texas Revolution.
Contributed by Catrina from 24 Hours Layover
10. Newport, Rhode Island
May is a fabulous time to visit the gorgeous coastal town of Newport, Rhode Island. Since this city is such a popular destination to visit in the summer, the shoulder season (particularly May) is a great time to enjoy all it has to offer with warmer temperatures, less rain, and cheaper prices.
There are tons of charming things to do in Newport, Rhode Island. Perhaps best of all is touring the Newport Mansions. These ornate residences from the Gilded Age sit along the Atlantic Ocean and boast stunning architecture and gorgeous interiors. The Breakers, Marble House, and The Elms are some of the most popular. You can book a trolley tour to see several of the mansions with admission to The Breakers!
You should also take the opportunity to stroll down the Cliff Walk — a nature trail with scenic views of the ocean and the mansions — and go shopping on Bellevue Avenue and Thames Street. There are also plenty of fabulous places to eat in Newport, from quaint breakfast spots like CRU Café to upscale waterfront dinners at The Mooring Seafood Kitchen & Bar.
Newport offers tons of luxury places to stay, so be sure to book a room at a cool boutique hotel, like Hammetts Hotel, or a historic property, like Hotel Viking, for a memorable stay.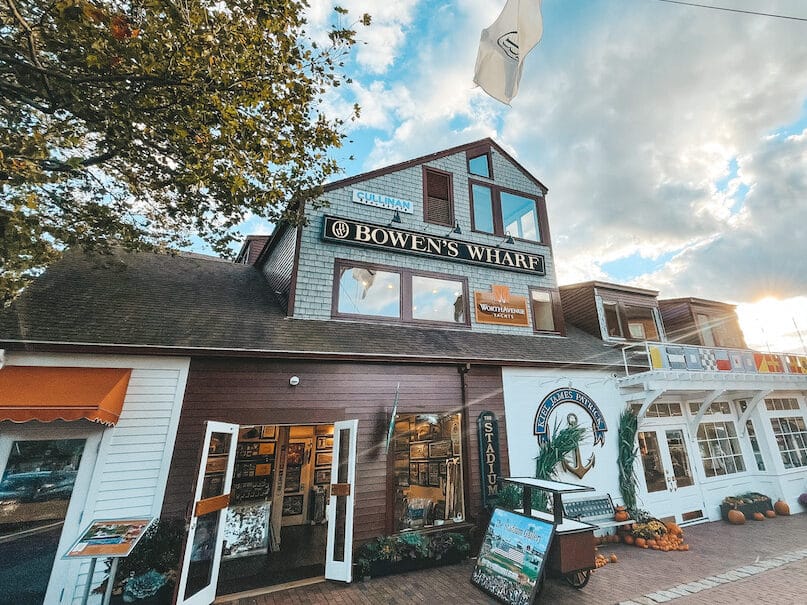 Contributed by Brittany of Travel by Brit
11. Holland, Michigan
The beautiful beach town of Holland, Michigan, is one of the best places to visit in May in the USA for the popular Tulip Time Festival. During spring, millions of vibrant tulips begin blooming, set against the backdrop of the historic DeZwann Windmill.
Locals and tourists alike eagerly wait for this amazing festival each year! If you can, plan to visit during this event, occurring May 6–14 in 2023. The town comes alive with traditional Dutch dancing, a parade, and food vendors. Spend time in downtown Holland in the quaint shops or dine at a variety of restaurants including Boatwerks, with a waterfront view.
Make sure to allot an ample amount of time to visit Holland State Park. This beautiful park has an expansive sandy beach on Lake Michigan and is the home of the iconic Big Red Lighthouse. Nature lovers can enjoy Michigan trails, hike Mt. Pisgah, or bike to Tunnel Park.
Contributed by Marian from Discovering Anew
12. Virginia Beach, Virginia
Virginia Beach is one of the best places to visit in May in the USA— especially before school lets out and throngs of people stake out their spots on the sandy beaches. There is plenty of sunshine in May too, making this time of year just right for enjoying surfing beaches, bike trails, state parks, and the vibrantly colored murals (and not to mention, the ice cream!).
Order a scoop of mint chocolate chip at Lolly's and stroll the three-mile paved boardwalk. A stop to ogle the 34-foot-tall King Neptune statue at the 31st Street beach entrance is practically mandatory when in Virginia Beach. Walk the ViBe Creative District to see dozens of colorful murals, including the "Greetings from Virginia Beach" mural at The Beach Bully on 19th Street. Some murals take over the entire exterior walls of buildings in this coastal town.
Off the beach, there are Virginia Beach hiking trails for all levels. At First Landing State Park, the Bald Cypress Trail guides visitors across a freshwater swamp with curious bald cypress trees. Bring your bikes to pedal the six-mile Cape Henry Trail at this state park.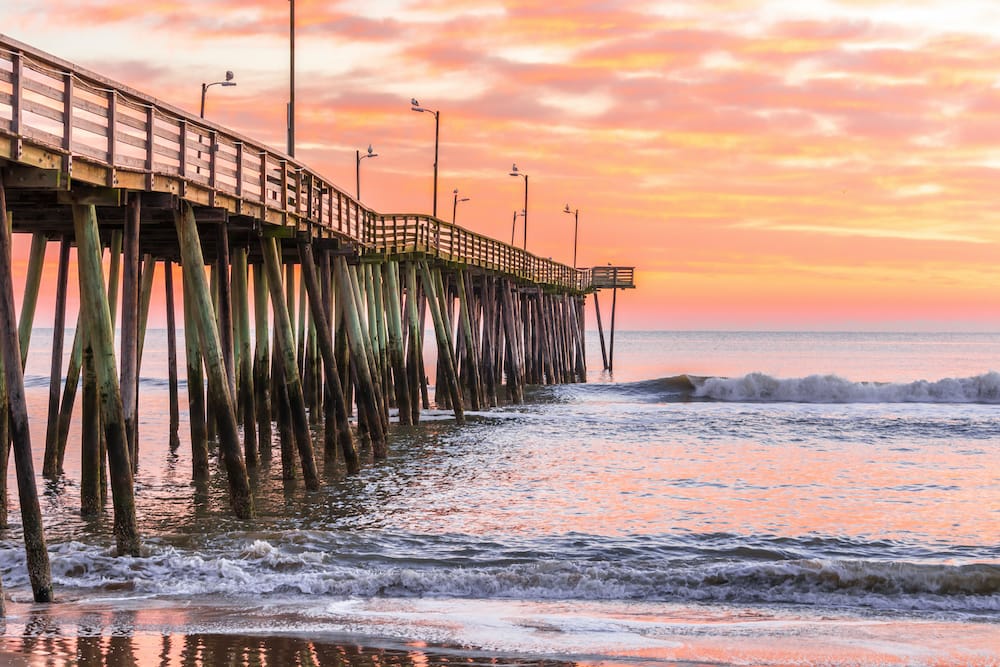 Contributed by Erin Gifford of Go Hike Virginia
13. Napa Valley, California
Napa Valley is the best wine-producing region in the country, with celebrated vineyards that are the envy of winemakers across the globe. Napa is located just an hour's drive across the Golden Gate Bridge from San Francisco and is a great destination for a road trip but is even better for a weekend getaway.
The perfect time to taste your way through Napa is in May when the crowds are at a minimum, and the weather is perfect for a picnic in the vineyards. The month of May starts on the quieter side with lower shoulder season pricing on accommodations and easy-to-book appointments at tasting rooms. As the month moves toward summer, the temperatures and the energy in the valley start to heat up with the Bottle Rock music festival that combines wine, food, and legendary bands.
If incredible wine is not enough, Napa Valley is also a top gastronomic destination with incredible restaurants that range from casual roadside diners to world-class fine dining. Make sure to stop by legendary Chef Thomas Keller's Bouchon Bakery to grab a few macarons and a croissant aux amandes.
Take a break from wine tasting in Napa with a stop for lunch at the Oxbow Market. This large food hall is packed with gourmet shops and great restaurants serving everything from fresh Hog Island oysters to Argentinian empanadas. Make your month of May the tastiest of the year with a visit to Napa Valley for some incredible wine and delicious treats.
Contributed by Gabriel of Chef Travel Guide
14. Antelope Canyon, Arizona
Antelope Canyon is one of the best places in May in the USA for one major reason — it is one of the best months to see the light beams that pour down from the cracks in the ceiling of this incredible slot canyon!
May is a popular month to visit Antelope Canyon, so be prepared for crowds and book your tickets in advance. Even though there will be crowds, honestly Antelope Canyon is always crowded unless you visit in the wintertime. A way to avoid crowds is to visit one of the lesser-known canyons such as Antelope Canyon X.
There are also lots of other amazing things to check out while you're in the area such as the Horseshoe Bend overlook. A short hike will take you to the overlook which is one of the most incredible views out over the Colorado River. Lake Powell is also nearby, which is a gorgeous lake that looks like a canyon with steep walls and rock faces. Make sure you don't miss walking across the Glen Canyon Dam while you're there as well, which is the second largest man-made dam in the USA behind the Hoover Dam.
If you're looking for a place to grab a bite to eat, head to Birdhouse, which is one of the best restaurants in Page, the closest town to Antelope Canyon. You'll find a hip atmosphere with delicious fried chicken and craft beer.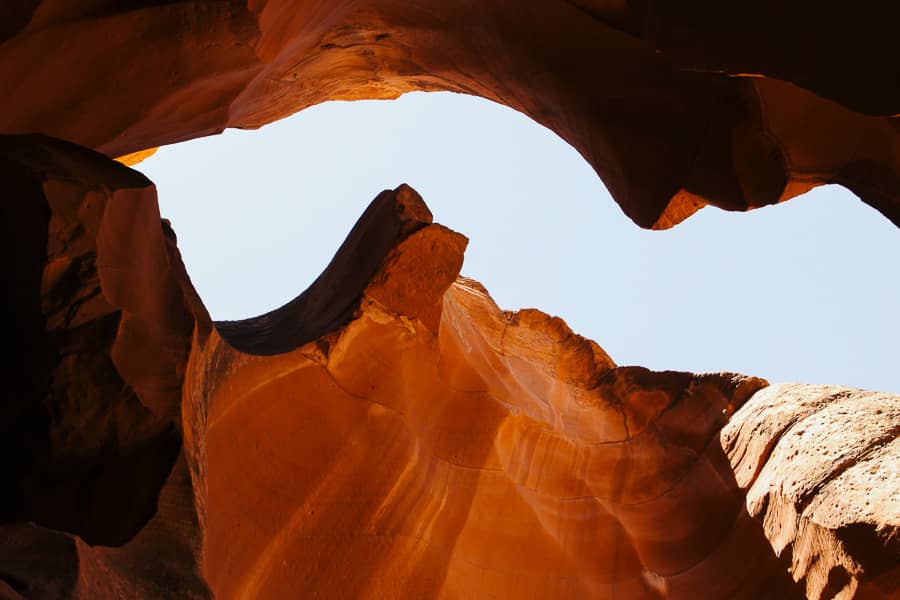 Contributed by Jess from Unearth the Voyage
15. Columbia River Gorge, Oregon
The Columbia River Gorge is one of the most beautiful areas of Oregon, and the absolute best time to visit is in May! May is peak Spring in the Pacific Northwest and a great time for hiking and sightseeing. The temperatures warm up averaging from 47°F to about 63°F, making the weather perfect for a cool hike.
The highlight of spring in Oregon is early May when the wildflowers start blooming! Take a wildflower hike in the Columbia River Gorge to see a display of yellow and purple flowers. Some of the best spots are Rowena Plateau and Memaloose Hills near Hood River. If you're staying in Portland, you can even book a half-day tour from the city to experience the waterfalls on a hiking adventure.
Spring is also when the waterfalls are at peak flow in the Gorge. Drive down the Waterfall Corridor and stop at some of the best waterfalls in Oregon, including Latourell Falls, Multnomah Falls, and Bridal Veil Falls. All of these are a half-mile hike or less, but there are also longer waterfall hikes in the Gorge.
To get to the Columbia River Gorge, fly into Portland International Airport. From there it is an hour and a half or less drive to get to most places mentioned above. Hood River is a great nearby town to stay in, close to the Gorge. The Hood River Hotel is a cute historic hotel downtown, or you can stay in a rental nearby. Hood River is full of great breweries, Full Fail Brewing and Friem Family Brewers being two of the more popular ones.
Contributed by Val from Voyages with Val
16. Jackson Hole, Wyoming
Jackson Hole, Wyoming is an amazing destination to explore in the month of May. It's the perfect time to enjoy fewer crowds, scenic drives, and wildlife viewing. The temperatures are still a bit on the cool side so dress in layers and be prepared for rain or snow in May!
Visiting Grand Teton National Park in May is a must for a Jackson Hole vacation. Plan one day to drive the 42-mile full loop road through Grand Teton. Some visitor centers, lodges, and other services in the park may not be open until late May.
When wildlife viewing around Jackson Hole, some areas could be closed due to bear activity and other wildlife management in May so be sure to follow instructions on any posted signs.
Hiking is one of the popular ways to explore the Jackson Hole and Grand Teton areas. In May, the trails can be muddy or even snow-covered, especially for higher-elevation hikes. At the end of the day, enjoy dinner at Bubba's Bar-B-Que in Jackson Hole. It's a local classic!
Contributed by Jamie from Photo Jeepers
17. Maui, Hawaii
With warm, sunny weather during all months, the Hawaiian Islands are a year-round destination, but if you want to avoid peak season, traveling to Maui in May is a great month to experience this magical slice of paradise. May is considered the shoulder season in Maui which helps you avoid the crowds and save a few bucks.
In the shoulder or low season, you can usually get better deals on accommodations, tours, and rental cars, especially at the last minute. Official whale season ends May 15th, so try arriving at the beginning of May to catch a few of these majestic creatures in their natural habitat on a whale-watching tour.
Make sure not to miss out on Fleetwood's on Front Street when you are cruising historic Lahaina town. This lively joint has the only rooftop bar in Lahaina, an amazing happy hour, and is owned by the rock and roll legend himself, Mick Fleetwood. This restaurant is packed year-round, so making a reservation ahead of time is highly encouraged.
Contributed by Jess from I'm Jess Traveling
18. St. Louis, Missouri
Kick off your summer of fun with a city break in St. Louis, Missouri. The Gateway to the West boasts a variety of attractions that won't break the bank., making it one of the best places to visit in May in the USA.
One of the best things to do in St. Louis is to explore Gateway Arch National Park. The underground museum is free and has captivating exhibits about the nation's expansion to the west. There is a fee for those who wish to hop in a capsule to ride to the top of the Arch. Another unique experience in the area is getting up close and personal with the famous Budweiser Clydesdales. You can do so with a visit to Grant Farm (where they undergo best-in-class training programs) or a Budweiser Brewery VIP Clydesdale Tour.
Get lost inside the City Museum for an entire day's worth of eccentric curiosities. It is a mashup of an art installation, playground, and science center and is fun for all ages. The St. Louis Zoo is a free must-see. It sits at the top of the rankings with the San Diego Zoo for its habitats, cleanliness, and high caliber of animal care. Each May, they host the Make Tracks Annual Run-Walk Race to benefit the Children's Hospital.
A visit to St. Louis is not complete without eating Ted Drewes Frozen Custard, St. Louis Style Pizza, Gooey Butter Cake, Pork Steak, or a beloved microbrewery like Schlafly.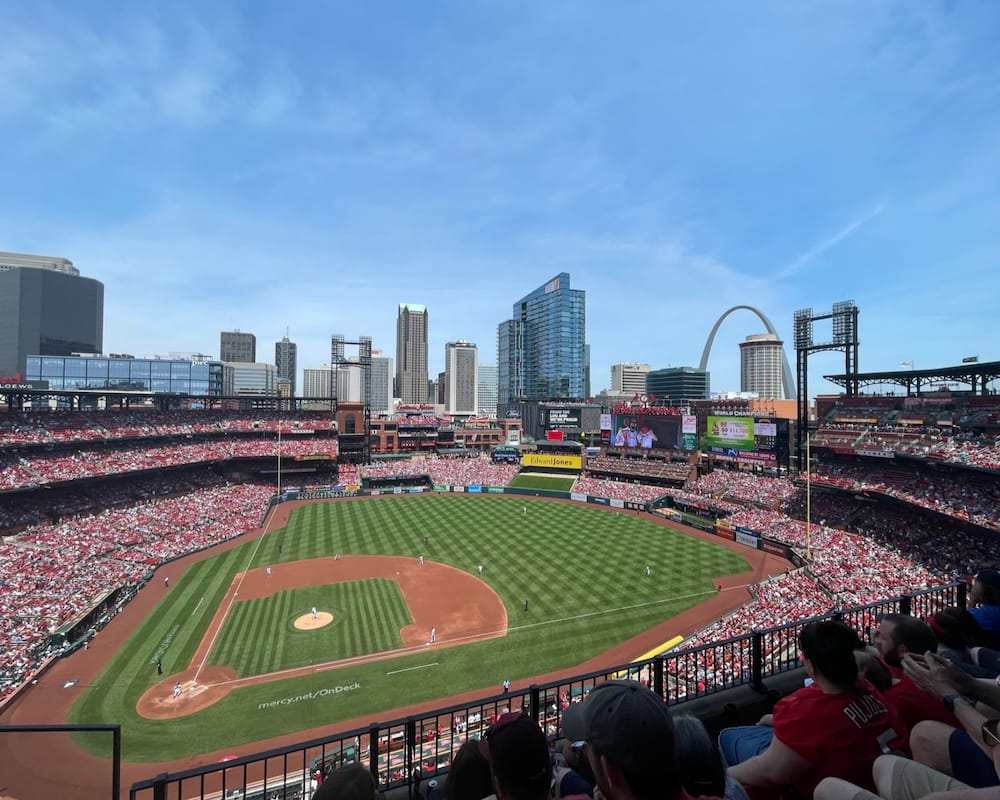 Contributed by Catherine of Postcard Narrative
19. Grand Canyon National Park, Arizona
Existing as the most visited national park in the USA (clocking in 4.53 million visitors in 2021 alone!), the Grand Canyon has long wowed visitors as one of the seven natural wonders of the world. May is one of the very best times to visit, as summer crowds have not yet arrived, and temperatures are warming but still pleasant.
While the popular South Rim of the Grand Canyon is open year-round, access to the less visited (but equally beautiful) North Rim opens in mid-May. As such, if you're interested in hiking the iconic rim-to-rim route and visiting in May — you are in luck! In May, reservations are relatively easy to secure, and Grand Canyon lodging tends to be more affordable. Unless you're bound by the summer school vacation period, there are really no downsides to visiting the Grand Canyon in May.
On the South Rim, explore Grand Canyon Village, which is home to several historical buildings, lodges, shops, and curios. Also be sure to hike a portion of the Rim Trail, which starts at Grand Canyon Village and ends at Hermits Rest. It offers fantastic views over the canyon and is relatively flat, with parts of the trail even being wheelchair accessible. If you want, take a helicopter ride over the Grand Canyon for the best views of all and an experience you will never forget!
If you're up for a challenge, take Bright Angel Trail down into the canyon, turning around at one of the rest stops or making the trek all the way to Indian Garden Campground to soak in the creek. If you choose the latter, the hike is nine miles round-trip and strenuous.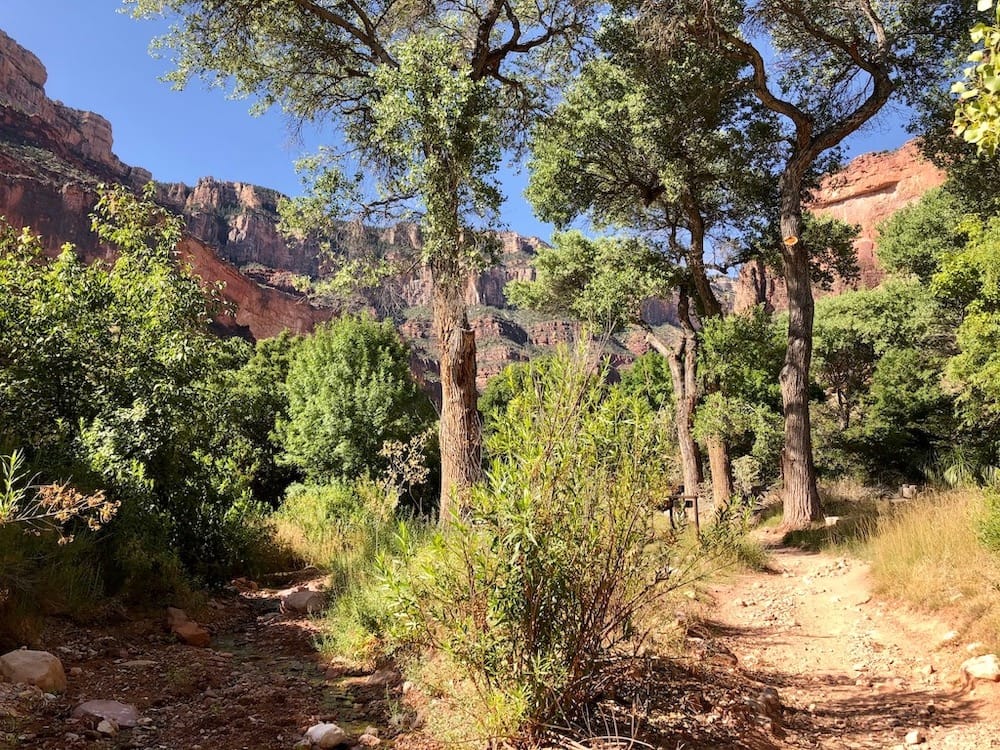 Contributed by Jenna of Up and Away Magazine
20. Clearwater Beach, Florida
One of the best places to visit in the USA in May is Clearwater Beach. The weather is perfect in May — warm but not humid — and beautiful beaches abound, with options like Clearwater Beach, Honeymoon Island State Park, and Caladesi Island State Park. Enjoy some rest and relaxation, slide into a kayak, or jump on a jet ski. In Clearwater, the choices are endless.
May is the perfect time to explore another Clearwater treasure, Pier 60 at Clearwater Beach. Consider checking out Clearwater Marine Aquarium in May as well.
Frenchy's South Beach Cafe is one of the most fun places to eat in Clearwater. Situated on a beautiful Beach Walk, this restaurant boasts a Key West bistro atmosphere with open-air dining, a large sidewalk patio, and an unbeatable view of the sparkling ocean. Get the Super Grouper Sandwich, you won't be disappointed!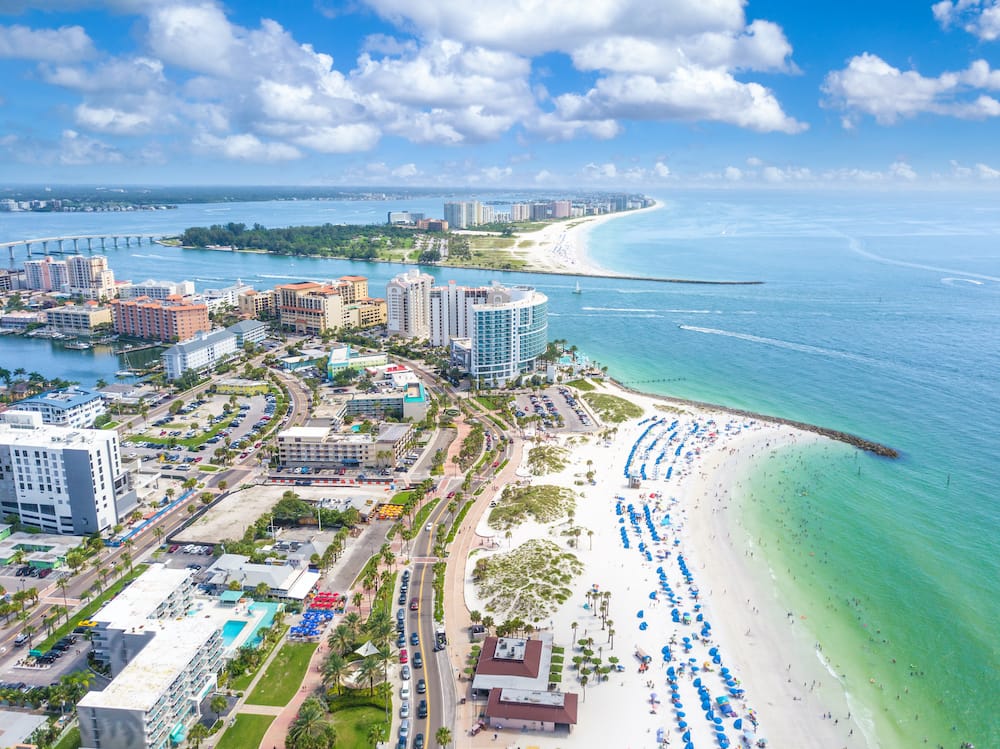 Contributed by Candice of Exploring the Gulf
21. Hocking Hills State Park, Ohio
Easily one of the best places to visit in May in the USA, Hocking Hills is a stunning state park with a unique landscape that is created by weather-resistant Black Hand sandstone. So, expect to find impressive gorges, amazing cliffs, and incredible waterfalls. You'll also love visiting in May since snowmelt from the surrounding mountains makes Cedar Falls look truly majestic.
Additionally, May is the perfect time to enjoy some of the best things to do in Hocking Hills and explore Ash Cave, Old Man's Cave, Rock House, Conkle's Hollow, Cantwell Cliffs, and Whispering Cave Trail since the area is inundated with gorgeous wildflowers. You can also check out some of these indoor waterparks in Ohio to kick off the summer!
You can also book a room at the Inn and Spa at Cedar Falls since it has enchanting, log cabin-inspired rooms in addition to a spa, a rooftop garden, and a high-end restaurant.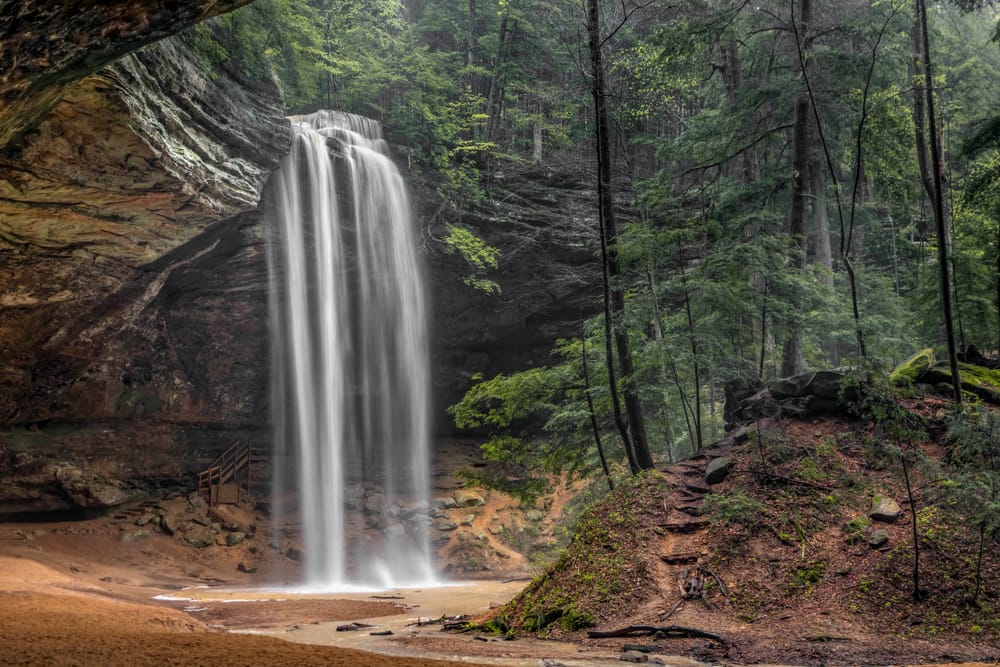 Contributed by Linda of Midwest Explored
22. Saguaro National Park, Arizona
Spring is the perfect time to visit Saguaro National Park — but the end of May offers something exceptional. If you don't know, Saguaro National Park was set up to protect saguaro cacti. The Saguaro cactus is the largest cactus species in the US and is only found in the Sonoran Desert, where the park is located.
So why visit Saguaro National Park in May? Because it's when the iconic Saguaro cacti are in full bloom. These giant cacti put on a spectacular display of white and yellow flowers, making it a popular time to see the park. Not only are the Saguaro cacti in bloom, but May is also a great time to visit the park because the temperatures are still mild in the morning and evening, making it perfect for outdoor activities like hiking and wildlife viewing.
During the mid-day heat, when hiking isn't recommended, drive the scenic loop in your air-conditioned car to enjoy the views around the park. Or you can head to your Saguaro National Park hotel for a siesta or to find a bite to eat in Tucson. El Taco Rustico is an excellent choice if you are in the mood for some tacos. However, remember to head back to the park for sunset, which is the perfect way to end the day.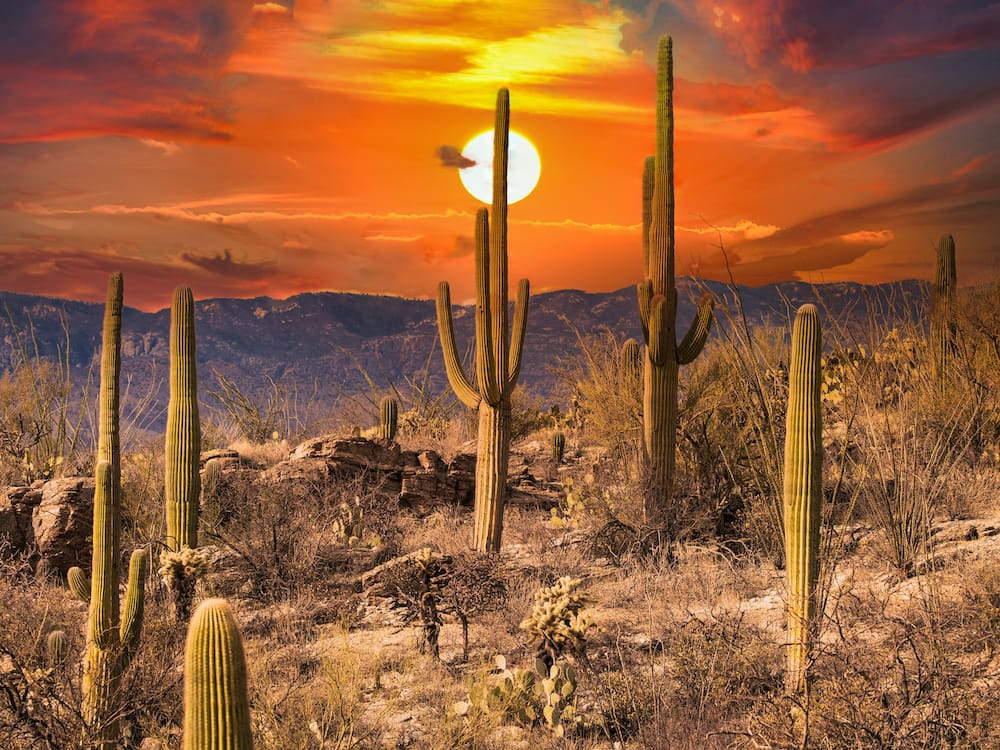 Contributed by Jenny of Traveling In Focus
23. Yosemite National Park, California
Yosemite National Park is famous for its granite monoliths — El Capitan and Half Dome — and impressive waterfalls, which are in full flow in May as the snowmelt from the Sierra Nevada Mountains makes its way to Yosemite Valley. The most famous of the falls is Yosemite Falls — the tallest waterfall in North America — which people flock to see in spring when it is at its best and most powerful flow.
But it's not just waterfalls that attract travelers to Yosemite in May. There are many walking and hiking trails to explore, like the loop hike to Bridal Veil Falls. It is an accessible trail for all ages, even babies in pushchairs! The trailhead starts from the car park and proceeds along the riverbank, through the giant sequoia trees, and on to the mighty Bridal Veil Falls, where visitors will be amazed at the force and sound of the water cascading over the rock face.
White water rafting and rock climbing are also popular in Yosemite National Park for those looking for adrenaline-pumping activities.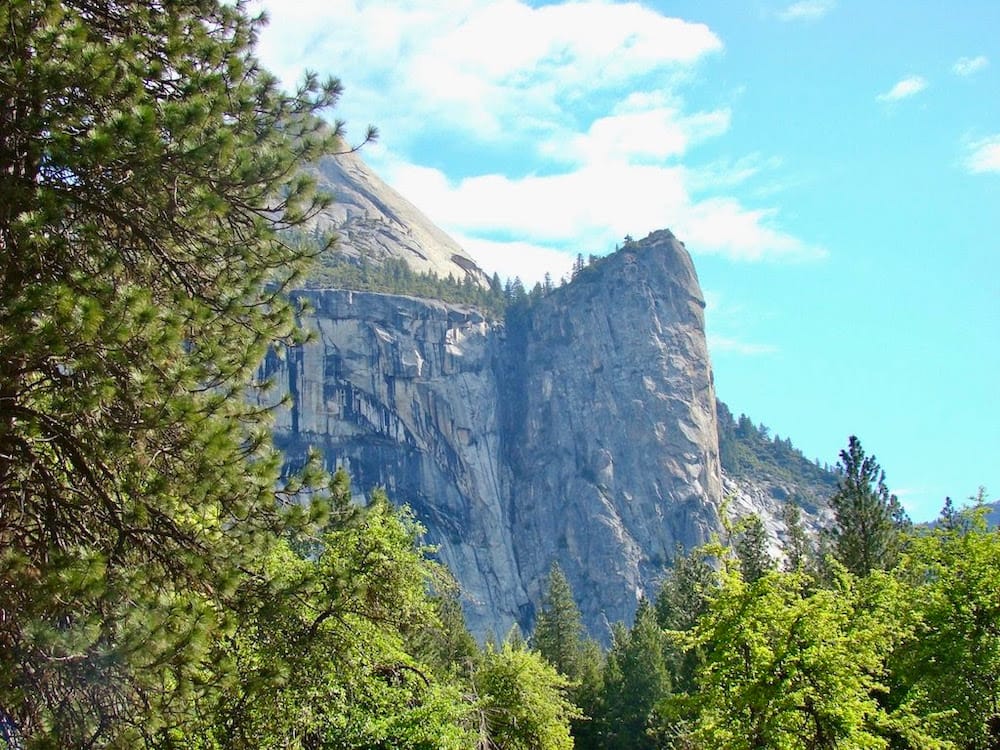 Contributed by Angela from Where Angie Wanders
24. Richmond, Virginia
Richmond, Virginia is historic, hip, and one of the best places to visit in the USA in May. The capital of Virginia offers Civil War history, historic homes, a foodie culture, and street art.
While you're here, learn about the African American experience in the Civil War on The Road to Freedom Tour Guide. If you are an architecture enthusiast, book a walking tour of Church Hill — Richmond's oldest residential neighborhood — with examples of architecture spanning two centuries. Don't miss Monument Avenue, lined with historic mansions. Many were designed by famed architects John Russell Pope and William Lawrence Bottomley. There is also a grassy park for dog walkers, the Capital Trail for bicyclists, and the James River for those who want to raft, swim, tube, and kayak on a warm spring day.
Foodies can choose between 900 restaurants, including James Beard Award-nominated chefs. Book a Richmond food tour or a "Bike & Bites" tour to sample a variety of cuisines. You should also check out the Richmond Beer Trail since this city is an international destination for craft beer and treat yourself to dinner at Brenner Pass — a restaurant owned by a contestant on Top Chef, Brittanny Anderson.
You will also want to check out the vibrant arts scene in Richmond, which includes the Virginia Museum of Fine Arts, or you can wander around and discover street art in Richmond, including the Powerplant, GRTS Bus Depot, and Manchester Silo.
Contributed by Terri from Female Solo Trek
25. Walt Disney World, Florida
Disney World in Orlando, Florida, is one of the best places to visit in May in the USA. You can enjoy temperate weather in Orlando during the spring, which is very pleasant compared to the sweltering summer highs that follow in June!
Also, while most families will be planning their Disney vacation for the upcoming summer months when kids have off school, in May, you can miss the bulk of the family crowds that visit Disney World as there are no school holidays in May. Because there are slightly fewer crowds, it will be a little easier to snag those hard-to-get reservations for new rides and dining experiences.
May has great weather and fewer crowds in Orlando, but one of the best reasons to visit Disney in May is for the annual Epcot International Flower & Garden Festival. The whole Epcot theme park is decked out for the International Flower & Garden Festival with elaborate flower displays, and there are limited edition themed restaurant pop-ups for the occasion as well.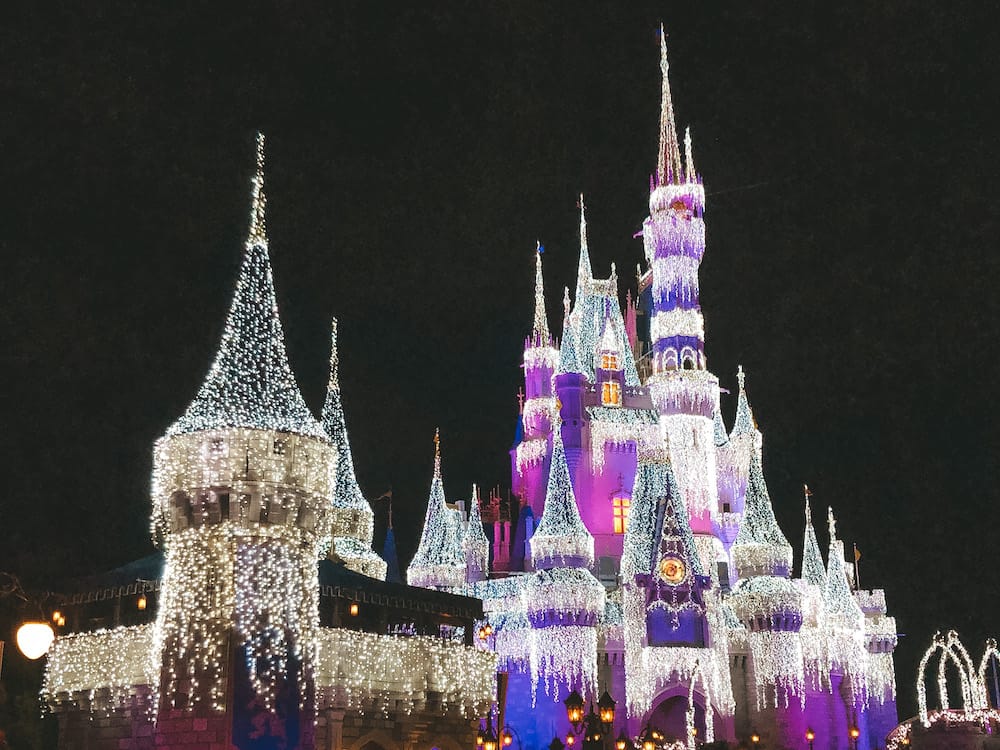 Contributed by Katie from Katie Caf Travel
26. Ocean City, Maryland
May is a great time to visit Ocean City, a barrier island off the coast of Maryland. For those who want to beat the summer heat and the big crowds, great deals await!
This time of year, ocean-view rooms with balconies are much more affordable at beachfront properties and they are worth it. Since the daytime weather usually hovers in the low 70s, you should have plenty of time to bask in the sun or take long walks on the beach and boardwalk.
One barrier island over is Assateague Island, home of the famous wild horses that roam the beaches freely. It's certainly worth a day trip or even a few hours to walk the marsh trails and explore the wildlife that inhabits this unique ecosystem.
Perhaps the best reason to come to this resort town in May is that it's the official start of Maryland Blue Crab season. Most of the best crab restaurants in Ocean City start serving crab again in May. For crab lovers, there's nothing better than enjoying an all-you-can-eat crab feast on the Delmarva Peninsula!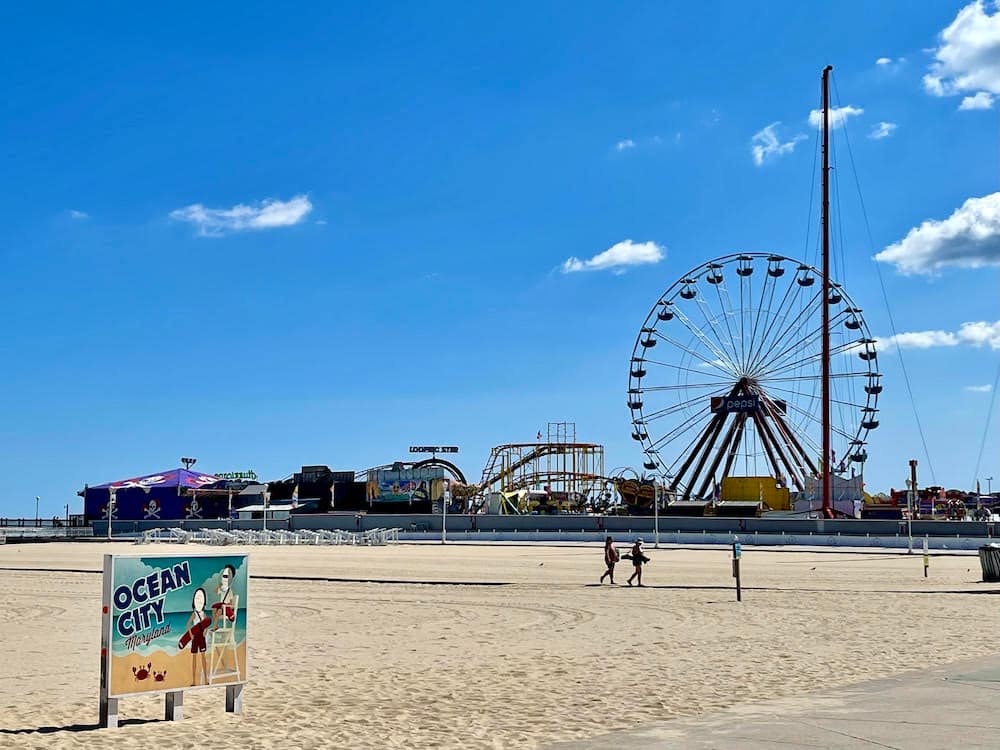 Contributed by Denise from Chef Denise
27. Charlotte, North Carolina
Charlotte, North Carolina is one of the best places to visit in May in the USA! With its mild climate and plenty of activities, it's a great destination for those looking for a fun and relaxing getaway. There are many events and activities happening in May such as the Charlotte Motor Speedway race, the Charlotte Arts & Music Festival, and the Charlotte Film Festival! There's something for everyone in this vibrant city.
When it comes time to eat, Charlotte has plenty of delicious restaurants to choose from. One popular spot is the 7th Street Public Market which offers a variety of food options from local vendors. The Southern Restaurant & Bar is another popular spot that offers amazing food at a great price.
Contributed by Brodi from Our Offbeat Life
28. Death Valley National Park, California
One of the best places to visit in May in the USA for spring would be Death Valley National Park on the edge of Nevada and California. This is the hottest place you will find in the United States and visiting before the peak summer comes is more doable while you visit other historic areas in the eastern part of the Sierra Nevada region.
Zabriskie Point is one of the top hiking trails to explore while you are here. This short hike to the vista point showcases this spectacular view of the park with colored sandstone formations in different patterns and colors that are truly out of this world.
You also can't miss the Artist Drive — this fantastic road trip that leads you through fascinating rock and sandstone formations. The most famous is the Artist's Palate — a multi-colored sandstone formation formed by different minerals that are exposed and colored by sun, wind, rain, and other elements.
The Mesquite Flats Sand Dunes are a popular place to explore in the late afternoon when the sun sets magically in this area and creates amazing photo opportunities at this location. If you have more time, explore, such as the Badwater Basin, Devil's Gold Course, and Twenty Mule Team Canyon.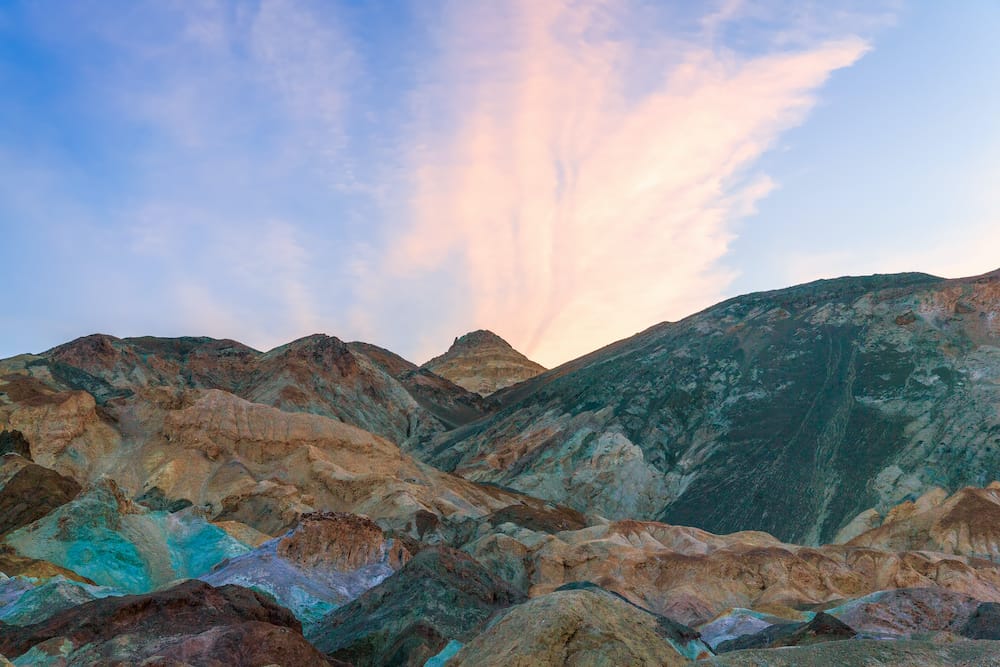 Contributed by Noel from USA Road Trip Now
29. New Orleans, Louisiana
May is Jazz Fest season in New Orleans, making it one of the best times to visit — that, and it's one of the best times for amazing weather! It's not too hot yet, and hurricane season is months away, so you can enjoy great temperatures and fabulous weather conditions.
Other festivals include Bayou Boogaloo, which is a lesser-known but completely unique music festival where spectators float on the water! Then there's New Orleans Greek Fest, New Orleans Food Fight, the Crawfish Festival, and free Wednesday at the Square music performances.
May is also a perfect time to go on an outdoor tour like a ghost tour, food tour, or swamp tour. The New Orleans Jazz Museum has free weekly jazz performances, and for the best jazz in the city, head to Preservation Hall in the French Quarter! Then, be sure to check out the amazing restaurants (including Bacchanal Fine Wine & Spirits), nightlife, and museums the city has to offer!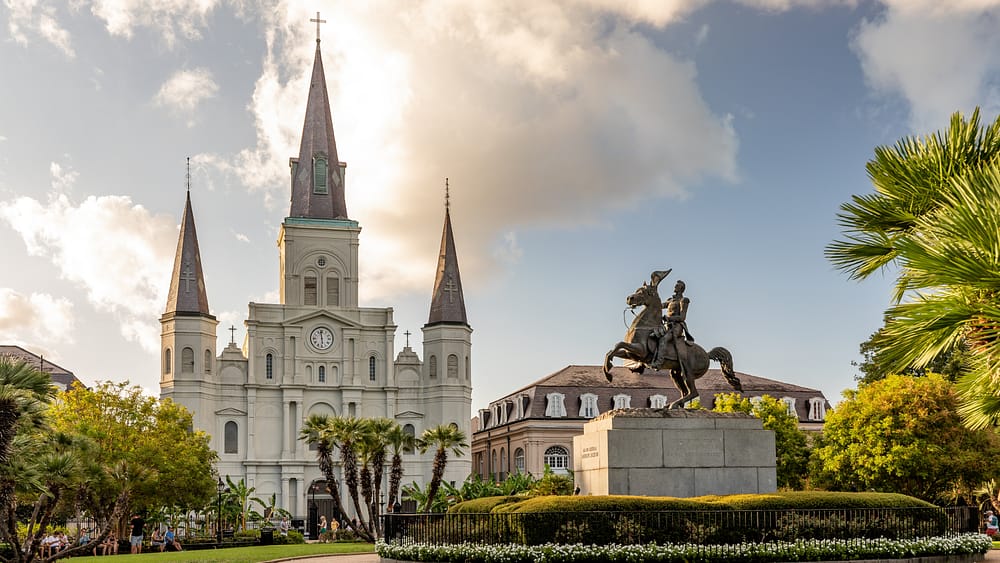 Contributed by Sarah from Mukikapup's Travels
FAQ: Best Places to Visit in May in the USA
Where is the best weather in May in the US?
Though some of the northern states are still experiencing colder weather and occasional rain, the southern or central states tend to have warmer temperatures during the month of May. In fact, some places in Arizona, California, Nevada, and the Southwest even reach 100°F. 
Which state is best to visit in May?
It's best to visit states in May that have a lot of summer tourists and less-than-ideal weather in the summer, like Florida. When you visit in May, you can dodge the summer crowds that flock to the beaches and theme parks while also avoiding the sweltering temperatures and humidity.
Is May a good time to visit Maine?
May is the beginning of summer in Maine, so it's a beautiful time to visit this gorgeous state. Temperatures vary drastically over the course of the month, so if you are hoping to avoid the crowds, be sure to visit later in the month, like over Memorial Day Weekend. 
Is May good for a Florida vacation?
Yes, May is the perfect time for a Florida vacation! During the month of May, you can enjoy warm temperatures before the humidity sets in. You'll also be past the spring break season and visiting before summer, so you will enjoy lower prices on hotels, flights, and activities and won't have to deal with the crowds in popular destinations, like Orlando, Tampa, and Miami.
Choose from the Best Places to Visit in May in the USA to Kick Off Your Summer
Whether you're looking for a beachy getaway, city break, or national park adventure, there is no doubt that you'll find a memorable vacation to embark on from these best places to visit in May in the USA!

Pin Now, Plan Later
Read More
If you're searching for more month-by-month guides of the best places to visit in the USA, check out these blogs posts: