Famously known as "America's Hometown," Plymouth, Massachusetts, is filled with carefully preserved history dating back to 1620—the year that the Pilgrims stepped off the Mayflower and started new lives in a new country.
If you love American history, there are tons of things to do in Plymouth, MA, that you'll love. Plymouth is a fantastic day trip from Boston, Massachusetts, Newport, Rhode Island, or other nearby cities in New England. It shines in the fall—especially leading up to Thanksgiving!
Plymouth has tons of history to explore, but it's a beautiful destination to visit, too. The town itself is extraordinarily lush, the homes are charming, and the views of the harbor and simply beautiful. Don't skip these awesome things to do in Plymouth, MA, during your trip to this historic destination.
Awesome Things to Do in Plymouth, MA, for History Lovers
1. Plimoth Patuxet Museums
If there's one thing you have to do during your time in Plymouth, it's visiting the Plimoth Patuxet Museums. These interactive museums and attractions bring history from centuries past to life, and they're one of the best things to do in Plymouth, MA!
The Plimoth Patuxet Museums consist of four main attractions: the Historic Patuxet, English Village, Mayflower II, and the Plimoth Grist Mill. I'll share a bit of information about each attraction below.
I highly recommend starting your day in Plymouth at these museums, so you can spend as much time at each attraction as you'd like. I also recommend starting at the primary address, where the Historic Patuxet and 17th-Century English Village are located and then driving into town to tour the Plimoth Grist Mill and Mayflower II. 
Before your trip, you can purchase the Plimoth Heritage Pass to visit every attraction listed below for just $42.50 per person. You can also buy the Plimoth Combo Ticket to tour the Plimoth Patuxet and either the Plimoth Grist Mill or Mayflower II, or the Plimoth Patuxet Only to tour just the Historic Patuxet and Plymouth Colony.
Historic Patuxet
The Historic Patuxet offers the opportunity for guests to learn about the Wampanoag people who have lived here for over 12,000 years—centuries before the Pilgrims arrived!
At the Historic Patuxet, you'll be able to tour a wetu (winter house), learn how to make a mishoon (canoe) with fire as a tool, and discover how the Wampanoag people grew, hunted, and cooked their meals.
You'll also be able to talk to museum staff to learn more about the Wampanoag people and how they lived in the early 1600s.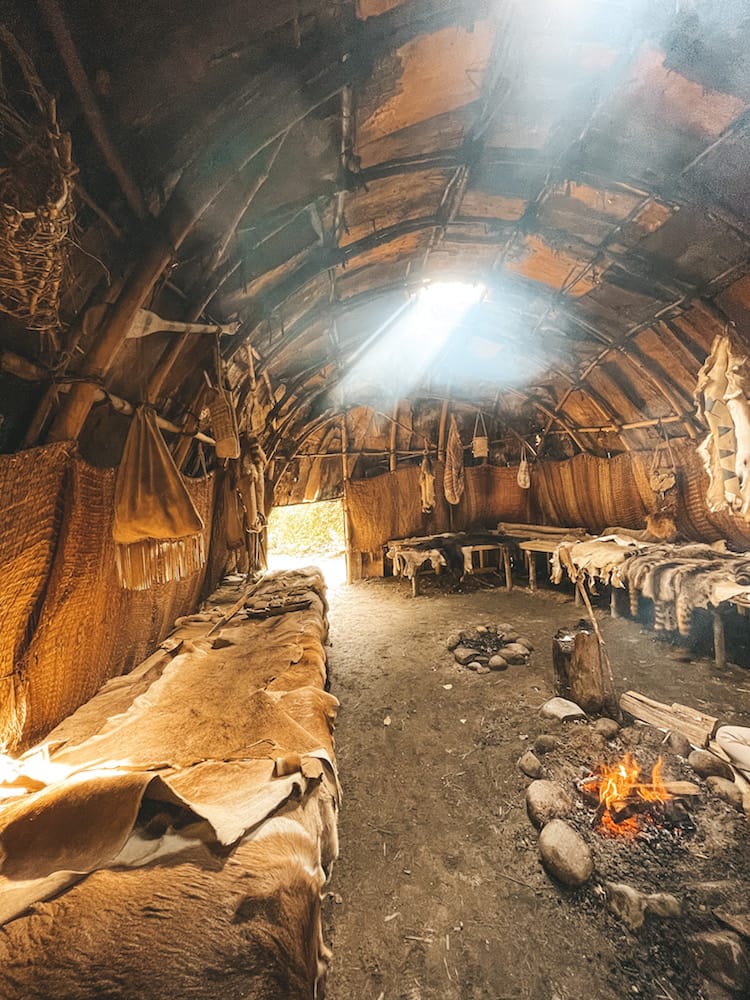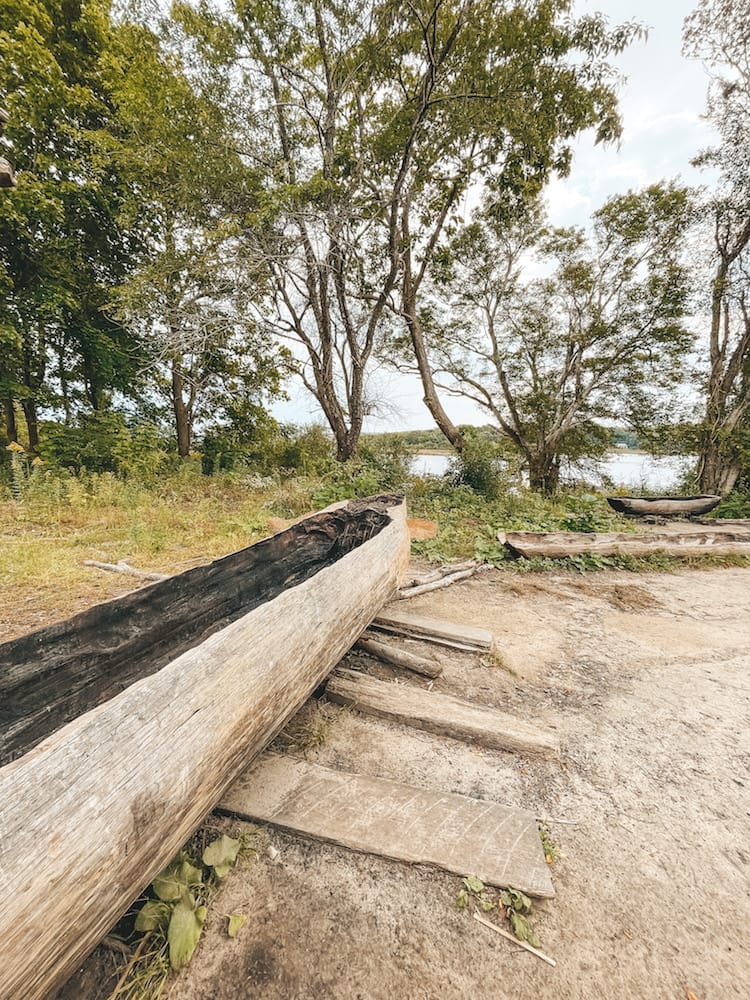 17th-Century English Village
The 17th-Century Village is a replica of the Plymouth Colony. You'll see timber-framed houses, items that the Pilgrims may have owned and used, and livestock roaming around the village, like chickens and goats.
The best part of this portion of the museum is the actors, dressed up as real people who inhabited Plymouth Colony. You can ask the "colonists" questions about their day-to-day life, their beliefs, where they came from, their families, and more, and they'll respond with historically accurate information, but as if they were talking in the present.
We spent some time talking to an actress playing Susanna White, the mother of Peregrine White, the first Pilgrim born on American soil.
Thanksgiving Exhibit
After leaving the English village and Patuxet (located within walking distance on the same property), we walked back to the visitor's center.
Here, we found a fantastic exhibit about the history of Thanksgiving, from the first Thanksgiving, how Thanksgiving became a national holiday, and how Thanksgiving dinner has evolved over the centuries.
Personally, I'd recommend walking through this small but informative exhibit. Since Thanksgiving is one of my favorite holidays, I enjoyed learning more about its history. Out of all the things to do in Plymouth, MA, this is one thing I hadn't known about previously, but really loved!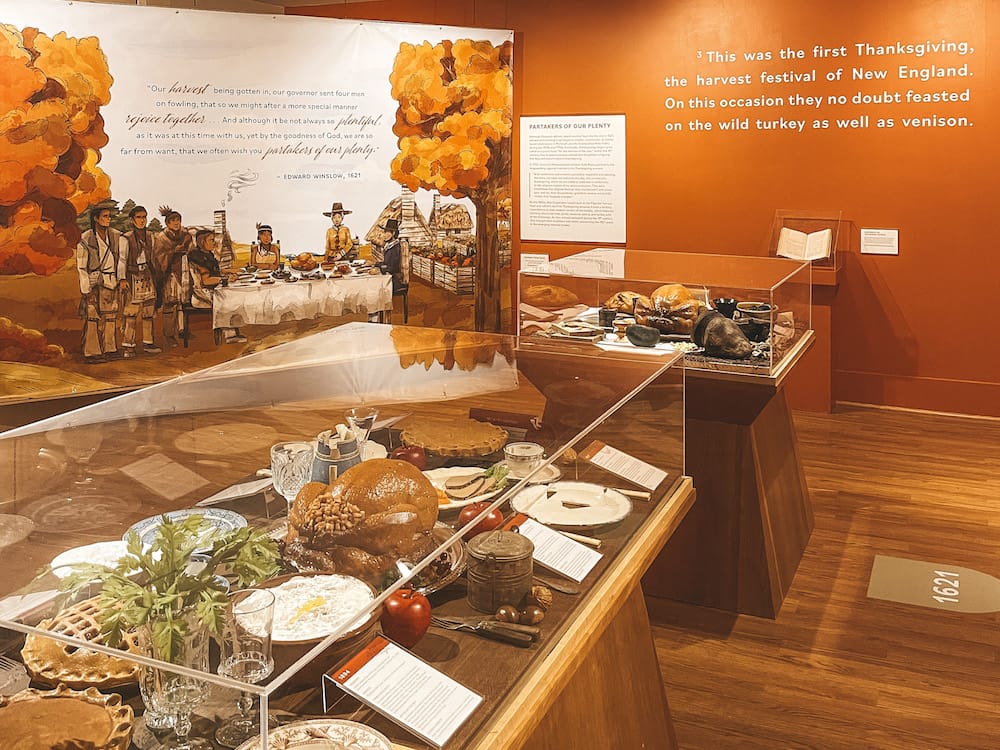 Plimoth Grist Mill
When you've finished at the two villages, you'll need to drive roughly three miles into town to visit the next exhibit—the Plimoth Grist Mill.
From the outside, you'll be able to see how water from Town Brook provides power for the waterwheel, and from the inside, you can see how the power grinds the corn to make cornmeal.
Although the Plimoth Grist Mill is a replica, you'll still be able to learn its history and how the Pilgrims used it in the 1600s.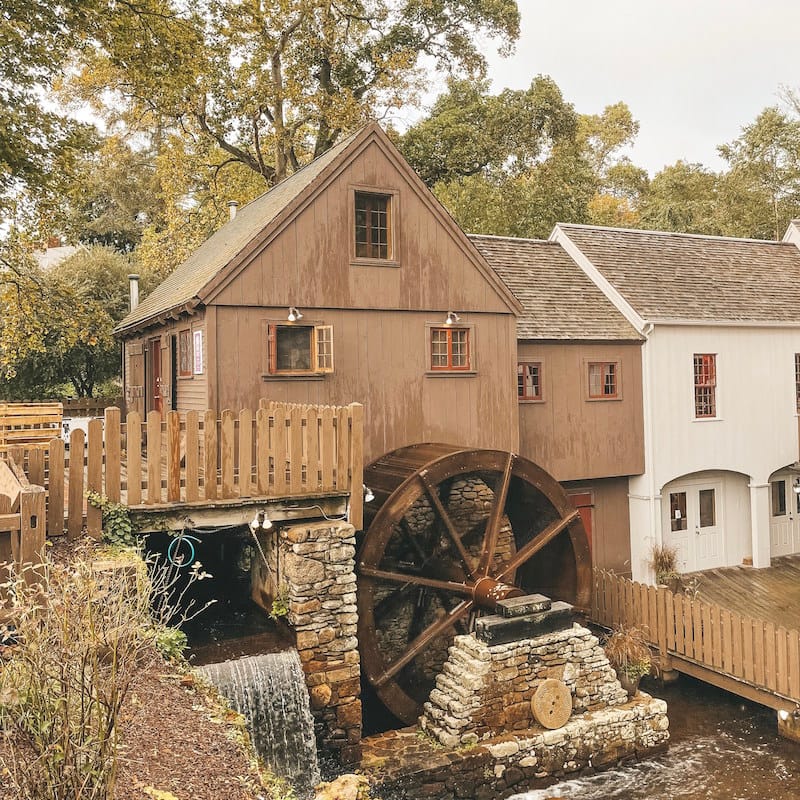 Mayflower II
The Mayflower II is a full-scale replica of the original ship that transported 102 Pilgrims from England to America, and touring it is one of the most popular things to do in Plymouth, MA!
Unfortunately, we were unable to tour the ship due to a thunderstorm, but we did have the chance to see the ship in the harbor. If you have good weather, you'll have to tour the boat and let me know what it's like on board!
2. Howland House
Did you know that the Jabez Howland House is the only existing structure in Plymouth where the Pilgrims actually spent time? I didn't either until I visited!
This home was built in 1667 and was sold by the original owner's son, Jabez Howland, in 1680. It remained a private residence until it was purchased to become a museum in 1912.
You can tour the Howland House from June to October on Wednesday through Sunday for $6 per adult. Since we were visiting Plymouth on a Tuesday, we just stopped for a quick photo!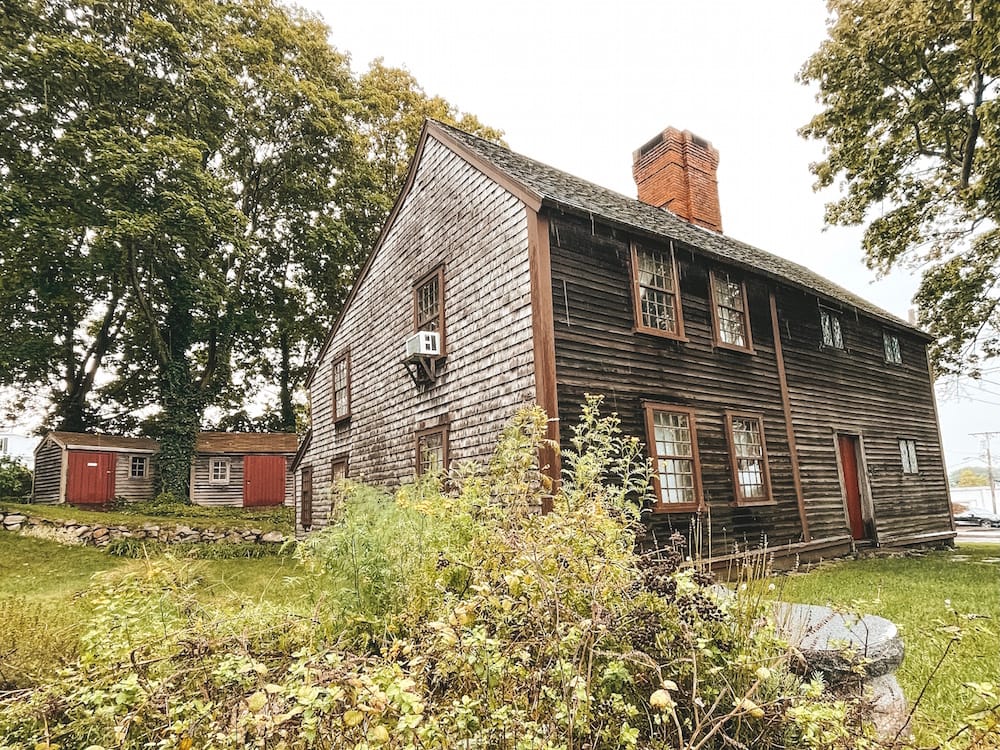 3. Plymouth Rock
Ready for the truth? Plymouth Rock is extremely underwhelming. Although I wouldn't actually say it's one of the best things to do in Plymouth, MA, it is one of the biggest attractions in the city, so I couldn't miss the chance to put it on this list.
Plymouth Rock is said to be the location where the Mayflower landed, and the Pilgrims first set foot in America. Although the historical accuracy of Plymouth Rock is undoubtedly up for question, it's still a symbolic location to visit nonetheless.
You'll probably only spend all of two minutes here, but it's a quick, easy place to visit, and the views of Plymouth Harbor beyond the rock are pretty spectacular!
4. National Monument to the Forefathers
The National Monument to the Forefathers is a massive statue that stands at eighty-one feet, built in 1889 to honor the Pilgrims.
Our visit to Plymouth was cut short because of a terrible thunderstorm, so we, unfortunately, weren't able to make it to this spot. However, this statue looks impressive, and I wish we'd had the opportunity to visit it!
5. Pilgrim Hall Museum
Plymouth is home to the oldest continuously-operated public museum in the country—the Pilgrim Hall Museum opened in 1824.
The Pilgrim Hall Museum showcases many of the Pilgrims' possessions. According to the museum's website, they have William Bradford's Bible, the only painted portrait of a Pilgrim, Susanna White's baby cradle brought onto the Mayflower, William Brewster's chair, and the earliest sampler made in America, embroidered by Myles Standish's daughter, on display.
The Pilgrim Hall Museum also focuses on the relationship of the Wampanoag people and the English colonists throughout history.
You can purchase tickets to the museum for $15 per adult. Just like the Howland House, Pilgrim Hall Museum is open from Wednesday – Sunday. 
6. Coles Hill Burial Ground
If you're looking to pay your respects to the Pilgrims and others who lost their lives on the Mayflower, you may find yourself at Burial Hill—a graveyard on the National Register of Historic Places with headstones dating back to 1681.
However, you may not realize that before the Pilgrims buried their dead at Burial Hill, they buried people at Cole's Hill—located just above where the original settlement would have been. 
After three centuries, the bones from Cole's Hill were placed in a large coffin that you can see during your visit to Plymouth.
We visited Cole's Hill instead of Burial Hill, and I can't say I was disappointed. Cole's Hill also features a statue of Massasoit, the leader of the Wampanoag people who befriended the Pilgrims, and the hill overlooks Plymouth Rock and Plymouth Harbor!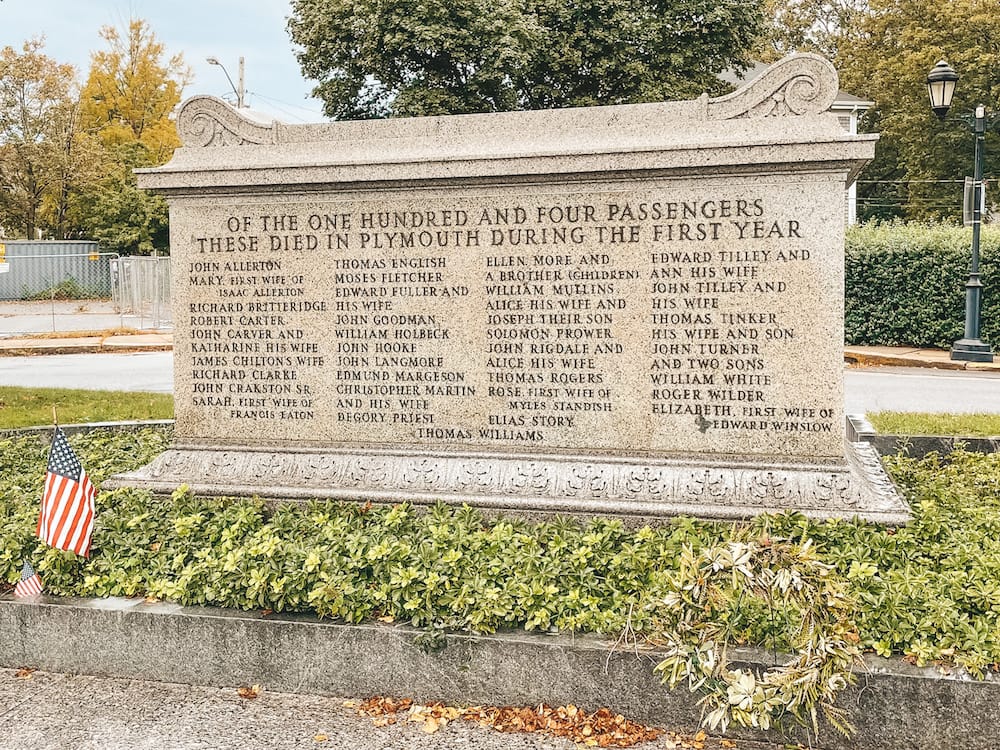 7. Brewster Gardens
When you're ready to take a break from the museums, monuments, and memorials, head to Brewster Gardens. These beautiful, lush gardens were near the Pilgrims' original settlements, but today, they're a beautifully maintained park and one of the best things to do in Plymouth, MA!
Just steps away from Brewster Gardens is Leyden Street, the oldest continuously inhabited street in the United States. Take a walk down this historic street after strolling through the park to be transported back in time to when the Pilgrims used this street in 1620!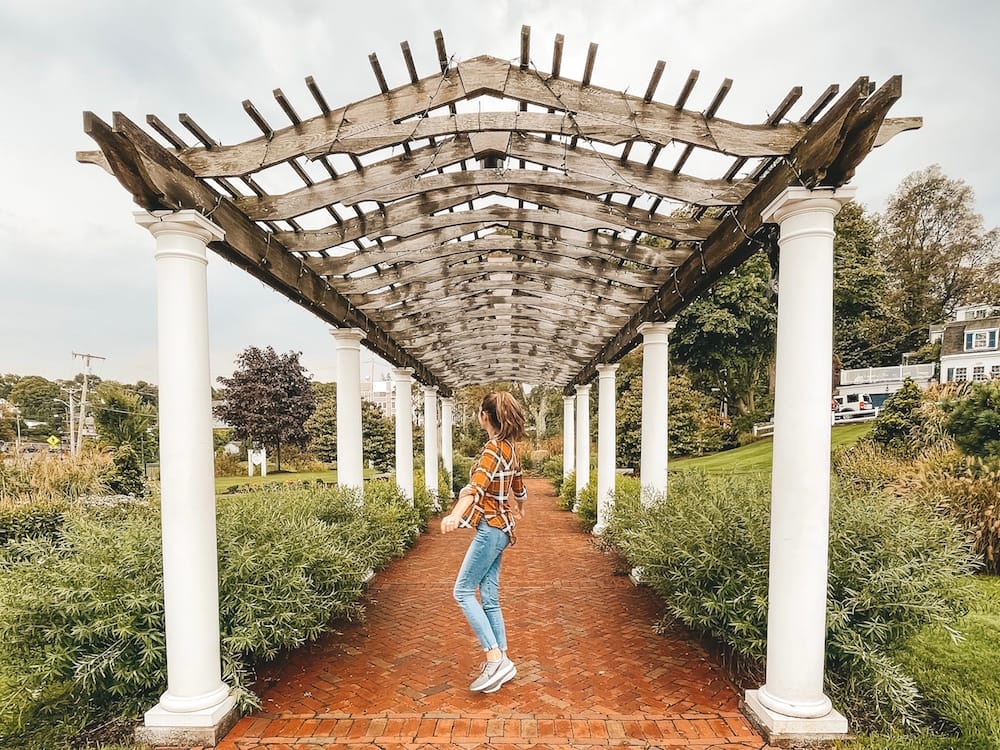 Where to Stay in Plymouth, MA
Although I'd recommend visiting Plymouth as a day trip from a nearby city, like Boston or Newport, if you decide to extend your stay to experience more of the fun things to do in Plymouth, MA, here are some highly-rated hotel recommendations:
Best Places to Eat in Plymouth, MA
Since we had to leave early due to the thunderstorm, we didn't have the chance to dine in Plymouth. However, if you're looking for a bite to eat, these restaurants are located near all of Plymouth's main attractions, and they have excellent ratings, too!
Mamma Mia's – Plymouth Waterfront
Salt Restaurant
Plymouth Bay Winery
Wood's Seafood
More Fun Things to Do in Plymouth, MA (Beyond History)
Although Plymouth is a destination with tons of historical significance, there's more to do in the area aside from museums, monuments, and memorials!
If you're staying in Plymouth longer than a day, here are some more suggestions for things to do in Plymouth, MA:
Boat Rides—Take a boat out to the deep sea to go whale watching, or simply take a sunset cruise on Plymouth Harbor 
Plymouth Farmers' Market—Shop from 40+ regional vendors on the grounds of the Plymouth Plantation. 
Myles Standish State Forest—Go hiking, biking, or fishing in this beautiful forest with 16 lakes. 
Cranberry Harvest Celebration—If you're visiting in October, take a short trip to Wareham to harvest cranberries in a cranberry bog. 
Step Into the Past with the Best Things to Do in Plymouth, MA
Alright, history buffs. Which of these things to do in Plymouth, MA, would you be the first to check off your list? Let me know in the comments below!

Disclosure: Some of the links in this post about the Best Things to Do in Plymouth, MA, are affiliate links, meaning, at no additional cost to you, I earn a commission if you click through and make a purchase. This helps me keep the content on my website free, like this post about the Best Things to Do in Plymouth, MA!
Save the "Best Things to Do in Plymouth, MA" for Later!
Are you looking for more inspiration for your New England road trip? Check out these related posts!