Did you know Kentucky produces 95% of the world's bourbon supply? Needless to say, bourbon is a massive part of the state's culture—and the city of Louisville, Kentucky, is no different!
During our visit to Louisville in August 2022, my husband and I stayed at Hotel Distil, a Marriott Autograph Collection Hotel in the heart of Downtown Louisville. Hotel Distil perfectly captures Kentucky's bourbon culture and history in an upscale way, making it the perfect stay in Louisville for bourbon aficionados.
However, even if you're not a bourbon drinker, there are tons of other attractive features of Hotel Distil that make this luxury hotel the best place to stay in Louisville—including its beautiful décor, spectacular amenities, and desirable location along Louisville's historic Whiskey Row.
Note: During my time in Louisville, Hotel Distil graciously hosted me for two nights. All opinions included in this post are my own.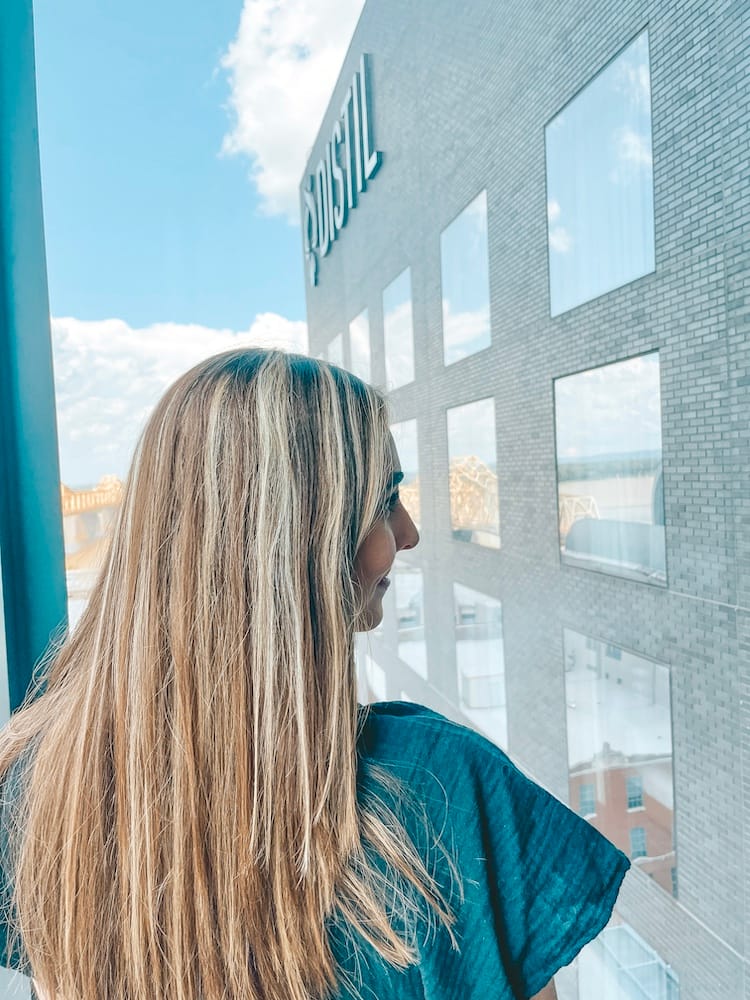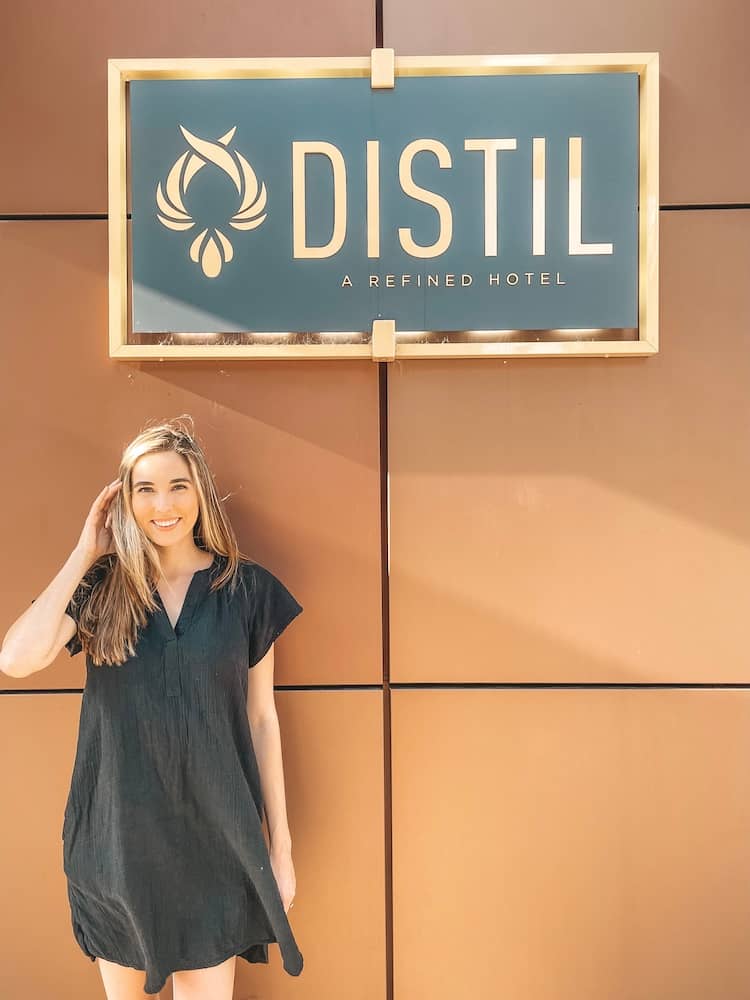 Top Features & Amenities at Hotel Distil
There is so much to love about Hotel Distil, including these five distinctive features that make Hotel Distil the best place to stay during your trip to Louisville, Kentucky!
1. Spacious Rooms
During our time at Hotel Distil, we stayed in a Corner King Guest Room. These rooms are located at the end of each hallway, providing more space than a standard king room. We stayed on one of the higher floors, so we could enjoy spectacular views of Downtown Louisville and the Ohio River from our room!
Each room has premium bedding, a luxury walk-in shower, a dual-sink vanity, a large-screen television, high-speed internet, and a Nespresso. There are also several comfortable places to sit, including couches, chairs, and a desk, which is excellent for working remotely, reading, or hanging out in the room. The room also included reading lights by the bed and a plush bathrobe, which I thought were excellent features!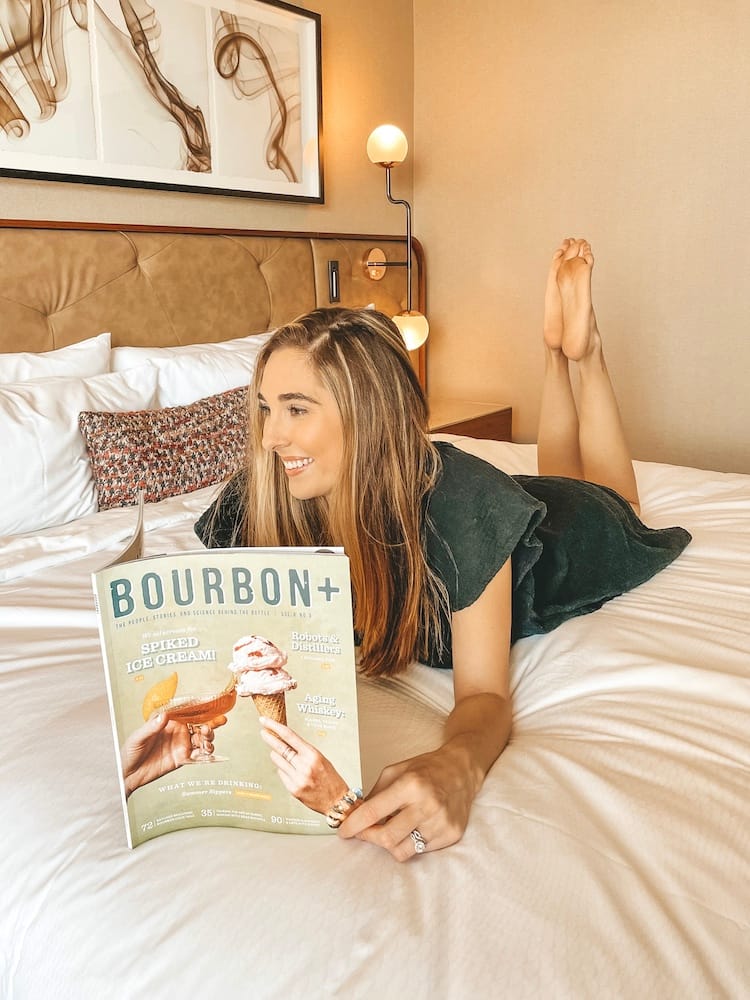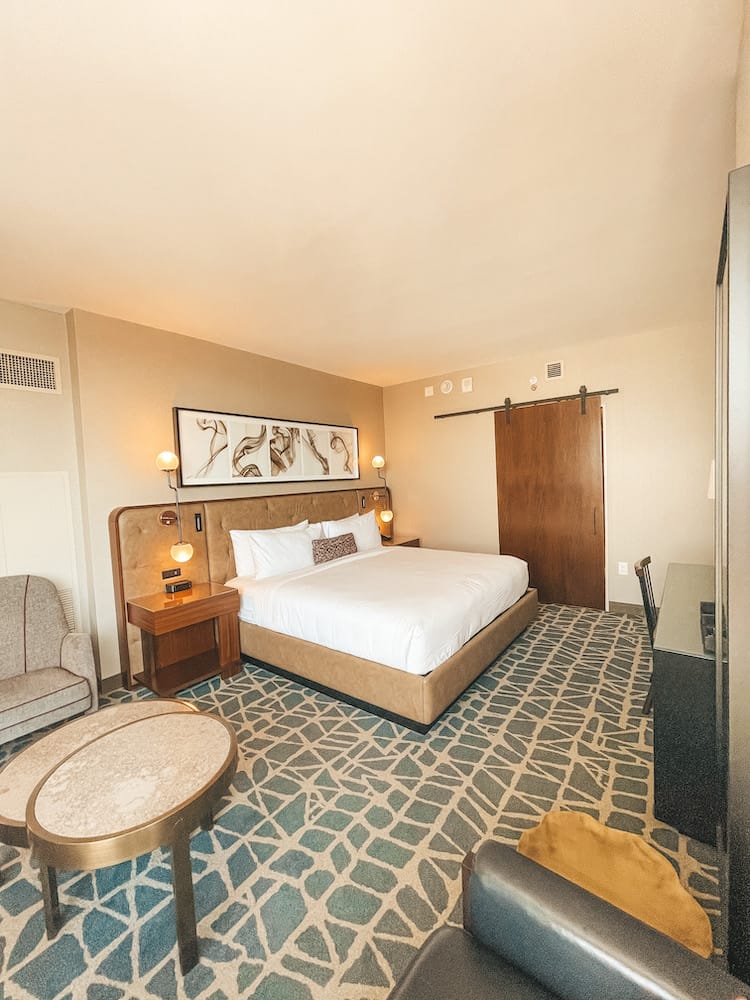 2. Repeal Steakhouse
When you stay at Hotel Distil, you don't have to travel far to enjoy a great meal. Hotel Distil features a high-end steakhouse in the lobby—Repeal Oak-Fired Steakhouse.
Repeal is located at the former site of J.T.S. Brown & Sons Bourbon Company on Whiskey Row. In fact, our waiter pointed out that you can still see the beams from the original distillery through the glass rooftop of the restaurant. Repeal uses a wood-fired grill stoked daily with the oak wood from bourbon barrels, and they're the only oak-fired steakhouse on Whiskey Row.
At Repeal, steak is the star of the dinner menu. You can choose from New York Strip, Dry-Aged Ribeye, Filet Mignon, and other cuts paired with delicious sauces and unique sides, like Thick-Cut Peppered Bacon and Baked Mac & Cheese. Repeal also serves other entrees, like Baked Alaskan King Crab and Truffled Spaghetti, in addition to soups, salads, appetizers, and more. I ordered the French Onion Gratinée and Little Gem Caesar, which were delicious! My husband loved the Oysters Rockefeller with absinthe, bacon creamed spinach, and breadcrumbs.
Repeal offers craft beer, creative cocktails, and an impressive wine list. Since you're in bourbon country, I highly recommend ordering an Old Fashioned from their "Old Fashioned" portion of the drink menu. The Repeal Signature Old Fashioned made with Old Forester 100 Proof, vanilla demerara simple syrup, and black walnut bitters was my favorite drink I enjoyed while in Louisville.
Repeal is open for dinner from 5 PM – 10 PM on Sunday – Thursday and from 5 PM – 11 PM from Friday – Sunday. They also serve a weekend brunch from 7 AM – 2 PM on Saturday & Sunday, and during the week, they serve breakfast from 6:30 AM – 11 AM. Repeal also offers signature private dining in the Barrel Room if you're looking for a beautiful venue to host a special occasion.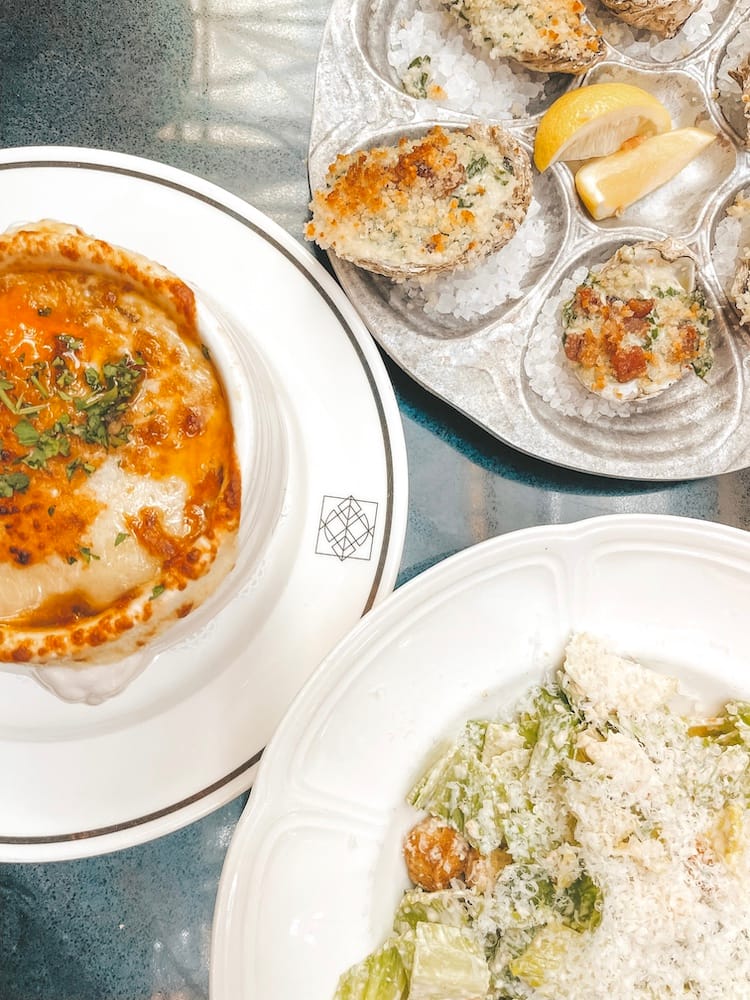 3. Ideal Location
One of the most desirable amenities of Hotel Distil is its excellent location! Hotel Distil is located in Downtown Louisville on Whiskey Row.
In the 1800s, Whiskey Row was a hotspot for bourbon production until Prohibition boarded up the businesses in the 1920s. In recent years, many distilleries have brought bourbon production back to Whiskey Row. Now, you can visit seven distilleries from the Kentucky Bourbon Trail on Whiskey Row—Rabbit Hole, Angel's Envy, Old Forrester, Evan Williams, Barrels & Billets, Mitchter's, and Kentucky Peerless. These distilleries are all within walking distance from Hotel Distil, although Old Forrester, Evan Williams, and Angel's Envy are the closest.
However, even if you aren't into bourbon, there are tons of other things within walking distance of Hotel Distil in Downtown Louisville. The Frazier History Museum, Louisville Slugger Museum & Factory, and Muhammad Ali Center are all located in Downtown Louisville. You can also enjoy the shopping, dining, and entertainment at Fourth Street Live! or stroll through Waterfront Park to spot the Big Four Bridge. You can even cruise on the Belle of Louisville—the oldest continually operating riverboat in the United States!
4. Bourbon Culture
If you can't already tell, bourbon is a massive part of Louisville's culture, history, and economy. Hotel Distil is committed to providing its guests with a "refined barrel-aged experience from arrival through departure." Hotel Distil is the perfect place to stay if you truly want to immerse yourself in this unique aspect of the city's culture!
Hotel Distil embodies refined bourbon culture in every way. Although the hotel opened in 2019, it retains the façade of J.T.S. Brown & Sons, the distillery that operated in the building in the 1800s. The lobby features elegant décor with an "old-timey" vibe, including brown leather furniture, jewel-toned accessories, and stylish glass light fixtures.
Hotel Distil even offers a signature experience that is a unique nod to Kentucky's bourbon history. When you arrive at Hotel Distil, you'll be given a "Prescription to Drink"—an invitation to celebrate the Repeal of Prohibition at 7:33 PM in the lobby each night. During Prohibition, the only way to enjoy a drink was with a medical prescription—hence the "prescription" card.
Guests gather in the lobby at 7:33 PM (19:33 military time, a nod to 1933, the year of the Repeal of Prohibition) to participate in a nightly toast with a complimentary Old Fashioned. When you hear the bell ringing, head down to the lobby to enjoy your Old Fashioned while chatting with other hotel guests. You can also receive a booklet that shares more about the history of Whiskey Row, Prohibition, and Hotel Distil. You won't want to miss this nightly toast—it's such a fun experience!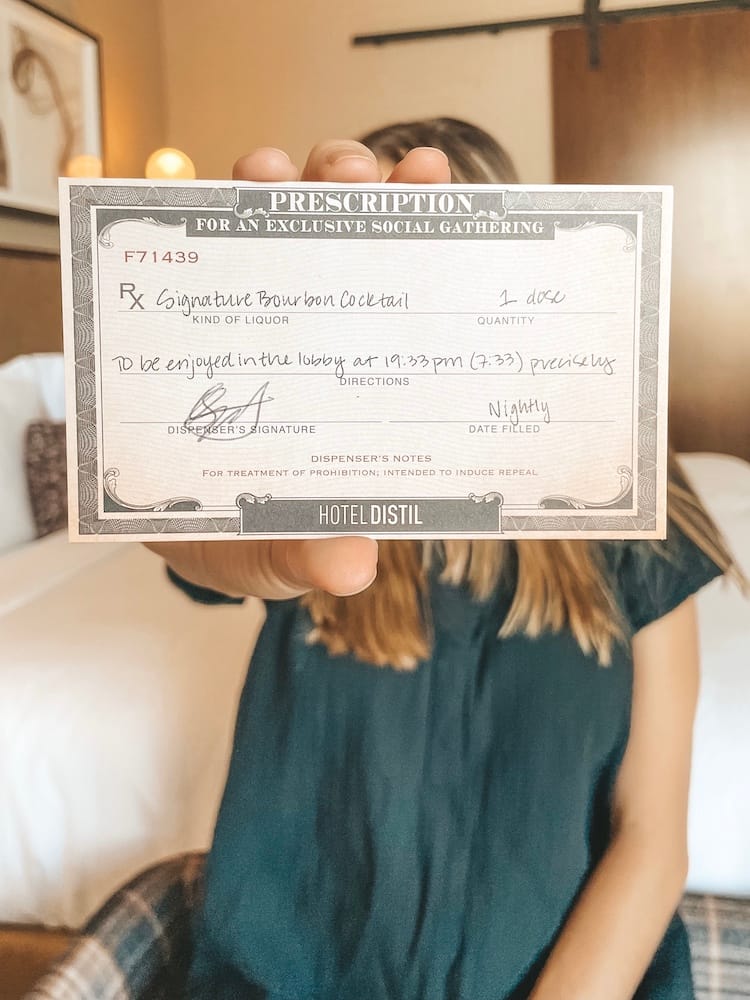 5. Bourbone Program
If you've been around a while, you already know I'm a huge dog lover and proud "dog mom" to my Golden Retriever, Sedona. We weren't traveling with our pup this time, but I was super excited to learn Hotel Distil is a dog-friendly hotel. They truly go above and beyond to make your pup feel welcomed!
Hotel Distil has an amazing program for dogs called the "Bourbone Program." When you arrive at the hotel with your dog, your pup will be given a handmade bourbon barrel dog bed, food bowl, and custom PupJoy Box that includes a bone, treats, and a bourbon bottle stuffed toy branded for Hotel Distil.
Hotel Distil is the perfect hotel for a getaway with your furry friend. They welcome two dogs per room with a $100 nonrefundable deposit that includes the bed, treats, and other goodies for your pet. Plus, with so many beautiful parks and green spaces in Louisville, you'll find no shortage of places to explore with your pup!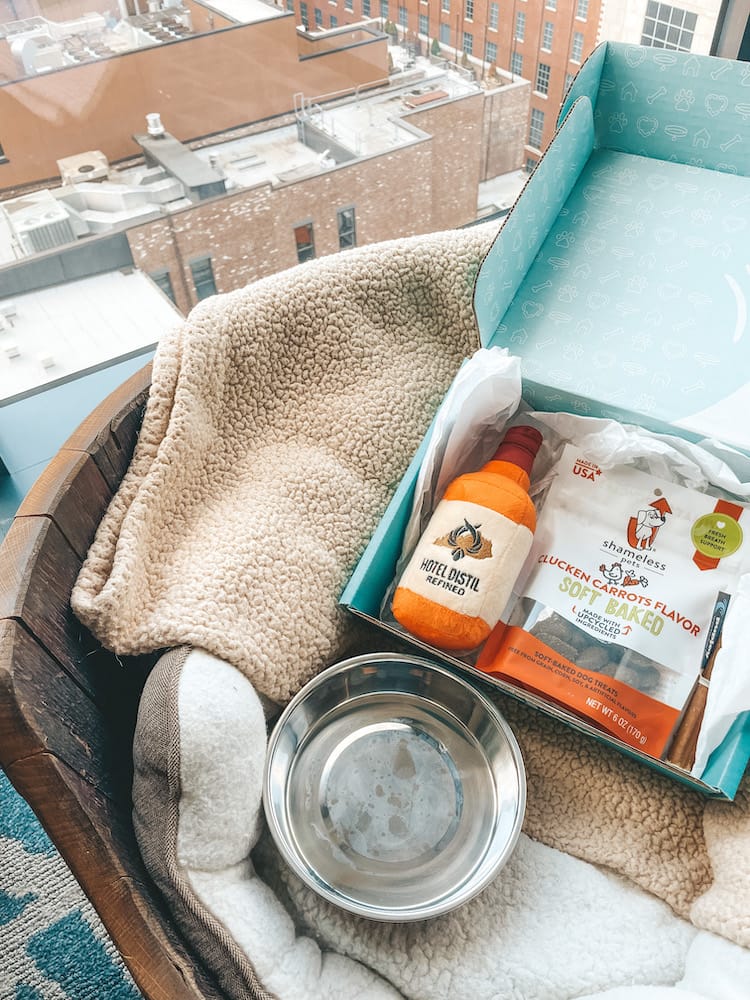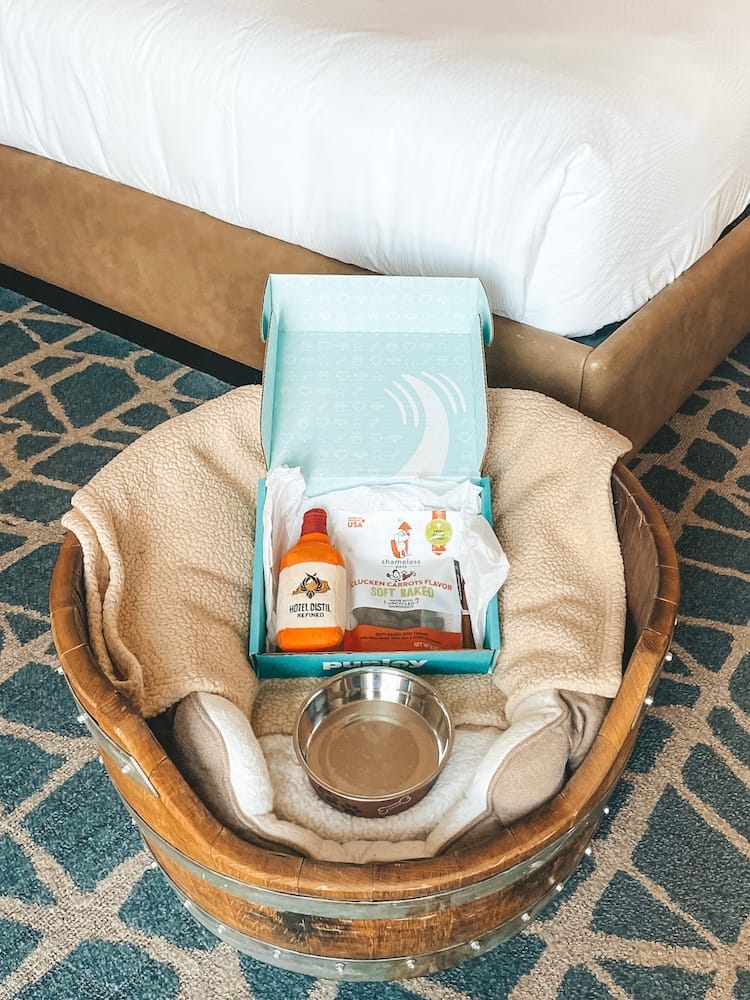 Book Your Stay at Hotel Distil in Louisville, Kentucky
If you're planning a trip to Louisville, Kentucky, to experience the city's unique bourbon culture, book your room at Hotel Distil to enjoy an ideal location, beautiful rooms, and excellent service!

Save This Post on Pinterest for Later!
Read More
Did you love this post about Hotel Distil? If so, check out some other blog posts about Louisville, KY, to plan the perfect vacation: