Do you love lighthouses, seafood, beer, and rocky coastline views? If so, I can't think of a better place to visit than Portland, Maine!
Maine is everything I hoped it would be—and more! I loved the lush, green trees and breathtaking views surrounding the city and equally adored the historic buildings, red brick pathways, and the dozens of piers and wharves you could find in Downtown Portland.
After a fantastic weekend in the city, I created this list of the best things to do in Portland, Maine, to help you see and experience the best of the city. Don't miss these ten great things to do in Portland, Maine!
Best Things to Do in Portland, Maine
1. Portland Head Light
Visiting the Portland Head Light is easily one of the best things to do in Portland, ME. This historic lighthouse, located in Cape Elizabeth, Maine, is one of the most famous landmarks in the entire state. The Portland Head Light opened in 1791, which makes it the oldest lighthouse in Maine. The Portland Head Light overlooks Portland Harbor and Casco Bay, and it has played a critical role in history and the fortification of Fort Williams. Today, the Portland Head Light is maintained by the United States Coast Guard and is managed by Cape Elizabeth.
Maine is known for its lighthouses, and there are plenty more in and around the city, making lighthouse spotting one of the most fun (and cheap) things to do in Portland, Maine. The Portland Breakwater Light (Bug Light) and Spring Point Ledge Lighthouse can be seen on boat rides in Portland Harbor and Casco Bay, or you can drive to South Portland to see them.
Tip: Visit the Portland Head Light at sunrise to avoid the crowds. We didn't arrive until mid-morning, and there were already buses with tour groups arriving at that time.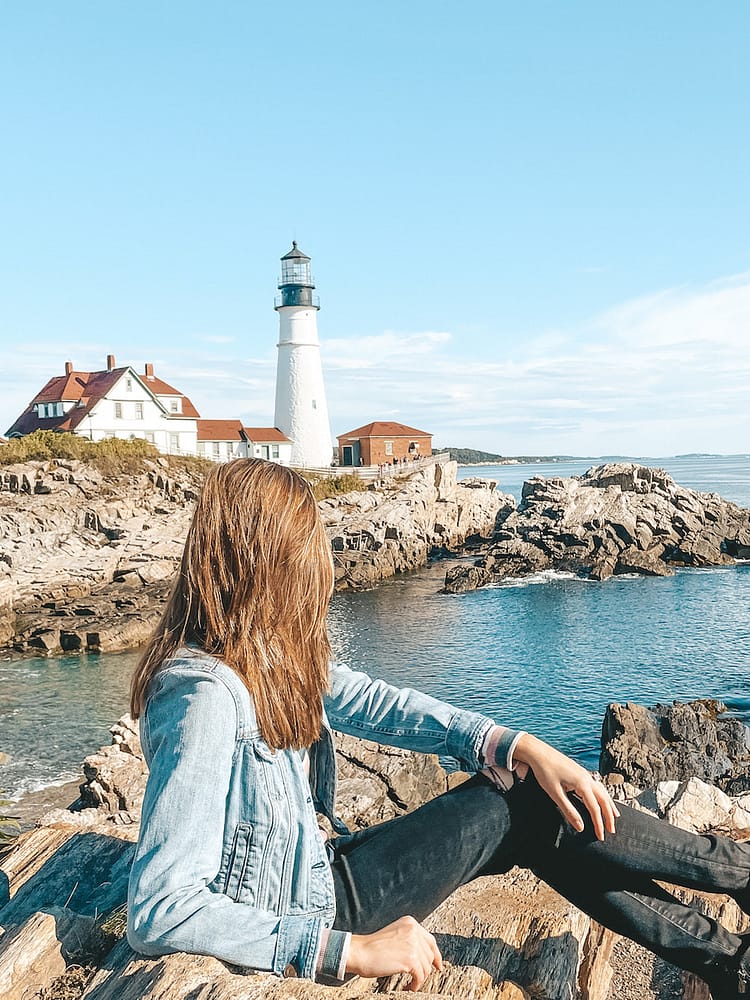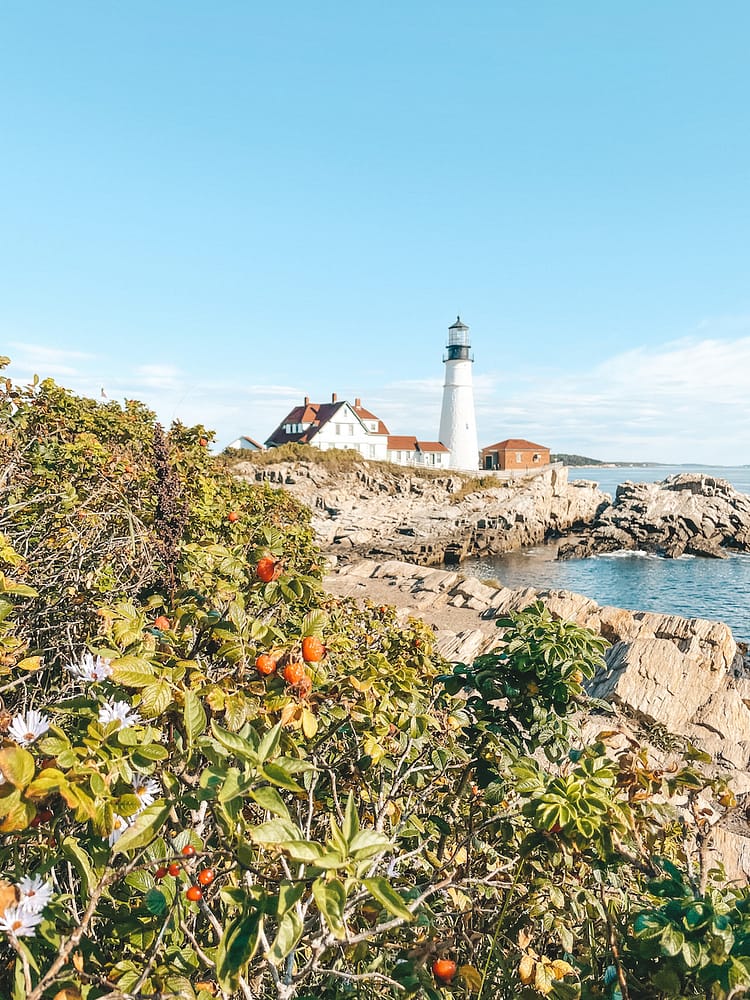 2. Fort Williams Park
After marveling at the Portland Head Light, spend some time strolling around the surrounding 90 acres in Fort Williams Park. There's plenty to do at Fort Williams Park—you can tour the Arboretum, walk the Cliffside Loop, see Battery Keyes and Battery Blair, explore the rocky beach, or grab a bite to eat from one of the seasonal food truck vendors. It's a beautiful place to soak up the iconic coastal views.
3. The Holy Donut
Have you ever had a potato donut? I hadn't either until visiting The Holy Donut. And let me tell you—if you haven't had a potato donut, you're missing out! We were so obsessed with The Holy Donut that we went every single day during our time in Portland. In my opinion, these cakey donuts lived up to the hype!
If you haven't guessed already, The Holy Donut is a local chain that specializes in handmade donuts made with potatoes, wheat flour, and all-natural ingredients. They have over 20 rotating flavors, and once they're sold out, they close. Since we visited Maine during the fall, we indulged in the fall flavors, Shipyard Pumpkinhead, made with a seasonal, local pumpkin ale, and Glazed Apple Cider. Both were delicious!
The Holy Donut is one of the best (and tastiest) things to do in Portland, ME. Stop at one of their three local locations (Park Avenue, Exchange Street, or Scarborough) during your trip.
4. Victoria Mansion
Victoria Mansion is a National Historic Landmark located right in the heart of Portland and one of the best things to do in Portland, Maine, for history lovers.
Victoria Mansion was completed in 1860 as a summer residence for Ruggles Sylvester Morse and his wife, Olive. It is widely considered to be one of the best examples of Italian Villa architecture in the United States. When you visit, you'll be able to see the home just as it was in the 1800s. Victoria Mansion contains over 90% of the home's original interiors, from wall paintings and draperies to stained-glass skylights and vintage furniture.
5. Old Port
Downtown Portland is sorted into four districts—the Arts District, Government District, Waterfront District, and, of course, Old Port!
You'll fall in love with the uneven cobblestone streets, red-brick buildings, adorable boutiques, delicious restaurants, and trendy bars in this quaint district. Spend some time walking around Old Port and popping in the shops. You can find some souvenirs to bring home with you or grab some local goods to try, like blueberry jam or maple-flavored everything.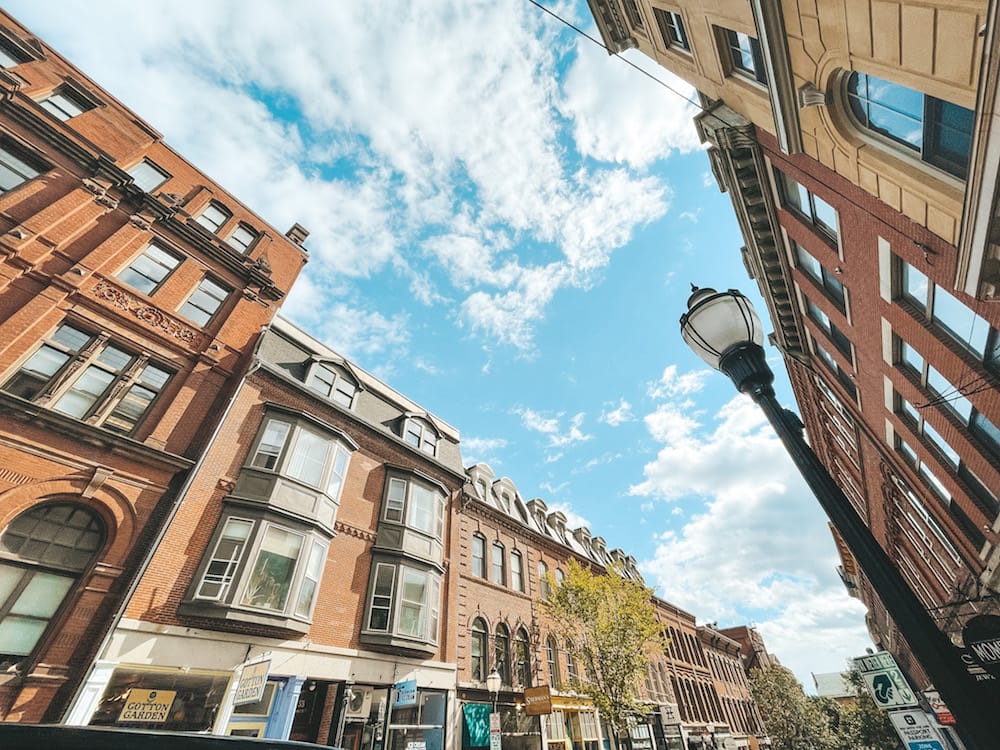 6. Eventide Oyster Co.
Eventide Oyster Co. is one of the most popular restaurants in Portland, Maine, and it's an absolute must-visit restaurant if you love seafood.
Eventide is well-known for its Eventide Brown Butter Lobster Roll (seriously, people rave about this dish!), but they also have dozens of oyster options and other entrees, like New England Clam Chowder and Maine Lobster Stew. If you're searching for a meal that is quintessential "Portland, Maine," you should make reservations at Eventide Oyster Co. for your trip!
7. Portland Museum of Art
If you prefer art over history or architecture, you can't miss the chance to pay a visit to the Portland Museum of Art. Founded in 1882, this museum has been a landmark in the city for over a century and is undoubtedly one of the best things to do in Portland, Maine.
The Portland Museum of Art features 18,000+ pieces of American, European, and Contemporary Art, from paintings to pottery. You'll find artwork by local and famous artists like Monet, Warhol, and Cassatt.
8. Casco Bay Boat Ride
Cross the street from Old Port, and you'll find yourself in the Waterfront District, where you can walk down dozens of piers and wharves for spectacular harborside views. Between Chandler's Wharf and Maine State Pier, you'll find dozens of seafood restaurants and quaint shops. You'll also find tons of places where you can embark on boat rides in Casco Bay—one of the most iconic and romantic things to do in Portland, ME.
Calendar Islands Sailing Co. and Portland Schooner Co. are two of the most popular boating companies in Portland. Calendar Islands Sailing offers a two-hour coastal sightseeing excursion, but they also offer island excursions and overnight adventures. Taking a boat ride with Portland Schooner Co. is one of the most crazy things to do in Portland, Maine, for history lovers because all three vessels are listed on the National Register of Historic Places.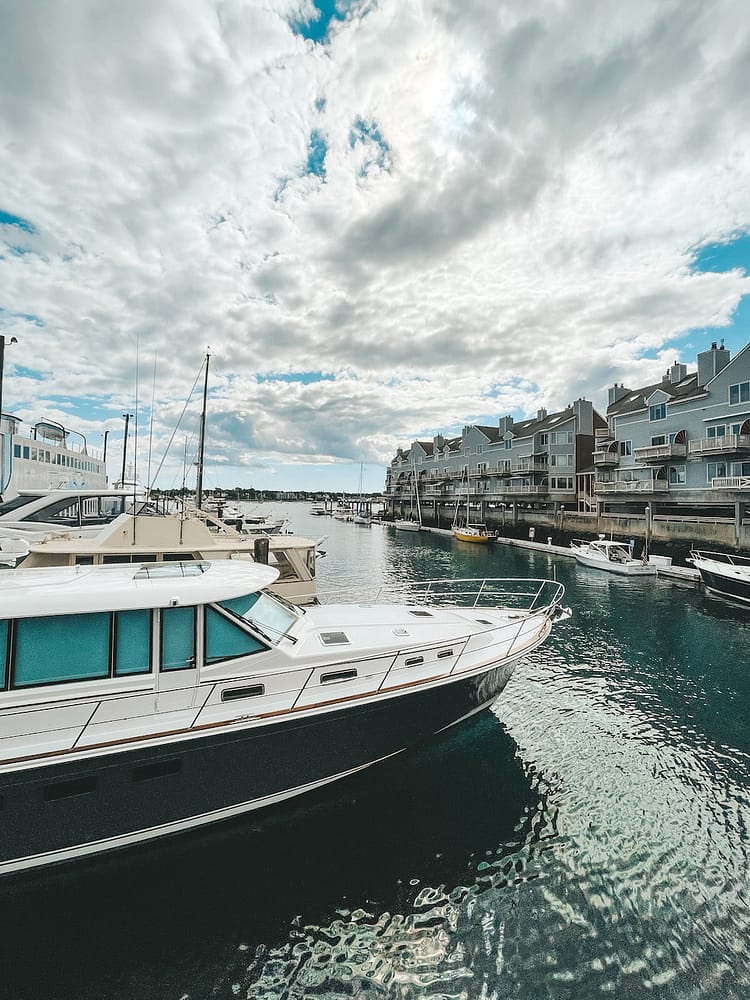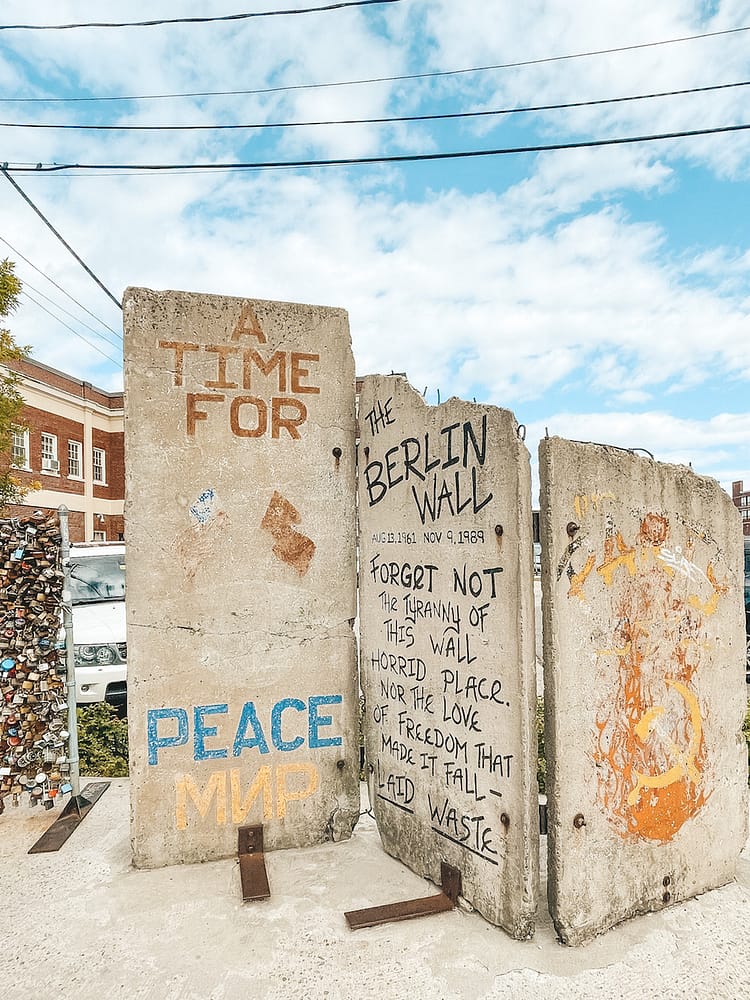 Boating was the one activity we really wanted to do in Portland, but we ran out of time. However, we'll be trying one of these top-rated experiences the next time we visit:
Portland Discovery Land and Sea Tours—See and learn about Portland's most iconic landmarks and lighthouses from a tour boat.
Rocky Bottom Fisheries—Learn the art of catching lobsters by setting traps, pulling traps, and examining sea life.
Odyssey Whale Watch—Spot whales, seals, and sharks as they travel through Casco Bay, or go on a seasonal puffin-watching excursion.
Casco Bay Lines—Go on a sunrise or sunset cruise with scenic views of popular landmarks in Casco Bay.
9. Peaks Island
If you're looking for more than just a boat ride in Casco Bay, consider taking the 20-minute ferry ride from Casco Bay Lines to Peaks Island!
Taking a day trip to Peaks Island is one of the best things to do in Portland, Maine. You can spend your day doing outdoorsy activities, like kayaking or biking, exploring the cultural sites, like the Fifth Marine Museum, or eating at the quaint cafes and seafood restaurants, like Baba's Café and Island Lobster Company.
10. Standard Baking Co.
Standard Baking Co. is a staple and one of the best cheap things to do in Portland, Maine! This family-owned bakery serves delicious pastries, like croissants, sticky buns, scones, tarts, and cookies, as well as fresh-baked bread and baguettes.
They also serve drinks, like coffee and tea, to enjoy with your pastry. They're open from 8 AM to 5 PM daily, so be sure to stop here for a pastry while you're in Portland!
11. Self-Guided Brewery Tour
Portland, Maine, has a well-known craft beer scene that's worth checking out during your time in the city. Whether you prefer lagers, stouts, ales, sour beers, or IPAs, you'll find a brewery in Portland to suit your taste. We spent one afternoon hopping around the breweries on Industrial Way, located just six miles outside of Downtown Portland. This street is filled with several laid-back breweries within walking distance from each other, including Allagash Brewing Company.
Allagash Brewing Company is one of the most well-known breweries in Portland, known for their Allagash White. We loved spending time in the outdoorsy environment during our time at Allagash, and my husband loved their cask-poured Nocturna, a silky stout aged in bourbon barrels with vanilla beans. We also visited Foundation Brewing Company across the street, and I liked their nutty brown ale, Burnside.
Downtown Portland also has tons of microbreweries and brewpubs. We enjoyed visiting Oxbow Blending & Bottling when we were in Downtown Portland. I ordered their Blueberry Deluxe, a farmhouse ale aged with Maine blueberries, and it was so smooth and tasty!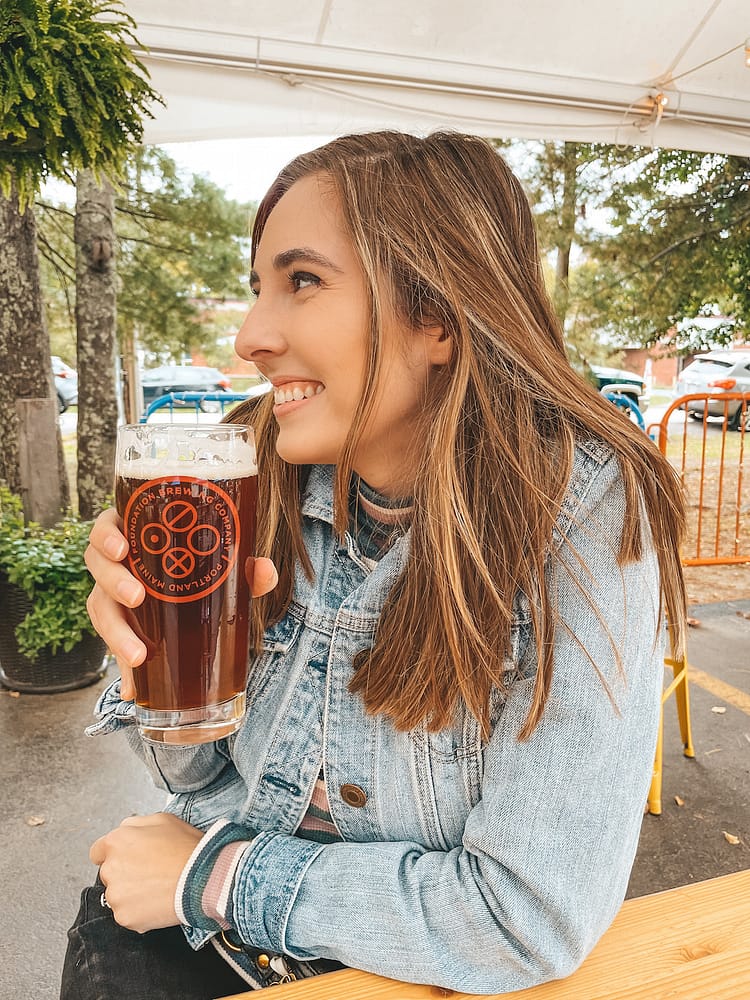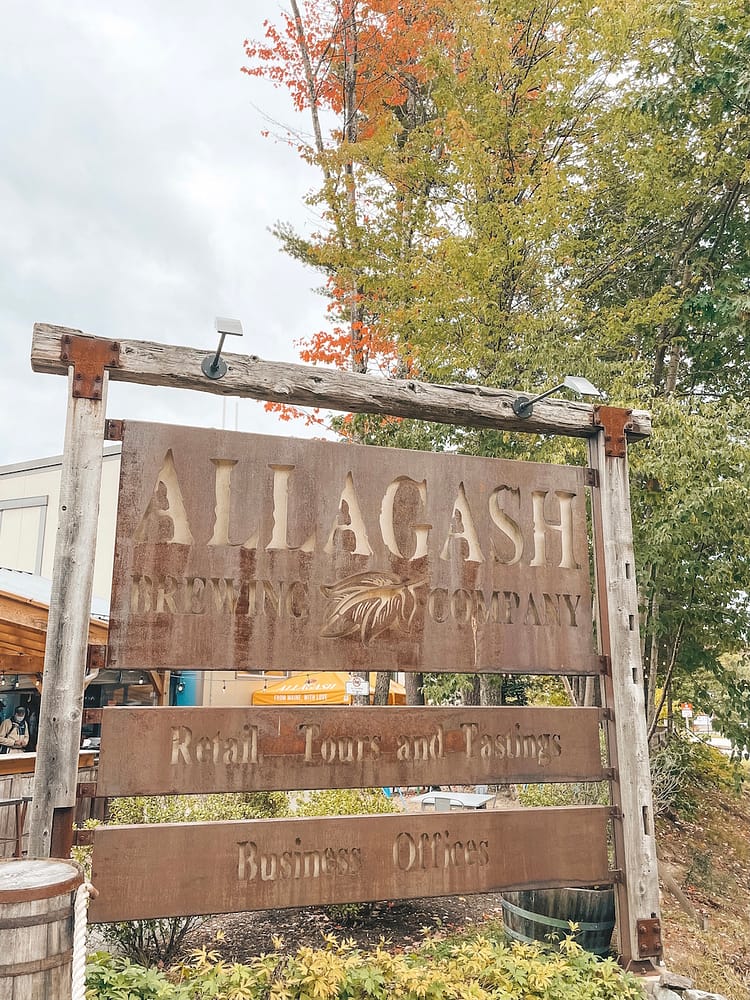 Personally, we preferred to do a "self-guided" brewery tour, so we could pick and choose the breweries we wanted to visit over a span of several days. You can read my blog post about all the best breweries in Portland, Maine, to choose your favorites for a self-guided tour. However, you can also go on a guided beer tour in Portland, like this Portland Brewery Bus Tour or Old Port Tasting Tour!
12. Eastern Cemetery
Do you love visiting historical sites? If so, Eastern Cemetery is one of the best things to do in Portland, Maine, for your itinerary!
Eastern Cemetery is the oldest historic landscape in Portland, Maine. In fact, it dates back to the 1660s! You can go on a self-guided walking tour through the cemetery, or at night, you can go on a ghost tour with Spirits Alive to learn more about the 4,000+ people buried here, including Jacob Adams, a ship captain from a shipwreck, and Thomas Bird, the first man hanged for mutiny under the U.S. Constitution.
13. Duckfat
Have you ever wished for a restaurant where french fries are the main meal? If so, you'll love Duckfat—a family-owned Portland restaurant in Old Port that churns out delicious, seasoned hand-cut Belgian fries and homemade dipping sauces, like pesto mayo and truffle ketchup. And yes, hence the name, all their fries are fried in duck fat!
You can also snack on poutine, salads, soups, paninis, or milkshakes. Though their menu is simple, their food is tasty. Duckfat easily makes my list of the best things to do in Portland, Maine! Also, if you're visiting Oxbow Blending & Bottling, Duckfat has a pop-up restaurant just outside, so you can grab some fries with your beer.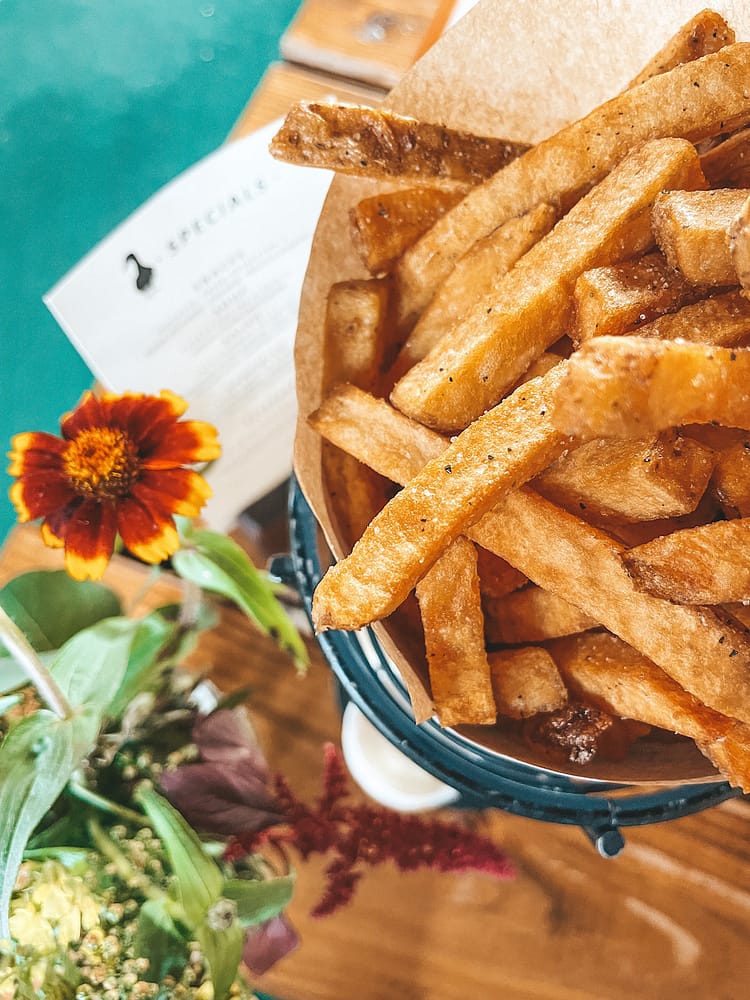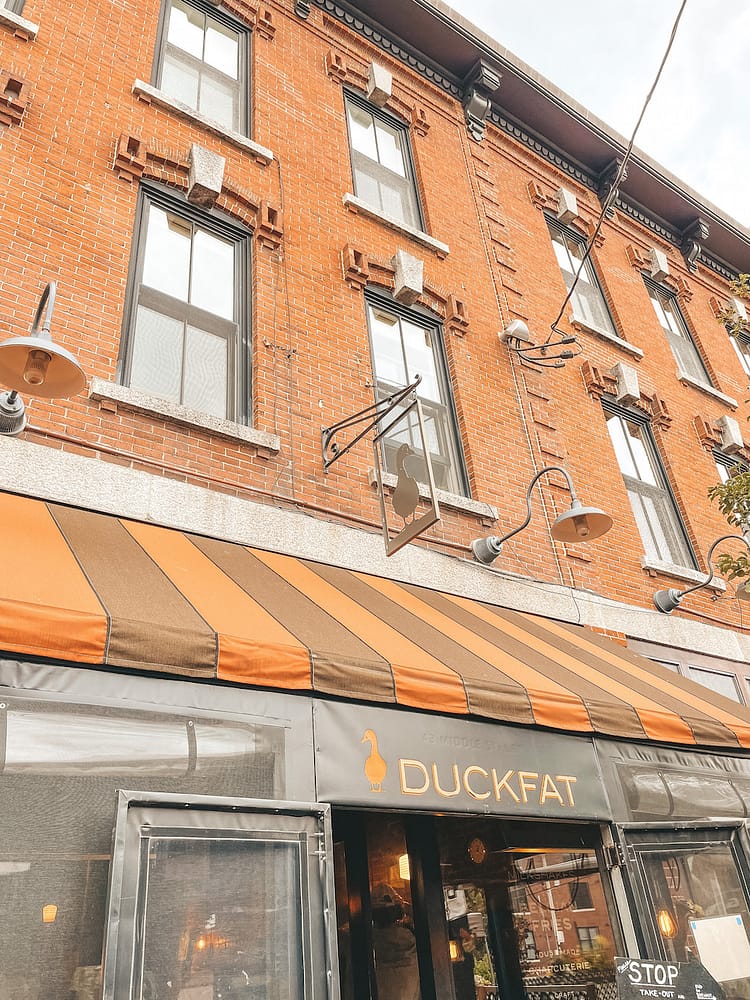 14. Portland Food Tour
Who doesn't love a food tour, especially in a city that is known for donuts, lobster, oysters, and beer? You can count me in!
Spend an afternoon on this Old Port Culinary Walking Tour to eat your way through Portland and learn more about the city's culinary history. Your foodie experience will likely include lobster, fish rolls, fresh-baked pastries, seafood chowder, beer, honey wine, and dark chocolate truffles. Needless to say, come hungry for this tour. You will leave full!
15. Eastern Promenade
Looking for the best view in Portland besides the Portland Head Light? If so, wander down to the Eastern Promenade—a 68-acre historic landscape at the east end of the Portland peninsula that offers spectacular views of Casco Bay and Portland Harbor.
The Eastern Promenade was designed by the same group that created the Boston Commons and Central Park, so you know it must be beautiful. In fact, it's one of the most romantic things to do in Portland, Maine! I suggest visiting in the evening, right before sunset. You can watch the sailboats on the harbor and see the sun shimmering on the water.
16. The Honey Paw
Looking for another spot to eat that doesn't serve seafood, donuts, or fries? Well, if you must deviate from the three major food groups in Portland, Maine (seriously, it's true), then The Honey Paw is a great option!
The Honey Paw is located next to Eventide. This bright, contemporary bistro serves Asian-inspired noodles, rice, and appetizers, like Lobster Tom Yum and Pad Mee Korat. They also serve cocktails, beers, and other drinks to quench your thirst!
17. Portland Observatory
The Portland Observatory is another stop in Portland, Maine, that's well-suited for history lovers!
When the Portland Observatory was built in 1807, it served as a communication tower for ships traveling in and around Portland. Now, the Portland Observatory is the only remaining historic maritime signal station in the United States. You can go on a guided tour or self-guided tour at the Portland Observatory to learn more about the city's history and maritime traditions.
18. Luke's Lobster Portland Pier
We loved visiting Luke's Lobster on Portland Pier. First, the restaurant had amazing views of Portland Harbor. Second, the seafood was fantastic! You can order clam chowder, steamed lobster, lobster rolls, and more. Plus, you know the seafood is fresh. From our table, we were able to watch a fisherman unload his lobster traps from his day out on the water!
You don't have to look far for amazing seafood in Portland. But I'd highly recommend Luke's Lobster for the laid-back vibes, great views, excellent service, and fresh seafood!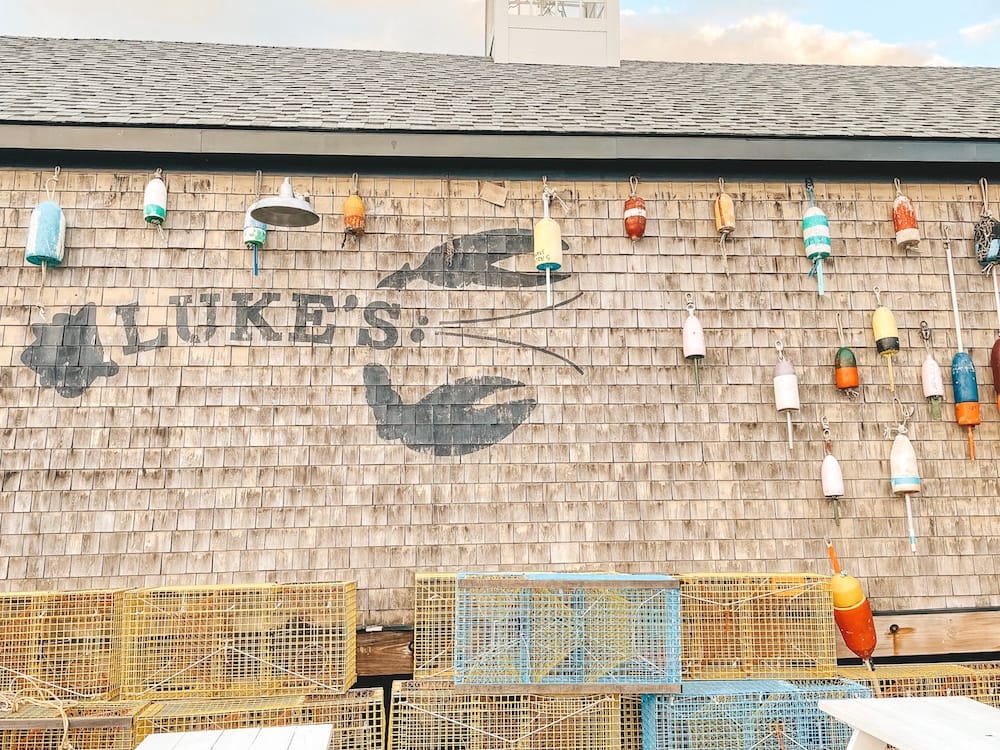 19. Lincoln's
Portland is known for its craft brewery scene, but it also has its fair share of cocktail lounges and speakeasies. Enter Lincoln's!
Lincoln's is one of the coolest speakeasies I've ever been to. It's cash-only, and everything (beer, wine, and well drinks) costs just $5 each (Get it? Abraham Lincoln?). Part of the fun is finding this speakeasy so that I won't ruin it for you. Just look for the red double doors on Market Street between Fore Street and Milk Street in Old Port, and you'll know what to do from there!
Tips for Getting to Portland, Maine
The nearest airport to Portland, ME, is the Portland International Jetport. It's less than a five-mile drive from Downtown Portland. However, if you're planning to spend more time road-tripping through New England, I would suggest flying to the Boston Logan International Airport. This airport is larger, so flights into this airport tend to be cheaper. Portland is a 110-mile drive from the Boston Logan Airport, but there are lots of great places to stop along the way, like Salem, Portsmouth, and more.
If you're driving, Portland is a 110-mile drive from Boston, a 319-mile drive from New York City, and a 470-mile drive from Philadelphia.
Getting Around Portland, Maine
If you're planning to stay in Downtown Portland for the entirety of your trip, renting a car isn't necessary. The only spots on this list that are not within walking distance from Downtown Portland are Allagash Brewing Company, Foundation Brewing Company, and Portland Head Light, and you can easily take an Uber or Lyft to get there.
If you're planning to stay in the heart of the city, you may find it convenient to fly into Boston and take the bus from Boston to Portland. However, if you're planning to explore several attractions outside the city, I would suggest renting a car. Aside from the convenience of being able to drive to the attractions on your own timeline, you can also add other spots in Maine to your trip, like Kennebunkport or Acadia National Park, or other cities in New England that are a short distance away. Plus, Maine is absolutely beautiful. One of the best things to do in Portland, Maine, is going on a drive to see the scenery!
Best Places to Stay in Portland, Maine
Here are some recommendations for the best places to stay in Portland near all the best things to do in Portland, Maine
Portland Regency Hotel & Spa

—

Located in the heart of Old Port, this historic hotel with hot tubs, a steam room, a full-service spa, and an on-site fitness center is a great "splurge" option for close access to everything in the city.
The Press Hotel, Autograph Collection

—

This hotel is located in Downtown Portland and has rooms with beautiful interiors and great amenities. It also offers close access to tons of attractions, including Old Port and Casco Bay Lines.
Tru By Hilton Portland Airport

—

We stayed here during our trip! We loved that it was just outside the city with close access to the airport and the Portland Head Light. The rooms are comfortable, and they served a great complimentary breakfast.
FAQs: Best Things to Do in Portland, Maine
What is Portland, Maine, most known for?
Portland, Maine, is a destination in New England most known for its coastal scenery, magnificent lighthouses, spectacular seafood, craft beer, small-town charm & maritime history.
How much time should I spend in Portland, Maine?
Three days is the perfect amount of time to spend in Portland. You'll be able to see all the gorgeous lighthouses, visit all the best restaurants, and enjoy all the best things to do in Portland, Maine, during a long weekend!
Is Downtown Portland, Maine, walkable?
Portland, Maine, has tons of shopping, restaurants, and sightseeing within walking distance of Downtown Portland and Old Port. The entire downtown is just under four miles long and just under two miles wide!
Make Memories with This List of the Best Things to Do in Portland, Maine
Whether you love lobster rolls and donuts or historic architecture and great artwork, you're sure to find something you'll love to do from this list of the best things to do in Portland, Maine!
Which of these best things to do in Portland, Maine, would be the first on your list of things to do during your vacation? Let me know in the comments!
Disclosure: Some of the links in this post about the Best Things to Do in Portland, Maine, are affiliate links, meaning, at no additional cost to you, I will earn a commission if you click through and make a purchase. This helps me keep free content on my website, like this post about the "10 Best Things to Do in Portland, ME!"
Pin the Best Things to Do in Portland, Maine, for Later!
Read More…
Looking for more travel inspiration for your New England road trip? Check out these blog posts: