Do you love lighthouses, seafood, beer, and rocky coastline views? If so, I can't think of a better place to visit than Portland, Maine!
Maine is everything I hoped it would be—and more! I loved the lush, green trees and breathtaking views surrounding the city and equally adored the historic buildings, red brick pathways, and the dozens of piers and wharves you could find in Downtown Portland.
After a fantastic weekend in the city, I created this list of the best things to do in Portland, ME, to help you see and experience the best of the city. Don't miss these ten best things to do in Portland, ME!
The Best Things to Do in Portland, ME
1. Portland Head Light
Visiting the Portland Head Light is easily one of the best things to do in Portland, ME. This historic lighthouse, located in Cape Elizabeth, Maine, is one of the most famous landmarks in the entire state.
The Portland Head Light opened in 1791, which makes it the oldest lighthouse in Maine. The Portland Head Light overlooks the Portland Harbor and Casco Bay, and it has played a critical role in history and the fortification of Fort Williams. Today, the Portland Head Light is maintained by the United States Coast Guard and is managed by Cape Elizabeth.
The Portland Head Light is one of the best places to take photos in Portland, Maine. As you walk to the left and right of the lighthouse, you'll notice gates that allow you to climb onto the rocks and take a scenic photo with the lighthouse in the background. When we visited in early October, there were still plenty of beautiful flowers in bloom, offering an excellent foreground for photos with the lighthouse as a backdrop!
Tip: Visit the Portland Head Light at sunrise to avoid the crowds. We didn't arrive until mid-morning, and there were already buses with tour groups coming at that time.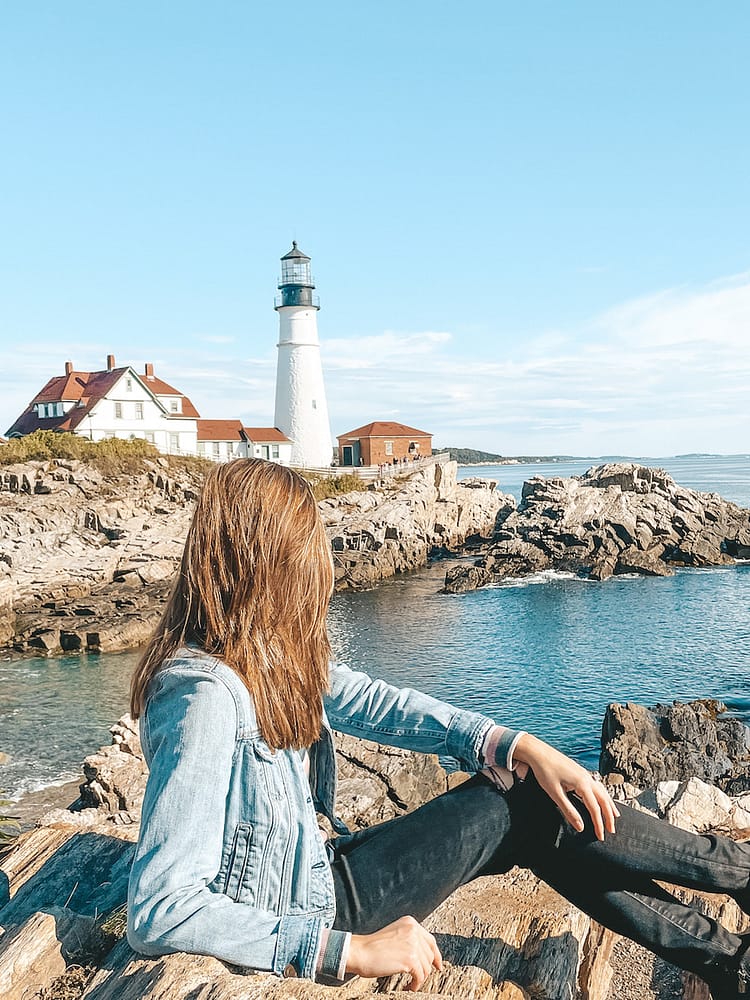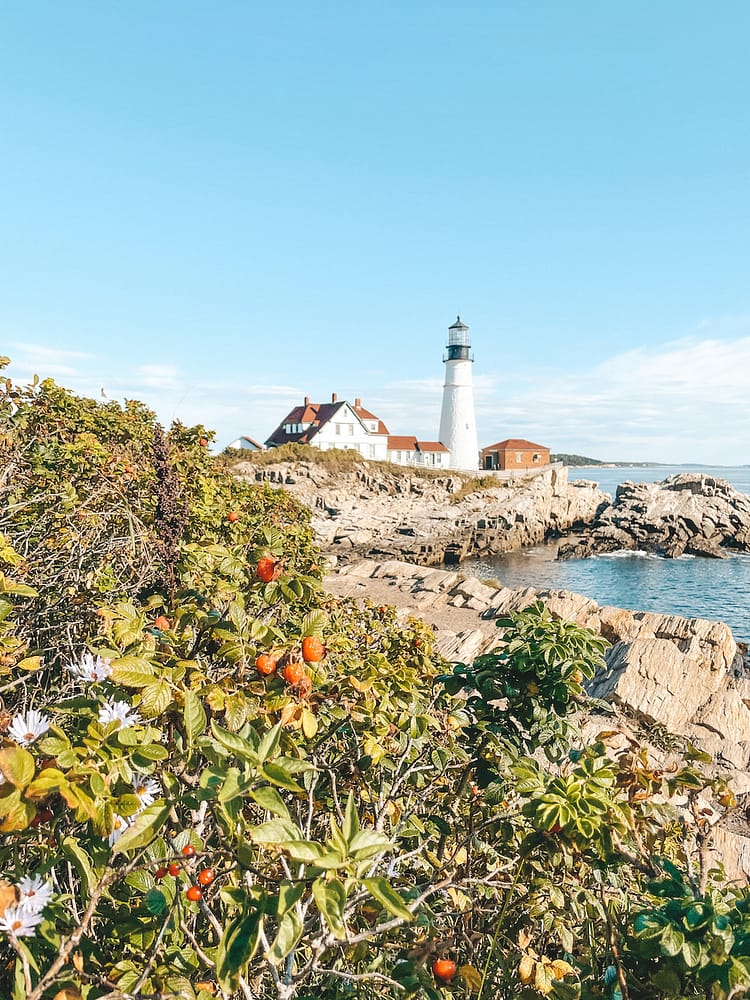 2. Fort Williams Park
After marveling at the Portland Head Light, spend some time strolling around the surrounding 90-acres in Fort Williams Park.
There's plenty to do at Fort Williams Park—you can tour the Arboretum, walk the Cliffside Loop, see Battery Keyes and Battery Blair, explore the rocky beach, or grab a bite to eat from one of the seasonal food truck vendors. It's a beautiful place to walk around to soak up the iconic coastal views.
3. The Holy Donut
Have you ever had a potato donut? I hadn't either until visiting The Holy Donut. And let me tell you—if you haven't had a potato donut, you're missing out!
We were so obsessed with The Holy Donut that we went every single day during our time in Portland. In my opinion, these cakey, spongey donuts totally lived up to the hype!
If you haven't guessed already, The Holy Donut is a local chain specializing in handmade potato donuts. They have over 20 rotating flavors, and once they're sold out, they close. Since we visited Maine during the fall, we indulged in the fall flavors, Shipyard Pumpkinhead, made with a seasonal, local pumpkin ale, and Glazed Apple Cider. Both were delicious!
The Holy Donut is definitely one of the best things to do in Portland, ME. Don't miss stopping at one of their three local locations during your trip!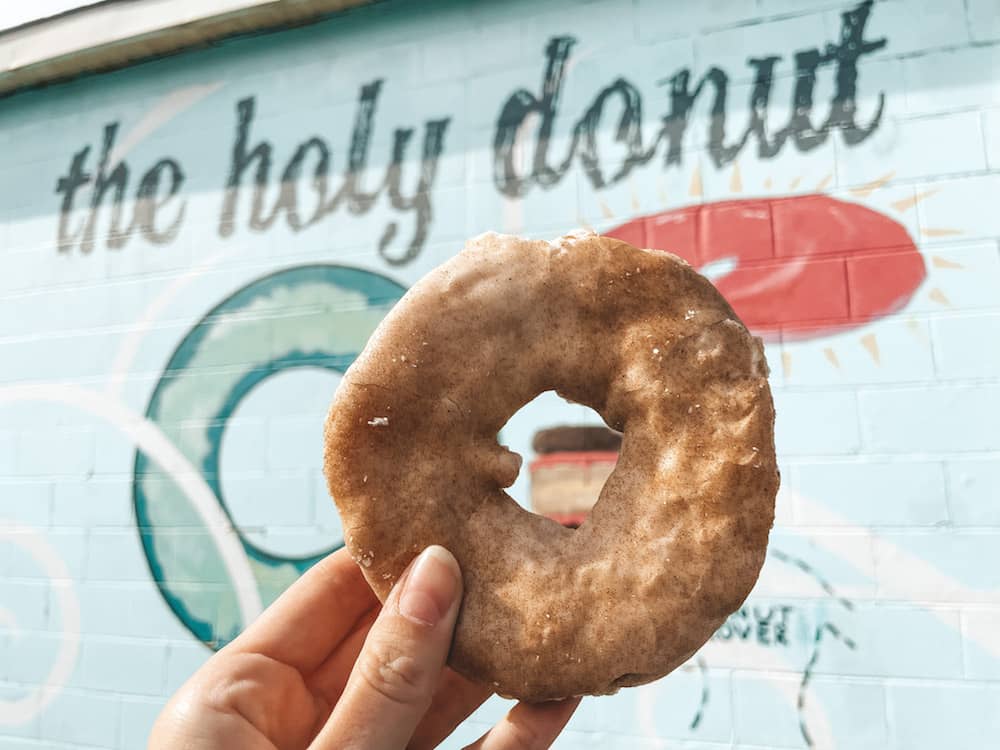 4. Old Port
Downtown Portland is sorted into four districts—the Arts District, Government District, Waterfront District, and Old Port.
Old Port is the heartbeat of Downtown Portland. This quaint, historic district is filled with locally-owned shops, restaurants, souvenir stores, breweries, cocktail lounges, and more. Walking around this area is undoubtedly one of the best things to do in Portland, ME!
Spend some time walking around and popping in the shops. You can find some souvenirs to bring home with you or grab some local goods to try, like blueberry jam or maple-flavored everything!
5. Casco Bay Boat Ride
Cross the street from Old Port, and you'll find yourself in the Waterfront District, where you can walk down dozens of piers and wharves for spectacular harborside views.
Between Chandler's Wharf and Maine State Pier, you'll find dozens of seafood restaurants. You'll also find tons of places where you can embark on boat rides in Casco Bay—one of the best things to do in Portland, ME.
Tip: You can also find a piece of the Berlin Wall on Long Wharf. I thought it was really random (but really cool!), so I'd definitely recommend checking it out while you're walking by the water.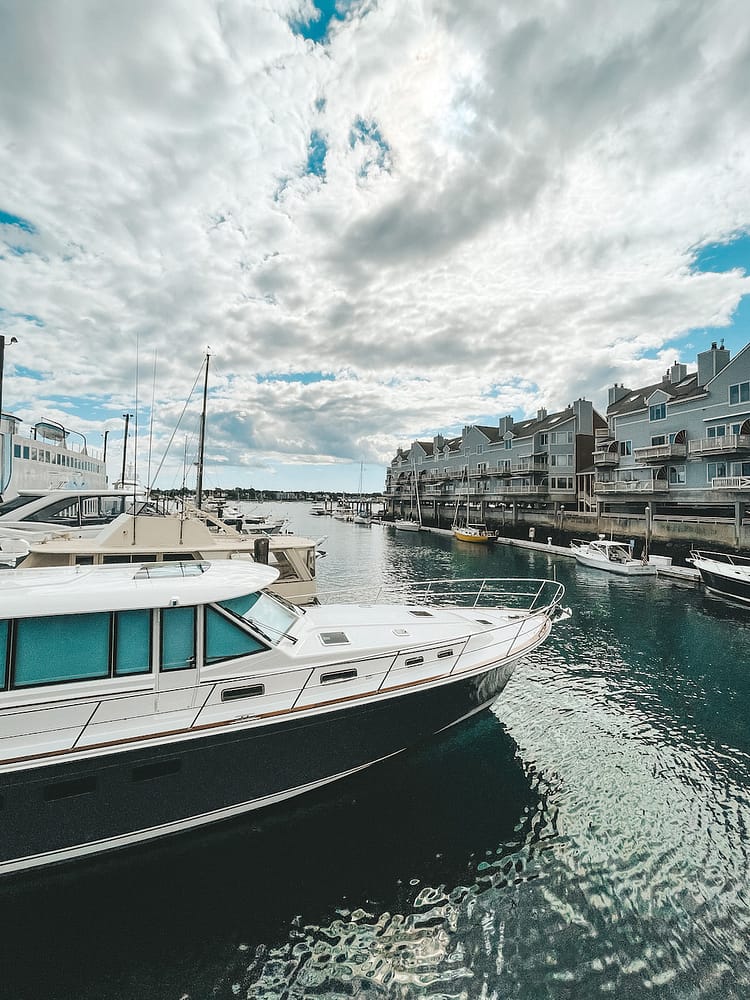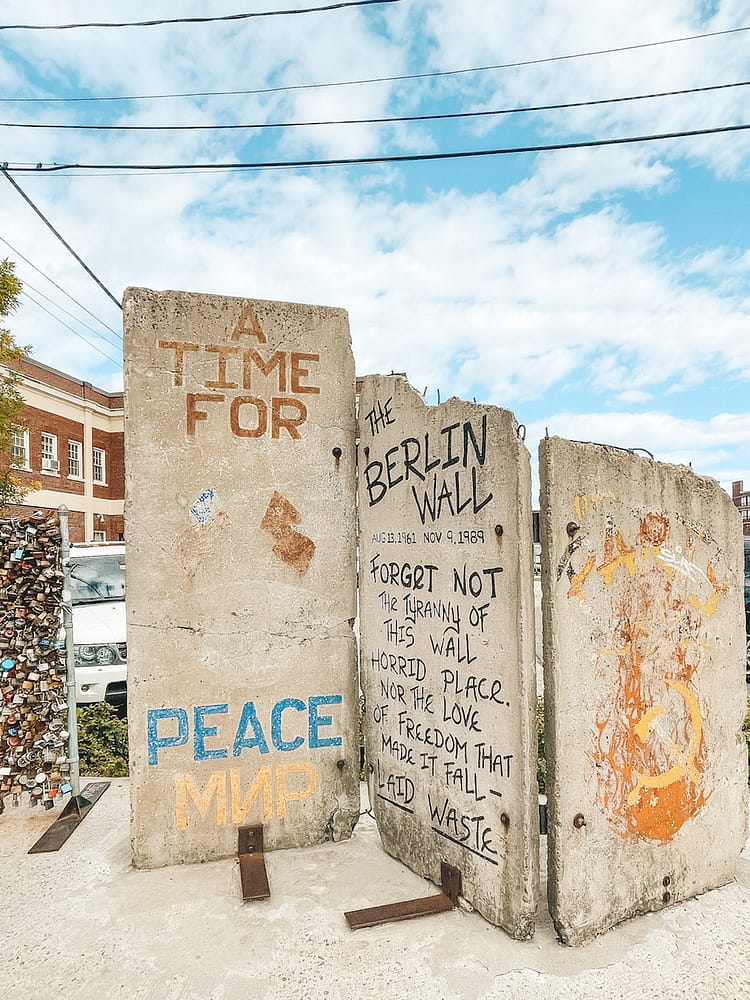 Boating was one activity we wanted to do in Portland, but we ran out of time. However, we'll be trying one of these top-rated experiences the next time we visit:
Portland Discovery Land and Sea Tours—See and learn about Portland's most iconic landmarks and lighthouses from a tour boat.
Rocky Bottom Fisheries—Learn the art of catching lobsters by setting traps, pulling traps, and examining sea life.
Odyssey Whale Watch—Spot whales, seals, and sharks as they travel through Casco Bay, or go on a seasonal puffin-watching excursion.
Casco Bay Line—Go on a sunrise or sunset cruise with scenic views of popular landmarks in Casco Bay.
6. Self-Guided Brewery Tour
Portland, Maine, has a well-known craft beer scene that's definitely worth checking out during your time in the city. Whether you prefer lagers, stouts, ales, sour beers, or IPAs, you'll find a brewery in Portland to suit your taste, making a brewery tour one of the best things to do in Portland, ME!
We spent one afternoon hopping around the breweries on Industrial Way, located just six miles outside of Downtown Portland. This street is filled with several laid-back breweries within walking distance from each other, including Allagash Brewing Company.
Allagash Brewing Company is one of the most well-known breweries from Portland, known for their Allagash White. We loved spending time in the outdoorsy, tree-lined environment during our time at Allagash, and my husband loved their cask-poured Nocturna, a silky stout aged in bourbon barrels with vanilla beans. We also visited Foundation Brewing Company, just across the street, and I enjoyed their nutty brown ale, Burnside.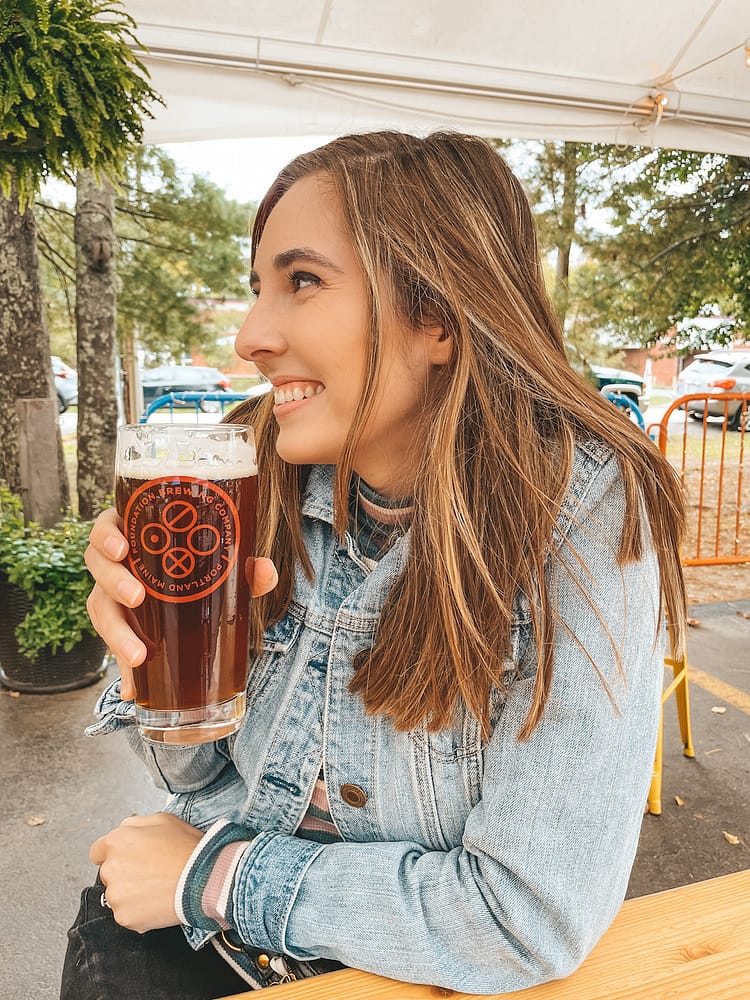 Downtown Portland also has tons of microbreweries and brewpubs. We enjoyed visiting Oxbow Blending & Bottling when we were in Downtown Portland. I ordered their Blueberry Deluxe, a farmhouse ale aged with Maine blueberries, and it was so smooth and tasty!
Personally, we preferred to do a "self-guided" brewery tour, so we could pick and choose the breweries we wanted to visit over several days. However, you can also go on a guided beer tour in Portland with a tour company, like Maine Beer Tours.
7. Duckfat
Have you ever wished for a restaurant where french fries are the main meal? If so, you'll love Duckfat—a family-owned Portland restaurant in Old Port that churns out delicious, seasoned hand-cut Belgian fries and homemade dipping sauces, like pesto mayo and truffle ketchup. And yes, hence the name, all their fries are fried in duck fat!
You can also snack on poutine, salads, soups, paninis, or milkshakes. Though their menu is simple, their food is tasty. Duckfat easily makes my list for the best things to do in Portland, ME!
Tip: If you're visiting Oxbow Blending & Bottling, Duckfat has a pop-up restaurant just outside, so you can grab some fries with your beer.
8. Eastern Promenade
Are you looking for the best view in Portland besides the Portland Head Light? If so, wander down to the Eastern Promenade—a 68-acre historic landscape at the east end of the Portland peninsula that offers spectacular views of Casco Bay and Portland Harbor.
The Eastern Promenade was designed by the same group that created the Boston Commons and Central Park, so you know it has to be beautiful.
I suggest visiting in the evening, right before sunset. You can watch the sailboats on the harbor and see the sun shimmering on the water. It's a beautiful sight, and in my opinion, one of the best things to do in Portland, ME.
9. Luke's Lobster Portland Pier
Maine is known for spectacular seafood, so your trip to Maine wouldn't be complete without getting some seafood for dinner!
We loved visiting Luke's Lobster on Portland Pier. First, the restaurant had excellent views of Portland Harbor. Second, the seafood was fantastic! You can order clam chowder, steamed lobster, lobster rolls, and more. Plus, you know the seafood is fresh. From our table, we were able to watch a fisherman unload his lobster traps from his day out on the water!
You don't have to look far for fantastic seafood in Portland. But I'd highly recommend Luke's Lobster for the laid-back vibes, great views, excellent service, and fresh seafood!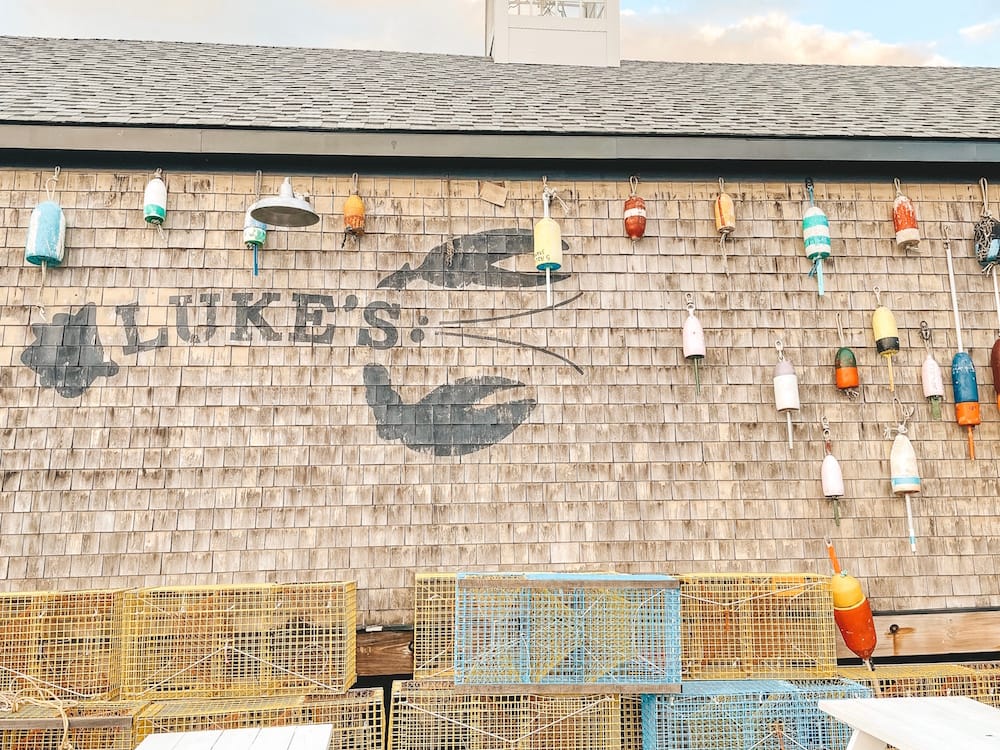 10. Lincoln's
Portland is known for its craft brewery scene, but it also has its fair share of cocktail lounges and speakeasies. Enter Lincoln's!
Lincoln's is one of the coolest speakeasies I've ever been to. It's cash-only, and everything (beer, wine, and well drinks) costs just $5 each (Get it? Abraham Lincoln?). Part of the fun is finding this speakeasy so that I won't ruin it for you. Just look for the red double doors on Market Street between Fore Street and Milk Street in Old Port, and you'll know what to do from there!
How Do I Get to Portland, ME?
The nearest airport to Portland, ME, is the Portland International Jetport. It's less than a five-mile drive from Downtown Portland.
However, if you're planning to spend more time road-tripping through New England, I would suggest flying to the Boston Logan International Airport. This airport is larger, so flights into this airport tend to be cheaper. Portland is a 110-mile drive from the Boston Logan Airport, but there are lots of great places to stop along the way, like Salem, Portsmouth, and more.
If you're driving, Portland is a 110-mile drive from Boston, a 319-mile drive from New York City, and a 470-mile drive from Philadelphia.
Do I Need a Car in Portland, ME?
If you're planning to stay in Downtown Portland for the entirety of your trip, renting a car isn't necessary. The only spots on this list that are not within walking distance from Downtown Portland are Allagash Brewing Company, Foundation Brewing Company, and Portland Head Light. If you're planning to stay in the heart of the city, you may find it convenient to fly into Boston and take the bus from Boston to Portland.
If you're planning to explore the attractions outside the city, I would personally suggest renting a car in Portland, Maine. Aside from the convenience of being able to drive to the attractions outside the city, you can also add other spots in Maine to your trip, like Kennebunkport or Acadia National Park, or other cities in New England that are a short distance away. Plus, Maine is absolutely beautiful. One of the best things to do in Portland, ME, is driving around to see the beautiful scenery!
Where Are The Best Places to Stay in Portland, ME?
Here are some recommendations for the best places to stay in Portland:
Portland Regency Hotel & Spa

—

Located in the heart of Old Port, this hotel is a great "splurge" option for close access to everything in the city!
The Press Hotel, Autograph Collection

—

This hotel is located in Downtown Portland has rooms with beautiful interiors and great amenities. It also offers close access to tons of attractions.
Tru By Hilton Portland Airport

—

We stayed here during our trip! We loved that it was just outside the city with close access to the airport. The rooms are comfortable, and they served a great complimentary breakfast.
Make Memories with This List of the Best Things to Do in Portland, ME
Which of these best things to do in Portland, ME, would be the first on your list of things to do during your vacation? Let me know in the comments!

Disclosure: Some of the links in this post are affiliate links, meaning, at no additional cost to you, I will earn a commission if you click through and make a purchase. This helps me keep free content on my website, like this post about the "10 Best Things to Do in Portland, ME!"
Pin the "10 Best Things to Do in Portland" for Later!
Read More…
Looking for more travel inspiration for your New England road trip? Check out these blog posts: