Prescott, Arizona, is one of my favorite day trips from Phoenix. It's less than a two-hour drive from Downtown Phoenix, making it a super easy trip, and there are plenty of fun things to do in Prescott, like kayaking, hiking, shopping, and more!
Prescott is also one of my favorite day trips from Phoenix for another reason—there are some fantastic places to eat in Downtown Prescott! From cute coffee shops and brunch spots to historic restaurants and unique bars, this town has a little bit of everything in the restaurant scene.
Keep reading to discover the best places to eat in Prescott during your trip to this charming town!
Breakfast & Coffee
1. The Porch
The Porch Prescott is a farmhouse-style coffee shop located in Prescott, Arizona. They recently opened in 2017, and they've been a local favorite ever since! When you walk into The Porch, you'll find plenty of places to sit, including a sunny, enclosed hallway (aka "porch") filled with tons of cute décor and furniture.
The Porch has tons of tasty crepes—my favorite has whipped cream and fresh berries. They also make homemade scones and quiche. You can order tons of coffee drinks here, and I'd definitely recommend grabbing a seat inside to enjoy your breakfast and coffee!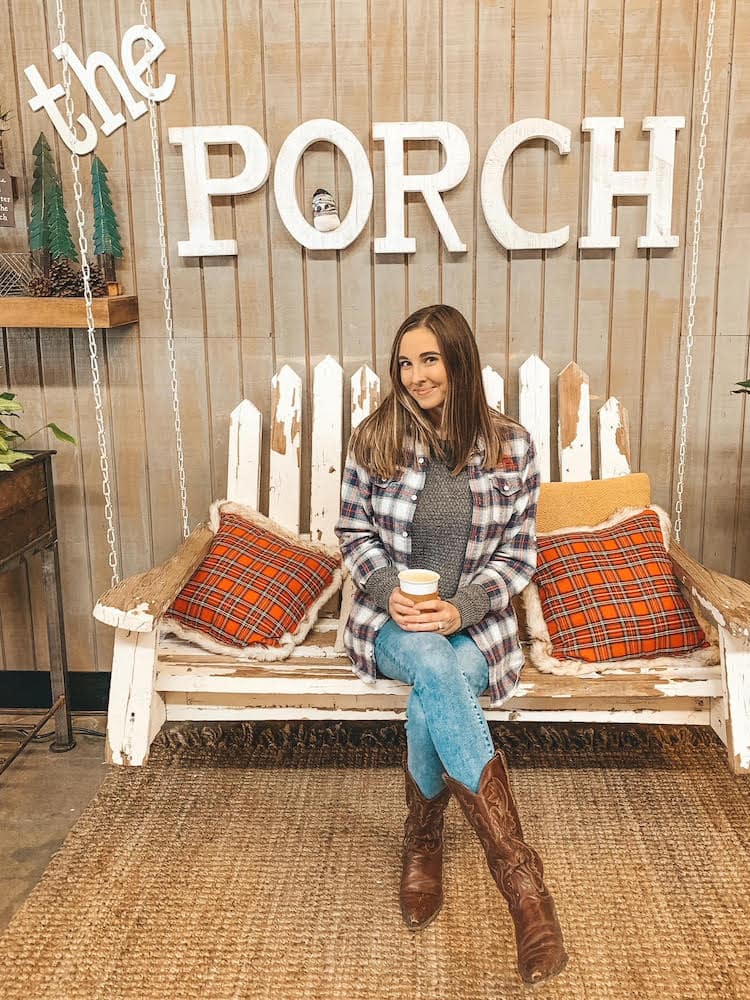 2. The County Seat
The County Seat is a newer restaurant in Downtown Prescott. Though I technically listed it for breakfast, you could visit this spot for lunch or dinner, too! They're open from 8 AM – 10 PM every day, and they serve coffee, brunch, sandwiches, salads, entrees, beer, wine, and cocktails with an emphasis on healthy food.
To get to The County Seat, you'll need to enter through The Spice Traveler and walk upstairs. The whole restaurant is so bright, spacious, and offers excellent views of the Yavapai County Courthouse, which is how I'd assume the shop got its name!
I'd recommend stopping here for brunch, dinner, or at least a coffee. It's such a cute spot (very photogenic), and the food and drinks are excellent!
3. Wild Iris Coffeehouse & Bakery
Wild Iris Coffeehouse & Bakery is a local coffee shop in Prescott, Arizona. They have an extensive menu with tons of coffee, tea, and monthly specials, and they also have lots of tasty pastries and desserts that they make in-house each day.
Wild Iris also has a brunch menu with sandwiches, soups, and salads if you're hungry. My favorite thing about Wild Iris is that they have a dog-friendly patio, unlike the other coffee shops on this list, which is a huge plus when traveling with our pup!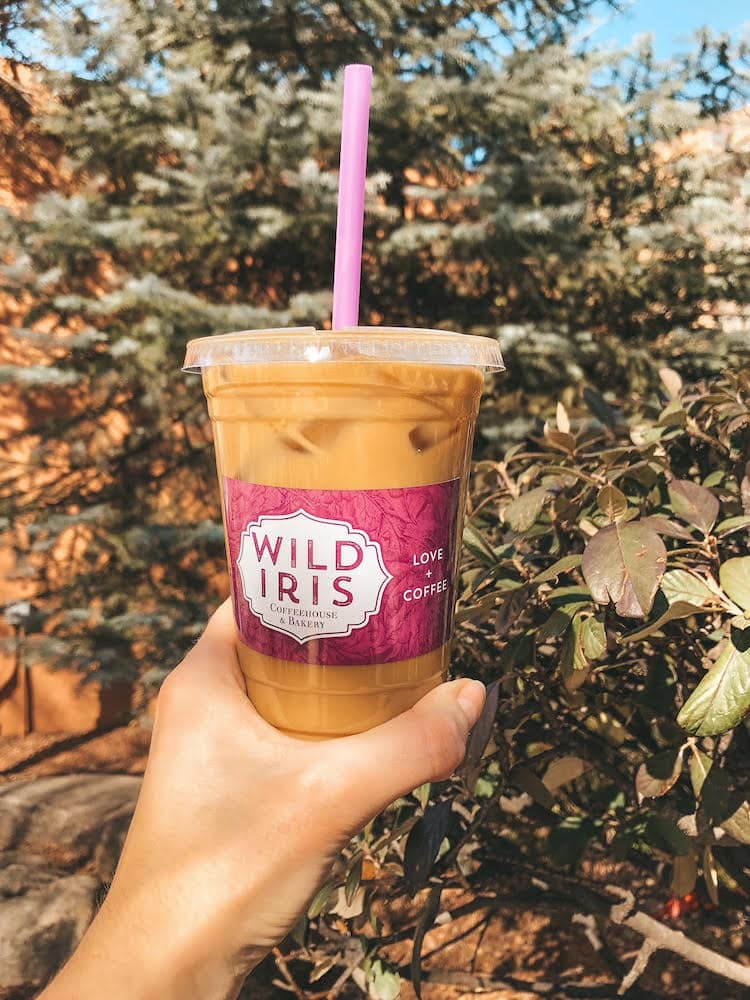 Lunch & Dinner
4. Prescott Brewing Company
Prescott Brewing Company is one of the best places to eat in Prescott, and it's been around since 1994. They serve award-winning beers that they brew in-house, and they also have a tasty menu with sharables, burgers, classic pub fare, and sandwiches—all the typical food you'd find at a brewpub!
My favorite item on the menu is the Burmeister Burger, topped with PCB's specialty dip, artichoke hearts, parmesan cheese, and sour cream. Don't knock it until you try it!
5. FARM Provisions
FARM Provisions is one of the best places to eat in Prescott, AZ, especially if you have a dog—they have a dog-friendly patio.
They're focused on providing a farm-to-table experience with fresh foods sourced and served by local farmers, ranchers, and purveyors to support the local community in Prescott. They also have a gluten-free and vegan menu, so if you have special dietary needs, this is a great location to visit during your trip to Prescott.
6. Papa's Italian Restaurant
Papa's Italian Restaurant has been highly recommended to me by multiple people! Although I haven't had the chance to visit yet, this popular spot is ranked the best Italian restaurant and happy hour in Prescott. What more could you ask for?
Salads, pasta, entrees, and pizza are all on the menu at this family-owned establishment. They also have an extensive wine list with fine wines sourced from Italy and around the world.
7. The Palace Restaurant and Saloon
If there's one place you must eat while visiting Prescott, it's The Palace Restaurant and Saloon!
This establishment was ranked "one of the top ten historic bars in America" by USA Today and the "most historic restaurant in Arizona" by the Arizona Republic. This saloon opened along Whiskey Row in 1877, and famous gunfighters like Wyatt Earp, Virgil Earp, and Doc Holliday were regulars at this establishment.
Today, you can soak in the history of this famous saloon while enjoying a meal in the restaurant. I'd recommend sitting inside because the restaurant's interior is really cool, but if you're traveling with a dog like we were, they also have a dog-friendly back patio.
You can order steak, chicken, fish, burgers, sandwiches, and more on the menu. The food here is truly excellent (it's not just famous for the history!), so if you want a slice of the wild west with a great meal, come to The Palace!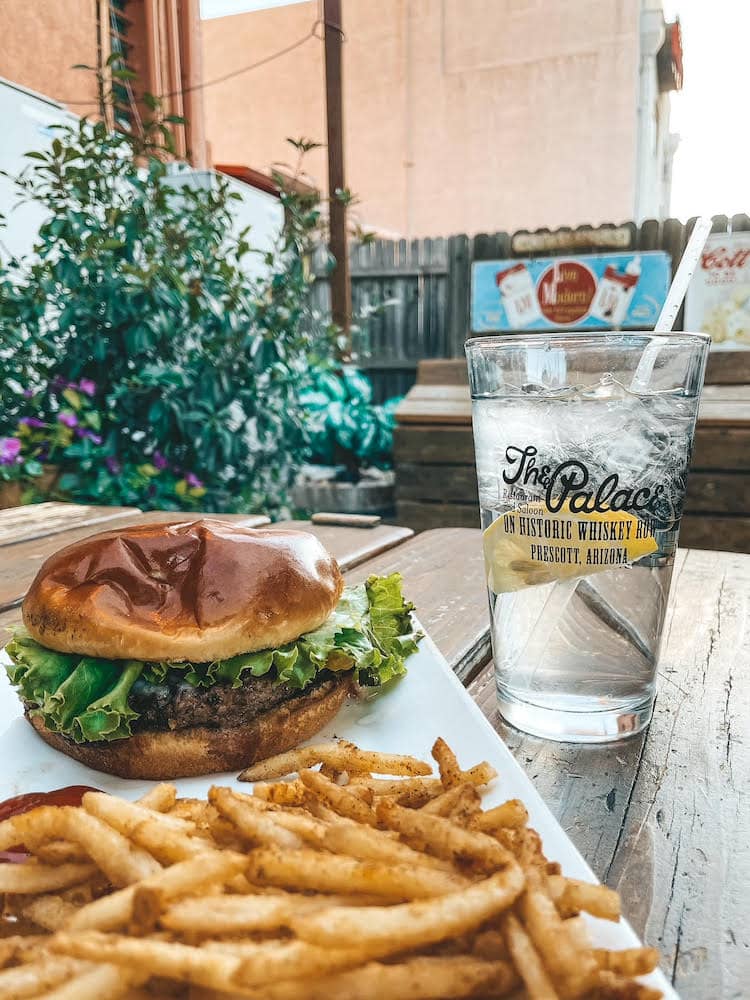 8. The Raven Café
If you're looking for a laid-back spot with a little bit of everything, including breakfast, lunch, and dinner, you'll find it at the Raven Café.
This bright, airy café has an espresso bar, and they serve craft beer, wine, ciders, and meads. They also offer vegetarian, vegan, and gluten-free options, so you'll find something delicious to eat here if you have dietary restrictions!
Aside from the ample seating inside the café, they also have plenty of outdoor seating, too. This spot is definitely one of the best places to eat in Prescott, so don't miss it during your trip!
9. Superstition Meadery
Have you tried mead before? If not, you have to pay a visit to Superstition Meadery during your time in Prescott!
Mead is a fermented alcoholic beverage made from honey, water, and yeast. It's strong a sweet, like a dessert wine, but takes on different flavors for a unique aftertaste. Superstition Meadery is a local company that produces all their own meads, and they distribute their products across the country!
If you'd like to sample a wide variety of meads, I'd recommend trying the flight of twelve for $26 or the specialty flight of ten for $26. Superstition Meadery also serves charcuterie, cheeses, flatbreads, and appetizers you can enjoy with your mead.
Plus, it's located in the basement of the Spice Traveler (below The County Seat), so the ambiance is super relaxed and peaceful with dim lighting and cozy furniture.
P.S. I didn't have a great photo of the Prescott location, but Superstition Meadery also has a location in Downtown Phoenix—that's where this photo is from.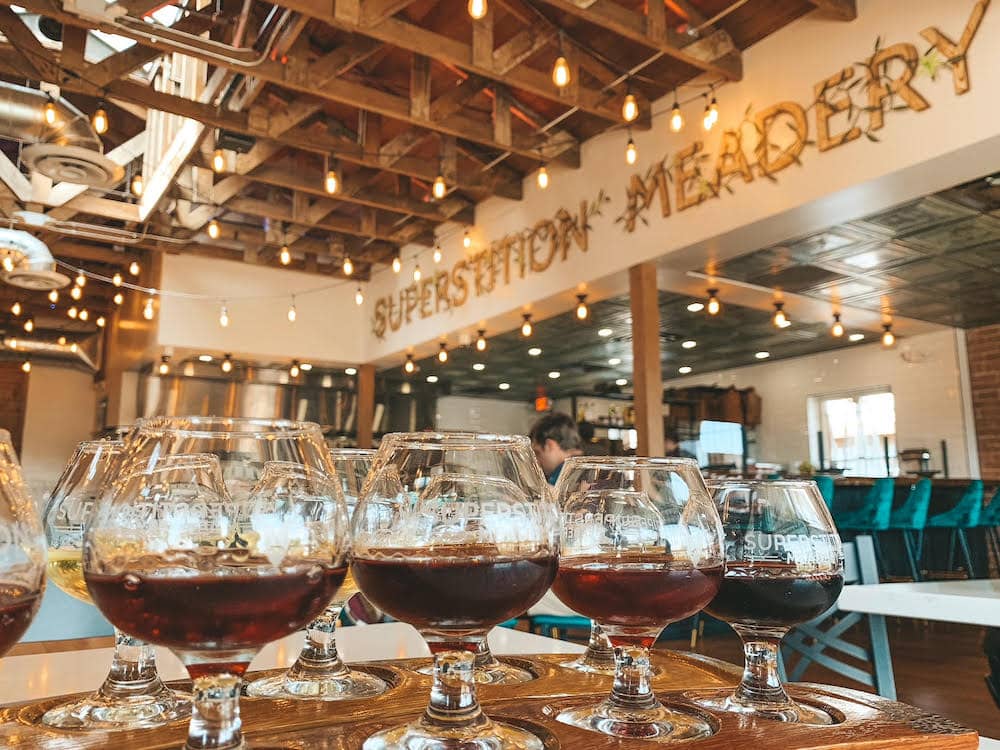 Dessert
10. Treat Center on Courthouse Square
No list of the best places to eat in Prescott would be complete without dessert!
Treat Center on Courthouse Square is a candy store on Whiskey Row that serves ice cream, homemade fudge, gourmet popcorn, and other goodies. Their white chocolate coconut ice cream is fantastic and my personal favorite. I get it every time we visit!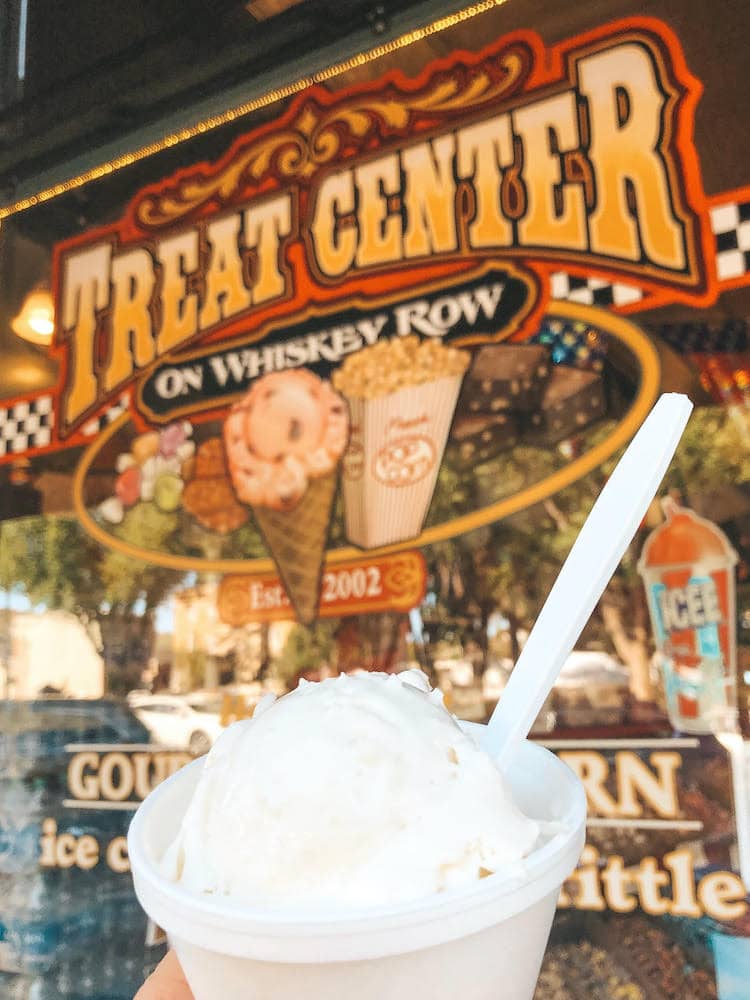 Reserve Your Table at the Best Places to Eat in Prescott, Arizona
Whether you love to enjoy a light brunch, a hearty dinner, or both, you'll find somewhere delicious to dine from the list of the best places to eat in Prescott, Arizona.
Which of these spots would you want to visit first? Let me know in the comments below!
Save the Best Places to Eat in Prescott for Later!
Did you love this post about the best places to eat in Prescott, Arizona? Check out these other posts about things to do during your Northern Arizona road trip!