When you think of Arizona, what do you think about? If you're like most people, images of deserts, cacti, and the Grand Canyon are likely the first thoughts that come to mind.
I've lived in Arizona my entire life, and one of my favorite things about the state is its incredible diversity. Yes, there are plenty of cacti, and of course, the Grand Canyon National Park is an alluring destination, but there's so much more to Arizona than what meets the eye.
If you're planning a trip to Arizona soon, you'll likely be staying somewhere in Greater Phoenix. Fortunately, there are tons of places you can explore on quick day trips from Phoenix that will allow you to see the diversity of the "Grand Canyon State." Here are some of the best day trips from Phoenix, recommended by a local!
Map of the Best Day Trips from Phoenix, AZ
Best Day Trips from Phoenix, AZ
1. Flagstaff
Flagstaff is surrounded by the world's largest ponderosa pine forest and is the adventure mecca of Arizona. During the summer and fall, you can enjoy camping, hiking, hiking, or fishing in Flagstaff, and in the winter, you can go skiing or snowboarding at Arizona Snowbowl.
Walnut Canyon National Monument, Sunset Crater Volcano National Monument, and Lowell Observatory are some of the major attractions in Flagstaff, aside from outdoor activities. You can also head to Downtown Flagstaff, where you'll find historic shops, restaurants, and coffee shops along a portion of the famous Route 66. Diablo Burger and Lumberyard Brewing Co. are two excellent locally-owned restaurants in Flagstaff to check out during your day trip.
Phoenix sits just above 1,000 feet in elevation, and Flagstaff sits at nearly 7,000 feet in elevation, so you can expect a completely different climate when you come. Flagstaff is one of the best day trips from Phoenix if you're looking to cool off and get some fresh air.
2. Jerome
Did you know Arizona is home to the largest ghost town in North America? It's called Jerome—and you can visit it during your trip to Arizona!
Jerome is built on the side of Cleopatra Hill at an elevation of 5,000 feet. While it once had a population of 15,000 people, the population dropped to just 50 after the copper mines were closed. You can learn more about Jerome's history at the Jerome State Historic Park and the Jerome Historical Society Mine Museum during your visit.
Since Jerome is haunted, you can also go on a ghost tour during your visit to the city. You also can't miss the chance to get a bite to eat at The Haunted Hamburger—a haunted restaurant overlooking the Verde Valley that is a local favorite.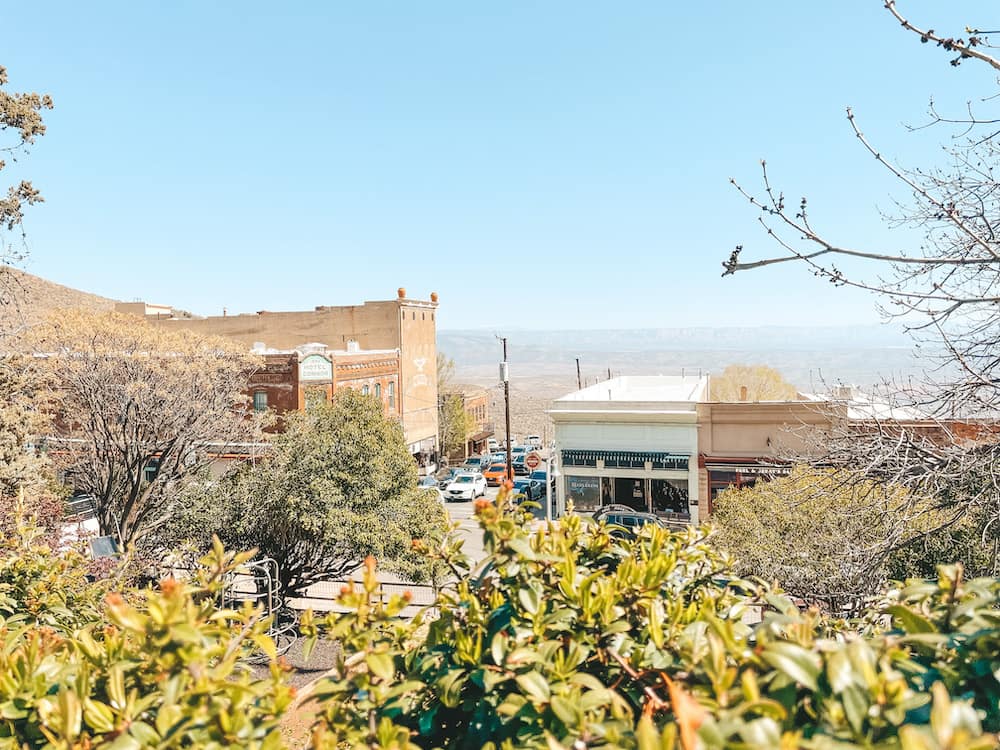 Read More
3. Sedona
Sedona is undoubtedly one of the best day trips from Phoenix. Visitors flock from around the country to see Sedona's stunning red rocks and breathtaking views!
Sedona is an incredibly scenic spot for hiking and has dozens of popular hiking trails you can explore, like Devil's Bridge, Cathedral Rock, and Soldier Pass. If you're visiting in the summer when it's too hot to hike, you can cool off at Slide Rock State Park—a natural waterslide and pool just north of Sedona, in Oak Creek Canyon. You can also go on a sightseeing tour if you'd like to stay off the trails or drive along the Red Rock Scenic Byway—one of the most scenic drives in Arizona—for gorgeous views of the red rocks.
You can go shopping, dining, and exploring in Uptown Sedona, and don't miss the chance to explore the Tlaquepaque Arts & Shopping Village to see beautiful Native American art and architecture. When you're hungry, grab a table at Pump House Station Urban Eatery & Market—they serve breakfast, lunch, and dinner!
Read More
4. Prescott
If you're looking for a town that offers western flair with plenty to do, look no further than Prescott. This town's claim to fame is the "World's Oldest Rodeo," which you can watch if you're visiting in the summer. However, there is plenty more to do in Prescott, making it one of the best day trips from Phoenix.
If you love the outdoors, you should spend your day in Prescott kayaking, paddleboarding, or swimming in Watson Lake, Goldwater Lake, or Lynx Lake. You can also go hiking or biking in the surrounding Prescott National Forest.
If you decide to stay in town, you can walk around Courthouse Square, a collection of local restaurants, shops, and art galleries. Don't miss the chance to walk down Whiskey Row and enjoy lunch or dinner at The Palace Restaurant & Saloon—an establishment dating back to the late 1800s where famous cowboys and gunfighters grabbed a drink in the evenings.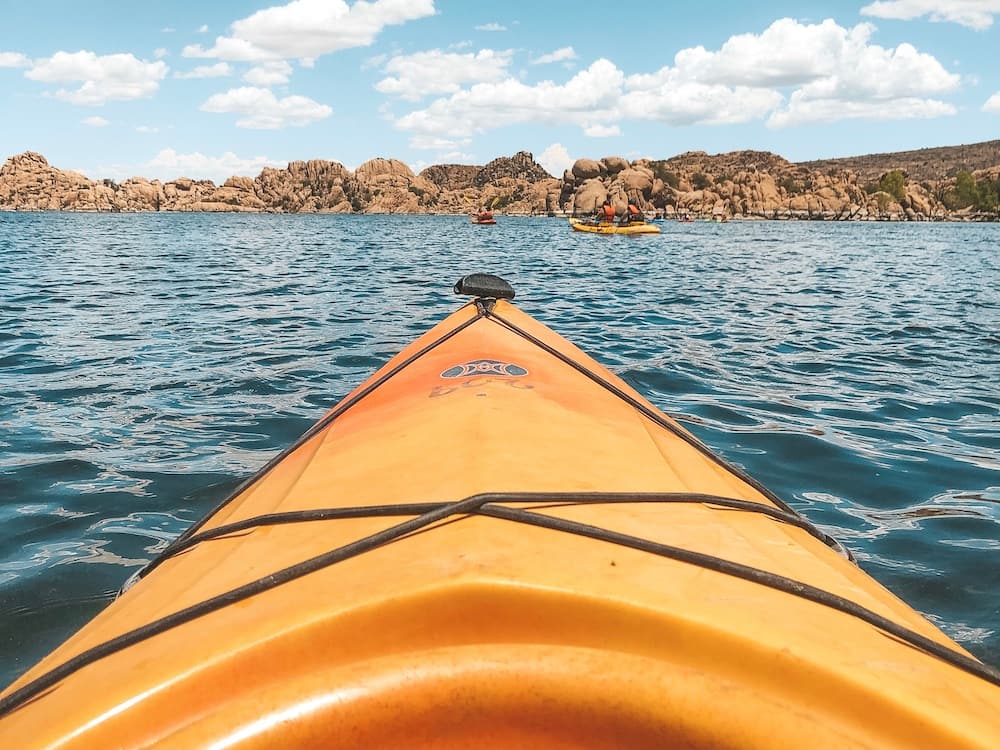 Read More
5. Cottonwood
Wine lovers, unite! Cottonwood is a small town located between Jerome and Sedona, and it's the perfect place to start and end a trip along the Verde Valley Wine Trail—a collection of local wineries, vineyards, and tasting rooms in Northern Arizona.
Some of the most popular wineries along the Verde Valley Wine Trail, like D.A. Ranch and Page Springs Cellars, are found in Cornville, just a short drive from Cottonwood. You can also see the wineries in Cottonwood on a guided tour from Sedona that includes transportation. When you've had enough wine, head back to Old Town Cottonwood to explore the shops and restaurants down Main Street—you're sure to find something to satisfy!
Crema Craft Kitchen & Bar is one of the best places to grab breakfast, and don't miss the chance to enjoy dinner and a prickly pear margarita from The Tavern Grille for dinner.
Read More
6. Payson
If you want to explore all that Eastern Arizona offers, head to Payson! Payson provides an excellent launching point for other attractions, like the Mogollon Rim and Pinetop-Lakeside, in the heart of the scenic "Rim Country."
Payson is surrounded by the Tonto National Forest and is an excellent location for outdoor activities, like hiking, biking, and fishing. It's also a popular location for camping, so if you'd like to stay the night, bring your camping gear and reserve a spot at one of the local campgrounds.
Payson has more of a "small town" vibe than other locations on this list, and it tends to be less touristy than other cities, like Sedona and Prescott. If you're looking for somewhere you can truly unplug and connect with nature—Payson is one of the best day trips from Phoenix for you.
7. Grand Canyon National Park
Grand Canyon National Park is easily the most famous attraction in Arizona. It's the only natural wonder of the world in the United States, making it a must-visit during your time in the "Grand Canyon State."
However, I'll be blunt—trying to squeeze the Grand Canyon into a day trip is extremely ambitious. You'll spend nearly seven hours in the car roundtrip just to arrive at the South Rim, where you'll have a few hours to walk around before you need to head back home.
Instead, I recommend staying overnight in Williams and driving to the Grand Canyon the next day. You'll have much more time to explore when you make the Grand Canyon a weekend trip. You also get to explore the cute town of Williams and its famous attractions, like Bearizona and the Canyon Coaster Adventure Park. You can also stay in Sedona or Flagstaff and take a guided tour of the Grand Canyon from either of these cities.
8. Saguaro National Park
Saguaro National Park is maybe the lesser-known national park in Arizona, but that doesn't make it any less spectacular! Saguaro cacti are extremely rare and can only be found in certain parts of the Southwest USA, like Arizona!
Saguaro National Park is a great "add-on" to a weekend trip or a day trip to Tuscon, Arizona. The park is split into two parts—Tuscon Mountain District (Saguaro West) and Rincon Mountain District (Saguaro East). Saguaro West is the most easily accessible from the Valley, making it one of the best day trips from Phoenix.
In Saguaro West, you can hike the Desert Discovery Nature Trail or Valley View Overlook Trail, drive along the Bajada Loop Drive, or see the petroglyphs that are hundreds of years old, dating back to the Hohokam people. In Saguaro East, you can explore the Desert Ecology Trail or drive the Cactus Forest Loop Drive.
9. Tucson
Tucson is a large city to explore in one day (the second-largest city in Arizona, in fact!), but it is doable, making Tucson one of the best day trips from Phoenix.
During your trip to Tucson, you can't miss the chance to explore the Pima Air & Space Museum, with over 250 aircraft on display, or tour the Mission San Xavier del Bac—a stunning example of mission-style architecture from the 1700s. Tourists also love driving the Mount Lemmon Scenic Byway—one of the most scenic drives in Southern Arizona.
When you're done exploring the popular sites, head to Downtown Tuscon to grab dinner. There are plenty of new, trendy spots, but if you'd like some authentic Mexican food, you're in luck. Head to the family-owned restaurant, El Charro Café, to get your fill!
10. Tombstone
Tombstone is well-known for its history dating back to the Wild West, earning the nickname "The Town Too Tough to Die." It was once a popular silver mining town made famous by the O.K. Corral Gunfight, but the city has been a National Historic Landmark since 1962.
Popular things to do in Tombstone include seeing The Bird Cage Theatre, a haunted landmark once a gambling hall and brothel, and watching a reenactment of the famous gunfight that made Tombstone famous at O.K. Corral. You can also walk around the Tombstone Courthouse State Historic Park to walk in the footsteps of famous gunfighters Wyatt Earp and Doc Holliday.
After a day of exploring, head to Tombstone Brewing Company for a beer, or get a table at Big Nose Kate's Saloon for a bite to eat. Then, before you head home, go on a spooky ghost tour in Tombstone!
11. Bisbee
Bisbee is just a short drive from Tombstone, so pairing these two cities on one action-packed day trip from Phoenix is a great idea! Bisbee is a former copper mining town located in the Mule Mountains in Southern Arizona. In fact, the city is just eleven miles away from Mexico!
In Bisbee, you'll find plenty to do, including the Bisbee Mining & Historical Museum, where you can learn all about the city's past, and the Copper Queen Mine, which used to be one of the country's most productive copper mines before it closed several decades ago.
When you're done sightseeing, head into Old Bisbee, where you can enjoy a brew from Old Bisbee Brewing Company or enjoy a meal at Bisbee's Table.
Explore the Best of Arizona with These Diverse Day Trips from Phoenix
It's time to explore! Arizona has a little bit of everything that everyone will love to explore—from mountains and lakes to deserts and cities.
Which of these day trips from Phoenix sparks your interest most? Let me know in the comments below!
Disclosure: Some of the links in this post about the "Best Day Trips from Phoenix" are affiliate links, meaning, at no additional cost to you, I will earn a commission if you click through and make a purchase. This helps me keep the content on my website free, like this post about the "Best Day Trips from Phoenix."
Save the Best Day Trips in Phoenix for Later
Looking for some more things to do in Phoenix, Arizona, besides these best day trips from Phoenix? Check out these helpful blog posts: