Santa Barbara is a beautiful beachfront city in Southern California known for its scenic beaches, hiking trails, striking Spanish-inspired architecture, and, you guessed it—great food!
I've been to Santa Barbara a few times now. My husband actually went to college there, so he knows the city inside and out. We've visited tons of great coffee shops, breweries, brunch spots, and nice restaurants during our trips to Santa Barbara, so I figured it's probably time to write a guide.
Santa Barbara has so many incredible places to eat that it would be impossible to include them all in one blog post. However, this guide is a great place to start! Here are the best places to eat in Santa Barbara according to a local (my husband) and his travel blogger wife 😉
The Best Places to Eat in Santa Barbara During Your Trip
1. Helena Avenue Bakery
Looking for a wonderful place to enjoy brunch in the Funk Zone? If so, check out Helena Avenue Bakery—one of the best places to eat in Santa Barbara. This artisanal bakery serves fresh-baked goods, like scones, cinnamon rolls, made in-house daily.
They also serve healthy breakfast and lunch options, so you can enjoy a breakfast sandwich or farmer's market bowl with your pastries. You can also order a latte or coffee beverage from their full-service espresso bar.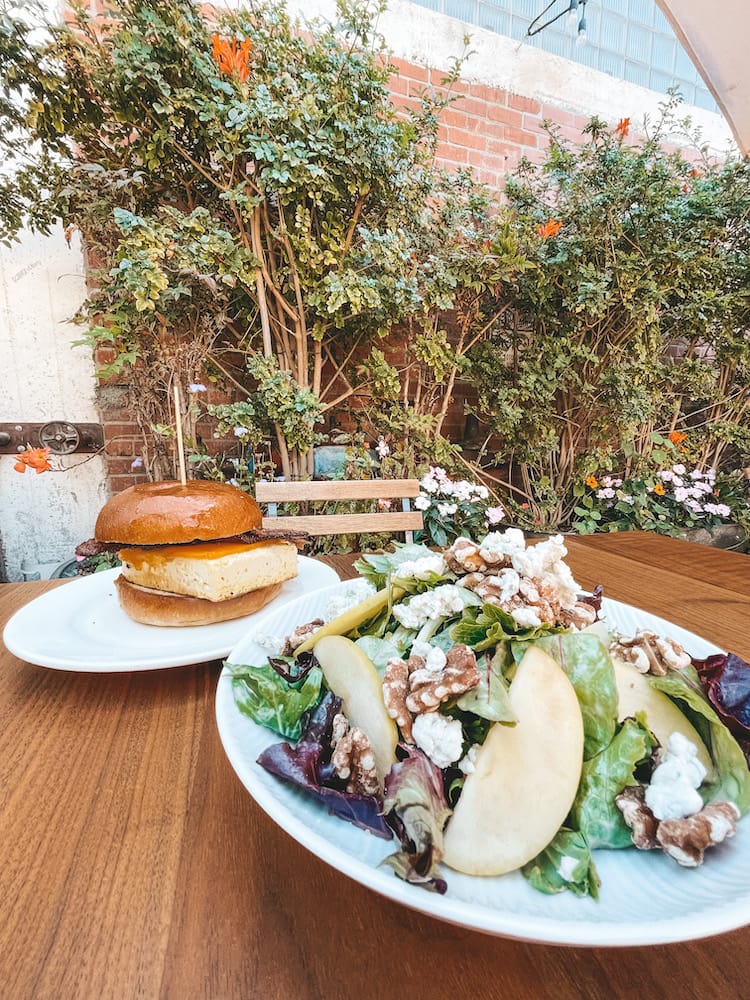 2. The Lark
This Lark is one of the best places to eat in Santa Barbara's popular Funk Zone—an artsy, warehouse-heavy neighborhood that's been converted into tons of local restaurants, unique bars, and fun shops.
The Lark focuses on serving fresh, seasonal ingredients locally sourced from Central California in a laid-back, stylish setting. Their curated menu is separated into three categories—dishes from the farm, the ocean, and the ranch. They also serve complimentary popcorn with every meal. Fun touch, right?
3. Bettina
Bettina is a cozy, neighborhood Italian restaurant in Montecito with touches of inspiration from the fresh produce and coastal atmosphere in Southern California.
Bettina is considered one of the best places to eat in Santa Barbara for its delicious wood-fired pizzas. You can order traditional pizzas, like Pepperoni or Margherita, or unique flavors, like Carbonara or Hazelnut. Bettina also offers an impressive selection of wine, select beer, and cocktail options.
4. Institution Ale Co.
My husband went to college in Santa Barbara before moving to Phoenix, and he said the brewery scene has blossomed since his time in school there!
Our favorite brewery we visited was Institution Ale Company on State Street. I enjoyed the Restraint, their maple brown ale, and my husband enjoyed the Vanilla Cacao Stout. Aside from malty beers, they also have light and hoppy beers to suit your palate (just not mine, haha). They also serve personal pizzas for the perfect happy hour snack. Though the interior of Institution Ale is cool, we loved sitting on the outdoor patio adjacent to the building to soak up the sunshine!
5. Loquita
Loquita is an award-winning restaurant and easily one of the best places to eat in Santa Barbara. I loved my meal here so much that I didn't think to take a single picture of my food before it was already gone!
Loquita serves authentic Spanish-style cuisine, like hot and cold tapas, wood-fired seafood, and paella—a dish with rice, chicken, seafood, saffron, and other seasonal ingredients cooked (and served!) in a large, shallow pan. They also have a list of hand-crafted gin cocktails, Spanish vermouth, and local wines you can enjoy with your dish.
Our friends who live in Santa Barbara took us to Loquita for dinner during our most recent visit, and it was truly amazing! Take it from the locals, and put this trendy spot on your list of places to eat during your trip.
6. Norton's Pastrami and Deli
Sometimes, all I'm craving is a delicious sandwich. If you get those cravings, too, you'll love Norton's Pastrami & Deli.
This no-fuss, counter-style service deli is known for having the best pastrami sandwich in town. They also serve corned beef sandwiches, cold subs, melts, chicken sandwiches, and more. You can order French fries or onion rings on the side, and they have gluten-free bread for allergies and dietary restrictions, too. I'd highly recommend stopping at this cozy local spot for lunch. It is definitely one of the best places to eat in Santa Barbara!
7. Brophy Bros.
Does enjoying seafood on the ocean sound like the perfect way to spend a trip to California? If so, you should pay a visit to Brophy Bros.—one of the best places to eat in Santa Barbara.
Located on the Santa Barbara Harbor, this restaurant serves up crab cakes, seafood pasta, clams, oysters, and more. I recommend ordering Brophy's New England Clam Chowder. It's rich, creamy, and honestly better than any clam chowder I've ever tasted! Plus, it comes with a huge basket of bread, and who doesn't love free bread?
8. Santa Barbara Roasting Company
Santa Barbara Roasting Company may not be the fanciest coffee shop in Santa Barbara, but it's my personal favorite! This local coffee shop roasts all their beans in-house, and if you order a drip coffee, you can fill your cup from the selection of coffees on-brew for the day.
My husband and I love their Kona Macadamia Nut Blend and always bring home a bag (or two!) to enjoy at home. Santa Barbara Roasting Co. also has tons of outlets and seating (unlike other coffee shops in the area, I might add), so it's a great place to stop at for the day if you're working remotely like we were.
If you're looking for some other local coffee shops to try in Santa Barbara, here are a few other top-rated favorites:
Handlebar Coffee Roasters
Dune Coffee Roasters
Cajé Coffee Roasters
Dart Coffee Co.
9. Lure Fish House
Lure Fish House is a family-owned restaurant chain with locations in Central California, including Ventura and Santa Barbara, and one in Scottsdale, Arizona.
Lure Fish House is one of the best places to eat in Santa Barbara because it serves fresh, sustainable seafood from local sources and strives to source its produce locally whenever possible. They also have a wine list that features wines from local vineyards!
The menu is seasonally sourced, but you can always find seafood items like mussels, fish tacos, chowders, ceviche, and lobster somewhere on the menu.
10. McConnell's Fine Ice Creams
I love ice cream, so naturally, McConnell's Fine Ice Creams deserves a spot on this list. This local dairy has been producing premium ice cream for 70+ years, made with just four simple ingredients—milk, cream, eggs, and pure cane sugar.
McConnell's sources all their ice cream "additions" locally, so you can be confident the coffee, nuts, berries, or chocolate you're enjoying in your ice cream are sourced from family orchards and ranches through California and beyond. Cool, right? Bonus: It's tasty, too!
There are two McConnell's Fine Ice Creams locations on Lower State Street, but the original location is called Mission Street Ice Cream and Yogurt (ft. McConnell's Fine Ice Creams), and my husband swears this location is best. I'll try all three one day and let you know!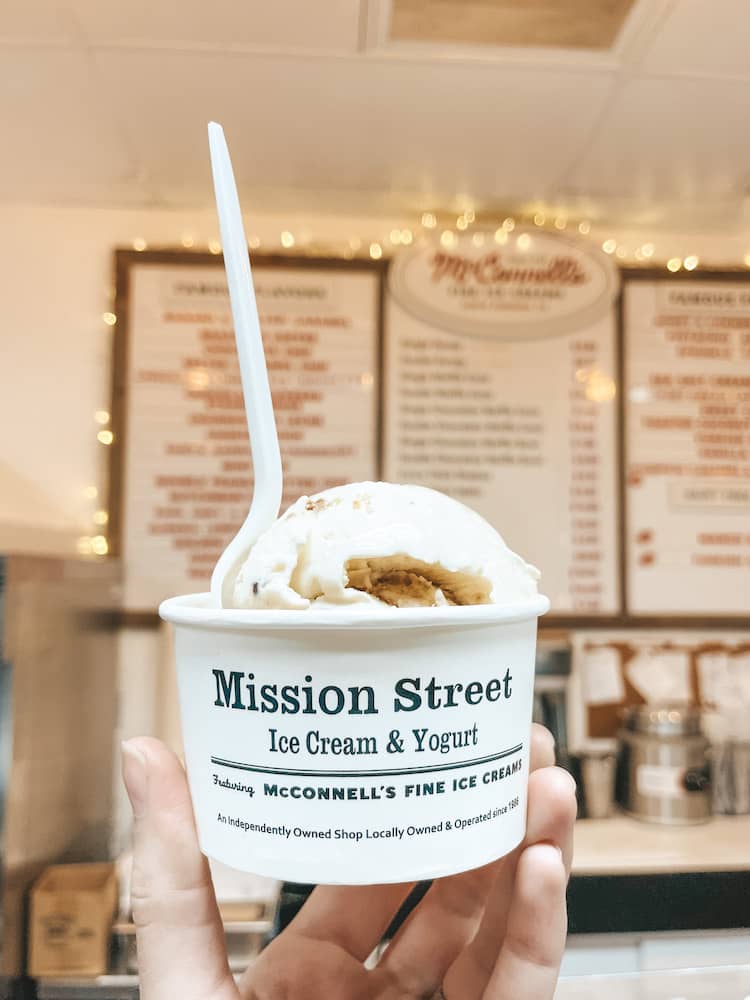 11. Backyard Bowls
Want to enjoy some fresh fruit while you're in California? If so, head to Backyard Bowls—a great spot for acai bowls in Santa Barbara. They have three locations across the city, but I like to visit the one in Downtown Santa Barbara on State Street.
I enjoyed the Santa Barbara Bowl—a base of acai, banana, strawberry, and hemp milk topped with blueberries, strawberries, bananas, granola, goji berries, and honey! It's perfect for a light breakfast or afternoon snack on the beach that will still fill you up.
12. Pascucci
If you're looking for a restaurant that oozes effortless romantic charm, consider visiting Pascucci on State Street. The antique, mismatched décor inside this Italian restaurant feels like you're taking a step back in time, making it a unique spot for a cozy dinner and one of the best places to eat in Santa Barbara.
While this isn't a trendy, high-end establishment, it's a great spot if you're looking for plenty of options on the menu (that are all reasonably priced!). I'd recommend the Ravioli Sampler, which allows you to sample five types of ravioli: Three Cheese, Butternut Squash, Portobello Mushroom, Gorgonzola, and Italian Sausage.
13. Night Lizard Brewing Company
Another brewery we enjoyed visiting was Night Lizard Brewing Company. They are a family-owned business focused on using fresh, local ingredients while educating visitors on current environmental challenges on California's Central Coast.
I enjoyed my flight, and I especially liked the Monkeyflower Double White Ale and Island Fox Red brews.
If you're looking for some more breweries to check out, here are some other popular ones in the city that are on my list for next time:
Figueroa Mountain Brewing Company
Brass Bear Brewing
Topa Topa Brewing Co.
Third Window Brewing
14. The Habit Burger Grill
Okay, yes, you're probably wondering what a fast-food establishment is doing on this list of the best places to eat in Santa Barbara, but hear me out!
Did you know that the Habit Burger Grill originated right here, in Santa Barbara?
That said, you have to get one of these burgers while you're in Santa Barbara, especially if you've never had The Habit before. You can visit the convenient location along State Street, or the original location, in Goleta. Their Teriyaki Char with grilled pineapple is my jam—it brings me back to my college days when this exact burger was one of my five main food groups.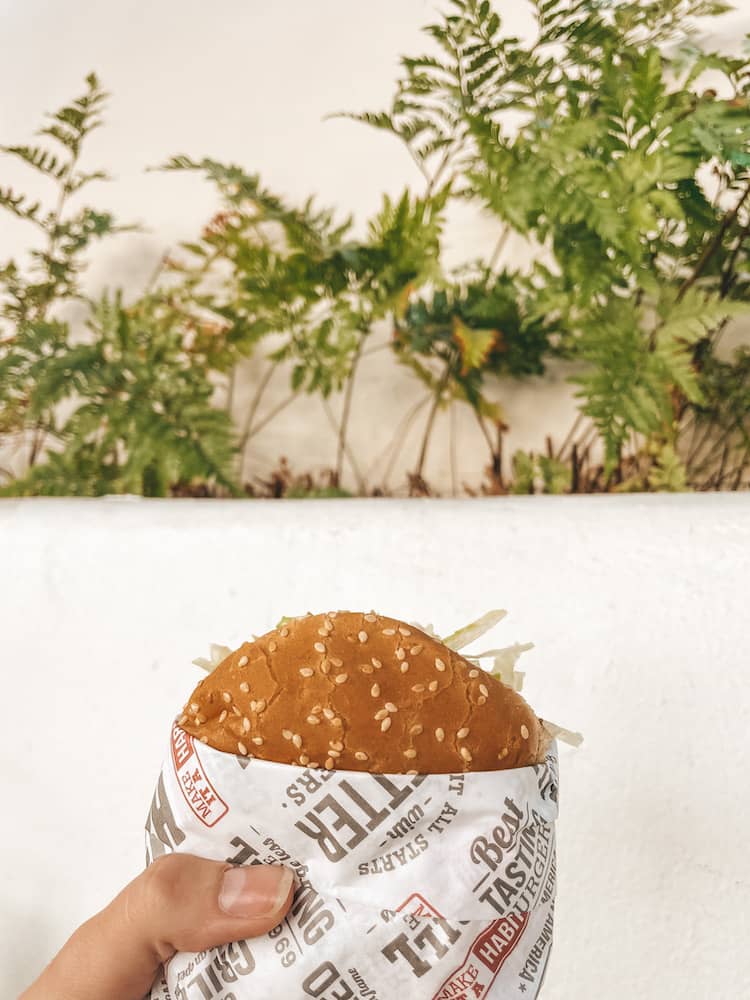 More of the Best Places to Eat in Santa Barbara
We didn't get the chance to visit all the best places to eat in Santa Barbara, but here are some more recommendations if you're looking for other restaurants to check out during your trip!
La Super-Rica Taqueria
Bouchon
Santa Barbara Public Market
Bibi Ji
Barbareño
Cold Spring Tavern
Go on a Food Tour to Experience the Best Places to Eat in Santa Barbara
One of the most fun ways to try the best places to eat and drink in Santa Barbara is to go on a food tour, wine tasting tour, or brewery walking tour. Here are some highly recommended foodie tours you can try:
Enjoy These Best Places to Eat in Santa Barbara!
If you're planning a trip to Santa Barbara, you certainly won't go hungry or thirsty! I hope you can use this list of my favorite coffee shops, breweries, and restaurants, to discover your own favorite places to eat in Santa Barbara.
Disclosure: Some of the links in this post about the Best Places to Eat in Santa Barbara, are affiliate links, meaning, at no additional cost to you, I earn a commission if you click through and make a purchase. This helps me keep the content on my website free, like this post about the Best Places to Eat in Santa Barbara.
Save the Best Places to Eat in Santa Barbara for Your Upcoming Trip
Did you love this post about the best places to eat in Santa Barbara? If so, you may also love these other blog posts about Southern California: