Prescott, Arizona, is a historic western town just 100 miles north of Downtown Phoenix. Even though cities like Flagstaff and Sedona might be better known, Prescott offers a unique charm and hospitality that other cities in Arizona simply can't match!
Prescott offers the perfect blend of small-town exploration and outdoor adventure. With tons of shopping, restaurants, events, and museums in Downtown Prescott and lakes, forests, and hiking trails nearby, you'll find plenty of things to do in Prescott, AZ.
Follow this list for some inspiration on the best things to do in Prescott, AZ, for the perfect jam-packed day trip or a charming weekend trip from Phoenix!
Best Things to Do in Prescott, AZ
1. Downtown Prescott & Courthouse Square
Downtown Prescott is the hub of Prescott—it's where the majority of the shopping, dining, and attractions are located!
When you get to Downtown Prescott, immediately head to Courthouse Square—bound by Gurley Street, Montezuma Street, Goodwin Street, and Cortez Street. If you arrive early, you should be able to find a free parking space easily!
Some of my favorite things to do in Downtown Prescott include shopping at Bashford Courts, a small three-story mall, and Spice Traveler, a kitchen store that sells jams, appliances, spices, and more. If you go upstairs at the Spice Traveler, you'll find The County Seat, a great spot for coffee and breakfast, and if you go downstairs, you'll discover Superstition Meadery, where you can sample mead, ciders, and other handcrafted drinks.
If you want to bring home a western-themed souvenir, check out Drawn West, and if you want a sweet treat, like ice cream or fudge, visit the Treat Center on Courthouse Square!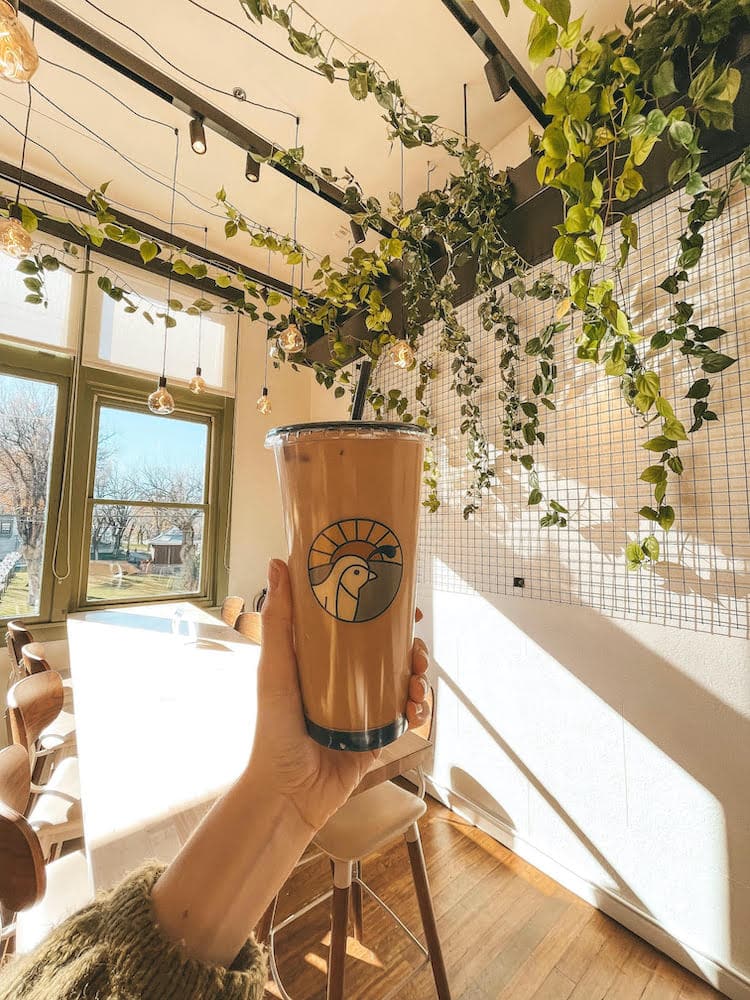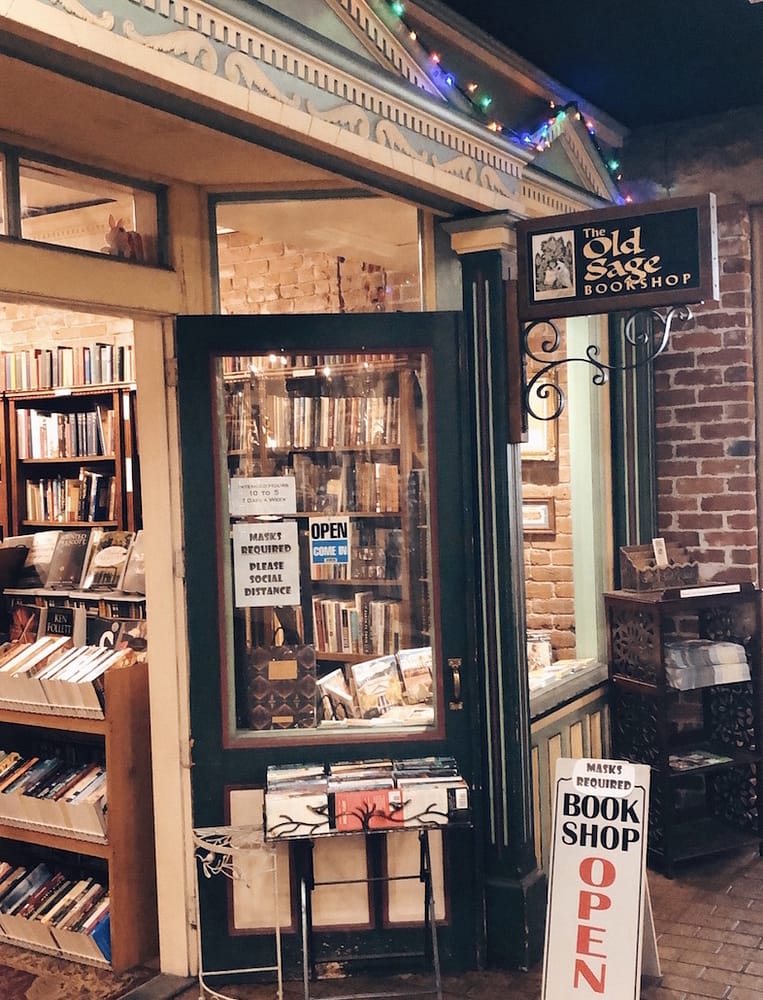 2. Whiskey Row
Montezuma Street is more popularly known as "Whiskey Row." This famous street dates to more than a hundred years ago and was where famous cowboys and outlaws, like Wyatt Earp and Doc Holliday, spent their time at saloons and other entertainment venues.
Today, Whiskey Row is known for art galleries and shops, but it's still home to famous saloons, like The Palace Restaurant & Saloon, that date back to the 1800s. You can also visit Hotel St. Michael on Whiskey Row—a hotel that has stood on this street for over one hundred years. Walking down Whiskey Row is undoubtedly one of the best things to do in Prescott, AZ!
3. Yavapai County Courthouse
The Yavapai County Courthouse is in the center of Courthouse Square, and visiting is one of the best things to do in Prescott, AZ. It's a super famous landmark in Prescott, and you cannot miss the chance to take a photo in front of this historic building during your trip to Prescott!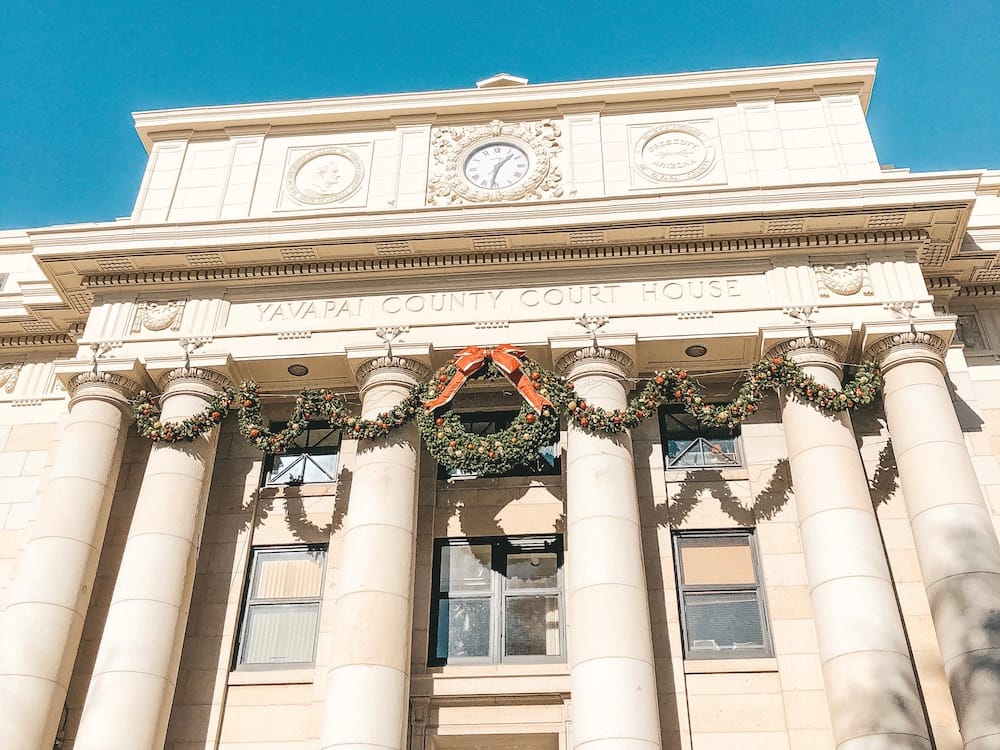 4. Courthouse Plaza
Courthouse Plaza is a large, green, grassy area surrounding the Yavapai County Courthouse. This spot is popular for community events, like craft fairs, holiday festivals, and summer concerts. You can see all the events happening in Downtown Prescott during your visit on the City of Prescott events calendar.
Even if there aren't any events happening on the day of your visit, you can stroll around the park and even bring a picnic blanket to relax in the park.
5. The Palace Restaurant & Saloon
The Palace Restaurant and Saloon is the one place you must eat during your trip to Prescott, Arizona. The famous historic restaurant opened on Whiskey Row in 1877, and it was ranked one of the top ten historic bars in the United States by USA Today.
Over one hundred years ago, famous gunfighters like Wyatt Earp, Virgil Earp, and Doc Holliday were regulars at this establishment. Today, you can soak in the history of this renowned saloon while enjoying a meal in the restaurant—the burgers are great!
6. Watson Lake
Watson Lake is located just five miles from Downtown Prescott and is one of the best things to do in Prescott, Arizona, during a summer trip.
Watson Lake is a popular location for fishing, paddleboarding, kayaking, canoeing, hiking, rock climbing, swimming, camping, and picnicking. Personally, kayaking is my favorite way to spend the day at Watson Lake. You can bring your own inflatable kayak or rent a kayak from Prescott Outdoors. Their rates are super reasonable—tandem kayaks cost $20 for the first hour and $15 for each additional hour, and solo kayaks cost $15 for the first hour and $10 for each extra hour.   
What makes Watson Lake unique are the giant granite boulders surrounding the lake's deep, blue waters. They are truly magnificent and are so fun to explore!
Tip: There is a three-dollar parking fee to enter the parking area near Watson Lake, but once you pay, you're good for the day!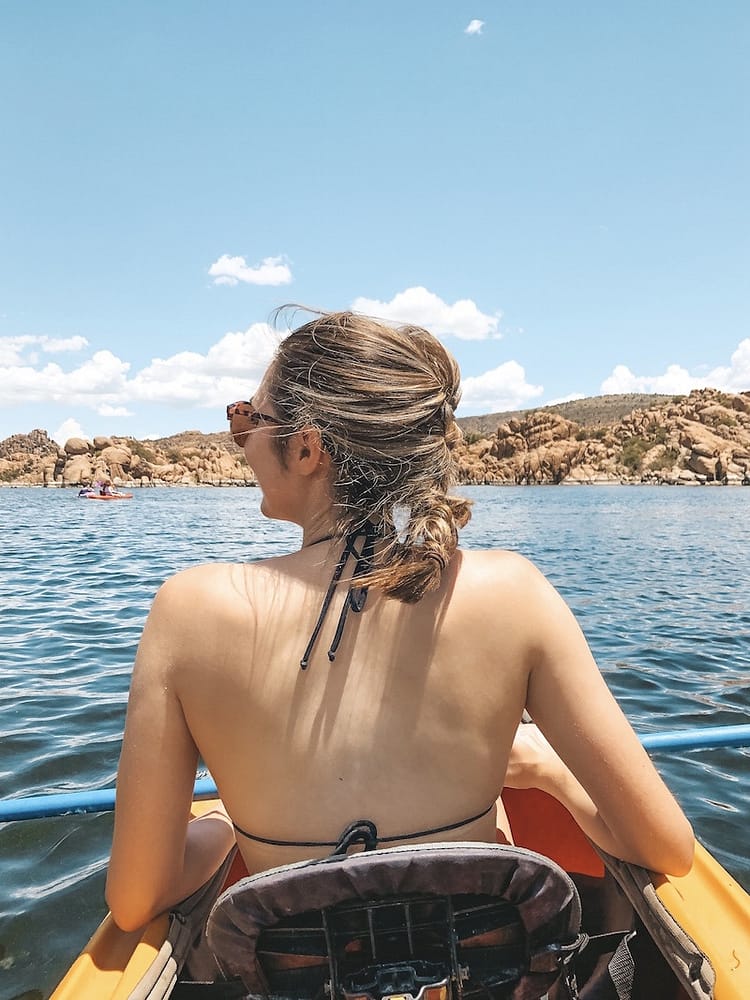 7. Goldwater Lake
Goldwater Lake is another popular lake located just a four-mile drive from Downtown Prescott. Unlike Watson Lake, famous for its giant granite boulders, Goldwater Lake is situated in the forest, surrounded by tall ponderosa pine trees.
You can go kayaking, canoeing, boating, fishing, and picnicking at Goldwater Lake. Swimming is not permitted, but the lake is pretty shallow, so swimming wouldn't be a great idea anyway. There's also a hiking trail that snakes around the lake if you'd like to enjoy looking at the lake without getting into the lake.
8. Prescott National Forest
The Prescott National Forest is home to 100,000 acres of forest and nearly 1,000 hiking trails. It's one of the eleven national forests in Arizona and New Mexico, and it's located nearest to Prescott but also near other popular cities in Arizona, like Cottonwood and Jerome.
If you like to hike, there are tons of hiking trails in the Prescott National Forest for you to explore. One of the most popular hikes is Thumb Butte Trail—a 2.5-mile loop that takes just over an hour to complete and offers beautiful views of the forest.
There are also a couple of trails around some of the popular lakes in the Prescott National Forest, like the Goldwater Lakes Trail and the Lynx Lake Loop Trail.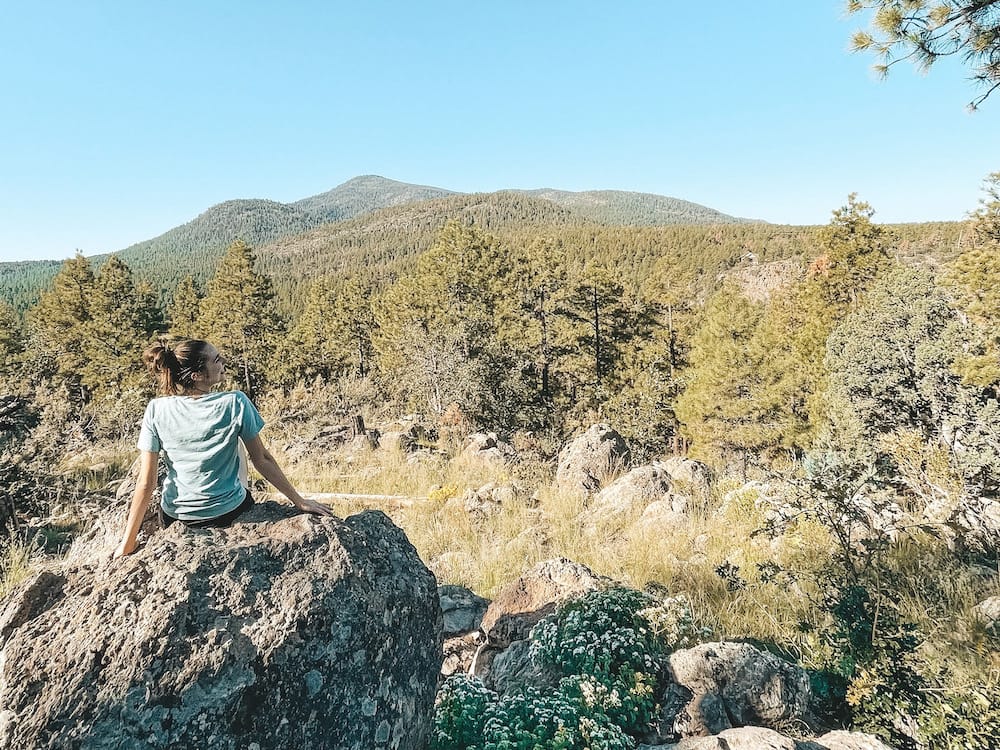 9. Prescott Frontier Days – The World's Oldest Rodeo
Prescott is home to the "World's Oldest Rodeo"—a traditional event that's been hosted by Prescott Frontier Days during the Fourth of July weekend since 1888!
One of the best things to do in Prescott, AZ, is attending this extremely popular event in the summer. You can watch events like steer wrestling, tie-down roping, team roping, bareback riding, women's barrel racing, bull riding, and more!
Buy your tickets online for this popular event plenty of time in advance to reserve your seat. If you can't make it to the rodeo, grab a seat at the Rodeo Parade around Courthouse Plaza to kick off the festivities.
10. Christmas Parade & Courthouse Lighting
If you're traveling Prescott during the holiday season, plan to visit during the first Saturday of December for the annual Christmas Parade and Courthouse Lighting. This popular event is one of the best holiday extravaganzas in the entire state!
First, the City of Prescott hosts a parade in Downtown Prescott featuring creative floats by local businesses and organizations, festive lights, and of course, Santa Clause! Then, when it gets dark, everyone gathers around the Yavapai County Courthouse to anticipate the moment when the magical holiday lights turn on to kick off the holiday season!
These events are both free, and they're definitely one of the best things to do in Prescott, AZ, during the holiday season!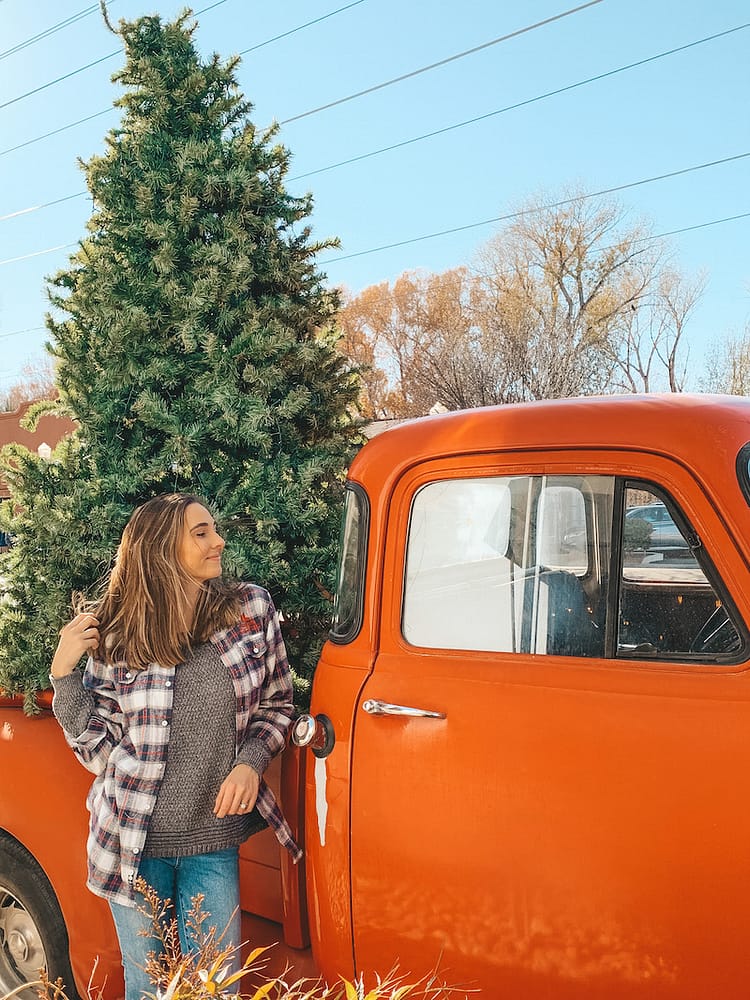 Prescott FAQs
How Far is Prescott from Phoenix? 
Prescott, Arizona, is 100 miles from Phoenix. Depending on traffic, it usually takes just under two hours to get to Prescott from Downtown Phoenix. 
When Is the Best Time to Visit Prescott? 
Prescott is truly a spectacular destination to visit at all times of the year. It provides an excellent escape from the heat during the summer, with lots of fun water activities to enjoy, like kayaking, paddleboarding, and more. 
However, Prescott also shines during winter, especially during the holiday season. Prescott is nicknamed "Arizona's Christmas City" because they host lots of fun holiday events and love to decorate with lights and festive décor! 
Where Are the Best Places to Eat in Prescott? 
Prescott has tons of awesome places to eat, especially in Downtown Prescott. Aside from The Palace Restaurant & Saloon, don't miss FARM Provisions, Prescott Brewing Company, Superstition Meadery, and The County Seat. 
You can read my blog post about the best places to eat in Prescott, AZ, for all the best coffee, breakfast, dinner, and bars to visit during your time in Prescott! 
Where Should I Stay in Prescott?
Prescott doesn't have tons of hotels, so if you want to stay overnight, it's best to book your stay plenty of time in advance.
Here are some highly-rated hotels near all the best things to do in Prescott, AZ:
Prescott Resort and Conference Center—This hotel is located just a short drive from Downtown Prescot on a hill overlooking the town and offers a spa, sauna, saltwater swimming pool, and an on-site casino.
Hilton Garden Inn Downtown Prescott—This hotel is located a five-minute walk from Whiskey Row, Courthouse Square, and all the attractions in Downtown Prescott.
Hotel St. Michael—This historic hotel is located on Whiskey Row, offering quick access to all the city's main attractions, and has a bistro in the lobby.
If You Have More Time…
Although this list is super to keep you busy for several days, here are a few other best things to do in Prescott, AZ, if you have more time!
Sharlot Hall Museum—The Sharlot Hall Museum displays a collection of artifacts and historical documents owned by Sharlot Hall, the first woman to hold territorial office.
Smoki Museum—Also known as the "Museum of Indigenous People," this museum shares the culture and art of Indigenous people in the southwest.
Phippen Museum—This museum promotes and preserves art from the American West, including sculptures, paintings, and more.
Heritage Park Zoo—The Heritage Park Zoo is a non-profit wildlife sanctuary that provides an educational experience about rescued animals.
Enjoy the Best Things to Do in Prescott During Your Arizona Vacation
There's no doubt that Prescott, Arizona, makes a perfect day trip or weekend getaway from Phoenix! The perfect blend of spectacular nature and lovely small-town atmosphere make this charming town one of the best in the state.
Which of these best things to do in Prescott, AZ, would you enjoy the most? Let me know in the comments below!
Disclosure: Some of the links in this post about the best things to do in Prescott, AZ, are affiliate links, meaning, at no additional cost to you, I earn a commission if you click through and make a purchase. This helps me keep the content, like this post about the best things to do in Prescott, AZ, on my website for free! 🙂
Save the Best Things to Do in Prescott for Later!
Planning a road trip through Northern Arizona and loved this post about the best things to do in Prescott? Check out these other posts: