The Georgia Aquarium is located in Atlanta, Georgia, and it's one of the most popular things to do in Downtown Atlanta—making it a must-visit attraction during your vacation to Atlanta!
The Georgia Aquarium is the largest aquarium in the western hemisphere, with over ten million gallons of water, and it's the only aquarium in North America with whale sharks, the world's largest fish.
Since the Georgia Aquarium is so large, it's helpful to know some Georgia Aquarium tips before visiting to have a fun, seamless experience. This blog outlines some general questions you may have about visiting the aquarium, the aquarium's exhibits and shows, and some tips for visiting the Georgia Aquarium!
Is the Georgia Aquarium Worth the Price?
Tickets to the Georgia Aquarium aren't cheap, but they are worth the price. Your ticket includes admission to all the exhibits and shows, including the dolphin show and sea lion show.
You can easily spend four hours at the Georgia Aquarium, and it's possible to spend an entire day here. Since general admission is $39.95 for adults, that breaks down to roughly $10 (or less!) per hour. That's some inexpensive entertainment! Personally, the Georgia Aquarium is my favorite aquarium I've ever visited, and I think the visit was worth every penny.
When Is the Best Time to Visit the Georgia Aquarium?
The Georgia Aquarium is a great year-round attraction in Atlanta, Georgia. The entire aquarium is inside, so it's an excellent activity for a cold, rainy day.
However, it's best to visit the Georgia Aquarium on the weekdays, if possible. The aquarium is packed on the weekends. It's also best to visit the aquarium right when they open, in the morning, or in the evenings, when the afternoon rush leaves for dinner.
The Georgia Aquarium is open from 9 AM – 9 PM on Monday – Thursday and 8 AM – 9 PM on Friday – Sunday, so you'll have plenty of time to see all the attractions.
Tickets to the Georgia Aquarium
It's wise to purchase your tickets to the Georgia Aquarium before visiting, so you don't have to wait in line and can get a headstart on sightseeing.
You can click the photo below to purchase skip-the-line tickets to the Georgia Aquarium.
How Much Time Should I Plan to Spend at the Georgia Aquarium?
I'd recommend allocating at least 3-4 hours to walk through all the exhibits at the Georgia Aquarium. If you're planning to watch the shows, plan to spend at least five hours.
We arrived at the Georgia Aquarium at 10 AM and stayed until 2 PM. We walked through all the exhibits, watched the dolphin show, and did the virtual reality simulator for reference!
Georgia Aquarium Exhibits
Aquanaut Adventure
Aquanaut Adventure is a unique exhibit located on the second floor of the Georgia Aquarium. Unlike the other exhibits, featuring lots of marine animals, this exhibit is more like a museum and shares information about how aquatic life survives in some of the harshest climates and conditions on earth.
My favorite part of this exhibit was the screen that showed all of the marine animals, like dolphins, sharks, sea turtles, and more, that the Georgia Aquarium had tagged to track their migration and travel patterns. You could also see where the animals were located in real-time, and it was shocking to see how many sharks and other creatures were found right along the coast of beaches across the world. It was fascinating!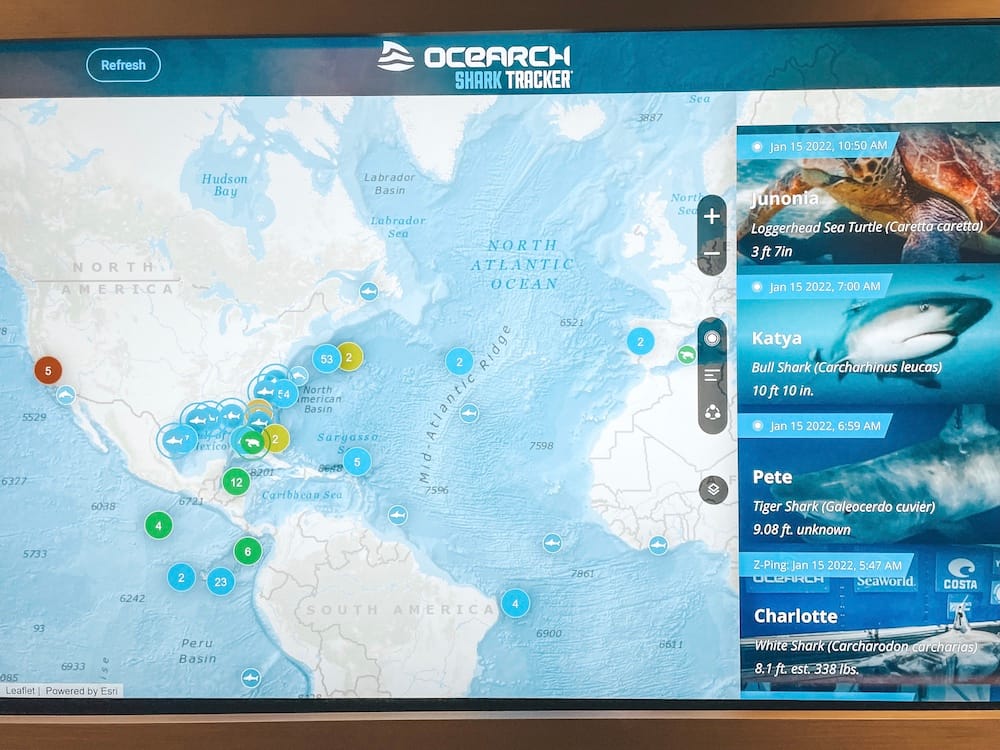 Cold Water Quest
Cold Water Quest features marine animals found in cold ocean waters across the globe. You'll see African Penguins, Beluga Whales, Harbor Seals, Horned Puffins, and Southern Sea Otters in this exhibit.
Since it's rare for aquariums to house Beluga Whales, I loved watching these dynamic creatures swim around. They're so friendly, and they were trying to entertain us the whole time!
If you'd like, you can purchase a Beluga Interaction, Sea Otter Interaction, or Penguin Encounter to upgrade your experience at the aquarium to come face-to-face with these beautiful creatures.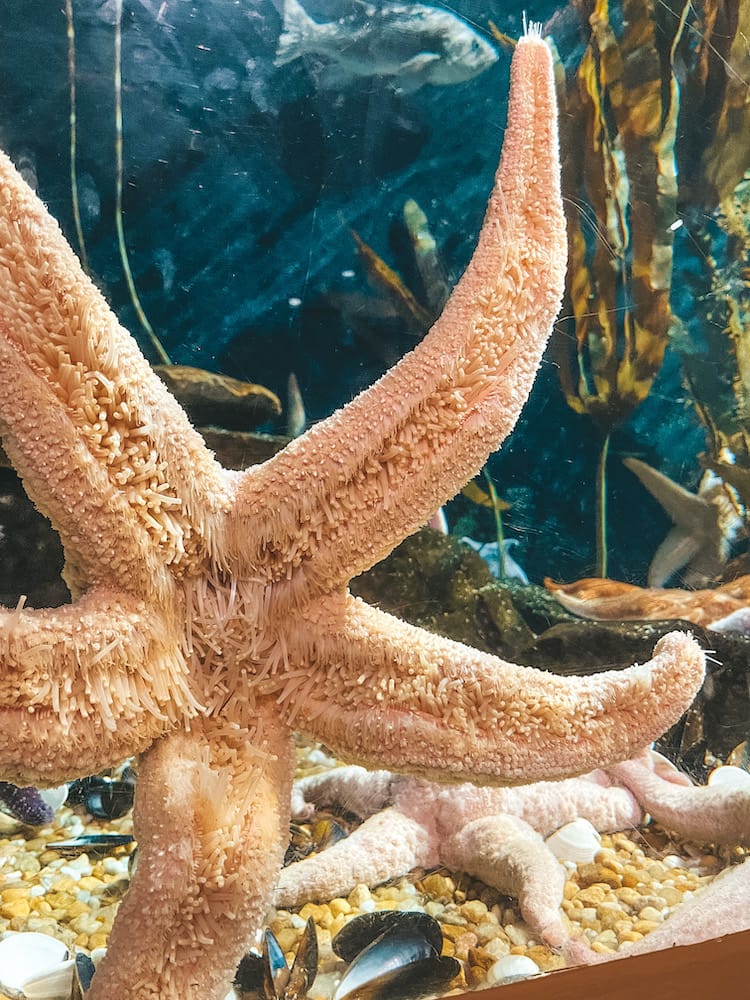 Dolphin Coast
Dolphin Coast is the Georgia Aquarium's exhibit showcasing their Bottlenose Dolphins and also the location of the aquarium's dolphin show, Dolphins in Depth.
We didn't spend much time at this exhibit aside from the show, but I'd highly recommend attending the show! Dolphins are such intelligent creatures, and it was so fun to watch them showcase their skills.
Ocean Voyager
Ocean Voyager is the Georgia Aquarium's largest exhibit, featuring two Whale Sharks, along with Bowmouth Guitarfish, Green Moray Eels, Green Sea Turtles, Manta Rays, Sandbar Sharks, and other creatures found in the oceans across the globe.
This exhibit has two unique features—an acrylic tunnel you can ride through on a conveyer belt to watch marine animals, like Whale Sharks, swim over your head. After riding through the tunnel, you can sit on the stadium seating at the exhibit's viewing window. We spent at least half an hour here watching the animals swim past, and we loved listening to the aquarium staff's informative commentary.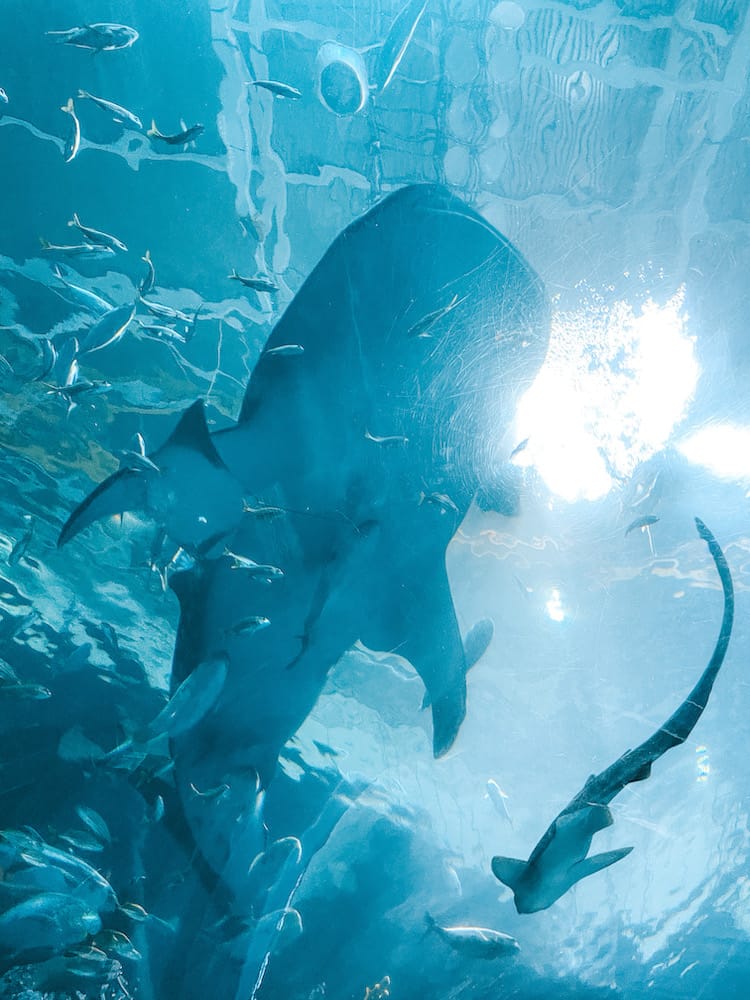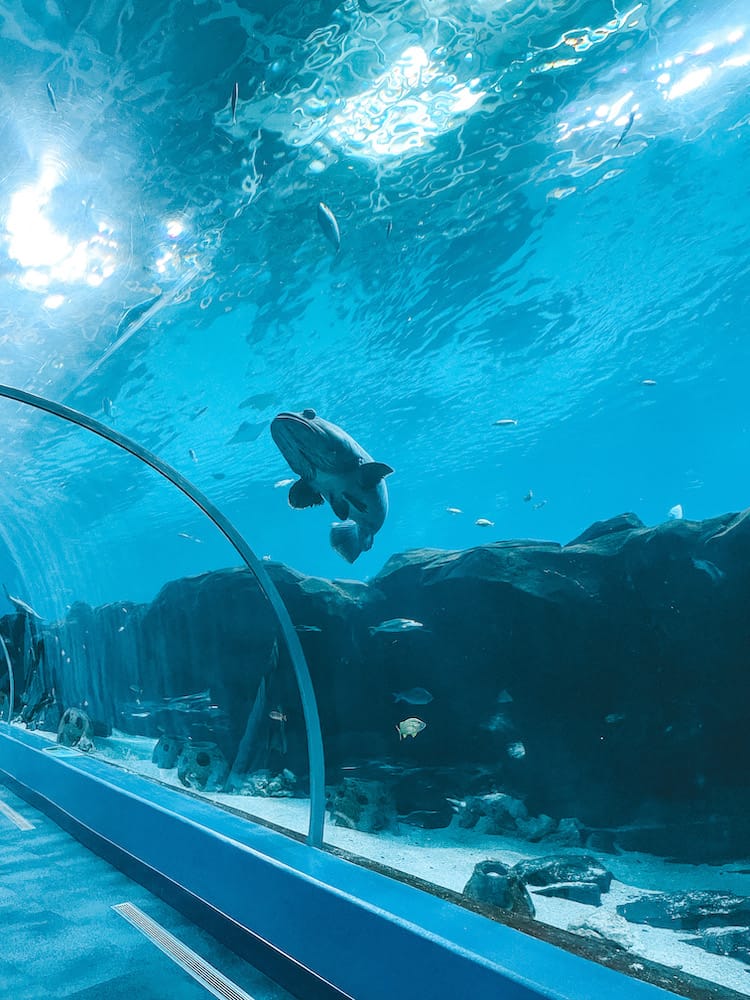 Predators of the Deep
Predators of the Deep is the Georgia Aquarium's newest exhibit featuring four types of sharks. There's a massive tank at the center of this gallery filled with sharks and other ocean predators, and you can walk around and view them from different perspectives throughout the exhibit.
You'll be able to see Great Hammerhead Sharks, Sand Tiger Sharks, Silvertip Sharks, and Tiger Sharks in this exhibit. You'll also be able to learn how to identify each shark's unique features.
River Scout
River Scout is an exhibit that highlights animals found in rivers and other freshwater environments worldwide, including Africa, South America, Asia, and even Georgia!
You'll be able to see Asian Small-Clawed Otters, Black Spot Piranhas, Giant Puffers, Red-Eared Slider Turtles, Yellow-Bellied Slider Turtles, and White Alligators. We loved the glass-bottom White Alligator exhibit because you can see them from this two-story exhibit's bottom floor and top floor.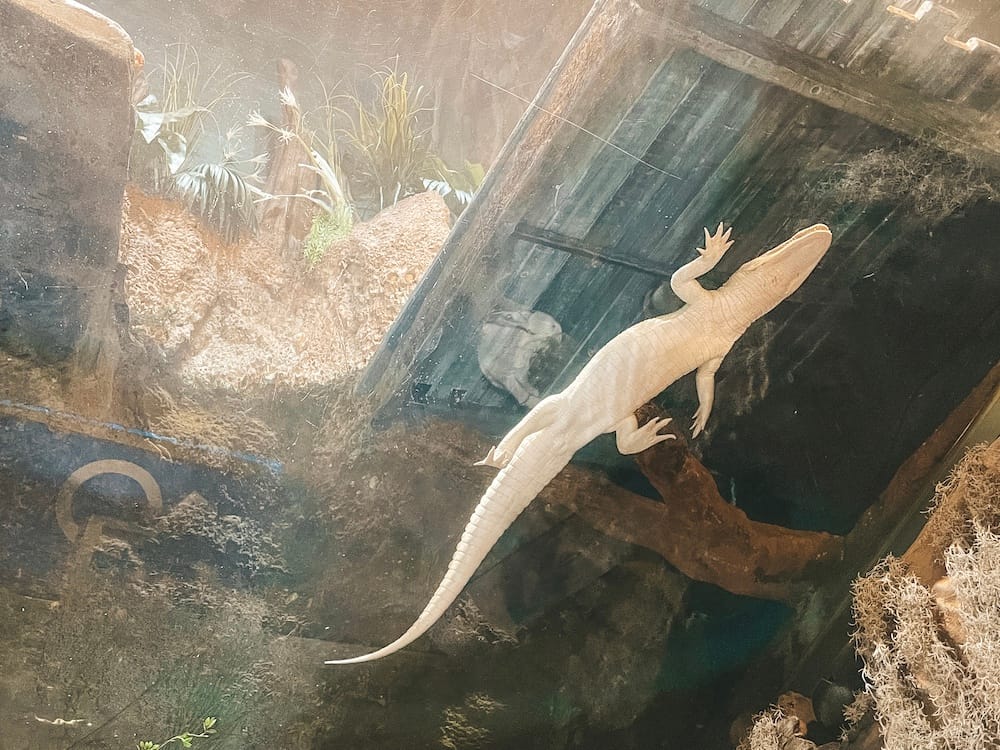 Tropical Diver
Tropical Diver was one of my favorite exhibits at the Georgia Aquarium. I loved seeing colorful tropical fish, coral, and more in this exhibit. It reminded me of snorkeling in Hawaii!
Here, you can see Big-Bellied Seahorses, Clown Anemonefish (aka "Nemo"), Pacific Sea Nettle Jellyfish, Purple Striped Jellies, and more!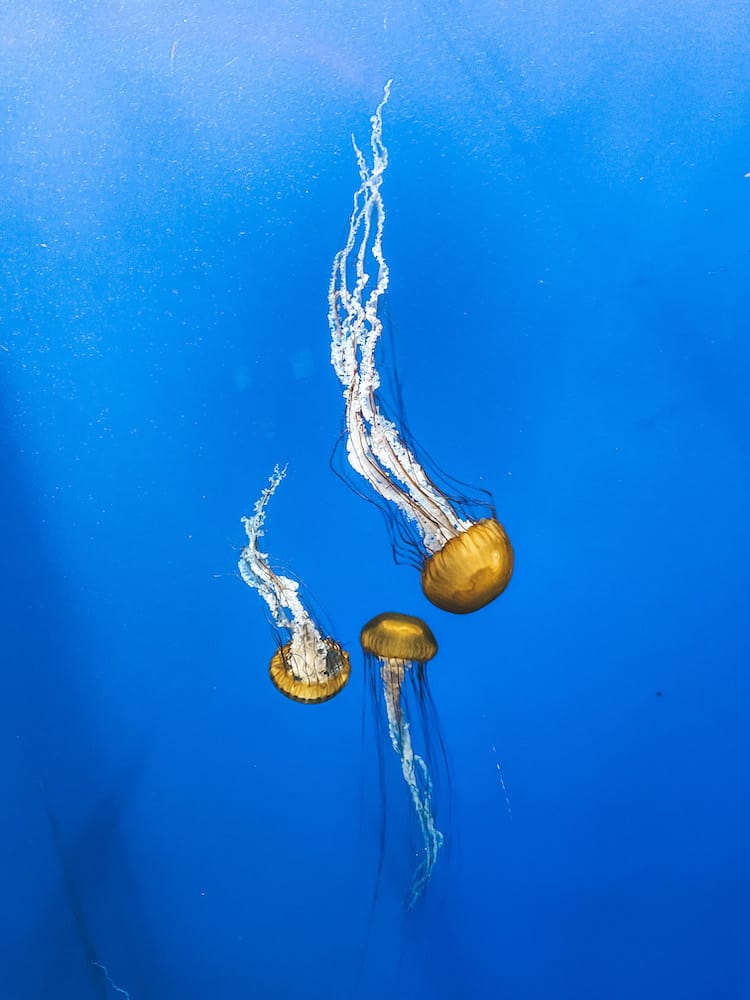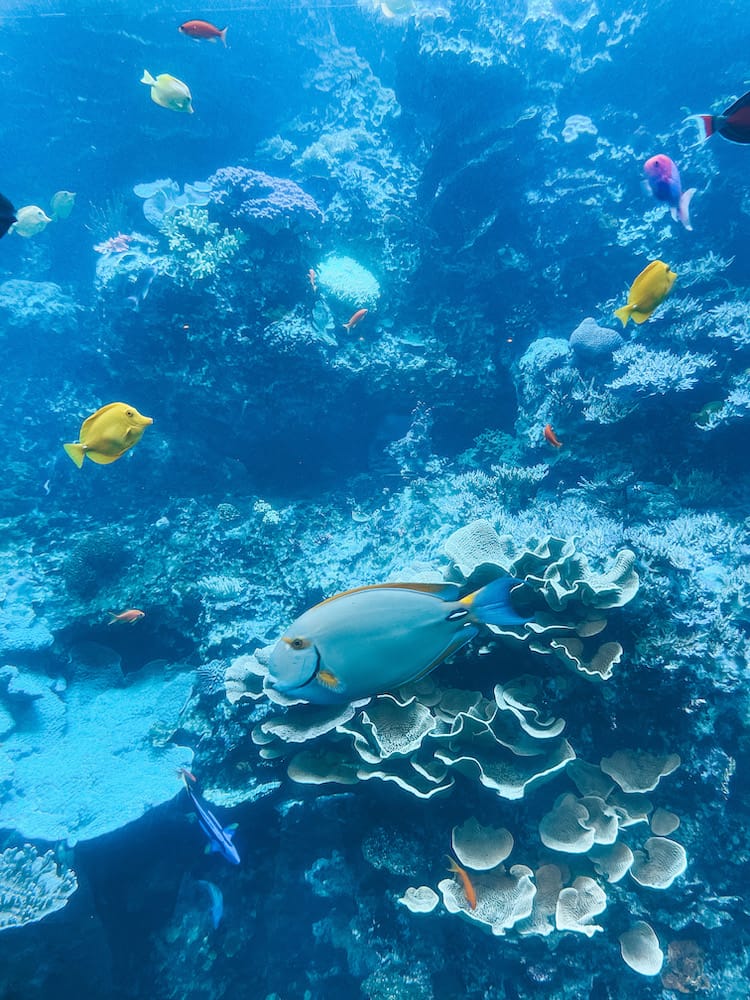 Georgia Aquarium Shows
The Georgia Aquarium's shows are included in your ticket price, aside from the Virtual Reality Simulator. You must sign up for a show time once you arrive at the aquarium. Here are the shows you can enjoy during your time at the Georgia Aquarium:
Dolphin Presentation
"Dolphins in Depth" is the Georgia Aquarium's dolphin show. During this fifteen-minute show, you can watch dolphins perform incredible tricks, observe dolphin behavior, get splashed, and learn how to train a dolphin.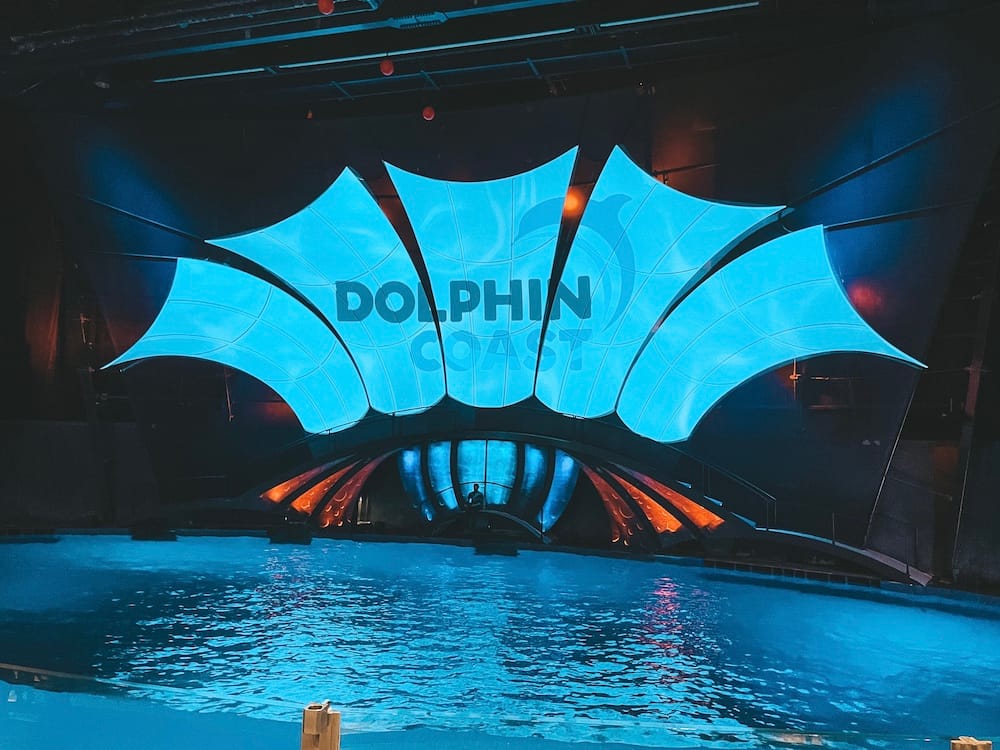 Sea Lion Presentation
"Under the Boardwalk" is the Georgia Aquarium's sea lion show. You'll watch sea lions in action, see the trainers in action, and get splashed. The performances are typically 20-25 minutes, so plan accordingly!
4D Theater
The 4D Theater is an interactive opportunity to see how animals view the underwater world, complete with state-of-the-art sound, special effects, and educational movies.
Virtual Reality Simulator
For just $11 per person, you can be transported "back in time" to prehistoric marine life on a five-minute virtual reality ride.
My husband is obsessed with virtual reality, so we paid for this experience during our time at the aquarium, and it was cool! However, I don't t think it's a must-do attraction, especially since it's not included in your ticket price.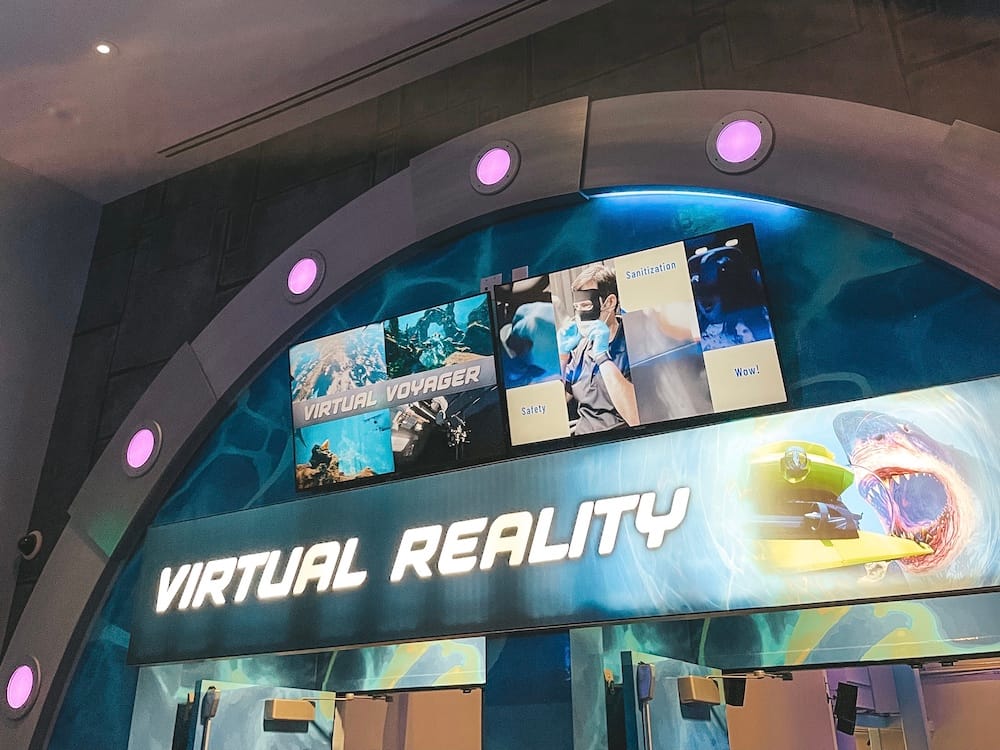 Helpful Georgia Aquarium Tips
1. Buy your tickets early
It's best to purchase tickets online before visiting the Georgia Aquarium to secure the perfect date and timeslot. Plus, you can enjoy "early bird" discounts and skip-the-line access to the aquarium.
2. Pay for parking ahead of time
You can pay for parking ahead of time through the Georgia Aquarium, which I recommend if your hotel isn't within walking distance of the aquarium.
Parking in Downtown Atlanta is expensive, and it's convenient to have your car in the garage that connects to the aquarium. Plus, parking for aquarium guests who pre-purchase parking only costs $12 per day, and the normal rate for parking in the same garage costs $17 per day.
3. Stay in a hotel that offers discounts
One of the best tips for visiting the Georgia Aquarium is to stay at one of the aquarium's hotel partners to get exclusive General Admission Anytime tickets. You can learn more about the hotel partnership details on the Georgia Aquarium's website. Many of the hotels are within walking distance of the aquarium, too, so you don't have to buy a parking pass or pay for parking in Downtown Atlanta.
Here are a few of the hotels you can choose from on the Georgia Aquarium's preferred hotel list:
4. Eat a big breakfast
Outside food and drinks are not permitted in the Georgia Aquarium, so one of my best Georgia Aquarium tips is to eat a big breakfast (or lunch) before arriving at the aquarium.
Atlanta Breakfast Club is a popular breakfast joint located across the street from the aquarium that serves Chicken & Waffles, Chicken Biscuits, and other southern specialties. We visited and enjoyed our meal, and it's conveniently located, so I'd recommend stopping here!
5. Go early or late
Typically, the Georgia Aquarium is the least busy in the early morning hours, between 8 AM and 11 AM. If you can arrive right when they open, you'll be able to see plenty of exhibits before the crowds arrive!
Another alternative is to visit the aquarium in the evenings after the crowds have left. If you're not a morning person, try visiting between 5 PM and 9 PM for a quieter environment.
6. Visit on the weekdays
Weekends at the Georgia Aquarium are much busier than weekdays. If possible, I recommend visiting on Monday – Thursday. We visited the Georgia Aquarium on a Saturday from 10 AM – 2 PM. While it was certainly busy, it was manageable! I'm glad we visited in the morning, though. By the time we were leaving, the exhibits were getting much more crowded.
7. Register for shows immediately
As I mentioned earlier, the Dolphin Presentation, Sea Lion Presentation, and 4D Presentation are all included in your ticket price. However, you do have to sign-up for a timeslot for the shows to attend them. Typically, the showtimes fill up quickly, so I recommend reserving your times when you arrive to ensure you'll be able to see all the shows.
You can reserve your showtimes on the Georgia Aquarium's website, and when we visited, they had QR codes around the aquarium you could scan. Then, you can see the exhibits between the showtimes.
I'd recommend scheduling your showtimes in the late morning or early afternoon, when the aquarium starts to get busier, so you can avoid the crowds in the exhibits while watching the shows.
8. Try a CityPASS
If you're planning to visit lots of other popular attractions in Atlanta, like Zoo Atlanta, the World of Coca-Cola, and the College Football Hall of Fame, you may benefit from purchasing an Atlanta CityPASS.
The Atlanta CityPASS is a ticket you can purchase that grants you access to some of Atlanta's top attractions, including the Georiga Aquarium, during your trip to Atlanta. It's convenient to have all your tickets in one place, and you can save up to 44% at top attractions by purchasing the CityPASS instead of buying each ticket individually.
9. Bring a refillable water bottle
As I mentioned earlier, no outside food or drinks are allowed in the Georgia Aquarium. One of my Georgia Aquarium tips is to bring a refillable water bottle, like a HydroFlask, to refill at the water stations when you're at the aquarium. Since you'll be at the aquarium for several hours, this is a great way to stay hydrated without purchasing the aquarium's expensive bottles at Café Aquaria.
10. Visit Ocean Voyager first
After you register for shows, I recommend visiting the Ocean Voyager exhibit first (if you're arriving in the morning). This exhibit is extremely popular because of the whale sharks, and the conveyer belt can get congested later in the day. You'll have a better view of the marine animals (and better photo opportunities!) if you visit the exhibit before the crowds arrive.
Have a Memorable Time at the Georgia Aquarium with These Georgia Aquarium Tips
Now that you know the best Georgia Aquarium tips, you're ready to have a fantastic time exploring this world-famous aquarium!
Which exhibit or show sounds the most interesting to you? Let me know in the comments below!
Disclosure: Some of the links in this blog post about Georgia Aquarium Tips are affiliate links, meaning, at no additional cost to you, I earn a commission if you click through and make a purchase. This helps me keep the content on my website free, like this post about Georgia Aquarium Tips.
Save These Georgia Aquarium Tips for Later!
Did you love these Georgia Aquarium tips? Check out these other posts about things to do in Atlanta and other popular cities in Georgia: