I'll be honest—Atlanta wasn't on my travel radar, but when my husband told me he'd be going on a work trip to Atlanta in January 2022, I decided to tag along!
Atlanta totally exceeded my expectations! There is so much to do in the city and beyond—including fascinating museums, recreation opportunities, food halls, and local breweries. Although a long weekend in Atlanta is hardly long enough to see all the city has to offer, you can fit the city's highlights into a jam-packed three days of sightseeing!
Follow this three-day itinerary for a weekend in Atlanta to see the best of the city, including notable locations like the Georgia Aquarium, Atlanta Botanical Garden, Ponce City Market, and more!
How Do I Get to Atlanta?
You'll likely fly into the Hartsfield-Jackson Atlanta International Airport if you're flying into Atlanta. The airport is a short ten-mile drive from Downtown Atlanta. You can take the MARTA Train or get a rental car to drive around the city.
I'd recommend getting a rental car to follow this itinerary, so you can quickly get from one place to the other. However, if you'd like to modify this itinerary to stay exclusive in Downtown and Midtown Atlanta, you can likely use public transportation exclusively!
Where Should I Stay in Atlanta?
Depending on where you'd like to stay in the city, here are some suggestions for top-rated hotels to book for your weekend in Atlanta:
Tips for Saving Money During Your Weekend in Atlanta
If you're planning to spend time at many popular attractions during your weekend in Atlanta, the Atlanta CityPASS may be a worthwhile investment.
For a discounted rate, you can purchase a ticket that includes admission to the Georgia Aquarium, World of Coca-Cola, Zoo Atlanta, and either the National Center for Civil and Human Rights, Fernbank Museum of Natural History, or College Football Hall of Fame.
You can save more than $10 per person by buying the Atlanta CityPASS, and you'll have the convenience of having all your tickets in one place. Plus, you have nine days to use your CityPASS from the first use, so you can take your time visiting these attractions during your weekend in Atlanta.
Weekend in Atlanta: 3-Day Itinerary
Day 1 – Downtown Atlanta
Welcome to Atlanta! Your first day in the city will be spent in the heart of this city in Downtown Atlanta. Prepare yourself for a jam-packed day of museum hopping, sightseeing, and down-home southern cooking.
Atlanta Breakfast Club
First, start your day with a delicious breakfast at the Atlanta Breakfast Club. If you pay for parking in the parking garage at the Georgia Aquarium (which I'd highly recommend), you'll be able to walk right across the street to this breakfast joint.
The Atlanta Breakfast Club serves southern breakfast specialties, like Peach Cobbler French Toast, Crispy Fried Chicken & Waffles, and Crispy Chicken Biscuits. We loved that our meals kept us full for the day since we did so much sightseeing!
Just a word of warning, you do have to pay for water here—it's not complimentary. If I had known before ordering, I probably would have purchased just one bottle for my husband and me to split instead of ordering two water bottles.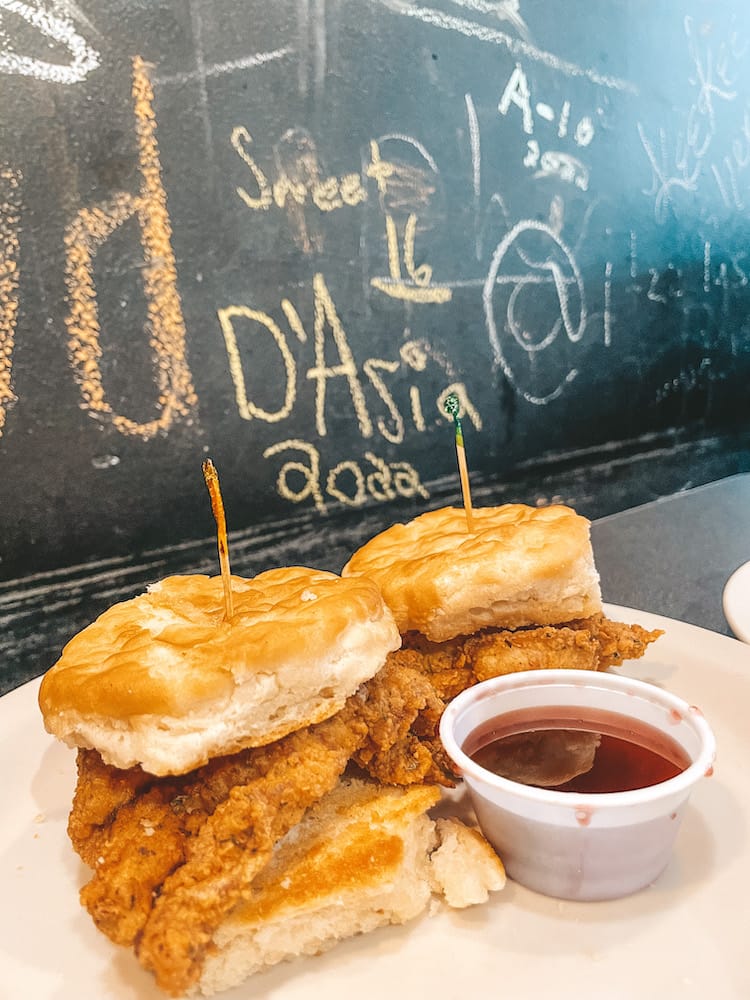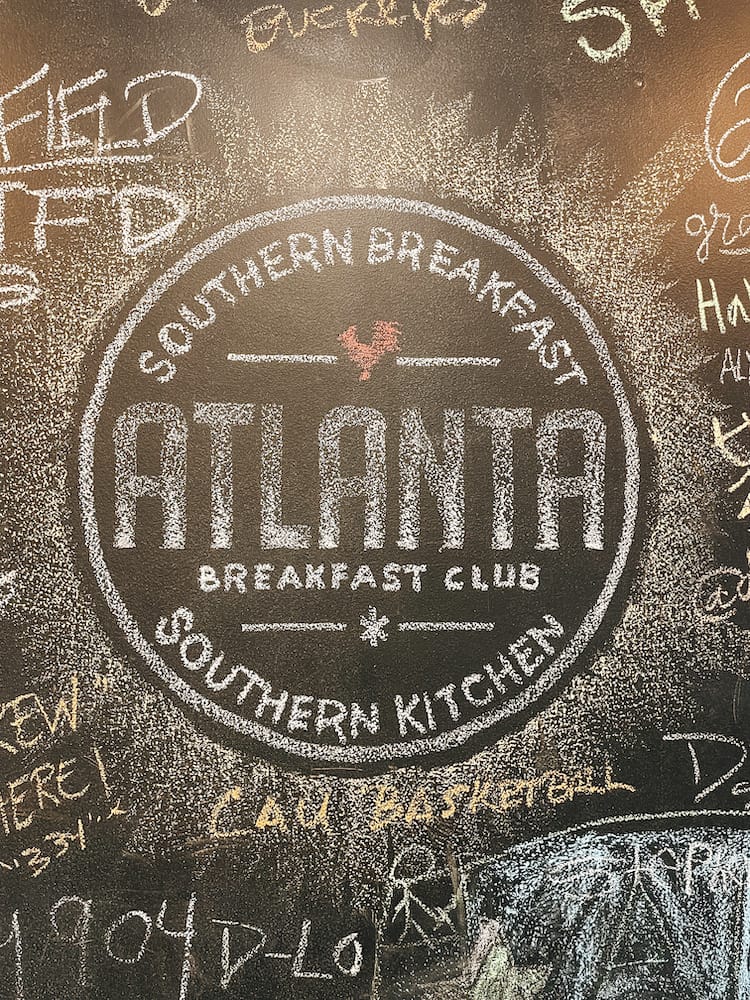 Georgia Aquarium
After breakfast, head to the Georgia Aquarium—one of the world's largest aquariums and my favorite aquarium I've ever visited.
The Georgia Aquarium is a nonprofit committed to inspiring the preservation of the ocean and animals worldwide. It's also the only aquarium in the western hemisphere that houses a whale shark—and they have two! They also have live shows to watch, like Dolphin Coast and Under the Boardwalk, and they even have a virtual reality simulator.
There are so many incredible animals to see here. I loved seeing the beluga whales, dolphins, whale sharks, otters, and penguins. All the exhibits were informative and separated by region, like Cold Water Quest, Tropical Diver, Ocean Voyager, and River Scout.
The one thing you must do during your weekend in Atlanta is the Georgia Aquarium. It's truly amazing, and it's definitely worth the price! I'd recommend planning to spend at least four hours here, if not more.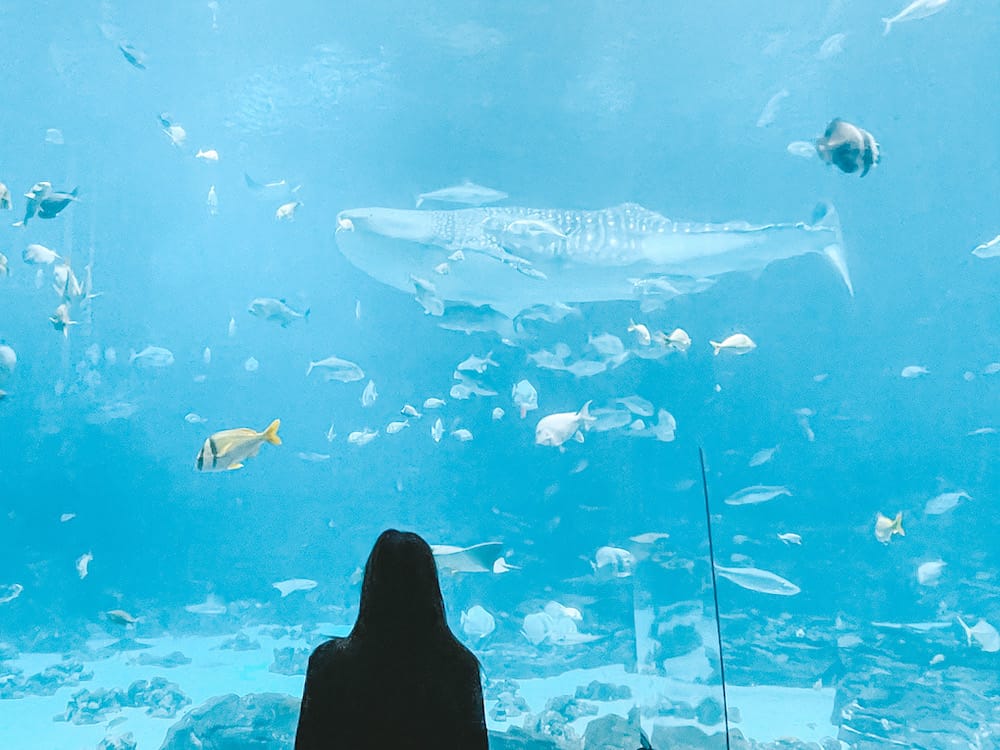 World of Coca-Cola
After leaving the Georgia Aquarium in the early afternoon, walk over to the World of Coca-Cola—also located in Pemberton Place.
This museum features tons of exhibits related to the popular soft drink. You can learn how Coca-Cola has become a famous pop culture icon, watch the Coca-Cola bottling process from start to finish, learn the history of The Coca-Cola Company, learn about the drink's secret formula, and sample dozens of Coca-Cola beverages from around the world!
If you're a fan of Coca-Cola or simply like free soda, this museum is a fun attraction. The average visit usually takes about two hours, and after you're finished, you can shop for gifts, apparel, and other merchandise at the Coca-Cola Store.
College Football Hall of Fame
The College Football Hall of Fame is a must-visit attraction during your weekend in Atlanta if you love football, like me!
This museum was established in 1951 and has over 50 exhibits and a 45-yard indoor football field. You can see tons of historical memorabilia, interactive multimedia exhibits, and more in the museum. You can also learn about the 1,000 players and 200 coaches that have been inducted into the College Football Hall of Fame.
Centennial Olympic Park
Before it gets dark, head to Centennial Olympic Park, located across the street from the College Football Hall of Fame, to take a stroll around the home of the historic 1996 Olympic Games.
You can snap a photo by the Fountain of Rings, stroll through the walking paths, or admire the city skyline at sunset. Although you won't need to allocate much time for this stop, it's still amazing to stand in the place where the Centennial Olympic Games were hosted.
Fox Bros. Bar-B-Q
Fox Bros. Bar-B-Q is the place for barbecue in Atlanta. And after such a busy day, I'm sure you'll be hungry for a filling meal!
This popular establishment serves smoked wings, sandwiches, and meat platters with brisket, pulled pork, smoked chicken, or spareribs. They have classic sides, like baked beans, brussels sprouts, collard greens, and more for a classic southern meal.
If You Have More Time…
Downtown Atlanta has SO many things to do. If you have time, check out these other attractions to squeeze into your weekend in Atlanta:
National Center for Civil & Human Rights—A museum presenting artifacts, art, and photos that depict and connect the Civil Rights Era to the struggle for human rights around the world today.
SkyView Atlanta—This 20-story Ferris wheel offers views of Centennial Park and the Downtown Atlanta skyline.
CNN Studio Tours—Get a behind-the-scenes look at how the CNN TV news network operates on this tour of the recording studio.
Martin Luther King Jr. National Historical Park—This park commemorates the life of Martin Luther King Jr. and encompasses his birth home, church, and final resting place.
Oakland Cemetery—Stroll around this public park built in the 1850s to admire the history, gardens, and architecture that coexist in this beautiful space.
Day 2 – Midtown Atlanta
After a super busy day sightseeing in Downtown Atlanta, you'll spend today in Midtown Atlanta, where you'll be immersed in nature and the fun culture at the city's famous food halls.
East Pole Coffee Co.
Start the day off with a locally roasted craft coffee from East Pole Coffee Co. My husband and I enjoyed our coffees from this spot, and I loved the ample seating and airy atmosphere in the building. They even had outdoor bleacher-style seating, which I thought was unique.
I ordered the seasonal latte. It was tasty and beautifully served with latte art in a glass cup. They also have pastries and a limited food menu from local vendors if you're looking for something to eat. I'd recommend stopping here during your weekend in Atlanta!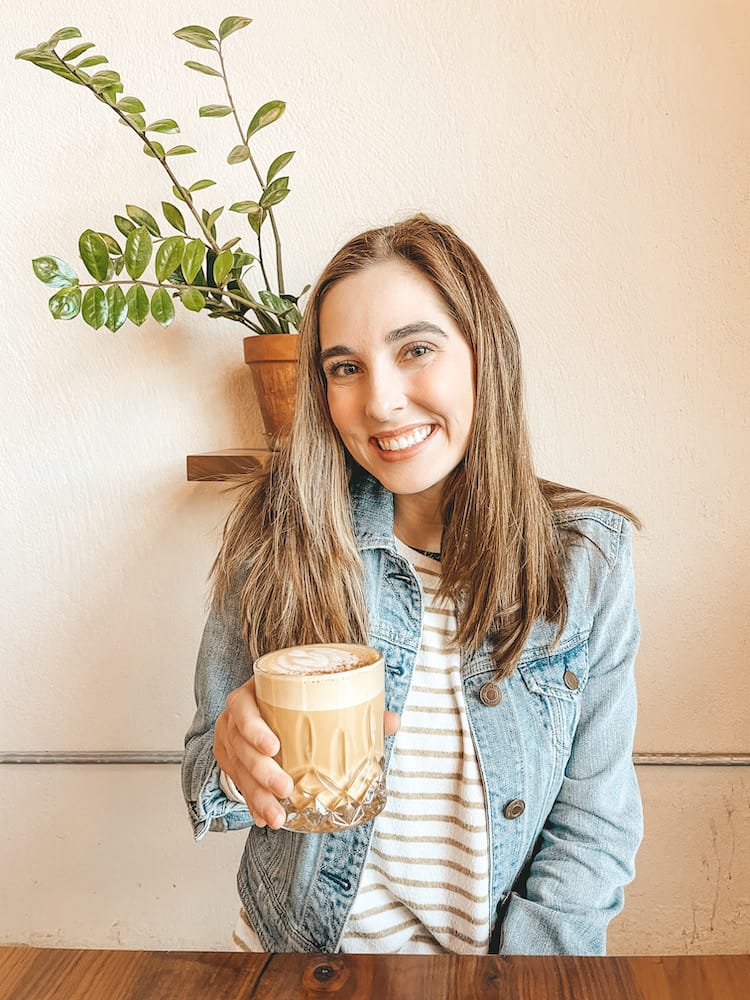 Piedmont Park
After enjoying your coffee and breakfast, take a walk around Piedmont Park. This sprawling park is a great place to go walking, running, or biking, and it's filled with tons of things to do. You'll find two dog parks, sports fields, a splash pad, playgrounds, etc. It also has incredible views of the city skyline.
Atlanta Botanical Gardens
The Atlanta Botanical Garden is a 30-acre garden with a Conservatory, Canopy Walk, Orchid Center, Edible Garden, and more. The Earth Goddess is one of the most popular attractions here—a 25-foot sculpture made from 18,000 plants and flowers.
While we enjoyed our visit to the Atlanta Botanical Garden during our weekend in Atlanta, since we visited in January, most of the plants weren't in bloom, which was a bummer. We loved walking through the Conservatory and the Orchid Center (both were inside), but I don't know if I'd recommend visiting during the winter, just because tickets are expensive.
I'm sure the garden is beautiful in the spring, summer, and fall, and I'd love to return to view the outdoor exhibits when they're in season!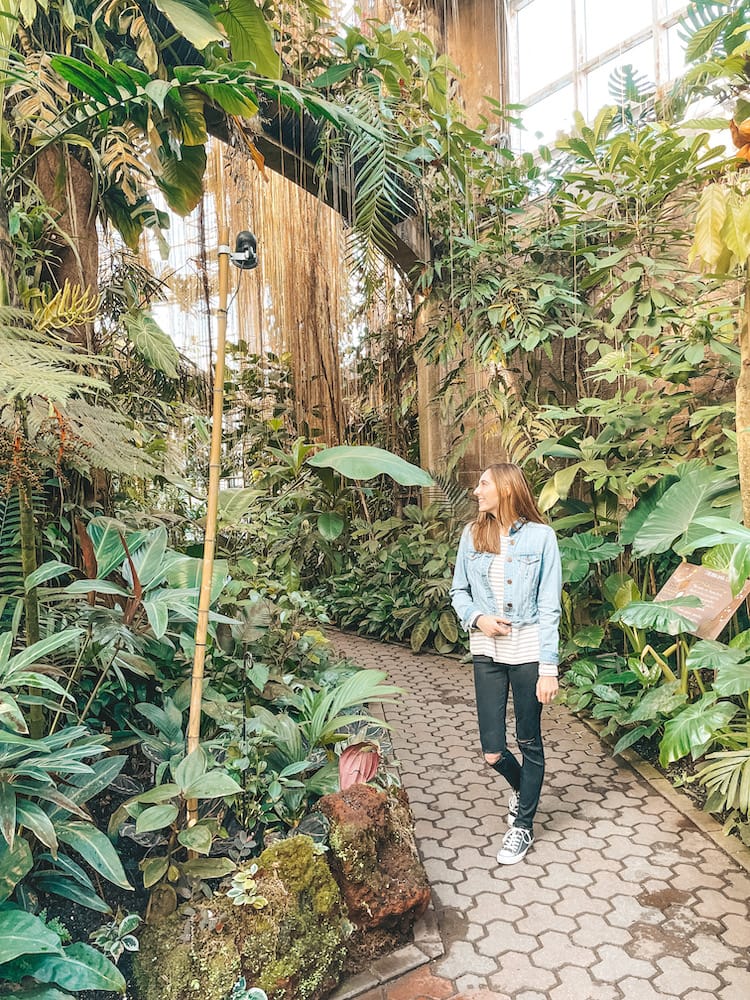 Atlanta Beltline Eastside Trail
The Atlanta Beltline Eastside Trail is a three-mile trail that runs from Piedmont Park to Reynoldstown, just past Krog Street Market.
This multi-use trail allows you to bike or walk to popular places for dining and shopping in Atlanta, like Ponce City Market and Krog Street Market, and connects you to parks, like Piedmont Park and Historic Fourth Ward Park.
If you'd like to rent a bike to cycle down the Atlanta Beltline Eastside Trail during your weekend in Atlanta, you can rent one from Atlanta Bicycle Barn or Relay Bike Share.
Ponce City Market
Ponce City Market was formerly a Sears department store that was converted into a trendy shopping mall, food hall, and entertainment district in the 2010s—and it's still growing!
Ponce City Market is home to dozens of popular retailers and local shops, like Madewell, Archer Paper Goods, JJ's Flower Shop, Anthropologie, and Spicewalla. They also have a two-story indoor food hall with dozens of restaurants, including Botiwalla, Pancake Social, Five Daughter's Bakery, H&F Burger, Bar Vegan, Dancing Goats Coffee Bar, Hop's Chicken, and more. Many of the restaurants have indoor and outdoor seating, and there's also communal seating throughout the food hall.
Ponce City Market is a great place to grab lunch (they have all types of food, so you can find something that sounds good to you!) and shop for a few hours in the afternoon during your weekend in Atlanta.
They also have a lively rooftop venue called THE ROOF at Ponce City Market with dining options, cocktail bars, lawn games, and more entertainment. Since you have to buy tickets, we didn't have time to visit during our weekend in Atlanta, but I've only heard awesome things about THE ROOF.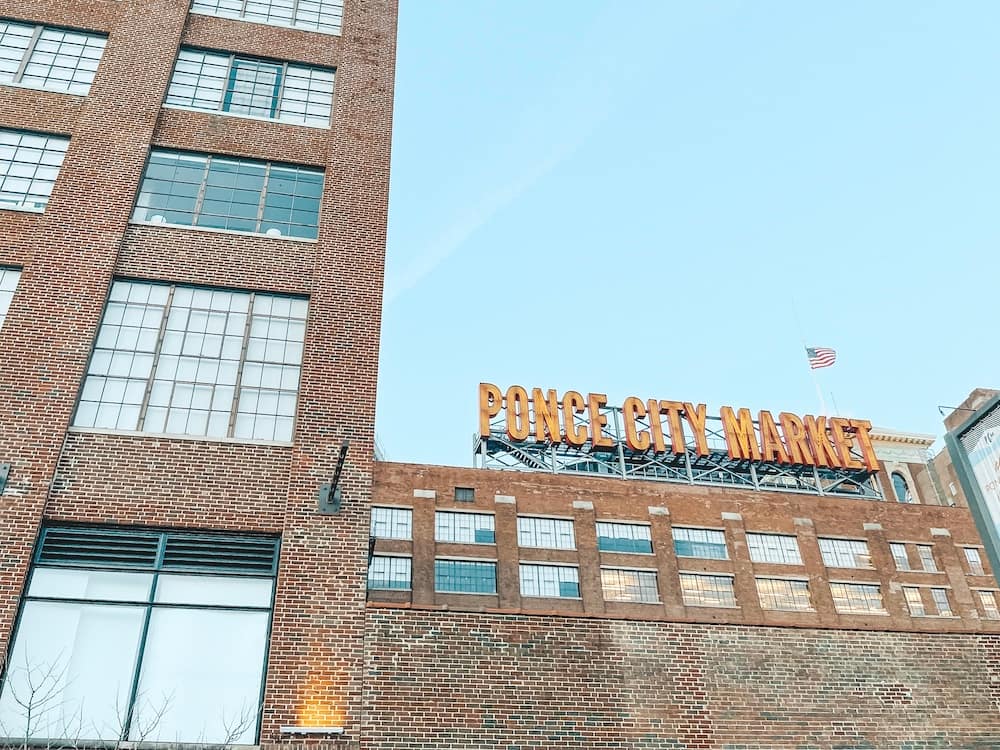 Krog Street Market
After spending the last afternoon at Ponce City Market, keep heading down the Atlanta Beltline Eastside Trail (or you can drive) to the Krog Street Market!
Unlike Ponce City Market, which is a massive shopping center and food hall, Krog Street Market is a food hall located in a smaller building that opened in 2014. Though Krog Street Market is only a decade old, the historic building it's located in dates back to the 1880s!
Some popular eateries at Krog Street Market include Bar Mercado, Superica, Recess, Ticonderoga Club, Fred's Meat & Bread, and Jeni's Splendid Ice Creams. If you got lunch at Ponce City Market and are still hungry, grab something for dinner here. We were craving pizza, so we ordered from Varuni Napoli, and our pizza was delicious! And, of course, you have to get ice cream at Jeni's to end the night. Yum!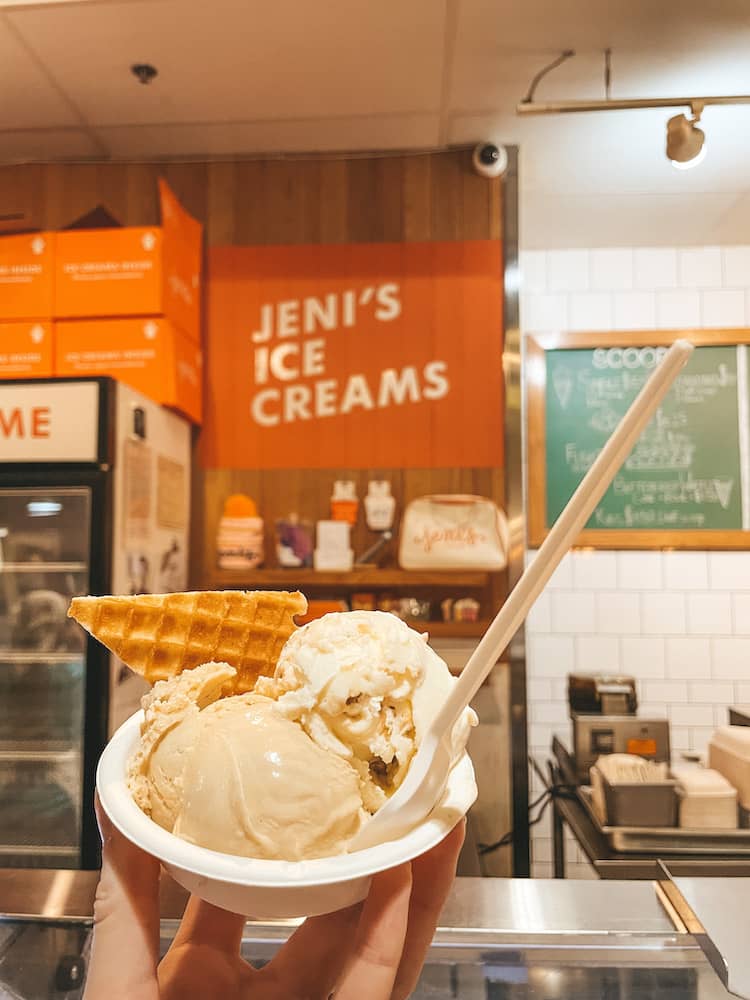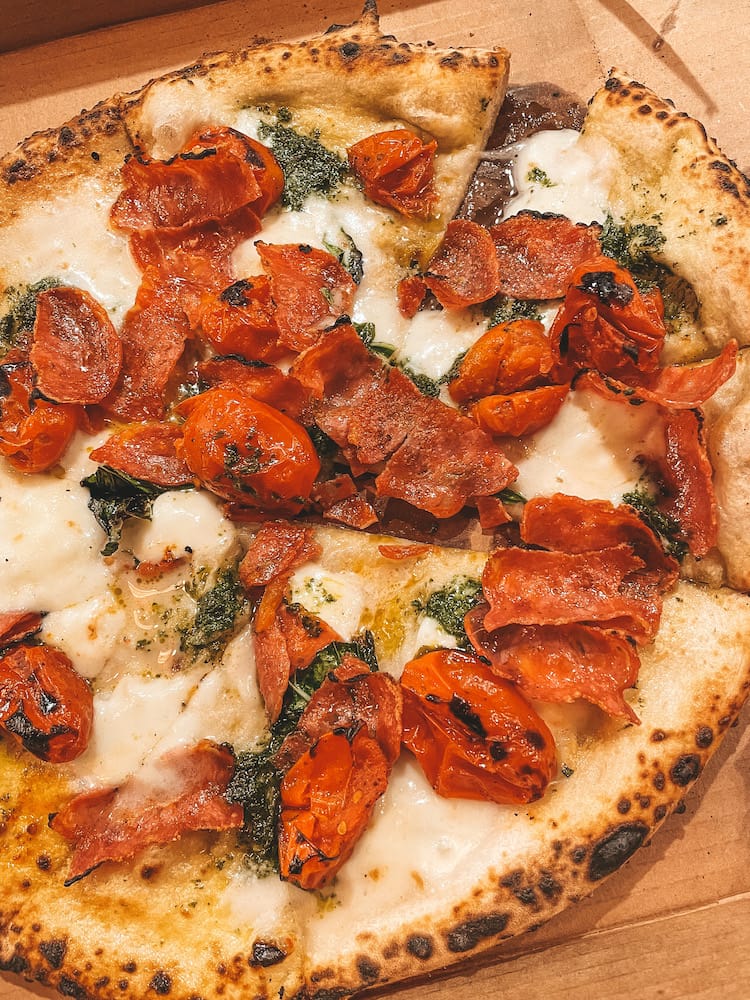 Torched Hop Brewing Company
If you're still not ready to call it a night, head to Torched Hop Brewing Company to grab a local brew in a roomy taproom!
We loved the vibe at this place. There's bar seating, downstairs seating, and upstairs seating, and you can see where they brew their beers on-site while you're hanging out. They have IPAs, lagers, porters, stouts, and other types of beers, as well as some creative cocktails if you're not a beer drinker. Plus, if you want a snack, they also have a full food menu!
They also have a pool table, board games, video games, televisions, and other fun activities to enjoy with friends. Even though you could spend all night here, they're only open until 11 PM on Saturday and 9:30 PM on Sunday, so be sure to plan accordingly during your weekend in Atlanta.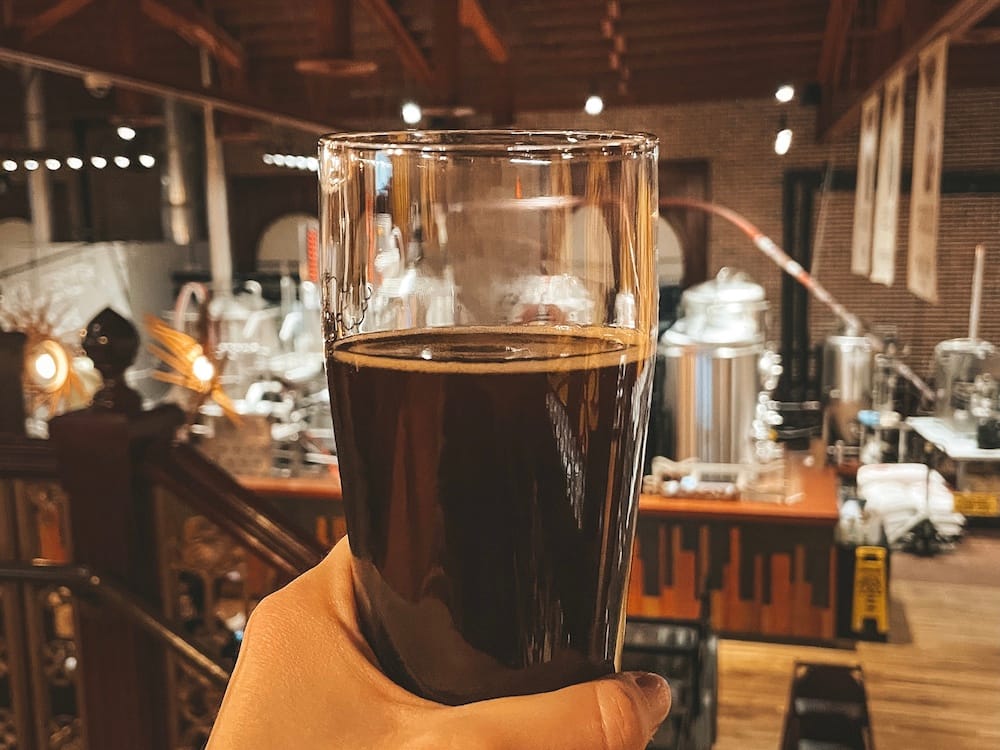 Day 3 – Hidden Gems
Before you head home this evening after spending a fun weekend in Atlanta, explore some of these "hidden gems" outside the city's center! Plus, you'll be to see the beautiful historic homes in the suburbs while you're driving around, which I think is a huge plus.
Atlanta History Center
The Atlanta History Center is a popular attraction to visit during your weekend in Atlanta that encompasses historical landmarks and fascinating museums that pertain to the city's rich history.
One of the most popular attractions at the Atlanta History Center is the Swan House—a neoclassical mansion and gardens designed in the 1920s. You can tour the home's interior to see the building's interesting artifacts and exhibits, stroll through the gardens, or admire the mansion's beautiful architecture. You can enjoy brunch and cocktails at the Swan Coach House when you're finished!
While people think that touring the Swan House is worth the admission price alone, you can also tour the Smith Farm and Lloyd and Mary Ann Whitaker Cyclorama Building at the Atlanta History Center.
Dixie Q
We were on the hunt for an excellent barbecue dinner near our hotel during our weekend in Atlanta—and Dixie Q did not disappoint!
Unlike other barbecue spots in the heart of the city that are better known, like Fox Bros. BBQ, this establishment is located in a suburban area and has great food! They serve Cajun-style barbecue smoked over oak and hickory wood, and you can choose from plates or sandwiches made from pulled pork, brisket, sausage, salmon, and turkey.
I got the pulled pork with baked mac and crispy brussels sprouts (they're served with a honey sauce, and it's soooo good), and my husband got the house spice fries and loved them. If you're willing to drive ten miles outside the city, I would recommend this place! It was amazing.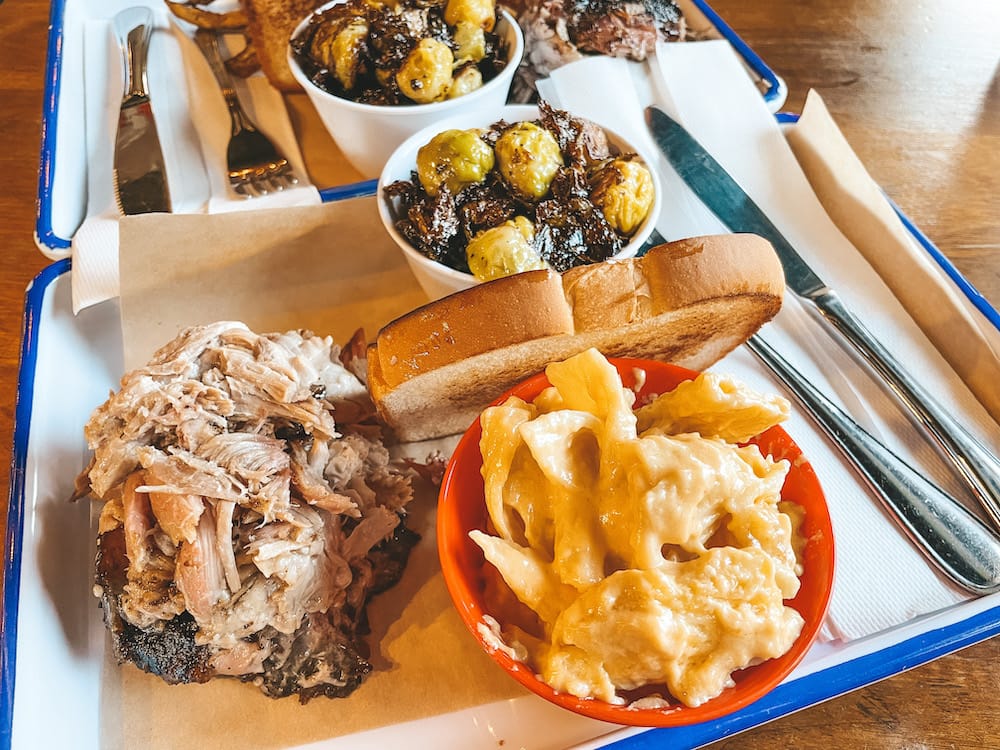 Monday Night Brewing
After lunch, spend a relaxing afternoon at Monday Night Brewing! This brewery was not only one of my favorite places we visited in Atlanta, but one of my favorite breweries I've ever been to!
Monday Night Brewing is a casual brewery with a spacious, high-ceilinged tasting room and a cozy outdoor patio with fire pits. Since we were visiting Atlanta during a chilly weekend in January, we loved hanging out by the fire in the lawn chairs and enjoying the twinkling bistro lights. Plus, Monday Night Brewing has dog-friendly indoor and outdoor seating!
Monday Night Brewing serves lots of fun brews, and they have a beer for every palette. The bartenders are so helpful and will also let you taste the beers they have on draft until you find one you like, which is super nice. If you like beer, I'd highly recommend checking this place out.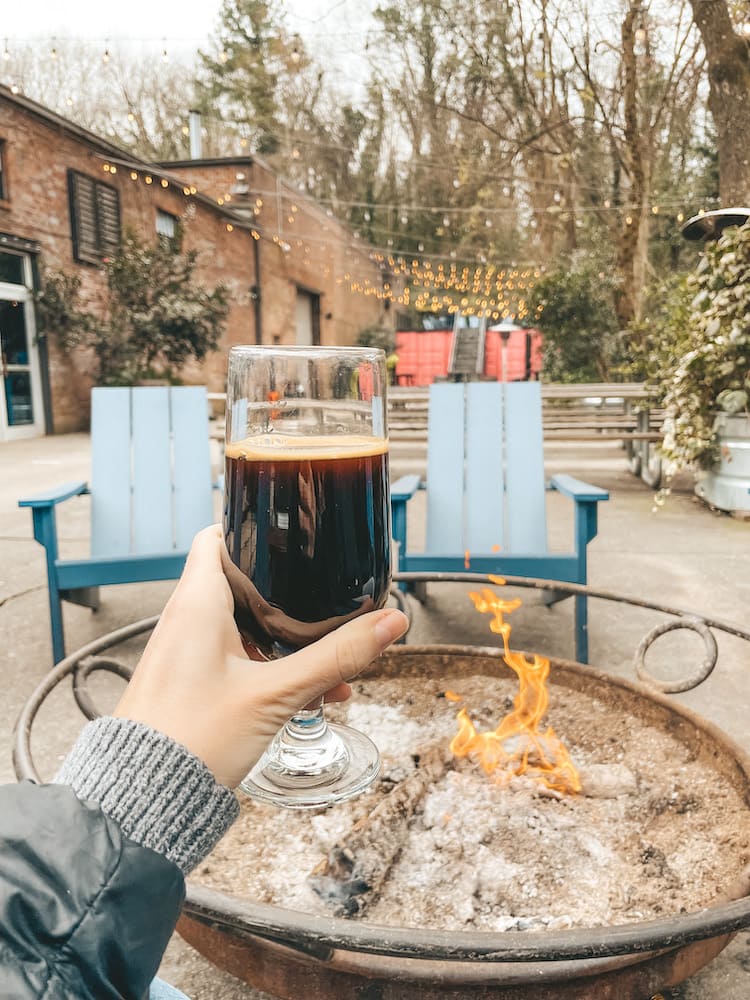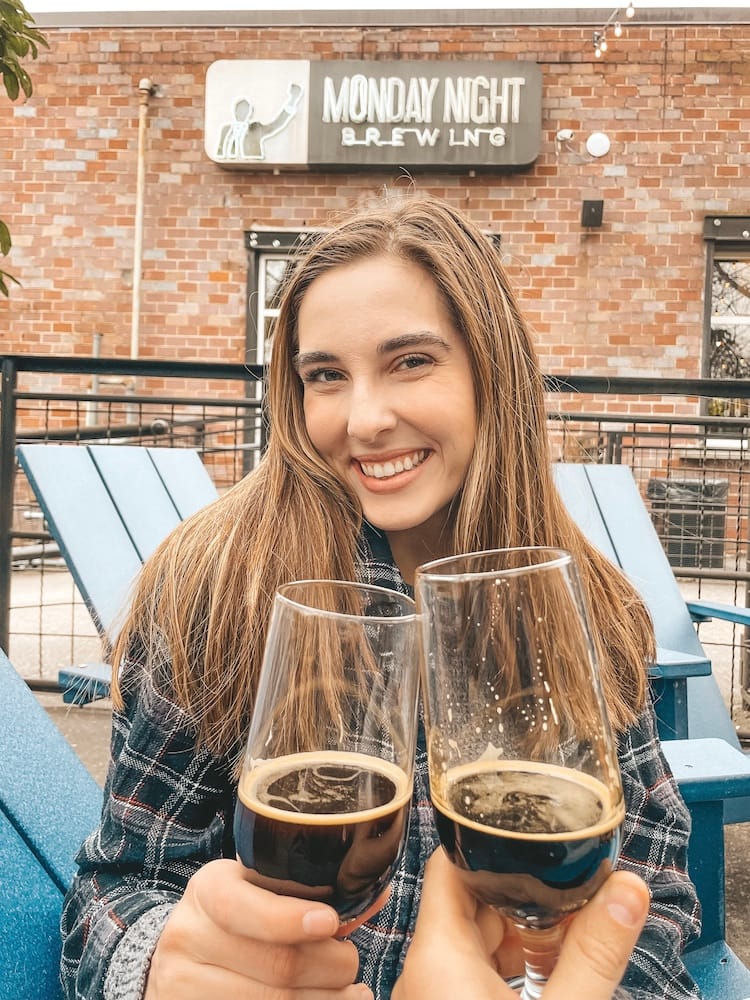 Tiny Doors ATL
Throughout your weekend in Atlanta, be on the lookout for Tiny Doors!
Tiny Doors ATL is a local art project adding seven-inch doors created by artist Karen Anderson Singer to local neighborhoods or institutions. They're entirely free to visit, and many doors are located at popular attractions already on this itinerary, like the Atlanta Botanical Garden, Georgia Aquarium, and Swan House at the Atlanta History Center.
You can use this map to go on a self-guided tour to spot the Tiny Doors ATL, or you can join this Tiny Doors bike tour to see street art, historic neighborhoods, and of course, tiny doors during your weekend in Atlanta!
Marietta Square Market
Even though it's technically not in Atlanta, I didn't want to leave the Marietta Square Market off this list. We met some friends here for dinner one night, and I loved it!
Located just outside Atlanta in Marietta, this food hall has 18 eateries, a central bar, and community seating. If you happen to be around on a Thursday, stick around for trivia night every Thursday at 7 PM!
I honestly loved the laid-back vibe here and would recommend it up there with Ponce City Market and Krog Street Market. If you're looking for a food hall that's less busy with more seating and plenty of food options, I recommend checking out the Marietta Square Market.
Enjoy Sightseeing, Sipping, and Savoring with This Jam-Packed Itinerary for a Weekend in Atlanta!
Well, there you have it—the perfect way to spend a weekend in Atlanta!
If you do it right, you'll be exhausted by reaching the end of this itinerary, and you'll be taking an awesome nap on the plane during your ride home 🙂
Which of these activities sounds the most fun to you? Let me know in the comments below!
Disclosure: Some of the links in this itinerary about spending a Weekend in Atlanta are affiliate links, meaning, at no additional cost to you, I earn a commission if you click through and make a purchase. This helps me keep the content on my website free, like this post about how to spend a "Weekend in Atlanta"!
Save This Itinaray for a Weekend in Atlanta for Your Upcoming Trip!
Did you love this post about how to spend a weekend in Atlanta? If so, check out the nearby city of Savannah, Georgia, for another fabulous weekend trip!