There is a lot to see in the areas surrounding Portland — the Oregon Coast, Willamette Valley, and Columbia River Gorge, just to name a few! And while the areas surrounding Portland are filled with tons of natural beauty, you will want to carve out at least one day in Portland, Oregon, to explore the city's attractions.
Downtown Portland is filled with tons to see, do, and, most importantly, eat! If you only have one day in Portland, Oregon, don't worry — this is plenty of time to see the city's highlights and premier attractions. Follow this one day in Portland, Oregon, itinerary for a taste of the donuts, coffee, bookstores, and natural beauty that await in Portland.
How to Spend One Day in Portland, Oregon
Wondering how to spend one day in Portland, Oregon? I've got you covered! If you're just passing through on a road trip of the Pacific Northwest and only have 24 hours in Portland, Oregon — this is the perfect one-day Portland itinerary for you!
Coffee
Portland takes its coffee production pretty seriously, which is why you'll have no trouble finding incredible craft coffee shops throughout Downtown Portland. Start your day with a cuppa jo from one of the following shops:
Donuts
After grabbing your coffee, it's time to try something else Portland is known for — donuts! Though Voodoo Doughnut is a popular stop in Portland (after all, it's where this nationwide chain started!), the donut shop you must visit if you only have one day in Portland, Oregon, is Blue Star Donuts.
Blue Star Donuts is known for inventing "donuts for grownups" with booze-infused donuts, like the Cointreau Crème Brûlée and Blueberry Bourbon Basil. However, there are plenty of other inventive flavors that all palates and ages can enjoy, like Tropical Delight, Matcha Lime Crumble, and Chocolate Bergamot Old Fashioned.
Personally, I loved that Blue Star Donuts had different styles of donuts in addition to different flavors. You could get old-fashioned donuts, fritters, cake donuts, and fluffy yeast donuts all under the same roof. I also like that they use quality ingredients and collaborate with local businesses for the ingredients in their donuts.
If you want to sample more donuts and coffee in Portland, check out this Portland Underground Donut Tour and Coffee and Donuts Morning Tour for the best of both worlds!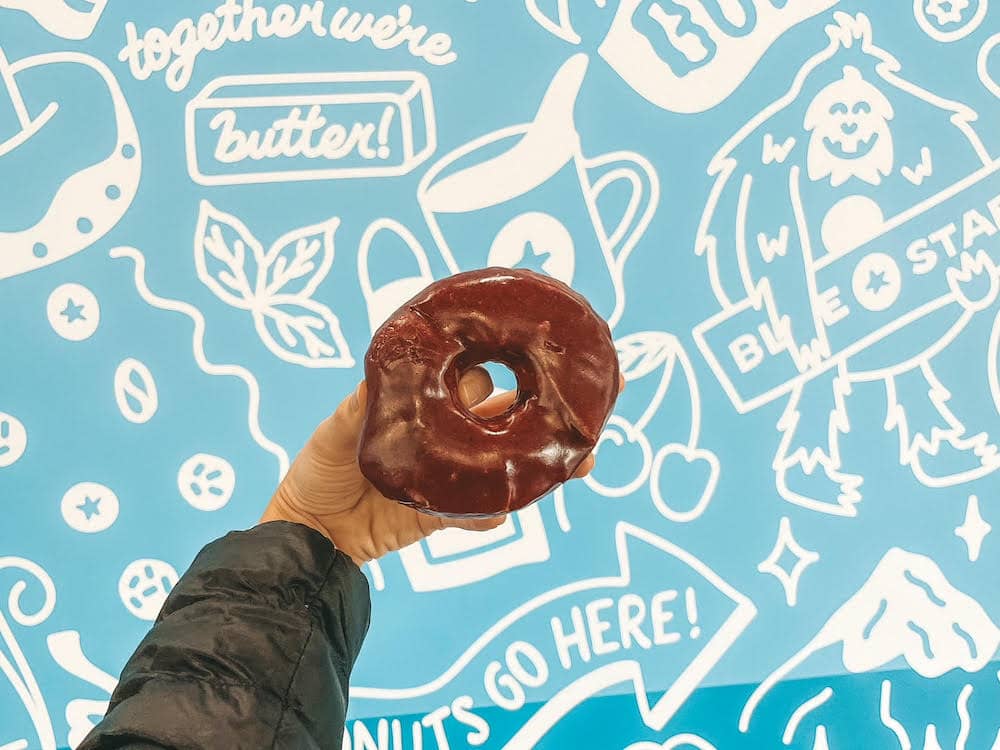 Tom McCall Waterfront Park
If you are visiting Portland on Saturday from March to December, head on over to the Portland Saturday Market at Tom McCall Waterfront Park. This market is known for being the country's largest continually operating outdoor arts and crafts market and allows local vendors from the Pacific Northwest to put their goods on display. It is dog-friendly and filled with food vendors and live music performers.
While you are at Tom McCall Waterfront Park, be sure to snag a picture of the Portland Oregon White Stag Sign. This landmark sign has been greeting visitors to the city of Portland since 1940, and it is illuminated at night.
We also recommend walking down the street to the Lan Su Chinese Garden in Old Town Portland. This tranquil botanical garden features rare plants and stunning architecture that will leave you feeling like you have been whisked off to another country and culture — not in the middle of Downtown Portland!
Powell's City of Books
After spending the morning at Tom McCall Waterfront Park, head over to Powell's City of Books and meander around this legendary bookstore.
Powell's City of Books is the world's largest independent bookstore, with over four million books. They sell books of all kinds — from bestsellers and award winners to staff favorites and used books. The store is sorted by genre, so it's easy to find what you are looking for — whether that be romance and mystery or children's and nonfiction.
After walking around Powell's City of Books, spend some time exploring the surrounding Pearl District. The Pearl District is a trendy neighborhood in Portland filled with independent boutiques, cool bars, and charming art galleries.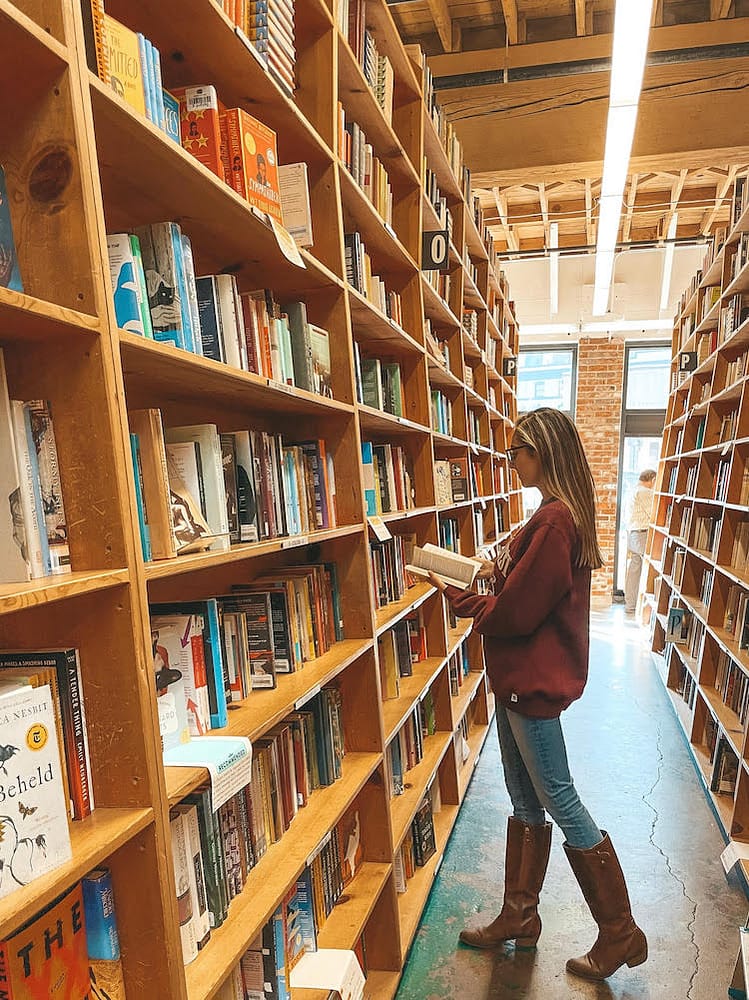 Lunch
Portland is well-known for its breweries (just as much as its coffee!), so be sure to grab lunch at one of the city's breweries. These are a few of the most popular:
If you want to try more than one brewery in Portland, consider going on this brewery walking tour to check out some of the best breweries in East Portland.
Washington Park
After lunch, Lyft, Uber, or drive up to Washington Park. Washington Park is located two miles west of Downtown Portland on a hill overlooking the city and is filled with stunning gardens, historic homes, and notable landmarks.
You could truly spend hours exploring all the attractions at Washington Park, but here are a few of the most notable to check out during your one day in Portland, Oregon:
International Rose Test Garden
The International Rose Test Garden is a free attraction in Washington Park that you can't miss during one day in Portland, Oregon. In this garden, you will find more than 10,000 rose bushes representing 600+ rose varieties.
The International Rose Test Garden started during World War I when hybridists sent flowers from around the world to Portland for testing, and some of the best roses are released into the market each year. The roses are usually in bloom from May to October, and the park is open from 5 AM – 10 PM.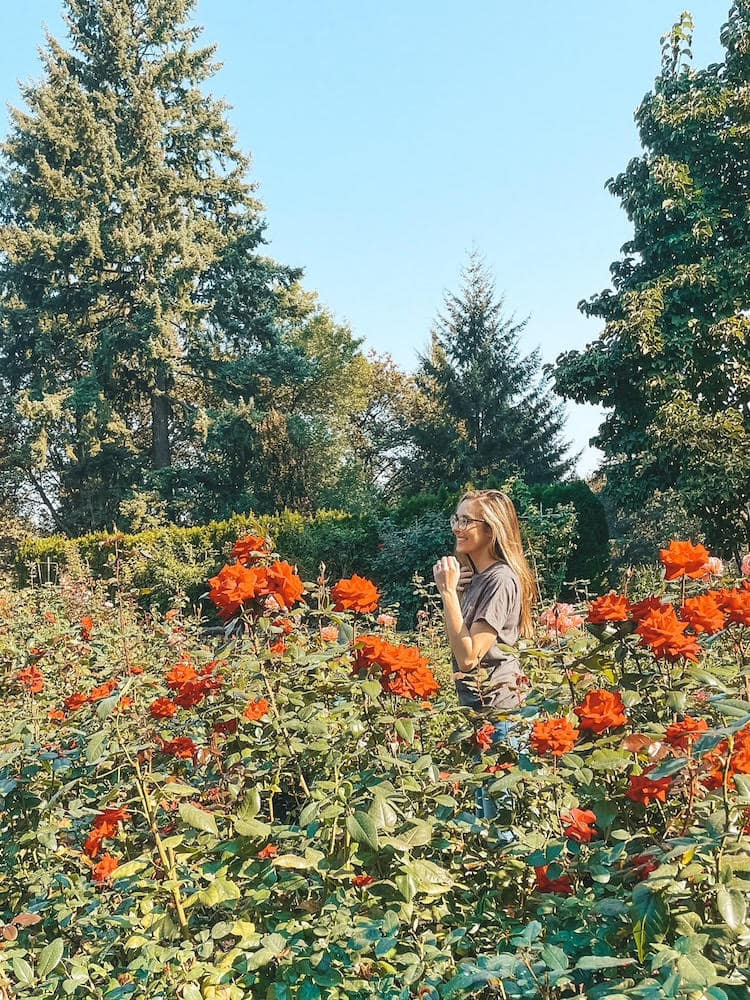 Hoyt Arboretum
Hoyt Arboretum was founded in 1928 to conserve endangered species and educate the community. Now, it is an oasis in the city where visitors can go hiking on gorgeous trails, including the Fir Trail, Redwood Trail, and Maple Trail. You can see all the trails to choose from on this hiking trail map.
Hoyt Arboretum is open from 5 AM – 10 PM daily, and there is no admission fee. There are restrooms in the Visitor's Center.
Portland Japanese Garden
Portland Japanese Garden is a gorgeous and lush collection of gardens in Washington Park. You can visit the Natural Garden, Strolling Pond Garden, Tea Garden, Flat Garden, and Cultural Village. Spring, summer, and autumn are the most popular times to visit — but spring is preferable if you want to see the cherry blossoms.
The garden is open from 10 AM – 6 PM on Wednesday through Monday, but they are closed on Tuesday. Admission is $21.95 per adult.
Memorials & Statues
There are several free memorials and statues you can visit in Washington Park, including the Oregon Holocaust Memorial, Vietnam Veterans of Oregon Memorial, and Sacagawea Memorial. We visited the Oregon Holocaust Memorial during our time at Washington Park and thought it was really sobering and well-put together.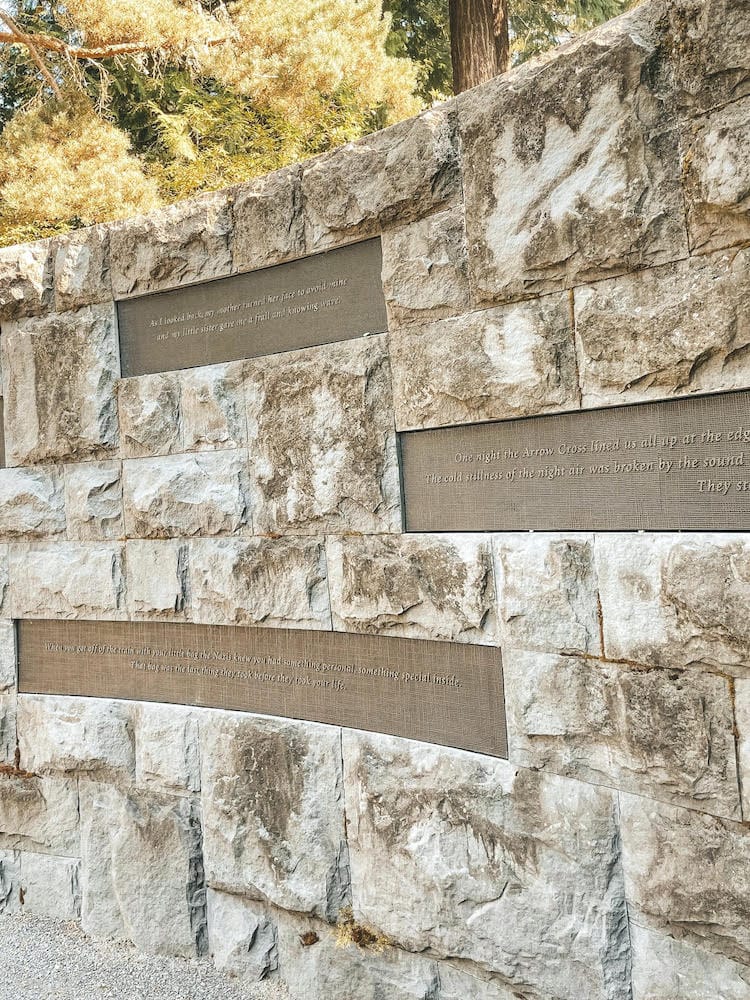 More Attractions
Other attractions to consider visiting at Washington Park include the Oregon Zoo, Archery Range, and the World Forestry Center's Discovery Museum.
Pittock Mansion
Either before or after spending time at Washington Park, head just a bit further northwest to visit Pittock Mansion — a historic home that overlooks the Willamette River, Cascade Mountains, and Downtown Portland.
Pittock Mansion was built in 1914. Tickets cost $14.50 per adult. Henry and Georgiana Pittock, who built the mansion, were one of the most influential families in Portland and built a financial empire by investing in the newspaper, real estate, banking, railroads, and other industries.
Today, the Pittock Mansion is a house museum that tells the story of how Portland, Oregon, has evolved from a pioneer town at the end of the Oregon Trail to a modern, industrialized city through the lens of this historic family.
Pittock Mansion is only open from 10 AM – 4 PM (and from 12 PM – 4 PM on Tuesdays), so be sure to plan your visit accordingly during your one day in Portland, Oregon, to give yourself enough time to explore this local history museum.
Dinner & Drinks
Finish your day in Portland, Oregon, with a nice dinner. There are tons of incredible places to eat in Portland, so believe me — it is difficult to choose just one!
However, these are a few restaurants that I can recommend from my own experience, or were recommended to me by others: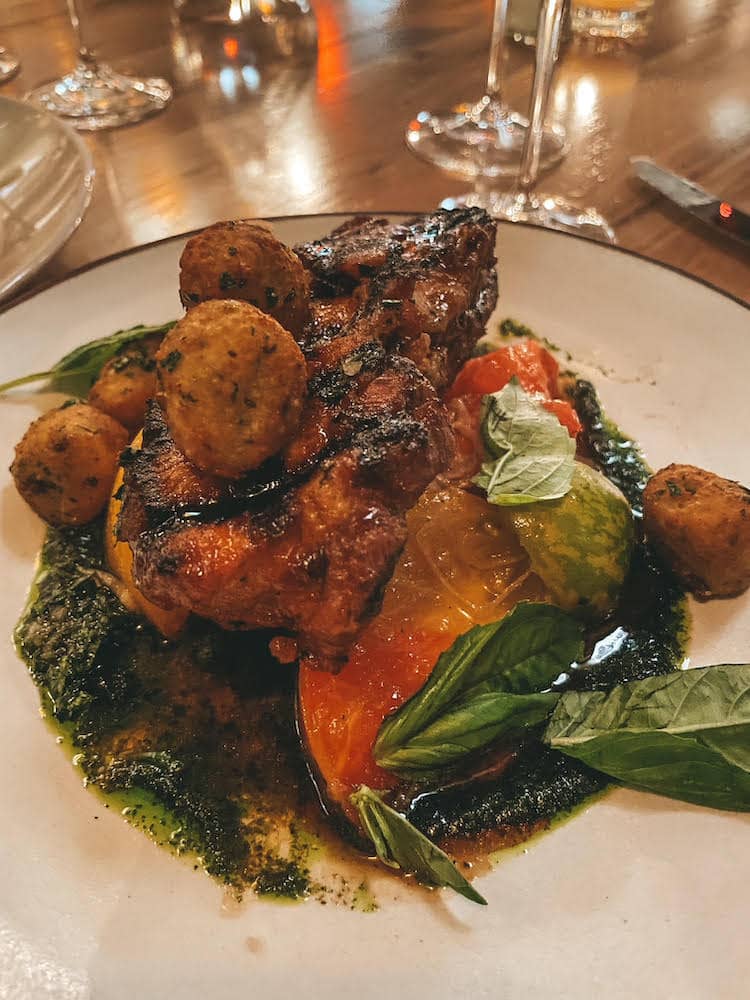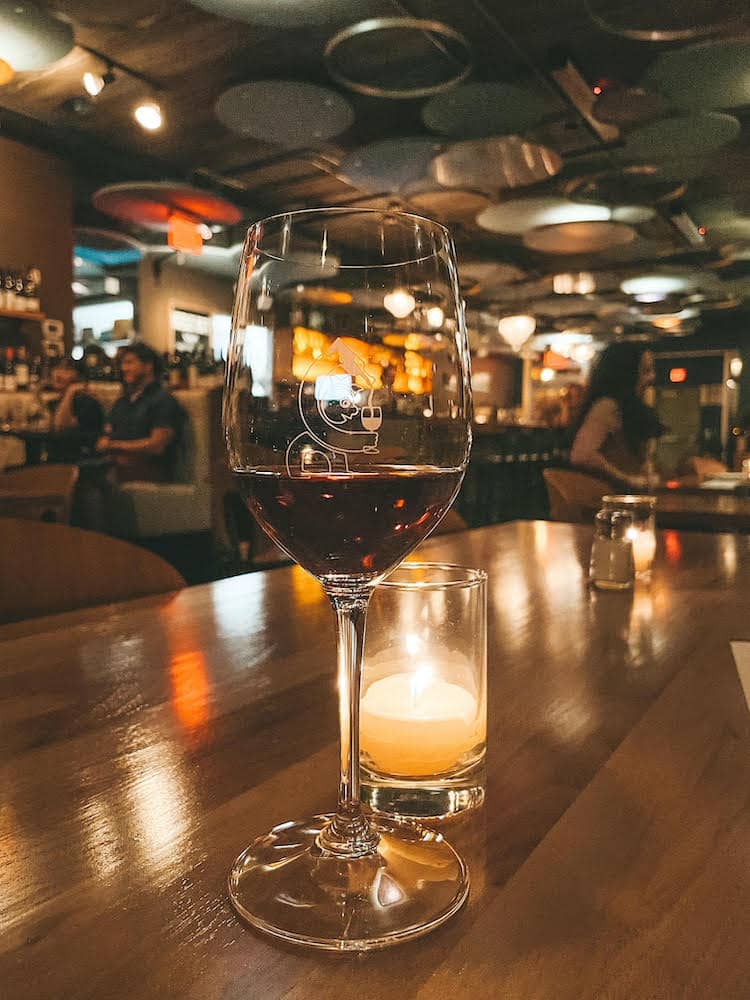 Salt & Straw
Before heading back to your hotel, head to Salt & Straw for a sweet treat to end the night. Salt & Straw is a popular ice cream chain that is spreading across the West Coast that started right here — in Portland!
Salt & Straw is known for its inventive flavors, like Honey Lavender, Strawberry Honey Balsamic with Black Pepper, and Pear & Bleu Cheese. However, they also have classic flavors you will love, including Salted, Malted, Chocolate Chip Cookie Dough, and Double Fold Vanilla. Grab a scoop (or two!) to enjoy to end your one day in Portland.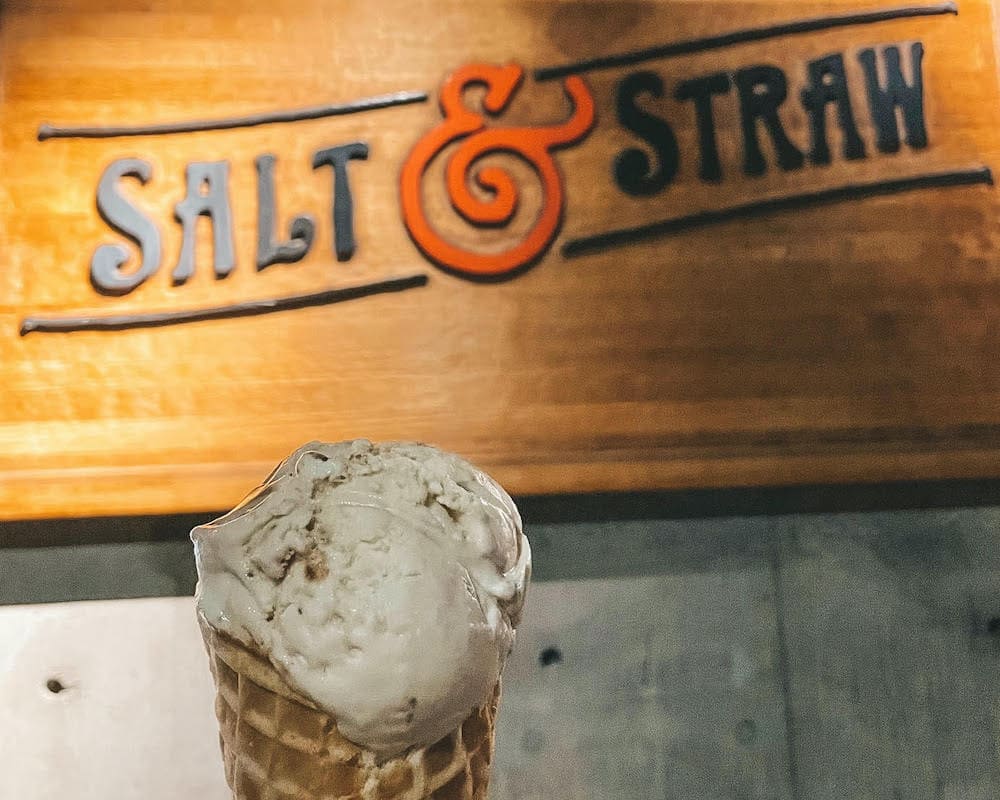 FAQs: One Day in Portland, Oregon
Is one day enough for Portland?
One day is enough to see the best of Downtown Portland. However, if you are planning to explore the areas surrounding Portland, such as the Willamette Valley, Oregon Coast, and Columbia River Gorge, it is best to spend three to four days in Portland (if not more) to experience all the best attractions in this gorgeous region. 
Is Portland a walkable city?
Overall, Downtown Portland is a walkable city. However, there are some places, like Washington Park, that you may need to Lyft or Uber to because of the steep climb. Personally, I recommend having a car in Portland, Oregon, so it is easier to go on day trips to nearby areas, like Cannon Beach and Multnomah Falls, during your trip.
What month is best to visit Portland?
The dry, sunny summer months of June, July, and August are the best time to visit Portland and the Pacific Northwest. However, the early fall months of September and October are also a beautiful time to visit Portland (and usually less busy).
Spend One Day in Portland, Oregon, During a Pacific Northwest Vacation
If you are planning to spend one day in Portland, Oregon, during your road trip through the Pacific Northwest — you are in for an amazing treat! Portland is filled with excellent eateries, beautiful outdoor recreation spaces, and tons of craft coffee and beer. If you follow this one day in Portland, Oregon, itinerary — let me know what you think!

Save This One Day in Portland, Oregon, Itinerary for Later
Read More
Looking for more things to do around Portland, Oregon? Check out these posts about the Pacific Northwest for more inspiration: