Seattle, Washington, is one of the best places to visit in the Pacific Northwest — this vibrant city is filled with great food, vibrant culture, and gorgeous scenery.
However, one of the best things about visiting Seattle isn't just the city itself but its proximity to incredibly unique and diverse destinations!
While you are in Seattle, you are likely planning a few day trips from Seattle to explore all that the area has to offer. So, whether you are looking for national parks, quaint islands, or big cities, you will find it all (and more!) on this list of the best day trips from Seattle.
Best Day Trips from Seattle
1. Leavenworth, Washington
Leavenworth, Washington, is a charming Bavarian-style village in the Cascade Mountains. It takes just over two hours to get to Leavenworth from Seattle, making it one of the best day trips from Seattle. However, once you arrive, you will wish you had stayed longer!
Though Leavenworth is beautiful to visit at all times of the year, you should definitely plan to visit during Oktoberfest — Leavenworth in the fall in magical! The entire town is covered in fall leaves, while music, dancing, and ceremonial tapping of the kegs happen to get you in a festive mood. Alternatively, visit Leavenworth during Christmas to see the entire town decked out in lights and, if you're lucky, covered in fresh-fallen snow!
Regardless of when you visit Leavenworth, you must spend some time walking around the charming town. You can grab a brat, pretzel, and beer at Munchen Haus, one of the best places to eat in Leavenworth, or sit down at Andres Keller Restaurant for a traditional German meal. Icicle Brewing Company is a fabulous place to try craft beers if you're looking for a drink!
If you visit Leavenworth during the summer or early fall, don't miss the chance to go hiking in The Enchantments. If you want to spend the entire day hiking, the beautiful trek to Colchuck Lake is challenging — but worth it!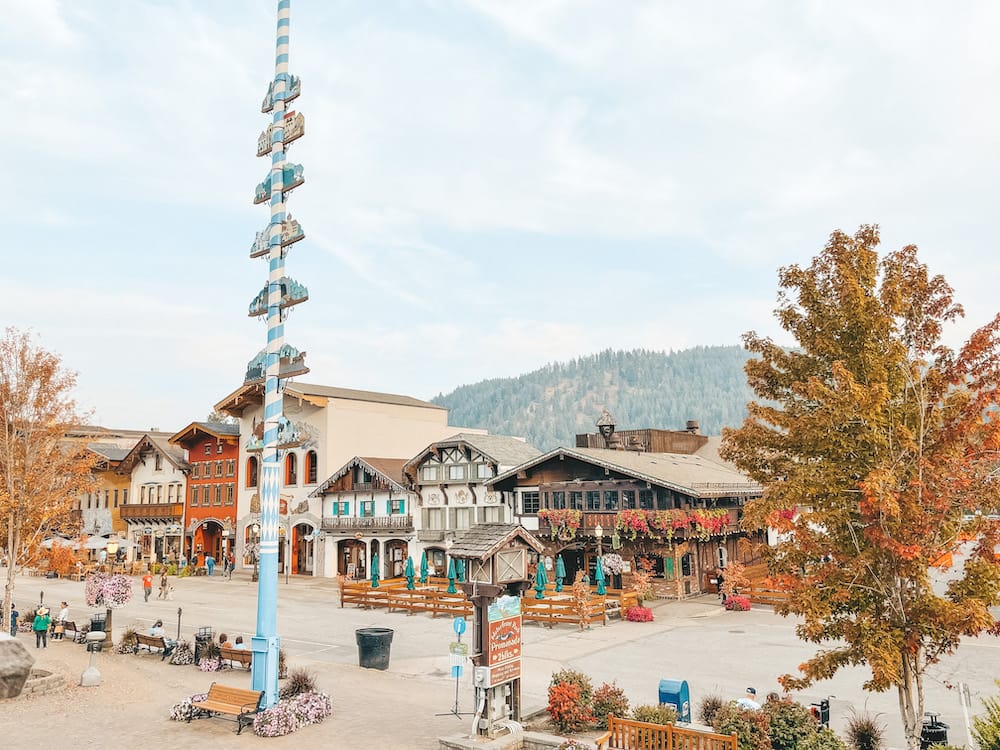 2. Bainbridge Island, Washington
Bainbridge Island is easily one of the best (and easiest!) day trips from Seattle. In fact, since you can take the ferry from Seattle, you don't even need a car — and the ferry ride only takes about a half hour each way!
Bainbridge Island is beautiful to visit in the spring and fall, but the summer months are really when this island comes alive. Summer is a popular time to visit because you can enjoy dry, sunny weather and water sports, like kayaking, paddle boarding, and boating.
While you are on Bainbridge Island, be sure to visit Blodel Reserve. This stunning nature preserve is absolutely gorgeous, especially in the summer when everything is lush and in bloom. While you are on Bainbridge Island, you should also take a walk down Winslow Way to visit some of the shops, boutiques, and wine-tasting rooms.
When you get hungry, head to Proper Fish for a delicious lunch of fish and chips. Pegasus Coffeehouse is another charming place to stop if you would like to enjoy coffee, pastries, or lunch. They also serve beer, wine, and cider in the afternoon.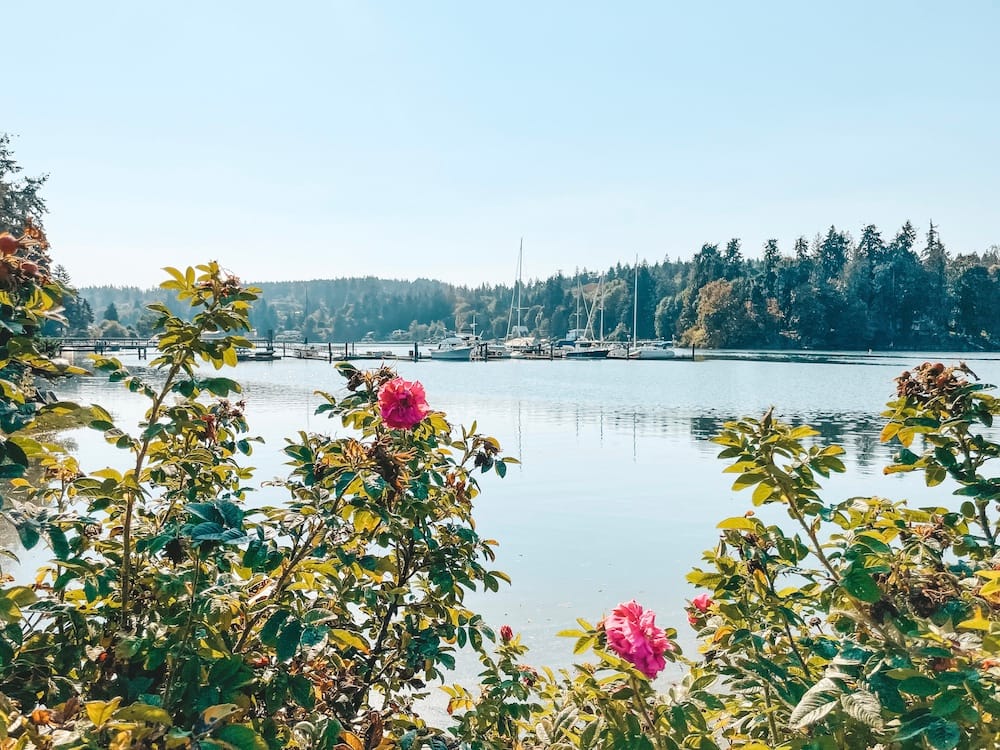 3. Mount Rainier National Park
Mount Rainier National Park offers a stunning alpine wonderland for you to explore, with fields of technicolor wildflowers, abundant wildlife, and, of course, the tallest mountain in the Cascade Range. It is one of the best (and more popular) day trips from Seattle.
The national park is located approximately two and a half hours southeast of Seattle, although, since the park has quite a large footprint, you may have a longer drive time depending on where you're going in the park. Be sure to plan your visit from July through early October, when Rainier's roads — and its most epic hiking trails — are free of ice and snow.
The best way to see Mount Rainier is on foot. For example, one of the most popular hikes in the park is called the Skyline Loop, located in the Paradise region of Mount Rainier National Park, which takes you through fields of wildflowers and up to viewpoints with in-your-face views of the Nisqually Glacier or panoramic views of the surrounding mountain peaks. For something a bit more off the beaten path, consider the Summerland Trail, which offers a rushing river, alpine meadows, and some of the most unique views of Mount Ranier in the park.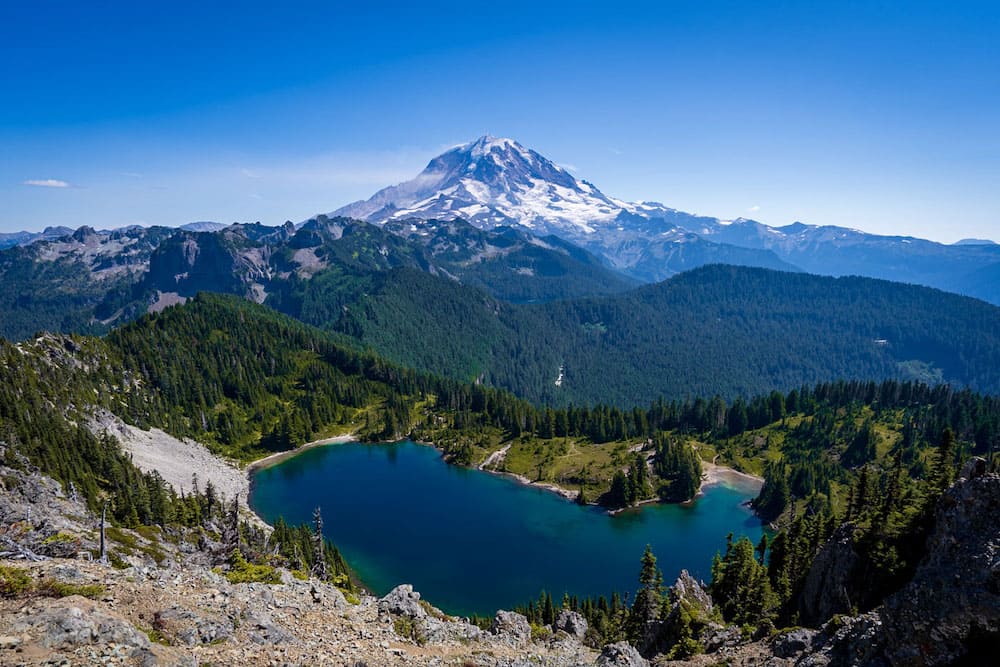 4. Vancouver, British Colombia
On the Pacific Ocean, bordered by mountains, known for rainy weather—these characteristics are true for both Seattle and Vancouver, British Columbia.
Why bother making a trip up north to Canada? Vancouver is an active city with a strong connection to nature and, thanks to its multicultural population, an excellent food scene. So why not take this fun and exciting international day trip?
Stanley Park is a 1000-acre wooded park in downtown Vancouver. Its world-famous nearly 6-mile seawall trail is perfect for a walk or bike (bikes are available to rent), and there are tons of other trails inside the park as well. The park also has an aquarium, a couple of beaches, and a selection of restaurants. In summer, one could easily spend a day at this park.
Following the seawall to False Creek, Granville Island is a small but dynamic, artsy neighborhood known for its food and entertainment options—a perfect neighborhood for a day trip. Granville Island is a popular departure point for water sports like kayaking, paddle boarding, and bike boats. Formerly a collection of industrial buildings, the indoor public market now has about 50 vendors selling fresh foods and artisan goods and a wide variety of bars, cafes, and restaurants. The island also has Canada's first microbrewery: Granville Island Brewery.
Driving to Vancouver should take 2.5 to 3 hours, though this can vary depending on traffic. On holiday weekends, Amtrak's Cascade route (3.5 hours) is a better choice. For quicker transit, flights from Seattle to Vancouver are only an hour and often reasonably priced. Don't forget your passport!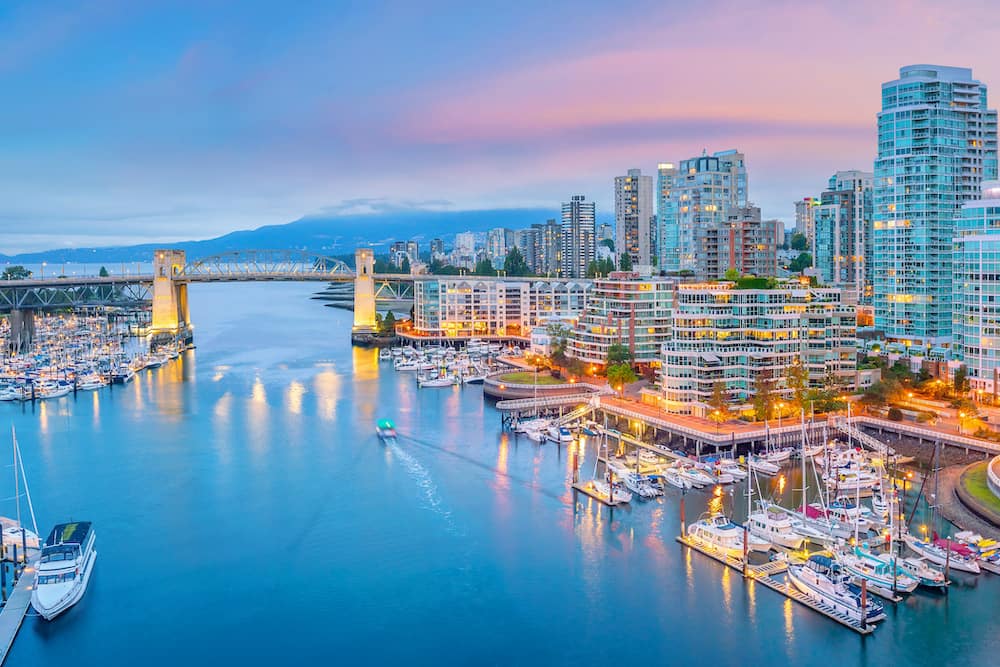 5. Snoqualmie Falls, Washington
Snoqualmie Falls is a breathtaking waterfall located 25 miles east of Seattle, making it perfect for a day trip. It takes a 30–45-minute drive, depending on traffic on I-90 E.
Once you arrive at the falls, you'll find free parking and a free viewing area open from dawn until dusk. Take a short walk to the observation deck, which offers stunning views of the waterfall. There is also a trail that will take you to the base of the waterfall from the Lower Park Area. This can be a thrilling experience on a day with heavy flow from rainfall. In the evening the falls are also lit up providing a completely different view.
While you are there, be sure to check out the Salish Lodge. The dining room has its own view of the falls you can enjoy while eating at the restaurant. It is known especially for its breakfast and the iconic "Honey from Heaven" service where honey from its own hives is poured from high above your plate onto fresh house-made biscuits.
6. San Juan Islands, Washington
The San Juan Islands are a cluster of islands in the Salish Sea, with dramatic cliff sides, rugged beaches, and lots of laid-back vibes. They make for one of the best day trips from Seattle!
Given that the San Juan Islands are, well, islands that aren't otherwise connected to the land, they can be a bit tricky to get to. If you time your visit right, though, you can drive north from Seattle to Anacortes in an hour and a half and then take a ferry to the island of your choice, which usually takes approximately an hour (give or take, depending on the island).
So why would you make so much effort to head here? Well, the San Juan Islands is one of the best places for whale watching in Washington and is arguably one of the best places on the planet to see orcas, thanks to the abundant salmon found in the region! For the best chance of spotting whales in the Salish Sea, head here in the summertime, when many whale-watching tour companies will literally guarantee that you'll get to spot a whale during your trip.
Beyond seeing giants of the sea, the San Juan Islands are packed with wineries and local eateries. You can eat and drink your way through some of the best food and wine on the islands, like Orcas Island's Hogstone's Wood Oven or San Juan Island's Friday Harbor House. Discover more of the best things to do on San Juan Island while you are there.
7. North Cascades National Park
North Cascades National Park is located in northern Washington, pretty close to the Canadian border. Nevertheless, you can still make a day trip here from Seattle since it is only a two-and-a-half-hour drive (one way). The best method of transportation between Seattle and North Cascades is by car, for no public transportation options exist. If you do not own a car, you can rent a car for the day from the airport or another nearby car rental facility.
When planning your visit to North Cascades, be sure to do so in the summer months. Due to the fact it is located so far north, the park can see a fair amount of snow throughout most of the year. Therefore, plan a visit for sometime between June and September if you want to experience the best weather.
There are plenty of reasons to prioritize a day trip from Seattle to North Cascade. For example, there is no entrance fee. Additionally, it is often less busy than other national parks and attractions near Seattle, making it one of the best day trips from Seattle for those wanting to enjoy the beautiful natural scenery of the Pacific Northwest in peace.
North Cascades boasts a variety of attractions and activities to fill your day, like viewpoints, hiking, kayaking, camping, and more. One of the main attractions in the park is Diablo Lake. It is a beautiful and vibrant blue-colored lake surrounded by mountains. You can visit Diablo Lake Vista Point for a view from above or rent kayaks to get out on the water.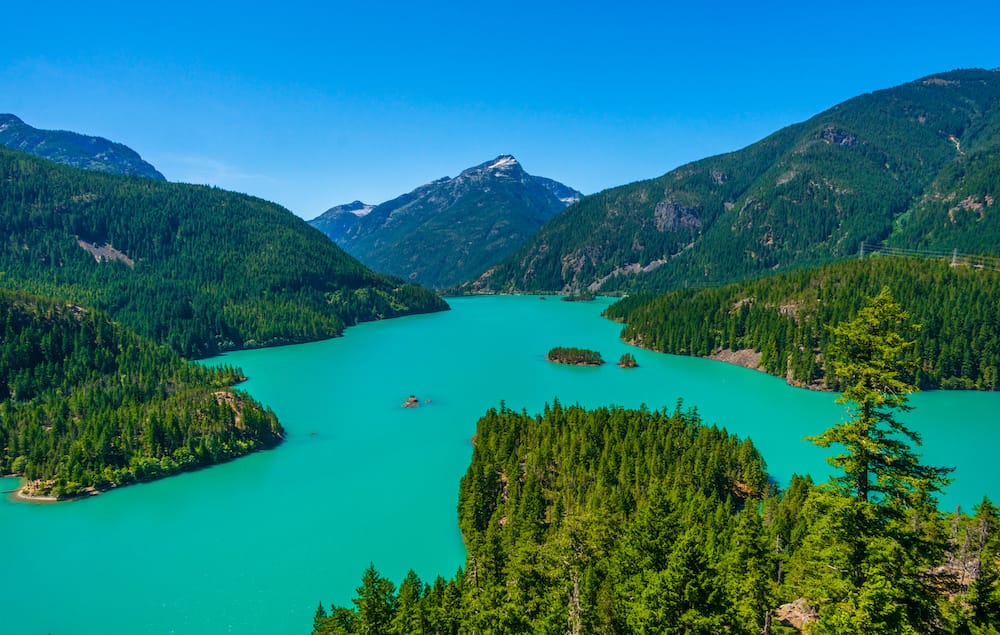 9. Victoria, British Colombia
For a quick day trip from Seattle, head to Victoria, BC on Vancouver Island. Getting between Seattle and Victoria is easy thanks to the Victoria Clipper, which leaves from Seattle and arrives in downtown Victoria in just 2 hours and 45 minutes.
Victoria is a charming city and the capital of British Columbia. During a day trip to Victoria, there is plenty to keep you busy. The best time of year to visit Victoria is from the spring to the fall when most of the shops and restaurants are open and the weather is better for enjoying many of the outdoor activities that Victoria has to offer.
The city has lots of historical landmarks, gardens, museums, and outdoor activities to explore. Some of the best things to do in Victoria are visiting Butchart Gardens, exploring the Royal BC Museum, or taking a stroll along the beaches or the Inner Harbour. Other popular things to see include the Craigdarroch Castle, the Parliament Buildings, and Fisherman's Wharf. 
When it comes to food, Victoria has plenty of options ranging from casual cafes to fine dining restaurants. If you're looking for a quick bite, try the Red Fish Blue Fish seafood stand or Tacofino for delicious tacos and burritos. Overall, a day trip to Victoria from Seattle is a great way to explore a new city and experience something different during your trip.
10. Skagit Valley, Washington
The Skagit Valley is nestled in a beautiful bowl, with Padilla Bay to the west and the Cascade Mountains to the east. It is fabulous to visit at all times of the year, but it is one of the best day trips from Seattle in the spring when you can see the gorgeous tulips in bloom!
Skagit Valley is perhaps best known for its Washington tulip festival that's held here every April, with dozens of acres and literally millions of colorful blooms that you can mosey through. Between the expansive flower fields and the jaw-dropping backdrop of the snow-capped Cascades, it's no wonder why Oprah named this festival one of the top ten best flower festivals in the country!
Even if you can't visit in April, you'll still find plenty of things to do here. For example, drive along Chuckanut Drive, a 30-mile scenic drive that winds along the coastline and provides breathtaking views of the neighboring San Juan Islands. Alternatively, explore some of the teeny yet charming towns of Mount Vernon and La Conner, with historic storefronts and eclectic boutiques to peruse the day away.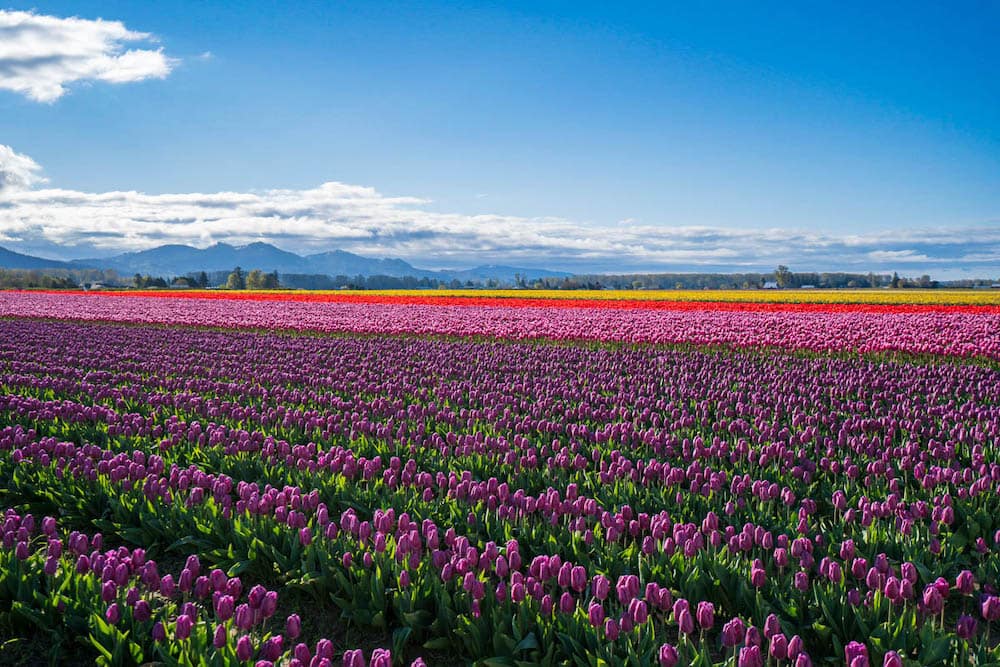 11. Orcas Island, Washington
You'll need the whole day-to-day trip to Orcas Island from Seattle — one of the best day trips from Seattle. This beautiful green island is one of the three main San Juan Islands, an archipelago of 172 islands and reefs in the northeastern tip of Puget Sound.
Start the day by making the 1.5 drive north from Seattle to Anacortes to the Washington State Ferries terminal. Catch a ferry to Orcas Island; about a one-hour boat ride. Orcas Island is a strikingly beautiful destination year-round, although its high season runs from mid-May – October. During the summer months, you're most likely to spot orca whales during the ferry ride.
Plan to spend about three hours driving around Orcas Island. Considered the San Juan Islands' "emerald island," Orcas is a great destination for outdoor adventurers. Chase waterfalls in Orcas Island's Moran State Park and enjoy sweeping views from Mount Constitution.
After you've had your fill of fresh air, budget a little time into your day trip to explore Orcas Island's independent shops and art galleries. The Madrona Bar and Grill in Eastsound is a great place to enjoy a bite to eat with great ocean views before heading back to the ferry dock at the end of the day.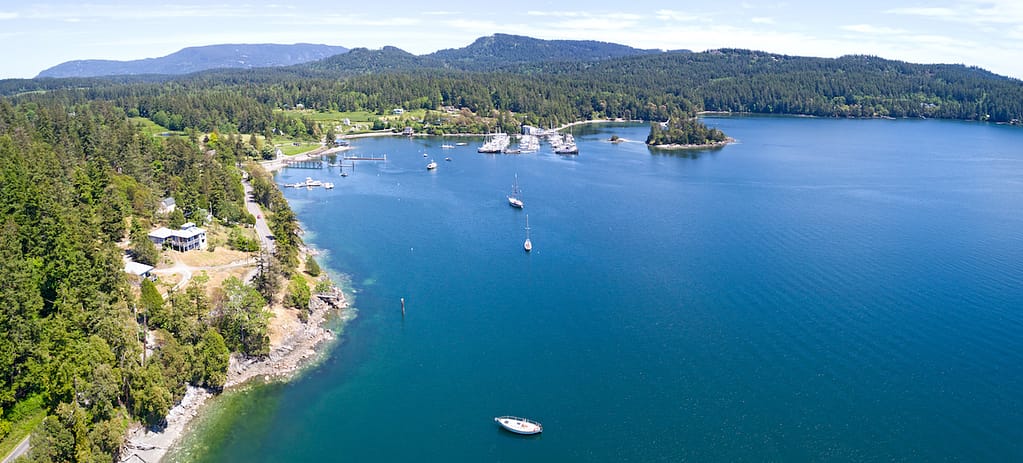 12. Portland, Oregon
Portland, Oregon, is one of the best day trips from Seattle if you are looking for a unique city break. It takes just under three hours to get to Portland from Seattle without traffic, so it is easy enough to enjoy as a day trip, although many travelers choose to spend a weekend in Portland.
When it comes to food and drinks, Portland exceeds at two things — coffee and donuts. Start your day trip to Portland with a coffee from Good Coffee and a donut (or two) from Blue Star Donuts, and then head on over to Powell's City of Books. Powell's is the largest new and used bookstore in the world, housing nearly one million books. If you are a book nerd (like me), you could easily get lost inside this iconic bookstore!
Next, head to the International Rose Test Garden for a reprieve from the city. You will be able to see thousands of beautifully manicured plants and gorgeous flowers. While you're here, the Pittock Mansion — a local history museum — is just a few miles away if you want to pay a visit.
Portland offers no shortage of amazing places to eat dinner to wrap up your day trip from Seattle. Consider Olympia Provisions for charcuterie, Nostrana for Italian, and Noble Rot for a nice, upscale dinner overlooking the city.
13. Deception Pass State Park
Deception Pass State Park is a magnificent natural wonder located in the northwest corner of Washington state, spanning over 4,100 acres of forest, lakes, and ocean shoreline. The park is famous for its breathtaking views of Deception Pass, a narrow strait that separates Whidbey Island from Fidalgo Island. The best part? You can visit Deception Pass State Park from Seattle in under an hour and a half, making it one of the best day trips from Seattle!
The park offers visitors a plethora of outdoor activities, including hiking, camping, fishing, swimming, boating, and wildlife watching. There are over 38 miles of hiking trails that wind through old-growth forests, rocky cliffs, and coastal beaches, providing hikers with stunning views of the surrounding landscapes. For the best trail that gives you a true tour of the area, try the Lighthouse Point and Lottie Point via Rosario Head Trail. It's just under 5 miles and gets you the best views.
One of the main attractions of the park is the Deception Pass Bridge, a historic engineering marvel that spans over 1,500 feet across the strait, connecting the two islands. You can walk across the bridge or get views from below from the hike mentioned above or from Macs Cove.
In addition to its natural beauty, the park also has a rich cultural history, with evidence of indigenous occupation dating back over 8,000 years. Visitors can learn about the park's history and cultural significance at the park's Interpretive Center.
If you're looking for a day trip that doesn't require you to drive for half of the day and gives you a gorgeous state park to wander around, Deception Pass State Park is your best bet!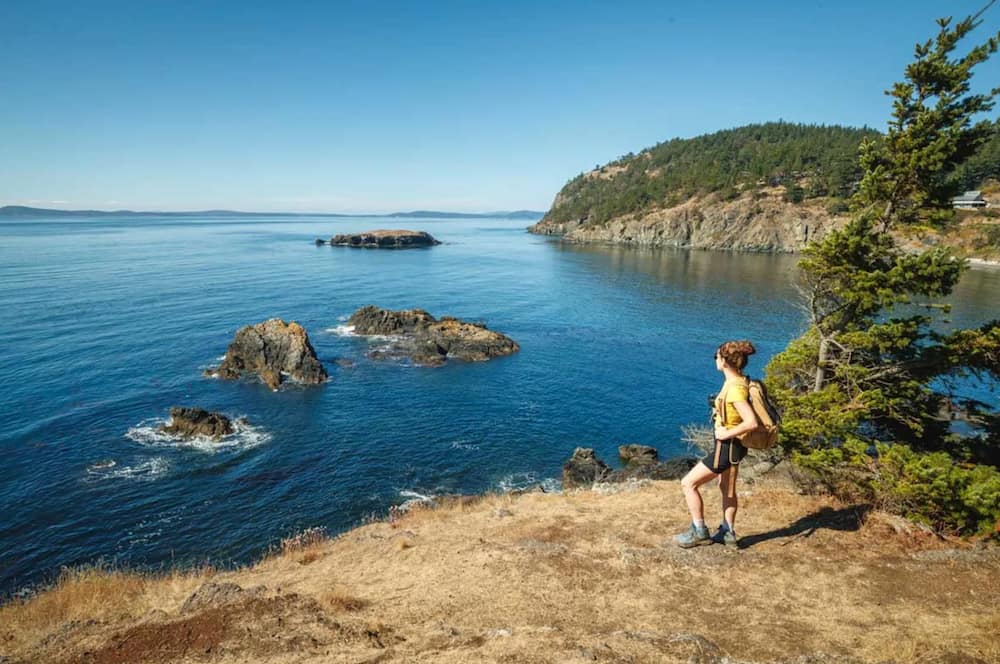 14. Tacoma, Washington
Tacoma has so many things to do as well as sights to see, including the high school from the movie 10 Things I Hate About You. Beyond that, if you like being outdoors and seeing the most incredible views around, then spend your time at Point Defiance Park.
You'll find that it's so much more than just a park. It has walking trails, a 5-mile drive loop, numerous lookout points, a beach, a playground, a zoo, an aquarium, a living history museum, and numerous gardens. You can even find an over 450-year-old Douglas fir called the Mountaineer tree. And there is no bad time to visit Tacoma or Point Defiance Park, it all just depends on what type of activities you want to do. So, be sure to add this stop to your itinerary.
There is one place in downtown Tacoma sure to satisfy your sweet tooth, and that is Corina's Bakery. They have non-allergy baked goods as well as gluten-free and vegan items to choose from!
15. Poulsbo, Washington
The town of Poulsbo is located on the Kitsap Peninsula. It takes between sixty and eighty minutes to get to Poulsbo from Seattle, depending on which route you take. The town is charming year-round and has special events for every season, but it is especially beautiful in the spring and autumn.
Visiting Poulsbo is like taking a European vacation without leaving the United States – perfect for anyone looking for a quiet European-style escape from the big city. Founded by Norwegian immigrants, Poulsbo is nicknamed "Little Norway" and named for a Norwegian village.
The town's architecture is inspired by the home country, with an obvious Scandinavian influence. The architecture combined with the town's fjord setting work together to create a truly magical experience that is unlike anything else in the state, making Poulsbo one of the best day trips from Seattle.
Make sure to spend time exploring what makes Poulsbo special. Check out Sluys Poulsbo Bakery for their Viking Cups, tour Poulsbo Heritage Museum to learn about the town's Norwegian cultural influence, and walk through the town's center to see how many Viking murals you can spot.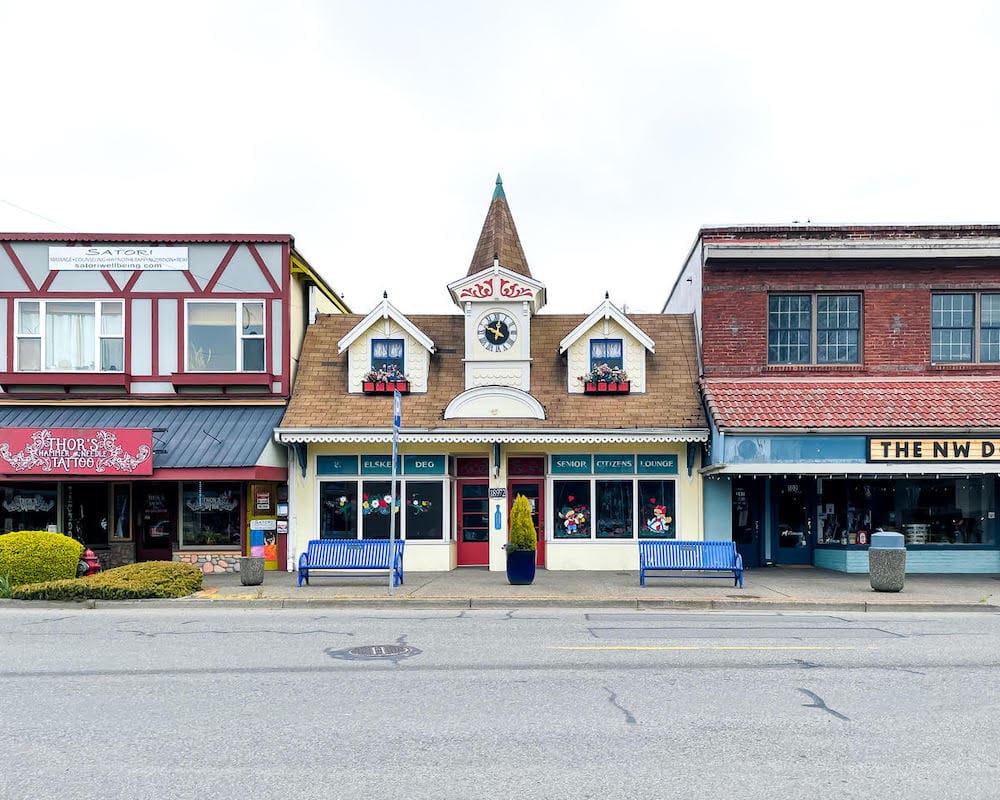 16. Whidbey Island, Washington
Located northwest of Seattle, Whidbey Island offers a beautiful escape from the city of both place and time. The island features several beautiful parks and historical sites including Deception Point which features a striking landscape and Fort Ebey for a visit through a former WWII defense fort. Additionally, there's a National Park Site in the area, Ebey's Landing National Historic Reserve which preserves the history, architecture, and landscape of the earliest settlers in the area.
Coupeville, the charming island town, makes a perfect base for those exploring the island with both its options for food and lodging. The island is also great for lots of wildlife viewing, with whale watching, which is a popular activity along the island. The island is a great escape with its idyllic landscape, farms, markets, and charming old-style life.
Throughout the year, the island plays host to several great festivals including the Whidbey Marathon, Holland Happening (celebrating the Dutch Heritage of Oak Harbor), Acoustic Music Festival, Shakespeare Festival, and Coupeville Arts and Craft Festival.
Travel to Whidbey Island usually takes about two hours when including the ferry (from Mukilteo) or 2.5 hours when driving north and down across the bridge by Deception Pass State Park. The best seasons to visit the park are from spring to fall for most activities and festivals. These also tend to be the most expensive times to visit as well.
Restaurants are plentiful across the island and depending on which part of the island you are there's always a nice town to stop. However, a must-stop is the Greenbank Farm which was once the largest grower of Loganberries and now has a great café and farmers market to explore.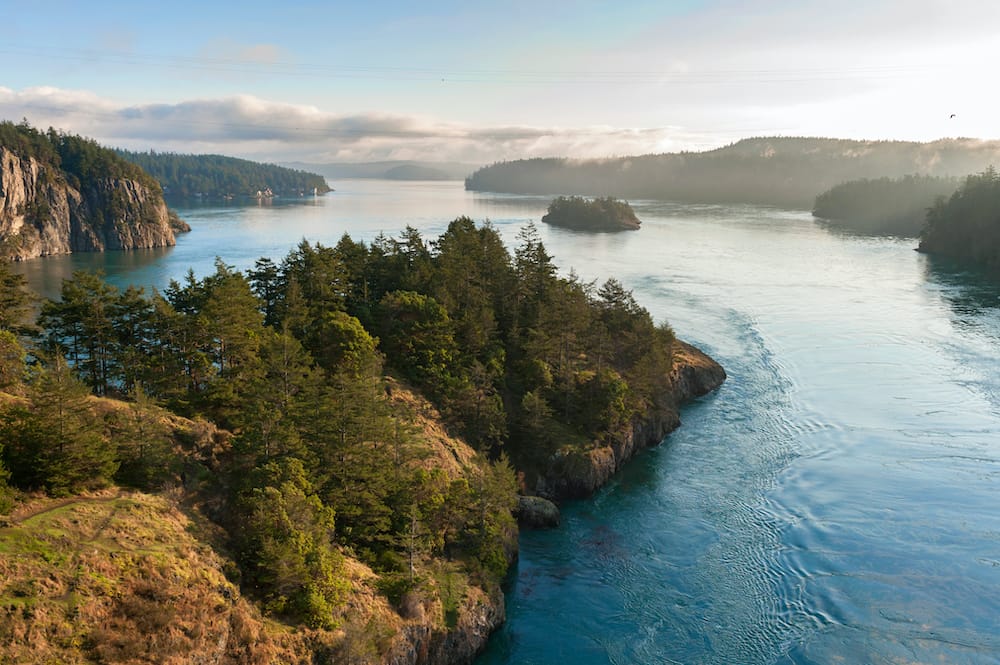 17. Bellingham, Washington
Bellingham is a charming college town close to the Canadian border, overflowing with adventure and activities for every age. It's an enjoyable day trip from Seattle, approximately a 1.5-hour drive from Seattle, with amazing views of the North Cascades all the way up. The best time to visit is during the late spring or early summer when the weather is beautiful, the waterfalls are flowing, and the wildlife is active.
You may want to spend a few hours enjoying nature trails outside the city. Larrabee State Park offers beaches with some incredible tidepools and beautiful hiking trails. Whatcom Falls Park is also a beautiful park for hiking and has one of the most delightful waterfalls in WA state.
Stop in Fairhaven if you can, a photo-worthy historic district in Bellingham with a charming, small-town feel. There are many shops, cafes, and restaurants to explore, as well as historic buildings and beautiful views of the bay. The Spark Museum is a truly fantastic museum for all ages, with a fascinating collection of vintage electrical equipment and interactive exhibits that demonstrate the science behind electricity.
End your visit with an incredible sunset dinner at Anthony's Hearthfire Grill or grab a sandwich from The Sandwich Odyssey and bring it with you for a sunset walk along the boardwalk at Boulevard Park. Whatever your interests, there's sure to be something to enjoy in this delightful city, making it one of the best day trips from Seattle for travelers of all types!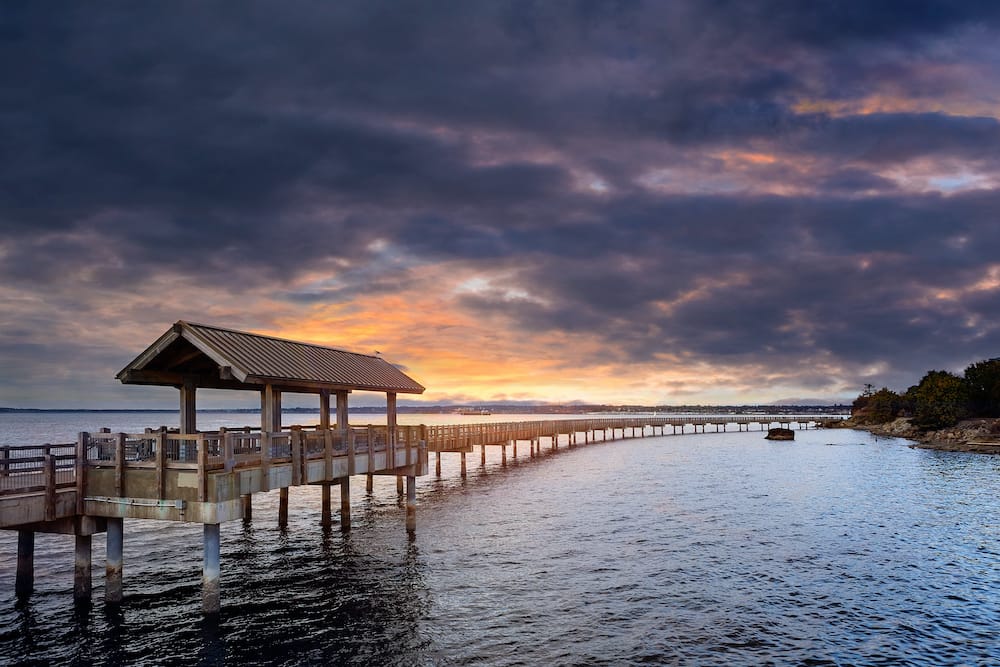 18. Vashon Island, Washington
Jump on the Washington State Ferry and take the 30-minute ride to glorious Vashon Island. Vashon Island is one of the best day trips from Seattle because it is artsy and creative, the beaches are beautifully understated, and it is really bike friendly.
If love hiking, try one of the family-friendly trails such as Fern Cove. For more adventurous activities, try kayaks, paddleboards, and e-bikes at Vashon Adventures.
Head to Maury Island and stroll along the shoreline, a beautiful wild coast with incredible views of Puget Sound and Mount Rainer. Keep walking to Point Robinson, a viewing point on the "Whale Trail." If you're lucky, you might spot a resident Orca (May to October is the best time). Whilst in Maury, visit one of the island's three vineyards: The Vashon Winery, Palouse Winery, and Maury Island Winery. They all have tasting rooms, but they are not open all year, so check their websites for times before you visit.
No visit would be complete without exploring what the locals call 'uptown'. 99th Avenue is lined with gift shops, emporiums, art galleries, and curiosity shops. Lose yourself in the Vashon Bookshop, pay a visit to the Vashon Centre for Arts, or discover the island's history at the Vashon Heritage Museum.
Stop at Anu Rana's kitchen for delicious gluten-free and vegan coffee and cakes. For quick bites, head to the Snapdragon Bakery, and for dinner try The Vashon Hardware Store, not only a great eatery but at one time, the island's first hardware store.
Vashon Island has such a relaxed vibe. It gets busy in July and August, but never too busy. It is also a great destination in the spring or autumn. It is the kind of place where you could just stay and put down roots or at least visit over and over again!
19. Olympic National Park
Olympic National Park is a stunning natural treasure located just outside of Seattle, making it the perfect day trip destination for anyone visiting the city.
Situated in Washington State, just 2.5 hours by car, Olympic National Park offers an array of outdoor activities and breathtaking landscapes to explore. From Lake Crescent to Sol Duc Falls and Shi Shi Beach, Olympic National Park promises a unique experience that will make any day trip from Seattle unforgettable.
At the park, you can take advantage of incredible hiking trails that offer spectacular views along with opportunities for wildlife viewing as well as fishing, boating, camping, and kayaking. Olympic also provides access to some of the most beautiful beaches on the West Coast, including Ruby Beach, Rialto Beach, and Kalaloch beach, which are all great spots for swimming or simply soaking up some sun while admiring the rugged coastline. Follow this Olympic National Park itinerary for more inspiration on hikes and other activities to enjoy in the park.
Plus, if you get hungry after a morning of adventures in the park, be sure to try some local favorites like the Salmon House Restaurant or Lake Crescent Lodge Restaurant on your day trip.
The best time to visit depends on what activities you plan on doing. For example, if you're planning to go hiking, then spring or fall is ideal as it will be less crowded. If you're looking for a beach day then summer is your best bet. The sunnier warm days are perfect for exploring the Olympic Coastline or discovering the Olympic Mountains. No matter when you decide to visit Olympic National Park, one thing is for sure. It's an incredible day trip from Seattle that you won't forget!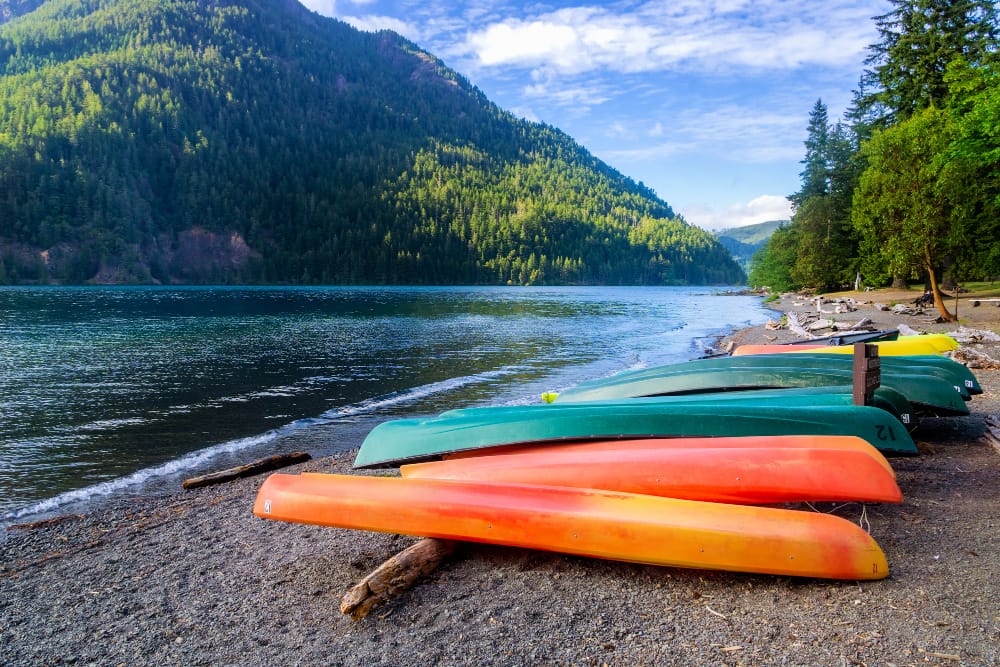 FAQs: Best Day Trips from Seattle
What cities are two hours away from Seattle?
The best cities to visit within two hours of Seattle include Tacoma, Bellingham, Snoqualmie, North Bend, and Bellevue.
What is the easiest island to visit from Seattle?
Bainbridge Island is the easiest island to visit from Seattle. It only takes about a half hour to arrive by ferry, so you will have plenty of time to explore the island's eateries, wineries, museums, and nature preserves on your day trip from Seattle before heading back to the city.
What is the best island to visit on a day trip from Seattle?
The San Juan Islands (Lopez, Orcas, and San Juan Island) are some of the best islands to visit on a day trip from Seattle. They offer a wide range of activities for all types of travelers, including tons of shops, restaurants, and art galleries. In the summer, these islands are some of the best in the country for whale watching. It is almost guaranteed you will see a killer whale!
Enjoy These Best Day Trips from Seattle & Explore the Pacific Northwest
Hopefully, you will have enough time during your trip to Seattle to squeeze in one (or more!) of these day trips to Seattle. There is truly a perfect day trip for every season — head to the tulip festival in the spring, national parks in the summer, stunning islands in the fall, and festive towns in the winter!
Which of these best day trips from Seattle, Washington, sounds the most interesting to you?

Save These Best Day Trips from Seattle for Later
Read More
If you are looking for more things to do in the Pacific Northwest besides these best day trips from Seattle, check out these other posts: