If the idea of beautiful fall foliage, outdoor adventures, fun festivals, and fabulous food sounds appealing to you — you'll love visiting Leavenworth in the fall!
Leavenworth, Washington, is a charming Bavarian-themed town nestled in the picturesque Cascade Mountains. And in our opinion, there is no better time to enjoy all that Leavenworth has to offer than during the fall months.
Keep reading if you'd like to visit Leavenworth in the fall and need some help planning your trip — or if you want to learn more about why this getaway is one of the best places to visit for fall foliage and autumn fun on the West Coast!
What Is Leavenworth Known For?
Leavenworth, Washington, is a small town in Washington's Cascade Mountains that was fashioned to mimic the appearance of a Bavarian village.
Most people assume that the Bavarian architecture in Leavenworth comes from the town's rich German heritage — but that's not true. Leavenworth was created by two smart businessmen who were concerned about the city's future after losing the rail line that ran through the city.
The plan? To create a Bavarian-style town to boost tourism. And guess what — it worked! Now, visitors from across the country come to Leavenworth for year-round vacations and especially to celebrate popular events and festivals, like Oktoberfest and Christmas.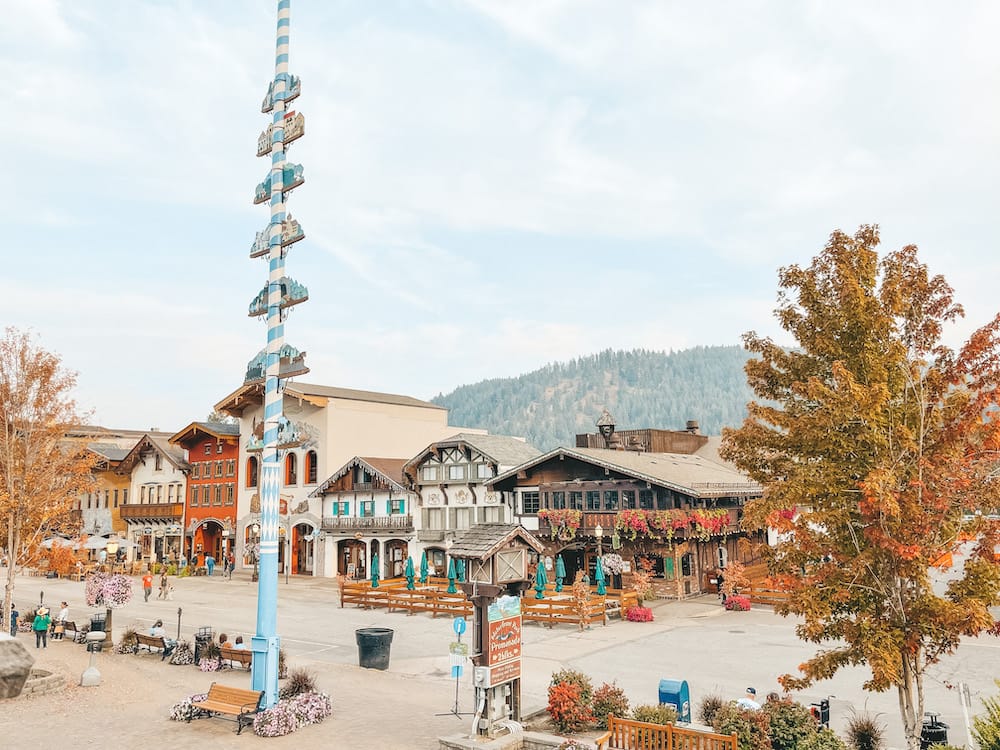 How Far Is Leavenworth from Seattle?
Leavenworth isn't very far from Seattle at all — depending on the route, you'll spend either 135 miles or 118 miles on the road to Leavenworth from Seattle. It's pretty much a straight shot east, though you'll be climbing in elevation.
The easiest and quickest way to get to Leavenworth from Seattle is to take I-90 E and US-97 N, which will take you past Snoqualmie Falls — one of the best day trips from Seattle and a great road trip stop on the way to Leavenworth!
Another option is to take U.S. Route 2 through the scenic mountains to Leavenworth. Though this drive is beautiful, it will take a bit longer than the alternative. This route is usually closed in poor weather conditions, so check Google Maps for road closures before deciding which route to take into Leavenworth from Seattle.
What Is the Weather in Leavenworth in the Fall?
Fall weather in Leavenworth, WA, starts out warm, dry, and sunny in September and cools down significantly by the end of November with a strong possibility of snow. You can expect the following temperatures and rainfall averages during each fall month in Leavenworth:
September: 78°F // 43°F (with two days of rain)
October: 64°F // 34°F (with five days of rain)
November: 44°F // 28°F (with eleven days of rain)
The best fall month to visit Leavenworth depends on what you want most from your vacation. Popular outdoor adventures, like hiking, horseback riding, and white-water rafting, are best in September before it gets too cold. October is usually the best month for peak fall foliage in town and on the surrounding hiking trails, and of course, Oktoberfest. November is generally cooler and rainier, so if you're hoping for snow (and to catch the first glimpse of the town's Christmas lights in late November) — this is the best month to visit.
Personally, I would recommend planning a fall trip to Leavenworth, WA, sometime between mid-September and mid-October for the most "authentic" fall experience.
Where to Find Fall Colors in Leavenworth in the Fall
If you want to see picturesque landscapes bursting with red, orange, and yellow leaves — you've come to the right place. These are some of the best places to see stunning foliage in Leavenworth in the fall.
Waterfront Park
If you don't want to travel far to see colorful leaves in Leavenworth in the fall — Waterfront Park is the perfect spot for you.
Located just a short walk from Front Street in Downtown Leavenworth, this beautiful park along the Wenatchee River is perfect for hiking, biking, walking, exploring, and snapping photos of the stunning scenery. Also, while you're here, head across the bridge to explore Blackbird Island.
Lake Wenatchee State Park
Lake Wenatchee is often regarded as one of the best places to see fall foliage in the entire state of Washington. It's about a 30-minute drive from Leavenworth, but in addition to leaf peeping, you can also hike and explore the beautiful forests, beaches, and the lake while you're here.
Tumwater Canyon
If you take the U.S. Route 2 into Leavenworth from Seattle, you'll pass through Tumwater Canyon. This gorgeous stretch is filled with scenic viewpoints, so be sure to stop and snap some photos while traveling to and from Leavenworth in the fall.
The Enchantments
The Enchantments offer some of the most stunning fall foliage views in Leavenworth if you're up for the challenge. There are two popular hiking trails here, Colchuck Lake and Stuart Lake, that both offer breathtaking views of blue glacier lakes and golden larch trees in the autumn.
The trailhead for Colchuck Lake and Stuart Lake is about a 30-minute drive from Leavenworth — just drive a vehicle that is prepared to handle rocky mountain terrain.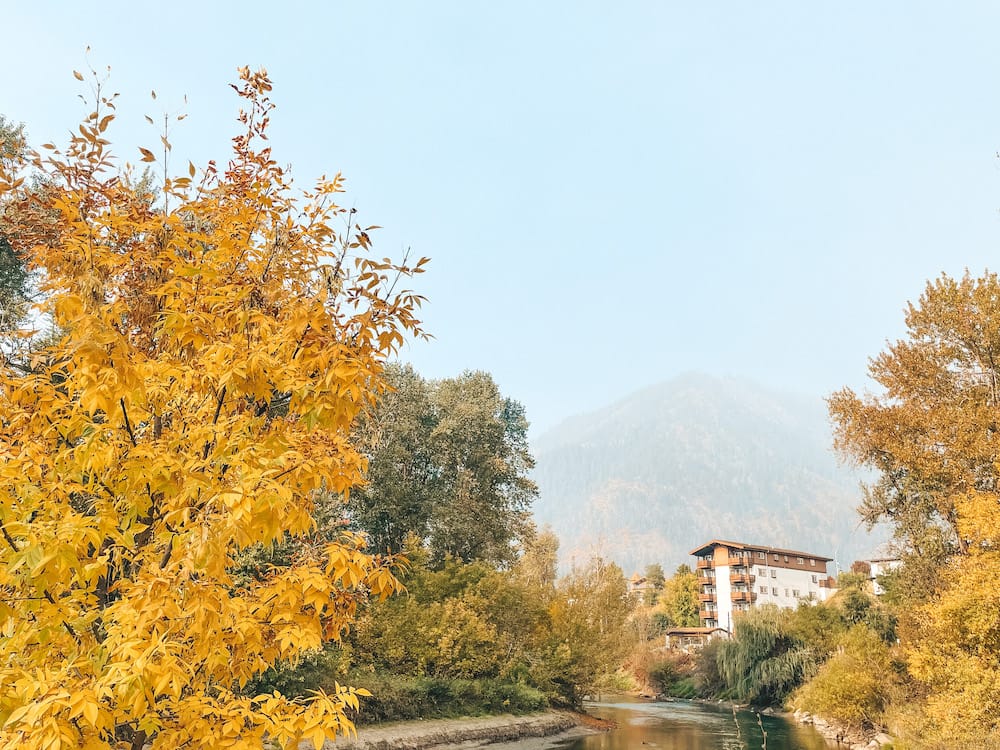 Best Things to Do in Leavenworth in the Fall
There are so many things to do in Leavenworth in the fall to keep you busy. Whether your ideal vacation includes outdoor activities, like hiking, or relaxing pastimes, like brewery hopping (or a little bit of both, if you're like me!) — you'll find all that and more in Leavenworth in the fall.
Oktoberfest
Though there are many things to do in Leavenworth in the fall, there is one that keeps visitors coming back time and time again — Oktoberfest.
If you can't make it to Munich, do the "next best thing" and head to Leavenworth for Oktoberfest — usually held during the last weekend in September and the first two weekends in October. During this lively celebration, Leavenworth is filled with pop-up bier gardens, food stands, music stages, and merchandise stands. You can expect plenty of lively entertainment, traditional music, and authentic food for all ages!
Though you can visit Leavenworth during Oktoberfest without partaking in the festivities, if you want special access, you'll need to reserve your tickets in advance. You can purchase a pass for the whole weekend for $35 per person or a day pass for $12 (Friday) or $25 (Saturday).
It's worth noting accommodations in Leavenworth skyrocket during Oktoberfest since there are limited options available. If you want to attend Oktoberfest, it's important to reserve your hotel room as early as possible for the best rates and properties — the good ones will book up fast.
Horseback Riding
What better way to soak up the fall foliage than on a horseback ride through the Cascade Mountains? We had planned to do this during our trip to Leavenworth in the fall and were disappointed when our ride had to be canceled due to a wildfire.
For a fall horseback ride, I recommend Wild at Heart Horse Rides, located about 25 minutes north of Leavenworth and just east of Lake Wenatchee. Wild at Heart Horse Rides offers horseback rides along a creek, through a meadow, and into the mountains.
Wild at Heart Horse Rides is open in September and October, but they close when the weather cools off in November. Since the rides get booked up quickly, I recommend booking a ride a month or two in advance to secure the perfect ride, date, and time.
Hiking
Hiking is one of the best ways to enjoy the spectacular fall foliage in Leavenworth in the fall. These are some of the most popular trails in Leavenworth and the surrounding area. Personally, we loved hiking Colchuck Lake. It was stunning!
Colchuck Lake Trail — This 8.7-mile out-and-back trail in The Enchantments is challenging but rewarding. You'll be greeted with stunning views of a blue glacier lake, golden larch trees, and more gorgeous scenery along the way.
Icicle Gorge Nature Loop — This popular 3.9-mile loop runs along the river and is filled with tons of stunning fall foliage and picturesque scenery.
Icicle Ridge Trail — This 4.8-mile out-and-back trail is popular for hiking and horseback riding and offers beautiful views of the Wenatchee River and Leavenworth.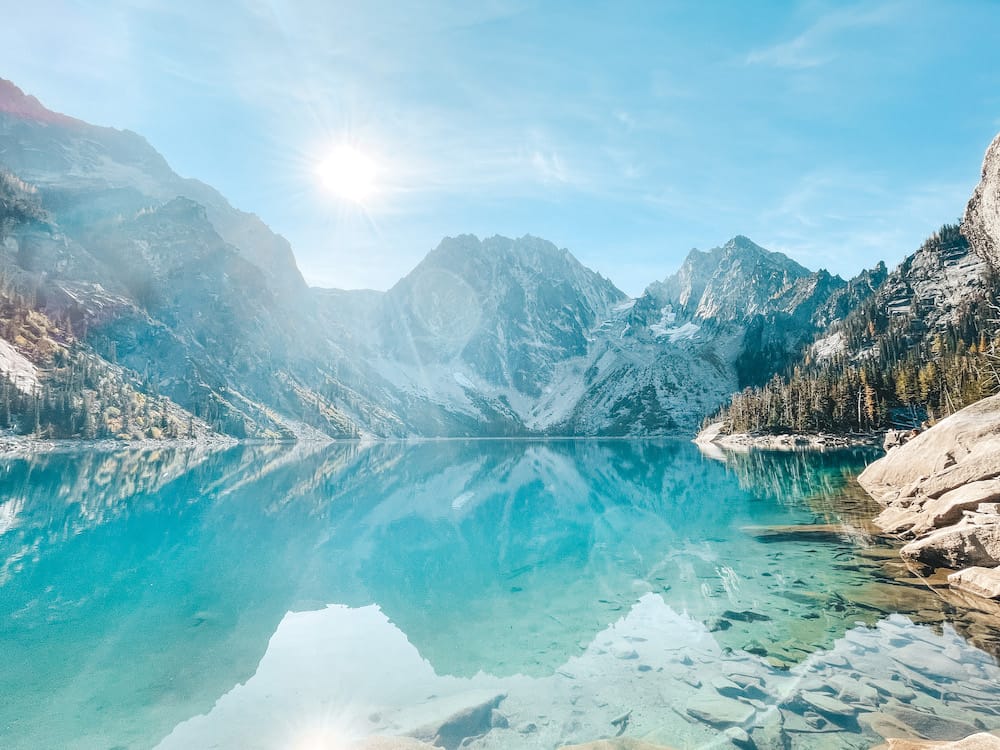 Fruit Stands
There are tons of fruit stands and orchards scattered throughout Leavenworth — perfect for picking some fresh seasonal fruit to enjoy (and to take a break from eating pretzels and brats!).
Some of the most popular fruit stands include Prey's Fruit Barn, Miller Orchards, Eagle Rock Fruit Stand, and Smallwood's Harvest. During the fall, you might be able to catch the last of late summer fruits, like peaches and cherries, or get some traditional fall fruits to enjoy, like apples and pears. There is also a farmers' market in Downtown Leavenworth every Thursday evening through October if you don't want to leave town for fresh fruit.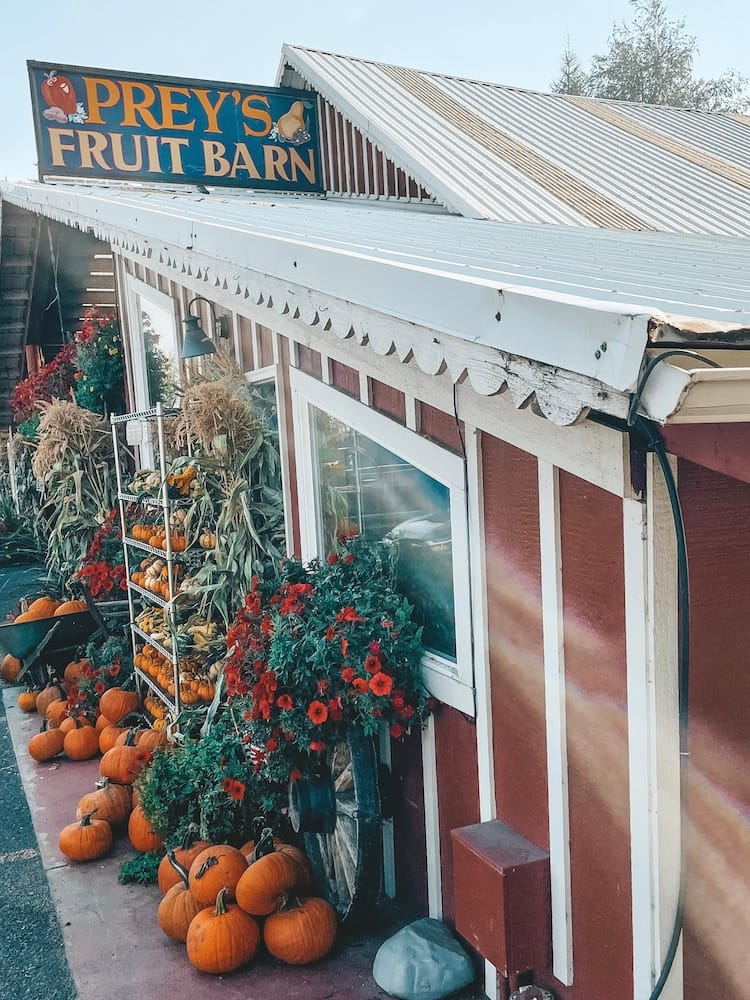 Beer Gardens & Breweries
In addition to the beer gardens in Leavenworth during Oktoberfest, there are also beer gardens and breweries that you can enjoy in Leavenworth during all times of the year. While the weather is still nice, grab a local brew to sip on and sit out on the patio. These are a few of my favorites:
München Haus — This charming Bavarian-themed beer garden has a charming ambiance and offers local beers and ciders, pretzels, and brats.
Icicle Brewing Company — This local brewery serves several craft beers on tap and offers flights in a warm and inviting multi-story tasting room.
Leavenworth Cider House — If cider is more of your thing, you'll love the dozens of cider options (and ginormous gourmet pretzels) from Leavenworth Cider House.
Shopping
Downtown Leavenworth is filled with tons of local shops selling everything you can imagine — from Christmas ornaments and outdoor apparel to dog toys and cheese (my personal favorite).
Spend some time shopping for Christmas décor at Kris Kringl, try some cheese samples at the Cheesemonger's Shop, or grab a souvenir from Mountain Modern Supply Company. Or just spend some time walking around and marveling at all the adorable buildings!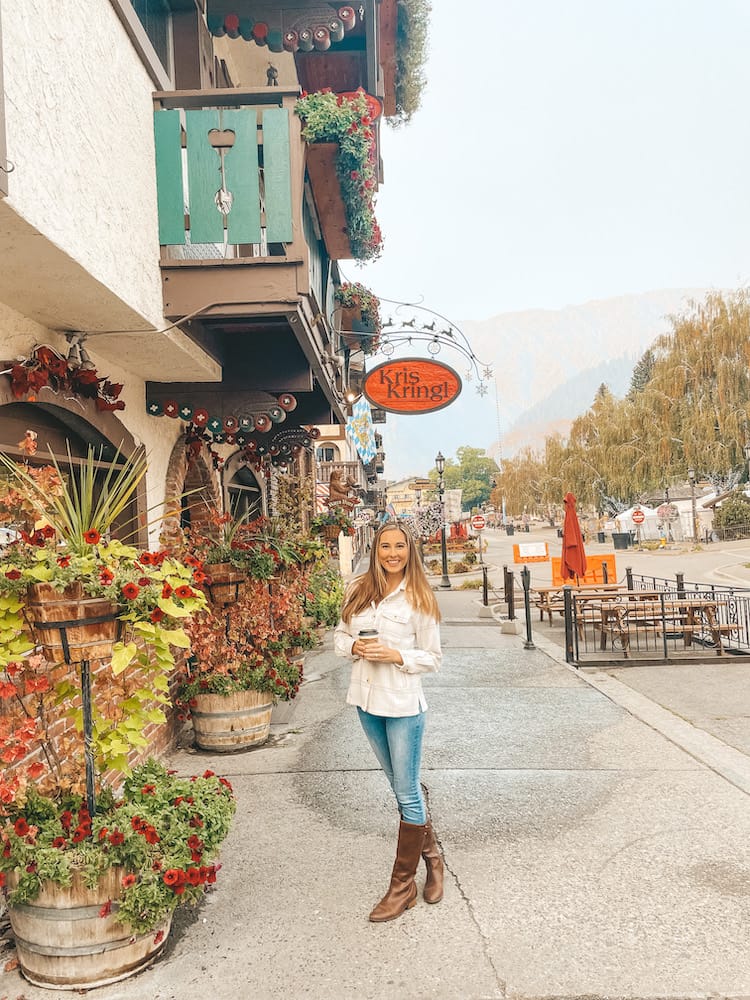 Wine Tasting
There are plenty of wineries, vineyards, and wine-tasting rooms in Leavenworth that are perfect for spending a brisk fall afternoon with family and friends.
Silvara Cellars offers gorgeous views overlooking the Wenatchee River Valley and serves award-winning wines. Across the river, Icicle Ridge Winery offers relaxed wine tastings and vineyard views inside a cozy log cabin — perfect for an overcast fall day.
There are also dozens of tasting rooms in Downtown Leavenworth if you don't want to worry about driving to and from your hotel. Some of the most highly rated include d'Vinery Tasting Room for Eagle Creek Winery, Ryan Patrick Wines Leavenworth, and Patterson Cellars Tasting Room.
Exceptional Dining
When you need a break from exploring, grab a table at one of the best places to eat in Leavenworth. You'll find plenty of traditional German fare here and plenty of "cozy" fall foods, like pastries, pretzels, and brothy soups.
These are my favorite picks for breakfast, lunch, and dinner in Leavenworth in the fall:
Best Places to Stay in Leavenworth in the Fall
Since fall is one of the most popular times to visit Leavenworth, you'll want to book hotels early — especially if you're planning to visit on the weekend. These are some of the best places to stay in Downtown Leavenworth:
Posthotel Leavenworth — This adults-only hotel is by far the most luxurious property in Downtown Leavenworth, complete with a European breakfast, saunas, steam rooms, plunge pools, and other luxurious amenities for guests. I want to stay here during my next visit to Leavenworth!
LOGE Leavenworth Downtown — We loved staying at LOGE Leavenworth. This hotel has a relaxed and outdoorsy "camp" feel with a coffee shop in the lobby, hammocks in each room, gear rentals, and city cruisers that are free for guests.
Bavarian Lodge — This hotel in the heart of Downtown Leavenworth offers spacious rooms (with cozy fireplaces!), an outdoor hot tub, a heated swimming pool, and a complimentary breakfast for guests.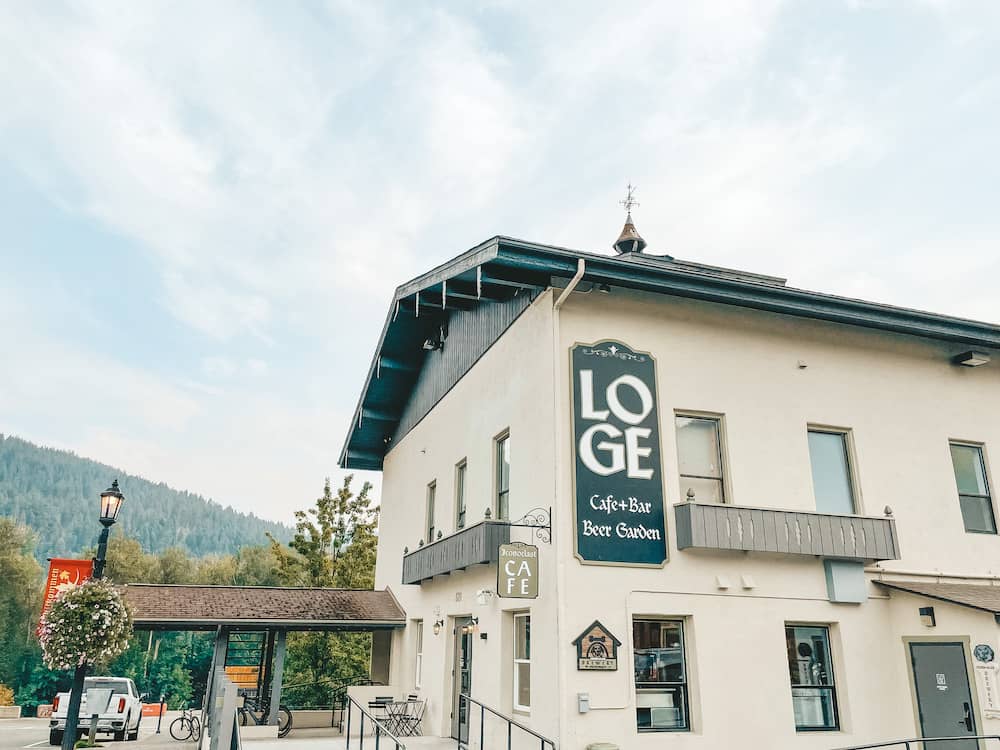 FAQs: Leavenworth in the Fall
Is October a good time to visit Leavenworth, WA? 
October is one of the best months to visit Leavenworth, WA, to enjoy the beautiful fall foliage, fresh local produce at fruit stands, outdoor recreation like hiking and horseback riding, reliably good weather, and lively events like Oktoberfest. 
Does it snow in Leavenworth in October?
It's unlikely to snow in Leavenworth at the beginning of October. However, as the temperatures cool down at the end of October, potential snowfall becomes more likely. The best chance of seeing snow in Leavenworth is during the months of November – February.
How long should you spend in Leavenworth, Washington?
Leavenworth is the perfect destination for a weekend trip. Spending two to three nights in Leavenworth will give you plenty of time to enjoy a few outdoor activities, like hiking or biking, while still having plenty of time to explore the town's shopping and culinary experiences.
Plan a Trip to Leavenworth in the Fall for a Magical Pacific Northwest Vacation
Leavenworth is the perfect place for an autumn vacation. Not only will you be able to soak up the gorgeous fall foliage, but you'll also be able to enjoy world-renowned hiking, dining, and festivals, like Oktoberfest, while you're here!

Disclosure: Some of the links in this guide to visiting Leavenworth in the fall are affiliate links, meaning, at no additional cost to you, I earn a commission if you click through and make a purchase. This helps me keep the content on my website free, like this guide to visiting Leavenworth in the fall.
Save This Guide to Spending Fall in Leavenworth for Later