Pike Place Market in Seattle, Washington, is one of the city's most popular attractions. In fact, this iconic market welcomes more than ten million visitors per year — that's a lot of tourists!
If you are planning to visit Pike Place Market on your trip to Seattle, chances are, you have some questions about how to navigate the market. In this Pike Place Market guide, we will share some basic information about Pike Place Market, some tips and tricks for navigating the market, and the best places to find breakfast, lunch, dinner, drinks, and more!
What Is Pike Place Market?
Pike Place Market is a public market in Seattle, Washington, that opened in August 1907. It is the oldest continuously operating public farmers' market in the United States.
How Can I Get to Pike Place Market?
Pike Place Market is located in Downtown Seattle. The market is located between Lenora Street and Union Street, as well as Second Avenue and Elliot Bay.
If you are staying in Downtown Seattle, the easiest way to arrive at Pike Place Market is to walk from your hotel. Traffic near Pike Place Market can be chaotic and congested, especially during rush hour or on the weekends, so it is best to avoid it if you can.
If you do need to drive to Pike Place Market, there are plenty of places to park in and near the market. Alternatively, have a Lyft or Uber drop you off at the market so you do not have to worry about parking or traffic.
What Are the Hours at Pike Place Market?
The general hours at Pike Place Market are 9 AM to 6 PM. The market merchant building is open every day — rain or shine.
However, every vendor has their own hours, and some vendors may be closed on select days (or open later than general market hours). If there is a certain vendor you have your heart set on visiting, check the hours on their website before you plan your trip to Pike Place Market.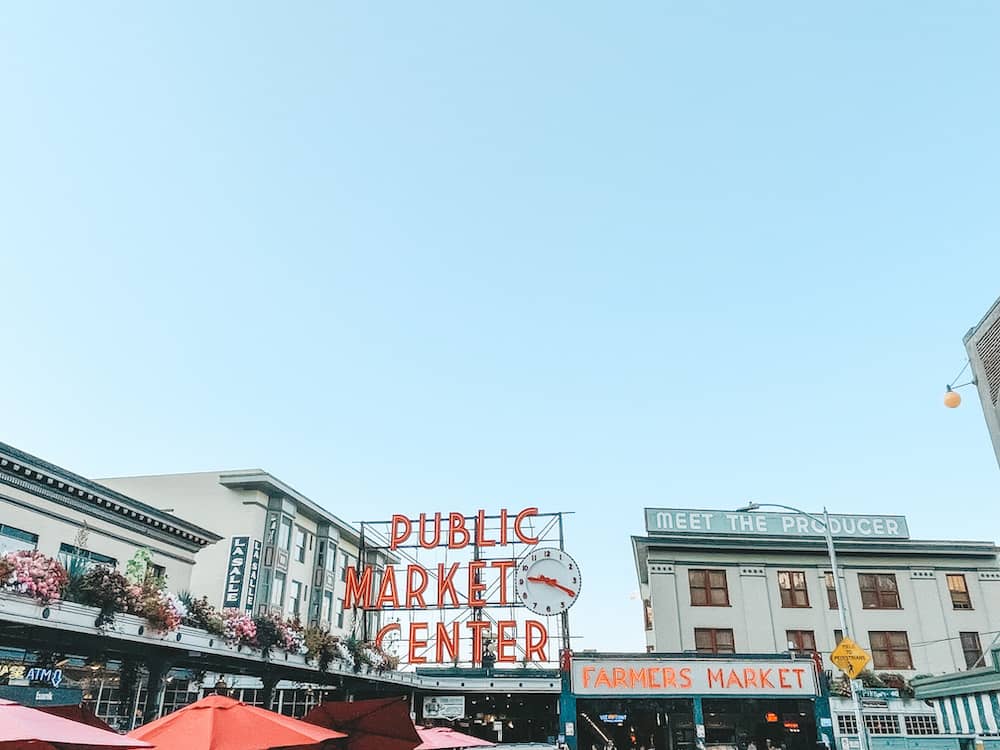 Where is the Best Parking at Pike Place Market?
I was surprised by the ease and affordability of parking at Pike Place Market. Usually, popular tourist destinations like this charge you a crazy amount of money for parking, and the parking situation is usually a nightmare — but not Pike Place Market!
The Pike Place Market Parking Garage has two entrances — one at 1531 Western Avenue and another at 1901 Western Avenue — and is open daily from 5 AM to 2 PM.
Parking costs $4 per hour with a maximum charge of $30 per day. However, if you enter the garage before 9 AM, you can pay an "Early Bird Rate" of $13 for the entire day if you exit the garage by 9 PM. If you arrive after 5 PM, you can pay a flat rate of $7 for the whole evening.
Tips for Visting Pike Place Market
Arrive early — It is best to arrive at Pike Place Market as early as possible. The market gets busier as the day goes by, so if you want to explore the market without the crowds (and secure cheap parking!), it is best to come before noon.
Avoid the weekends — The busiest days at Pike Place Market are Friday, Saturday, and Sunday. Monday and Thursday are also busy days. If you want to avoid the crowds as much as possible, plan your visit on Tuesday or Wednesday.
Plan to stay awhile — Pike Place Market is a lot larger than you may realize. You could easily spend an entire day here, exploring the market, sampling food, and seeing the popular attractions in the market. Plan to spend at least half of a day here, if not longer.
Come hungry — There is so much delicious food to enjoy at Pike Place Market. Don't eat a meal before you come. Instead, come hungry and sample as many of the delicious foods as you can throughout the day!
Have a plan — It would be impossible to eat at all the restaurants in Pike Place Market during your trip to Seattle, so it is best to come with a few restaurants in mind that you really want to try. We will leave recommendations for the best restaurants below!
Ditch the umbrella — Most of Pike Place Market is covered, so even if it is raining, you will not need an umbrella. It will be more of a hassle to navigate the market with the umbrella (or carry it around) than it would be just to brave the rain.
Bring the essentials — Remember to wear comfortable walking shoes and bring a water bottle to stay hydrated throughout the day. If you want to add a piece of gum to the Gum Wall, remember to bring a piece of bubblegum too!
Where to Stay Near Pike Place Market
Pike Place Market is the top attraction in Seattle, so you will definitely want to choose a hotel within walking distance of the market. Fortunately, most hotels in Downtown Seattle are a good option — but these are a few hotels that I recommend:
Hotel Theodore — Hotel Theodore is an adorable boutique hotel that is only 0.5 miles from Pike Place Market. We loved the beautiful décor, lobby coffee shop, and complimentary happy hour when we stayed here during our trip to Seattle!
Kimpton Palladian Hotel — Kimpton Palladian Hotel is just a short five-minute walk from Pike Place Market. This hotel has an on-site restaurant, evening wine hour, and some rooms even have an elegant claw-footed bathtub.
Thompson Seattle — Thompson Seattle is practically located inside Pike Place Market. It is also home to a popular rooftop cocktail bar, The Nest, and offers stunning views of Elliot Bay and the Olympic Mountains.
Best Pike Place Market Tours
One of the best ways to navigate Pike Place Market is on a guided tour through the market. If you want to compare and contrast several tours in Pike Place Market, check out our guide to the best food tours in the market. However, these are a few of the top-rated tours to consider:
Best Coffee & Tea in Pike Place Market
Seattle is known for its coffee, so you have to enjoy a delicious "cup of jo" while you are walking around Pike Place Market. These are some of the best places to stop for coffee:
Storyville Coffee — Storyville Coffee serves premium coffee drinks, including lattes, mochas, and cappuccinos. I recommend trying the homemade Salted Caramel Sauce. It is delicious! On your first visit, you can sign up for the email list and get a free mug to bring home with you.
Ghost Alley Coffee — Ghost Alley Coffee is located right next to the Gum Wall, underneath the main entrance of Pike Place Market. Try one of their signature drinks: Salty Nut, Mystery Mocha, Turmeric Mocha, or Smog.
Seattle Coffee Works — Seattle Coffee Works places an emphasis on its locally-roasted beans with drip coffee, pour-overs, and espresso. If you like black coffee, you will likely love this staple coffee shop in Pike Place Market.
The Crumpet Shop — The Crumpet Shop is known for its sweet and savory crumpets, but you can also order delicious coffees and teas here as well. This is a great spot to spot for a light breakfast and your daily caffeine fix.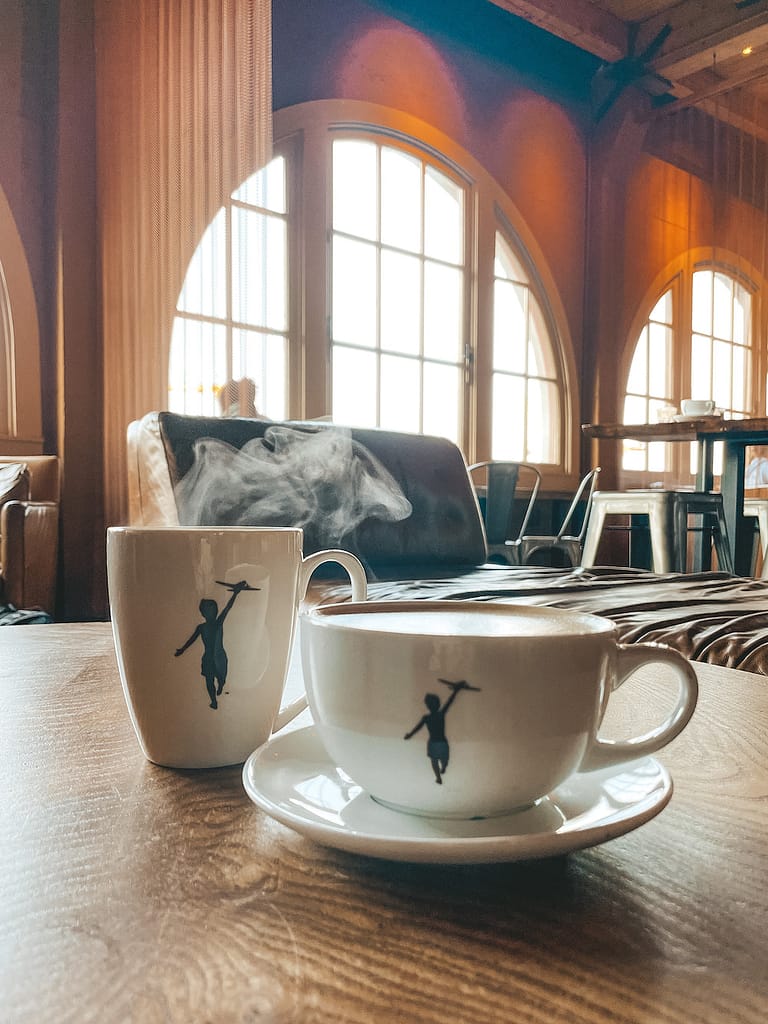 Best Drinks in Pike Place Market
Whether you are searching for a refreshing soda or boozy cocktail, you will find something enjoyable to drink at these popular stops in Pike Place Market:
Rachel's Ginger Beer — This is a great stop because you can grab a nonalcoholic flavored ginger beer to-go or enjoy a fun cocktail, like a Moscow Mule.
Shug's Soda Fountain & Ice Cream — This super cute old-school ice cream shop serves homemade sodas, sundaes, and even ice cream cocktails!
Old Stove Brewing Company — Old Stove Brewing serves appetizers, burgers, sandwiches, and other meals, but they are known for their beers. You can choose from light, hoppy, or dark beers, as well as flights to sample their most popular brews.
The Tasting Room — The Tasting Room is a cozy wine bar in Pike Place Market with light snacks. If you aren't sure which wine to order, they also have featured flights that allow you to sample the best of their wines.
Radiator Whiskey — This rustic-chic bar and kitchen serves up some incredible cocktails with whiskey, rum, bourbon, gin, tequila, and other liquors, including aromatic barrel-aged cocktails.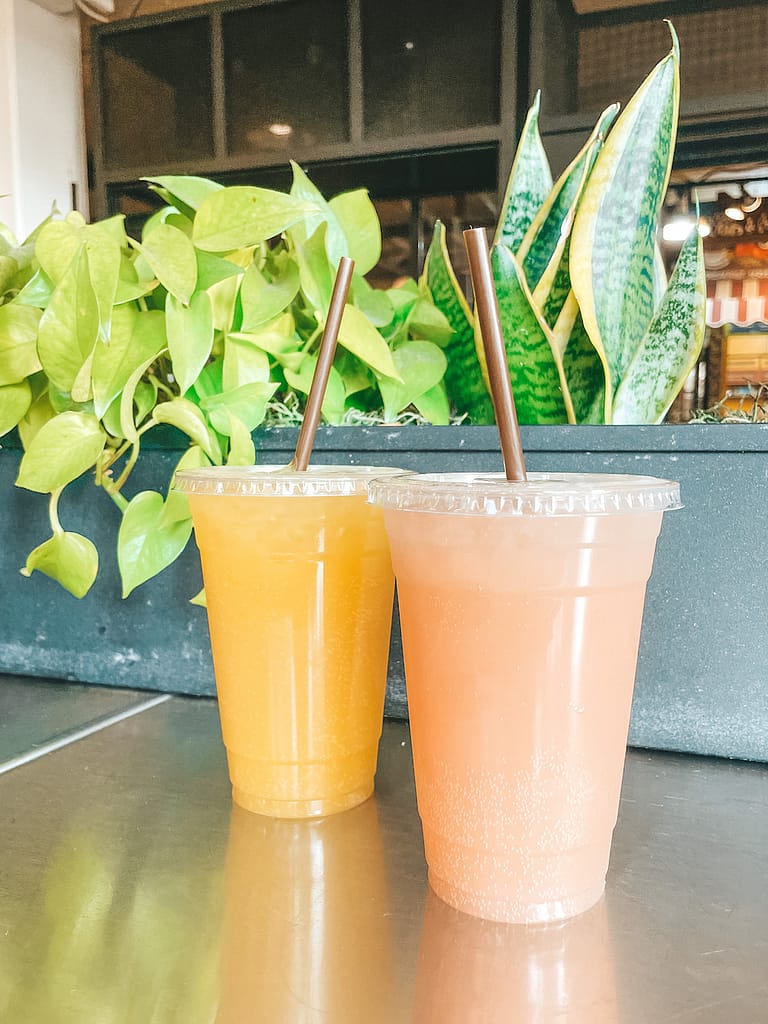 Best Breakfast in Pike Place Market
Crepe de France — This French eatery serves super delicious sweet and savory crepes that are perfect for breakfast (or dessert). Try the crepe with fresh peaches and cream or a smoked salmon and cream cheese crepe.
Honest Biscuits — If you are looking for a filling southern-style breakfast, head over to Honest Biscuits. You can order all types of biscuit sandwiches, from a traditional Sausage, Egg & Cheese to a Pimento Piggy.
Ellenos Yogurt — Ellenos Yogurt is one of the most popular places to eat in Pike Place Market. They make rich, creamy Greek yogurts that are served with delicious fillings and toppings, with flavors like Key Lime Pie, Lemon Curb, and Marrionberry.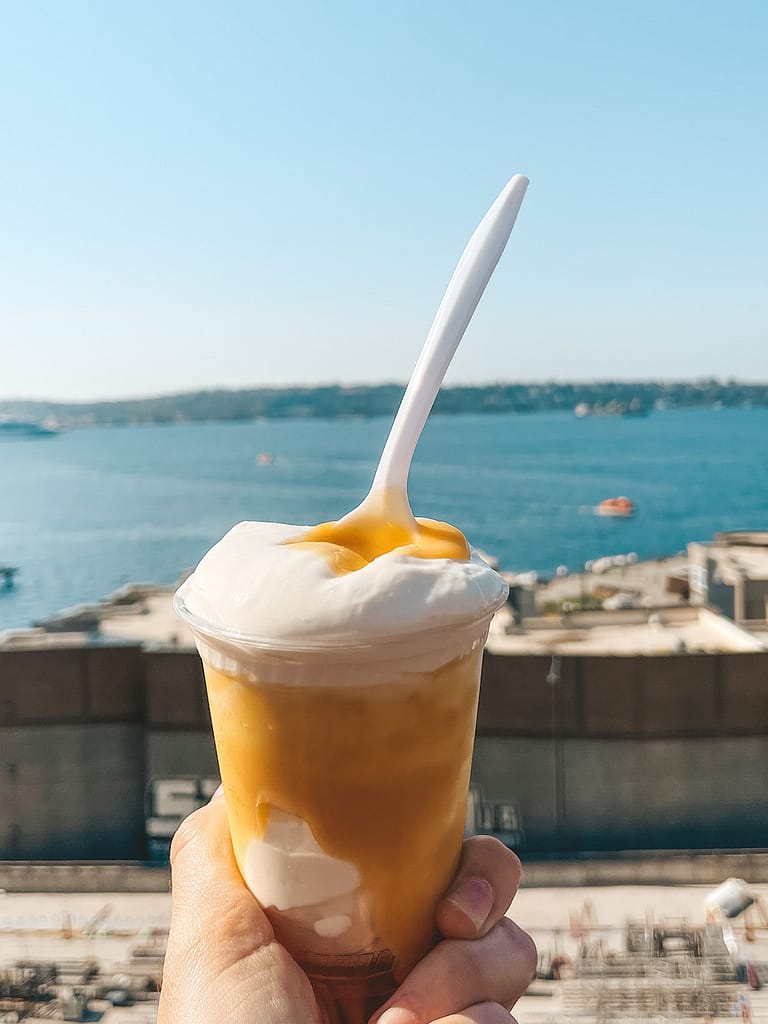 Best Lunch in Pike Place Market
There are tons of restaurants in Pike Place Market where you can grab a quick bite on the go or sit down for a slow-paced lunch. From pasta and noodles to soup and pastries, here are some of the best places to enjoy lunch at Pike Place Market:
Beecher's Handmade Cheese — This is some of the best mac 'n' cheese you will ever taste! You can also order other cheesy goodness, like grilled cheese, and watch the cheesemakers at work while you wait in line.
Pike Place Chowder — The Pacific Northwest is known for its seafood, so don't miss the chance to try a clam chowder or smoked salmon chowder from Pike Place Chowder to get a taste of the region's delicious seafood.
Pasta Casalinga — If you want some of the best handmade pasta you have ever tasted, head to Pasta Casalinga! The menu changes weekly and features a couple of dishes. I recommend trying the Pasta Pomodoro with Burrata if it's available.
Cafe Champagne — This classic Parisian Brasserie serves traditional French food in Pike Place Market. They serve a weekend brunch and have an extensive wine menu!
Piroshky Piroshky — This Russian bakery serves sweet and savory pastry puffs with fillings of all types. Their best sellers include the Smoked Salmon Pate, Beef & Cheese, Potato & Cheese, and Chocolate Cream Hazelnut.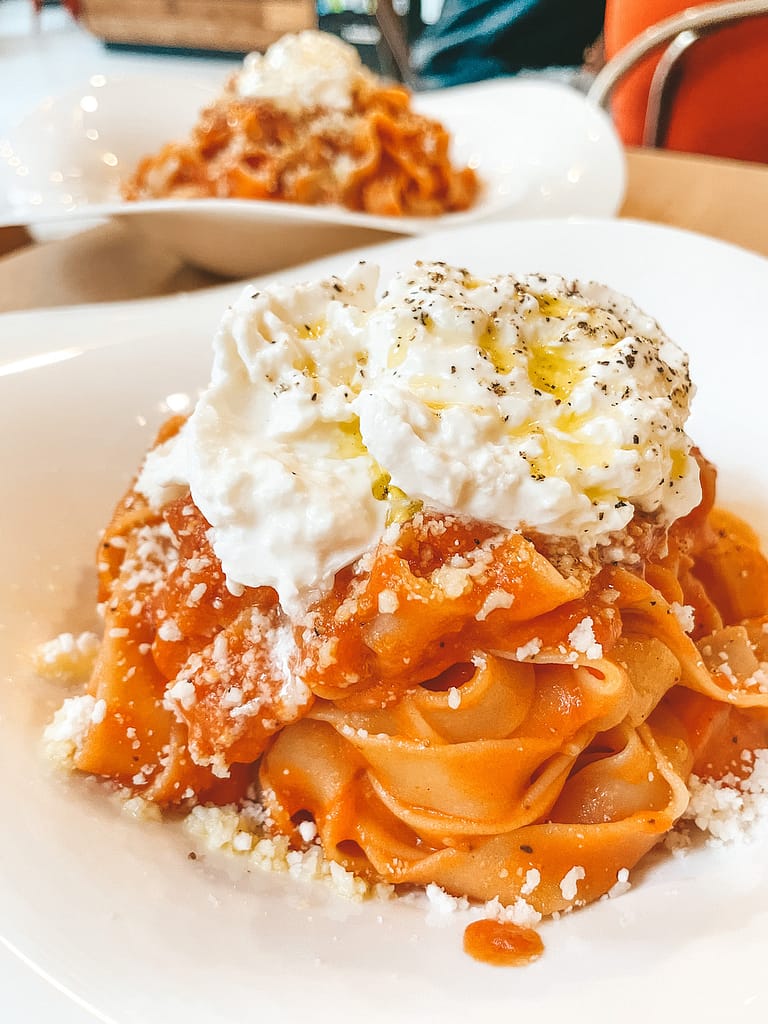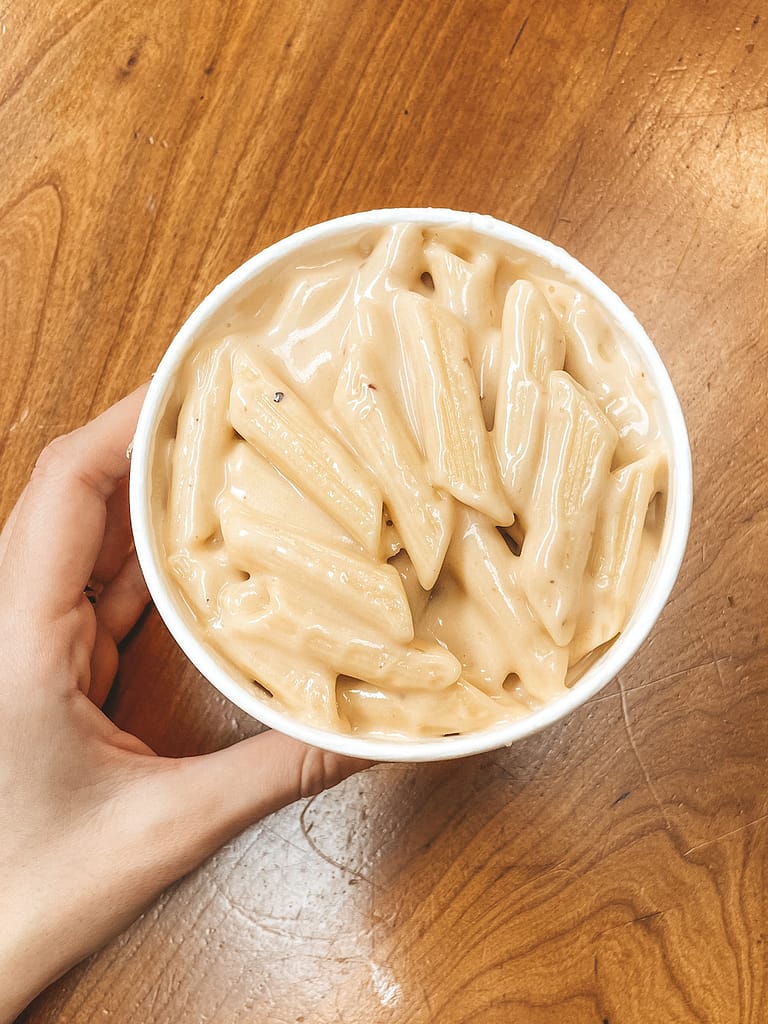 Best Dinner in Pike Place Market
Though there are plenty of places to eat dinner at Pike Place Market, the following three options are the most popular and always guarantee a great meal:
Pink Door — Pink Door is arguably the most popular restaurant in Pike Place Market. They serve delicious Italian food but also have live entertainment, like cabaret or trapeze. If you can, get a reservation to secure your seats.
Il Bistro — Il Bistro is another Italian restaurant in Pike Place Market. They serve antipasti, salad, pizza, pasta, and entrees. The ambiance in this restaurant is really romantic and perfect for a date night.
Matt's in the Market — Matt's in the Market is an American restaurant with a "surf and turf" menu. You will find items like halibut, salmon, and steak on the menu, with starters like oysters, beer tartare, and grilled octopus.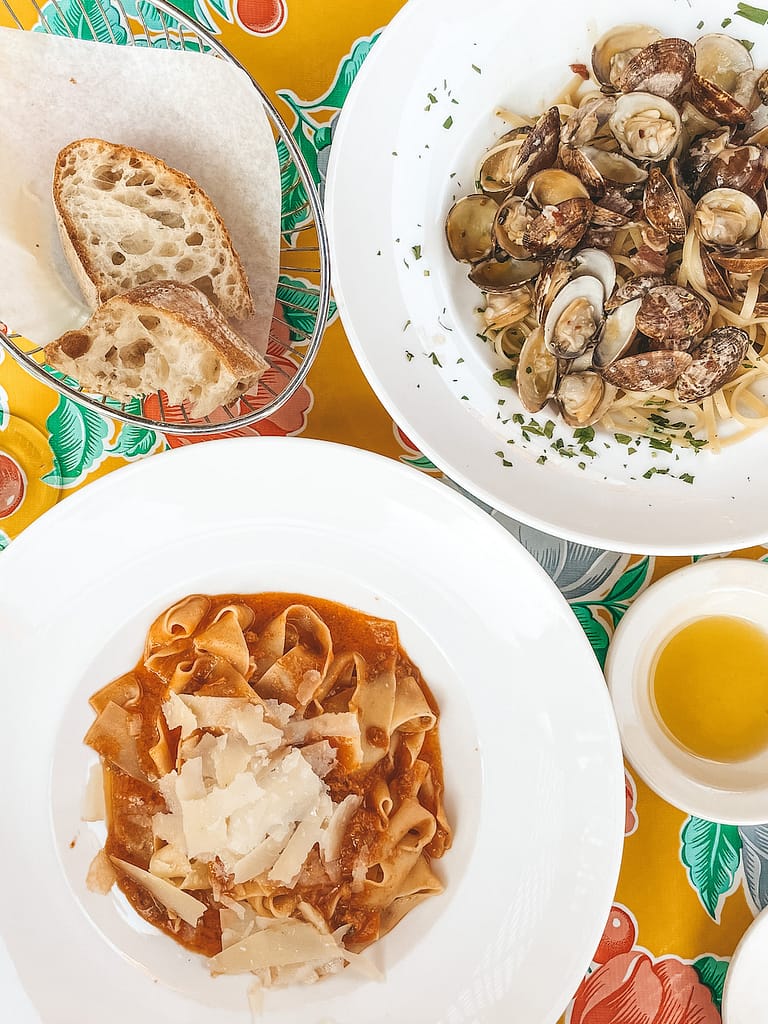 Top Attractions at Pike Place Market
It's true — food is the big attraction at Pike Place Market. However, there are a few attractions around the market you can't miss while you are visiting:
Pike Place Fish Market — Pike Place Fish Market is such an iconic spot where you can watch the fishermen "throw" the fish behind the counter. It is located right under the Public Market Center sign at the main entrance of Pike Place Market.
Gum Wall — The Gum Wall is a gross (yet iconic) attraction that you can't miss while you are in Seattle. There are plenty of signs to lead you to the wall, so be sure to stop by, snap a picture, and leave a piece of gum on the wall (if you dare).
Flowers — There are tons of stunning flower arrangements sold by vendors throughout Pike Place Market. You can marvel at the colorful flowers or pick up a bouquet to bring back to your room with you, if you'd like.
Shopping — There are several shops in and around Pike Place Market. Be sure to spend some time shopping around and looking for unique collectibles and the best souvenirs from Seattle to bring home for your friends and family (and yourself, of course!). 
Original Starbucks — The Original Starbucks is right next to Pike Place Market, so while you are here, be sure to pay this iconic spot a visit. If you don't want to wait in line, you can grab a photo with the logo out front.
Enjoy the Best of Pike Place Market with This Pike Place Market Guide
As you can see, there are tons of incredible things to do at Pike Place Market in Seattle. I hope this Pike Place Market guide helps you maximize your time at the market and find the best places to eat and explore!

Save This Pike Place Market Guide for Later
Read More
If you found this Pike Place Market guide helpful, check out these other posts about things to do in and around Seattle during your vacation to the Pacific Northwest: