If you are planning a trip to Portland, Oregon, and the surrounding area anytime soon, a stop along the Oregon Coast is hopefully on your list of places to explore in Oregon.
The Oregon Coast is stunning and is worth a visit during your trip to Portland. If you have limited time to explore the coast, you should prioritize visiting one of the coast's most popular destinations — Cannon Beach!
In this post, we will share the perfect Cannon Beach day trip itinerary from Portland and some additional suggestions if you have extra time to spend on the Oregon Coast.
Cannon Beach Day Trip Itinerary
How do you spend a day at Cannon Beach? Well, I am glad you asked! Here is the perfect Cannon Beach day trip itinerary.
Note: If you leave Portland by 8 AM, you should arrive at Cannon Beach by 9:30. It takes about one hour and thirty minutes to get to Cannon Beach from Portland.
Sleepy Monk Coffee Roasters
Sleepy Monk Coffee Roasters is one of the best coffee shops in Cannon Beach and the perfect place to grab coffee and breakfast once you arrive in Cannon Beach from Portland.
They serve organic, locally roasted coffee and handcrafted espresso beverages, including flavored lattes, mochas, americanos, and specialty drinks. They also serve fresh-baked pastries, including bagels, scones, croissants, and more.
Downtown Cannon Beach
After you have your coffee in hand, explore the boutiques, shops, and art galleries in Cannon Beach. Most shops open at 10 AM, so if you arrive and grab your coffee at 9:30 AM, they should be opening just in time.
There are tons of shops that you can check out, but there are a few of the most popular that you shouldn't miss the chance to pop into during your Cannon Beach day trip:
Cannon Beach Book Co. — Cannon Beach Book Co. is one of the most popular and quaint bookstores on the Oregon Coast. Pop in and find a book to read when you head down to the beach later in the afternoon.
The Wine Shack — The Wine Shack is an adorable spot in Cannon Beach where you can pick up a bottle of wine from the Willamette Valley to bring back home with you or enjoy a glass of wine in the tasting room.
Bruce's Candy Kitchen — You won't be able to miss the bubblegum pink façade of this adorable candy shop, and the goodies you will find inside are just as colorful. They make several treats in-house, including saltwater taffy, peanut brittle, and caramel corn.
Icefire Glassworks — Icefire Glassworks is a charming, rustic art studio in Cannon Beach with tons of gorgeous glass pieces made by local artists. Be sure to walk in and look around during your visit to the coast.
DragonFire Gallery — DragonFire Gallery is another spectacular art gallery in Cannon Beach that showcases original paintings, glass pieces, ceramics, and metal pieces made by artists around the Pacific Northwest.
Fetch Cannon Beach — If you are visiting Cannon Beach with your furry friend, be sure to bring them by Fetch Cannon Beach to pick up a special treat or toy.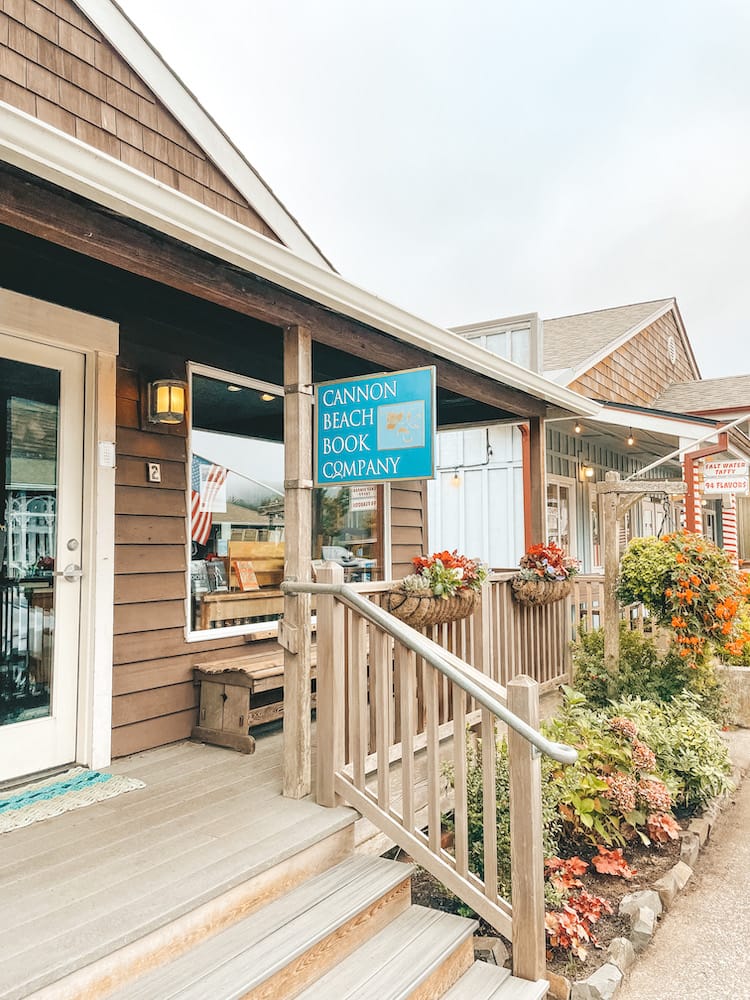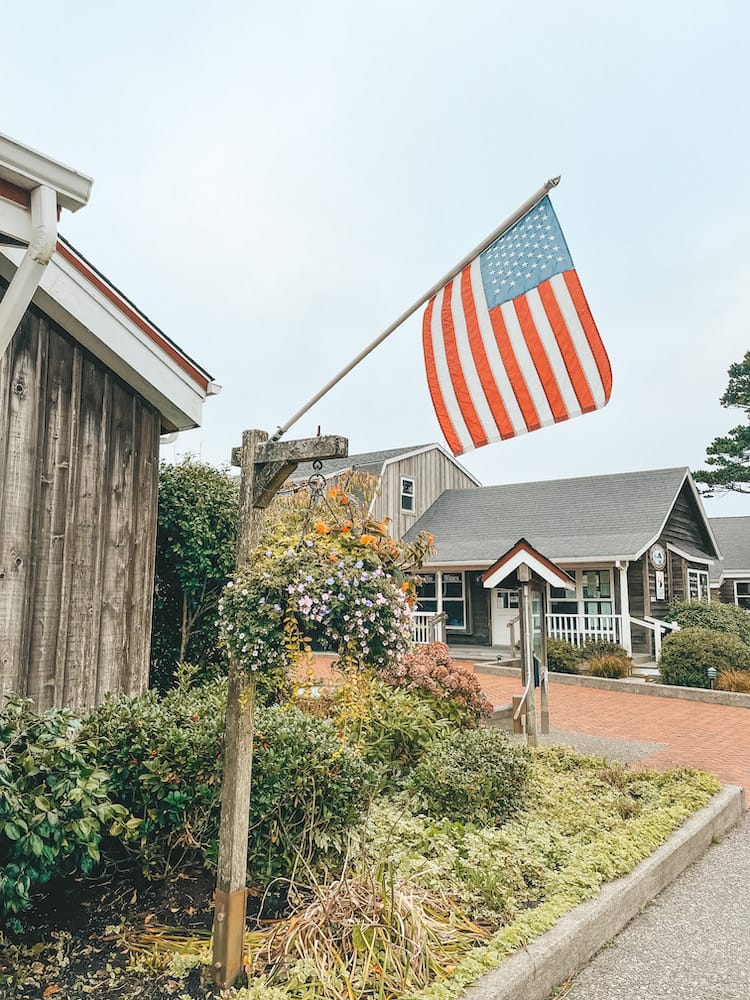 Ecola Beach State Park
Ecola Beach State Park is only a few miles north of Cannon Beach on the way to Seaside, so once you've got your shopping fix in, grab your hiking shoes, and get ready to explore! Ecola State Park is one of the best places to hike in Oregon and is filled with beautiful trails, like the following:
Clatsop Loop Trail from Indian Beach is one of the closest trails to Cannon Beach and one of the most popular in the park. It stretches for three miles and offers views of a wooded forest, rocky coastline, and lighthouses along the way.
Crescent Beach Trail is a short trail but is rewarding, nonetheless. You will hike along the sandy beach before you arrive at a marvelous waterfall.
Tillamook Head National Recreation Trail is closer to Seaside than Cannon Beach but is a spectacular trail if you want to feel surrounded by nature. The towering trees add a moody vibe to the hike, but you will also be able to see the ocean at different spots along the way.
We were disappointed we couldn't hike here during our Cannon Beach day trip because of poor weather and being short on time. However, it is definitely on our list for next time!
Pelican Brewing – Cannon Beach
After hiking in Ecola Beach State Park, you will likely have worked up an appetite. Head back into Cannon Beach to get lunch at Pelican Brewing Company.
This local chain serves up craft beers, including light ales and lagers, fruit ales, and IPAs. I recommend the Kiwanda Cream Ale — it is so good! They also have plenty of items for lunch, including appetizers, flatbreads, entrees, soups, salads, burgers, and sandwiches.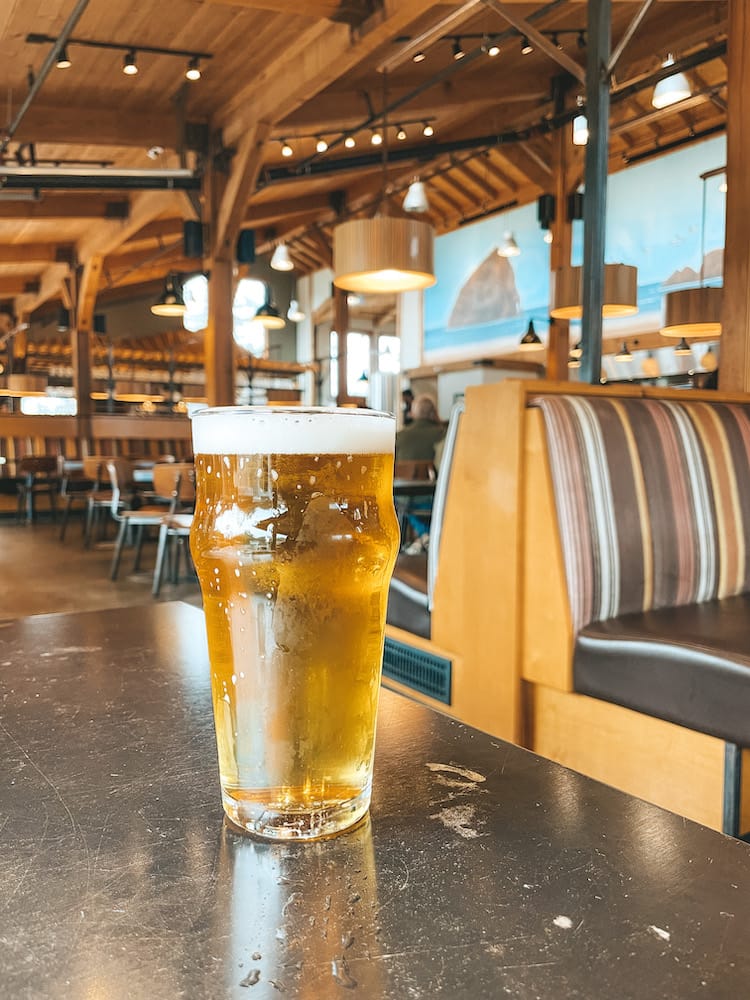 Haystack Rock
Haystack Rock is the most iconic landmark in Cannon Beach, and, arguably, in the entire state of Oregon. It is a 235-foot-tall basalt sea stack that rises from the ocean on Cannon Beach.
When you visit Haystack Rock during low tide, you can walk right up to the rock and marvel at the incredible wildlife in the tidepools, including sea stars, anemones, and crabs. If you visit during the spring or summer, you might also see puffins perching on the rock.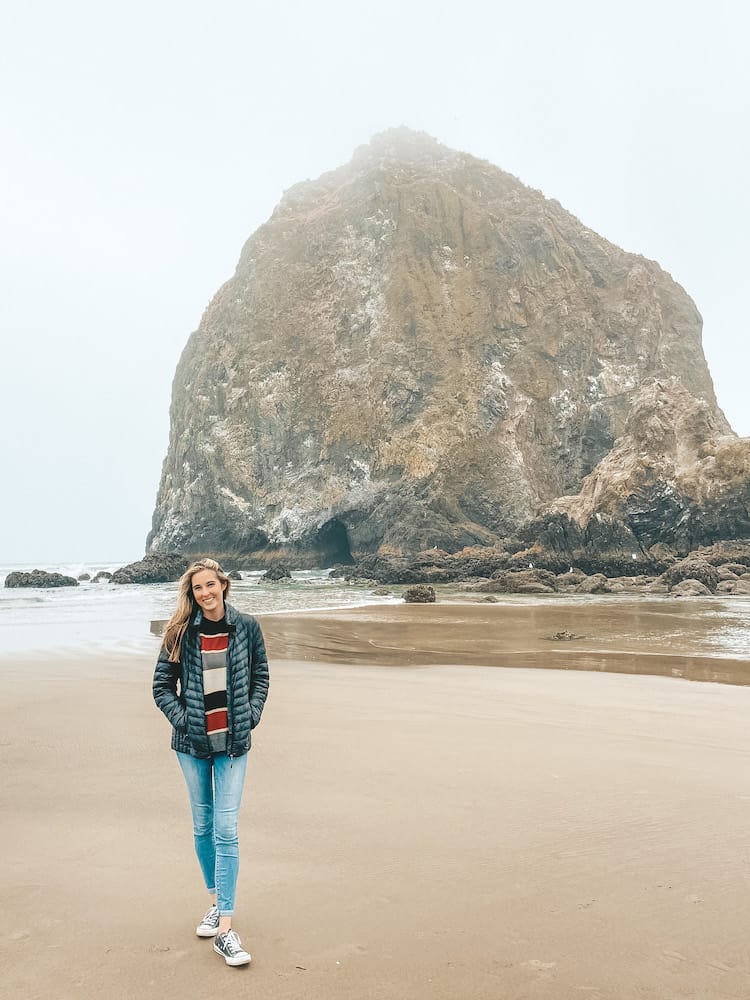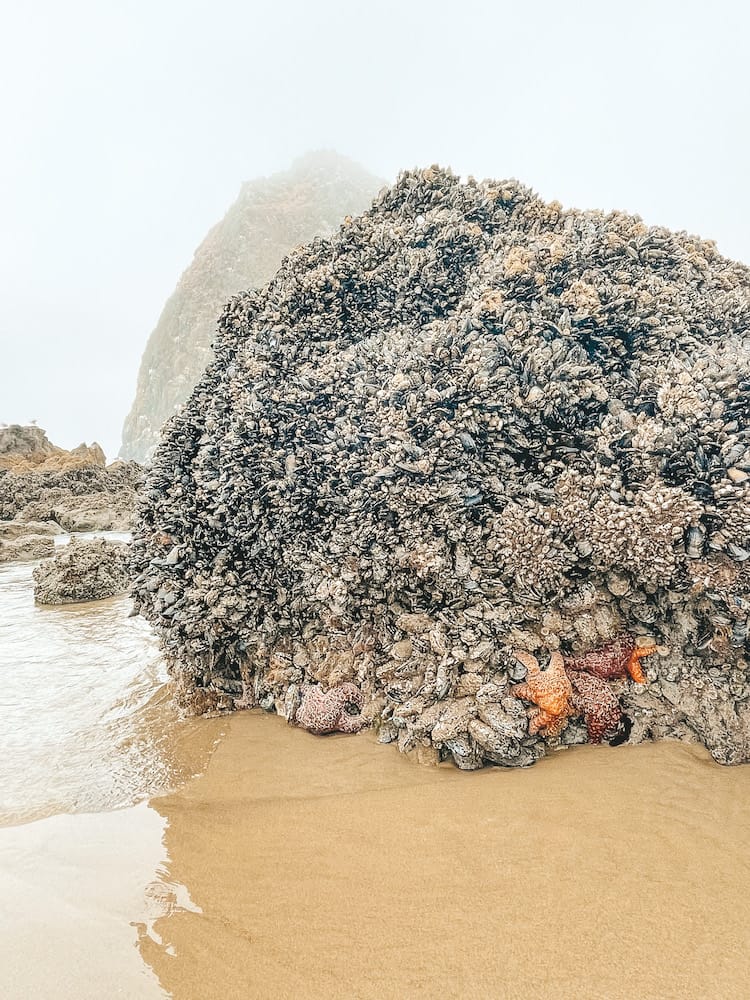 Cannon Beach
After you check out Haystack Rock and grab an iconic picture, spend some time relaxing on Cannon Beach. Cannon Beach is one of the most beautiful places to visit in Oregon. Depending on what you are interested in and what time of year you are visiting, you can enjoy one of the following activities:
Enjoy a Picnic — If you packed some snacks or a meal for your Cannon Beach day trip, lay down a blanket on Cannon Beach and enjoy them while listening to the sound of the waves lapping on the shore.
Gather 'Round the Campfire — If you are not visiting during wildlife season (usually July – September), build a bonfire on Cannon Beach when the sun goes down. Just remember to bring some supplies to make smores with you from Portland.
Watch the Sunset — The sunsets on Cannon Beach are truly spectacular. If you happen to be on the beach at sunset, watch the sun sink below the horizon and light up the sky with orange, yellow, pink, and more colors.
The Wayfarer Restaurant & Lounge
Before you head back to Portland, stop by The Wayfarer Restaurant & Lounge for dinner and a drink. Though this restaurant is a bit upscale, it is right on the beach and offers gorgeous views, especially at sunset. You can sit inside, but I recommend the patio on a nice day.
The Wayfarer Restaurant & Lounge serves a lot of seafood, as you would expect, right on the beach. I ordered the Wayfarer Clam Chowder, and it was tasty! You can also order entrees like Seared Local Salmon, Dungeness Crab Mac & Cheese, and Beer Battered Fish & Chips.
The Wayfarer also has great drinks. We were in Cannon Beach on a cold, cloudy, overcast day in October, so I ordered the Irish Coffee to stay warm. They also serve a Maple Old Fashioned, Hot Toddy, Spiced Pear, and other creative cocktails.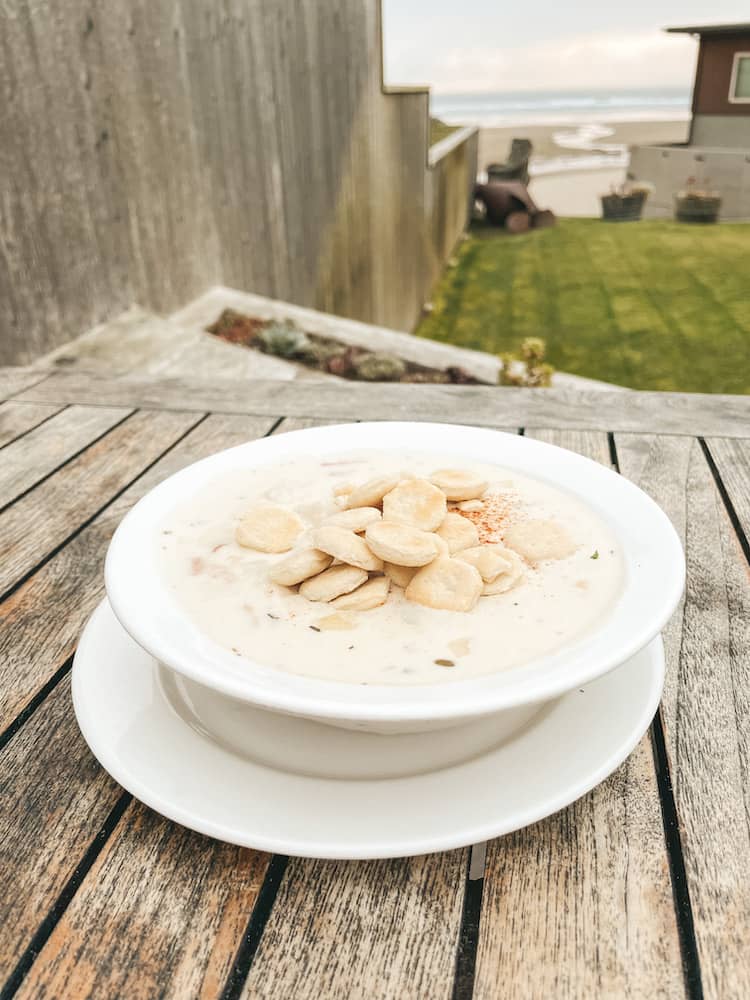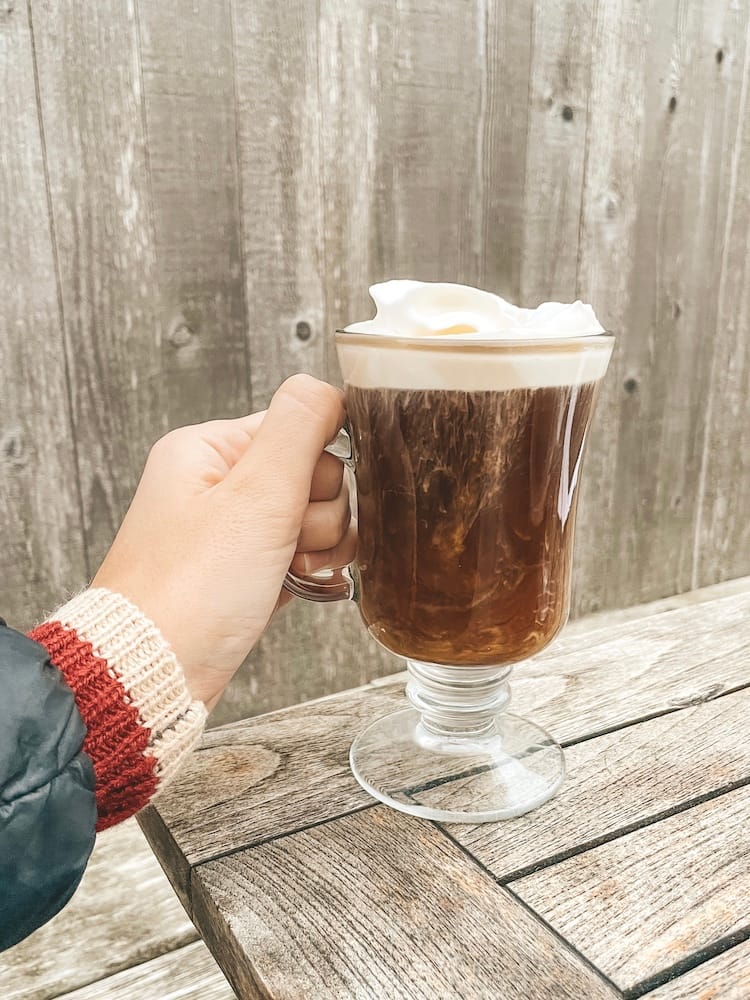 FAQs: Cannon Beach Day Trip
When is the best time of year to go to Cannon Beach, Oregon?
Summer, from June – August, is the most popular time of the year to go to Cannon Beach. However, this will also be the busiest time to visit, as tourists from Oregon and beyond flock to the Oregon Coast during these warm summer months. 
If you are looking for smaller crowds and great weather, consider visiting Cannon Beach in September or October. The weather will still be nice, but the summer crowds will have returned home so the entire town will be less busy. 
The "stormy season" in Cannon Beach starts in November and can last through March. Though it is not recommended to visit during this time, you can find killer deals on hotels and accommodations. Spring still offers unpredictable weather, but it is a great time to visit Cannon Beach if you want to see the puffins on Haystack Rock. 
What is the best way to get to Cannon Beach?
The closest airport to Cannon Beach is Portland International Airport, about 90 miles from Cannon Beach. It takes about an hour and a half to get to Cannon Beach from Portland. 
It's best to rent a car to drive to Cannon Beach. You will want a car to get around, and the only other transportation option is a bus ride from Portland. Going up and down the Oregon Coast is part of the experience, so I can't recommend getting a rental car enough! 
What is Cannon Beach famous for?
Cannon Beach is famous for being one of the best and most popular beaches on the Oregon Coast. It is known for its picturesque small-town atmosphere, stunning natural views, and Haystack Rock — one of the most iconic landmarks in Oregon.
Are dogs allowed on Cannon Beach? 
Yes, well-behaved dogs are allowed on Cannon Beach if they are on a leash or under the owner's voice control. It is recommended that dogs are leashed near the Haystack Rock Marine Garden to protect the marine life that calls the tidepools home.
Can you drive onto Cannon Beach? 
There are some beaches on the Oregon Coast that you can drive on — but not Cannon Beach. You must have a permit issued by the Cannon Beach Police Department or the Oregon Department of Parks and Recreation to drive a vehicle on Cannon Beach.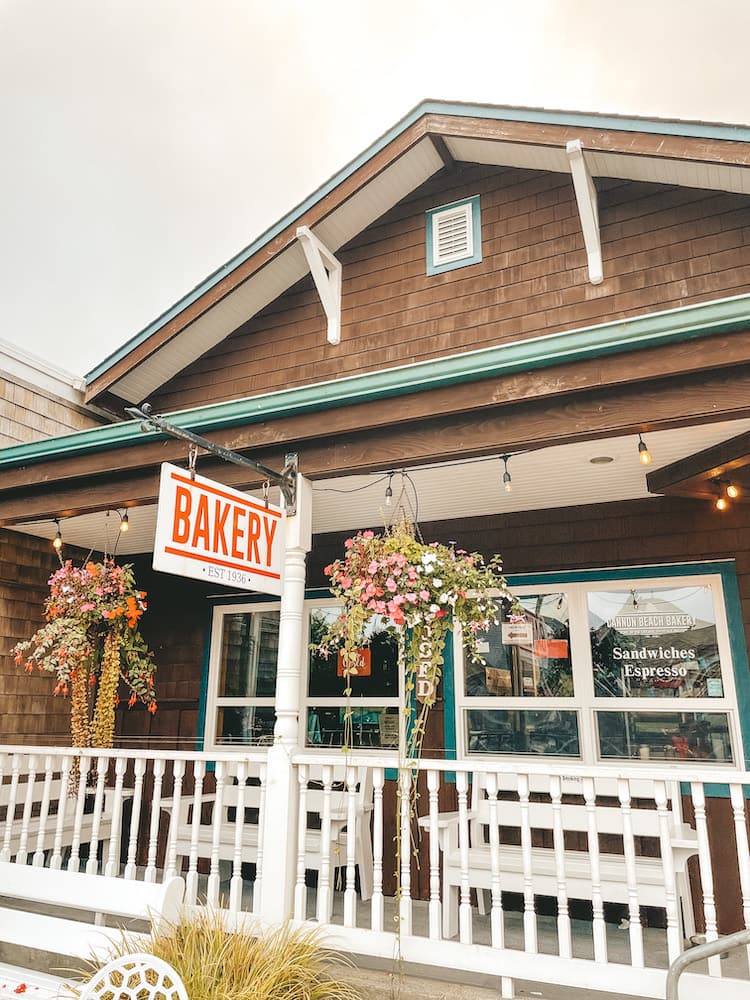 Best Tours to Cannon Beach
If you are staying in Portland without a car and would love to see Cannon Beach and the Oregon Coast during your trip, you can book one of the following tours with transportation included:
Oregon Coast Day Trip: Cannon Beach & Haystack Rock — Stop in the charming towns of Manzanita and Cannon Beach and see popular landmarks like Haystack Rock on this full-day tour, with round-trip transportation from your hotel in Portland included in the price.
Full-Day Guided Oregon Coast Tour from Portland — Spend time exploring Ecola State Park, Indian Beach, Cannon Beach, Hug Point State Park, and Oswald West State Park on this full-day round-trip tour of the Oregon Coast from Portland.
Northern Oregon Coast Day Trip to Cannon Beach — Make several stops along the Oregon Coast, including Cannon Beach, Oswald West State Park, Short Sands Beach, Neahkahnie Mountain, and more on this full-day, small-group trip along the coast from Portland.
Additional Things to Do in Cannon Beach
If you have additional time in Cannon Beach, or you would rather swap out one of the activities above, here are some other ways to spend the perfect Cannon Beach day trip from Portland:
Hug Point State Recreation Site — Hug Point State Recreation Site is a great spot to visit at low tide and just five miles south of Cannon Beach. The parking lot fills up early, so arrive here in the morning for a relaxing and scenic beach walk.
Seaside — Seaside is north of Cannon Beach and is a more "touristy" town with several things to do, including golf courses, an amusement park, an aquarium, and tons of shopping and dining. If you have kids to keep busy, Seaside is a worthwhile stop.
Oswald West State Park — Oswald West State Park is south of Cannon Beach and offers some of the most spectacular views on the Oregon Coast. Bring your hiking shoes and trek down Cape Falcon Trail or Elk Falls Trail on a clear day for incredible views.
Public Coast Brewing Co. — This local brewery has tons of fun and inventive beers, like the Coconut Brown Ale, Currant Vanilla Tart Ale, Willy Good Coffee, and more. The '67 Blonde Ale is the beer you have to try when you are at this brewery.
Plan the Perfect Cannon Beach Day Trip from Portland with This Itinerary
If you plan to visit Cannon Beach during your trip to Oregon, you are in for a treat! The best of Cannon Beach can be enjoyed in one day, but if you have extra time here, you will really get to explore the trails, shops, and eateries that make this town a local favorite.

Disclosure: Some of the links in this post about a Cannon Beach Day Trip are affiliate links, meaning, at no additional cost to you, I earn a commission if you click through and make a purchase. This helps me keep the content on my website free, like this post about a Cannon Beach Day Trip.
Save This Cannon Beach Day Trip Itinerary for Later
Read More
Planning a trip to the Pacific Northwest? Check out these other blog posts about Oregon to help you plan the perfect vacation.