With hundreds of beaches along Southern California's coastline, it isn't easy to choose just one to visit during your trip to the West Coast. However, if you're looking for a laid-back surfer atmosphere, incredible waves, and great food, you can't miss hitting up some of the best things to do in Huntington Beach!
Nicknamed "Surf City, USA" for its excellent surfing and mild climate, Huntington Beach is the perfect destination for the ideal blend of adventure and relaxation.
Since it's located just 20 miles from Disneyland in Anaheim and 38 miles from Downtown Los Angeles, Huntington Beach makes for the ideal relaxing day trip after spending a few days in the bustling city or thrilling theme parks in the area. Here are the best things to do in Huntington Beach for a memorable day trip from the city and one of the best beach towns in Southern California!
1. Philz Coffee
If you're a coffee aficionado like me, your first stop at Huntington Beach should be Philz Coffee.
Philz Coffee is an American coffee chain with stores in San Francisco, Los Angeles, San Diego, Orange County, Chicago, and Washington DC. However, I've always loved visiting the location in Huntington Beach to grab a cup of coffee to start my day!
Philz Coffee specializes in pour-over coffee, and you can order light, medium, or dark roast blends. My favorites are the Tesora, with nutty and caramel notes, and Philtered Soul, with hazelnut and chocolate notes, lightly sweetened with cream. Yum!
Note: Another honorable mention for coffee in Huntington Beach is 602 Coffee Shop. This local spot serves espresso drinks, acai bowls, pastries, sandwiches, and more.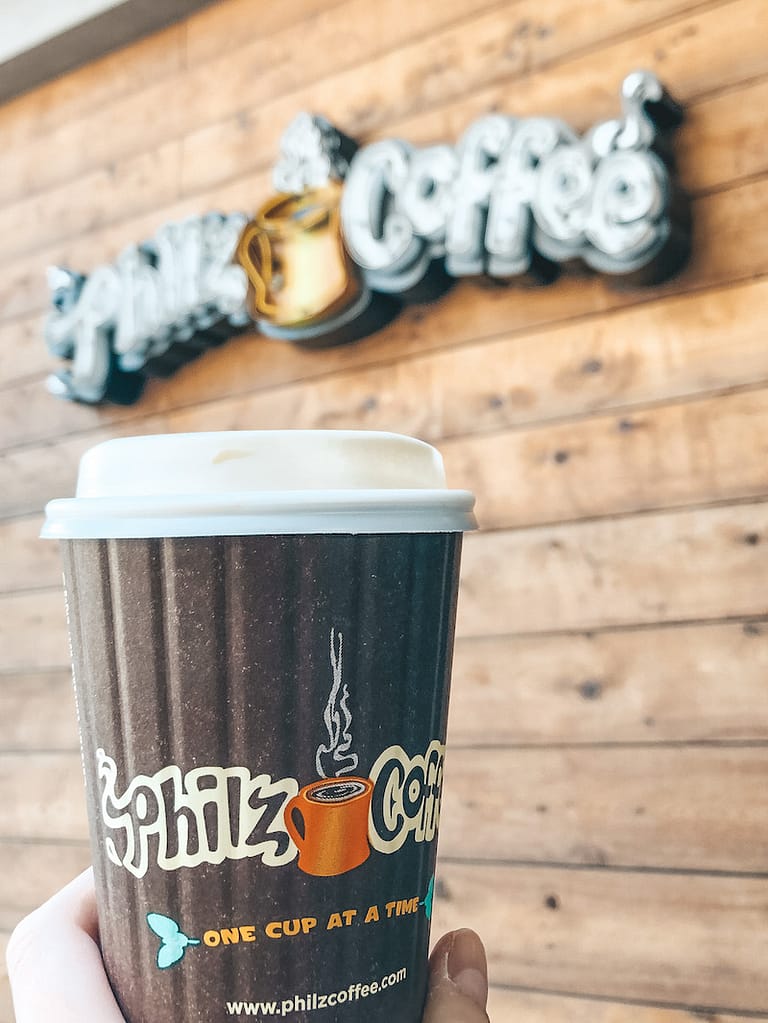 2. Bike Near the Beach
While you're drinking your coffee, walk down to one of the bicycle rental places along the beach. Wheel Fun Rentals and Ray's Rentals are both highly rated bike rentals companies along the beach that will allow you to rent beach cruisers, tandem bikes, surrey bikes, and more.
Huntington Beach is 8.5 miles long, making renting a bike one of the best things to do in Huntington Beach if you want to see the area quickly.
If you're feeling adventurous, you can bike down the coast to Newport Beach to visit Balboa Pier, Fashion Island, or the Corona del Mar State Beach, or you can bike up the coast to visit Huntington Dog Beach Bolsa Chica State Beach, or Sunset Beach.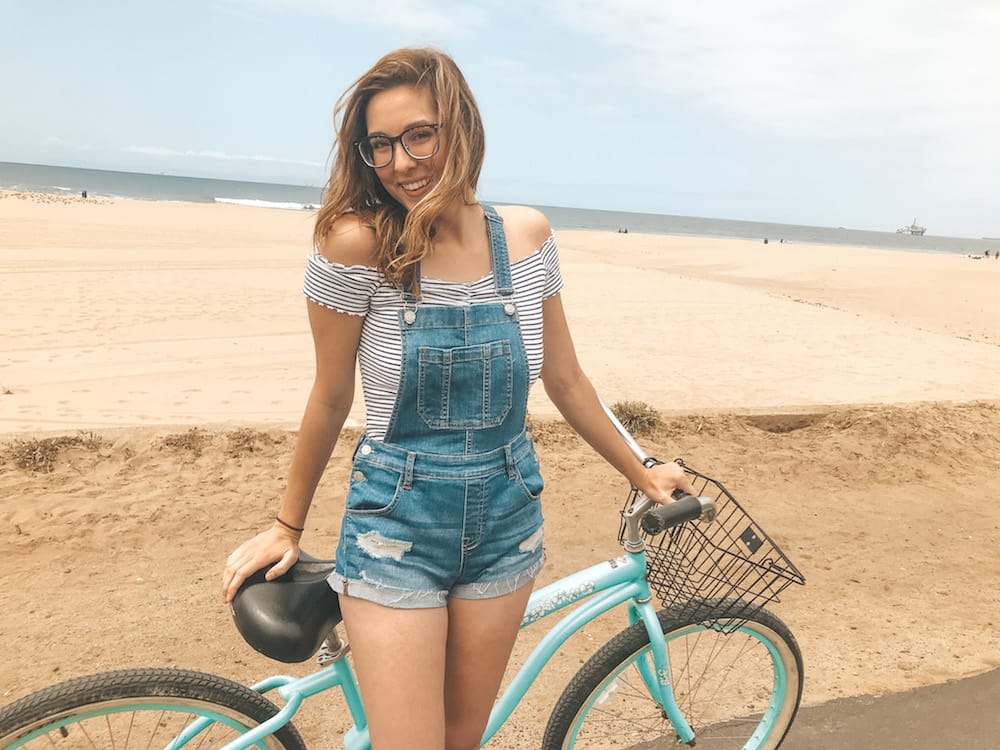 3. The Sugar Shack Café
After spending a morning biking, you'll probably be hungry for breakfast. Once you've returned your bikes, head to the Sugar Shack Café for a tasty brunch on the laid-back patio on Main Street in Downtown Huntington Beach.
Sugar Shack Café serves traditional breakfast items, and they have tons of breakfast specials. I loved Peggi's French Toast—French toast made with raisin bread. Plus, the full stack is less than $10!
The Sugar Shack also serves omelets, breakfast burritos, pancakes, and more. They also serve lunch items like sandwiches, salads, burgers, and more.
4. Downtown Huntington Beach
Before you leave Main Street, spend some time after breakfast exploring the surf shops in Downtown Huntington Beach, like Jack's Surfboards, Rip Curl, Huntington Surf & Sport, and the other local shops selling fun trinkets and souvenirs.
Plus, if you don't already have a boogie board or surfboard, this would be the perfect time to buy or rent one—you'll definitely want to hit the waves on the beach later this afternoon!
5. Huntington City Beach
Now, for the real reason you're here—the beach! The afternoon is the perfect time to visit Huntington Beach—the sun is out, the waves are big, and the atmosphere is buzzing with excitement.
Huntington Beach is not a "relaxing" beach, per se. The majority of people visiting Huntington are here for water sports! In fact, Huntington Beach is one of the best places to learn how to surf. However, if you're someone who likes to tan & read on the beach, Huntington City Beach is well-maintained and a great spot for laying out in the sun.
In fact, Huntington City Beach is the location of the Vans US Open of Surfing—the largest surfing competition in the world! If you're lucky enough to visit during this time, you'll be able to watch the surfing competition, which is always tons of fun.
However, regardless of when you visit, I recommend taking advantage of the awesome waves in Huntington Beach and spending the afternoon boogie boarding or surfing. It's one of the best things to do in Huntington Beach. If surfing is not your thing, you can also rent an ocean kayak or stand-up paddleboard to partake in the ocean activities.
6. Pacific City
Once you're ready to leave the beach, head over to Pacific City. Exploring the Pacific City shopping center is one of my favorite things to do in Huntington Beach—I feel like I always discover something new every time I visit!
Depending on your mood, you can do lots of things at Pacific City. Here are a few ideas:
Shopping—Peruse trendy boutique-style stores like Free People, Francesca's, Brandy Melville, Urban Outfitters, and more.
Dessert—Nothing like pre-dinner dessert, right? Grab a treat at Lemonde or Hans' Homemade Ice Cream.
Drinks—Hit up happy hour at The Bungalow, Four Sons Brewing, or Old Crow Smokehouse before dinner.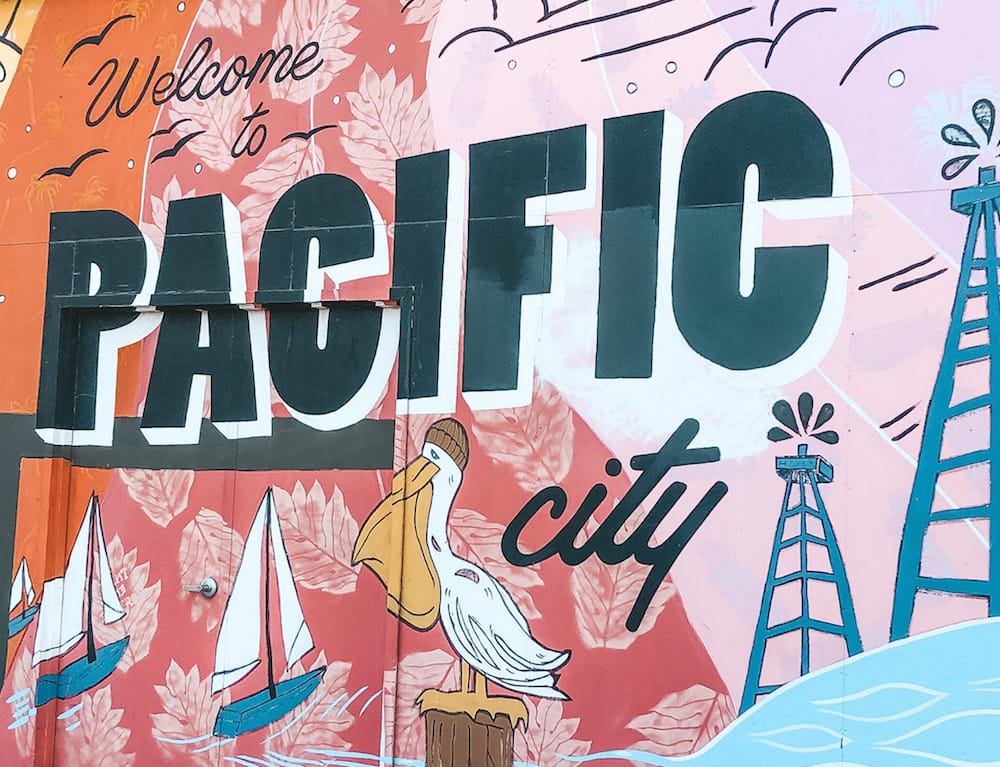 7. Fred's Mexican Café & Cantina
Although you might be tempted to grab something to eat in Pacific City, head back to Downtown Huntington Beach for dinner to grab a table at Fred's Mexican Café & Cantina.
Southern California serves up some really great Mexican food—and Fred's is no exception. The restaurant is located above the Huntington Surf & Sport Shop and offers fantastic beachfront views of the surrounding area (especially if you request a seat on the balcony!). Since the food and views are both incredible, eating at Fred's is definitely one of the best things to do in Huntington Beach!
Fred's Mexican Café has amazing tacos—the Baja Fish Tacos are my favorite. However, I don't think I've ever ordered something here I haven't liked (and that says a lot because I visit every time I come to Huntington Beach… which is also a lot!).
8. Huntington Beach Pier
Finally, one of the best things to do in Huntington Beach is walking down the Huntington Beach Pier during sunset (or any time of the day, really!). You can walk to the edge of the pier to watch the sun sink under the horizon or people-watch on the beach. Plus, it's an excellent place for photos!
Best Places to Stay in Huntington Beach
If you want to extend your stay in Huntington Beach for longer than a day (which is totally understandable) or even check in to a resort for a relaxing afternoon instead of the beach, check out these excellent beachfront resorts & hotels to stay close to all the best things to do in Huntington Beach!
Enjoy Your Jam-Packed Day with the Best Things to Do in Huntington Beach
There's no doubt that Huntington Beach is a fantastic place for an extended stay, but if you need to squeeze the best things to do in Huntington Beach into one full day—it is possible!
I hope you found this guide about some of my favorite things to do in Huntington Beach helpful. Which of these locations would you visit first?
Disclosure: Some of the links in this post are affiliate links, meaning, at no additional cost to you, I will earn a commission if you click through and make a purchase. This helps me keep free content on my website, like this post about the "8 Best Things to Do in Huntington Beach"
Pin the Best Things to Do in Huntington Beach for Later!
If you loved this blog post about the best things to do in Huntington Beach, you'll likely also love these other Travel by Brit posts about Southern California!