Soldier Pass Trail is one of the most popular hikes in Sedona, Arizona, for a good reason! It's a moderate hike with great views, has points of interest along the trail, like The Sinkhole and Seven Sacred Pools, and includes a small hike to Soldier Pass Cave!
This article explains everything you need to know about hiking Soldier Pass, including logistics like parking and directions for how to find the Soldier Pass Cave.
Soldier Pass: Quick Facts
Soldier Pass Trail is a moderate out-and-back hike located in West Sedona. While this guide will share how to hike Soldier Pass, you can also make this hike a loop by continuing onto Brins Mesa Trail to Cibola Pass Trail to Jordan Trail back to the Soldier Pass Trailhead instead of turning back around.
Soldier Pass Trail is an excellent hike at all times of the year but is best in spring and fall when the weather is temperate. If you hike in the summer, hike early in the morning to avoid the heat, and if you hike in the winter, be mindful of snow and icy conditions.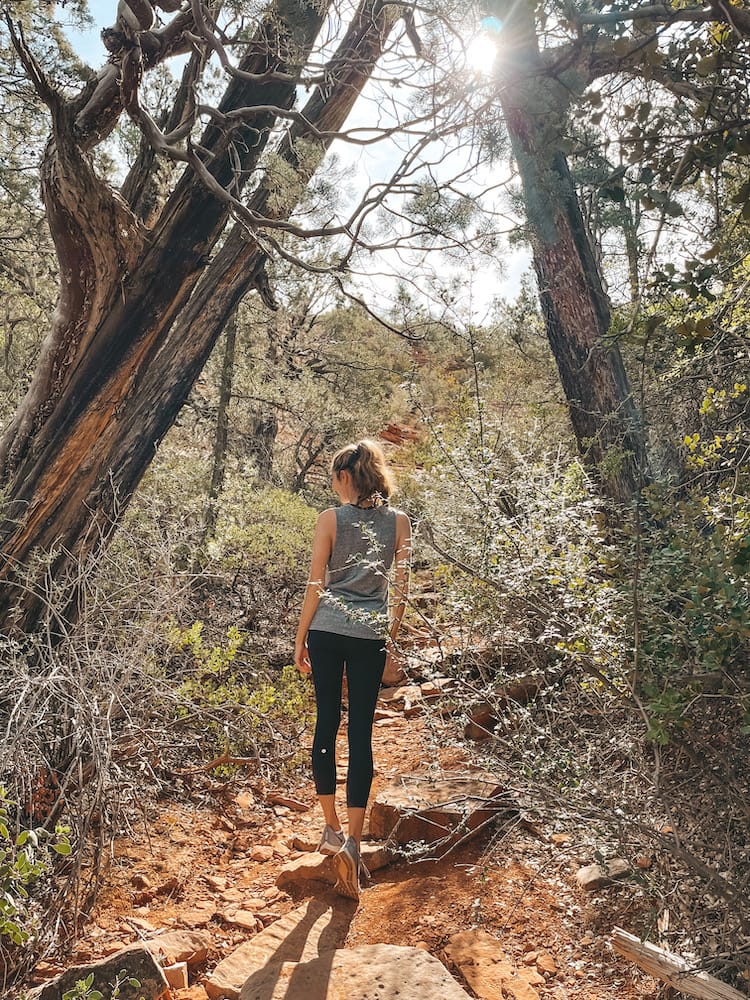 Parking at Soldier Pass Trailhead
I'll be honest—the most challenging part of this entire hike is figuring out the parking situation!
Soldier Pass Trailhead has a tiny 14-car parking lot that's only open from 8 AM – 6 PM. Since March 2022, this parking lot has been closed from Thursday – Sunday, and the only way to get to this the Soldier Pass Trailhead is to take the Sedona Shuttle from Posse Grounds Park.
The Sedona Shuttle is a brand-new service that offers transportation to and from some of Sedona's most popular hikes on Thursday, Friday, Saturday, and Sunday, including Devil's Bridge, Cathedral Rock, and Soldier Pass. You can see the schedule for the Soldier Pass shuttle below, courtesy of Sedona Shuttle.
If you're hiking the trail on a Monday, Tuesday, or Wednesday, it's important to get in line for a parking spot in the tiny lot at least 15 – 30 minutes before the trail opens. The parking lot closes promptly at 6 PM, so if you're planning to spend the afternoon on the trail, it's important to return to your car by the evening to ensure it doesn't get locked in the parking lot until the following day.
There's no overflow parking in the street at Soldier Pass Trailhead, so if you don't get a spot, we recommend parking at the Jim Thompson Trailhead, Jordan Road Trailhead, or Posse Grounds Park and walking to Soldier Pass Trail.
Note: While there isn't a bathroom at the trailhead, portable toilets are available if you need to use the restroom.
What to See on Soldier Pass Trail
Once you've arrived at Soldier's Pass Trailhead, you should be able to find the trail quickly. Just don't walk through the gate on the north side of the parking lot. Otherwise, you'll find yourself on the Soldier Pass 4WD Trail.
You'll pass tons of highlights along Soldier Pass Trail—here are three of the most notable sites you'll see along the way!
1. Devil's Kitchen Sinkhole
You won't be hiking very long before you find yourself at the first landmark on Soldier Pass Trail—Devil's Kitchen Sinkhole!
Devil's Kitchen is a giant sinkhole that has collapsed three times—in 1880, 1989, and 1995. It's also predicted to sink again soon! Devil's Kitchen is also expected to become wider over time as rain dissolves the limestone border of the sinkhole.
2. Seven Sacred Pools
Once you've been hiking for about a mile, you should arrive at Seven Sacred Pools, one of the most famous landmarks and photo locations along the Soldier Pass Trail.
The Seven Sacred Pools are seven shallow pools that have been naturally carved out of the sandstone. Depending on recent rainfall, some, if not all, of the pools will be filled with water. You'll have more luck seeing the pools filled if you're hiking in the fall, winter, or spring since Sedona's summers are hot and dry.
3. Soldier Pass Cave
Soldier Pass Cave is the most famous landmark on Soldier Pass Trail, and it's the primary reason why so many people flock to this hiking trail. When you get to the cave, you should expect it to be busy unless you're the first to make it to the cave in the morning or the last ones to visit in the evening.
Soldier Pass Cave is along the Soldier Pass Trail, but it's not marked along the trail and requires some prior knowledge to get there. Follow the instructions below to find Soldier Pass Cave during your hike!
How to Find Get to Soldier Pass Cave
Soldier Pass Cave is a half-mile trek from the Soldier Pass Trail, and it's a steep, rocky, uphill climb. The trail to the cave is a spur trail that you can find at a fork in the trail about one and a half miles into the trail.
The coordinates where you'll find the pathway to the cave are 34°53'51.8"N 111°47'16.0"W. You should see the following sign below with two paths. To continue on Soldier Pass Trail to Brins Mesa, keep walking on the left path, but turn right on the broader, busier path if you'd like to trek to the cave.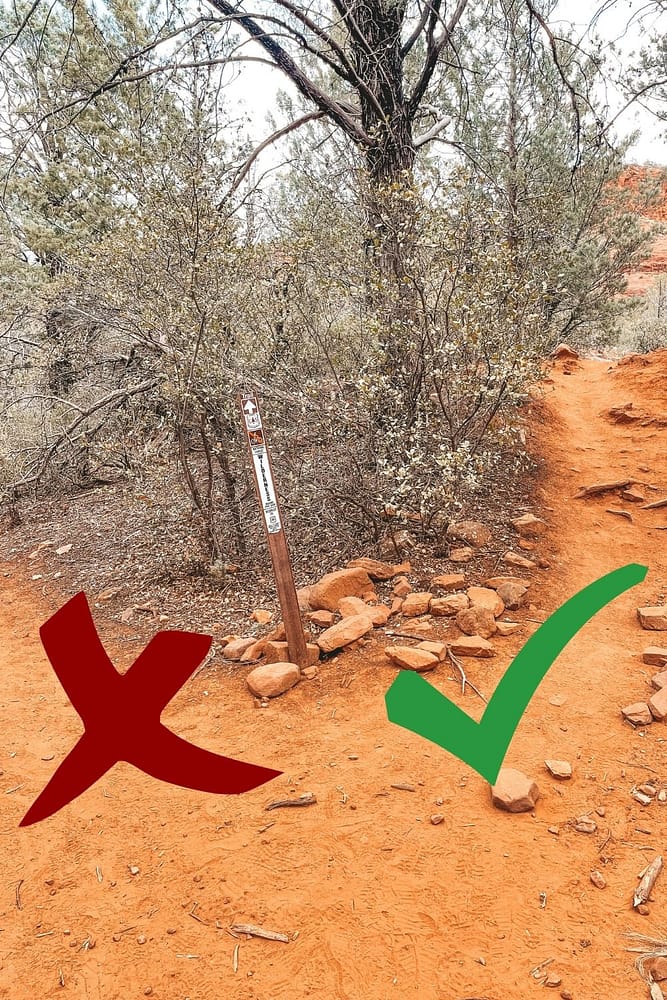 After you're on the spur trail on Soldier Pass Cave, you should find yourself at a large mesa, and then you'll begin climbing into the trees. You'll need to do some rock scrambling to arrive at Soldier Pass Cave.
When you arrive at the top, you should see a line of people waiting to get into Soldier Pass Cave. There's a short passageway with rocks that resemble steps you can use to climb into the cave. Once you get into the cave, take your time walking around, and don't miss the chance to take some photos!
When you're ready to return to Soldier Pass Trail from Soldier Pass Cave, climb out of the cave and return from the way you came.
Completing Soldier Pass Trail
Once you've returned to the trail, you can continue down the Soldier Pass Trail to Brins Mesa Trail. You'll be able to see some spectacular views of the pass!
When you've reached the trail's end, turn around and walk the way you came. You should pass by Seven Sacred Pools and Devil's Kitchen Sinkhole on your way back to the trailhead parking lot, where you'll be able to catch the next shuttle or find your car.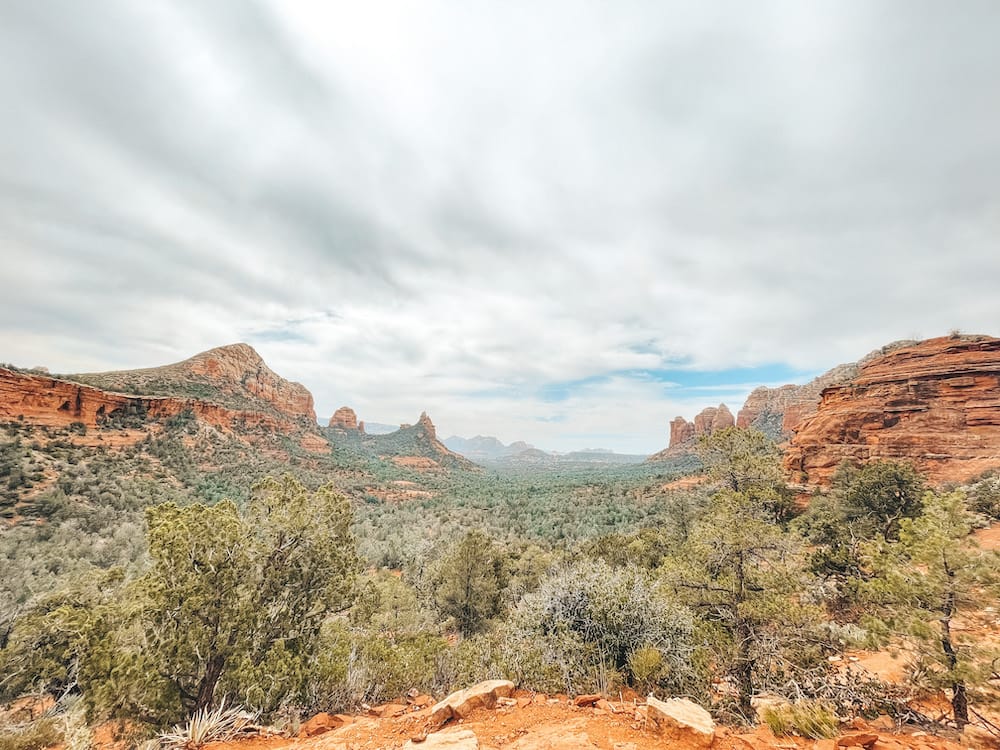 Tips for Hiking Soldier Pass Trail
Here are some helpful tips for hiking Soldier Pass Trail:
Hiking Supplies to Bring on Soldier Pass Trail
Please don't forget to bring these hiking essentials with you to Soldier Pass Trail to ensure you stay safe, cool, and dry:
Enjoy the Natural Beauty of Soldier Pass Trail
Although Soldier Pass Trail can be one of the most logistically challenging hikes to find and navigate, it's absolutely worth the coordination!
Have you hiked Soldier Pass Trail and explored Soldier Pass Cave? What was your experience like? Let us know in the comments below!
Disclosure: Some of the links in this post are affiliate links, meaning, at no additional cost to you, I earn a commission if you click through and make a purchase. This helps me keep the content on my website for free! 🙂
Save This Guide to Soldier Pass Trail & Soldier Pass Cave for Later!
Planning a road trip through Northern Arizona? Check out these additional posts: