Tom's Thumb is a famous landmark in the McDowell Mountain Range in Scottsdale, Arizona, that looks just like a "thumbs up" on the top of the mountain. It's also a popular hiking destination for those living in and visiting Phoenix and Scottsdale!
During your trek to Tom's Thumb, you'll climb for four miles and gain over 1,200 feet. It's a challenging hike, but the views of the untouched desert and gorgeous scenery are stunning!
Trail Statistics for Tom's Thumb Hiking Trail
Before embarking on Tom's Thumb Hiking Trail, keep these general trail statistics and guidelines in mind:
Distance: 4.0 miles
Trail: Out & Back
Time: 2 hours
Elevation Gain: 1,214 feet
Difficulty: Challenging
Season: Fall, Winter & Spring
Dog-Friendly: Yes
Where Is Tom's Thumb Hiking Trail?
Address: 23015 N 128th St, Scottsdale, AZ, 85255
Tom's Thumb Trailhead is located off 128th Street in Scottsdale, Arizona. There are actually two trails named Tom's Thumb in the McDowell Mountain Range, so be sure to drive to this address for the popular ascent up the mountain to Tom's Thumb!
To get to Tom's Thumb Hiking Trail, turn east on Happy Valley Road from Scottsdale Road or Pima Road. Then, proceed for two miles and turn right on Ranch Gate Road. When you reach the end of the road, turn right on 128th Street, and then you should reach the trailhead in less than a mile.
Tom's Thumb Trailhead offers restrooms, shade ramadas, signage, and car and horse trailer parking. However, there isn't drinking water available, so please bring your own water bottles for your hike!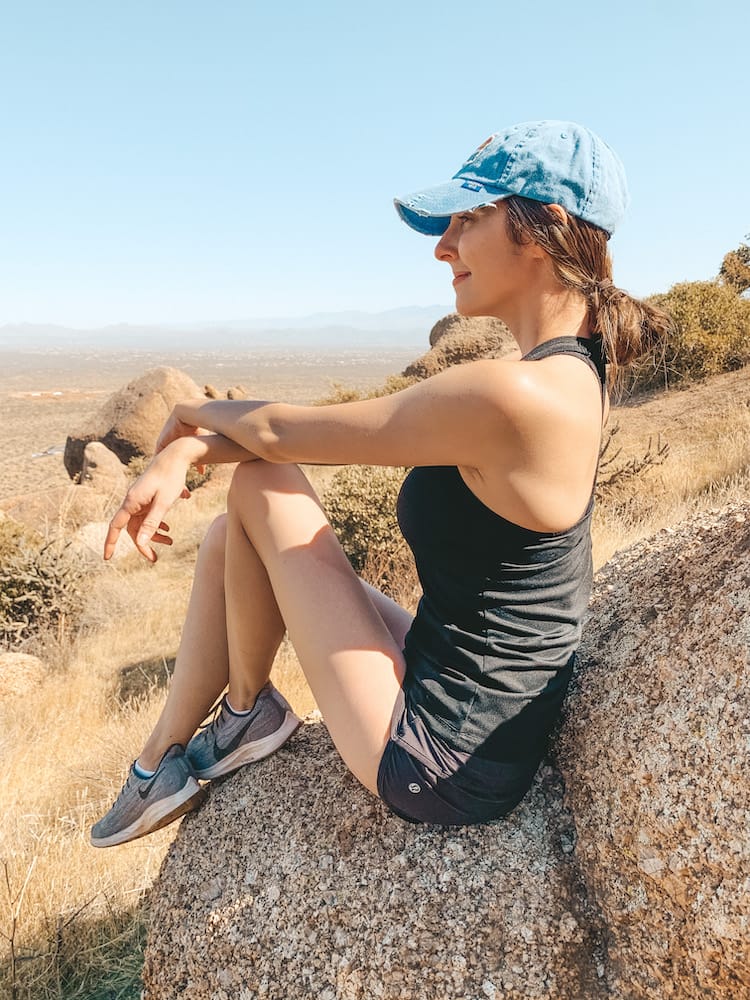 How Did the Tom's Thumb Hiking Trail Get Its Name?
Tom's Thumb, as you can guess, looks like a thumb! However, this famous landmark was named after a local rock climber from the Arizona Mountaineering Club named Tom Kreuser.
Tom frequently used Tom's Thumb as a rock-climbing locale in the 1960s. Now, Tom's Thumb has created tons of routes for rock climbers, so in addition to hiking, you can bring your rock-climbing gear too!
What Should I Expect on Tom's Thumb Hiking Trail?
Tom's Thumb begins as a relatively flat walk through the desert but quickly begins to gain elevation after the first few minutes.
For the first mile, you'll be hiking along a wide dirt path that allows hikers to simultaneously trek up and down the mountain. This part of the trail is the most challenging since you'll be scaling the mountain, but the path is well-maintained, so you'll be walking on gravel and won't be required to step over any giant boulders.
Once you've finished the first mile, the trail will begin to level out, and you'll start your hike into the mountain range. You'll trek through tons of large boulders, dip into washes, and climb small hills. It's tucked away inside the McDowell Mountains, so it's a unique part of the hike with exciting features.
It gets a little rockier when you get to the trail's end. Once you climb through the rocky portions of the trail, you'll see Tom's Thumb! There are plenty of boulders where you can rest, spot the parking lot you just climbed from, and admire your progress.
When you're ready, you can head back down the way you came—just watch your step on the steep downhill portion during the last mile.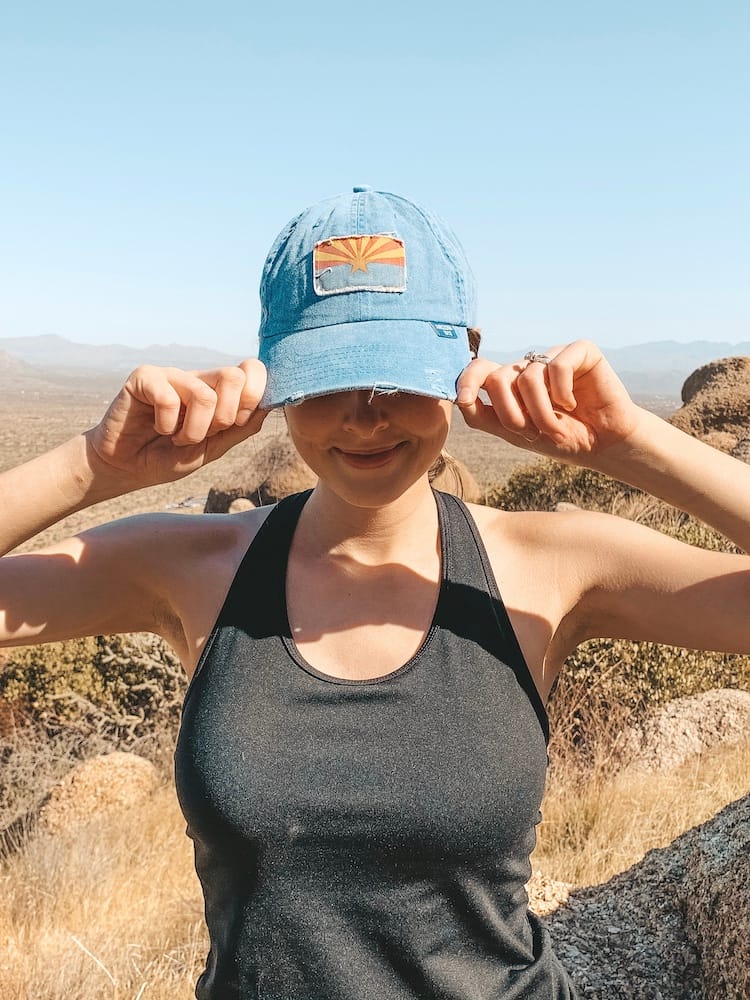 What Should I Bring to Hike Tom's Thumb?
FAQs
Is Tom's Thumb hike hard? 
Tom's Thumb Hiking Trail is a difficult hike. It's a four-mile roundtrip journey with nearly 1,300 feet of elevation gain, and the beginning of the trail requires a steep uphill climb. 
Is there a bathroom at Tom's Thumb Trailhead? 
Yes, there is a bathroom at Tom's Thumb Trailhead, but no drinking water is available.
How long does it take to hike Tom's Thumb Trailhead? 
It takes roughly two hours to hike to the top of Tom's Thumb. It may take longer if you take breaks or spend some time resting at the top of the trail. 
Enjoy Tom's Thumb Hiking Trail in McDowell Mountains in Scottsdale
Does hiking Tom's Thumb sound like something you would enjoy doing during your visit to Scottsdale, Arizona? While in Scottsdale, check out more of the best hikes in Phoenix to explore during your trip, like Piestewa Peak!

Disclosure: Some of the links in this post about hiking Tom's Thumb are affiliate links, meaning, at no additional cost to you, I earn a commission if you click through and make a purchase. This helps me keep the content on my website free, like this post about Tom's Thumb Hiking Trail.
Save This Guide to Tom's Thumb Hiking Trail for Your Hiking Adventures in Phoenix
Read More…
Check out these other posts about hiking in Arizona, including Phoenix, Scottsdale, and Sedona!