Brunch is hands-down my favorite meal of the day. There's no other time when you can order pastries, coffee, sweet treats, savory dishes, and of course, coffee and mimosas, all at the same time.
Thankfully, there are a plethora of places for brunch in Phoenix, Arizona, to satisfy both your sweet tooth and savory cravings. I've currently narrowed this list down to six of my favorite brunch places in Phoenix, including some unique spots you might not find on other lists. However, since I live in Arizona, I'll continue to add to this list as I discover more great places for brunch in Phoenix!
P.S. – If you're looking for a breakfast option in Phoenix on the lighter side, check out my post about the 4 Best Coffee Shops in North Phoenix!
1. Snooze A.M. Eatery
Snooze A.M. Eatery has been one of my long-standing favorite brunch spots in Phoenix, dating back to college! Snooze is a trendy breakfast joint with locations across the country, primarily in Texas, Colorado, and California. Even though they aren't local, they still deserve a place on this list of best places for brunch in Phoenix!
Snooze is known for its unique benedicts, like the Smashed Avocado Benny and the Habanero Pork Belly Benny, as well as their pancakes, like the Blueberry Danish Pancakes, and seasonal pancakes, like the Pumpkin Pie Pecan Pancakes during the fall. My personal favorite things to order in the Pancake Flight, where you can mix and match up to three flavors of pancakes on one plate—that way, you can try them all! 
Snooze also has a full-service espresso bar and serves boozy breakfast drinks, like mimosas, café cocktails, and more.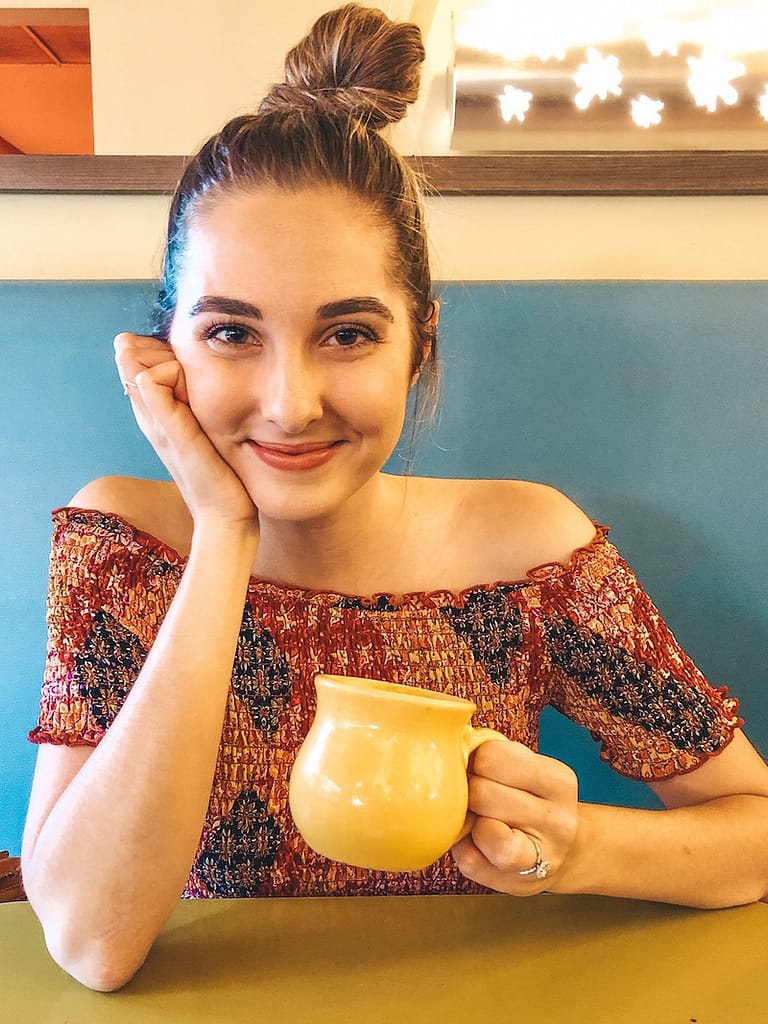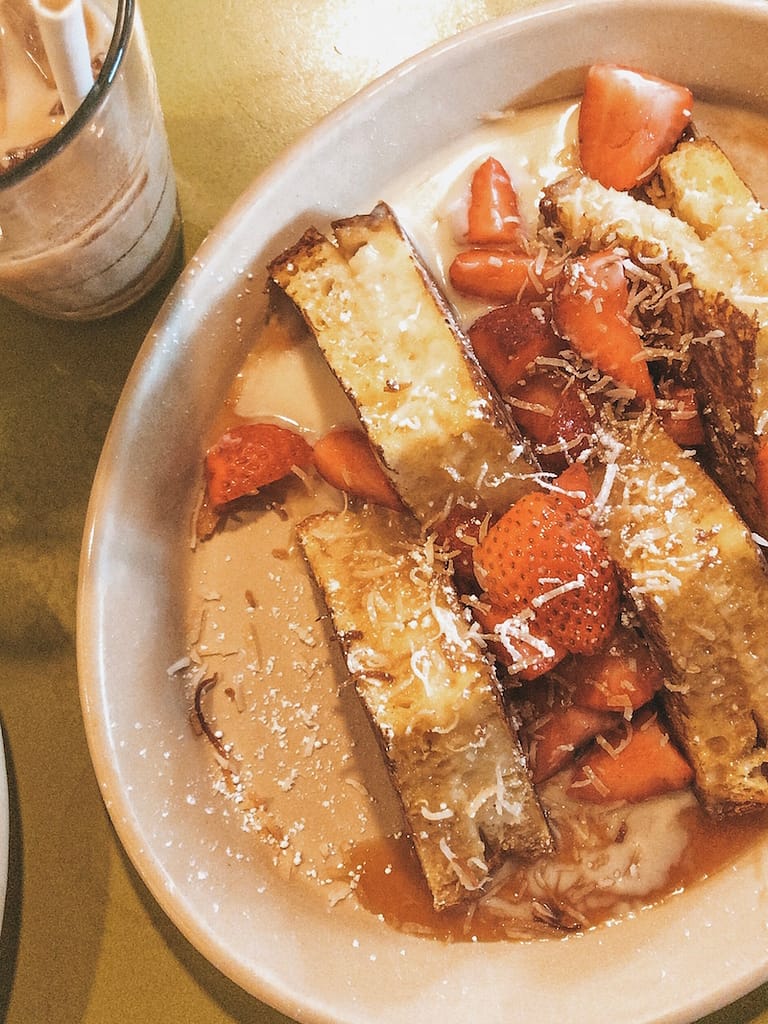 2. English Rose Tea Room
English Rose Tea Room is a hidden gem nestled in the mountains in Carefree, Arizona. It's quaint, comfortable, and sophisticated, and it's a great locally-owned spot to visit if you're looking for a unique brunch spot in Phoenix to celebrate a special occasion!
I've been here a dozen times and have had a fantastic experience every time I visit. You can order traditional afternoon tea with tea sandwiches, scones, and petit fours, or you can order just scones or desserts with your pot of tea. They have tons of teas to choose from, like black, green, and fruit teas.
Plus, it's a fun opportunity to dress up, wear a hat, and pretend like you're drinking afternoon tea in Europe—because why not?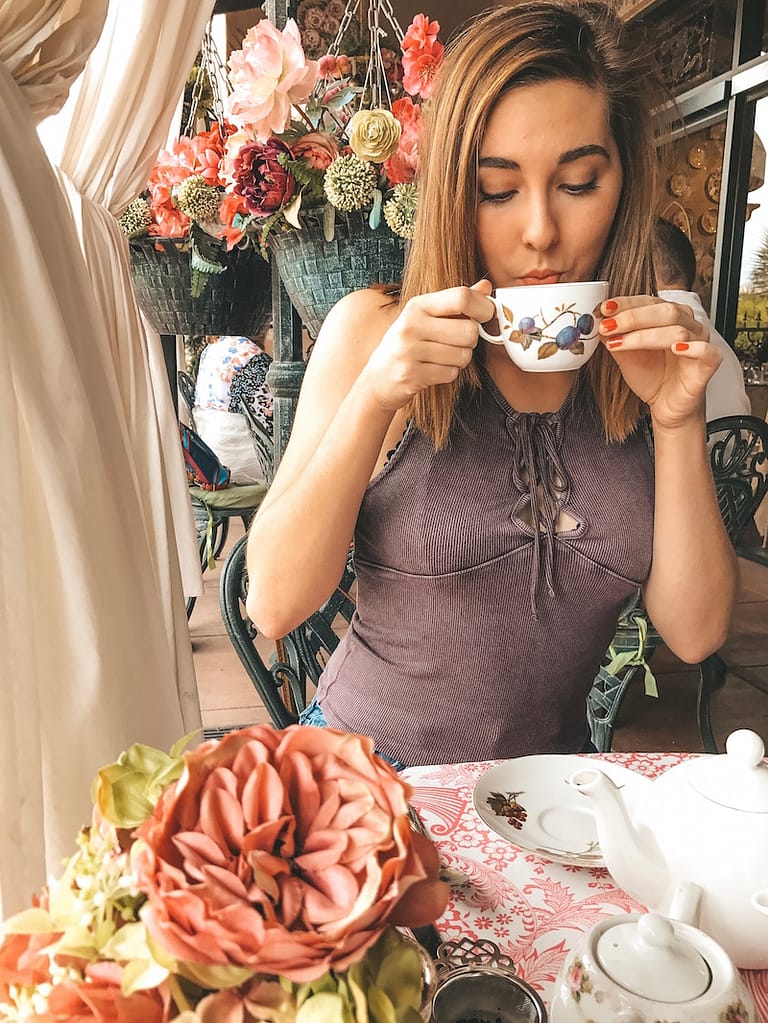 3. JOJO Coffeehouse
Are you searching for one of the best (and most Instagram-worthy) places for brunch in Phoenix? Look no further than JOJO Coffeehouse in Old Town Scottsdale!
I'll be honest—the food here is pretty average and includes your typical breakfast items, like pancakes, waffles, omelets, and avocado toast. However, it's worth putting on this list for the amazing coffee and mimosa flights you can order there!
For $12, you can order a coffee flight that includes an iced cold brew, mocha, latte, caramel macchiato, and white mocha. And for $20, you can get a mimosa flight with five artisan-crafted mimosas—Traditional Orange, Cranberry-Lime, Peach Bellini, Pineapple, and Apple-Cinnamon.
Sipping on a coffee or mimosa flight while eating breakfast sounds like a great way to spend the morning, right? I agree!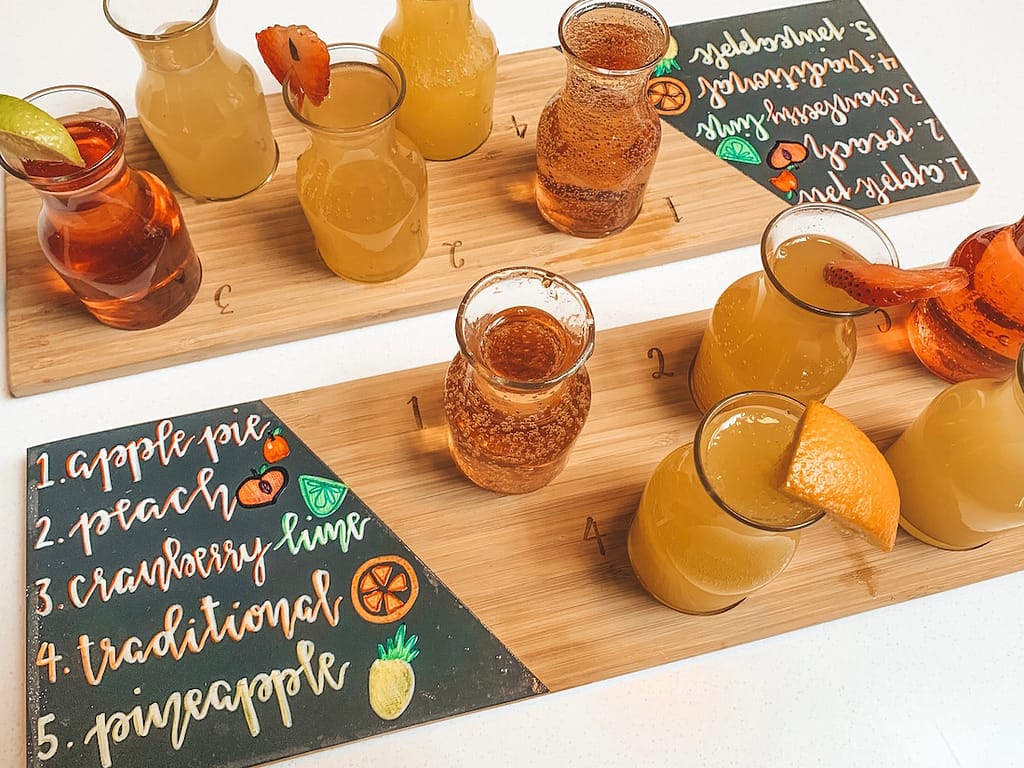 4. Butters Pancakes & Café
Butters Pancakes & Café is one of my favorite local spots for a relaxing, traditional breakfast experience. They have a few locations, but I love the one at McCormick Ranch in Scottsdale—while you wait for your table (and you will!), you can walk around the lake and beautiful houses in the surrounding neighborhood!
Butters Café is one of the best places for brunch in Phoenix because there is literally something for everyone on their menu. It's the kind of place you could take a five-year-old kid, your hard-to-please teenager, and your great-grandmother, and everyone would have a wonderful time.
They have delicious pancake flavors, like Banana Cream and Berry Bliss, tons of other sweet treats like French toast, waffles, crepes, and savory options, like scramblers, skillets, and omelets.
Plus, they have a full-service espresso bar so that you can order lattes, mochas, and cappuccinos, or you can simply order a fresh-squeezed orange juice or grapefruit juice to quench your thirst.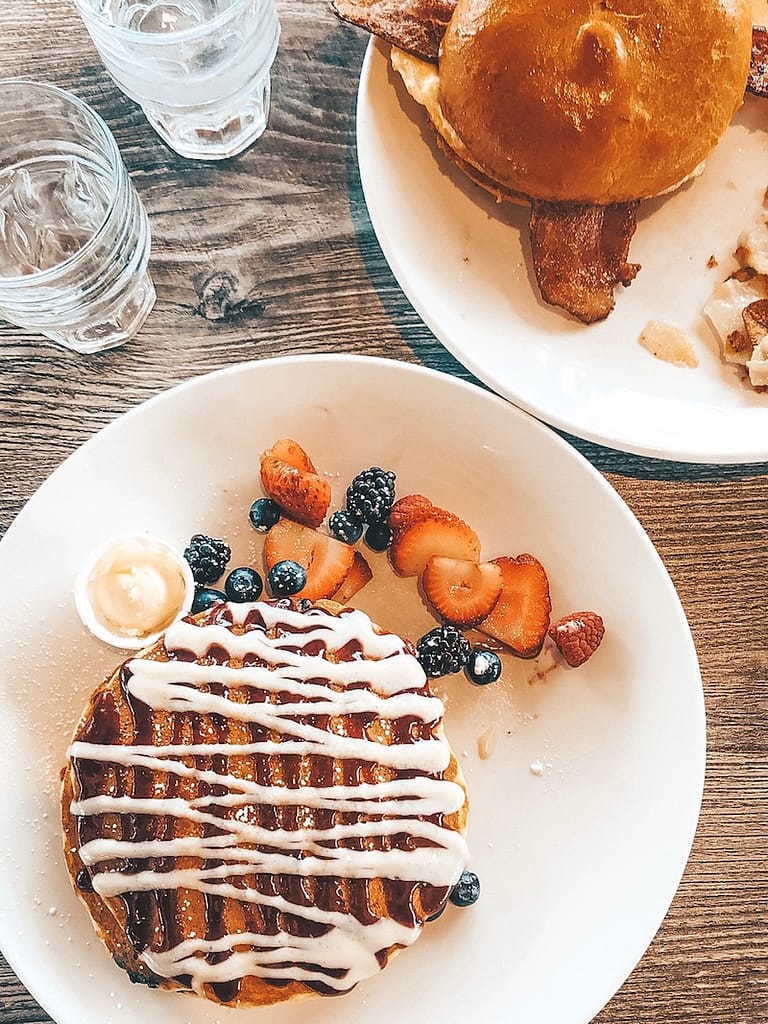 5. Yolk Café
Yolk Café is a brand-new brunch bar in Phoenix that serves breakfast, lunch, coffee, and spirits. It's currently one of the best brunch places in Phoenix that has remained under the radar, but I don't think it will for long!
I've been a few times, and I ordered the Almond Croissant French Toast and Banana Pecan Caramel Pancakes, and both were so good! My husband really loves their Chicken & Waffles, too.
Yolk Café also has fun boozy breakfast drinks that transcend the traditional mimosas. I ordered a Peanut Butter Espresso with peanut butter whiskey that was super tasty, and they also have unique drinks like the Morning Margarita and Breakfast Mule.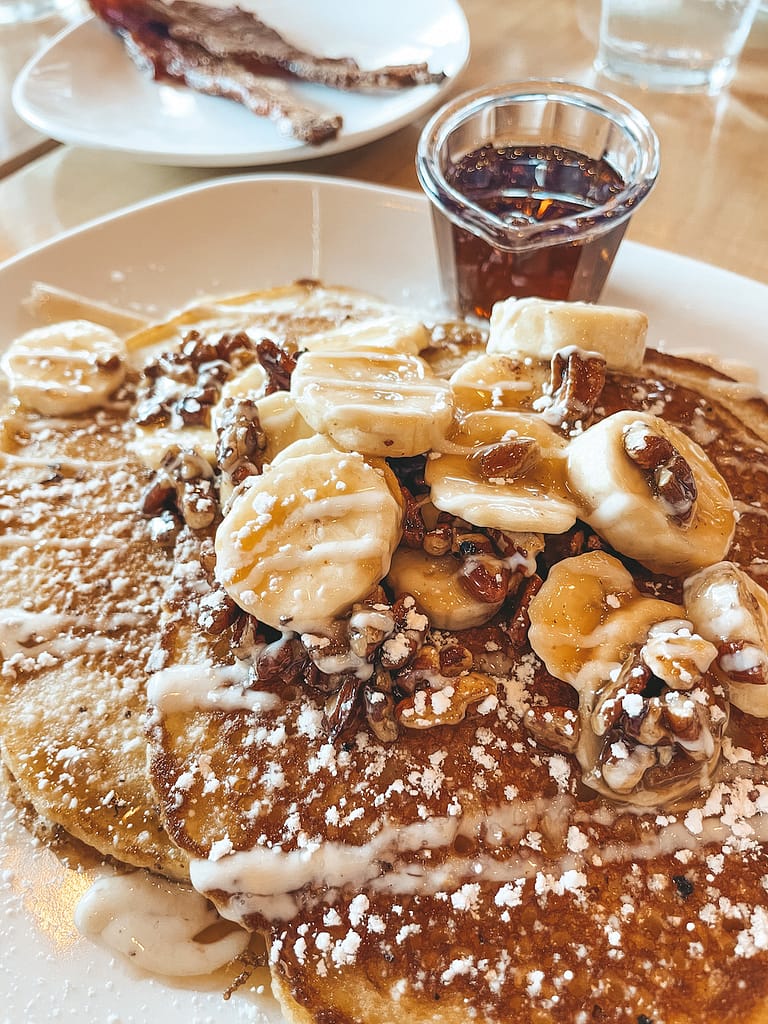 6. Hash Kitchen
Hash Kitchen is a Phoenix and Scottsdale staple for brunch and one of the most popular places for brunch in Phoenix—especially during a girls' weekend in Scottsdale, like for a bachelorette party. They have supersized portions and a morning DJ, so if you're into the "clubby" feeling for breakfast and are craving a giant portion of basically anything, you'll definitely want to check out Hash Kitchen! 
One of my favorite things to order here is the 'Effin Huge English Muffin (which I typically split with someone because it is indeed 'effin huge). Their Hashies are also popular—crisp potatoes topped with two eggs and other toppings.
However, the real showstopper is the Bloody Mary Bar, where you can build your own Bloody Mary. They also have mimosas and unique flights like a spiked snow cone cocktail flight and cereal shooter flight.
Satisfy Your Savory & Sweet Cravings at the Best Places for Brunch in Phoenix
Which of these places for brunch in Phoenix would you be likely to try first?
Stay tuned for more places for brunch in Phoenix! As I try more brunch places around the Valley, I'll be sure to update this post. Do you have any recommendations for where I should brunch next?
Disclosure: Some of the links in this post are affiliate links, meaning, at no additional cost to you, I earn a commission if you click through and make a purchase. This helps me keep the content on my website free, like this post about The Best Places for Brunch in Phoenix!
Pin the "6 Best Places for Brunch in Phoenix" for Future Reference!
Did you enjoy this post about the best places for brunch in Phoenix? If so, you'll love these other Travel by Brit blog posts!
Are you looking for more things to do in Phoenix?
Are you looking for more foodie guides?