There is nothing like the beach during the summer — the lazy days in the sun, sandy toes, refreshing drinks, and fun water activities are simply hard to beat.
If you are searching for some of the best summer beach vacations in the U.S. to plan the perfect trip this summer — we have you covered. Check out these incredible summer beach vacation ideas on all coasts, lakes, and islands across the United States!
East Coast Beaches (Atlantic Ocean)
1. Tybee Island, Georgia
One of the best summer beach vacation destinations in the U.S. is Tybee Island, Georgia. This charming little barrier island is just a 30-minute drive from Savannah, Georgia. It's also a place that is famous for its incredible sandy beaches, like South Beach. So, after relaxing on the beach and going for a swim, be sure to explore the pavilion and pier here too.
Additionally, you can go hunting for fossils and shark teeth since both regularly wash up on the shores of this island. If you want, you can even head to quiet North Beach and visit the Tybee Island Marine Science Center. It's a great place to learn about the alligators, horseshoe crabs, and loggerhead sea turtles that call this place home.
Afterward, enjoy some of the best things to do in Tybee Island, like Fort Screven. This historic edifice features gun batteries from the 19th century and is a fascinating place to visit before heading to the nearby Tybee Island Light Station and Museum. Tybee Light Station dates all the way back to 1736 and is a fully functioning lighthouse that is also the state's tallest and oldest lighthouse.
Be sure to climb the structure's many stairs before grabbing some ice cream at the Sugar Shack (although the banana pudding is good, too), and sea kayaking with the pros at Sea Kayak Georgia. Just be on the lookout for pods of bottlenose dolphins since they are known to swim in the waters around the island.
Recommended by Victoria from Southern Trippers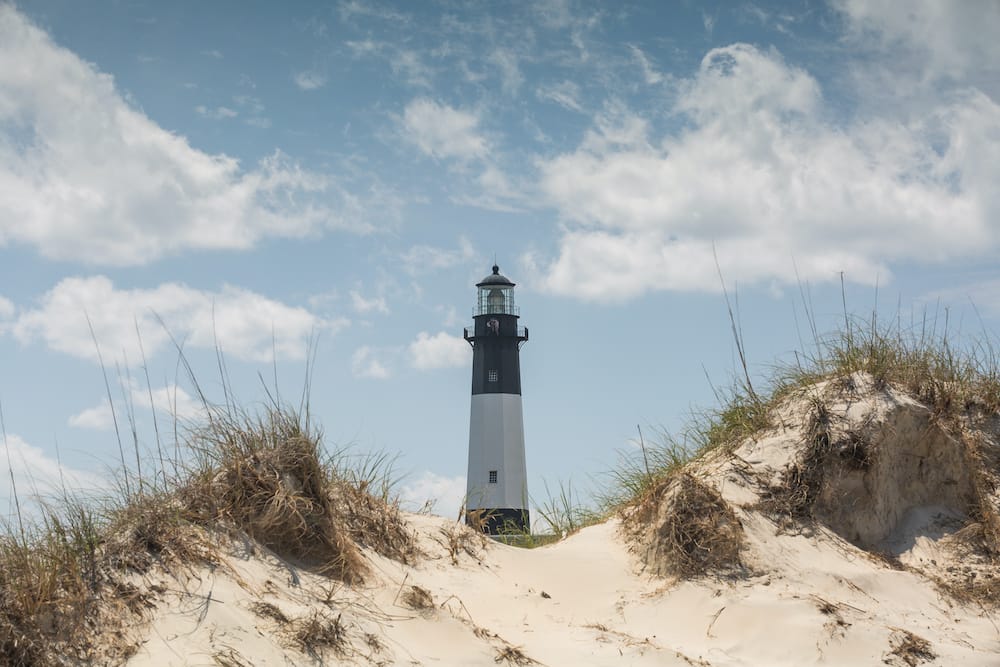 2. Nantucket, Massachusetts
One of the best summer beach vacations in the U.S. is exploring the pristine beaches of Nantucket Island in Massachusetts. While many travelers choose to go on a day trip to Nantucket from Hyannis or Cape Cod, it is a great destination to set your vacation.
During the summer months, you can go whale watching in the surrounding waters. It is also fun to bike around the island as you can reach most beaches by bike thanks to the well-developed bike trails on Nantucket. Temperatures are usually an average of 78°F in the daytime, and you might experience some light showers, so a rain jacket is nice to have as a backup.
Besides relaxing on the beaches, you can go hiking in the lush forest searching for wildlife, or along the coast, like on the Sconset Bluff Walk.
Downtown Nantucket is filled with exclusive boutique shops where you can shop for clothes and accessories. You also find a wealth of cute cafes and restaurants where you can enjoy anything from homemade pastries to local dishes made from fresh produce. The White Elephant Hotel is a great place to stay, with a spa and wellness center, right at the harbor.
Recommended by Linn of Brainy Backpackers
3. The Hamptons, New York
The Hamptons, New York, is easily one of the best summer beach destinations in the U.S. In fact, visiting the Hamptons is one of the best things to do on Long Island.
The Hamptons are made up of several quaint coastal beach towns and hamlets, all of which are lovely. The weather will be more on the hot and humid side, but by the sea, it will be cool and refreshing. Long Island is known for its pristine beaches, and the further you go out on the island, the nicer the beaches get, which is why the Hamptons are so popular.
When it comes to beaches, Coopers Beach is one of the best beaches to visit in the Hamptons. Hanging out around Sag Harbor is another must. The Hamptons are also popular amongst celebrities, so you never know who you might spot walking along the beach — many even own summer homes in the Hamptons, including Beyonce, Jay-Z, and Jennifer Lopez.
The Hamptons have plenty of restaurants, but Nick and Toni's and The Lobster Roll are great places to stop by. Seafood is very popular in the Hamptons, being a coastal town, and they are known to serve up some of the best the island has to offer. If you want a break from the beach, the Hamptons also have several vineyards to enjoy.
Many travelers rent out posh beachfront rentals, but if you're looking for somewhere to stay, consider Southampton Inn, which is near Cooper's Beach. Southampton Inn is located just 9.3 miles away from the Morton National Wildlife Refuge, which offers self-guided nature trails and a chance to observe endangered species, including piping plovers and turtles.
Recommend by Sam from Find Love and Travel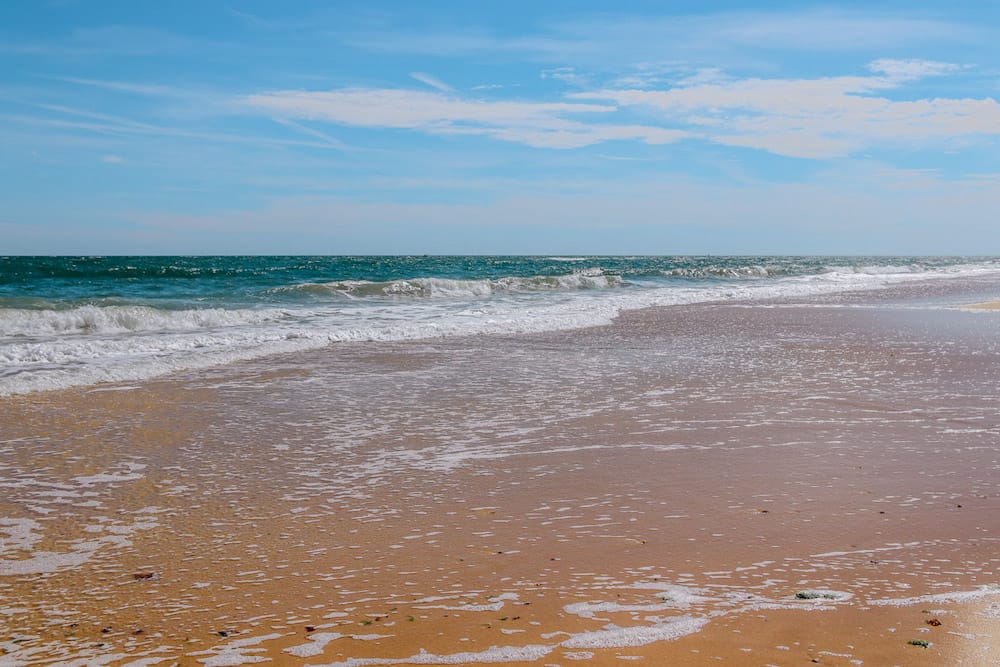 4. Lavallette, New Jersey
One of the best summer beach vacations in the U.S. is at the Jersey Shore! Lavallette, New Jersey, is a laid-back beach town less than 100 miles south of New York City. It has a beautiful white-sand beach along the Atlantic Ocean and a picturesque bayside.
In the summer, you can experience beautiful sunny days with temperatures of 80°F. July is the hottest month, where you can experience heat waves, with an average rainfall of five inches. You're more likely to experience storms in August, but they are usually mild. Nighttime is when temperatures can drop to 60°F, so always have a jacket handy, especially if you plan to eat dinner outdoors.
There are many memorable things to do in Lavallette, NJ, during summer for all ages! It's no secret that one of the best things to do in Lavallette is to enjoy a beach day. Lavallette has some of the best white sand in the world. It's like powder on your feet! While at the beach, you can sunbathe, ride the waves, boogie board, skim board, surf, enjoy ice cream, and more!
Other great things to do during a Lavallette summer vacation are to go mini golfing at Barnacle Bill's, visit the nearby boardwalks in Seaside Heights or Point Pleasant Beach, watch a sunset on the Barnegat Bay, adventure through Island Beach State Park, walk or bike on the Lavallette boardwalk, enjoy boutique shopping, and make a day trip to Atlantic City!
The top place to stay in Lavallette, New Jersey, is Starlight Motel & Luxury Suites. Lavallette also doesn't have a shortage of great restaurants! You must visit The Crabs Claw Inn for seafood, Ohana Grill for Hawaiian cuisine, Sand Dollar Pancake House for breakfast, Lava Java for coffee, and The Parlour for ice cream.
No matter what you choose to do, you are sure to have a great time in Lavallette!
Recommended by Taylor of Brown Eyed Flower Child
5. Ocean City, Maryland
For those in search of the finest stretches of sand along the East Coast, look no further than Maryland's Ocean City. Summertime is the perfect time to swim and play in the Atlantic Ocean. The weather will likely hit highs in the low 80s, and you'll have some humidity, but less than the rest of the south. The water temps will be in the mid to high 70s — low enough to cool off, but warm enough to enjoy. Along with the perfect mixture of sun, sand, and surf, this resort town offers foodies an array of tasty local treats.
Bordering the sandy shores, you can't miss the famous Ocean City Boardwalk. Spanning three miles, this wooden pathway features an abundance of shops, an amusement park, and plenty of bars and eateries. The most popular boardwalk snack is a bucket of Thrasher's French fries. Fisher's caramel popcorn and Dumser's ice cream tie for second.
But save some appetite, as no visit to the Eastern Shore of Maryland is complete without an all-you-can-eat crab feast. Ocean City's crab restaurants are too numerous to count, so avoid the tourist traps. Waterman's and Hooper's are two established icons that won't disappoint.
From Ocean City, you can see Assateague Island just across the inlet. Known for its wild horses wandering free on the beach, Assateague is a must-visit for nature lovers. Walking the marsh trails and enjoying the wildlife is always a highlight. Stay at the Park Place Hotel on the beach, and you'll have easy access to the beach, boardwalk, and restaurants.
Recommended by Denise of Chef Denise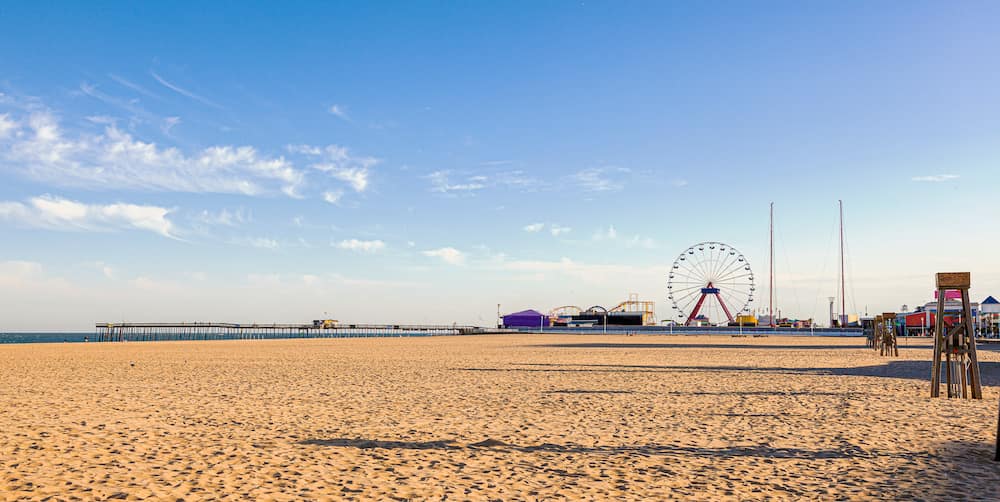 6. Hilton Head Island, South Carolina
One of the most popular places to go for a summer beach vacation in South Carolina is Hilton Head Island. It has an upscale, family-friendly vibe, with endless choices of restaurants, shops, bike trails, and more than 20 championship golf courses.
There are also plenty of activities on Hilton Head Island for children, ranging from pirate ship cruises to fun playgrounds and interactive children's museums.
The island is lined with approximately 12 miles of light-brown, sandy beaches. The northern end sees the calmest waters since it's protected by a sandbar, while the most popular beach, Coligny Beach, has larger waves and is located towards the southern end of the island. You'll find all the amenities you need there, from showers and changing rooms to boardwalks with mats that allow easy beach access for strollers and wheelchairs.
When you get tired of chilling at the beach, try going on a sunset dolphin cruise or renting a bike to explore the island. There are more than 60 miles of well-marked bike paths, and visitors can also ride on the beach itself. It's also one of the best day trips from Charleston, so you can head into the city and spend some time exploring the historic landmarks and fabulous restaurants.
Restaurants and cafes are plentiful on Hilton Head Island. Skull Creek Boathouse and the Old Oyster Factory are two popular options, and both have beautiful waterfront views.
The summer temperatures on Hilton Head Island normally average 89°F in the daytime and 76°F at night. However, the nice sea breezes will help keep you cool. Please note that the Atlantic hurricane season peaks from August to October. The Sonesta Resort Hilton Head Island is an ideal family-friendly place to stay.
Recommended by Erin of Savannah First Timer's Guide
7. Outer Banks, North Carolina
The Outer Banks of North Carolina is one of the best summer beach vacations in the U.S. for numerous reasons. With its pristine coastline, charming beach towns, and a plethora of outdoor activities, it offers an unforgettable experience.
First and foremost, the Outer Banks boasts breathtaking beaches. Stretching for over 100 miles, these beaches offer soft sand, warm waters, and stunning sunrises and sunsets. There are 15 towns of the Outer Banks, so you can find whatever you're looking for!
Visitors can explore the iconic Cape Hatteras Lighthouse, climb its spiral staircase, and enjoy panoramic views from the top. The Wright Brothers National Memorial, where the first powered flight took place, is another must-visit site for history enthusiasts.
The Outer Banks also offers a wide range of outdoor activities. Fishing enthusiasts can charter a boat for deep-sea fishing or try their luck from the shore. Nature lovers can visit the Cape Hatteras National Seashore, which is home to diverse wildlife and scenic hiking trails. The area is also renowned for its world-class kiteboarding and windsurfing conditions. You can also see the famous Outer Banks Horses in Corolla.
From the quaint town of Duck with its charming shops and restaurants to the lively boardwalk of Nags Head, there's a town to suit every taste. A beach vacation isn't complete without fresh seafood. Head to Aqua Restaurant in Duck for a delicious meal with a great view.
The TownePlace Suites by Marriott Outer Banks in Kill Devil Hills is a great place to explore the barrier islands! They also have rooms available with an ocean view.
Recommended by Pamela of The Directionally Challenged Traveler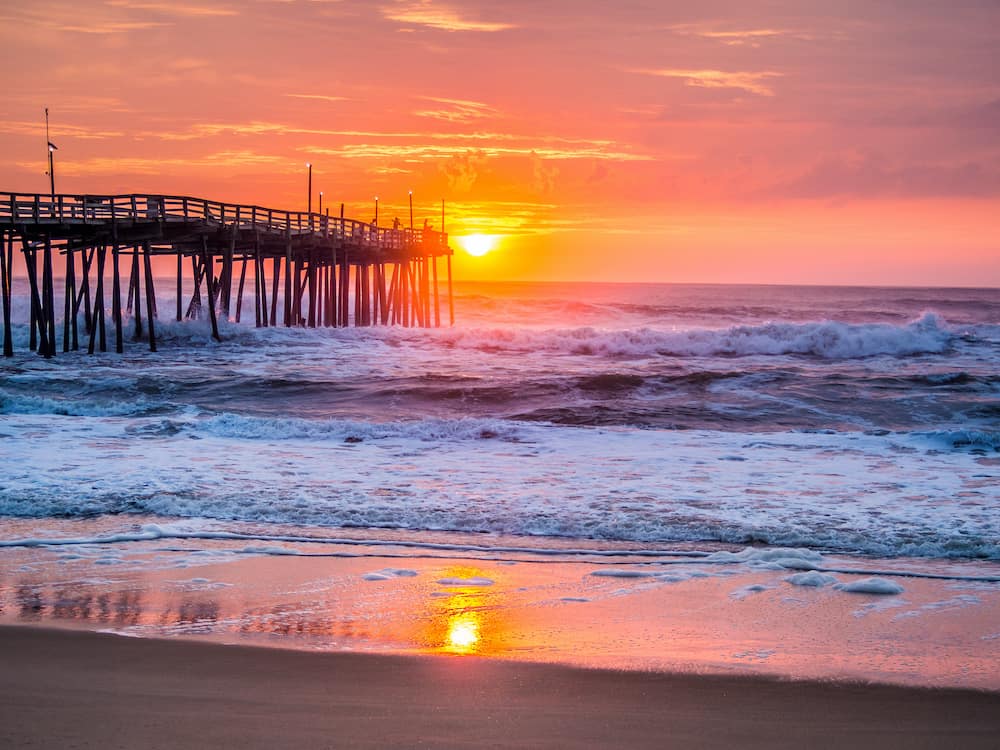 8. St. Augustine, Florida
St. Augustine, Florida, is an underrated beach destination in Florida (often overshadowed by the more "white sandy beaches" you may find in South Florida) — but this little town has so much to offer for a beach vacation!
While the sand may not be white and sparkling, there are a plethora of shells to be found, and even shark teeth if you're patient enough to look. The ocean often boasts waves that are great for a surfing lesson, and St. Augustine is super kid-friendly for those traveling as a family.
During the summer, temperatures can be hot and humid, but with comfortable swimming temperatures in the ocean. You will also likely experience an afternoon thunderstorm. They usually only last a few minutes, but you should be prepared if you're out exploring the town or spending the day on the beach. If you are looking for the best resort in St. Augustine to visit, the Embassy Suites St. Augustine Beach Oceanfront Resort has amazing amenities and is right in front of the beach!
If you're looking for other things to do around St. Augustine other than the beach, Historic Downtown is a great place to explore. From historic tours to adventurous things to do in St. Augustine and a plethora of shops and restaurants, Downtown St. Augustine is a great addition to your beach getaway.
St. Augustine is truly a "gem" on Florida's Atlantic Coast and one of the best summer beach vacations in the U.S.!
Recommended by Taylor of Tea N' Sea Travel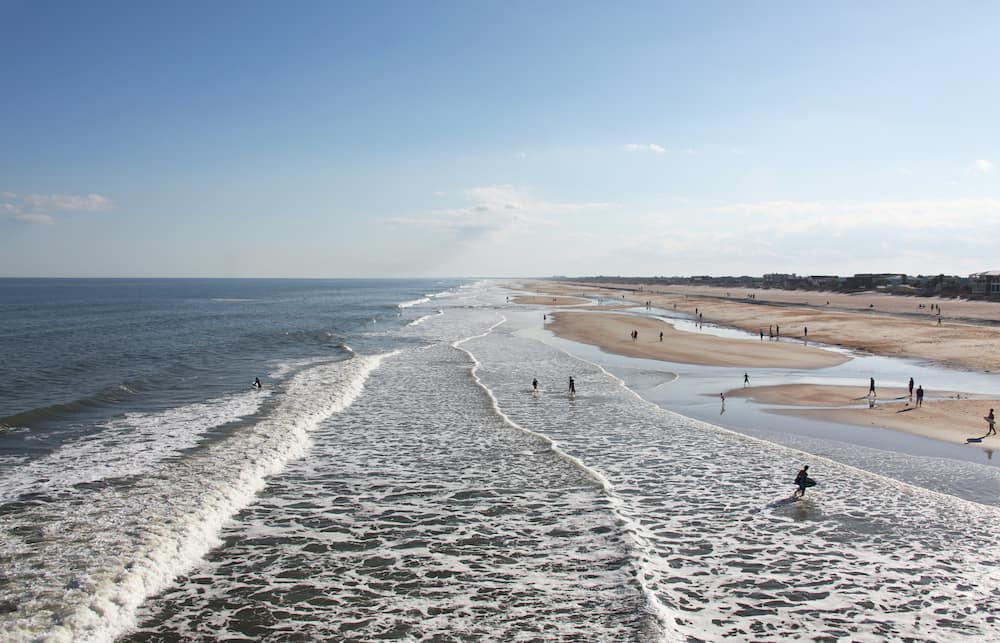 West Coast Beaches (Pacific Ocean)
9. Huntington Beach, California
Huntington Beach is one of the best beaches for a summer beach vacation in Southern California. You can spend an entire week on the surf and sand at Huntington Beach, or you can spend one day in Huntington Beach on a day trip from a nearby destination, like Disneyland!
Huntington Beach is known as "Surf City USA" for its excellent surfing waves, so a surfing lesson is a great way to spend some time in Huntington Beach. When you aren't surfing, boogie boarding, or relaxing on the golden sand, head down to Main Street to go shopping at the surf shops, like Jack's Surfboards and Rip Curl. You can also get lunch or dinner at Fred's Mexican Café and Cantina, with gorgeous views overlooking the beach and pier!
Be sure to take a stroll down the Huntington Beach Pier. You should also check out Pacific City for trendy boutiques and excellent eateries, like Old Crow Smokehouse and Four Sons Brewing. In the mornings, grab a cup of coffee from Philz Coffee! Stay at The Waterfront Beach Resort, a Hilton Hotel, to be within walking distance of the beach, shopping, and dining.
Recommended by Brittany of Travel by Brit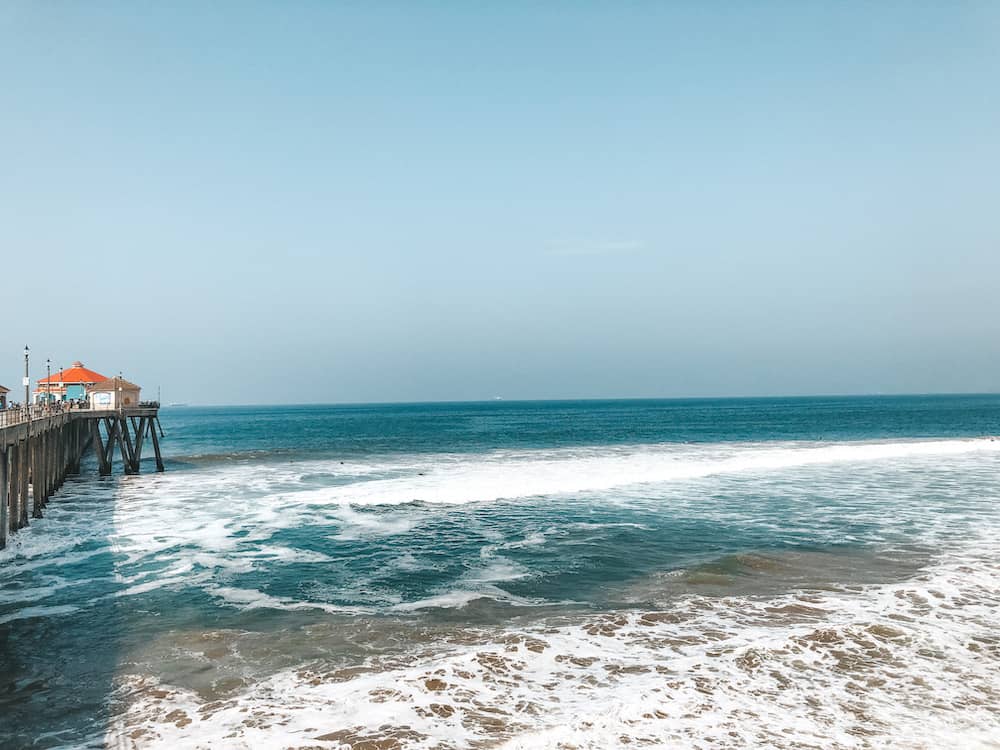 10. La Jolla Shores, California
Undoubtedly one of the best places for a beach vacation is La Jolla, California! During the summer months, the beach town experiences sunny days with an average high temperature of 76°F and an average low temperature of 65°F.
La Jolla Shores, a sandy beach located in La Jolla, is known for its smaller waves, ideal for those beginning their surfing journey or keen on boogie boarding! There are also plenty of parking spots near the beach, making the surf and sand easy to access. Alternatively, if you find yourself growing tired of the beach, you can hit the trails at Torrey Pines Nature Reserve or walk around the boutique shops on Prospect Street.
When you get hungry, you can stay in La Jolla to eat at popular restaurants, like Duke's La Jolla, or head into San Diego to explore the city's flourishing food scene. One spot that's worth visiting is Morning Glory. This restaurant is known for its trendy atmosphere and delicious breakfast plates!
Finally, for those looking for a place to stay in La Jolla, consider La Valencia Hotel, which is in the heart of La Jolla Cove. The hotel's beautiful ocean views and luxurious amenities make it the perfect spot for you to wind down after a fun-filled day in the city!
Recommended by Kristin of Global Travel Escapades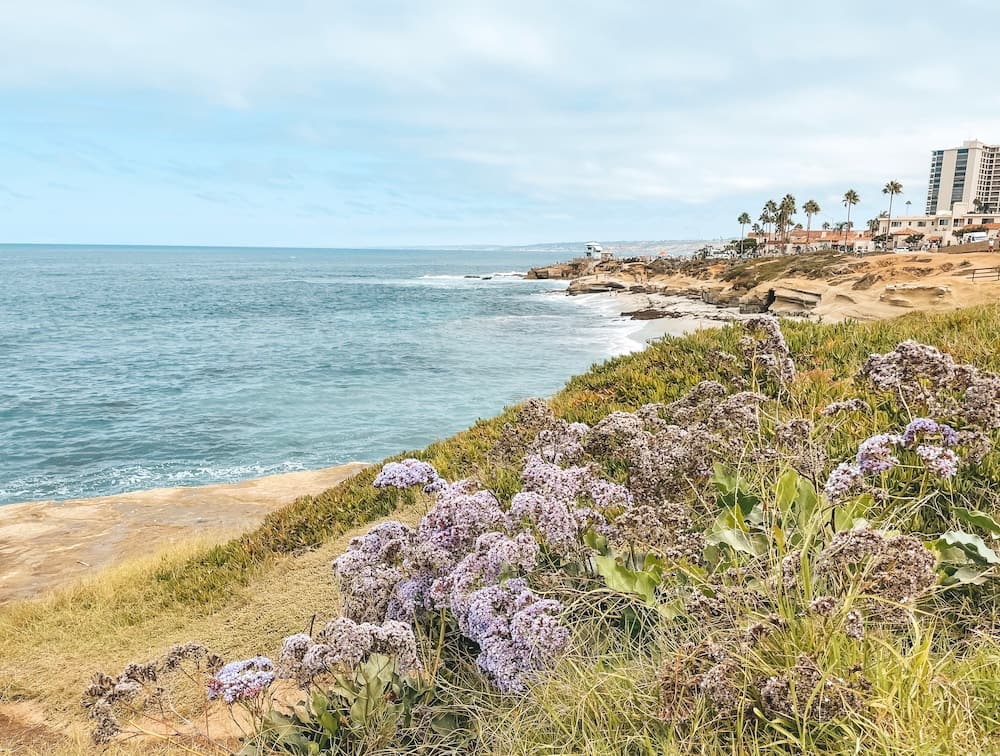 11. Cannon Beach, Oregon
Cannon Beach along the Oregon Coast is one of the best summer beach vacations in the U.S. This popular beach is one of the best places to visit from Portland, Oregon, where both visitors and locals flock during the drier summer months.
One of the most popular things to do on Cannon Beach is exploring the tidepool around the enormous Haystack Rock. You can see crabs, anemones, and sea stars. You may even see puffins perched on the rock during the summer months.
When you are ready to get off the beach, head into town and explore some of the cute shops and art galleries in Downtown Cannon Beach, like Cannon Beach Book Co. and Icefire Glassworks. You can also grab a beer from the two local breweries in Cannon Beach, Pelican Brewing and Public Coast Brewing Co. Or, you can spend the day hiking at the nearby Ecola State Park, or take a day trip to the nearby Tillamook Cheese Factory!
Cannon Beach is still chilly in the summer, which highs in the mid-60s, so come prepared with a jacket, pants, and multiple layers to shed throughout the day. The Surfsland Resort in Cannon Beach is the perfect place to stay if you want to be in the heart of all the action.
Recommended by Brittany of Travel by Brit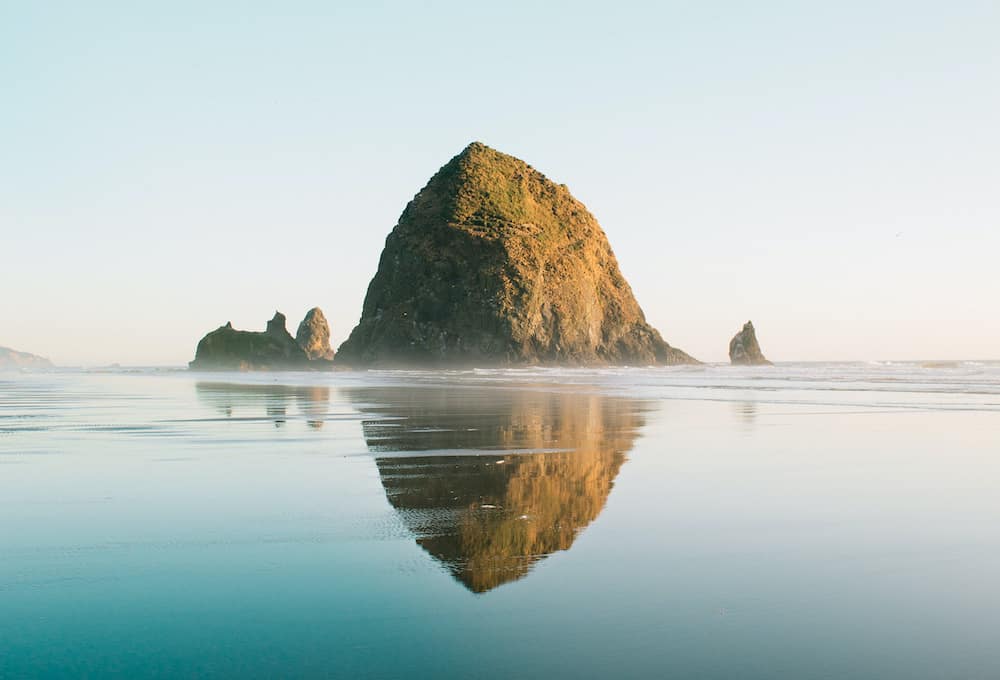 12. Santa Barbara, California
Santa Barbara, California, should definitely be on your radar for the best summer beach vacations in the U.S. With so many options for fun in the sun, you won't be disappointed.
Start off with a stroll around Stearns Wharf, where you can take in gorgeous ocean views and maybe catch a glimpse of a sea lion or two. If you're into water sports, you have plenty of options here — from surfing to swimming to even taking a sunset kayak tour.
After you're done catching rays at the beach, head to Downtown's Funk Zone by State Street. It's one of the coolest neighborhoods to visit for some unique shopping, art galleries, and delicious dining options. Make sure to make a reservation at The Lark for a meal you won't forget — it is one of the best restaurants in Santa Barbara!
And if history is your thing, don't miss the Old Mission Santa Barbara. For families traveling with kids, the Santa Barbara Zoo is a must-visit. Love the movie Sideways? Take a wine-tasting day trip to Solvang, Los Olivos, or Ojai for some great California wine.
The best place to stay is at one of Santa Barbara's cool boutique hotels like the Hotel Californian. With the perfect mild climate with highs in the 70s and lows in the 60s, Santa Barbara is truly a summer paradise. Just don't forget to pack a jacket along with your bathing suit, since it gets a bit chilly at night!
Recommended by Jenifer of The Evolista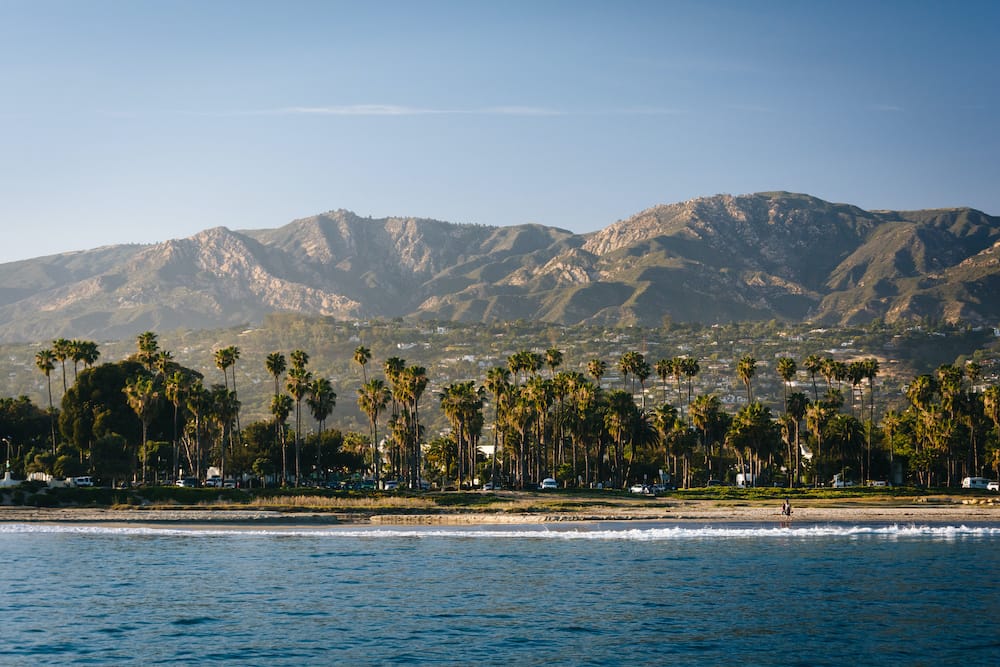 13. Monterey, California
Monterey makes for a wonderful summer beach vacation on California's Central Coast. Not only will you find a plethora of picturesque beaches along the Monterey Coast, but the area is also known for the outdoor activities you can enjoy here, as well as the fabulous food and drink.
While you'll find beaches in Monterey (the city), head away from the tourist core of the city to Lovers Point or Asilomar in neighboring Pacific Grove for a much better beach experience. Lovers Point is one of the few beaches in the area where you can swim or launch a kayak, and Asilomar offers stunning sunsets and a cliff-dunes trail.
Or visit Carmel Beach if you plan on bringing your dog with you on vacation. Dogs are allowed off-leash on this stunning crescent-shaped beach.
Outside of the beach, Cannery Row in Downtown Monterey makes for a delightful stroll past shops and eateries. You can also take a whale-watching tour to enjoy the marine life in Monterey Bay or go hiking in the nearby Point Lobos State Natural Reserve.
You'll find lots of restaurants offering fresh seafood in Monterey, some of them featuring ocean views, such as The Fish Hopper, located right on the ocean tip of Old Fisherman's Wharf. Paris Bakery is a cute place to stop for breakfast. If you are looking for a great place to stay in Downtown Monterey, check out the Portola Hotel & Spa.
Recommended by Dhara of Roadtripping California
14. Ocean Shores, Washington
Ocean Shores is one of the most popular beaches on the western coast of Washington. It's not unusual to visit during the summer and find all kinds of people enjoying the beach who are either taking a weekend trip from Seattle, locals taking a stroll, or tourists visiting for the day.
The weather at Ocean Shores can be peculiar, with beautiful sunny days followed by overcast, fog, and rain. So before heading out to the beach, bring a poncho, rain jacket, and waterproof shoes if it rains. Luckily if it rains, there's still a ton to do at Ocean Shores, such as exploring the Sharky's Gift Shop — this cute shop features a giant white shark mouth as its entrance, so take a moment to admire it. As you guessed, the gift shop is full of shark gifts, toys, and cozy shark sweaters.
There's also an arcade in the Family Fun Center to play a few rounds with the family, a cinema to watch movies at, and shopping areas if you need to grab a few things. You can also play a few rounds of mini-golf at Pacific Paradise.
The Ocean Grill has fantastic fresh seafood and traditional American-style meals if you're hungry. You can also dine at Our Place, which is perfect for breakfast or brunch, and a popular pub known as Galway Bay Irish Pub has a delicious shepherd's pie.
If you want to explore the beach, you can enjoy a variety of experiences such as horseback riding across the coastline, going beach combing, having a small cozy beach fire, watching sunbathing sea lions, and, if you're lucky, an eagle. When choosing a place to stay at Ocean Shores, there are a few popular choices, such as the Canterbury Inn.
Recommended by Yesenia from The Sisters Who Voyage
Gulf Coast Beaches (Gulf of Mexico)
15. Panama City Beach, Florida
Panama City Beach in Florida is one of the best summer beach vacations in the U.S. With miles of white-sand beaches, emerald-green waters, and endless sunshine, it's the perfect place for a summer getaway.
If you don't have accommodations directly on the beach, head to one of the city's paid parking lots with beach access or to St. Andrews State Park to enjoy the coastline. For the best wildlife and marine animal viewing, take a boat to Shell Island. It's a seven-mile barrier island that is completely undeveloped and serves as a nature reserve.
Boat tours offer an easy way to get out on the water. Popular boat tours include options for dolphin-watching, Shell Island excursions, and sunset cruises. Jet skiing, kayaking, and parasailing are also available.
In addition to the numerous activities on the water, Panama City Beach offers plenty of attractions off the water. Hikers will want to head to Conservation Park or St. Andrews State Park, and kids and adults alike enjoy Gulf World Marine Park.
Panama City Beach offers a variety of dining options. For a nice meal, head to Capt. Anderson's. For more casual fare, grab a bite at Pineapple Willy's, Bayou on the Beach, or the Wicked Wheel. The Holiday Inn Resort Panama City Beach is a great accommodation option because it provides easy access to the beach, has several swimming pools, and hosts outdoor movie nights.
During the summer months, Panama City Beach is hot, with high temperatures in the 90s. Whether you're looking for relaxation on the beach or an adventure, Panama City Beach is a great summer beach destination.
Recommended by Caitlin from Twin Family Travels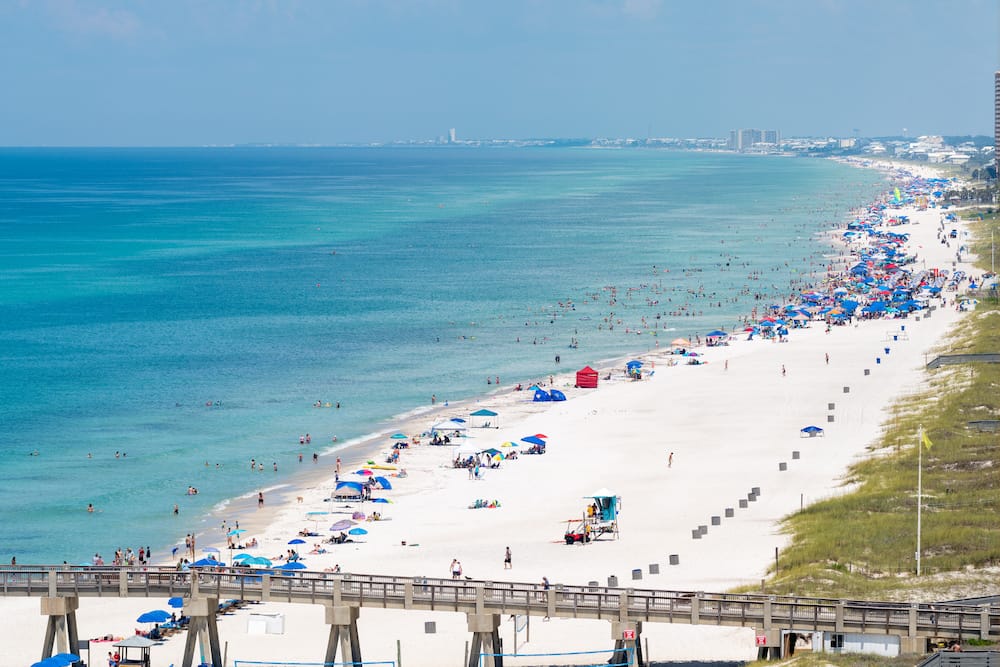 16. Orange Beach, Alabama
When you think of a top "beach destination," Alabama may not be the first state you think of, but it should be! Nestled along the shores of the Gulf of Mexico, the seaside town of Gulf Shores and its neighbor Orange Beach, feature warm turquoise water and white sand beaches. 
Want to go shopping? You can spend all day at The Wharf, a shopping mall and entertainment district with a SPECTRA Laser Light Show, Ferris wheel, and arcade. History lovers (and kids) will love exploring the nearby Fort Morgan State Historic Site. If you want to go out on the water, you can hop on a dolphin cruise, go fishing, kayaking, or parasailing.
Perhaps the best thing about Gulf Shores and Orange Beach is the variety of restaurants with fresh seafood. LuLu's, owned by the sister of Jimmy Buffet, features a huge menu, live music, and sand volleyball. For a more refined dinner and stunning water views, try Cobalt.
You'll find plenty of resorts and condos in Orange Beach, but you can't beat The Lodge at Gulf State Park, A Hilton Hotel, with reasonable prices that feel like a luxury resort. Expect temperatures to be in the 80s and possible showers or thunderstorms in the afternoon during the summer months.
Recommended by Jessica from Past Lane Travels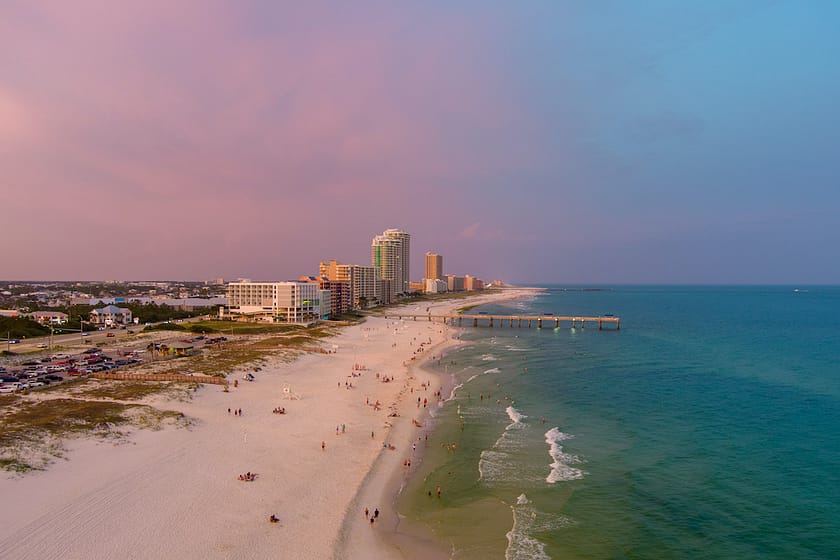 17. South Padre Island, Texas
South Padre Island, located on the southern tip of Texas, is a fantastic beach destination to visit during the summer. This barrier island offers visitors a unique destination to cool off during the hot Texan summer.
One of the biggest draws of South Padre Island is, of course, its vast beaches. With miles of soft sand and warm waters, you can sunbathe, swim, and paddleboard. And don't forget to sign up for sandcastle-building lessons from the pros, so your family can create the biggest sand sculpture on the beach.
However, there is much more to do in South Padre Island beyond the beach. Hop on a boat tour for an afternoon of fishing, dolphin watching, snorkeling, or eco-cruising. The island is home to the Sea Life Marine Center, where you can touch starfish, crabs, and other marine life while learning about the endangered sea turtles that live here.
For seafood lovers, Blackbeard's is a must-visit spot for lunch or dinner. Save room for the fried apple pie! For a casual, authentic, Mexican treat, check out Chilitto Pikin. If you are in the mood for a great beer and burger, Padre Island Brewing Company is the place to be.
You'll find an abundance of hotels and vacation rentals on the Island. One standout is the Margaritaville Beach Resort offering spacious rooms with stunning ocean views. While South Padre Island can get quite warm during the summer months, with average temperatures in the mid-80s, the gulf breeze makes it a comfortable getaway from the hot cities of Texas.
Recommended by Ladona from Walking the Parks
18. Anna Maria Island, Florida
If you are looking for one of the best summer beach vacations in the U.S., Anna Maria Island should be at the top of your list! Located on Florida's pristine Gulf Coast, Anna Maria Island is a great destination for families looking for an idyllic beach vacation. The island offers a laid-back atmosphere that's perfect for relaxation and adventure.
The number one draw of Anna Maria Island is the pristine beach, with warm turquoise water, an abundance of seashells, and white powdery sand. Summers in Florida are characteristically hot, but the water in the Gulf of Mexico is temperate and perfect for swimming, paddleboarding, and snorkeling. Or head to Bimini Bay to kayak and watch dolphins and manatees swimming by.
For those who want to explore the island, try the air-conditioned hop-on-hop-off trolley that drops off and picks up at designated spots for free! Golf cart rental options are also plentiful on the island and offer a convenient and fun way to get around. And visiting the historic Anna Maria City Pier provides world-class fishing with a view that seems to go on for miles!
After the pier, grab your choice of 30 different daiquiris at the Daquiri Deck and stroll in and out of the locally owned shops down at Bridge Street. And for a perfect place to stay, Cedar Cove Resort & Cottages offers cottages right on the beach.
Book your summer stay well in advance, as Anna Maria Island is one of the best summer beach vacations in the U.S. Don't miss your chance to stay in this little slice of paradise!
Recommended by Erin of The Simple Salty Life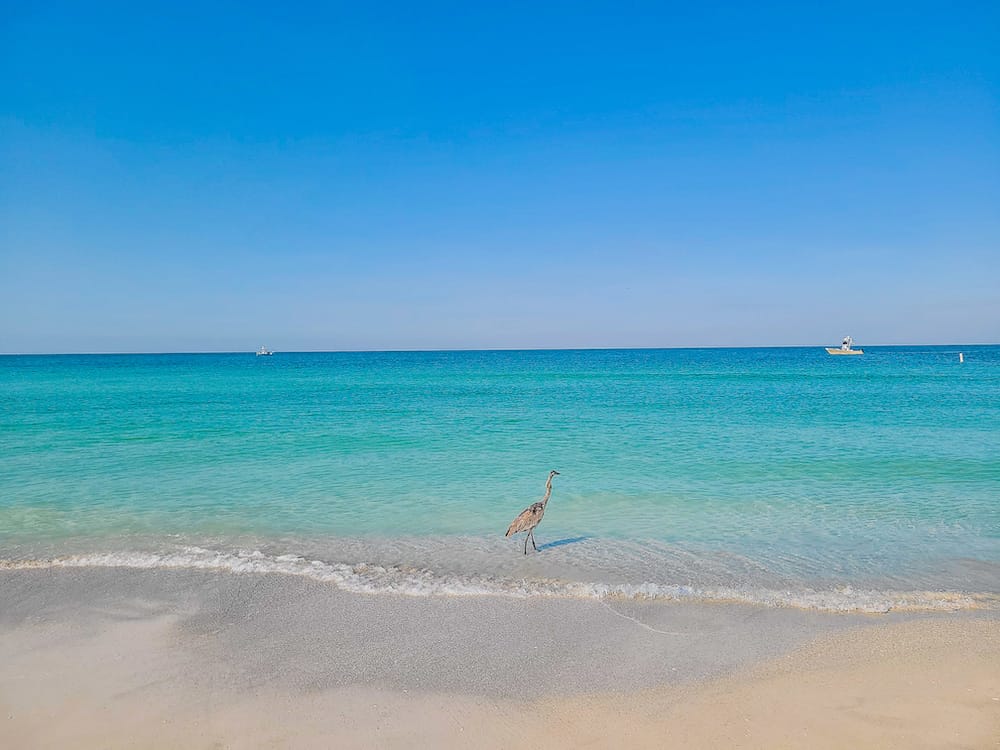 Island Beaches (Hawaii & Caribbean)
19. Waikiki Beach, Oahu, Hawaii
Waikiki Beach is in the incredible Honolulu, Hawaii, and is a must-visit destination for beach lovers during the summer season. With its clear blue waters, soft sand, and beautiful sunsets, Waikiki Beach is one of a kind and one of the most popular beaches to visit on the island of Oahu.
One of the great things about Waikiki Beach is the variety of activities available both on and off the beach. Those looking for adventure can enjoy surfing, paddleboarding, and kayaking, while those who prefer to stay on land can take a stroll along the famous Waikiki Beach Walk or hike up to the Diamond Head State Monument for stunning views of the island. Oahu is known for some of the most incredible hikes in Hawaii.
If you are interested in experiencing Hawaiian culture, there are several opportunities to do so in Waikiki. You can visit the Royal Hawaiian Center to learn about traditional Hawaiian music and dance or check out the local markets for authentic Hawaiian crafts and souvenirs.
Waikiki has a plethora of choices ranging from traditional Hawaiian fare to international cuisine. Some must-try places include The Pig and the Lady for Vietnamese-inspired dishes, Marukame Udon for Japanese udon noodles, and Hula Grill Waikiki for a taste of traditional Hawaiian food. These restaurants are all within walking distance of Waikiki Beach! Plus, make sure you try the shaved ice and fresh pineapple! It's a delicious way to cool down after a long day on the beach.
As for accommodations, one great option is the Moana Surfrider, A Westin Resort & Spa. This beachfront hotel offers stunning ocean views, and luxurious amenities, and is located just steps away from Waikiki Beach. Its classic charm and elegant decor make it a perfect choice for those seeking a unique and luxurious vacation experience.
As for the weather, summer in Waikiki is warm and sunny, with temperatures averaging around 85°F. It can be humid at times, so it is best to pack light, breathable clothing and plenty of sunscreen because the sun can be strong. The occasional rain shower may occur, but it usually clears up quickly, and visitors can continue to enjoy the beach and other outdoor activities.
Waikiki Beach is certainly a bucket-list beach choice for a summer vacation. With so many things to do nearby and the stunning scenery on the island of Oahu, it's hard to find a better beach destination for your summer vacation.
Recommended by Rebecca from The Travel Scrapbook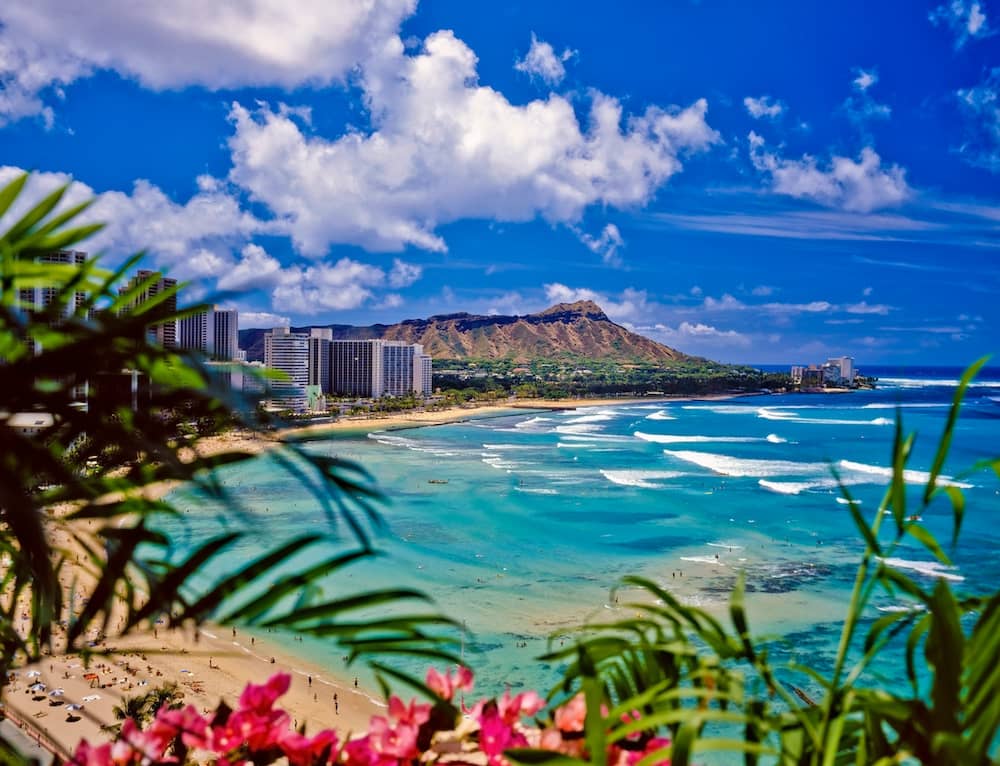 20. Ka'anapali, Maui, Hawaii
The island of Maui is known for its beautiful sandy beaches and luxurious amenities, making Ka'anapali the perfect Hawaiian summer getaway destination. This town is located on the western side of the island, less than an hour away from the airport in Maui.
Ka'anapali stretches about three miles along the coast and is speckled with world-class restaurants and resorts like The Westin Ka'anapali Ocean Resort Villas. Although you may never want to leave this gorgeous beach-side resort, they offer a shuttle to and from Whaler's Village, a boutique and lively outdoor shopping and dining area. Here, you can eat lunch with your toes in the sand at Hula Grill or grab a drink at Monkeypod Kitchen for the best Mai Tai on the island.
Summer temperatures average a delightful 70 to 80°F during the day, but occasional storms or rain have been known to sneak in. So, it's best to be prepared and check the weather often.
With crystal-clear warm waters, Ka'anapali is a great spot in the summer for snorkeling, surfing, and swimming. The northern edge is home to Black Rock which is known for cliff diving and snorkeling. But you can also find adventures in the nearby Hawaiian jungle with zip lining, hiking, and horseback riding. Or spend a few hours just south in Lahaina to see the largest banyan tree in the U.S. and one of the largest in the world.
A trip to Ka'anapali can be perfectly balanced with memorable adventures and relaxation in luxury. Whether you're traveling as a couple, a family, or with friends, this well-rounded Maui beach town will not disappoint!
Recommended by Hannah from Plate and Compass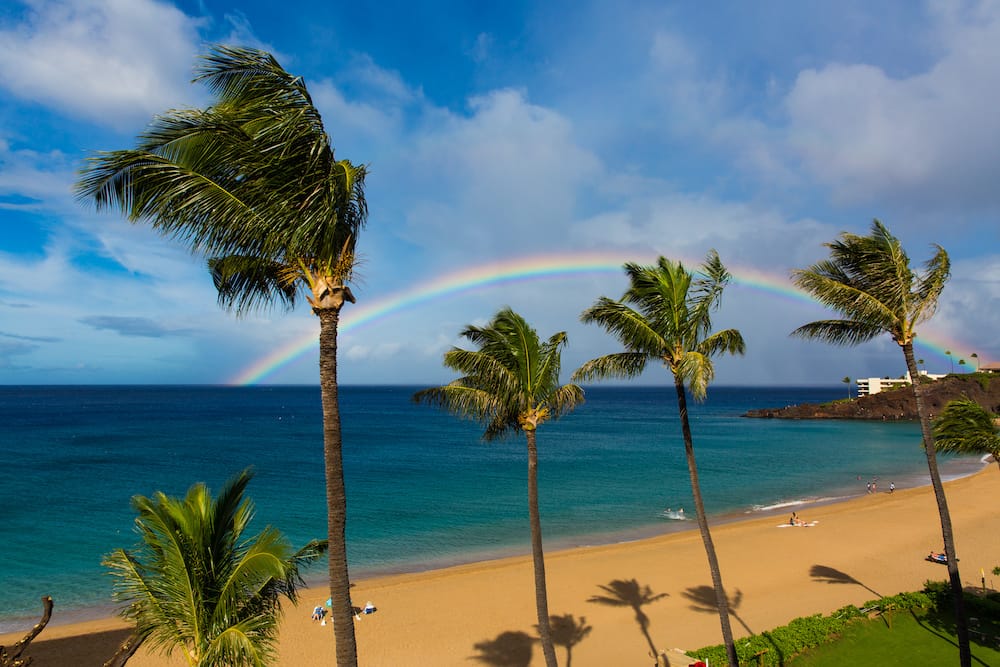 21. North Shore, Oahu, Hawaii
Oahu's North Shore is the perfect beach destination to visit during the summer, as it offers picturesque scenery, exciting activities, and delicious food options. Summer is the perfect time to visit the North Shore, with temperatures ranging from the mid-70s to the low 90s Fahrenheit. You can expect clear skies and very little rain.
One of the most popular beaches on the North Shore is Waimea Bay, known for its massive waves that attract surfers from around the world. Laniakea Beach is a great spot for turtle sightings on Oahu's North Shore. The beach is well-known for its resident population of Hawaiian green sea turtles that can often be seen basking on the sand.
Whilst the North Shore is known for its beach activities, there are also plenty of things to do off the beach, like heading to the Waimea Valley for a scenic hike to a waterfall. You could also stop by the Polynesian Cultural Center, which will give you a glimpse into the history and culture of the Pacific Islands.
When it comes to dining, head over to the famous Giovanni's Shrimp Truck, which serves delicious garlic shrimp (the shrimp scampi is a must-try!). Another excellent option is the Waialua Bakery which serves freshly baked bread, pastries, and sandwiches. The best place to stay nearby is at the Turtle Bay Resort. This resort features breathtaking ocean views, multiple swimming pools, and a world-class spa.
Recommended by Megan from Traveller's Elixir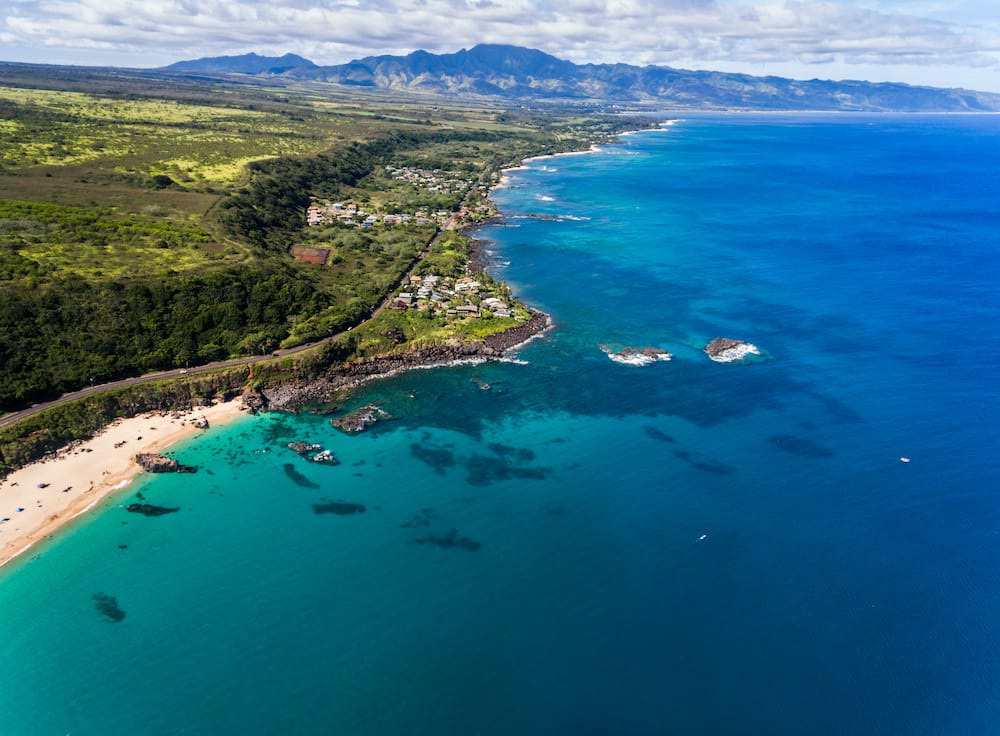 22. St. Croix, U.S. Virgin Islands
St. Croix is easily the most underrated summer beach vacations in the U.S. Located in the beautiful Caribbean Ocean, St. Croix is both the least visited and largest U.S. Virgin Island. A diversity of stunning beaches surrounds the island, some with calm, turquoise-blue water and others with powerful waves.
St. Croix is one of the best places in the U.S. for snorkeling and scuba diving. Some of the best snorkeling and diving spots around the island include the Frederiksted Pier, Protestant Cay, and the Cane Bay Wall. One of the most popular day trips on the island is a boat ride away at Buck Island National Wildlife Refuge, which has incredible scuba diving and snorkeling.
You can expect sunshine most days, with an average high of 86°F and a low of 77°F throughout summer. One of the best places to stay on the island is the Hotel on the Cay, a historic hotel on a tiny island, just a three-minute boat ride away from Downtown Christiansted. Ferries run frequently, allowing visitors to easily explore St. Croix while being in one of the best snorkeling spots. While exploring Christiansted, be sure to try some local food at a restaurant like Ital in Paradise.
Recommended by Annie of Your Friend the Nomad
Lake Beaches
23. Duluth, Minnesota
When thinking of the best summer beach vacations in the United States to take, Duluth, Minnesota, likely isn't on the top of your list. Although it doesn't sit on the ocean, Duluth is home to the largest freshwater lake in the world by surface area. That means you'll have the same beautiful beach views, but no need to worry about all those scary ocean critters!
Lake Superior offers endless opportunities for outdoor recreation and adventures. Visitors can spend their days swimming, boating, kayaking, and fishing in the cool, clear waters, or simply lounging on the sandy beaches soaking up the sun.
The most popular established beach in the area is Park Point which is a long, narrow sandbar stretching for seven miles. Here, you'll find even more beach activities with amenities like lifeguards, picnic areas, and volleyball courts. In addition to the beach, Duluth is home to a variety of other attractions, such as the Aerial Lift Bridge, the Great Lakes Aquarium, and the scenic North Shore Drive.
During your weekend trip to Duluth, be sure to pack in layers, as the weather can be a bit unpredictable. Summer temperatures are typically in the mid 70's, but can dip into the 40's. It's always cooler by the lake as well! And yes, the water will be very chilly!
After enjoying the sun and beach, there are many restaurants and hotels to choose from near Park Point. For Mexican, check out Little Angies with a great summertime patio, or if hoping for a fancier option, head to Beliiso's for some delicious Italian. Then, grab a room at the Canal Park Lodge, where you'll still be able to enjoy beautiful views of Lake Superior from the comfort of your room.
With its stunning natural beauty and abundance of activities, Duluth is the perfect destination for one of the best summer beach vacations in the U.S. that combines relaxation and adventure!
Recommended by Jordan from The Homebody Tourist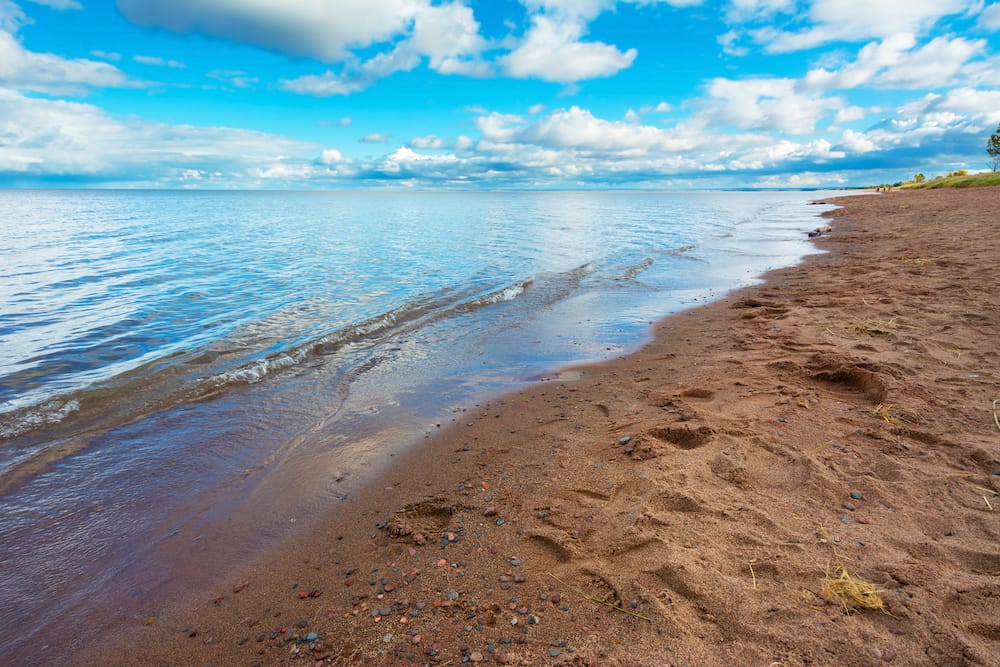 24. Lake Tahoe, California
Beautiful Lake Tahoe is the perfect place to spend a summer vacation on the beach! This lake is the largest alpine lake in the United States and offers the bluest water and most incredible views.
Due to its elevation at over 6000 feet, the Lake Tahoe area weather is mild and rarely hits above 80°F, which makes it a perfect escape from hotter temperatures. Mornings and evenings tend to be cool.
The water is chilly, but beautifully clear and refreshing for a swim, kayak, jet ski ride, or sunset cruise. Some of the best places to swim in Lake Tahoe include Zephyr Cove, Meeks Bay, Kings Beach, Sand Harbor, and Sugar Pine Point State Park. For a unique experience, consider renting a clear kayak at Sand Harbor!
The East Shore Bike Trail departs from Incline Village and leads walkers and bicyclists to a gorgeous, paved path along the edge of the lake. The path branches off toward a dozen small, secluded, swimming beaches perfect for a quick swim or a picnic. Hidden Beach is among the most popular small beaches along the path and is only one mile from the parking lot.
Morning hikes, or evening strolls to catch the sunset, can lead to incredible views of the lake, evergreen forests, and surrounding mountains. Eagle Rock, Monkey Rock, and Cave Rock Trail are among those that are highly recommended. For an extra challenge, consider hiking from the Emerald Bay overlook down the Vikingsholm Trail to swim or boat in Emerald Bay.
Delicious restaurants are located on the north and south shores of the lake primarily. Check out The Lake House Restaurant and Gar Woods Grill & Pier for a tasty menu and great views. The Lake Tahoe Hyatt Regency Resort is a lovely place to stay with upscale rooms, stunning views, and fun amenities such as bike rentals and a game room.
Recommended by Sierra of Island + Alpine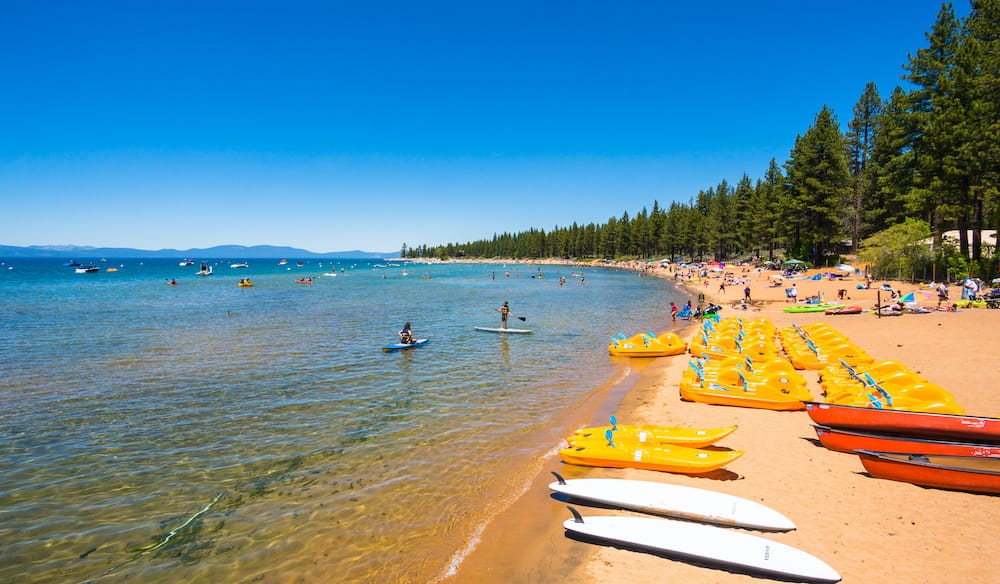 FAQs: Best Summer Beach Vacations in the U.S.
What is the prettiest beach in the United States?
There are hundreds of stunning beaches in the United States. However, most people would argue that the beaches in Florida, California, and Hawaii are the most beautiful.
What beach has the clearest water in the U.S.?
Waimea Bay in Hawaii, Hanauma Bay State Park in Hawaii, Clearwater Beach in Florida, Carmel Beach in California, and Lake Tahoe in California have some of the clearest and bluest water in the United States.
What states have beaches and warm weather?
Florida, Hawaii, Georgia, South Carolina, Alabama, Texas, and Southern California boast some of the country's best beaches and year-round warm weather.
Plan One of These Best Summer Beach Vacations in the U.S. for a Relaxing Trip
Regardless of whether you are inclined to visit the East or West Coast, the Gulf of Mexico, or the gorgeous islands and lakes across the country, you are bound to find a fabulous destination from this list of the best summer beach vacations in the U.S.
Which of these beachy destinations will you plan your summer vacation to this year?

Disclosure: Some of the links in this post about the Best Summer Beach Vacations in the U.S. are affiliate links, meaning, at no additional cost to you, I earn a commission if you click through and make a purchase. This helps me keep the content on my website free, like this post about the Best Summer Beach Vacations in the U.S.
Save These Best Summer Beach Vacations in the U.S. for Later