Located in Southern California in the mountains of Ventura County, Ojai offers the perfect blend of exploration and relaxation! Ojai is best known for its stunning Spanish-style architecture, relaxing spas, local shopping, and exquisite sunsets.
Ojai is the perfect destination for a relaxing weekend trip. There are plenty of fun things to do in Ojai to keep you busy, but not too many to feel overwhelmed. It's the ideal spot for a laid-back weekend filled with great food, wine, and views!
Here's a look at the best things to do in Ojai during your weekend trip to this gorgeous California location. But first, here are some questions you might have about traveling to Ojai!
When Should I Visit Ojai?
Ojai is a beautiful destination to visit year-round, but like the rest of Southern California, the area shines in the spring through the fall. I'd recommend a late-spring or early-fall visit to experience mild temperatures and constant sunshine!
I would also recommend visiting Ojai during the weekend. Many shops, restaurants, and other things to do in Ojai are closed on Monday and Tuesday, so it's best to avoid visiting during these days. However, if you're planning a long weekend in California, Monday is a great day to take a day trip from Ojai to a larger, nearby city, like Santa Barbara. You can learn more about popular day trips on this list of the best things to do in Ojai.
How Do I Get to Ojai?
Ojai is tucked away in the Topa Topa Mountains, so it's a bit of a drive from the nearest airports. If you're flying into Ojai, here are the closest airports to choose from:
Santa Barbara (SBA) Airport: 34-mile drive from Ojai
Hollywood Burbank (BUR) Airport: 54-mile drive from Ojai
Los Angeles (LAX) International Airport: 60-mile drive from Ojai
If you're looking for the most affordable option, I'd recommend flying into Los Angeles. Since it's such a large airport, flights and rental cars will be cheaper. If you're looking for the closest option and a fun city to fly into, Santa Barbara is your best bet!
10 Best Things to Do in Ojai, California
1. Wine Tasting
Ojai is known for its collection of local wineries and tasting rooms, making wine tasting in Ojai a must-do activity while you're in the city!
Topa Mountain Winery is perhaps the most famous winery in Ojai, with plenty of space to relax, unwind, and enjoy spectacular views of the Topa Topa Mountain Range. Unfortunately, Topa Mountain Winery was closed for a private event during our visit, so we couldn't stop at this popular spot. 
We did, however, stop for a glass of wine at the Majestic Oak Vineyard and Wine Tasting in Downtown Ojai, and we loved our experience! The lush, shaded patio and quiet atmosphere make this one of the best things to do in Ojai!
If you're looking for other wine tasting locations in Downtown Ojai, The Ojai Vineyard Tasting Room and Casa Barranca Organic Winery & Tasting Room are two additional options.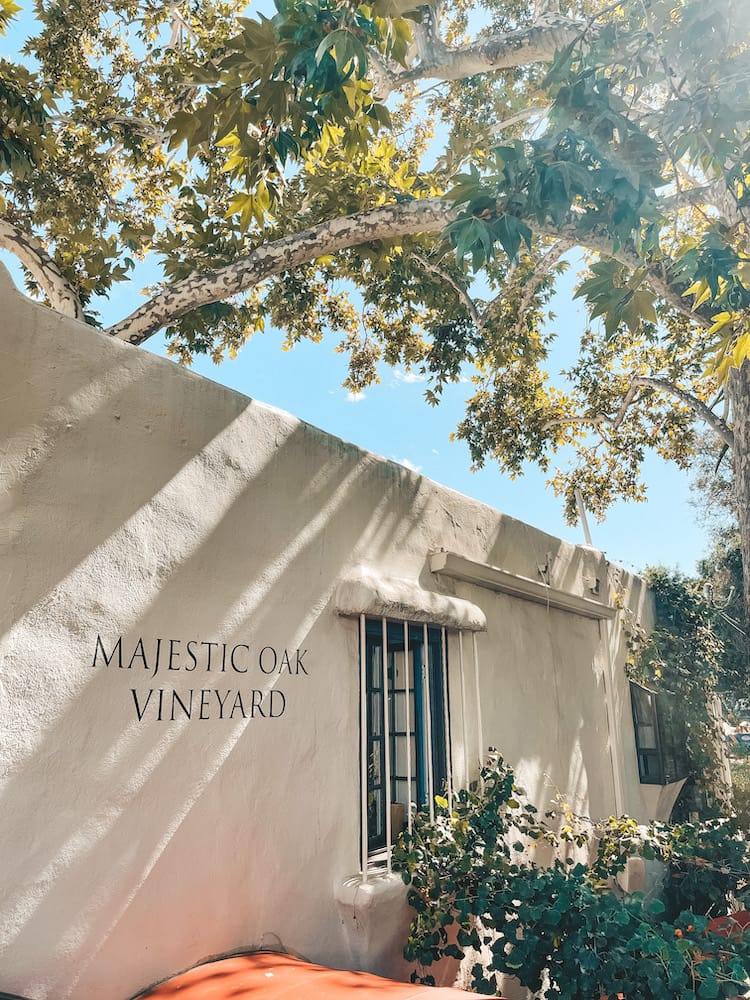 2. World's Largest Outdoor Bookstore
Did you know Ojai is home to the world's largest outdoor bookstore? Even if you're not a big reader, you have to pay a visit to Bart's Books—one of the best things to do in Ojai!
Bart's Books is an experience within itself that's been an Ojai staple since the 1960s. During your visit, you can get lost winding through hundreds of shelves and thousands of books, or you can sit at a table sprinkled throughout the store to read a few chapters of your latest purchase.
3. Olive Oil Tasting
Olive oil tasting is one of the best (and most unique!) things to do in Ojai, California. You can take a self-guided tour of Ojai Olive Oil—a family-owned farm that has been making olive oils from 150-year-old olive trees for decades. They also offer free tastings!
If you don't want to make the drive up to Ojai Olive Oil (it's about a 10-minute drive from Downtown Ojai), you can stop at the Ojai Tasting Room Carolina Gramm, located just across the street from Majestic Oak Vineyard and Wine Tasting, to sample their olive oils instead!
4. Downtown Ojai Shopping
In Ojai, you won't find any large retail chains. Large chain businesses with five or more locations are banned from Ojai. That said, when you shop and dine in Ojai, you are supporting locally operated and family-run companies, which I think is amazing!
In Downtown Ojai, you can explore the boutiques and other independent stories filled with handmade jewelry, plants, furniture, clothing, and more. If you love shopping for unique items, you'll adore perusing the shops in Downtown Ojai. Some cute and trendy places to shop in Ojai include Summer Camp, In the Field, and Plant Based.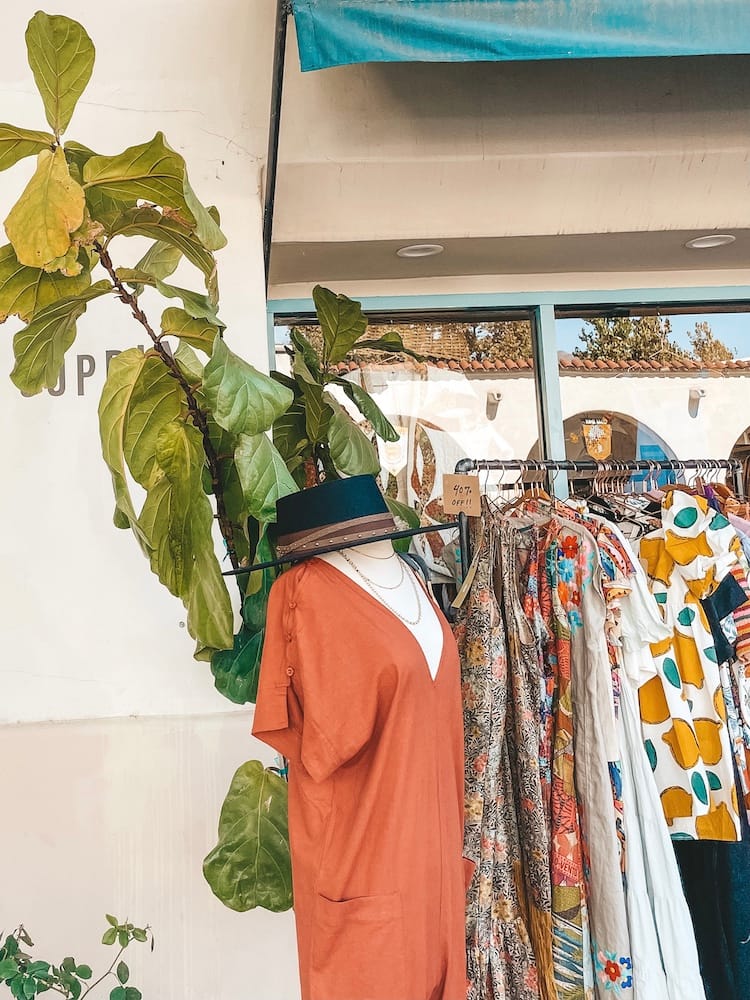 5. Local Eateries
Ojai has tons of fabulous places to eat—here are a few of the most popular!
Tipple & Ramble—Tipple & Ramble is a bohemian-style wine bar offering charcuterie boards and an Instagrammable, casual patio perfect for spending the afternoon!
The Nest—The Nest just opened in 2017 but has already become a favorite in Ojai thanks to the healthy options, yummy tacos, and dog-friendly patio.
LOVE Social Café—This spot is perfect for a quick breakfast bite, like a sandwich or burrito, and a cup of coffee.
The Farmer and The Cook—This organic restaurant serves breakfast and lunch with ingredients from their local farm just down the road!
Topa Topa Brewing Company—If you're looking for a venue that's a bit livelier, you'll love grabbing a beer and enjoying the atmosphere of Topa Topa Brewing Company's taproom location in Downtown Ojai.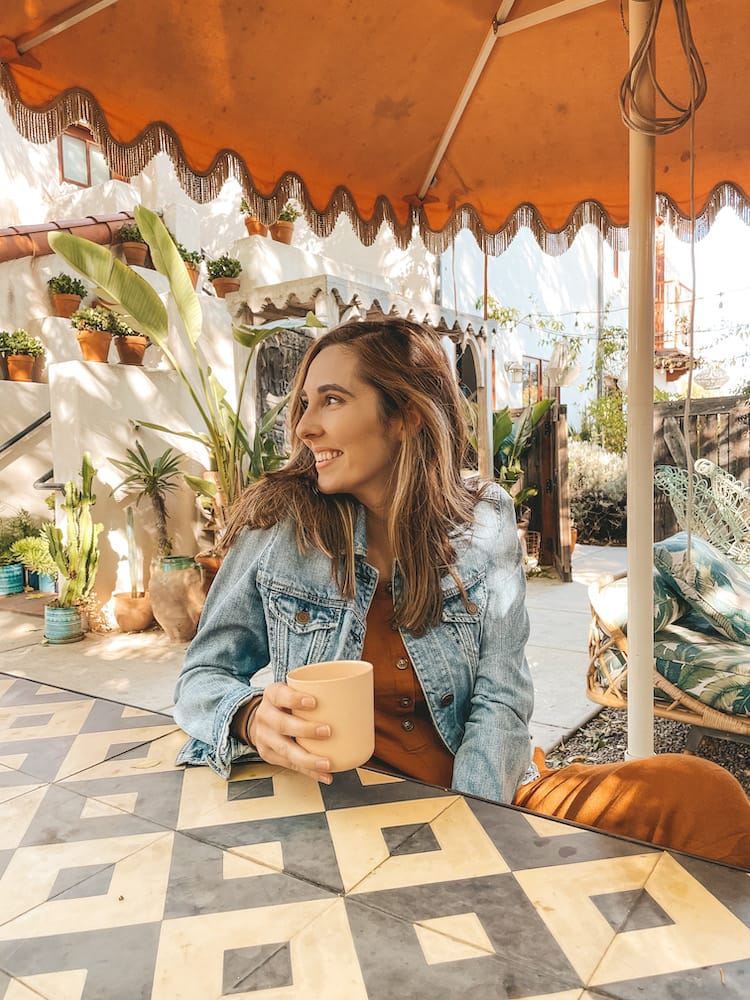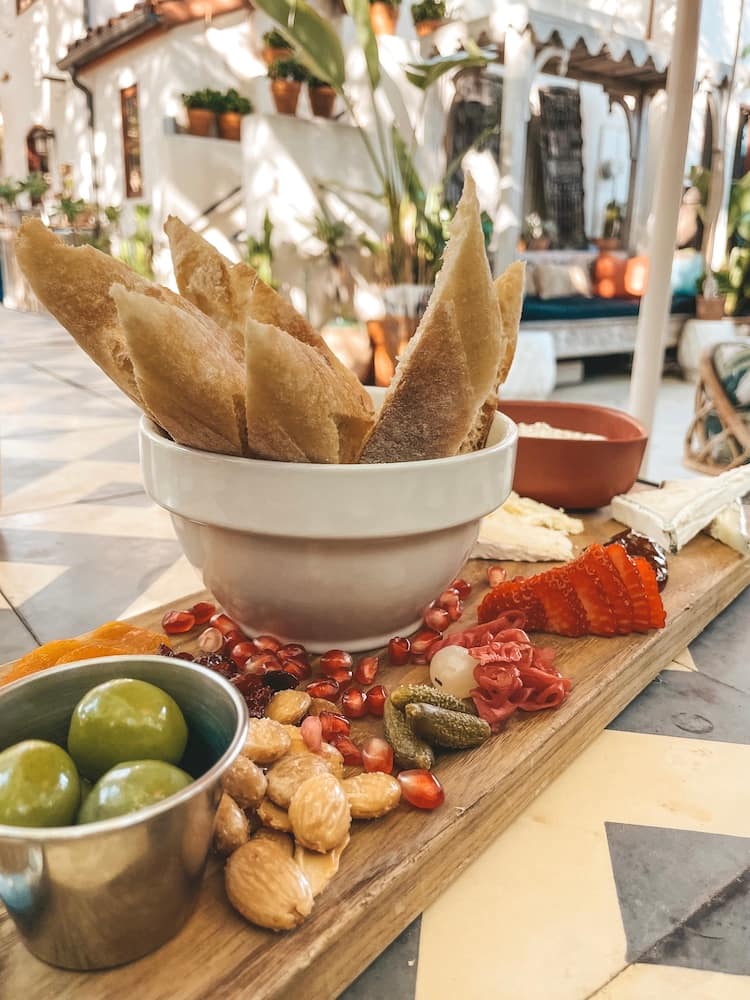 6. Relaxing Spa Day
With dozens of spas, yoga studios, and wellness retreats scattered throughout the town, Ojai is a great destination to enjoy a relaxing, rejuvenating vacation.
However, nowhere beats Spa Ojai at the Ojai Valley Inn for a day of massages, facials, and other relaxing spa treatments. Guests can book massage therapy, hydrating facials, sound energy therapy experiences, natural nail therapy, wellness classes, and more.
7. Sunset Hiking
Since Ojai is in the mountains, it's a beautiful location to go hiking. Ojai Meadows Preserve is a great location just outside the city to take a long walk, while the Los Padres National Forest is better if you prefer more challenging hikes.
Los Padres National Forest spans from Ventura to Monterrey. Some of the more popular hikes you can access from Ojai include Rose Valley Falls and the Wheeler Gorge Nature Trail.
Plus, you can try to time your hike to end around sunset to capture the "Pink Moment"—the nickname for Ojai's famous sunsets. Watching the sunset is one of the best things to do in Ojai!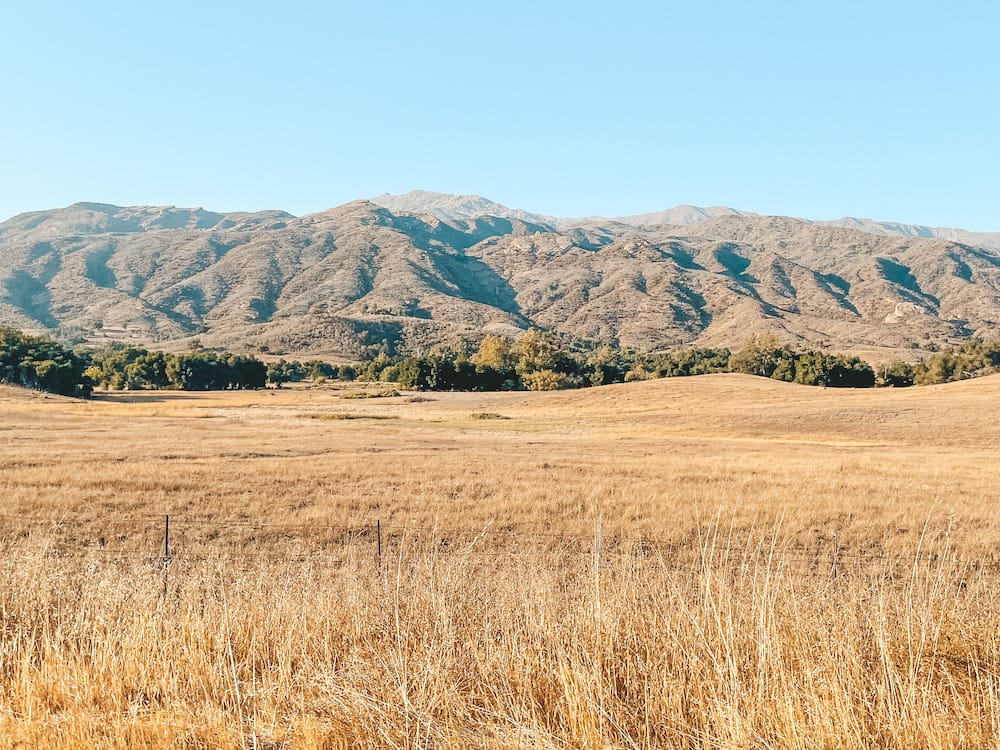 8. Farmers' Market
California grows some amazing produce! So naturally, visiting the farmer's market is one of the best things to do in Ojai, California! Downtown Ojai has two popular farmers' markets, and if you're planning to stay for a long weekend, you should be able to visit them both. 
The Ojai Certified Farmers Market occurs on Sunday mornings from 9 AM – 1 PM, and the Ojai Community Farmers' Market happens on Thursday evenings from 3 PM – 7 PM. At each market, you'll find tons of goods, like fruit, veggies, cheeses, flowers, and more from local vendors.
9. Beach Day Trip
If you're looking to get your beach fix during your California vacation, you'll be happy to discover that Ojai is just a short 15-mile drive from Ventura and a 33-mile drive from Santa Barbara. Even though there are plenty of things to do in Ojai to fill an entire weekend, it's worth exploring the nearby cities, too!
If you're looking to lounge on the beach for the entire day, I'd recommend visiting Ventura since it's closer to Ojai and offers a laid-back beach atmosphere.
However, if you're willing to make the drive, Santa Barbara is filled with beautiful architecture, clean beaches, and a hopping foodie scene that's worth checking out during your trip!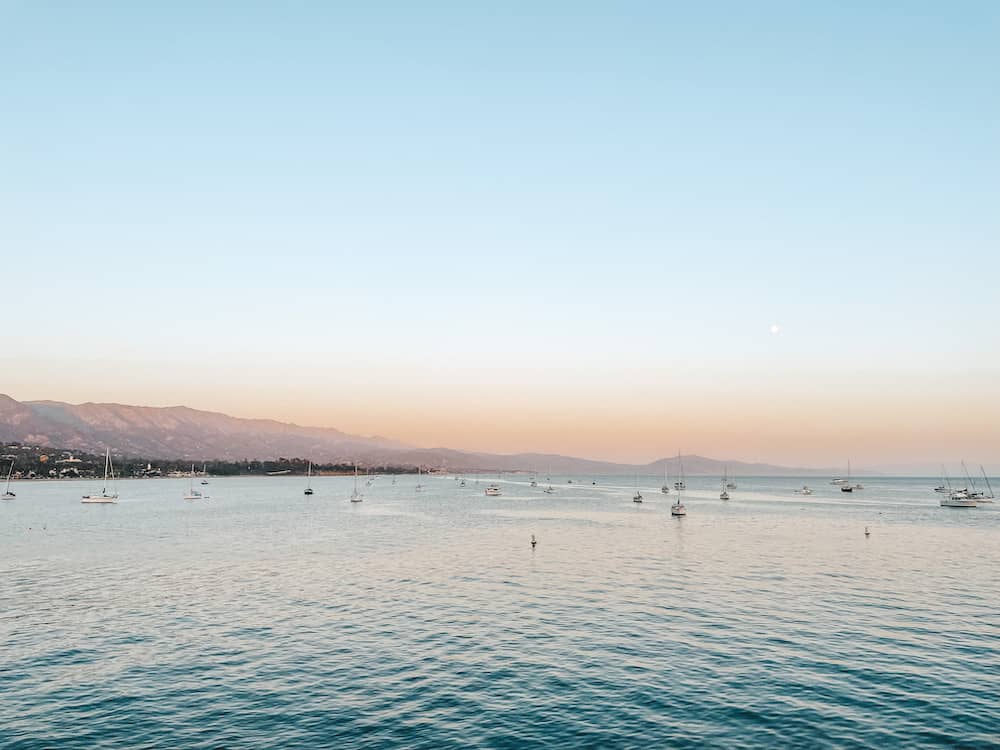 10. Hot Springs
Ojai has some great hot springs! You can visit during the day if it's cooler outside or in the evening to relax under the stars. Ecotopia or Matilija Hot Springs are two places where you can find some of the steamy hot springs near Ojai!
What are the Best Places to Stay in Ojai?
Ojai is a small town, so options for accommodations are limited. The following accommodations are by far the most beautiful and popular places to stay in Ojai, so book them plenty of time in advance to ensure the best rooms at the best rates!
Ojai Valley Inn—Ojai's most popular place to stay, equipped with beautiful scenery, a full-service spa, and a championship golf course.
The Emerald Iguana Inn—Cozy hotel with a beautiful garden view and outdoor pool that's perfect for a couple's vacation.
Caravan Outpost—Trendy pet-friendly airstream getaway tucked in the Topa Topa Mountains that's perfect for a solo trip.
Enjoy the Best Things to Do in Ojai During Your Laid-Back Weekend Trip!
Whether you're planning a romantic vacation, girls' getaway, or solo wellness retreat, a weekend in Ojai, California, is sure to leave you refreshed and rejuvenated!
Which of these fun things to do in Ojai would you enjoy first during your weekend trip?

Disclosure: Some of the links in this post about the "Best Things to Do in Ojai" are affiliate links, meaning, at no additional cost to you, I will earn a commission if you click through and make a purchase. This helps me keep free content on my website, like this post about the "Best Things to Do in Ojai."
Pin the Best Things to Do in Ojai for Your Weekend Trip for Later!
Read More…
Did you love this post about the best things to do in Ojai? If so, check out these other posts about Southern California to plan the perfect vacation!