When you think of cities with memorable coffee culture, you probably think of Seattle, Portland, or San Francisco… but not coffee shops in North Phoenix. You might be surprised to learn that Phoenix has its fair share of locally-owned coffee shops & roasteries that serve delicious, high-quality, craft coffee!
As a Phoenix native and former barista, I really care about supporting local coffee shops in my home state because I think they contribute so much to the community! My love for local coffee inspired me to write a three-part blog series about the best coffee shops in Phoenix, so you can support them, too.
For my first post (which would be the one you're reading right now!), I'll be sharing the best coffee shops in North Phoenix. The truth is, Downtown Phoenix & Scottsdale get all the credit when it comes to local coffee in Phoenix, but I've come to love the coffee shops in North Phoenix (my home!) that don't always make the "Best of Phoenix Coffee" lists.  
North Phoenix has truly upped its game with some great local coffee shops in the past few years, and it's time for these awesome coffee shops in North Phoenix to get the credit they deserve! Here are my four favorite coffee shops in North Phoenix:
1. Elevate Coffee Co.
Location: 2530 W Happy Valley Rd. Suite #1273, Phoenix, AZ
My Favorite: Iced White Chocolate Americano or Chai Latte (with almond milk!)
Fun Fact: Elevate donates 10 cents from every latte purchase to Water 4 Kids International—an organization that builds freshwater wells in third-world countries.
Elevate Coffee Company is near and dear to my heart—it was my first job, and now, it's my favorite local coffee shop! They have been serving locally roasted coffee & espresso to North Phoenix for over a decade, and they recently started selling their high-quality beans online. In my opinion, they have some of the best coffee beans in Phoenix, and they are one of the best coffee roasters in Phoenix!
Elevate also serves delicious all-day breakfast, sweet crepes, and savory crepes. They have more flavors and milk options than I can count, and they'll genuinely make just about anything for you. Just ask your barista—they are the best!
My favorite thing about Elevate is its commitment to the community. There's always something happening at Elevate—from live music nights to holiday events. It's a comfortable spot that's the perfect place to connect with others. It's especially cozy around the holidays! They go all-out decorating for Christmas, and it's so fun!
Elevate is a special place, and from the moment you step through the door, you can tell they are about more than just coffee. You'll have to visit to experience it for yourself!
Pro Tip: Elevate is the perfect place to stop to grab a coffee before a day trip to Sedona. It's right on the way up north!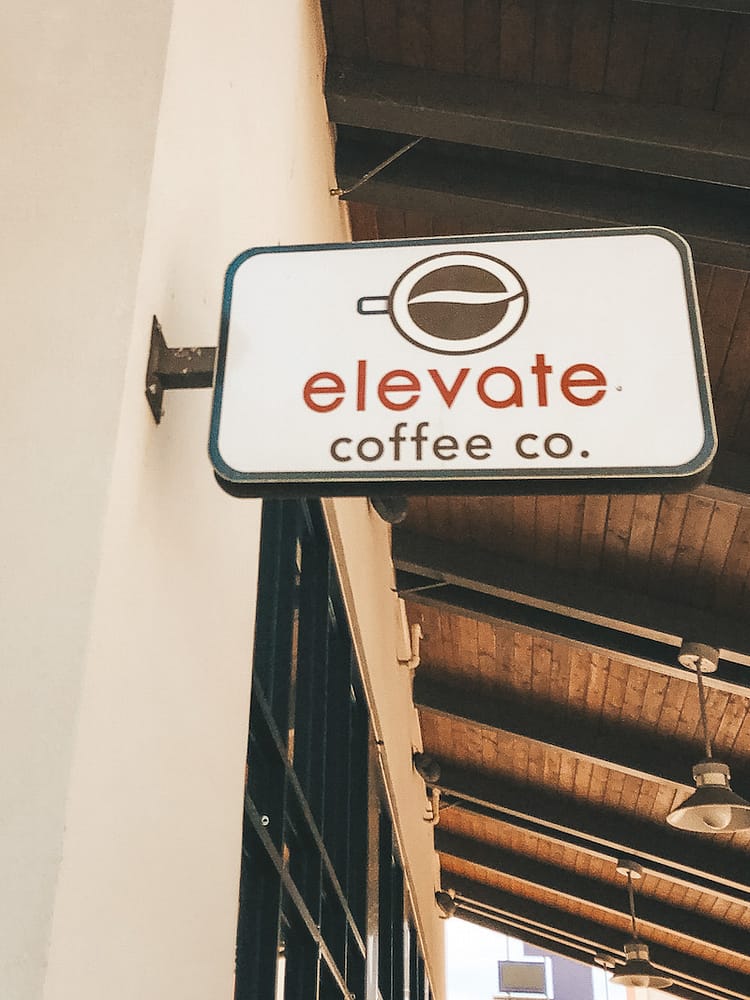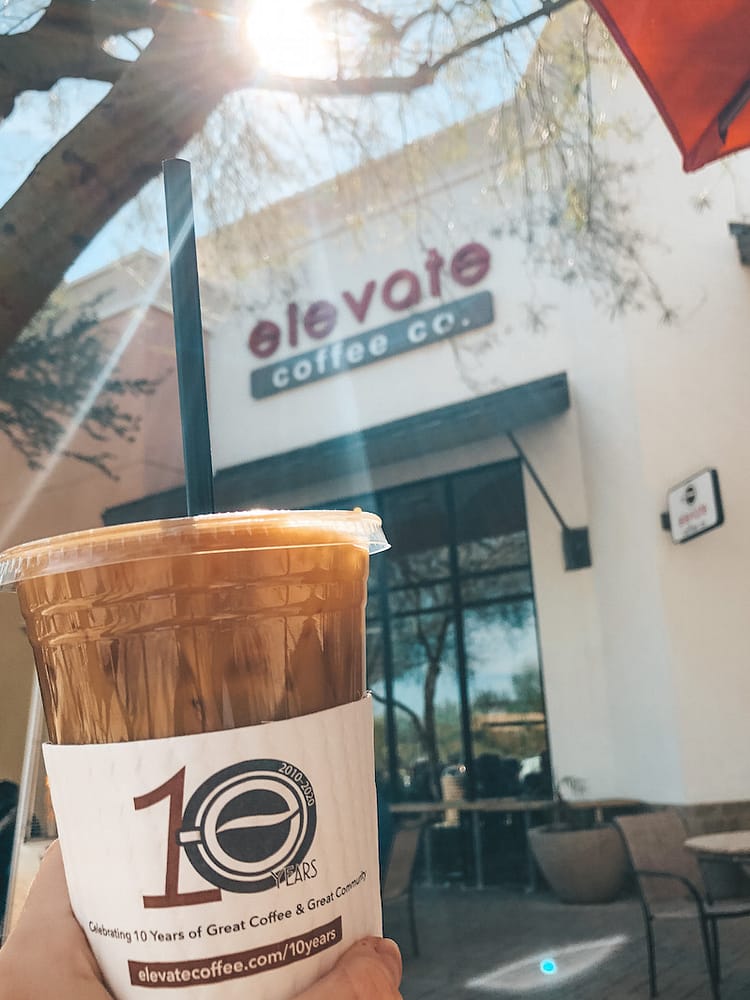 2. Well Coffee Co.
Location: 27035 Black Rock Blvd. Peoria, AZ
My Favorite: Coconut Cold Brew (I was heartbroken to learn that this drink is seasonal—it's that good!).
Fun Fact: Well Coffee sources its beans from Peixoto—a roastery located in Chandler, AZ, known for its high-quality Brazilian beans. 
Well Coffee Co. has quickly become one of my favorite coffee shops in North Phoenix. Their coffee is delicious, and I'm not kidding you, their coconut cold brew is actually out of this world!
Well has an Espresso Bar, Speed Bar, and Slow Bar, so you can order any variation of coffee—from a pour-over to a nitro cold brew. They also make their syrups in-house, so you can enjoy delicious flavors like honey lavender, orange clove, vanilla, and caramel year-round, and fun seasonal flavors, too. 
Well Coffee is welcoming and community-focused—the baristas and the owner are so friendly and personable. I love coming here to visit with a friend, and also to work on my laptop for hours at a time—it's an excellent place for both!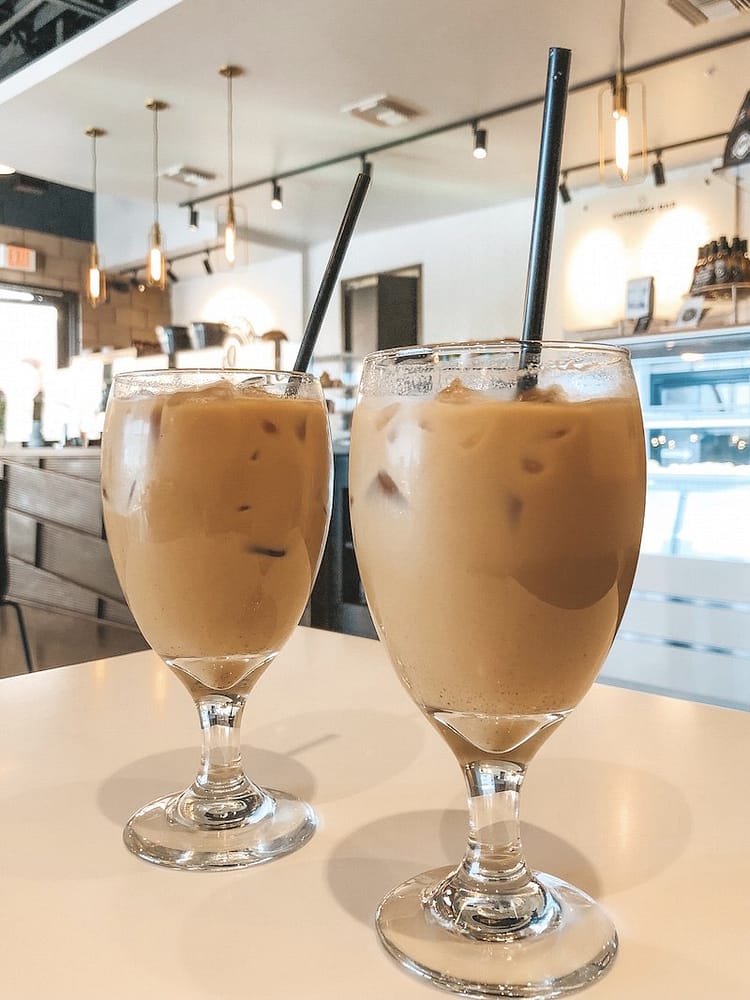 3. Union Coffee Co.
Location: 6750 W. Thunderbird Rd. Suite B109, Peoria AZ
My Favorite: Cold Brew Latte
Fun Fact: Craving something extra sweet? Union Coffee serves affogatos (espresso & ice cream) and cold brew floats (cold brew & ice cream).
Union Coffee Co. has been one of my favorite coffee shops in North Phoenix since they opened. Out of all the coffee shops in this area, I'd say they are the most committed to the artistry of coffee—if you order a hot latte, expect some beautiful latte art! They also roast their beans in-house, and they source from companies that supply organic, quality coffee.
Union is also my favorite coffee shop in Phoenix to crank out work, and many students think it's one of the best coffee shops in Phoenix to study. It's minimalistic, quiet, and usually not too crowded. The slower pace in the shop makes it easier to focus!
I really like the cold brew latte—which is cold brew topped with milk and mixed with your choice flavor. If you're looking for something refreshing and slightly less caffeinated, Union also serves some fantastic iced teas!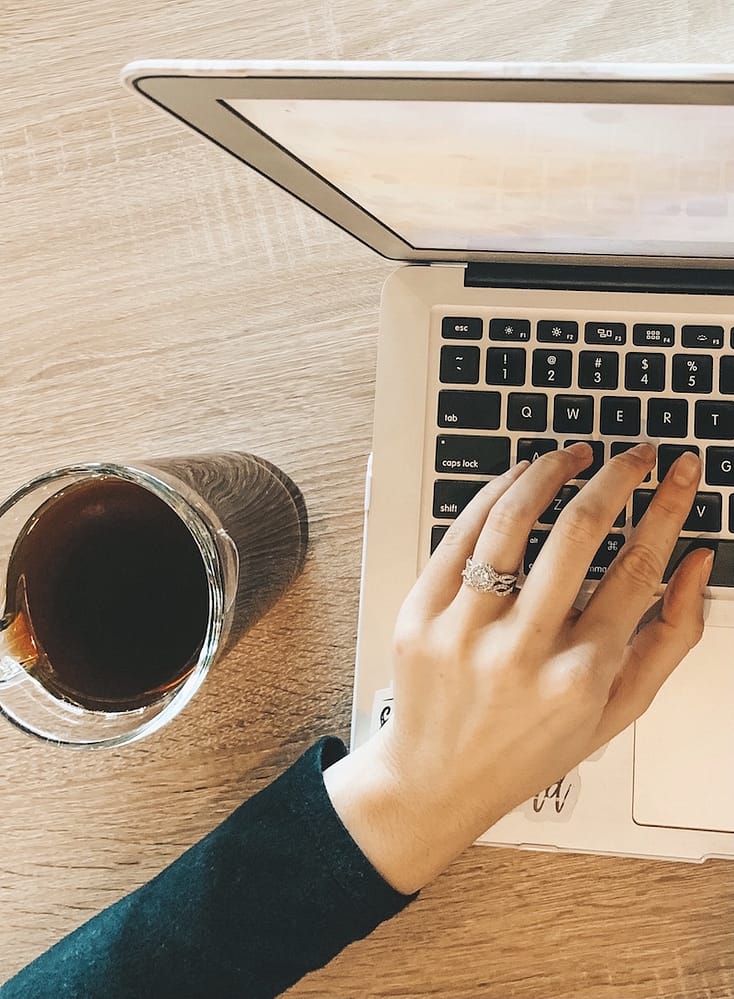 4. Driftwood Coffee Co.
Location: 8295 W. Jefferson St. Peoria, AZ
My Favorite: Honey Lavender Latte (with oat milk!)
Fun Fact: Driftwood recently opened another location, Reap & Sow Coffee and Bar, in Downtown Phoenix! They serve specialty coffee—and cocktails!
After a few of my friends told me Driftwood Coffee was one of their favorite coffee shops in North Phoenix, I decided to give it a try—and I am so glad I did!
Driftwood is community-centered—and not just around its own community in Peoria. They love supporting other local coffee shops, which is why they always offer coffee from a local Arizona roaster and a local roaster from somewhere else around the U.S.! 
They have a speed bar, slow bar, and an espresso bar, as well as some light snacks and pastries to munch on.  Driftwood has a seasonal menu with rotating flavors like cookie butter (yum!), but they always keep honey lavender on the menu, and it makes sense why. It isn't easy to make a honey lavender latte not too, well, lavender-y, but Driftwood does it so well! 
Plus, Driftwood has a dog-friendly patio that includes a walk-up order window, so you don't have to worry about leaving your pup outside while you wait for your drinks.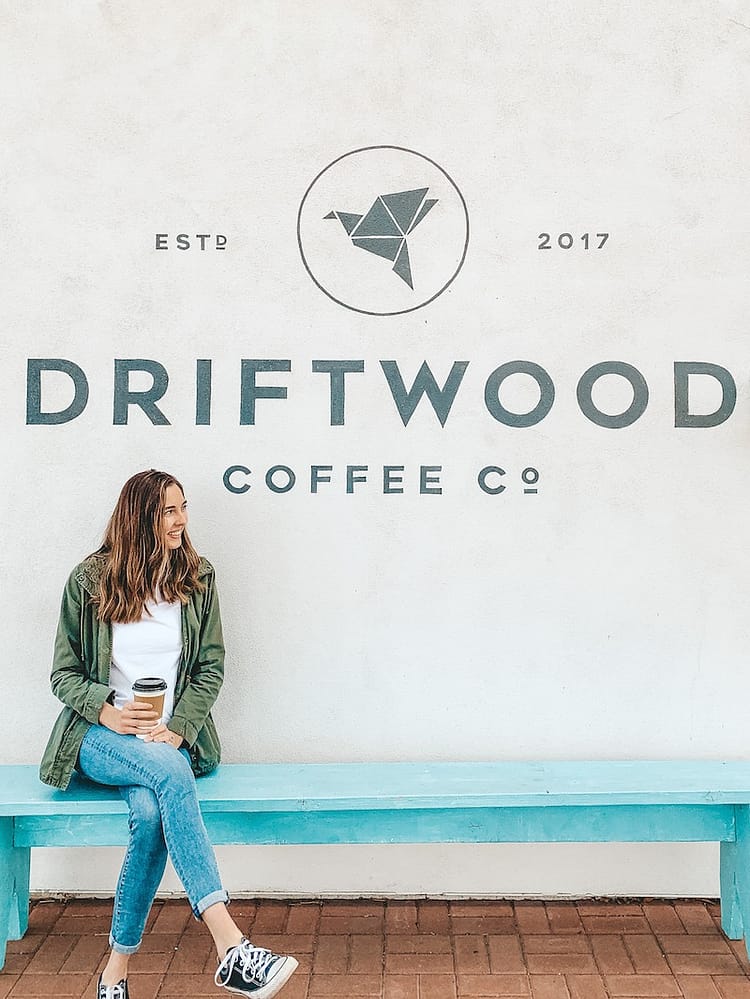 Grab a Drink at The Best Coffee Shops in North Phoenix
In my opinion, there's no denying these are the best four coffee shops in North Phoenix!
Even though Downtown Phoenix may have more local coffee spots to choose from, North Phoenix definitely has its share of high-quality coffee shops that make for the perfect place to meet up with friends, get work done, or just grab a refreshing coffee to go!
Stay tuned for my favorite local coffee shops in Downtown Phoenix & Scottsdale!
Have you tried any of these coffee shops in North Phoenix? If so, which one is your favorite?
Save the Best Coffee Shops in North Phoenix for Later!
---
Looking for more things to do in Arizona? You'll love these posts!