The Pacific Northwest is undoubtedly one of the most beautiful regions in the United States. Washington and Oregon have a little bit of everything — impressive mountain ranges, pristine beaches, spectacular national parks, cool cities, quaint small towns, wine regions, lush forests, charming islands, and everything in-between. What's not to love?
With so much to see in the Pacific Northwest, it's best to plan a Pacific Northwest road trip to explore as much of this gorgeous region as possible. In this post, we've outlined the ideal ten-day Pacific Northwest road trip itinerary with things to do, places to eat, and where to stay, to help you plan the perfect road trip to the Pacific Northwest. Are you ready?
When Is the Best Time to Go on a Pacific Northwest Road Trip?
The best time to go on a Pacific Northwest road trip is from June to October. During the summer and fall months, you can usually count on sunny, dry weather, clear roads, and ideal conditions for enjoying the spectacular outdoor adventures in Washington and Oregon, like hiking, waterfall spotting, fruit picking, and going to the beach.
Usually, prices will be more expensive in the summer months (especially July and August). The end of September and beginning of October is a great time to visit if you want to see fall leaves and for cheaper prices and fewer tourists. Just be sure to plan your visit before the first snowfall in November or December — driving in unpredictable rainy or snowy conditions can make the logistics of this Pacific Northwest road trip more of a challenge.
Where Should I Start and End My Pacific Northwest Road Trip?
I recommend starting and ending your Pacific Northwest road trip in Seattle.
The Seattle-Tacoma International Airport is the most accessible airport in the Pacific Northwest, and it's convenient to drive in a loop from Seattle to Leavenworth to Portland and back to Seattle (which is exactly how this itinerary is laid out for you!). Plus, you can also book a round-trip ticket from Seattle, which is really convenient!
Recommended 10-Day Pacific Northwest Road Trip Itinerary
Seattle, Washington
Three Days
Once you arrive at the Seattle-Tacoma International Airport, it's time to begin exploring Seattle!
Seattle is a fabulous city with so many things to see and do (and tons of excellent food!), but it is also a great launching point for several amazing day trips to national parks, cities, and natural attractions in the surrounding area. We recommend spending two days exploring all that Seattle has to offer, and at least one day on a day trip from Seattle!
Top Things to See & Do in Seattle
Chew a piece of gum and "stick" your contribution to The Gum Wall.
Stop by the Original Starbucks to snap a photo at this iconic spot.
Take a guided or self-guided food tour through the iconic Pike Place Market.
Explore Waterfront Park and consider riding the Seattle Great Wheel for stunning views of the city or paying a visit to the marine animals at the Seattle Aquarium.
Ride all the way to the top of the Space Needle on a clear day to see panoramic views of Elliot Bay, Mount Rainier, and the Cascade and Olympic Mountains.
Marvel at the glass sculptures and artwork in the Chihuly Garden and Glass Museum, featuring artwork from famous glass artist, Dale Chihuly.
Enjoy a unique coffee beverage, cocktail, dessert, or meal from the Starbucks Reserve Roastery — one of only six in the world!
Take a break from the hustle and bustle of the city and go on a hike or walk around Discovery Park.
Hop in the car and take a day trip to one of Seattle's three national parks — Olympic National Park, Mount Rainier National Park, or North Cascades National Park.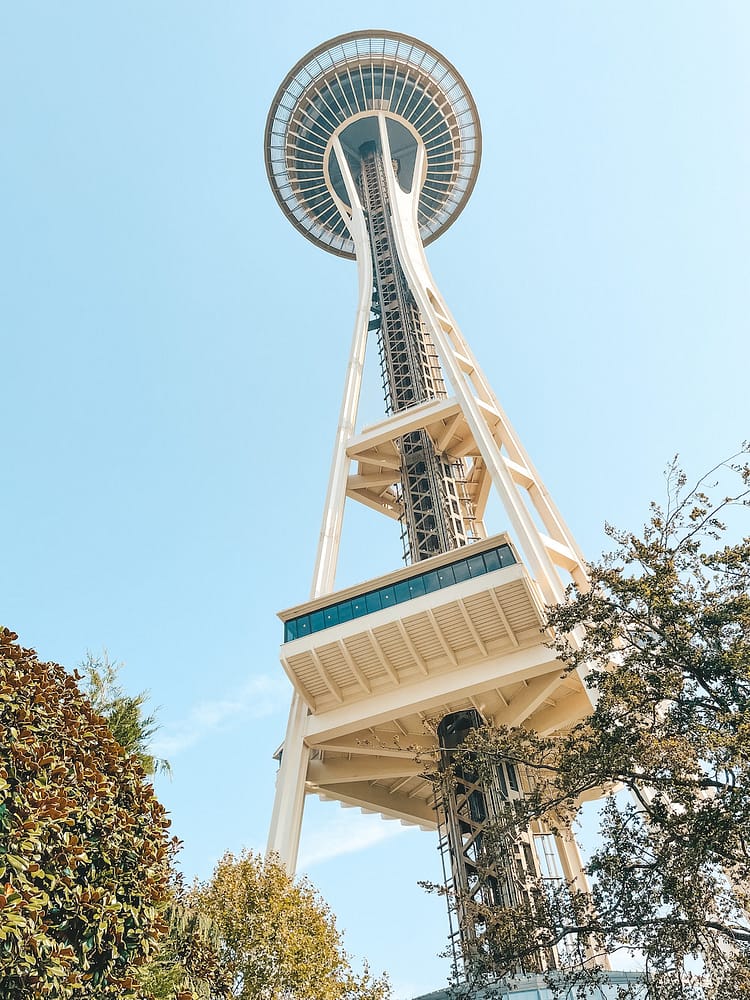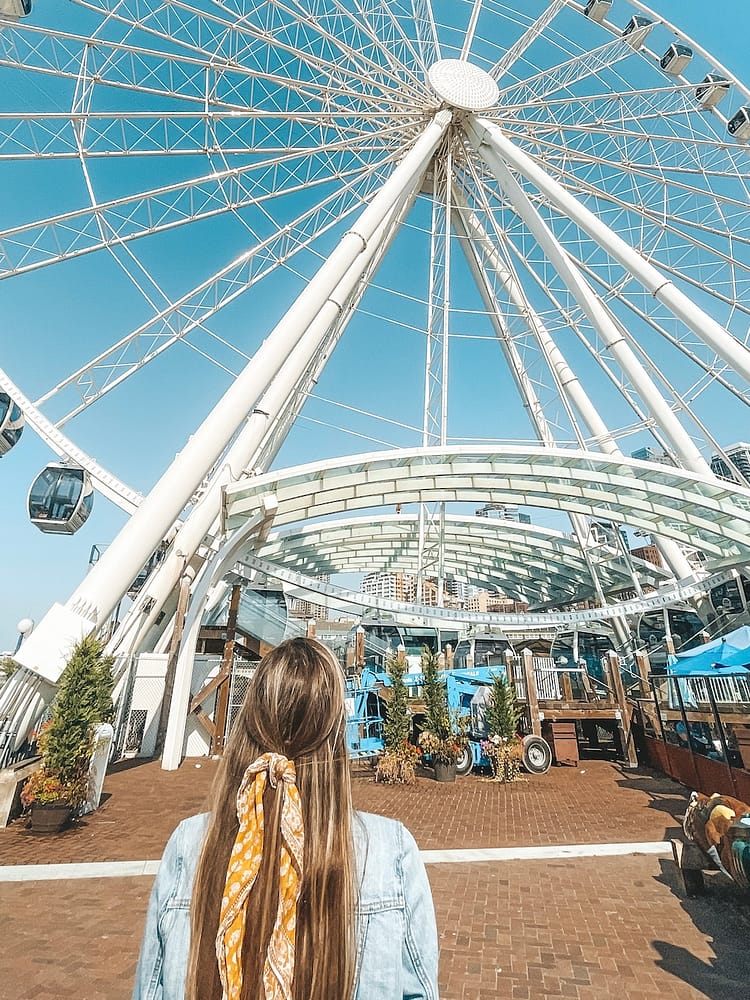 Top Places to Eat & Drink in Seattle
Savor a cup of craft coffee at Storyville Coffee in Pike Place Market.
Make reservations at The Pink Door for delicious Italian food, memorable entertainment, and stunning views of Elliot Bay from the patio.
Order some cheesy mac 'n' cheese or grilled cheese from Beecher's Handmade Cheese — a staple in the Pacific Northwest!
Get a thick, creamy Greek yogurt that tastes like dessert from Ellenos.
Order handmade pasta at Pasta Casalinga in Pike Place Market (my personal favorite!).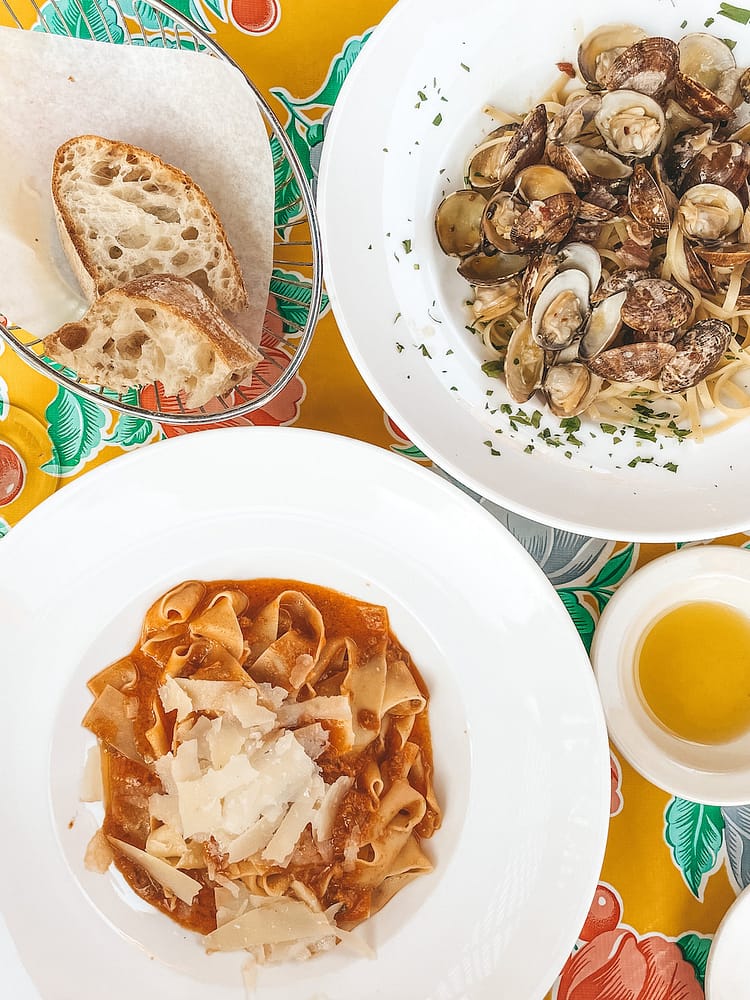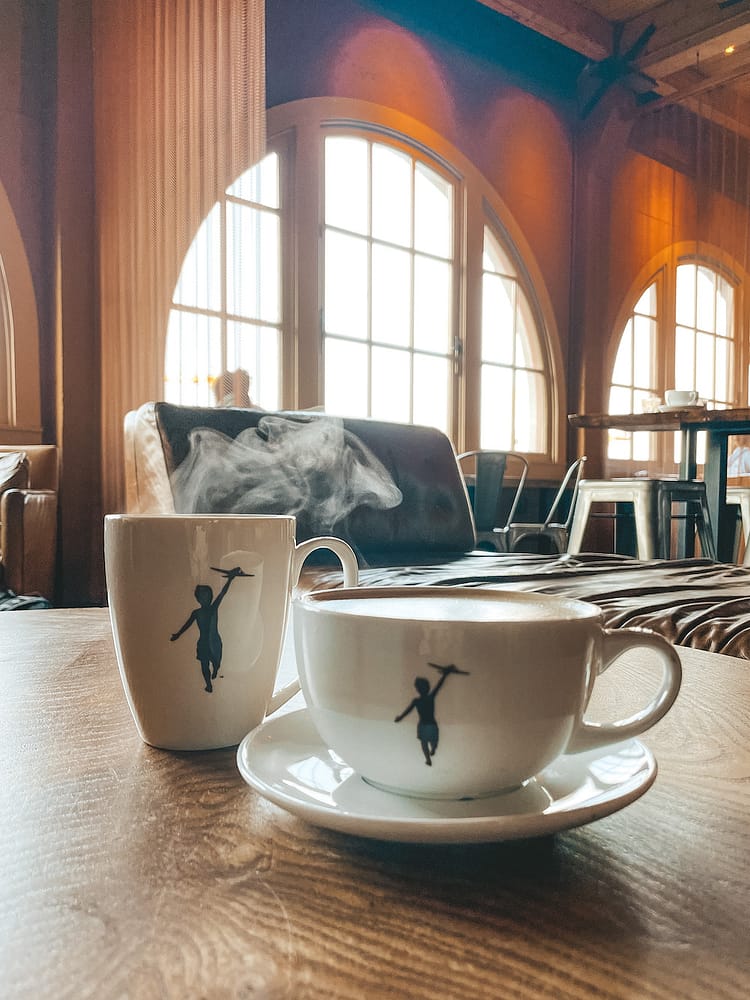 Where to Stay in Seattle
Hotel Theodore — The lobby at Hotel Theodore is beautiful, and the hotel has a complimentary cocktail hour in the evening, and there is a coffee shop in the lobby. You can even rent bikes to ride around downtown.
Thompson Seattle — This stunning hotel offers a rooftop bar and a terrace with views of Elliot Bay and the Olympic Mountains. The rooms are extremely luxurious, so if you are looking for an upscale stay in Seattle, this is the perfect spot for you!
The Paramount Hotel — This hotel is just a ten-minute walk away from Pike Places Market and the Space Needle is just one mile away. You'll find sleek furniture and modern furnishings in this gorgeous hotel.
Read More on Seattle
Bainbridge Island, Washington
One Day
Before leaving Seattle, take the ferry from the Seattle Ferry Terminal to Bainbridge Island for one day. This ferry ride costs less than $10 per person, and you'll be able to enjoy stunning views of Elliot Bay and the city's skyline on the short 35-minute journey to this beautiful island.
These are some of the best things to do on Bainbridge Island to include on your Pacific Northwest road trip itinerary. We aren't including any hotel recommendations, because we recommend visiting Bainbridge Island as a day trip from Seattle.
Top Things to See & Do in Bainbridge Island
Ride the bus to Blodel Reserve — a gorgeous nature preserve filled with landscaped gardens, forests, and a stunning reflecting pool.
Explore the local shops and boutiques on Winslow Way, including Eagle Harbor Book Co. and Lively Olive Tasting Bar.
Admire contemporary artwork from local artists around the Puget Sound at the Bainbridge Island Museum of Art.
Take a scenic walk along the Bainbridge Island Waterfront Trail and enjoy beautiful views of Eagle Harbor and Hawley Cove.
Purchase some local fruits, vegetables, baked goods, and other goodies on Saturdays from 10 AM – 2 PM at the Bainbridge Island Farmers Market.
Learn about the fascinating history of Bainbridge Island at the Bainbridge Island Historical Museum.
Go wine tasting at one of the many wineries on Bainbridge Island, including Fletcher Bay Winery and Bainbridge Vineyards.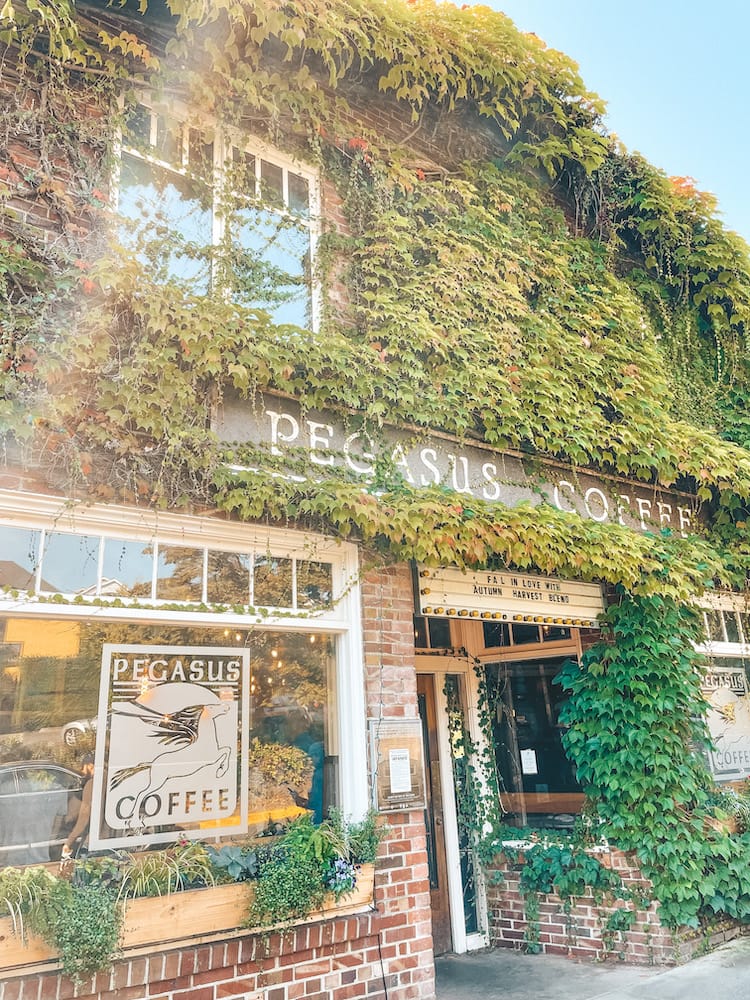 Top Places to Eat & Drink in Bainbridge Island
Sit down in Pegasus Coffee House to enjoy a coffee and pastry (and take a photo of the charming greenery outside too!).
Enjoy British-style fish and chips, as well as other delicious seafood, like lobster rolls and fish tacos, at Proper Fish.
Make reservations for a nice dinner at Seabird — an island-inspired restaurant serving seafood, including oysters, scallops, and mussels.
Fill up on the delicious surf 'n' turf menu at Islander, featuring organic produce, locally sourced meat, and sustainably sourced seafood.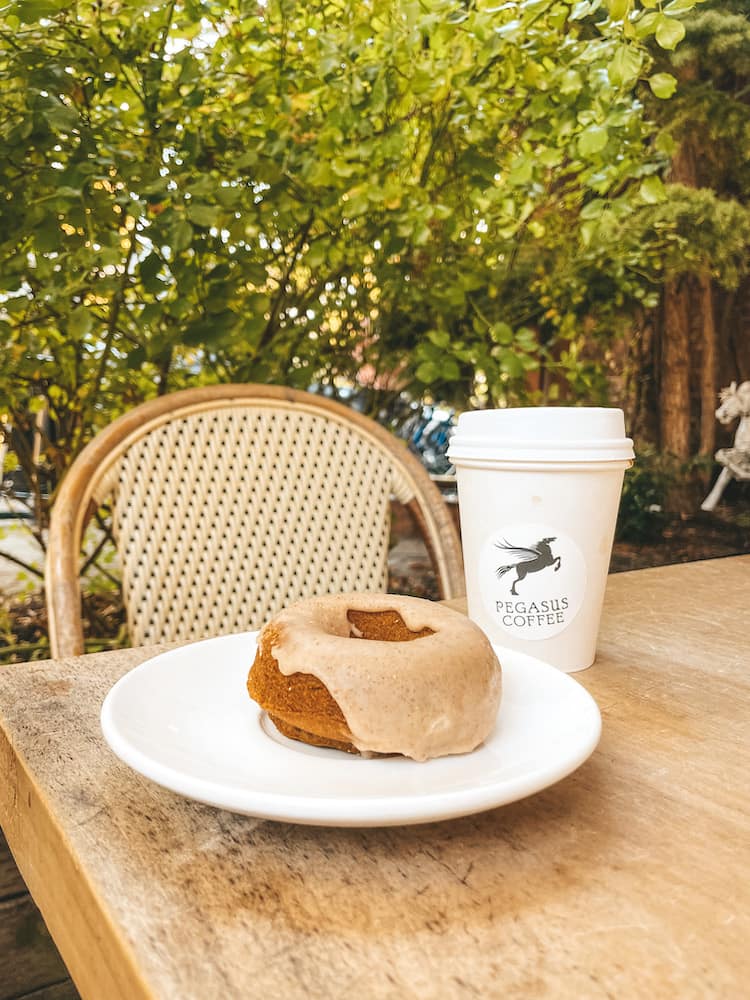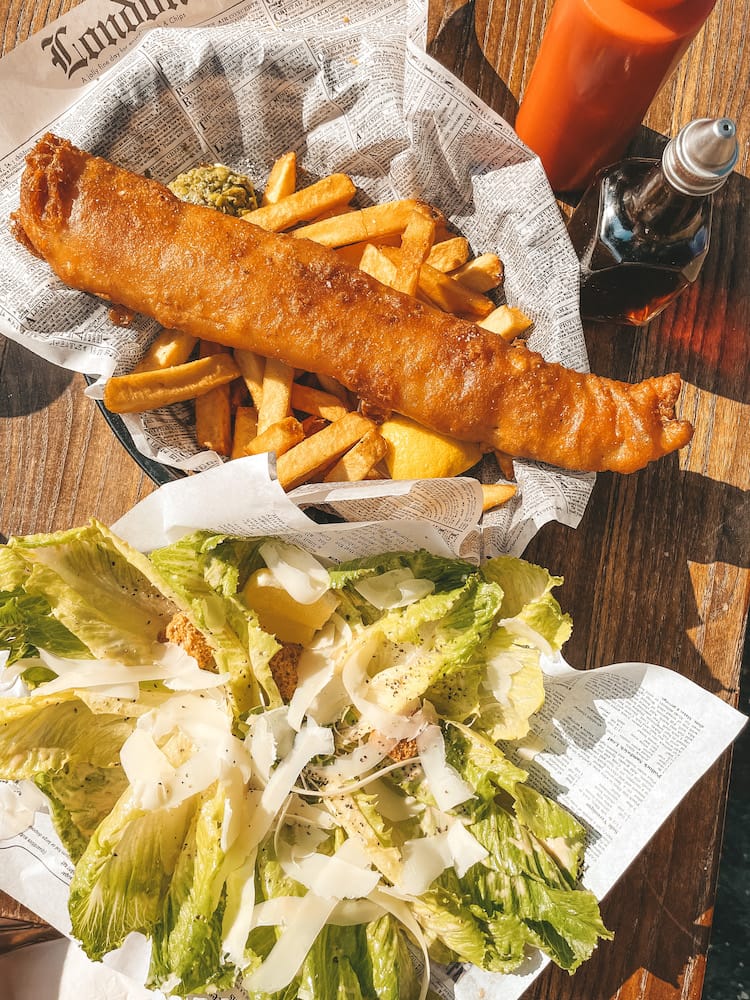 Read More on Bainbridge Island
Leavenworth, Washington
Two Days
Leavenworth is a charming Bavarian-themed town in the Cascade Mountains that is worth spending some time in during your Pacific Northwest road trip. It's only a two-hour drive east of Seattle, so it's pretty easy to get here from the city.
Not only is the town itself fun to explore, but the surrounding area is filled with tons of adventurous activities — from hiking to white-water rafting. Check out all the best things to do in Leavenworth for two days!
Top Things to See & Do in Leavenworth
Go shopping at the local boutiques in Downtown Leavenworth to find fun souvenirs.
Visit during select dates in September, October, November, or December to experience Oktoberfest or the Christkindlmarkt.
Ride horseback through the gorgeous scenery with Wild at Heart Horse Rides.
Spend a day hiking in the Enchantments on Colchuck Lake Trailhead or stay closer to Leavenworth by hiking the Icicle Gorge Nature Loop or Icicle Ridge Trail.
Sample local beer or wine at local breweries or wineries, including Icicle Brewing Company, Leavenworth Cider House, or Silvara Cellars.
See Santa's reindeer at the Leavenworth Reindeer Farm.
Go on a white-water rafting adventure down the Wenatchee River in the warm summer or early fall months.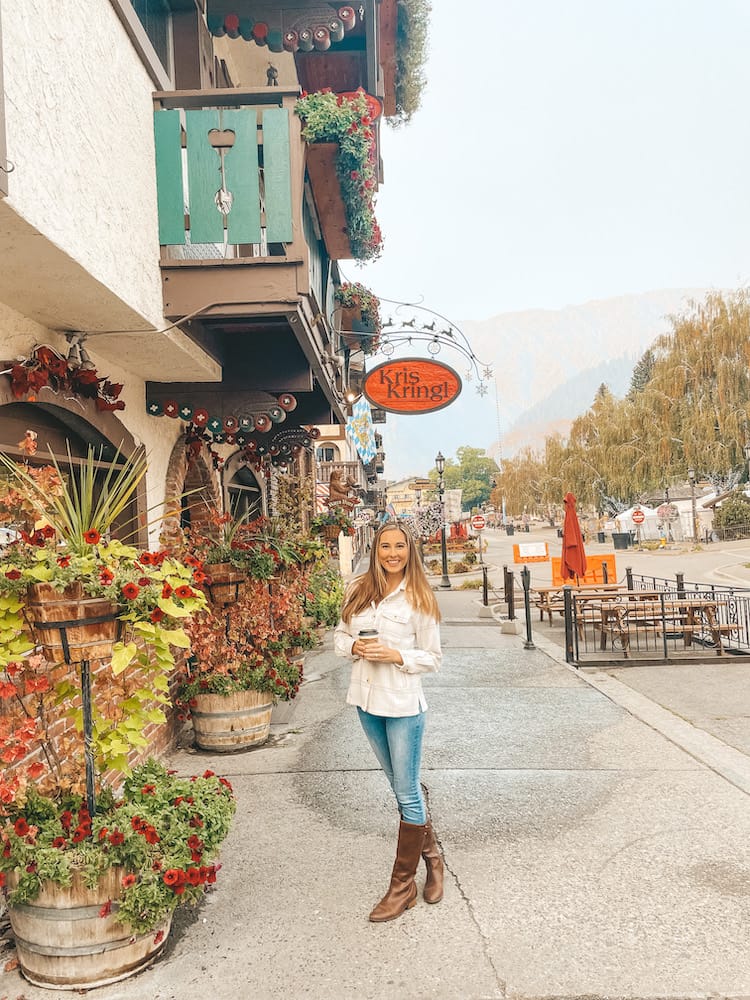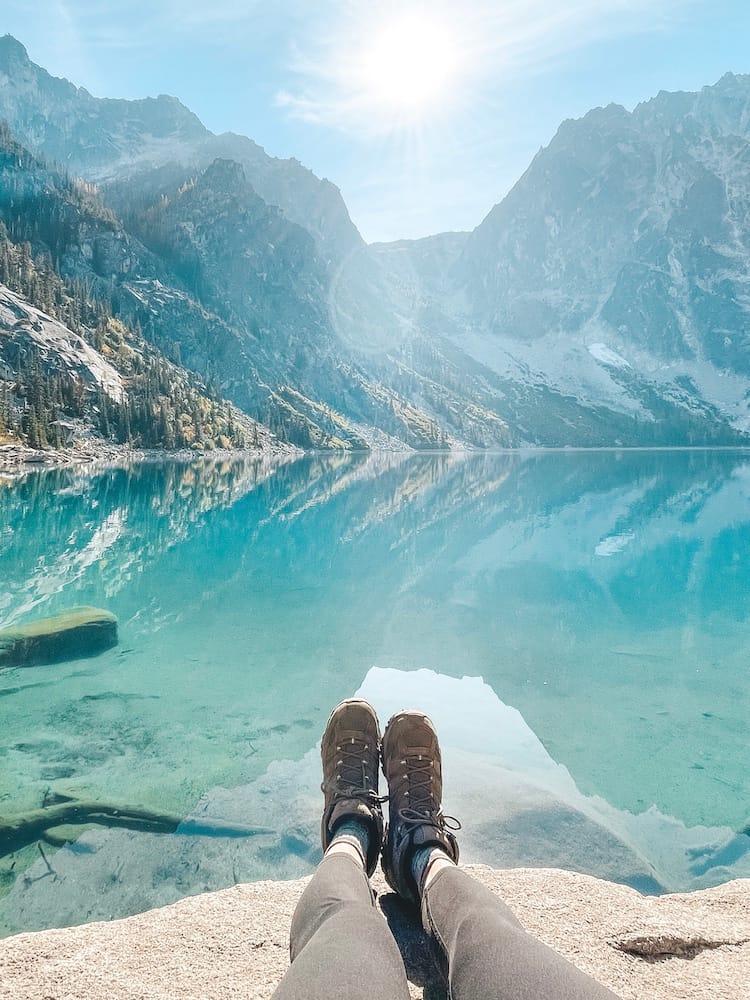 Top Places to Eat & Drink in Leavenworth
Grab a craft coffee, breakfast sandwich, and delicious pastry at Argonaut Coffee & Biscuits to fuel up for a big day of exploring.
Sit outside at the beer garden while enjoying a pretzel, brat, or beer at München Haus.
Cozy up with an artisanal bone broth soup made from scratch at Yodelin Broth Company — this is perfect for the chilly fall or winter months!
Enjoy a sit-down dinner at Watershed Café, a chef-owned, farm-to-table restaurant that focuses on the ingredients and flavors of the Pacific Northwest.
Try some traditional German fare at the Andreas Keller Restaurant.
Sample a flight of beers at Icicle Brewing Company or a flight of ciders at the Leavenworth Cider House.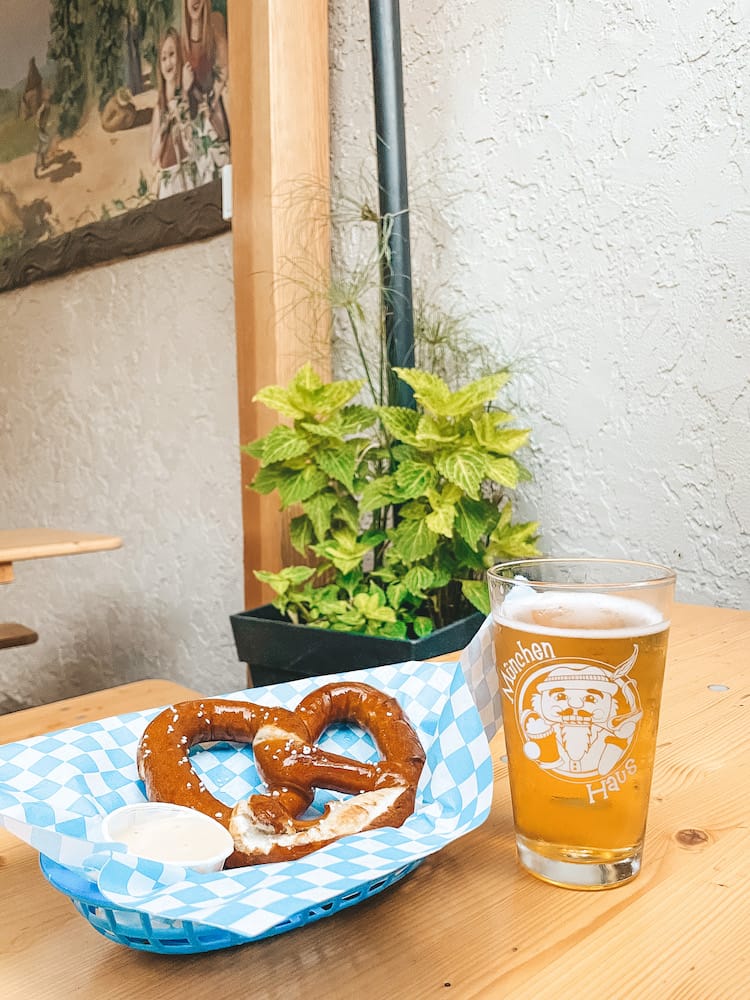 Where to Stay in Leavenworth
Posthotel Leavenworth — This adults-only hotel is by far the most luxurious property in Downtown Leavenworth. Here, you will be able to enjoy a European-style breakfast included in the cost of your stay as well as steam rooms, saunas, plunge pools, and other luxurious amenities for guests.
LOGE Leavenworth Downtown — This down-to-earth hotel has an outdoorsy and relaxed "camp" feel with a cozy coffee shop in the lobby, fun hammocks hanging in each room, helpful gear rentals, and city cruisers that are free for guests.
Bavarian Lodge — This hotel in Downtown Leavenworth provides guests with spacious rooms (cozy fireplaces included!), a heated swimming pool, an outdoor hot tub, and complimentary breakfast. What more could you ask for?
Read More on Leavenworth
Portland, Oregon
Two Days
After spending the first half of your trip in Washington, it's time to drive down to Oregon. It only takes about three to four hours to arrive in Portland from Leavenworth, and the drive is pretty easy. You'll even be able to get a sneak preview of the Columbia River Gorge!
We recommend spending two days in Portland, so you can take one full day to explore the city and another full day to explore the wineries in the Willamette Valley. These are our best recommendations for what to see and do in Portland and the surrounding wine country!
Top Things to See & Do in Portland
Get lost in the endless shelves of books in Powell's City of Books — the world's largest independent bookstore.
Browse the Portland Saturday Market at Tom McCall Waterfront Park and take a photo in front of the famous Portland White Stag Sign.
See thousands of beautiful roses in bloom in the late spring, summer, or fall in the International Rose Test Garden in Washington Park.
Wander through the Portland Japanese Garden, also in Washington Park, to see the Natural Garden, Strolling Pond Garden, Tea Garden, and more.
Dive into the history of Portland at Pittock Mansion — a house museum that tells the story of how Portland evolved from a pioneer town to a modern, industrialized city.
Plan a wine-tasting adventure in the Willamette Valley by visiting wineries like Brick House Vineyards, Willamette Valley Vineyards, and Domaine Roy & Fils.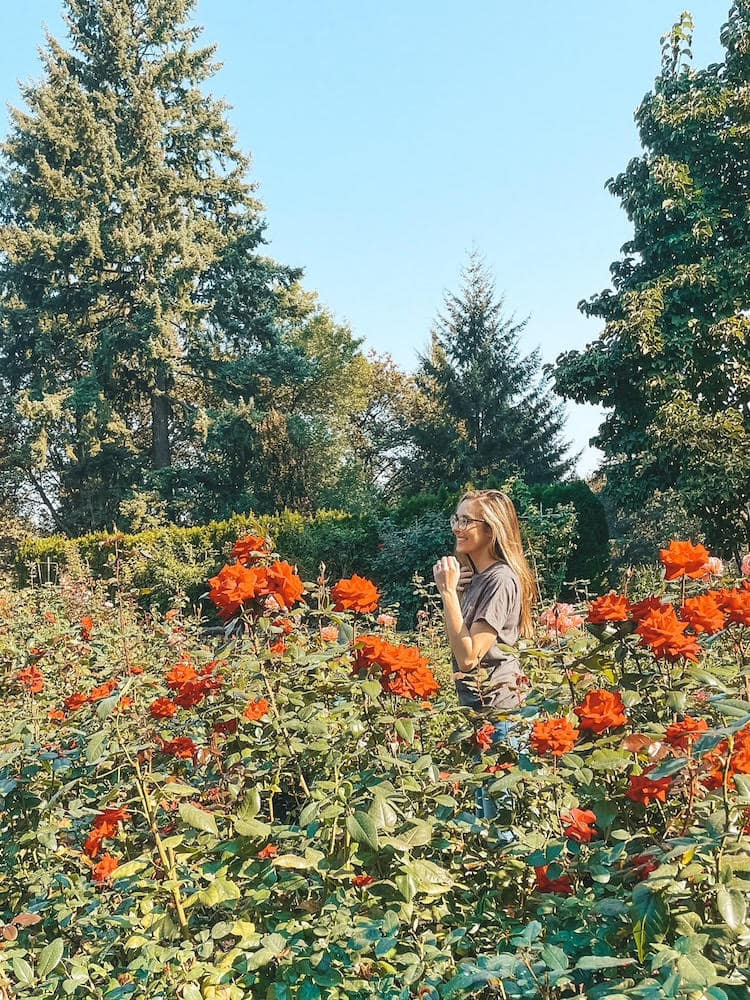 Top Places to Eat & Drink in Portland
Go on a coffee crawl to Portland's top craft coffee roasters, including Coava Coffee Roasters, Good Coffee, and Stumptown Coffee Roasters.
Try an adults-only donut flavor, like Cointreau Crème Brûlée and Blueberry Bourbon Basil at Blue Star Donuts (it's way better than Voodoo Doughnuts!).
Check out some of the top local breweries in Portland for a brew and lunch, including Von Ebert Brewing & Kitchen and Little Beast Brewing Beer Garden.
Treat yourself to a nice dinner at Noble Rot, a restaurant in Downtown Portland that grows all its own vegetables and offers wine flights with dinner.
Make reservations to enjoy a six-course meal at one of the most famous restaurants in Portland, Le Pigeon, where you can enjoy French-inspired fare.
Grab an ice cream cone at Salt & Straw — the innovative flavors from this West Coast ice cream chain were dreamed up right here, in Portland.
While you're in wine country, grab a quick lunch at Red Hills Market in Dundee to fill up between wine tastings, or head into McMinnville for more options.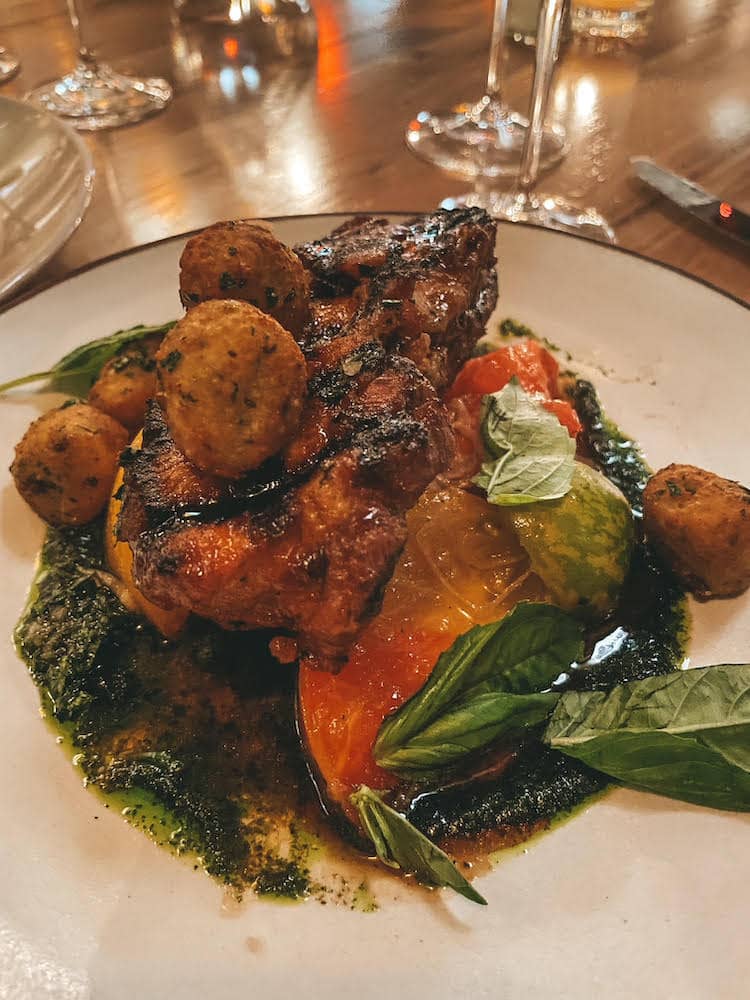 Where to Stay in Portland
Kimpton RiverPlace Hotel — This beautiful hotel provides guests with rooms, apartments, and suites in a riverfront setting overlooking the Willamette River. At the property, you can also enjoy refined dining, a fabulous happy hour, and complimentary wine hours.
Canopy by Hilton Portland Pearl District — This chic and modern hotel in Portland's hip Pearl District offers a restaurant, rooftop gym, and spectacular city views. Guests have commented that the staff and amenities are exceptional.
Woodlark Hotel — This boutique hotel is in the center of the city and offers a refined restaurant, cocktail bar, and event spaces. Their coffee shop in the lobby, Good Coffee, is also one of the best coffee shops in Portland!
Read More on Portland
Oregon Coast, Oregon
One Day
The Oregon Coast is only an hour or two away from Portland, so it's the perfect day trip away from the city! If you have more time in Oregon (especially if you're visiting in the summer or early fall, when the weather is nice), I even recommend finding a hotel on the Oregon Coast and staying an extra night. There is a lot to do and see along this scenic coastline!
However, even if you only have one day, you can still squeeze in the "best of the best" of the Oregon Coast by hanging out around Tillamook and Cannon Beach. Here is what to enjoy on the Oregon Coast in one day on your 10-day Pacific Northwest road trip!
Top Things to See & Do on the Oregon Coast
Take a photo in front of Haystack Rock on Cannon Beach.
Walk around the quaint Downtown Cannon Beach and check out some of the shops, including Cannon Beach Book Co. and Bruce's Candy Kitchen.
Spend some time hiking in Ecola Beach State Park for beautiful coastal views. Popular trails include Clatsop Look Trail and Crescent Beach Trail.
Embark on another hike at Oswald West State Park, where forested greenery meets coastal views. Cape Falcon Trail and Elk Falls Trail are the most popular trails here.
Visit the aquarium, golf course, amusement park, and other fun attractions at Seaside — the most "touristy" town on the Oregon Coast.
Go on a tour of the Tillamook Cheese Factory in Tillamook, Oregon (the tour is free and includes free cheese samples!).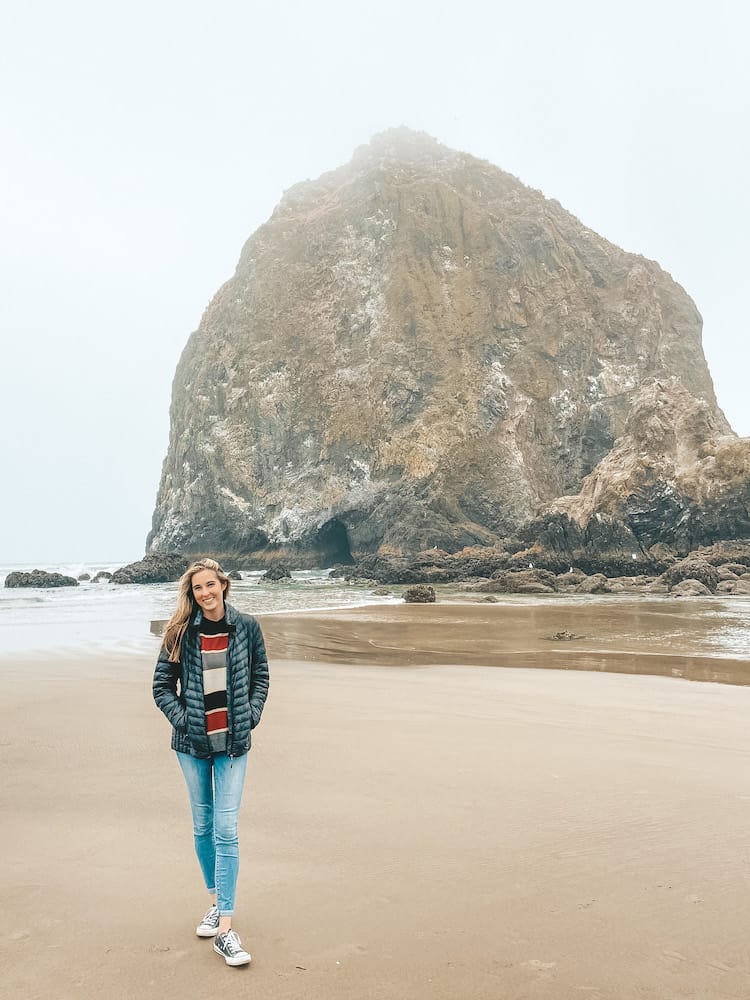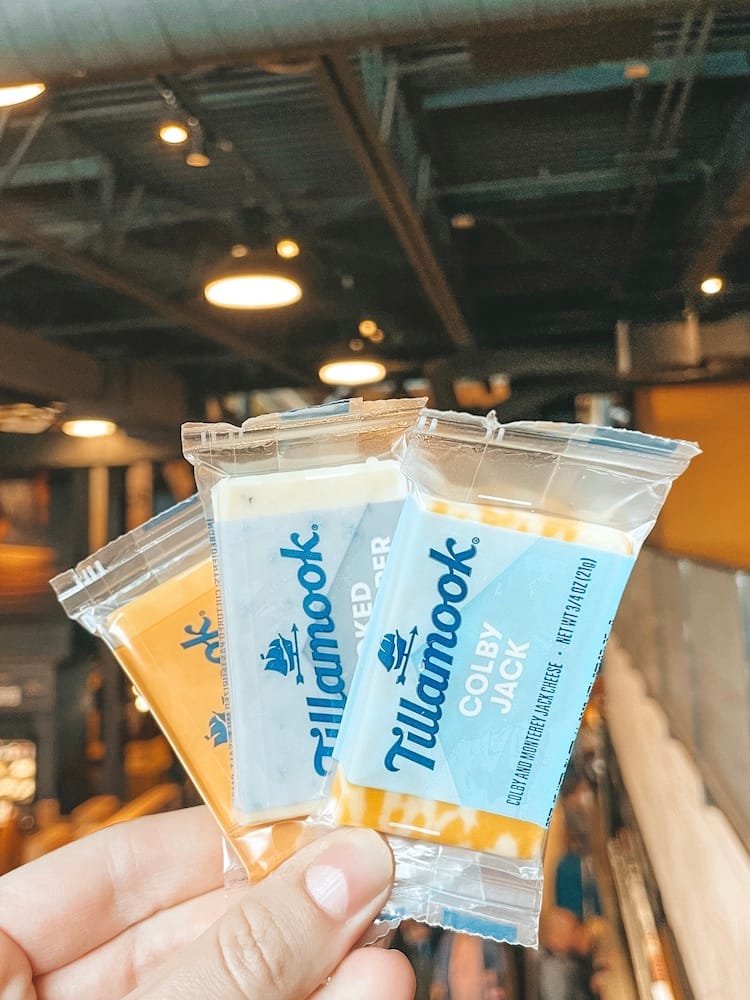 Top Places to Eat & Drink on the Oregon Coast
Grab a coffee and fresh-baked pastry at Sleepy Monk Coffee Roasters.
Sit down for casual lunch or dinner and enjoy a locally crafted beer at Pelican Brewing Company at Cannon Beach.
Make reservations for an upscale dinner, featuring fresh-caught seafood and craft cocktails, at The Wayfinder Restaurant & Lounge.
Try some cheesy and dairy-filled treats at the food court at the Tillamook Cheese Factory, including cheese curds, mac 'n' cheese, ice cream, and more.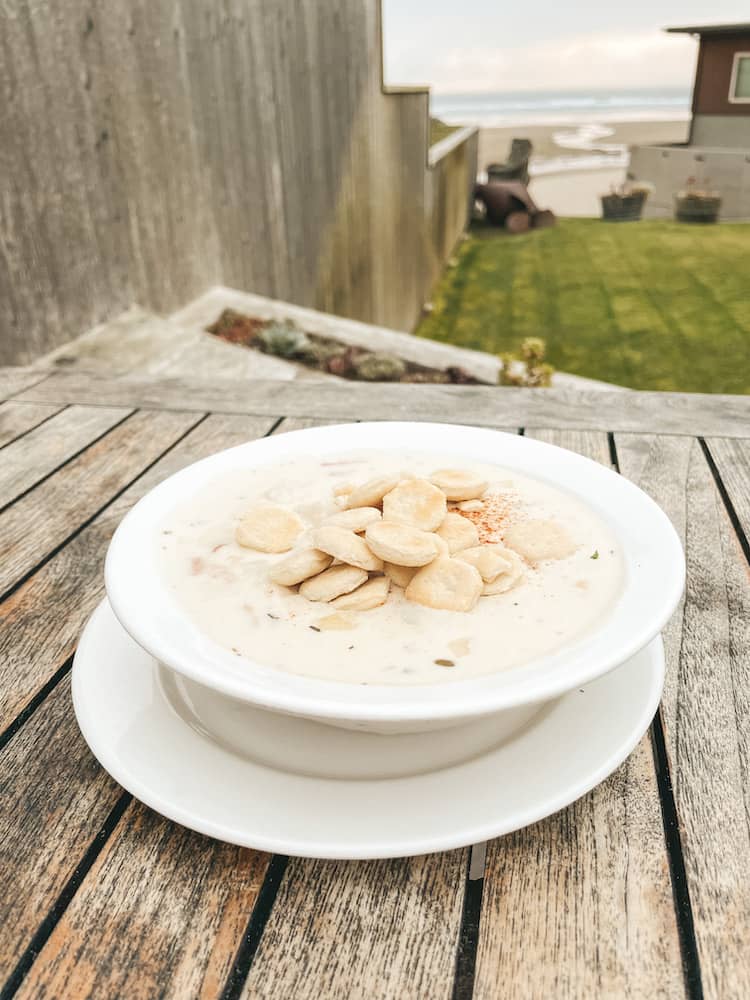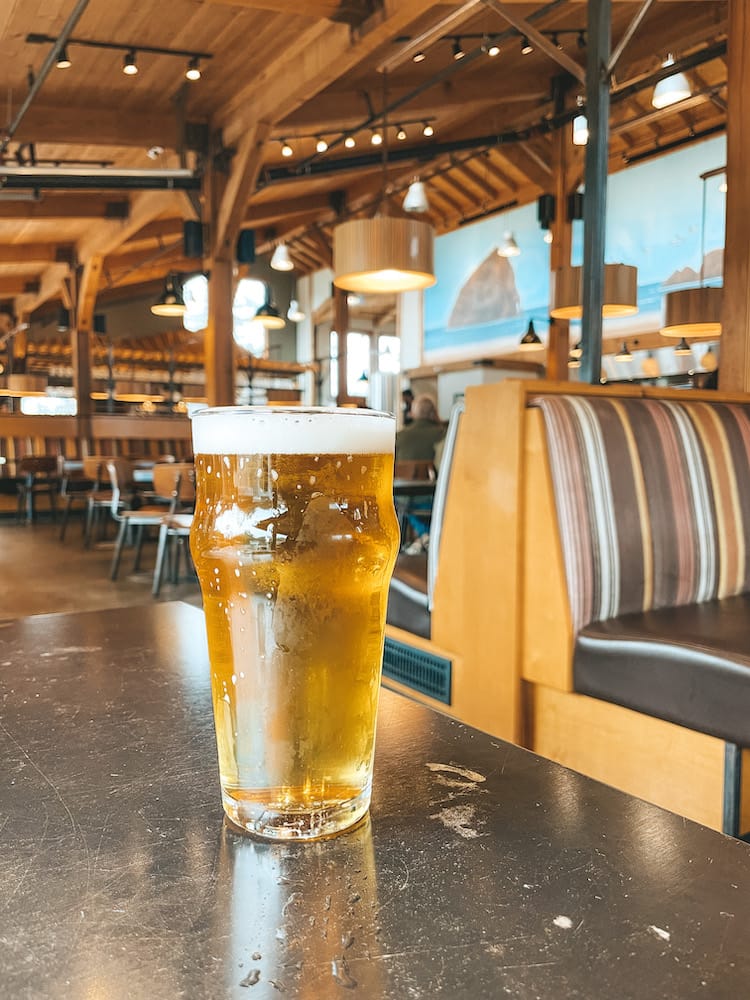 Read More on the Oregon Coast
Columbia River Gorge, Oregon
One Day
The Columbia River Gorge is my personal favorite day trip from Portland, Oregon. This scenic stretch along the Historic Columbia River Highway is only a 30-minute drive from Portland and is filled with stunning waterfalls, beautiful hikes, fruit orchards, wineries, and other attractions!
Be sure to get an early start from your hotel in Portland, so you can maximize your time exploring the Columbia River Gorge before heading back home. Here is everything you should do while you're on this portion of the Pacific Northwest road trip!
Top Things to See & Do in the Columbia River Gorge
Hike to the top of Bridal Veil Falls, where you can snap a photo of this iconic waterfall before making the journey back down.
Stop and snap a photo of the iconic Multnomah Falls. You can hike to the bridge for a closer view of the falls, and hike even further if you have time.
Spend a few hours hiking to Wahclella Falls. This waterfall is lesser known than other stops along the Columbia River Gorge and is easily just as beautiful!
Pick apples, peaches, cherries, pears, or whatever fruit is in season at Mt. View Orchards or Draper Girls Country Farm on the Hood River Fruit Look.
Find a winery, like Mt. Hood Winery or Marchesi Vineyards & Winery, where you can go wine tasting while enjoying the gorgeous scenery!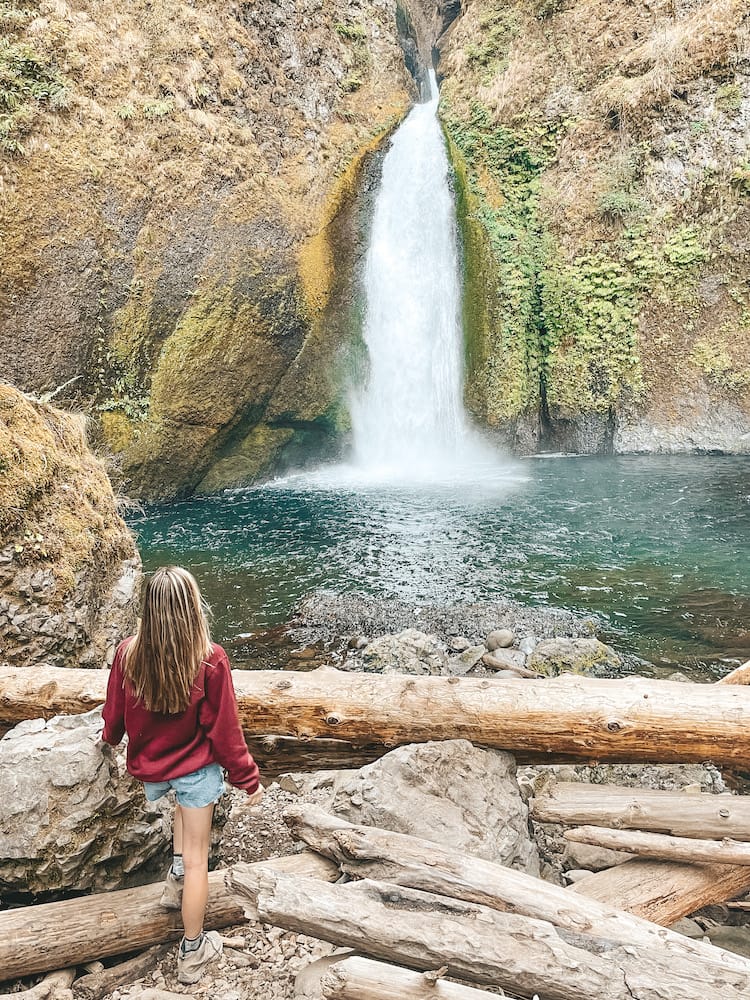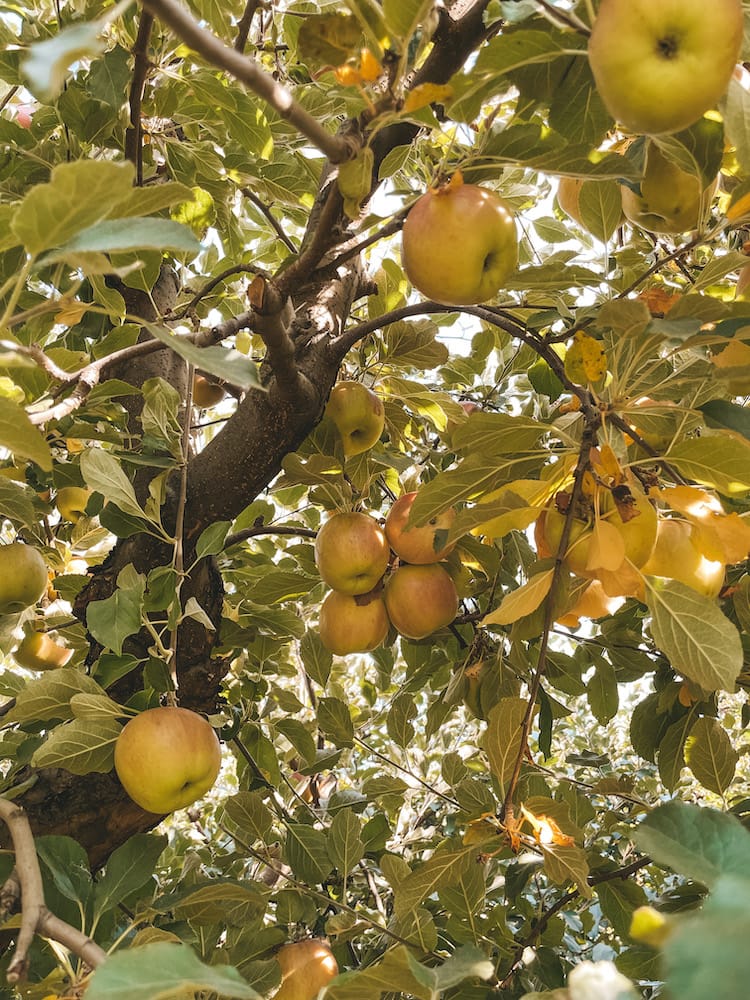 Top Places to Eat & Drink in the Columbia River Gorge
Savor breakfast, lunch, or dinner at the Multnomah Falls Lodge, where you can watch this iconic waterfall tumbling down outside while enjoying your meal!
Order a delicious pizza and a local wine, beer or cider at Grateful Vineyards while enjoying stunning views of Mount Hood.
Enjoy a burger, sandwich, noodle bowl, or other delicious meal at Thunder Island Brewing Co., while also enjoying views of the Willamette River. This restaurant also serves locally brewed beers.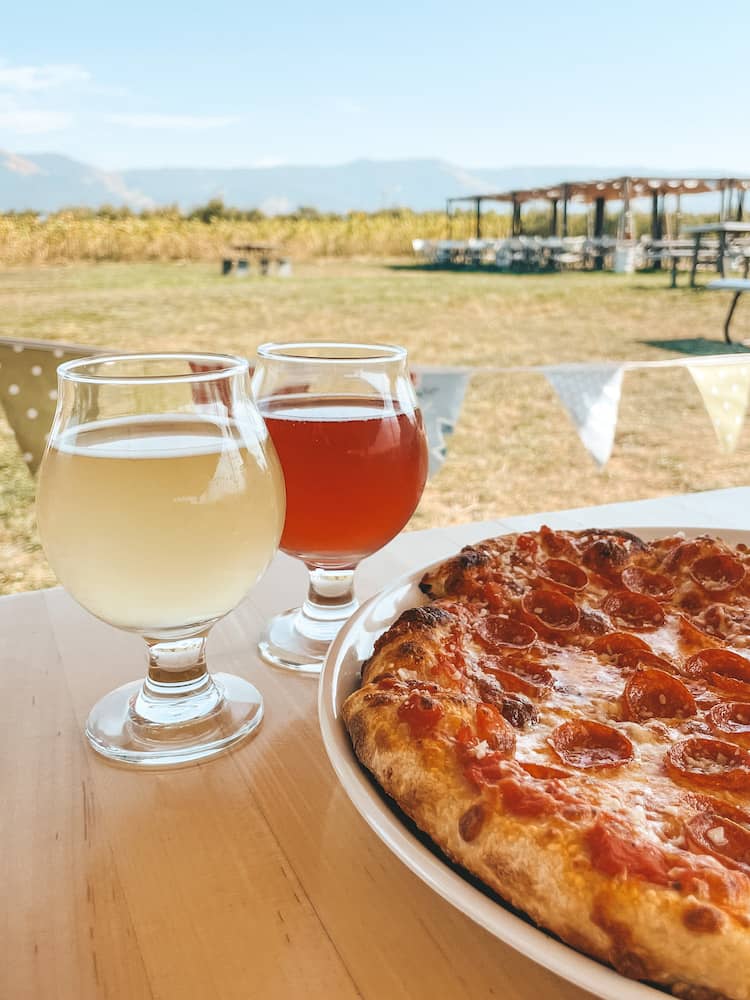 Read More on the Columbia River Gorge
FAQs: Pacific Northwest Road Trip Itinerary
What is the best month to visit the Pacific Northwest?
The most popular months to visit the Pacific Northwest are June, July, and August. The summer months bring limited rain and sunshine to Washington and Oregon. However, September and October are generally also great months to visit — usually, the weather is still fantastic, but you can score cheaper prices and won't have to deal with as many tourists at popular locations.
What is the best way to visit the Pacific Northwest?
The Pacific Northwest has tons of unique hidden gems, beautiful natural landmarks, national parks, and cool cities to explore. That's why a road trip is the best way to visit the Pacific Northwest — you'll be able to see as many of the popular sites in this region of the country as possible, even in a limited amount of time.
Is Oregon or Washington prettier?
Overall, there are more mountainous regions and scenic coastal spots in Oregon than in Washington, although Washington has more national parks. Both states are filled with plenty of natural beauty, so I recommend visiting both to decide for yourself!
Is the Pacific Northwest expensive?
The Pacific Northwest is known for being expensive, but you shouldn't feel the pain of the higher costs too much as a tourist. Try to fill up on gas outside the big cities, and budget a little extra money for food, coffee, and meals. However, the real "expense" in the Pacific Northwest is the cost of living (renting, buying a home, etc.), so you'll be fine as a visitor!
Let's Hit the Road with This Pacific Northwest Road Trip Itinerary
If you give this Pacific Northwest road trip itinerary a try, you'll have to let me know what you think! We loved exploring Oregon and Washington with this itinerary, and I'm already itching to go back to explore more of this stunning region of the United States.

Save This Pacific Northwest Road Trip Itinerary for Later